Eating French cuisine is as quintessential as seeing the Eiffel Tower when visiting Paris, France. In this Paris food guide from the video-editing platform VEED, you'll learn which 12 famous French foods in Paris you should eat — and one delicacy you shouldn't!
If you seek out local cuisine when you travel, check out the rest of our Foods Around the World series. We have food guides for China, Dubai, Ireland, Japan, Latin America, Pakistan, and Singapore. Now, continue reading to find out which 12 popular foods from France are worth eating when you visit Paris.
Disclosure: This foodie guide to eating the most popular French foods in Paris contains affiliate links. When you click on or make a purchase via one of these links, I may earn a commission. 
---
Traveling to Paris can be a wonderful experience. It is one of the most popular travel destinations in Europe, and it's easy to see why.
The City of Light is home to some of the world's most iconic landmarks and attractions, from the Eiffel Tower to the Louvre Museum. There is plenty to do and see while visiting Paris. Of course, among the things that you should not miss is eating the most famous French foods. 
In fact, Paris is such a food lover's destination that foodie visitors are even making slow-motion videos to demonstrate how delicious the food from France is!
What makes French dishes so special?
For one thing, the France food culture has a long and rich history dating back to the Middle Ages, and French cooking is widely regarded as the first truly "modern" cuisine.
Additionally, the first cookbook was published in France in 1393, and it contained over 600 recipes!
Since then, food in France has evolved and changed significantly, but French cuisine has retained its reputation as some of the world's most delectable. 
Also, there are a few things that set French food apart from other cuisines. First, famous French chefs place a lot of emphasis on using fresh, high-quality ingredients. This means that many popular French dishes are often very flavorful and unique. Second, French chefs take their time in preparing meals. They believe that cooking is an art, and they take pride in their work. This results in dishes that are absolutely exquisite.
12 Famous French Dishes in Paris You Should Try
Now that you know a little bit about the history of French food and what makes it so special, it's time to talk about some of the most popular French food to try while visiting Paris. Here are a dozen famous foods in France that you just have to eat at least once, but we certainly wouldn't blame you for wanting second helpings!
Baguettes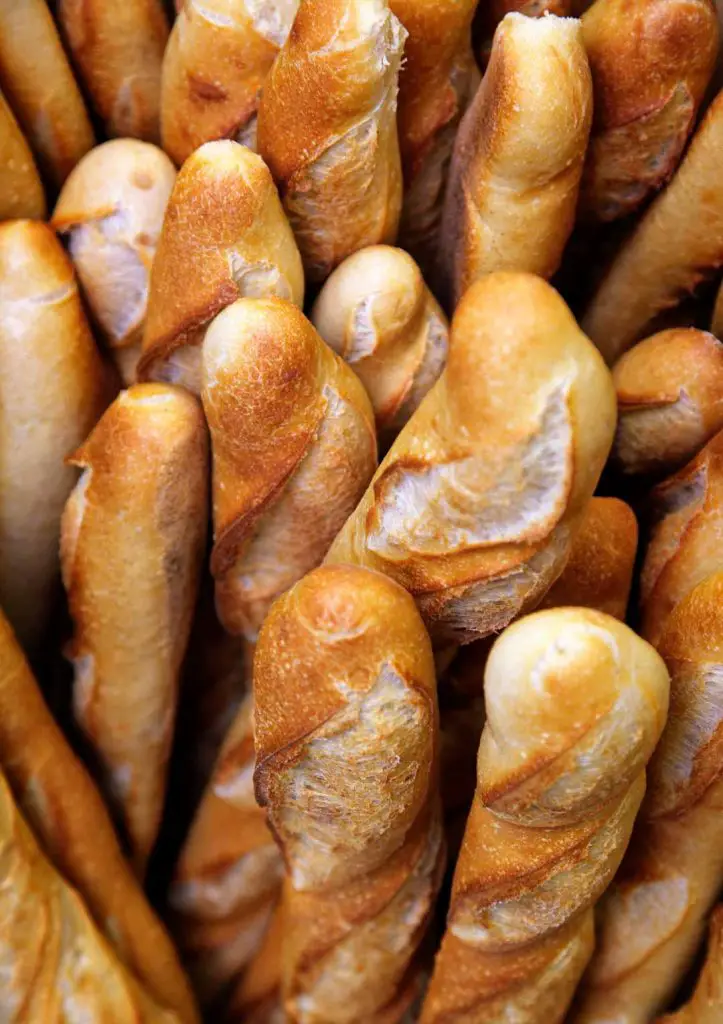 One of the most well-known French food items and a staple of French cuisine is the baguette. This long, thin bread loaf is typically made from wheat flour, water, yeast, and salt. Baguettes are perfect for sandwiches or simply enjoying with a little bit of butter.
Coq au Vin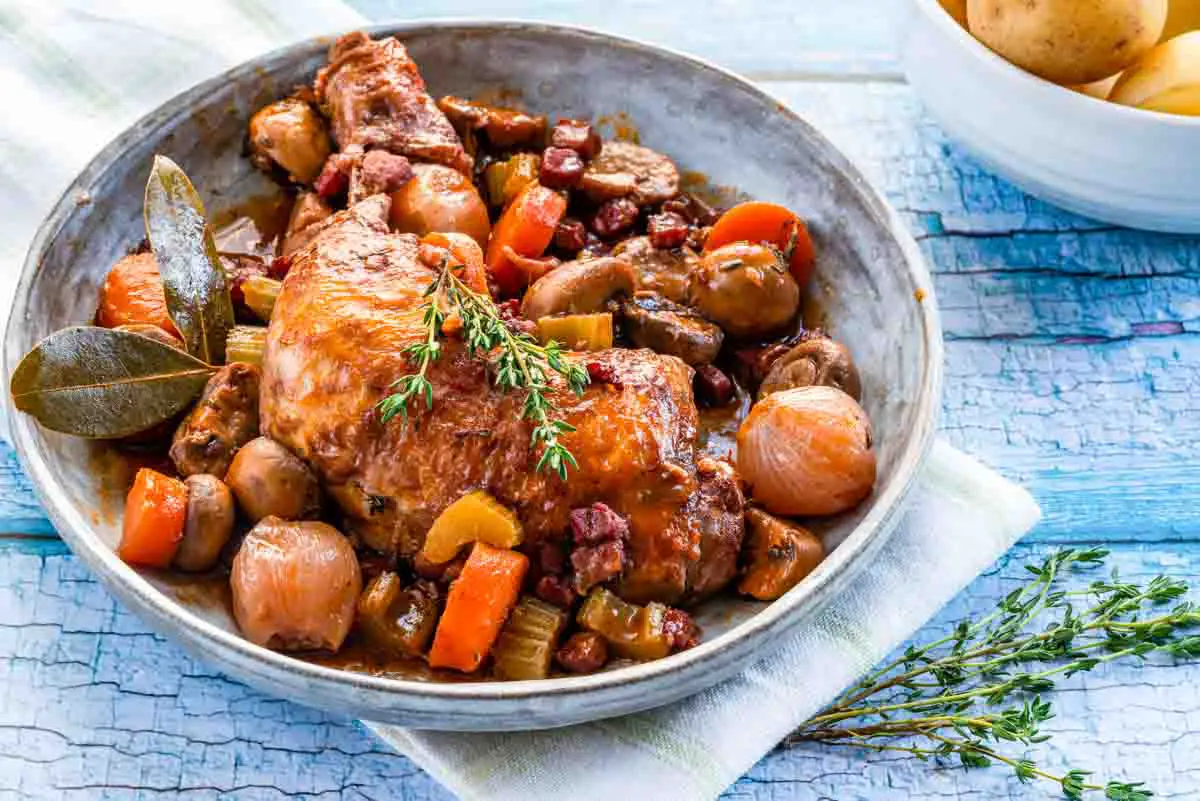 Coq au vin is one of the traditional French dishes you'll see at Parisian restaurants. This famous food from France is chicken braised in red wine until it's incredibly tender with mushrooms and lardons. Once you tuck into this wholesome dish, you'll find it is mouthwateringly delicious.
Crêpes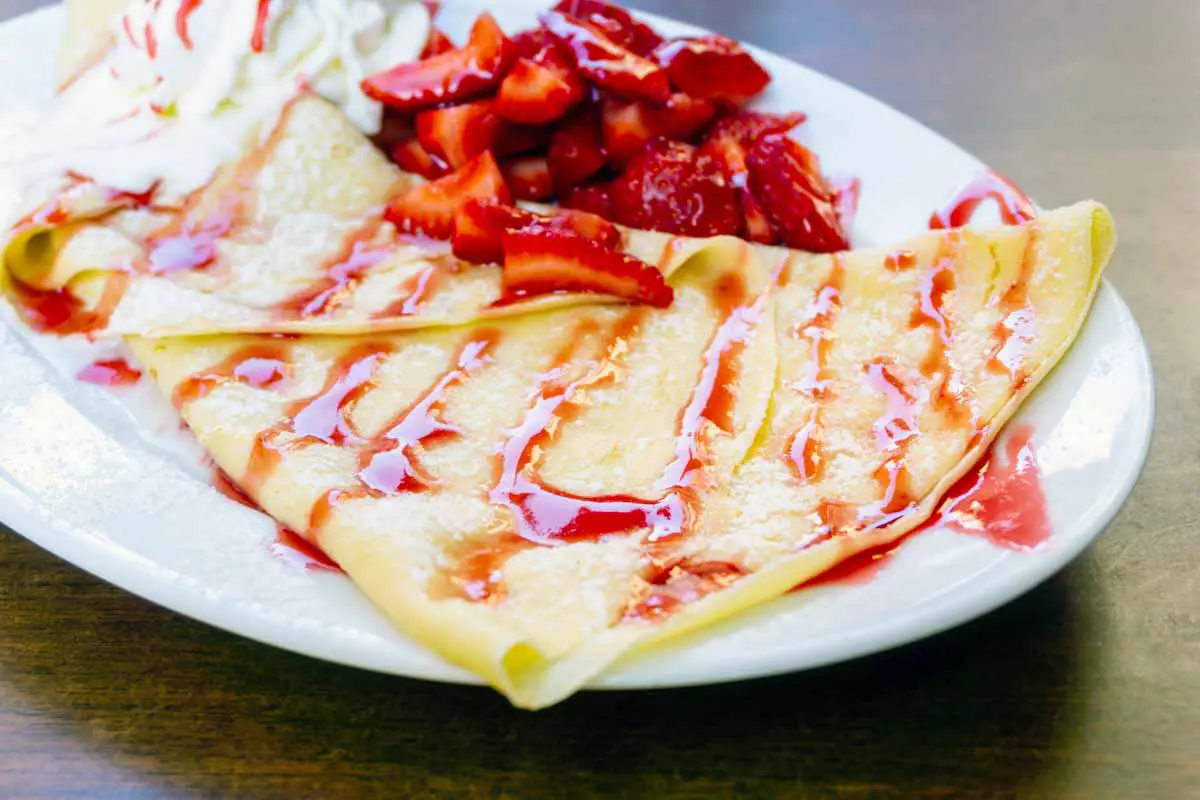 Another one of the popular foods in France that you'll easily find in Paris is the French crêpe. In France, crêpes are thin pancakes commonly served for breakfast or dessert. Usually, French crêpes are made with wheat flour, milk, eggs, and a little bit of sugar. Crêpes in Paris can be eaten simply or with various fillings, including fruit, chocolate, or cheese.
Croissants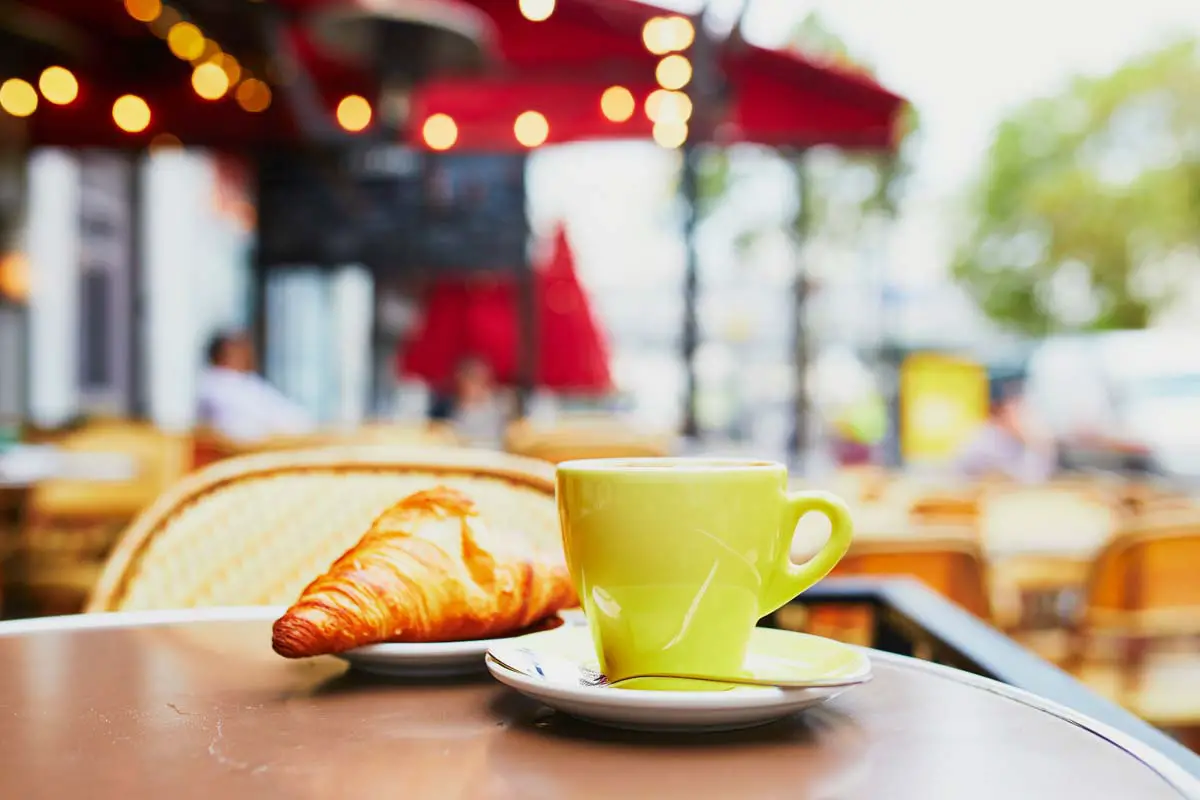 Certainly, the croissant is one of the most iconic French foods. This flaky, buttery pastry is absolutely delicious, and it's perfect for breakfast or a snack. You can find croissants at pretty much any bakery in Paris, so be sure to pick up one (or two!) during your visit.
Croque Monsieur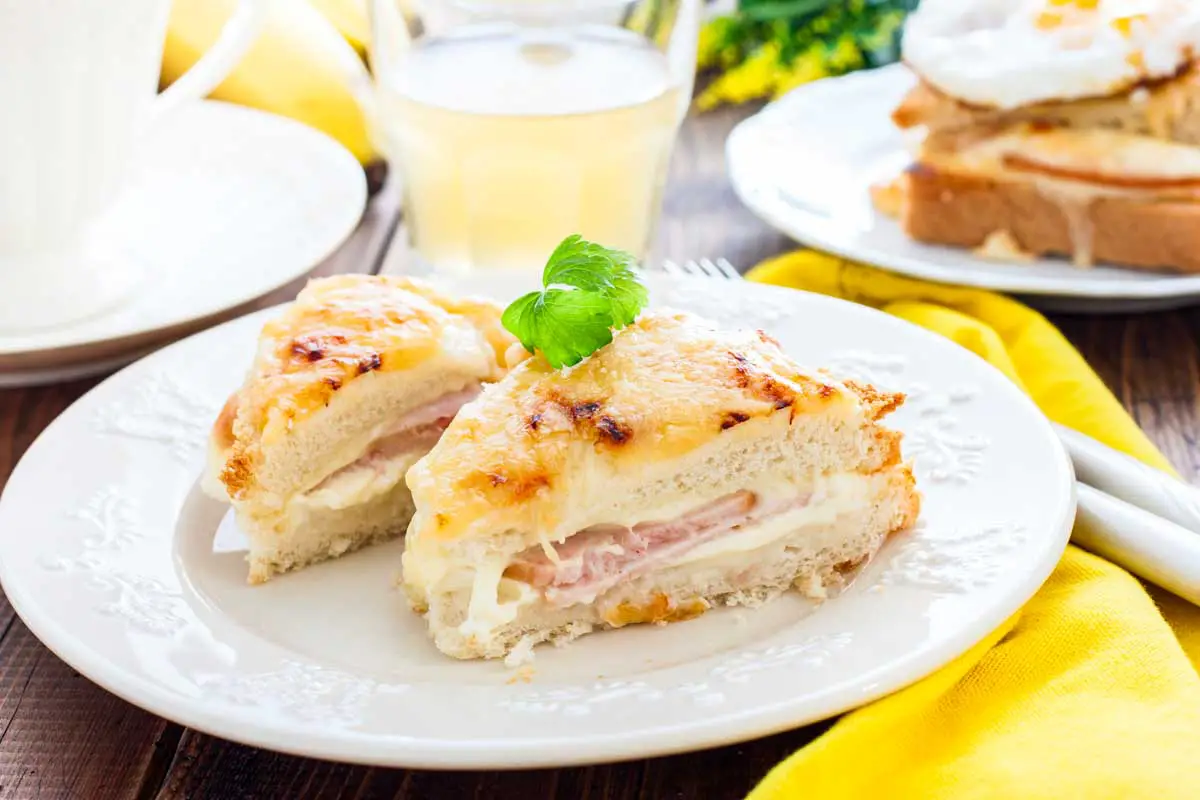 The croque monsieur is a savory hot sandwich of ham and cheese, usually Gruyère. It's said to have originated at Parisian cafés. So, why not give this famous Parisian sandwich a try at one of the best places to eat croque monsieur in Paris?
Escargot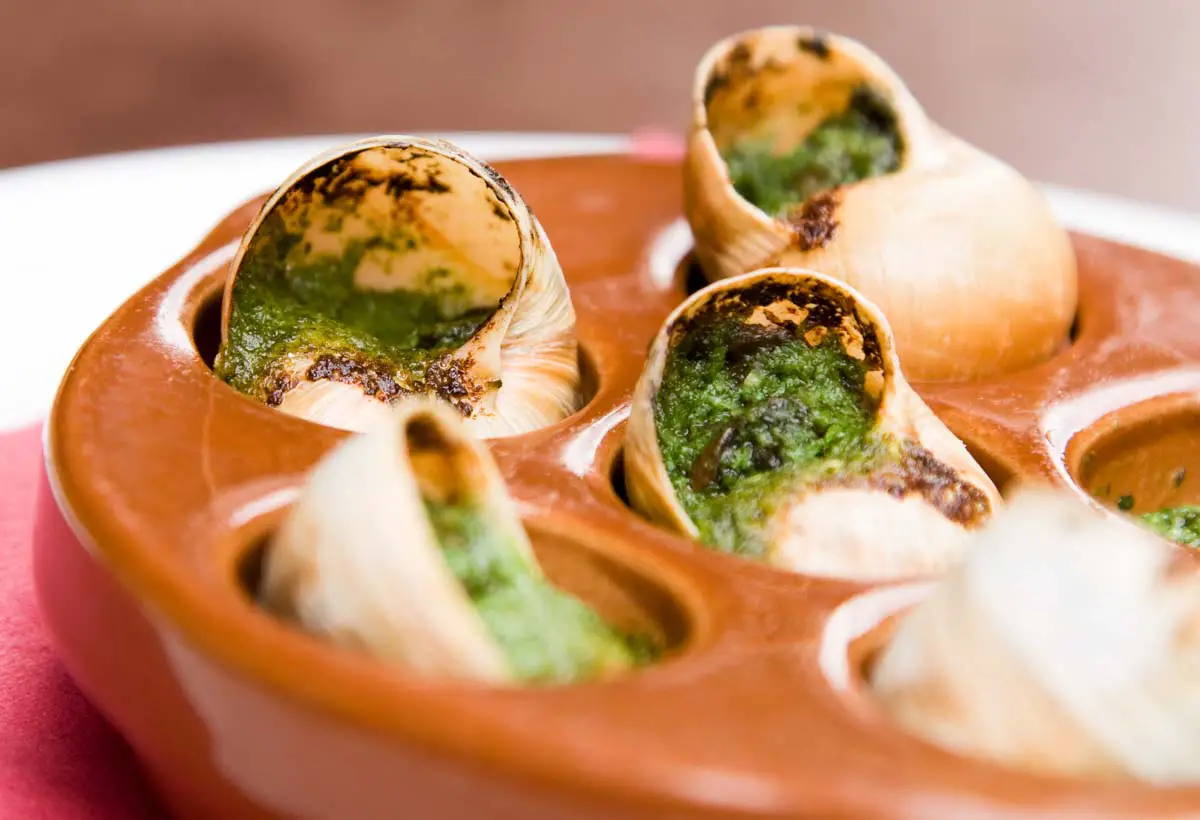 Escargot is a traditional French hors d'oeuvre of cooked snails prepared most often in herb or garlic butter. If you're feeling adventurous, be sure to give escargot a try while you're in Paris!
French Cheese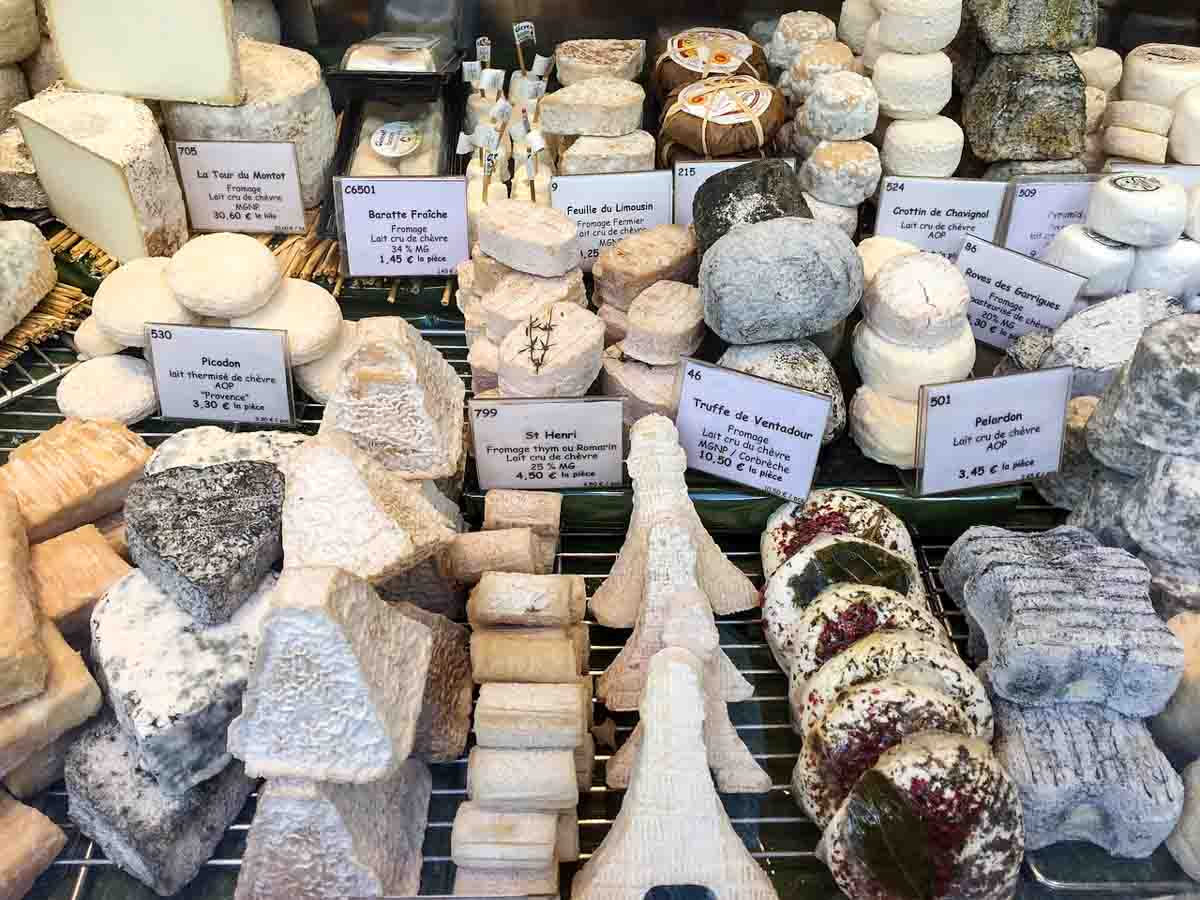 Did you know France is home to more than 400 different types of cheese? With so many varieties, it's no surprise that cheese is one of the most famous French foods! Whether you prefer a creamy brie, a salty comté salé, or a tangy Roquefort, you're likely to find a famous French cheese to suit your taste. While in Paris, make an effort to taste as many different types as possible!
French Onion Soup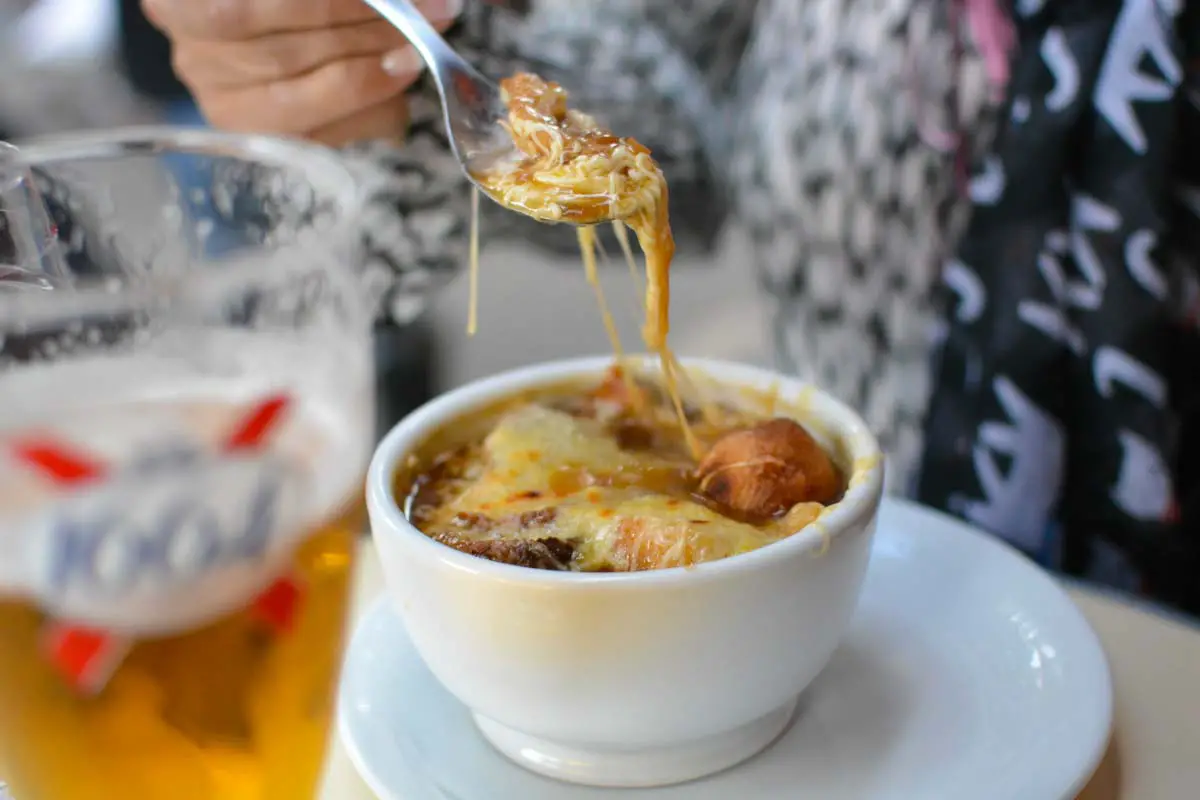 Of course, another popular food in France is onion soup. It is a hearty soup made with onions, beef broth, and a variety of spices. Usually, it is topped with a piece of bread and cheese. It's a tasty winter meal, but you'll find French onion soup served year-round at restaurants in Paris.
Macarons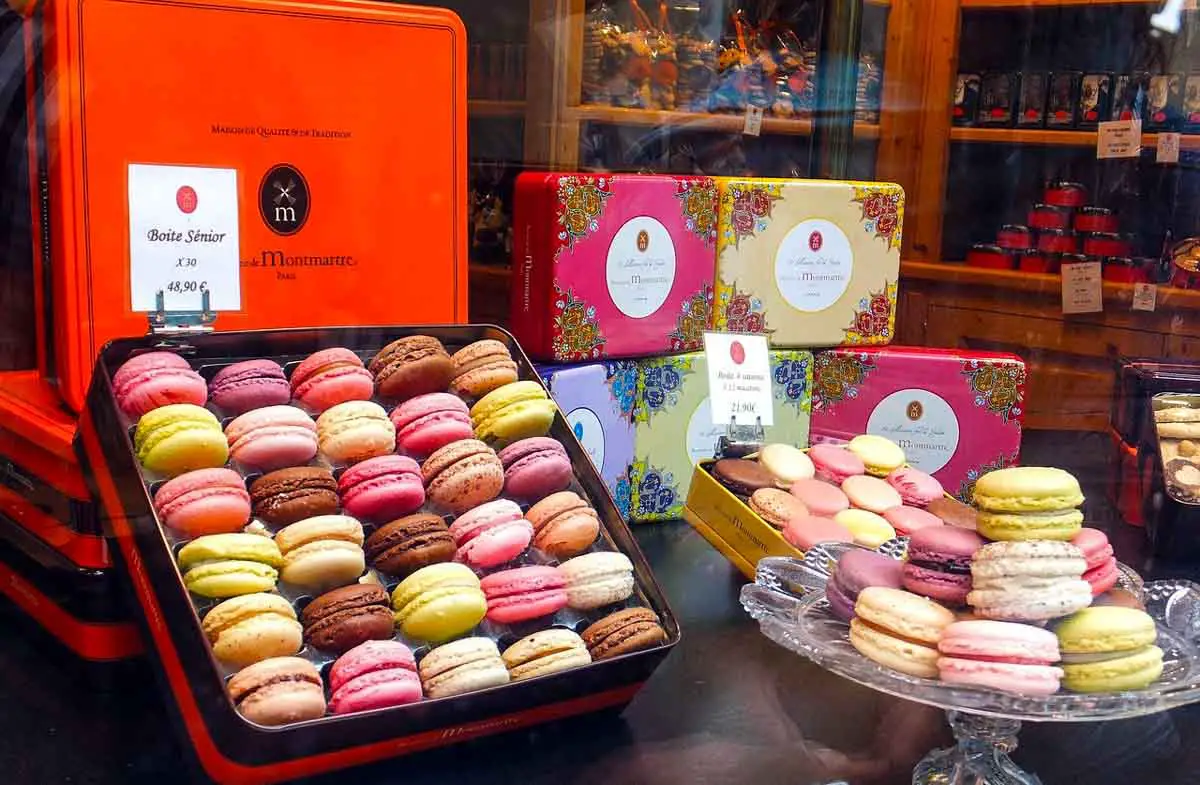 In addition to croissants, macarons are another popular French pastry. These colorful confections are made with a thin crust and a soft, chewy center. They're often filled with flavored creams or jams, and there are endless flavor combinations to try. You can even learn how to make macarons during a macaron cooking class in Paris!
Ratatouille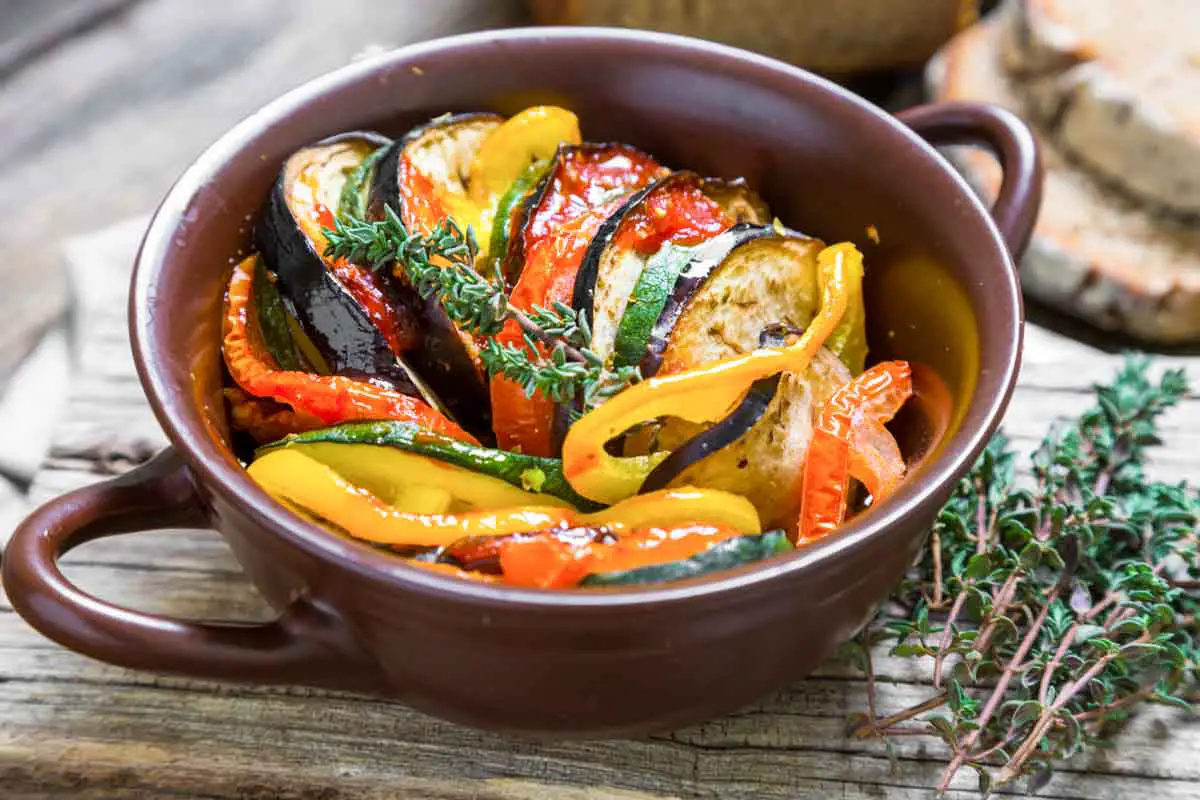 Ratatouille is a classic French dish made with vegetables — such as eggplant, bell peppers, zucchini, and tomatoes – cooked in a tomato sauce and often served with rice or pasta. Ratatouille is a healthy and delicious meal that you definitely need to try while you're in Paris.
Soufflés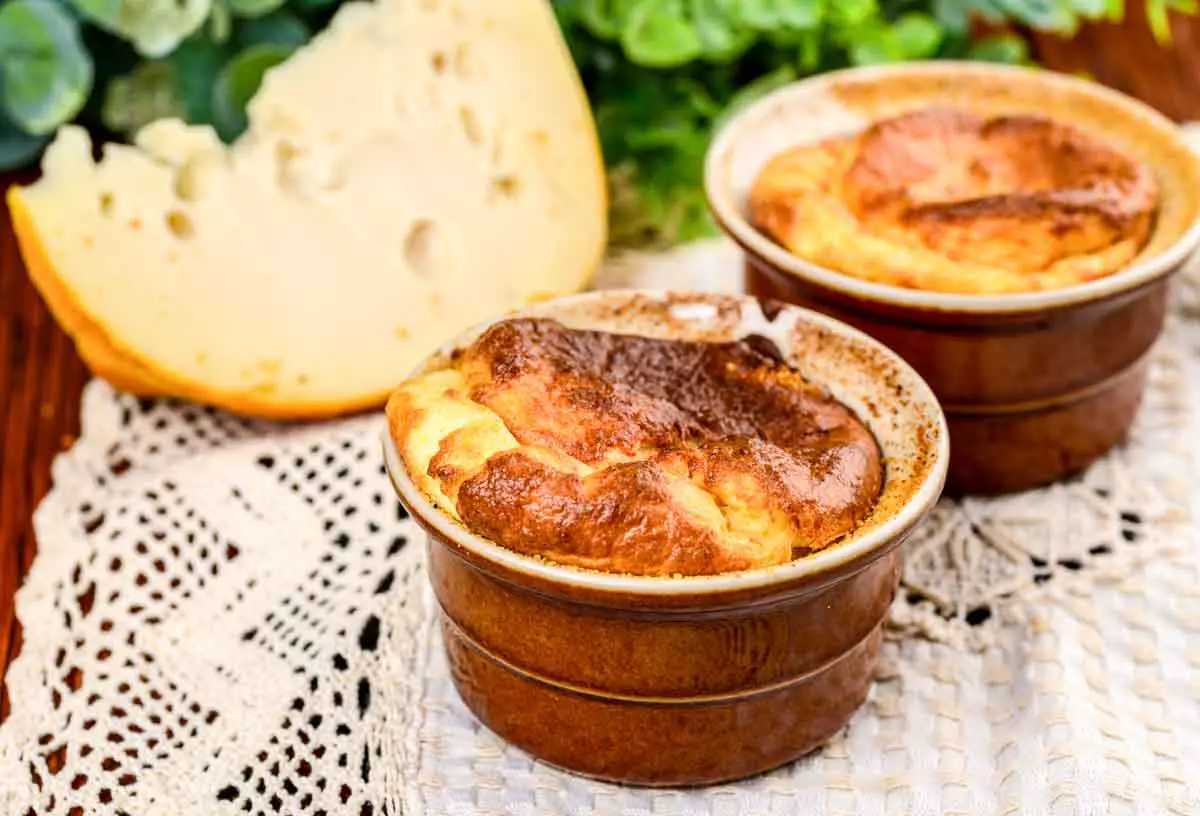 Soufflés are light and airy French desserts made with egg whites, sugar, and flavored custard. They're usually served hot out of the oven, and they come in a variety of flavors. Chocolate soufflés are particularly popular French desserts, but you can also find fruit-flavored soufflés or savory ones made with cheese.
Steak Frites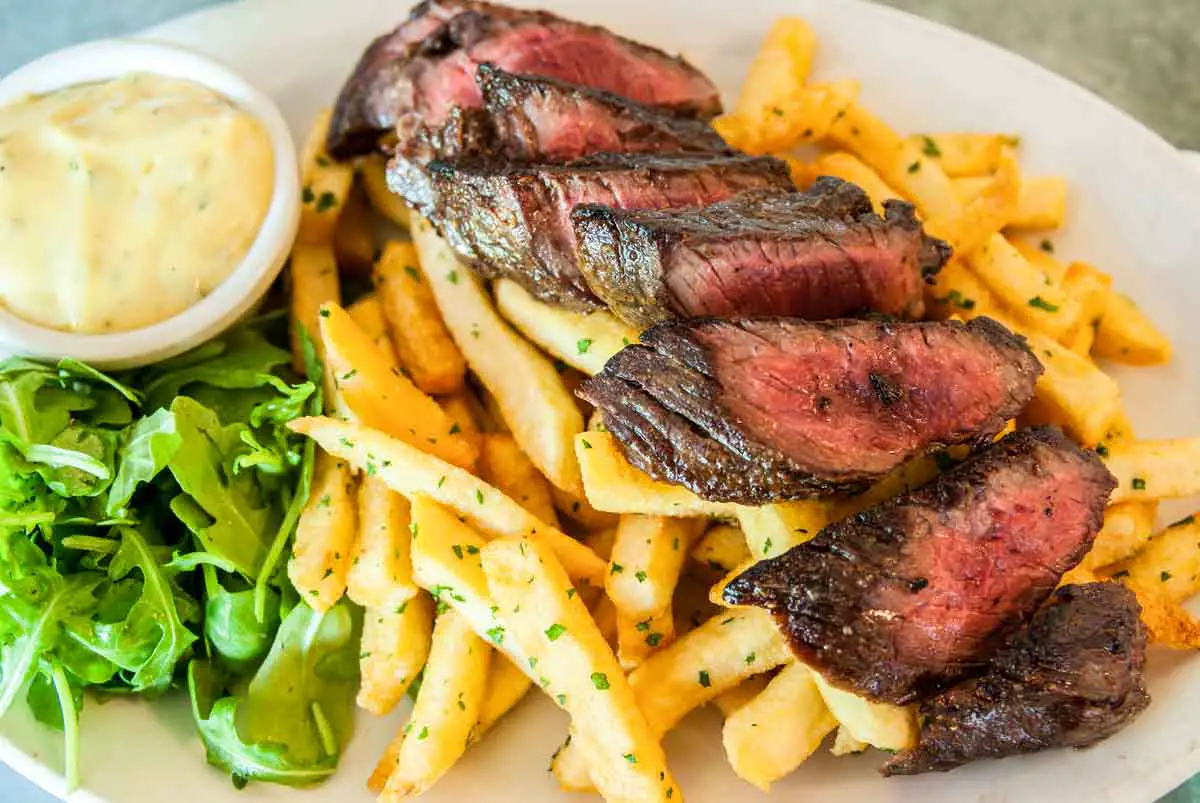 Steak Frites is a well-known French dish of steak and french fries. The steak is usually cooked to perfection. It's a simple but incredibly delicious dish, and it's definitely one of the most famous foods in France.
Which classic French food should you skip?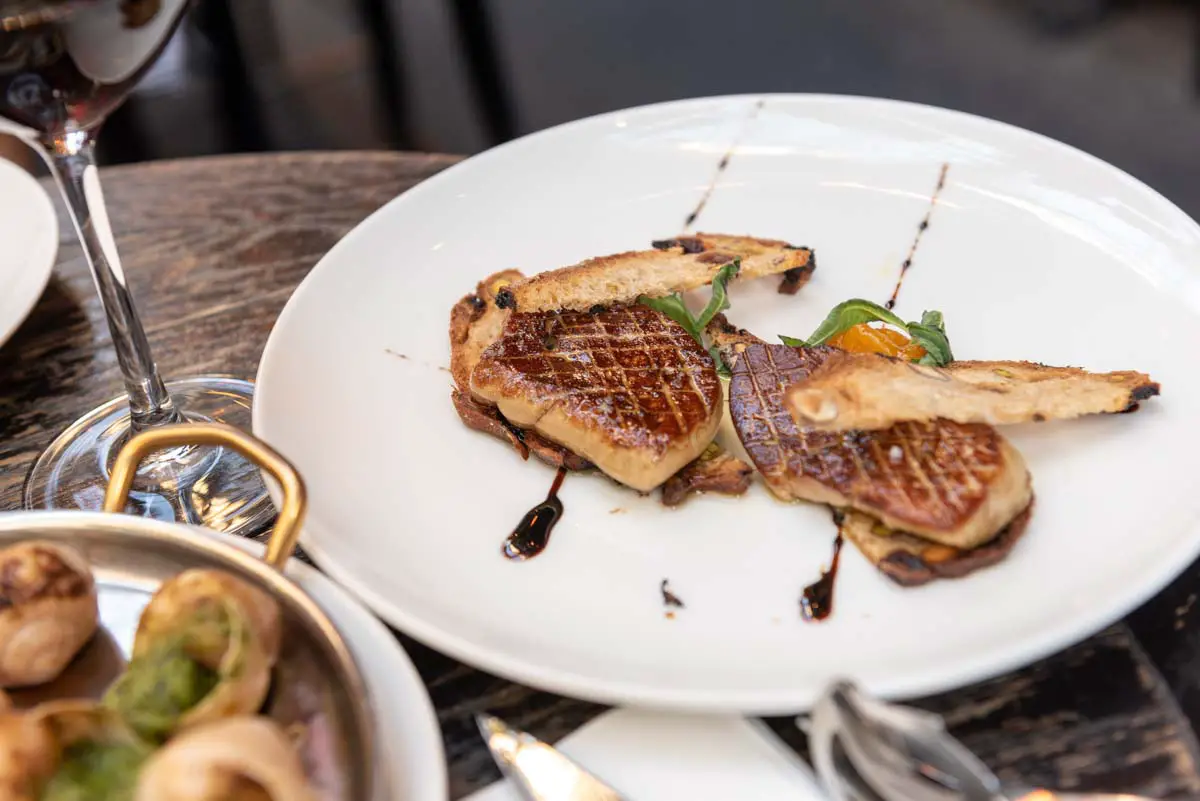 Among the many delicacies of French cuisine is foie gras, which is fatty duck or goose liver. Sought after by gourmands for its rich, buttery flavor, foie gras is said to be unlike any other duck or goose meat. In French cuisine, it is often prepared as a mousse or pâté.
Why don't we recommend eating foie gras in Paris?
Unfortunately, the livers of the ducks and geese are fattened through gavage, a force-feeding practice. For about two weeks prior to slaughter, the birds are fed — more than they would normally eat on their own — through feeding tubes placed through their beaks and down their throats. The practice can cause a bird's liver to swell up to 10 times its normal size and has been deemed cruel by animal rights groups. Additionally, foie gras production has even been banned in at least 20 countries.
With so many other delicious French foods to try in Paris, we don't think you'll miss foie gras. However, if you really want to eat foie gras while traveling in Europe, try it from this Spanish farm that makes foie gras from wild geese without force-feeding.
How do I pick a restaurant in Paris?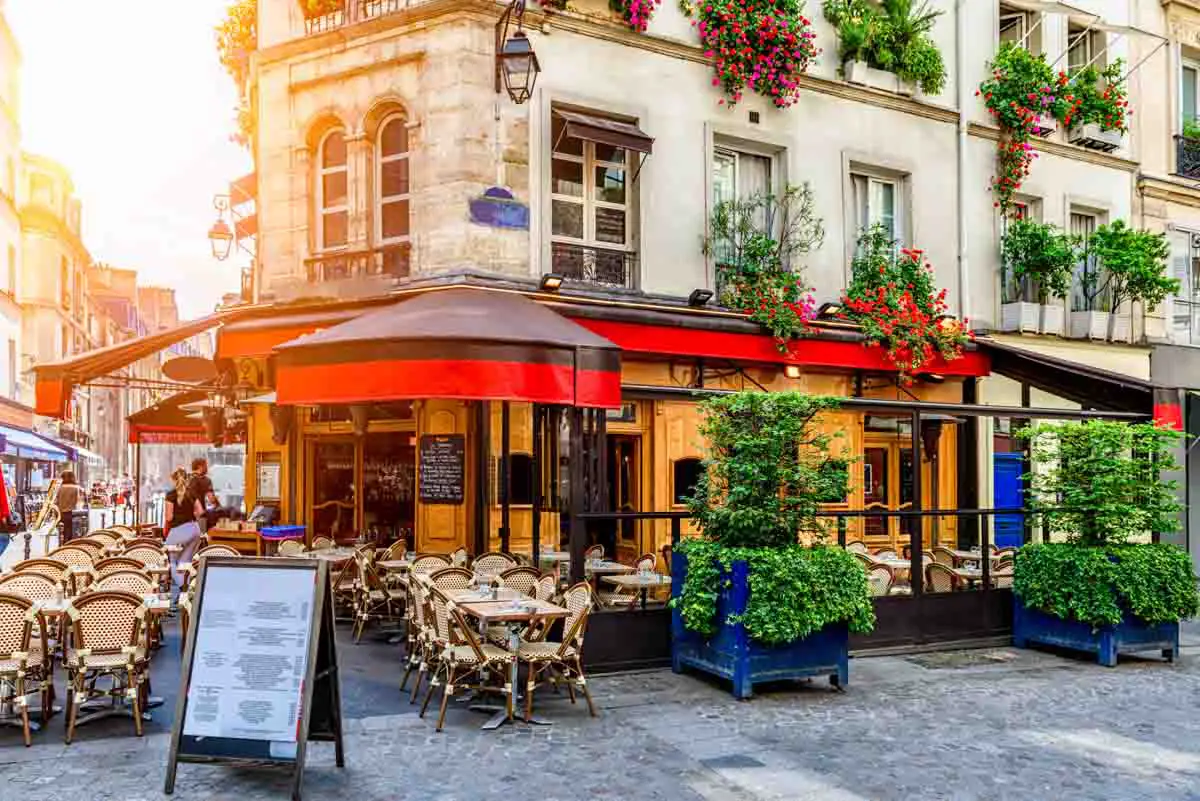 If you're looking for a delicious and authentic French meal while in Paris, you'll need to know how to pick the right place among more than 44,000 Paris restaurants. Whether you plan to dine at a French restaurant awarded a Michelin star or a casual open-air café, here are a few tips for dining in the French capital.
Look for restaurants with a lot of locals
The hottest French restaurants are usually the ones that are popular with the locals, so be sure to check out some of the neighborhood spots.
Avoid tourist traps
There are plenty of restaurants in Paris that are geared toward tourists, but they often lack the quality and authenticity that you're looking for. Instead, focus on finding some hidden gems that are off the beaten path. 
Check the menu before you go
Many French restaurants have their menus online, so you can take a look ahead of time and see what kinds of dishes they serve. This will give you a general idea of whether or not the restaurant is right for you.
Go with your gut
If you walk into a restaurant and it just doesn't feel right, it's probably best to move on. There are so many amazing restaurants in Paris that you're sure to find one that you love.
Ask for recommendations
Lastly, consult your hotel concierge if you're still unsure about where to eat. They should be able to direct you to a high-quality French restaurant.
With these tips in mind, you can have a delicious and authentic French meal while traveling in Paris.
Paris Food Tours & Activities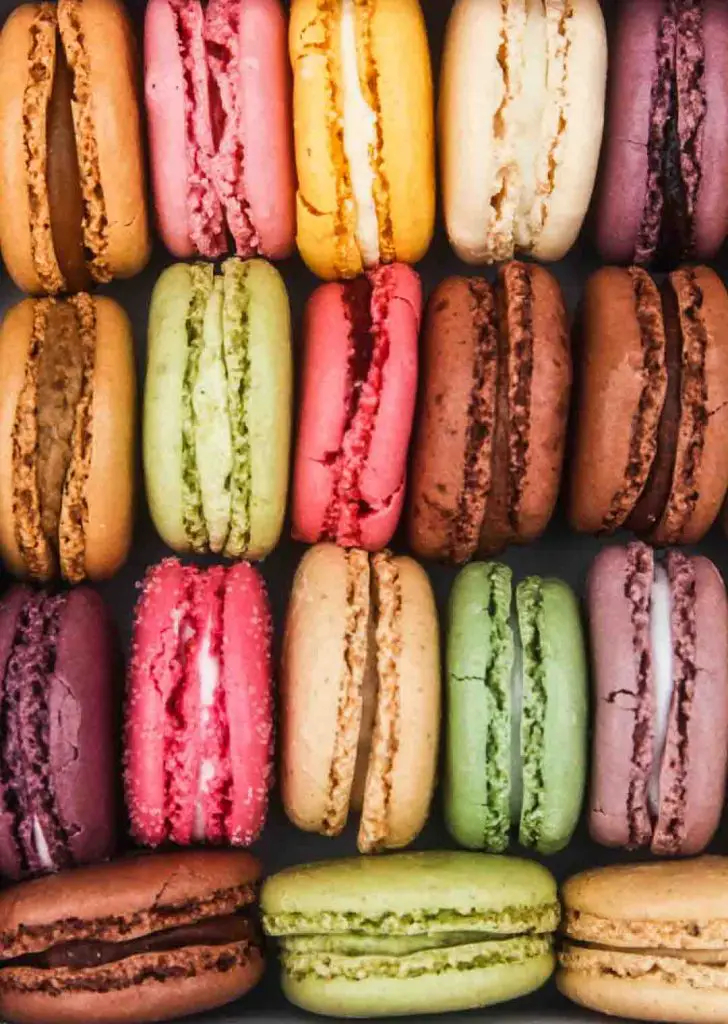 In addition to dining at French restaurants, bakeries, cafés, and markets in Paris, you can get a taste of French cuisine on a Paris food tour.
For example, on a food tour of Montmartre, you'll sample French cheeses, wines, pastries, and chocolate. Alternatively, you could meet local artisans as you eat your way through the oldest neighborhood in Paris on a Saint Germain des Prés food tour.
Why not learn to bake like a pâtissier? While in Paris, you can learn to make macarons, chocolate éclairs, or other famous French desserts in a cooking class.
And, if a Parisian food tour or French pastry cooking class isn't the ideal activity for you, you'll find wine tastings, dinner cruises along the Seine, day trips from Paris filled with food and wine tastings, and even more culinary activities in Paris.
Find and Book Food Tours and Cooking Classes in Paris
Plan Your Trip to Paris
If you are now craving a buttery croissant or savory cheese soufflé after reading about the famous foods from France featured in this post, then perhaps it's time to book a trip to Paris!
To plan your trip, first, search for cheap flights to Paris; then, check out our recommendations below for highly-rated Paris hotels.
Located near the Champs-Elysees, this luxurious five-star hotel in an urban 19th Century mansion houses a world-class spa, a private library for hotel guests, suites with wine cellars, and chef Jérôme Banctel's Michelin two-starred Le Gabriel restaurant.
At this French château in the quiet and elegant 16th arrondissement, you can relax in the Greco-Roman-style thermal baths of the Guerlain Spa and dine at the Michelin-starred Bellefeuille, where chef Julien Dumas crafts seasonal dishes using the freshest ingredients, including vegetables from the hotel's organic garden.
A hidden gem near the Latin Quarter, the three-star boutique hotel receives rave reviews from travelers for impeccably clean and stylish rooms, delicious daily breakfast, and the warm, welcoming staff.
Not quite what you're looking for in Paris? Search for more Paris accommodations below!
What's not to love in Paris?
Paris is a city that has something for everyone. Whether you're looking for amazing art and history at the Louvre or want to see the Eiffel Tower light up the sky, there's no shortage of things to do in this City of Lights. Of course, no trip to Paris would be complete without tasting croissants, macarons, and the other French foods we've mentioned in this post. 
Which popular French food would you like to try in Paris?
We'd love to hear your thoughts on French food! Please share with us your favorite French dish or which one you'd like to try in Paris by leaving us a comment below!
Read More Culinary Travel Articles
Read More About European Destinations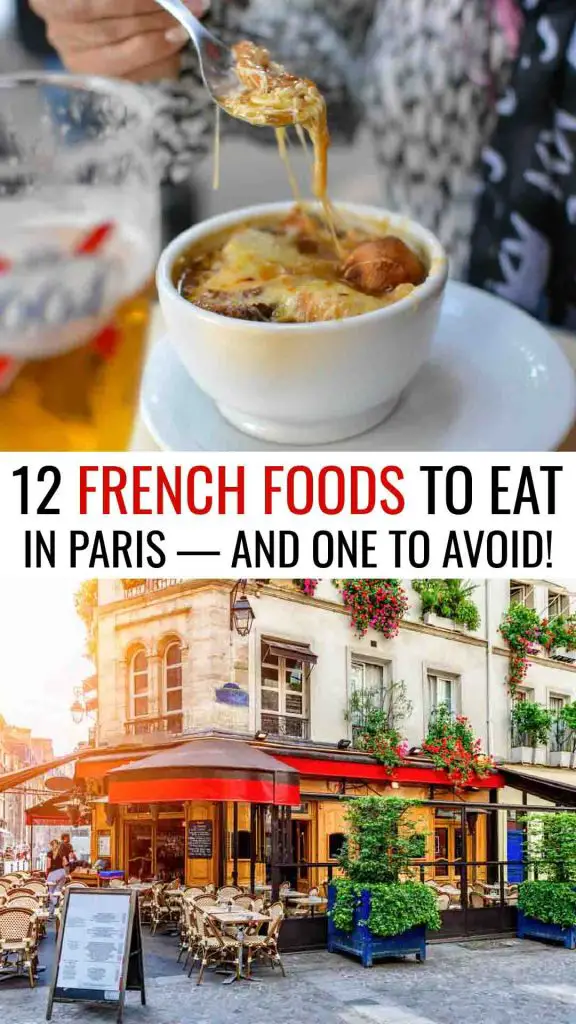 Planning a trip to Paris in the future? Save the image above to your Paris travel board on Pinterest to reference this post later!