Are you traveling to Colorado and unsure of what to pack? I have been in your shoes. In this post, I share packing tips for traveling in Colorado based on my own experience visiting Denver, Boulder, Colorado Springs, Fort Collins, and Breckenridge. 
Before I traveled to Colorado, I was not sure what to pack. Naturally, I did what anyone else would do: I Googled. I also talked to my friends who live there. Their advice: keep it casual and dress in layers because the weather in Colorado is a bit weird.
What do I mean by weird weather? Well, it's likely the temperature or conditions will change throughout the day. In February, you could have a gorgeous day ideal for golfing. Seriously, one of my friends told me he kept his golf clubs in his car year-round because a perfect day could happen any time of year in Denver. On the flip side, Colorado can have snow flurries in June — and even sometimes in July!
In Denver, the air is actually quite arid. Due to the Mile High City's elevation, Denver only sees 8-15 inches of precipitation yearly. If you do run into precipitation during your Denver trip, it's likely not going to last long. Yet Breckenridge, known for its ski resorts, gets more than 300 inches of snow each year!
If you are even more confused about what to pack now, don't worry. I got you.
Disclosure: This Colorado packing guide contains affiliate links. When you click on one of these links, I may earn a small commission. Of course, this is at no extra cost to you, and I have taken great care in selecting the products I recommend in this post.
---
Five Essentials You Need on Your Colorado Packing List
After visiting for nine days in September 2014, talking with friends who live there year-round, and researching what other travel professionals recommend, I've compiled five tips for what to pack and wear when visiting Colorado any time of the year.
First of All, Don't Forget Your Sunglasses!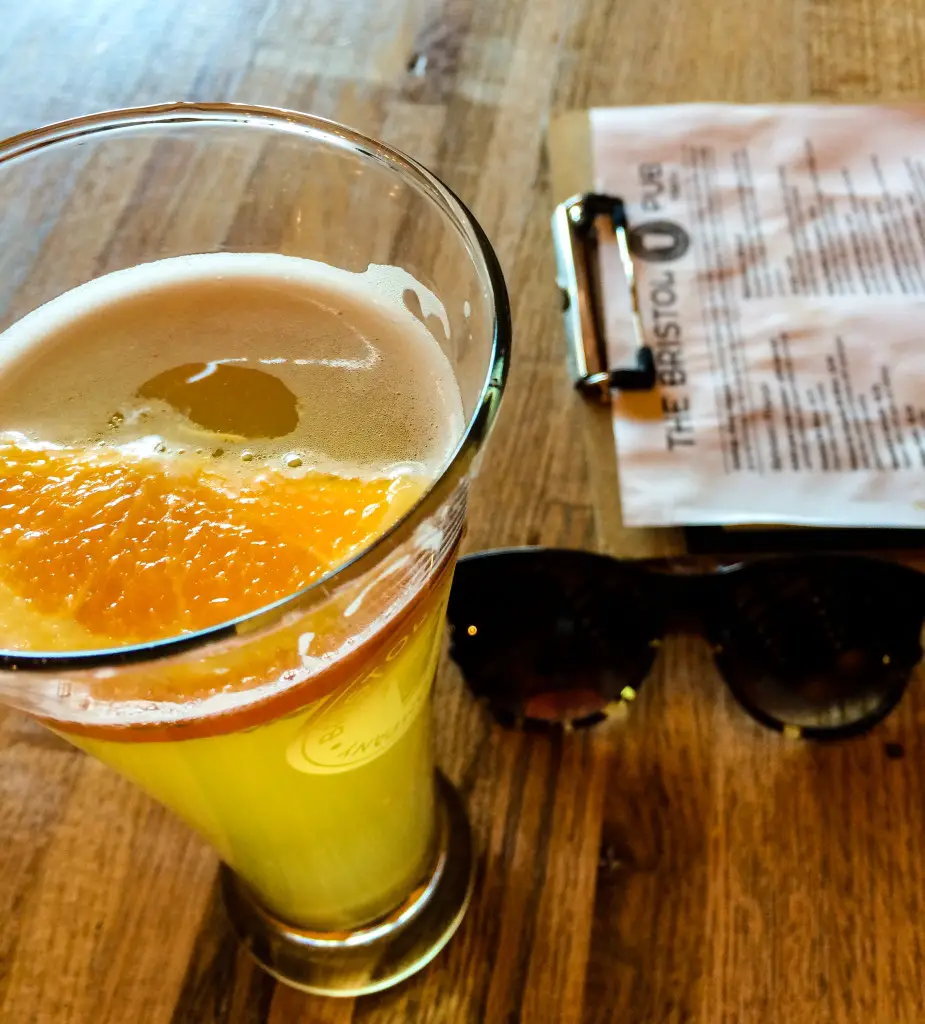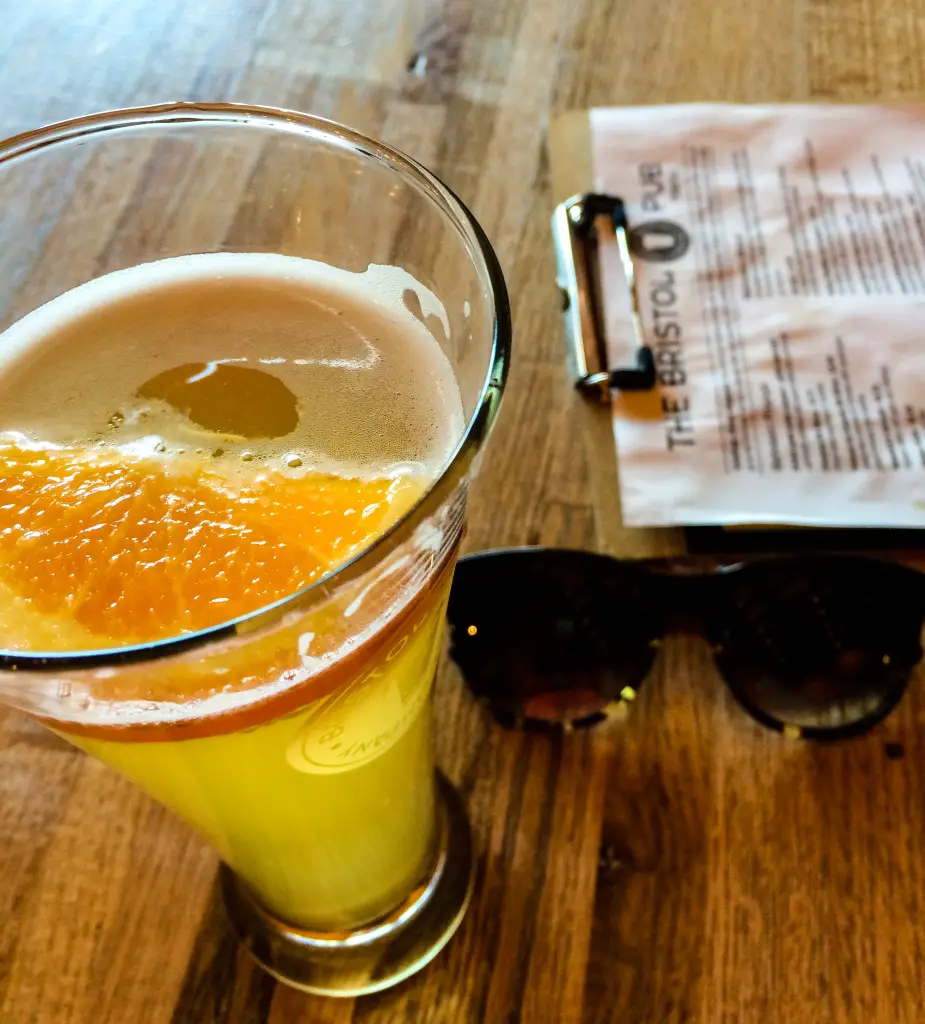 Colorado gets 300-some days of sunshine yearly, which is more annual hours of sunlight than Miami or Southern California. Whether hiking through Garden of the Gods, skiing down a mountain, or sipping a craft beer on a Denver brewery's patio, you'll definitely want to have your shades handy.
RELATED: How to Pick the Best Sunglasses for Travel
No matter what time of year you visit Colorado, you might also need sunscreen. Remember that snow reflects sunshine and that sunlight is stronger at higher elevations. An SPF of 25 to 30 is recommended in Breckenridge and other high-elevation ski resort towns.
Shop My Look
Sunglasses, Oliver Peoples | Similar
When in Colorado, Dress in Layers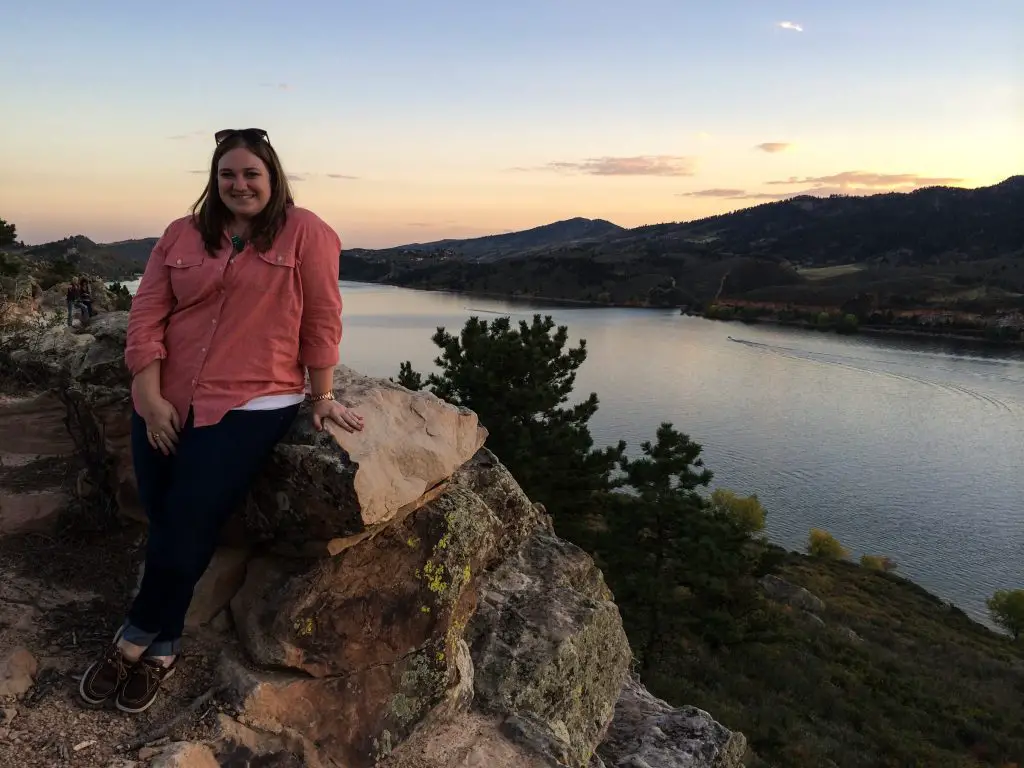 On the day I explored Fort Collins, temperatures reached the upper 70s (Fahrenheit). Even the morning was pretty warm, and some locals on my late-morning tour of New Belgium's brewery were already wearing shorts.
Later in the day, the temperatures dipped, and I was happy to have dressed in layers I could remove and add as desired.
Evenings in the summer and early fall can be cool yet still pretty comfortable.
As I've traveled, I've found dressing in layers is the best way to prepare for whatever weather I encounter throughout the day. That certainly holds true when visiting Colorado. As one of my Denver Uber drivers joked, "If you don't like the weather, wait 10 minutes."
As you pack, consider packing items you can layer. Shirts with sleeves I could roll up or down, button-down shirts I easily layered over a T-shirt, and pashmina scarves worked well for me.
By the way, athleisure wear works pretty much anywhere you want to go in Colorado! That means you can go from a hike to a brewery tour or from the slopes to a coffee shop without changing your outfit.
Shop My Look
Chambray Shirt | Similar
V-Neck T-shirt | Similar
Bib Necklace | Similar
Dark Wash Skinny Jeans | Similar
Rose Gold Tone Watch | Similar 
Sunglasses | Similar 
Boat Shoes | Similar
Wear Warm Outerwear in the Mountains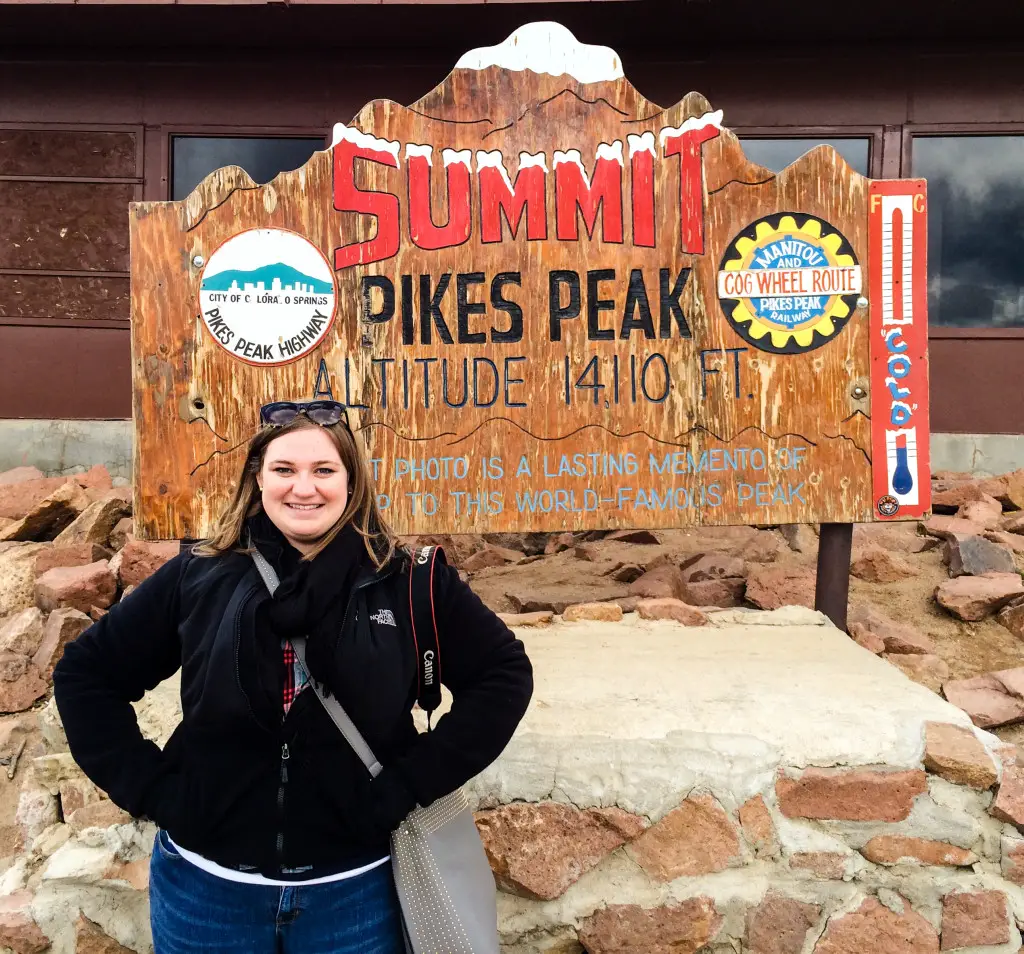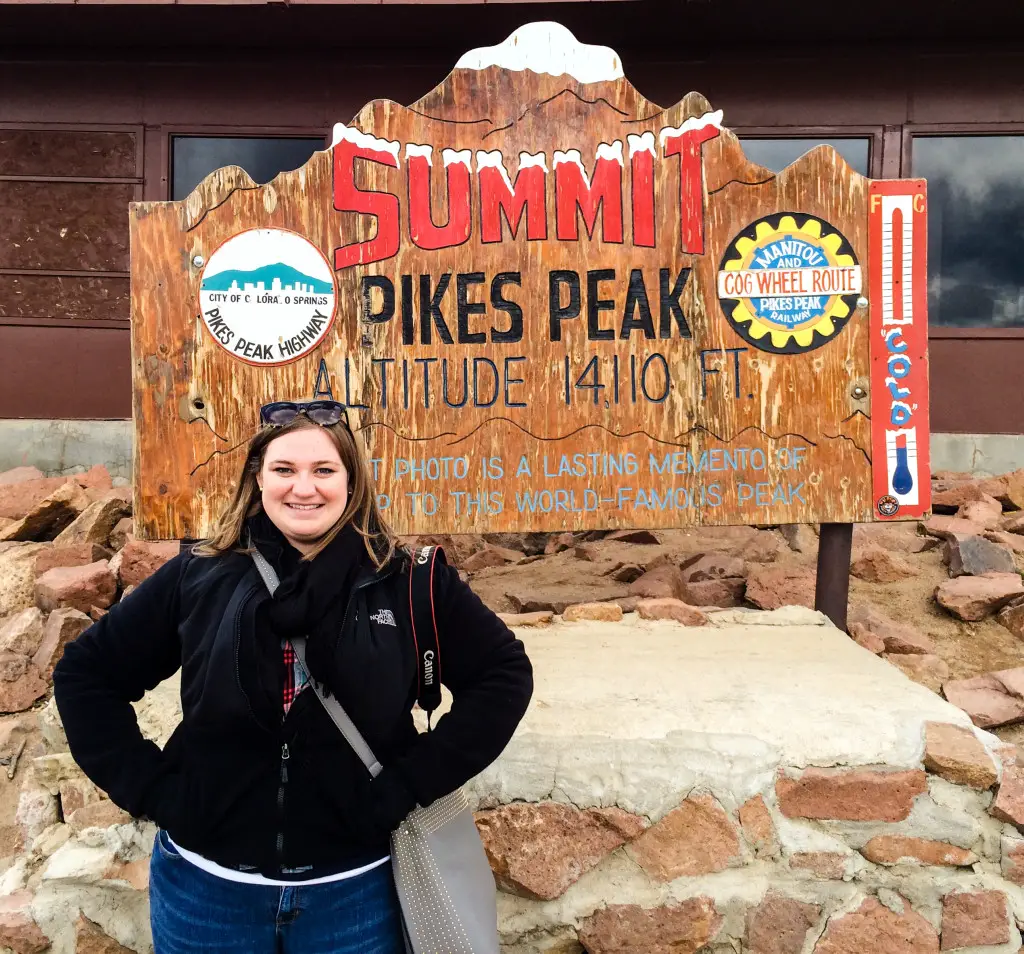 Even though it reached 82° Fahrenheit (27° C) while I was in Denver, it was a brisk 33° F (.55° C) at the top of Pikes Peak, where the elevation is 14,110 feet.
If you plan to visit Pikes Peak or other summits during your trip, you should check the usual temperature for the time of year you will visit. It could be vastly different from Denver and Colorado Springs. Yes, even in the summer months.
Also, keep in mind that it will be cooler in the mountain towns than in the Front Range cities. The day I was in Breckenridge, the daytime temperatures were about 10 degrees (Fahrenheit) lower than in Denver and Colorado Springs.
When I visited Breckenridge, it was sunny during the afternoon. I was comfortable walking around in short sleeves for most of the afternoon, but I pulled on a light jacket in the shadier nooks.
Remember what I said about layers, folks. By nightfall, the air had cooled down significantly, and I returned to my lodging in Breckenridge for my fleece jacket before dinner.
For a short period of time in the mountains, I suggest wearing a lightweight fleece jacket from Columbia or The North Face. Fleece jackets are warm, great for layering, and won't take up much space in your luggage.
I also recommend packing a pashmina and a pair of smart-touch gloves.
A Note About Visiting Colorado In Winter
Of course, my advice in this post is primarily based on my experience visiting Colorado in September, when average temperatures in Denver range between 44° F/6.7° C (low) and 78° F/25.6° C (high). Even in the mountain town of Breckenridge, September temperatures only average between 33° F/.55° C and 63°F/17° C.
However, if you are visiting Colorado for a winter ski vacation, you'll have other weather conditions and activities to consider as you pack.
Suggested Packing List For Winter Ski Trip In Colorado
Mid-layer, such as a hoodie or fleece vest, for warmth
Ski jacket with waterproof and breathable fabric, a high collar, a. hood, snow cuffs, and ventilation
Ski/snowboard helmet — If you don't have one, you can rent one from the ski resort. Renting a helmet will save luggage space!
Swimsuit (for a relaxing hot tub dip after a long day on the slopes)
Wear Footwear For Active Days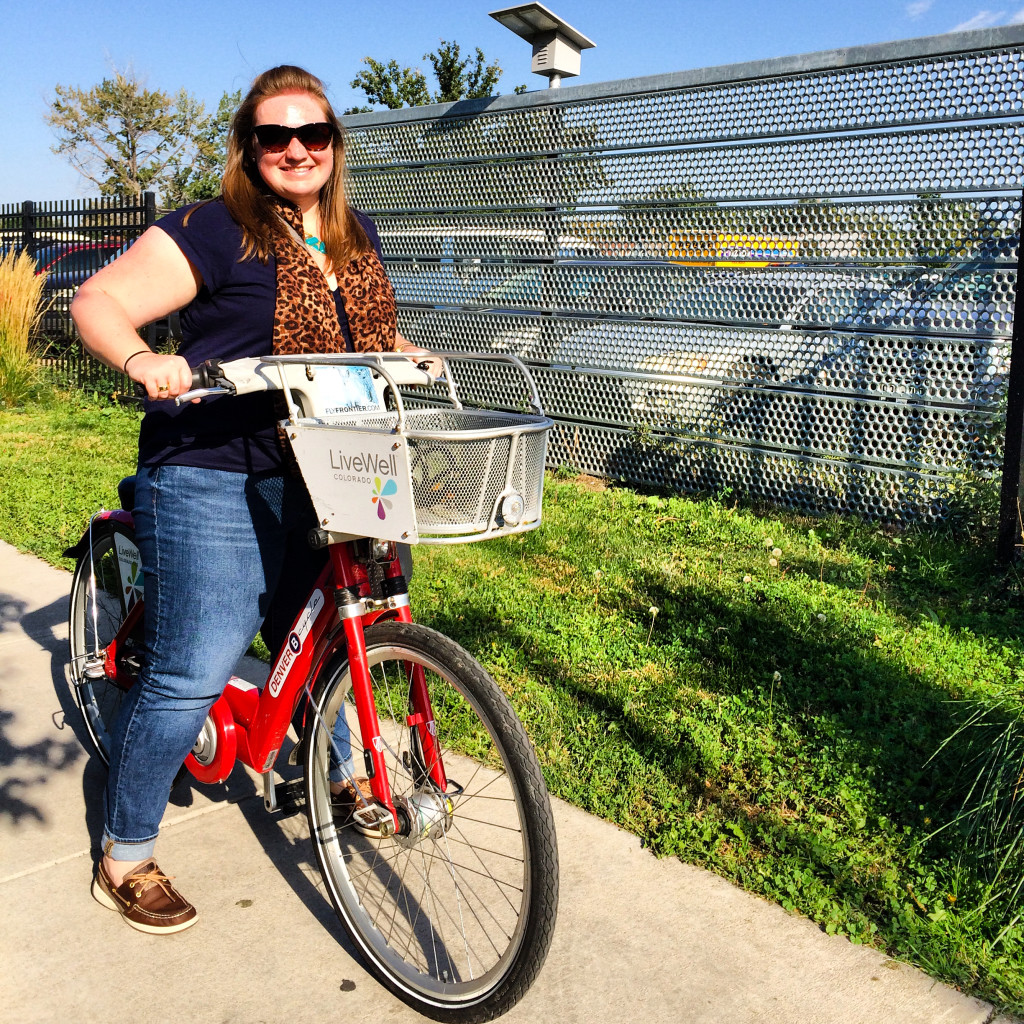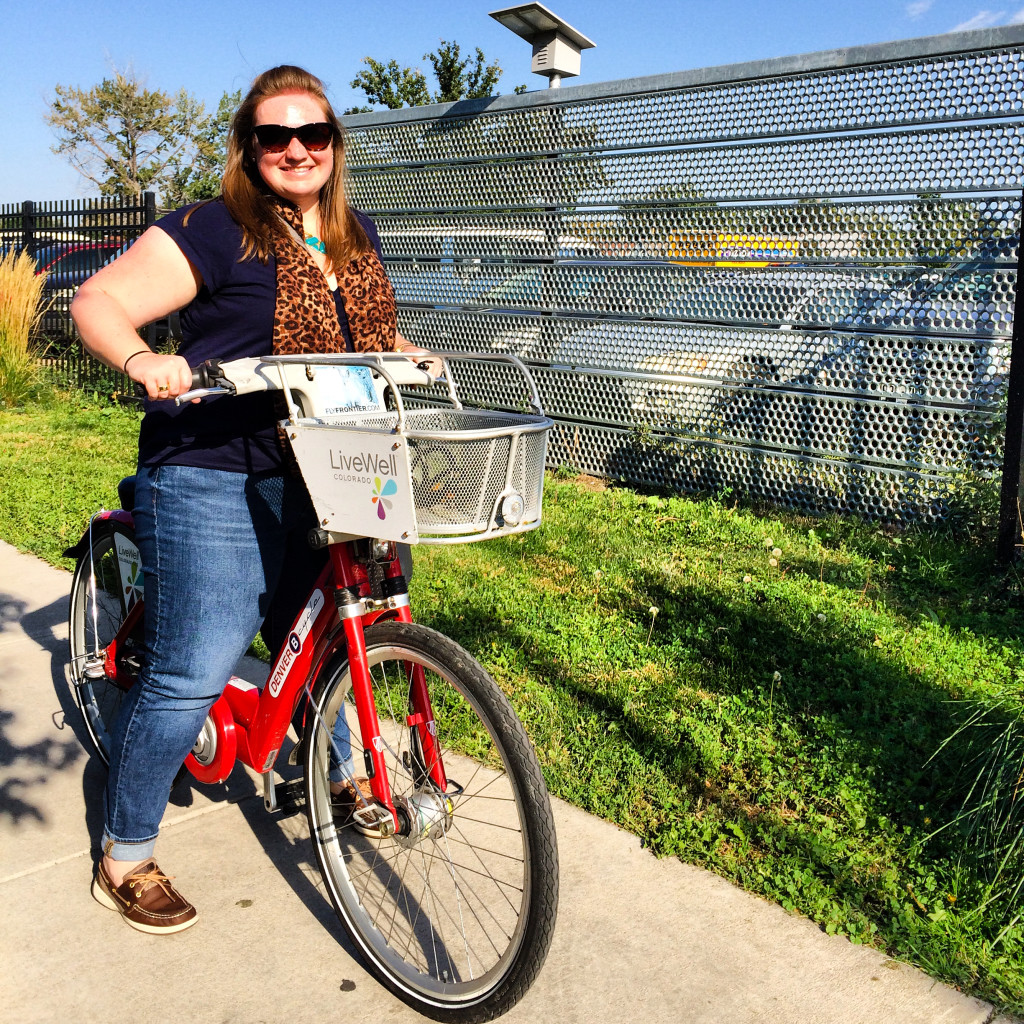 For every trip I've taken in the past year, I've packed at least one pair of heels. Except for my trip to Colorado. In fact, the fanciest pair of shoes I packed were black leather flats, which I only wore to a couple dinners and nights on the town with friends in Boulder and Denver.
While packing, I already knew I'd be biking in Boulder and climbing atop rocks at Garden of the Gods. I knew I'd be visiting Pikes Peak's summit, where it would be cold and possibly snowy. And, even on my less active days in Denver, I'd still be doing a lot of walking between museums, restaurants, and breweries.
Therefore, I packed the following three shoes for active travel:
Tennis Shoes/Sneakers: I prefer lightweight tennis shoes — like the Nike women's flex trainer sneaker — for traveling because they take up less space in my suitcase. These shoes are great for adventure and athletic activities such as biking, trail walks, light hiking, and exploring rocky areas. If you plan to do serious hiking, you may want a sturdy pair of hiking shoes or hiking boots.
Booties: I like ankle boots that offer both style and functionality. On a mountain, boots provide stability and warmth, yet they can still be cute, edgy, or suit your personal style!
Boat Shoes: Boat shoes are the most comfortable shoes I've found for long days full of walking. They provide more support than sandals, flip-flops, and other warm-weather footwear. Boat shoes also don't usually have uncomfortable arches like tennis shoes sometimes have. I recommend Sperry boat shoes if you are looking for a pair of comfortable boat shoes.
Accessorize Casual Basics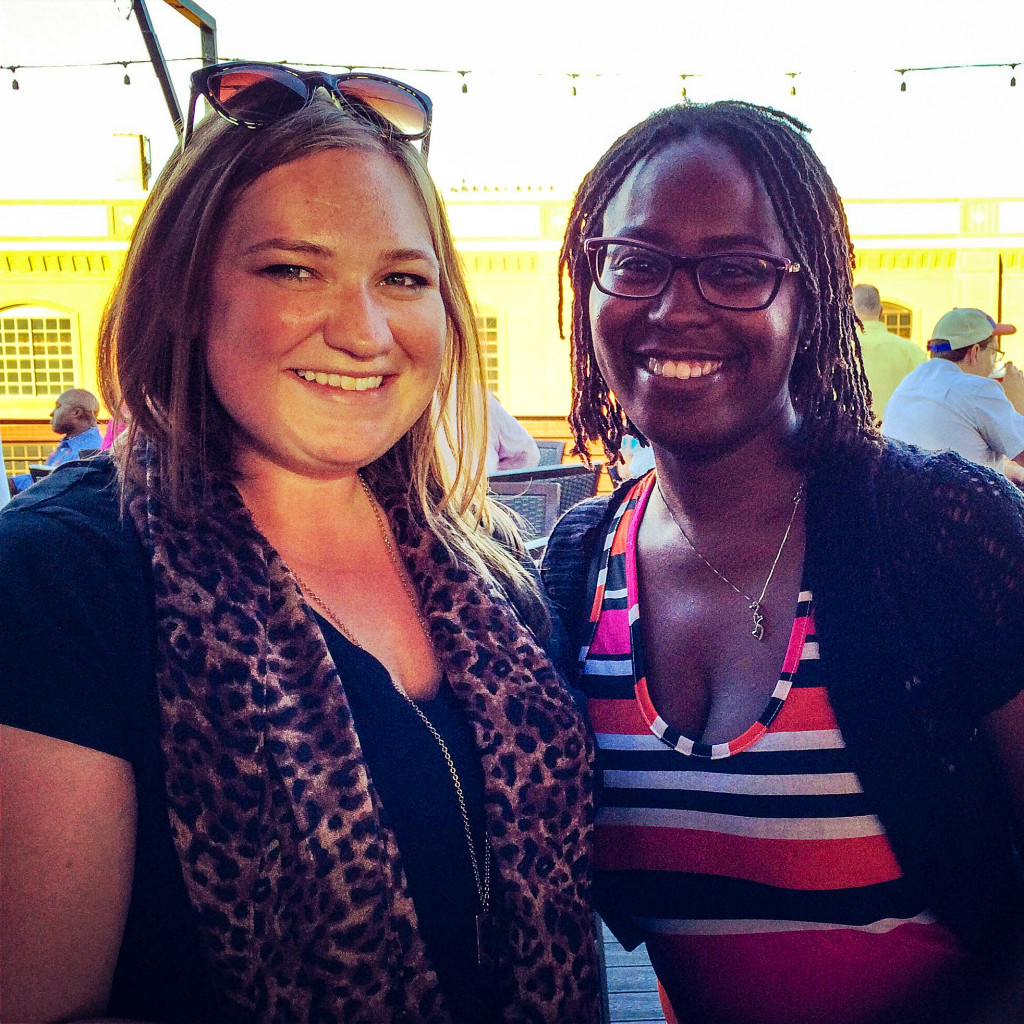 My friends were right about the casual ease of Colorado style. Jeans paired with solid-color v-neck T-shirts worked everywhere I went in Colorado, including museums, breweries, hotels, restaurants, outdoor festivals, and rooftop happy hours.
When traveling, I pack a lot of basics and then accessorize with scarves and jewelry to add a little personal style and flair. This also makes it easy to mix and match outfits throughout the trip.
As you pack for Colorado, keep comfort and functionality in mind. You'll want to be prepared for changes in the weather by wearing layers. But all this doesn't mean you can't be stylish! Though casual clothing and athleisure wear are perfectly acceptable in most Colorado establishments, a quality pashmina and a little jewelry can take your look from a daytime hike to happy hour drinks.
Read More About Colorado
Save this post to your Colorado travel board on Pinterest to easily reference later!
If you've been to Colorado, what would you recommend travelers pack?