Refreshing and loaded with seasonal fruits, summer sangrias are cocktails you'll want to sip all summer long. In this list of 27 amazing summer sangria recipes, you'll find a variety of seasonal drinks that beg for porch-swing sipping.
Because sangria is typically made in a pitcher, it's also the perfect cocktail for entertaining this summer. You can serve summer sangrias at backyard barbecues, pool parties, and alongside any dinner this summer!
If you want even more ideas for refreshing summer drinks, check out this list of 70+ flavored margarita recipes.
Disclosure: This summer sangria recipes roundup contains some affiliate links. When you click on or make a purchase from one of these partner links, I may earn a commission. 
---

What is sangria?
Sangria is a fruit-packed, wine-based punch that originated in Spain and Portugal. In traditional sangria recipes, fruits — such as oranges, apples, and peaches — and cinnamon sticks soak in a boozy mixture of red wine, brandy, and citrus juice.
What are the ingredients of summer sangria?
Summer sangria recipes may replace the traditional red wine with white, rosé, or sparkling wine.
Additionally, recipes for summer sangrias may swap brandy for other spirits, such as Triple Sec or peach schnapps.
Ingredients of sangria for summer may include seasonal fruits, herbs, and spices.
Also, many of the best sangrias use a carbonated beverage — such as lemon lime soda, ginger ale, or sparkling wine — to add fizz.
What wine is best for summer sangria recipes?
Traditionally, Spanish sangria calls for a dry red wine, such as Garnacha, Tempranillo, or another Rioja wine.
However, since we are talking about summer sangria recipes in this post, consider crisp dry white wines such as Pinot Grigio and Sauvignon Blanc, rosé and blush wines, and sparkling wines such as Prosecco and Cava.
One of the easiest ways to have wine on hand for making sangria this summer is by joining Firstleaf Wine Club. I personally love Firstleaf because you take a quiz to determine your wine preferences when you join. Then each shipment is personalized to you!
Your Firstleaf shipment will contain six wines from top wine regions around the world, so you'll have a variety of wines available to make sangria. If you take the quiz to join Firstleaf now, you'll get $40 off your first order + free shipping
!
What is the best fruit to put in summer sangria?
Apples, oranges, peaches, and apricots are some of the fruits you may see in a Spanish sangria. For the best summer sangrias, try using fresh fruits that are in season in your area.
Where I'm based in Michigan, we have a variety of fruits in season throughout the summer. Here is a breakdown of Michigan's summer fruit seasonality by month:
June: Sweet cherries and strawberries
July: Apricots, blueberries, cherries (sweet and tart), peaches, raspberries, and strawberries
August: Apples, apricots, blackberries, blueberries, cantaloupe, cherries (sweet and tart), honeydew, nectarines, peaches, pears, plums, raspberries, and watermelon
September: Apples, blackberries, blueberries, cantaloupe, honeydew, nectarines, peaches, pears, plums, raspberries, and watermelon
27 summer sangria recipes you'll want to save now!
The best summer sangria recipe yields a pitcher of refreshing, crowd-pleasing drinks you and your guests will love!
In this post, I've featured 27 summer sangrias variations. Some will remind you of visiting the tropics, while others are loaded with seasonal berries or stone fruits.
Though you may find a few recipes calling for a fruity red wine, most of these sangrias for summer keep things light with bubbly sparkling wine, crisp white wine, or blush rosé.
With 27 thirst-quenching sangrias to sip on hot summer days, I'm sure you'll find a summer cocktail from this list to try this summer!
Pink Rosé Sangria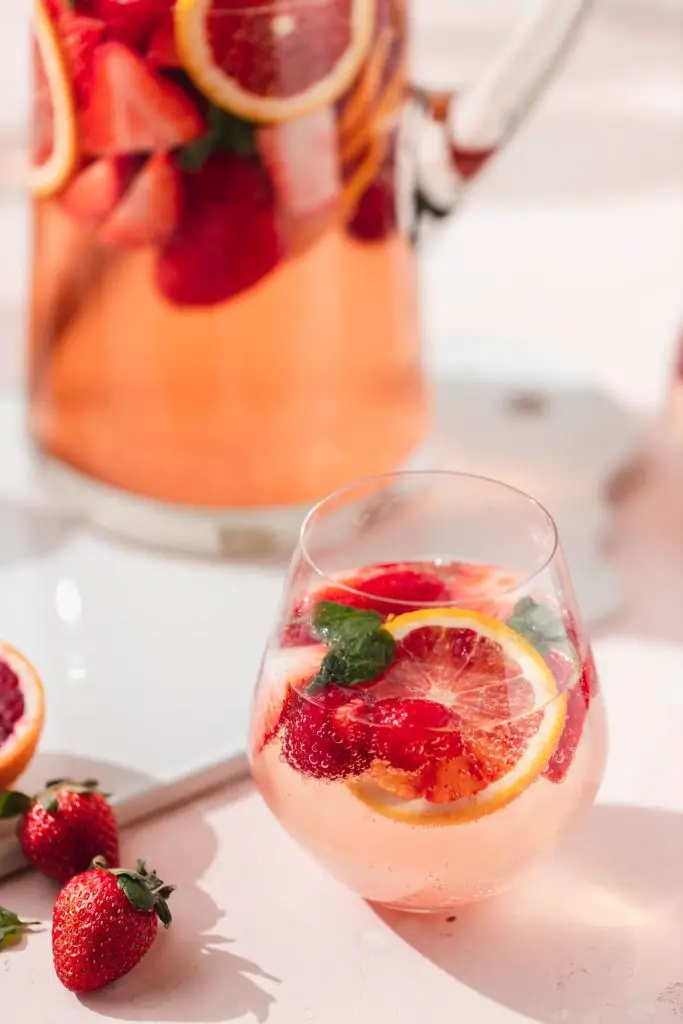 This pink rosé sangria is a light and refreshing cocktail for summer. Made with rosé wine and berries, it also has the prettiest pale pink color.
You'll want to keep it in mind for any bridal showers, baby showers, or bachelorette parties you are hosting this summer!
Piña Colada Sangria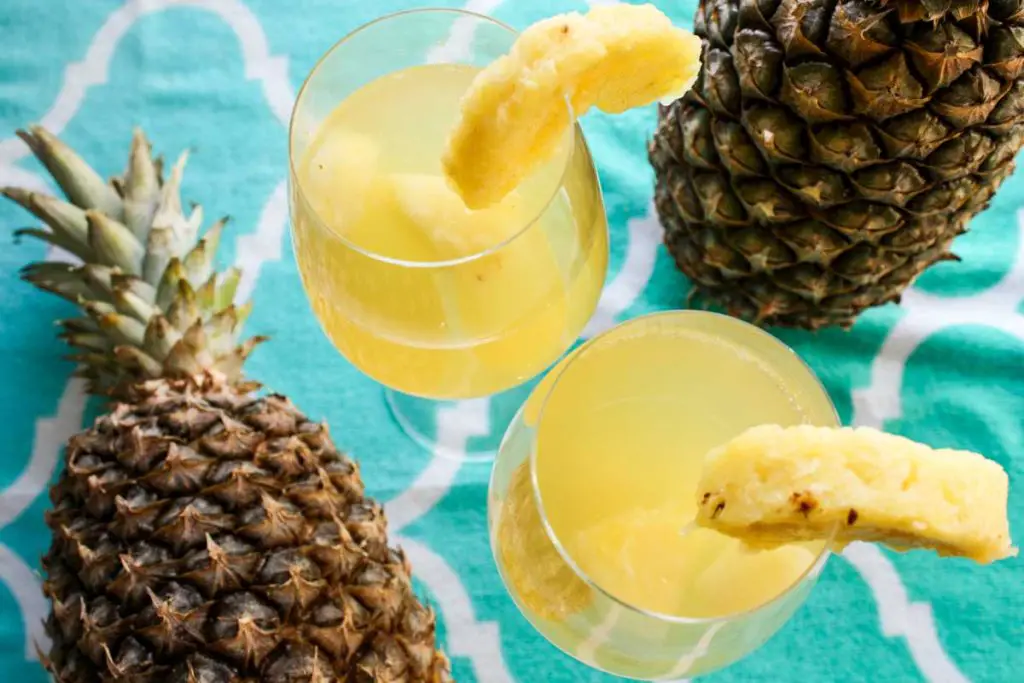 When summer temperatures remind you of visiting the tropics, you might as well drink like you are on a tropical beach vacation!
Combining the pineapple and coconut flavors of the beloved tropical cocktail with a crisp white wine, this piña colada sangria will bring island vibes to your pool parties, beach outings, and social gatherings this summer.
Summer Berry Sangria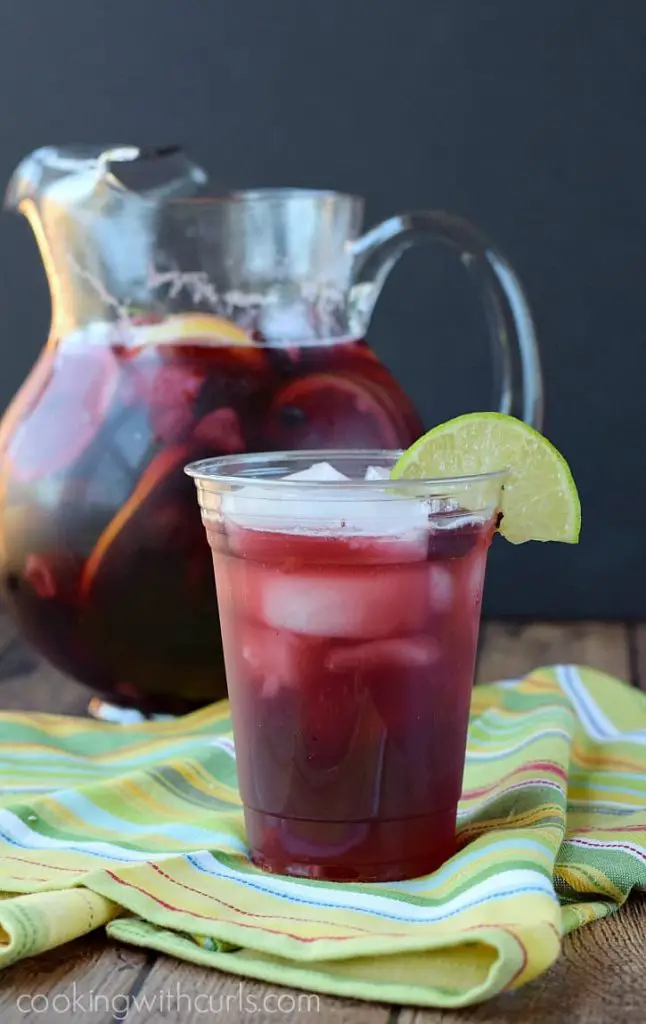 For a taste of the season, opt for a summer red sangria showcasing summer berries!
This summer berry sangria is not only super simple to make using mixed berries, sliced citrus, orange liqueur, a fruity merlot, and sparkling soda to add some fizz, but it is also delicious and refreshing.
Peach Sangria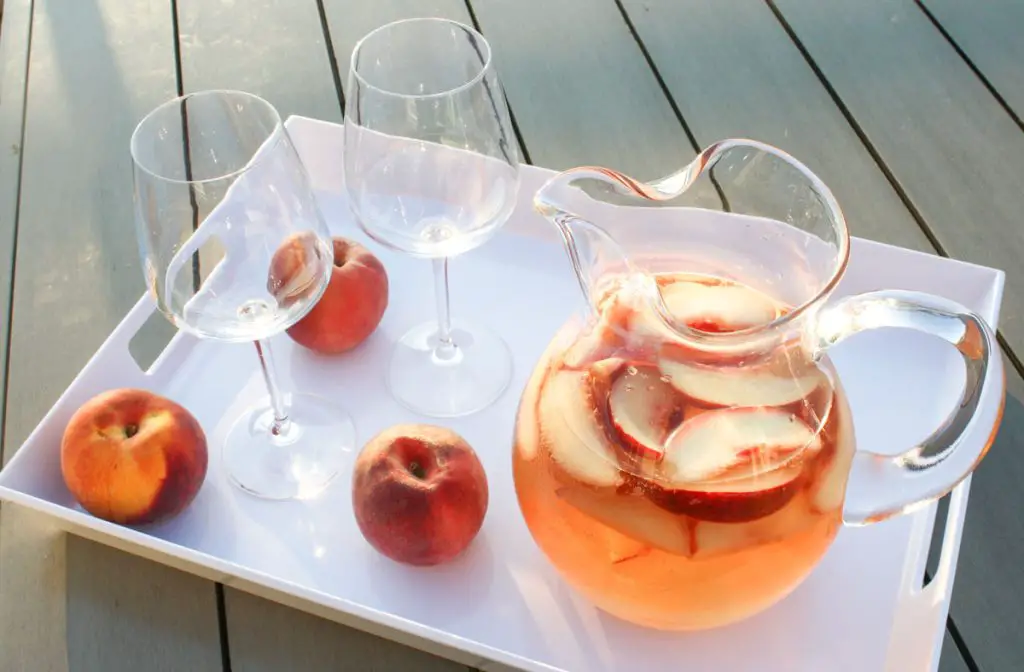 When it comes to an easy summer sangria, it doesn't get much easier to make — or sweeter to taste — than this peach sangria!
This simple peach sangria recipe calls for only six ingredients and takes less than 15 minutes to prep. It's the perfect easy summer cocktail for entertaining or patio sipping!
Tropical Sangria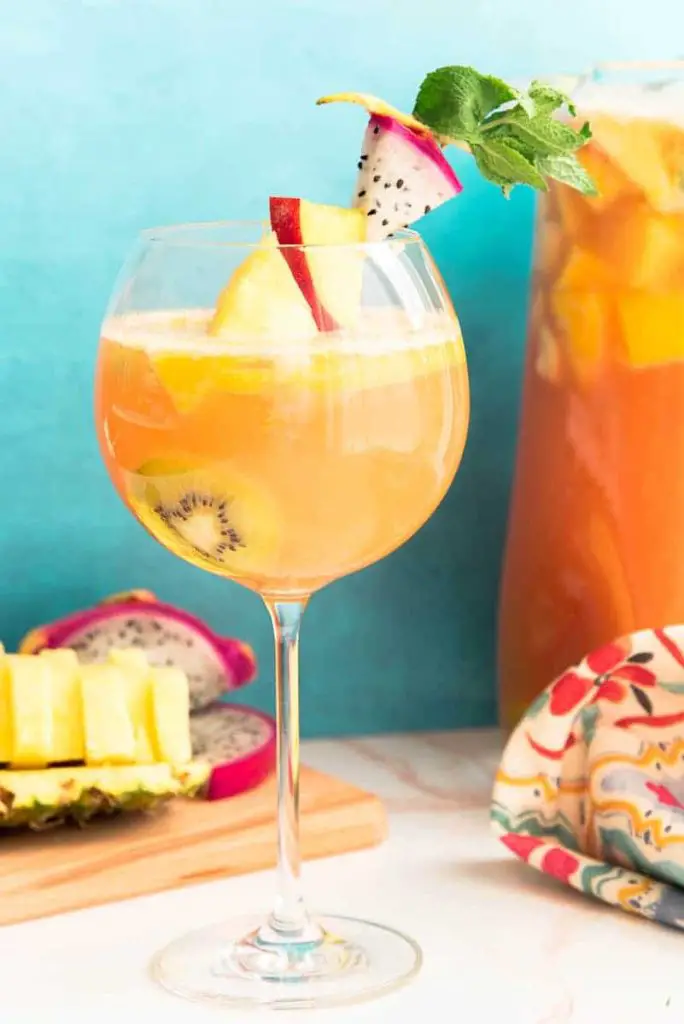 Like the piña colada sangria, this summer sangria brings the tropics to you!
In this tropical sangria, equatorial fruits swim in a punch of complementary liqueurs and a dry white wine to create a summertime cocktail with a punch.
Campari Sangria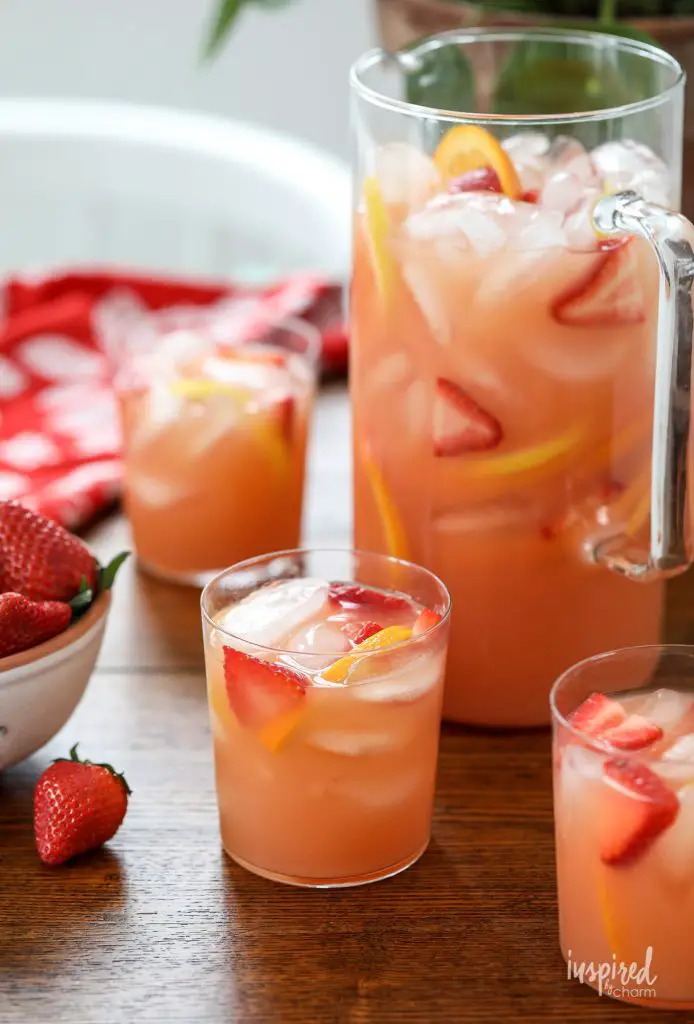 With its bright colors and citrus flavors, this unique Campari sangria is made for summertime sipping!
As refreshing as it is beautiful, this sangria can be served for brunch, dinner, or any other social gathering this summer.
Frozen Summer Berry Sangria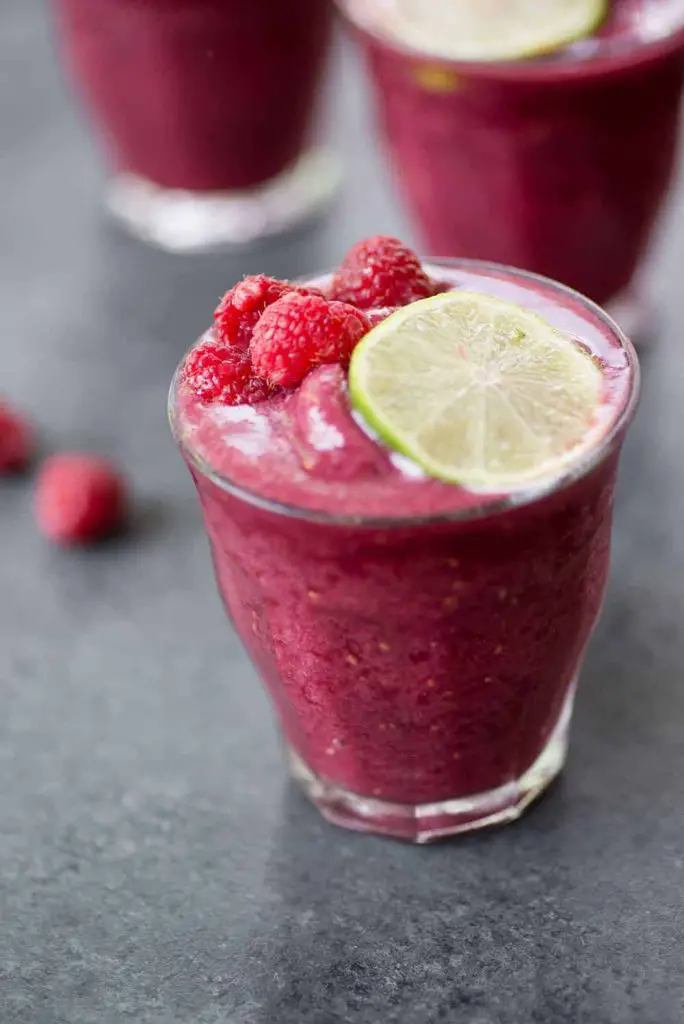 When you want to cool down with an ice-cold drink this summer, reach for a frozen sangria!
In this frozen sangria slush, frozen berries, citrus, and wine are blended into a frothy summer cocktail.
Hibiscus Sangria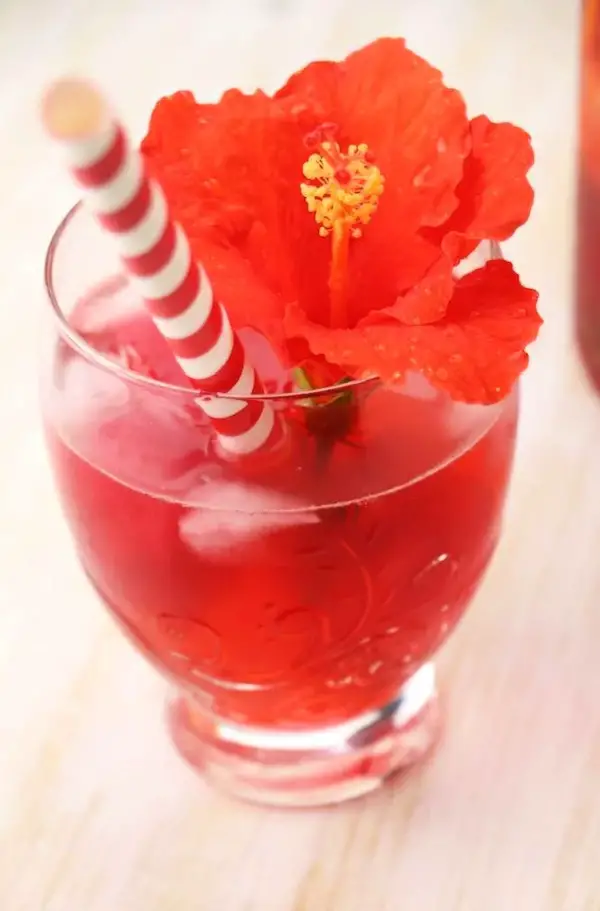 Summer is the perfect time to sip a refreshing hibiscus sangria on your patio!
This summer cocktail is full of bright fruit flavors from mango, mandarin, and lime. It's also topped with Cava to make it fizzy and fun!
Pineapple Mango Sangria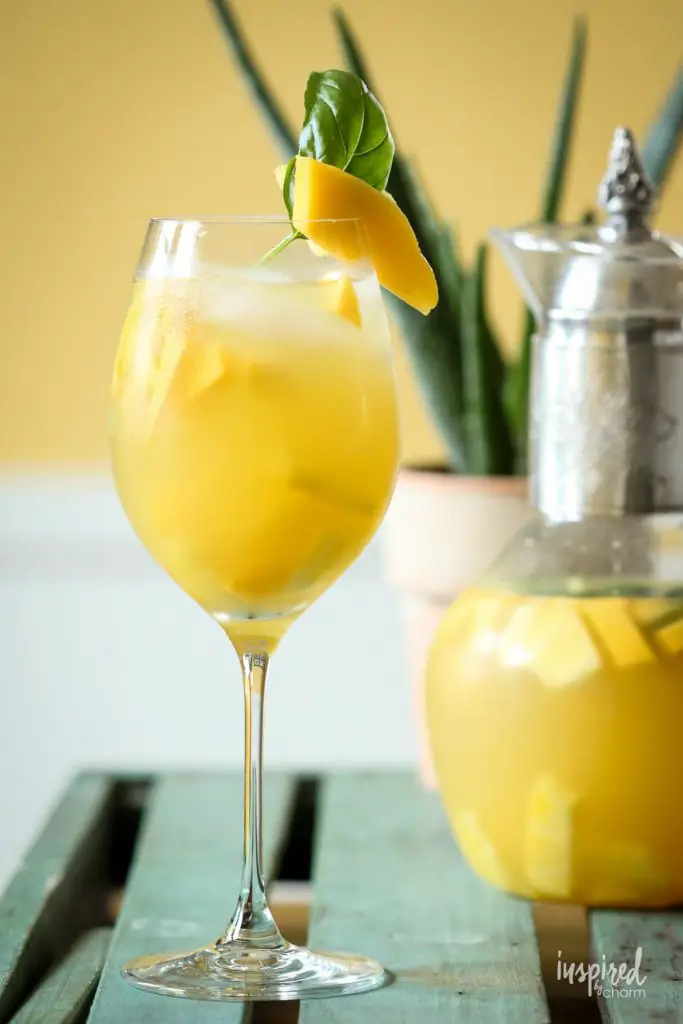 You'll impress your summer party guests with this delicious and easy-to-make pineapple-mango-basil sangria.
This fruity and flavorful drink is a fun and tropical twist on the classic sangria. It's sure to bring your summer entertaining to the next level!
Peach Rosé Sangria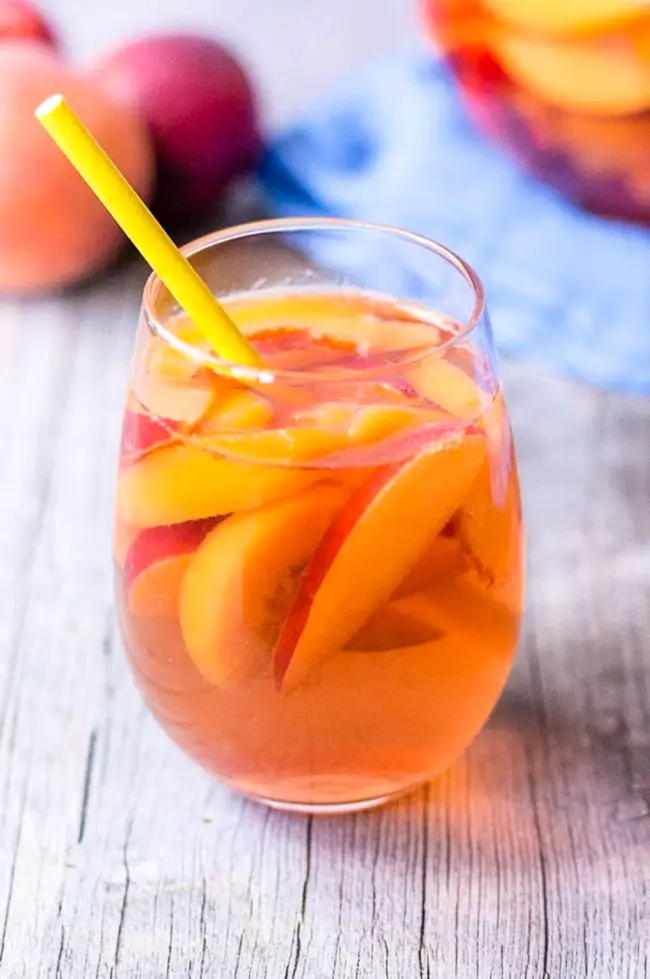 This fizzy peach rosé sangria is a perfectly crisp drink to sip on a hot summer day.
Made with fresh, in-season peaches and grapefruit sparkling water, it is full of delicious fruit flavors.
Pineapple Jalapeño Sangria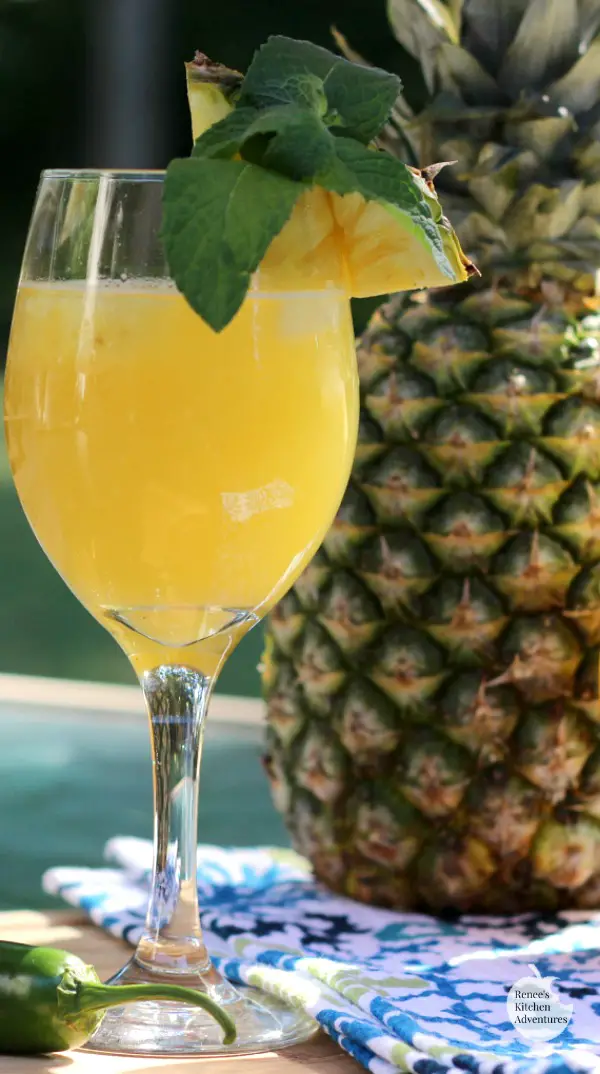 This easy-to-make pineapple-jalapeño sangria will make your mouth happy.
Sweet pinepple juice, jalapeño-infused simple syrup, and a medium-bodied white wine makes this one winning summer cocktail!
Sparkling White Sangria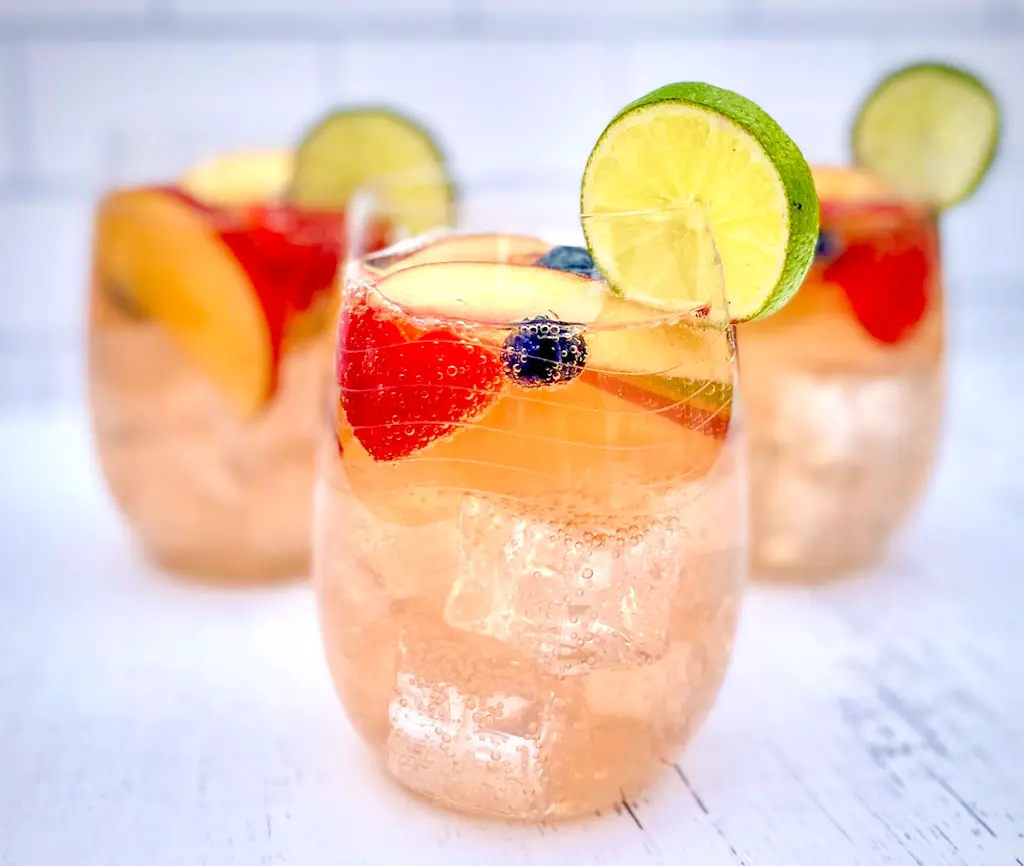 This sparkling white sangria is the perfect summer drink with citrus fruits, berries, apples, and bubbly sparkling wine. It's refreshing for any warm summer day!
Strawberry Mint Sangria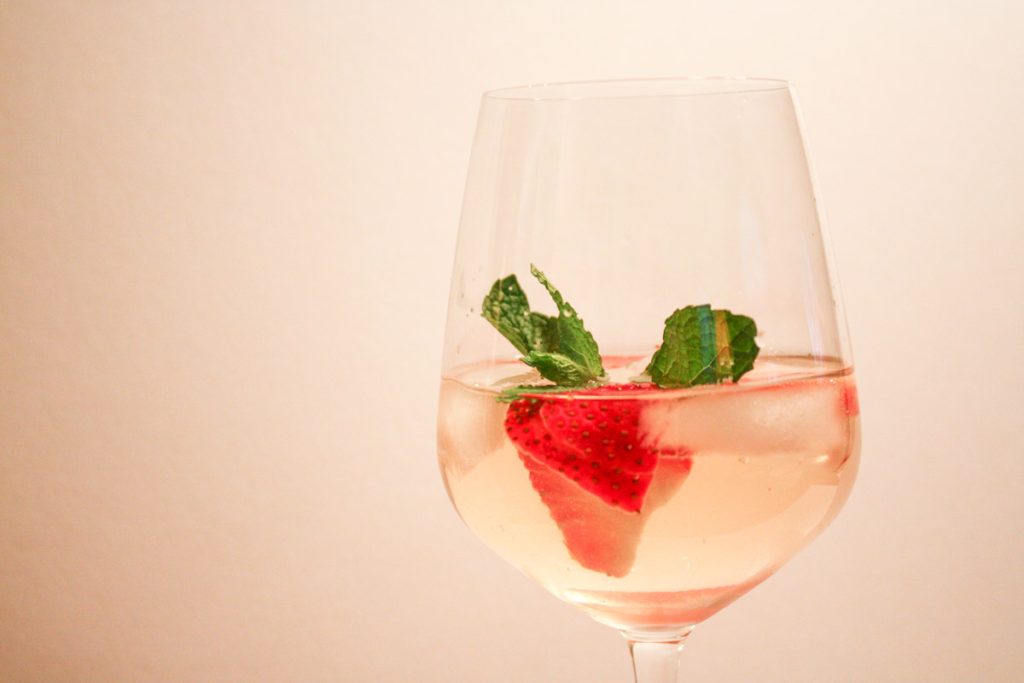 With juicy strawberries, crisp white wine, and fresh mint plucked from the garden, this strawberry mint sangria is made for summertime sipping.
Want more sangria recipes like this? Order your copy of Sangria: Fun and Festive Recipes now!
Cava Sangria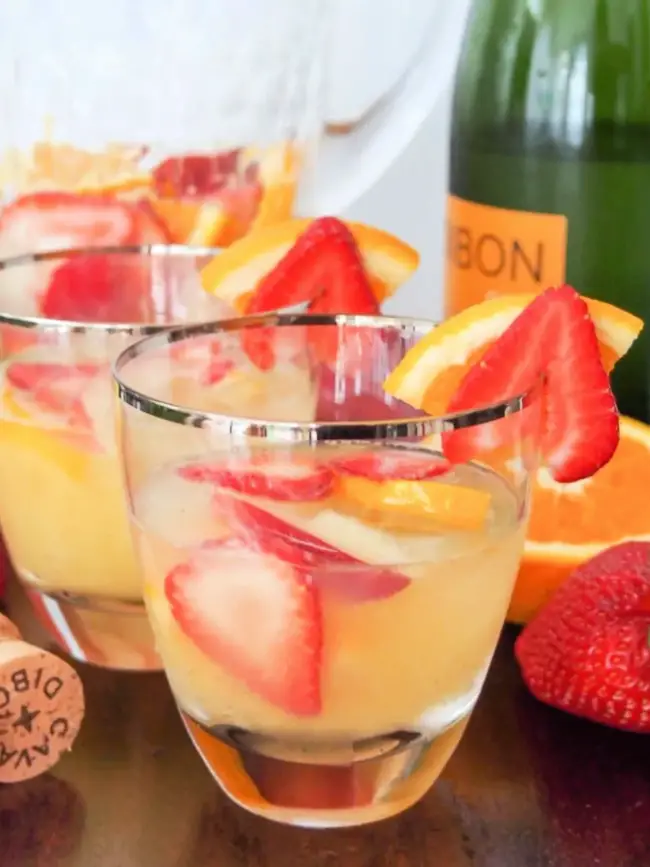 Cava sangria is a bright and gently aromatic sangria you'll love sipping on warm summer nights.
In Cava sangria recipes, the bubbles come from Cava rather than soda, so it feels that bit more special, too!
Easy Rosé Sangria with Berries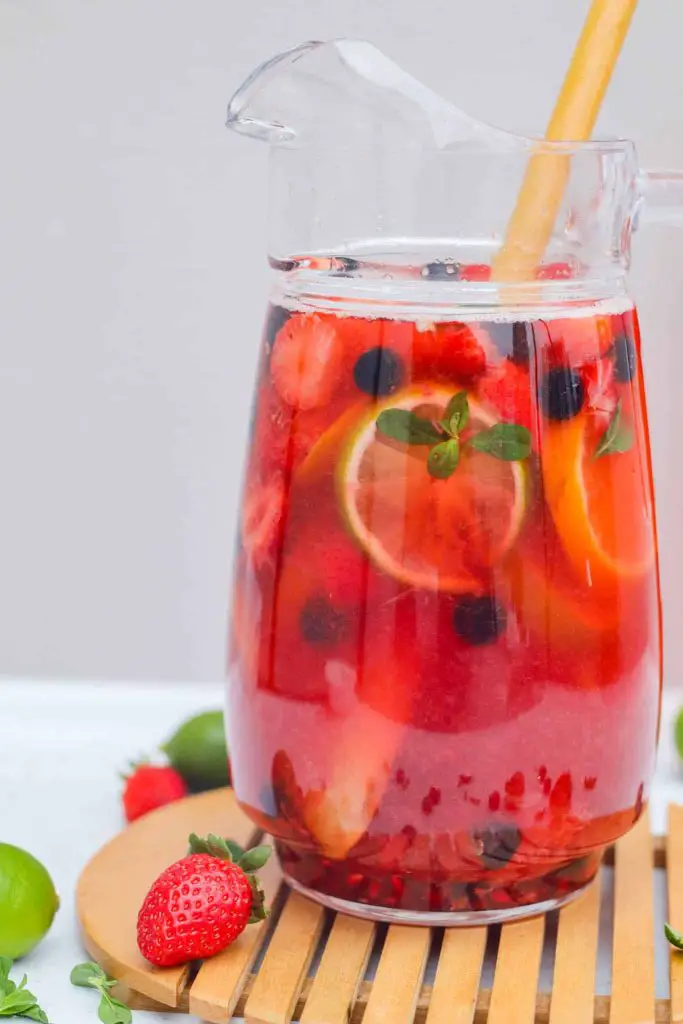 This easy rosé sangria recipe features summer fruits for an ultra-refreshing summer cocktail.
Loaded with strawberries, blueberries, citrus, and pomegranate, this summer rosé sangria can be served at July 4th festivities and other events throughout the season!
Raspberry Sangria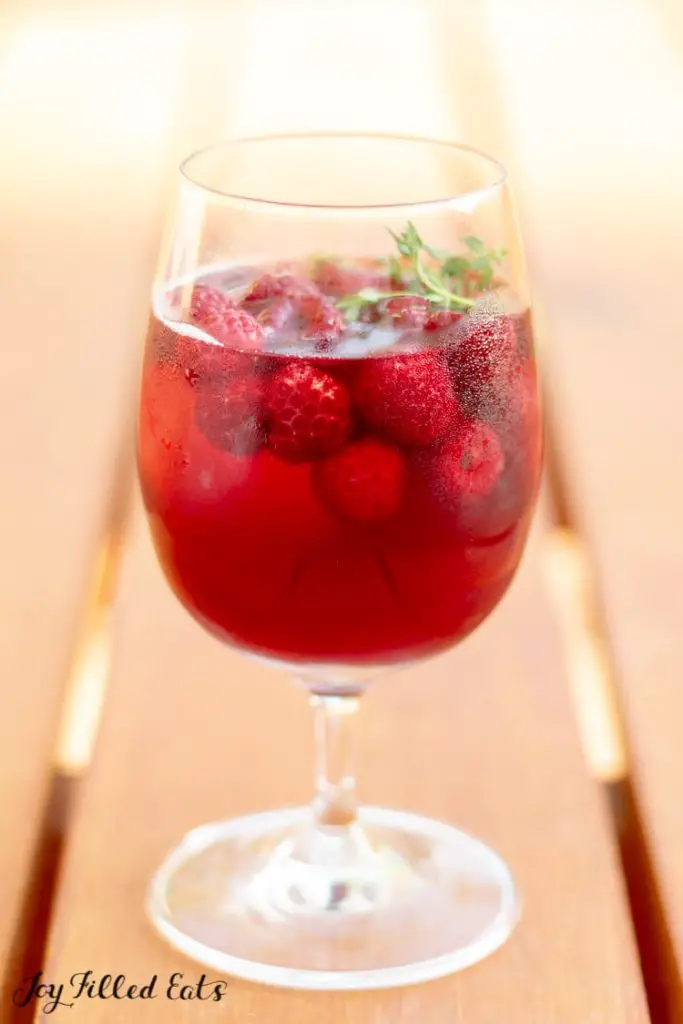 Light and refreshing, this raspberry sangria is a summertime must! It's an easy sangria recipe for summer parties, too.
Red, White and Blue July 4th Holiday Sangria
A summer sangria with a "red, white, and blue" appearance, this white wine sangria with raspberries, strawberries, pineapple, apple stars, and blueberries is a patriotic-looking drink for your July 4th celebrations.
Cucumber Gimlet White Sangria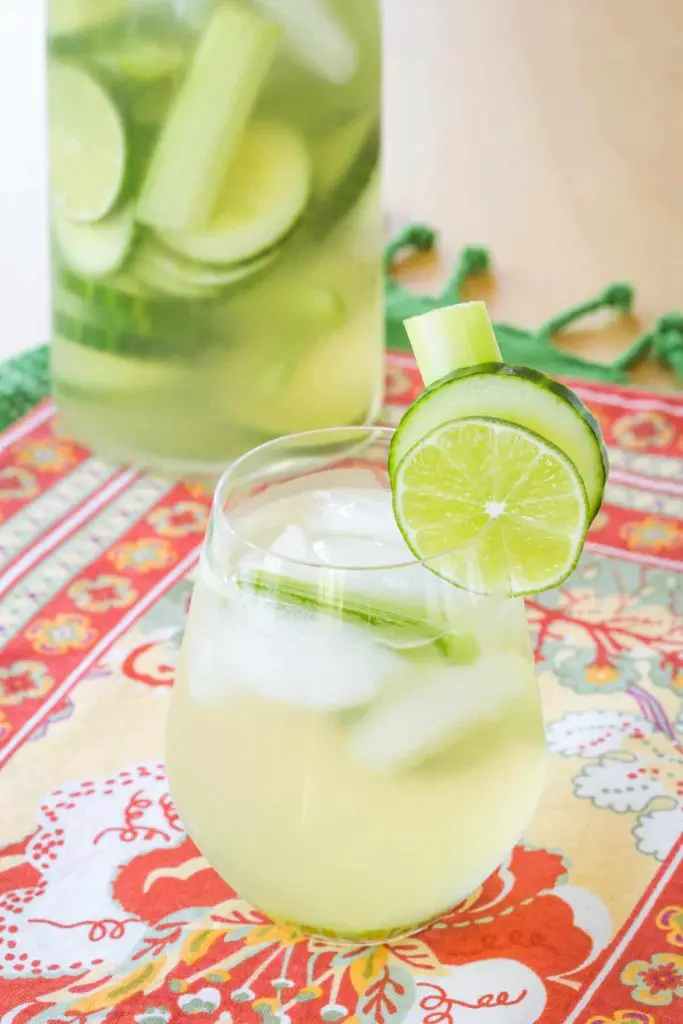 This cucumber gimlet white sangria combines the classic gin cocktail with white wine for a refreshing summer drink.
Summertime Sparkling Rosé Sangria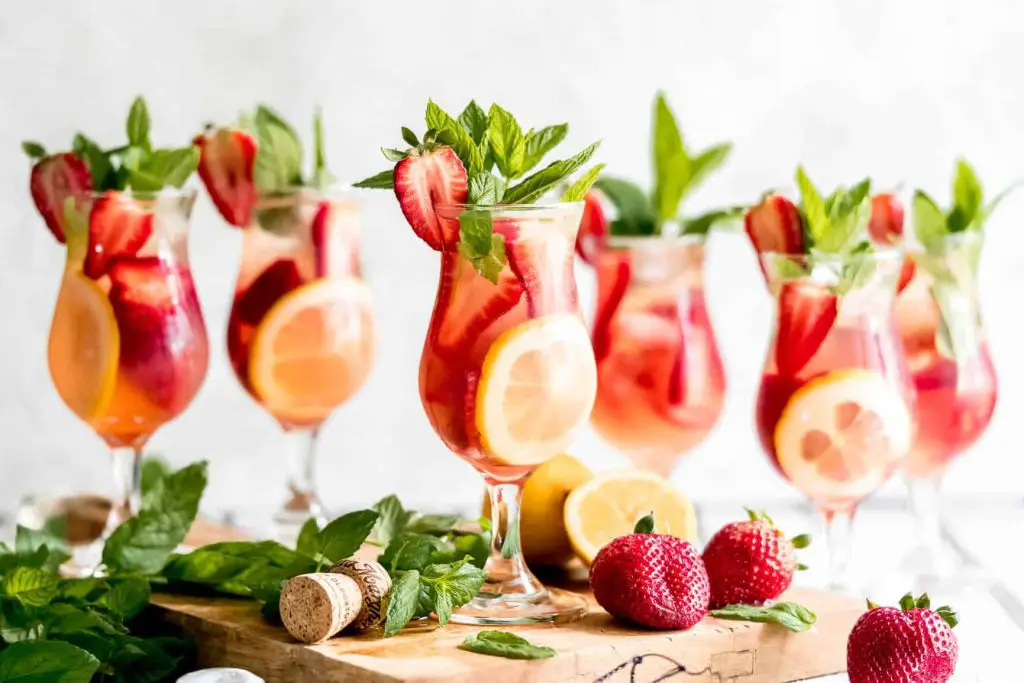 Strawberry sparkling rosé sangria is a delicate and fizzy summertime cocktail.
With a seasonal spin, this bubbly sangria would be a lovely summer cocktail to serve at your book club meetings or gathering with your best girlfriends this summer!
Cheerwine Sangria
For a summer red sangria recipe, this Cheerwine sangria is just what you want on a hot summer day!
Sweet Cheerwine — a cherry-flavored soda made in North Carolina and available in the Southeastern United States — is the perfect addition to a pitcher of fruity sangria.
Strawberry Orange Sangria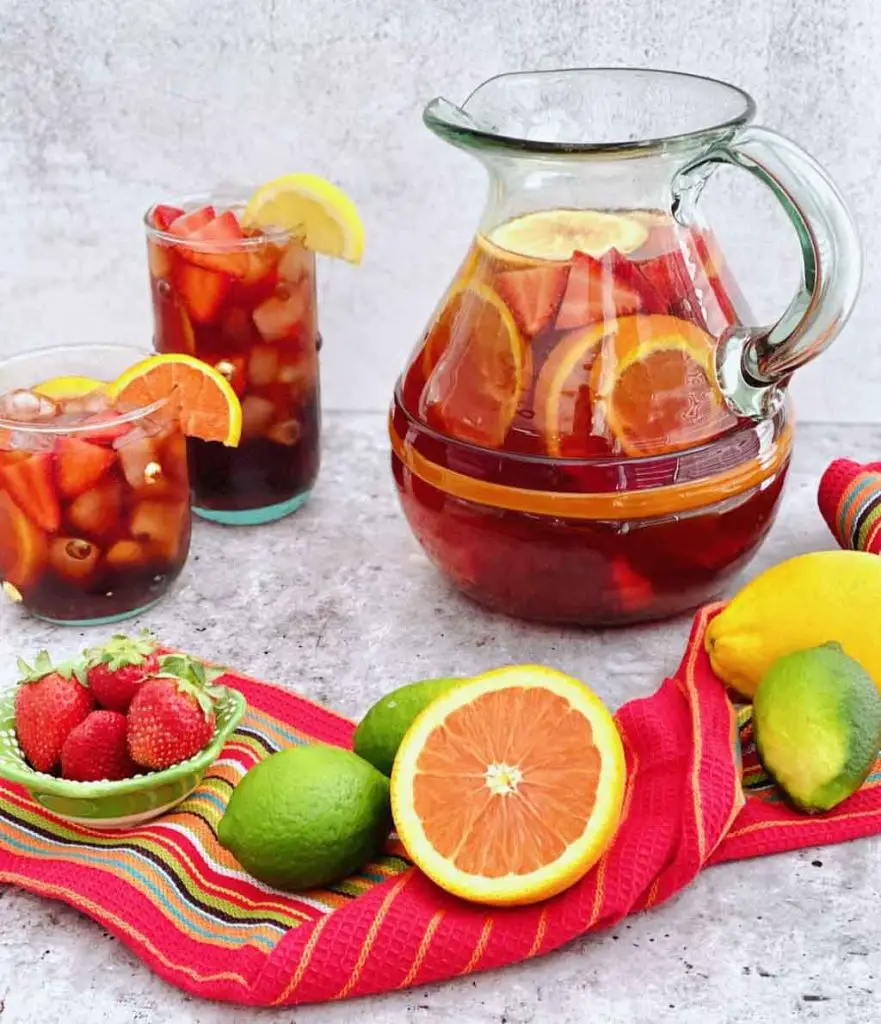 Ready for a sassy citrus flavor that adds a real punch?
Enjoy this strawberry-orange sangria at your next backyard cookout this summer!
White Wine Sangria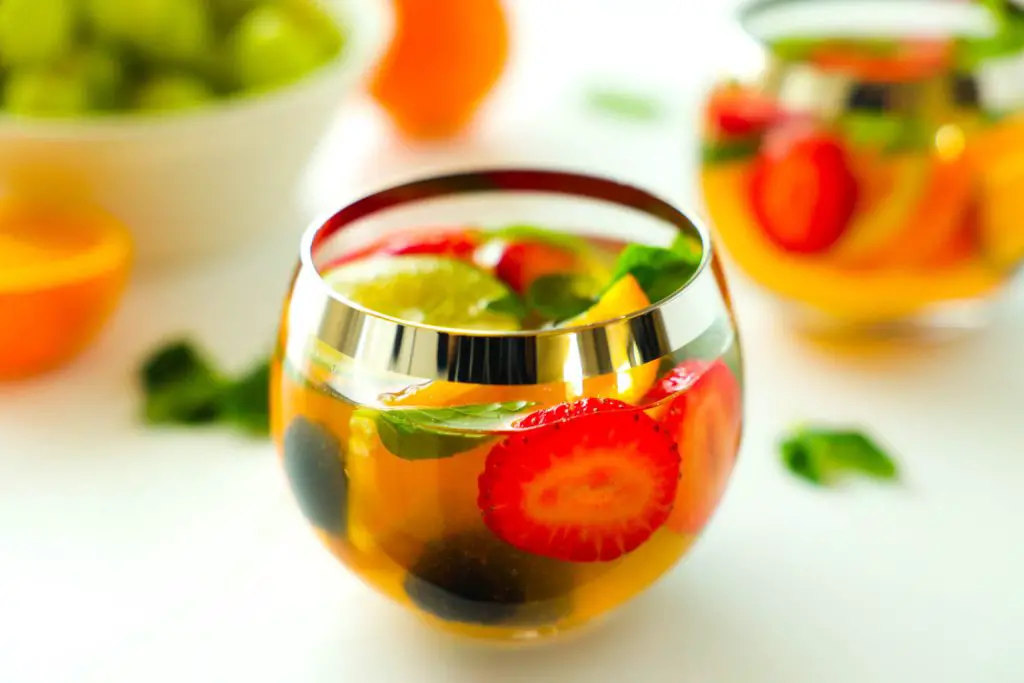 Crisp white wine infused with fresh citrus and fruity flavors makes this white wine sangria perfect for sipping at your summer celebrations.
Serve this sangria at outdoor dinner parties, backyard BBQs, pool parties, and just about any summer gathering that calls for a crowd, a cocktail, and a patio.
Rosé Sangria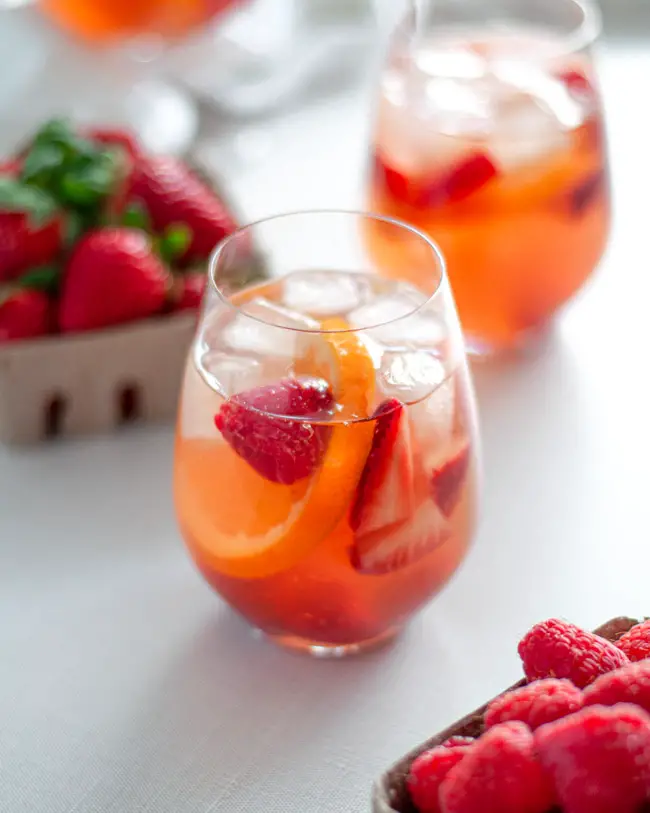 This rosé sangria is a light and crisp summer cocktail.
Sun-Kissed White Tea Sangria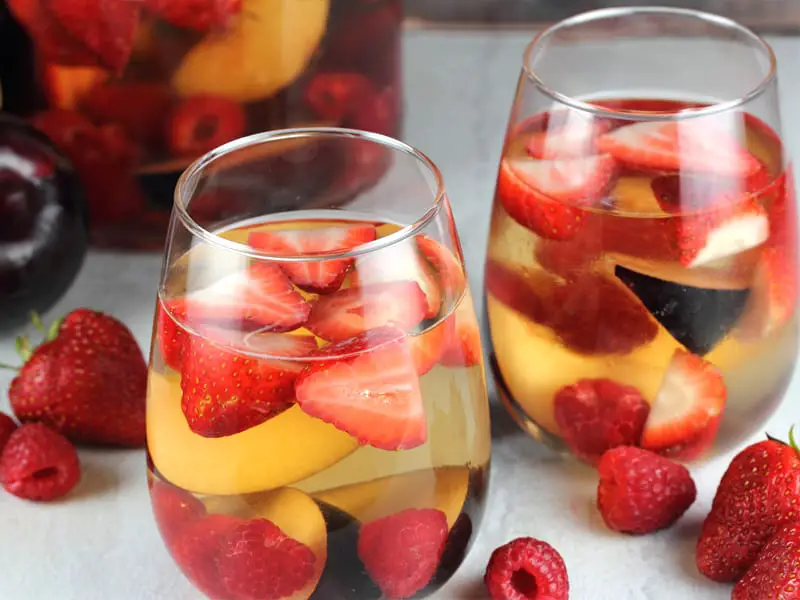 The relaxing effects of the sun and wine with the energy, caffeine, and antioxidants of white tea = the perfect summer match.
You'll want to enjoy this delicious sun-kissed white tea sangria poolside or beachside. It's sweet, tangy, relaxing, and oh-so-refreshing!
Grilled Peach and Pineapple Sangria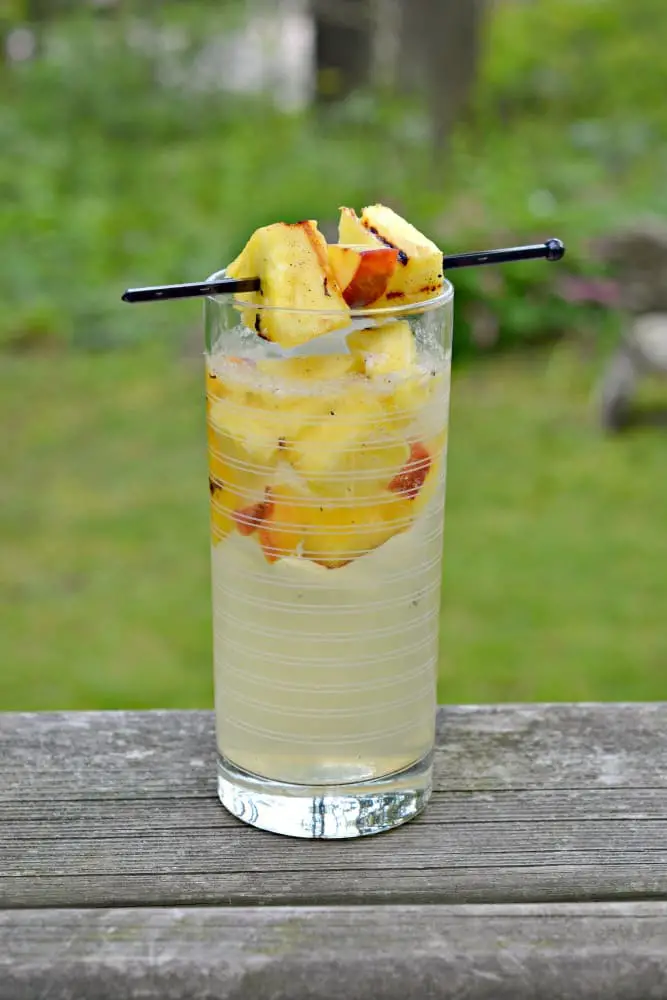 Summer is a fantastic time to host a cookout, and this grilled peach and pineapple sangria is sure to be a hit.
While you have the grill fired up, grill fresh pineapple and peaches for this delicious and unique white sangria!
Stone Fruit Sangria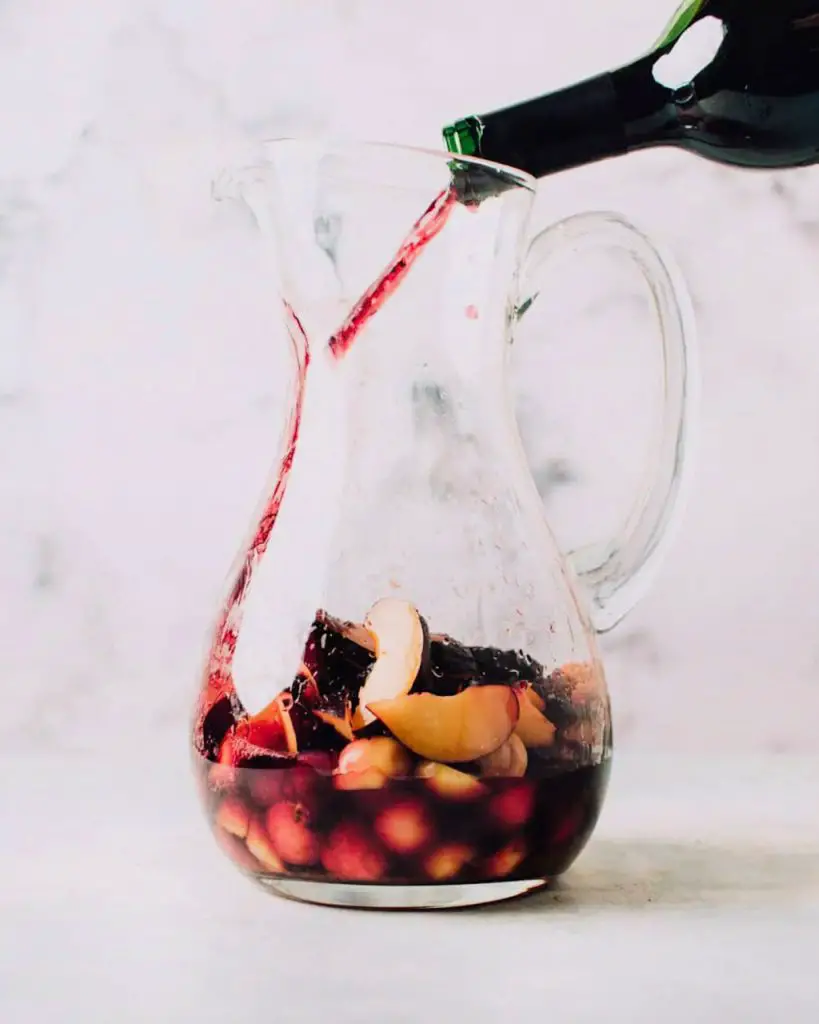 When stone fruits are at their peak ripeness this summer, try this stone fruit sangria!
This red wine sangria recipe calls for ripe plums and red or rainier cherries. If you need to make fruit substitutions, nectarines, peaches, and apricots are also seasonal options for red sangria recipes with stone fruit.
Sparkling Rosé Peach & Raspberry Sangria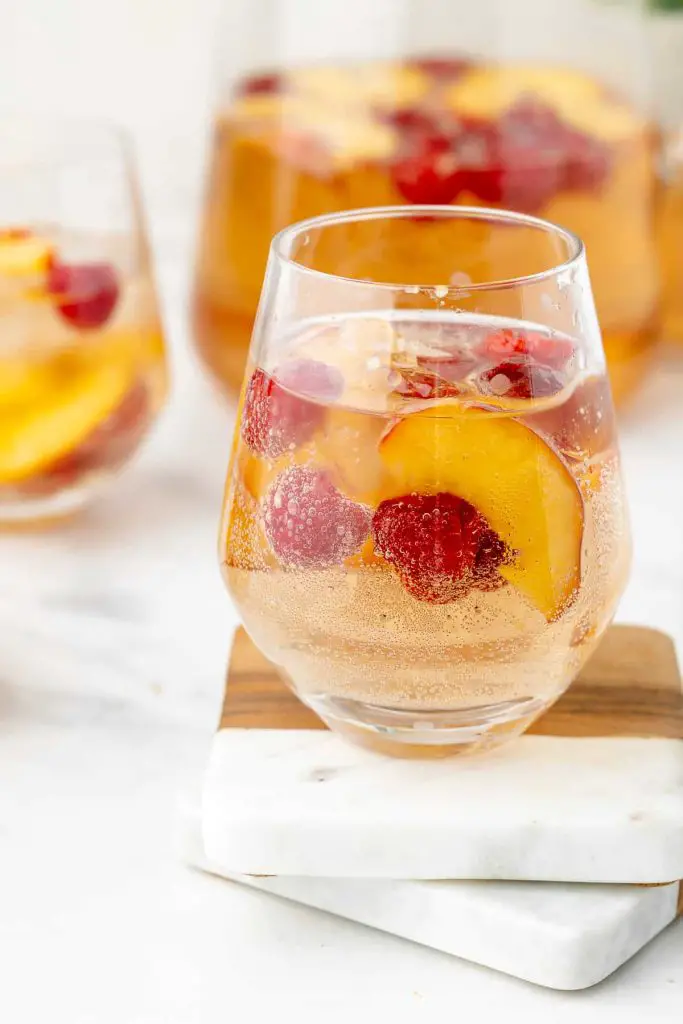 Finally, sweet peaches, tart raspberries, and bubbly rosé combine in this cocktail you'll want to sip all summer long!
This sparkling rosé peach and raspberry sangria is light, refreshing, and a bubbly beverage for all your summer celebrations.
Which summer sangria recipes will you make?
In this post, I shared 27 recipes for summer sangrias. Some were variations of a classic white wine sangria, while others were sparkling sangria recipes or rosé sangria recipes. All of them put a seasonal spin on the classic sangria!
If you use a sangria recipe for summer from this list, I'd love for you to tell me about it in a comment below!
More Cocktails to Enjoy Later This Year