Are you looking for the best gifts for a man who travels? You've come to the right place! In this guide to the best travel gifts for him under $25, you'll find 25 travel gift ideas for men that won't break your piggy bank.
Plus, all of these gift ideas under $25 are from Amazon. You know what that means? Fast shipping and free returns are available for many of these cool travel gifts for him!
Also, don't miss my other gift guides, including gift ideas for wine travelers and coffee lovers!
Disclosure: This guide to the best travel gifts for him under $25 on Amazon contains affiliate links. As an Amazon Associate, I earn from qualifying purchases. When you click on one of these links and make a purchase, I may earn a small commission. Of course, this is at no extra cost to you. 
---
Traveling Gifts for Him Under $25 On Sale
On-Ear Wireless Headphones
NOW 50% OFF | Available in blue, black, and white, the JBL Tune 510BT wireless on-ear headphones have a listening time of 40 hours — perfect for listening to his favorite music, audiobooks, or podcasts on long flights!
Compact Binoculars
NOW 24% OFF | Another useful gift for the traveling man is a pair of binoculars. These Hontry binoculars have a compact and lightweight design ideal for travel. With 10x magnification, these binoculars can be used to observe birds and wildlife, appreciate scenic landscapes, and see details during live sporting events and concerts.
Wireless Earbuds 
NOW 38% OFF | These Soundcore by Anker P20i true wireless earbuds have powerful bass, a personalized listening experience controlled by the Soundcore app, and a long playtime. Also, the portable design with a lanyard handle and "Find My Earbuds" feature are particularly convenient for travelers. And, these earbuds come in three color options!
Portable Bluetooth Speaker
NOW 50% OFF | For the man who loves to play his jams wherever he goes, a portable wireless speaker is a gift he'll love. Whether he is off to the beach, hanging by the pool, or on his boat, the splash-proof NOTABRICK portable wireless speaker can go, too!
Packing Cubes Set
NOW UP TO 23% OFF | Could your dad, son, or partner improve his suitcase-packing skills? Well, this Veken 8-piece set of packing cubes will help him keep an organized suitcase! In addition to packing cubes ranging from small to extra large in size, this comprehensive set, available in a variety of colors, includes a toiletry case, shoe-protector bag, and laundry bag.
Best $25 Gifts for Men Who Travel
Amazon Gift Card
Though it's not quite as universal as cash, a $25 Amazon gift card can be put toward travel essentials for his upcoming trip or Kindle books to read on his next vacation.
YETI Rambler Bottle
For the traveler who takes his coffee on the go, the YETI Ramber 12 oz. bottle is a practical and useful gift. For more gift ideas for coffee drinkers, check out my coffee lover's gift guide.
USA Beer Cap Map
Shopping for a beer traveler (age 21+) this holiday season? This Geeky Days USA beer cap map can display 57 craft beer bottle caps. What a fun way to showcase the craft beers he has tried from breweries around the United States!
Under Armour Gloves
With cold weather on its way, Under Armour men's storm liner gloves would be useful stocking stuffers for winter travelers. These thin gloves fit snuggly to the hand and can be worn on their own or as a base layer during outdoor winter recreation and adventures.
Cool Travel Gifts for Men Under $25 on Amazon
Carry-On Weekender Duffel Bag
Measuring approximately 18.11″ x 9.84″ x 9.84″, this Livbote duffel bag fits in the overhead compartment on most flights and can double as a gym bag. Both stylish and functional, it's made from a waterproof material that comes in a variety of colors (select colors under $25). Plus, it has a separate shoe compartment and dry wet pocket.
Carhartt Men's Tonal Patch Beanie
NOW UP TO 20% OFF | Another practical gift as the winter travel season gets underway is a Carhartt tonal patch beanie. This warm winter hat comes in a wide variety of colors with select colors under $25.
Travel-Ready Old Fashioned Cocktail Kit
If the Old Fashioned is his adult beverage of choice, give him The Cocktail Box Co. Old Fashioned cocktail kit this Christmas! The compact travel-ready tin contains a muddler and enough cane sugar, orange zest, and flavored bitters to mix six Old Fashioned cocktails on the go. Even when he is 30,000 feet in the air, he can mix his favorite drink with this cocktail kit! Alcohol is not included, and this gift is intended for ages 21+.
Personalized Pocket Knife
What I love about personalized travel gifts is that they are both functional and sentimental. For example, a pocket knife is a handy gift for the traveling man, especially one who enjoys picnicking, camping, fishing, and/or hunting. This holiday season give him a personalized pocket knife with his name engraved on the walnut-wood handle.
National Parks of the United States Reference Book
Inspire his wanderlust page by page with a hardcover copy of National Geographic Complete National Parks of the United States, 3rd Edition: 400+ Parks, Monuments, Battlefields, Historic Sites, Scenic Trails, Recreation Areas, and Seashores. This 544-page travel guide to the US National Parks is filled with beautiful color photos, detailed maps, and practical insights and historical background for his future visits.
US National Parks Scratch-Off Poster
This US National Parks scratch-off poster is a fun gift! It's also a special keepsake for any traveler working on his US National Parks bucket list. In addition to scratching off all 63 parks, he can also scratch off his wildlife sightings!
Coolest Travel Gifts for Men Under $20 on Amazon
Carhartt Cotton Canvas Cap
NOW UP TO 20% OFF | A Carhartt cotton canvas cap is a functional travel accessory all year long. It comes in a variety of colors with most colors under $25, and select colors are on sale for less than $20!
Anthony Bourdain's "World Travel: An Irreverent Guide"
With the passing of chef, TV host, and world traveler Anthony Bourdain, we lost an influential voice in the travel space. However, his words live on in World Travel: An Irreverent Guide. This travel guidebook in Bourdain's words is based on his own experiences around the globe. For seasoned and armchair travelers alike, this gift allows them to see the world through Bourdain's eyes.
Nautica Voyage Cologne
This fresh and long-lasting fragrance smells like a salty sea breeze with notes of cedarwood. Plus, the 3.3-oz Nautica Voyage cologne is travel-sized to meet TSA approval for carry-on liquids.
Tile Bluetooth Tracker
Now 34% OFF | The Tile Mate Bluetooth tracker helps locate missing items, such as keys, backpacks, phones, and luggage. It's compatible with both iOS and Android devices.
Slim RFID-Blocking Wallet 
NOW UP TO 20% OFF | The Buffaway slim RFID-blocking wallet holds up to 12 cards, and it is small enough to fit into men's pockets. Though it is available in a variety of colors and patterns, I'm quite partial to the rich caramel shade, Alaska Brown.
USA Vintage Travel Posters Puzzle
NOW 20% OFF | This USA travel posters 1000-piece jigsaw puzzle features a collage of vintage-style travel posters. All 50 US states are represented in the puzzle's beautiful artwork depicting America's natural wonders and famous landmarks.
Apple EarPods
Slip these Apple EarPods into his stocking this Christmas! For Apple device users, these corded Apple EarPods can be an affordable alternative to AirPods. Also, EarPods are handy backups to AirPods when access to charging is limited or not available while traveling.
Best Gifts for the Traveling Man Under $15 on Amazon
Portable Phone Stand
NOW 28% OFF | While flying with this portable phone mount, he can clamp his phone to the tray table for hands-free movie watching.
Toiletry Case with Bottles
NOW UP TO 29% OFF | This clear toiletry case and travel bottles set contains four TSA-approved 3.1-oz silicone bottles. The set comes in various color schemes with each bottle a different color, making it easy to keep track of which bottle contains shampoo, body wash, or lotion.
Star Wars Luggage Tags
NOW UP TO 56% OFF | Though he won't be flying through space on the Millennium Falcon, he can more easily identify his luggage at baggage claim after flying around Earth thanks to these Star Wars luggage tags. If your dad (or your kid's dad) is a Star Wars fan, the Darth Vader "I am your father" luggage tag is a must!
Conclusion
Whether you are shopping for cool travel gifts for dad, unique gifts for the son who visits National Parks wherever he goes, or practical gifts for your frequent-flier husband, I'm sure you'll find the perfect present for him. And, if you need more gift ideas, check out my other gift guides!
Read Related Posts
To refer back to this gift guide later, save the image below to your holiday gifts board on Pinterest!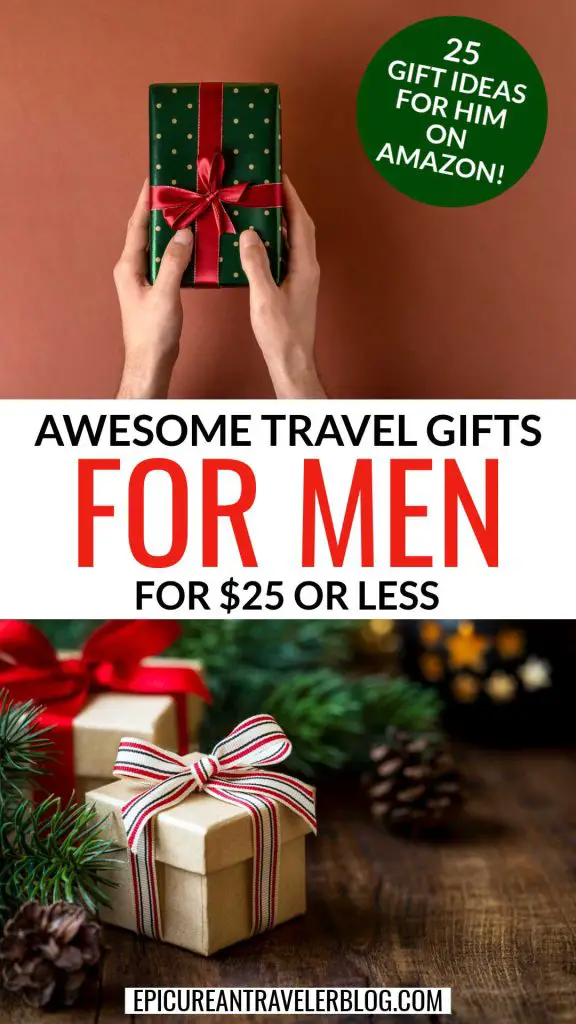 Photo credits: Lead image of presents wrapped in ribbon (© kuvona/Adobe Stock) and man's hands holding wrapped Christmas gift (© Svetlana_nsk/Adobe Stock)