Wondering what to eat in the Maldives? In this Maldives foods guide, we'll share seven must-try traditional dishes of Maldivian cuisine.
If eating like a local is your top travel priority, don't miss the rest of our Foods Around the World series! We have food guides for China, France, Ireland, Japan, Latin America, the United Arab Emirates, and more global culinary-travel destinations.
Disclosure: This list of seven traditional Maldivian dishes contains some affiliate links. When you click on one of these links to make a purchase, I may earn a small commission. Of course, this is at no extra cost to you, and I only recommend products and services I would use myself.
---
7 Traditional Maldives Foods You Must Try!
World-renowned for its natural beauty, the Maldives attract over a million tourists, particularly honeymooning couples, each year. With aquamarine seas, white sand, and gently swaying palm trees, it's easy to see the appeal of these tropical South Asia islands in the Indian Ocean.
Additionally attractive to honeymooners, the Maldivian islands have a reputation for luxury. In this romantic honeymoon destination, water villas — sometimes referred to as overwater bungalows — are standard lodging here.
However, visiting the Maldives is not all about being cocooned in your five-star accommodation and ordering room service (although do make sure to leave some time for that too). 
A trip to the Maldives should be about experiencing the amazing Maldivian culture that these islands have to offer. Of course, one of the best ways to experience this is through trying the local food in the Maldives! 
There is nothing like the feeling of sitting outside at one of the best restaurants in the Maldives with the sun setting in the distance and a delicious locally-sourced meal right in front of you. 
In this Maldivian food guide, we'll explore some of the most famous dishes of the Maldives to look out for on the menu.
Mas Huni
Understandably, given that it's an archipelago, the food of the Maldives often centers around fish. The seas here provide plenty of inspiration to chefs across the islands, and you can expect to see fish dishes on every menu. However, you might not have expected that to extend to breakfast.
Mas huni is a traditional Maldivian breakfast dish made of shredded smoked tuna mixed with grated coconut, lemon, onions, and green chiles.
Typically, it's served with a chapati-style flatbread called a roshi. In some cases, you'll also find vegetables, such as sweet potatoes or butternut squash, plus leaves from the moringa plant. 
Though it might seem odd to you at first bite, the bread and coconut balance out the smoked fish flavor for a nutritious and hearty breakfast.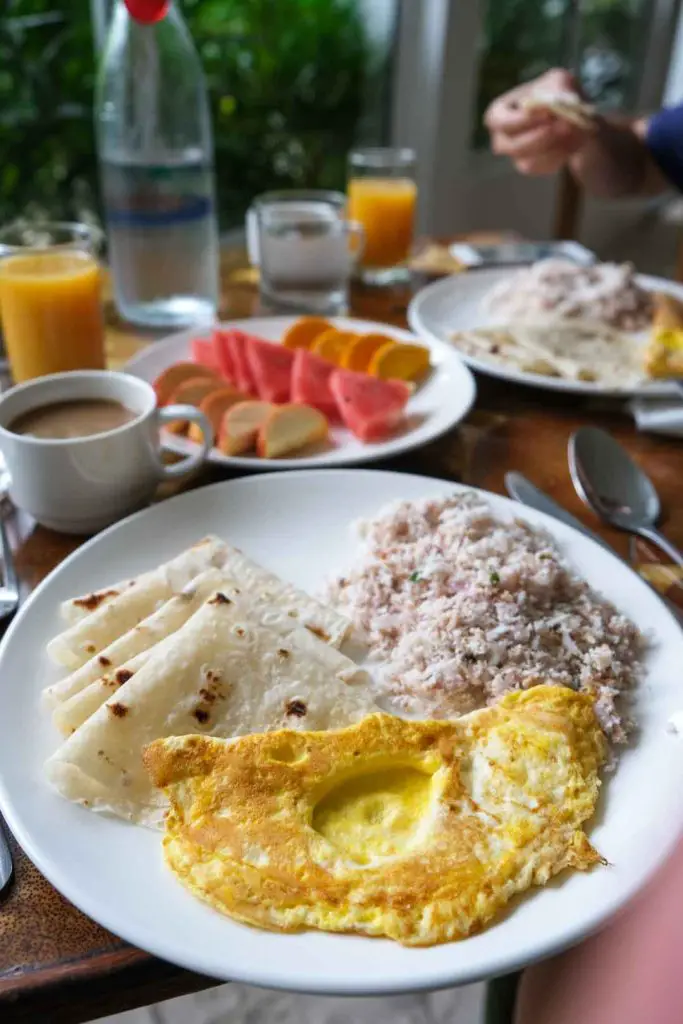 Masroshi
Another fish and bread based dish of the Maldives, maroshi consists of fresh tuna mixed with coconut, curry leaves, and spices.
This mixture is then placed inside a chapati dough roll, before being sealed and then lightly fried in a pan to cook the bread. 
Traditionally, masroshi is served as a snack. It's perfect for when you're out and about exploring the islands. If you want to eat it the local way, order a cup of tea on the side.
Garudhiya
While the Maldives tend to be hot all year-round, with temperatures staying around 30°C (86°F), every place has to have some rain in order to thrive.
When it's raining, there is nothing better than sitting with a bowl of comfort food, listening to the patter of the raindrops and reading a book or enjoying a good conversation.
Garudhiya is the ideal dish for this, and it's a favorite with locals during the winter months.
The fragrant yet simple fish soup has a clear tuna broth, but variations may feature dry chiles, onions, garlic, curry leaves, or other spices. Though the soup is thin, it's served with rice, making it a hearty but not heavy meal.
Mas Riha (Maldivian Fish Curry)
As a traditional curry of Maldivian cuisine, mas riha features three staple ingredients of food originating from the Maldives — tuna, coconut, and starch.
Typically, this curry is cooked with skipjack tuna, but this fish curry may feature other tuna varieties, such as yellowfin tuna or little tunny, found around the Maldives.
However, what really makes this flavorful curry so delicious are the aromatic spices and the finishing touch of adding coconut milk for a creamy texture.
Traditionally, this Maldivian fish curry is served with rice or, when it's eaten at breakfast, with roshi and tea.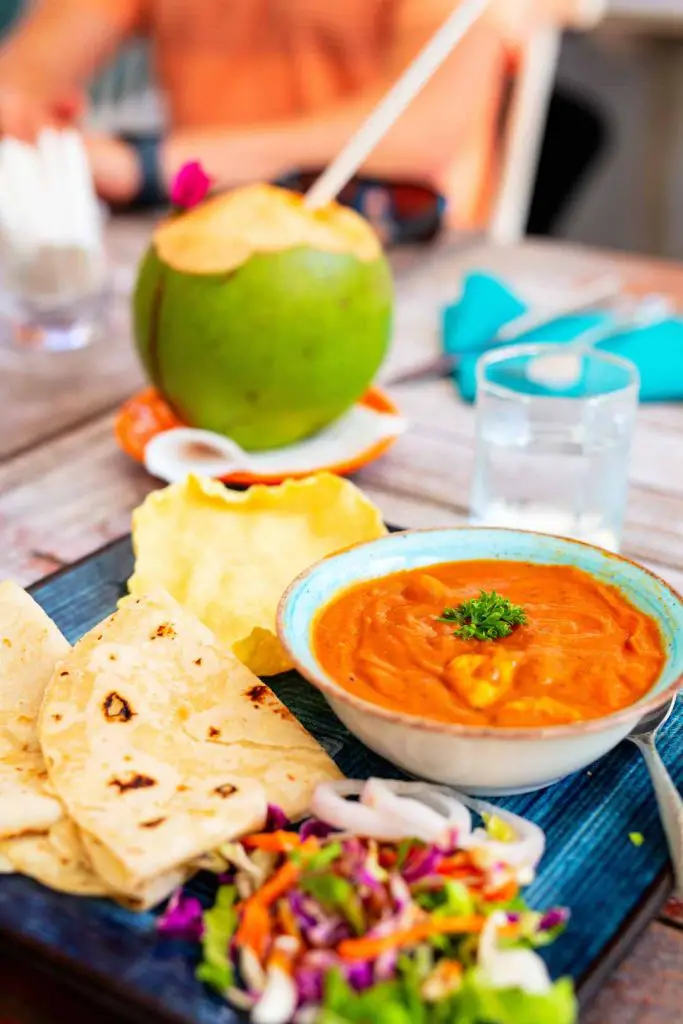 Saagu Bondibai
If you're a vegetarian, then you might be worrying that there is nothing available for you to eat in the Maldives. Fortunately, that's not the case. 
Saagu bondibai, made from sago, the soft core of tropical palm stems, is a delicious and filling dish that appeals to vegetarians and meat eaters alike.
The sago is mixed with warm coconut milk, condensed milk, cardamom, and rose water, making it a delicate but tasty dessert. Especially in the heat, this tapioca-like pudding is incredibly refreshing.
Aluvi Boakibaa 
For those with a sweet tooth, aluvi boakibaa is a must-try delicacy in the Maldives. The light sponge is created with coconut and cassava. 
Though cassava is known for having a potato-esque taste, the addition of the coconut ensures the cake simply tastes sweet, and it melts in the mouth. 
It's so popular that you'll find it at almost every restaurant in the Maldives. Some places will serve it with whipped cream, fruit, honey, sugar, chocolate or as an accompaniment to tea or coffee after a meal. No matter what form you eat it in, you're sure to love it.
Fried Yams
You're probably familiar with the taste of sweet potato fries – they've become commonplace in supermarkets and restaurants in recent years. In Maldivian cuisine, you'll find a slightly different alternative in the form of fried yams. 
It's true that yams and sweet potatoes share some similarities. However, using yams in this dish results in a crispy outside and a starchier taste, more similar to russet potatoes.
Be sure to try out this popular Maldives food when you're in the archipelago!
Go Local to Eat the Best Maldives Foods
If your mouth is watering at the thought of any of these dishes, make sure to seek them out on your trip to the Maldives. They'll be best prepared in a local restaurant, or at least by a local chef, so do some research ahead of time and make a list of the best spots to visit!
Read More Asia Food & Travel Guides
Planning a trip to the Maldives? Then save this Maldivian food guide to your Maldives travel board on Pinterest!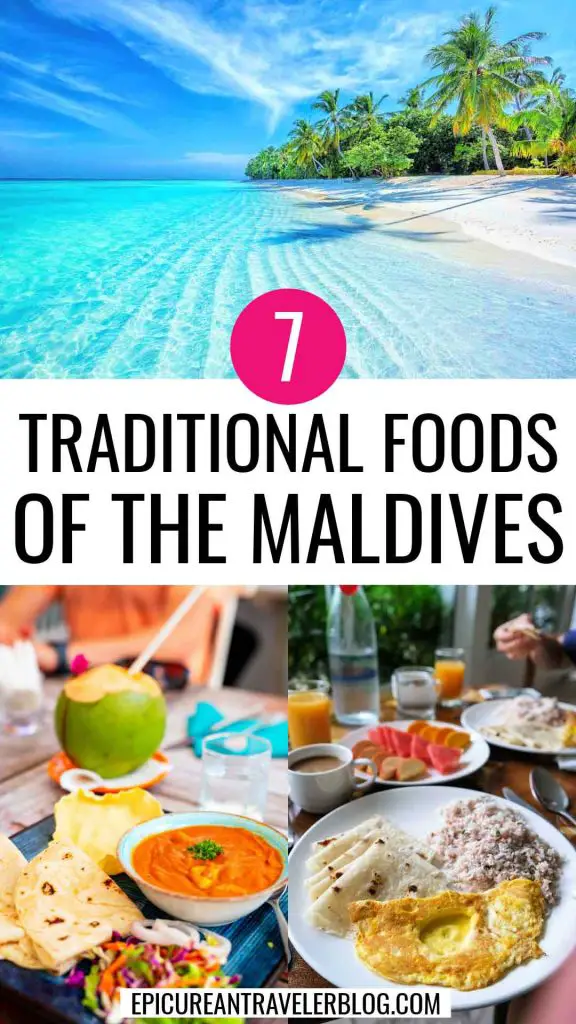 Editor's Note: Photo credit for lead image of a white-sand beach in the Maldives (© Kyrenian/Adobe Stock)