Dubai is famous for its prized architecture and coolest-of-its-kind attractions, but the United Arab Emirates' most-visited city is also known for its reputation as a world-class culinary destination. 
Though Dubai's food scene is strongly influenced by international cuisines and cultures, amid the diverse flavors from different parts of the globe are Emirati culinary treasures you shouldn't overlook. 
If you are not familiar with the region's local cuisine or don't know where to sample it, this guest post on the best Emirati food in Dubai will get you started. This gives you an introduction to the must-try local foods along with info on the top places to try Emirati dishes in Dubai. 
Disclosure: This Dubai dining guide contains affiliate partner links. When you click on or make a purchase from one of these links, we may earn a commission. 
What is Emirati Cuisine?
When one thinks about Emirati cuisine, foods of Levantine origin — such as shawarma, hummus, tabbouleh, and falafel —  probably come to mind. This is likely due to the immense popularity of Levantine dishes in the region. 
However, due to constant dealings with traders and travelers from various regions, Emirati foods have evolved over the years. Now, Emirati dishes are largely a fusion of the Bedouins', farmers', and fishermen's diets. 
In traditional Emirati cuisine, there is extensive use of ingredients such as camel and goat milk, meat, fish, grains, dates, vegetables, and of course a whole lot of spices such as saffron, turmeric, cinnamon, and thyme. To give added flavor to its dishes, they are sometimes seasoned with the leaves of the indigenous ghaf trees. 
As for the drinks, a special tea made with mint is commonly served at the end of the meal in order to help the digestion process. And, of course, Arabic coffee and dates are considered integral to the Emirati culture and hospitality. 
Top 10 Must-Taste Emirati Foods
Al Harees
Al Harees is one of the mainstay dishes of any Emirati celebration including Iftar, Eid, and weddings. This slow-cooked food is comprised of meat (usually chicken or lamb), wheat, ghee, flavorsome seasonings, and salt, and it has a gooey, porridge-like consistency. 
Al Machboos
Rice wasn't a staple food for Emiratis until Indian and other Asian traders made their way to Dubai. But, rice dishes now top the list of must-savor Emirati foods, especially Al Machboos. It is a sumptuous delicacy prepared with a blend of Basmati rice, a protein (such as lamb, chicken, or fish), veggies, loomi (dried lime), and several spices. 
Aseeda
The main ingredient of this simple yet classic Emirati sweet is pumpkin. Also known as Aseeda Bobbar, pumpkin is combined with ingredients such as flour, saffron, cardamom, sugar or honey, rosewater, oil, and nuts to create a rich, melt-in-the-mouth dessert. 
Balaleet
Balaleet is one of the Emiratis' most popular traditional breakfasts. A combination of vermicelli, eggs, cardamom, cinnamon, and saffron goes into its preparation. The taste is enhanced as the dish is topped with crunchy pistachios. What makes this dish unique is its sweet and savory taste that can be enjoyed hot or cold. It is, therefore, not a surprise that it is also served as a dessert.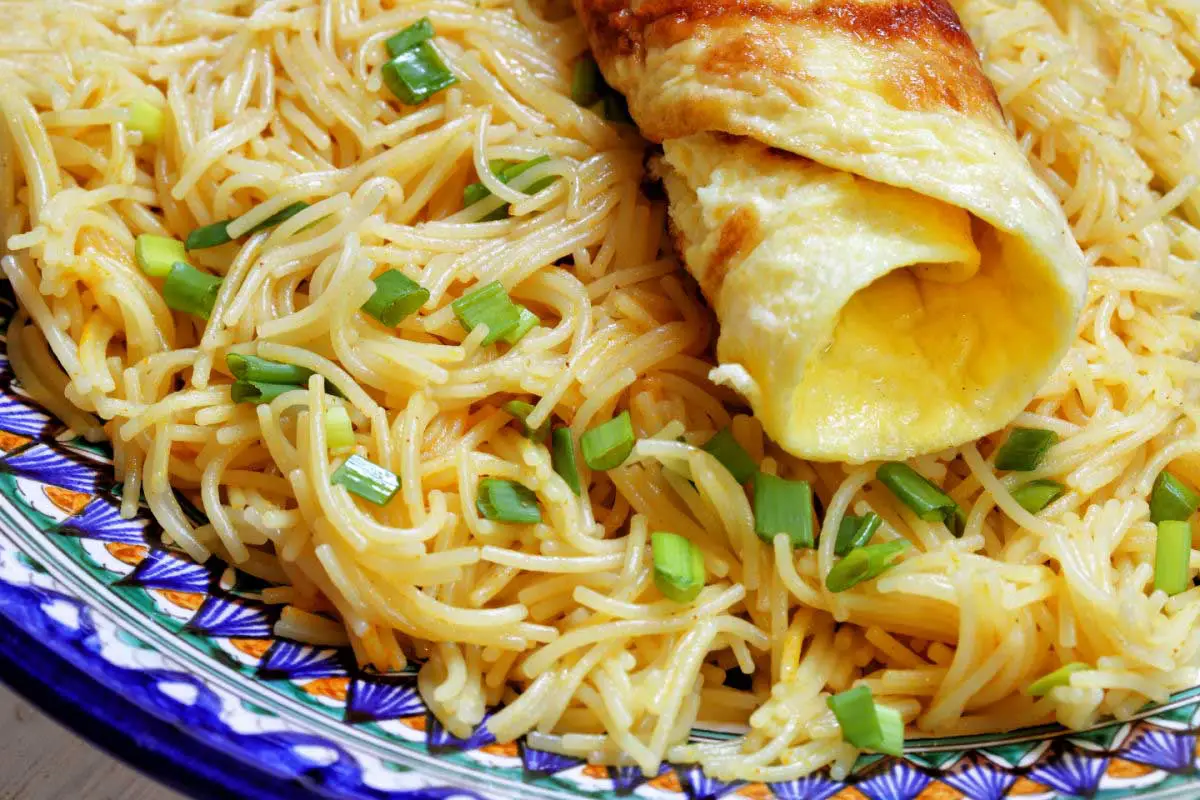 Chabab
Chabab — or Emirati pancakes — is another favorite breakfast item of locals. Its semi-watery batter is prepared using flour, yeast, milk, sugar, salt, eggs, cardamom, and saffron. This mix is then poured into a greased pan, and its two sides are cooked over medium heat before it is served hot with cream, cheese, or butter as well as honey or date syrup. 
Luqaimat
No matter whether you call it a dessert or a snack, a single bite of Luqaimat would leave you wanting more. This deep-fried food appears in the form of a sweet dumpling that is soft inside with a crispy outside. Its taste is enhanced with a generous drizzle of honey, date syrup, or chocolate-flavored Nutella.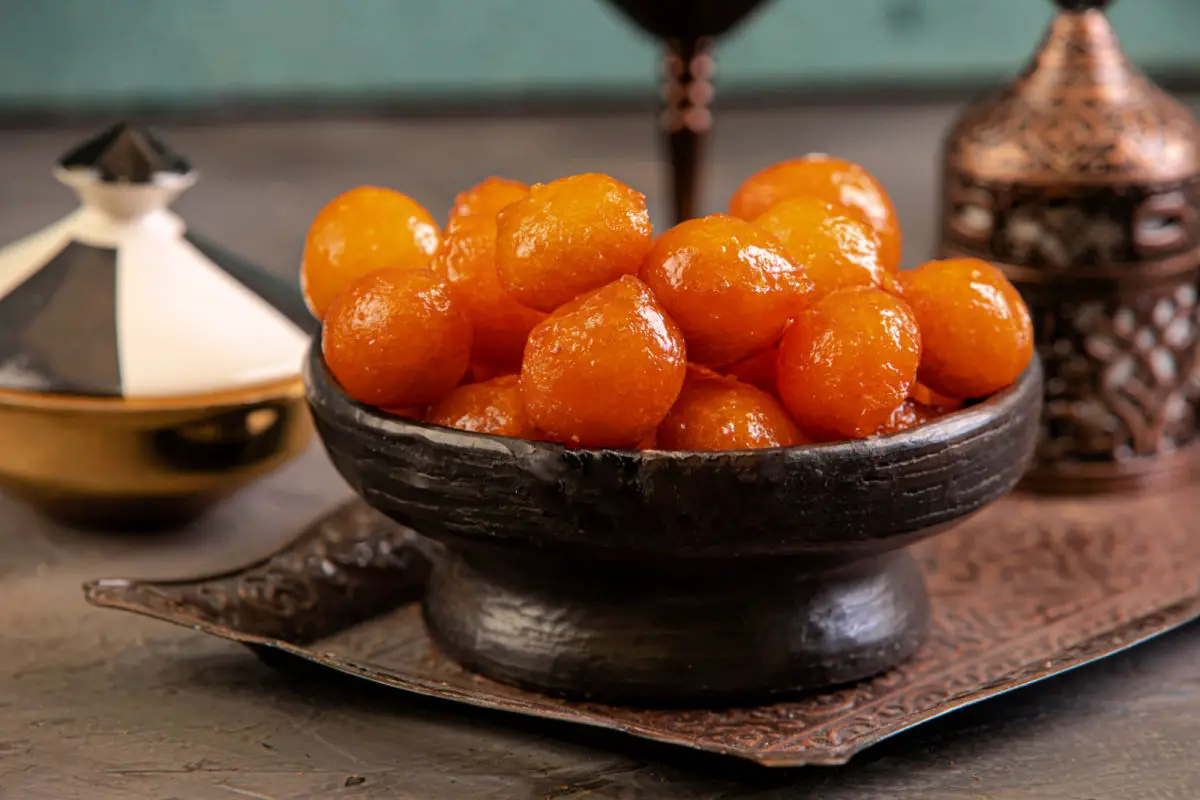 Saloona
Cooked with a special spice blend known as bezar, this Emirati stew is primarily a lamb or chicken dish. That said, you will also find seafood and all-vegetarian versions. Whichever you choose, one thing is sure that it makes a great accompaniment with rice and flatbreads.
Samak Mashwi
This is one Emirati or Dubai dish that seafood lovers would definitely love to try. It is a grilled food where the fish is infused with a mix of spices, herbs, and date paste before it is skewered and cooked in a clay barbeque. Not to mention, it is super yummy with its sweet and savory taste. 
Shakshuka
Shakshuka is a super filling egg dish with a twist. Instead of hard-boiled eggs, gently poached eggs are used for its preparation. Overall, this recipe with onions, garlic, tomatoes, and spices (like chili powder, cumin, and paprika powder), is both healthy and comforting for the taste buds. 
Thereed
This rich broth is primarily an amalgam of chicken or lamb, sautéed vegetables, and appetizing seasonings. It is usually served with the thin Emirati bread, known as rigag. You can also opt for its complete vegetarian version. 
Where To Eat Traditional Emirati Food In Dubai
Al Fanar Restaurant & Café
With four locations in Dubai alone, Al Fanar serves authentic Emirati cuisine in a rustic setting that recreates the age-old Arabia. From the lavish Emirati breakfast trays to a wide array of appetizers, salads, soups, and seafood dishes, Al Fanar is one of the ultimate venues to sample Arabic food in Dubai. Not to mention, you may get to taste Balaleet, Chabab, or Shakshuka in their most bonafide versions. 
Al Fanar has locations in Dubai at:
 

View this post on Instagram

 
Al Bait Al Qadeem
Nothing could probably beat this dining venue if you wish to relish traditional Emirati foods in an inspiring setting. Located in the historical Al Ras area within one of the region's oldest structures (that dates back to 1909), it offers a dedicated menu for Emirati cuisine, apart from Indian and Persian dishes.  
Al Bait Al Qadeem is located at 1 Al Suq  Al Kabeer St, Dubai, United Arab Emirates.
 

View this post on Instagram

 
Logma
Logma is one of the best places in Dubai to eat traditional Emirati and Khaleeji (Eastern Arabian) cuisines. Its menu features a smorgasbord of soups, salads, sandwiches, and main dishes.
Logma has two venues in Dubai located at:
 

View this post on Instagram

 
Al Mashowa
If you are a seafood lover, this restaurant at Dubai's City Walk should be top on your list. Yes, it allows you to taste some of its signature specialties including Al Mashowa Seafood Platter, Muhammar Safi Matfi, and Rubyan Magli — all cooked with the freshest and finest fish. 
As of early October 2021, Al Mashowa is currently closed, according to its Instagram. As no other information has been provided, we hope this is merely a temporary closure. The restaurant is located in Dubai's City Walk. 
 

View this post on Instagram

 
Sheikh Mohammed Centre for Cultural Understanding (SMCCU)
SMCCU, tucked away in Old Dubai's Al Fahidi area, may be best known as a place to learn about Emirati culture, history, and religious beliefs. But, it is more than that; you can also drop in here to get an in-depth understanding of Emirati cuisine with a full-course meal. 
SMCCU is located in the Al Fahidi area of Old Dubai.
 

View this post on Instagram

 
Desert Safari
Wonder what this off-road adventure has to do in this list? People mostly go on a desert safari to admire Dubai's scenic side with a dose of adventure, fun, and culture. When you sign up for this activity through a reputable service provider, it is very likely that you will get to dig deeper into the region's interesting culinary heritage with a lavish BBQ buffet dinner, which is often included in evening and overnight desert safaris.
Browse more desert safari tours and day trips from Dubai:
Where To Stay In Dubai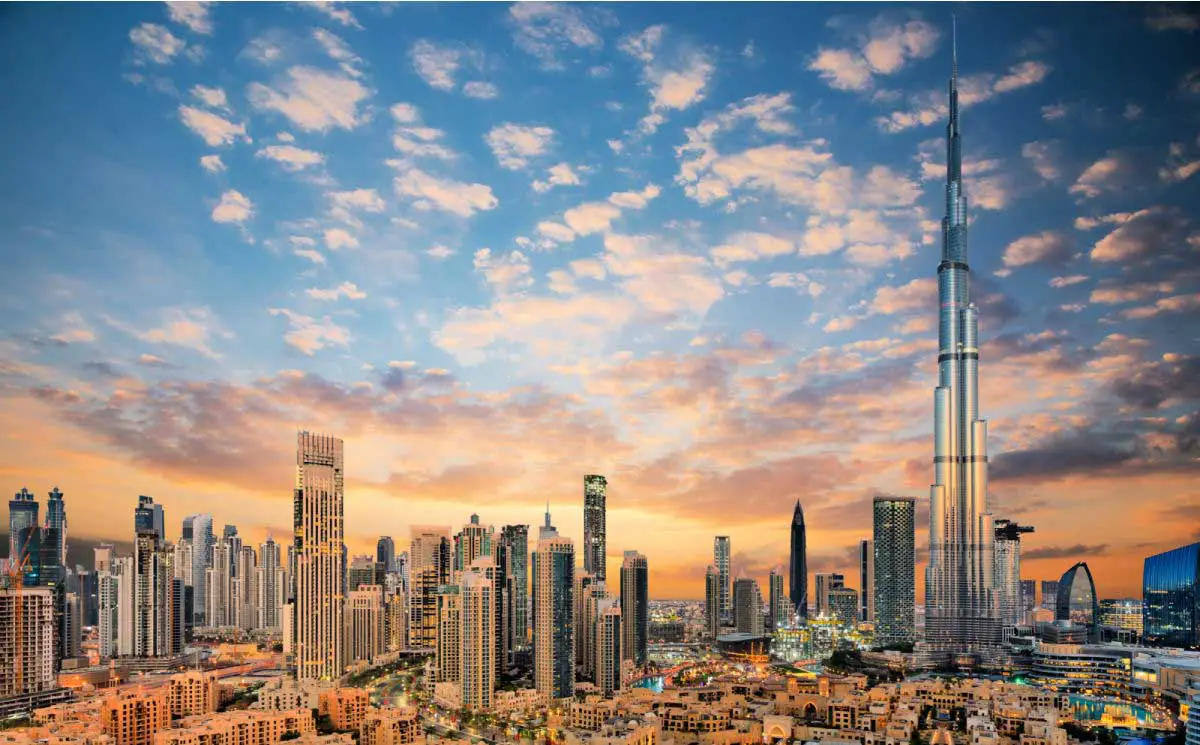 Wondering where to stay in Dubai? Here are some of the top-rated hotels in Dubai:
Final Thoughts On The Best Emirati Restaurants In Dubai
If savoring Emirati cuisines isn't on your Dubai itinerary, be sure to add it now. Whether you are looking for a quintessential Emirati feast or simply want to devour on an Arabic snack packed with authentic local flavors, this post will help you to find your perfect spot in Dubai. 
You can explore the map below to find the Emirati restaurants recommended in this post!
Please note Google Maps may not be compatible with all browsers and devices.
About Our Guest Blogger
Neha is a travel blogger writing about Dubai at Dubai Wikia. She loves exploring new places, trying local cuisines, and learning about the culture and history of a place. She also loves painting, watching movies, and playing guitar.
We Have More Dining Guides!
Love to travel to taste the local cuisine? We (and our guest bloggers) do, too! Be sure to check out our dining guides for local Midwest and international travel destinations such as:
Editor's Note: Credit for the lead image featured in this post is © Delphotostock/Adobe Stock.