In this roundup of iftar recipes for Ramadan (Ramazan), you'll find more than 30 traditional Ramadan recipes from around the world.
Disclosure: This list of iftar recipe ideas for Ramadan contains affiliate links. I may earn a commission if you click on and make a purchase from one of these partner links. 
---

Ramadan Mubarak
After recently returning from my Istanbul trip, which ended on the first night of Ramazan in Türkiye, I was inspired to learn more about the traditions and, particularly, the foods of Ramadan/Ramazan around the world.
This quest to learn more about Ramadan foods began with my own family. My husband, who is from Basra, Iraq, shared with me how my in-laws break their fasts. He also told me about his family's traditional dishes for the Ramadan meals iftar, suhoor, and Eid al-Fitr.
I then collaborated with other food bloggers to compile this collection of 30+ recipes for Ramadan iftar food from around the world. By reading this post, I hope you will find iftar food ideas to cook for your family and/or learn about the traditions and foods of Ramadan.
Before diving into this list of 30+ Ramadan recipes for iftar dishes, I wanted to wish my Muslim friends, family, and readers Ramadan Mubarak. If you are currently fasting for Ramadan, I wish you a blessed month that brings you a closeness to God and as few hunger pains and rumbling tummies as possible.
What is Ramadan?
Ramadan is the Islamic holy month that falls during the ninth month of the Islamic calendar and ends with the fast-breaking holiday Eid al-Fitr. In non-Arabic-speaking Muslim communities, Ramadan may be called Ramazan or Ramzan.
The month of Ramadan is significant because Muslims believe this is when Allah (God) revealed the first verses of the Quran, Islam's sacred text, to the Prophet Muhammad.
How is Ramadan observed?
Muslims around the world observe this holy month by fasting, praying, giving to charities, and gathering for communal meals of iftar and suhoor with family and friends.
What is fasting?
Fasting during Ramadan is the avoidance of eating and drinking from sunrise until sunset for 30 days. Additionally, fasting includes abstaining from smoking and sexual activities.
Why do some Muslims fast?
Fasting during the month of Ramadan is one of the five pillars of Islam, in addition to the declaration of faith, prayer, charitable giving, and the Hajj (pilgrimage to Mecca). It is a practice of self-restraint intended to bring closeness to God.
What is an iftar meal?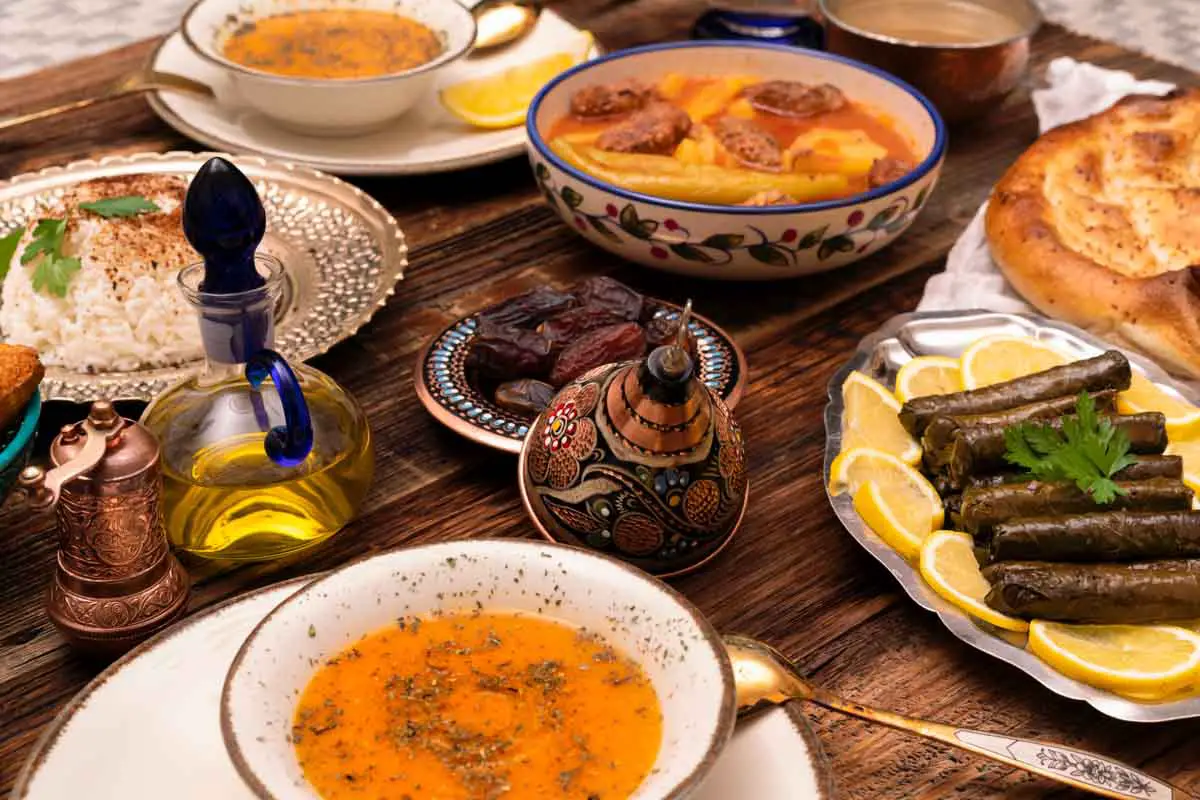 Iftar, meaning "breaking of the fast," is the first meal eaten after sunset during the month of Ramadan. The other meal during Ramadan is suhoor, which is eaten before dawn.
Traditionally, the fast is broken first with a sip of water, followed by eating dates. This follows in the tradition of the Prophet Muhammad, who is said to have broken his fast with three dates and water.
My in-laws, who live in southern Iraq, break their fasts in this manner. Usually, they eat lentil soup next, and some natural fruit juices to help their bodies rehydrate may be served at this time, too.
After this initial breaking of the fast, there may be a break from eating for evening prayers. Later on, at gatherings with family or the community, a larger meal may feature multiple dishes, including appetizers, side dishes, at least one main course, and dessert.
Traditionally, what kind of food is served at iftar?
Iftar meals are well-rounded with fresh fruits and vegetables, halal meats, bread, rice, cheese, and sweets.
When Ramadan falls during the summer, eating foods and drinking beverages that hydrate the body is especially important.
Since there are Muslims all over the world, specific iftar recipes for Ramadan vary by region. In this post, you'll find traditional iftar recipes from countries such as Bahrain, Egypt, India, Indonesia, Iran, Jordan, Lebanon, Pakistan, Syria, Türkiye, Uzbekistan, and Yemen.
What foods should be avoided during iftar?
The disruption of normal eating patterns by fasting during Ramadan can cause some trouble in digesting certain foods.
Therefore, limiting your intake of fried, fatty, and sugary foods may be best.
Additionally, salty foods, chocolate, and caffeinated beverages dehydrate the body, leaving you thirsty during your fast.
Iftar Recipe Ideas for Breaking Your Fast
Kolak Biji Salak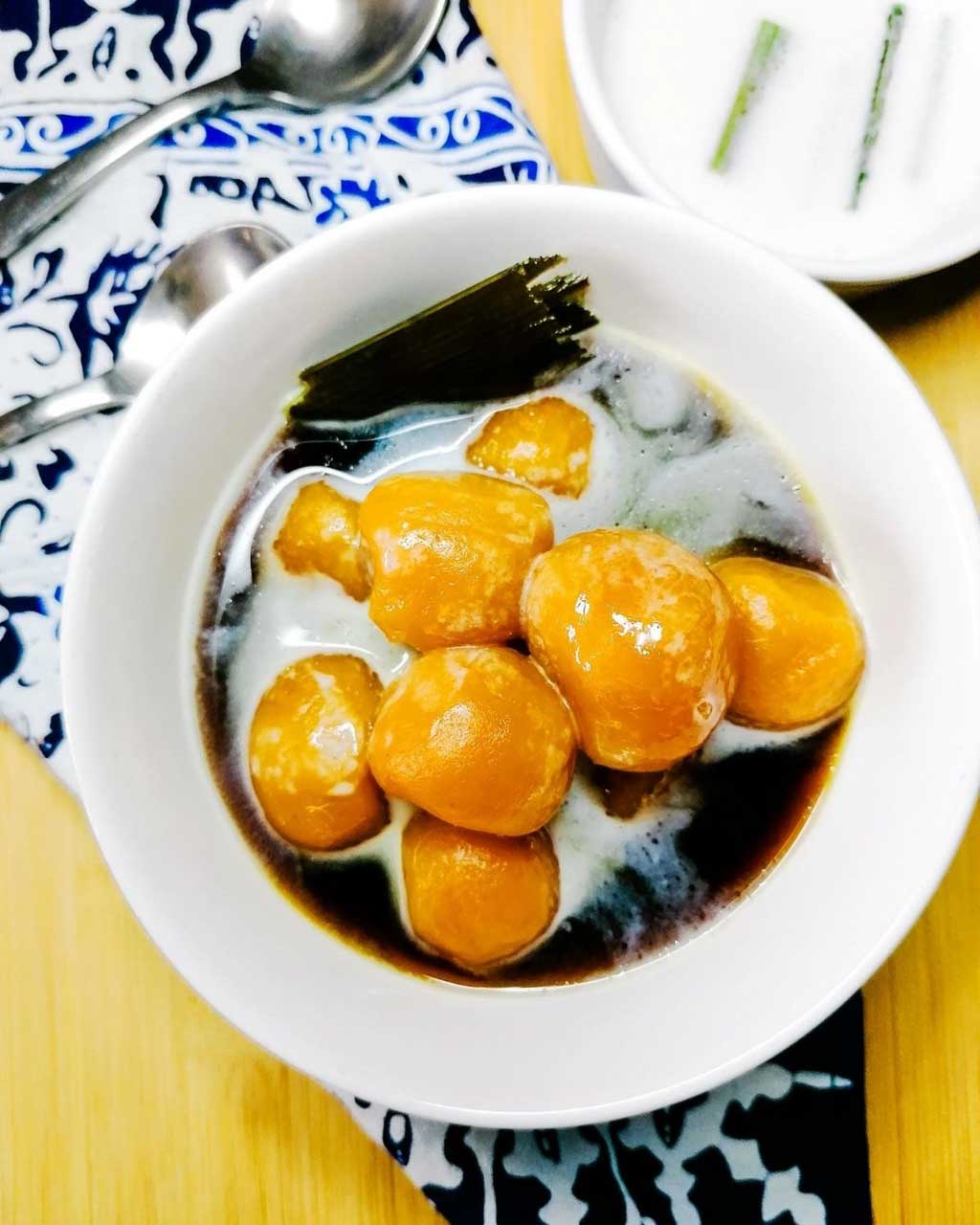 In Indonesia, iftar is called buka puasa meaning "opening of the fast."
At snack stalls and markets after sundown, Indonesian Muslims eat takjil, which are small, light dishes to break the fast. The name "takjil" comes from the Arabic word for "to speed up," and in the Bahasa Indonesia language, it has come to mean "to speed up breaking fast."
Many Indonesian Muslims prefer to break their fasts by sipping a beverage and eating a sweet snack. One such sweet snack to break the fast in Indonesia is kolak biji salak. It is a popular iftar snack consisting of sweet potato balls in palm sugar syrup and coconut milk.
Sambousek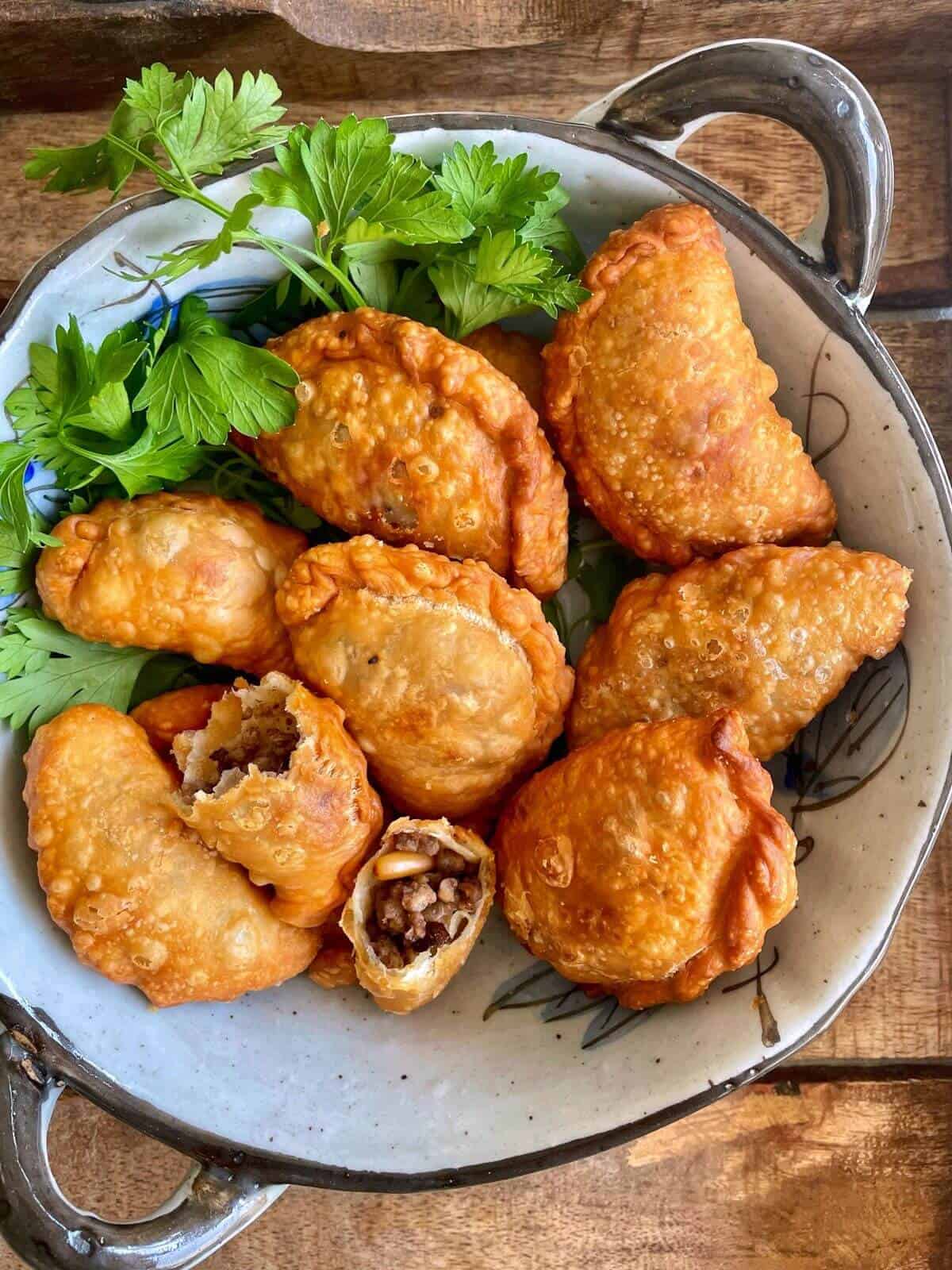 Another popular iftar snack is Lebanese sambousek, which is a fried dumpling filled with minced meat or cheese.
This sambousek recipe is for a beef filling, but you can substitute the beef with ground lamb or chicken.
Samsa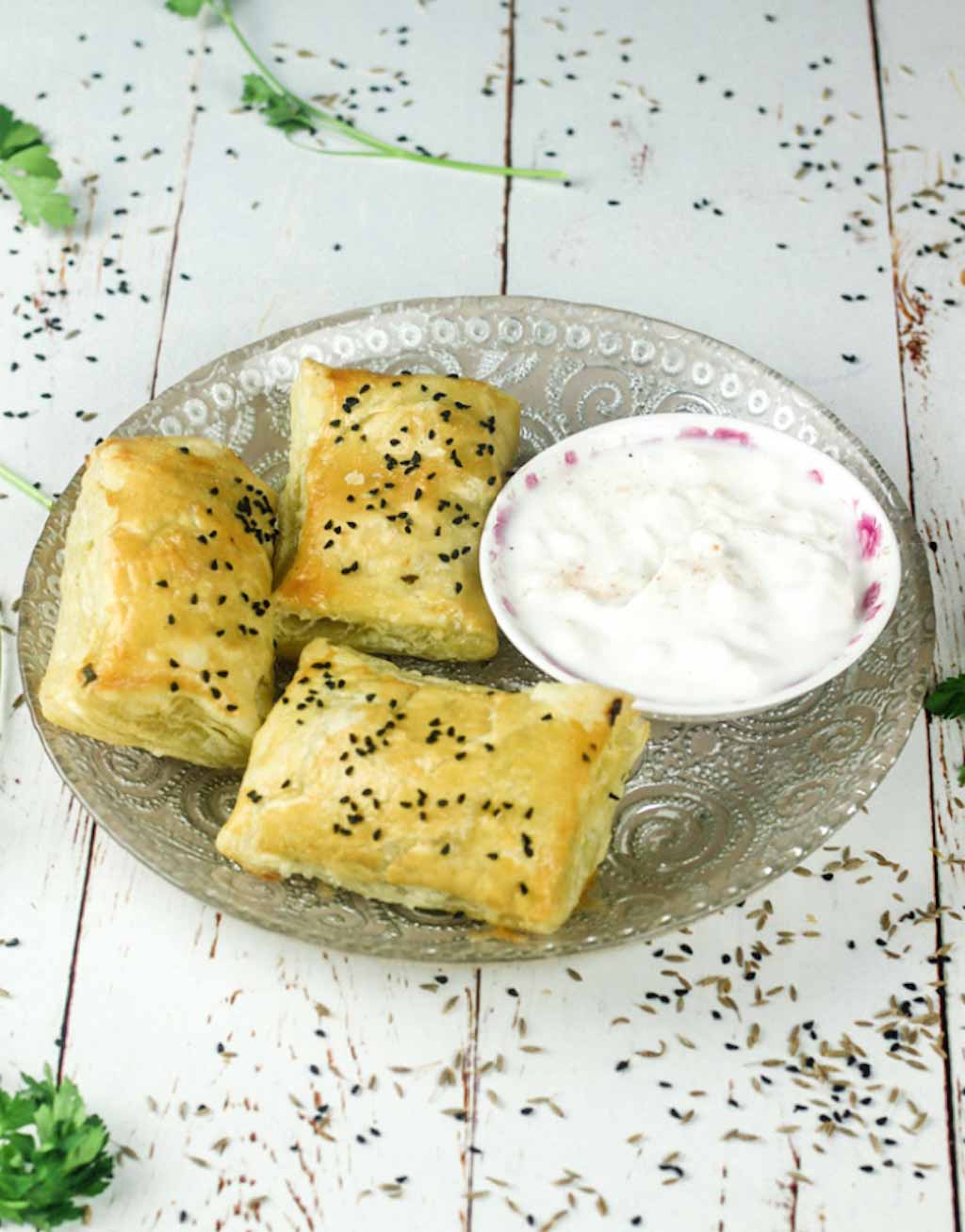 Somewhat similar to the Lebnese sambousek, the samsa is a traditional iftar food for Uzbeki Muslims. It is made with puff pastry that is filled with ground lamb and seasoned with cumin seeds and fresh herbs.
Thari Kanji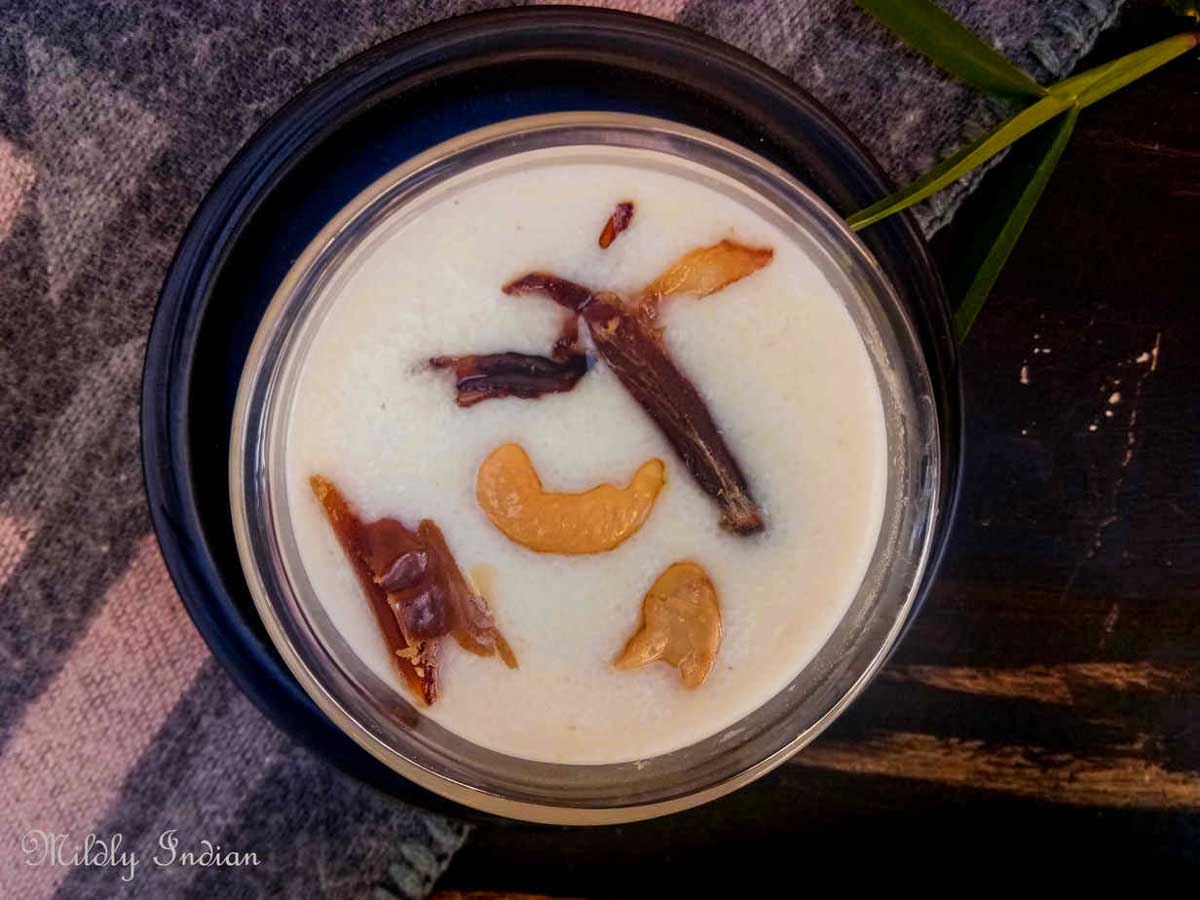 Thari kanji is a sweet drink served alongside dates and watermelon when breaking the fast in Kerala in southwestern India.
This Malabar beverage is made from roasted semolina (farina) and has a thick, smoothie-like consistency.
In this thari kanji preparation, the drink is topped with shallots, dates, and cashews.
Ramazan Pidesi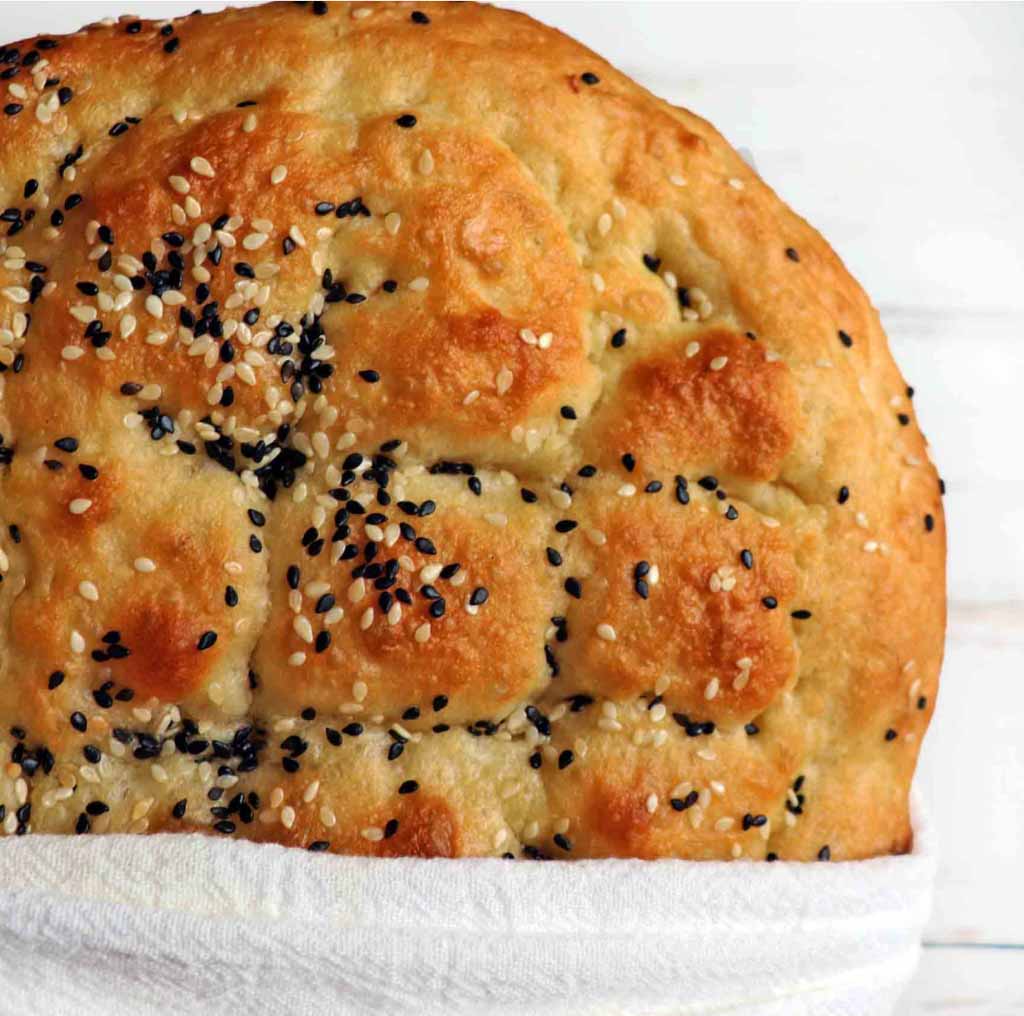 Ramazan Pidesi is a Turkish flatbread baked specifically for the Islamic holy month of Ramazan in Türkiye.
Typically, this bread, with a crisp exterior and a soft and fluffy interior, is served alongside red lentil soup to break the fast.
Soup Recipes for Iftar
Mercimek Çorbasi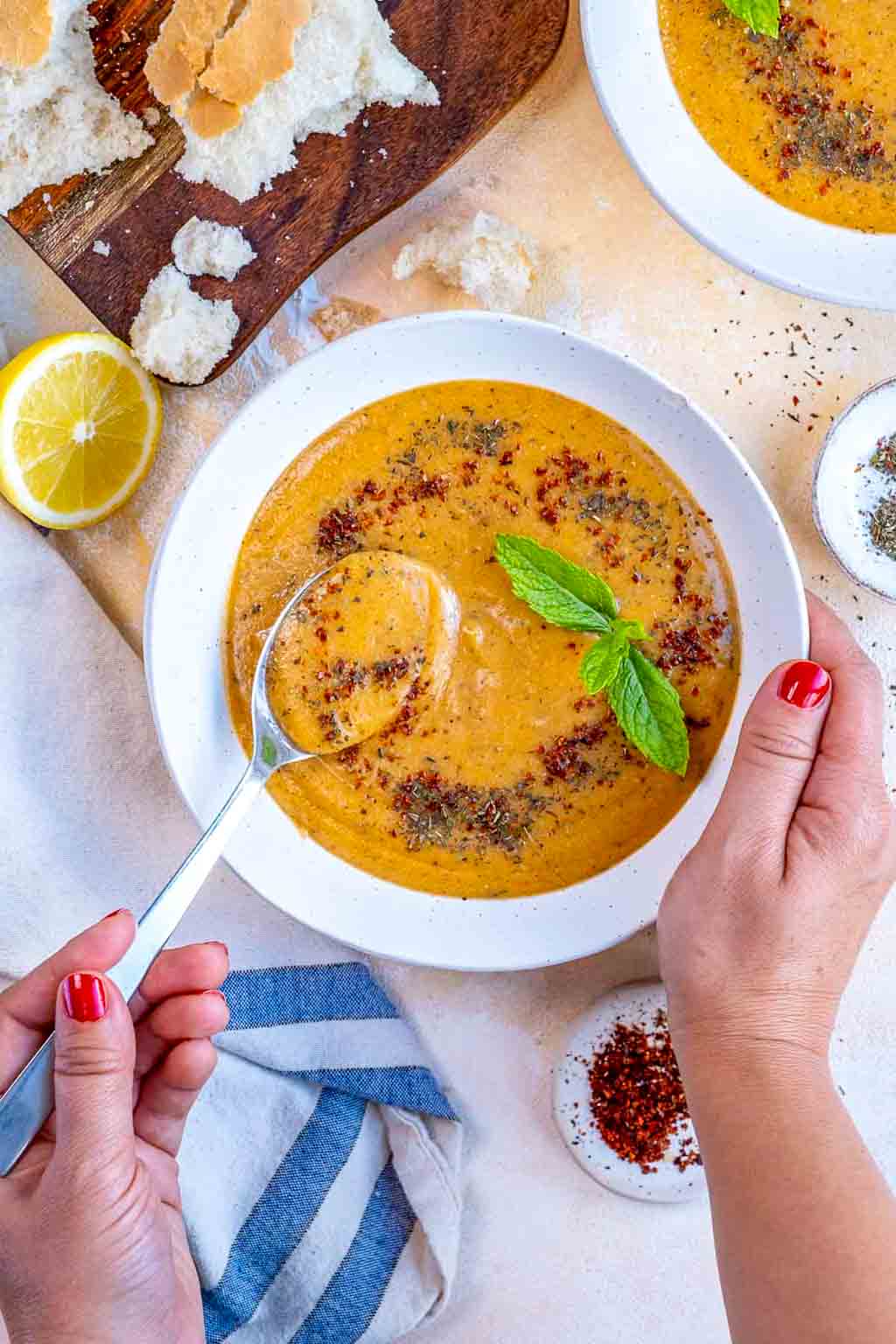 Turkish red lentil soup originated in Southeast Anatolia and is particularly popular during the holy month of Ramazan in Türkiye.
Though you will find red lentil soup eaten for breakfast or lunch at other times of the year, this vegan soup loaded with protein is commonly eaten to break the fast at iftar.
Red Lentil Soup (Arabic)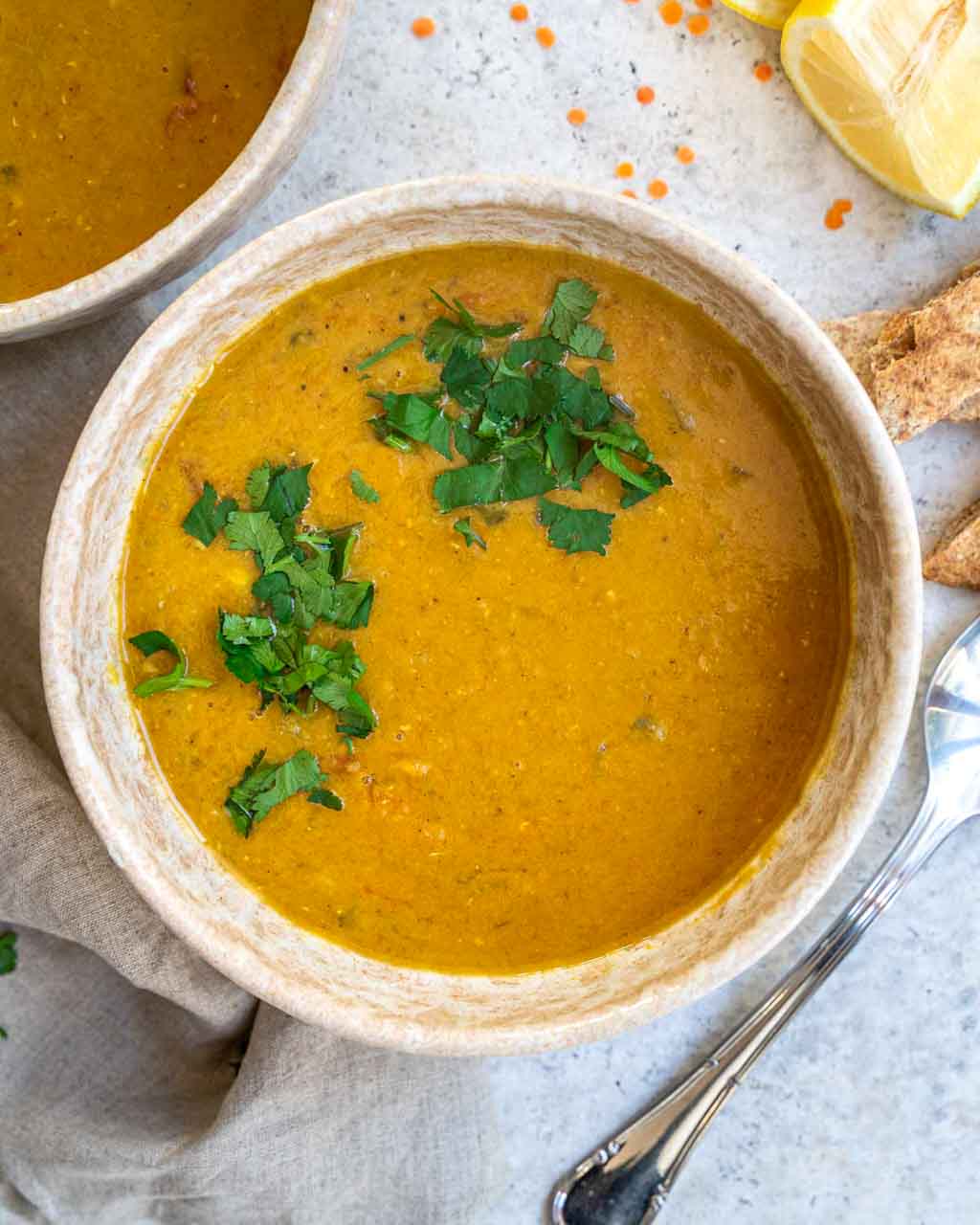 In the Arab communities of the Middle East, lentil soup is also often served at iftar to break the fast.
However, unlike Turkish red lentil soup, the Arabic versions typically don't use tomato paste and, therefore, appear yellow in color.
The use of tomatoes in this Lebanese-inspired red lentil soup recipe adds a twist to the classic Arabic lentil soup for your next iftar meal.
Iftar Ideas for Ramadan: Appetizer & Side Dish Recipes
Dahi Papdi Chaat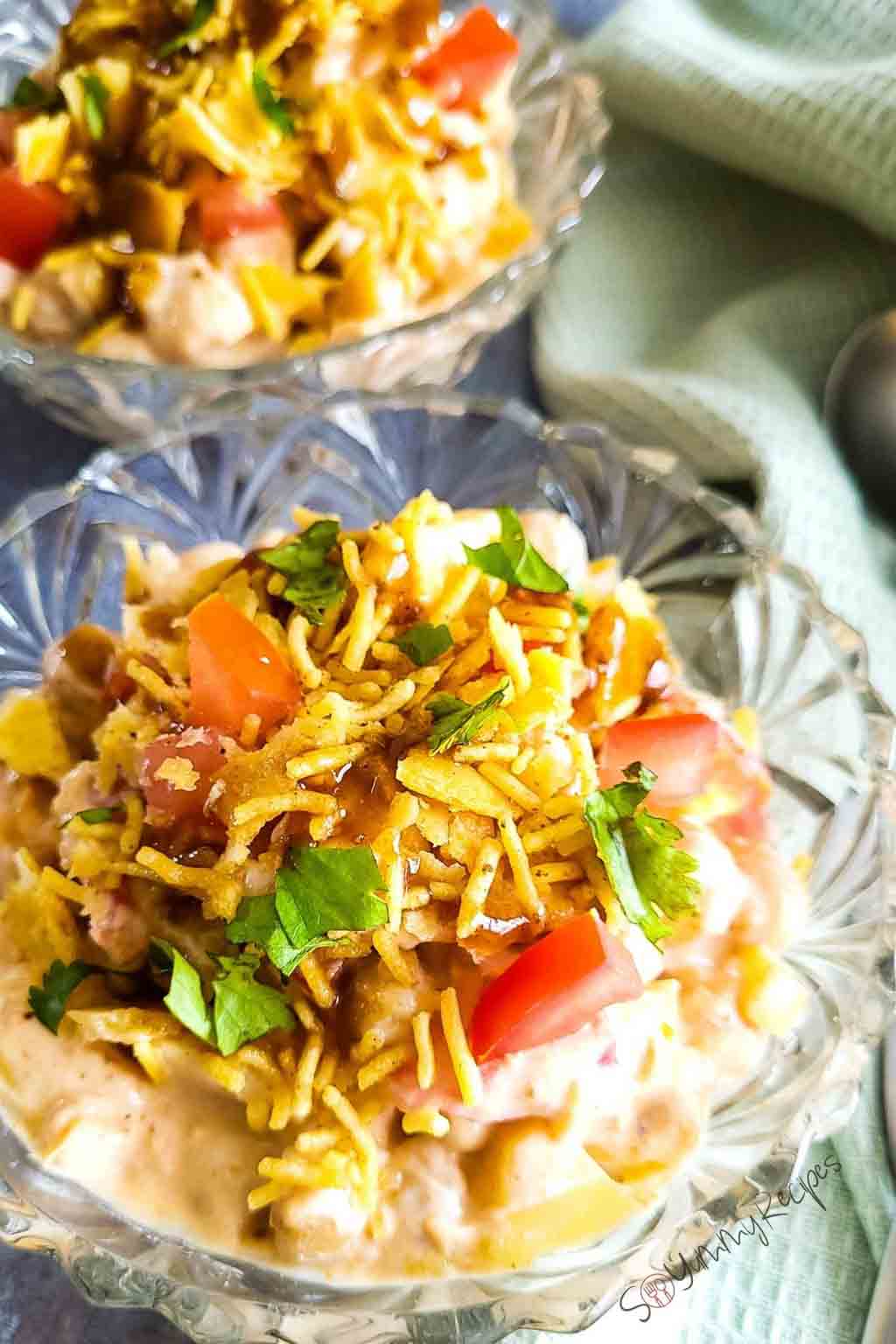 Papdi chaat is a popular street food in India, Pakistan, and Bangladesh, but it is commonly served at iftar, too.
The dish is a salad of potatoes and chickpeas, but variations may also include tomatoes, onions, spices, yogurt, tamarind sauce, and papdi (crispy, fried crackers).
This dahi papdi chaat recipe is a Pakistani-style preparation that calls for yogurt.
Fatayer bi Sabanekh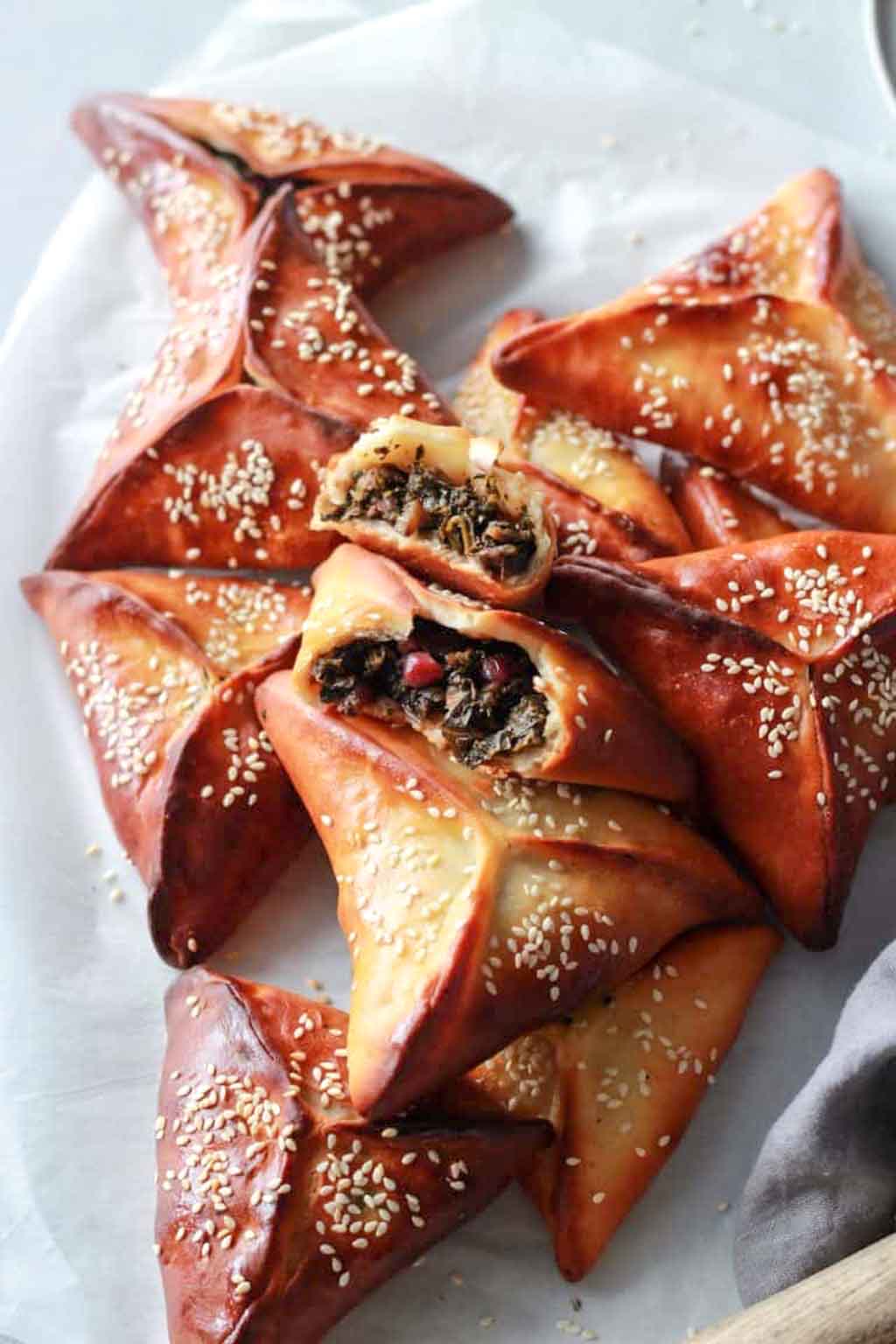 Fatayer is a Middle Eastern hand pie, most common in Levantine countries such as Lebanon and Syria, with a crust made from a yeast-based dough and filled with meat, spinach, cheese, or za'atar.
This fatayer bi sabanekh recipe is for triangular hand pies filled with spinach.
Cheese Fatayer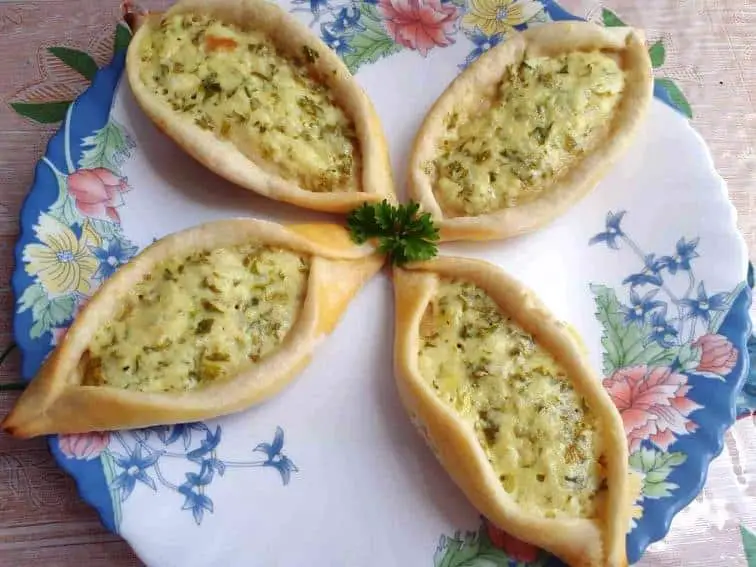 Cheese fatayer is a hand pie filled with — you guessed it — cheese. It's a popular snack in Levantine countries such as Lebanon, Jordan, and Syria.
Mujadara
Mujadara is a Lebanese dish of lentils and rice topped with caramelized onions.
Healthy Iftar Recipes: Salads
Fattoush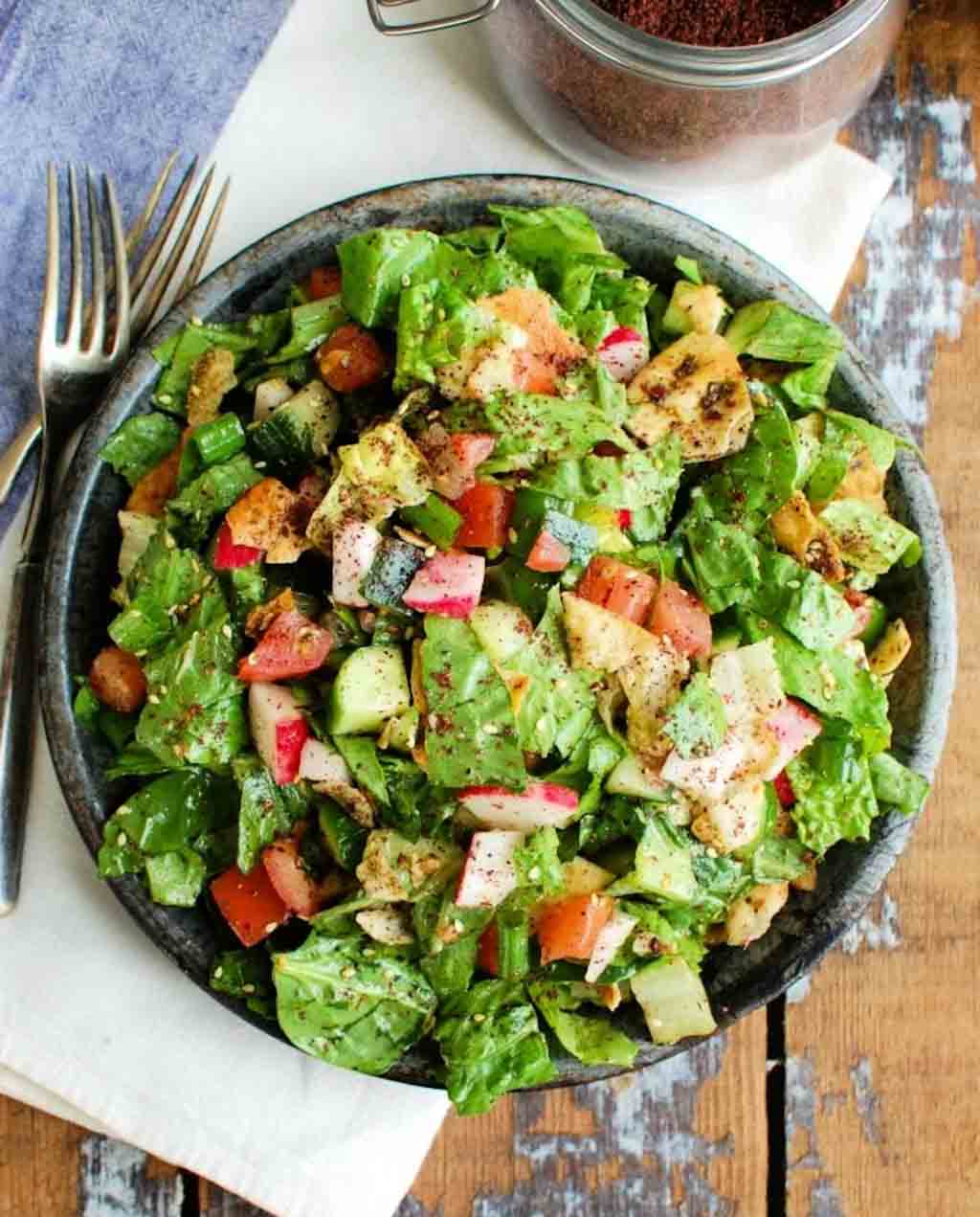 Fattoush is a Levantine salad made with toasted or fried pita bread, mixed greens, radishes, tomatoes, and a tangy, lemony dressing seasoned with sumac.
Tabbouleh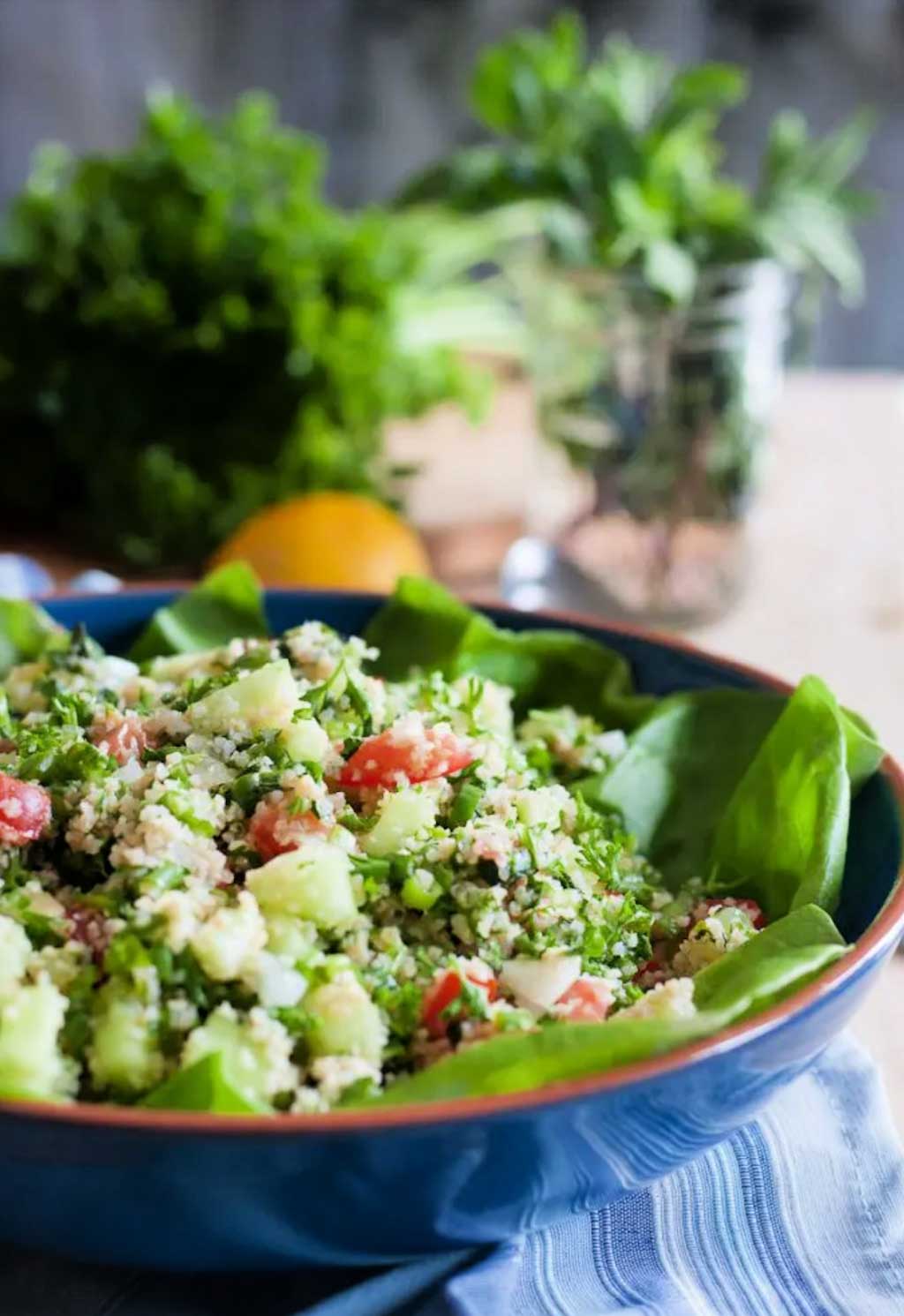 If you are looking for a healthy iftar recipe, you've found one!
Like fattoush, tabbouleh is also a Levantine salad. It is made of chopped parsley, soaked bulgur wheat, tomatoes, freshly squeezed lemon juice, and olive oil.
In this tabbouleh salad recipe, the addition of English cucumber gives the salad a bit more crunch.
Stew Dishes for Iftar
Khoresh Bamieh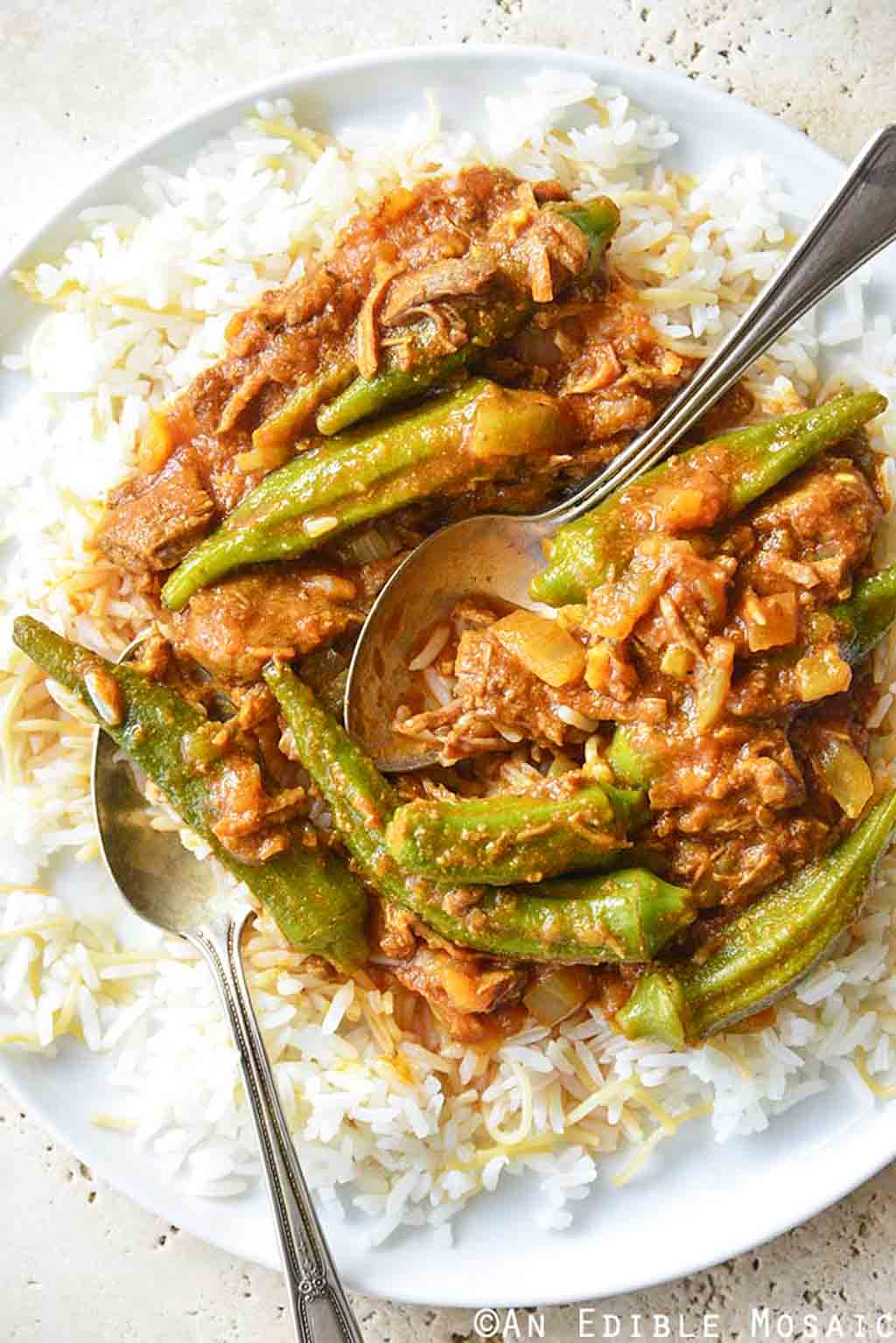 Khoresh bamieh (Persian okra stew) is a traditional Iranian stew of lamb, tomatoes, and okra.
The stew originated in the Khuzestan province in southern Iran, but variations of okra stew are eaten throughout the Middle East.
Nihari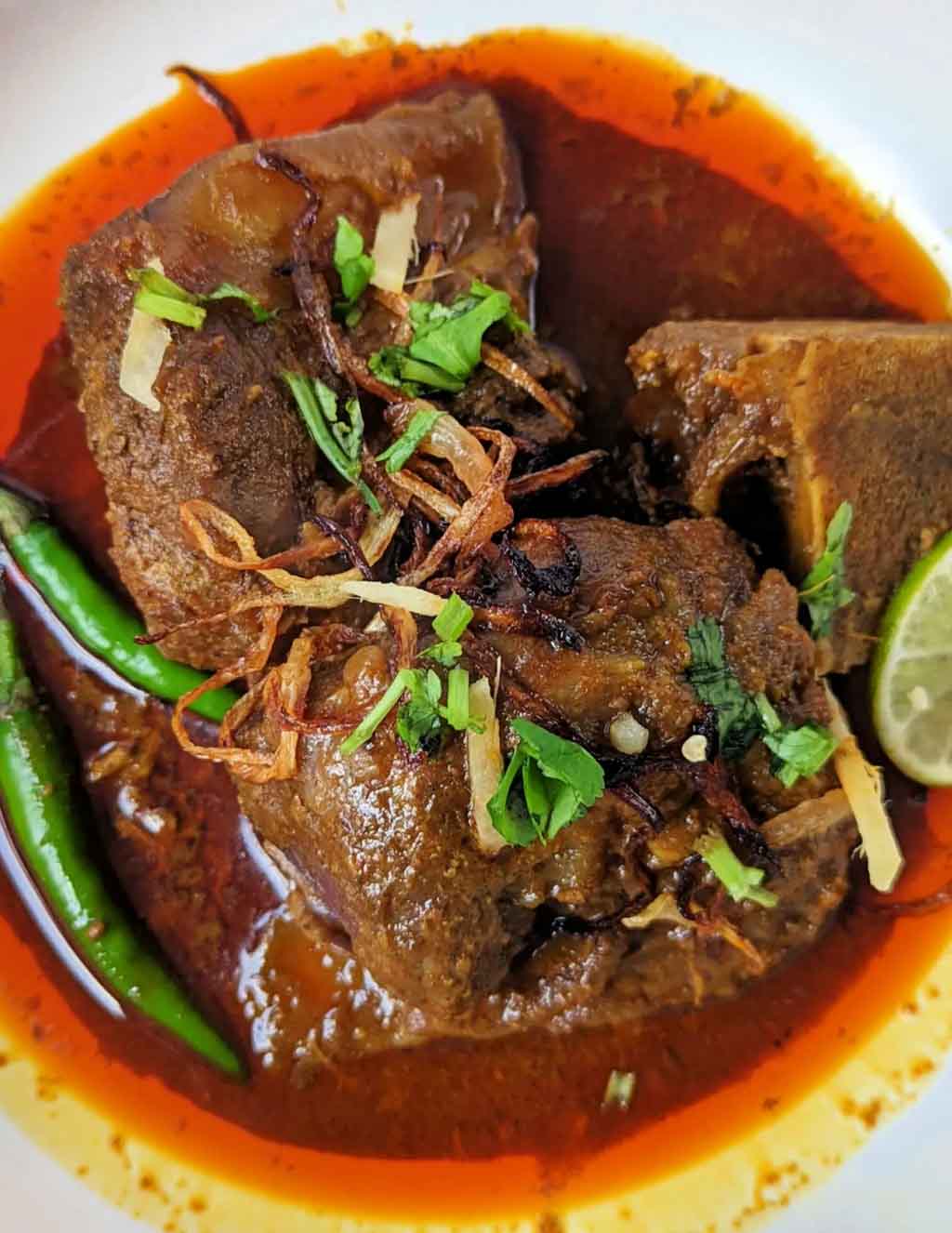 Nihari is a hearty, comforting beef stew, considered Pakistan's national dish.
Though this authentic Pakistani dish is typically eaten at breakfast in Pakistan, nihari is also served on the iftar tables of Indian Muslims.
Tashreeb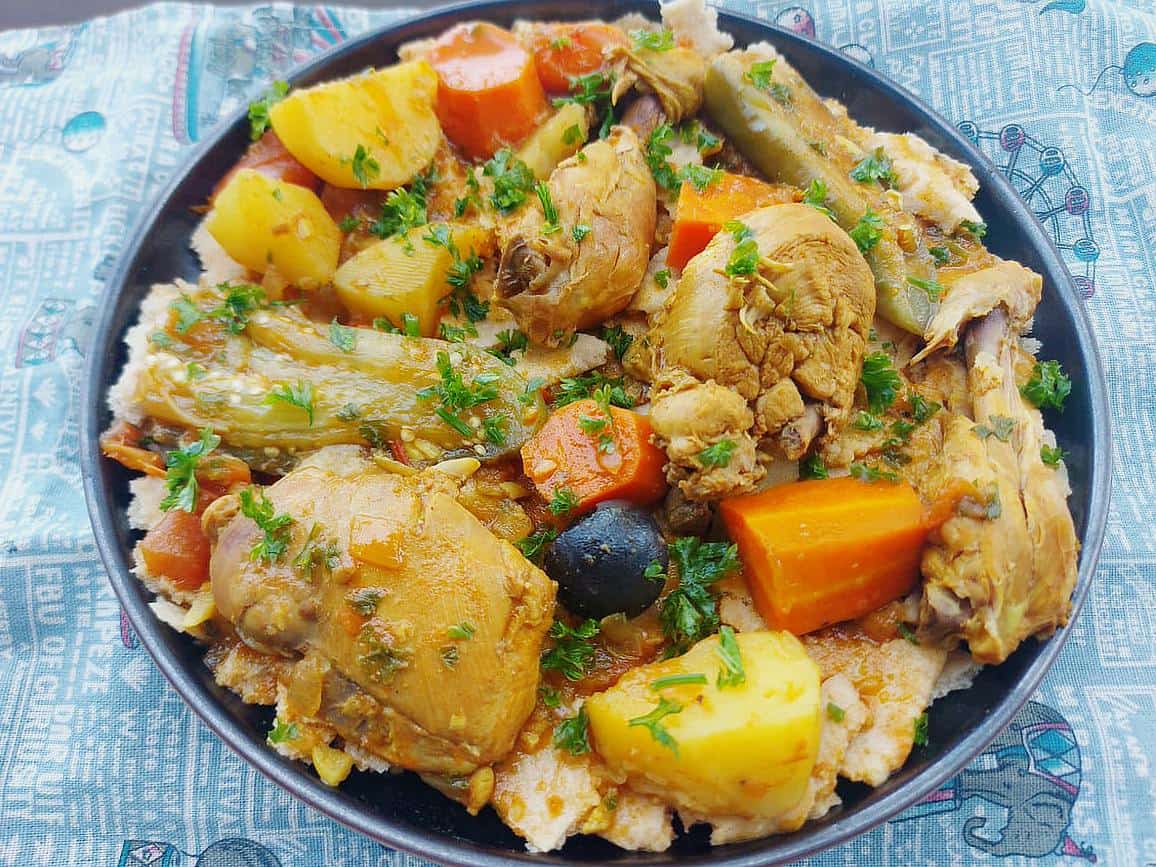 Tashreeb is a traditional iftar dish among Arabs in the Persian Gulf region.
The stew consists of chicken, carrots, potatoes, and eggplant cooked in a tomato broth. It is served over bread that has been soaked in the stew broth.
Iftar Meal Ideas: Beef & Lamb Main Course Recipes
Adana Kebap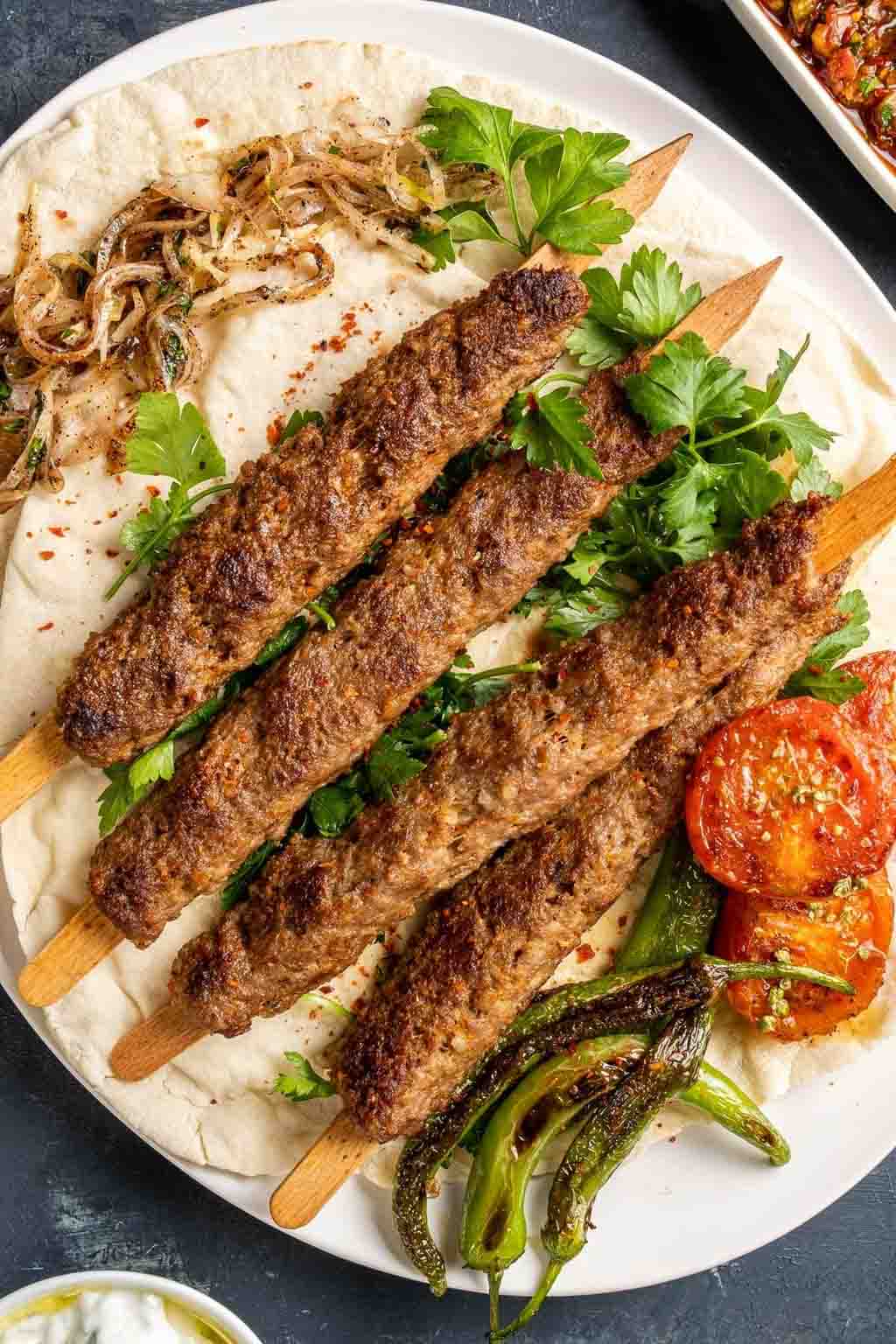 Adana kebap is a spicy ground lamb kebap popular in Türkiye.
You can also wrap the kebap in Turkish lavash bread (or another flatbread) with lettuce, tomato, and onion to assemble an Adana dürüm (wrap sandwich).
Arayes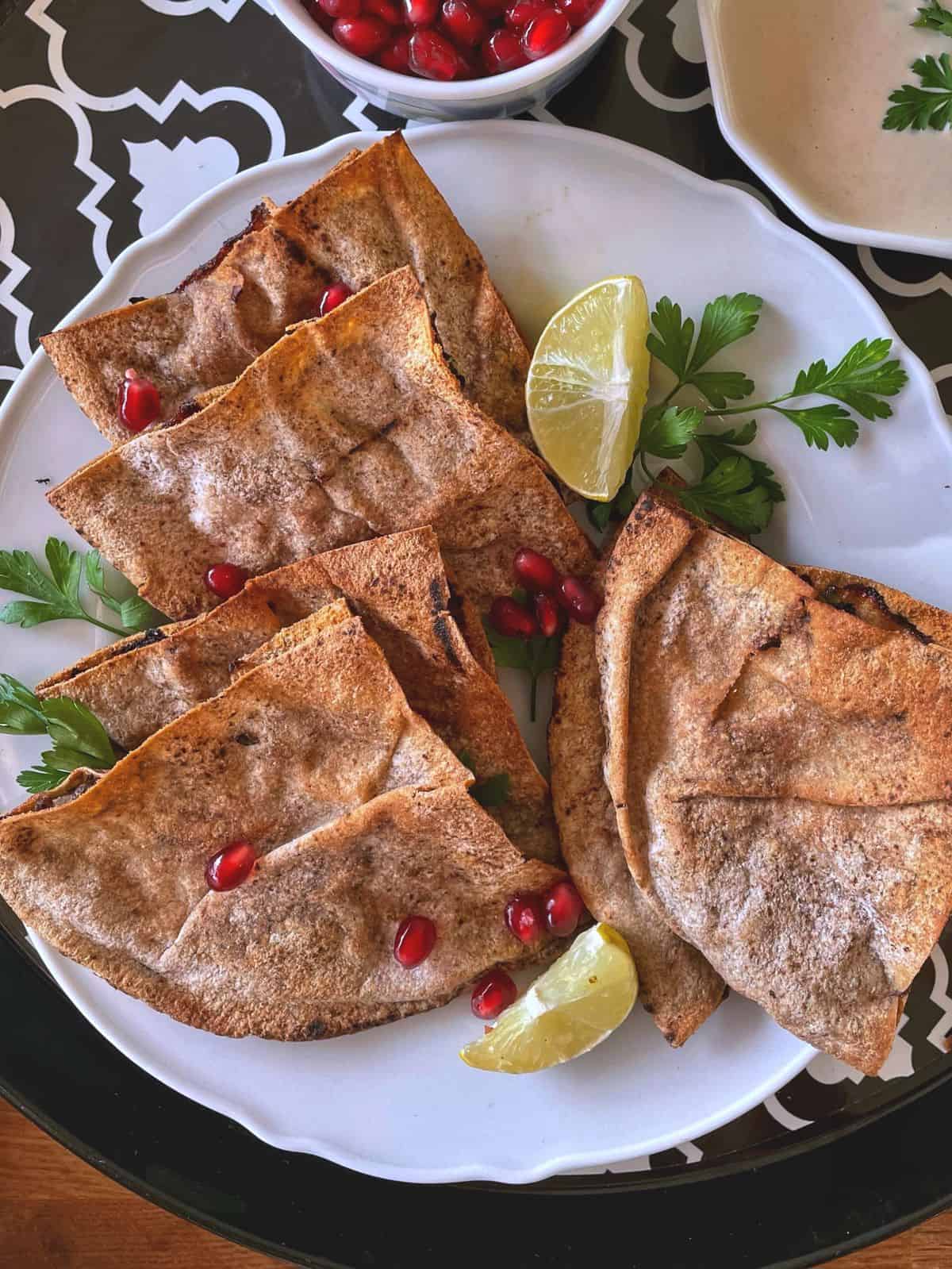 Arayes are Lebanese meat-stuffed pitas that are popular street food.
You can serve arayes for an appetizer or main course at iftar dinner alongside dips such as tahini or labneh.
Beef Kafta Kebabs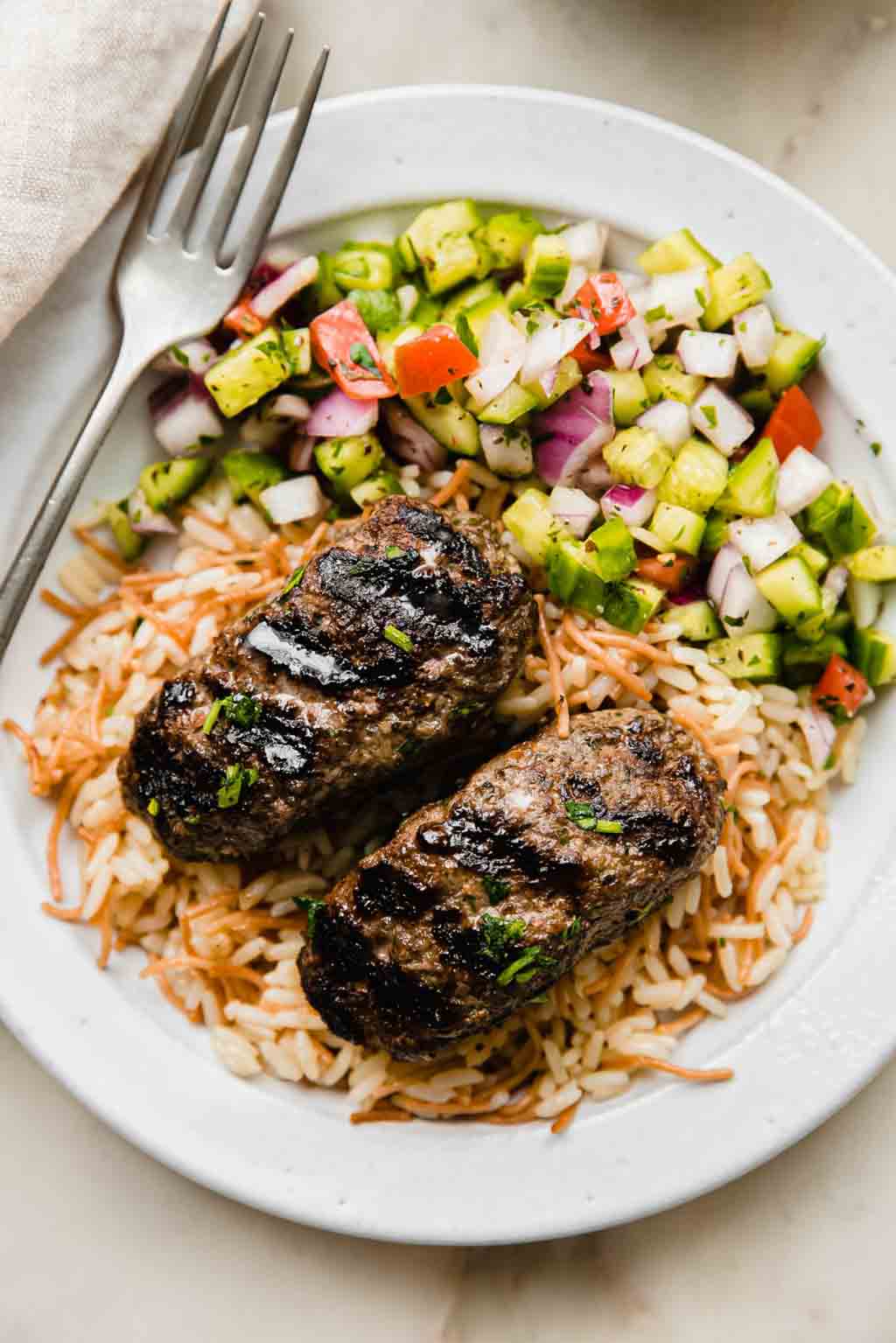 These Lebanese-inspired beef kafta kebabs are made with tender ground beef (or ground lamb), onions, parsley, and a blend of aromatic spices. They are delicious with vermicelli rice and garlic sauce!
Beef Koobideh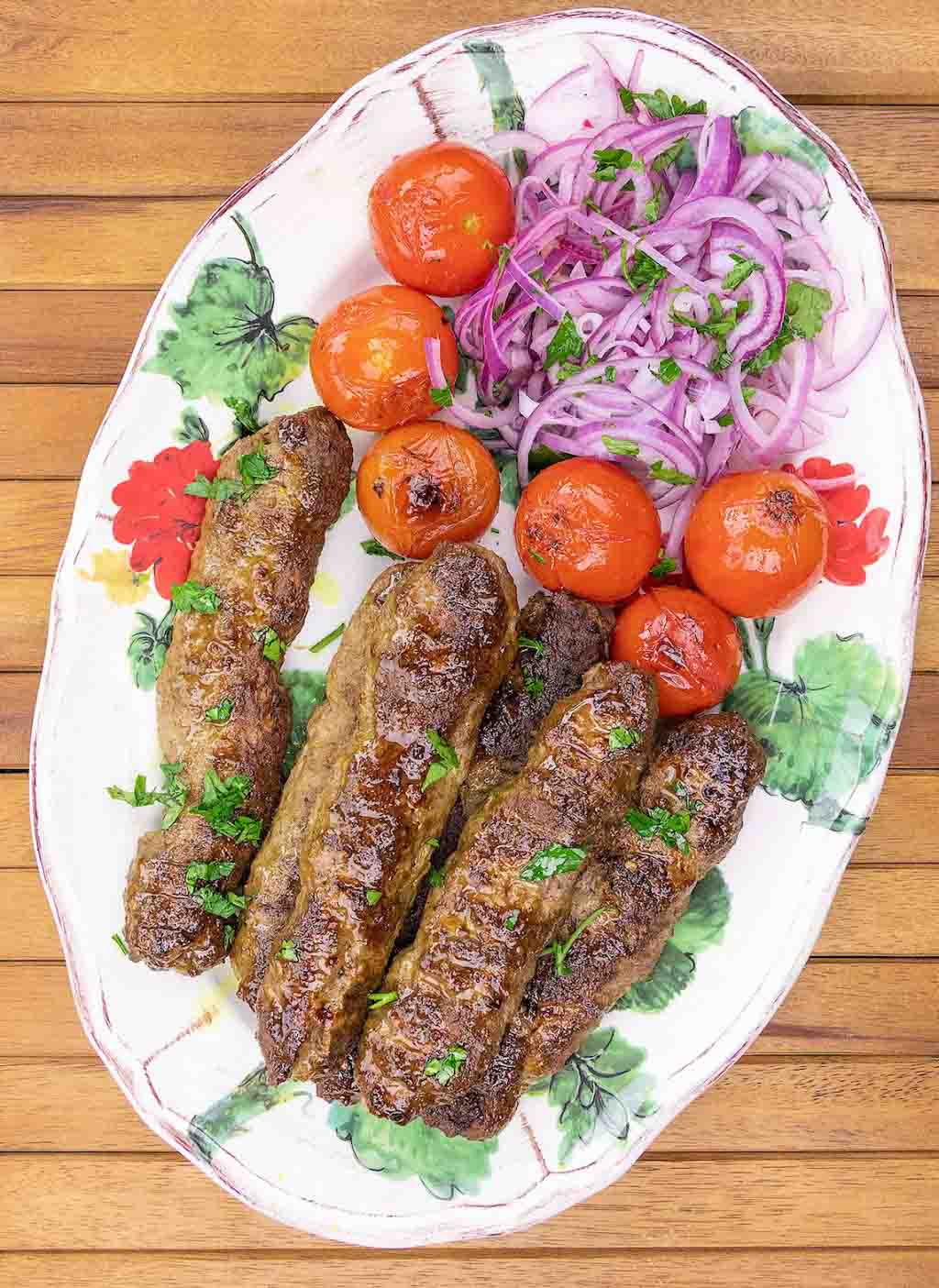 Beef koobideh is a Persian kabob made from ground beef, but it can also be made with ground lamb or a combination of the two types of meat. It is delicious with a cilantro yogurt sauce!
Ramadan Iftar Ideas: Chicken Main Course Recipes
Chicken Biryani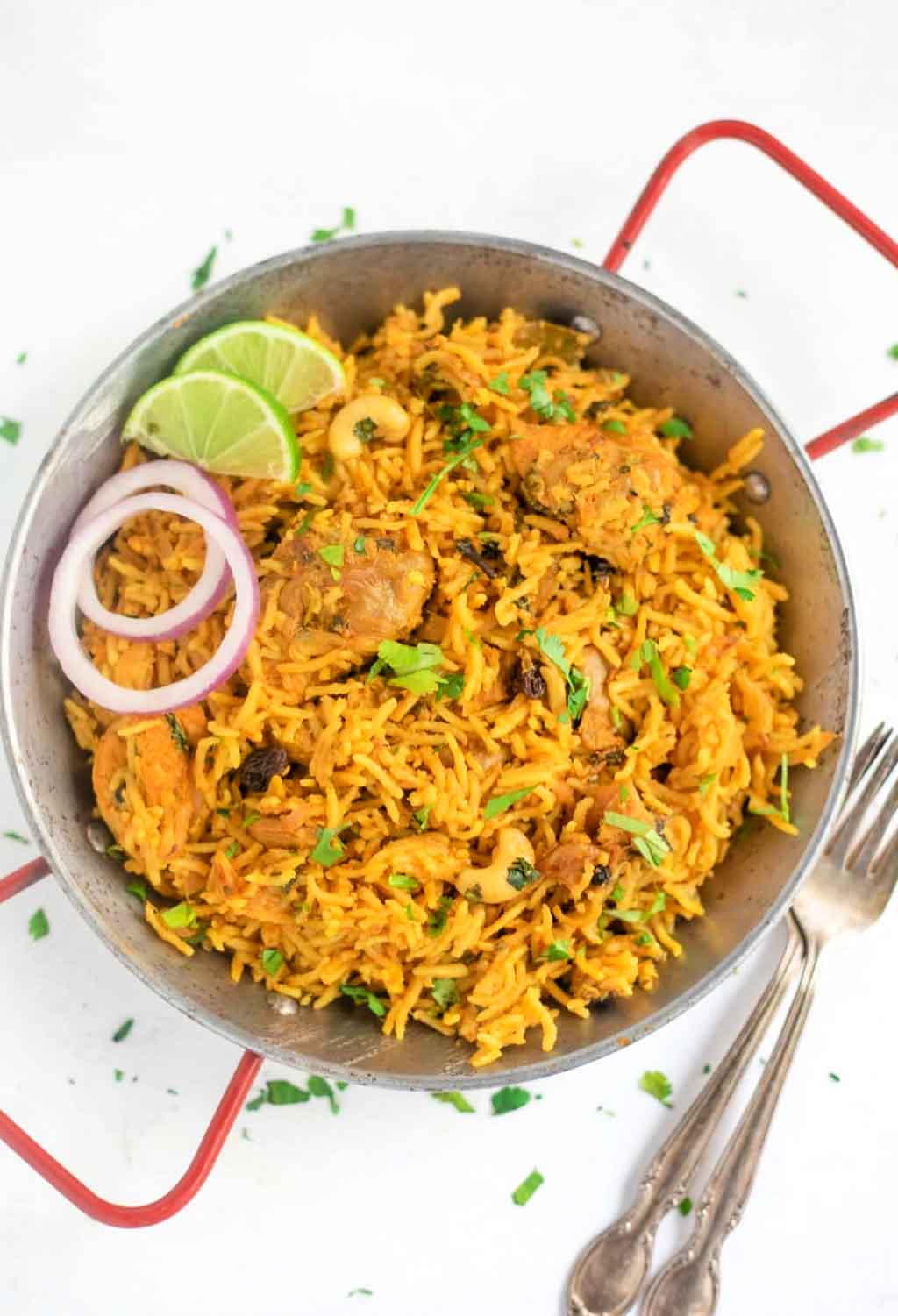 Biryani is a mixed rice dish popular with Muslims in South Asia, Iran, and Iraq.
Though often considered an Indian dish, the origins may actually belong to Persia. Some historians believe the Mughals spread the dish from Persia to India and Pakistan.
Regardless of its origin, chicken biryani is a popular dish to serve at iftar. By using a pressure cooker for this recipe, the cooking time is only 30 minutes!
Chicken Chapli Kababs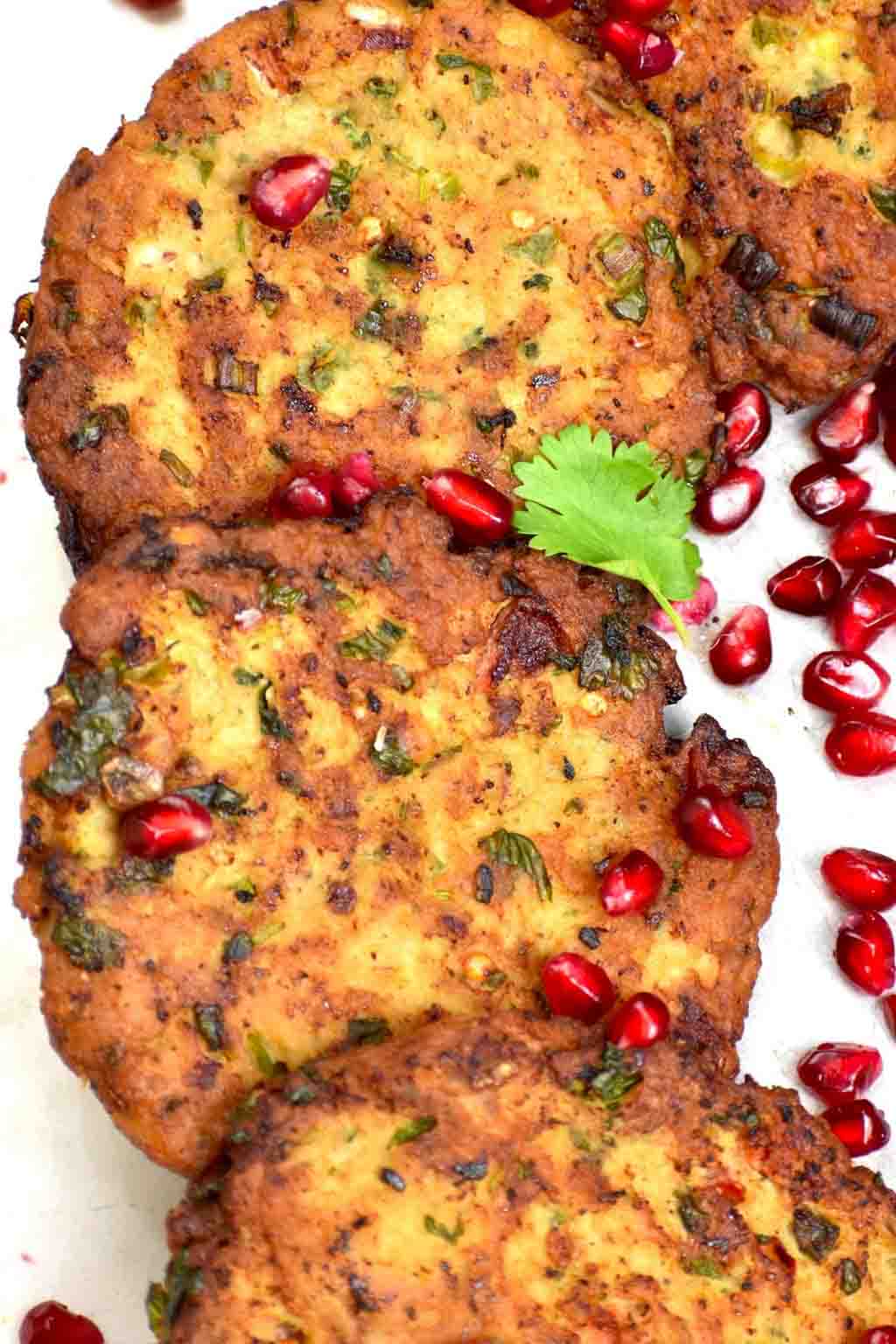 Also known as a Peshawari Chapli kabab, the chapli kabab originated in Pashtun cuisine in Pakistan and Afghanistan.
This minced meat kabab was originally made with beef, but now chapli kababs can be made with lamb or chicken.
In addition to being popular in Pakistan and Afghanistan, chicken chapli kababs are also eaten in India and during iftar in Bangladesh.
Shish Tawook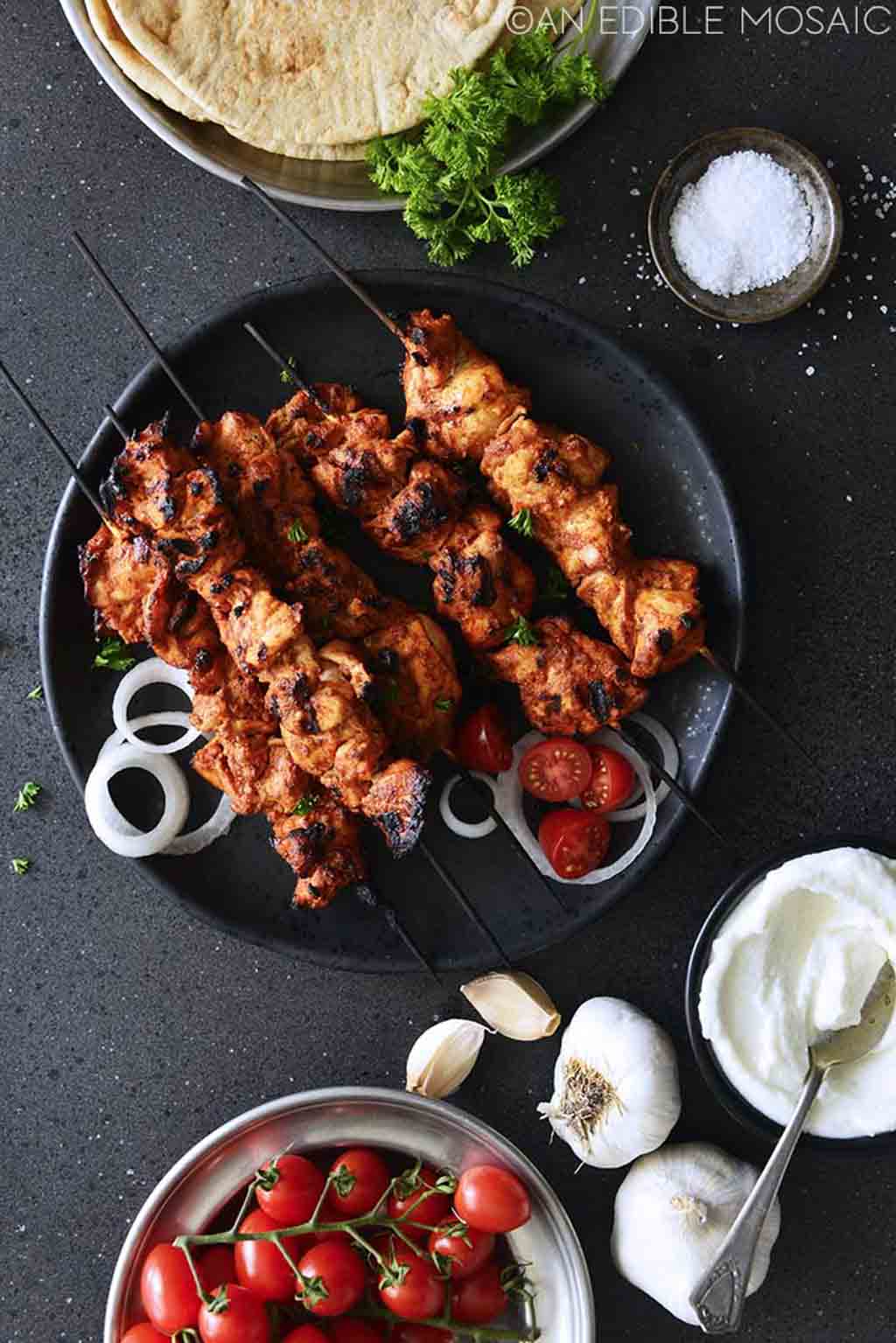 Shish tawook is skewered chicken marinated in spiced yogurt with lemon and garlic and then grilled to juicy perfection.
It is best eaten with toum, a thick, white garlic sauce with a paste-like consistency.
Chicken Machboos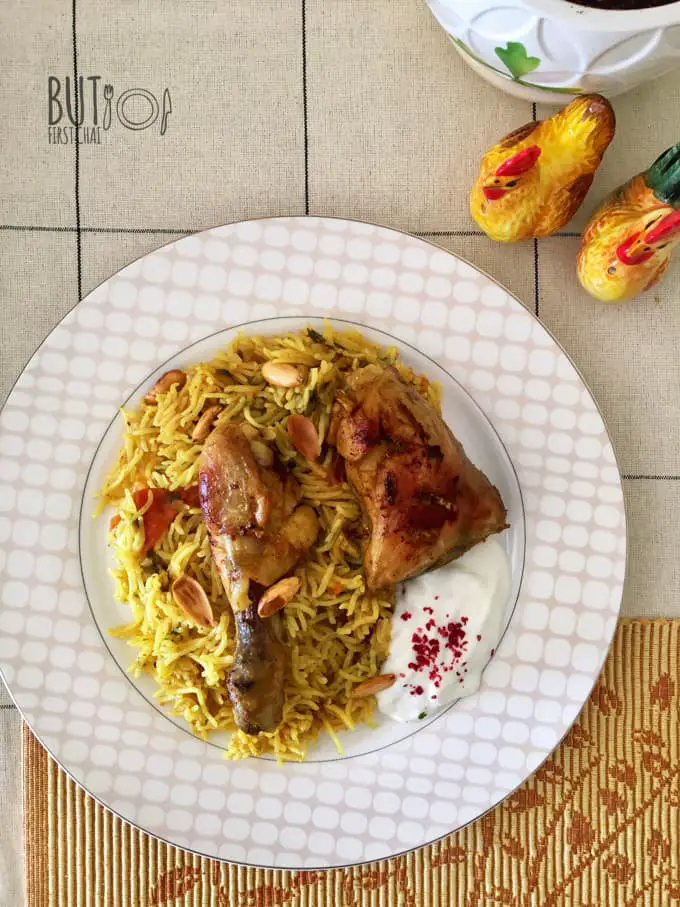 Considered Bahrain's national dish, chicken machboos is spiced chicken with rice.
Though machboos is similar to Saudi Arabian kabsa, the recipe calls for a different spice blend.
Additionally, machboos is a dish with regional variations in other countries around the Persian Gulf, including Kuwait, Iraq, Qatar, and the United Arab Emirates.
For this chicken machboos recipe, you'll need a Baharat spice mix.
Chicken Maqluba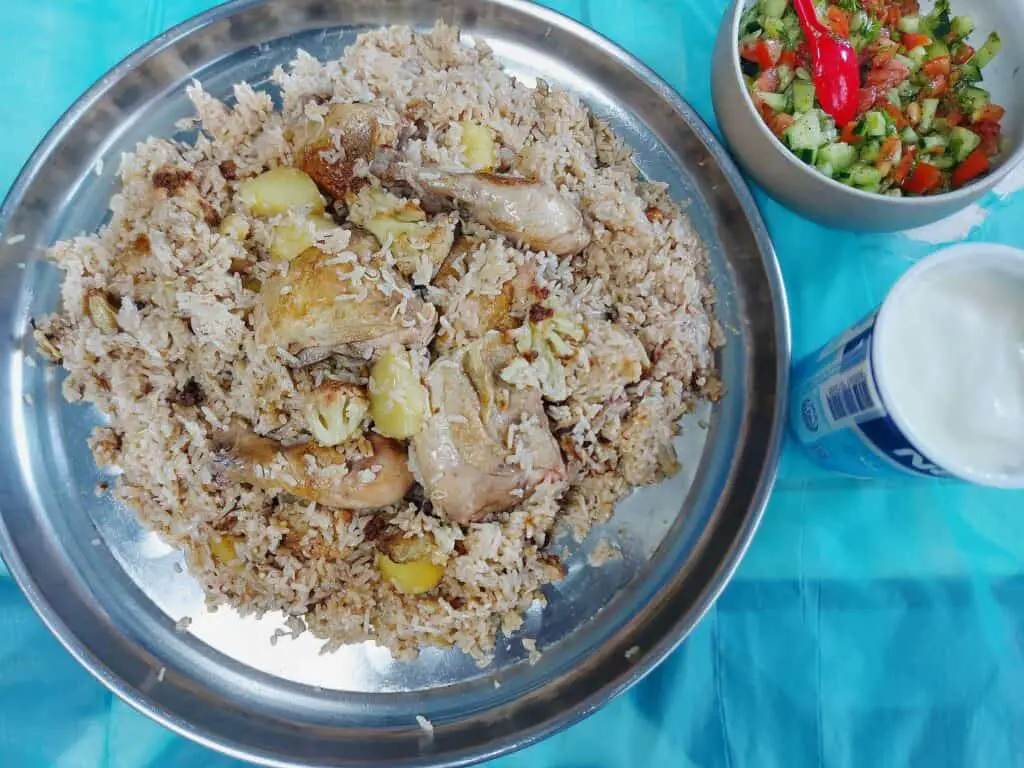 Maqluba (also spelled maqlooba or magluba) is a traditional dish in the Levant, including Jordan, Palestine, Syria, Lebanon, and Iraq.
The name, which translates to "upside down," comes from flipping the pot filled with the cooked dish of meat (lamb or chicken), rice, and fried vegetables onto the serving plate.
This authentic Jordanian chicken maqluba recipe combines spiced rice with fried cauliflower, potatoes, eggplant, and chicken. Just as in the previous recipe for chicken machboos, you'll need a Baharat spice blend.
Chicken Mandi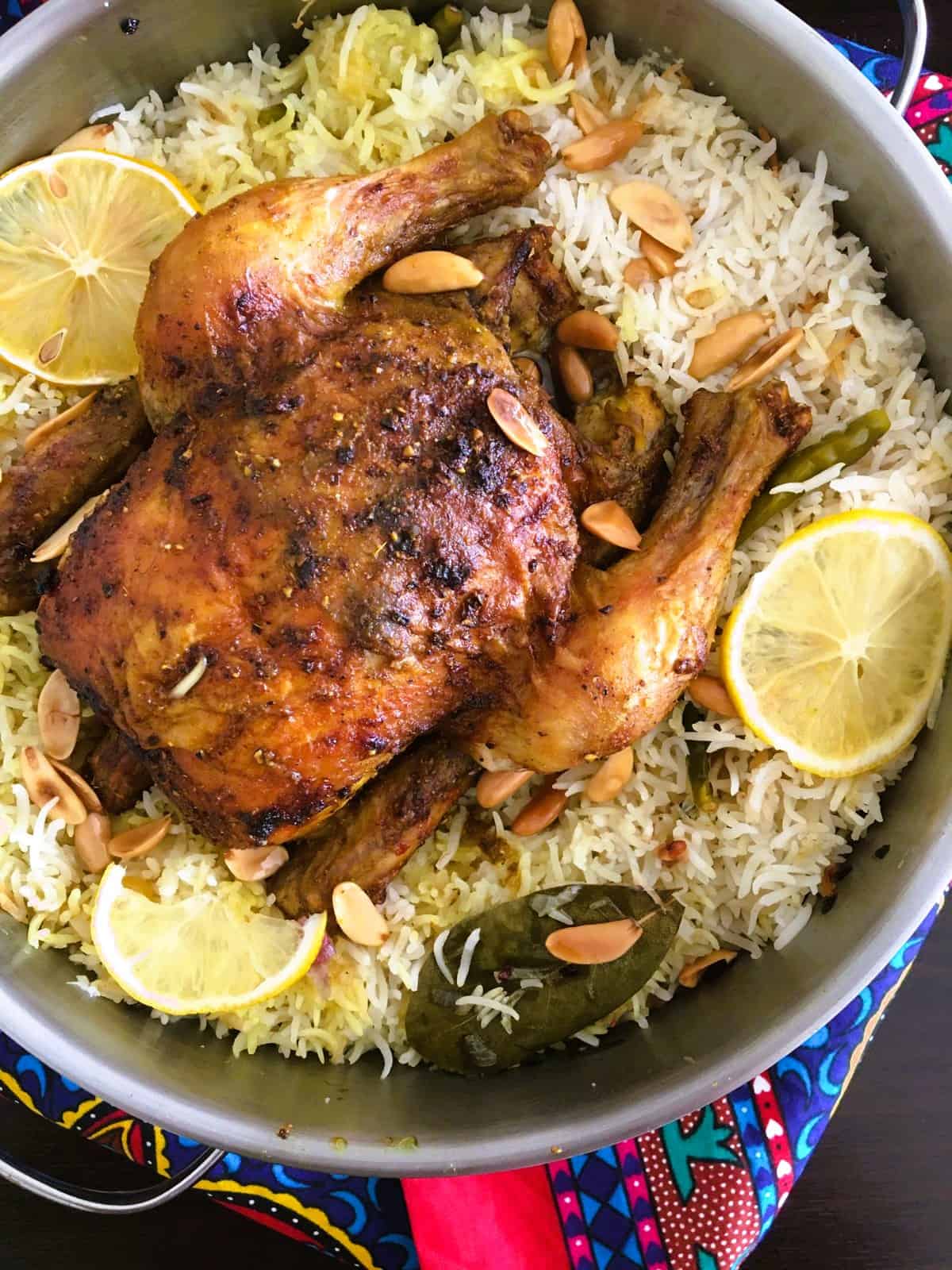 Chicken mandi is a Yemeni dish of rice, chicken, and a blend of spices called hawaij.
This recipe calls for a variety of spices, including cardamom, coriander, cumin, ground cloves, saffron, and turmeric.
Tandoori Chicken Kebabs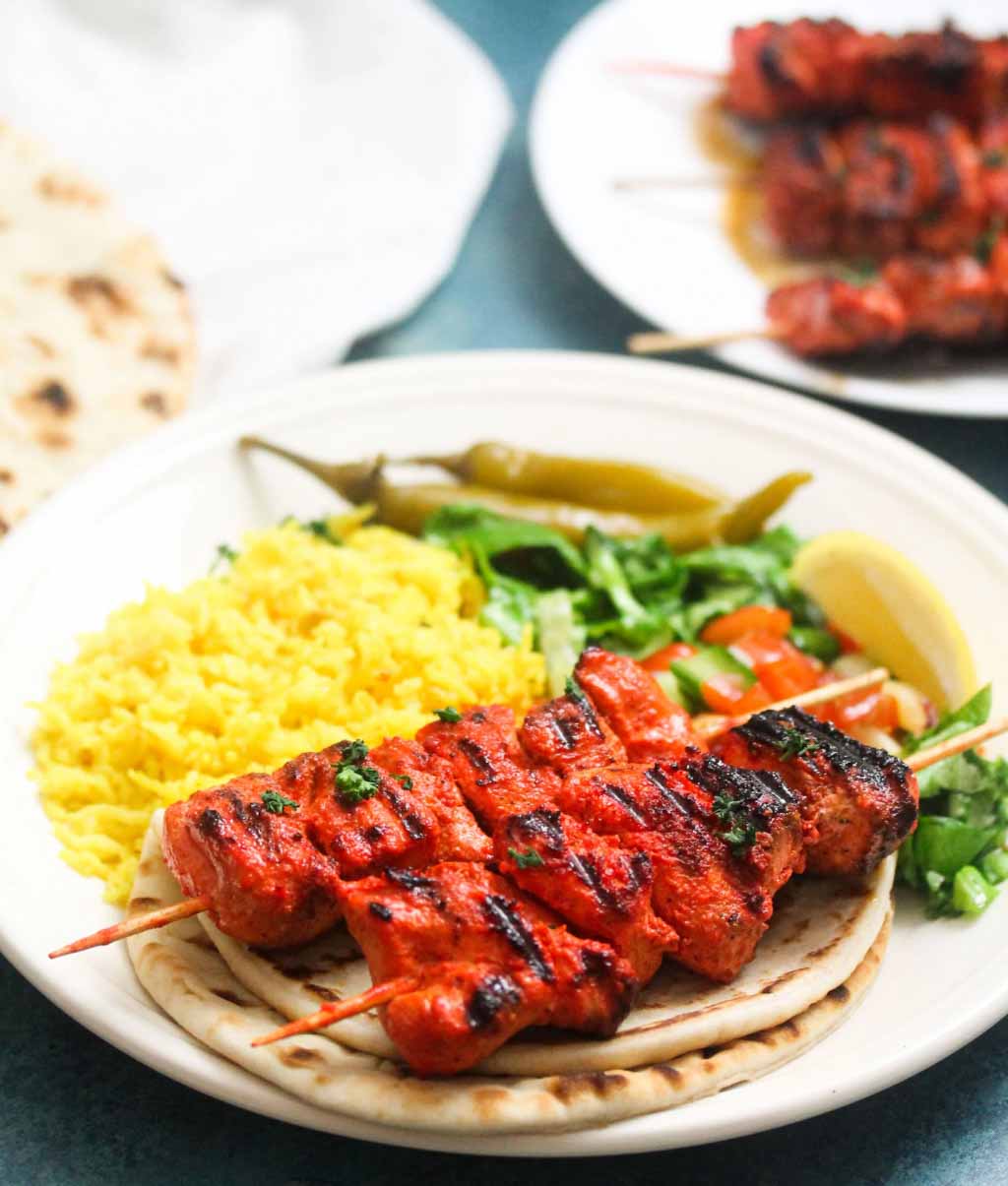 These Indian tandoori chicken kebabs are prepared with aromatic spices for a flavorful addition to an iftar meal.
Traditionally, tandoori chicken kebabs are cooked over charcoal in a clay tandoor oven, but this recipe provides cooking instructions for the stovetop, oven, and air fryer.
Chicken Shawarma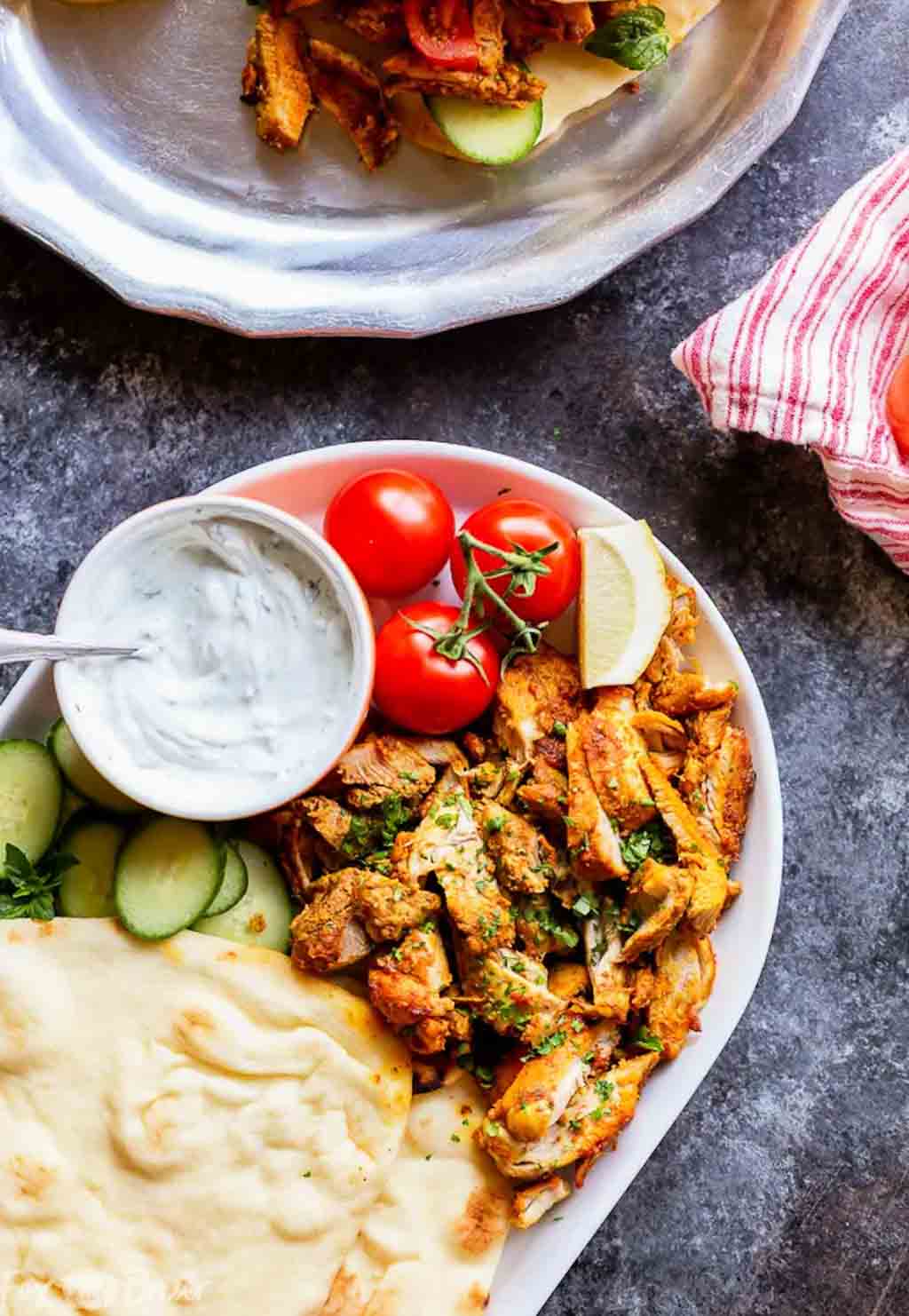 Shawarma — also known as Iskender or döner kebap in Turkish cuisine — is thinly shaved meat stacked into a cone and slowly roasted on a rotating vertical rotisserie.
Though the Iskeder kebap originated in Anatolia during the Ottoman Empire, shawarma spread in popularity throughout the Middle East.
This chicken shawarma recipe replaces roasting the chicken on a vertical spit with baking it in the oven. It's an easy recipe for iftar!
More Ramadan Iftar Recipes for Main Dishes
Koshari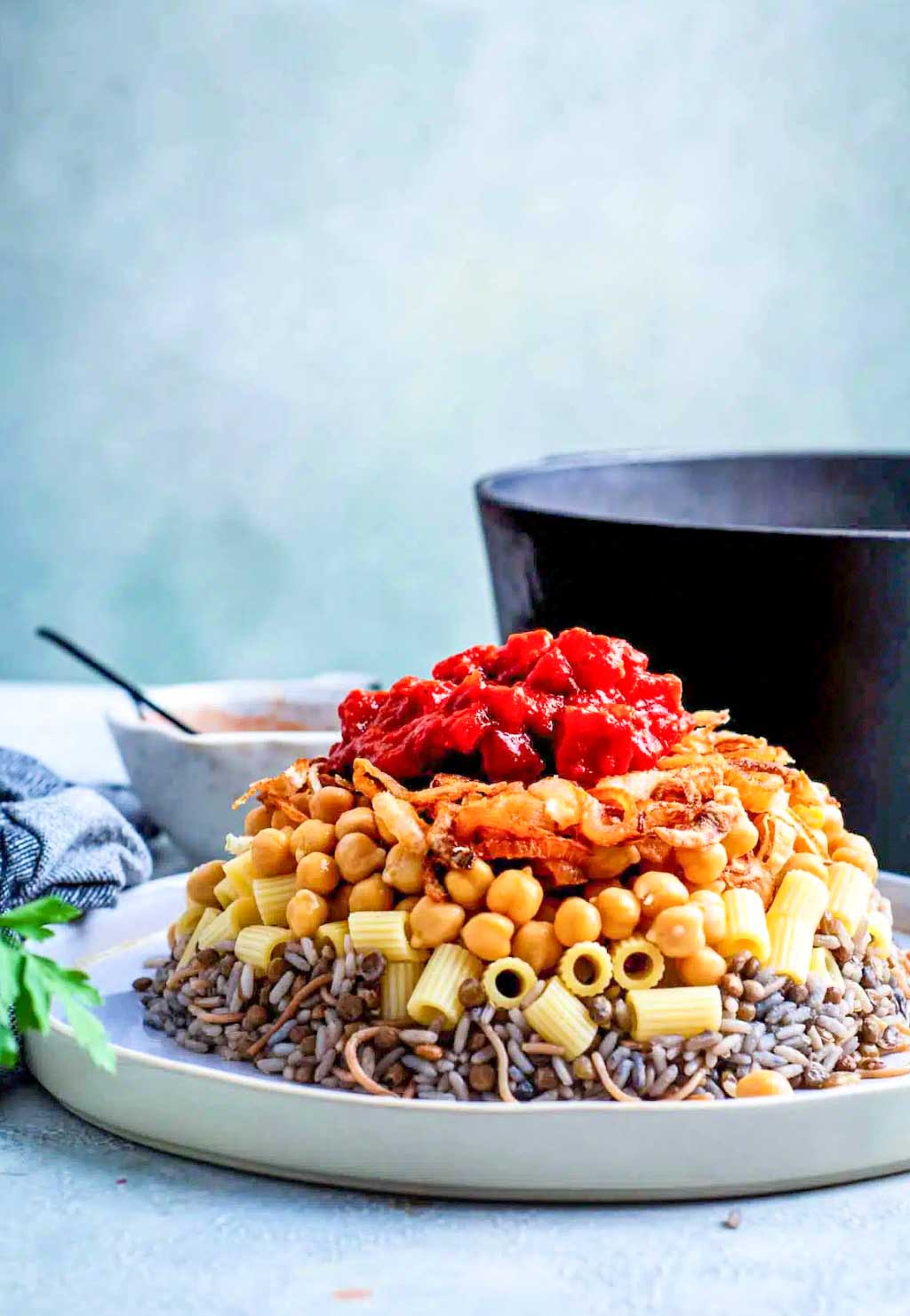 Also spelled koshary or kushari, koshari is Egypt's national dish and a filling option for your iftar meal.
This popular street food in Egypt is the ultimate savory-yet-spicy comfort food with carbs atop carbs. Topping the layers of lentil rice, pasta, vermicelli, and chickpeas are fried onions, a zesty tomato sauce, and cumin-based dukkah sauce.
Macarona Bechamel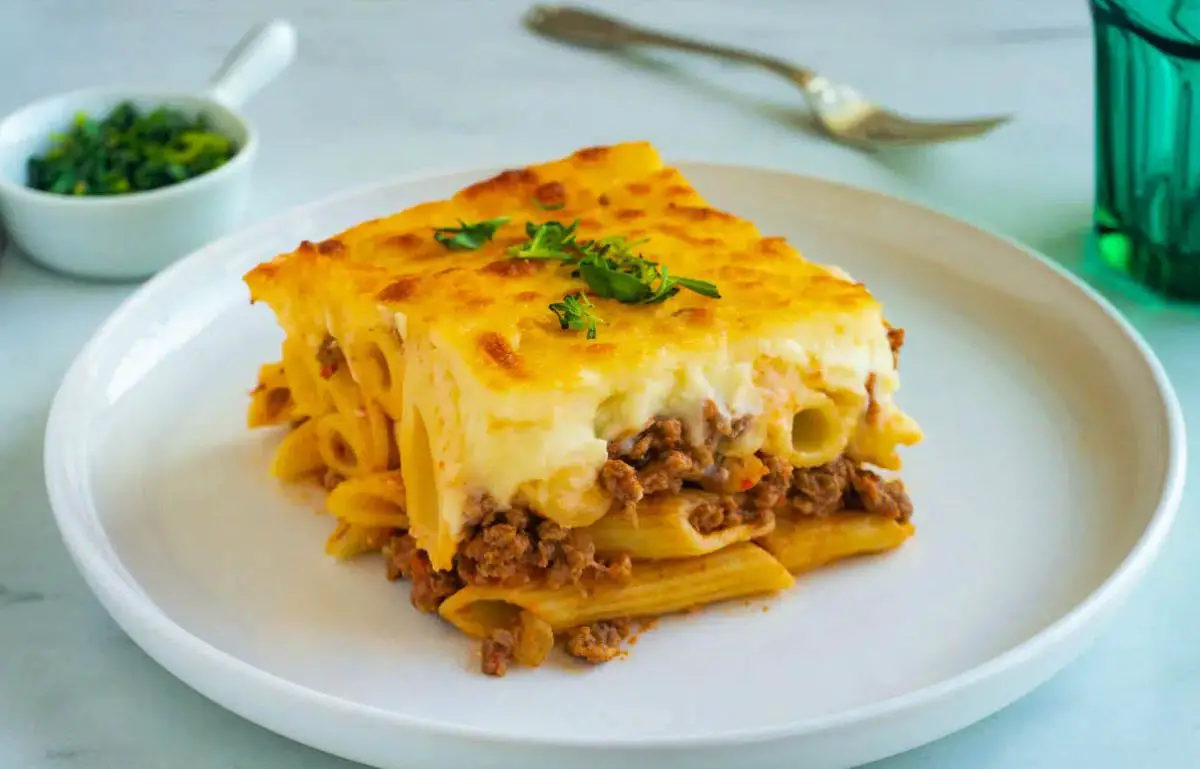 Similar to Greek pastitsio, macarona bechamel is an Egyptian dish of penne pasta and minced meat baked with creamy bechamel and sometimes topped with a layer of cheese.
Ramadan Desserts for Iftar and Eid al-Fitr
Künefe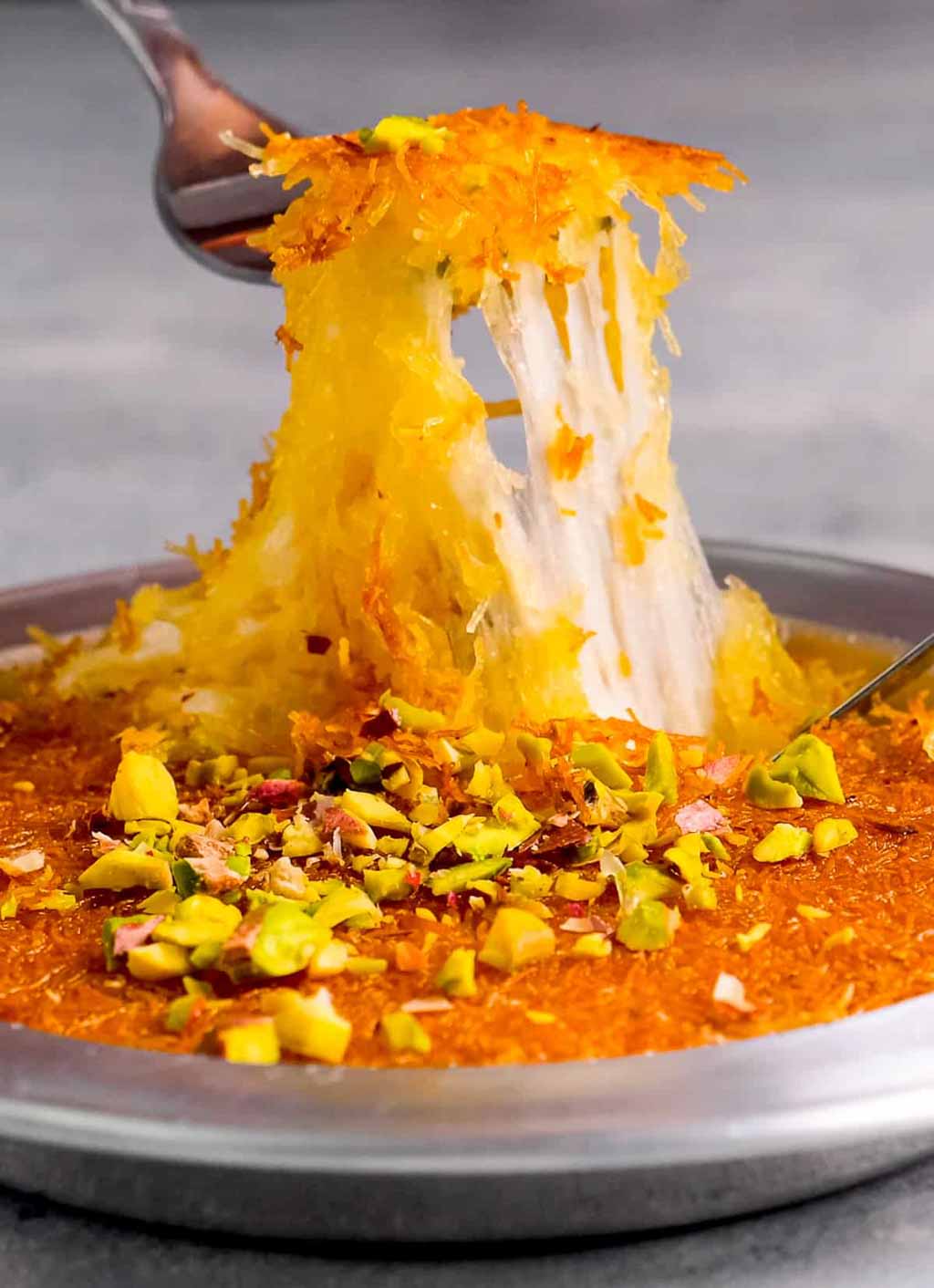 Künefe is a Turkish cheese pastry soaked in sweet syrup.
This dessert is a variation of knafeh, which is a popular Arabic dessert closely associated with Ramadan.
Meethi Seviyan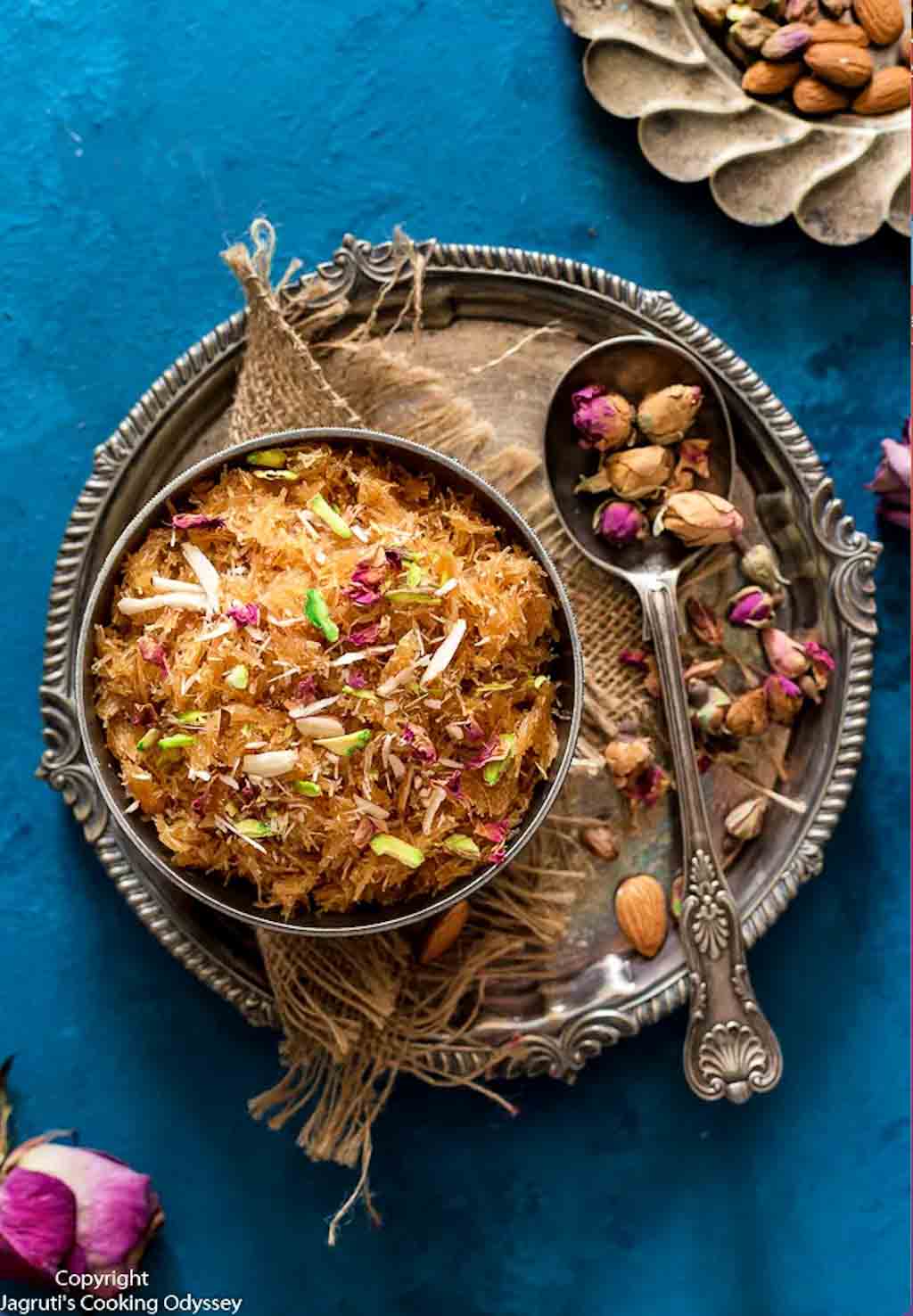 Meethi seviyan is a sweet vermicelli pudding flavored with cardamom and saffron.
The Pakistani version of this South Asian dessert is known as Meethi Eid and is traditionally made for Eid ul-Fitr.
Rose Shortbread Cookies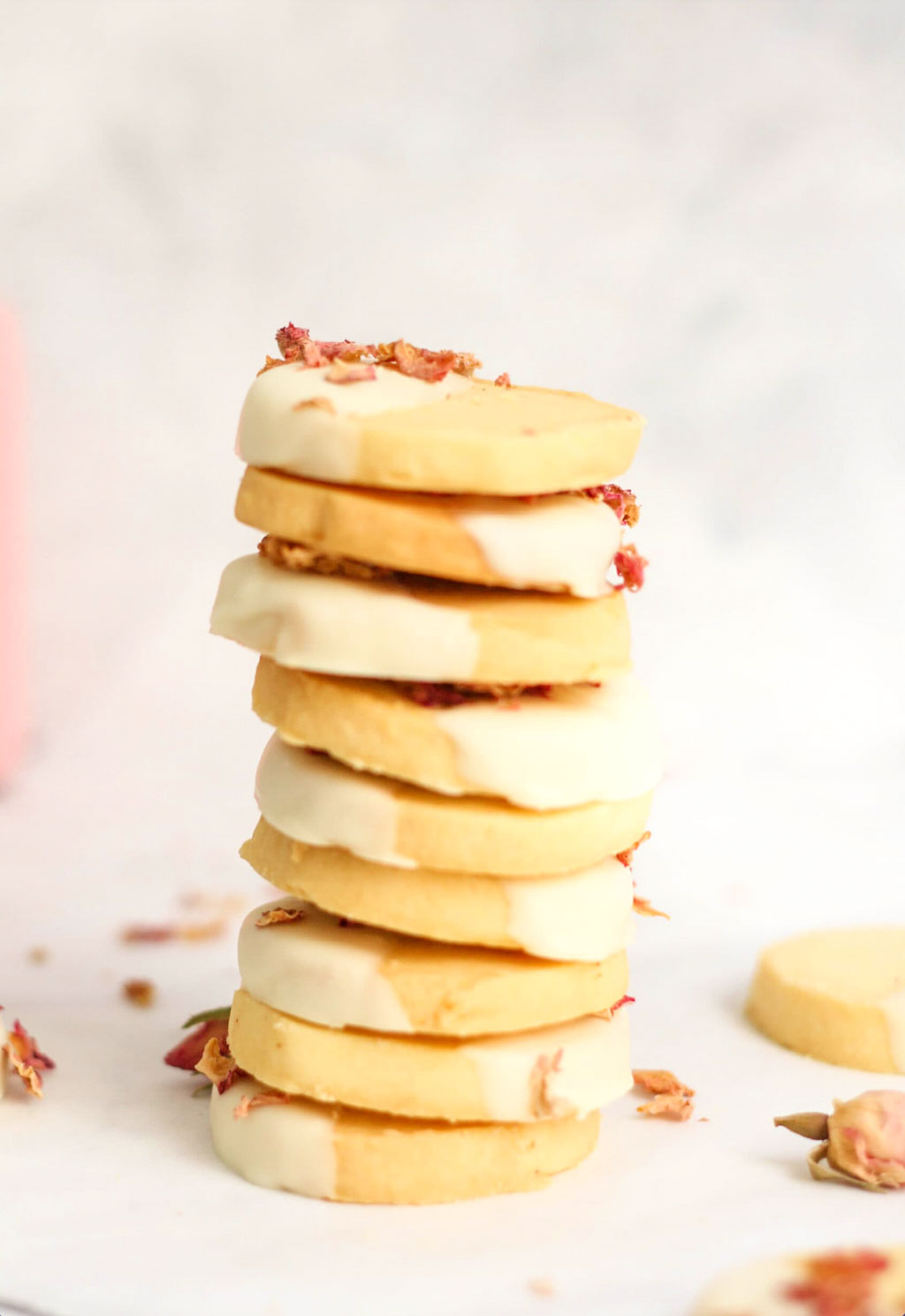 These rose shortbread cookies made from rosewater and edible rose petals are delicate treats to add to your iftar spread or Eid celebration.
Sheer Khurma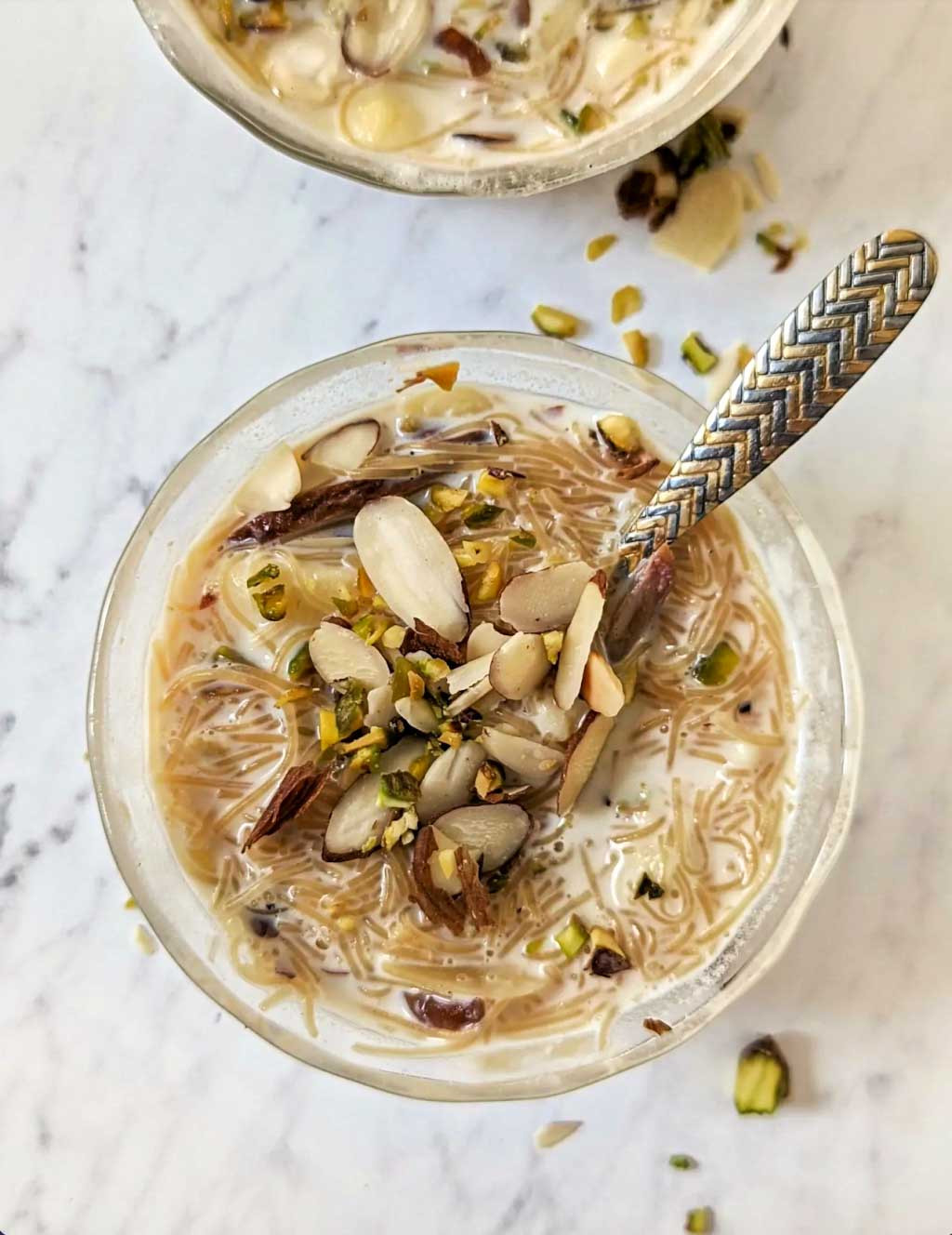 Traditionally made for Eid ul-Fitr in Pakistan, Afghanistan, India, and parts of Central Asia, sheer khurma is a sweet pudding. This milky, creamy dessert can be served hot or cold, and it is often made with vermicelli noodles, dates, pistachios, almonds, and sugar.
What is the best food for Ramadan iftar?
In this post, I shared more than 30 Ramadan iftar recipes. While some of these food recipes for Ramadan are authentic and traditional, others are easy Ramadan recipes simplified for modern, busy lifestyles.
I'd love to know what you consider the best food for iftar! Whether your favorite iftar food is on this list or not, I'd love it if you'd share your favorite iftar dishes or your family's Ramadan traditions with us in the comment section below.
Related Blog Posts for Your Reading Pleasure