This post about visiting Colorado's Front Range cities contains some affiliate links. When you click on or make a purchase from one of these links, I may earn a small commission. You can read my full disclosure here. 
---
Where Is Colorado's Front Range?
"Front Range" is a term I was introduced to while road tripping through Colorado in September 2014. If you travel through Colorado, it's likely you'll hear it as well. You may wonder, why is it called the Front Range? And, are the locals referring to the mountains or the area around them as well?
The answer to the latter question is both! The Front Range is the easternmost mountain range of the Southern Rocky Mountains in central Colorado and southeastern Wyoming. As you may have guessed, this was the first mountain range that early settlers would see as they journeyed west from the Great Plains.
However, the term "Front Range" is also used when referring to the Front Range Urban Corridor — the gateway to the Rocky Mountains.  This region to the east of the mountains is home to Colorado's largest cities and jaw-dropping views of towering mountain peaks in the distance.
Which Colorado Cities are in the Front Range Urban Corridor?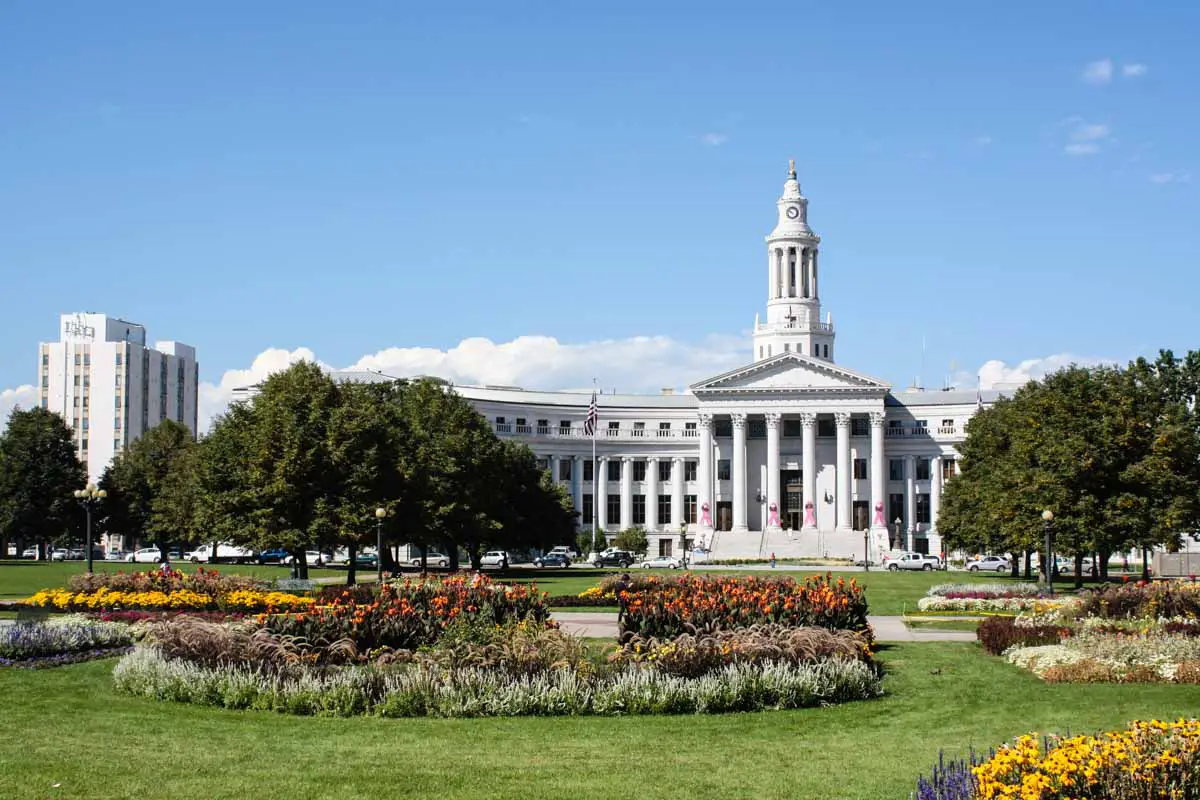 Stretching from Cheyenne, Wyoming, in the north down to Pueblo, Colorado, the Front Range Urban Corridor is home to more than 5 million residents as of the 2020 Census. This region encompasses 18 counties and cities such as Denver, Colorado Springs, Aurora, Fort Collins, and Lakewood.
The Front Range Urban Corridor also includes incredible natural landmarks, making it a playground for adventurers seeking hiking, rock climbing, mountain biking, and whitewater rafting. There are "14ers" — which are mountain summits more than 14,000 feet above sea level — and the Royal Gorge, a 1,200-foot canyon, near Pueblo and Colorado Springs.
Why Visit Colorado's Front Range Cities?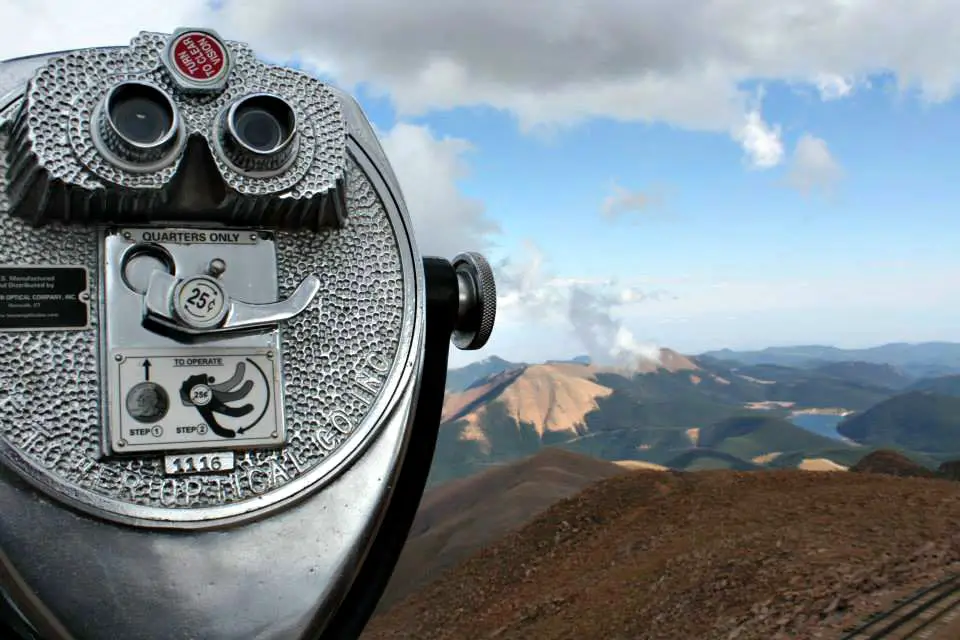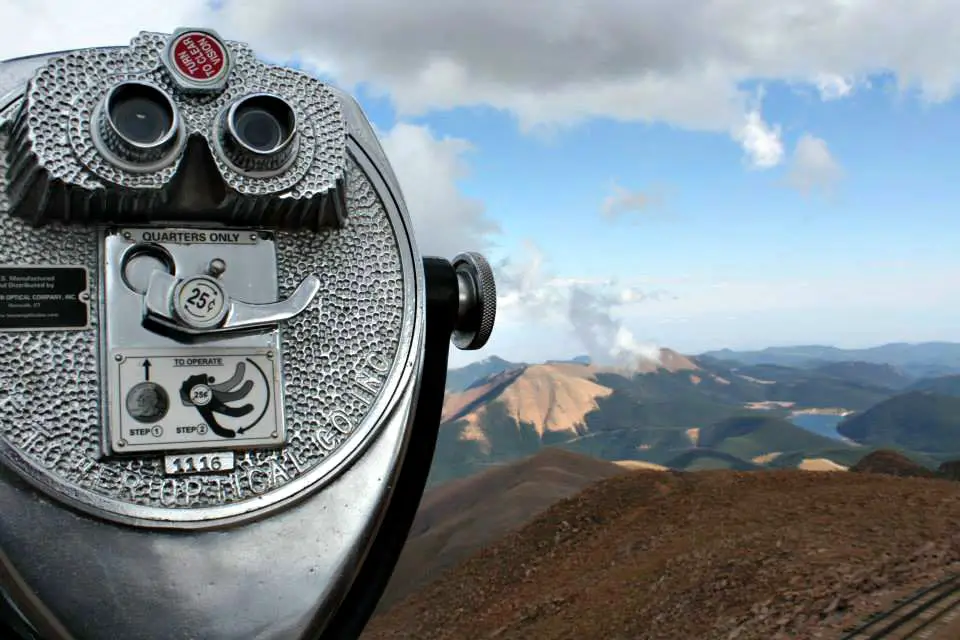 To Save Money By Flying Into Denver
First of all, if you are flying into Colorado from out of state or outside the United States, it's very likely that flying into Denver is your most cost-effective option. If you know your travel dates, you can click here to find flight deals to Denver.
Based on my experience traveling in Colorado, I recommend renting a car for your trip. Denver International Airport is about a 30-minute drive to downtown Denver, about 45 minutes to downtown Boulder, and about an hour and 15 minutes to Fort Collins or Colorado Springs. You can click here to find rental cars in Colorado now.
Travel Tip: Spirit Airlines and Frontier Airlines consistently offer some of the most affordable fares to and from Denver.
To Adjust To The Altitude Before Heading Into The Mountains
Secondly, you should stay in a Front Range city for at least one day to give your body time to adjust to the elevation. As you may know, Denver is known as the Mile High City, but the mountain towns could have elevations that are 8,000 feet or higher.
If you visit a mountain summit, you may experience altitude sickness. For example, some changes you may notice are your ears popping, headaches, trouble sleeping, drowsiness, and/or a change or loss in appetite. From my own experience, I hardly had an appetite in Colorado — and I'm a foodie!
For reference, at over 14,110 feet in elevation, Pikes Peak — located near Colorado Springs — is only the 31st tallest mountain in Colorado.
To Enjoy The Mild Weather
Third, with the Rocky Mountains acting as a storm shield, the weather can be quite mild in the Front Range cities. Also, the weather here can be quick to change. One local even joked with me that if I don't like the weather in Denver, just wait 10 minutes.
Though the Front Range cities get snow, it typically won't last for long. Unlike in the mountain towns where snow attracts skiers from late fall through mid-April, snow here often melts away within hours or days.
A friend of mine, who relocated to Denver from Michigan, said locals told him to keep his golf clubs in his car year-round. Along the Front Range, there just may be a warm February day perfect to hit the links!
When I visited during mid-September, the temperatures I experienced in this region were daytime highs into the 90s (Fahrenheit). The evenings were cooler, so I would wear a light jacket or cardigan to stay warm.
Travel Tip: Dress in layers! If you are wondering what to pack, check out my tips for what to wear in Colorado.
Exploring Colorado's Front Range Cities — From Colorado Springs To Fort Collins
It just so happens that most of the destinations I chose to visit — Denver, Colorado Springs, Boulder, and Fort Collins — are located in Colorado's Front Range Urban Corridor. In this post, I'll briefly share why you should visit each of these four Front Range cities and give you a few ideas of things to do and places to eat, drink craft beer, and stay.
Denver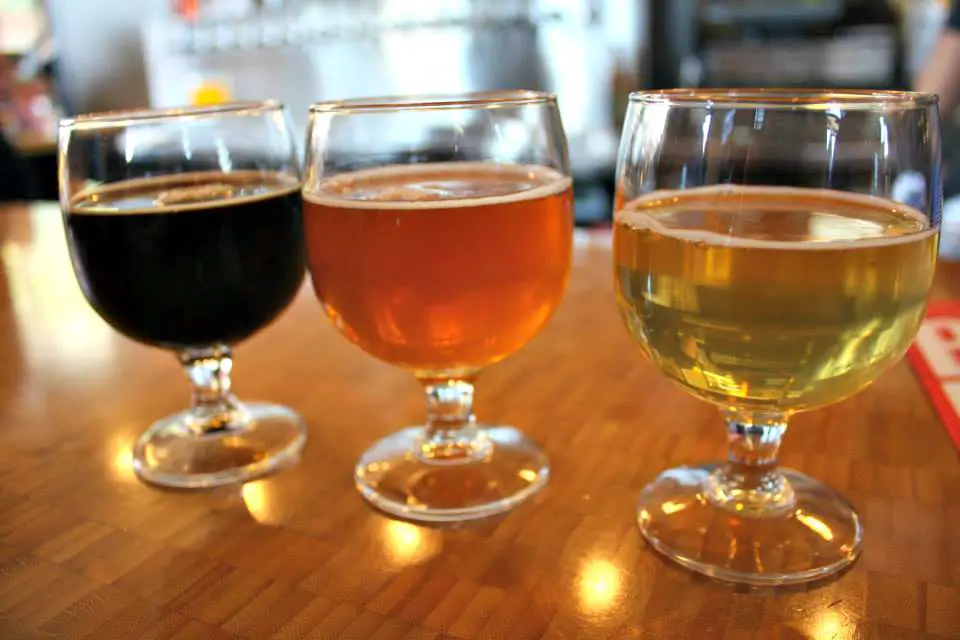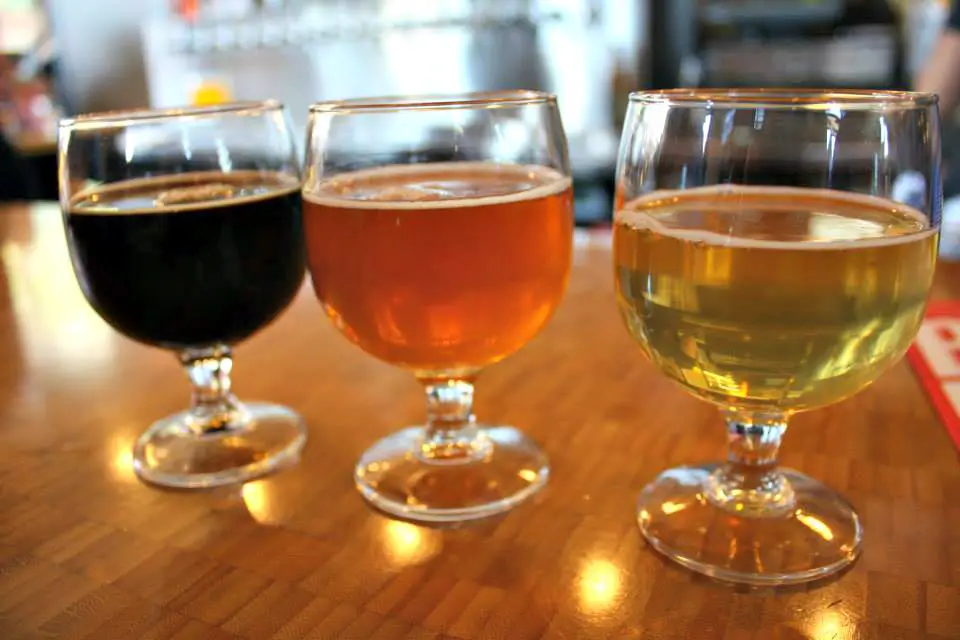 The biggest city in Colorado and the state capital, Denver is the cultural hub of the Centennial State. The Mile High City is full of activity — professional sports, art galleries and museums, public art and gardens, bike lanes and paths for cycling, shopping, nightlife, and breweries galore.
Denver is one of the largest producers of craft beer in the United States and hosts a multitude of beer-drinking festivals and events. I recommend craft beer lovers check out breweries such as Wynkoop, Great Divide, and Denver Beer Company. You can also order a local brew on tap at one of the rooftop bars in the ballpark neighborhood while taking in the Denver skyline.
For arts and culture, head to the Golden Triangle Museum District. The Denver Art Museum houses more than 68,000 pieces and is one of my favorite art museums in the United States. In addition to artwork by Georgia O'Keeffe, Pablo Picasso, and Roy Lichtenstein, I recommend a visit to explore the revamped Native American art gallery representing more than 100 tribes. Other nearby attractions include the Clyfford Still Museum, Colorado State Capitol, Civic Center Park, and the U.S. Mint.
Travel Tip: If you plan to visit 3-5 of Denver's top attractions, a Denver CityPASS® could save you up to 40% off of admission tickets. Attractions covered by Denver CityPASS® include the Denver Art Museum, the Downtown Aquarium Denver, the Denver Museum of Nature and Science, the Denver Botanic Gardens, the Wings over the Rockies Air and Space Museum, the History Colorado Center, and the Children's Museum of Denver at Marsico Campus.
Places To Eat & Drink In Denver
Great Divide Brewing Company
Pizzeria Locale
Sushi Den
ViewHouse Eatery, Bar & Rooftop
Watercourse Foods
Where To Stay In Denver
If I could stay anywhere in Denver, I'd probably opt for the ART, a hotel boldly decorated with vibrant art, or The Crawford Hotel in the old Union Station railroad terminal. Already know when you'll be visiting Denver? Go ahead and check for hotel rooms right now!
Colorado Springs
Colorado's sprawling and second-largest city is home to the U.S. Air Force Academy, the U.S. Olympic Training Center, and the U.S. Olympic & Paralympic Museum. It's an ideal destination for adventurous explorers, craft beer lovers, and active families.
A must-visit destination is Garden of the Gods, which has 15 miles of trails around red sandstone rock formations. In the park, you can rock climb, hike, bike, horseback ride, take a Segway tour, or just take a scenic drive.
Another must-visit attraction is Pikes Peak, America's Mountain, which inspired the poem-turned-patriotic-anthem "America the Beautiful." I recommend taking the cog rail up to the summit, but you can also drive — don't miss any of those 156 turns — or hike to the 14,110-foot peak. You can even take the train up to the summit, and then bike back down on a guided tour!
Other adventurous and family-fun activities include ziplining, white-water rafting, Jeep sightseeing tours, exploring caves, and spending a day in Manitou Springs' historic downtown — the Miramont Castle Museum is said to be haunted!
Similar to Denver, Colorado Springs is a craft-beer drinkers' haven! Stop by Bristol Brewing at the Ivywild School, an elementary school revamped as a community marketplace. Also, drop by the Principal's Office. Trust me, this is the kind of detention that you want! In downtown Colorado Springs, treat your taste buds to the craft beers and smoky flavor of the lager and Gouda soup at Phantom Canyon Brewing Company.
Places To Eat & Drink In Colorado Springs
Bristol Brewing Company at Ivywild School
Panino's
Phantom Canyon Brewing Company
The Principal's Office at Ivywild School
The Wild Goose Meeting House
Where To Stay In Colorado Springs
I stayed at The Mining Exchange, a Wyndham Grand Hotel, in downtown Colorado Springs. I loved the mix of luxury and art juxtaposed against exposed brick walls and a Rocky Mountain view out the windows. For a luxurious getaway, you might consider The Broadmoor. This highly-rated five-star resort offers an award-winning spa, two swimming pools, three outdoor hot tubs, 54 holes of golf, and a variety of recreational activities and dining. For more Colorado Springs lodging options, search for your travel dates now!
Boulder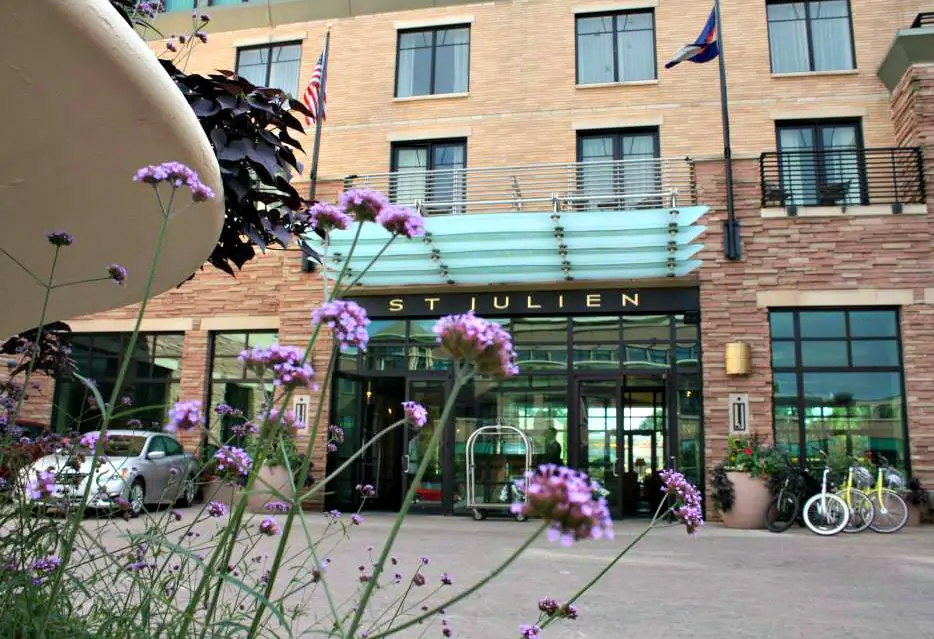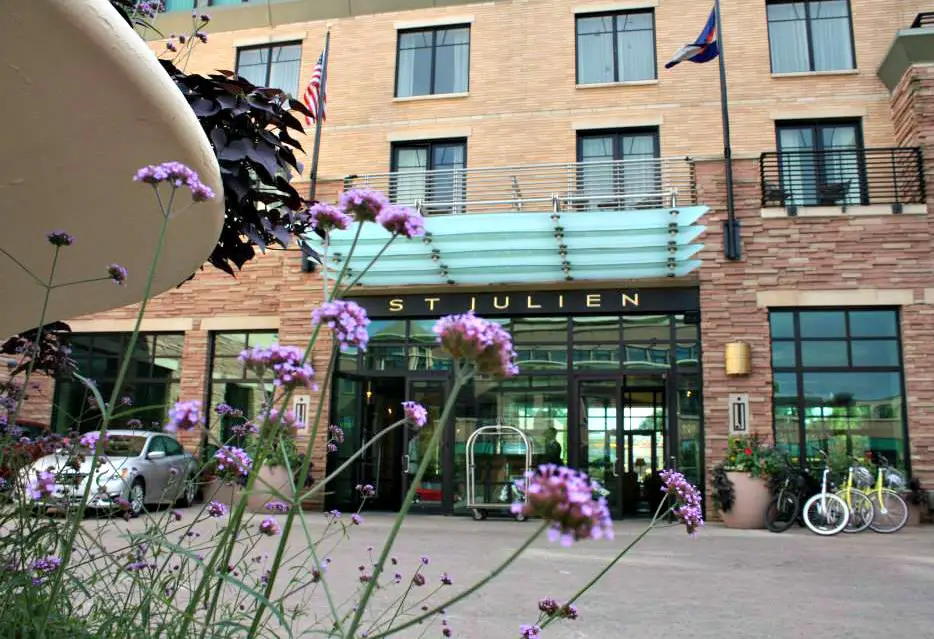 Home to the University of Colorado Boulder, Celestial Seasonings (free tours!), the Flatirons, thriving art and culinary scenes, an ornate tea house, miles of bike trails, and an outdoor promenade bustling with shoppers, diners, and street performers, Boulder is consistently ranked one of the happiest cities in America.
Downtown Boulder, anchored by the pedestrian-friendly Pearl Street Mall, is full of shops, public art, and restaurants. In fact, Food & Wine magazine named Pearl Street one of the 10 Best Foodie Streets In America. I can attest to the Pearl Street dining. The beet burger I had at Next Door American Eatery was delicious. 😋
For outdoor recreation, Boulder has so much to offer from kayaking and to rock climbing. One of my favorite activities while visiting Boulder was renting a bicycle and cycling on the 5.5-mile Boulder Creek Path. In winter, you'll find cross-country skiing and snowshoeing trails, and 20 miles west of Boulder is the Eldora Mountain Ski Resort, where you can downhill ski and snowboard.
Places To Eat & Drink In Boulder
Dish Gourmet
License No. 1
Next Door American Eatery
Spruce Farm & Fish
The Corner Bar
The Kitchen American Bistro
Where To Stay In Boulder
For a historic setting and unique experience, stay at the Hotel Boulderado, established in 1909 with rooms outfitted in Victorian decor. For a luxurious stay in a modern hotel that opened in 2005, book a room at the St. Julien Hotel and Spa. You'll find more Boulder hotels here!
Fort Collins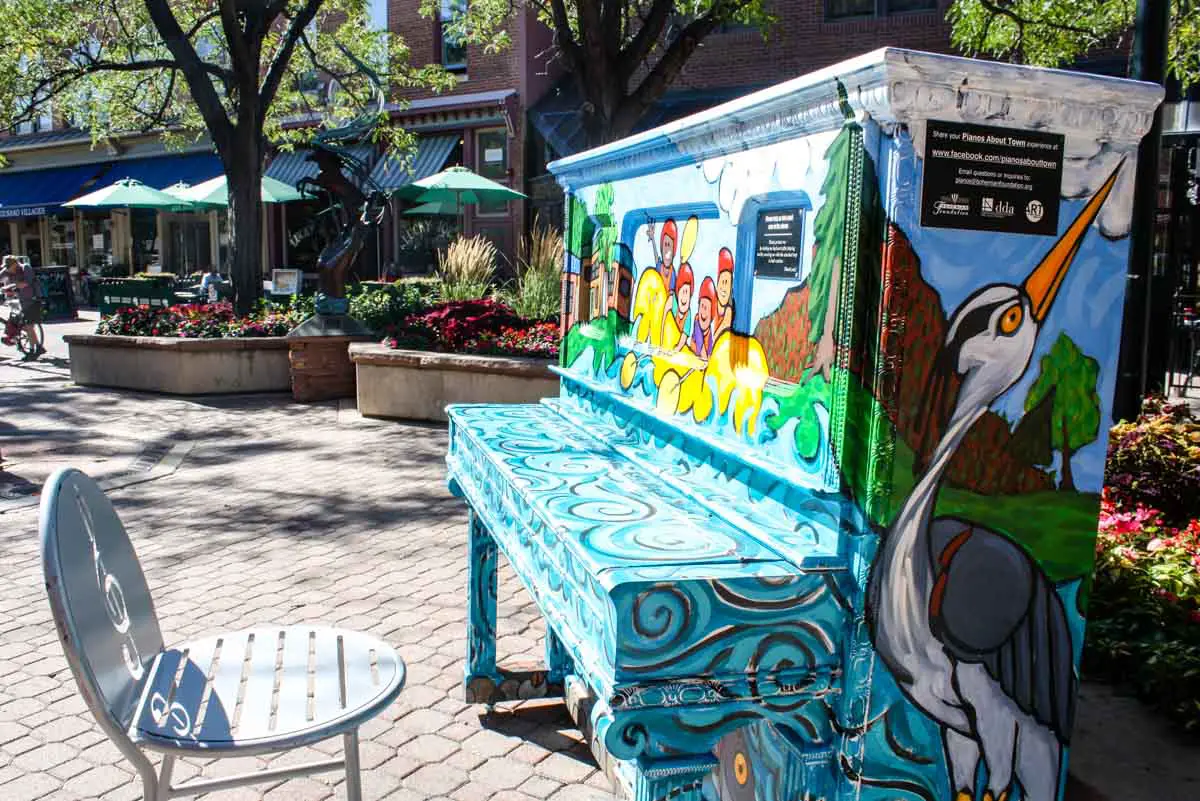 Fort Collins is a college town, beer capital, and a perfect destination for outdoor adventurers. Home of Colorado State University, Fort Collins sits at the edge of the prairie along the Cache la Poudre River at the base of the Rockies.
For active travelers, you can tee off at the 9-hole and two18-hole public golf courses that are open year-round, snowshoe or cross-country ski in nearby Red Feather Lakes or Cameron Pass, cycle 200 miles of wide bike lanes, go mountain biking on trails just minutes from downtown, boat the picturesque Horsetooth Reservoir, camp, fish, white-water raft, kayak, rock climb, or go hot-air ballooning.
For my fellow beer drinkers, New Belgium — the brewery behind Fat Tire — gives free tours with tastings along the way. Fort Collins is also home to more than 20 craft breweries and a half dozen local distilleries.
Places To Eat & Drink In Fort Collins
CooperSmith's Pub & Brewing
Fort Collins Brewery
Harbinger Coffee
Town Pump
Where To Stay In Fort Collins
My top picks for where to stay in Fort Collins are the Elizabeth Hotel, a music-themed hotel in Old Town Fort Collins, and the Armstrong Hotel, a dog-friendly boutique hotel with a lounge serving handcrafted cocktails. Click here to find more accommodations in Fort Collins!
Planning Your Trip To Colorado?
You now know the Front Range is the easternmost mountain range in the southern Rocky Mountains and why it's called the Front Range. Additionally, the area east of this Front Range makes up the Front Range Urban Corridor with over 5 million residents. In this region, you'll find Colorado's Front Range cities with stunning mountain views, awe-inspiring natural landmarks, endless outdoor recreation opportunities, and some of the Centennial State's best craft breweries.
I hope this post helped you to decide which of the Front Range cities to visit. If you ask me, I say visit them all! As you plan your Colorado trip, check out these additional resources:
Save the image below to your Colorado Travel board on Pinterest!
Which of Colorado's Front Range destinations would you visit?