After a day on the slopes or hiking the trails, I bet you are hungry for a big, juicy burger, right? When that burger craving hits in Breckenridge, Colorado, head to Empire Burger. 
Arriving in Breckenridge, I was suuuuuper hungry. I had just driven from Colorado Springs, and the first order of business was to find a lunch spot. After walking up and down the cute and walkable shop-lined Main Street, I landed at Empire Burger.
Disclosure: This post contains some affiliate links. As an Amazon Associate, The Epicurean Traveler earns from qualifying purchases. When you click on an ad or link to make a purchase, I may earn a small commission. This is at no extra cost to you. Thank you for your continued support!
Located on the second level of the La Cima Mall, Empire Burger looks out over Main Street. It was a sunny September afternoon with temperatures in the 60s, so I considered dining outside on the restaurant's patio, where diners look out to the mountain peaks.
The downtown location is conveniently within walking distance of the rest of Breckenridge's retail and dining district, ski lifts, and downtown lodging, including the Tannhauser vacation rentals where I stayed.
Inside Empire Burger, the vibe was utterly cool. Classic rock played in the background. Natural Colorado sunlight poured into the open layout. The servers were friendly and chill.
Despite all that, it was clear the quality of the food and drinks was what really made dining at Empire Burger a "cool" experience.
Taking a seat at the bar, I was greeted by the bartender with whom I placed an order for the seasonal sangria. Fruity and so refreshing, that sangria hit the spot after spending the morning driving. The margaritas seemed tempting, too. I stuck with sangria though, and it was a welcomed break from all the craft beer I consumed in Colorado.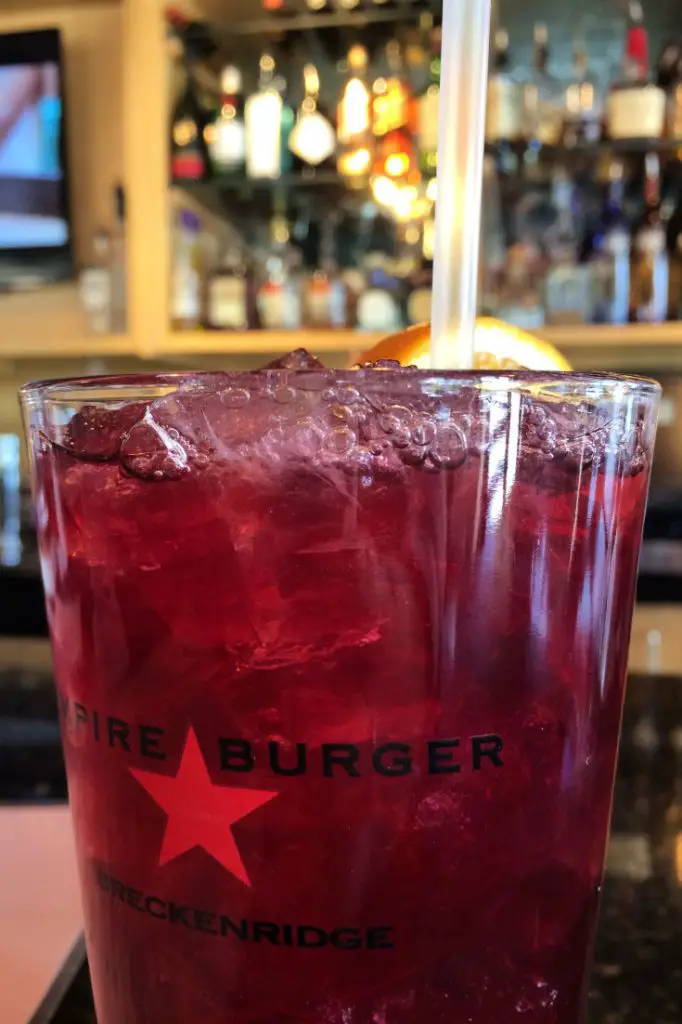 For food, my bartender suggested a few of the all-natural beef burgers from an inventive burger list that includes a Kona burger topped with Swiss cheese, ham, a pineapple ring and "firecracker" sauce. Based on the bartender's approval, I chose the 1/3 lb. Western burger topped with BBQ sauce, cheddar cheese, hickory bacon, pickles, grilled onions, and mustard. The burger was so flavorful. I highly recommend it.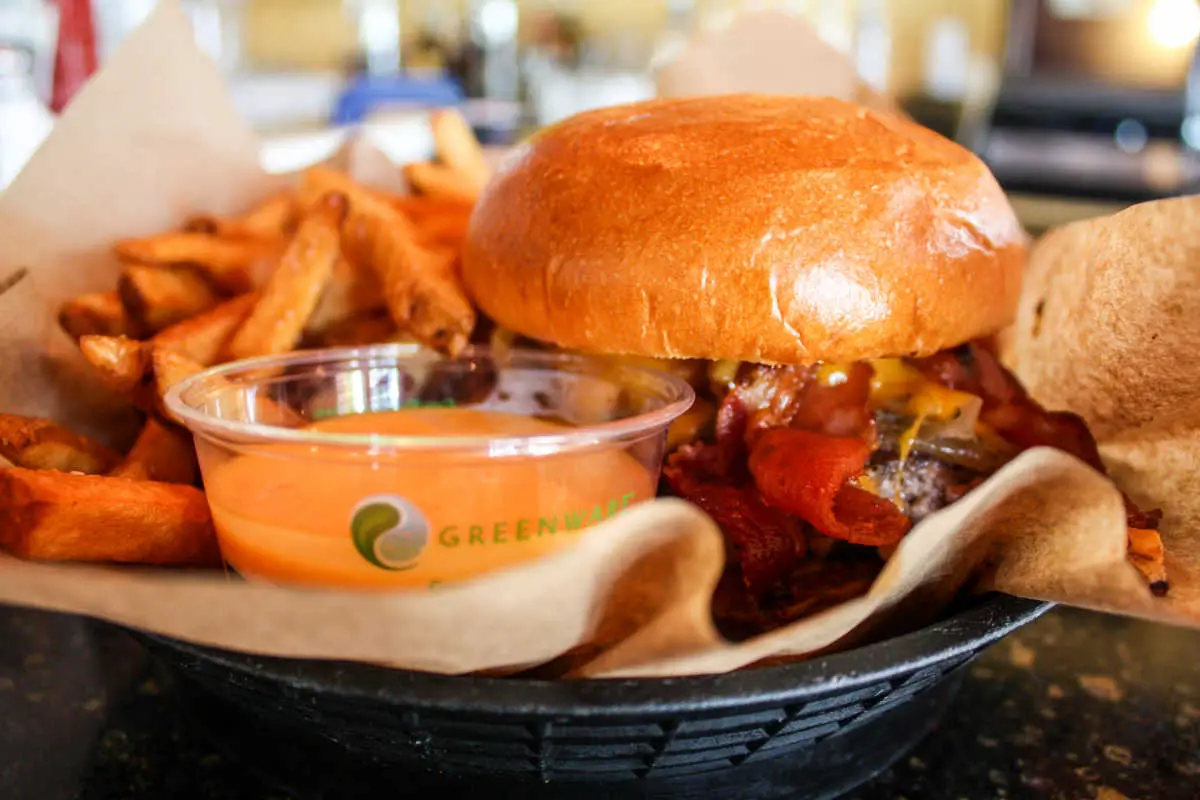 In addition to the all-natural beef patties, Empire Burger offers bison and turkey patties, which you can substitute for any of the burgers. And for vegetarians and vegans, the restaurant offers the impossible burger.
A la carte, you can order hand-cut fries made daily from Idaho potatoes, onion rings or kettle chips. With an order of fries or onion rings, you also get your choice of a sauce from a selection of 20 sauces.
I ordered the fries with the sweet mango chutney, which I was told is a customer favorite. It sounds like an odd flavor to pair with fried potatoes, but it was seriously delicious. Plus, it worked well with the sweetness of the sangria and tangy BBQ sauce on my burger.
The fries are definitely worth ordering on the side, but given the size of the burgers, you can probably share the fries and just order an additional sauce for 75 cents. I bet the Sriracha Mayo would go really well with the fries or onion rings — especially late at night. Luckily, Empire Burger serves most of its menu until 1 a.m.!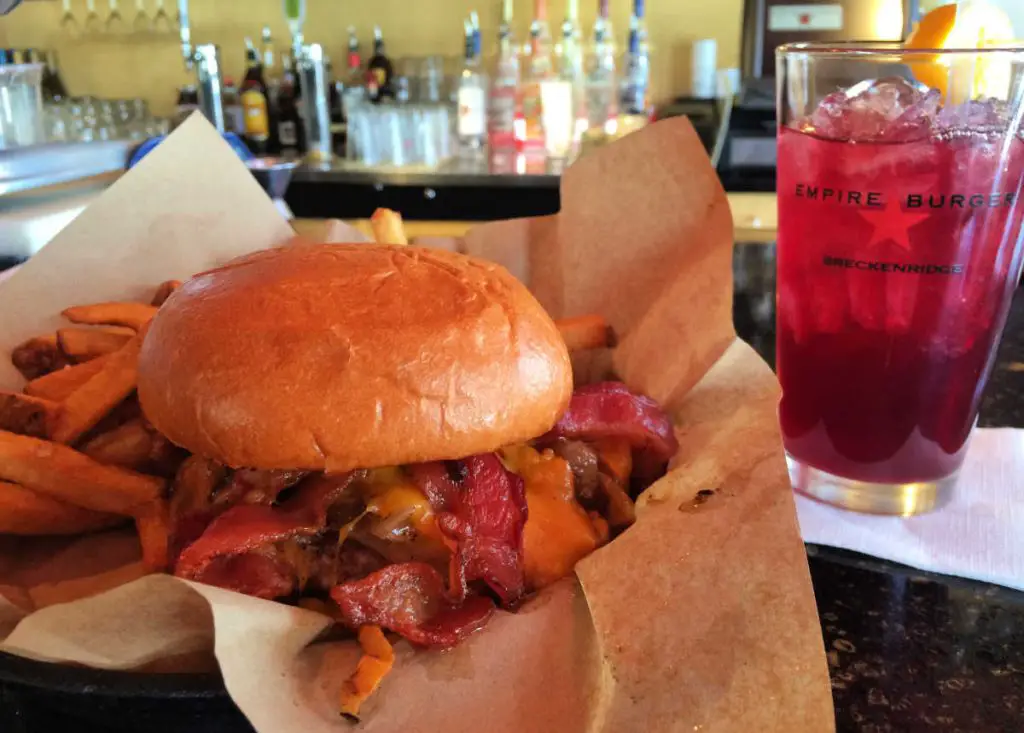 Things To Know Before You Dine At Empire Burger
Location: 500 S. Main St., Breckenridge, CO 80424
Phone: 970-453-2329
Hours: 11 a.m. – 1 a.m. Daily
Parking: Street
Menu: 1/3 lb. all-natural beef burgers, buffalo burgers, turkey burgers, sandwiches, salads, hand-cut fries, onion rings, appetizers
Drink List: Margaritas, hard shakes, seasonal cocktails, small selection of wines by glass or bottle, beer (domestic, craft and import)
Price: $4.50-$10.75 starters,  $8.75-$15 burgers, $4.25-$13.75 other entrees, $8-11 cocktails
Where To Stay Nearby: Range View Rentals by Tannhauser (tried and true) | The Bivvi Hostel | View More Breckenridge Lodging
Save this post to Pinterest!