When Brome Modern Eatery opened in fall 2015, I was excited to see a gourmet burger restaurant in my hometown of Dearborn, Michigan.
You see, my hometown has a reputation for delicious burgers. One of my favorite burgers, a juicy cheeseburger from Miller's Bar is a bit of a local legend, earning spots on best burger lists locally and nationwide. Yet, some locals will argue that another decades-old neighborhood bar produced the best burger in our Metro Detroit suburb, and when Howell's Bar & Grill burned down in 2014, it certainly left a void.
Then came a resurgence of Dearborn burger joints. In early 2015, local chain Famous Hamburger opened its third location on the city's west side, while another Metro Detroit burger chain, Good Burger, returned to Dearborn with an east side restaurant that August. Then came Brome — bringing organic patties and sustainable practices to the local burger scene.
Over the past year, I tried a couple times to make dinner plans at Brome while in town for holidays or around my travels in and out of Detroit Metro airport. For one reason or another, those plans never came to fruition.
As the saying goes, the third time's a charm. I finally dined at Brome earlier this month while staying in Dearborn as I covered the Detroit Auto Show.
After a long day of driving from Grand Rapids and sitting through press conferences, I met Megan, one of my closest friends since elementary school, with her adorable baby boy in tow for a delicious dinner of burgers and milkshakes.
Before I dive right into the "meat" of this review, I should disclose that Megan and I graduated from high school with the owner, Sam Abbas. Sam has become a local restaurateur and helps to organize the annual Dearborn Restaurant Week.
Now, onto the meat — which is organic grass-fed beef, of course — of the story …
Brome's Burgers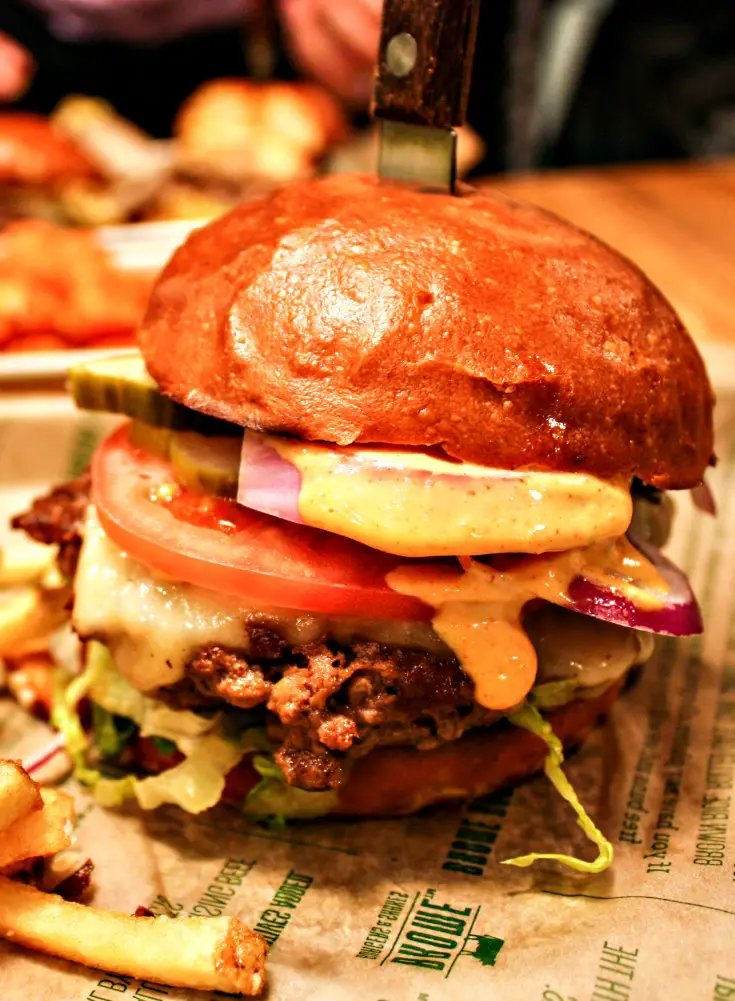 Spicy, southwest, veggie-heavy, wild mushroom — there were so many kinds of burgers to select from Brome's menu. Dante's Heaven — a beef burger topped with turkey bacon, braised onion, cherry pepper relish, ghost pepper jack cheese, and sweet habanero — certainly stands out as a burger packing flavor.
When I ordered my burger, my first decision was which of the half dozen beef burgers to order. If you aren't a burger person, Brome also offers salads, chicken and fish sandwiches, and an organic vegan burger patty for vegan and vegetarian diners.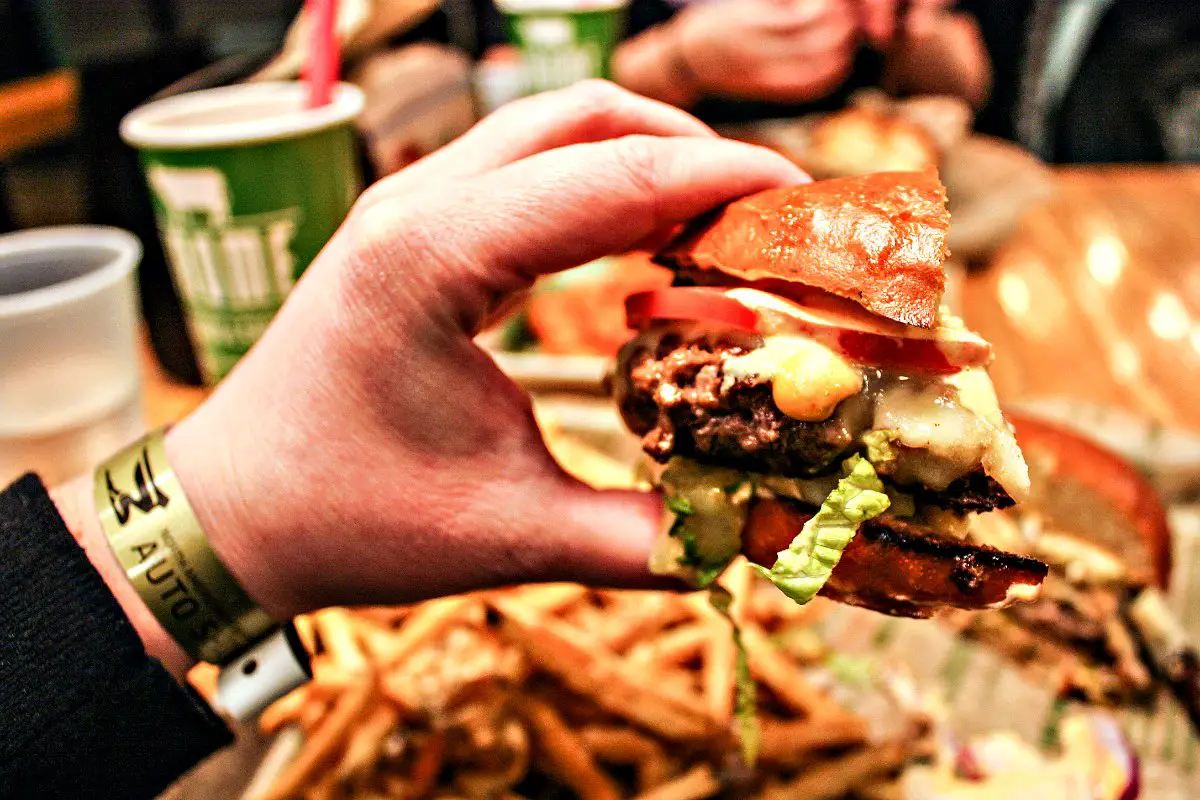 All of the burgers sounded delicious, but since this was my first visit I chose a classic — the premium Certified Black Angus Beef burger. This juicy burger comes topped with tomato, red onion, Detroit-produced McClure's pickles, romaine, and the creamy yellow Brome Sauce. I feel like a burger just isn't complete without cheese, so I added aged white cheddar to my order.
In addition to adding cheese, I also got to select how I wanted my burger cooked — medium or well-done. This isn't often an option at order-at-the-counter burger places, so I was very pleased to see my burger's pink center. I also could have upgraded my burger to a 100-percent organic grass-fed beef patty for $2 more. Though I didn't opt to go organic this time, I really appreciate that option.
My final decision while placing my order was whether to make my meal a combo, which seemed like a no-brainer because of …
Brome's Fries & Sides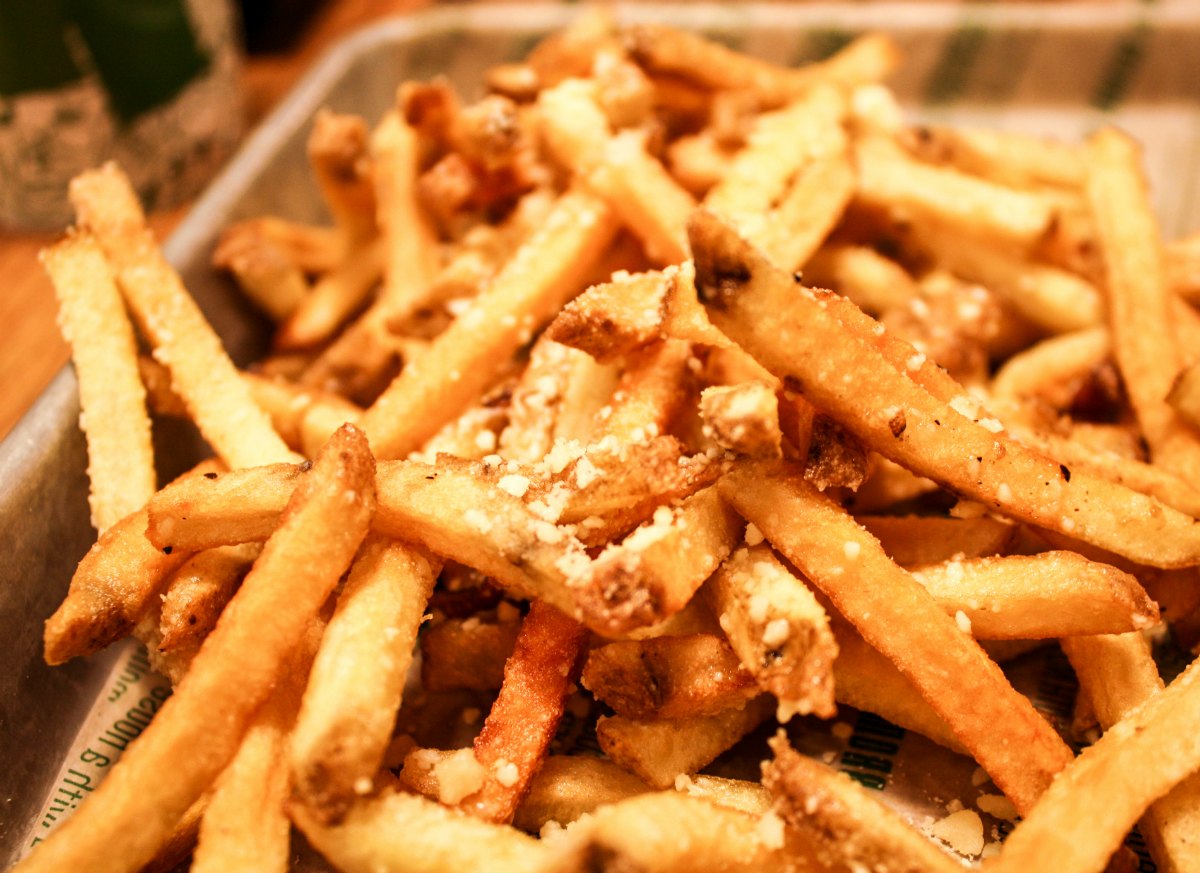 There are just so many choices to make at Brome. The hand-cut in-house Kennebec-potato fries are available with Kosher salt and cracked pepper, Cajun spices, garlic and cilantro, or truffle oil and Parmesan cheese. Not feeling the fries? Try tots, sweet potato fries, or sweet potato puffs instead!
As my side, I ordered the truffle and Parmesan fries, while Megan got the sweet potato puffs. We tried and thoroughly enjoyed both. Shaped like tots, the sweet potato puffs are slightly mushier than a crispy tot and easy to chew — making them a great option for little kiddos and kids-at-heart alike. I will definitely order those puffs again. I'd also like to try the garlic and cilantro fries someday. Which side strikes your fancy?
Lastly, Brome's Shakes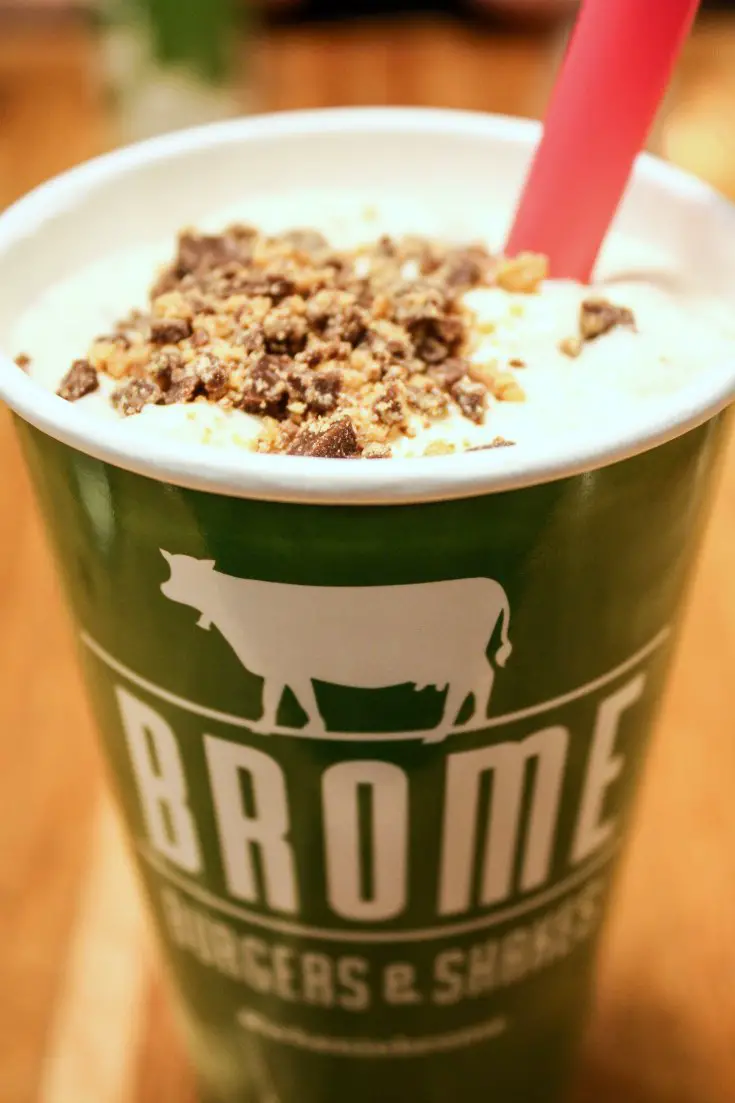 The $3 fries-and-drink combo comes with a soft drink, but I just had to try one of Brome's hand-spun shakes. My Reese's milkshake was so creamy, but not too rich. It completely hit the spot after a long work day. I loved the sprinkle of Reese's Peanut Butter Cup pieces on top. You can even get your milkshake topped with whipped cream.
What To Know Before Dining At Brome Modern Eatery In Dearborn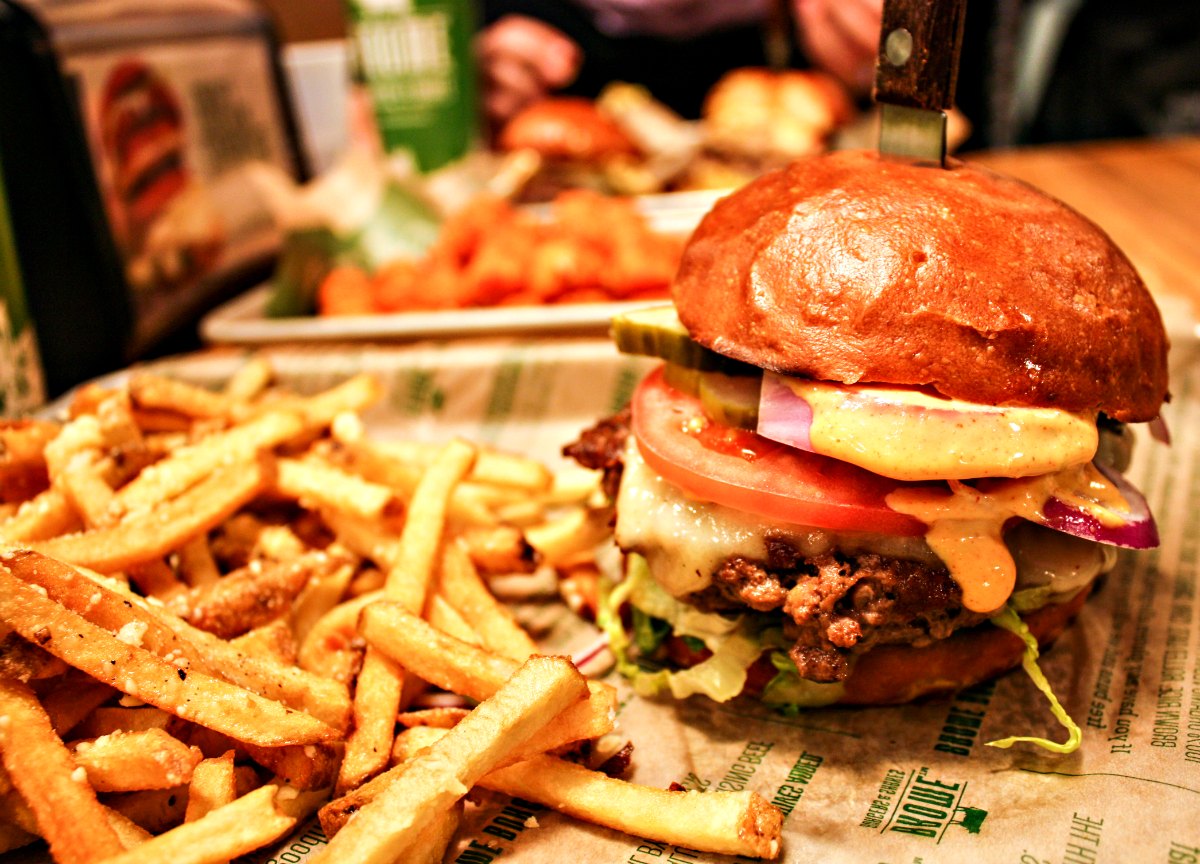 Location: 22062 Michigan Ave, Dearborn, MI 48124
Menu: Burgers with organic grass-fed beef, salads, fries, tots, hand-spun milkshakes | See the full menu
Parking: Free parking lot behind the restaurant. Enter from Garrison Street between Mason and Monroe streets.
Price: Burger ($8.50-12.50) + $3 combo side of fries or tots (with drink) + upgrade drink for hand-spun shake ($4.50-5.50 on its own) = About $20
Atmosphere: Casual
Follow Brome Burgers & Shakes: Website | Facebook | Twitter | Instagram
#WhenInBrome, what would you order?
Save
Save
Save
Save
Save
Save
Save
Save
Save
Save
Save