Craft beer drinkers, there is a little Colorado city you must visit. Fly, drive, do what you gotta do to get to Fort Collins — and take the New Belgium brewery tour.
Disclosure: This post contains some affiliate links. When you click on or make a booking or purchase via these partner links, I may earn a commission. Of course, this is at no extra cost to you, and I only recommend products and services I would use myself.
What to Expect on the Fort Collins New Belgium Brewery Tour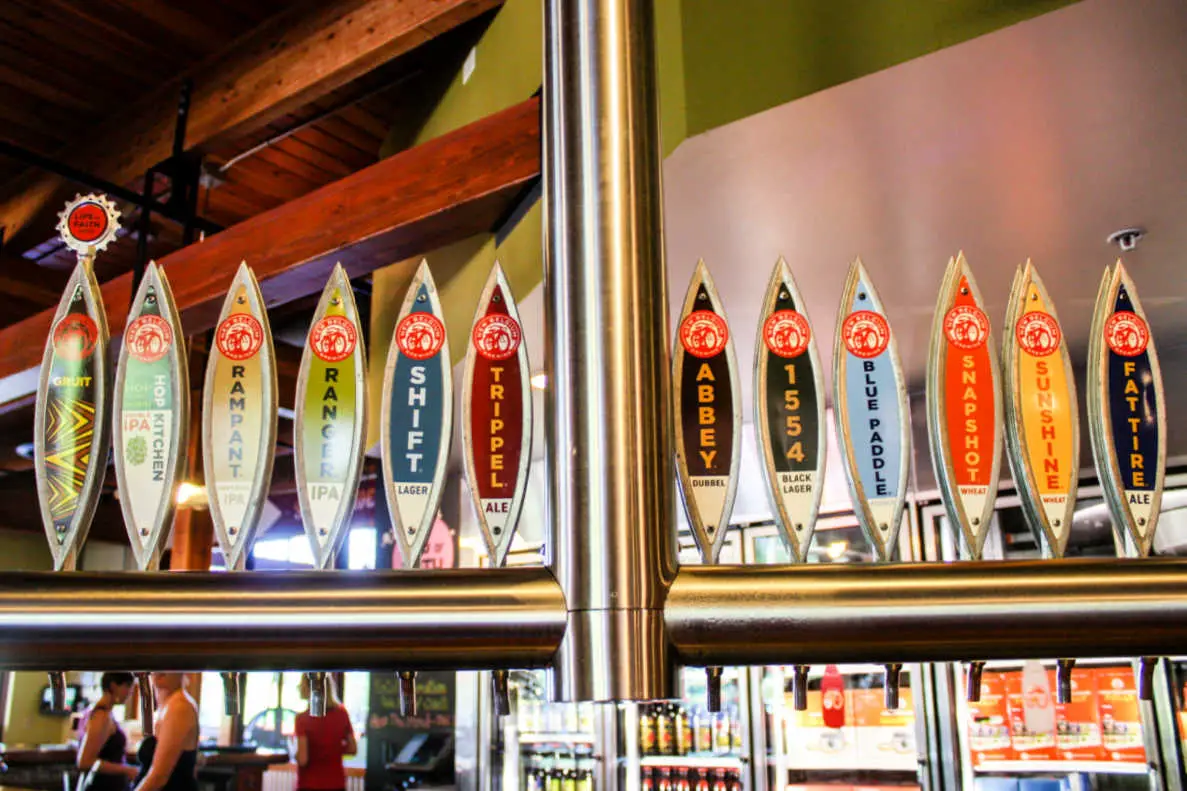 As the brewery behind Abbey, Fat Tire, and Snapshot, New Belgium Brewing Company is the fourth largest of America's craft breweries and specializes in Belgian-style brews. The 90-minute tour introduces the New Belgium lineup with stories of the brewery's unique history, interesting brewing facts, tastes of the brewery's craft beers, and a touch of quirkiness.
For beer-tasting newbies, this interactive tour and guided tasting is an educational and fun introduction. Seasoned microbrew enthusiasts may enjoy seeing behind the scenes, asking the brewers questions, and, of course, drinking the free samples.
The tour I took in September 2014 began with the basics in beer tasting. We were taught how to look at the clarity, color, and legs. We sniffed the aromas, trying to pick up subtle hints of fruits, nuts, spices. We sipped — always three times — noting the feel of each brew and the flavors we tasted.
I also saw the whole brewing process firsthand — right down to the canning and bottling. Then I slid down the brewery's curly slide to the bar, where I mingled with fellow Michiganders also on the brewery tour.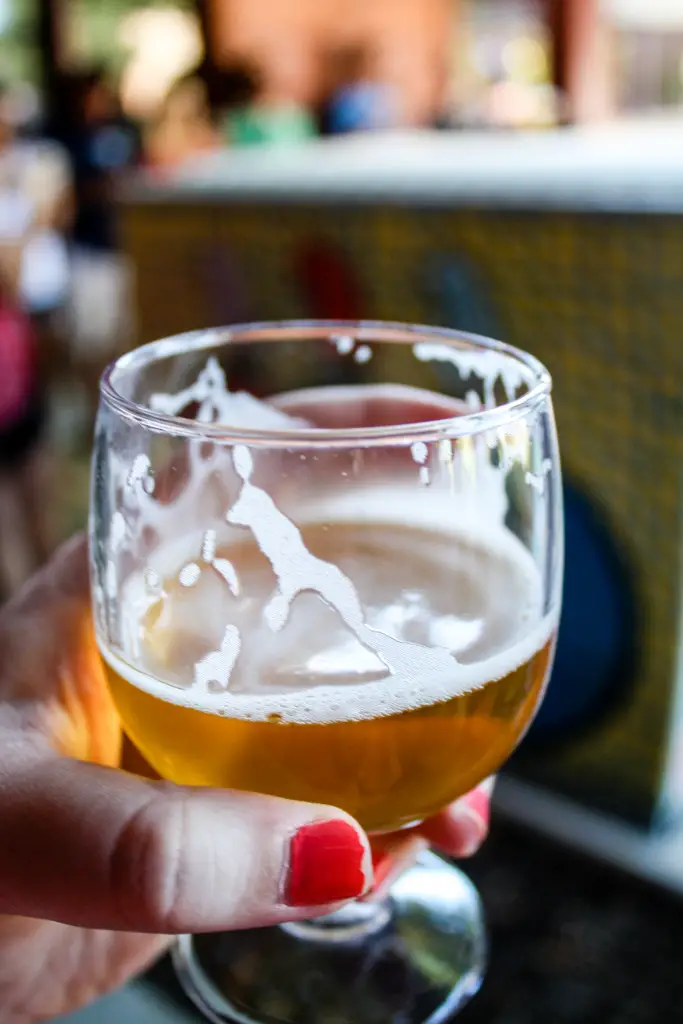 New Belgium Beers Featured on the Brewery Tour
During the tour, I tasted six beers — the Saison, Fat Tire, La Folie, Abbey, Snapshot Wheat, and Ranger IPA. Please note, the beers you sample may be different based on when you go and which beers are available at that time, but here is a closer look at the beers I tasted:
Saison
This is a golden, full-bodied brew with a slightly citrus-like aroma and a balance of sweet and bitter taste finishing a bit sour.
Fat Tire
This medium-bodied amber ale tastes very malty combined with a hoppy bitterness.
La Folie
I puckered up at the tart taste of this sour brown ale. I remember smelling cherries in the aroma and being completely shocked by the first swallow's sharp sourness, but it started to grow on me by sip three.
Abbey
This award-winning Belgian-style ale is a deep mahogany color, creamy in texture, and features complex flavors with hints of clove, banana, chocolate, and smoke.
Snapshot
This cloudy wheat beer with a bread-like and lemon aroma tastes sweet and tangy with a smooth, creamy feel.
Ranger IPA
Tasting like a "cleaning product from under my sink," as one woman on the tour described it, this Indian Pale Ale has a bold up-front citrus flavor followed by a bitter bite of hops. I'm a fan, but clearly, IPAs are an acquired taste.
Where to Stay Near New Belgium's Fort Collins Brewery
If you plan a Fort Collins beercation, you'll find several Fort Collins accommodations less than two miles from both New Belgium Brewing Company and Odell Brewing Company. The following lodging options are my top picks for staying near the New Belgium brewery in Fort Collins.
Located only .6 miles from New Belgium Brewing Company, this Old Town Fort Collins hotel is not only ideally located for craft-beer enthusiasts, but it's also a hotel for music lovers with a music-themed suite, live music performances, in-room record players, and an instrument-lending library. Additionally, guests will enjoy the on-site restaurant, wine shop, and rooftop lounge with panoramic views.
This independent hotel is 1.2 miles from New Belgium, and with its complimentary bike rentals, you could peddle your way to craft-beer paradise in less than 10 minutes. I also recommend the Armstrong Hotel for its historic location, city views, and Ace Gillett's Lounge & Supper Club serving handcrafted cocktails and upscale comfort foods.
Edwards House [Luxurious Bed & Breakfast]
For a couples getaway, this elegant bed-and-breakfast puts beer-drinking twosomes near Old Town dining and 1.3 miles from New Belgium. Guests of the Edwards House will also enjoy the garden, lounge, and gourmet breakfast.
Within walking distance of Old Town Fort Collins dining, shopping, and Colorado State's campus, these colorful boutique apartments are also well located for a beercation at 1.7 miles (a five-minute drive) from New Belgium. In addition to the location, guests here will enjoy amenities such as full kitchens in each flat, on-site laundry, an outdoor fire pit, and a grill.
With complimentary bike rentals, private parking, shared kitchen and lounge, outdoor spaces including a sun terrace and garden, it's easy to see why this budget-friendly inn is highly rated by past guests. Plus, at 1.9 miles from New Belgium, it takes less than 10 minutes to drive to the brewery.
Not quite what you are looking for? Browse the map below for more lodging near New Belgium Brewing!

Things to Know Before Visiting New Belgium
As of January 2021,  New Belgium Brewing Company is not running its brewery tour, but the brewery is open for its craft beers' curbside pickup. For future trip planning, I've shared my tips for when brewery tours resume.
Location: 500 Linden St, Fort Collins, CO 80524
Cost: New Belgium brewery tours are FREE!
Tours fill up quickly, so reserve your tour in advance on the New Belgium website.
However, tour reservations can't be made more than two months in advance.
Kids are welcome at the brewery and on the tour, but visitors must be 21 or older to consume alcoholic beverages.
There is on-site parking. If the parking lot is full, you can find parking along the street.
New Belgium doesn't have a restaurant, but usually, there is a food truck on site. You are also welcome to bring your own food.
Fort Collins is a craft-beer destination with more than 20 other breweries. In addition to touring New Belgium, you can take a guided tour of Fort Collins craft breweries.
Read More Related Posts
Visiting New Holland Brewing in Holland, Michigan
Why Guinness Storehouse Should be on Your Ireland Trip Itinerary
Essential Colorado Springs: Five Things to Do in Colorado Springs
Four Cities You Should Visit on Colorado's Front Range
Planning a Colorado craft beer trip? Save this post to your craft beer, brewery tour, or Colorado travel board on Pinterest to easily reference again later!
Which New Belgium beer is your favorite?