Visiting the Guinness Storehouse is a must for Stout drinkers, but what if you don't like dark beer — or beer at all?
In case you are wondering what it's like to visit Ireland's top attraction, I'm sharing my top tips and a peek into the iconic brewery in Dublin, Ireland.
Disclosure: This post contains affiliate links. When you click on or make a purchase from one of these partner links, we may earn a commission.
---
What happens when you visit the largest pint glass in the world?
First, you'll wind your way to the top, learning all that goes into the perfect pint of the Black Stuff. Then at the top, you'll finally taste that iconic Irish dry stout while taking in bird's-eye views of the city below. Of course, you're at the Guinness Storehouse® at St. James's Gate Brewery in Dublin, Ireland.
As the Home of Guinness, the historic St. James's Gate Brewery is where 3 million pints of Guinness are brewed each day. Inside the Guinness Storehouse, your journey takes you through this iconic brand's 250+ years of history, its quirky advertising campaigns, and what exactly goes into each pint. Not only do visitors get an insider's peek into the whole brewing process, but you'll also taste the finished product.
In 2019, the Guinness Storehouse expected to welcome more than 20 million international visitors since opening in 2000. With 1.7 million visitors in 2018, the Home of Guinness ranks as Ireland's No. 1 international visitor attraction. It even beats the Cliffs of Moher!
Normally, I recommend brewery tours to beer enthusiasts but not necessarily to other visitors of a destination. In a city of Dublin's size, there is no shortage of museums, attractions, and other culinary experiences. Yet, in the case of the Guinness Storehouse, I find this brewery tour is a must-do experience for visitors of legal drinking age — 18 and older — when visiting Ireland.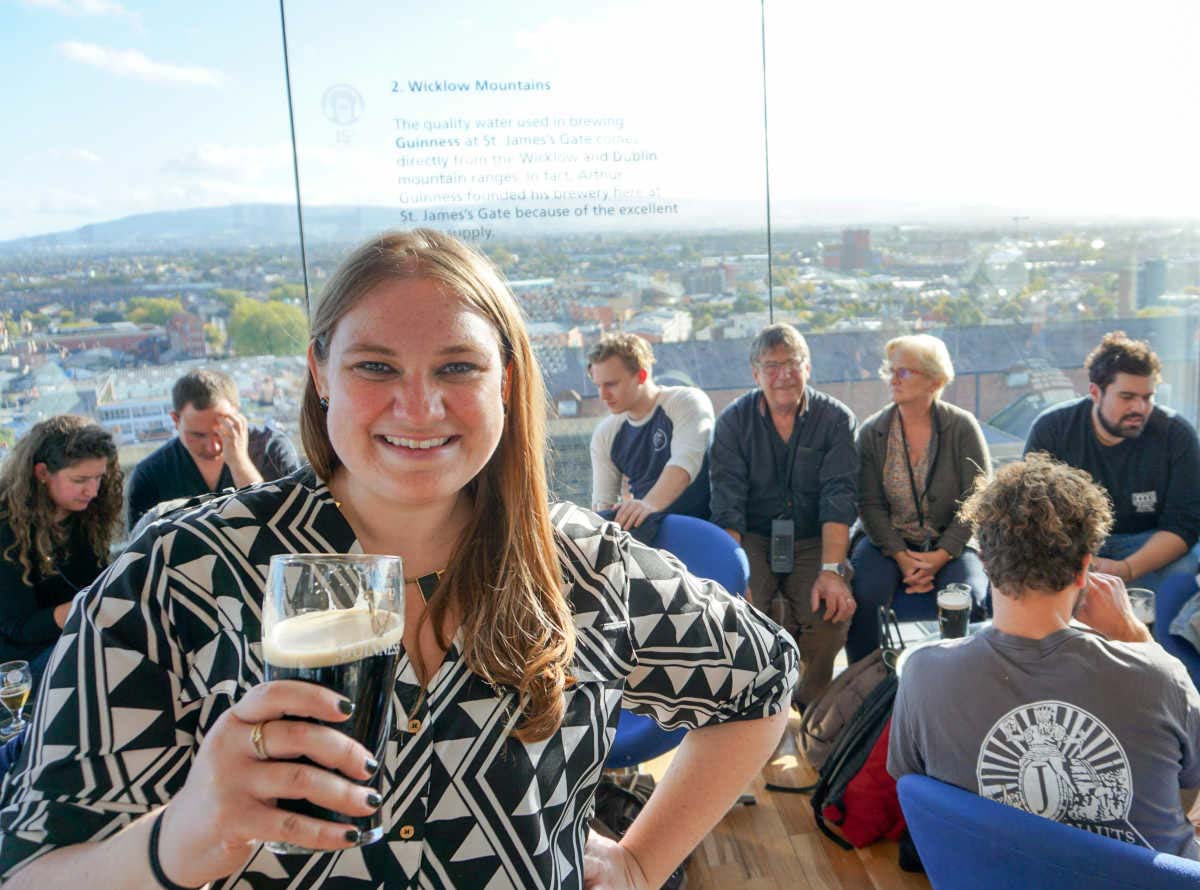 Why do I recommend visiting the Guinness Storehouse in Dublin?
Clearly, I'm not the only traveler in recent years to add the Guinness Storehouse to my Ireland trip itinerary! But, why do so many visitors go to the Guinness Storehouse each year? And, do all of those visitors really like to drink dry stout? 
Whether or not you like the unique taste of Guinness, you really can't deny the brewery's significance. When I think of Ireland, the first few thoughts to spring to mind are of St. Patrick's Day, shamrocks, green landscape dotted with sheep, Irish whiskey, and Guinness. How many beers in the world do you associate so closely with their country of origin?
For me, that association isn't simply because Guinness is brewed in Ireland. Nor is it because almost one out of every two pints consumed in Ireland every day is a Guinness. It's because Guinness plays a significant role in Ireland's modern history, economy, culture, and even traditional Irish cuisine. Essentially, the heart and soul of Ireland is poured into every pint of Guinness.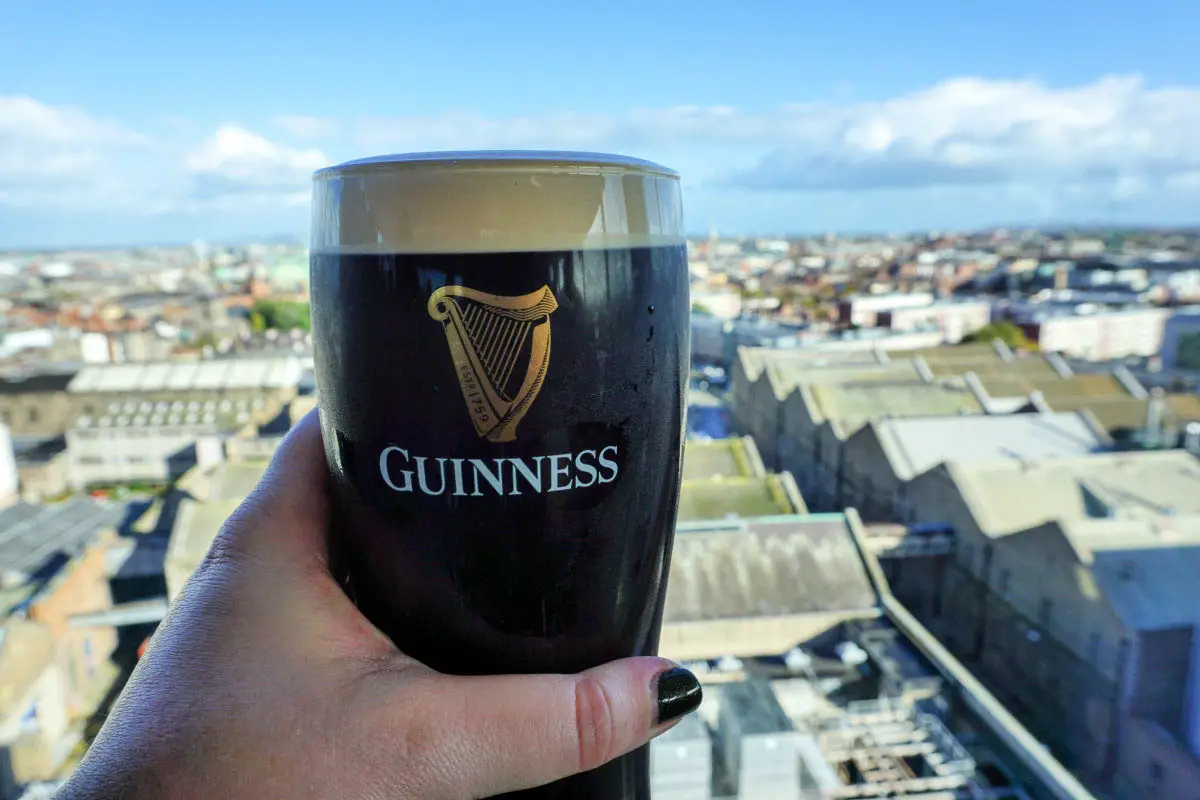 What else goes into a pint of Guinness?
As you'll quickly learn, Guinness is made from only four all-natural ingredients — water, malted and roasted barley, hops, and yeast. In the first exhibit that you'll encounter at the Guinness Storehouse, you'll hear the roar of water sourced from the nearby Wicklow Mountains and smell the aroma of hops that give a pint of Guinness its unique flavor.
At the heart of Guinness is the legacy of a brewer with vision.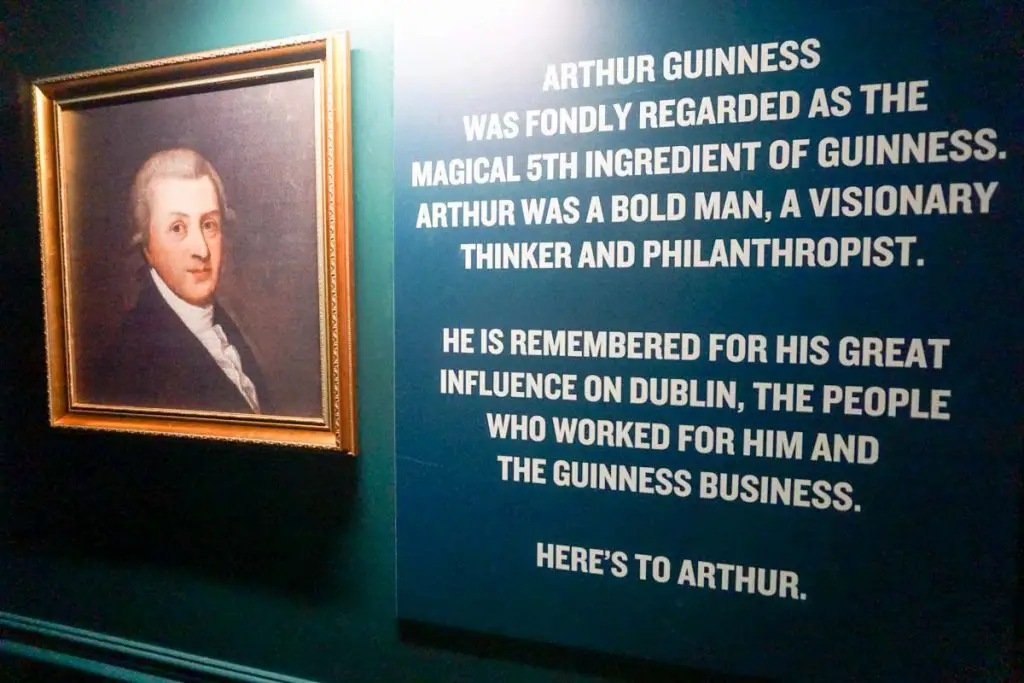 The exhibit's caption toasting founder Arthur Guinness says it all. Did you know he signed a 9,000-year lease on Dec. 31, 1759, for St. James's Gate Brewery? He also opened a medical center, had homes built for his employees, and was known to have great respect for the craft of brewing. His legacy surely is the magical fifth ingredient in every pint of Guinness. Cheers to you, Arthur!
Isn't it a lovely day for a Guinness?
One of my favorite exhibits at the Guinness Storehouse was on its advertising. Guinness has always seemed like a brand with a playful sense of humor. You'll see that silliness on display with the whistling oyster and — my personal favorite — a fish riding a bicycle near the feminist saying, "A woman needs a man like a fish needs a bicycle."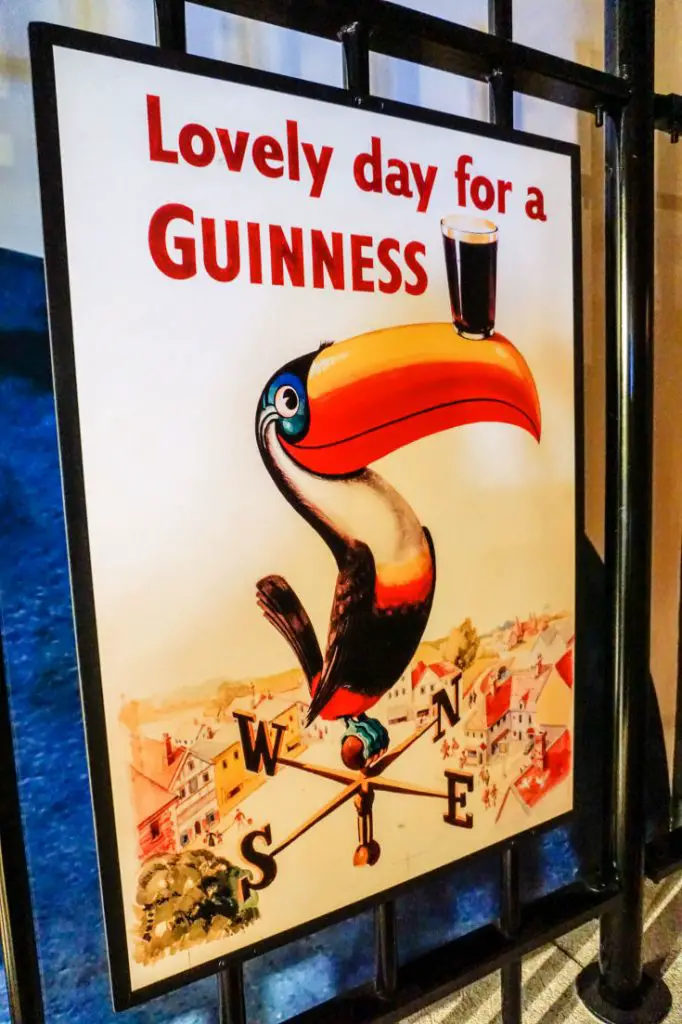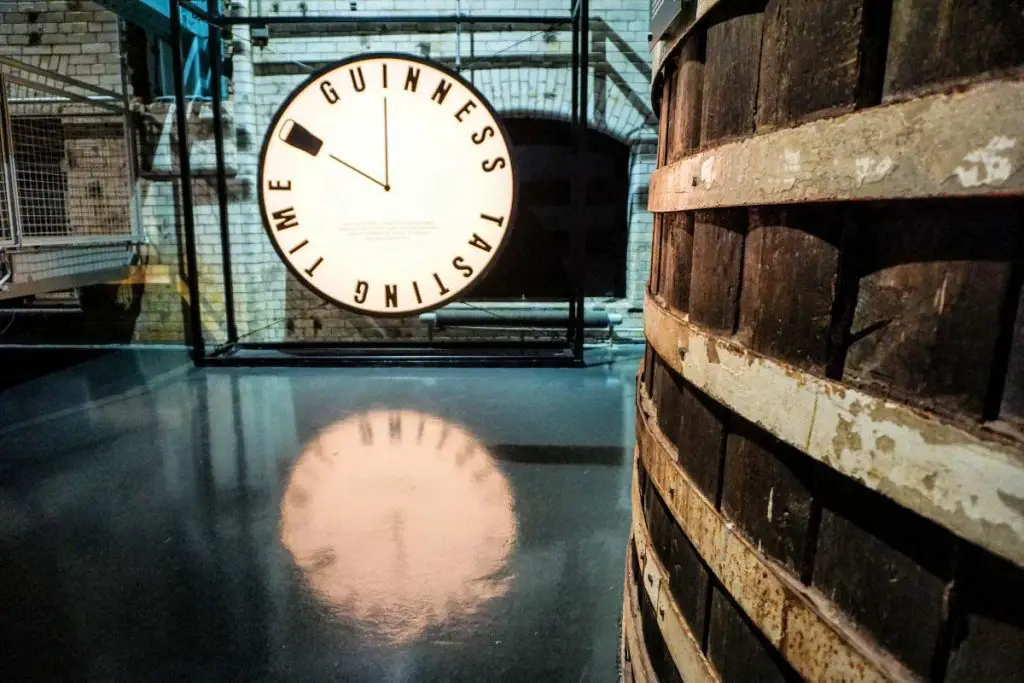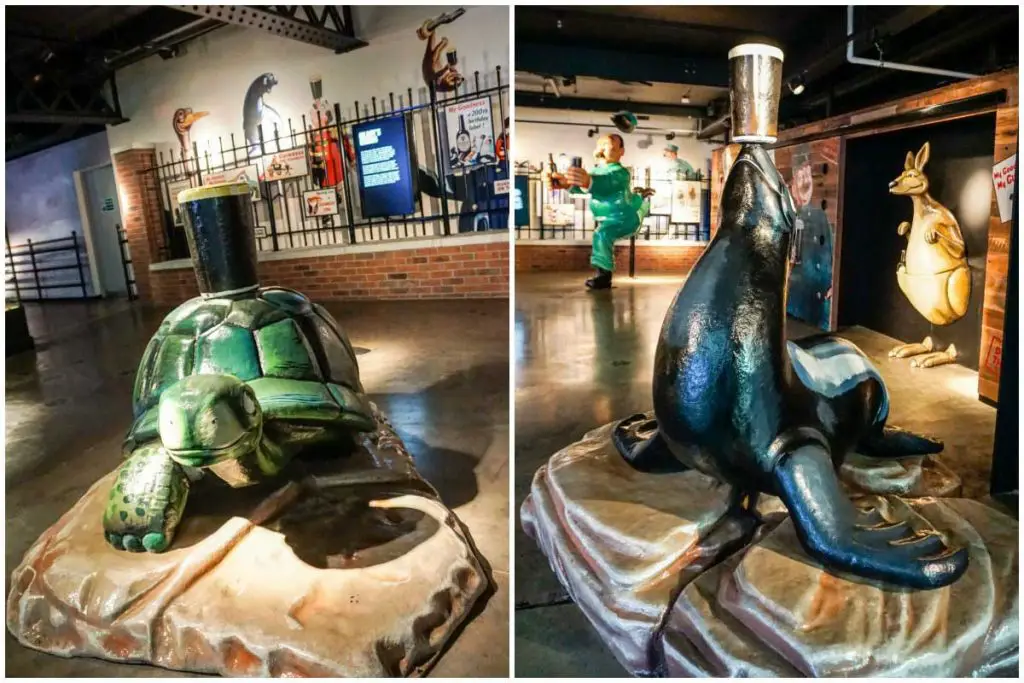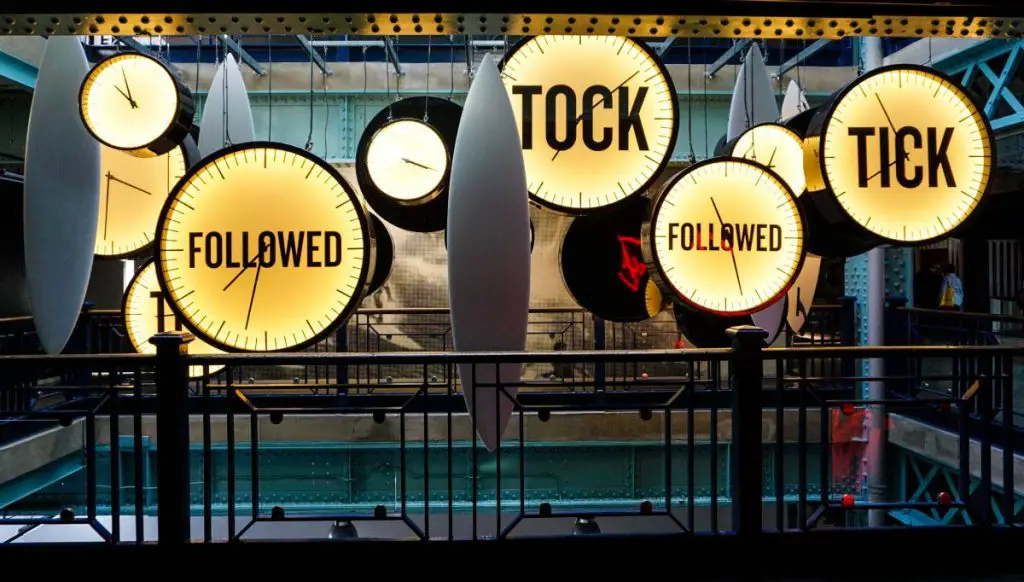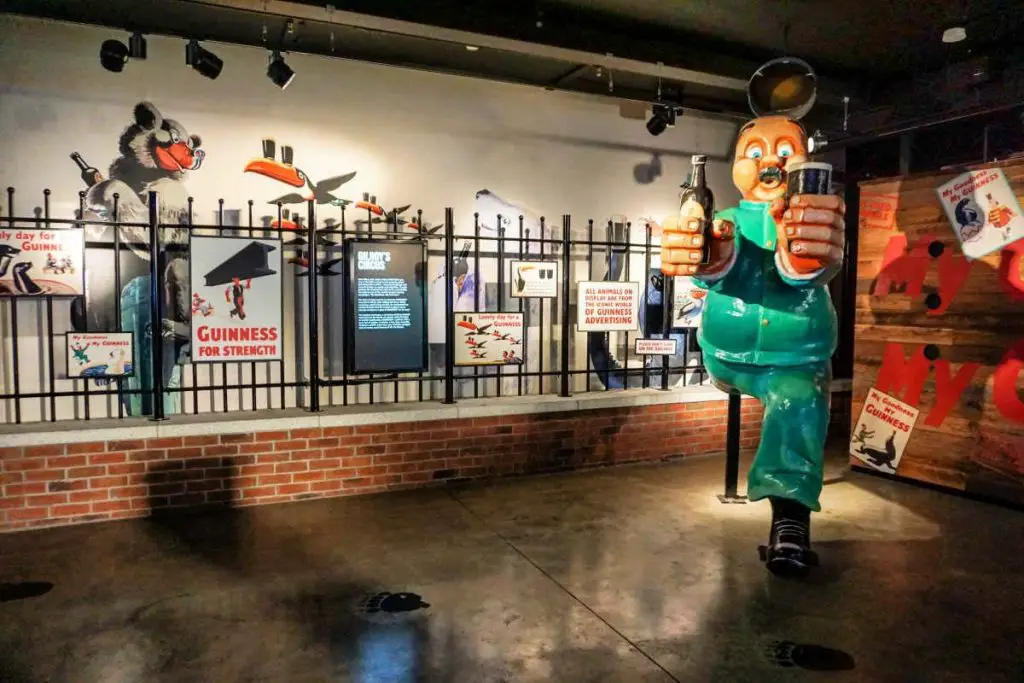 Most importantly, your visit includes a drink voucher.
After all that learning, you've earned a drink! Luckily, your visit culminates in tasting the freshest pint you'll likely ever have of Guinness — brewed right there at St. James's Gate. And, if you still aren't sold on sipping the Black Stuff, The Gravity Bar pours one or two other kinds of Guinness beers.
The Gravity Bar is definitely the highlight of visiting the Guinness Storehouse. Sitting 46 meters (about 150 feet) above Dublin, it is the highest bar in the city. You'll see out to the Wicklow Mountains with panoramic views on a clear day.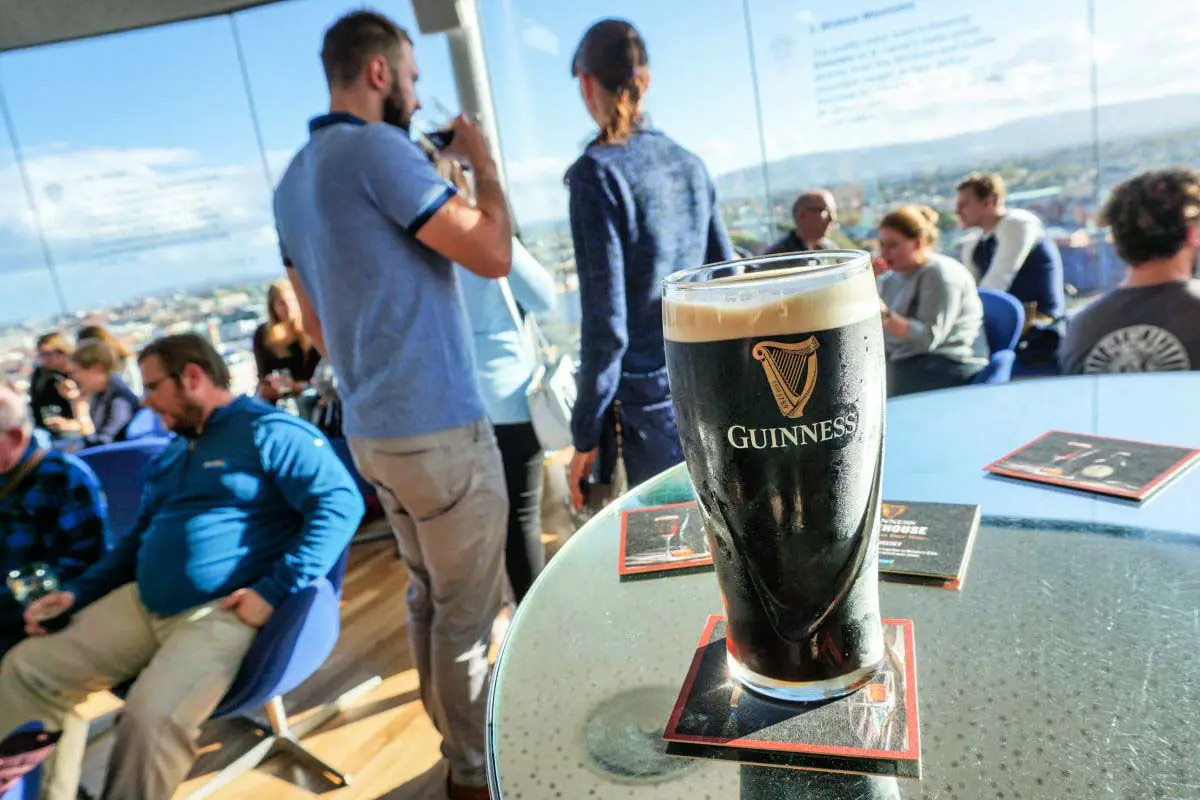 What To Know Before You Go
Location: St James's Gate, Dublin 8, Ireland
Parking: Free parking on Crane Street on a first-come, first-served basis
Hours: Open daily from 10 a.m. (Hours subject to change)
How much time do you need? About two hours to take the self-guided tour and to drink a pint. Plan to stay longer if you eat here.
On-site Dining: Yes. You'll find food and more drinks at Arthur's Bar, Brewers' Dining Hall, and 1837 Bar & Brasserie.
Wheelchair Accessible: Yes
Admission: Starting at €22 for self-guided tour + Gravity Bar
How do you book tickets? To skip the lines when you arrive, order your tickets online. You will receive a confirmation in your email with a reference number. Then you'll just show that number at the information desk upon arrival. You also get a discount on adult tickets for booking online!
Where to stay near the Guinness Storehouse
In Conclusion
When traveling in Dublin, a visit to the Guinness Storehouse is a must-have experience. Even if you are not a stout — or even a beer — drinker, I recommend the Guinness Storehouse for its interactive approach to sharing the beer brewing process. Of course, if you enjoy a proper pint, a visit here is a no-brainer!
Save the image below to your Ireland board on Pinterest for future trip planning!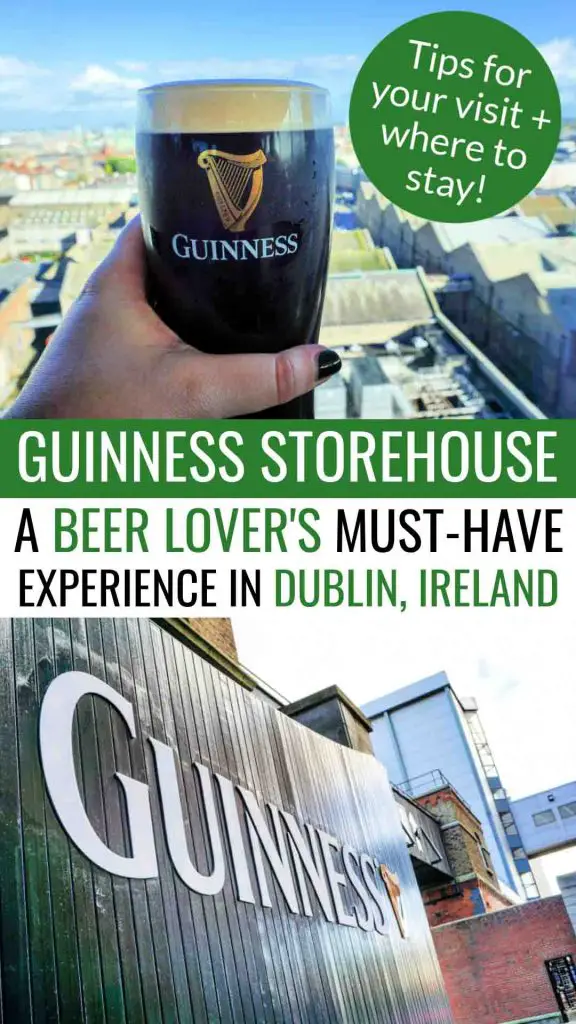 Have you had a proper pint of Guinness today?