With its charming, small-town atmosphere and direct access to Lake Michigan, Saugatuck is a popular beach destination for city dwellers seeking a relaxing getaway. Though visitors come to be near the Lake Michigan shore, I suggest you venture beyond the beach to these seven locally-loved places to eat and drink in Saugatuck and Douglas, Michigan.
Disclosure: This post contains some affiliate partner links. When you click on one of these links and reserve your Saugatuck accommodations, I may earn a small commission. Also, some of the meals and drinks featured in this post were comped. Thank you to EatDrinkSDF for hosting me in June 2018 for a foodie-approved weekend getaway!
---
Where to Eat in Saugatuck and Douglas
Want to eat and drink where the locals do in Saugatuck and Douglas? Well, I've done the research for you. The following seven restaurants and bars have been taste-tested and approved by this West Michigan-based foodie.
Explore the map below to find where to eat in Saugatuck!
GROW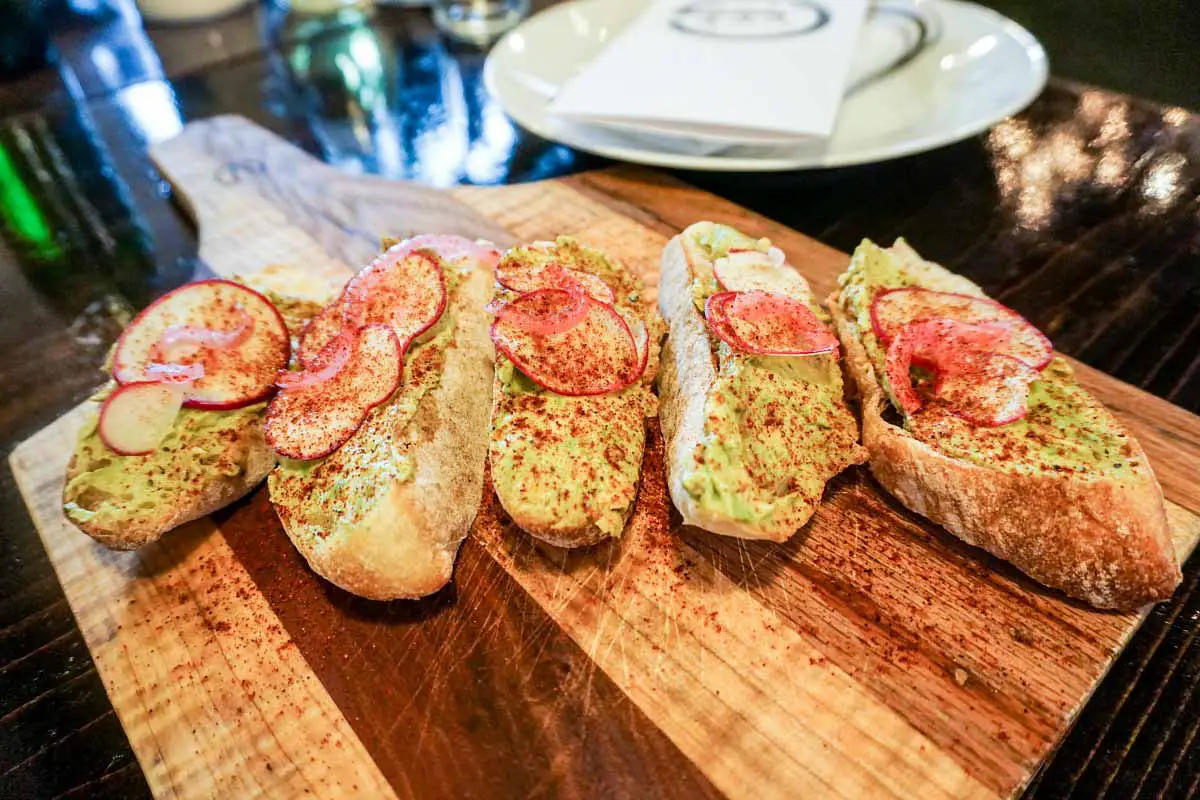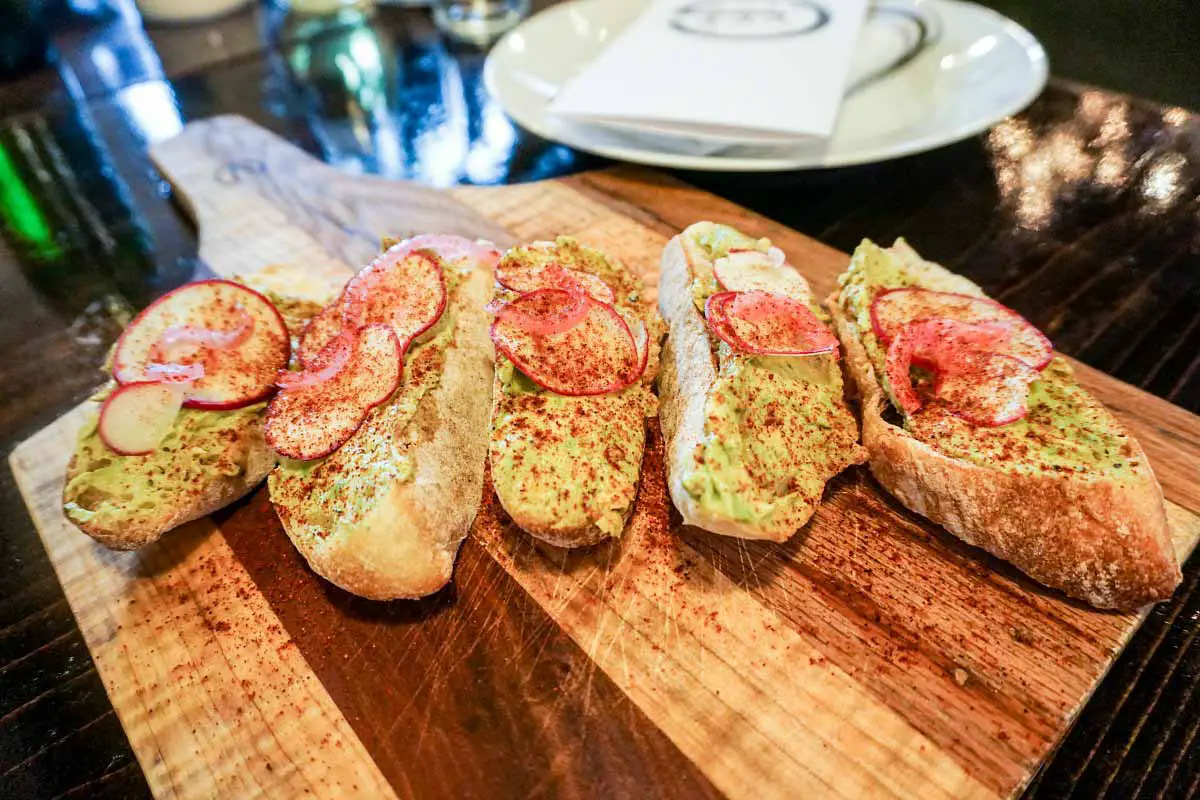 It seems only appropriate to start this list where you should begin your day in Saugatuck. Specializing in brunch, GROW's menu features a variety of sweet and savory breakfast dishes and a handful of salads and sandwiches.
I must say you really can't go wrong with any of the sweet options. I've tried all three of these sweet breakfast dishes — carrot cake pancakes, the Belgian waffle with maple butter and strawberry jam, and blueberry and lemon French toast. All three were so incredibly delicious I don't think I could choose a favorite.
If you prefer savory breakfast options, the avocado toast and breakfast Panzanella would be my suggestions. But, don't just take my word for it. Go try GROW for yourself!
GROW is located at 302 Culver Street in Saugatuck.
Uncommon Coffee Roasters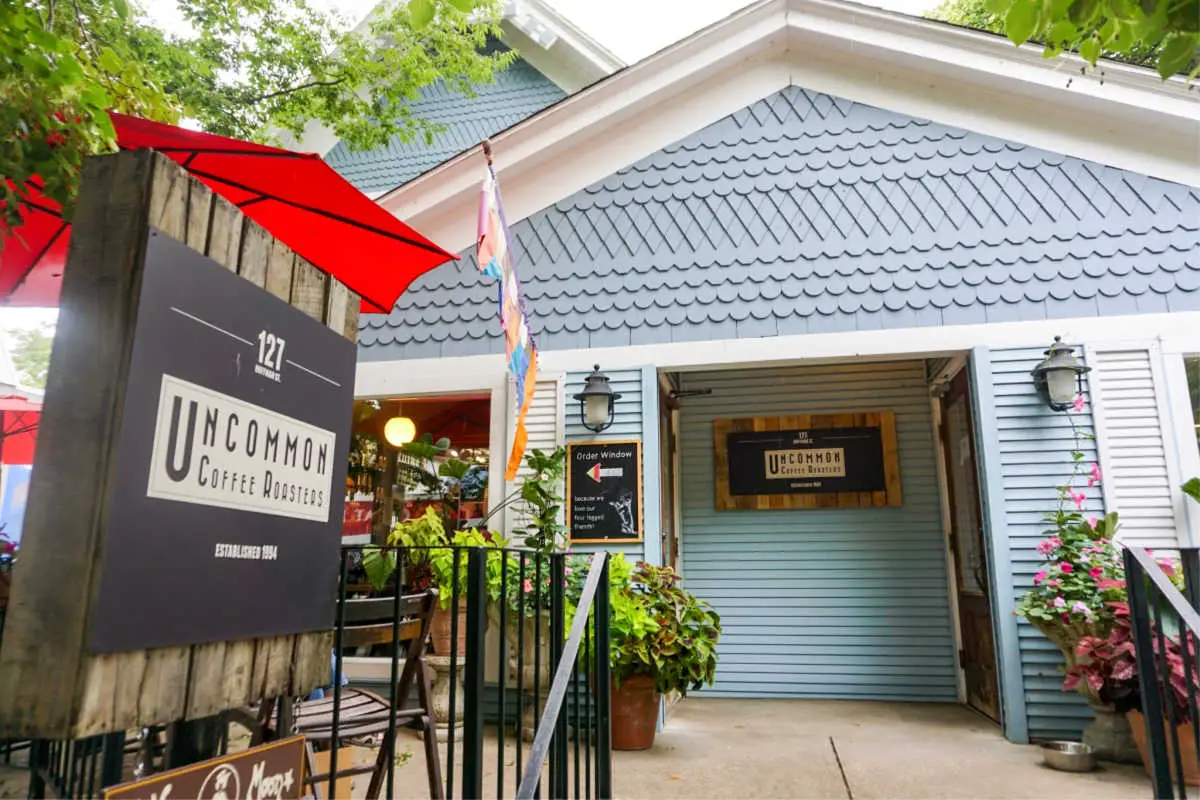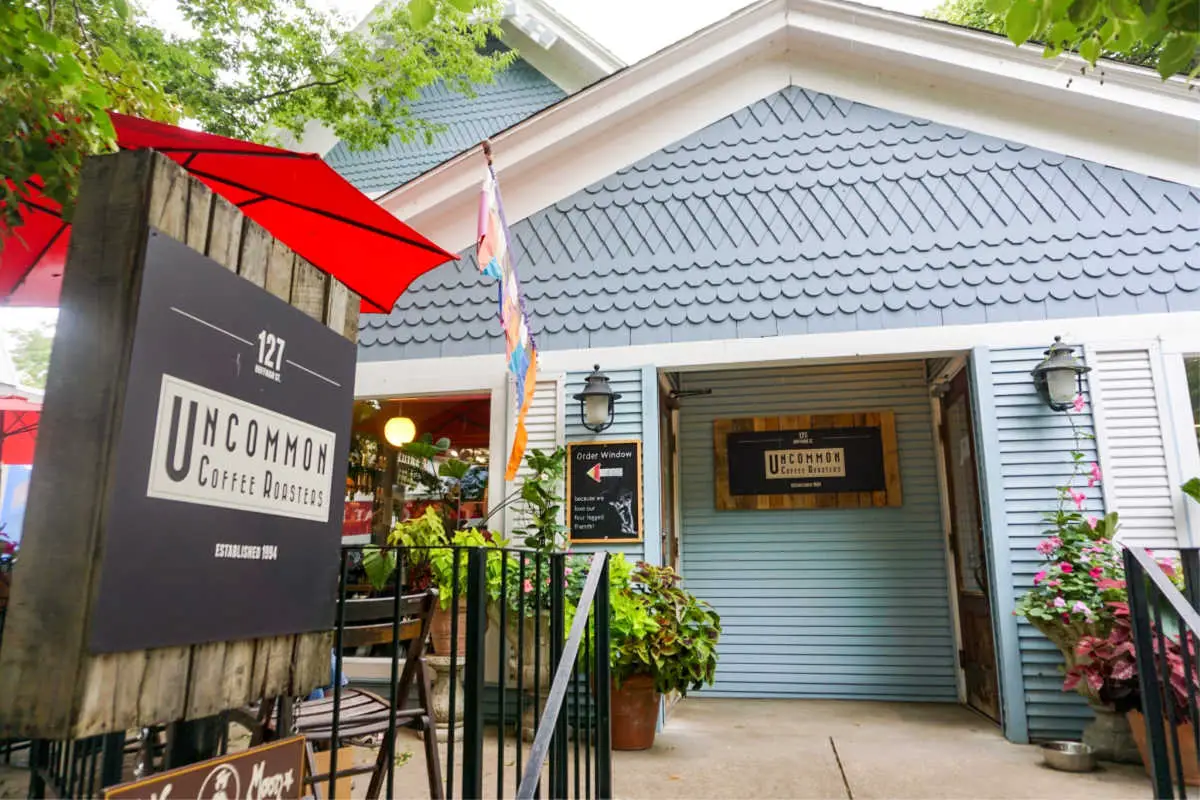 Need your morning cup of joe or a mid-day latte while you browse the downtown shops? Uncommon Coffee Roasters is the place to go!
This downtown Saugatuck coffee shop serves high-quality coffee roasted in-house, espresso drinks, and a selection of baked goods. Both classic and unique, Uncommon Coffee Roasters' espresso-based beverages are created with house-made syrups.
During my summer 2018 visit, I tried the iced lavender latte, which was quite refreshing.
You're likely to find Uncommon's coffee served at other restaurants around town. Uncommon Coffee has even been used in a craft beer brewed by Saugatuck Brewing Company!
Uncommon Coffee Roasters is located at 127 Hoffman Street in Saugatuck.
Farmhouse Deli & Pantry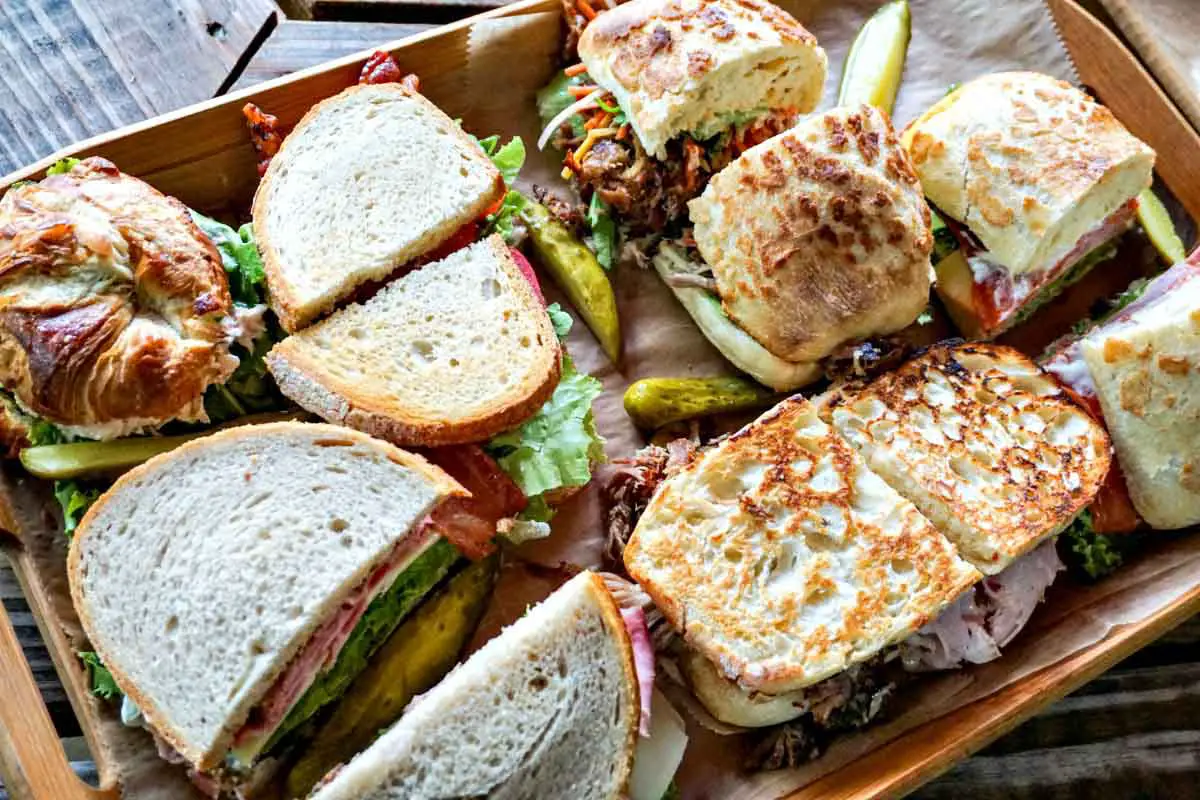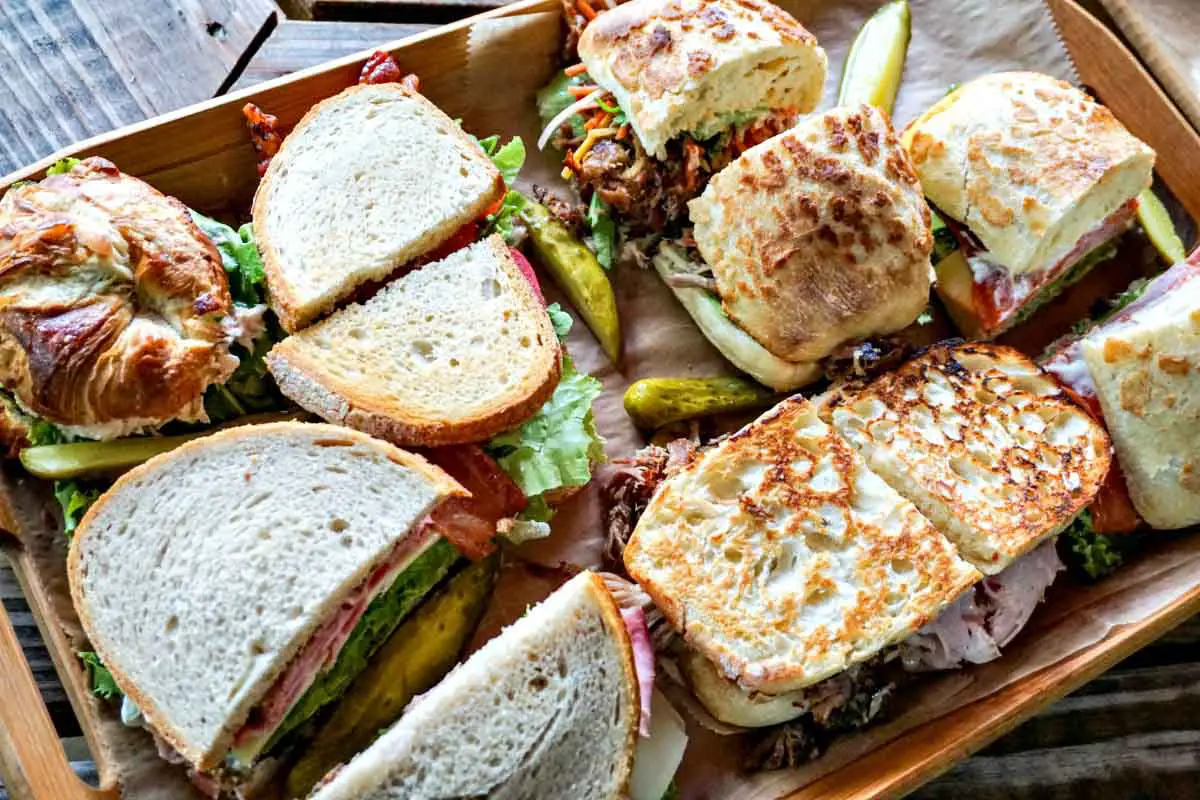 Farmhouse Deli & Pantry has been called the best deli in West Michigan, and I'd say rightfully so. Each of the deli's sandwiches, salads, soups, and desserts feature local ingredients and are "crafted with love". Farmhouse Deli also serves freshly-made juices, cleansing hot shots, Equal Exchanges' fair-traded organic coffee, and a variety of espresso and tea drinks.
I highly recommend the Muffuletta sandwich of smoked ham, fennel salami, spicy soppressata, olives, greens, Gouda, and lemon mayonnaise on a Dutch crunch roll. So yummy!
The menu also features a couple vegan options, including a hummus veggie wrap and vegan Bahn Mi.
For kids, Farmhouse offers organic peanut butter and strawberry jam, white cheddar grilled cheese, and turkey with cheddar and mayo sandwiches on challah bread.
You can eat your sandwiches on the picnic tables outside, but I recommend picnicking at nearby Oval Beach. The Farmhouse pantry is stocked with high-quality and local foods and drinks to round out your picnic lunch.
Farmhouse Deli & Pantry is located at 100 Blue Star Highway in Douglas.
Red Dock Cafe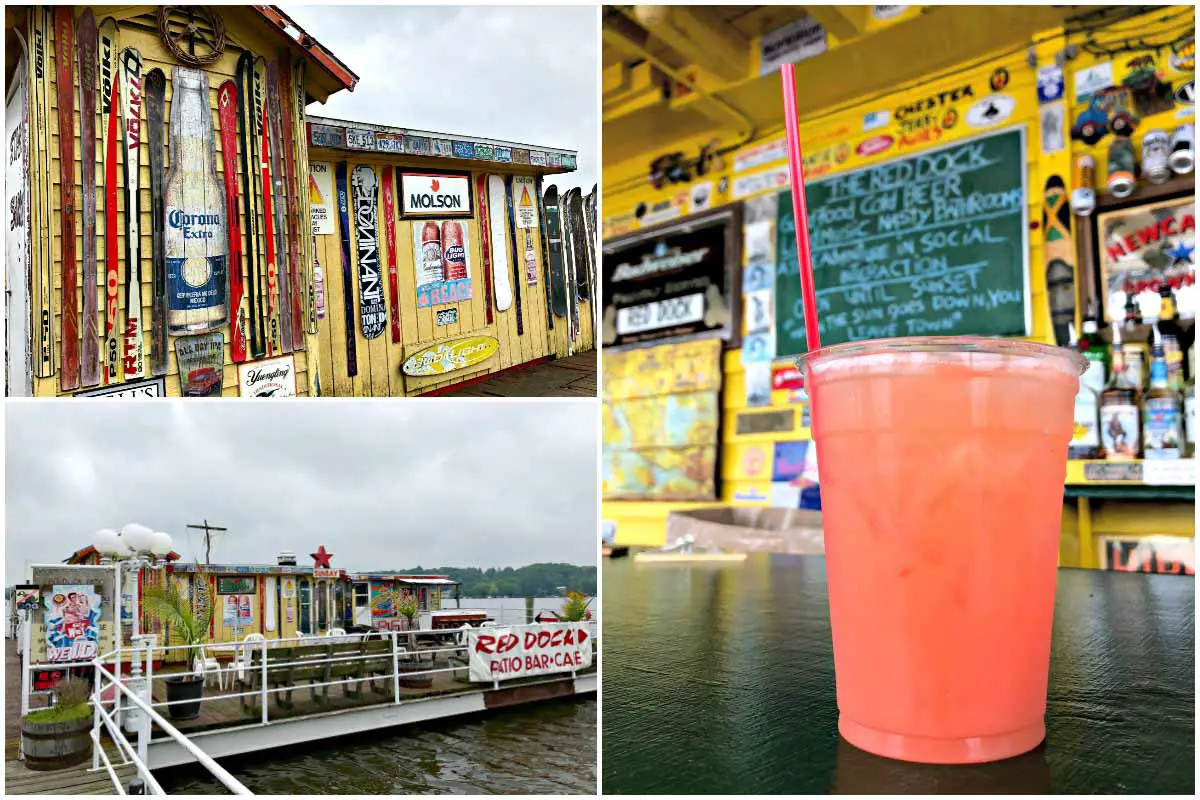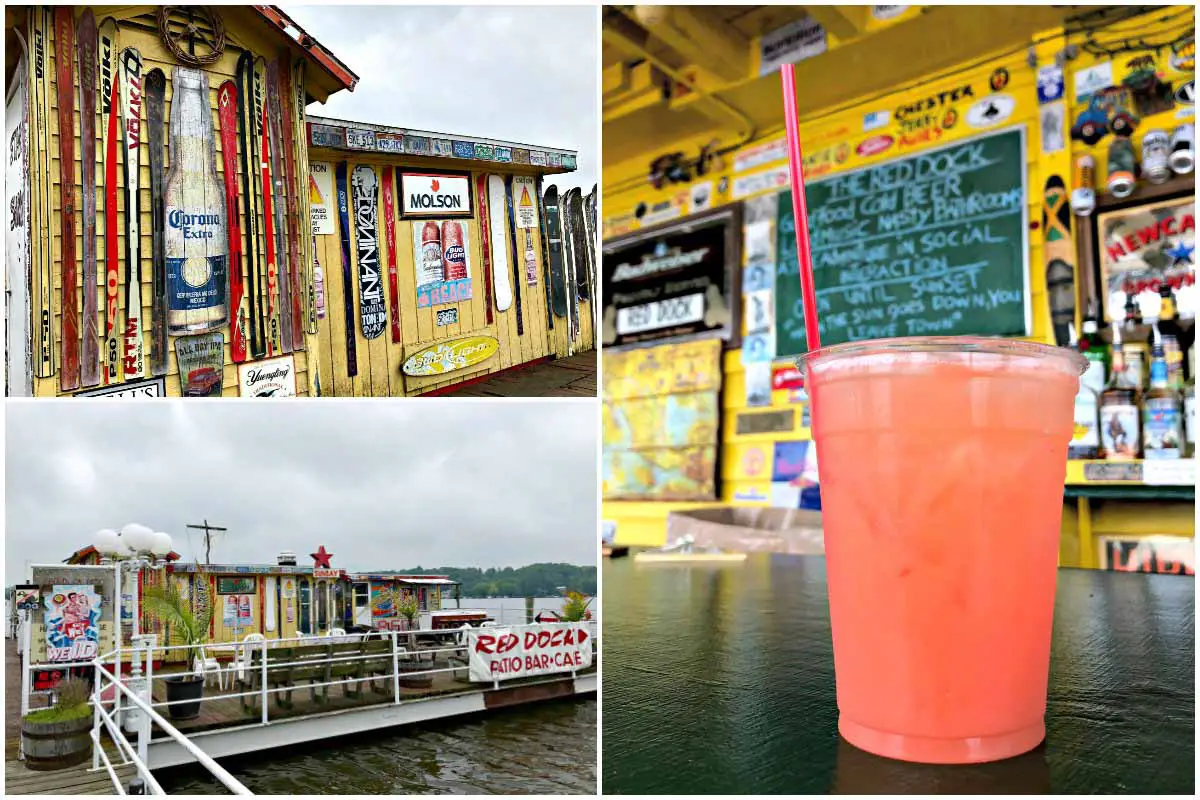 Located on a dock in Kalamazoo Lake, Red Dock Cafe offers dockside service, waterfront views, cold drinks, and a laid-back Key West-like atmosphere until sunset. "When the sun goes down, you leave town" states a chalkboard behind the bar, so the Red Dock is definitely your day-drinking spot on a hot summer afternoon. Stop by for the boozy rum punch, and don't forget to bring cash!
Red Dock Cafe is located at 219 N Union Street in Douglas.
Saugatuck Brewing Company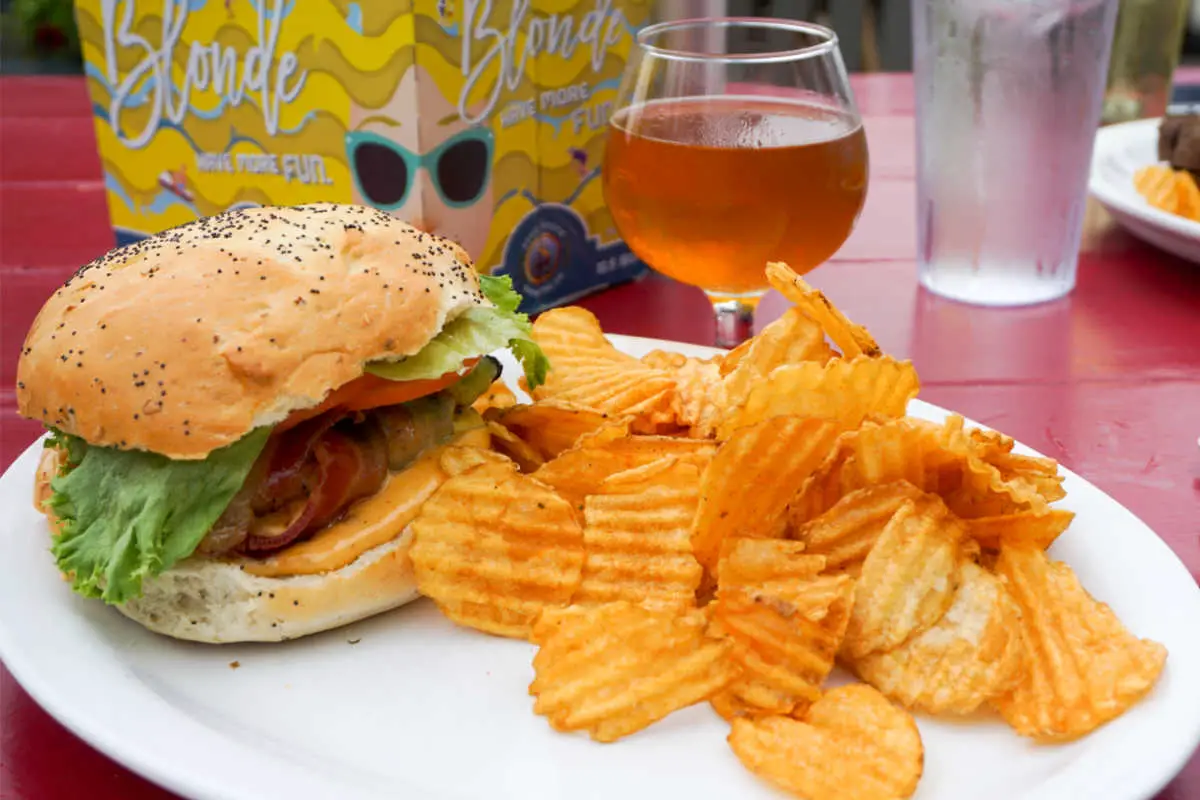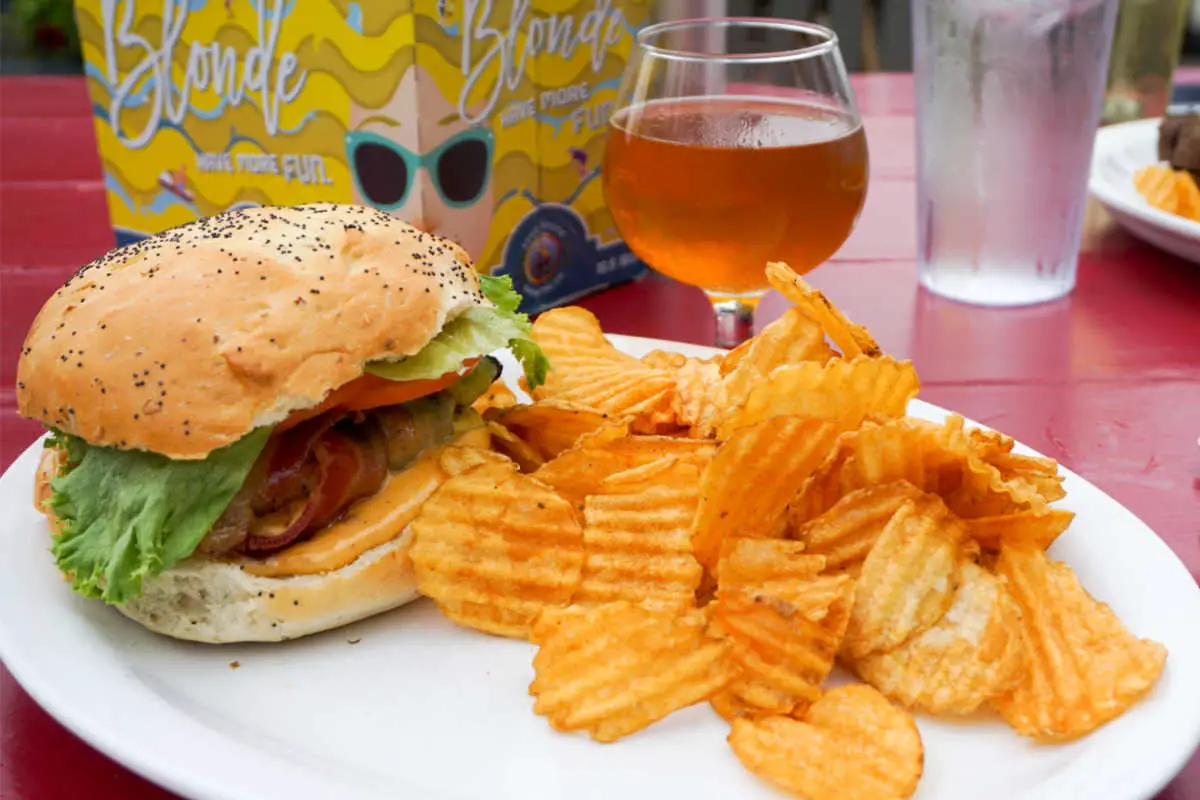 Craft beer drinkers, Saugatuck Brewing Company needs to be on your itinerary. One of my favorite Michigan-made beers is their Blueberry Maple Stout. Just imagine all the flavors of blueberry pancakes in a pint glass! You also can't go wrong with Saugatuck Brewing Co's classics. The Oval Beach Blonde goes down easy in summer. In fall and winter, reach for the slightly smoky Bonfire Brown or the creamy Neapolitan Milk Stout.
As for food, the brewery dishes up tasty pub fare, including salads, soups, sandwiches, and burgers. While dining on the patio in the summer of 2018, I enjoyed the Southwestern Club of marinated chicken breast topped with pepper jack cheese, bacon, lettuce, tomato, and chipotle aioli on a spent grain roll. I paired my meal with a tart and funky sour ale.
One of the best perks of dining at the Saugatuck Brewing Co. pub is getting to taste the brewery's uniquely flavored beers, and if you are offered anything barrel-aged, your answer should be nothing other than a resounding "YES, PLEASE."
The Saugatuck Brewing Company pub is located at 2948 Blue Star Highway in Douglas.
Borrowed Time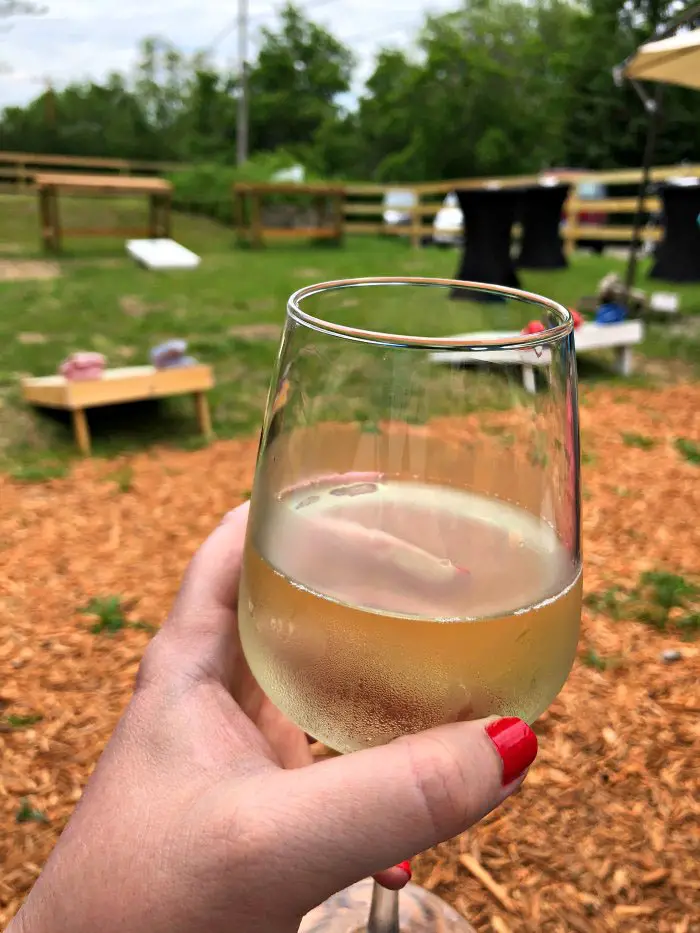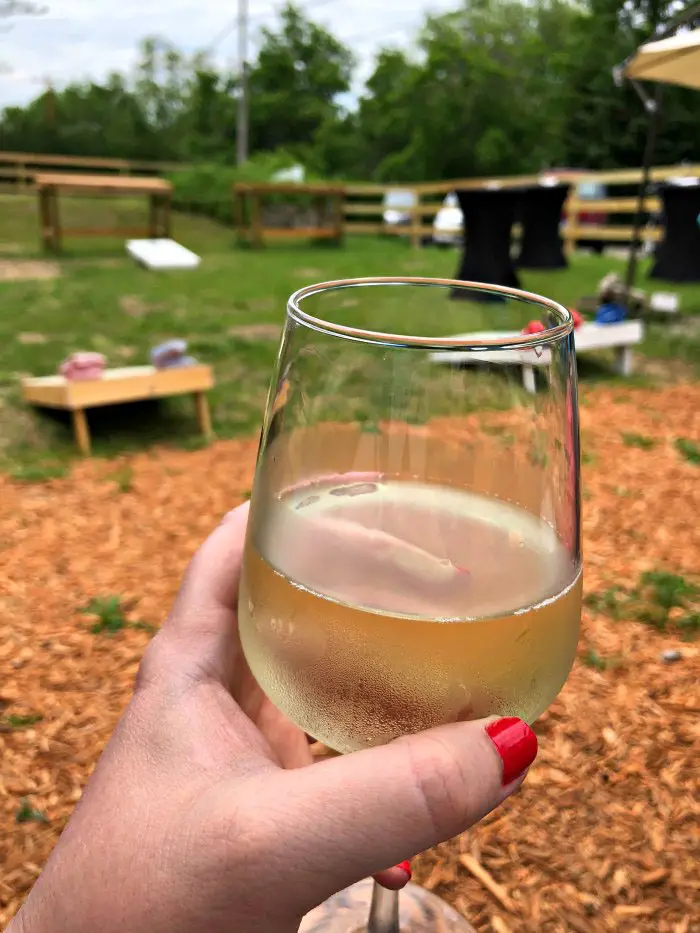 This fabulous wine bar and restaurant in Douglas is a hidden gem and my new favorite spot in Saugatuck/Douglas.
The drink menu features an extensive array of Michigan-made craft beers and ciders –– several of which are hyperlocal. While much of the beer is locally sourced, the wines come mostly from boutique wineries in the world's top wine regions.
At Borrowed Time, pair your glass of vino, a handcrafted cocktail, or a pint with seasonal small plate dishes artfully prepared with local ingredients. For relaxing vibes, listen to live music in the yard while playing Bocce, corn hole (also called bags), giant Jenga, table tennis, or giant Connect Four.
Borrowed Time is located at 22 East Center Street in Douglas.
J. Paul's Dining Room & Lounge at The Kirby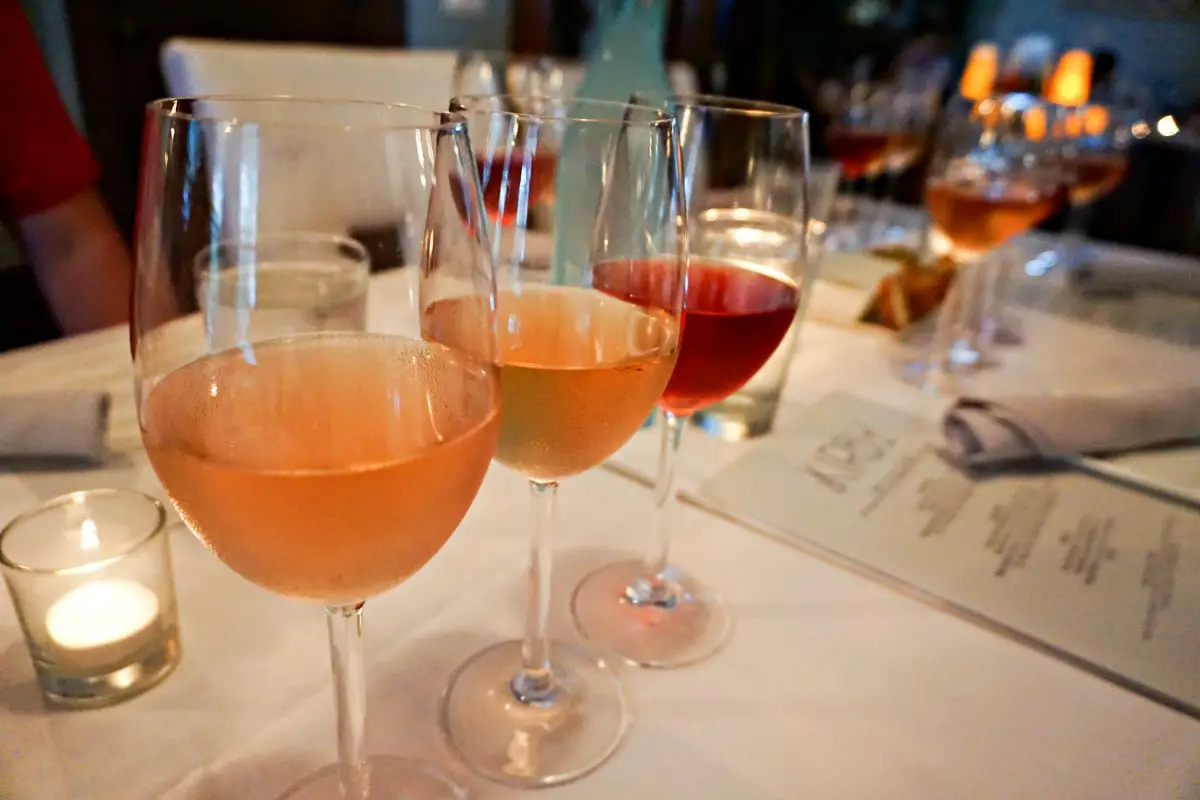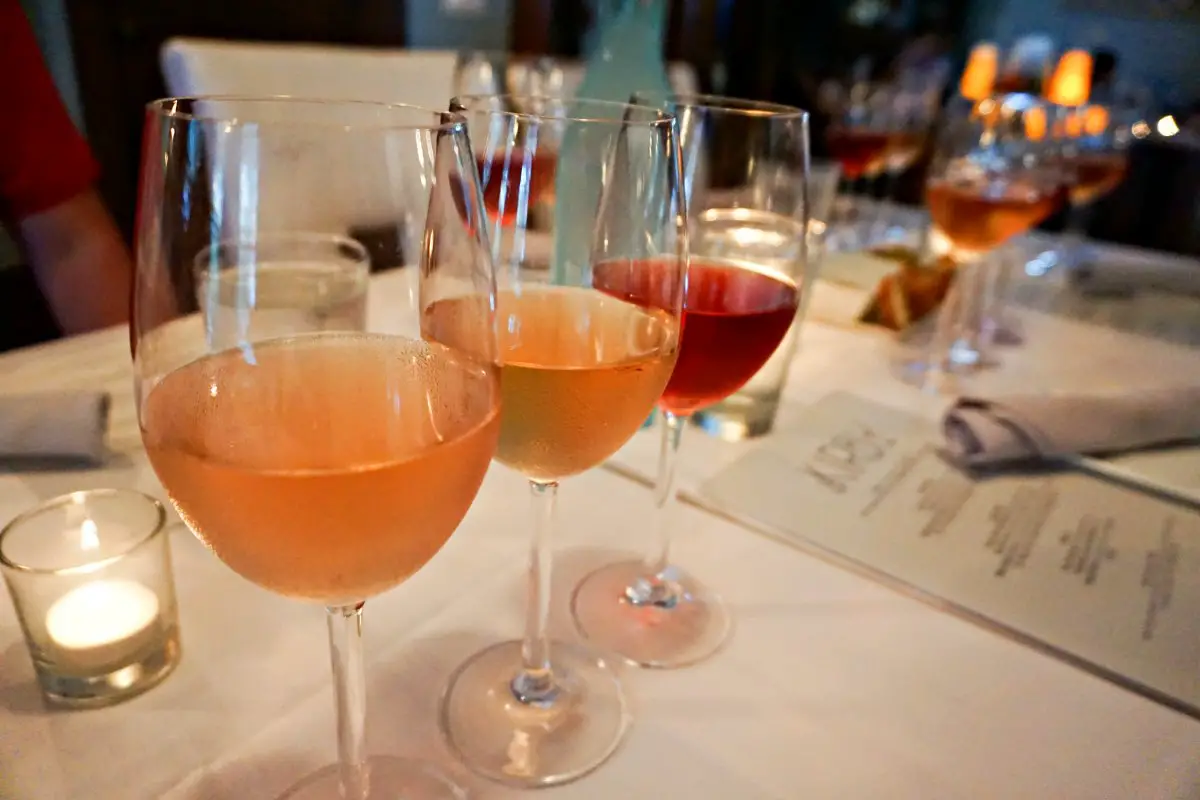 To wrap up this list of where to eat in Saugatuck, I've saved the swankiest for last. If you are in the mood to wine and dine, J. Paul's Restaurant & Wine Lounge at The Kirby is the place for you.
Located on the main level of a Victorian-era home that now houses a boutique hotel, the dining room is an intimate setting. With dim candle lighting and a beautiful wrap-around porch outside, it's quite a romantic atmosphere for your couple's getaway.
Beyond the romantic atmosphere, I loved the wine selection. During my hosted meal, the sommelier-selected flight of rosé wines enhanced each delicious course. For any wine lover, dining at J. Paul's Restaurant & Wine Lounge is a must when visiting Saugatuck.
J. Paul's Dining Room & Lounge is located at The Kirby, 294 West Center Street in Douglas.
You can also stay at The Kirby!
Planning to visit Saugatuck?
While living in West Michigan, most of my visits to Saugatuck have been day trips from Grand Rapids. Between the beaches, shops, and dining, there is never a shortage of things to do in Saugatuck.
In June 2018, I finally stayed for a weekend getaway at one of the cozy bed-and-breakfast establishments in the Saugatuck, Douglas, and Fennville areas.
Staying at a bed and breakfast is part of the charming small-town experience when visiting Saugatuck, Douglas, and nearby Fennville. I've shared my recommendations for accommodations in Saugatuck, Douglas, and Fennville to consider booking for your trip.
Where to Stay in Saugatuck
Where to Stay in Douglas
Where to Stay in Fennville
Search for available Saugatuck lodging for your travel dates below:
Save the image below to your Michigan travel board on Pinterest for future trip planning!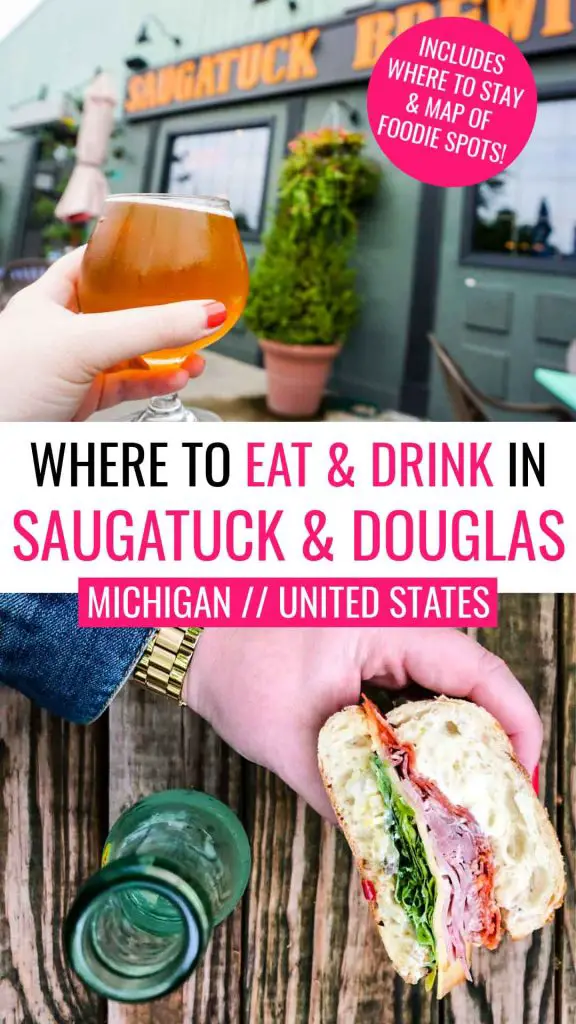 If you enjoyed this post, you may also like …
Where would you eat in Saugatuck, Michigan?
Have you been to Saugatuck, Douglas, or Fennville? If you have a favorite restaurant from this area, please share it with my other readers by leaving a comment below!
If you own, manage, or run the marketing efforts for a restaurant in the Saugatuck area and would like your business or client to be added to this list, please reach out to me via my work with me page.
As always, you can connect with me on Instagram, Twitter, and Facebook to follow along with all my foodie adventures!