Bloomington, Indiana, is probably best known as the home of Indiana University. However, did you know this college town is also home to Indiana's oldest and largest winery, third-largest brewery, an ethnically diverse dining scene, and restaurants committed to sourcing local ingredients? If not, allow me to introduce your next weekend getaway destination — Bloomington, Indiana.
In full disclosure, Visit Bloomington invited me for a hosted weekend getaway as a #BtownExplorer. Unlike most of my hosted trips, there was no set itinerary. My mission was to explore Bloomington at my own pace, on my own terms, and to document it all on Instagram and in this blog post.
Disclosure: This guide to a foodie's weekend getaway in Bloomington contains affiliate partner links. When you click on, make a purchase from, or book your hotel through one of these links, I may earn a commission.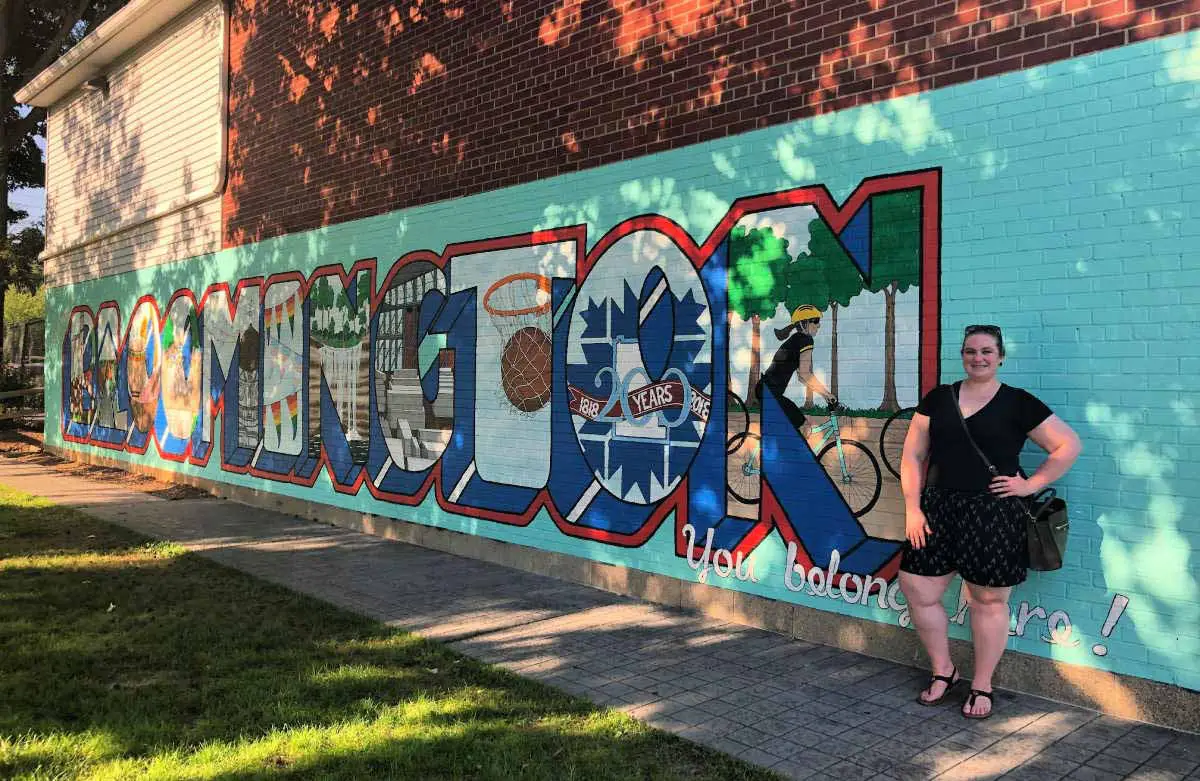 Where is Bloomington, Indiana?
Bloomington sits among the rolling hills of southern Indiana in the lower Midwest. Along with the northernmost southern states, this region of Indiana is often considered part of the Upland South. You may even hear this region is called the Indiana Uplands. For those of us who are craft beer enthusiasts, the name of Bloomington's leading brewery makes a lot of sense now, right?
Road Trip Routes To Bloomington
Bloomington is within a day's drive of more than half the U.S. population! Sitting at the juncture of the Midwest and the South makes it especially. convenient for road trips from the following cities:
Indianapolis, Indiana – 1 hour and 15 minutes
Louisville, Kentucky – 2 hours
Cincinnati, Ohio – 2 hours and 45 minutes
Lexington, Kentucky – 3 hours and 30 minutes
Columbus, Ohio – 3 hours and 45 minutes
St. Louis, Missouri – 3 hours and 45 minutes
Chicago, Illinois – 4 hours
Nashville, Tennessee – 4 hours and 30 minutes
Grand Rapids, Michigan – 5 hours and 15 minutes
Detroit, Michigan – 5 hours and 30 minutes
Visiting Bloomington from further away?
The closest major airport, Indianapolis International Airport, is about 45 miles from Bloomington. Therefore, it would be best to rent a car or take an airport shuttle. Conveniently, the GO Express Travel shuttle offers drop-off and pick-up services at several Bloomington hotels. Since downtown Bloomington is very walkable and ride-sharing services Uber and Lyft are available, taking the shuttle allows you to have a car-free getaway. Should you want a vehicle, car rentals are available on the first floor of the Terminal Garage at the Ground Transportation Center.
Click on the map below to explore road-trip routes to Bloomington now: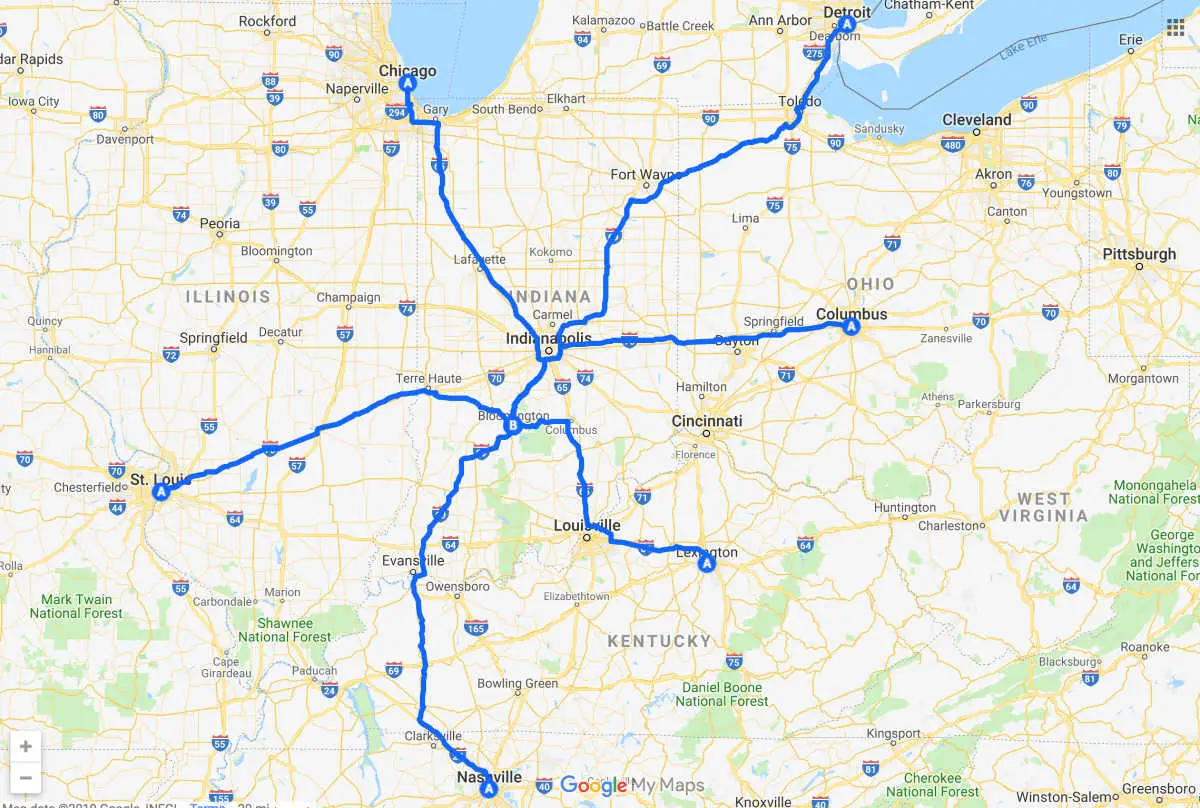 Making The Drive To Bloomington
Taking off from my home base in Kalamazoo, Michigan, around noon on a Friday in late June, my mom and I stopped for lunch at Tippencanoe Place Restaurant inside the historic Studebaker mansion in South Bend, Indiana. If you also make the drive from West Michigan, I recommend planning your food break in either South Bend or Carmel.
In total, the drive from Kalamazoo takes less than 5 hours — at least according to Google Maps. For us, summer construction and rush hour traffic around Indianapolis added about 30 minutes to our commute. Arriving in Bloomington in time for dinner, we checked into our room at Graduate Bloomington and hit the town for a weekend full of mouthwatering eats!
How to Eat Your Way Through Bloomington, Indiana
If you are like me, the first thing you'll want to know is where to eat in Bloomington. During my weekend getaway, it became clear to me Bloomington is a foodie's paradise.
With 80 international restaurants serving cuisines from 18 different counties, you'll find Tibetan momos, Afghan Aushak, and Venezuelan arepas all within a half-mile radius.
In addition to the global fare are delicious American comfort foods such as Memphis-style dry-rubbed ribs and buttermilk pancake stacks. Perhaps most important for this pizza lover was learning Bloomington has more than 20 places for grabbing a slice.
From breakfast to late-night eats, these Bloomington eateries will keep your belly full and taste buds tantalized.
Get Your Whiskey and Barbecue Fix at SmokeWorks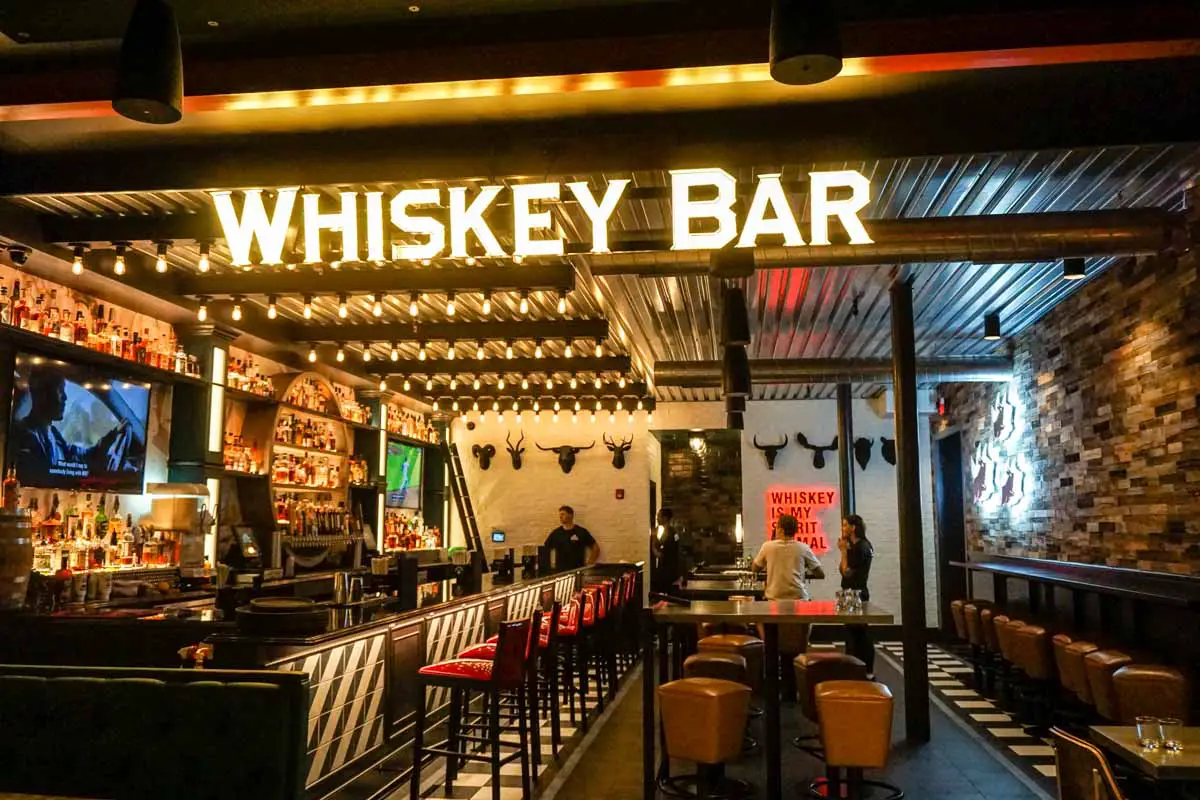 If you love barbecue, SmokeWorks needs to be on your Bloomington itinerary. Specializing in Memphis-style dry rub, the menu features brisket, pulled pork, wings, sausage, fall-off-the-bone ribs, and Southern sides made from scratch. Even vegetarians can enjoy this barbecue joint with jackfruit tacos or a jackfruit BBQ tray paired with mac & cheese, cowboy caviar, or coleslaw.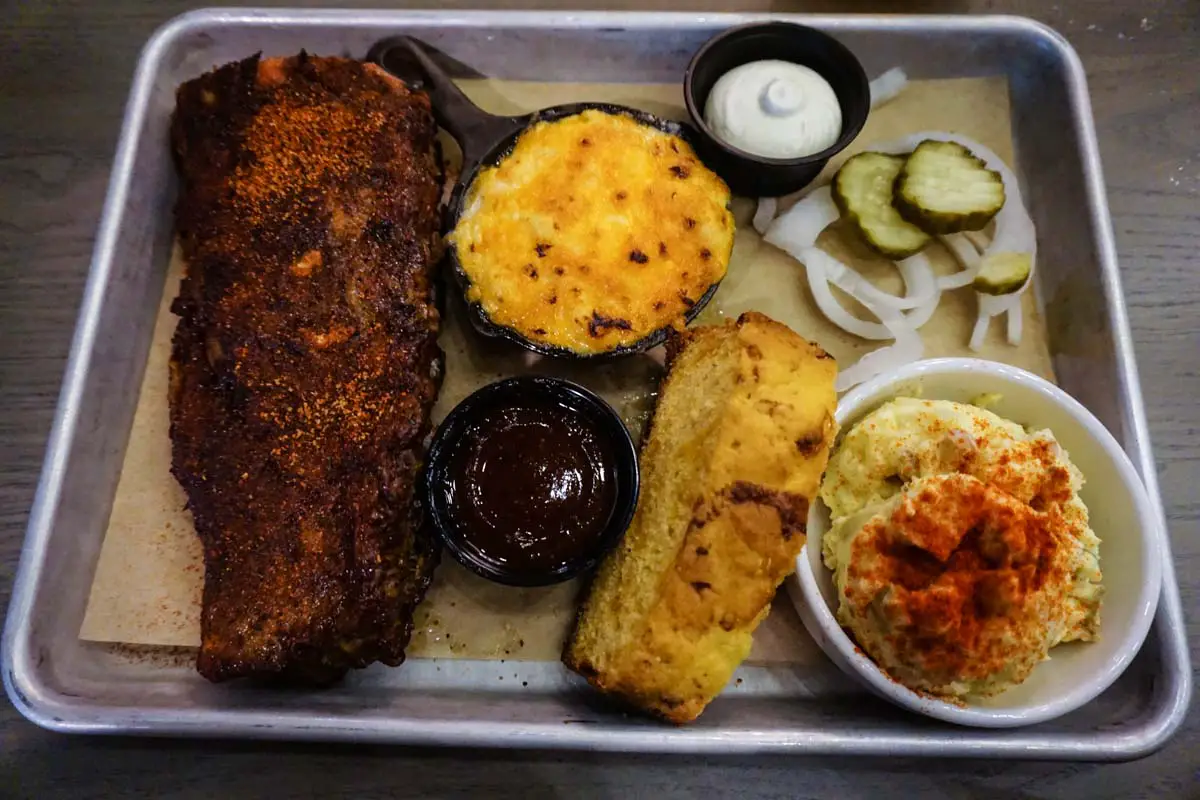 The Food
One of the best options on the menu is the create-your-own barbecue tray. You'll choose a meat, such as brisket or pulled pork. Then to complete your meal, you'll pick two sides. It all comes with cornbread and whipped butter, too.
For my dinner, I selected the half-rack of ribs, which are dry-rubbed in a smoky spice and served alongside a scratch barbecue sauce of your choosing. Of course, I sampled all four — the house red, sweet, heat, and Alabama white. Though the sweet barbecue sauce was my favorite, the creamy Alabama white tamed the dry rub's heat in the most surprisingly delicious way.
Deciding upon ribs was easy, but selecting two side dishes from a list that includes a southern slaw, baked beans with bacon, and a rotini pasta salad took some internal debate. In the end, I was delighted with my mini mac & cheese skillet and potato salad. I really don't think you can go wrong with any choice of sides here!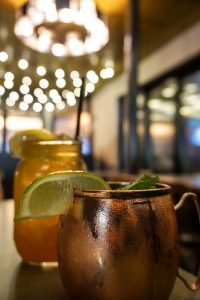 The Drinks
Besides the tasty barbecue, SmokeWorks is a must for whiskey drinkers. With whiskey flights, craft cocktails, and an impressive list of whiskeys, bourbons, and moonshines, you definitely won't go thirsty here. The bar even serves Bushwackers, boozy adult milkshakes I was first introduced to along Alabama's Gulf Coast.
After mulling over our abundant options, my mom ordered a refreshing bourbon-based Kentucky Mule. A sucker for anything peach flavored, I had to go with the whiskey-forward Bourbon Peach Tea. It's a cocktail with a rewardingly sweet finish. Yet with house whiskey and Georgia Moon Peach Moonshine in the mix, this one really sneaks up on you. You've officially been warned!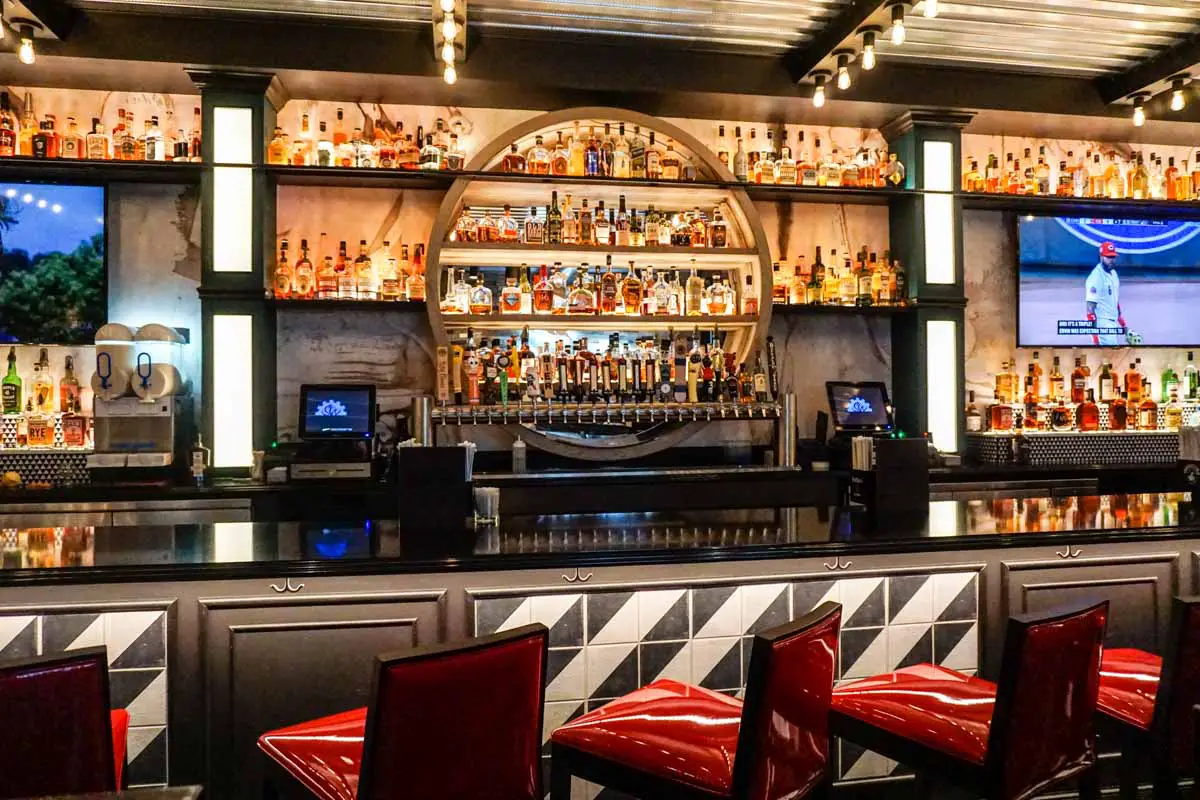 After a long afternoon on the road, our meal at SmokeWorks totally hit the spot. Between flavorful ribs with meat so tender that it just falls off the bones and comforting southern sides, I can't imagine a future visit to Bloomington without dining at SmokeWorks.
SmokeWorks is located at 121 N. College Ave. Love whiskey? Keep up to date with SmokeWorks to see the cocktail of the week announced on Facebook and Instagram.
Cool Down With a Scoop of Hartzell's Ice Cream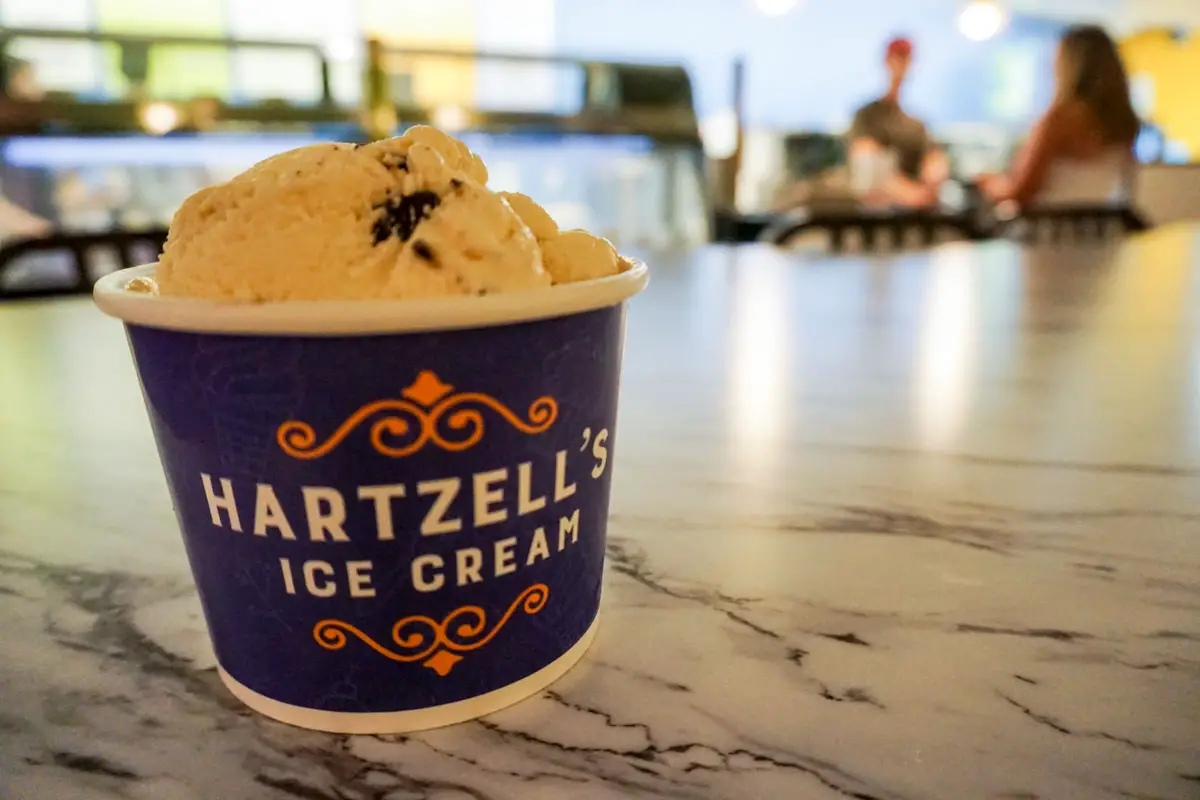 When your visit to Bloomington coincides with one of the hottest weekends of the summer, what do you do? Head to Hartzell's Ice Cream!
This local ice cream shop serves homemade ice cream in a wide variety of flavors from the traditional to new intriguing ones. Plus, brand new flavors are regularly rotated into the offerings. Additionally, Hartzell's offers soft serve, fat-free frozen yogurt, and Carbolite.
At Hartzell's, you have quite a few ways to order your ice cream. You could keep it simple with a cup or cone, or you could add toppings to create a sundae or parfait. Rather drink your frozen treat? Try a shake, malt, float, or smoothie. If you want something completely customized, try a Spinner made with your choice of any of the 58 mix-ins available.
When my mom and I stopped by after dinner on Friday night, Hartzell's was a popular spot. Families, local teenagers, and Indiana University students were all stopping in for ice cream. After eyeing flavors like rainbow sherbet, lemon custard, and strawberry, I decided on cookie dough and chocolate peanut butter. It was a pretty darn tasty way to cool down from the day's heat at 92° F (33° C).
Hartzell's Ice Cream is located at 107 N. Dunn Street. To stay updated on new flavors, follow Hartzell's on Instagram and Facebook.
Order Breakfast from Le Petit Café's Window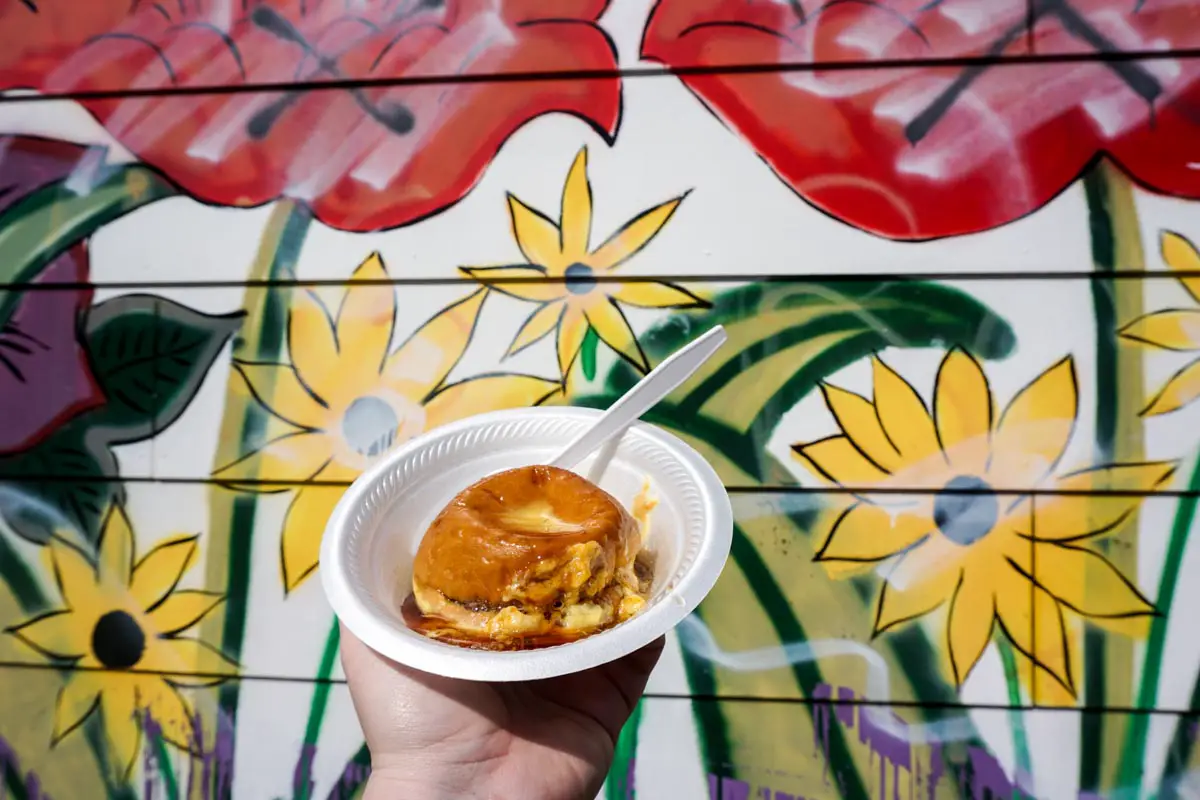 On a Saturday morning in Bloomington, the hottest place to be is the Bloomington Community Farmers' Market. I'll share more about the farmers' market later in this post, but here is what you need to know for now: Stop by Le Petit Café for breakfast on your way there!
Owned by a lovely French woman and her husband, Le Petit Café serves provincial French cuisine. On Saturday mornings during the farmers' market, you'll want to head to the café's window along the B-Line Trail to order your breakfast to go. Though limited, the menu features delicious pastries and breakfast dishes as well as coffee and other beverages.
When I popped by the window, one of the offerings was an oven-baked French toast with an apple filling. It was absolutely scrumptious.
Le Petit Café is located at 308 W. 6th Street. 
Pair Lunch with a Beer Flight at Function Brewing
I debated whether to list Function Brewing under the "where to eat" or "where to drink" section of this post. Ultimately, I decided to list it among places to eat in Bloomington because the food really blew me away. That is why I highly recommend stopping into this downtown Bloomington brewery for lunch. Of course, you should also add a pint or flight to your meal if you enjoy craft beer, but you don't have to be a beer drinker to enjoy dining here. For my vegetarian readers, this is definitely a spot worth bookmarking before your Bloomington trip.
The Food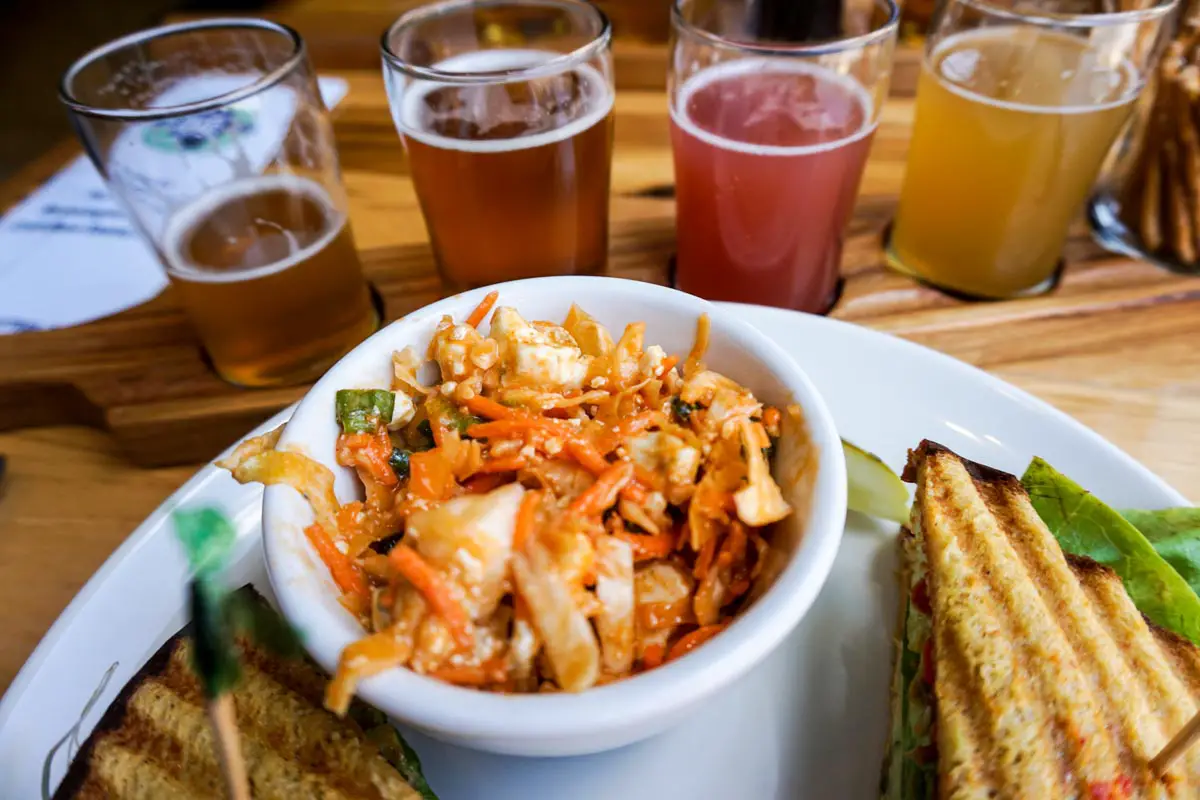 The sandwich-heavy menu makes Function Brewing perfect for lunchtime dining. My mom and I both ordered the Gardener, a veggie-packed sandwich of hummus, marinated avocado, sundried tomato spread, butter lettuce, zucchini ribbons, sprouts, pickled peppers, and a lemon vinaigrette on carrot-pumpkin bread. All the sandwiches come with kettle chips or the sweet-and-tangy blue cheese coleslaw, which has completely destroyed all other coleslaws for me. Seriously, the slaw is that good.
In addition to serving delicious food, I also appreciate the steps Function Brewing takes to ensure their dishes are made with high-quality ingredients, avoiding high fructose corn syrup and hydrogenated oil. Most components, including dressings, spreads, sauces, and pickled veggies, are made in-house. Otherwise, the brewery sources local products from nearby farmers, artisans, and other businesses.
The Beer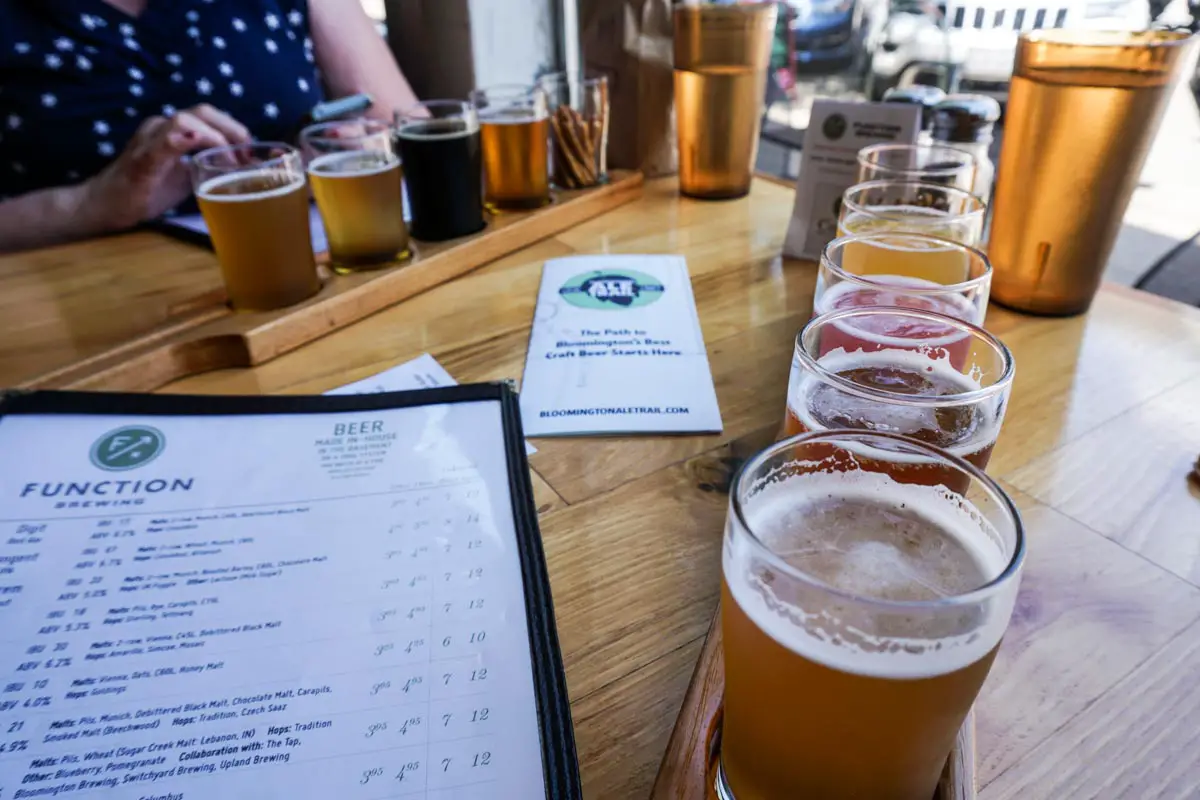 As for the beer, Function Brewing doesn't claim a specialty. In fact, the brewery's name hints at the brewer's philosophy. Beer-loving owner and brewer Steve thinks of brewing as a timeless art, and the variables you plug into the brewing equation yield a new — and sometimes unexpected — output. Therefore, the taproom continually has new offerings on draft, and a flight of four beers could range dramatically in style and flavor.
During my visit, I sampled Polar, a refreshing grapefruit-mint blonde ale; Array, a spiced rye ale; Centroid, a juicy and hoppy New England IPA; and pHruit Drop, a blueberry and pomegranate Midwest tart collaboration with the Tap, Bloomington Brewing, Switchyard Brewing, and Upland. Overall, I was pretty impressed, rating the beers on Untappd between 3.0 for Array, a style of beer I normally wouldn't order, to 4.25 for Polar, an ideal summer sipper in my book.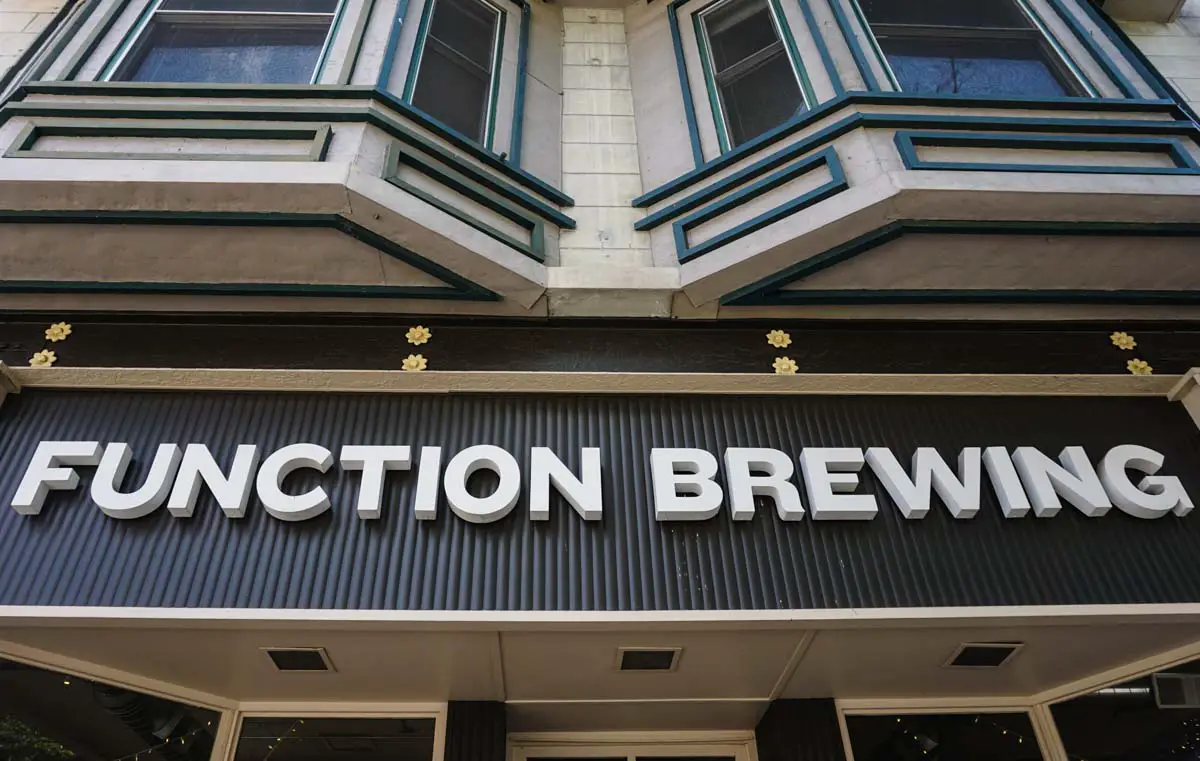 When you're in Bloomington, stopping into Function Brewing is a must. After you check out what's on tap, don't miss the sandwiches consistently named the best in Bloomington.
Function Brewing is located at 108 E. Sixth Street. To see what's cooking and brewing, follow Function Brewing on Instagram and Facebook. 
Indulge a Sweet-Tooth Craving at Two Sticks Bakery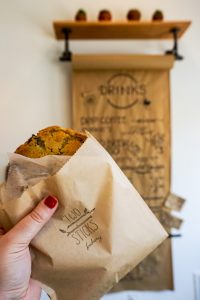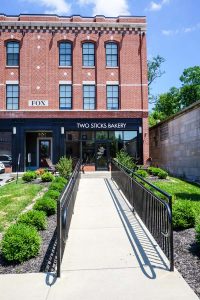 Located a short walk from Graduate Bloomington, Two Sticks Bakery would be an ideal spot for starting the day with a drip coffee and a seasonal danish or chocolate chip scone. Other baked goods you may find include orange and cardamom cinnamon rolls, seasonal turnovers, hand pies, salted caramel brownies, and chocolate crinkle cookies. When my mom and I stopped by for an afternoon sweet, we each chose a perfectly soft and chewy chocolate chip cookie.
All of the bakery's pastries are baked from scratch daily with high-quality, all-natural ingredients that are local and organic whenever possible. Since the desserts are made in small batches, Two Sticks Bakery recommends arriving early in the day for the best selection.
Also, if you are considering Bloomington for a special event or wedding, Two Sticks Bakery offers pastry-and-coffee catering, custom pie and cake orders, and tiered wedding cakes with delivery.
Two Sticks Bakery is located at 415 S. Washington Street. Though closed on Mondays, the bakery is open from 7:30 a.m. until 4 p.m. Tuesday through Saturday and from 9 a.m. to 2 p.m. Sunday. Stay updated on the bakery's seasonal latte and daily pastry offerings by following along on Instagram and Facebook.
Grab a Late-Night Slice at Goodfellas
One of the best perks of visiting a college town is the availability of late-night eats. Of the 20+ places to eat pizza in Bloomington, one of the newest is Goodfellas. This mafia-themed chain pizzeria dishes up calzones, oven-baked sub sandwiches, and pies as large as 22 inches in diameter with names like Wiseguy, the Don, and the Vinny. Order the Tommy "Two Times," and you'll get double the pepperoni.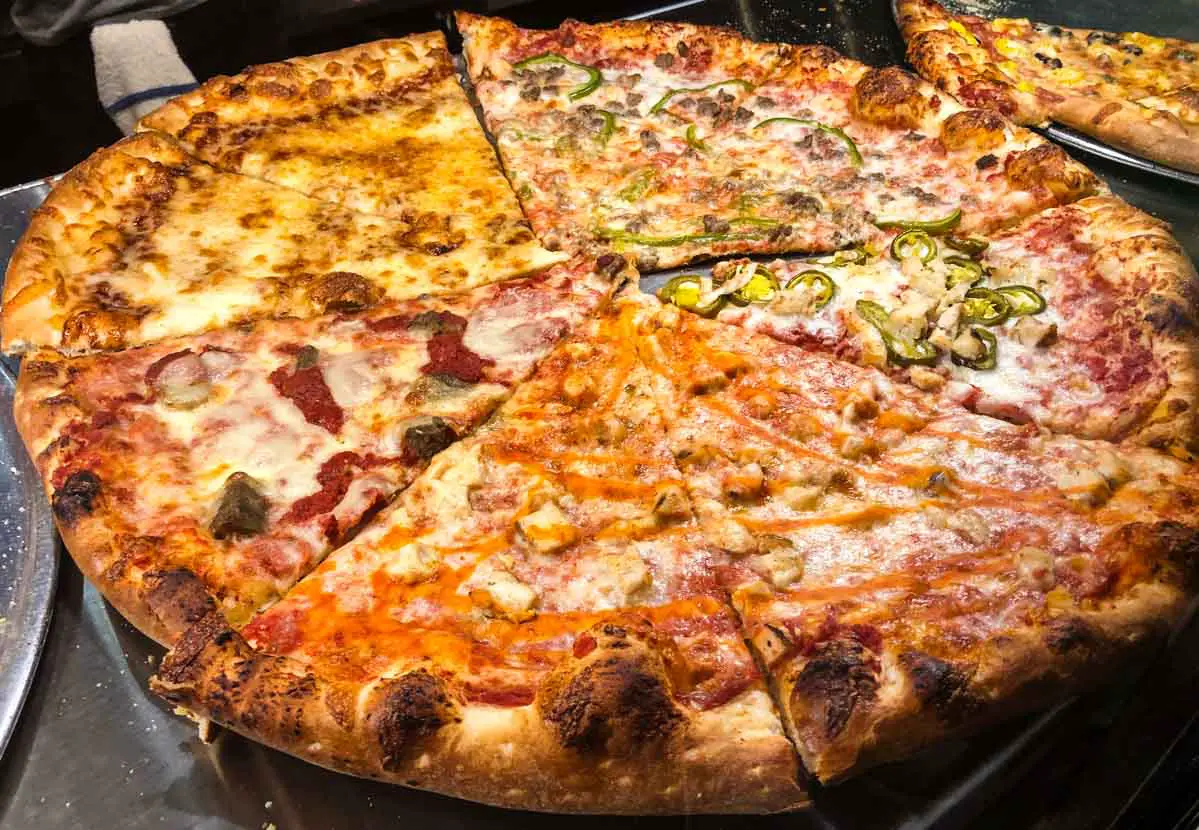 Late at night, pop in here for an 11-inch slice of New York-style pizza and a breadstick as long as your arm. Seriously, this extra-large breadstick is so long that the worker had to fold it in half to fit it on my plate. With garlic butter, parmesan, and oregano, the breadstick was delicious when dipped into ranch dressing. You'll also find pre-packaged salads, desserts such as cannoli and Carnegie Deli's famous New York cheesecake, and bottled beverages. Located just a couple blocks from Graduate Bloomington, Goodfellas is a convenient late-night eatery for hotel guests craving pizza.
Goodfellas is located at 427 E Kirkwood Ave. 
Eat Breakfast at The Village Deli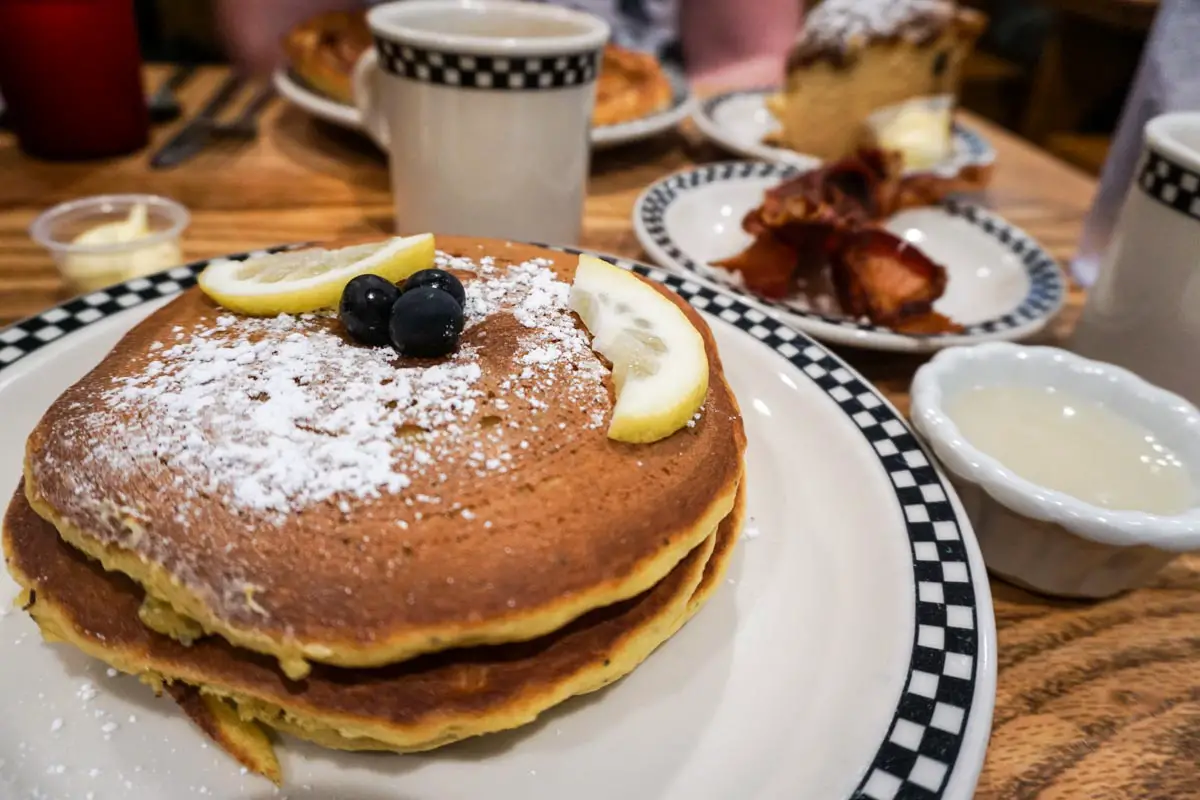 After checking out of Graduate Bloomington on Sunday morning, we walked down the street to the Village Deli. A beloved local spot since the 1980s, the Village Deli serves a breakfast menu of savory egg dishes, omelets, and buttermilk pancakes. You can order breakfast here until the doors close, but if eating breakfast for dinner is not your thing, you'll also find a lunch and dinner menu of soups, salads, sandwiches, and burgers.
Though I usually order savory egg dishes when I go out for breakfast, I couldn't resist the opportunity to try the special pancakes of the summer, a stack of three blueberry lemon poppyseed pancakes. My mom ordered the ginormous, spiral-shaped cinnamon roll pancake, which also looked incredibly delicious. All of the pancakes are made from scratch and are absolutely enormous. In addition to the delicious pancakes, we added coffee cake and a side of bacon from a list of sides such as home fries and sausage patties. If there is any eatery on this list likely to make you nostalgic for your own college days, this is it.
The Village Deli is located at 409 E. Kirkwood Ave. Follow the Village Deli on Instagram and Facebook for updates from this beloved breakfast spot.
Drink Your Way Around Bloomington
One of the best reasons to visit Bloomington is for its craft beverage scene. With five breweries, two wineries, two cideries, and a distillery, there are plenty of places to drink local on a trip to Bloomington. You could also plan your entire visit to Bloomington around completing the Bloomington Ale Trail, or you could set off from Bloomington to explore the Indiana Uplands Wine Trail. If you have limited time, I highly recommend doing one of the following activities at a craft beverage business in Bloomington.
Wine Tasting at Oliver Winery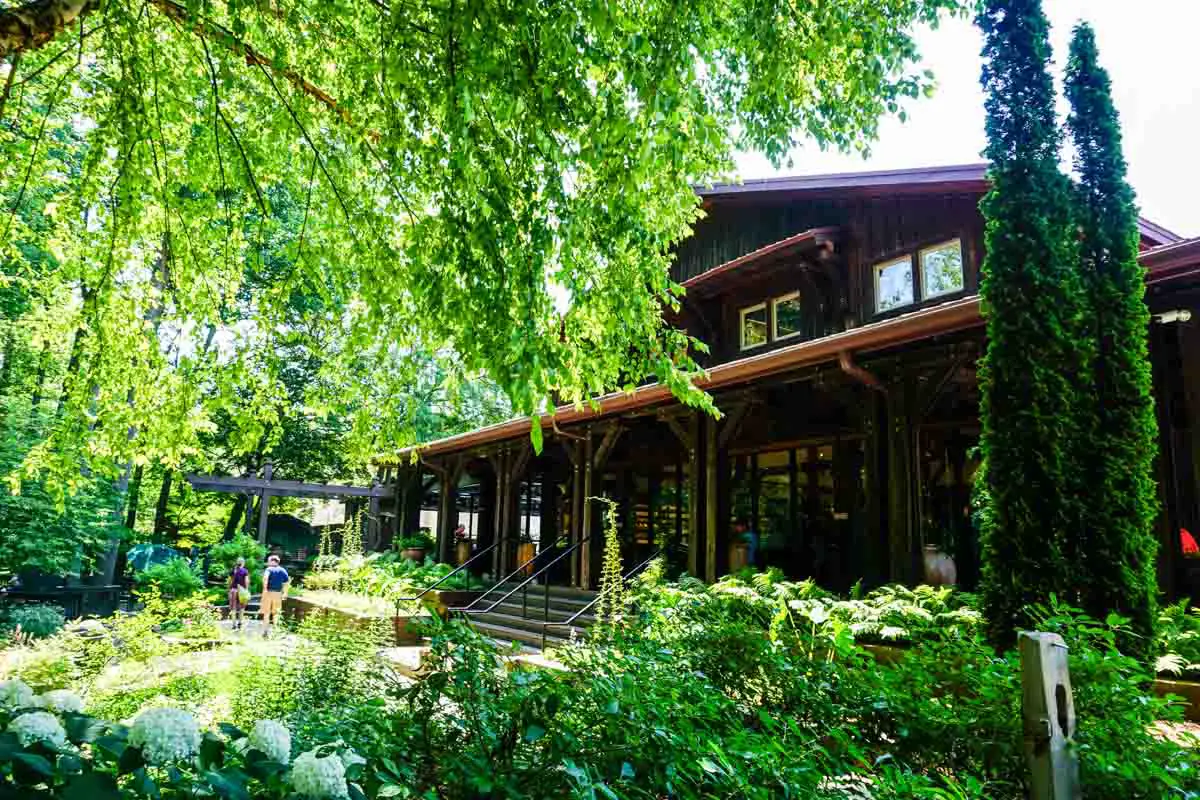 What started as a hobby for Indiana University law professor William Oliver in the 1960s has grown into the largest winery east of the Mississippi River. As Indiana's oldest and largest winery, Oliver Winery certainly helped pave the way for craft beverage makers in the state. Now, it's one of 17 wineries in the Indiana Uplands American Viticultural Area and one of nine on the Indiana Uplands Wine Trail. In 2017, Travel + Leisure ranked it among the 25 best wineries to visit in the United States.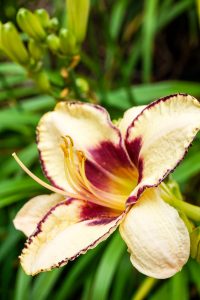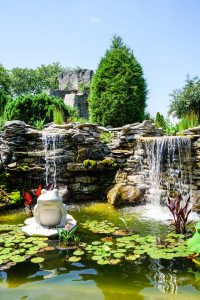 Visiting Oliver Winery
A visit to Oliver Winery begins with a stroll through a beautiful garden with a lily-pad pond. Around the side of the tasting room, you'll find a hillside picnic area overlooking a small body of water and a romantic patio shaded by the wooded landscape. Inside the tasting room, guided tastings of eight wines are offered for $5 or three dessert wines for $3. On the weekends, free 25-minute walking tours of the cellar and state-of-the-art winemaking facility run every half hour. On Sundays, visitors can also make their own mimosa with one of Oliver Winery's sparkling wines at the Mimosa Bar.
At Oliver Winery, the winemakers believe drinking wine brings people together. That was certainly evident as I looked around the bustling tasting room. Groups were sampling wines at the bar, pouring themselves mimosas at the Sunday Mimosa Bar, and selecting bottles of wine and gourmet foods to picnic outside.
If you plan to picnic at Oliver Winery, you'll find a well-curated selection of gourmet meats, cheeses, local jams, and chocolates to create your own cheese and charcuterie board. A nice touch of hospitality, the winery provides plates, napkins, and knives. Also, if you plan your visit for a Saturday evening, you'll enjoy live music on the patio from 4 to 7 p.m. throughout the summer.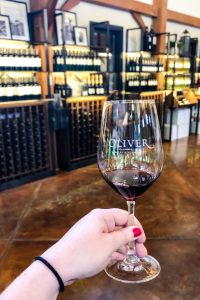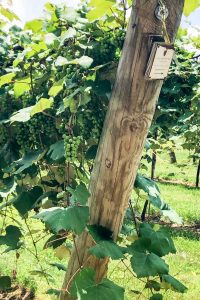 The Wine
With more than 40 wines in its portfolio, Oliver Winery offers a vast range of fruit-forward wines from dry to sweet. Primarily a dry wine drinker, I appreciated the dry varietals created in partnership with California vineyards. However, I was equally impressed with the wines crafted from locally grown grapes, such as the semi-sweet, blush-colored Creekbend Catawba and semi-dry Creekbend Traminette.
During my tasting, I mostly sample wines from the local Creekbend vineyard. One of my favorites was the first I tasted — the Creekbend Vidal Blanc Sparkling Wine. Handmade in small batches using the traditional méthode champenoise, this delicate yet complex brut-style sparkling wine won a silver medal in the 2018 Indy International Wine Competition.
Whether you prefer dry vinifera wines or strictly stick to the sweet side, I urge you to do your tasting at Oliver Winery with an open mind. You get to taste eight samples, so why not try at least one wine or cider outside your comfort zone? You just might be surprised!
Oliver Winery is located at 200 E. Winery Road, just off of State Road 37/I-69. To stay updated on winery events, follow Oliver Winery on Facebook and Instagram.
Sip Award-Winning Sour Ales at Upland Brewing Co.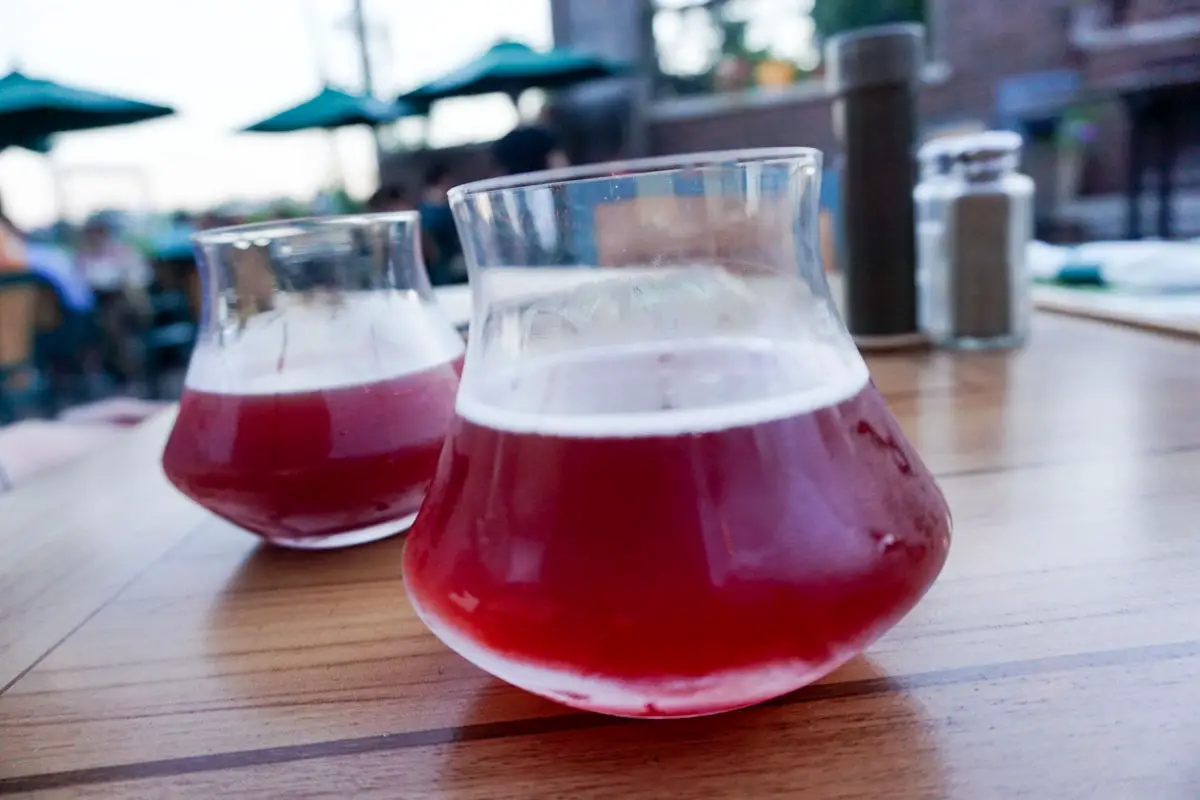 Upland Brewing Co. has three places for beer travelers to explore in Bloomington — the brewpub, the Wood Shop Brewery, and the Production Brewery. Located at 4060 Profile Parkway, the Production Brewery offers tours at 3 and 5 p.m. on weekends. During a tour, you'll see how Upland's ales and lagers are created. Then you can hang around the fire pit or one of the picnic tables at the laid-back, dog-friendly West Side Beer Bar. However, if you are interested in Upland's award-winning sours, head over to the Wood Shop Brewery and the brewpub next to it.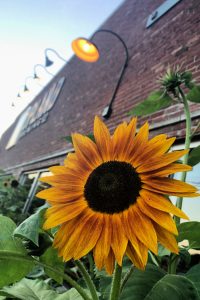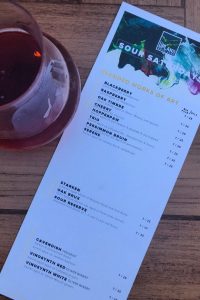 Upland's Sour Ales
To taste Upland's sours, your best bet is the bar inside the Wood Shop. However, the brewpub always has a couple sours on tap too, and on Saturdays, you can order a 6-oz pour from any bottled sours for $7.
Brewed in the traditional Belgian style, Upland's sour ales are aged over unusual spices and whole fruits, often from local farms and orchards. The results are truly innovative beers that just might make your face pucker at the taste of their tanginess.
During our visit to the brewpub, my mom ordered the award-winning Raspberry, while I drank the Blackberry. Both are barrel-aged fruited ales with a dry finish, and you could certainly taste the fruit flavor in each. Fermented by wild yeast and aged in oak casks for almost a year, the Blackberry is already tart and complex before Indiana-grown blackberries are added for a sweet, berry aroma. It was the perfect beer for sitting under the string lights of the brewpub patio on a hot summer night.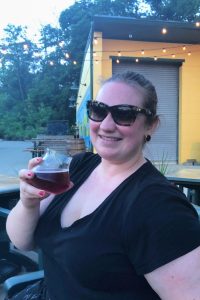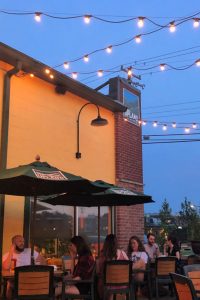 Dining At The Bloomington Brewpub
At the brewpub, you can enjoy lunch, dinner, or Sunday brunch. The seasonal menu features dishes created with locally sourced ingredients and options for vegetarians and vegans. From spring through fall, enjoy the brewpub's food and beer on the patio. You may even catch some live music!
Upland's Bloomington Brewpub and the Wood Shop are located at 350 W. 11th Street. To stay updated on the brewery's beers and events, connect with Upland Brewing Co. on Facebook, YouTube, and Instagram. 
Things To Do In Bloomington (When You Aren't Eating and Drinking, Of Course)
Need a break from eating and drinking during your foodie getaway to Bloomington? You are in luck!
Bloomington offers a wide variety of activities from leisurely to active. For example, did you know you could visit two Buddhist monasteries in Bloomington? The area also has several nature preserves, hiking and biking trails, and inland lakes — all of which offer opportunities for outdoor recreation.
As a traveler interested in arts and culture, I'd like to explore the Mathers Museum of World Cultures, see contemporary art at Grunwald Gallery of Art, and view some of the 450,000 rare books in the Lilly Library on a future trip. Then I'd end the day laughing at The Comedy Attic, Bloomington's full-time comedy club where famous comics such as Amy Schumer, Michael Ian Black, and Garfunkel & Oates have performed.
Though we didn't experience much of what this charming destination offers beyond its culinary scene, the following three activities were definitely highlights of our time in Bloomington.
Shopping at the Book Corner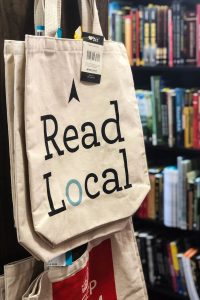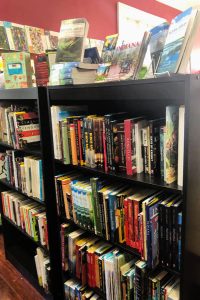 My mom and I are both book lovers, and a local bookstore is a "happy place" for us. Naturally, when we spotted the Book Corner while walking to dinner on Friday night, we knew we'd be back later in the weekend. In business for more than 60 years, the Book Corner carries bestsellers, limited editions, children's books, travel guidebooks, greeting cards, and much more. I particularly enjoyed browsing their local books section. In addition to the Book Corner, you'll find clothing boutiques, gift shops, and antique and vintage shops in Bloomington.
The Book Corner is located at 100 N. Walnut Street. It opens at 9 a.m. daily and closes at 5 p.m. Sunday, 6 p.m. Monday, and 8 p.m. Tuesday through Saturday. To stay updated on special events and book clubs, follow the Book Corner on Facebook. 
Browsing the Bloomington Farmers' Market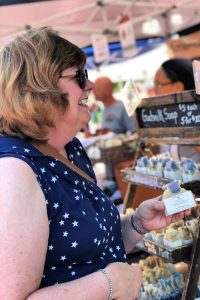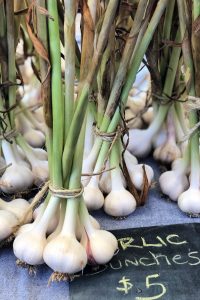 More than 250,000 visitors annually attend the Bloomington Community Farmers' Market to shop for farm-fresh foods and goods produced in the Bloomington area. Running from April to November, this is the largest producer's-only farmers' market in Indiana.
In addition to freshly harvested fruits and vegetables, you'll find locally made honey, foraged wild mushrooms, farmstead cheeses, other dairy products, meats, and even beautifully colorful and fragrant soaps created from goat's milk. As you can see in the photo above, my mom purchased a lavender soap, and the floral scent was just heavenly. As we browsed the vendors' booths, a band was playing and the atmosphere was lively.
Though a visit to the farmers' market can be a break from eating and drinking in Bloomington, it doesn't have to be! Local coffee shops, bakeries, and mobile restaurants set up shop. To cool down and get my caffeine buzz on, I ordered a cold brew from one such vendor. I also tried a pork belly bun from a Taiwanese fusion vendor wat-a-bao.
The Bloomington Community Farmers' Market runs from April through November at Showers Common, 401 N. Morton Street. Parking is available on the street and at the Morton Street Garage. You'll also find bike racks along the B-Line Trail and in front of City Hall. For up-to-date information about special events, live entertainment, hours, and products available at the market, follow the market's Facebook page.
Seeing Indiana University's Sample Gates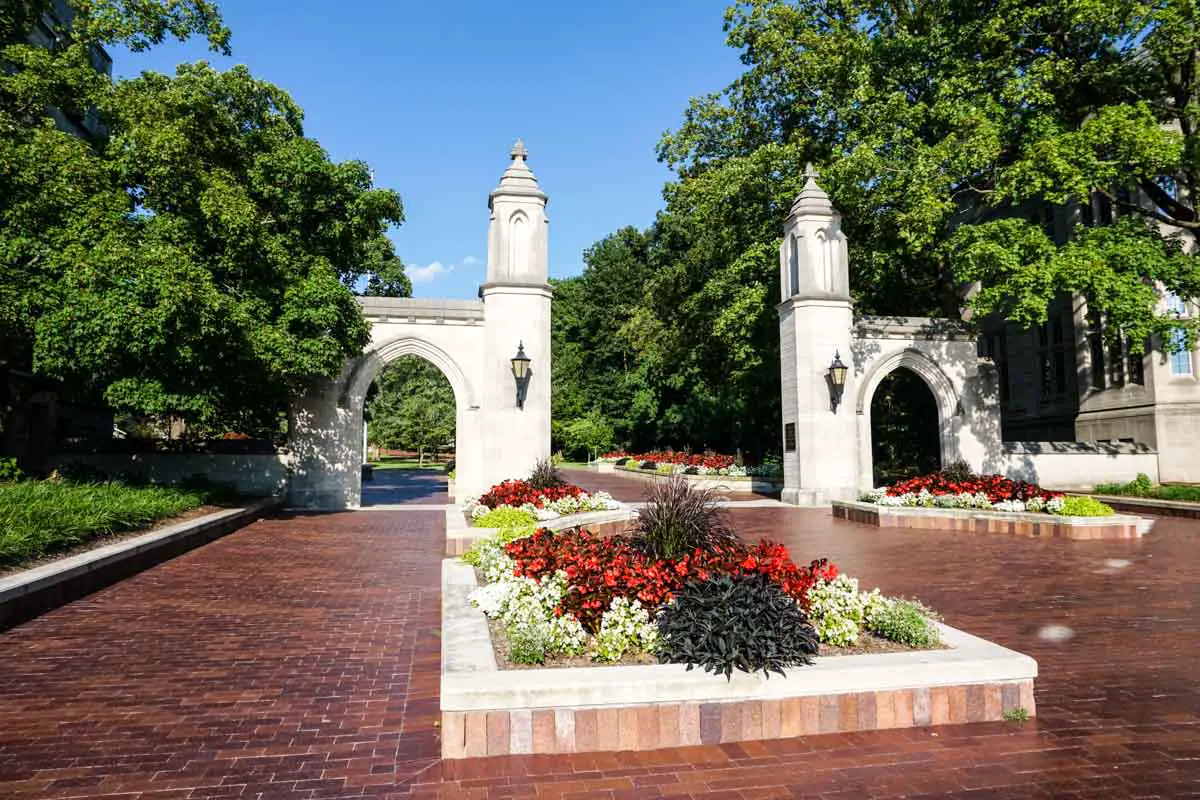 Marking the entrance to Indiana University's beautiful 1,806-acre campus is the Sample Gates. Located at the edge of campus where Kirkwood Avenue ends, you'll find the gates sandwiched between Franklin and Bryan halls. Constructed of Indiana limestone in 1987, the gates are named after donor Edson Sample's parents, Louise Waite Sample and Kimsey Ownbey Sample Sr. Though not erected until the 1980s, an arched gateway to welcome students to campus was first proposed in 1899. Today it stands along a brick pathway leading to IU's historic academic buildings with seasonally landscaped plots. It's a beautiful setting for a photo or to begin a stroll through campus.
The Sample Gates is located at the intersection of Kirkwood and Indiana avenues on the Indiana University campus.
Stay in Downtown Bloomington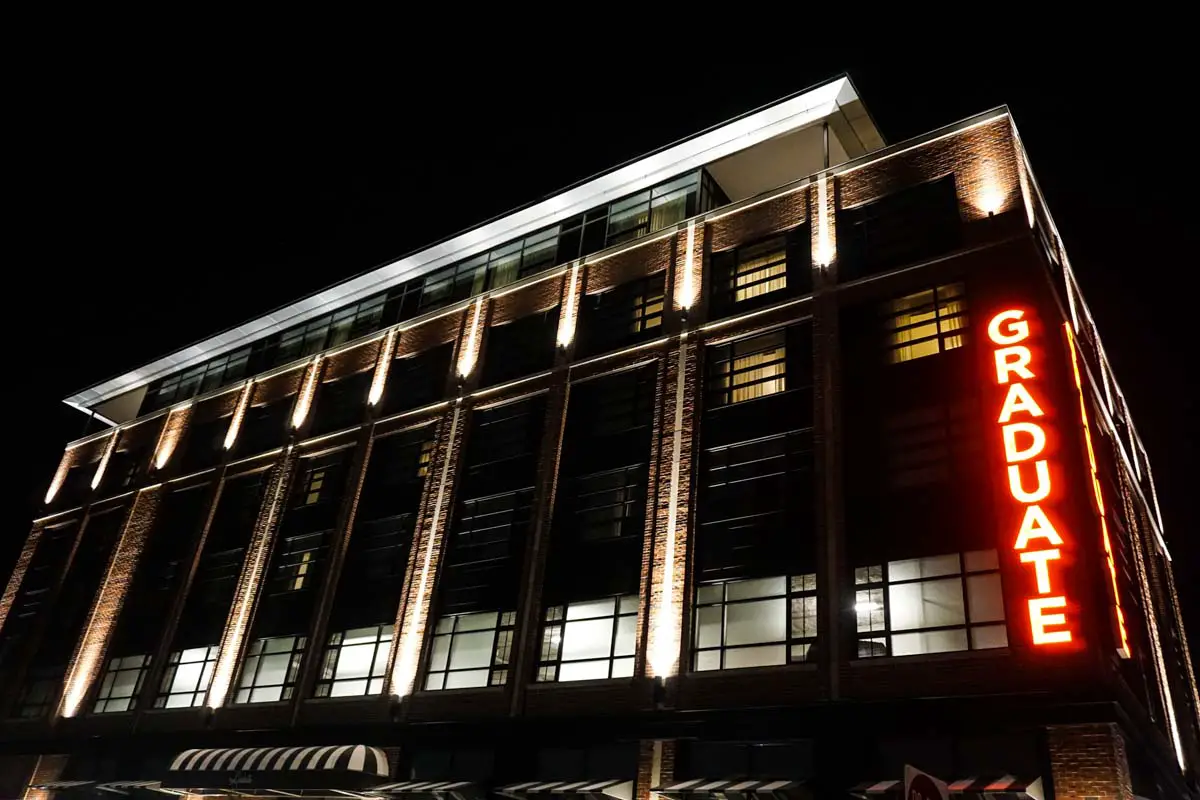 Now you know where to eat and drink, but where should you stay in Bloomington for a foodie getaway? I recommend staying downtown at the Graduate Bloomington. It's a four-star boutique hotel located only a short walk from restaurants, bakeries, coffee shops, breweries, and more.
Take in the View from Graduate Bloomington's Jack and Diane Terrace
The downtown location of Graduate Bloomington is simply unbeatable. In addition to being steps from delicious food, you'll have an incredible view of Bloomington from the Jack and Diane Terrace. If you purchase a bottle of wine at Oliver Winery or local beers from one of the breweries to enjoy back at your hotel, this is where you should drink them. The terrace is dotted with umbrella-covered tables, red rocking chairs, and intimate seating areas.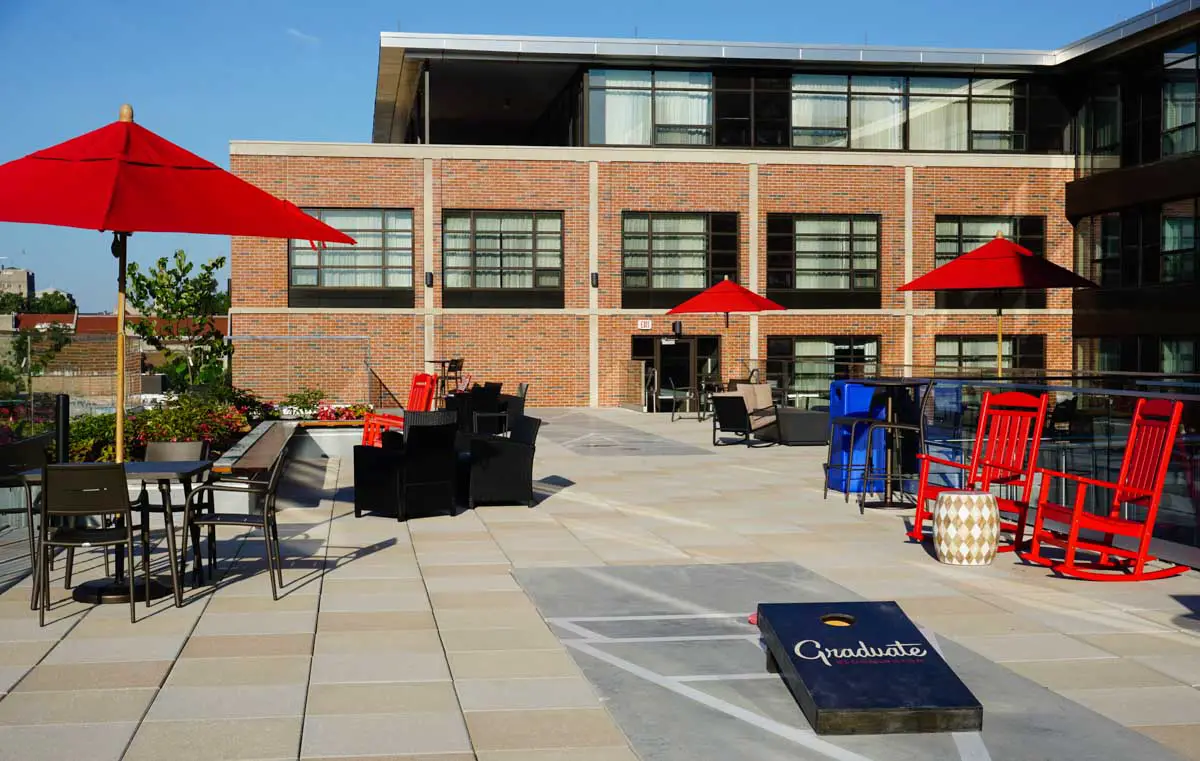 Find Nods to Indiana University Throughout the Hotel
Of course, the best part of staying at Graduate Bloomington is taking in all of the interesting design details that hint at university traditions, fun facts about Bloomington, and notable IU alumni. For example, a Hunger Games quote adorns the lobby wall hinting at IU graduate and author Suzanne Collins, and a chandelier of red chairs represent Hoosier basketball coach Bobby Knight's proclivity to throw one when angered by a referee's call.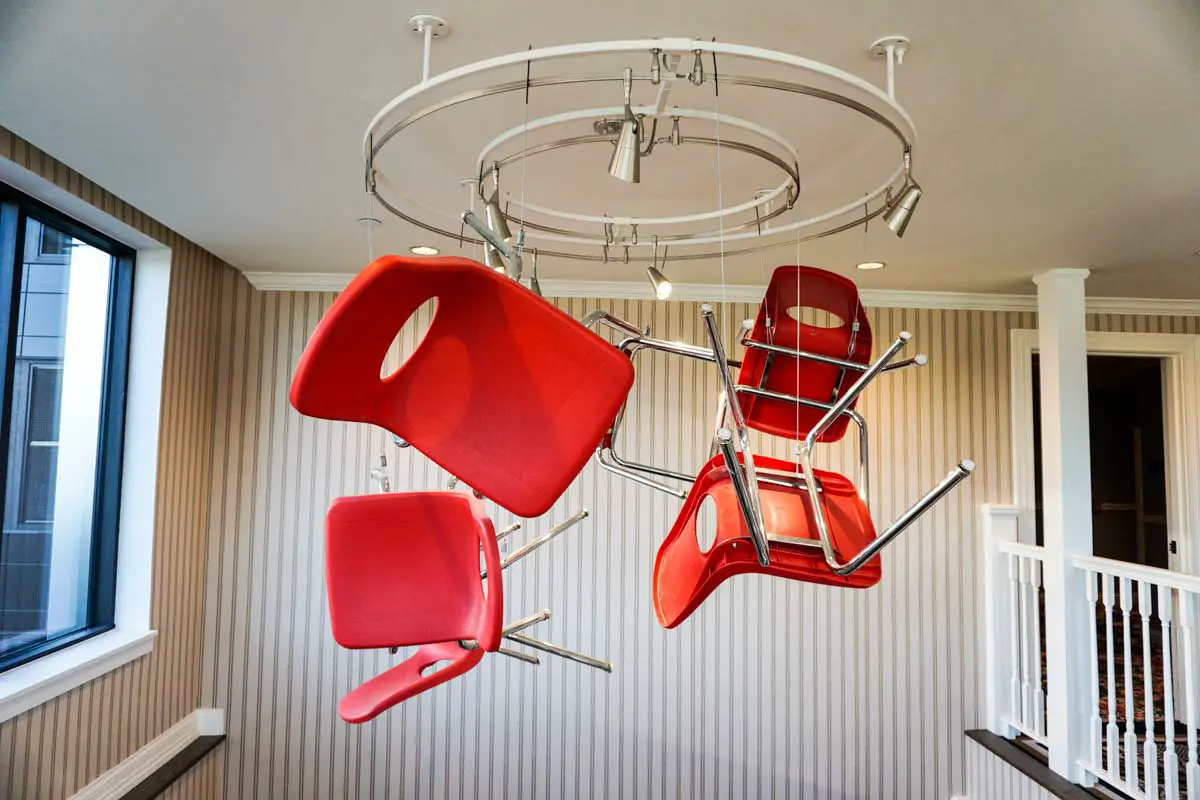 Though I'm too young and not well versed enough on Big Ten collegiate athletics to have caught the latter reference, my mom — a 1970s graduate of Indiana's Big Ten rival Michigan — certainly understood. To see what I'm talking about, click here to watch a YouTube video of Knight tossing his chair clear across the basketball court.
Relax in Cozy Guest Rooms at Graduate Bloomington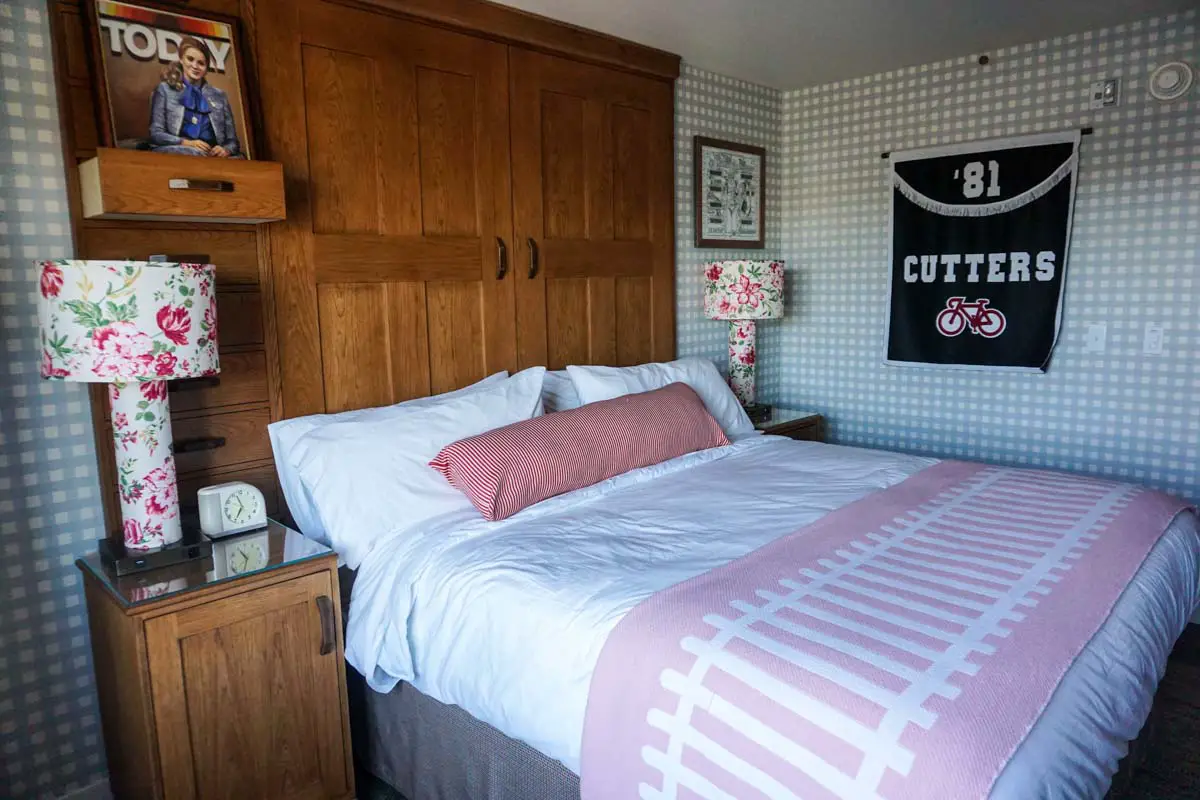 Inside the guest room, do you spy more design details relating to Indiana University and Bloomington? The Cutters team banner is a nod to the 1979 coming-of-age dramedy Breaking Away set in Bloomington. Above the nightstand is a portrait of IU alumna Jane Pauley, one of the most respected women in broadcast journalism. Outfitted with a plush king-size bed, cozy armchair, desk, and locker-shaped storage, our room had everything we needed for a comfortable stay.
Take a Coffee Break at Poindexter Coffee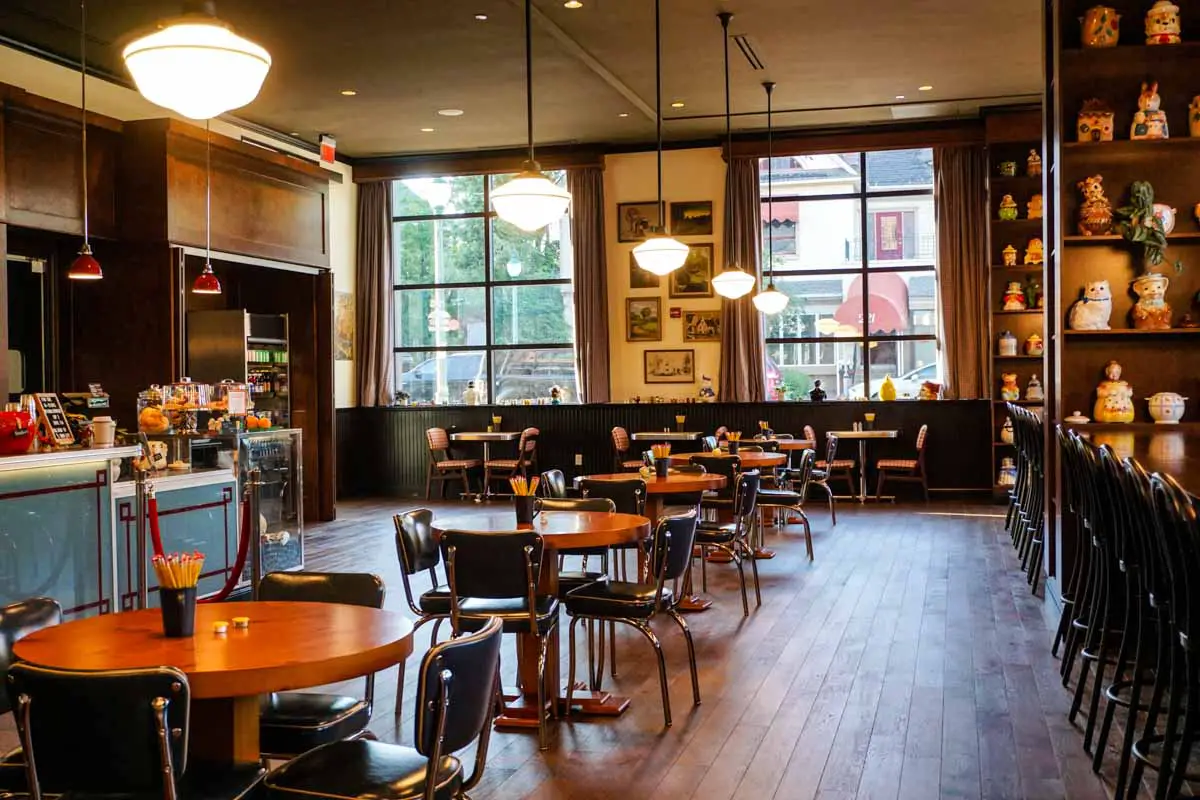 When you need a coffee break, you can just head downstairs to the adorable Poindexter Coffee. It's outfitted with dozens of unique cookie jars, but these aren't just a quirky design feature. They represent an Indiana couple's record-setting cookie jar collection! Dining among cookie jars shaped like animals, apples, and even beloved characters such as Happy Days' Fonzie, you can enjoy hot and cold coffee drinks, breakfast dishes, salads, and sandwiches.
Graduate Bloomington is located at 210 E. Kirkwood Avenue, but the parking garage entrance is off of S. Lincoln Street. To see availability for your travel dates and read more travelers' reviews, check out Graduate Bloomington's TripAdvisor listing.
Ready to book? Click here to reserve your room at Graduate Bloomington now!


Packing for Your Bloomington Weekend Getaway
Unless you are visiting Bloomington for a special event, I suggest you keep it casual and dress for the weather. In summer, daytime temperatures are often higher than 80° F (26° C), so plan to wear sundresses or shorts paired with T-shirts or tank tops. I packed my denim jacket, but the evenings never cooled down enough to use it. Instead, I wish I would have packed a lightweight cardigan or kimono for dining in air-conditioned restaurants and a cozy zip-up hoodie to wear around my hotel room.
If you are planning a trip to Bloomington, here are five tips to keep in mind while packing:
Comfortable shoes are a must! We clocked four or five miles in one day while leisurely exploring downtown Bloomington.
Though I hope you won't need it, I would pack an umbrella. For travel, I like mini umbrellas small enough to fit inside my purse.
Whether you plan to browse the farmers' market, sip beer on Upland's patio, bike the B-Line trail, kayak Monroe Lake, or attend an Indiana football game, don't forget sun protection! My sunshine essentials are my Kate Spade sunglasses (similar) and Neutrogena sunscreen. You might also want a floppy straw hat or collegiate-style baseball cap.
Visiting for an Indiana University event, but your gear from college no longer fits? No worries! There are a couple shops along Kirkwood Avenue where you can stock up on your IU apparel.
Lastly, use packing cubes to keep your suitcase organized!
Plan Your Trip To Bloomington
Ready to take a foodie road trip to Bloomington, Indiana? I think you'll find it's a charming college town full of delicious food and drinks. To start planning your trip, head over to Visit Bloomington. You'll find even more information on lodging, local restaurants, and things to do.
 Explore the map below to pinpoint places mentioned in this guide to Bloomington:
Read More About Midwest Culinary Travel Destinations
Save this post to your Indiana travel board on Pinterest!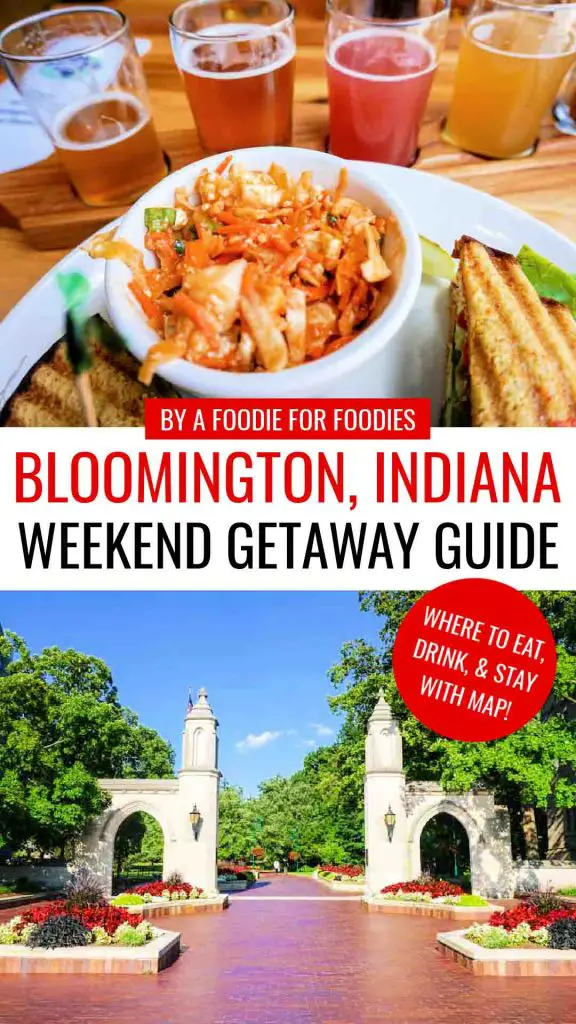 What would you do on a foodie weekend getaway to Bloomington, Indiana?
I always love hearing from readers, and I'd like to know your thoughts about visiting Bloomington. If you've been, please tell me about your favorite restaurants and activities there. If you haven't been to Bloomington yet, leave a comment answering the question below!