Palpable energy rises through Michigan Stadium as a sea of Maize-and-Blue-clad fans chant "Let's Go Blue!" and the Michigan Marching Band leads a rousing rendition of Michigan fight song "The Victors." It's game day for the University of Michigan, and whether you are at the Big House for football or fanfare, I've compiled five tips to follow on Michigan game day in Ann Arbor.
Are you visiting Ann Arbor for a Michigan football game? In this post, I'll share five tips for game day in Ann Arbor. Additionally, I've also created a variety of Ann Arbor guides covering the unique coffee shops, independent bookstores, and best places to eat lunch in this Southeast Michigan college town. Plus, you'll find even more helpful resources by clicking here as you plan your visit.
Disclosure: I attended my fourth Michigan football game in October 2018 as part of my partnership with Destination Ann Arbor and Wanderful. Also, this post contains some affiliate links. When you click on one of these affiliate links and make a purchase or booking, I may earn a small commission. Of course, this is at no extra cost to you. As always, all opinions (and game-day tips) are my own.
---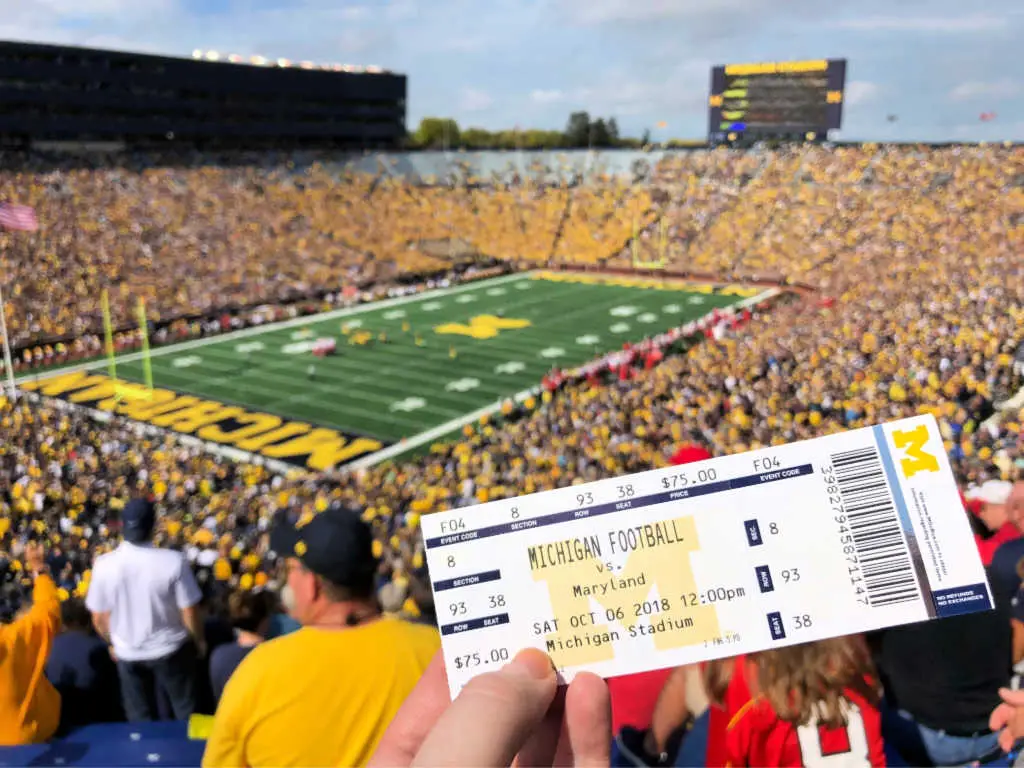 My Day At Michigan Stadium
I was among 100,000+ fans in attendance at the Michigan Homecoming game against the Maryland Terrapins on Oct. 6, 2018. With a capacity of over 100,000, Michigan Stadium is the largest stadium in the United States and rightfully earns its nickname, The Big House.
Seeing the massiveness of the stadium and being part of a crowd of 100,000+ fans are just a couple reasons why a Michigan game day is so unique. When the Michigan Marching Band begins playing "The Victors," the energy is electric. I couldn't help proudly cheering "Hail! Hail! to Michigan, the champions of the west!" as I raised my maize-and-blue pom-pom into the air.
As I sat among Michigan Wolverines fans to my left and parents of Maryland Terrapins players to my right, I realized I'm right where I belong. As a Michigander and daughter of a University of Michigan alumna, I've cheered "Go Blue!" throughout my life. Yet, on this day, my allegiance wavered a bit for my own alma mater. Yep, I was a Terp in rival colors.
Though I'm an alumna of the University of Maryland, College Park's multimedia journalism program, I'll always be a Michigander first. I'm proud to say the Wolverines claimed a Homecoming victory on this early October day.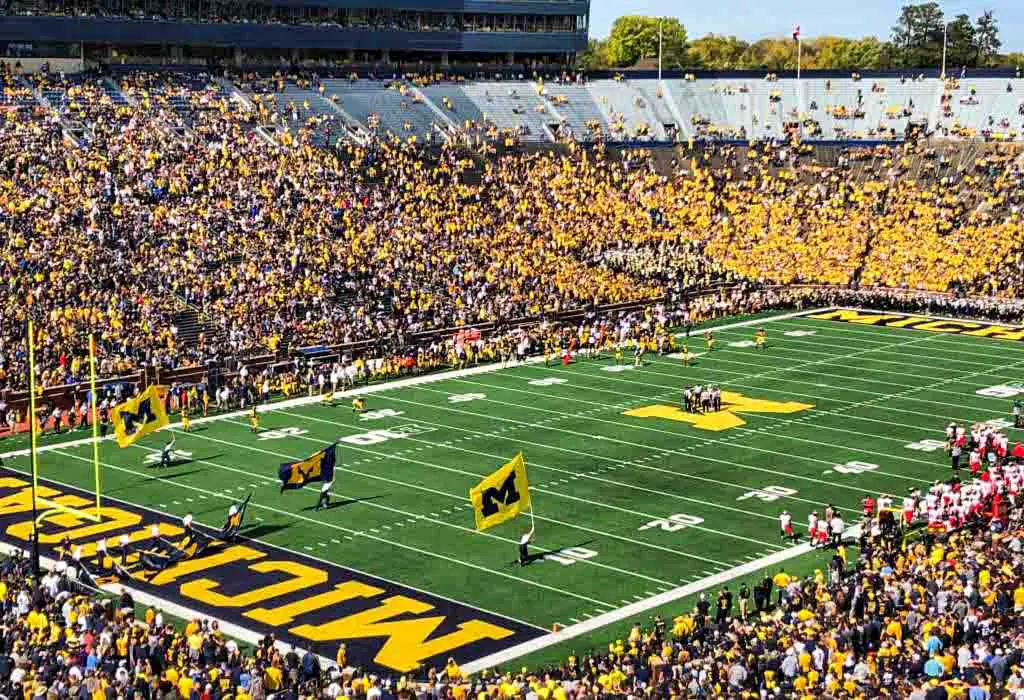 Fanfare aside, Michigan game day is still about football.
A game day in Ann Arbor is your chance to see the winningest college football team. The Michigan Wolverines have won 11 national championships and 43 conference championships.
Additionally, three Wolverines — Tom Harmon ('40), Desmond Howard ('91), and Charles Woodson ('97) — have received the Heisman Trophy.
You'll also see professional athletes in the making. Remember, Tom Brady — the GOAT himself — suited up in Maize and Blue during his college days.
It's not only in football that the Michigan Wolverines have dominated athletically. At the southeast entrance of Michigan Stadium near Crisler Center, where the Michigan basketball team plays, is the Circle of Champions (Varsity Colonnade).
The monument features columns etched with the University of Michigan's teams and their respective championships. As you can see from the photo above, it's a pretty long list for the football team!
Tip #1: Turn Your Michigan Game Day into an Ann Arbor Getaway!
Why spend just one day in Ann Arbor when you could spend the weekend? Attending a Michigan football game is a great excuse to plan a weekend escape, and you'll find plenty of activities and restaurants to fill your two-day itinerary.
Staying at an Ann Arbor hotel lets you fully experience all the game-day festivities. Plus, you won't have to deal with the post-game traffic heading out of town. Instead, you can walk downtown for dinner or celebratory drinks!
Need ideas of places to eat or things to do during your visit? Click here to begin planning your Ann Arbor trip!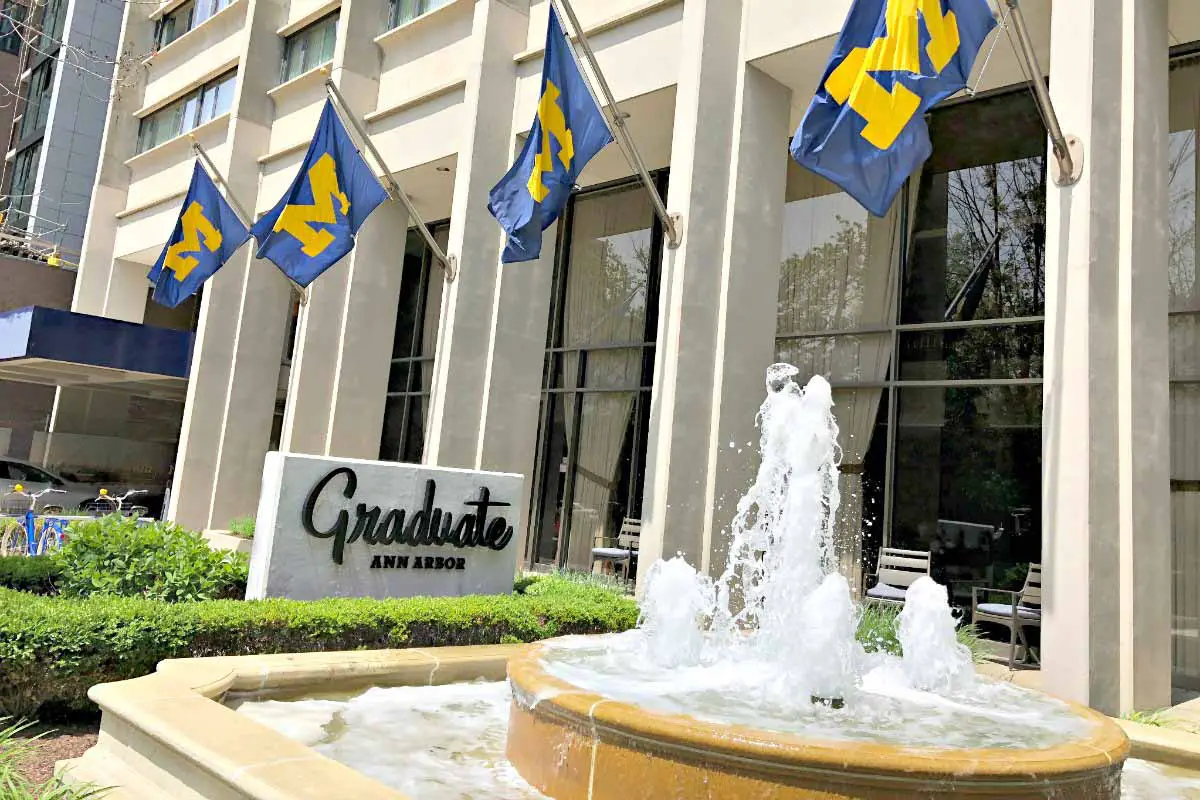 Where To Stay In Ann Arbor
Graduate Ann Arbor — This campus-inspired boutique hotel will remind Michigan alumni of their own college days in Ann Arbor. Located downtown, Graduate Ann Arbor is within walking distance of Michigan Stadium, the University of Michigan campus, and many dining options. To learn more, read my Graduate Ann Arbor review.
Weber's Boutique Hotel — Located a short drive from Michigan Stadium and downtown Ann Arbor, the family-owned Weber's Boutique Hotel has modern amenities, an indoor saltwater pool, sauna, hot tub, 24-hour fitness center, a steakhouse known for its prime rib, and a bar that hosts live jazz music on weekends. You can read my Weber's Boutique Hotel review to learn more!
Search for more Ann Arbor hotels below:
Tip #2: Get Your Maize-And-Blue Gear at The M Den
Located on State Street in downtown Ann Arbor, The M Den has everything you'll need to show your University of Michigan pride. As the official merchandise retailer of Michigan Athletics, The M Den carries apparel, gifts, and accessories for men, women, and kids. As you gear up for a Michigan football game, these are some of the items I recommend purchasing:
University of Michigan seat cushion — Trust me, a seat cushion makes sitting on the bleachers much more comfortable. Best investment for game day at Michigan Stadium!
Adjustable hat — Inside the stadium, you are completely exposed to the sunshine. Check out the '47 Brand designs!
Poncho — Umbrellas aren't allowed in the stadium, so a poncho will keep you dry during rainy games. They are also conveniently pocket-size and still show your Michigan pride!
Sweatshirts — It can get bitterly cold during late October and November games, and layers are key to staying warm.
Pom-Pom — This just adds an element of fun, especially when celebrating a Michigan touchdown!
The M Den is located at 303 S State St, Ann Arbor, MI 48104. The M Den also has locations inside Michigan Stadium.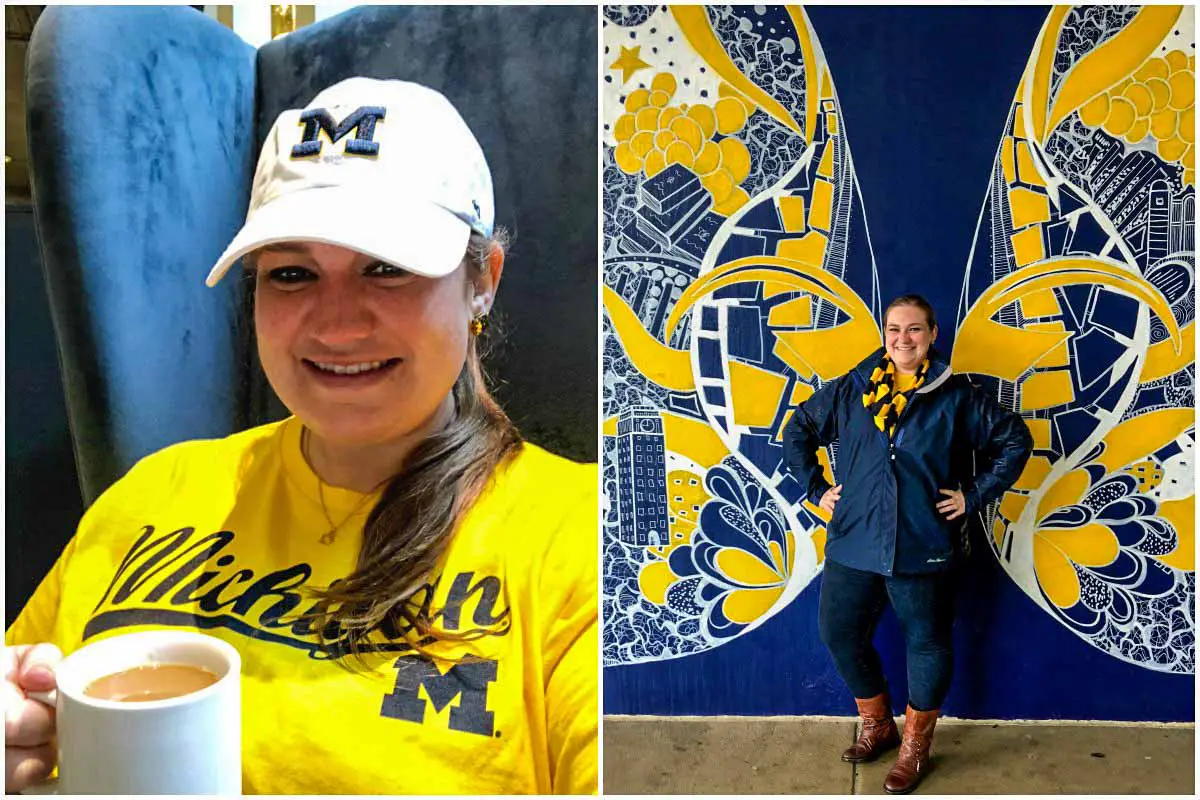 Tip #3: Circumvent the "No Bags" Rule with Pockets
At Michigan Stadium, the "no bags" rule is strictly enforced. It includes camera bags, purses, binocular cases, and even fanny packs.
Exceptions To The "No Bags" Rule
Michigan Stadium recommends attendees with medical needs/prescriptions or diapers/baby supplies bring those items in a clear plastic bag. Those exceptions to the "no bags" rule are granted on an individual basis at the entrance.
Other Prohibited Items:
Selfie sticks
Umbrellas
Strollers
Bottles and containers of all types
Seat cushions with pockets, seat backs, armrests, or any metal component
What Happens if You Forget the "No Bags" Rule?
Before entering Michigan Stadium, you will be instructed to take your prohibited item back to your vehicle. Unfortunately, you will probably park your car about half a mile away. And, if you followed my advice from Tip #1, you might not even have a car to stash your bag.
According to the stadium's website, there is a bag check at the south entrance of Crisler Center off of Stadium Way. While this seems to be the best solution in a pinch, I've never heard a worker suggest it to anyone with a prohibited item. After a rainy morning in Ann Arbor, we saw quite a few fans ditching their umbrellas at the stadium entrance. Therefore, I recommend that you keep in mind my suggestion to purchase a poncho at the M Den. 😉
How I Work Around the "No Bags" Rule
Are you now wondering how to conceal your emergency tampon? Or how to even carry cash and an ID like any adult would? Don't worry; I got you.
The answer to this predicament is pockets! Entering Michigan Stadium, you are not asked to empty your pockets. That means anything you would conveniently carry in your purse, you can somewhat less conveniently still bring to a Michigan football game.
Therefore, I recommend bringing a jacket. Even if it's too warm to wear the jacket, bring it for the pockets. A light windbreaker or rain jacket with zippered pockets works best for warmer weather. At games later in the season, you could wear a synthetic down coat like this Columbia jacket embroidered with the Michigan logo.
It takes a little extra planning to strategically pick your game-day outfit, especially since many women's and girls' garments are crafted without deep pockets if they have pockets at all. Luckily, this task gets easier later in the season when the temperatures drop and you can layer more clothing with pockets. Just remember to keep your admission ticket, ID, and money somewhere easily accessible yet still secure!
Tip #4: Watch the Michigan Marching Band
Yes, Michigan is the winningest football program in all of college football, but when attending a game, you should also dedicate time to seeing the Michigan Marching Band. Of course, I suggest you also stay in your seat for the half-time performance and are settled in for the pregame show. Both are exciting and full of fanfare!
Tip #5: Enjoy Game-Day Eats in Ann Arbor
In addition to being a college town with a youthful and quirky vibe, Ann Arbor is also a major foodie destination. This southeast Michigan city's hundreds of restaurants offer a diverse range of cuisines, and there are many options within walking distance of Michigan Stadium. Just head straight down Main Street!
Breakfast Spots Before Noon Games
If you are attending a game day with a noon kickoff, I would suggest grabbing coffee or breakfast before the game. You could venture away from downtown to Zingerman's Bakehouse for pastries and bagels paired with java from Zingerman's Coffee Company. In downtown Ann Arbor, Sava's has a limited but delightful breakfast menu with avocado toast and omelets among other dishes. Conveniently, Sava's is across the street from The M Den.
Game-Day Lunch And Dinner Options In Downtown Ann Arbor
On a Michigan game day, I'm usually in the mood for food that pairs well with beer. That is why you might catch me at one of downtown Ann Arbor's breweries such as Jolly Pumpkin, Grizzly Peak, or Blue Tractor BBQ & Brewery, where cheese lovers should order the Triple Mac made with smoked cheddar, Gouda, and a Wisconsin-made aged cheddar.
Right on Main Street, the Pretzel Bell has delicious burgers, and you'll fit right in with the decor in your maize-and-blue game gear.
If you are craving a steak, head to Knight's Steakhouse on Liberty, where you are perfectly welcome in your Michigan game-day attire.
RELATED: Lunch in Ann Arbor — Five Spots Where You Should Eat 
Food Inside Michigan Stadium
Inside the stadium, you'll find plenty of eats, too! The concessions have all my favorite guilty-pleasure stadium foods — pizza, hot dogs, and soft pretzels.
What I really like about Michigan Stadium's concessions is that some of the food is local, too. The pizza is from Cottage Inn, an Ann Arbor-based pizza chain, and the hot dogs are Dearborn Brand from my hometown about 35 miles outside Ann Arbor.
In addition to the concession stands, you'll also find food trucks inside the stadium gates.
Before You Attend a Michigan Football Game
Location: Michigan Stadium, 1201 South Main Street, Ann Arbor, MI 48104
Parking: You'll find parking at Pioneer High School, on lawns of houses near the stadium, and in downtown garages. It is best to have cash on hand for parking and to wear comfortable walking shoes.
Getting There: 
From Detroit Metro Airport or Points East: Take I-94 West to the Ann Arbor-Saline Road exit (#175). Turn right. As you travel north, Ann Arbor-Saline Road will turn into Main Street. Michigan Stadium is located at the northeast corner of Main Street and Stadium Boulevard.
From Chicago or Points West: Take I-94 East to the Ann Arbor-Saline Road exit (#175). Turn left and follow Ann Arbor-Saline as it turns into Main Street. Michigan Stadium is located at the northeast corner of Main Street and Stadium Boulevard.
From Toledo or Points South: Take US 23 north to I-94 West. Follow the directions above from Detroit Metro Airport.
From Flint or Points North: Take U.S. 23 south to I-94 West. Follow directions from Detroit Metro Airport.
Get Tickets: Click here to purchase your University of Michigan football tickets
Where To Stay Nearby: Graduate Ann Arbor | Weber's Boutique Hotel | Check Ann Arbor hotel rates and availability now!
Read More Related Posts
If you found this post helpful, save it to your Michigan board on Pinterest!
Have you been to a Michigan football game?
I'd love to hear your game-day tips. If you have attended a Michigan football game, please share your insights with other readers in the comment section below!