As the rise of e-readers and digital books threatens the survival of mammoth brick-and-mortar book sellers, independent bookstores are still very much part of the fabric of downtown Ann Arbor, Michigan. Recently, I browsed five Ann Arbor bookstores in partnership with Destination Ann Arbor and Wanderful. As you'll see, some of these shops are traditionally bookish, while others uniquely quirky. Yet all five are independent and locally-owned shops bookworms will love visiting.
In one coffee-fueled morning, I found today's best sellers and favorites from my childhood. There were local comic books and rare first editions. Perhaps most unique was a book filled with notes typed by one of these bookstores' patrons on an old typewriter in the store.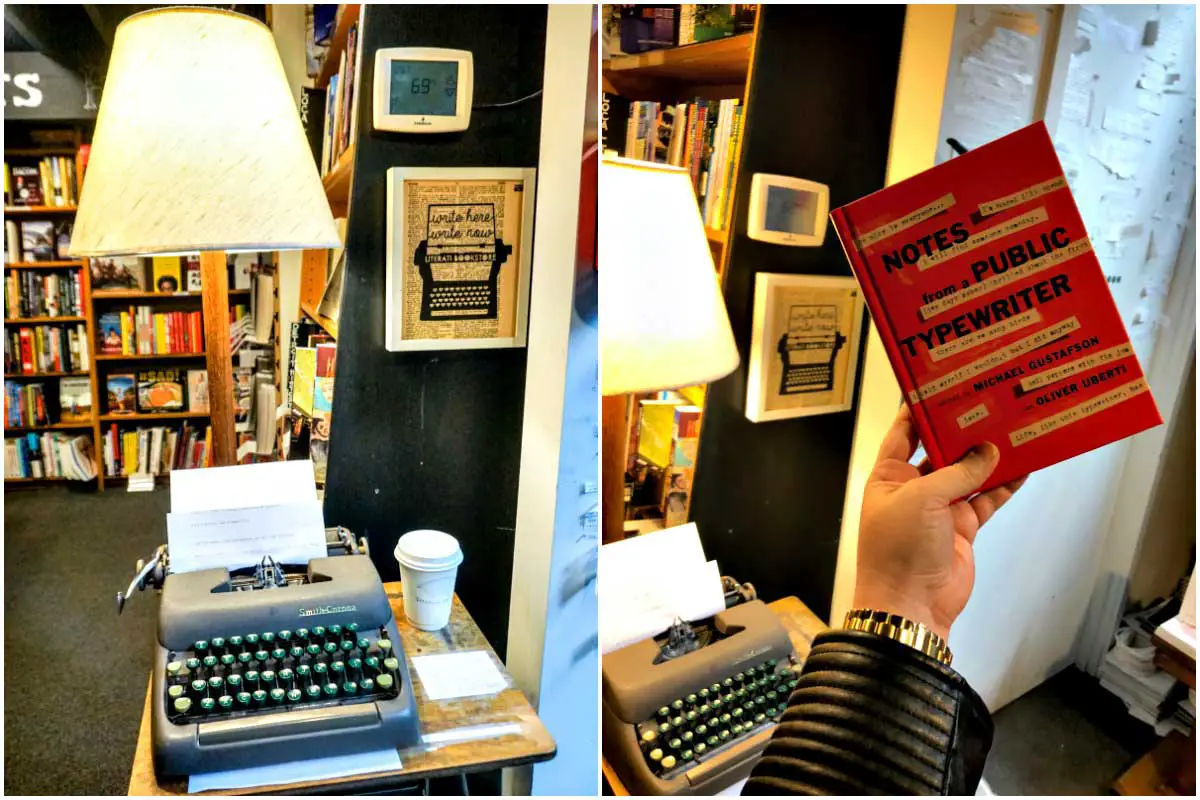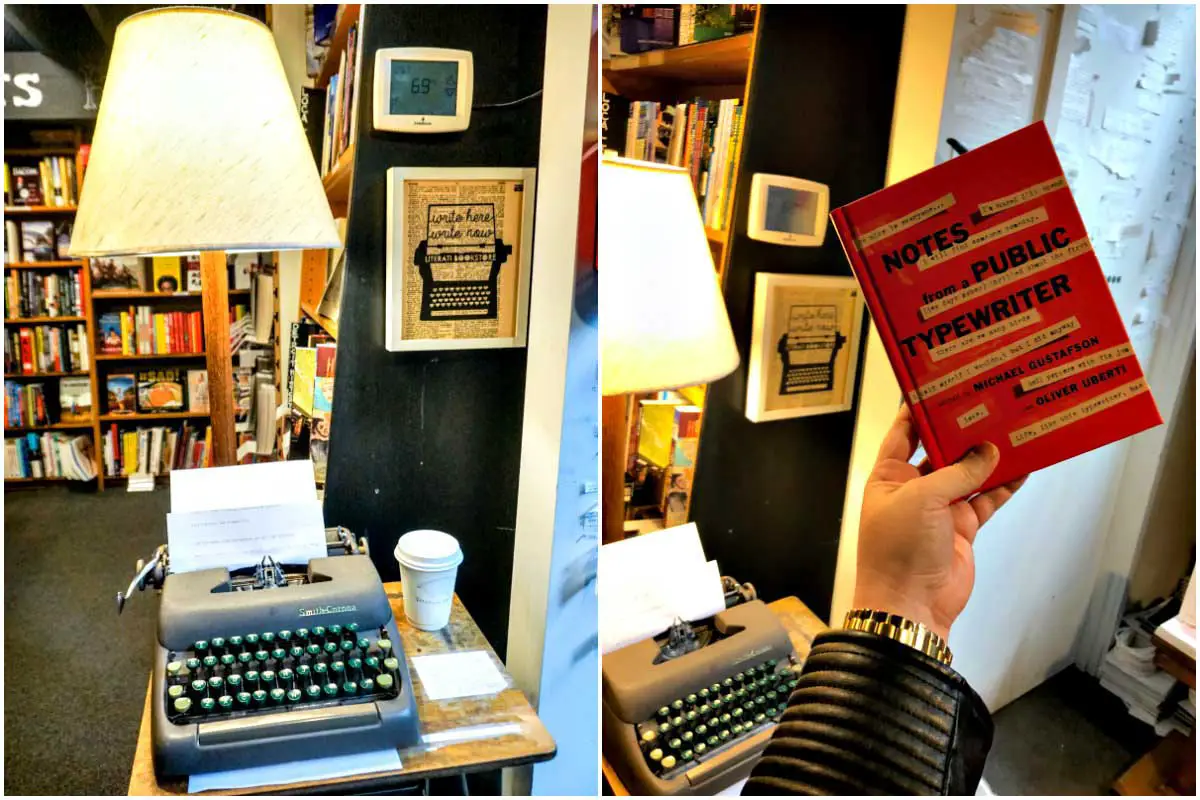 Notes from a Public Typewriter at Literati Bookstore in Ann Arbor, Michigan
What I discovered on my book-shopping stroll in downtown Ann Arbor is niche bookstores have found a home here.
Two downtown book sellers — Dawn Treader Book Shop and West Side Book Shop — have specialized in rare and antiquarian books for decades. Today, you'll also find books on spirituality at Crazy Wisdom Bookstore & Tea Room and comic books at Vault of Midnight.
However, this Southeastern Michigan city hasn't been immune to the economic hardships felt by retailers in this digital age. In 2011, the Ann Arbor-based international bookstore chain Borders Books and Music shuttered 40 years after the original store opened downtown.
When Borders closed, it certainly left a void.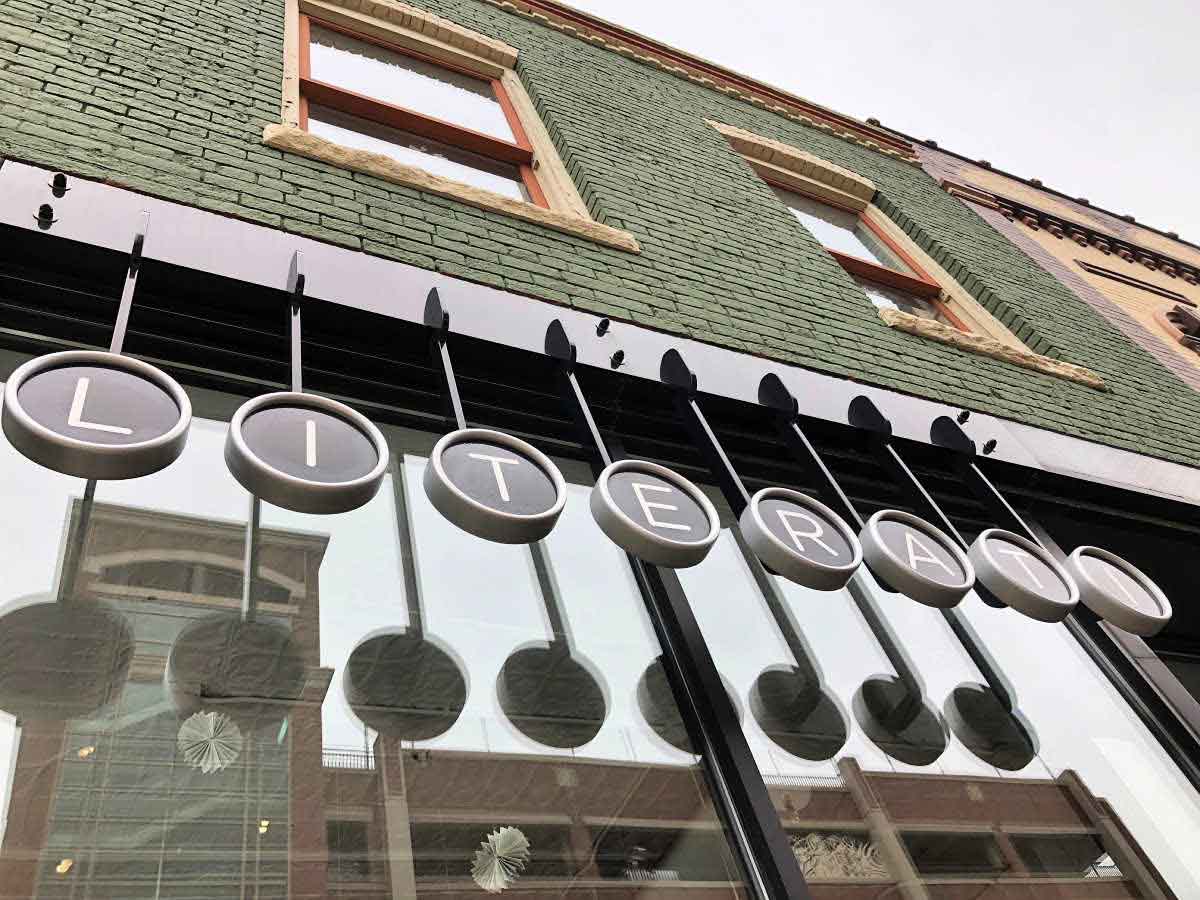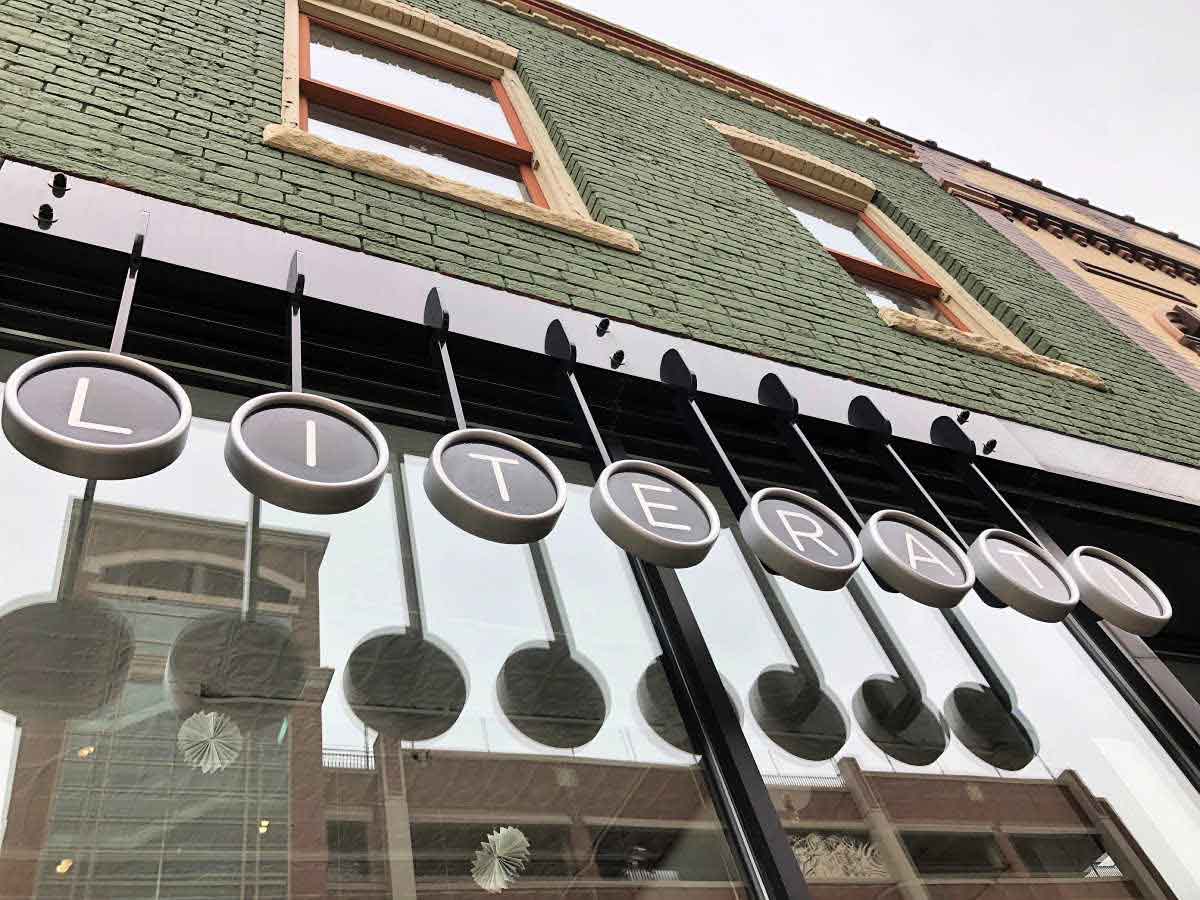 Then in 2013, an enterprising, book-loving couple from Brooklyn relocated back to Michigan to open Literati. The five-year-old general bookstore fills the gap left by Borders. With three floors filled with book shelves to browse and an in-house coffee shop on the upper level, Literati has become a sanctuary for book lovers to shop, read, gather, and interact in Ann Arbor's walkable downtown.
Since these five bookstores are within a few city blocks of one another, you could easily take a self-guided walking tour. By using the GPSmyCity app on your phone, you can access all of my Ann Arbor bookstore recommendations on the go. For the GPS-guided walking route and map, simply upgrade this article for $1.99. Plus, you can find more Ann Arbor city walks and travel guides on GPSmyCity, too!
For a closer look at where these Ann Arbor bookstores are located, I've provided a map below for you to reference. Then read on to learn more about what you'll find on a book-shopping tour of downtown Ann Arbor!
Stop #1: Dawn Treader Book Shop
Whether you are bargain hunting for 50-cent used books or seeking rare and antiquarian books worth hundreds or thousands of dollars, you'll find shelves upon shelves overflowing with literary treasures. Dawn Treader specializes in scholarly books, modern first editions, and early travel and exploration, but you'll also find a variety of fiction, including mysteries, fantasy-fiction novels, and children's books. With 70,000 titles on display, bookworms could easily spend hours here browsing. I know I could!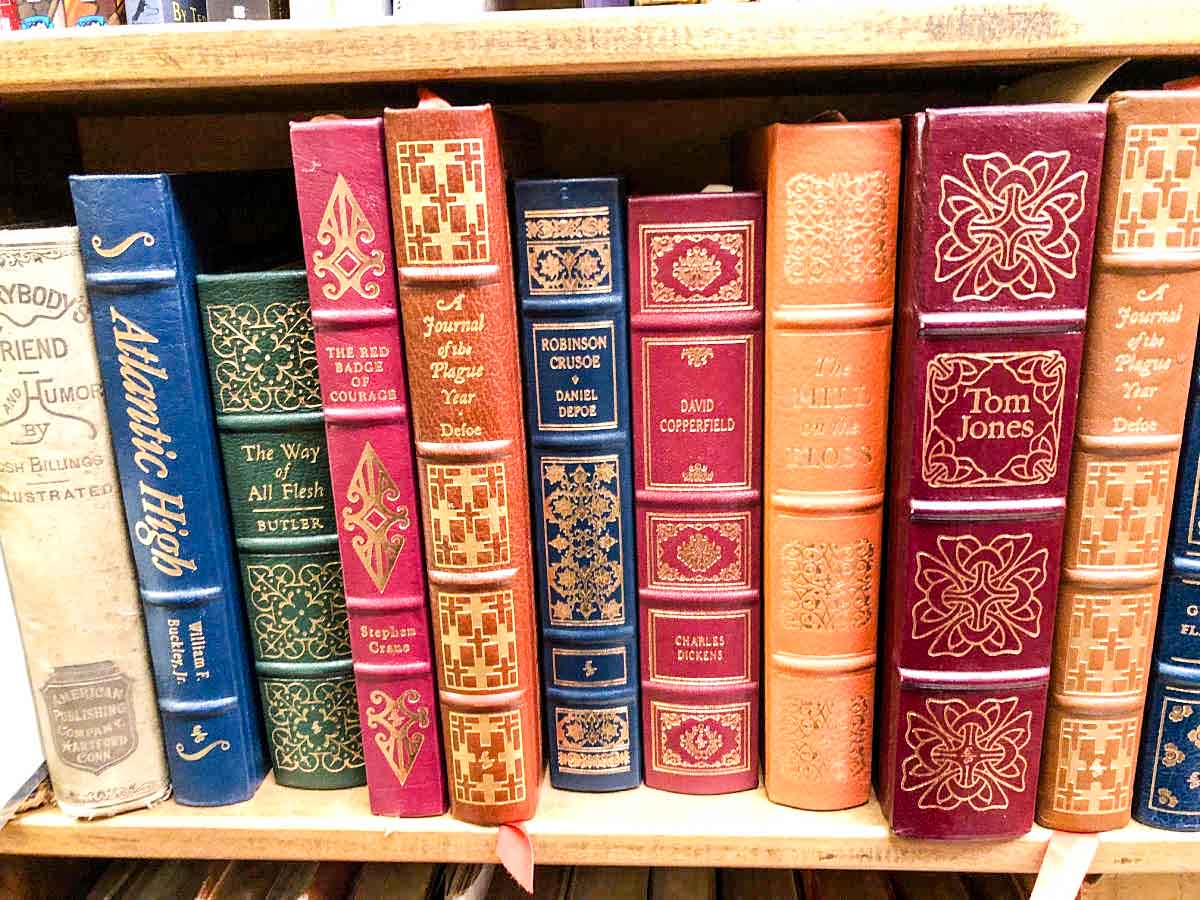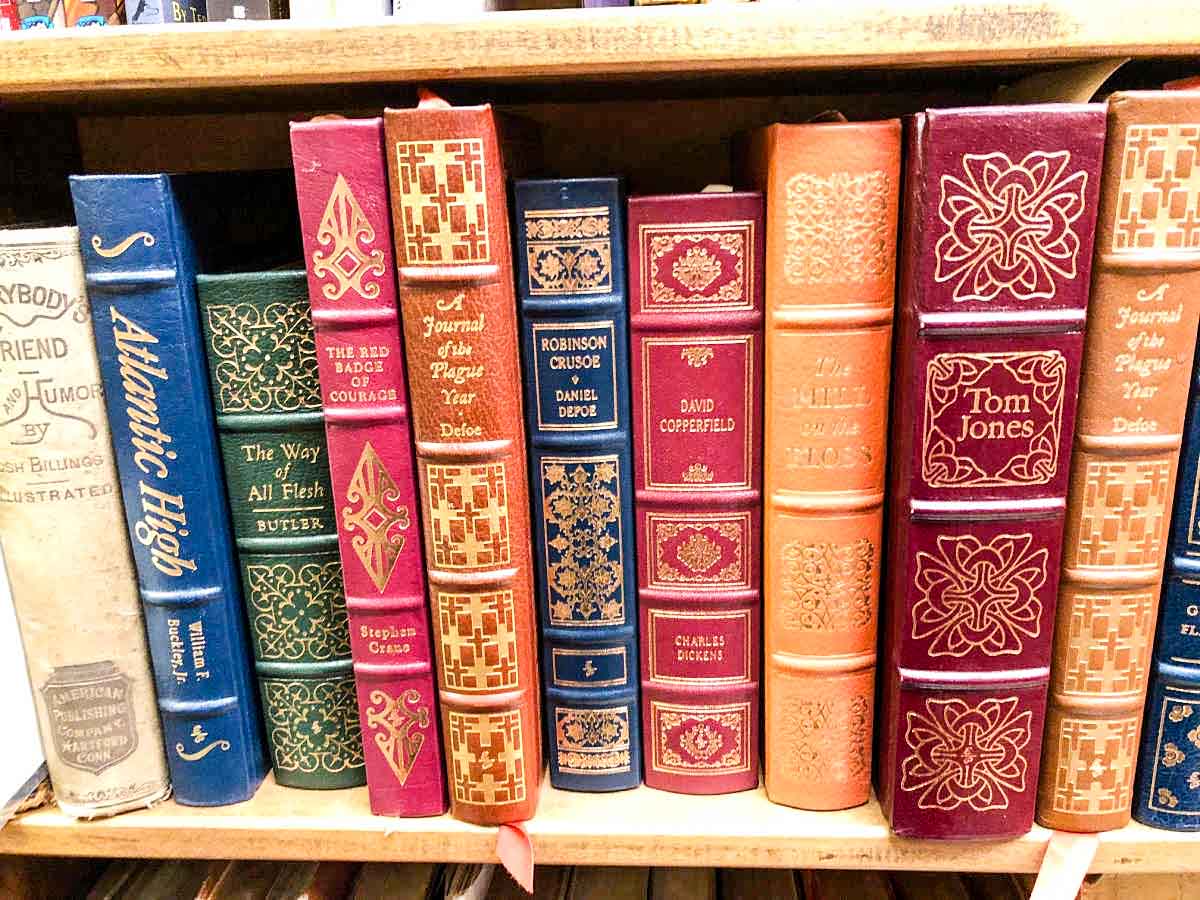 Location: 514 E Liberty St, Ann Arbor, MI 48104
Hours: 11 a.m. – 6 p.m. Sunday | 11 a.m. – 8 p.m. Monday – Thursday | 11 a.m. – 9 p.m. Friday – Saturday
Stop #2: Literati Bookstore
Books and coffee — what a winning combo! Upstairs at Literati Coffee, you can grab a latte or espresso. Then, explore the store's three stories! Filled with a variety of books to browse, you'll find modern best sellers across fiction and non-fiction genres, books by local authors, cookbooks, travel guidebooks, children's books, and more. In the lower level, you can even author a sentence or two. Just take a seat at Literati's public typewriter and pen a few words!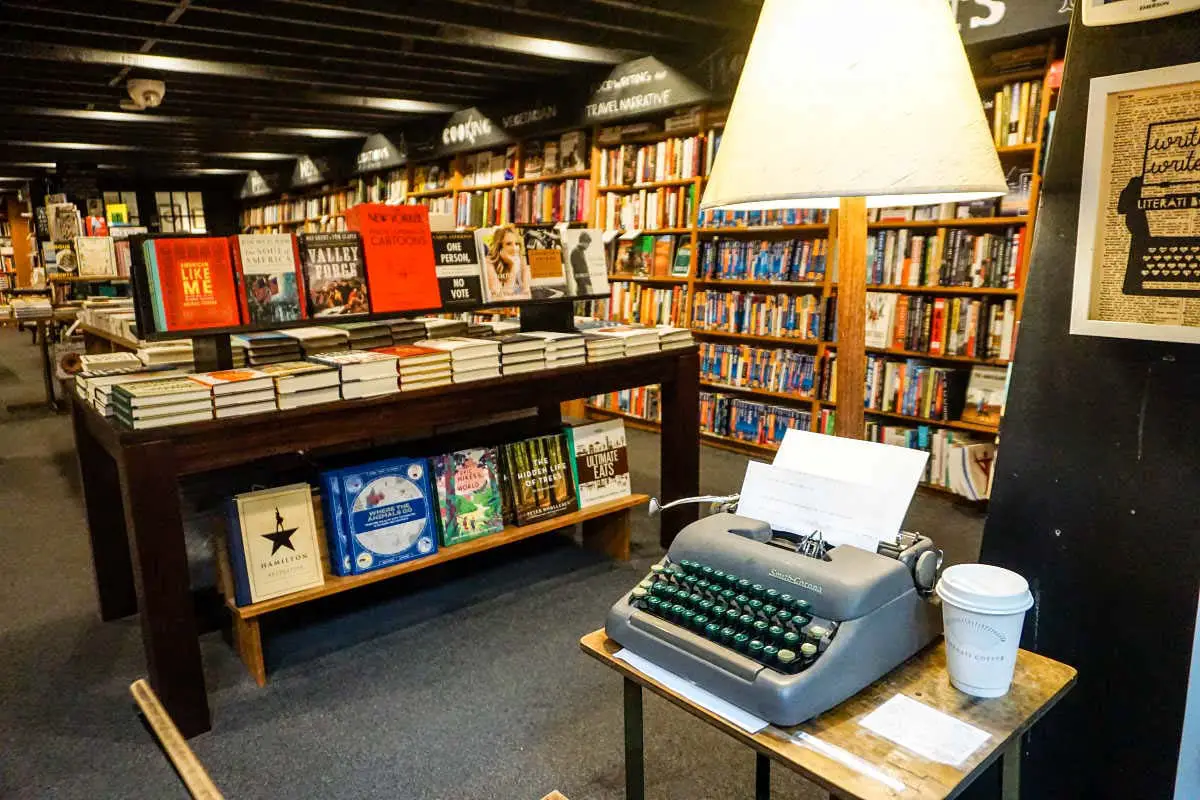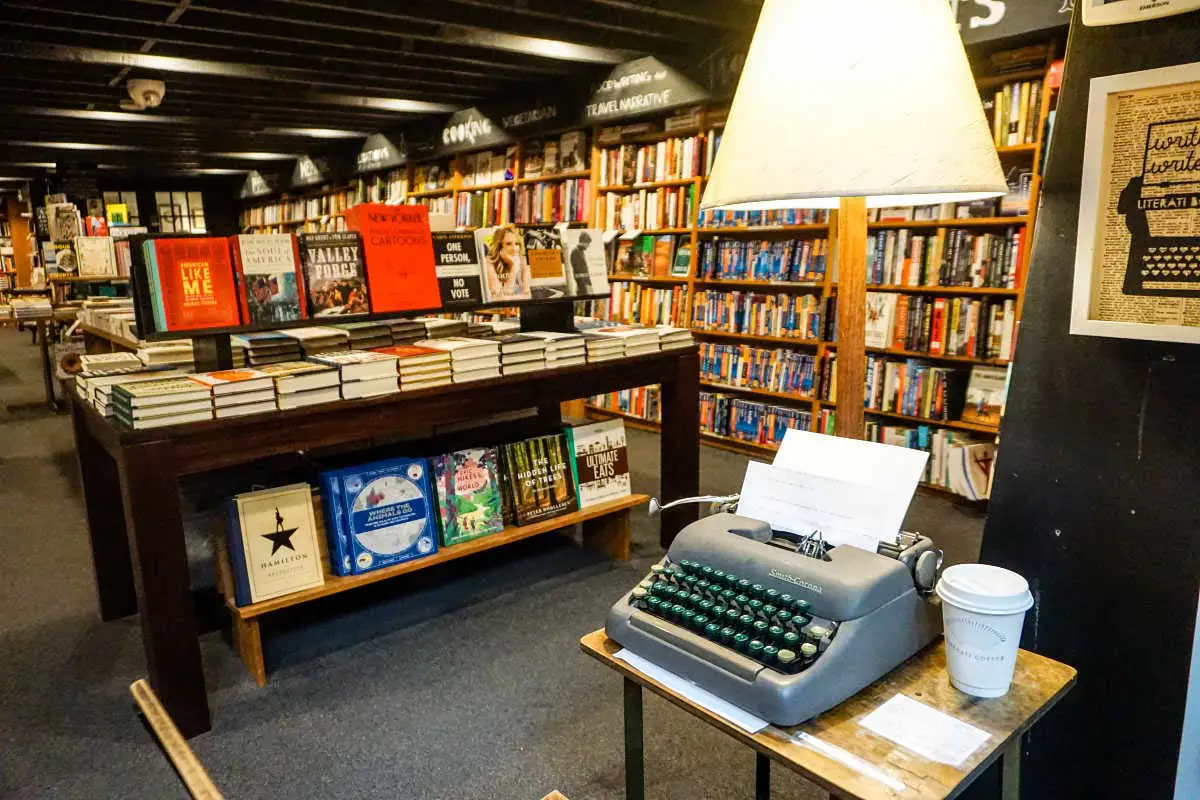 Location: 124 E Washington St, Ann Arbor, MI 48104
Hours: 10 a.m. – 7 p.m. Sunday | 10 a.m. – 9 p.m. Monday – Thursday | 10 a.m. – 10 p.m. Friday – Saturday
Stop #3: Crazy Wisdom Bookstore & Tea Room
At our third stop, delve into spirituality. You'll find incense, yoga supplies, tarot cards, and books covering holistic and spiritual topics from aromatherapy to zen. Then upstairs in the tea room, relax with a hot cup of one of 100 varieties of tea.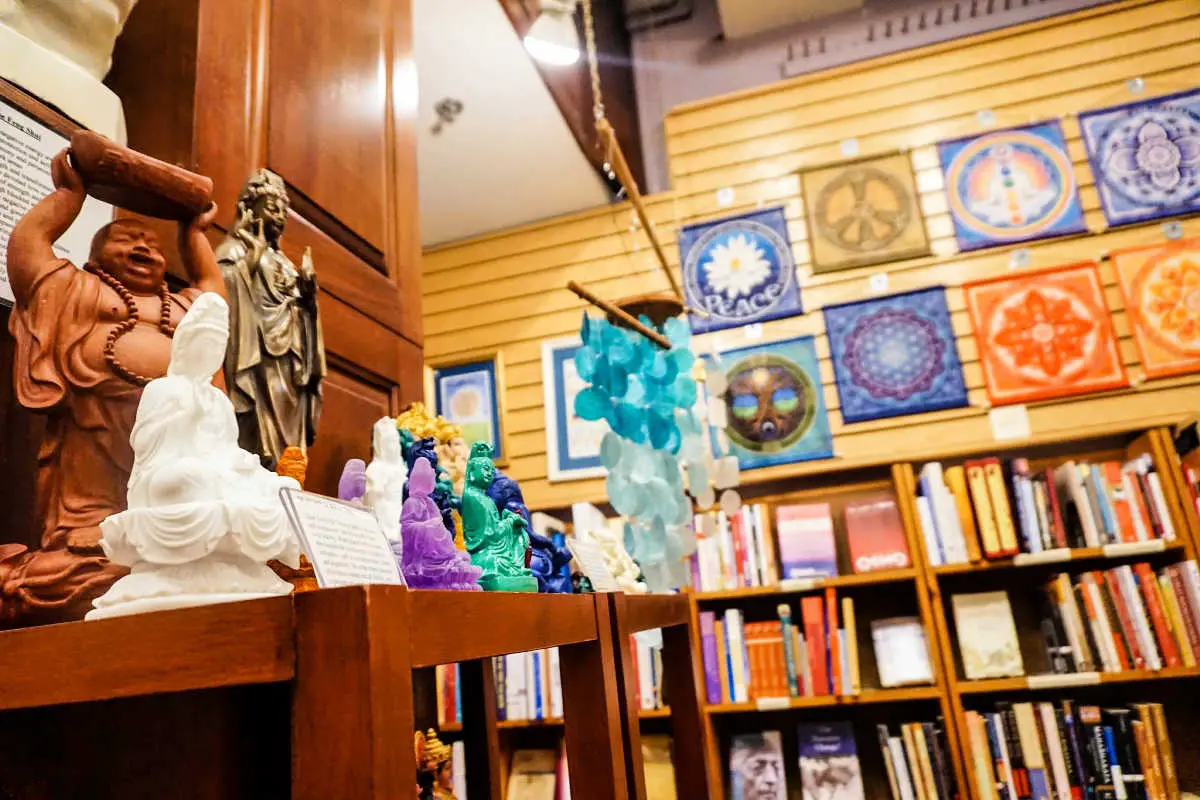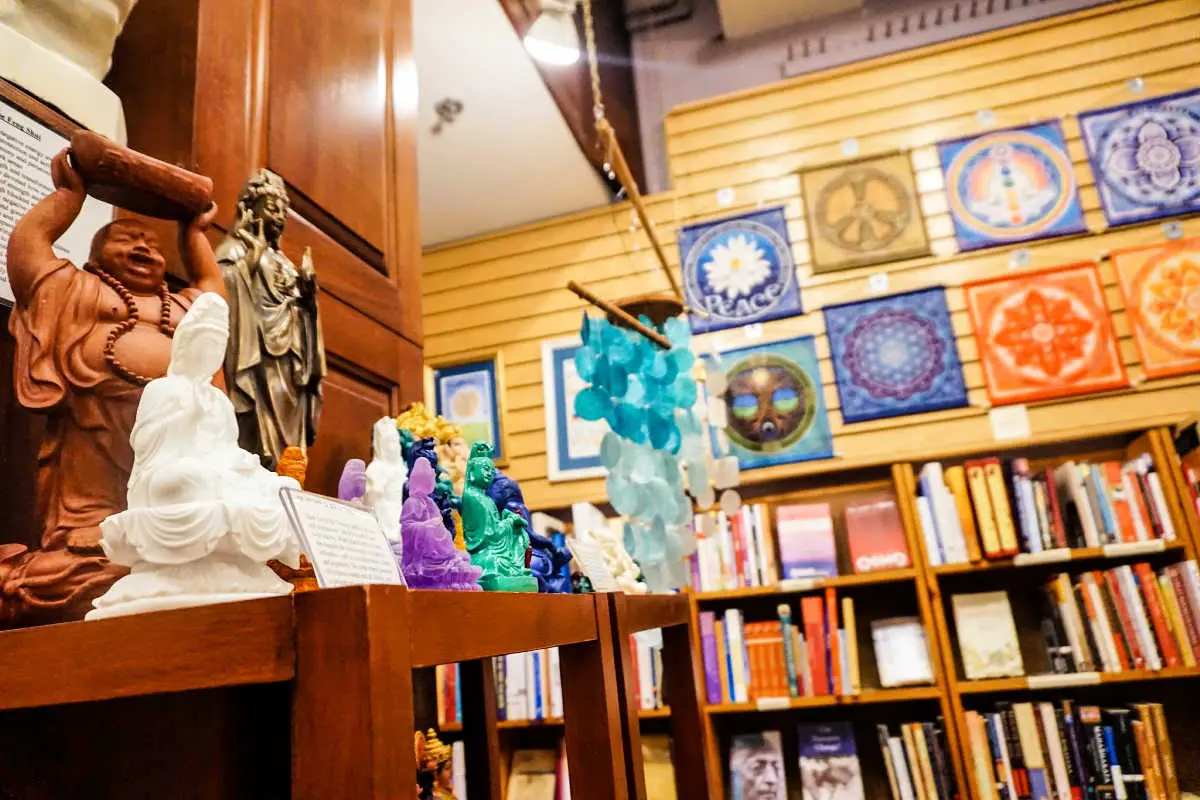 Location: 114 S Main St, Ann Arbor, MI 48104
Hours: 12 p.m. – 8 p.m. Sunday | 11 a.m. – 9 p.m. Monday – Thursday | 11 a.m. – 11 p.m. Friday | 10 a.m. – 11 p.m. Saturday
Stop #4: Vault of Midnight
Continuing the tour of Ann Arbor bookstores, our next stop allows you to embrace the geek within you. At Vault of Midnight, the comic book is king. You'll find new releases, comic books by Michiganders, and the classics featuring your favorite Justice League superheroes and Marvel Comics characters.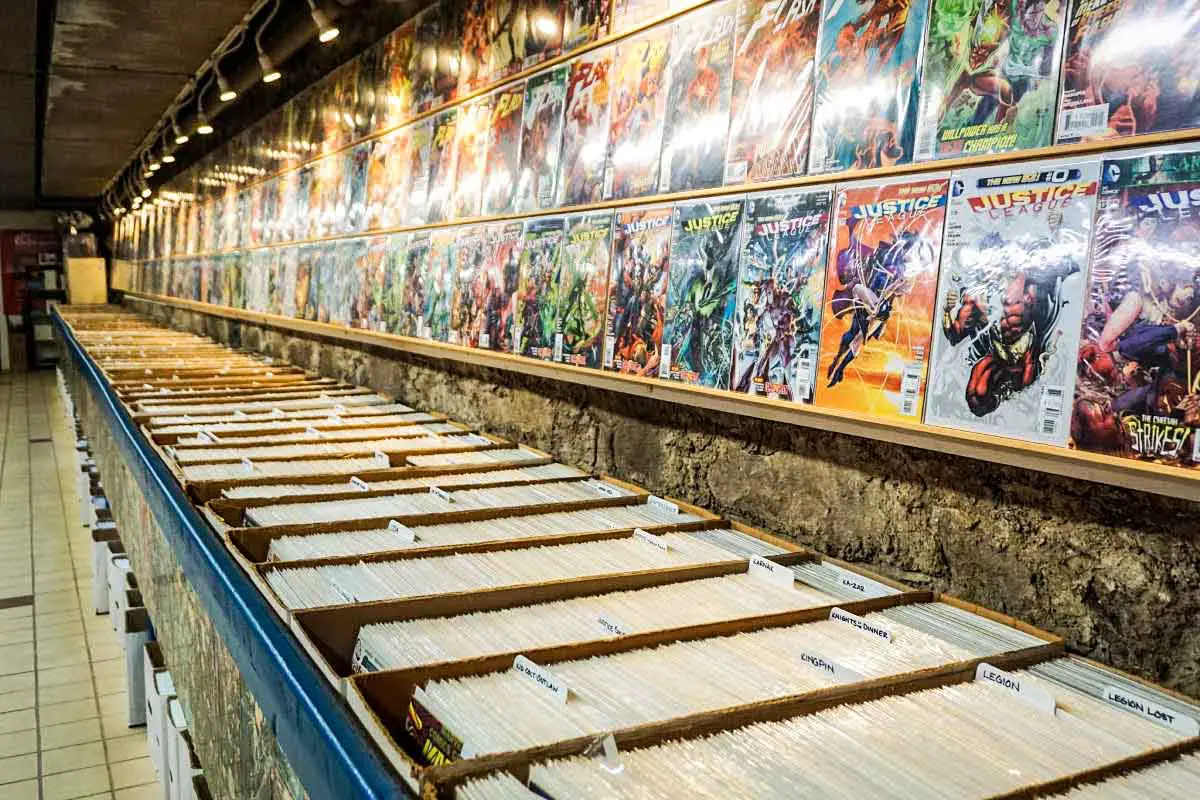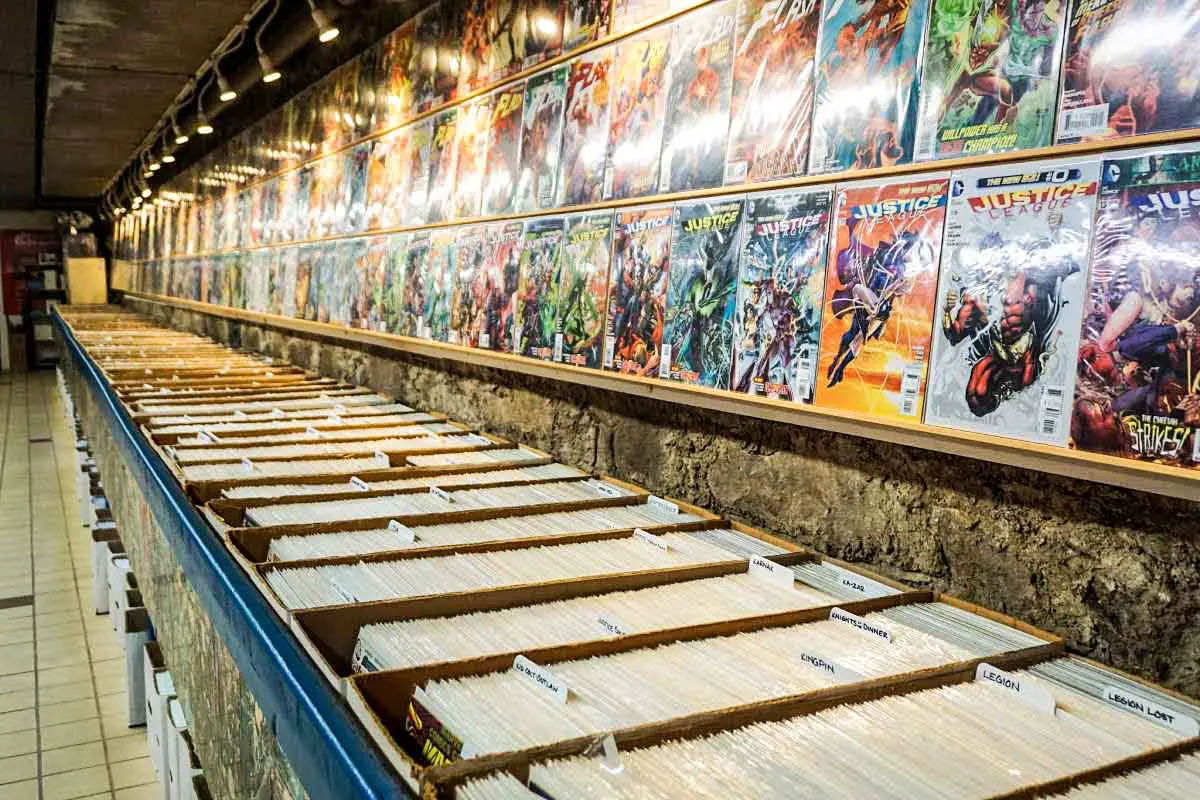 Location: 219 S Main St, Ann Arbor, MI 48104
Hours: 11 a.m. – 8 p.m. Sunday | 10 a.m. – 10 p.m. Monday – Saturday
Stop #5: West Side Book Shop
Having opened in 1975, West Side Book Shop is the oldest of the Ann Arbor bookstores on this self-guided walking tour. Specializing in antiquarian material, the shop is known for books on books, modern first editions, Americana, and travel and exploration, particularly of the Polar regions. You'll also find children's books, literature, and a range of non-fiction topics in the arts and science realms.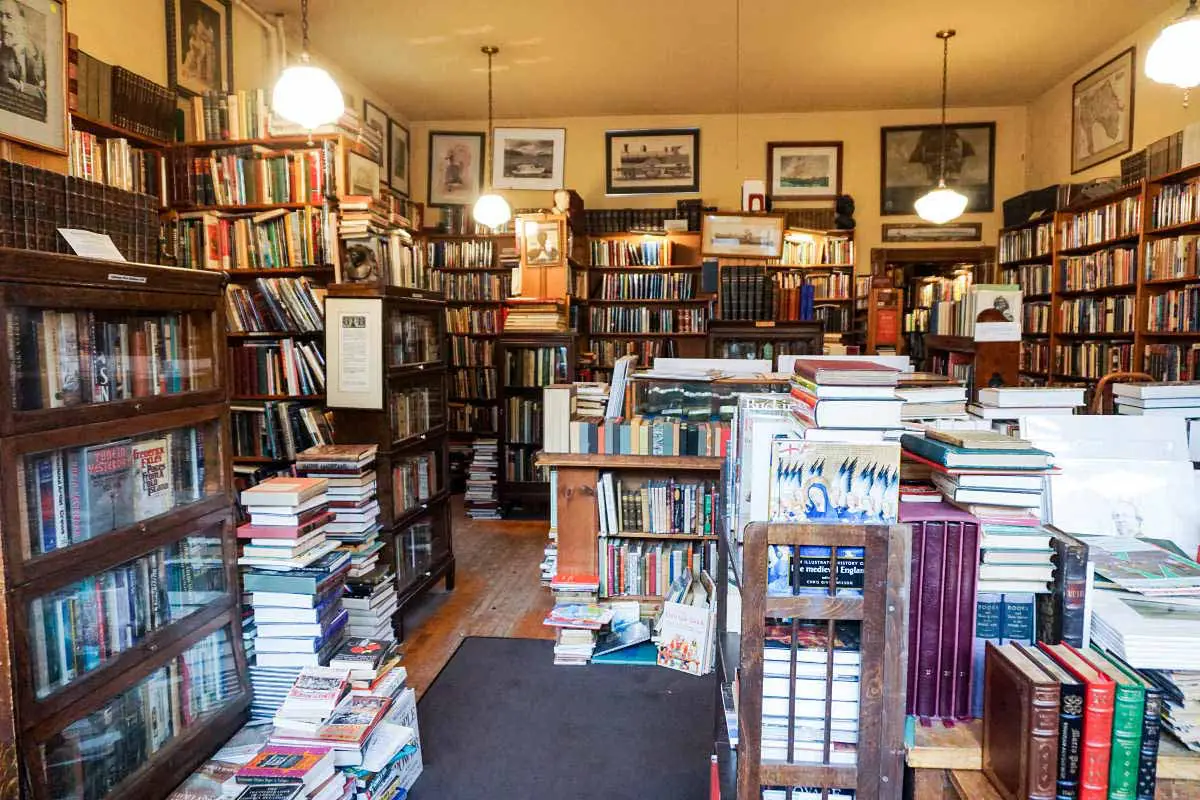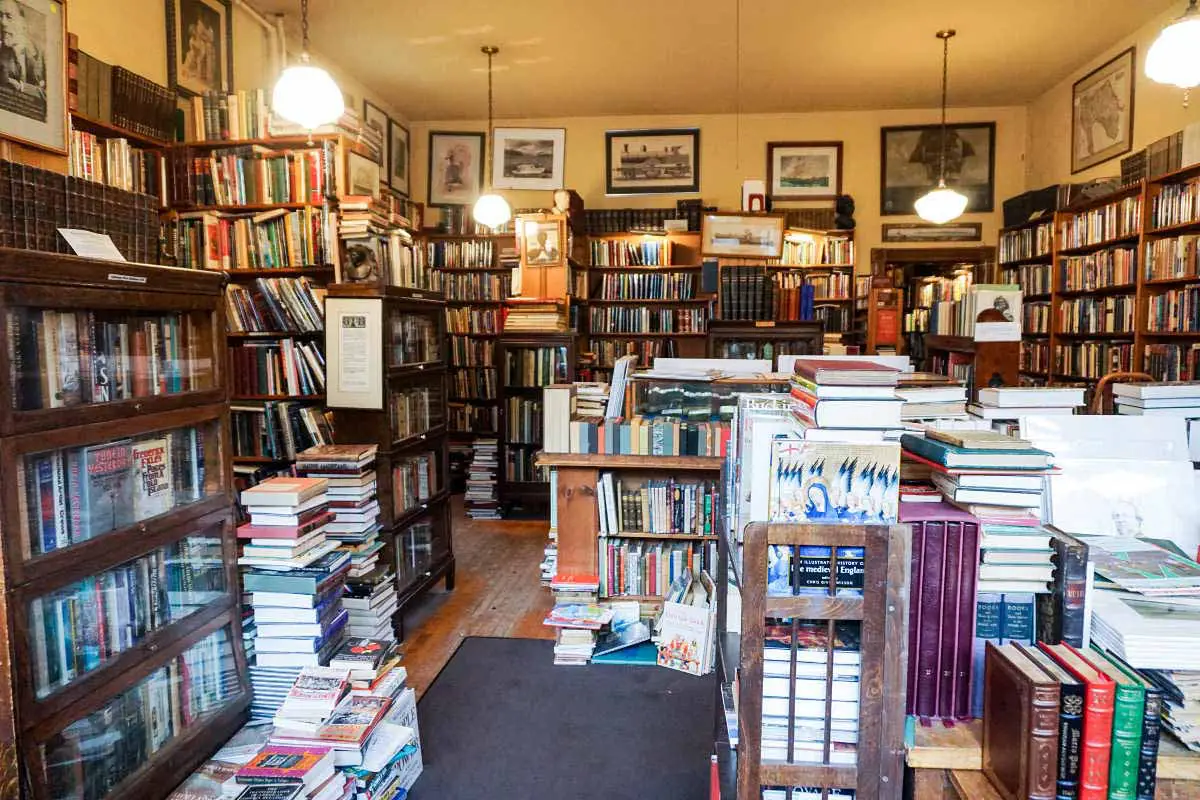 Location: 113 W Liberty St, Ann Arbor, MI 48104
Hours: 12 p.m. – 5 p.m. Sunday | 11 a.m. – 6 p.m. Monday | 11 a.m. – 10 p.m. Tuesday – Saturday
What To Do After Your Bookstore Tour
If you follow the self-guided tour in the order I listed above, you'll end on West Liberty near South Main Street. You'll be right near more shopping, including Cherry Republic for all kinds of tasty treats made from Northern Michigan's cherries and Shinola for Detroit-made watches and leather accessories.
Stepping outside West Side Book Shop, you can spy a few dining options. One of the easiest to spot is the Pretzel Bell, which has delicious burgers and a University of Michigan-themed setting. Just around the corner is one of my favorite seafood restaurants, The Black Pearl. I highly recommend the fish tacos, the swordfish, and any of the martinis. Just across South Main Street is Jolly Pumpkin Café & Brewery with its mouthwatering pizzas and Belgian-style beers.
For more ideas of things to do in downtown Ann Arbor, check out Destination Ann Arbor or my other Ann Arbor blog posts. If you'd rather keep bookstore shopping in Ann Arbor, check out the list below!
More Ann Arbor Bookstores To Visit
Save this post to Pinterest!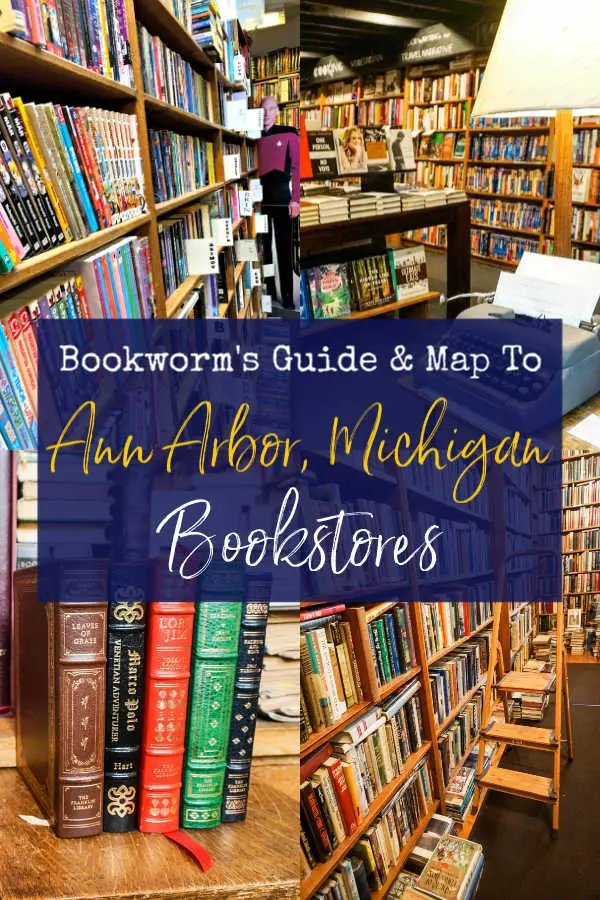 At which of these Ann Arbor bookstores would you shop?