Ann Arbor, Michigan, becomes an outdoor gallery during the annual Ann Arbor Art Fair. As a regular visitor, I absolutely love walking the artisan-booth-lined streets, admiring the craftsmanship, shopping for photographs and jewelry, and dining in one of Michigan's most diverse food scenes.
Every year, the art fair attracts a half-million visitors and is comprised of four separate juried art fairs with more than 1,000 artists from around the world!
You'll see photographs of Michigan landmarks and European vistas, handmade handbags, cute children's clothing, detailed textiles and fiber pieces, unique mixed media, beautiful woodwork, funky sculptures, one-of-a-kind jewelry and so much more! Shops also have street sales and many restaurants set up outdoor seating during the fair.
After attending this award-winning fair since I was a teenager (or younger), I've compiled some tips for navigating it.
Disclosure: This post contains some affiliate links. As an Amazon Associate, I earn from qualifying purchases. Also, as a TripAdvisor and Booking.com affiliate partner, I may earn a small commission if you click on affiliate links in this post and reserve your hotel room. Of course, this is at no extra cost to you, and I only recommend hotels where I would stay myself. I absolutely love the Graduate Ann Arbor, where I was hosted by Destination Ann Arbor for a three-night stay in May 2018.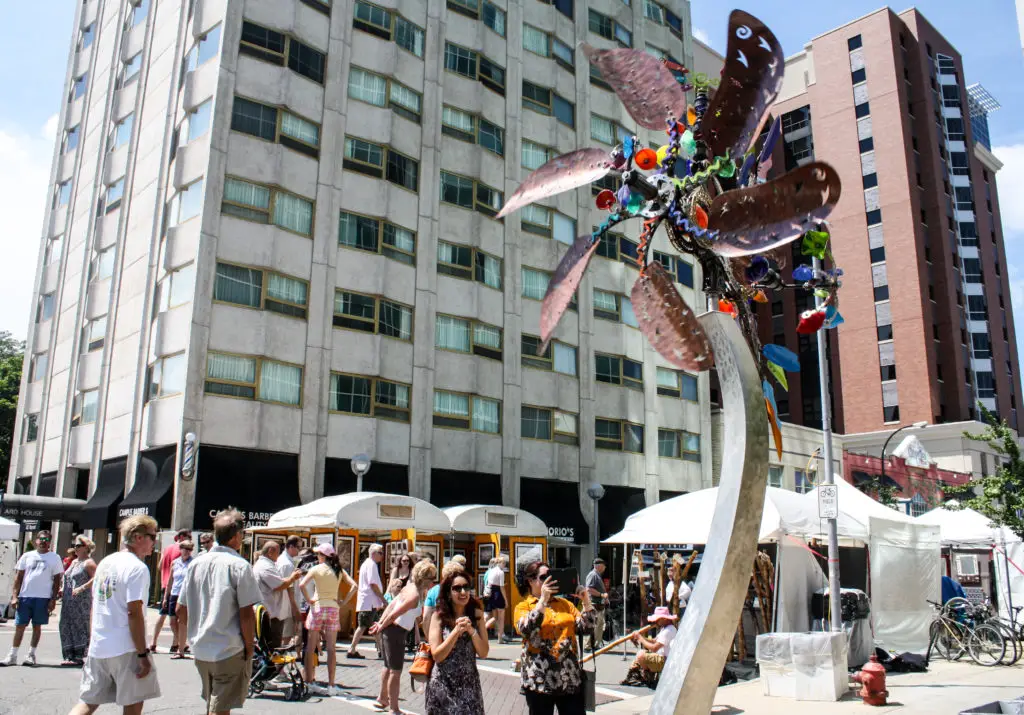 When To Attend The Ann Arbor Art Fair
For 2019, the fair runs Thursday, July 18, to Sunday, July 21. Through Saturday, the fair runs from 10 a.m. to 9 p.m., and it is open from noon to 6 p.m. Sunday.
I recommend going early to beat the crowds and heat. Taking a lunch break at one of the downtown restaurants is my favorite part of attending the Ann Arbor Art Fair. Later in this post, I'll share some places to eat near the fair, or you can check out my five favorite lunch spots in Ann Arbor.
Otherwise, I recommend going in the evening to peruse the fair, dine downtown, and listen to live music at one of the three entertainment stages. I also recommend visiting on Thursday, if your schedule allows.
Where To Park In Ann Arbor
If you choose to drive to downtown Ann Arbor, most of the nearby parking structures cost $18 per day. After 5 p.m., the rate is $9.
However, you can park for free at Briarwood Mall or Huron High School (2727 Fuller Rd.), where you can then take a shuttle. Shuttle rides cost only $3 round-trip and run from an hour before to an hour after the fair each day.
What To Wear & Bring To The Ann Arbor Art Fair
Comfortable Walking Shoes
You are going to cover a lot of ground at the Ann Arbor Art Fair. That is why I highly recommend footwear with supportive soles. For stylish yet comfortable shoes, my go-to is always Sperry boat shoes. You may also like ECCO Women's Soft 7, TOMS Clemente slip-ons, Superga Cotu sneakers, or Cole Hann Cloudfeel espadrilles.
Sun Protection & Rain Gear
The week of the Ann Arbor Art Fair always seems to be the hottest of the summer. Since the event is outdoors, you should definitely be prepared for exposure to the sun. At a minimum, bring your favorite sunglasses and sunscreen.
It it isn't miserably hot during the art fair, it's usually raining. Scattered showers and thunderstorms aren't unusual this time of year, so bring a compact umbrella or a poncho. If you get stuck in a downpour, you'll be grateful you came prepared. On the chance you forget to bring rain gear along, you'll find ponchos for sale at The M Den at 303 South State Street.
Bag For Purchases
Attending the art fair isn't just about browsing, it's about shopping too. Between the art fair, street sales, and downtown shops, there are plenty of opportunities to find art, decor, clothing, and more. When I attend with my mom, we bring along a bag to collect our purchases. A reusable grocery tote that folds down would work out perfectly for shopping at the Ann Arbor Art Fair.
Items To Keep Cool & Hydrated
As I mentioned, temperatures during the Ann Arbor Art Fair are sometimes the highest of the summer. To keep cool in temperatures 90° F or higher, I've seen artists and attendees with portable fans like this mini handheld fan or this fan to wear around your neck. If there is one thing I'd definitely bring along, it's a stainless steel water bottle filled with refreshingly cold still water. These bottles will keep your water cold for up to 24 hours, depending on the brand and model.
Where To Eat And Drink
Though food courts are located throughout the fair, I recommend getting respite from the summer heat at one of downtown Ann Arbor's restaurants.
My mom and I had a tradition of splitting salads and pizza at the Original Cottage Inn. If pizza isn't whetting your appetite, here are a few other restaurants in downtown Ann Arbor that I'd recommend around the art fair:
Arbor Brewing Company — Great options for vegetarians and craft beer drinkers!
Black Pearl — Seafood and martinis here, and I highly recommend the fish tacos.
Blank Slate Creamery — Beat the heat with a scoop of ice cream — it's all made in-house!
Blue Tractor BBQ & Brewery — The menu features barbecue with southern side dishes that you can wash down with craft beer, signature cocktails, or a selection of bourbon and whiskey!
Frita Batidos — Cuban burgers and tropical milkshakes here — try the passion fruit batido!
Grizzly Peak Brewing Company — Another great spot for local craft beer and pub fare.
HopCat — 100 craft beers on tap, and you can't go wrong with an order of fries.
Isalita — At this downtown Mexican restaurant, don't miss the guacamole!
Jolly Pumpkin Artisan Ales — Sour beer lovers, this is your brewery. I also highly recommend the pizzas.
Pretzel Bell — Now serving Detroit-style pizza, I also recommend the blue burger and turkey & avocado burger.
Sava's — Quench your thirst with a lavender lemonade, and order Sava's Greek salad for a light yet filling lunch.
Take a look at my favorite lunch restaurants in Ann Arbor!
Where To Stay During The Ann Arbor Art Fair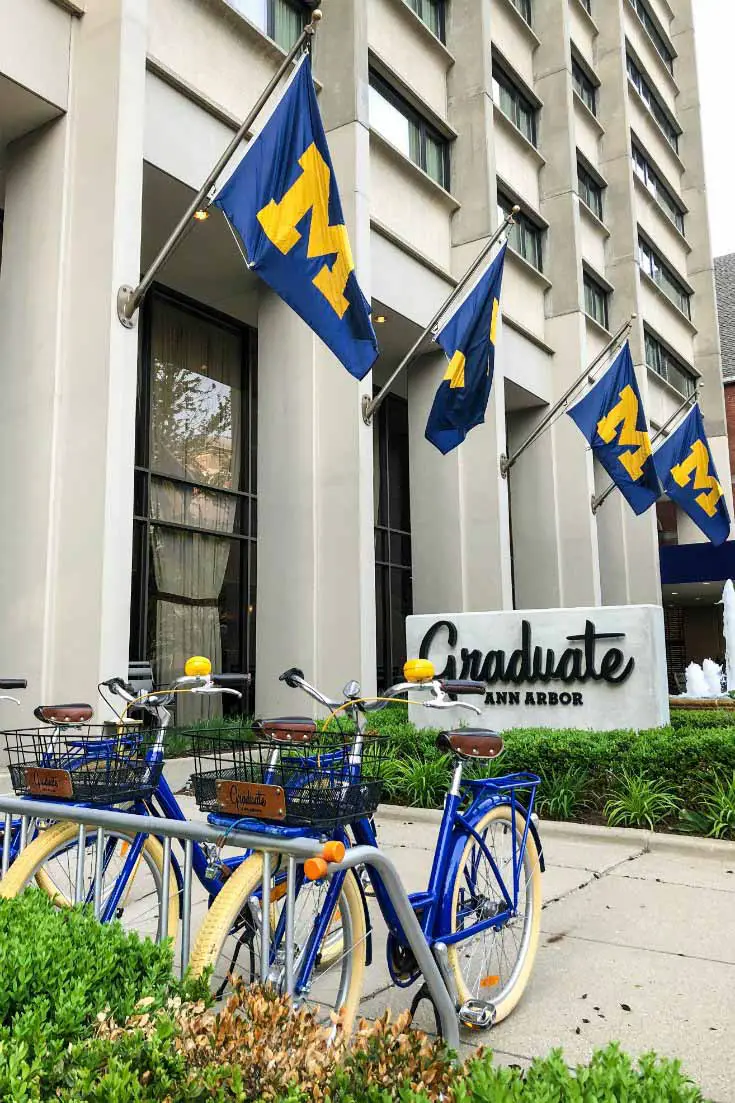 Visiting from out of town? Or just want the convenience of staying nearby? You can search here for available Ann Arbor hotels, and Destination Ann Arbor has even more information on nearby accommodations.
Based on my own visits, Graduate Ann Arbor would be the ideal place to stay during the Ann Arbor Art Fair. Its location puts you right in the heart of downtown for a short walk to the art fairs. However, due to its prime location, this university-inspired boutique hotel books up very early for the weekend of the art fair. To stay at the Graduate Ann Arbor, I'd recommend reserving your room well in advance.
RELATED: Read about my stay at Graduate Ann Arbor: Where Travelers Relive Their Glory Days
Since the Graduate books up so quickly, I've also compiled a list of Ann Arbor hotels near Briarwood Mall, where you can catch the $3 round-trip shuttle to the fair.
Hotels Near Briarwood Mall Shuttle
A little further away:
Before You Attend The Ann Arbor Art Fair
For more information on each of the individual art fairs, here are links to each fair's website:
Save this to Pinterest for future reference!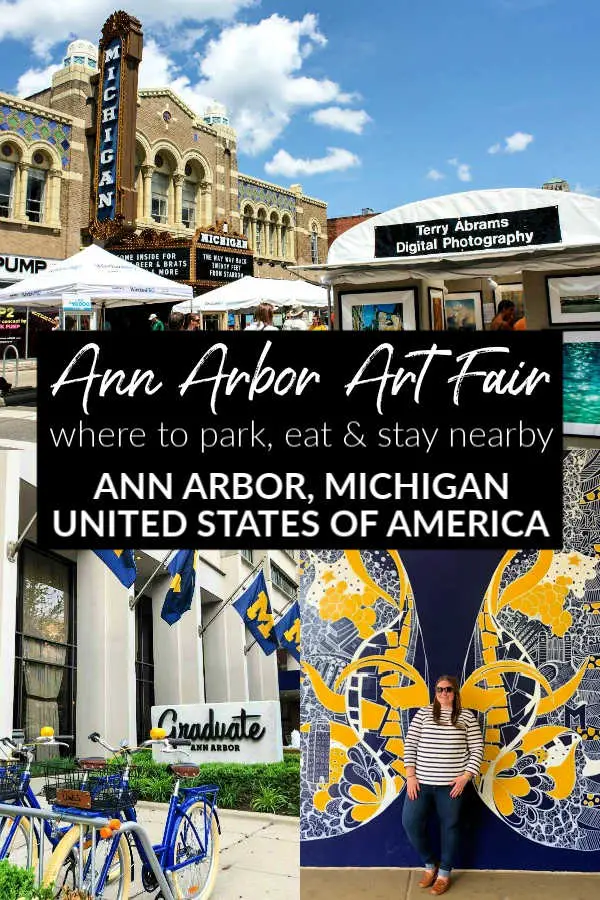 Do you enjoy summer art fairs? Which one is your favorite?
The Epicurean Traveler is a participant in the Amazon Services LLC Associates Program, an affiliate advertising program designed to provide a means to earn fees by linking to Amazon and affiliated sites. When you click on a link or ad and purchase an item, I may earn a small commission that helps to sustain this blog. I thank you in advance for your continued support!