Eyeing a beautiful and long dark-wood table, tartan armchairs, and columns of green chalkboards with mathematic equations scribbled upon them, I felt as if I were transported back to my college days. No, I hadn't time traveled, but I didn't stumble into one of the University of Michigan's libraries either. Rather, I had stepped into Graduate Ann Arbor, the boutique hotel where I was staying in the heart of downtown Ann Arbor, Michigan.
Located on East Huron Street at the intersection of State Street, Graduate Ann Arbor is steps from the University of Michigan campus. It's also a short stroll from unique shops, vibrant street art, and downtown Ann Arbor's diverse dining scene. Additionally, the hotel is walking distance to Michigan Stadium and would be a fun home base for Wolverine fans in town for a football game this fall.
My Stay At Graduate Ann Arbor
In May, I stayed three nights at Graduate Ann Arbor for a weekend getaway. I spent the long weekend touring the University of Michigan Museum of Art, watching a foreign film at the State Theatre, attending a concert at The Ark, and, of course, eating and drinking my way around the city. Best of all — I was within walking distance of all that downtown Ann Arbor offers!
In full disclosure, my stay at Graduate Ann Arbor was part of my year-long partnership with Destination Ann Arbor and the premier women's travel network Wanderful. Each month I'm sharing one or two blog posts about visiting Ann Arbor — and all that you can see, eat, drink, and do in this fun and quirky college town. You can find the blog posts I've published about Ann Arbor thus far by clicking here. But now, let's take a closer look at this campus-inspired boutique hotel!
Disclosure: This Graduate Ann Arbor review contains affiliate links. I may earn a small commission on qualifying purchases made through affiliate links. Of course, this is at no extra cost to you. As always, all opinions are my own.
---
Campus Vibes At Graduate Ann Arbor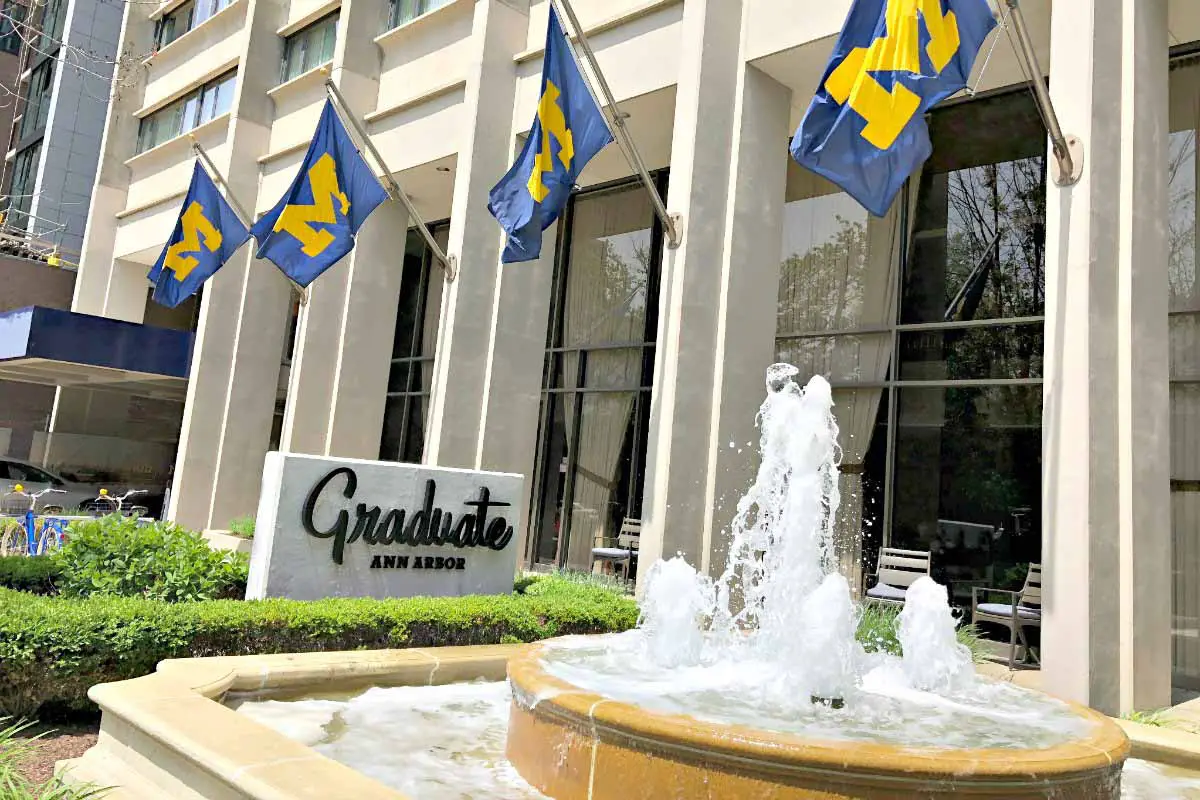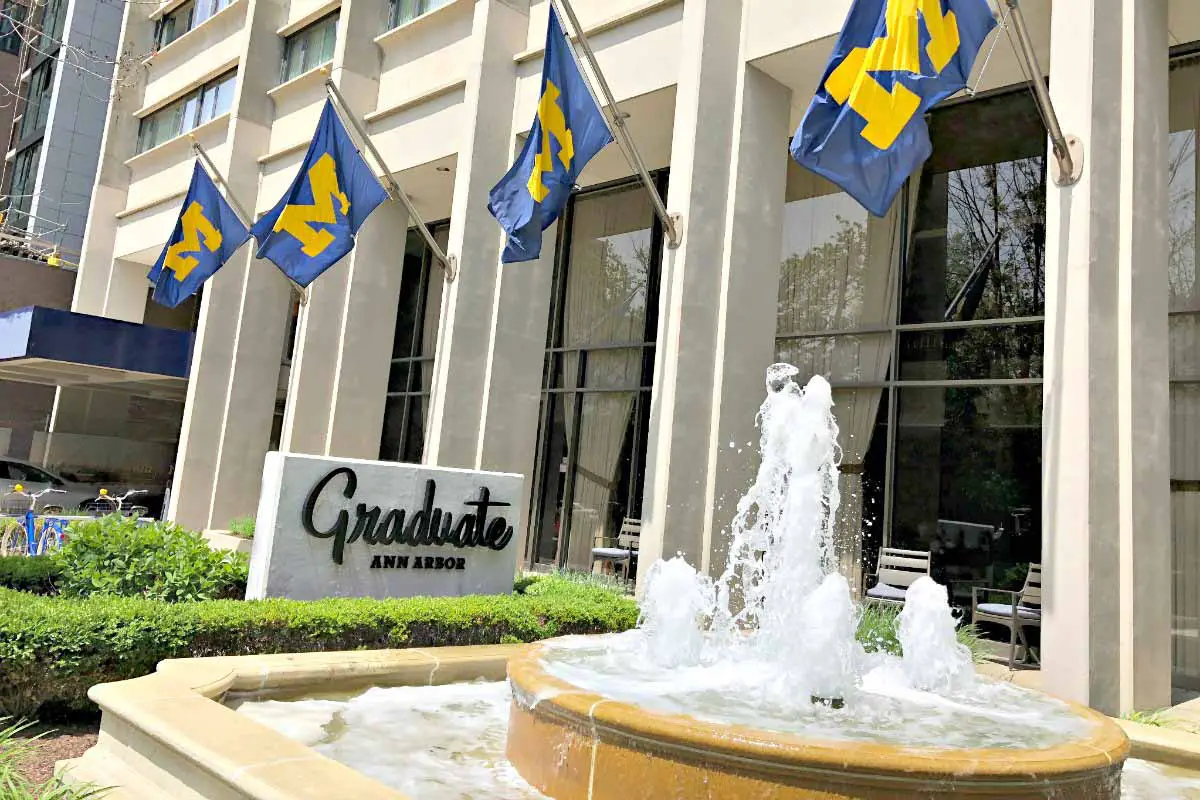 Inspired by the hotel chain's college-town locations, each Graduate Hotels® property celebrates the history and culture of its locale. Full of collegiate details, hotel guests will feel as if they've stepped back into their own glory days on campus.
Outside Graduate Ann Arbor, four blue flags emblazoned with the iconic maize "M" fly from this Ann Arbor hotel. Though the flags are the Graduate's most obvious nod to the University of Michigan, the campus inspiration is captured throughout the hotel.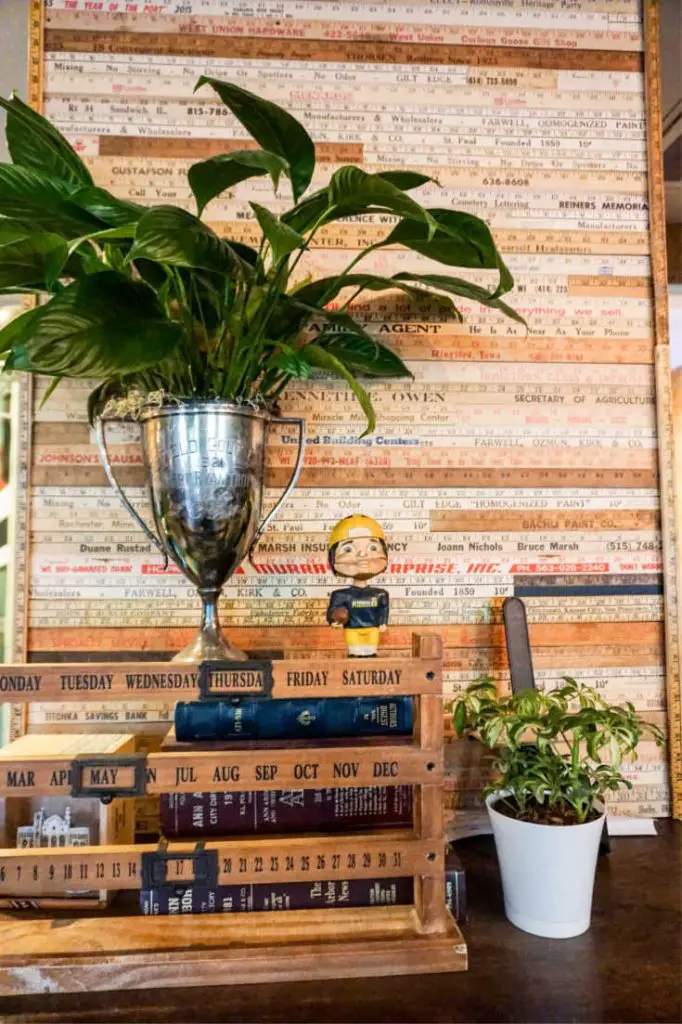 During my stay, I enjoyed finding these unique local- and campus-inspired details. The first of which I noticed were my room keys. Appearing like student ID cards, one of my keys featured a Michigan Wolverine football player. On the other key was a black-and-white headshot of musician Iggy Pop, who grew up in the Ann Arbor area. In my room, a pennant labeled simply with the word "studying" hung upon the doorknob in place of a "do not disturb" sign. And, playful artwork throughout the hotel hinted at campus traditions.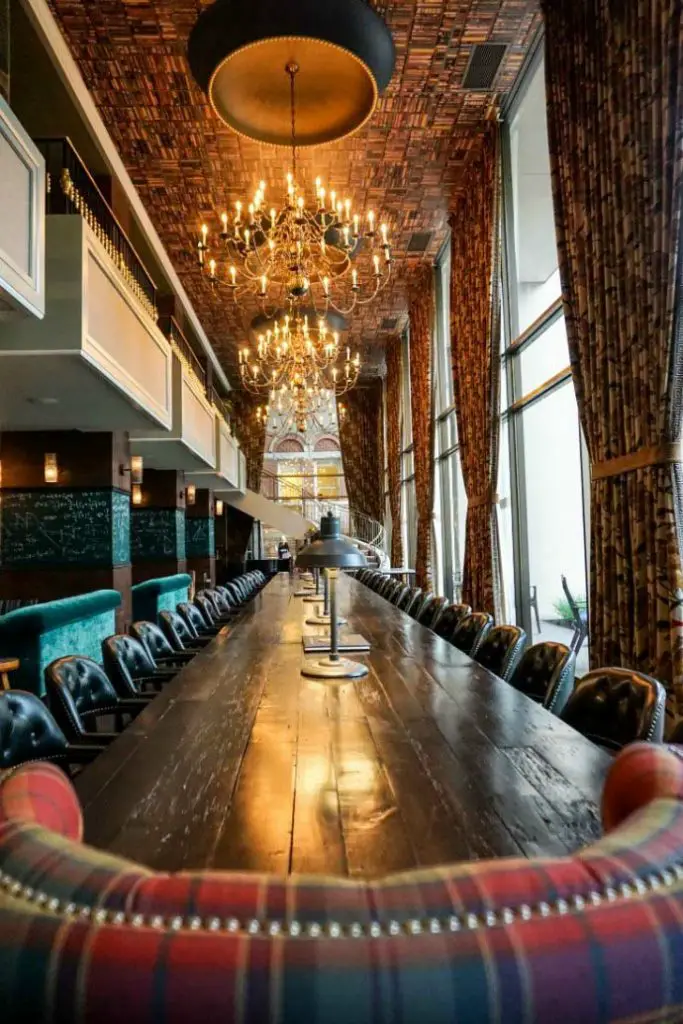 In the lobby, I was totally catching library vibes. That might have something to do with the ceiling. Look closely at the above photo to see what I mean. 😉 I seriously wanted to pull up a chair at that long table that seems transported from the university's law library or the Hogwarts Great Hall. I could have easily spent a couple hours there reading a good book — perhaps from one of the unique and quirky bookstores around Ann Arbor — and sipping a latte from the hotel's coffee bar.
---
Graduate Ann Arbor Guest Rooms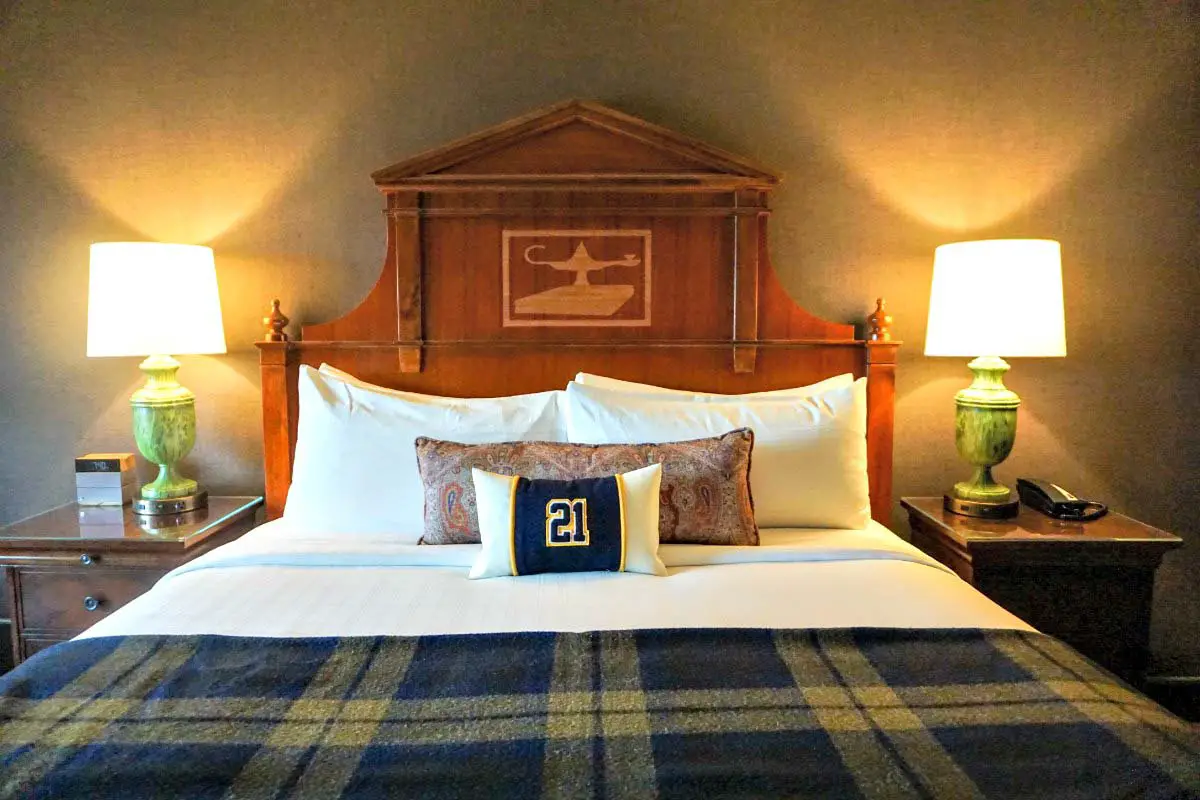 Inside my room, I delighted in finding more scholastic styling. The lamp of knowledge, a symbol of higher education, adorned the plush king-bed's headboard, and the bed was covered in a maize and blue plaid blanket. My favorite detail was the throw pillow fashioned with former Michigan Wolverine and Heisman Trophy-winner Desmond Howard's #21.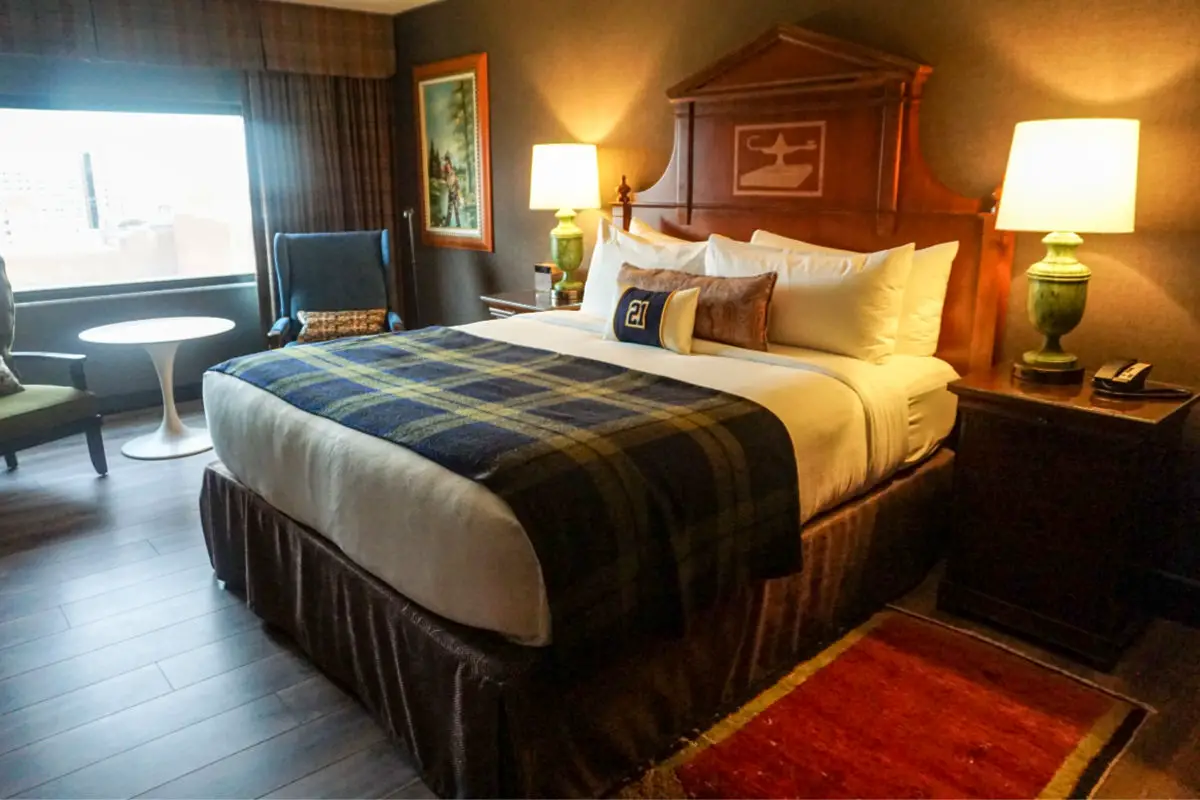 Looking out to downtown Ann Arbor, I could see State Street with the iconic State Theatre marquee from the pair of wingback armchairs by my room's window. Across from the bed was a desk with a workspace and a flat-screen TV that sat upon a library card catalog file. In the bathroom, (MALIN + GOETZ) amenities were provided in convenient pumps attached to the tiled shower wall. Whether for aesthetics or hotel guests' convenience and comfort, every detail seemed so thoughtfully placed. Those little details are what really made my stay so special.
---
Food + Drink At Graduate Ann Arbor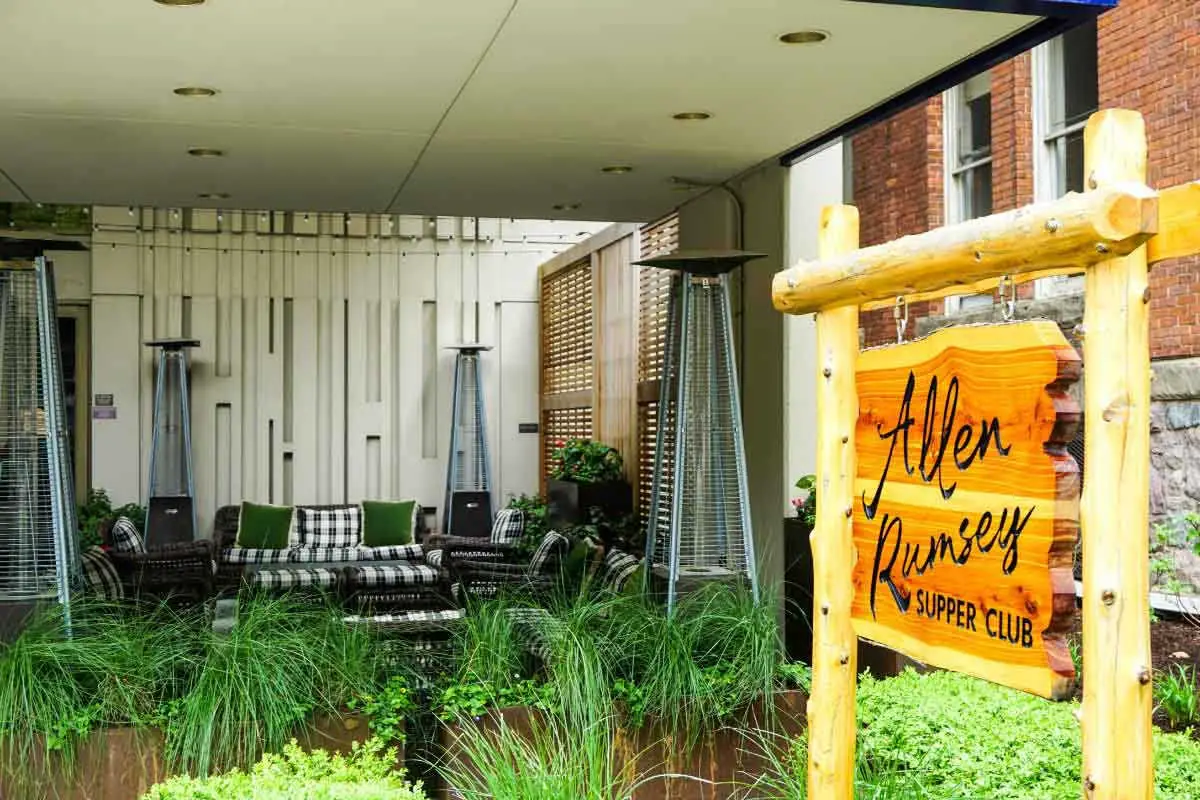 Allen Rumsey Supper Club
This old-school cocktail lounge with a cozy patio, a Midwest supper club look, and a menu of creative libations is an enjoyable spot for a pre-dinner drink or nightcap after a night out in Ann Arbor. My boyfriend and I ended our Ann Arbor date night here during our stay, and we loved the convenience of grabbing late-night drinks right at our hotel. He tried the cleverly named Mrs. Robinson, while I seriously digged my Matthaei Botanicals, a light and refreshing gin-based cocktail with a name referencing the University of Michigan's botanical garden.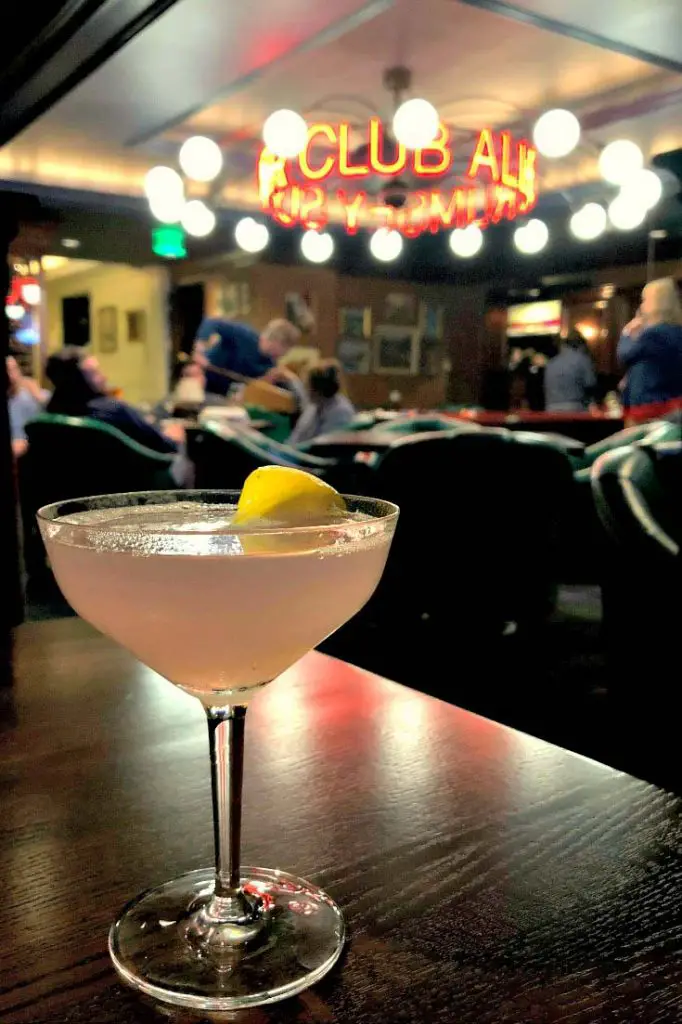 Poindexter Coffee
Also convenient for hotel guests is this coffee shop in the Graduate Ann Arbor lobby. Poindexter Coffee offers a variety of baked goods, salads, breakfast sandwiches, smoothies, coffee, tea, and espresso drinks. Having the option to grab a coffee and a bagel right at my hotel was most appreciated on a lazy Sunday morning. Yes, that was the morning after drinks in the cocktail lounge. 😉
---
Before You Stay At Graduate Ann Arbor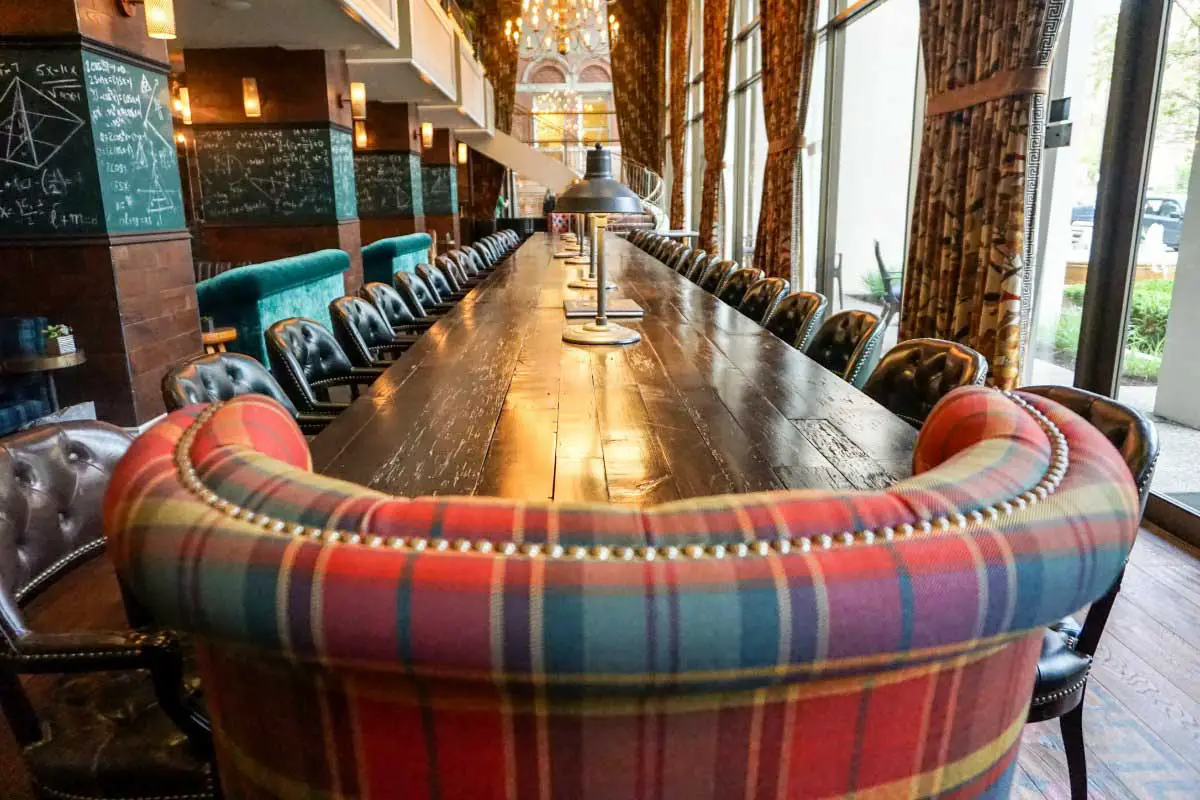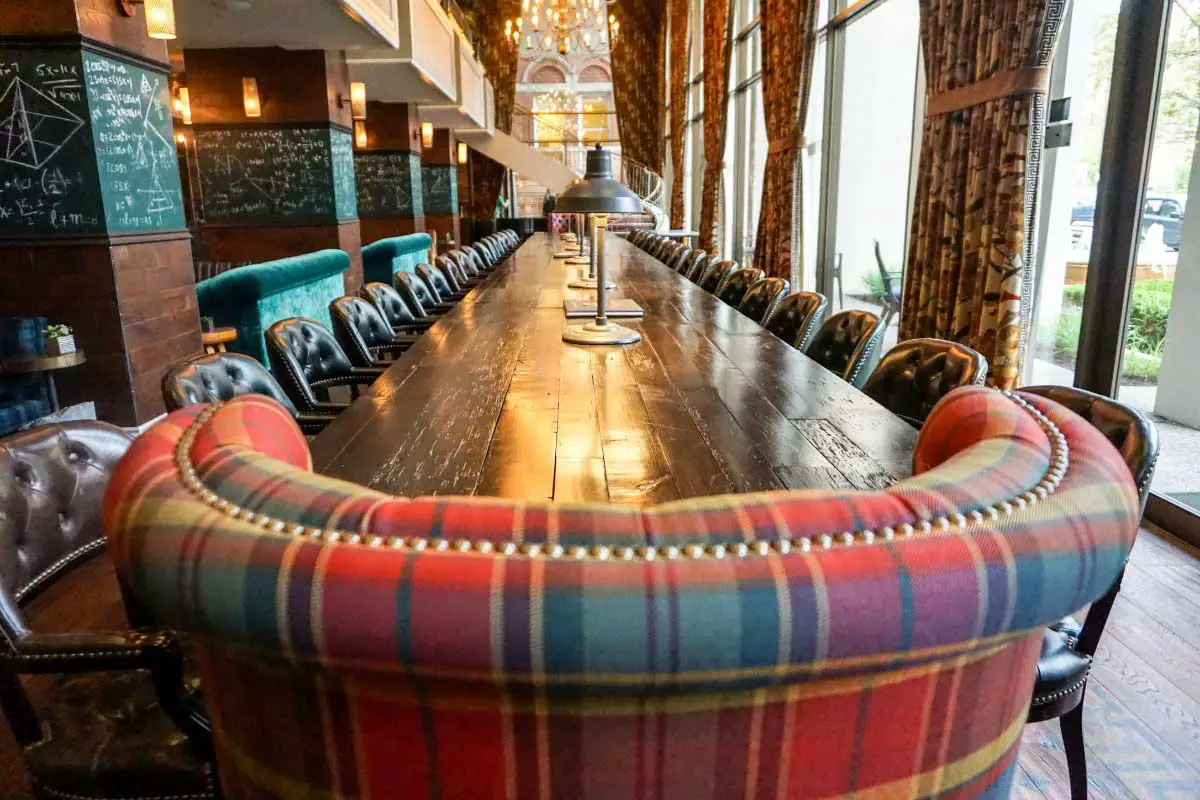 Whether visiting Ann Arbor for a football game, the annual Ann Arbor Art Fair, or another weekend getaway, I would certainly stay at Graduate Ann Arbor again. The location in the heart of downtown Ann Arbor's shopping, dining, and attractions is unbeatable. I loved being able to walk to the University of Michigan campus to see the beautiful law quad and check out the art museum, but you could easily walk in the other direction to the Big House to cheer on the Wolverines this fall. Plus, Graduate Ann Arbor puts its guests only a short walk from diverse ethnic eateries, restaurants with vegan and vegetarian menus, craft breweries, and coffee shops.
This section contains links to affiliate partners. When you click on one of these links or reserve your Graduate Ann Arbor room or suite through them, I may earn a small commission that helps to sustain this blog. Thank you for your support!
Things to Know Before Your Graduate Ann Arbor Stay
Location: 615 E Huron St, Ann Arbor, MI 48104
Phone: 734-769-2200
Parking: Valet only, $25/night*
Alternative Parking: There are city garages within walking distance. I would suggest driving directly to the hotel, and then ask the valet which option is most cost effective during your stay. City garage rates may be different on weekdays from weekends. This will also allow you to unload your car without lugging suitcases around Ann Arbor!
Accessibility: The hotel lobby, Poindexter Coffee, and Allen Rumsey Supper Club seemed accessible for wheelchair users, but the hotel website does not show accessible guest rooms.
For More Information: TripAdvisor Reviews | Graduate Ann Arbor Website | Instagram | Facebook
Planning Information For Your Ann Arbor Trip: Destination Ann Arbor | My Ann Arbor Blog Posts
Have you ever stayed at a hotel that reminded you of your college days?
Have you stayed at a Graduate Hotels® property or another hotel where you relived your own university days? If so, I'd love to hear about your experience in a comment below.