With its walkable downtown full of shopping, art, and dining suited for eclectic tastes, visitors can have an artsy and flavor-packed weekend getaway in Ann Arbor, Michigan.
Disclosure: This Ann Arbor weekend getaway guide also contains some affiliate links. When you click on a link and purchase an item or book your hotel stay, I may earn a commission.
---
A charmingly quirky college town, Ann Arbor is home to the University of Michigan. With many college students on summer break, May through August is an optimal time for a weekend getaway to Ann Arbor to explore all that this Southeast Michigan city offers.
Having grown up about 30 miles from Ann Arbor in Dearborn, Michigan, I feel honored to partner with Destination Ann Arbor and the premier women's travel network Wanderful to share one of my favorite Michigan cities with you.
There are so many fun and unique things to do in Ann Arbor; I'm sure you'll enjoy visiting this college town as much as I have. In particular, Ann Arbor is a fabulous getaway for foodies and art lovers. So, let's get started with how you can plan a relaxing, delicious, and art-filled weekend getaway in Ann Arbor this summer. For even more information about visiting Ann Arbor, click here.
Where to Stay: Downtown at Graduate Ann Arbor
Stay in the heart of downtown Ann Arbor's shopping, dining, and art at Graduate Ann Arbor. Plus, you'll be right by the University of Michigan campus.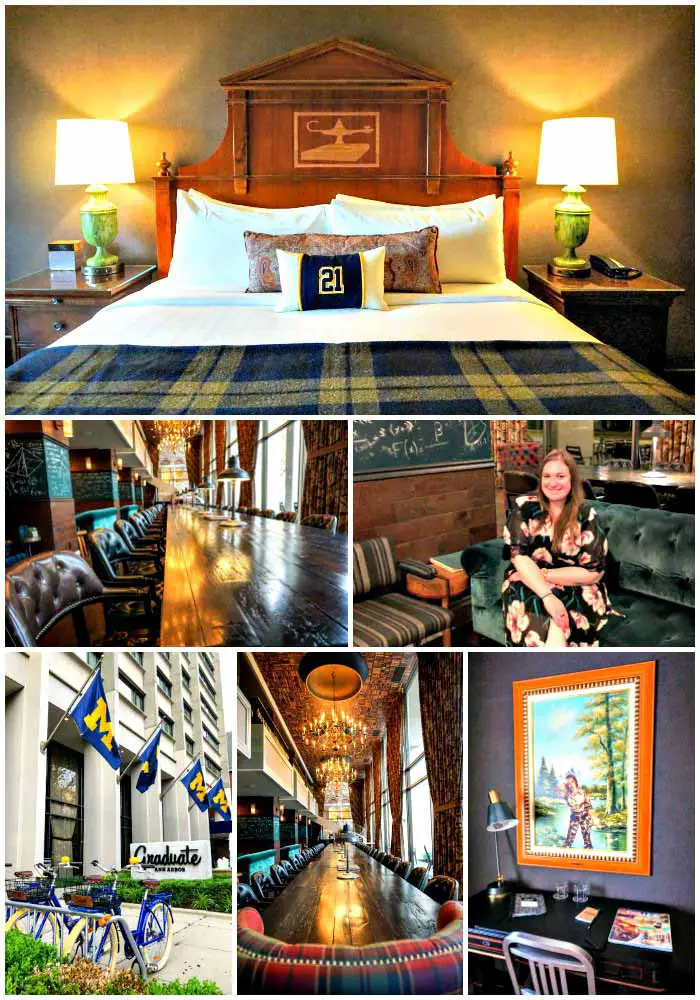 Some say our college years are some of the best of our lives. If your university housing was anything like the campus-inspired digs at Graduate Ann Arbor, then that saying probably holds true. Though I bet your dormitory didn't have a cocktail lounge. 😉
At Graduate Ann Arbor, you'll have fun taking in all the scholastic-inspired details. Your room key looks like a student ID. You'll see chalkboards scribbled with mathematical equations in the lobby. And, you'll hang your "studying" pennant on your door when you don't want to be disturbed.
In the lobby, you can sip a cup of freshly brewed coffee around a long table that seems like it was taken from the university's law library. Later in the day, gather in the Allen Rumsey Cocktail Lounge for a Mrs. Robinson, a cleverly named drink of wheat vodka, lime, rosemary, simple syrup, blackberry liqueur, bitters, and egg white.
My mom and my boyfriend joined me on separate nights during my stay. We found Graduate Ann Arbor appeals to a variety of travelers from Millennial to Baby Boomer. Whether you are visiting for a girls' trip or a romantic weekend getaway in Ann Arbor, I'm sure you'll love having Graduate Ann Arbor as your home base.
Graduate Ann Arbor is located at 615 East Huron Street, Ann Arbor, MI 48104. You can check availability at Graduate Ann Arbor for your travel dates.
Don't miss out on this unique hotel that will take you back to your own university days — reserve your room now!
Where to Eat in Ann Arbor
If you've seen "The Five-Year Engagement" starring Emily Blunt, you might remember Zingerman's Delicatessen where Jason Segal's character works. While Zingerman's might be Ann Arbor's most well-known foodie destination, there is much more to the city's dining scene. In fact, the area has more than 300 restaurants! In downtown Ann Arbor alone, you'll find an eclectic mix, including ethnic eateries, craft breweries, and even vegetarian and vegan restaurants.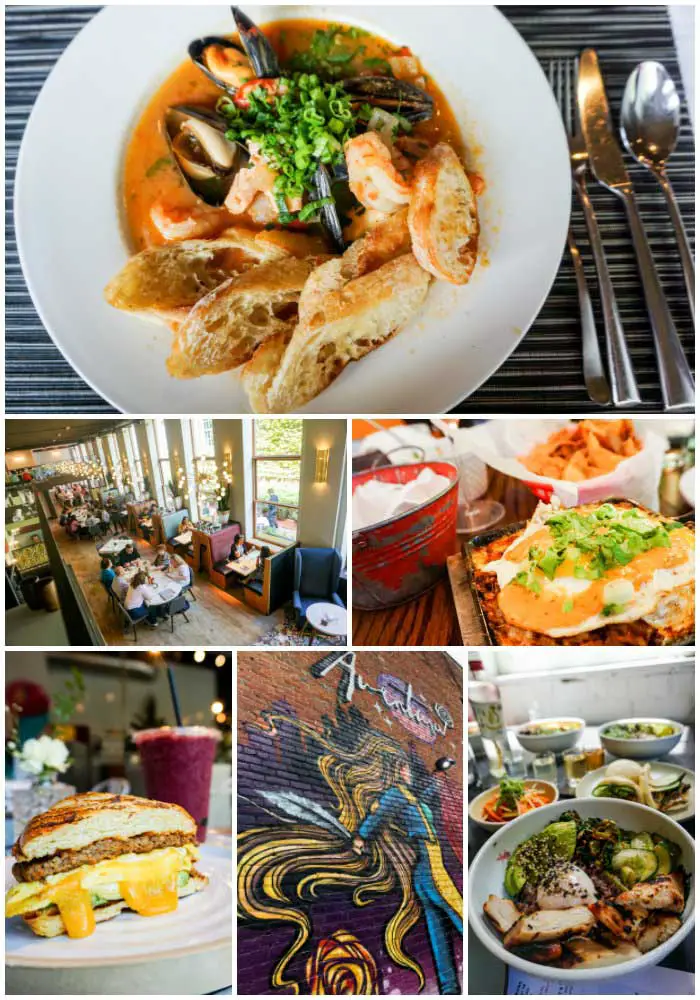 Clockwise from top: Bouillabaisse at Taste Kitchen, chorizo fundido hash at Isalita brunch, chicken avocado rice bowl with steamed buns and koryo carrot salad at Korean restaurant Miss Kim, mural outside Spanish tapas restaurant Aventura, breakfast sandwich and smoothie at Wilma's, dining room of Sava's
Dining Recommendations for Your Ann Arbor Getaway
Where to eat in Ann Arbor could be a blog post of its own! For now, here are my recommendations for your summer getaway — from breakfast to dessert.
Breakfast and Brunch in Ann Arbor
Left: Beach blanket smoothie at Fred's (now closed) | Right: Brunch at Isalita
If you are the type of traveler who needs coffee first thing in the morning, then head downstairs to the Graduate Ann Arbor lobby. Poindexter Coffee offers grab-and-go pastries, Zingerman's bagels, and freshly brewed java.
Isalita | 341A East Liberty Street
Keep this downtown Mexican spot in mind for Sunday brunch when you can order breakfast dishes like a chorizo fundido hash or tacos from the full lunch/dinner menu. The same goes for cocktails — blood orange mimosas if you are feeling breakfast vibes or margaritas because it's five o'clock somewhere.
RELATED: 7 Ann Arbor Spots That Aren't Your Average Coffee Shops
Lunch in Ann Arbor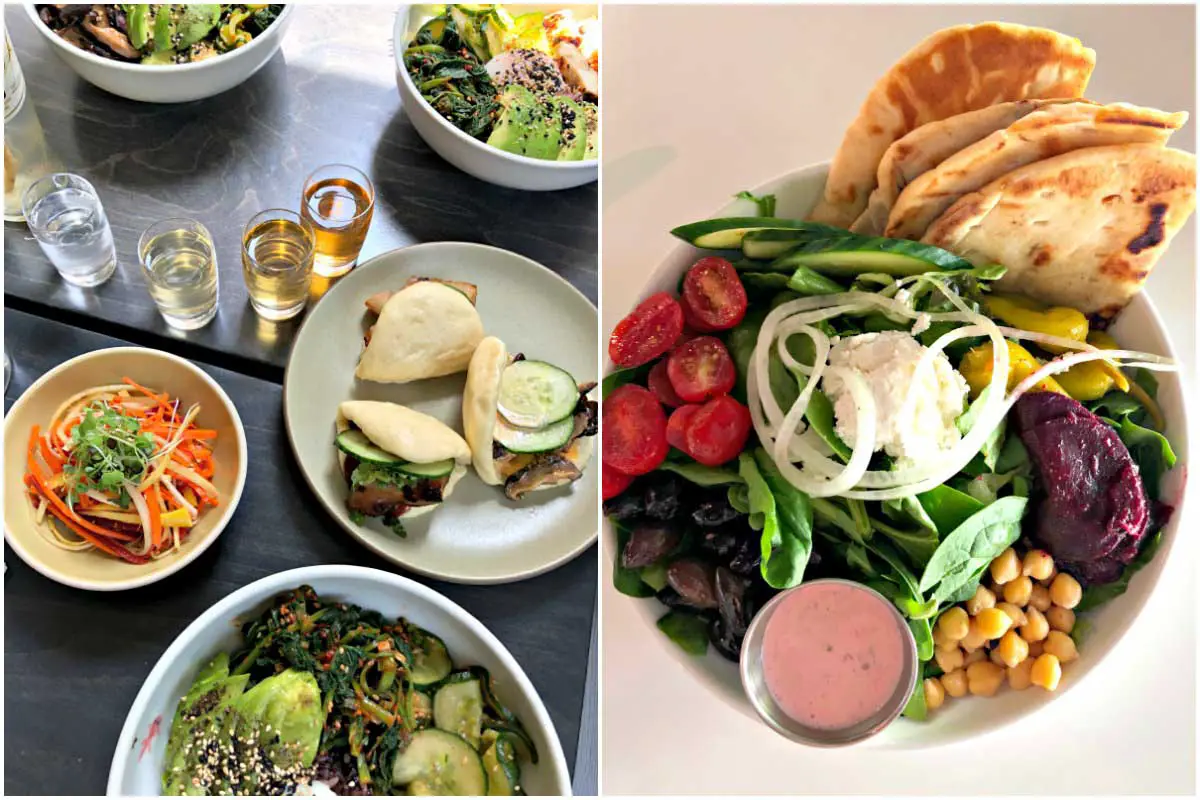 Left: Rice bowls, carrot salad, and steamed buns at Miss Kim | Right: Sava's Greek salad
At this renowned deli, a staff member will help you find just the right sandwich. I can give two thumbs up to Benno's Birdie. It's Amish chicken breast, Ligurian pesto, oven-dried tomatoes, and fresh handmade mozzarella on a grilled rustic Italian bread. It's definitely a sandwich for pesto lovers. Make sure you grab a side dish from the case of deli salads, too!
Miss Kim | 415 North Fifth Avenue
At this Zingerman's restaurant in Kerrytown, chef Ji Hye Kim creates authentic Korean dishes using local Michigan ingredients in the spirit of Korean culinary traditions. Her steamed buns made in-house are a must! I highly recommend the roasted pork belly bun, but the sautéed mushrooms bun is a great vegetarian option that can also be made vegan. I also really like the chicken avocado rice bowl during my lunch at Miss Kim.
Sava's | 216 South State Street
Also another contender for Sunday brunch, Sava's is a delight for all your senses. From the colorful tile floor up to the burst chandeliers, your eyes will be pleased. Your taste buds will be, too! Start your meal with the bang bang shrimp, and the lavender lemonade is so refreshing on a hot summer day.
RELATED: Lunch in Ann Arbor — Five Spots Where You Should Eat
Dinner in Ann Arbor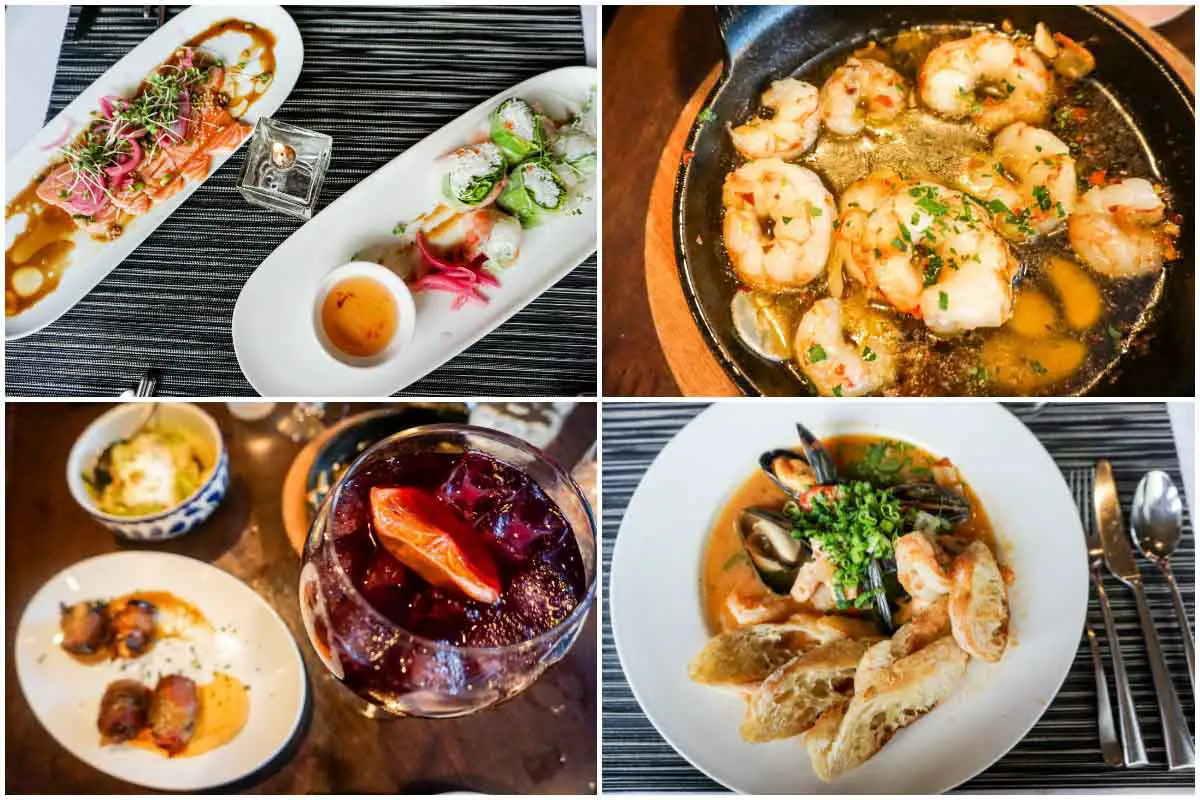 Clockwise from top right: Gambas al ajillo at Aventura, bouillabaisse at Taste Kitchen, sangria with bacon-wrapped dates stuffed with chorizo and blue cheese at Aventura, salmon sashimi and spring rolls at Taste Kitchen
Chef Van regularly changes his menu that features sustainably sourced seafood and produce with Vietnamese flavors and French techniques. If the bouillabaisse or salmon sashimi is on the menu when you dine at Taste Kitchen, I would highly recommend you order both.
Aventura | 216 East Washington Street
At this modern Spanish tapas restaurant, you'll find a menu of traditional Spanish cuisine and drinks. I've heard so much praise for the squid ink paella. Based on dining here, I recommend the red sangria, bacon-wrapped dates stuffed with blue cheese, gambas al ajillo, and Brussels sprouts served with pistachios, apples, honey, olive oil, and Crema Fresca.
Cool Treats for Summer
Left: Strawberry and star fruit white iced tea with a chocolate-hazelnut macaron at TeaHaus | Right: Lavender lemon honey ice cream at Blank Slate Creamery
Cool down with a scoop of all-natural, made-in-house ice cream! You'll find unique flavors such as balsamic strawberry, lavender lemon honey, chocolate-covered pretzel with a caramel swirl, Vietnamese cinnamon, and campfire s'mores.
TeaHaus | 204-206 North Fourth Avenue
With more than 175 varieties of tea, you are sure to find one you'll enjoy. On a hot day, cool down with iced tea and pair it with a macaron. The chocolate-hazelnut macaron I had at TeaHaus was seriously the best macaron I've ever had.
Drinks In Ann Arbor
Left: Matthaei Botanicals cocktail at Allen Rumsey Cocktail Lounge at Graduate Ann Arbor | Top right: Craft beer samples at HOMES Brewery | Bottom right: Black Star Farms 2103 Merlot at VinBar (closed)
A short Uber/Lyft ride from downtown Ann Arbor, HOMES is just the place for sour beers, saisons, IPAs featuring tropical hops, and fruit-forward beers paired with Asian street food. Sit out on the patio and soak in some sunshine, too!
After a night on the town, head back to the Graduate for a nightcap. At the Allen Rumsey Supper Club, you'll sip old-fashion cocktails in the tradition of Midwestern supper clubs. I thoroughly enjoyed the gin-based Matthaei Botanicals — named after the local botanical garden.
Experiencing the Arts in Ann Arbor
Whether you are passing a mural on the street or attending a concert or art exhibit, there are plenty of ways to indulge in the arts in Ann Arbor.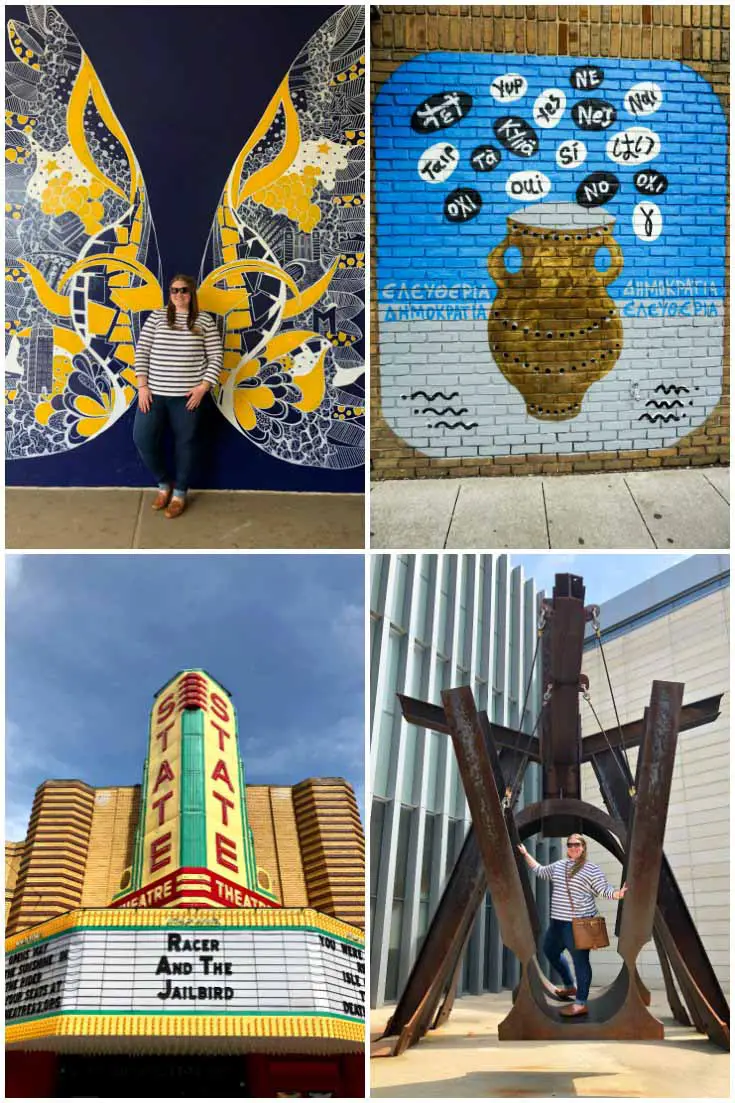 Clockwise from top right: Mural in downtown Ann Arbor by Greek artist Cacao Rocks, taking a swing on "Shang" by Mark di Suvero at the University of Michigan Museum of Art (UMMA), State Theatre marquee, and "Michigan Wings" by Kelsey Montague #WhatLiftsYou
Listen tto Live Music at The Ark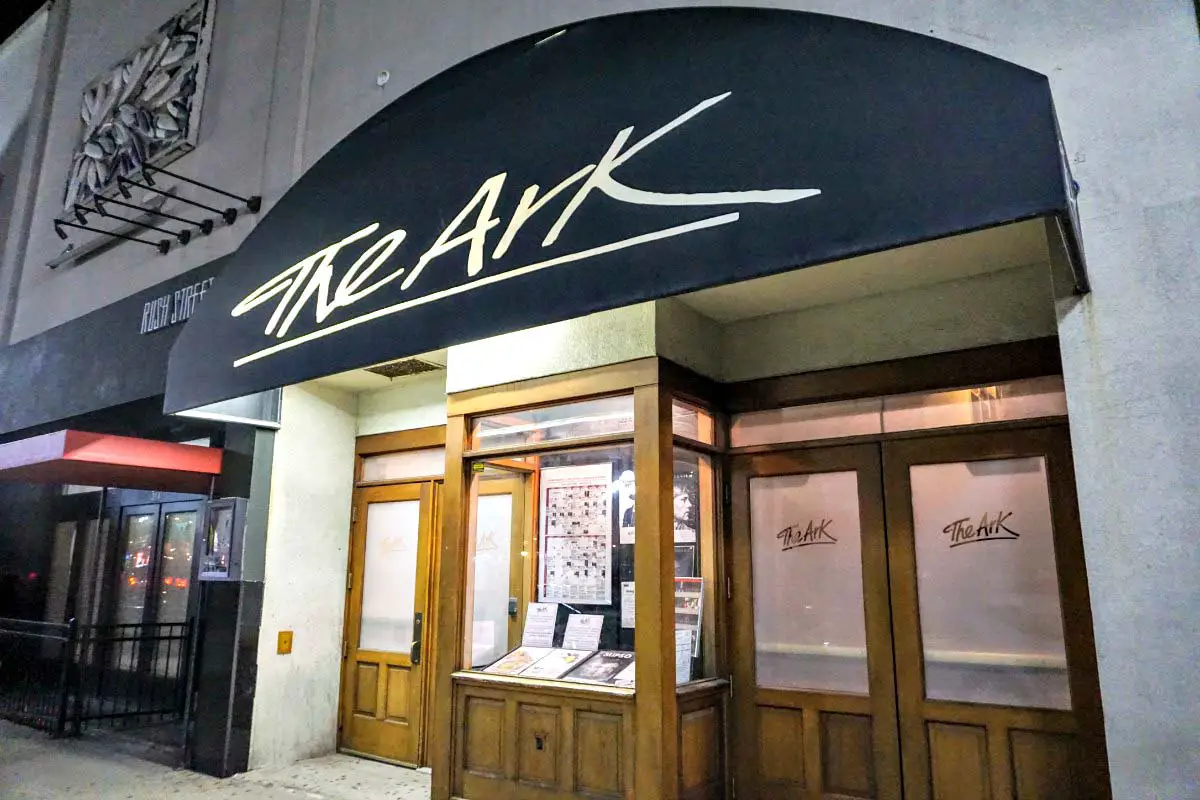 The Ark, a renowned music venue in downtown Ann Arbor
Hosting more than 300 performances each year, The Ark is nationally well-known for folk and acoustic music. An intimate venue of about 400 seats, tickets to most shows cost less than $50. Sometimes you can even nab a ticket for as little as $11! The Ark has hosted big names over the years, including Kacey Musgraves, Emmylou Harris, and Ben Folds. Check The Ark's calendar to see if there is a concert while you are in town!
The Ark is located at 316 South Main Street.
Seek Street Art in Downtown Ann Arbor
Left: "Michigan Wings" by Kelsey Montague | Right: Street art by Greek artist Cacao Rocks
As you walk around downtown Ann Arbor, you are bound to see some street art. One of the newest additions is Michigan Wings by artist Kelsey Montague. If you are into street art, you probably recognize her work, especially her well-known wings in the Gulch neighborhood of Nashville. The Michigan Wings feature iconic sights from the University of Michigan's campus, including Burton Tower, the Law Quad, and the brass "M" on the Diag.
When you find the Panera at the corner of South Thayer Street and North University Avenue, you'll see three more murals. This series was created by international artists brought to Ann Arbor through the Global Graffiti project. Offering a global perspective, these public artworks were created to demonstrate how street art is a powerful medium of expression and communication.
"Michigan Wings" is on Maynard Street at the corner of East William Street. Cacao Rocks' murals are located at 318 South Thayer Street.
Attend a Summer Festival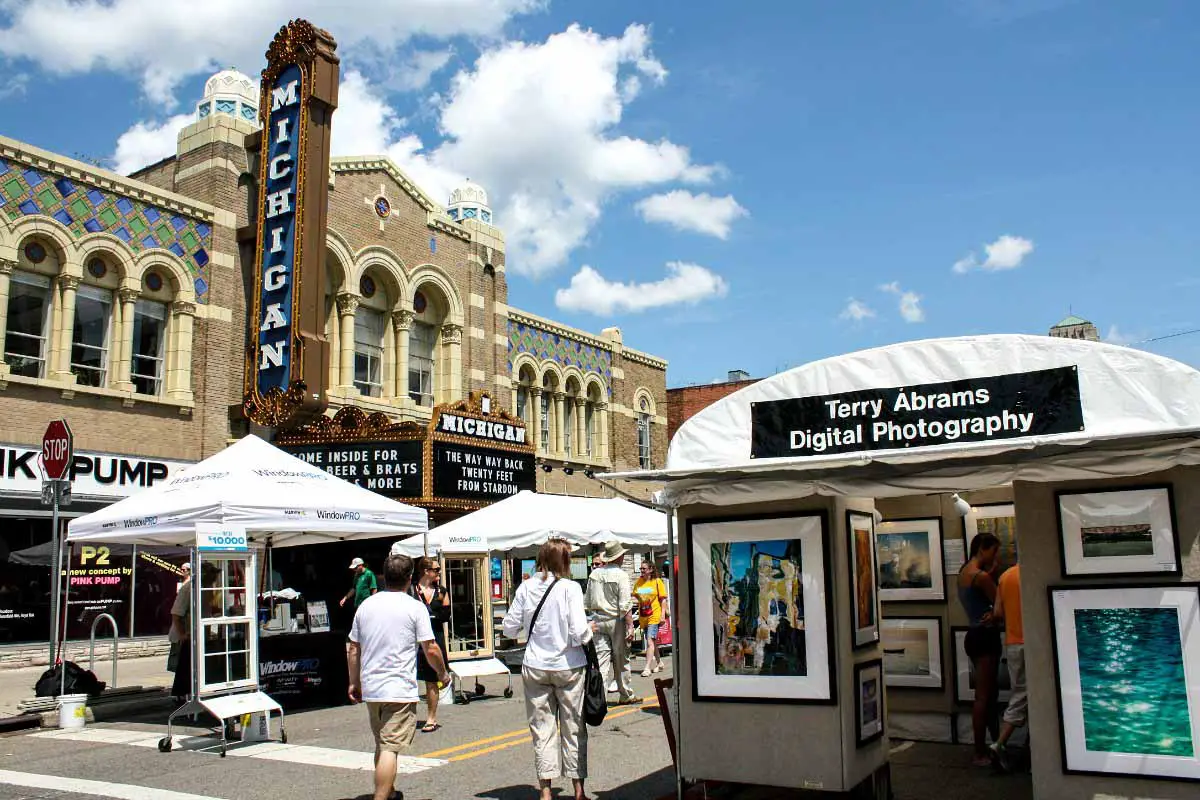 The annual Ann Arbor Art Fair
One of my favorite art events of the summer takes place in Ann Arbor — the annual Ann Arbor Art Fair. It's actually made up of four separate award-winning, juried fairs. One of the largest art fairs in the US, it takes over downtown Ann Arbor for a long weekend each July. As a regular Ann Arbor Art Fair visitor, I shared my top tips for visiting the fair in this post.
Other unique art events to attend in Ann Arbor during the summer include Shakespeare in the Arb at Nichols Arboretum and the three-week-long Ann Arbor Summer Festival celebrating theater, dance, music, and comedy with performances at Hill Auditorium and the Power Center. Both events take place in June, so keep those in mind as you plan your trip!
Take a Gander at the Law Quad's Architecture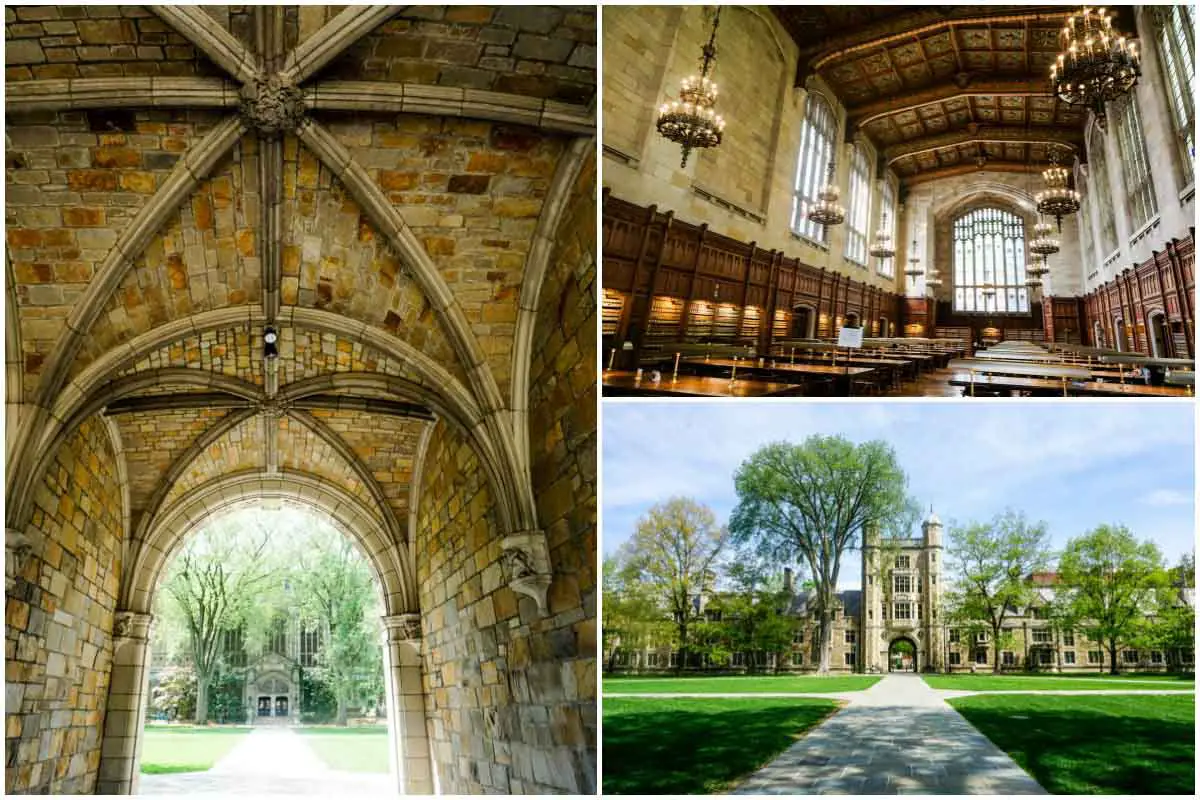 University of Michigan Law Quad and Law Library
As you walk through the archway to the University of Michigan Law Quad, you'll find beautiful Tudor Gothic architecture. Inside the Law Library, the reading room's arched windows feature stained glass seals of other universities. With dramatic chandeliers and a high, cathedral-like ceiling, I felt like I was Harry Potter, stepping into the Hogwarts Great Hall for the first time. My favorite details from the University of Michigan Law School are stained glass cartoons featuring aspects of the law — divorce, inheritance, and crimes such as burglary and forgery. You'll find those in the Cloister Hall, the first floor of Hutchins Hall.
The University of Michigan Law Library is located at 801 South Monroe Street.
Browse the University of Michigan Museum of Art
From top right: "Love is What You Want" by Tracey Emin, Untitled by Mark Bradford, Museum Apse featuring European and American art from 1830 to 1915
The University of Michigan Museum of Art (UMMA) is one of the largest university art museums in the United States. The collection features European and American art dating back to the 1100s, artworks from Africa and Asia, modern and contemporary art, photography, and outdoor sculptures. Admission to the museum is free and open to the public Tuesday through Sunday. Check the museum's website for accurate hours of operation and current exhibits!
UMMA is located at 525 South State Street.
Catch an Indie Flick at the State Theatre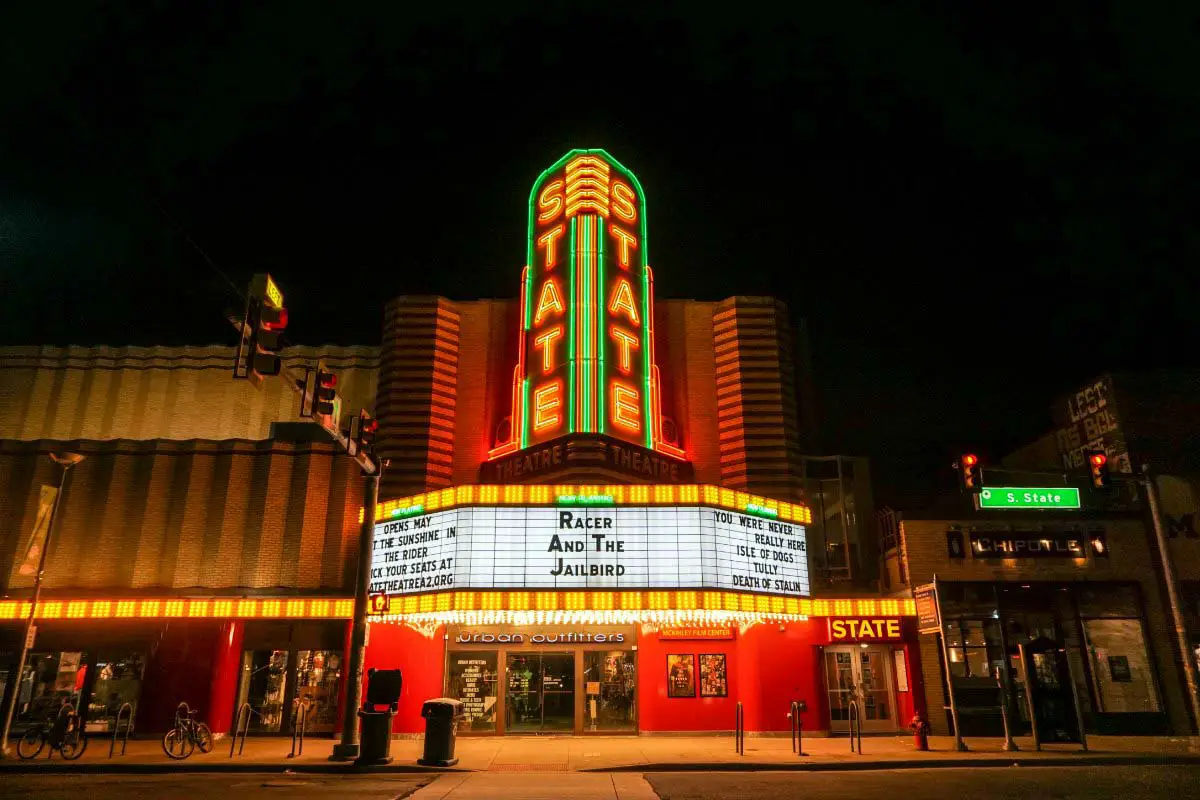 State Theatre in downtown Ann Arbor
Need to beat the heat? Rainy day? Go see a movie at the State Theatre! This Art Deco cinema in downtown Ann Arbor shows indie, art house, and foreign films that you might not find at your average movie theater. Check out the State Theatre's schedule to see what is playing when you are in town!
The State Theatre is located at 233 South State Street.
Getting To And Around Ann Arbor
Ideally located for visitors in Michigan and surrounding states, Ann Arbor is only a 45-minute drive from Detroit, two hours from Grand Rapids, three hours from Cleveland and Columbus, and four hours from Chicago and Indianapolis. The city is easily accessible from major highways, including I-94, M-14, and US 23. And, visitors from Chicago and Detroit can take Amtrak's Wolverine Line to Ann Arbor to enjoy a car-free weekend!
Pro Tip: The Ann Arbor train station is near Kerrytown. So, be sure to stop into Zingerman's Deli to grab a sandwich for your train ride home!
Visiting Ann Arbor from too far away to drive?
Ann Arbor is only 25 miles from Detroit Metro (DTW), a major international airport. You can even get to downtown Ann Arbor from the airport without a car for less than $25 round trip per person. Check out Michigan Flyer for its motorcoach schedule between Ann Arbor and DTW!
Once you are in Ann Arbor, the downtown is very walkable. However, you can use local buses and ride-sharing services like Uber and Lyft to get you around when needed.
Explore the map to see where to eat, drink, and experience the arts in Ann Arbor!
Final Thoughts About Visiting Ann Arbor
Looking for a weekend getaway in the Midwest? Interested in street art or live music? Are you a total foodie? Then I say a trip to Ann Arbor, Michigan, is in order.
Growing up nearby in the Detroit area, I always loved visiting Ann Arbor for day trips. Now that I've stayed in the city for a weekend getaway, I would urge metro Detroiters to consider Ann Arbor for an overnight stay or weekend getaway, too. There is probably much more to see and do than you realized. I know that was how I felt.
For more inspiration, start planning your trip at AnnArbor.org!
More Posts Like This
Save the image below to your Michigan travel board on Pinterest for future trip planning!