Located just across the Ohio River, Parkersburg welcomes Midwestern road trippers to "almost heaven" — the state of West Virginia. As John Denver sang, West Virginia is home of the Blue Ridge Mountains, the Shenandoah River, and plenty of country roads.
For those of us driving there through Ohio, Parkersburg is perfectly positioned as a road-trip destination. As the third-largest city in West Virginia, Parkersburg has historic sites, museums, and outdoor activities that will easily fill your weekend itinerary.
In this post, I'll share a little of the history that makes a visit to Parkersburg so fascinating. Then I'll highlight the top attractions, culinary establishments, and hotels, so you can plan your own weekend getaway in Parkersburg, West Virginia.
Disclosure: The Greater Parkersburg CVB hosted my trip in early June 2018. Additionally, this post contains affiliate links. When you click on or make a purchase from one of these links, I may earn a commission.
---
Why Visit Parkersburg? History!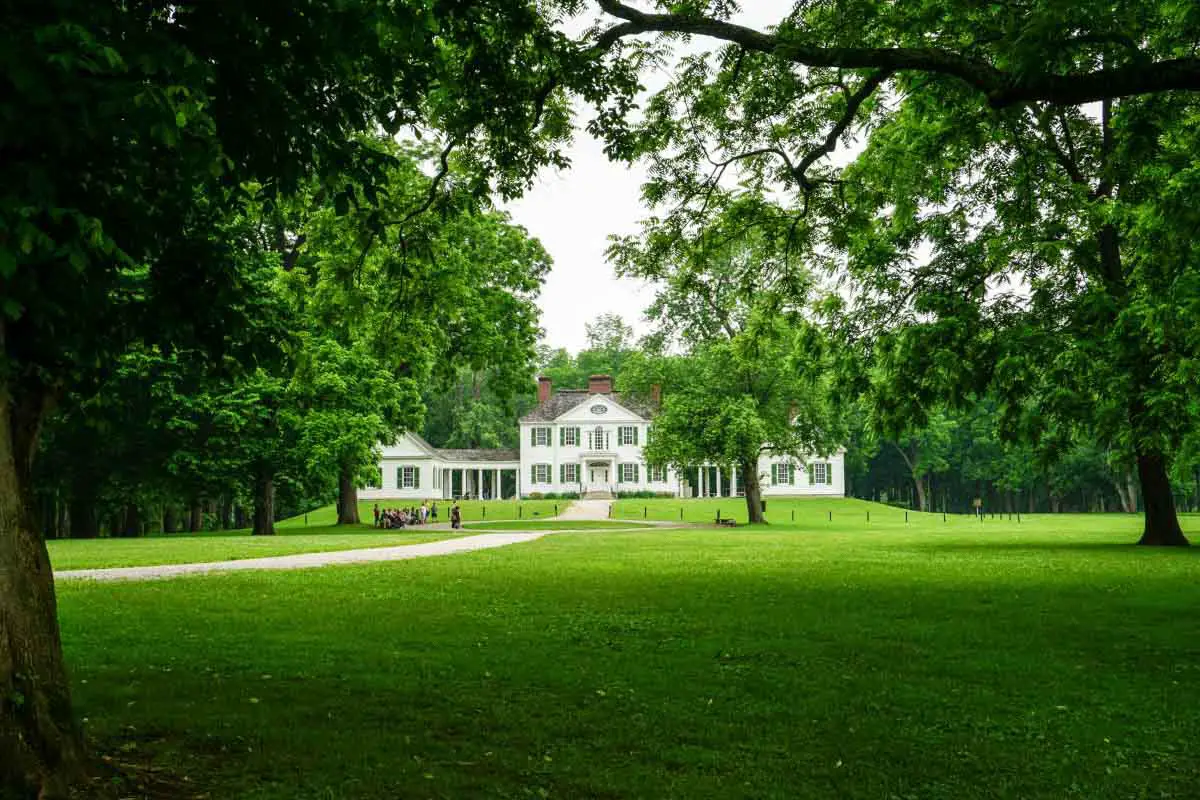 The replica of the Blennerhassett mansion at Blennerhassett Island State Park
The Blennerhassett Family
As you roam around Parkersburg, you're likely to notice one name popping up over and over again — Blennerhassett. The Blennerhassett family's story is one you are more than likely to hear during your trip, especially if you visit Blennerhassett Island. And, I do recommend that you visit.
You see, the Blennerhassetts were wealthy Irish aristocrats who built a beautiful mansion on their own private island in the Ohio River in the late 1700s. It was their oasis.
Unfortunately, the family got tangled up in Vice President Aaron Burr's plot to take over the Southwest. Ultimately, this led to a series of unfortunate events for the Blennerhassetts. The husband, Harman, was even charged with treason. Such scandal!
To hear the full tragic tale, you'll want to watch the video at the Blennerhassett Museum of Regional History in downtown Parkersburg. Then visit Blennerhassett Island State Park to see a full-scale replica of the mansion that burned to the ground. I said it was tragic!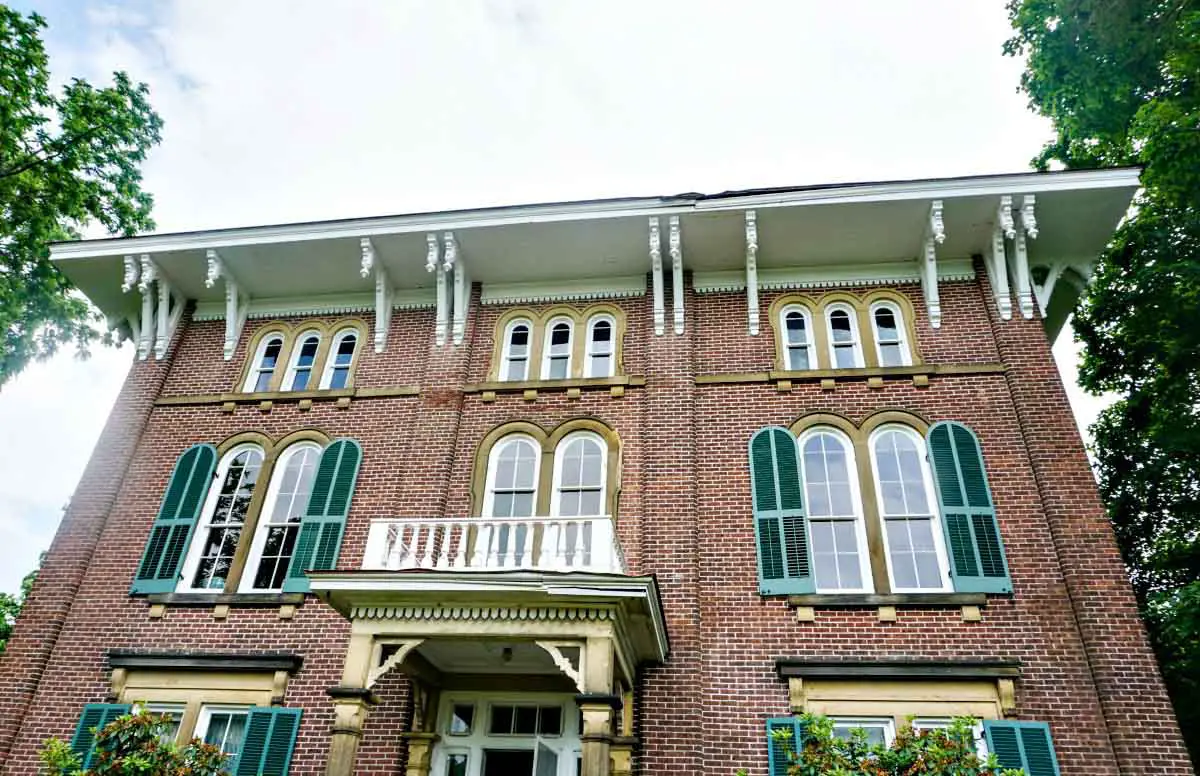 Henderson Hall
The Henderson Family
While visiting Parkersburg, you may also learn of another prominent family from that time period — the Hendersons. Hailing from Virginia, the Hendersons were friends of George Washington and James Madison.
As contemporaries of the Blennerhassetts, the Hendersons heard about Burr setting up an encampment on the Blennerhassett's property. Essentially, Burr planned to claim a Southwest empire and was using the Blennerhassett's private island as a base for his recruits.
Naturally, being "family friends" with Burr's adversary — President Thomas Jefferson, Alexander and John G. Henderson reported Burr's suspicious activities to the president and Secretary of State Madison. The Hendersons certainly played their part in the Blennerhassett family's demise.
You can tour the stately Henderson family home, where you might even see notes prepared for testimony in the Burr-Blennerhassett treason trial.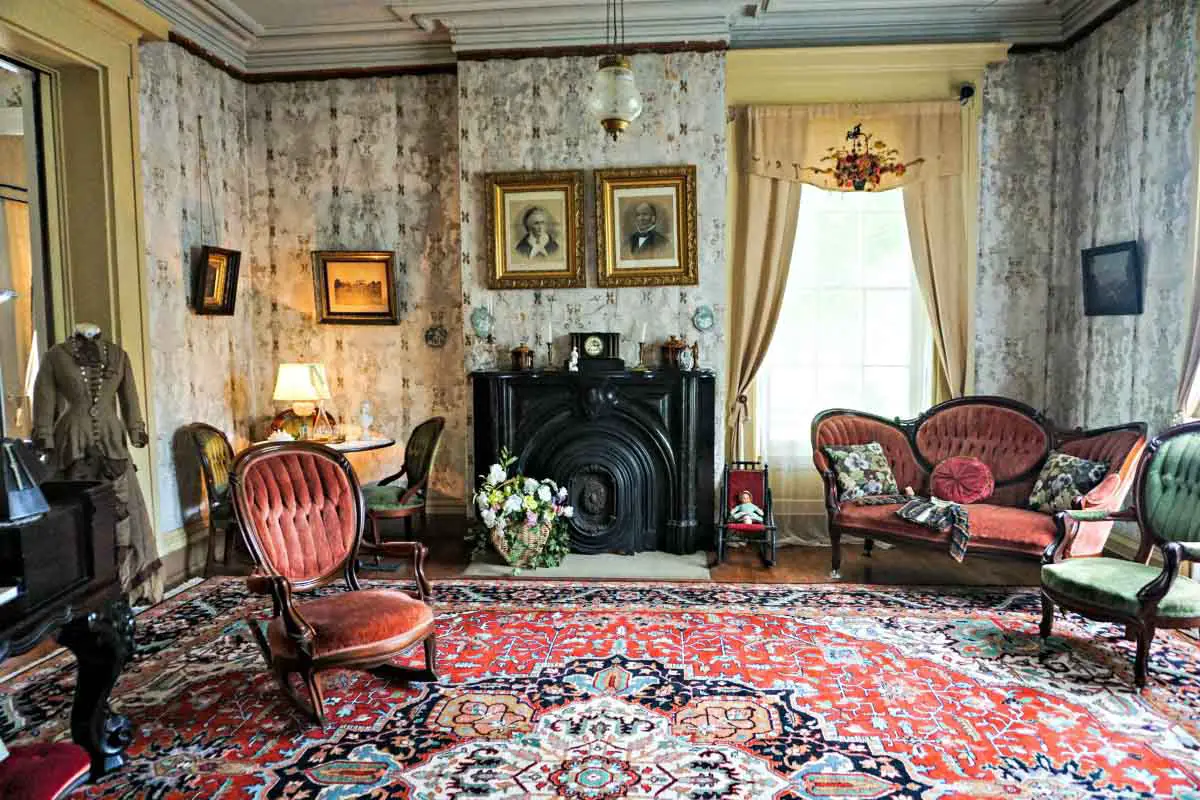 Inside Henderson Hall
The Victorian Era In Parkersburg
Jumping ahead past the Civil War, Parkersburg grew rapidly due to the gas and oil industry. Located just north of downtown, what is now the Julia-Ann Square Historic District encompassing Juliana and Ann streets became home for many of West Virginia's movers and shakers at the turn of the 20th Century. Community leaders, bankers, businessmen, and politicians built homes here in the latest styles and with the finest materials available. You can take a self-guided tour of the neighborhood, where you'll see prime examples of Second Empire and Queen Anne architecture.
While these three aspects of Parkersburg's history intrigued me most, there is even more for history buffs to explore!
---
Things To Do In Parkersburg
As I mentioned, history buffs will find plenty to do in Parkersburg. Whether you find the Civil War, rise of industry around the turn of the 20th Century, or colonial American life most interesting, you'll certainly learn something in Parkersburg that wasn't in your U.S. history textbooks. Beyond the historical sites and museums, the Greater Parkersburg area is also home to beautiful state parks for a variety of recreational activities. Plus, the city has a fantastic local arts center and hosts exciting events and festivals throughout the year.
Save this post to Pinterest!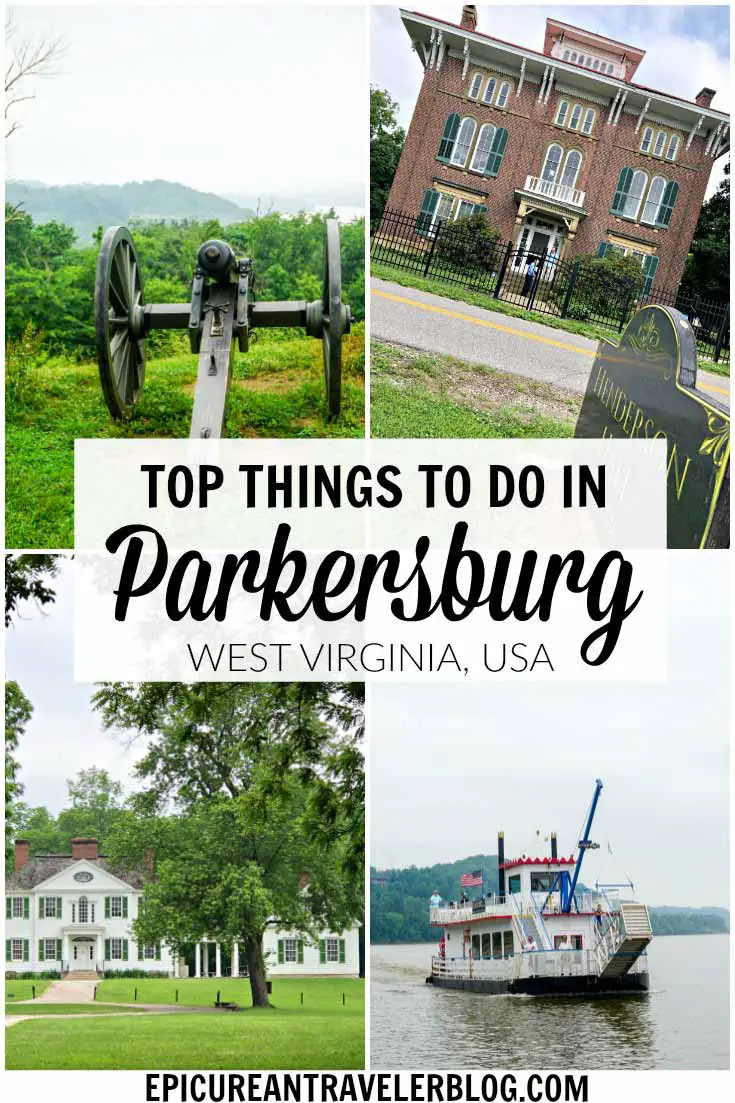 Clockwise from top right: Henderson Hall, Island Belle sternwheeler, Blennerhassett Island State Park, and Fort Boreman
If there is one thing you do while visiting Parkersburg, visiting Blennerhassett Island is it. First, step aboard the Island Belle, an authentic sternwheeler, as you cruise down the Ohio River to Blennerhassett Island. Then take a guided tour the of Blennerhassett mansion replica. You'll actually see some of the original furniture. The family's belongings had been actioned off after Harman was arrested for treason, so these pieces weren't in the mansion when it burned to the ground.
The Island Belle
Blennerhassett Museum of Regional History
Located in downtown Parkersburg, this three-story museum would be the best place to start your journey into the history of Parkersburg. In addition to the archaeological and historic exhibits, you must watch the video that tells the woeful tale of the Blennerhassett family.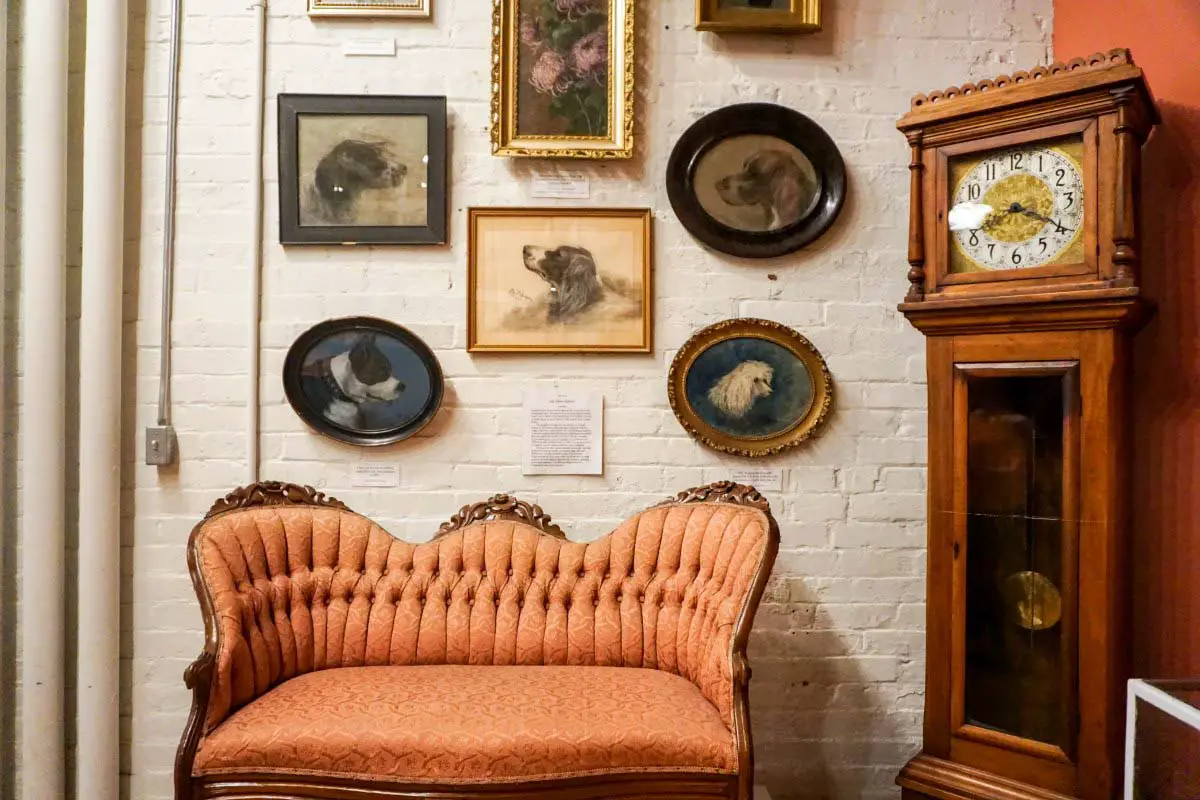 Blennerhassett Museum of Regional History
Take a step back in time to early American life at this pre-Civil War Italianate mansion. Listed on the National Register of Historic Places, visitors can explore the 8,000-square-foot estate, peeking into some of the 21 rooms outfitted in original furnishings from the 1700s' frontier life to the turn of the 20th Century. Six generations of Hendersons lived here over 200 years, and the mansion was the centerpiece of the 2,600-acre plantation, horse-breeding farm, oil field, and river port.
Notable features to see during your visit include the original land grant, written notes prepared for testifying in the Burr-Blennerhassett trial in 1807, and the Belvedere observatory on the fourth floor. You'll also see toys, clothing, furniture, and decor from early American life.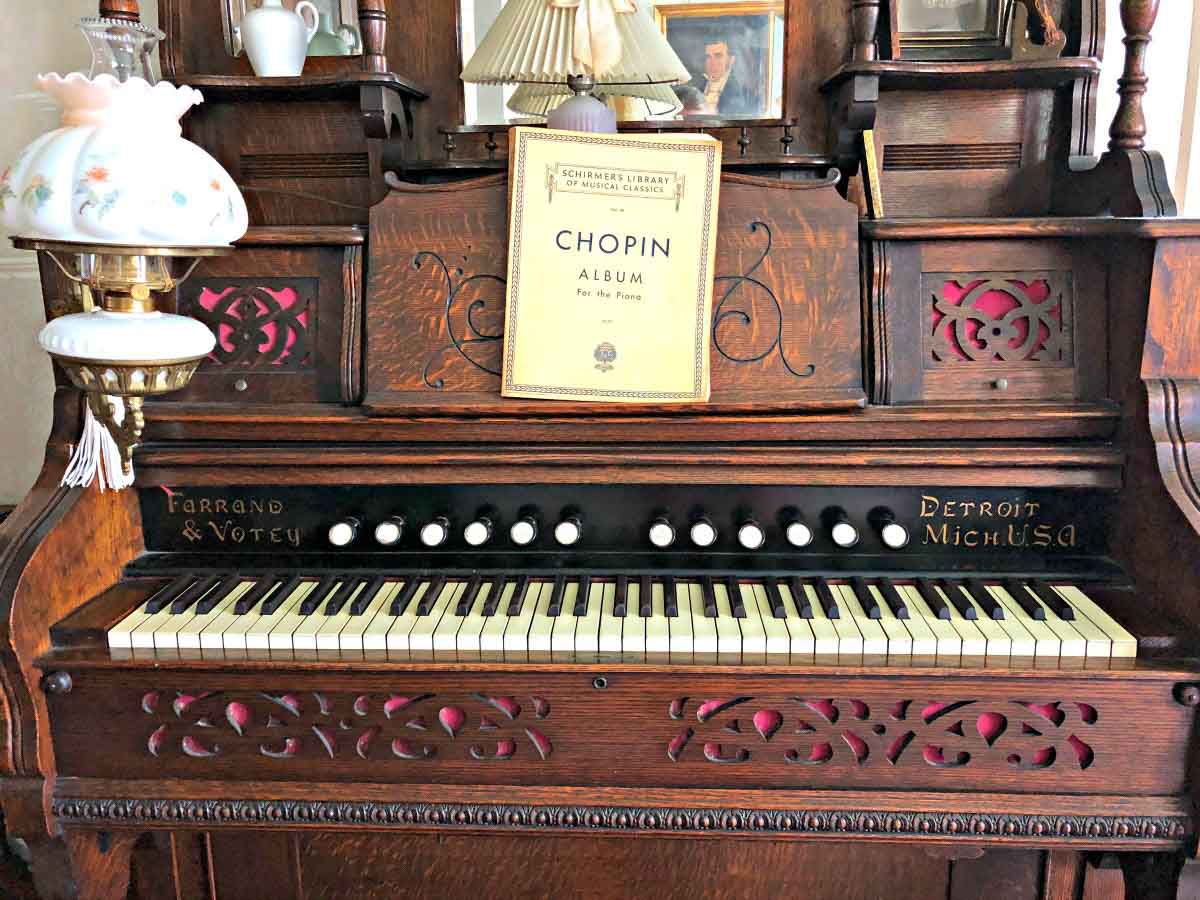 Inside Henderson Hall
For history and architecture buffs visiting Parkersburg, a self-guided tour around this neighborhood of more than 125 Victorian Era homes is a must. It has been on the National Register of Historic Places since 1977 and is the largest and oldest historic district in West Virginia. The majority of the homes were constructed from 1850 to 1910 in Queen Anne, Second Empire, and 19th Century eclectic styles.
Today, the Julia-Ann Square Historic District hosts several annual events. Those include the Garden Tour & Tea (the first full weekend in June), Victorian Christmas Tour & Tea (the first full weekend in December), and historical re-enactments throughout the year at Riverview Cemetery. Group tours for a minimum of 25 people are also available by appointment. For more information, call 304-422-9861.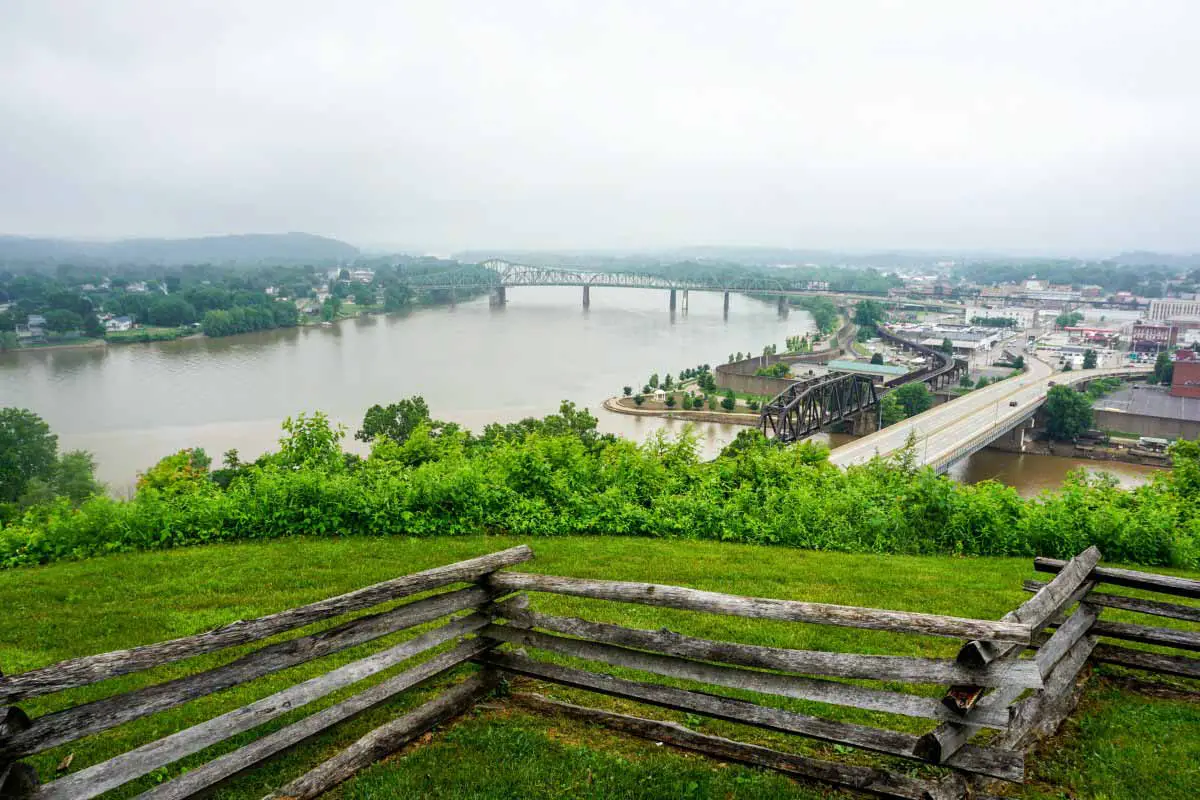 The view from Fort Boreman over the Ohio River
Fort Boreman Historical Park
A former Civil War defense site, Fort Boreman is much more than a fort these days. You can take in an incredible panoramic view of the Mid-Ohio Valley, where the Ohio and Little Kanawha Rivers meet. You can even see out to Blennerhassett Island! The park also has walking trails, picnic areas, and public restrooms. This would be a great spot for a morning hike followed by a picnic lunch with a view!
This 1920s Vaudeville theater was saved from demolition in 1989, and a group of volunteers have been working to restore the theater to her former glory over the past three decades. Visitors of Parkersburg can take a backstage tour or catch a performing arts show. The theater hosts big band, Broadway, classical, country, jazz, and even Celtic musical performances throughout the year. To see if you can schedule a backstage tour or get tickets for a show, call 304-422-PLAY (7529).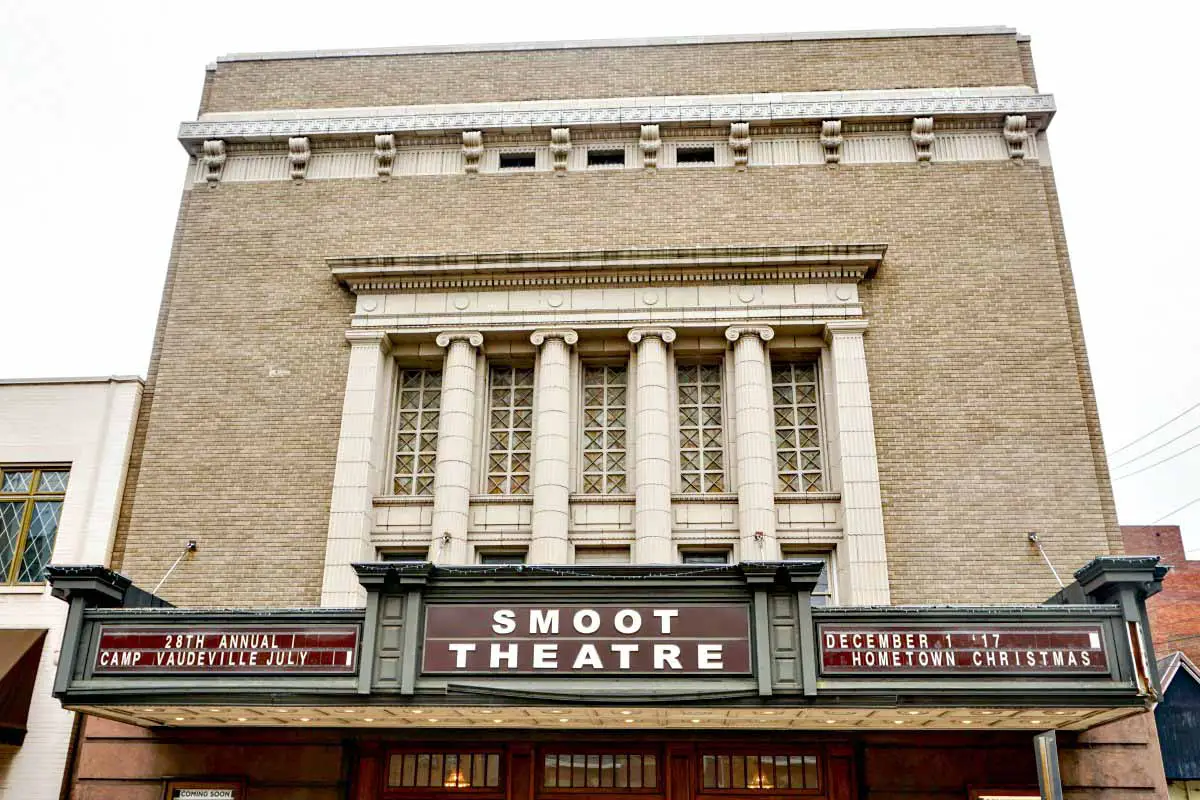 Smoot Theatre
The oldest arts center in West Virginia, the Parkersburg Arts Center hosts artwork from national, regional, and local artists in its contemporary galleries.
More Things To Do In The Greater Parkersburg Area
Visit the Oil & Gas Museum
Explore the Veterans Museum of Mid-Ohio Valley
Learn more about Parkersburg's oil industry on a self-guided tour of Burning Springs Park
Go hiking at McDonough Wildlife Refuge
Kayak or canoe at North Bend State Park
Go birding at North Bend Lake
Have your own ATV? Hit the new trail system at Mountwood Park!
Seek out the "Weeping Lady" on a full moon at Riverview Cemetery
Shop for bulk candies at America's oldest five-and-dime store, Berdine's 5 & Dime, just like you would have back in 1908!
See the world's largest button collection at the Henry Cooper Log Cabin
Hunt for ghosts and paranormal activity on the Haunted Parkersburg Ghost Tour
---
Where To Eat & Drink In Parkersburg
Parkersburg may not be known as a foodie destination, but you'll find award-winning craft beers, the most delicious chocolates, and charming family-run restaurants.
Save this post to Pinterest!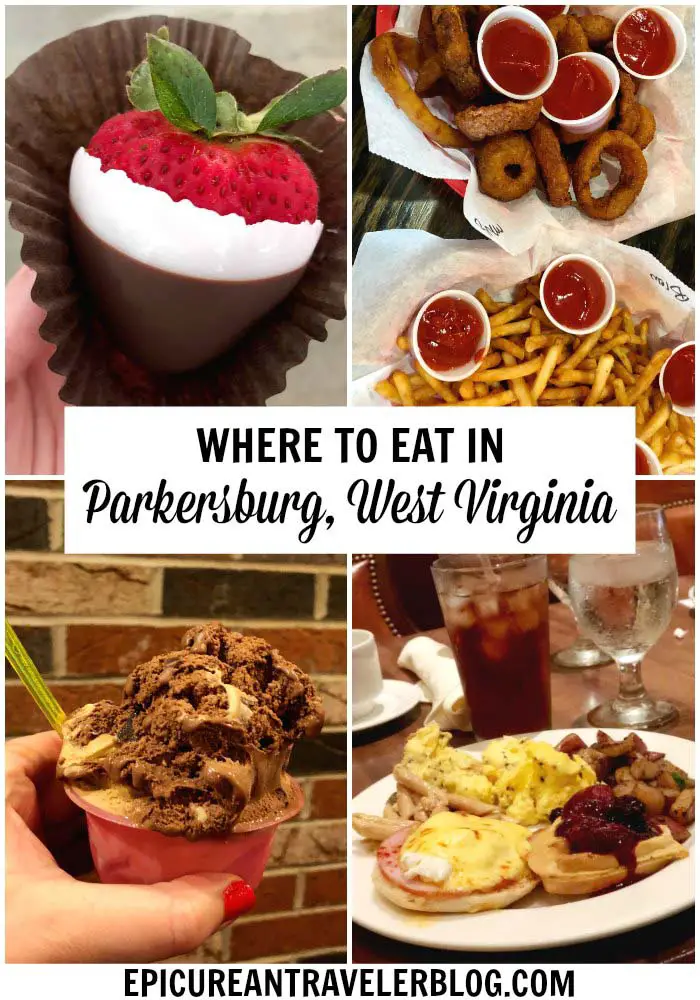 Clockwise from top right: onion rings and beer-battered fries at North End Tavern & Brewery, Sunday brunch at Spats Restaurant in the Blennerhassett Hotel, salted caramel and chocolate-peanut butter gelato at Colombo's, and a Holl's chocolate covered strawberry at the Taste of Parkersburg
Serving pizza, pasta, and other Italian classics since 1954, Jimmie Colombo's Italian Restaurant is a family-friendly dining establishment. As you walk to your table, be sure to check out the walls of photos. For pasta, you'll choose spaghetti, penne, rigatoni, or fettuccini noodles paired with your choice of sauce and toppings. All the pastas come with a house salad and garlic bread, but you need to save room for gelato.
At the N.E.T., you'll find comforting pub fare — burgers, sandwiches, and mouthwatering beer-battered fries — and locally brewed craft beer from the oldest brewery in West Virginia. Order a flight sampler, and you can taste a variety of styles including Belgian, American wheat ales, a West Coast-style IPA, and their award-winning amber ale, Roedy's Red.
Another spot for craft beer drinkers, the Parkersburg Brewing Company won a gold medal at the 2018 World Beer Cup for its Cell Block 304, an American brown ale. Not a beer drinker? That's ok! In addition to a delicious-looking lineup of craft beers, the brewery also serves wine and whiskey. For food, try a gourmet steak burger or a panini!
Holl's Swiss Chocolatier is a small, family-owned business dedicated to creating chocolates and confections using the finest ingredients. The beautiful shop is like a mini chocolate museum with display cases of the delicious sweets. You'll find chocolate boxes and wines to bring home as gifts and souvenirs from your trip, or you can mix and match your own box at the counter. The chocolate is incredibly creamy and smooth — just like the Swiss chocolates I ate a month after my Parkersburg visit in Switzerland! Holl's Chocolates is a must-visit for any chocolate lover passing through the Parkersburg area.
Served from 11 a.m. until 1:30 p.m. on Sunday, brunch at the historic Blennerhassett Hotel's restaurant is a culinary affair. You'll find a lavish buffet with an omelet station, seafood such as oysters on the half shell, breakfast classics, a lovely lunch spread, and delicious house-made desserts. Reservations are recommended, so call the Blennerhassett Hotel at 304 422-3131 to reserve your table.
This annual food and beverage festival showcases the best local restaurants and regional breweries and wineries. Your admission includes a wine or beer glass to use for your beverage tasting. Then you'll purchase tickets to sample craft beers, ciders, wines, and food. This is definitely an event to see and be seen, so don your cutest maxi or sundress. And don't miss the chocolate-covered strawberries at the Holl's Chocolates booth!
---
Where To Stay In Parkersburg
When visiting Parkersburg, I would recommend you stay in or near downtown. You'll be a short walk from several of the attractions as well as a variety of restaurants. During my visit, I was hosted at the TownePlace Suites and I toured the historic Blennerhassett Hotel. Both hotels are in the downtown area, and either one would make a great home base for exploring Parkersburg.
TownePlace Suites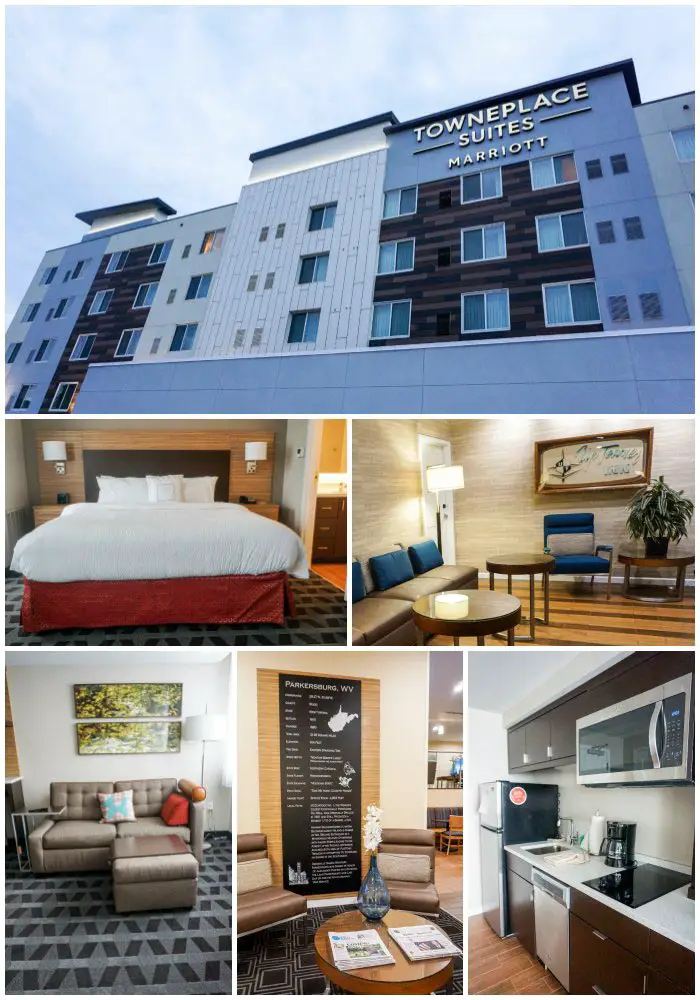 The TownePlace Suites is a three-star Marriott hotel. Obviously, a major perk here is being able to earn or burn Marriott rewards points! The hotel has 84 suites, which feature a full kitchenette. I loved having a refrigerator to keep food and drinks cold. One of my favorite aspects of Marriott hotels is that I can connect to my Hulu account on the flat-screen TV. I got to keep up on Handmaid's Tale while on this work trip! Amenities include an indoor pool, patio with a barbecue, fitness center, complimentary continental breakfast, bike rentals, and a snack bar. The hotel lobby also had tons of space for meeting up with other travelers and some unique touches such as the Up Town Inn sign from the hotel that once occupied this location. The hotel has a stellar 5-star rating on TripAdvisor and an "exceptional" 9.7 rating on Booking.com.
The Blennerhassett Hotel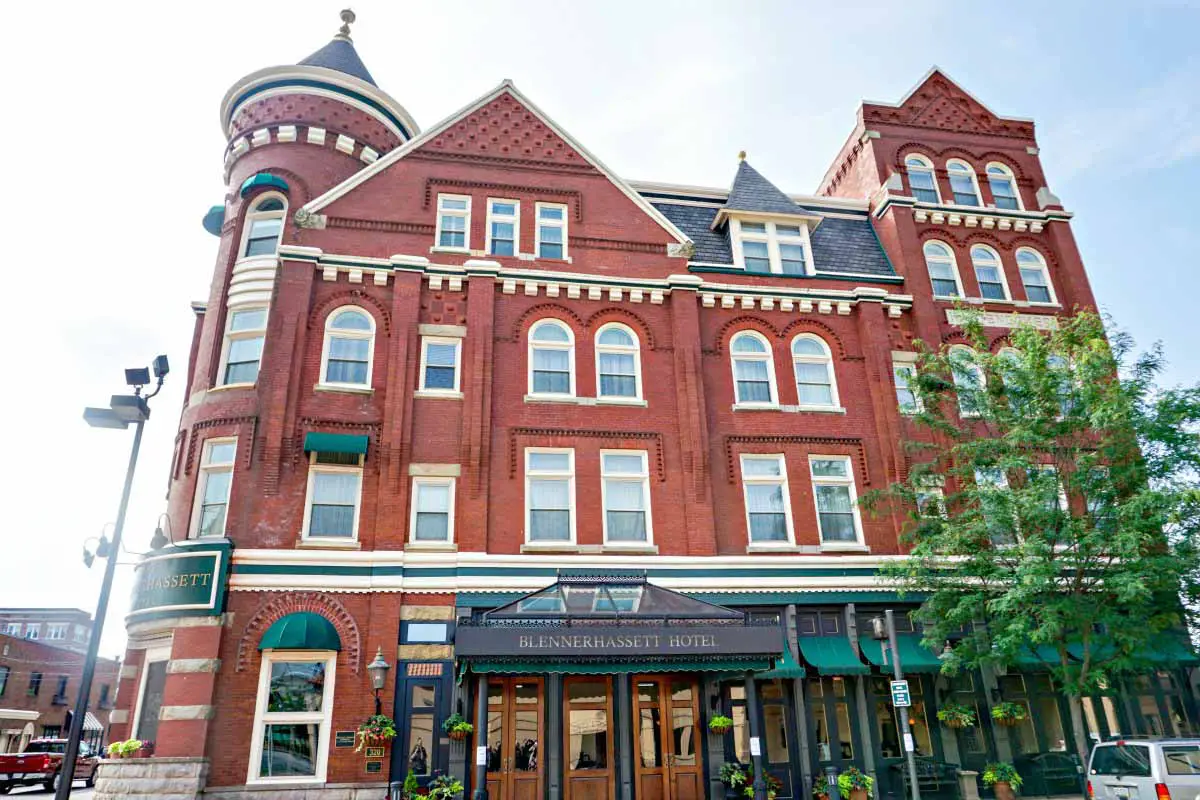 The Blennerhassett Hotel is an elegant three-star historic hotel with modern amenities, including a fitness center, coffee bar, restaurant, and patio. The hotel has a 4.5 rating on TripAdvisor with 70 percent of users rating their stay "excellent." It also has a 9.5 "exceptional" rating on Booking.com.
---
Before Your Parkersburg Trip
Parkersburg would be a convenient stop for Midwestern travelers setting off on a road trip through the beautiful Mountain State. You could also add a day trip to explore Parkersburg's historical sites when visiting nearby Marietta, Ohio. Driving from Michigan or Ohio, your road trip to Parkersburg could include stops in Columbus, Athens, or Hocking Hills.
On my road trip, I stopped in Columbus for delicious German food and book browsing in the German Village neighborhood. If I make this drive again, I am definitely exploring Hocking Hills. I'd also consider adding a couple days in Marietta. There are so many great road trip routes in this area!
However you decide to map out your trip, the Greater Parkersburg CVB is a fantastic resource for trip planning. You'll find tons of travel tips for things to do in Parkersburg. Also, don't forget to check Parkersburg hotel availability for your travel dates!
Want to easily access this article on the go? You can even read my Parkersburg weekend getaway guide when you aren't connected to data or Wi-Fi in the GPSmyCity app. For only $1.99, upgrading the article gets you GPS navigation to each of the attractions and restaurants I've featured!
Save this post to Pinterest for future road trip planning!
Now that you've read all about Parkersburg, what would you like to see and do there?