When you think of Michigan, I doubt Korean cuisine immediately springs to mind. However, that might change after you dine at Korean restaurant Miss Kim in Ann Arbor, Michigan.
Home to the renowned University of Michigan, Ann Arbor attracts visitors and students from around the world. Fortunately, that global diversity has influenced this southeastern Michigan city's culinary landscape. With one of the state's most ethnically diverse dining scenes, you are likely to find any cuisine you seek. If your craving happens to be for the fluffiest steamed buns you've ever tasted, then you are certainly in luck.
In full disclosure, my delicious meal at Miss Kim was hosted as part of my year-long partnership with Destination Ann Arbor and the women's travel network Wanderful. Through mid-2019, I'll be sharing one or two blog posts per month about where to stay, what to do, and — most importantly — where to eat in this foodie paradise. If you are interested in reading more about my tasty adventures in Ann Arbor, clicking here will take you to the blog posts I've already published about Ann Arbor.
Lunchtime Dining At Miss Kim In Ann Arbor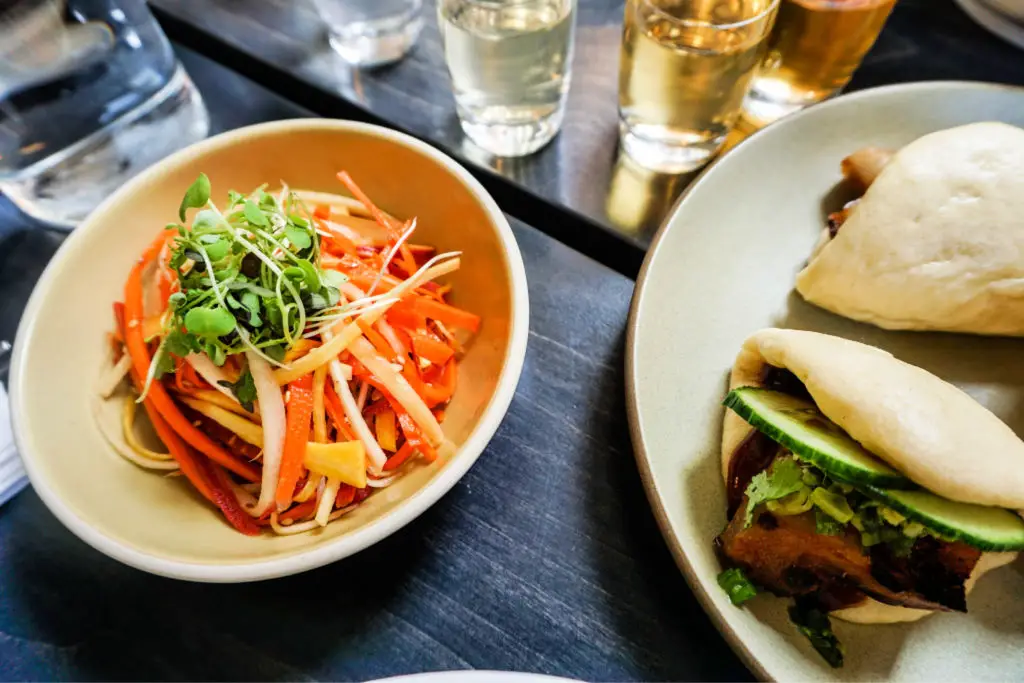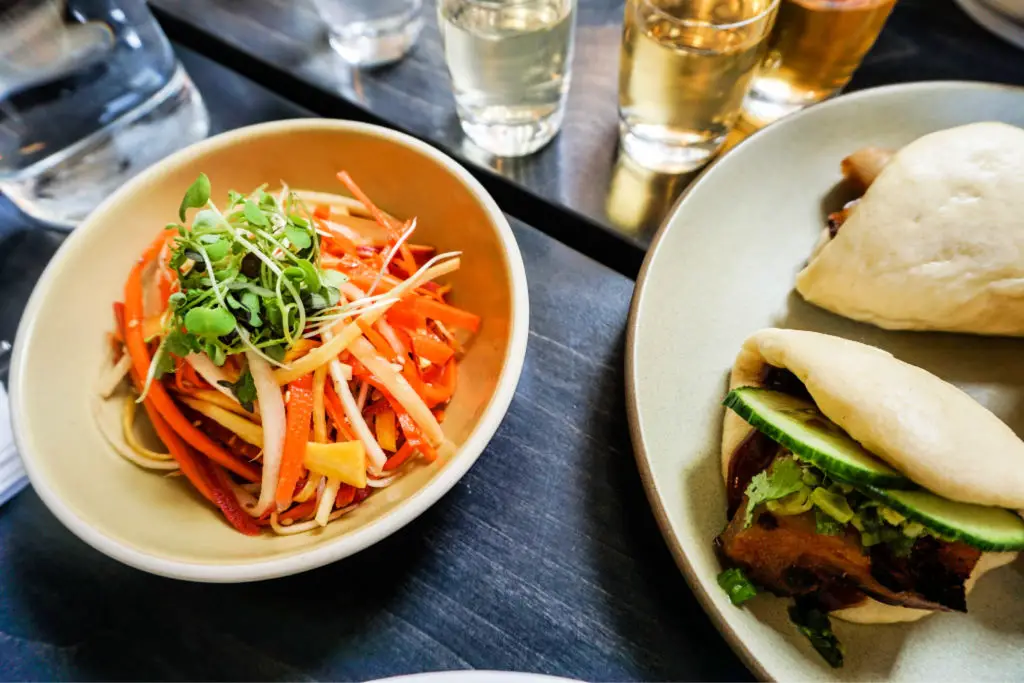 While staying downtown at the campus-inspired boutique hotel Graduate Ann Arbor, I stopped into Miss Kim for lunch. Located in Kerrytown, the restaurant was just a short walk from my hotel.
At Miss Kim, lunch was a casual affair as twosomes and solo diners munched on Bahn Mi sandwiches and gobbled up rice bowls in the airy dining room. Most diners appeared to be locals, stopping in on their lunch break from work or classes.
Pro Tip: When you visit Ann Arbor, you could easily pair lunch at Miss Kim with browsing the Ann Arbor Farmers Market on Wednesday or Saturday.
My Flavorful Meal At Miss Kim In Ann Arbor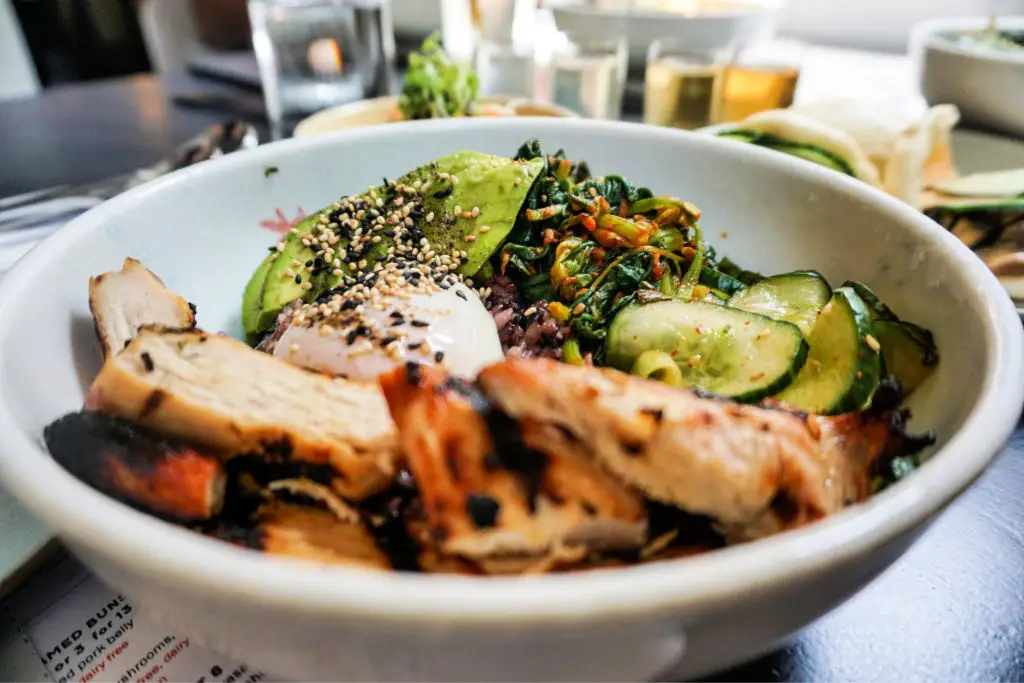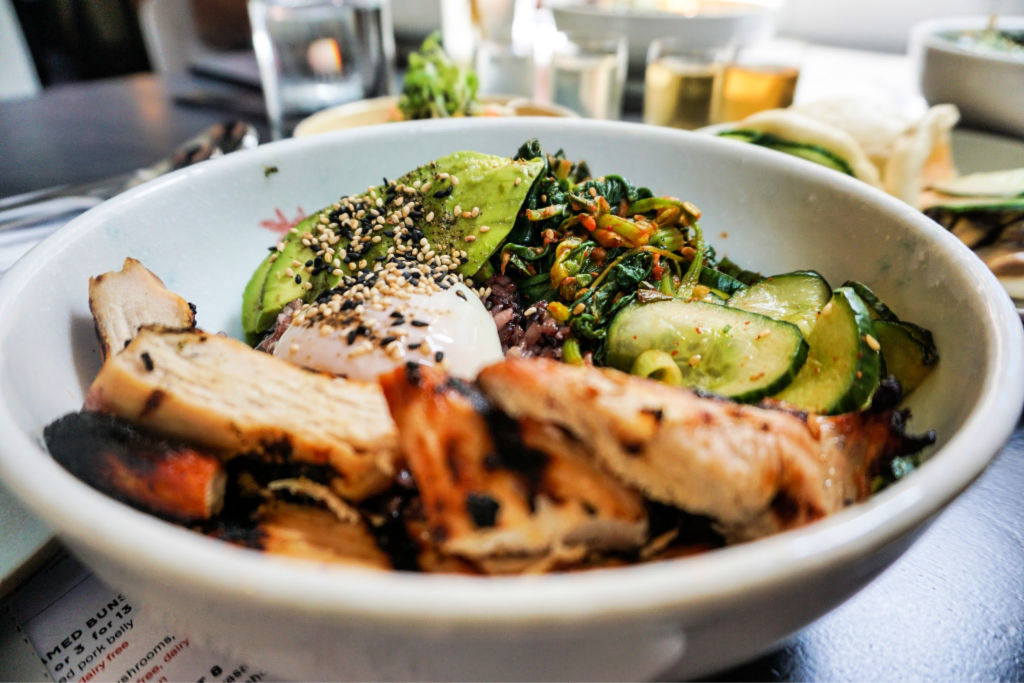 With a menu inspired by Asian street food as well as the restaurant's early food-cart days, you'll find a selection of approachable Asian and Asian-American dishes. For my lunch, I selected the chicken avocado rice bowl. A nourishing meal, my bowl was filled with grilled garlic chicken, fresh avocado, a soft egg, and spinach and cucumbers from local farms over multi-grain rice. After that, I was definitely full until dinner!
Though the rice bowls are filling on their own, dining at Miss Kim without eating a steamed bun would be a disservice to your taste buds. You can order three as your meal, or add one to your lunch for $5. The buns are so incredibly fluffy and definitely a must-eat dish at Miss Kim. Succulent and bursting with flavor from the scallions, hoison sauce, and ginger, I would without hesitation order the pork belly bun again. The sautéed mushrooms bun with sriracha mayo and cucumbers was also delicious, and it can be made vegan.
Miss Kim Features Asian Dishes With Michigan Produce
Throughout each component of my lunch, fresh, local produce was prominent. In fact, most of Miss Kim's dishes feature produce from farms in Ann Arbor and its surrounding communities. Additionally, almost all of the restaurant's vendors are based in the Midwest.
While speaking with Seoul-raised chef Ji Hye Kim, I learned that using local and seasonal ingredients is a traditional aspect of Korean cooking. Combining that with her passion for ancient Korean recipes, Kim blends the culinary history of her homeland with Michigan's seasonal produce to create delicious Korean and Asian-American fare. She is also passionate about fermentation, which you'll experience by tasting her pickled veggies and kimchi.
Though I only dined at Miss Kim for lunch, I'm planning to go back for dinner sometime. The dinner menu really showcases the chef's vision of authentic Korean cuisine showcasing local ingredients. In particular, I was told to try the Korean fried chicken entree and tteokbokki, which are rice cakes with pork belly, soft egg, and gochujang sauce.
Things To Know Before You Dine At Miss Kim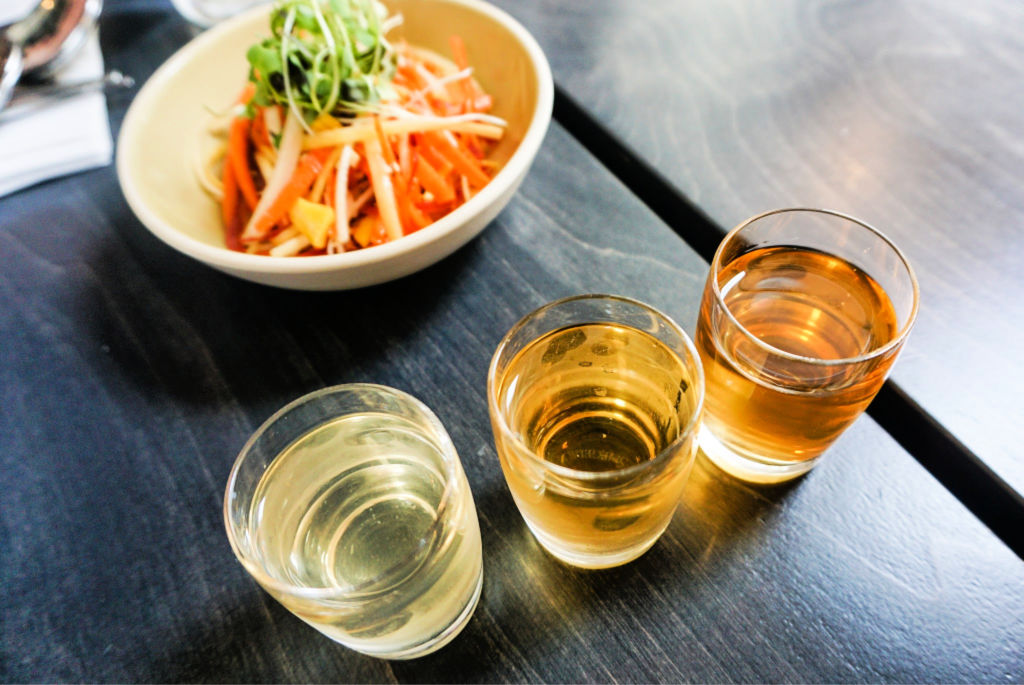 Location: Kerrytown Market & Shops, 415 N 5th Ave, Ann Arbor, MI 48104
Phone: 734-275-0099
Hours: Lunch menu: 11 a.m. – 2:30 p.m. Tuesday – Sunday | Dinner menu: 5-9 p.m. Tuesday – Thursday & Sunday, 5-10 p.m. Friday & Saturday | Closed Mondays
Happy Hour: 5-7 p.m. Tuesday – Friday
Parking: You'll find some metered spaces in the Kerrytown Market & Shops parking lot and along the streets. When the farmers market is not in session, you may also be able to park in that lot.
Menu: Korean cuisine made with seasonal, locally-sourced ingredients | Kid's menu available | Vegetarian and vegan options | Gluten-free, nut-free, dairy-free, and soy-free dishes available | Beverages include beer, wine, cocktails and Korean libations
Atmosphere: Bright and fun dining room perfect for solo diners, twosomes, and groups
Price: Lunch entrees cost $11-14, Dinner entrees cost $21-33, No need to tip
Reservations: Not necessary for lunch, but you can book your dinner reservation on the Miss Kim website. Parties larger than 8 diners should call the restaurant to arrange a reservation.
Where To Stay Nearby: Graduate Ann Arbor | Read my review | Reserve your room now!
Learn More About Miss Kim: Website | Facebook | Instagram
Pro Tip: Kerrytown is also where you'll find Zingerman's Delicatessen. Keep that in mind for coffee or dessert after lunch at Miss Kim!