Whether you will be vacationing along the beach or exploring the cultural side of this South Florida city, you may be looking for things to do, places to eat, and accommodations for your weekend getaway in Fort Lauderdale, Florida.
Once a wild college spring break hot spot, a refined Fort Lauderdale has emerged with trendy boutique shops, art galleries, upscale al fresco dining, and luxurious hotels. Though still a beach lover's destination, Fort Lauderdale's museums, art, and cultural events offer visitors much more beyond its beautiful oceanfront promenade. That is what makes Fort Lauderdale ideal for couples and families seeking beachside relaxation mixed with memorable activities for their upcoming vacation.
Personally, I love visiting Fort Lauderdale for its fresh seafood and abundance of waterfront and al fresco dining. In this post, I'll share my favorite activities, restaurants, and hotel recommendations based on my experience visiting Fort Lauderdale. I'll also share more trip-planning resources, including how to download this guide for easy access on the go, and my tips for vacationing in this destination for sea and seafood lovers.
Disclosure: This Fort Lauderdale weekend getaway guide contains some affiliate links. When you click on, make a purchase from, or book your hotel or activity through one of these links, I may earn a small commission. Also, as an Amazon Associate, I earn from qualifying purchases. Of course, this is at no extra cost to you, and I only recommend products and services I would use myself.
---
Where Is Fort Lauderdale?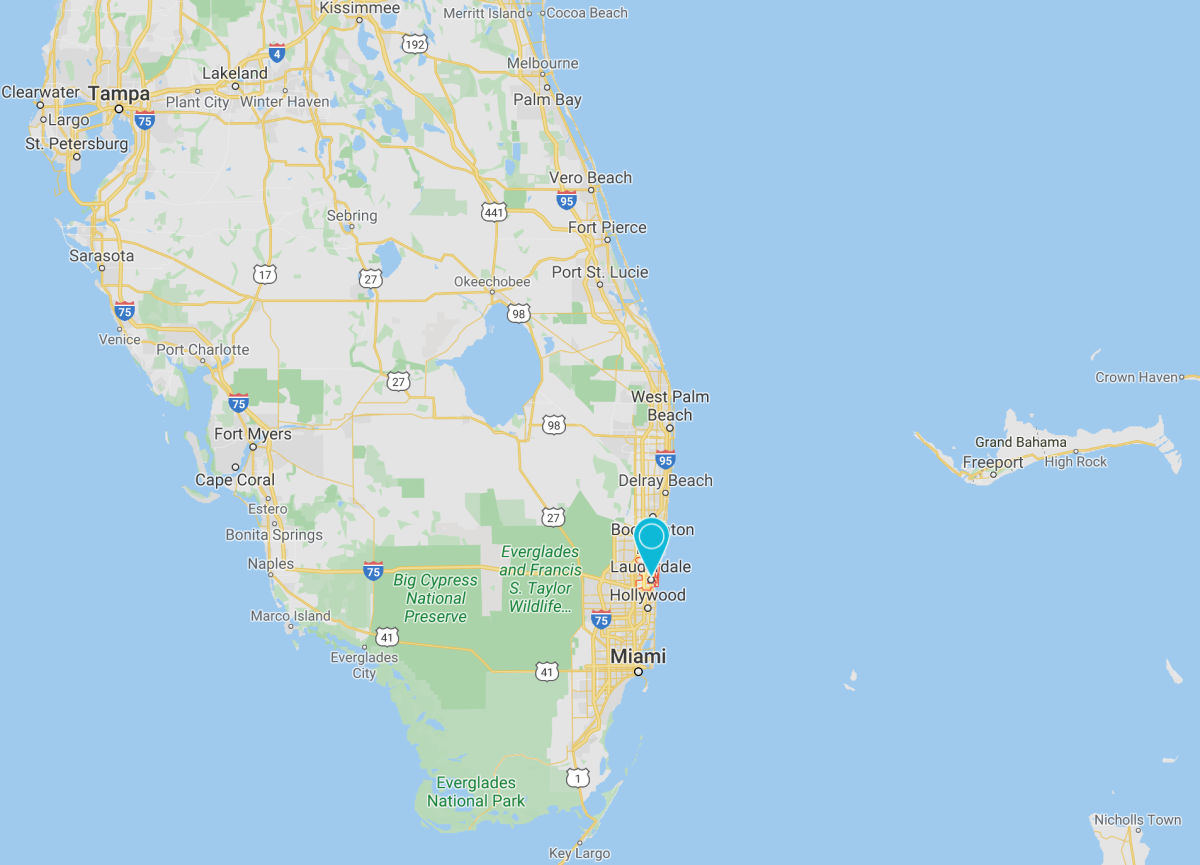 Located in Southeast Florida along the Atlantic coast, Fort Lauderdale is about 25 miles north of Miami and about 215 miles southeast of Orlando. It's the seat of Broward County, and together with Miami-Dade and Palm Beach counties, the region is colloquially known as South Florida.
As you can see from the map above, the Bahamas lie to the east, and you can get there in about 2.5 hours by boat from Fort Lauderdale. To the west is the Everglades National Park, subtropical wetlands where visitors can see alligators and other wildlife in their natural habitat.
Explore the Fort Lauderdale area with the interactive map below:
How To Get To Fort Lauderdale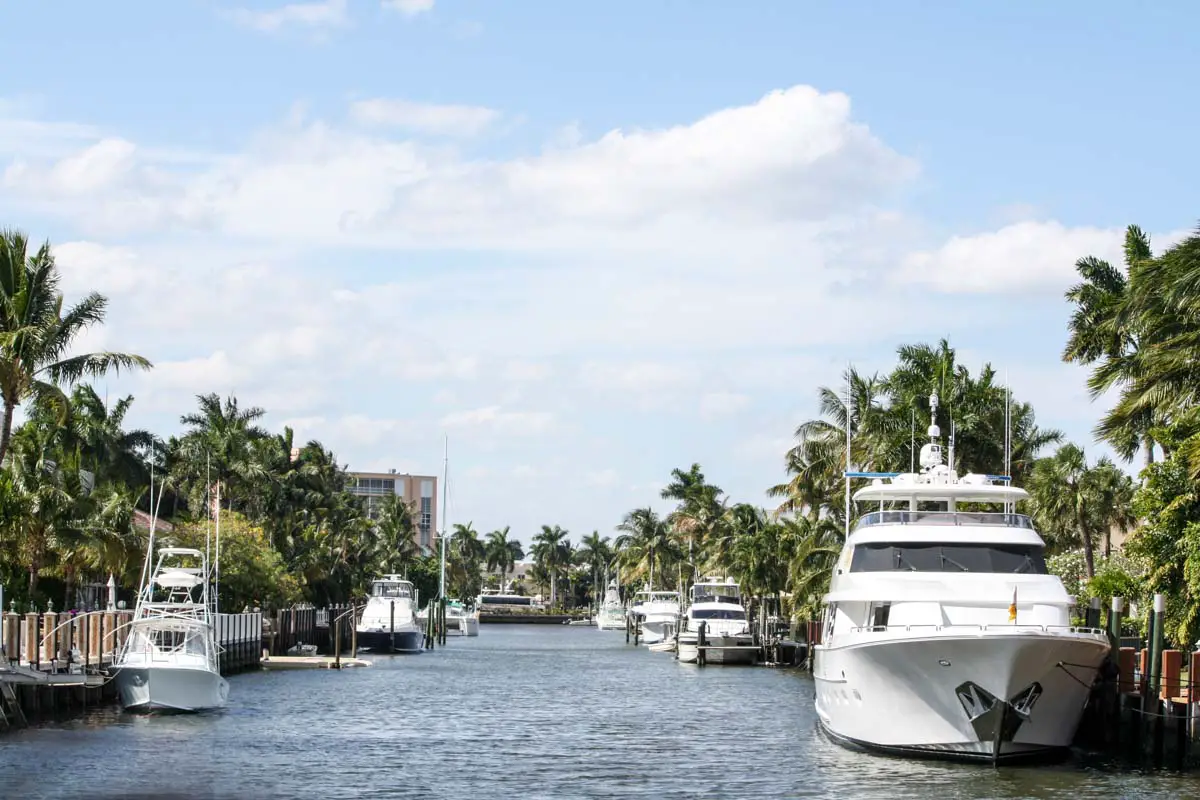 Flying To Fort Lauderdale
When visiting Fort Lauderdale, the closest airport is Fort Lauderdale-Hollywood International Airport (FLL). Otherwise, you could fly into Miami International Airport (MIA), which is about 30 miles away, or Palm Beach International Airport (PBI), about 45 miles away. 
For weekend getaways, I recommend flying into FLL to avoid the 40-minute or longer drive from the Miami or Palm Beach airports. Domestic airlines that fly to FLL include Alaska, Allegiant, American, Delta, Frontier, JetBlue, Southwest, Spirit, and United. For international visitors, several Canadian, Caribbean, and South American airlines fly into FLL. Norwegian offers flights from several major European cities, and Emirates operates the longest flight to FLL from Dubai.
If you are in need of a shuttle from the airport to your hotel, you can book a door-to-door transfer from FLL.
Visiting Fort Lauderdale From The Midwest?
With direct flights to FLL, Fort Lauderdale is ideally located for a long weekend escape from 10 major Midwest metro areas. You'll find non-stop flights under four hours to Fort Lauderdale from:
Chicago

on American, JetBlue, Spirit, and United at O'Hare (ORD) and on Southwest at Midway (MDW)

Cincinnati

(CVG) on Allegiant, Delta, and Frontier

Cleveland

(CLE) on Frontier, JetBlue, Southwest (seasonally), and Spirit

Columbus, Ohio

on Allegiant at Rickenbacker (LCK) and on Spirit and Southwest at John Glenn (CMH)  

Detroit

(DTW) on Delta and Spirit

Indianapolis

(IND) on Allegiant and Southwest 

Kansas City, Missouri

(MCI) on Southwest 

Milwaukee

(MKE) on Southwest 

Minneapolis

(MSP) on Delta

St. Louis

(STL) on Southwest
Driving To Fort Lauderdale
For Florida residents, including Midwestern snowbirds, and visitors adding Fort Lauderdale to a longer Florida vacation, driving may be the most convenient option. Conveniently, Fort Lauderdale is located along the I-95 corridor, making it easy to access from points north and south. 
Caution: When driving in Florida, be aware of toll roads. The state has over 700 miles of toll roads — more than any other state! 
For example, if you are driving to Fort Lauderdale from Orlando, you are likely to take the Florida Turnpike. Using an online toll calculator, I discovered driving from Disney World to Fort Lauderdale would cost $17.84 (via toll by plate) or $13.44 with SunPass.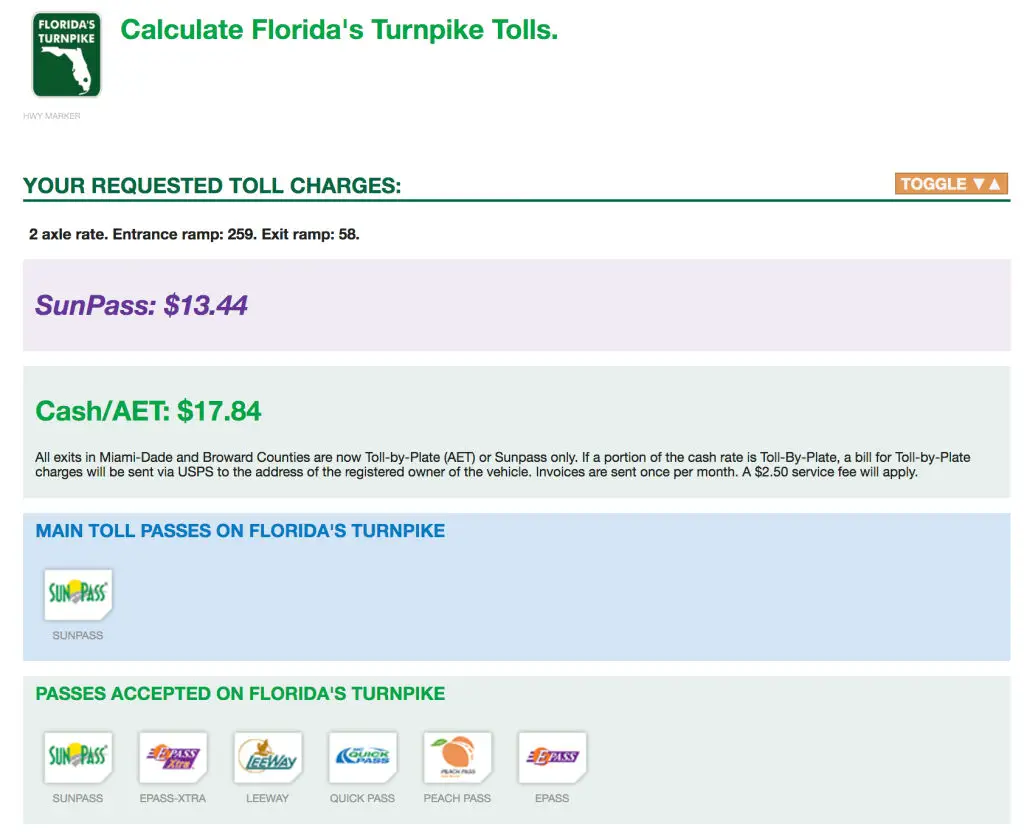 The above screenshot shows toll charges for driving the Florida Turnpike from Disney World to Fort Lauderdale as calculated by tunpikeinfo.com.
In Fort Lauderdale, as well as throughout Broward and neighboring Miami-Dade counties, all exits from the Florida Turnpike are cashless. That means you will be billed at the address to which your vehicle's license plate is registered. 
Travel Tip: To reduce your toll fees, purchase a SunPass transponder that attaches to your car's windshield. In addition to Florida toll roads, SunPass works on toll roads in Georgia and North Carolina. The mini costs $4.99, but it no longer works once removed from your windshield after your trip. Though it costs more at $14.95, the SunPass Pro, which attaches to the windshield using suction cups, might be a better option for out-of-state visitors who regularly vacation in Florida. Either way, you'll see reduced fees for toll charges, but it could take more than one road trip to make the SunPass Pro's cost worthwhile.


Do You Need A Car To Get Around Fort Lauderdale?
The quick answer is no. Fort Lauderdale offers a variety of public transportation and also connects to West Palm Beach and Miami via rail. Additionally, you can use ride-sharing apps Uber and Lyft to get around Fort Lauderdale. 
Particularly convenient for visitors are water taxis and the Fort Lauderdale Sun Trolley, which connects visitors to the beach, RiverWalk, and Las Olas Boulevard shopping, dining, and museums.
Need a shuttle from your hotel back to the airport? You can book a one-way transfer from Fort Lauderdale Beach hotels to FLL.
In my opinion, a car-free vacation is a carefree one. That is one reason why I'd book another weekend getaway in Fort Lauderdale.
Greener Ways To Get To Fort Lauderdale
Amtrak

— Travel along the U.S. East Coast to Fort Lauderdale on Amtrak's Silver Meteor or Silver Star trains from cities such as New York City; Newark, New Jersey; Philadelphia; Baltimore; Washington, DC; Richmond, Virginia; Charleston, South Carolina; Savannah, Georgia; Jacksonville, Florida; or north from Miami.  

Brightline

— Visiting Fort Lauderdale from Miami or West Palm Beach? You can book a 30-minute train commute to the Fort Lauderdale station, which connects to local public transportation, taxis, rideshares, and Avis car rental.

Greyhound

— America's largest inter-city bus system has a Fort Lauderdale terminal at 515 NE 3rd Street.

Megabus

— Travel via bus from 100 other Megabus cities throughout the United States to the Fort Lauderdale drop-off point, the Sheridan Street Tri-Rail station in Hollywood.

Tri-Rail

— This South Florida light rail system runs from Miami International Airport north to West Palm Beach with multiple stops in Fort Lauderdale and Hollywood, including FLL.
When To Visit Fort Lauderdale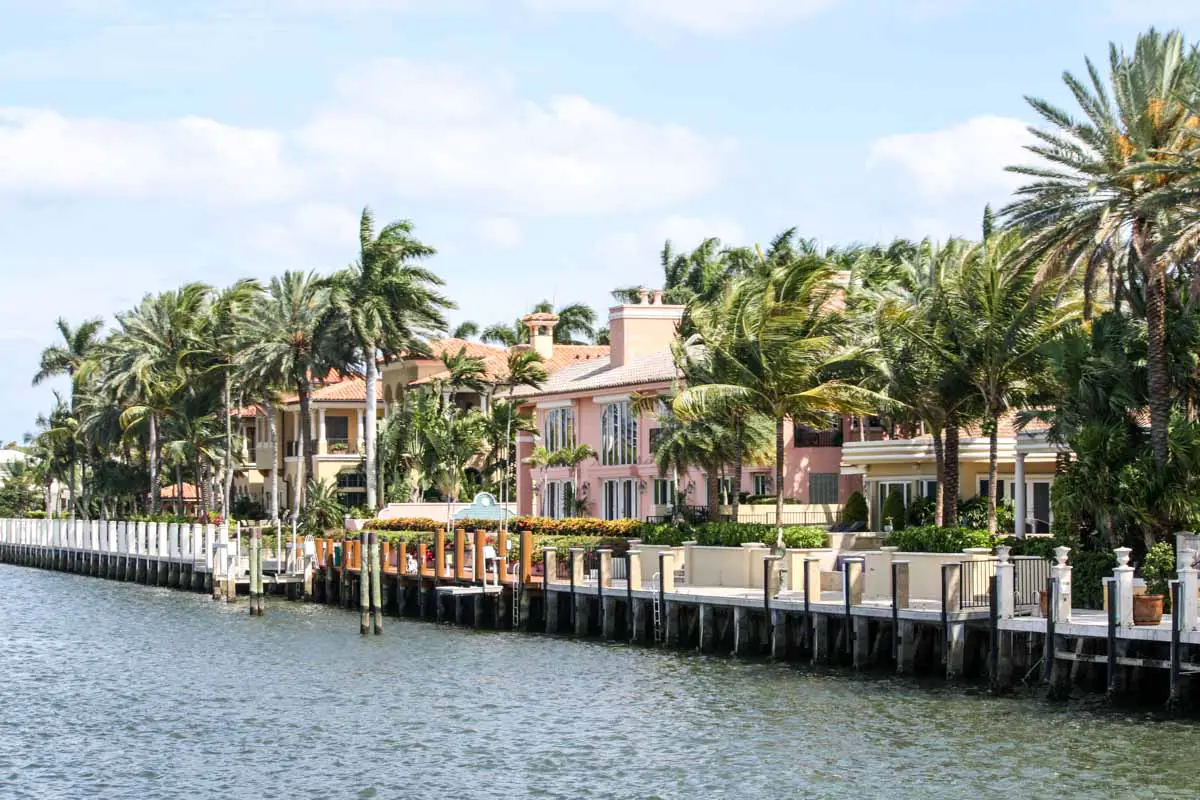 Are you wondering when is the best time of year to book a weekend getaway in Fort Lauderdale? Well, if you love warm weather, you are likely to enjoy the temperatures here throughout the year.
With that said, the best time to travel to Fort Lauderdale is from December through May. During this timeframe, Fort Lauderdale has few rainy days and average high temperatures range from 76°F (24°C) in January to 85°F (29°C) in May. During my first Fort Lauderdale visit in May 2014, the weather was comfortable for cruising the canals and sunbathing at our hotel's rooftop pool.
On the flip side, I also once visited Fort Lauderdale in October. Though average October temperatures range from 73°F (22°C) to 86°F (30°C), it was gray, cloudy, and rainy. Of course, that was during hurricane season, which stretches from June to November. In addition to possible hurricanes in summer and fall, the months of June through September are hot and humid.
What To Pack For Your Weekend Getaway To Fort Lauderdale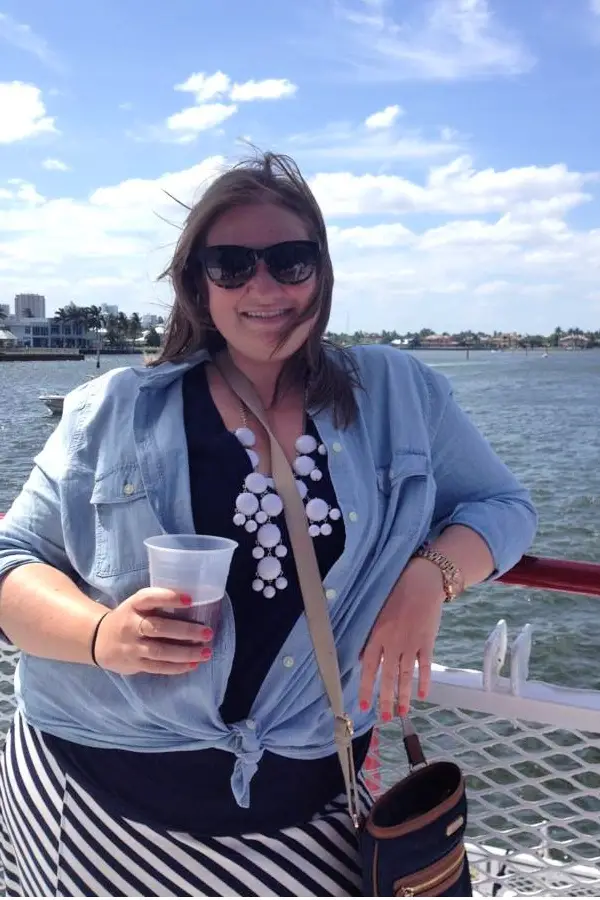 As I mentioned, Fort Lauderdale is a warm-weather destination any time of year. Therefore, you'll likely want to pack your "summer clothes." Think shorts, sundresses, and rompers. Of course, a bathing suit, swimsuit cover-up, and sandals are a must for pool or beach days. 
Pro Packing Tip: Using compression packing cubes saves space in your luggage.
If you are visiting in winter, I suggest packing pants and a lightweight jacket in your suitcase. I also always recommend bringing light layers — such as pashminas, fashionable scarves, cardigans, or a denim jacket — when visiting Florida. Even when it's hot outside, it's chilly inside hotels and restaurants. As you can see in the photo above, I added a chambray shirt to my outfit for extra sun and wind protection while aboard a sightseeing cruise on the Intracoastal Waterway.
Since Fort Lauderdale receives some rainfall from May through November, I recommend packing an umbrella and a pair of close-toed shoes. My Sperry boat shoes worked out well when dashing from my taxi to the waterfront restaurant Boatyard during an intense downpour. 
Most importantly: Don't forget your favorite sunglasses, a floppy beach hat or baseball cap, and sunscreen! 
Things To Do In Fort Lauderdale
Whew! Now that I've shared all the nitty-gritty details of planning a weekend getaway to Fort Lauderdale, let's get to the fun stuff. Below you'll find my favorite activities I experienced during my two trips to Fort Lauderdale. 
Sunbathe On Fort Lauderdale Beach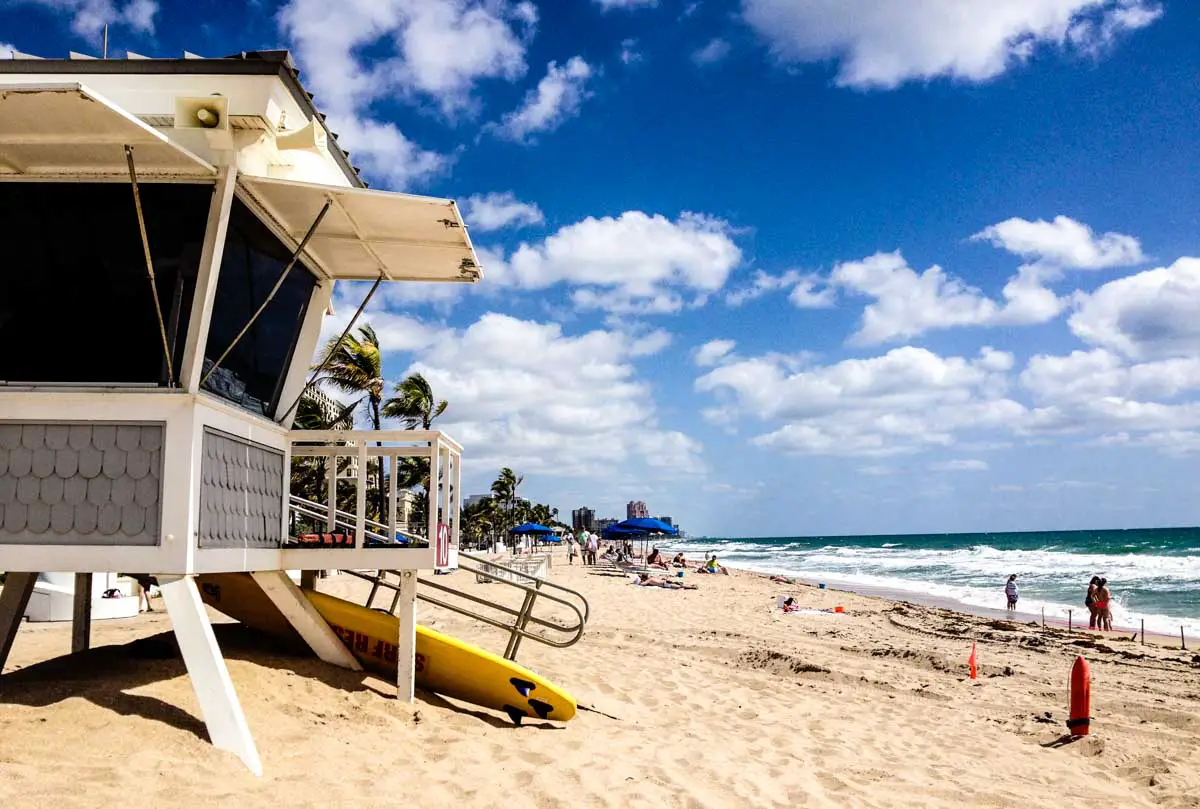 On a sunny day, the beach is the place to be. Walk along the palm-tree-lined promenade, grab an ice-cold drink at one of the beachfront bars, people watch, and soak in the South Florida sunshine. One of the best perks of staying at the Hilton Fort Lauderdale Beach Resort was being right across from the beach. You'll find public beach access along A1A with restaurants and bars across the street!
Taste Local Craft Beers
Do you enjoy checking out local breweries when you travel? I do, too! That is why I went on a brewery tour around Fort Lauderdale. Though that tour no longer exists, you can still visit the breweries. I highly recommend going to Funky Buddha, one of Florida's most well-known breweries, and LauderAle's warehouse taproom with its 30 rotating taps, outdoor beer garden, and daily food trucks. 
Cruise The Intracoastal Waterway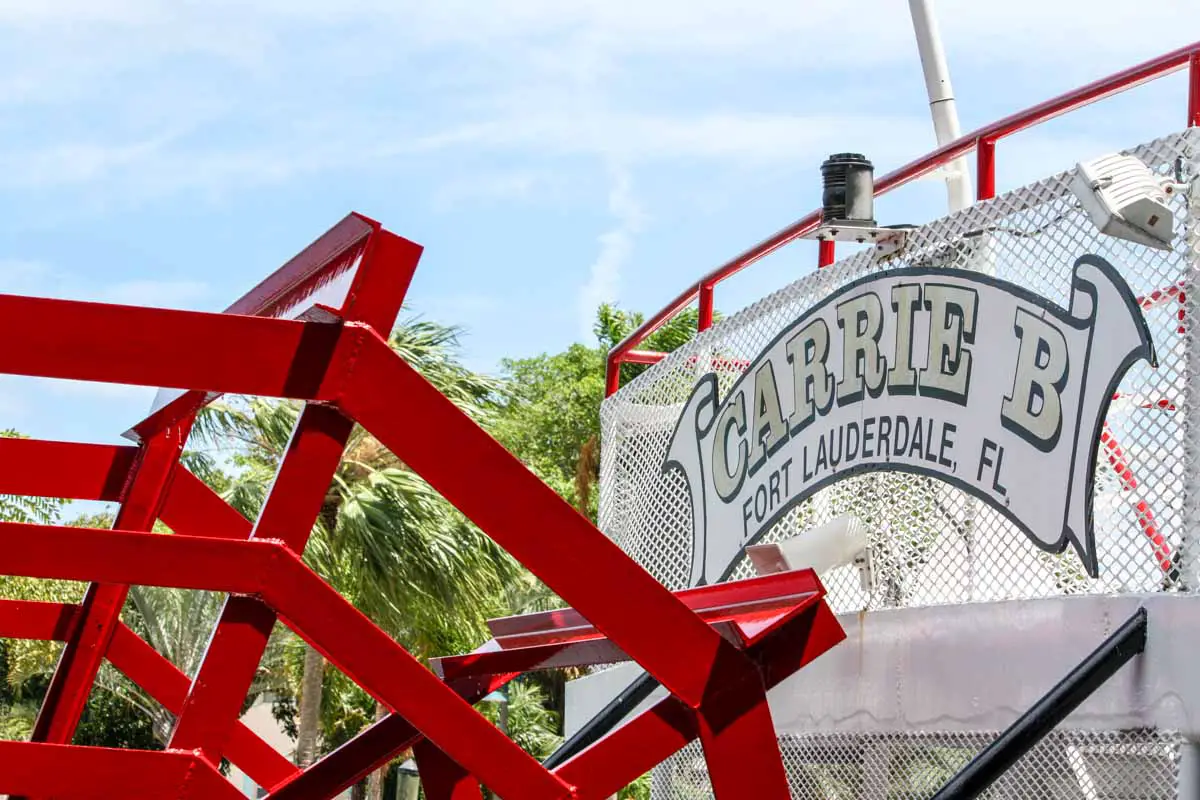 Fort Lauderdale is known as the Venice of America, so go exploring the canals of the Intracoastal Waterway. Some ways to do this: 
Sightseeing during a narrated 90-minute cruise on the

Jungle Queen Riverboat

Sailing a

pirate ship

Seeing the homes of the rich and famous from the

Carrie B paddlewheeler

Bar hopping via the

Water Taxi
Kayaking

the Venetian canals of the ritzy Seven Isles, seeing mega yachts, sailboats, and mansions along the way

Convincing your new millionaire friend to take you for a joy ride on his yacht. Hey, it could happen! Fort Lauderdale is the Yachting Capital of the World. 😉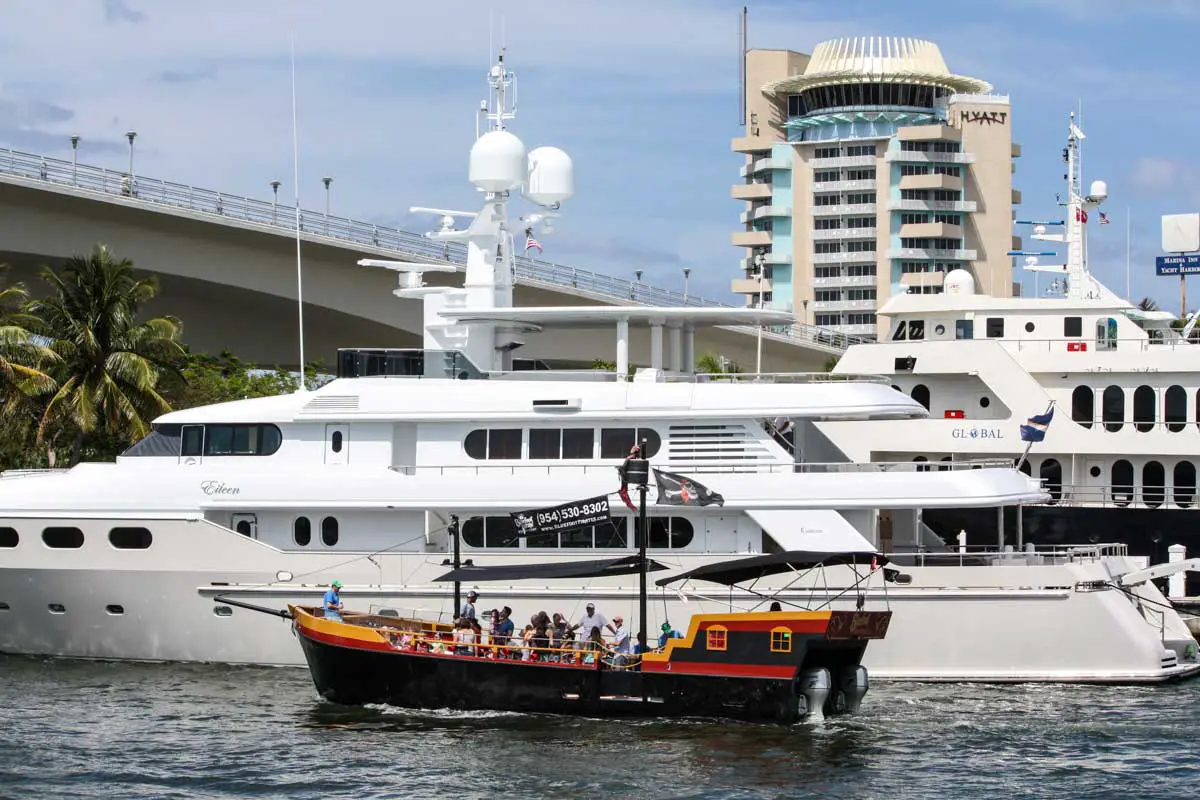 Chill Poolside At Your Hotel
This probably goes without saying, but a major perk of a weekend getaway to Fort Lauderdale, especially from the Midwest, is poolside relaxation any time of year. My family and I loved hanging at our hotel's rooftop pool. We could order drinks and snacks from our lounge chairs, and we had beautiful views out to the Atlantic.  
Get Nerdy At The Museum Of Discovery And Science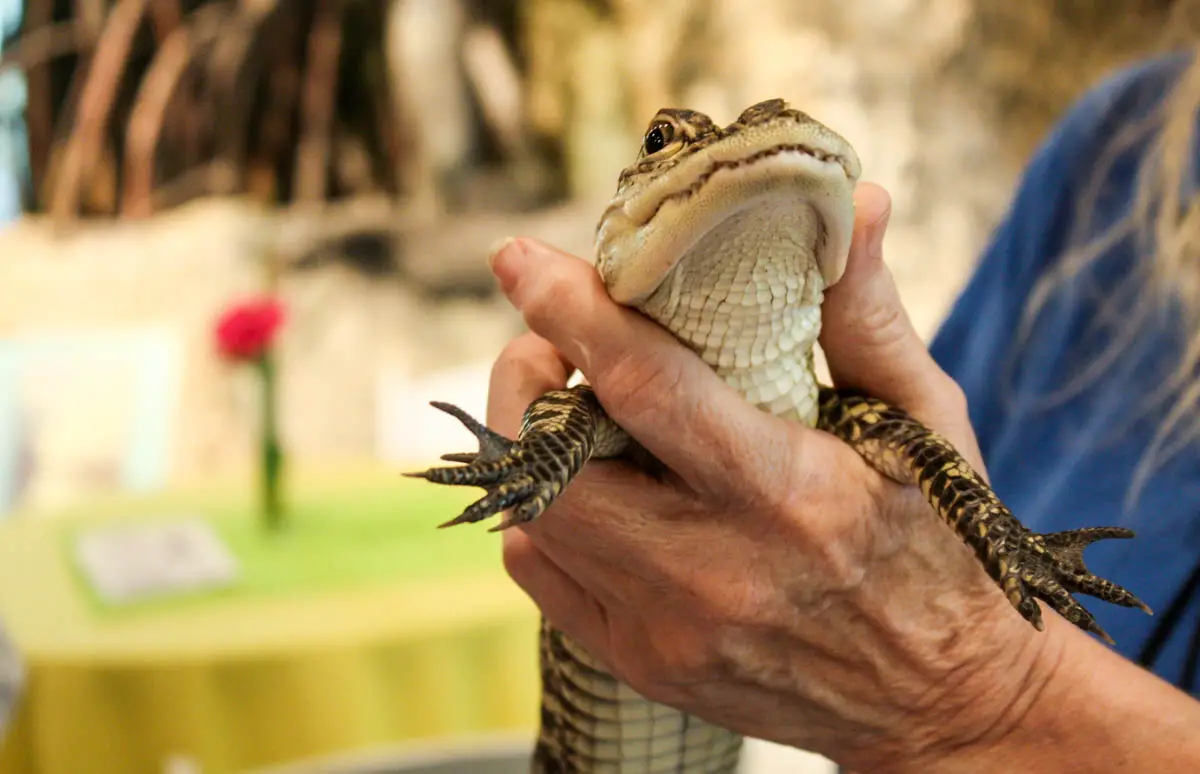 Vacationing in Fort Lauderdale with kids? Visiting the Museum of Discovery and Science is one of the best family-friendly activities in Fort Lauderdale. 
Located along Las Olas Boulevard in Downtown Fort Lauderdale, this two-story museum features interactive and educational exhibits. Kids — and kids at heart — can experience a simulated airboat ride through the Everglades, climb inside the mouth of a giant Megalodon shark, see otters play, and feel the force of hurricane winds.
Don't miss the Great Gravity Clock! Standing 52 feet tall, it is the largest kinetic energy sculpture in Florida and is one of only three of these unique timepieces around the world.
Day Trips From Fort Lauderdale
Fort Lauderdale is ideally located for day trips to explore the exotic wildlife of the Everglades, coastal communities along South Florida's Atlantic shore, and the food, art, and culture of Miami. Here are just a few ideas for possible day trips from Fort Lauderdale!
Explore The Everglades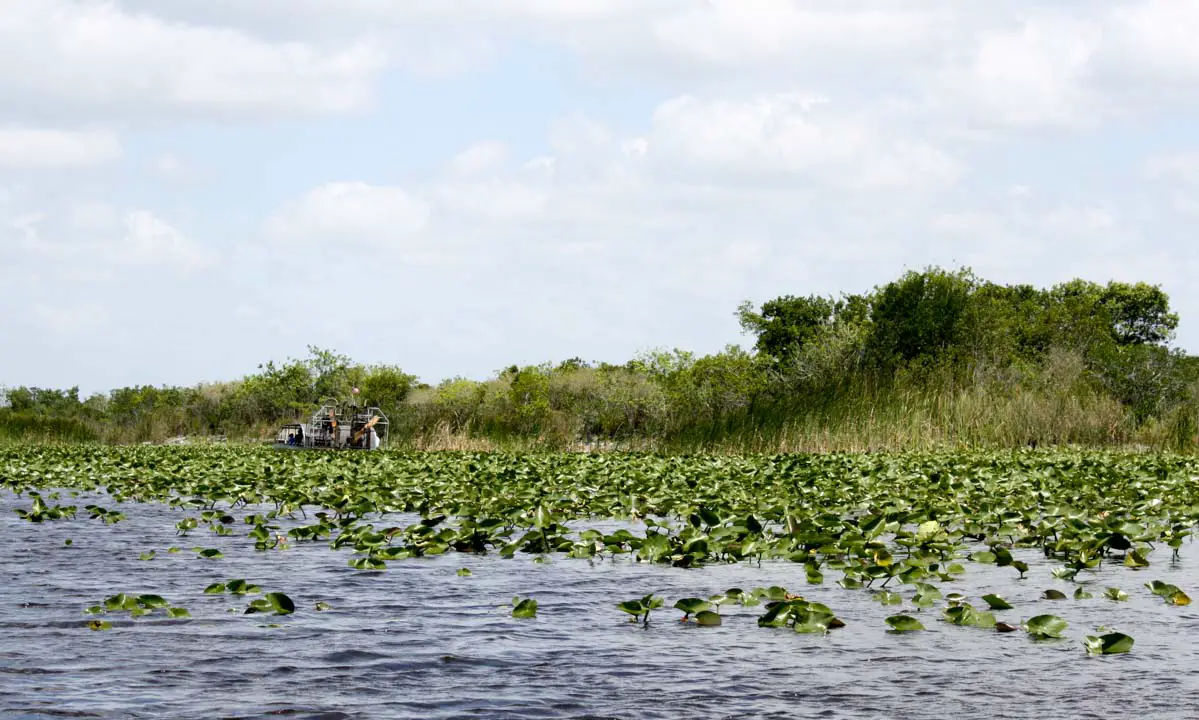 West of Fort Lauderdale, you can visit Everglades National Park, where you might see alligators and other wildlife in their natural habitat. You can even take a thrilling airboat ride!
Recommended Tour: Departing from Fort Lauderdale, this full-day adventure into the Everglades includes an exciting 40-minute airboat ride across the River of Grass, a van tour through Big Cypress National Preserve, an hour-long boat cruise through an Everglades National Park mangrove forest, and a guided nature walk to see ancient cypress trees. This small-group tour is limited to 13 people, and lunch is included. 
People Watch At The Hollywood Beach Broadwalk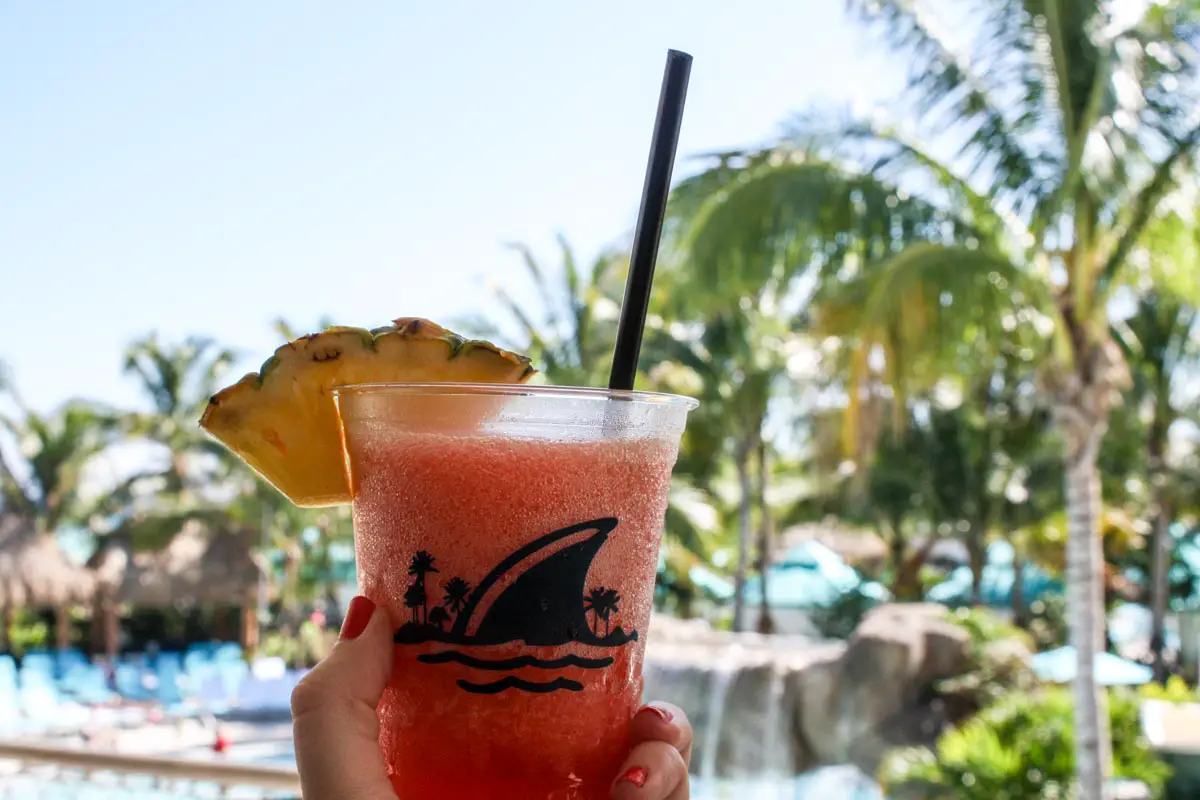 The Hollywood Beach Broadwalk has a retro vibe, so take a walk or Segway tour past the beachfront hotels for entertaining people watching, fresh air, and beach views. Then drop into one of the beachfront bars for frozen cocktails — like a Rum Runner or Piña Colada at the open-air Margaritaville Hollywood Beach Resort's Landshark Bar & Grill. Hungry? Head over to the kitschy waterfront burger joint Le Tub for a juicy burger that was once named the best burger in America by GQ.  
See Miami Street Art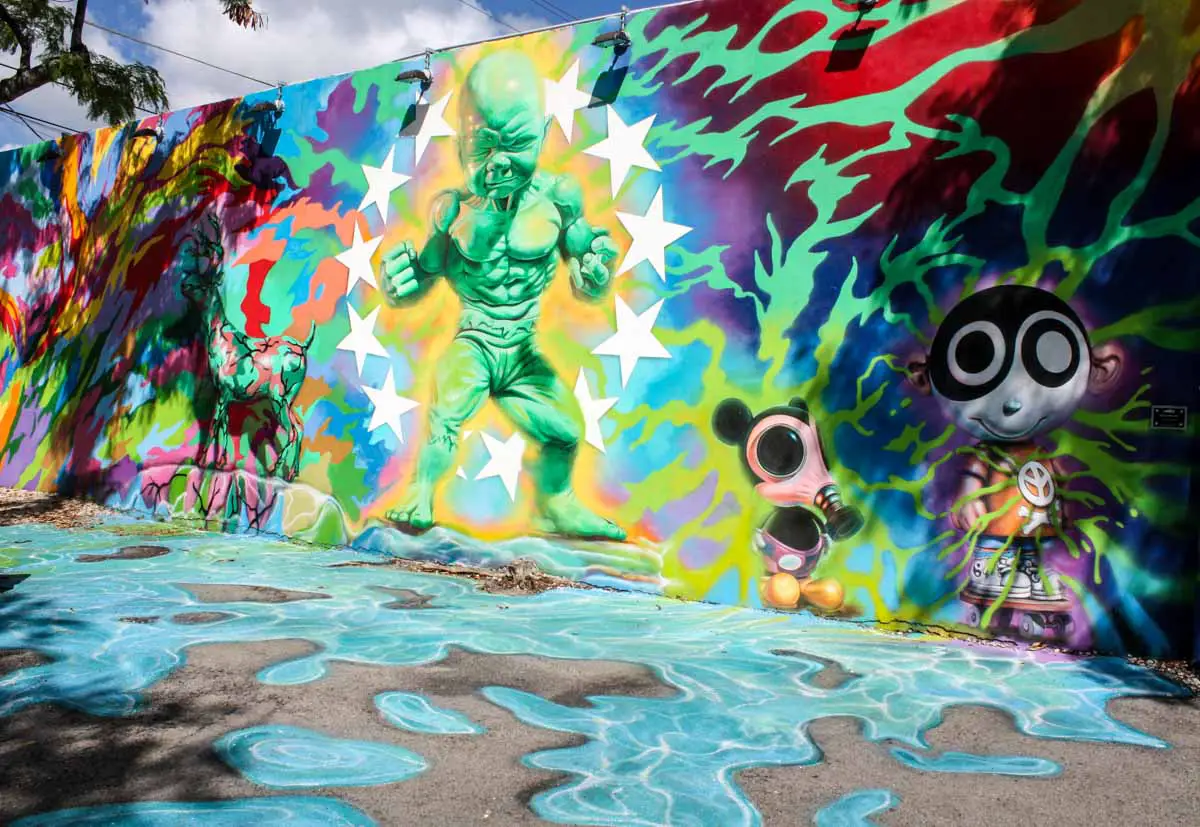 Another fun day trip from Fort Lauderdale is to explore Miami, particularly its vibrant street art. In the Wynwood Arts District, you can view colorful murals as this former warehouse district has become a living canvas of urban art. Explore the Wynwood Walls on your own, or take a guided street art tour of Miami's most hipster neighborhood.
Where To Eat During Your Fort Lauderdale Vacation
Do you love seafood, al fresco or open-air dining, and waterfront views? Then you are definitely going to enjoy dining in Fort Lauderdale. In addition to the Latin American cuisine you might expect to find in South Florida, Fort Lauderdale's food scene is infused with global flavors. 
15th Street Fisheries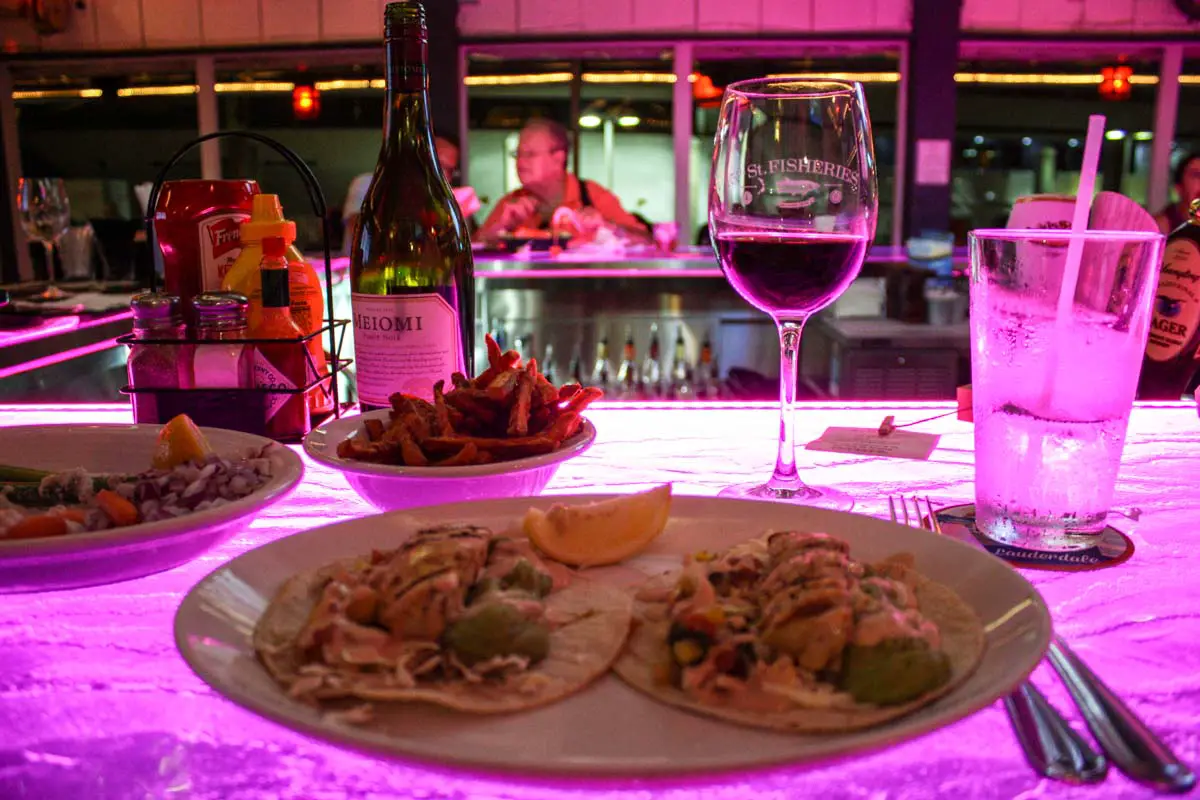 Located inside the historic Lauderdale Marina, 15th Street Fisheries offers both refined and casual waterfront dining. A Fort Lauderdale institution of more than 40 years, the Fisheries is beloved by visitors and locals alike. After dining here in 2015, I see why.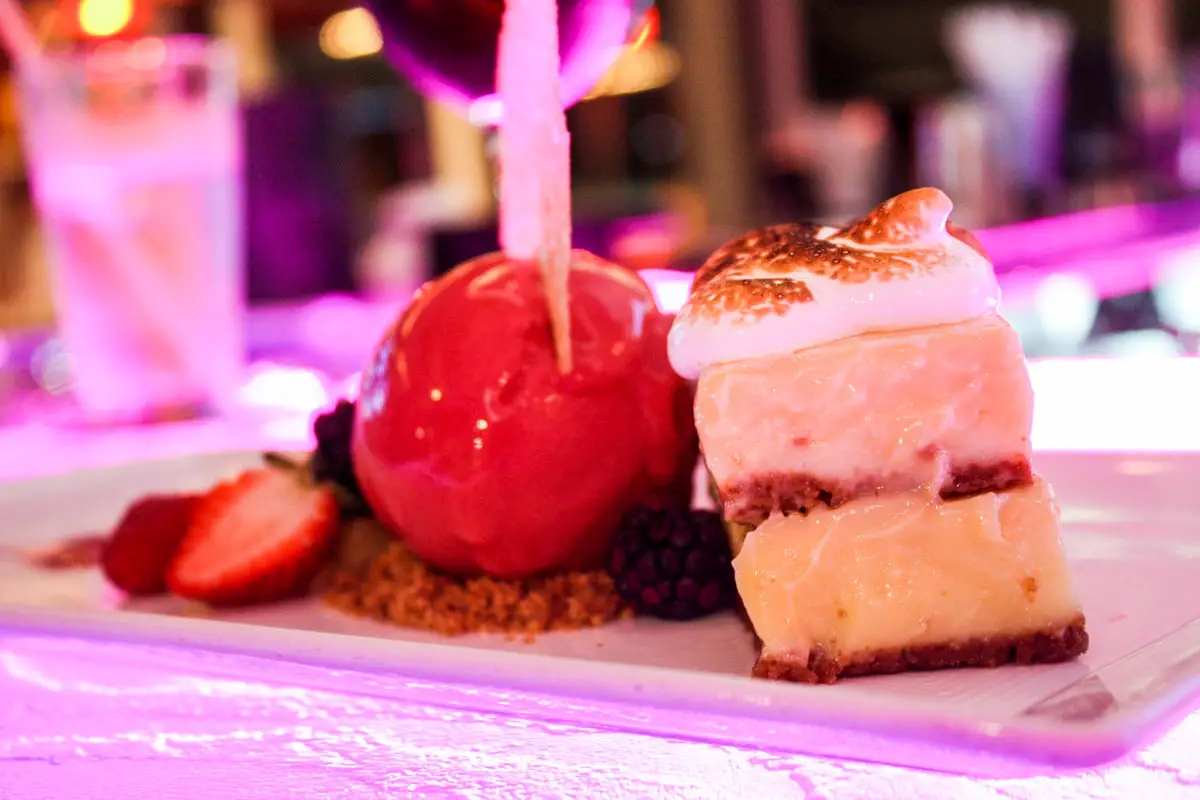 Upstairs diners will find a refined atmosphere with panoramic views of yachts on the Intracoastal Waterway, an extensive wine list, and seafood specialties such as seared diver scallops and miso-glazed sea bass.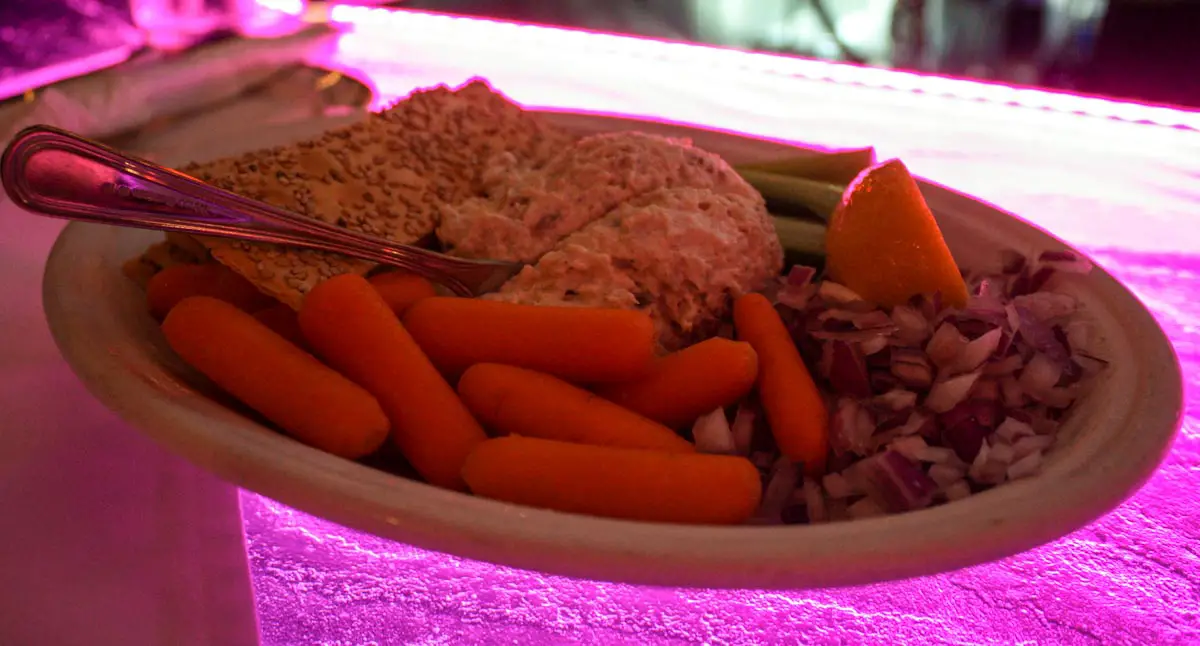 While visiting Fort Lauderdale, my cousin and I shared a delicious smoked fish dip downstairs at the Aqua Bar. If you are looking for casual dockside dining, come here to enjoy Florida fried shrimp tacos, live music, and a front-row view of the nightly tarpon feeding.
15th Street Fisheries is located at 1900 SE 15th Street. It's open from 11:30 a.m. to 9:30 p.m. daily.
Boatyard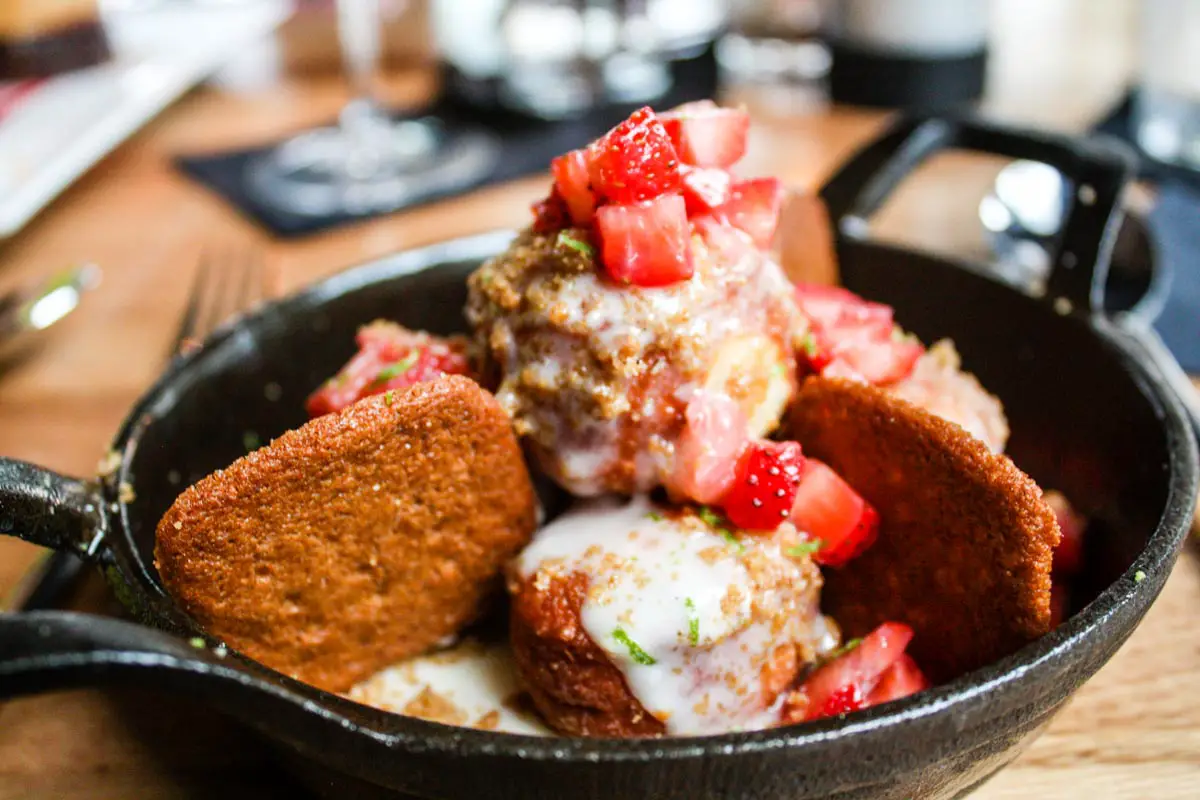 This beautiful waterfront restaurant offers a sophisticated atmosphere for al fresco dining at its 80-seat dockside patio lounge. If the yachts docked outside aren't enough of a reminder, the nautically chic decor and a gourmet seafood menu will quickly remind you of the coastal locale.
On a rainy October day, I dined in the open-air dining room of Boatyard. With cover from the rain, my dinner companion and I enjoyed our seafood dishes and view out to the white boats docked outside. For my entree, I selected the grouper piccata with wilted spinach, cured tomato, and capers in a luscious lemon Chardonnay butter paired with a glass of crisp Sauvignon Blanc.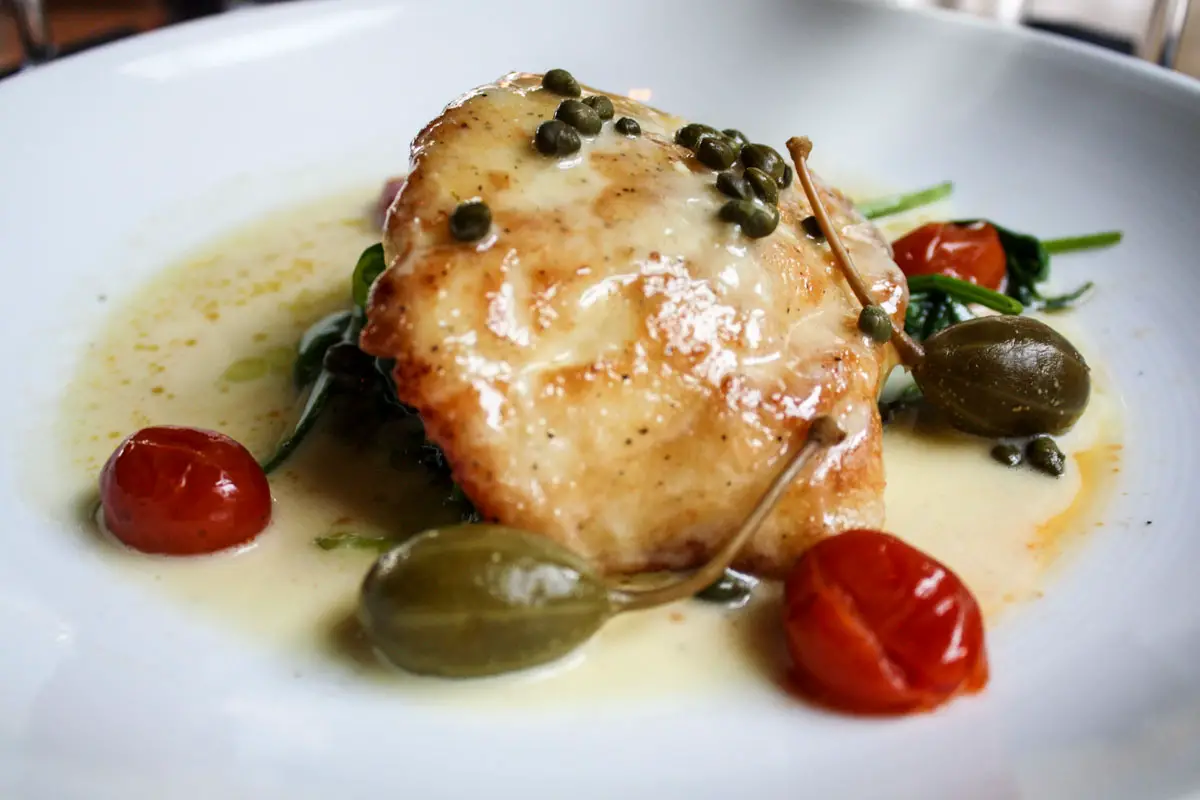 Whether you dine here for lunch, dinner, or Sunday brunch, don't miss dessert! The key lime doughnut holes topped with fresh strawberries were fantastic.
Boatyard is located at 1555 SE 17th Street. It is open from 11:30 a.m. to 10 p.m. Monday and Tuesday, 11:30 a.m. to 11 p.m. Wednesday through Friday, 10 a.m. to 11 p.m. Saturday, and 10 a.m. to 10 p.m. Sunday. However, the kitchen is closed between 3 and 5 p.m. Monday through Friday.
The Chimney House Grill & Café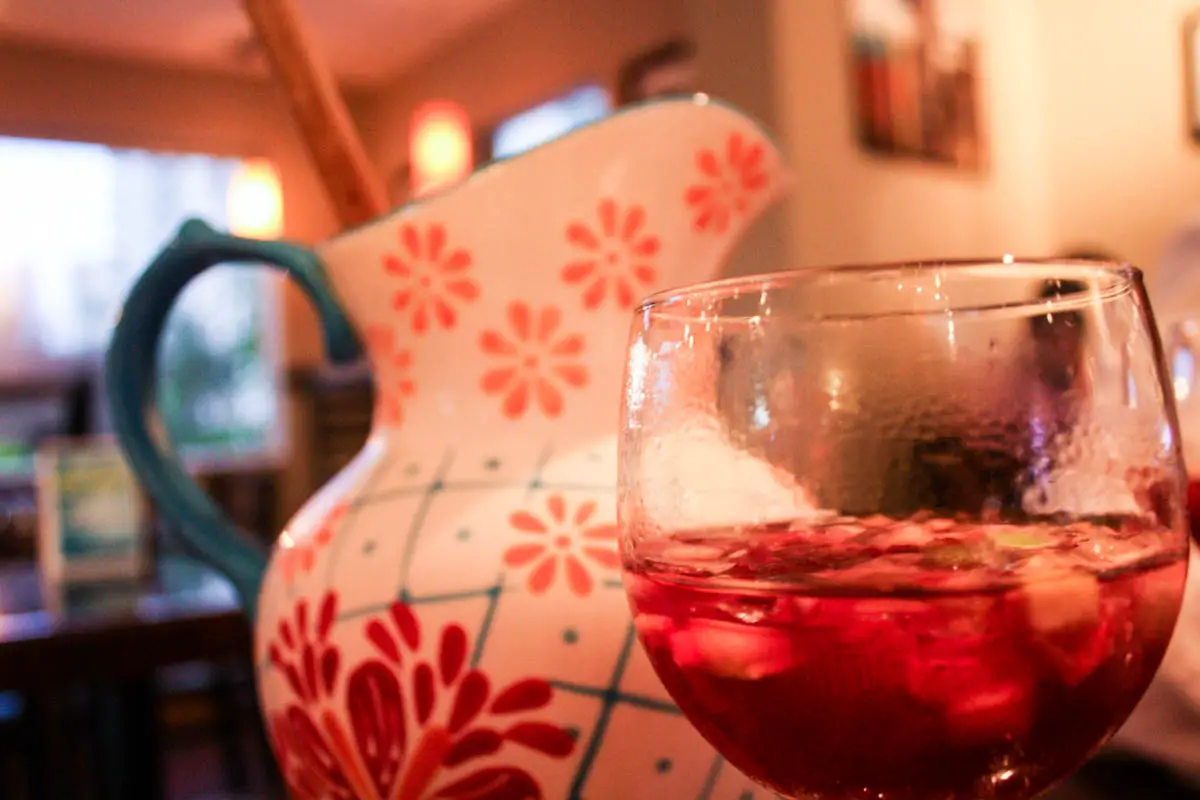 This Latin American restaurant sits inside a historic 1924 house in the heart of Downtown Fort Lauderdale. The remodeled home features its restored chimney and an awning-covered porch with outdoor seating. 
Serving a fusion of South American and Spanish cuisines, the menu features house red and white sangria available by the glass or pitcher, tapas, ceviches, lomo saltado like I had in Peru, and chimichurri-topped grilled sirloin.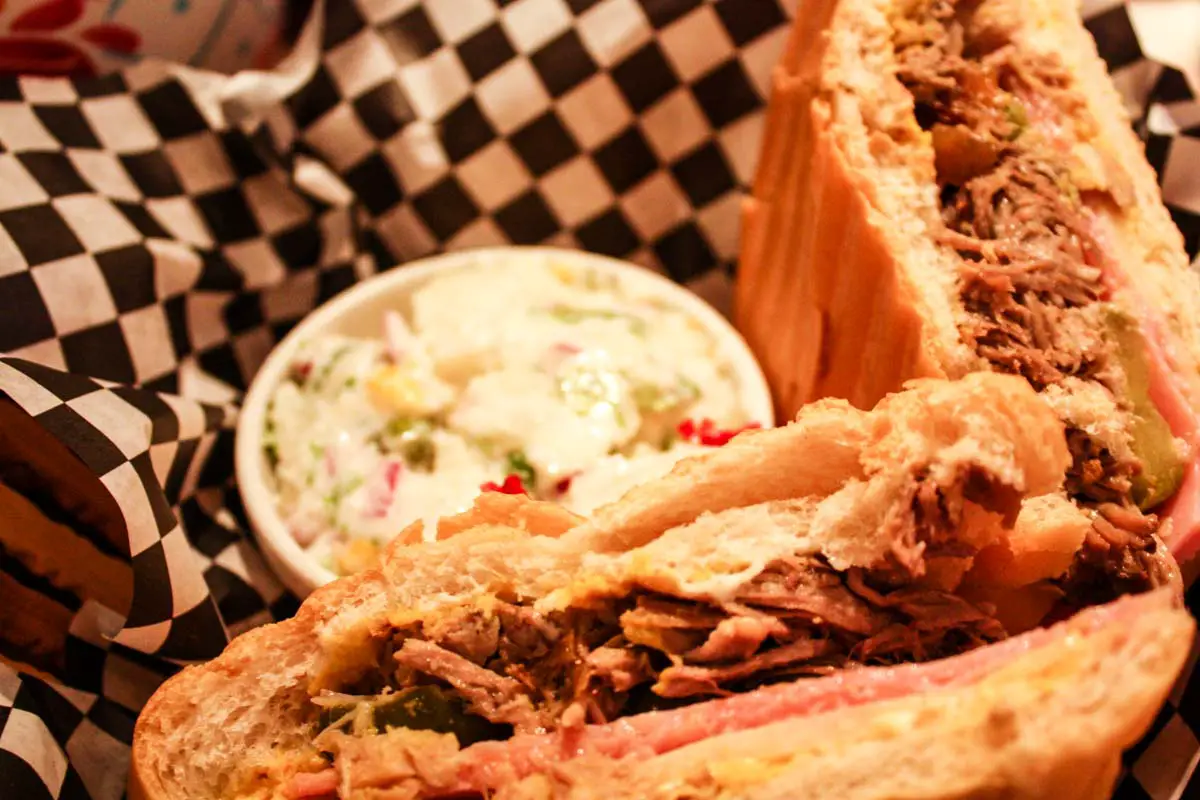 I couldn't resist the opportunity to order a Cubano. Other casual fare includes three kinds of tacos — mahi mahi, grilled steak, and vegetarian tempeh. 
The Chimney House Grill & Café is located at 701 Las Olas Boulevard. It is open from 11 a.m. to 9:30 p.m Tuesday through Thursday, 11 a.m. to 10:30 p.m. Friday and Saturday, from 11 a.m. to 9 p.m. Sunday. 
Rocco's Tacos & Tequila Bar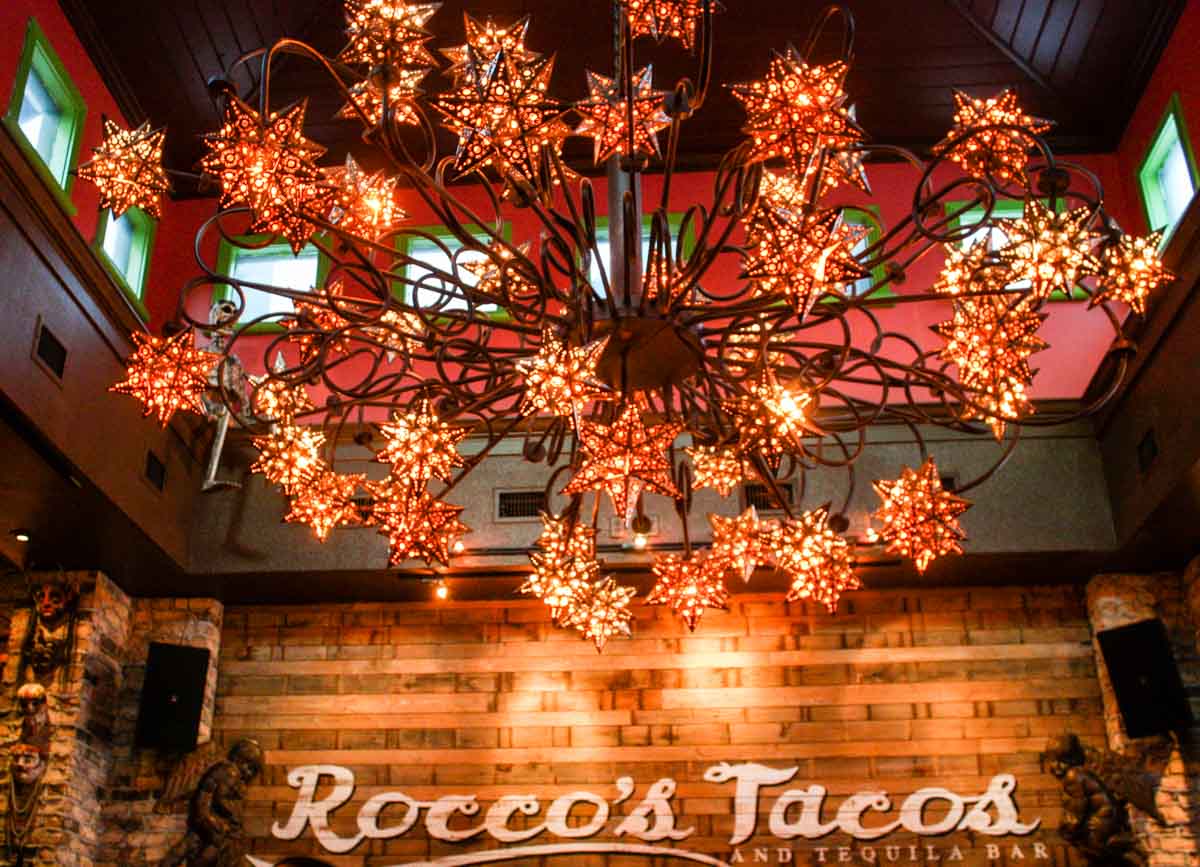 Speaking of tacos … if it's Mexican food you crave, Greater Fort Lauderdale has more than 30 Mexican eateries where you can dine. Along Las Olas Boulevard is Rocco's Tacos & Tequila Bar, a fun and casual chain restaurant that originated in nearby West Palm Beach and now has nine locations throughout the Sunshine State and one in Brooklyn, New York.  
At Rocco's Tacos, you'll find guacamole made table-side, more than 200 tequilas, and margaritas featuring house-made sour mix. The menu features a variety of tacos such as shrimp, carne asada, chorizo, carnitas-style pork, and vegan mushroom. In addition to flour tortillas, handmade gluten-free corn tortillas and lettuce cups are also available.
Rocco's Tacos & Tequila Bar is located at 1313 E. Las Olas Boulevard. It is open from 11:30 a.m. to 11 p.m. Monday, 11:30 a.m. to 1 a.m. Tuesday, 11:30 a.m. to midnight Wednesday and Thursday, 11:30 a.m. to 1 a.m. Friday, and 11 a.m. to 11 p.m. Saturday and Sunday. You can also order takeout for delivery via Delivery Dudes, DoorDash, and Uber Eats.
Shooters Waterfront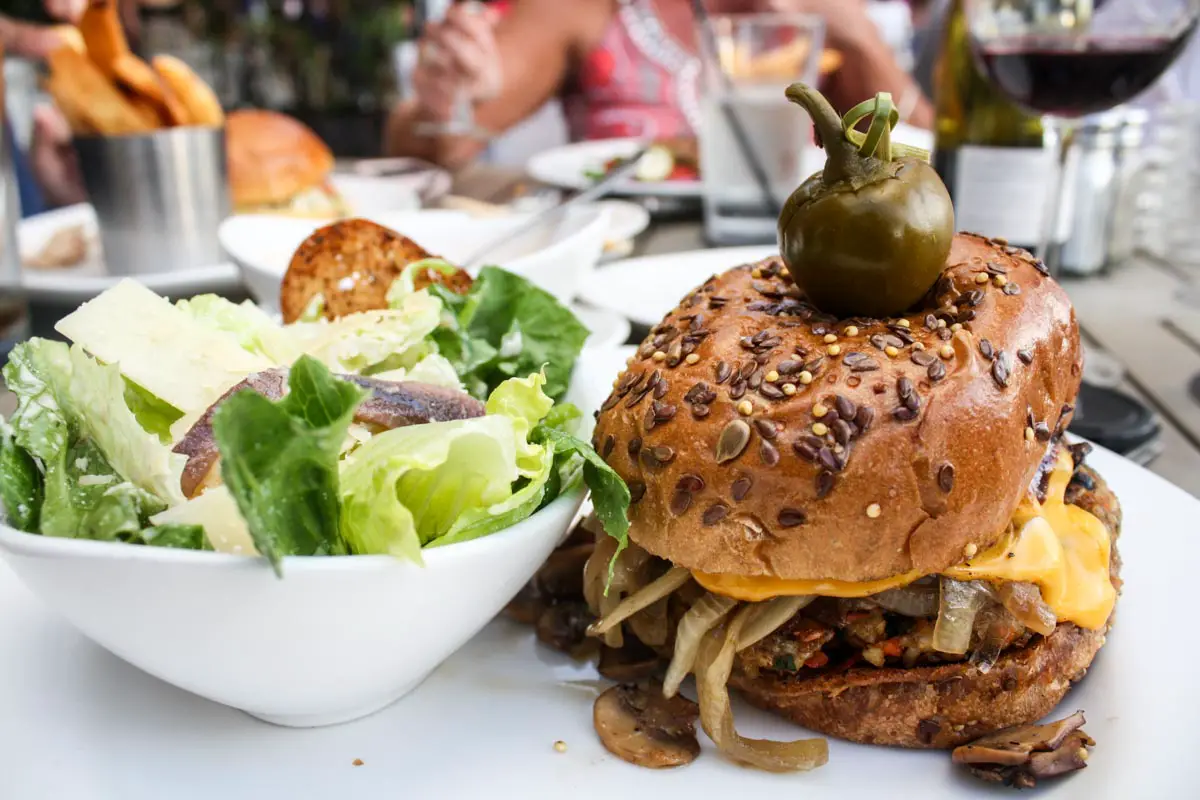 Considered the premier waterfront dining destination in Fort Lauderdale, Shooters Waterfront sits along the Intracoastal Waterway, offering scenic views of yachts and palm trees from umbrella-covered tables.
With a varied menu of sushi, flatbreads, seafood, and more, you're sure to find a dish you'll love at Shooters. Cashew-crusted mahi with sticky rice and a red Thai coconut curry sauce, the New England lobster roll sandwich, and the seared brown butter scallop and shrimp all catch my eye. 
Yet it was the veggie burger that had me sold. Loaded with lentils, quinoa, flaxseed, oats, black beans, carrots, portobello mushrooms, zucchini, onions, and garlic, the patty was then topped with cheese, onions, and mushrooms. It was one of the best veggie burgers I've eaten!
Shooters Waterfront is located at 3033 NE 32 Avenue. It is open from 11 a.m. to 4 p.m. Monday through Friday for lunch, from 4 p.m. to 10 p.m. Sunday through Thursday and from 4 p.m. to midnight Friday and Saturday for dinner, and from 10 a.m. to 4 p.m. Saturday and Sunday for brunch. Happy hour at the bar runs from 4 p.m. to 7 p.m. Monday through Friday.
Where To Stay For Your Fort Lauderdale Weekend Getaway
For a weekend getaway, I recommend staying at one of the Fort Lauderdale Beach hotels. Each of the three hotels I've recommended in this post puts you steps from the beach. Plus, you'll only be a short drive to Fort Lauderdale's top attractions, dining along Las Olas Boulevard, and the airport.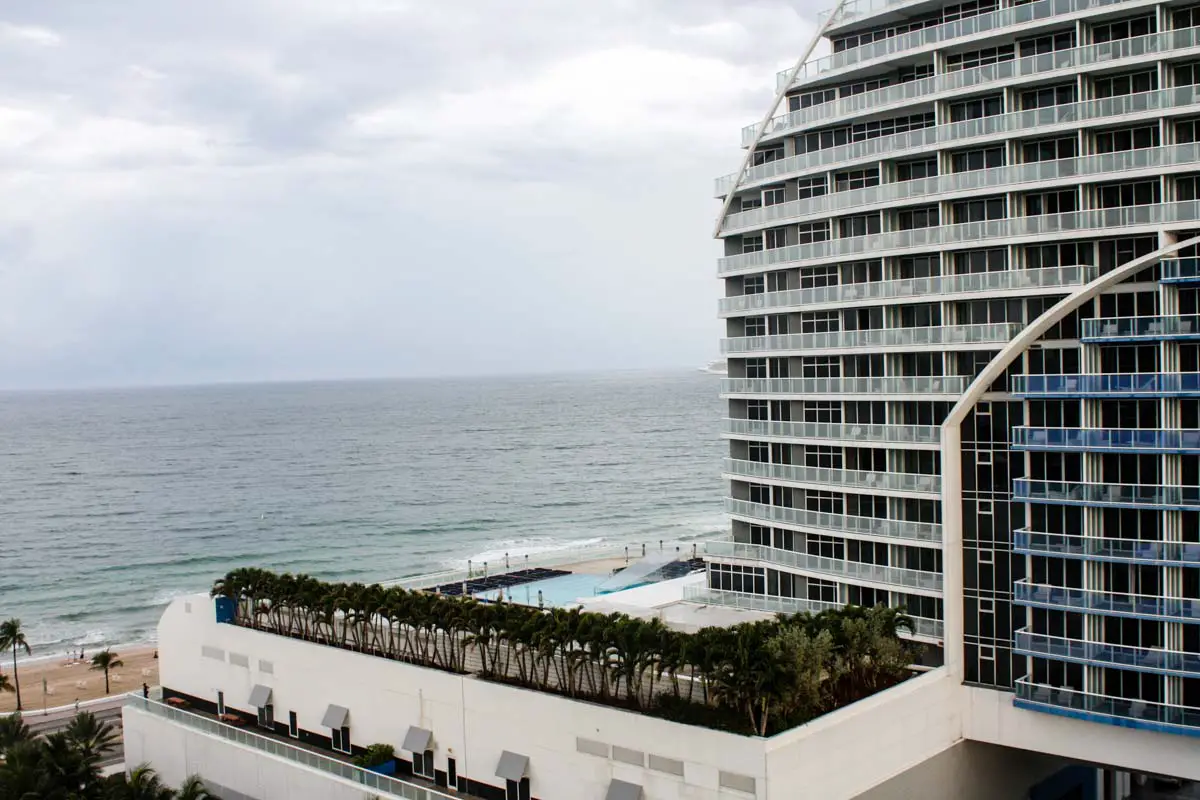 From my family's two-bedroom suite at the Hilton Fort Lauderdale Beach Resort, our private balcony had a view overlooking the neighboring W Fort Lauderdale's pool and the Atlantic coast.
As a AAA four-diamond property, the oceanfront Hilton Fort Lauderdale Beach Resort offers an outdoor pool and hot tubs overlooking the Atlantic with a poolside spa, food, and drink services. Its 347 spacious suites have separate living and bedroom spaces, kitchenettes, and private balconies. For our family vacation, my mom, sister, and I stayed in a two-bedroom suite. We loved the hotel's waterfront views, beachfront location, pool deck, and cocktails at S3 – Sun Sand Surf. Check availability for your travel dates now!
Another AAA four-diamond Hilton resort, Conrad Fort Lauderdale Beach overlooks the Atlantic Ocean and the New River with luxurious all-suite accommodations, a one-minute walk to the beach, an outdoor pool with private cabanas, an on-site spa, and a fitness center with personal trainers. Check availability for your travel dates now!
Located only a block away from the beach, Nobleton Hotel offers a tranquil garden with an outdoor pool, umbrella-covered lounge chairs and sunbeds, and a Weber grill for guests to unwind. A variety of room styles, including some with kitchenettes, accommodate solo travelers, couples, families, or small groups of friends. Check availability for your travel dates now!
Find your Fort Lauderdale hotel now by using the search box below:

Before You Visit Fort Lauderdale …
You may want to download this Ft. Lauderdale weekend getaway guide for easy access on the go. The downloadable version also embeds GPS coordinates to each restaurant, hotel, and attraction I've recommended. Once you download this guide, you can easily map your walking, biking, or driving route around Fort Lauderdale. Plus, GPSmyCity offers even more Fort Lauderdale walking tours and travel articles! To learn more about the GPSmyCity app, read why I think it's such a helpful resource for travelers.
Read More Florida Travel Posts
Save this Fort Lauderdale Weekend Getaway Guide to Pinterest!