Want to wake up to ocean views on your Miami family vacation? You can when your family stays at the Grand Beach Hotel Surfside!
With sweeping ocean views along the Atlantic shore, the beachfront Grand Beach Hotel Surfside is one of the best Miami hotels for families. It offers a luxurious respite with spacious contemporary suites, convenient in-house dining, and poolside relaxation for your family's next Florida getaway.
You'll find this family-friendly hotel in Surfside, Florida, a beach destination in Greater Miami. It's ideally located for families that want to escape on a relaxing beach vacation without being too far from Miami's top attractions.
Disclosure: This review of the Grand Beach Hotel Surfside contains some affiliate links. As an Amazon Associate, I also earn from qualifying purchases. When you click on, make a purchase from, or book your hotel stay through one of these affiliate links, I may earn a small commission. Of course, this is at no extra cost to you.
---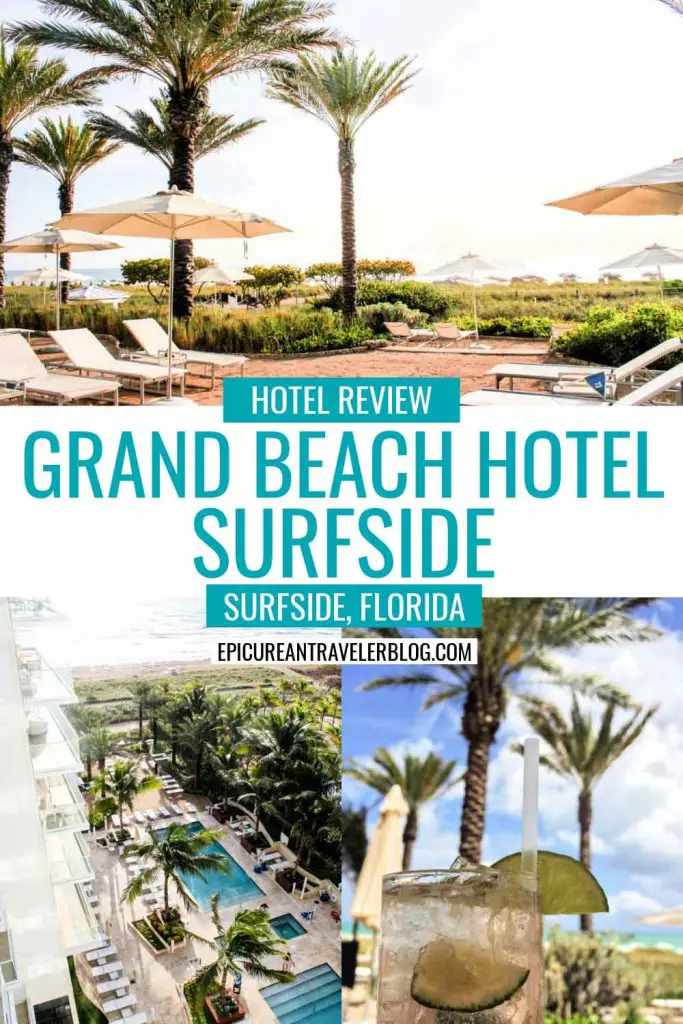 What makes Grand Beach Hotel Surfside one of the best family hotels near Miami?
Grand Beach Hotel Surfside is an upscale four-star hotel with all-suite accommodations suitable for families and groups.
Inside the hotel's 268 luxurious suites, families will find separate living and sleeping spaces, and most suites have at least one king bed and a sofa bed. Additionally, the suites have at least two full bathrooms and sufficient storage space for families to store their luggage.
At the Grand Beach Hotel Surfside, guests can book one and two-bedroom suites at the oceanfront East Suites. Across Collins Avenue at the Grand Beach Hotel Surfside West are one, two, and three-bedroom suites.
During your stay, your family will be in walking distance of Bal Harbour's luxury shopping and dining and a 20-30 minute drive from the South Beach art deco architecture, trendy food scene, and exciting nightlife.
Whether splashing in the hotel's two beachfront pools, building sand castles on the beach, or exploring the nearby Miami sights, a vacation at Grand Beach Hotel Surfside is fun for the whole family.
Why Did My Family Book Grand Beach Hotel Surfside?
For the suites with ocean-facing balconies, of course!
When traveling on a family vacation, we prefer to stay together in a two-bedroom suite whenever possible. Though this sometimes limits our choices of accommodations, we've found newly constructed hotels — like the Grand Beach Hotel Surfside, which opened in 2014 — often offer various suite layouts ideal for families and groups.
Another reason we booked the Grand Beach Hotel Surfside for our family's Miami vacation was the amenities. The hotel's adult-only rooftop pool with ocean views was our oasis. Yet I also loved reading under an umbrella on the beach, sipping cocktails at the rooftop and lobby bars, and al fresco dining under the palm trees.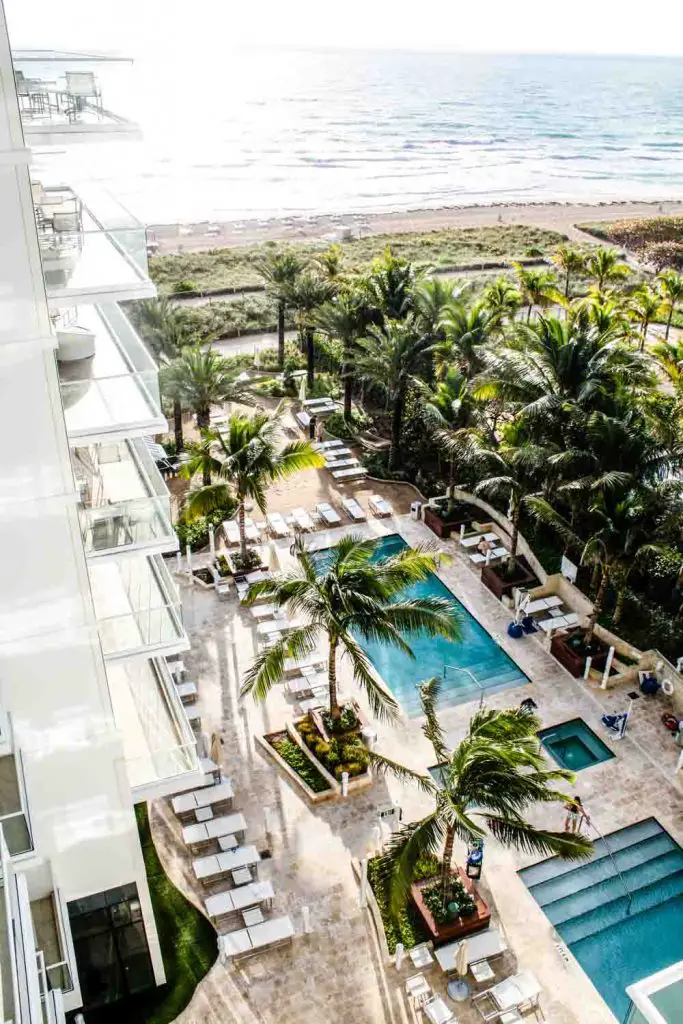 Our Grand Beach Hotel Surfside Suite
Traveling to Miami for our family vacation were my sister and me, both in our late 20s at the time, and our dad. To accommodate our family of three adults, we booked a two-bedroom suite with a balcony overlooking the pools and out to the beach and ocean in the distance. Grand Beach Hotel Surfside has 30 two-bedroom suites, but only the King-Double suites have ocean views.
I loved sitting on our suite's balcony in the morning, taking in the sunshine's reflection on the teal water. It was peaceful, serene, and the ideal beginning to a vacation morning followed by a walk along the beach with my dad.
Our suite had one king bed and a full bathroom in one bedroom, and the second room had two double beds. The other two-bedroom layout features two king beds and a balcony with a sunset view. Most two-bedroom suites, also outfitted with queen-size sleeper sofas, can accommodate up to six guests.
Our suite was airy and light with contemporary furnishings and minimal décor. In addition to the two bedrooms, a sitting area with a TV, a private balcony, and three full bathrooms with either a bathtub or walk-in shower completed our 1,078-square-foot suite.
You read that right — three full bathrooms! If you spent your childhood sharing a bathroom or bedroom with a messy sibling, I'm sure you understand my excitement over having separate bathrooms on vacation.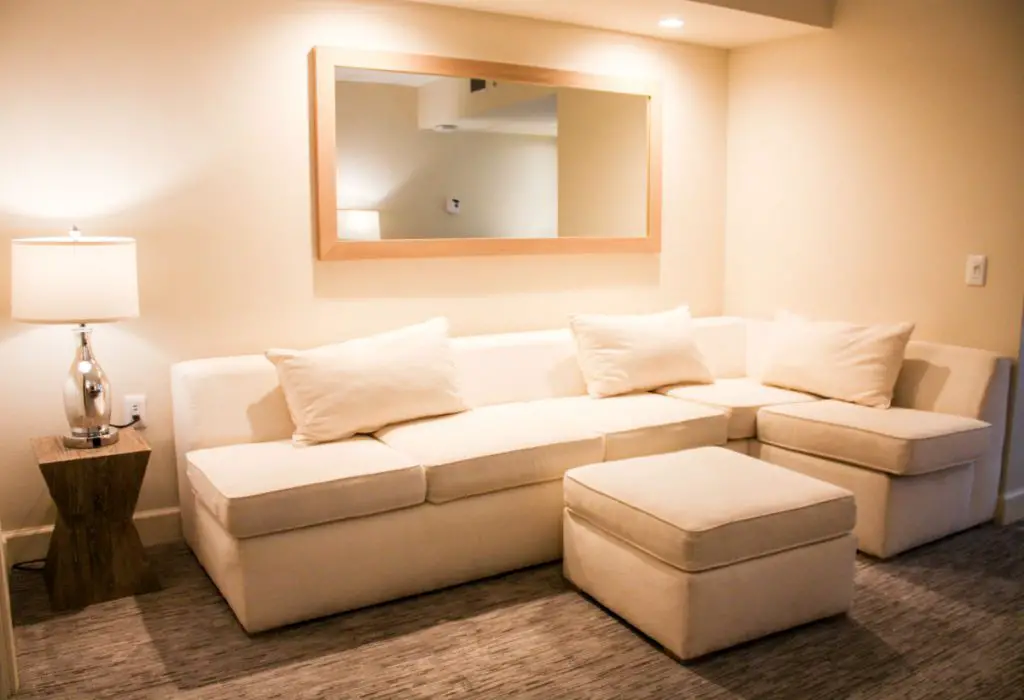 Amenities Create Beachfront Oasis
Families with children can relax on the beach level in a sophisticated tropical setting with two pools, hot tubs, and umbrella-covered lounge chairs. When you want an adult-only oasis, head 12 floors up to the rooftop pool and hot tubs! You can sip a mojito from the Sky Bar while looking out to the Atlantic Ocean or the Miami skyline. For absolute relaxation, food and drinks are served at both pool decks and the beach.
With hammocks, lounge chairs, and giant chess, the outdoor space at Grand Beach Hotel Surfside offers plenty of ways to unwind for all ages.
You can take in Greater Miami's impressive beachfront skyline from the beach, where your children can play in the waves or build a sand castle. Just beware of jellyfish that wash up along Florida's Atlantic shore! Included in your resort fee are umbrella-covered lounge chairs with food and beverage service.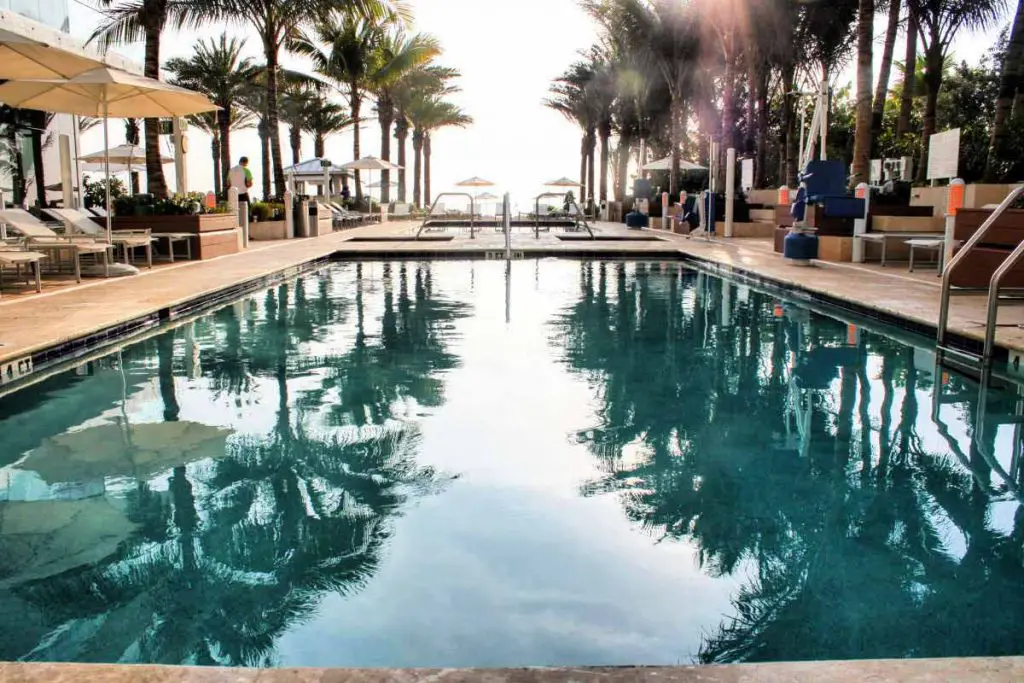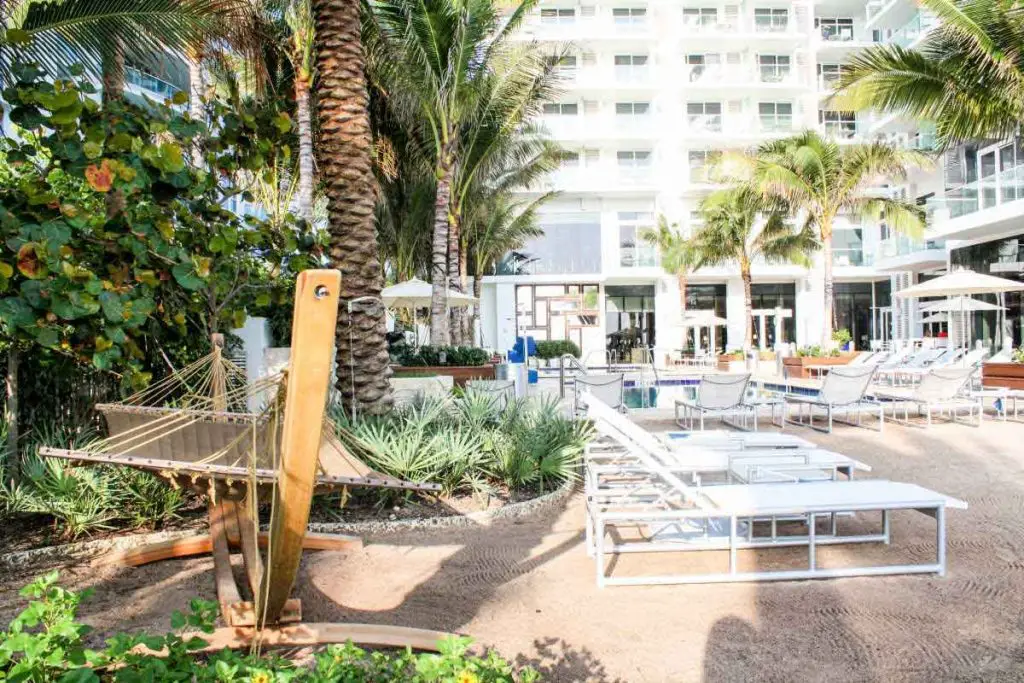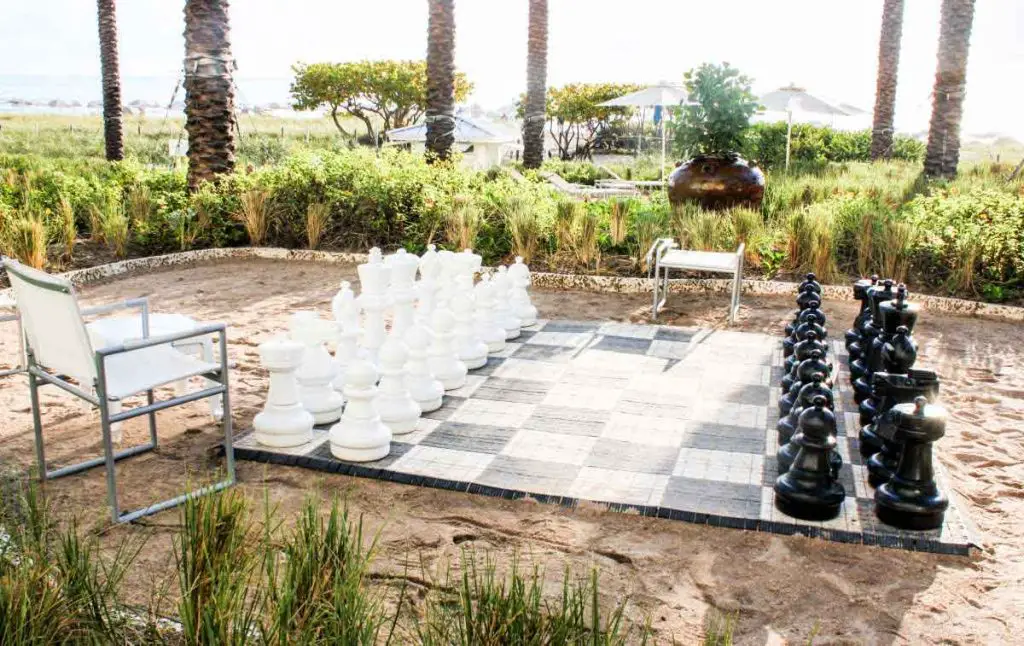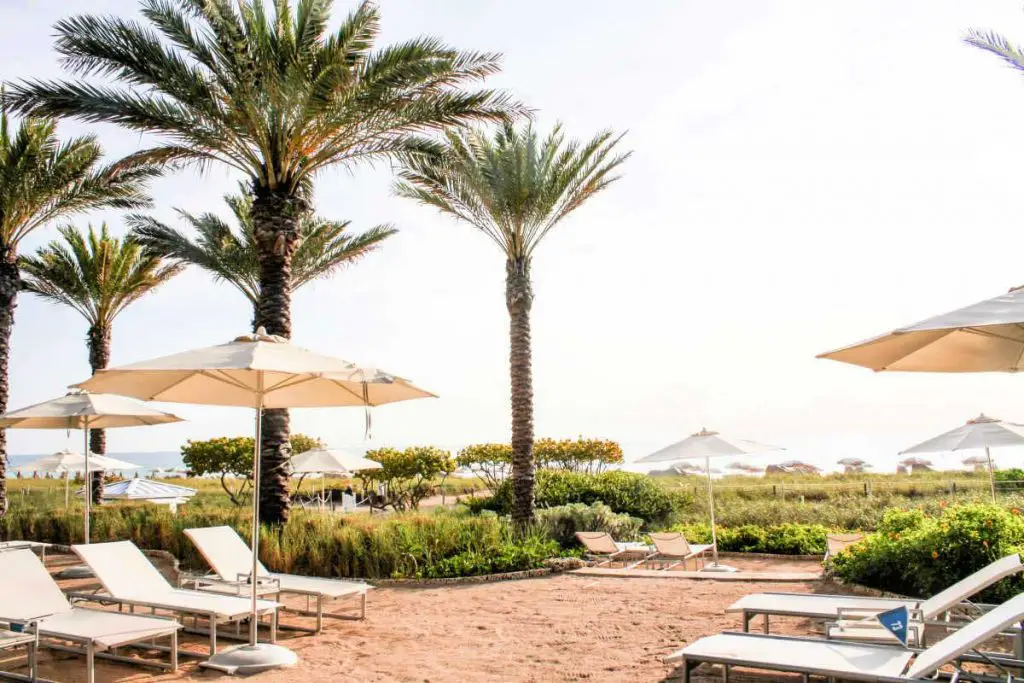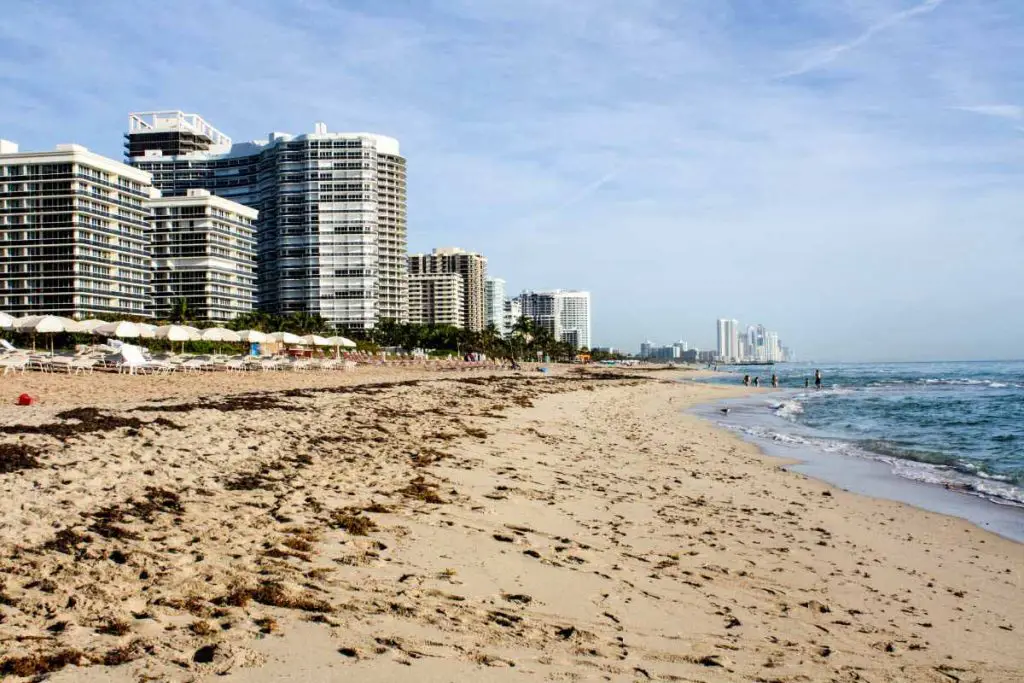 Dining at Grand Beach Hotel Surfside
The Grand Beach Hotel Surfside's restaurant serves breakfast, lunch, and dinner with indoor and outdoor seating. You'll also find coffee, gelato, light breakfast fare, and snacks at Espresso Gelato on the lobby level. For drinks, take a seat at the lobby bar or head up to the rooftop Sky Bar for views of Miami.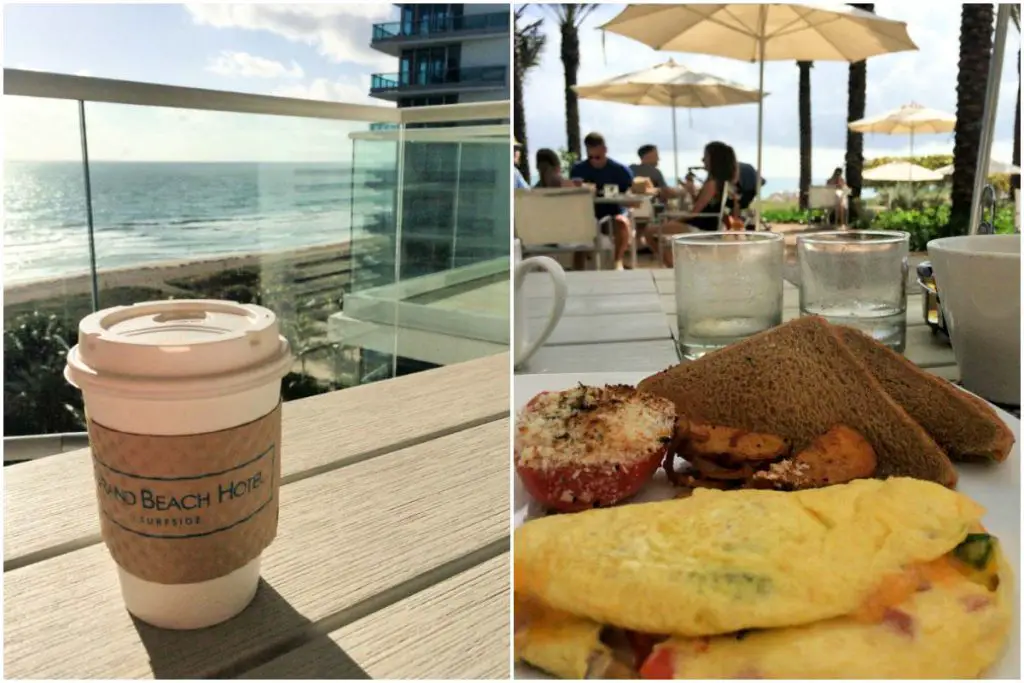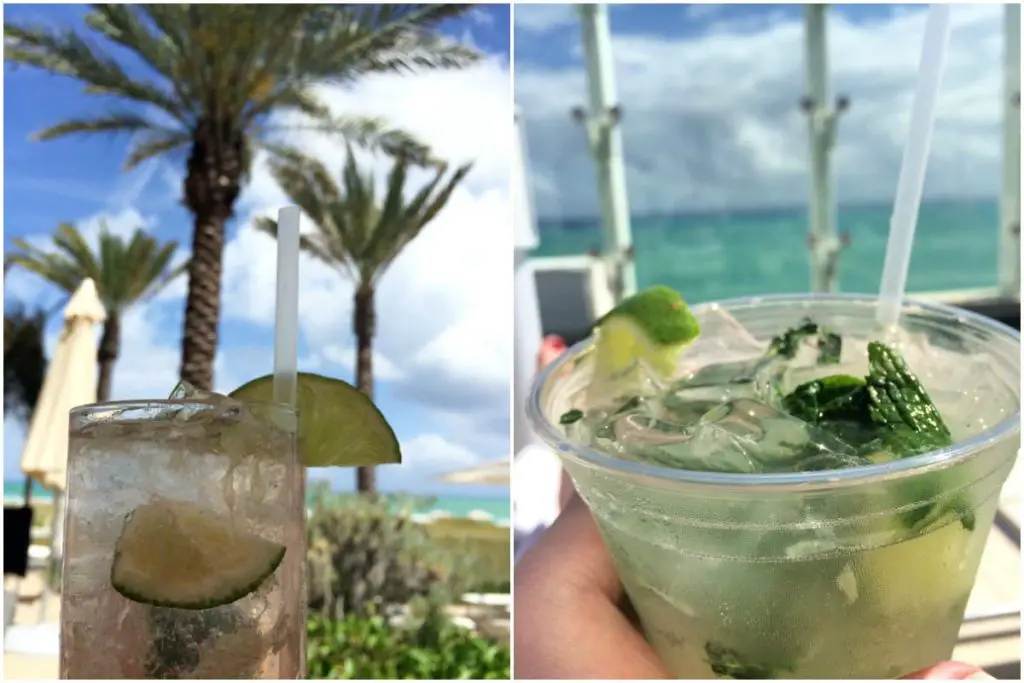 Location and Getting Around
Located in the small beachfront town of Surfside, Florida, the Grand Beach Hotel Surfside is sandwiched between Miami Beach to the south and Bal Harbour to the north.
About 16 miles away, Miami International Airport (MIA) is the closest airport. Depending on traffic, your ride from the airport could take 30-40 minutes. As an alternative, you could fly into Fort Lauderdale. FLL is about 20 miles away or a 35-45 minute drive.
Once you are at the hotel, you'll only be a 20-30 minute drive from South Beach, and the valet staff is helpful with hailing taxis for hotel guests. You can also use ride-sharing apps, such as Uber and Lyft, to hail a ride in and around Miami.
Nearby Attractions & Activities
From Grand Beach Hotel Surfside, your family can walk to the luxury shopping and dining at Bal Harbour Shops, and Miami Beach's Art Deco architecture is only a 20-30 minute drive away. Below you'll find more ideas of things to do in Miami and Miami Beach while staying in Surfside.
Surfside And Bal Harbour
Rejuvenation Wellness Center Spa (Onsite) — Book a massage, facial, or other spa treatment to "relax your mind, restore your body, and renew your spirit" during your vacation at Grand Beach Hotel Surfside.
Bal Harbour Shops (.5 mile/.8 km) — Shop and dine at this open-air shopping mall of luxury and designer retailers and upscale restaurants among tropical landscaping.
Miami Beach
Miami Beach Duck Tour (7.1 miles/11.4 km) — See the South Beach Art Deco district from a tour on an amphibious vehicle before splashing into Biscayne Bay for views of Millionaire Row's and Fisher Island's mansions from the water.
South Beach Art Deco Walking Tour (8 miles/12.8 km) — Explore landmark buildings, such as the Versace mansion, as you take in South Beach's unique Art Deco architecture and hear stories from a local guide. I loved my walking tour with the Miami Design Preservation League. You can also book a guided walking tour of South Beach, its Art Deco buildings, and iconic sights from movies.
South Beach Food Tours (8 miles/12.8 km) — Taste the Latin flavors of South Beach on a cultural food and walking tour, or sample dishes from five popular South Beach restaurants on a foodie-guided tour.
Miami
Miami Sightseeing Tours (Varies by tour) — View the sights of Miami by open-air Jeep, speedboat, sightseeing cruise, jet ski, or seaplane.
Miami Design District (9 miles/14.4 km) — Explore this vibrant neighborhood of art, fashion, design, architecture, and dining! You could book a Miami Design District food and art tour to learn about the Miami art scene while tasting food at five local restaurants.
Wynwood Arts District (10 miles/16 km) — See Miami's street art scene in the Wynwood Arts District, where vibrant murals have been painted on warehouse walls by world-renowned street artists. On a 1.5-hour walking tour of the former warehouse district, stop into art galleries, see street art, and learn about local artists. Want to combine art with food? You could take a 2.5-hour walking tour of Wynwood Walls with tastes of the Wynwood Arts District's best restaurants.
Little Havana Tours (15 miles/24 km) — Experience the sights, sounds, and flavors of Miami's historically Cuban neighborhood on a Little Havana food and walking tour or a three-hour culture and food tour.
Vizcaya Museum and Gardens (16 miles/25.7 km) — Wander through this beautiful waterfront villa and gardens.
Sailing Charter (Varies by cruise) — Sail by the Miami skyline, mansions of the rich and famous, and the Cape Florida Lighthouse on a private sailing charter for up to six people.
Dining Near Grand Beach Hotel Surfside
26 Sushi & Tapas (.2 mile/.32 km) — Serving kosher sushi and Latin fusion, this restaurant is only a short walk from the hotel.
Carpaccio Restaurant (.6 mile/.96 km) — Located in the heart of the Bal Harbour Shops, this upscale Italian restaurant serves a variety of pizzas, pastas, the namesake carpaccio, and other Italian-inspired dishes.
Casa Tua Restaurant  (6.9 miles/11.1 km) — Al fresco dining in the garden of Casa Tua is a lively yet romantic experience accompanied by Italian food and wine.
Joe's Stone Crab (9 miles/14.4 km) — Opened in 1913, this iconic seafood restaurant in Miami Beach is the place to dine for stone crab claws and key lime pie. Operating on a first-come, first-served rule here, it's best to dine on a weekday before 7 p.m. However, waiting for your table at Joe's bar is part of the restaurant's legendary dining experience. You never know who you might see at a restaurant that has served presidents and celebrities!
FAQ
How many guests do the Grand Beach Hotel Surfside suites accommodate?
The two-bedroom suites at Grand Beach Hotel Surfside accommodate up to six guests, and the one-bedroom suites are designed to accommodate a maximum of four people.
If you need more space for your family, check out Grand Beach Hotel Surfside West. In addition to one- and two-bedroom suites, this kid-friendly hotel has three-bedroom suites, accommodating up to eight guests.
Which room types have ocean views?
The Ocean Front King Suite, Ocean View King Suite, Pool View Suite, and 2-Bedroom King-Double Ocean Front Suite room types have ocean views.
The best ocean views are in the 50 east-facing Ocean Front King Suite rooms, but there are also 35 east-facing Ocean View King Suites with views overlooking the pools with the beach and ocean in the distance.
The Poolview Suites face south, but they also offer ocean views.
Standard suites face north or south, but it is unclear whether there is an ocean view from these rooms.
Does Grand Beach Hotel Surfside offer a complimentary airport shuttle?
No. You would need to book an airport transfer on your own, but taking a ride share (Uber or Lyft) to and from MIA is likely cheaper for families of four or fewer people.
Things to Know About Grand Beach Hotel Surfside
Location: 9449 Collins Ave, Surfside, FL 33154
Phone: (305) 534-8666
Parking: Valet
Amenities: Outdoor pools and hot tubs, adult-only rooftop pool area, spa, fitness center, beach service (lounge chairs, towels, umbrellas, and food and beverage service), business center, laundry and dry-cleaning services
Room Amenities: Private balcony, sleeper sofa bed, flatscreen TVs, desk, coffeemaker, bathrobes, complimentary toiletries, hairdryer, iron and ironing board, safe, wi-fi
Dining: Onsite restaurant serving breakfast through dinner, room service, poolside and beach food-and-drink service, rooftop bar, lobby bar/lounge, coffee and gelato shop, marketplace
Pets Allowed: Yes
Accessible Rooms: No
Event Space: The Grand Beach Hotel Surfside's Monet Ballroom can accommodate 150 guests, but it is only available to groups that also book a proportionate number of guest rooms.
Average Standard Room Rates: $493 – $769
Make Your Reservation: Visit Booking.com
Would I Stay at Grand Beach Hotel Surfside Again?
Absolutely! For families seeking beachfront luxury, the Grand Beach Hotel Surfside offers spacious suites with private balconies and ocean views. A bit removed from the hustle of South Beach, the hotel's Surfside location is quiet and relaxing for a beach getaway. Yet the dining, nightlife, and cultural attractions of South Beach are less than 30 minutes away by car.
You can book your family's stay at the Grand Beach Hotel Surfside by clicking here. You can also find deals on flights to Miami or Fort Lauderdale on Travelocity, or you can get cash back when you book your flight through WayAway.
Read More About Florida
Read More of Our Hotel Reviews
Save this post to your Florida travel board on Pinterest for future trip planning!