Planning my family's 2014 vacation to Florida, I was looking for four things — a beach destination along Florida's Gulf coast, fantastic restaurants, fun activities for adults, and a hotel with suites. After hours of research, I found the Bellasera Resort in Naples, Florida.
Why Stay At The Bellasera Resort In Naples?
Traveling to Naples were myself, my sister, and our dad. So, when booking our family vacation, it was really important for us to find a hotel with suites. Back when I was a kid, my parents always booked one hotel room for our family of four's vacations. Though now that we are all adults, everyone wants a bit of their own space and privacy. Naturally, suites with multiple rooms work out best, especially on short trips that don't meet the minimum stay requirement for most vacation rentals.
Luckily, I found the Bellasera Resort while searching TripAdvisor. The hotel has 100 suites, including studio, one-, two-, and three-bedroom accommodations. In particular, the two- and three-bedroom suites are spacious options for families or groups of friends visiting Naples together. The Bellasera Resort certainly fit our desire to stay together as a family with a bit more privacy (and an extra bathroom, too).
Plus, its close proximity to dining and shopping as well as the beach completed my Florida vacation wishlist.
Disclosure: This post contains some affiliate links. As an Amazon Associate, The Epicurean Traveler earns from qualifying purchases. If you click on one of these links to purchase a product or book a hotel suite, I may earn a small commission. This is at no extra cost to you and helps to sustain this blog. Thanks in advance for your support!
Let's Take A Look Inside The Bellasera Resort's Suites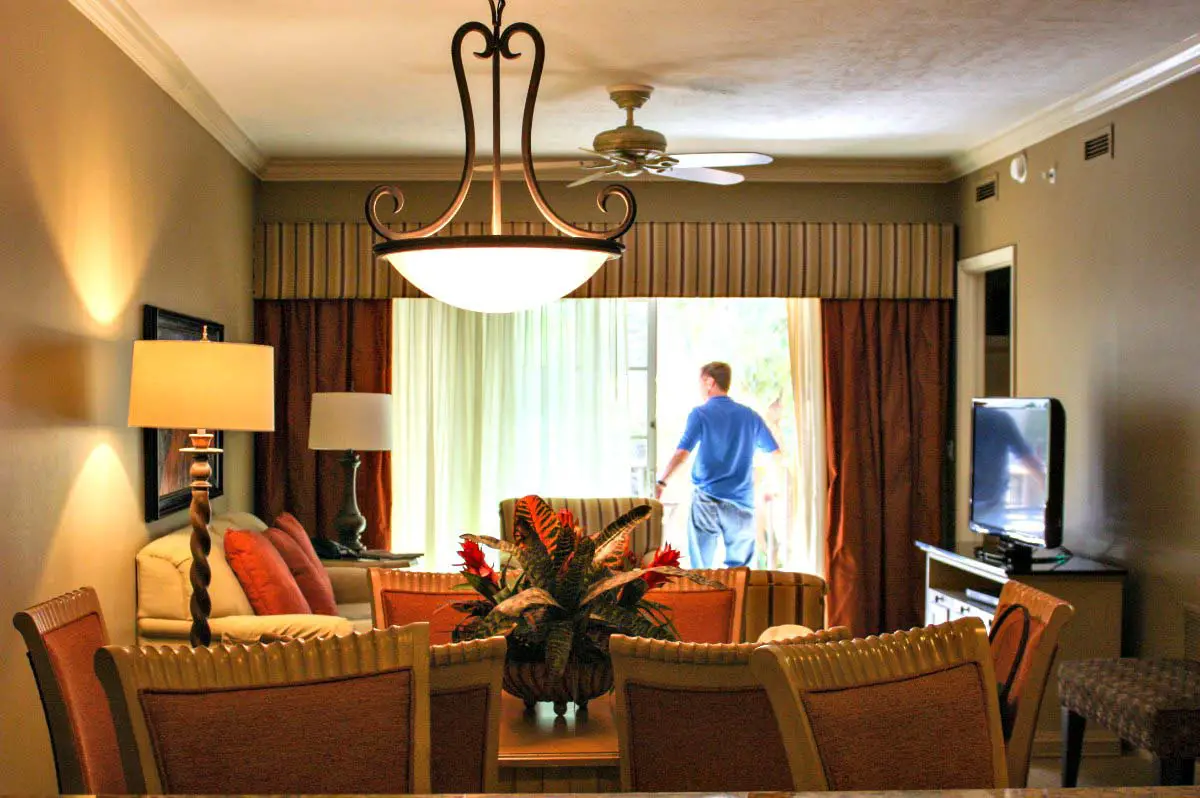 As I mentioned, the Bellasera Resort has suites perfect for families like ours. As we walked into our two-bedroom suite, we immediately entered an open-layout common area with a full kitchen, dining area, and living room with a sliding door to the courtyard-facing balcony. There was plenty of space for the three of us to prepare food, eat, watch TV, or relax with a glass of wine.
The Kitchen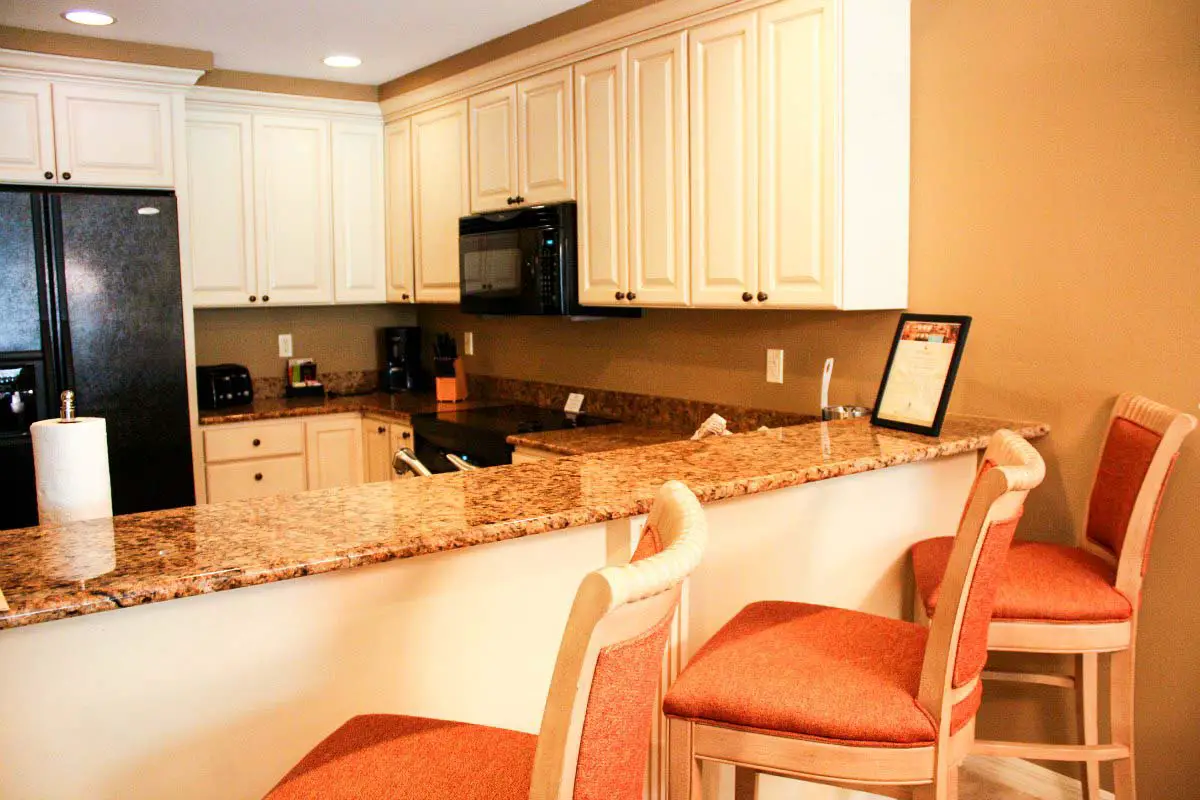 One of the best benefits of our suite ended up being the fully stocked kitchen. Our suite had a full-size refrigerator, microwave, stovetop, toaster, and coffeepot with an array of coffees and teas. Inside the cupboards we found pots, pans, cooking utensils, dishes, silverware, and the oh-so-important wine glasses.
The kitchen worked out particularly well for breakfast. One of the first things we did in Naples was grocery shop. We stocked up on wine, cheese and crackers for snacking, and fruit, cereal, milk, and eggs to make our own breakfast. Later in this post, I'll share with you a map of Naples that pinpoints where the closest Publix grocery store is located.
Not only was making breakfast ourselves a money saver, it also gave us flexibility to eat whenever it fit our schedule. During our Naples vacation, my dad would wake up, exercise, shower, and be cooking scrambled eggs by the time my sister and I pulled our sleepy selves out of our matching twin beds. If your family is like ours — with some members who stick to a morning routine and others who'd rather have a lazy morning while vacationing — having a full kitchen in your suite is ideal.
The Living Room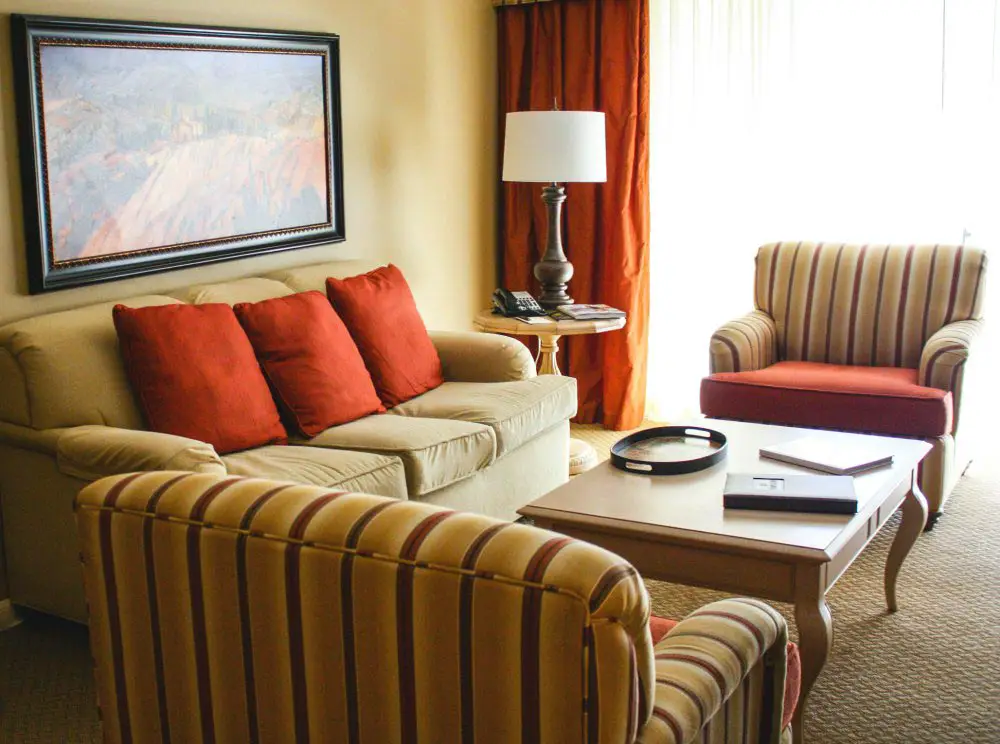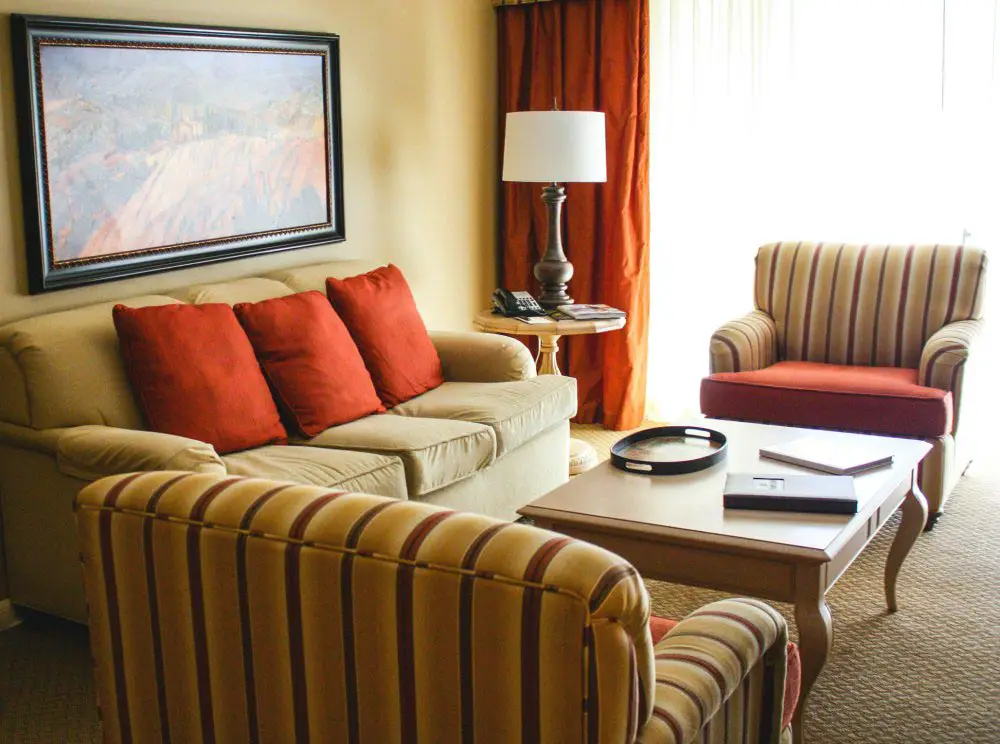 Since we were on a family vacation, we balanced exploring Naples with relaxing together as a family. The suite's living room was our natural congregation point each evening before going out to dinner. Though I have to say, my favorite aspect of this common area is the balcony that overlooks the lush courtyard.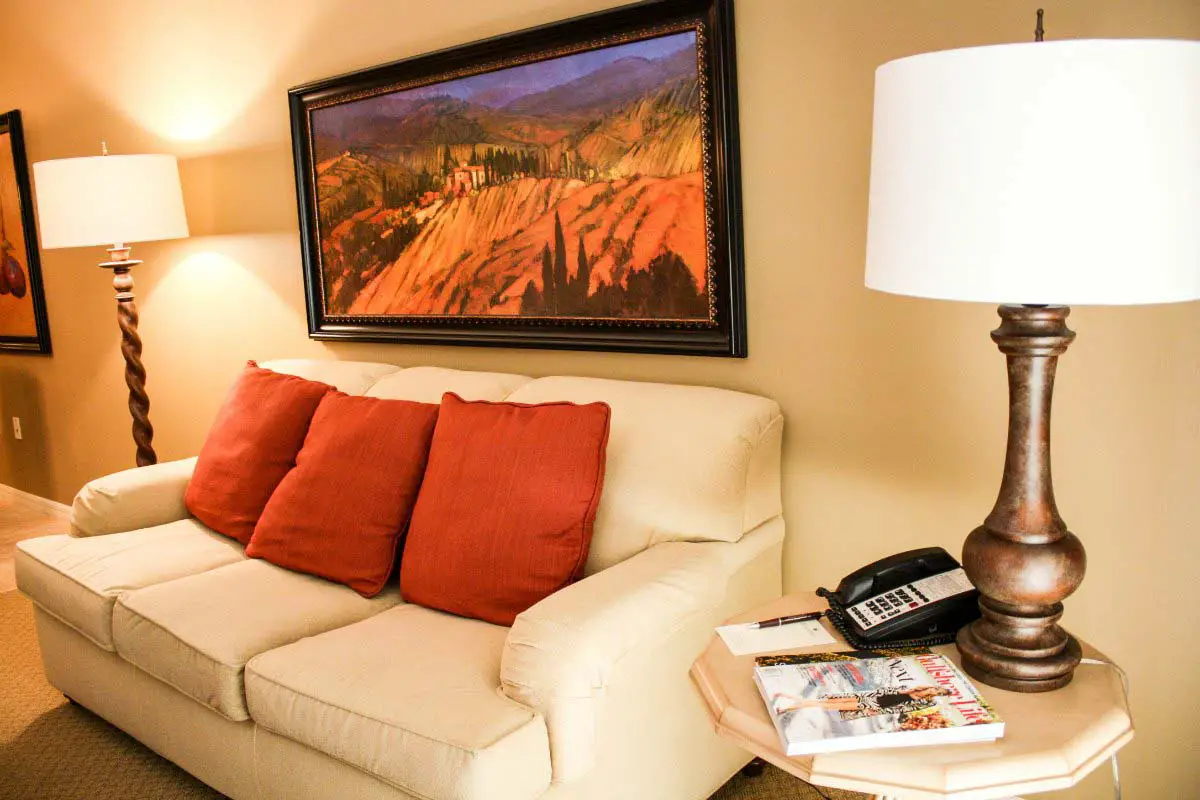 In addition to the dining and living space, our suite included two bedrooms, two full bathrooms, and a washer and dryer. We were only visiting for a long weekend, so I hadn't intended to need laundry facilities. However, I ended up feeling grateful for the dryer since my swimsuit hadn't dried completely overnight. Silly me, I had only packed two swimsuits (and only one I actually liked) for four days of swimming and sunbathing.
The Bedrooms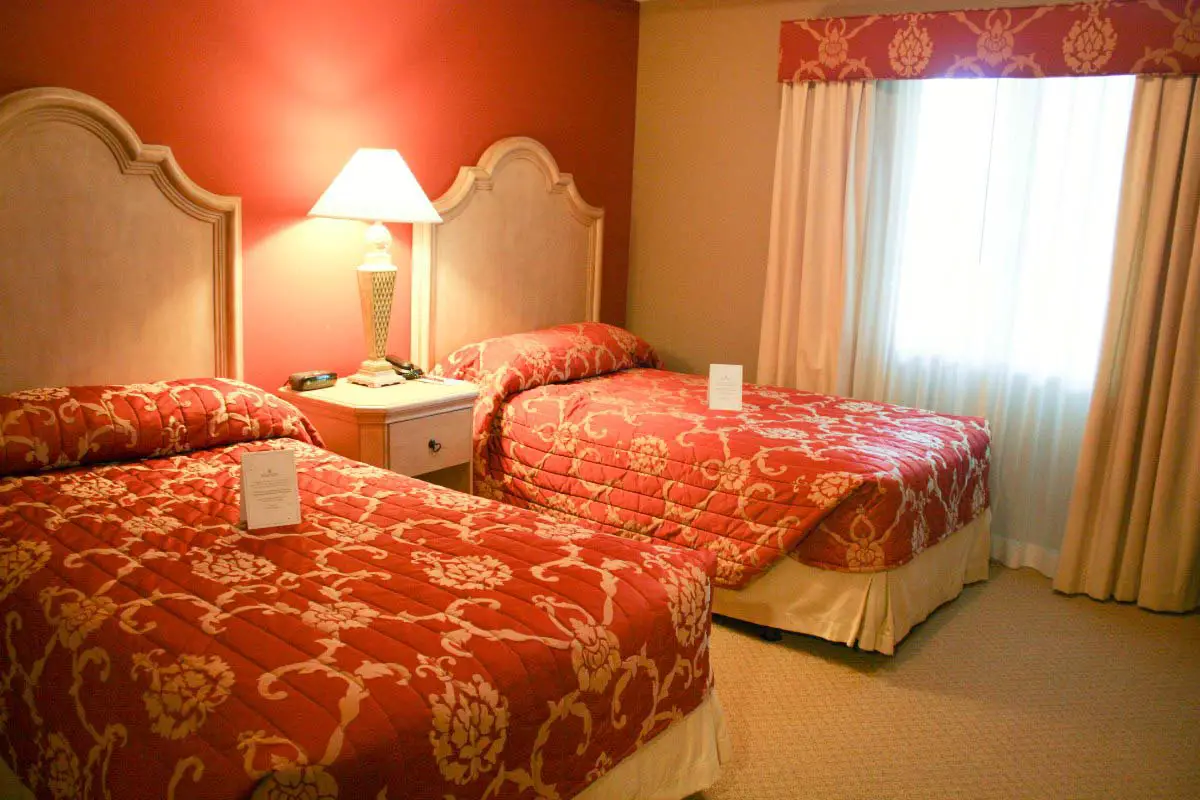 The plush king bed in the master bedroom was so comfy. I know because I napped there one afternoon after a couple nights of sleeping not quite as comfortably on a twin bed. The twin bed setup was fine for a short vacation, and it certainly made me happy to come home to my cozy double bed with its pillow-top mattress.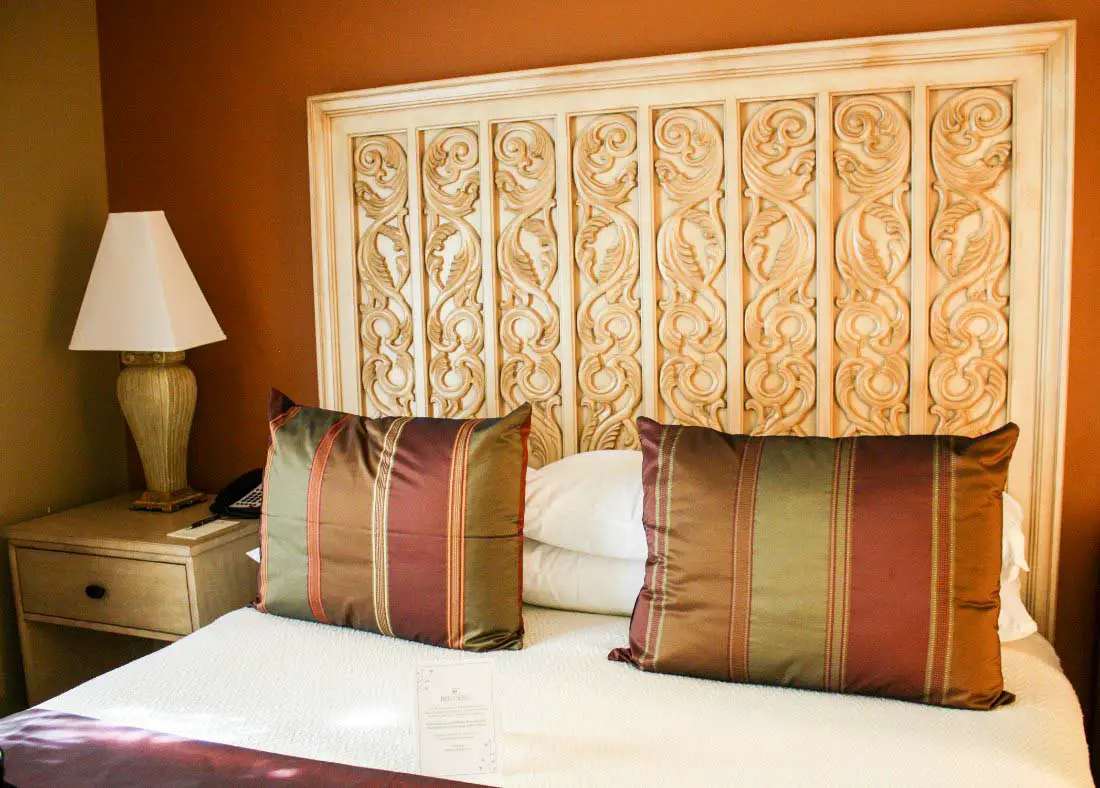 Despite the sleeping arrangements, I really liked our suite. It was spacious and felt like our home away from home while in Naples. I would definitely stay here again and certainly recommend it to families or groups planning a Naples vacation.
Take A Peek At Bellasera Resort's Best Feature — The Pool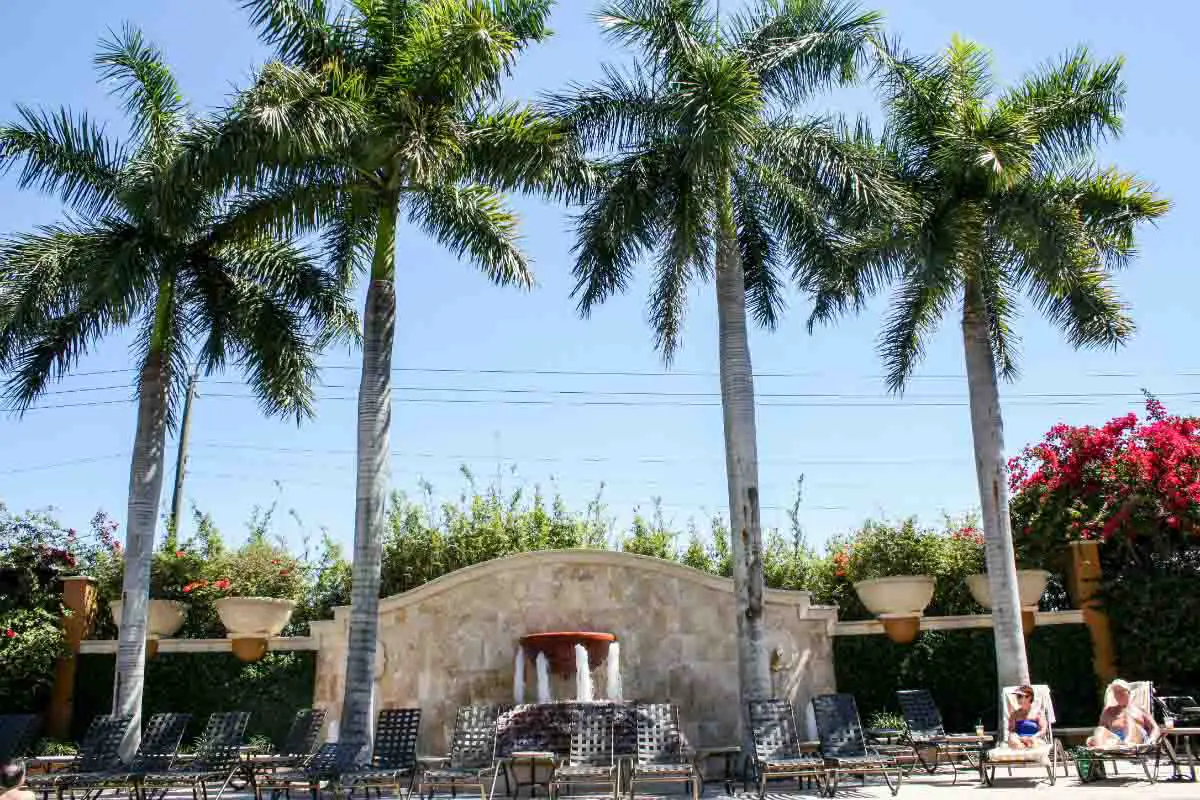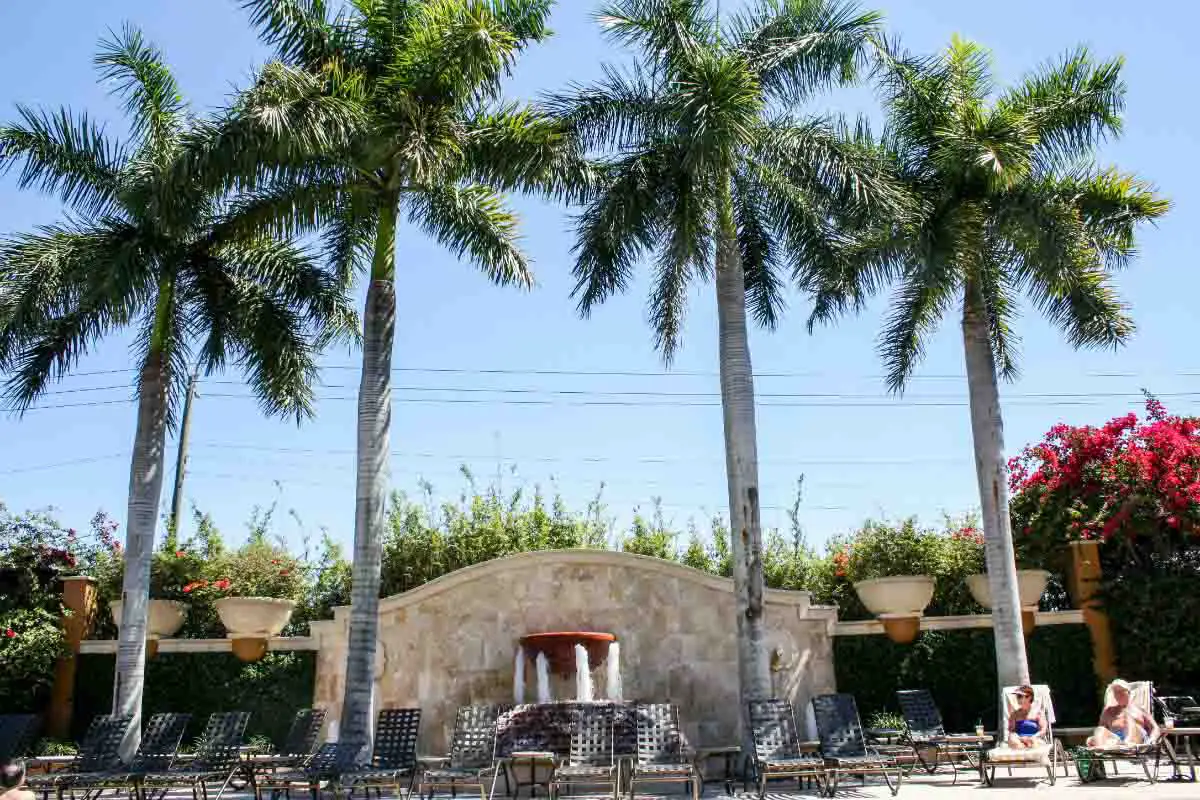 Another reason we loved our stay at the Bellasera Resort was the heated swimming pool. Situated in front of a fountain like many I saw throughout Rome, the pool deck of this Italian-inspired hotel is a beautiful setting to relax with a cocktail in hand. A server makes the rounds delivering cold drinks to sunbathing guests on lounge chairs and those relaxing inside cabanas. I even began one morning by the pool with a Bloody Mary. Best way to start a day on vacation!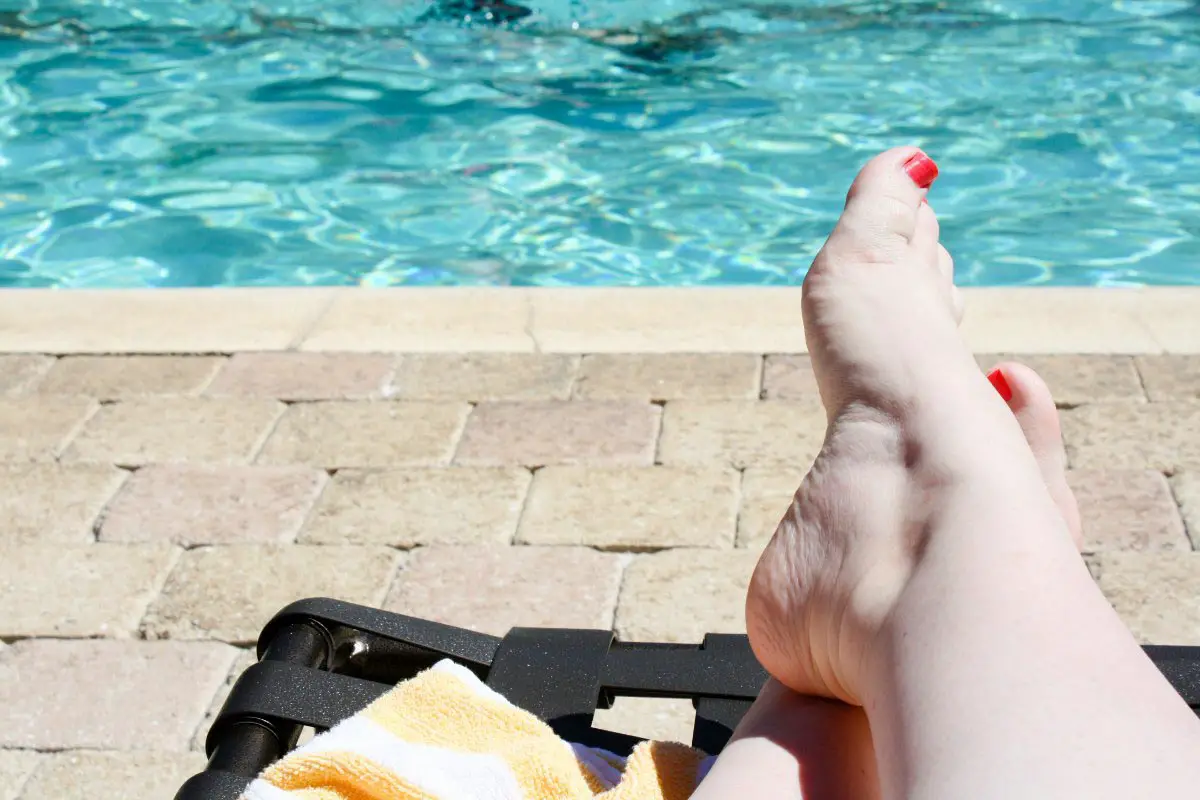 With the sun shining and temperatures in the 70s, taking a dip into the pool was so refreshing!
Fantastic Location In Naples, Florida
A major perk of the Bellasera Resort is its location in downtown Naples. Just a five-minute walk from the hotel is Fifth Avenue South, a retail and dining area. We walked to Sushi-Thai Too for dinner here one night. For more truly fantastic dining, the Bellasera is only a short drive from Third Street South, another retail and dining district, in Old Naples. There we had delicious meals full of fresh seafood at Sea Salt and Campiello Ristorante. The hotel is also a short drive to the beach and a number of attractions, including my favorite in town — the Naples Botanical Garden.
Getting To Bellasera Resort
Traveling from Detroit and New York City, we all flew Delta Airlines into Southwest Florida International Airport (RSW) about 34 miles north of Naples in Fort Myers. RSW is the closest major airport to Naples, but you could also fly into Fort Lauderdale-Hollywood International Airport (FLL) or Miami International Airport (MIA). FLL is about 110 miles (a 1.5-hour drive) and MIA is about 125 miles (closer to a two-hour drive).
Since Naples is about a 40-minute drive from the airport and parking for two vehicles is included with each reservation at the Bellasera Resort, we rented an SUV. I found the best deal through Budget, but other rental car companies on-site at RSW include Alamo, Avis, Dollar, Enterprise, Hertz, National, and Thrifty. The Bellasera Resort actually offers guests a discount for Enterprise car rentals. That might be worth checking out. 😉
Planning Your Stay At Bellasera Resort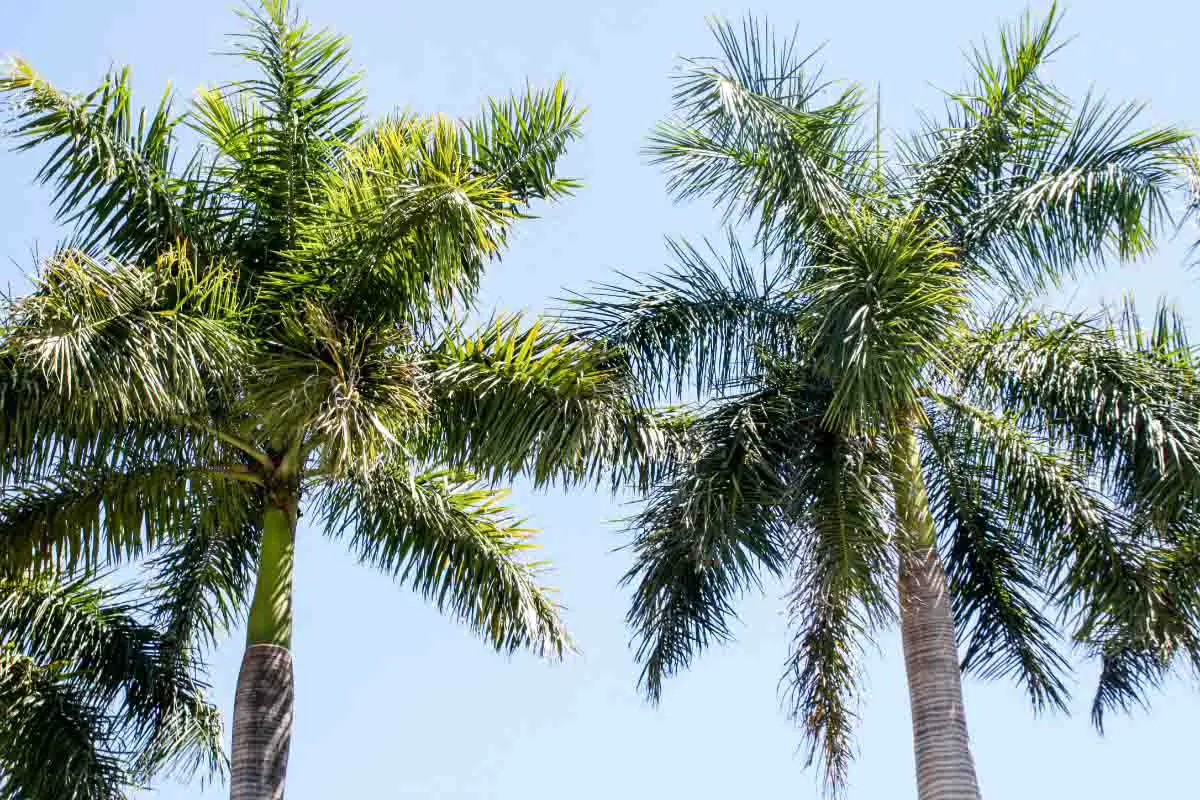 Interested in learning more about the Bellasera Resort, reserving your suite, or planning your Naples vacation? Here are some resources for you:
Learn More About Bellasera Resort
Visiting Naples?
Save this post to Pinterest for future trip planning!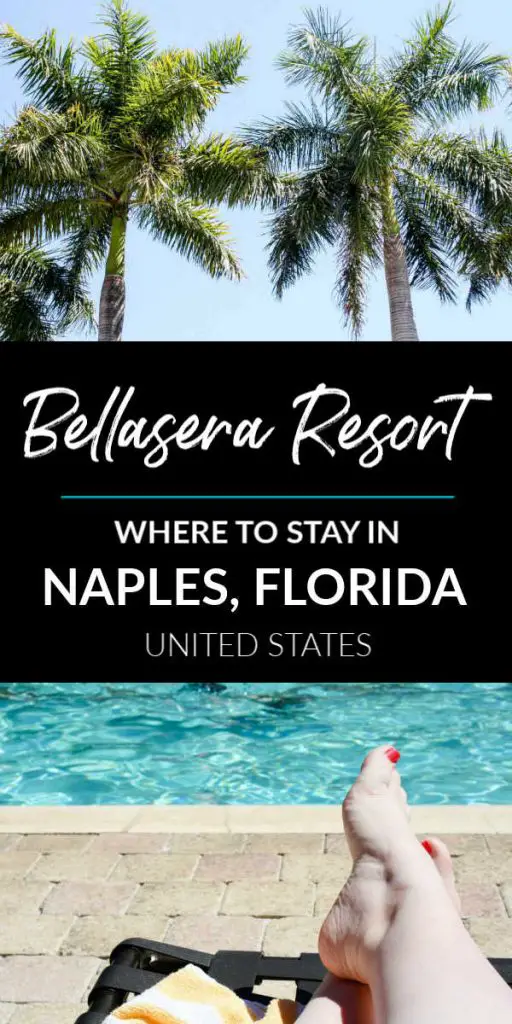 Throughout this post, I shared with you my family's lovely experience at the Bellasera Resort. The two-bedroom suite was our Naples home for our long weekend family vacation. More than a place to sleep, it provided opportunities for our grown-up family to eat, swim, and relax together all while giving each of us a bit of space and privacy when we needed it.
What kind of accommodations do you prefer for family vacations?