Along the Gulf of Mexico coast in the United States is a beach destination where luxurious lifestyles intersect with subtropical wilderness. Offering a breadth of unique things to do in Naples, Florida, and 260+ sunny days per year, a paradise of stunning natural wonders and first-rate attractions and dining awaits you in Southwest Florida.
Disclosure: This guide to the top 10 things to do in Naples, Florida, includes some affiliate links. I may earn a small commission when you click on and/or make a purchase or reservation through one of these links. Of course, this is at no extra cost to you.
---
Why visit Naples, Florida?
As one of the wealthiest cities in Florida, Naples is known for its luxury resorts, high-end shopping, sophisticated restaurants, and 90-some golf courses in the greater area. It's also a natural paradise with stunning sunsets, pristine beaches, and numerous wildlife preserves in the vicinity.
However, recently, the beaches in Naples have been affected by an unseasonal red tide, which can be deadly to marine life and cause respiratory issues for humans when the toxins are inhaled. Therefore, I don't recommend the beach and water activities in Naples at this time, but you can still enjoy the city's dining, shopping, and other fun activities on land.
Getting to Naples, Florida
Naples is about 40 miles south of, or less than an hour's trip by car from, Fort Myers in Southwest Florida. It's also two hours from Fort Lauderdale, 2.5 hours from Miami, 3 hours from Tampa, and four hours from Orlando by car.
If you are flying to Naples, you'll want to book your flight to Southwest Florida International Airport (RSW) in Fort Myers. It's the closest major airport, and the drive to Naples takes about 40-45 minutes. To find the best flight deals to Southwest Florida, I recommend using WayAway Plus.
My family opted to rent a car, and I would recommend renting a car if you plan to explore the surrounding area. A taxi from RSW airport to Naples could cost $60-70, or you can book a private luxury airport transfer in advance of your arrival.
Five Top Things to Do in Naples
To help you plan what to do in Naples, I've compiled the following list of the top things to do in Naples, Florida.
Go to the Beach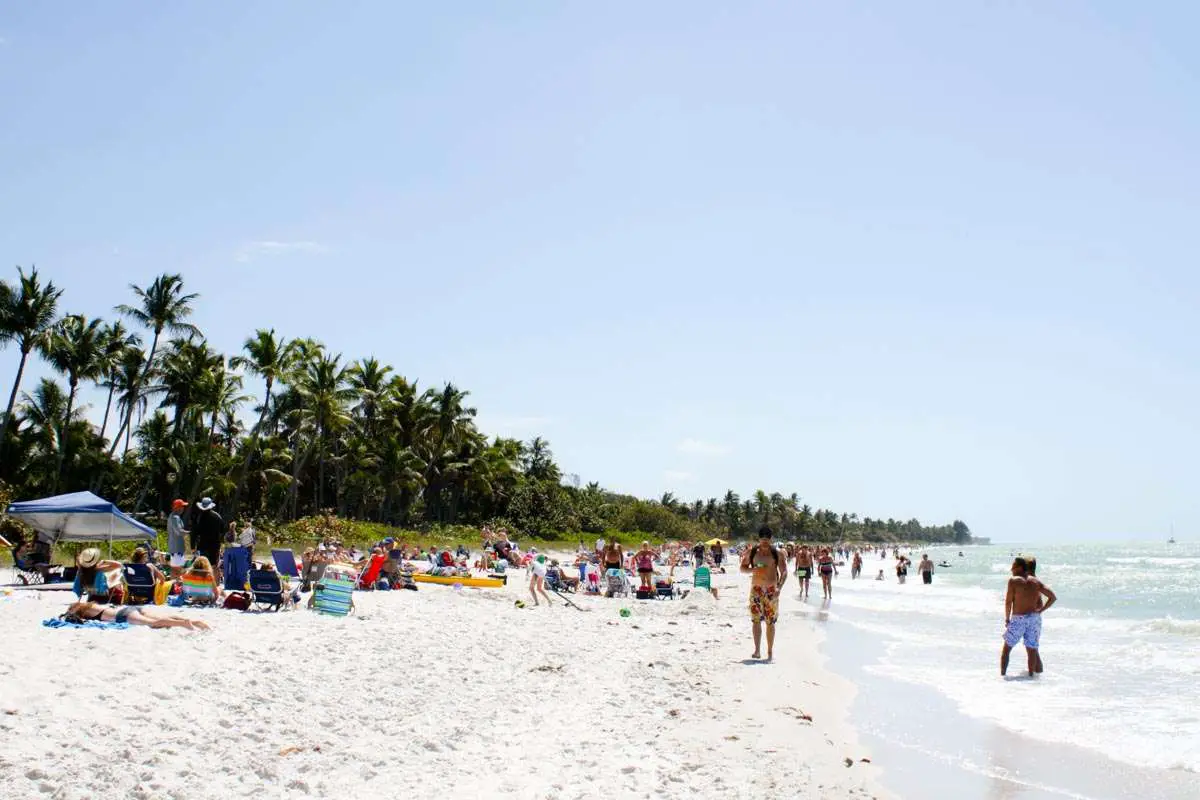 While researching the best things to do in Naples, I found there are several public beaches in the area. Among the most popular beaches in Naples are Clam Pass Park, Delnor-Wiggins Pass State Park, Lowdermill Park's beach, and Naples Municipal Beach.
To visit Delnor-Wiggins Pass State Park, known for its pristine beaches, you can purchase a day pass per vehicle. The day pass costs $6 and can be paid by credit card or exact change. Unfortunately, this state park was damaged by Hurricane Ian and remains temporarily closed as of March 1, 2023.
If you are planning to spend a whole day at one of the public beaches in Naples, I recommend arriving early to find a parking space. Arriving early also allows you to claim the best spot on the sand.
Tip: Since most public beach parking is pay-by-space or metered, bring quarters or a credit card to pay. 
Hitting the Beach at Naples Municipal Beach & Naples Pier
During my family's Naples vacation in March 2014, we found the Naples Municipal Beach and Fishing Pier to be the most convenient for us. The pier is a popular attraction among beachgoers, anglers, and sunset gazers. You may even spot dolphins in the distance!
Since the Naples Pier is located at the west end of 12th Avenue South, it is only a short walk from Old Naples and the Third Street South shopping and dining. In this area, you'll find more street parking with metered spaces (if you are lucky enough to nab one).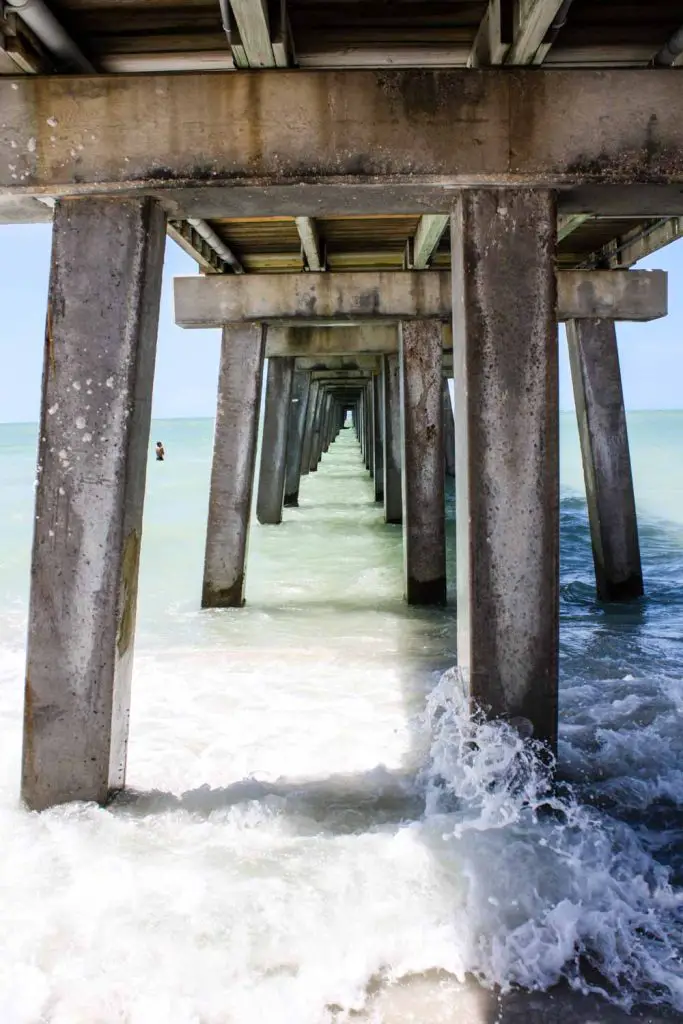 Though the water was a tad chilly during our mid-March visit and it was windy at times, we sunbathed and let the waves crash over our toes as we strolled down the beach to the pier pictured above.
Wondering what to pack for a beach day in Naples? Check out my beach packing list!
We also returned to the beach one evening, when it was considerably less busy, to watch the beautiful sunset over the Gulf of Mexico.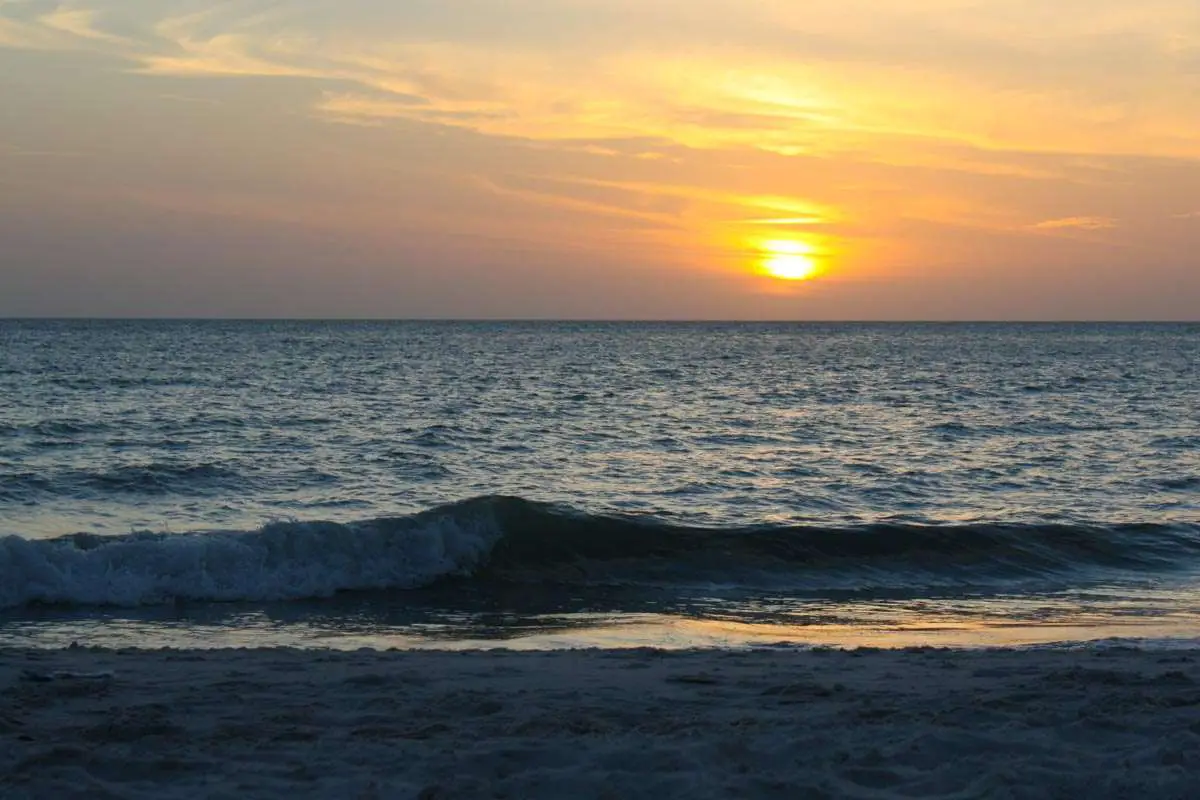 I imagine strolling along the soft white sand of this beach with your significant other to see sunset views like the one above must be one of the most romantic things to do in Naples during a couples' getaway.
Please note, the historic Naples Pier, unfortunately, sustained significant damage during Hurricane Ian in September 2022. As of March 2023, the pier remains partially closed to the public, and fishing is not currently permitted, according to the City of Naples website. Please use your best judgment and adhere to local guidelines when visiting attractions affected by storm damage.
Additionally, the Naples beaches have been affected by a red tide. When the toxins from this algae bloom are inhaled by humans, they can cause coughing, wheezing, and other respiratory issues. 
Be an Ecotourist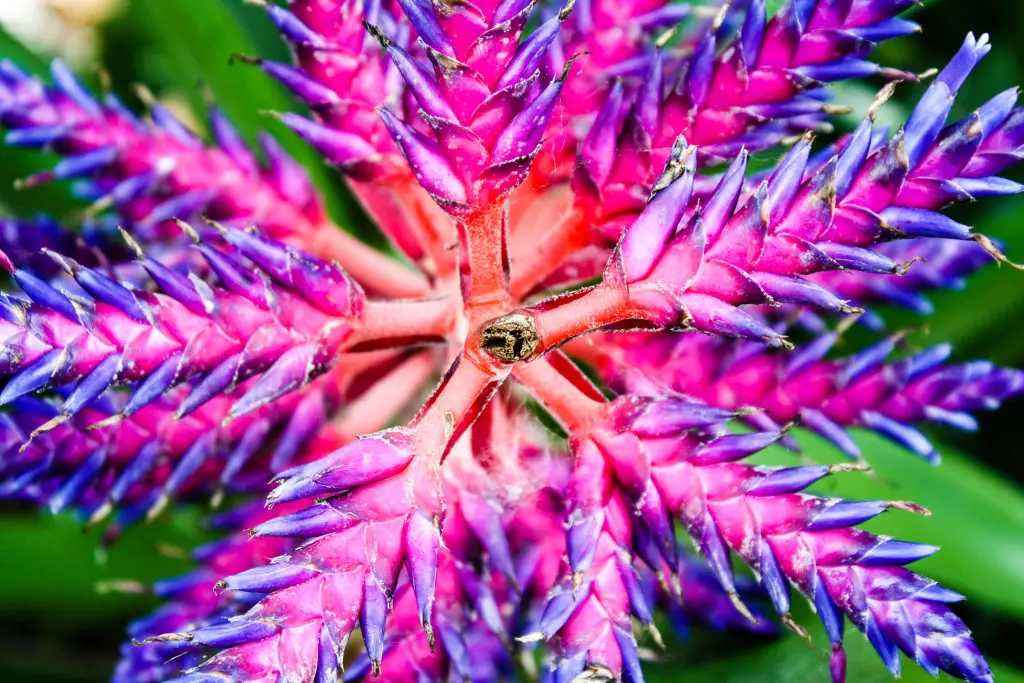 In addition to spending time at the beach in Naples, you easily could set off to explore the Everglades by airboat, kayak or paddleboard through mangrove tree tunnels, or walk a two-mile boardwalk through the Audobon Corkscrew Swamp Sanctuary to see wood storks, raptors, herons, egrets, and more birds in their natural habitats.
Bird watchers will also spy raptors and wading birds and hear songbirds in the cypress trees along the 12-mile CREW Bird Rookery Swamp Trail.
Families visiting Naples with children may enjoy seeing the animals at the Naples Zoo at Caribbean Gardens or exploring the mangrove aquarium, estuary touch tanks, and the half-mile nature trail at the Rookery Bay Environmental Learning Center.
If you'd like to catch glimpses of Southwest Florida's marine life in the wild, a manatee-watching boat tour of the local waterways may provide your best opportunity to see Florida's sea cows. In fact, the manatees are known to swim right up to the boat, and you should keep your mirrorless travel camera ready for possible sightings of dolphins and alligators, too!
Before booking an eco-tourism tour, I recommend reading reviews from recent visitors. During my family's vacation in Naples, we learned that the manatees were mostly down in the Florida Keys that winter, so I was very happy we had opted for an excursion other than a manatee-sighting cruise.
Check out some of the eco-tours available to book right now!
Visiting the Naples Botanical Garden
If you find the guided eco-tours to be time-consuming and/or pricey, I have another suggestion for an outdoor activity without a hefty price tag. I highly recommend spending a couple hours walking around the Naples Botanical Garden, where adult admission is $25 per person as of February 2023.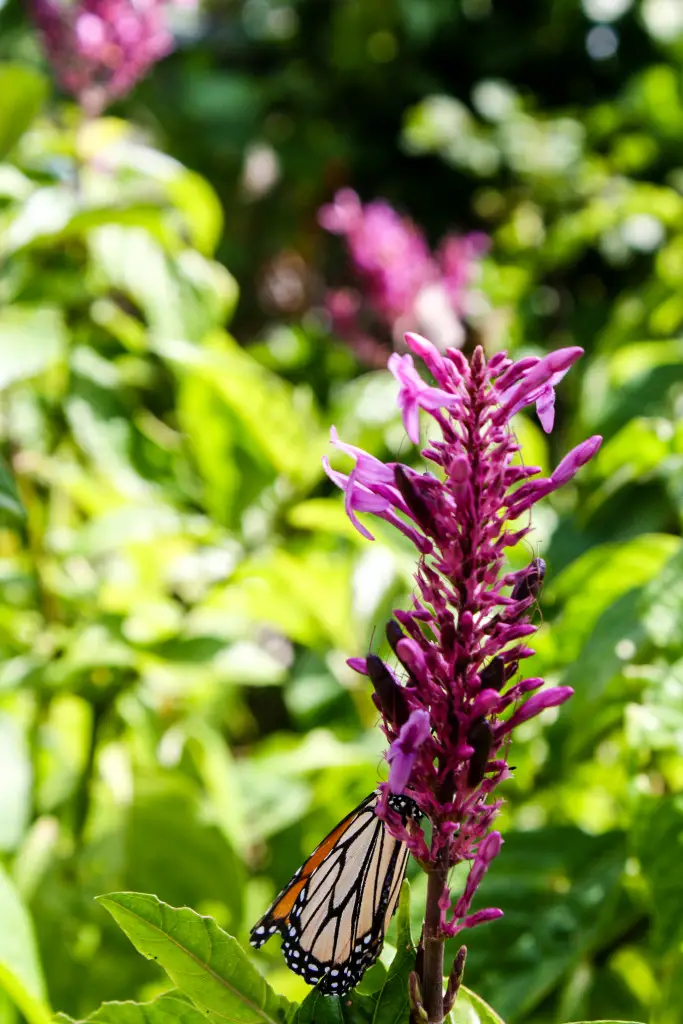 At the Naples Botanical Garden, you can wander through Asian, Floridian, Caribbean, and Brazilian gardens. We also walked through the butterfly house and attempted to avoid getting splashed in the children's garden.
Throughout the gardens, we spotted tropical palm trees, floating lily pads, bright yellow sunflowers, red roses, spiky cacti, and all sorts of exotic flora. It is one of the most beautiful and interesting botanical gardens I've visited!
Eat All the Fresh Seafood Possible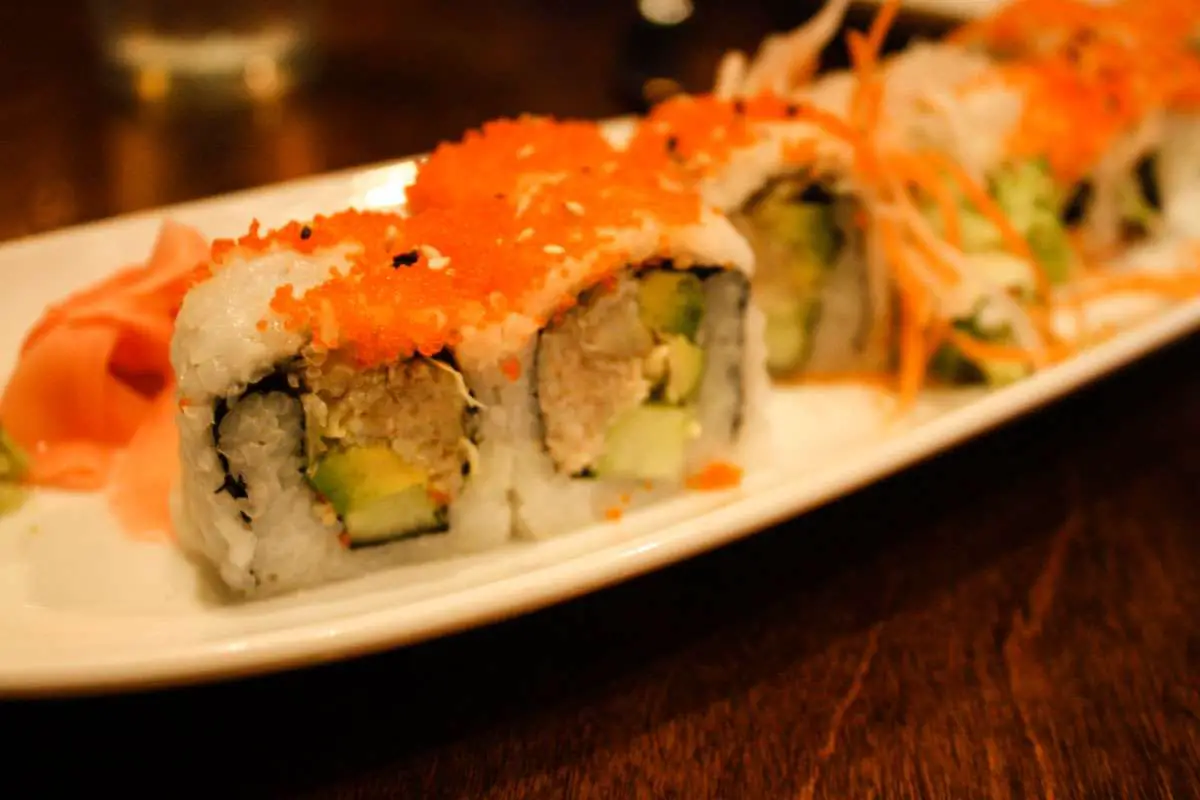 After spending the day sunbathing at the beach or exploring the nearby Everglades, indulge in a dinner of fresh seafood in Naples.
My family ate so much delicious seafood during our vacation in Naples. Of course, this is always my favorite perk of visiting Florida!
If you love seafood as much as I do, you'll also enjoy dining at the following restaurants in Naples.
Sea Salt
On our first night in Naples, we dined at Sea Salt. It's an upscale Italian seafood restaurant with outdoor dining in the Old Naples dining and retail district.
We began our meal with fresh oysters on the half-shell and crispy calamari. Then we each selected delicious seafood main dishes — Ōra King Salmon prepared two different ways and scallops.
Though there is a children's menu, Sea Salt is much more of an adult scene. I recommend dining here for the spacious patio and the delicious and artfully plated seafood dishes.
Sea Salt claims to only use fresh, high-quality ingredients including locally grown and organic produce, wild-caught seafood, and naturally raised meat and poultry.
The Venetian-inspired dinner menu offers limited vegetarian options, but there are plenty of options for lovers of seafood and pasta.
Entrées — such as sea urchin cacio e pepe, branzino fillet, and a 14-oz. Prime New York Strip steak served with burrata potato, taleggio cream, and citrus gremolata — range between $30 and $80.
The lunch menu features the same appetizers as the dinner menu, but lunch entrées of salads, sandwiches, and main dishes go for $19 to $35.
Sea Salt is located at 1186 3rd Street South. Reservations are recommended and can be made online or by calling 239-434-7258. You can also order takeout for pickup.
Campiello Ristorante & Bar
Across the street from Sea Salt is another Italian restaurant, Campiello Ristorante & Bar. Located in a historic mercantile building, the restaurant has a fabulous outdoor courtyard for al fresco dining or drinks at the bar.
After dining at Sea Salt, we stopped here and indulged in the extensive wine list. Then we returned for the full meal experience, and it was the best decision we made during our time in Naples.
First of all, the service was outstanding with professional presentation yet such personal attention, but it was the modern takes on classic Tuscan cuisine that won us over. Everything we ate — from our appetizers to desserts — was absolutely delectable.
Again we started our meal with calamari and a light and fresh Panzanella salad. My entrée of Maine lobster and gnocchi in a truffle butter sauce was heavenly. It was easily one of the best pasta dishes I've ever eaten. My sister had a fresh salad topped with jumbo shrimp that looked absolutely delicious, and my dad's linguini with tomatoes, basil, and Alaskan king crab in a white wine sauce was delightful.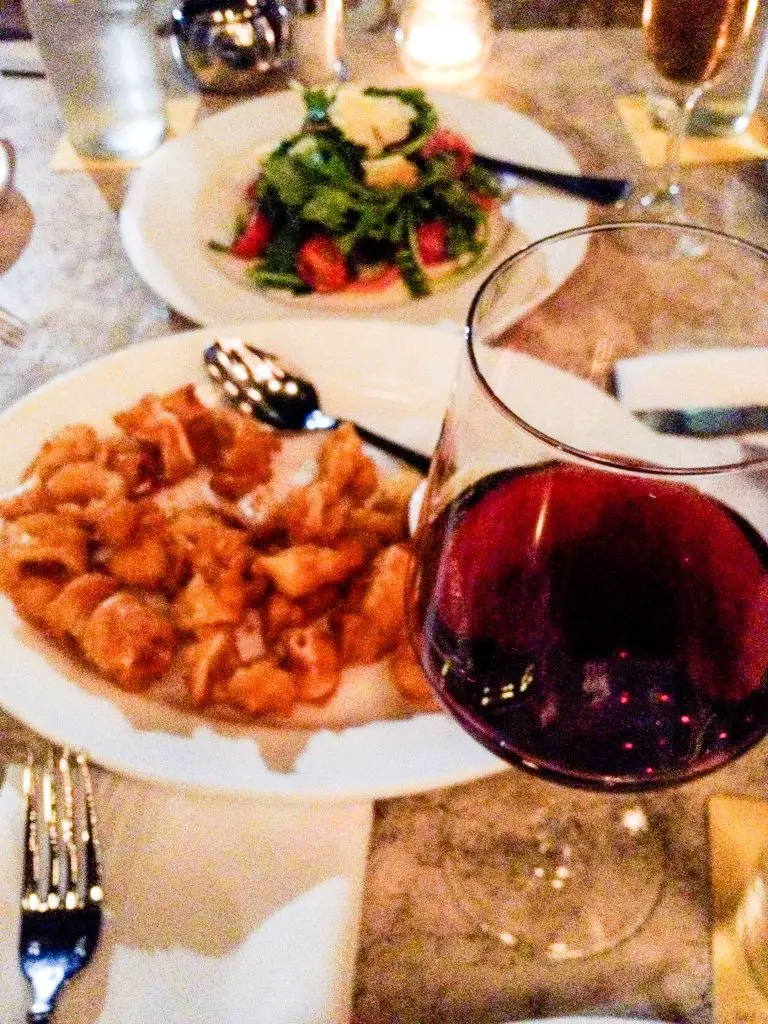 Campiello Ristorante & Bar's menu features house-made pasta, wood-fired pizzas, seafood dishes, and meats grilled over an open fire.
Dinner entrées here range between $22 and $56 with wood-fired pizzas at $19 to $22 as a more budget-friendly option. Lunchtime fare includes entrée salads, paninis, and lighter mains in addition to pasta dishes and pizzas.
Campiello Ristorante & Bar is located at 1177 3rd Street South. Reservations are recommended and can be made via OpenTable or by calling 239-435-1166. 
T-Michaels Steak & Lobster
To celebrate my birthday, I made reservations for T-Michaels Steak & Lobster, a Venetian Bay waterfront steakhouse and seafood restaurant.
If I could re-do this trip, I would have made reservations for my birthday dinner further in advance. Though the restaurant has a refined atmosphere ideal for celebrating special occasions, I'd recommend booking a reservation for a time prior to sunset. The dining room has a beautiful waterfront view, and you won't want to miss it if you are having a romantic dinner or celebrating a special occasion.
Though we missed dining by sunset, we certainly weren't disappointed with our meal. We began a tasty and filling dinner with a jumbo lump crab cake, jumbo shrimp cocktail, and lobster bisque. For my main course, I ordered the petite filet mignon perfectly cooked to medium rare with a sweet potato. My sister said the Chilean sea bass special she ordered was equally delicious.
Though T-Michaels Steak & Lobster specializes in steaks and seafood, you will find a small selection of other meat and vegan main dishes. Dinner entrées range between $39 for vegan pasta dishes and $72 for the signature steak & lobster dinner, which includes a 6 oz. filet mignon and 7-oz. lobster tail.
T-Michaels Steak & Lobster is located at 4050 Gulf Shore Boulevard, and reservations are recommended. To make a dinner reservation, call 239-261-0622 or book via OpenTable. 
Sushi-Thai of Naples
After three large dinners, my dad and I sought lighter fare for our final dinner in Naples. We ended up at Sushi-Thai of Naples, which has multiple locations in the Naples and Bonita Springs area.
The menu features an extensive mix of Thai and Japanese dishes, including a large selection of sashimi and sushi rolls. My dad and I split an Alaskan roll filled with crab, lettuce, avocado, and cucumber. We also ordered the flavorful and large-portioned Pad Thai. We found the main dishes and sushi rolls here were moderately priced.
Sushi-Thai of Naples has three locations in Naples and one in neighboring Bonita Springs. It doesn't appear that you can make reservations online anymore, but we were quickly seated without a dinner reservation anyway. You can also order takeout by calling your nearest location. Delivery is available via Uber Eats.
Fun Fact: Nearby Everglades City is the birthplace of the stone crab industry
About 35 miles southeast of Naples, Everglades City is a popular launch site for wildlife tours of Everglades National Park and the Ten Thousand Islands National Wildlife Refuge.
It's also where stone crab fishing began and is still the second-largest supplier of stone crabs in the United States.
If you plan to explore the Everglades or other nature preserves in the area during your visit to Naples, don't miss your chance to eat fresh stone crab claws in Everglades City!
The meaty stone crab claws are in season from October 15 through May 1, and you can find these local seafood delicacies at riverfront restaurants such as Triad Seafood Market & Cafe.
Sip Tropical Happy Hour Cocktails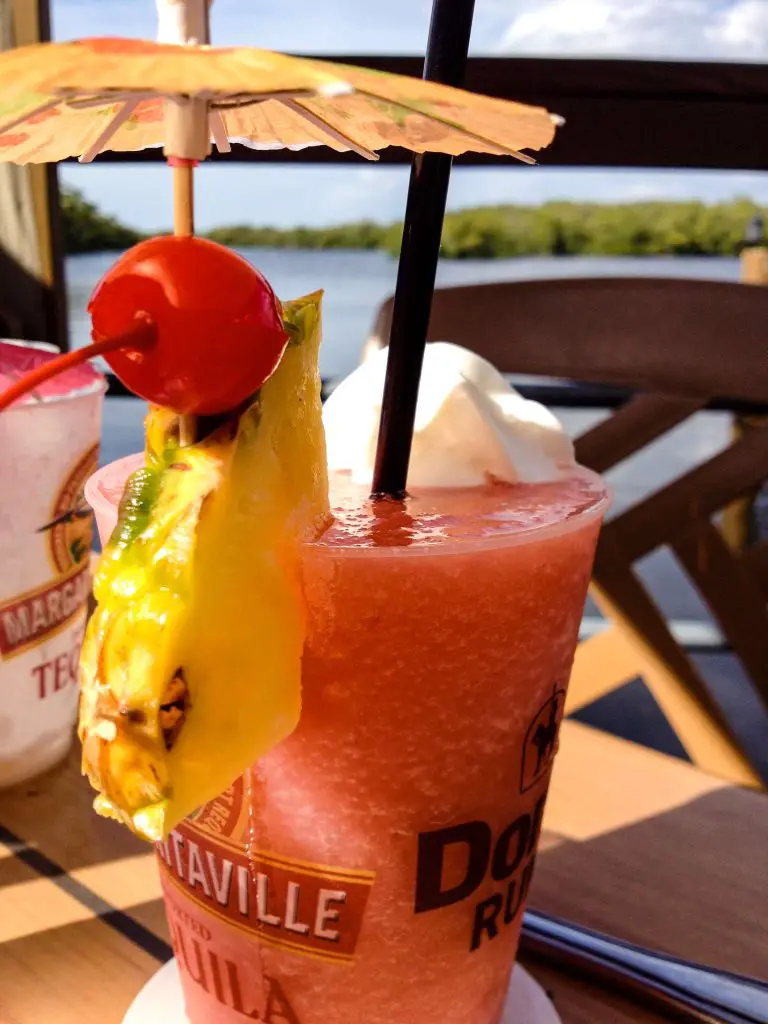 Technically this one is outside of Naples. It's in Bonita Springs, which is just a short drive up the coast. It's also conveniently on the way to and from the Fort Myers airport.
Coconut Jack's Waterfront Grille is a waterfront tiki-hut bar and grill. Sitting on the back deck while sipping my umbrella-embellished strawberry daiquiri, I felt like I was somewhere far away and exotic.
We loved the appetizers, too. The lobster and shrimp ceviche and coconut shrimp served with mango and raspberry sauces brought tropical island flavors to our Southwest Florida happy hour.
Happy hour runs from 3 to 5 p.m. with daily drink specials available at the bar and throughout the restaurant.
Coconut Jack's is located at 5370 Bonita Beach Road SW in Bonita Springs.
Set Sail on the Gulf of Mexico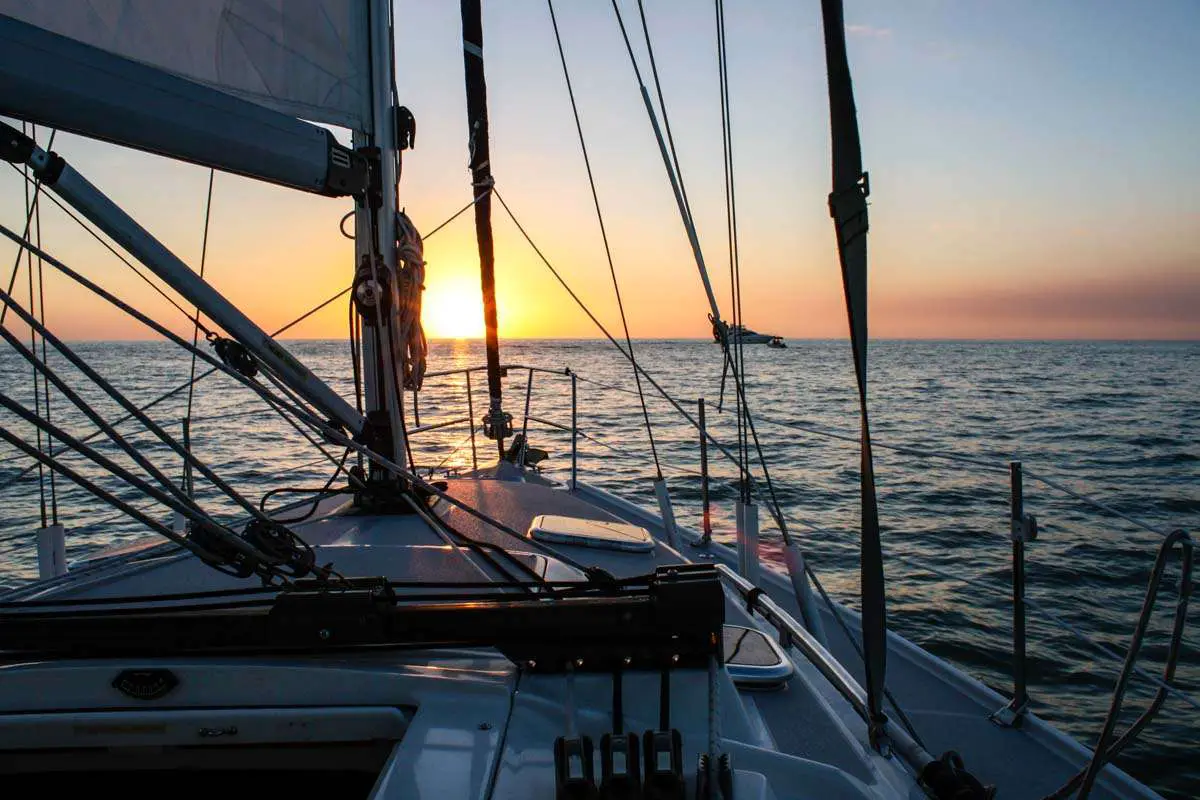 Taking a sunset sail or sunset cruise on the Gulf of Mexico is one of the best activities to do in Naples. Our private sunset sail was the absolute highlight of my family's vacation.
Setting off from the Naples City Dock with Capt. Doug of Island Sailing, we cruised past luxurious waterfront mansions as we made our way out to the Gulf for stunning sunset views.
Since we booked a private sailing charter for our family, we were allowed to bring our own wine and snacks on board. We stopped by a Publix grocery store to pick up bottles of wine, including Chandon for celebratory bubbles, and a picnic spread of baby carrots, hummus, strawberries, crackers, and cheese. Being able to bring along our own picnic and wine added to the relaxing vibes of a sunset sail.
As our sailing adventure began with Chandon in hand, our captain pointed out the homes of the rich and famous. He also patiently answered all of our probing questions about Naples, the high-end real estate, and the local wildlife. Then, following a stark white yacht out to the open water, we watched the sunset over the horizon and the sky change to orange hues.
On our way back, I learned how to steer the sailboat and took the helm as we navigated the dark canal. We had such a personalized and hands-on experience with Island Sailing.
I'd certainly recommend sailing charters as one of the best ways to watch a sunset in Naples. Private charters are ideal for more privacy, especially for couples celebrating special moments like a marriage proposal, honeymoon, or wedding anniversary.
However, if you are a solo traveler or a social couple that doesn't mind having others around during your romantic sunset sail, a sunset catamaran sailing excursion could be a fun and more cost-effective activity in Naples.
The sunset sail with Cool Beans Cruises is approximately two hours and includes complimentary sparkling wine at sunset. You can also enjoy other complimentary beverages and bring your own snacks on board.
Five More Things To Do Near Naples, Florida
Explore Ten Thousand Islands
The Ten Thousand Islands are an archipelago off of the Southwest Florida coast and home to a mangrove forest, alligators, sea turtles, and water birds. You can explore Ten Thousand Islands to see the mangroves and wildlife by boat tour, jet ski, or your own two-person catamaran.
Go Shopping in Naples
If you love to shop, you've come to the right destination. Among the best retail centers in Naples are outdoor luxury shopping malls, boutique-filled districts at Fifth Avenue South and Third Street South, and the historic Tin City to pick up souvenirs from your trip.
Explore Naples by Bicycle
Peddle around downtown Naples on a guided bicycle tour or rent bikes to explore at your own pace!
Go to a Citrus Grove
Get fresh Florida orange juice at the South Naples Citrus Grove!
Visit Historic Landmarks in Naples
Step into the Naples Depot Museum, one of the best free indoor attractions in Naples, to see a restored Seaboard Air Line Railway depot in downtown Naples. The depot building dates back to the late 1800s and is on the National Register of Historic Places.
In addition to the Naples Deport Museum, Collier County Museums operates four other sites that may be of interest to local history buffs visiting the Naples area.
At the Collier Museum at Government Center, you can step back into local history from the time when mastodons roamed Florida to the time when early pioneers settled in Collier County. Learn about the Seminole people, see relics of early settlers, and explore restored cottages and the reconstructed Seminole War Fort.
Or, perhaps you are interested in historic architecture? You can tour the oldest home in Naples — the Historic Palm Cottage built in 1895. In addition to taking a docent-led tour of the Historic Palm Cottage, you can tour the Norris Gardens on your own or join one of the Naples Historical Society's walking tours of the Naples Historic District.
Tip: Make reservations in advance for Historic Palm Cottage home tours.
Please note, the Naples Depot Museum and the Historic Palm Cottage are temporarily closed due to hurricane damage, as of February 2023. Additionally, the Naples Historical Society has suspended its walking tours of the historic district while the historic homes are renovated and repaired. However, the Palm Cottage is set to re-open for tours in April 2023. 
For more ideas of fun things to do around Naples, Florida:
Explore the map of Naples attractions and restaurants
Where to Stay in Naples, Florida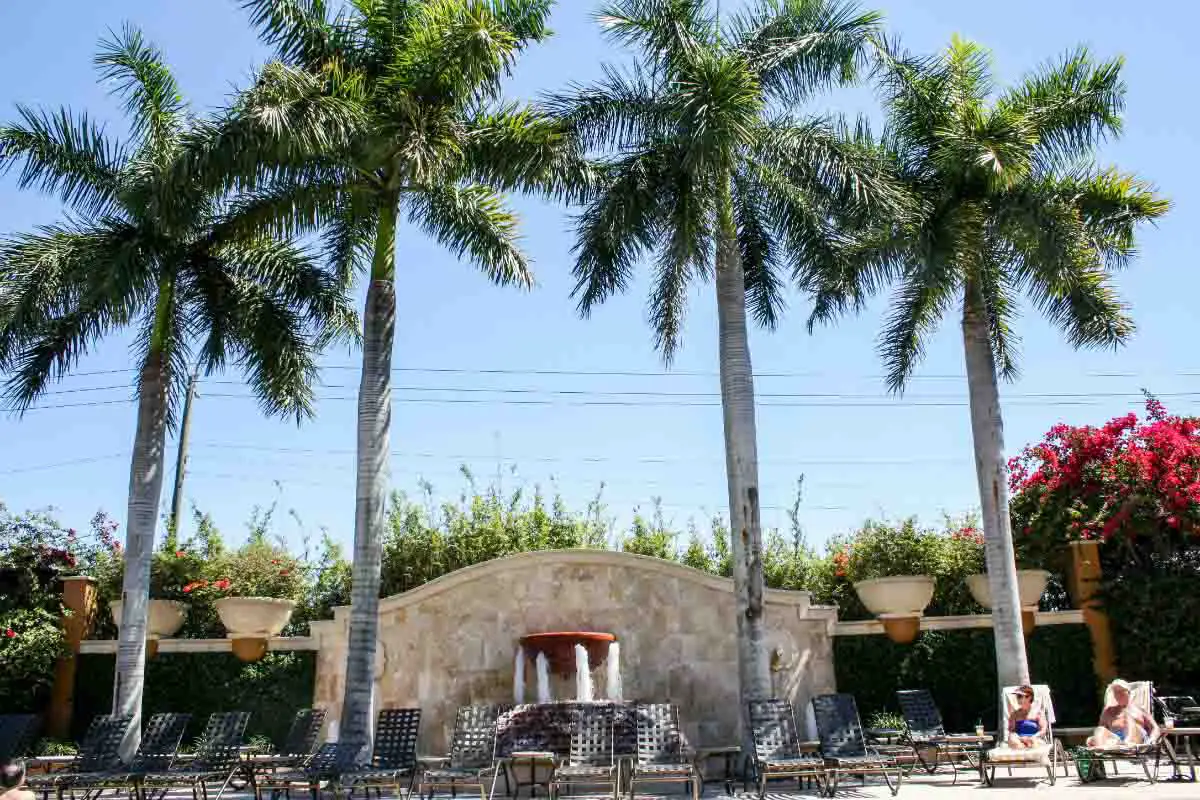 If you haven't booked your accommodation yet, I certainly recommend where my family stayed in Naples.
Since my dad and sister were joining me for this family getaway, I looked for a hotel with suites that could spaciously accommodate three adults. Luckily, we found the lovely Bellasera Resort, and our two-bedroom suite worked out perfectly.
My family loved how the suite-style accommodations provided us the space and privacy we want when vacationing together. We also enjoyed the hotel's heated swimming pool, and the downtown location was ideally near shopping, dining, and the beach.
Check out my full Bellasera Resort review, or go ahead and book your stay!
Other Naples Hotels I Recommend:
Inn at Pelican Bay — This elegant, four-star boutique hotel would be perfect for couples.
Edgewater Beach Hotel — It's an upscale beachfront hotel with stylish all-suite accommodations ideal for couples' getaways, girls' trips, and family vacations.
Naples Bay Resort & Marina — For families who want accommodations with plenty of onsite amenities, this four-star resort has a spa, five swimming pools, dining options, and a marina!
Not quite what you are looking for? Explore the map below for more Naples hotels!
Final Thoughts: What to Do in Naples, Florida
Whether you seek a relaxing getaway or an adventure-filled family vacation, you'll find ample fun things to do in Naples, Florida.
Spend your days getting active — splashing in the surf at white-sand beaches, kayaking through a maze of mangroves, or biking through historic Old Naples.
Then unwind by indulging in a delicious seafood dinner at one of the upscale restaurants or by watching the sunset from the Naples Pier or aboard a sailboat.
When I booked my all-adult family a last-minute trip to Naples in March 2014, we all desired a long weekend of poolside sunbathing and sunset watching. We also wanted to be near a beach along the Gulf of Mexico, fine dining, and shopping. We found it all in Naples, and you will, too!
Read More About Florida Travel
Save this post to your Naples or Florida travel board(s) on Pinterest for later!
Save
Save
Save
Save
Save