Art is a powerful medium. It can express emotions, depict historical events, or capture someone's character in a portrait. It may provide commentary on social and political issues. And, in Miami, it revitalized a neighborhood of abandoned warehouses into the lively Wynwood Arts District — a top tourist attraction and one of America's best hipster neighborhoods.
Disclosure: This post contains some affiliate links. As an Amazon Associate, I earn commissions on qualifying purchases. When you click on, make a purchase from, or book a hotel or tour through one of these affiliate links, I may earn a small commission at no extra cost to you. Of course, I only recommend products and services I have or would use myself.
Made up of 70 art galleries, boutique retail shops, eateries, and bars, the Wynwood Arts District has become a can't-miss attraction when visiting Magic City.
In fact, Wynwood Walls — an outdoor collection of large and vibrant murals created by world-renowned street artists — is ranked the No. 4 best thing to do in Miami  by U.S. News & World Report.
During my Miami vacation in March 2015, I visited Wynwood Walls with a couple friends. The guys drove down from the West Palm Beach area, stopping to pick me up at my Surfside hotel. From there, it was about a 30-minute drive to Wynwood, where we set off the explore Miami's street art scene.
Exploring Miami Street Art At Wynwood Walls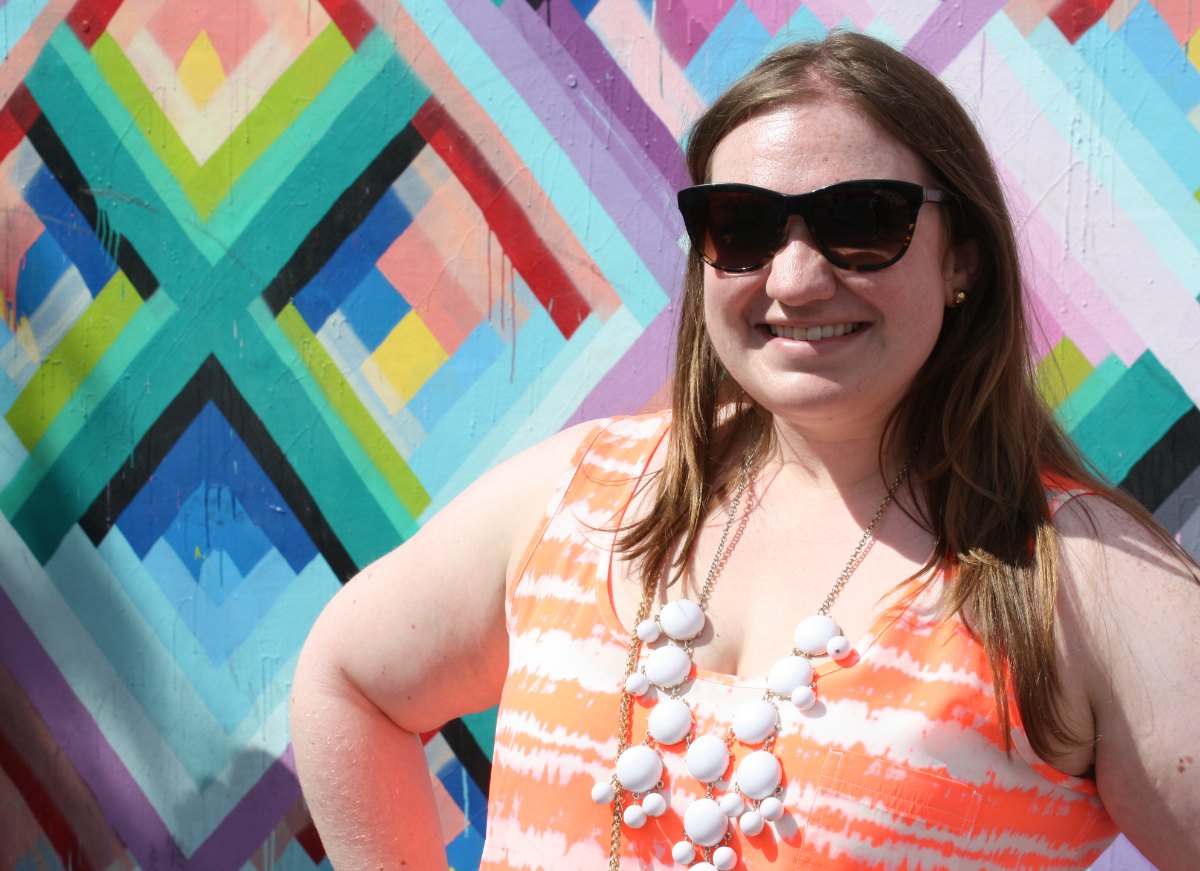 Photo by Greg Angel
At this common selfie and Instagram hot spot, I stopped for a quick pose in front of my favorite mural by Brooklyn-based artist Maya Hayuk at Wynwood Walls. As you explore Wynwood Walls and the surrounding neighborhood, you'll want to keep your camera or phone handy.
Wondering what kind of camera to take to Wynwood? I captured the photos in this post on my Canon Rebel with a standard 18-55mm lens. However, if I were to photograph Miami's street art today, I'd probably shoot with my favorite mirrorless camera. I love how compact and lightweight my mirrorless camera is!
Walking into Wynwood Walls, we immediately passed this colorful wall painted by FUTURA, a New York City graffiti artist.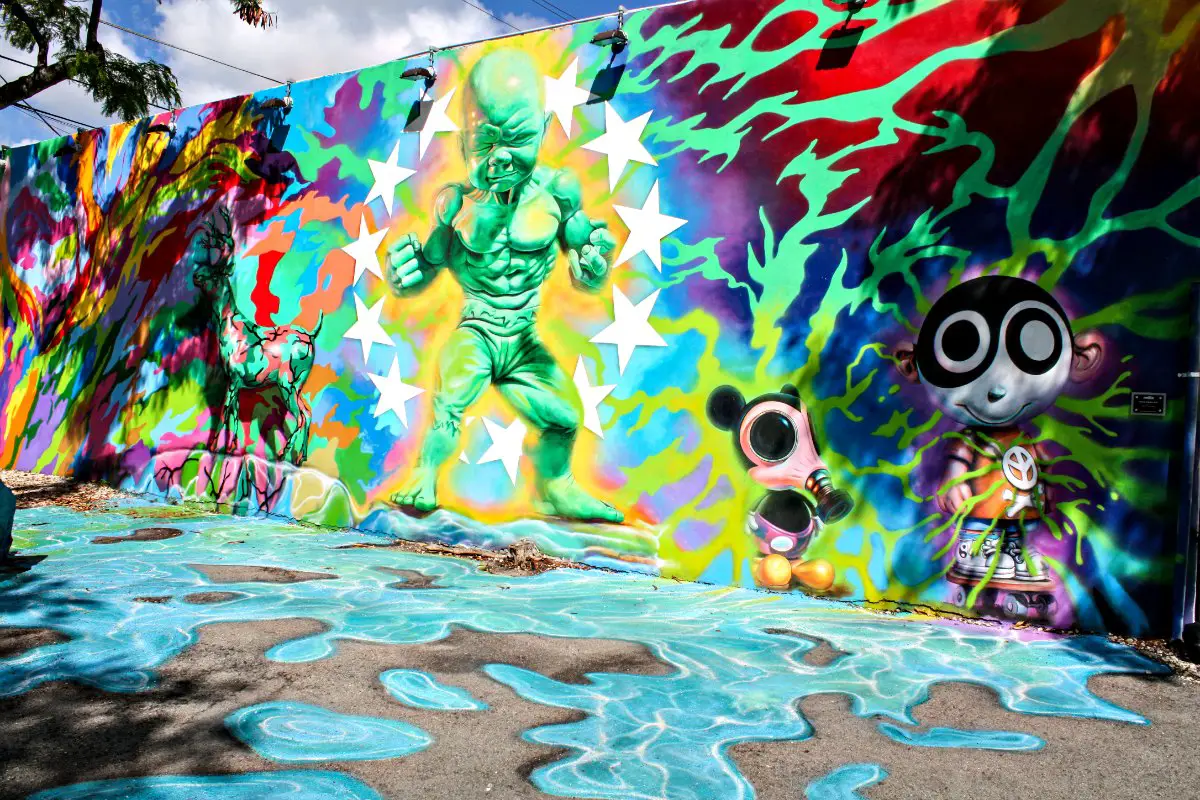 Full of pop culture icons, Ron English's art at Wynwood Walls features a "hulk boy" and a camo deer. I love how the artist described Wynwood Walls as "Woodstock for artists" and believes that art can revitalize cities.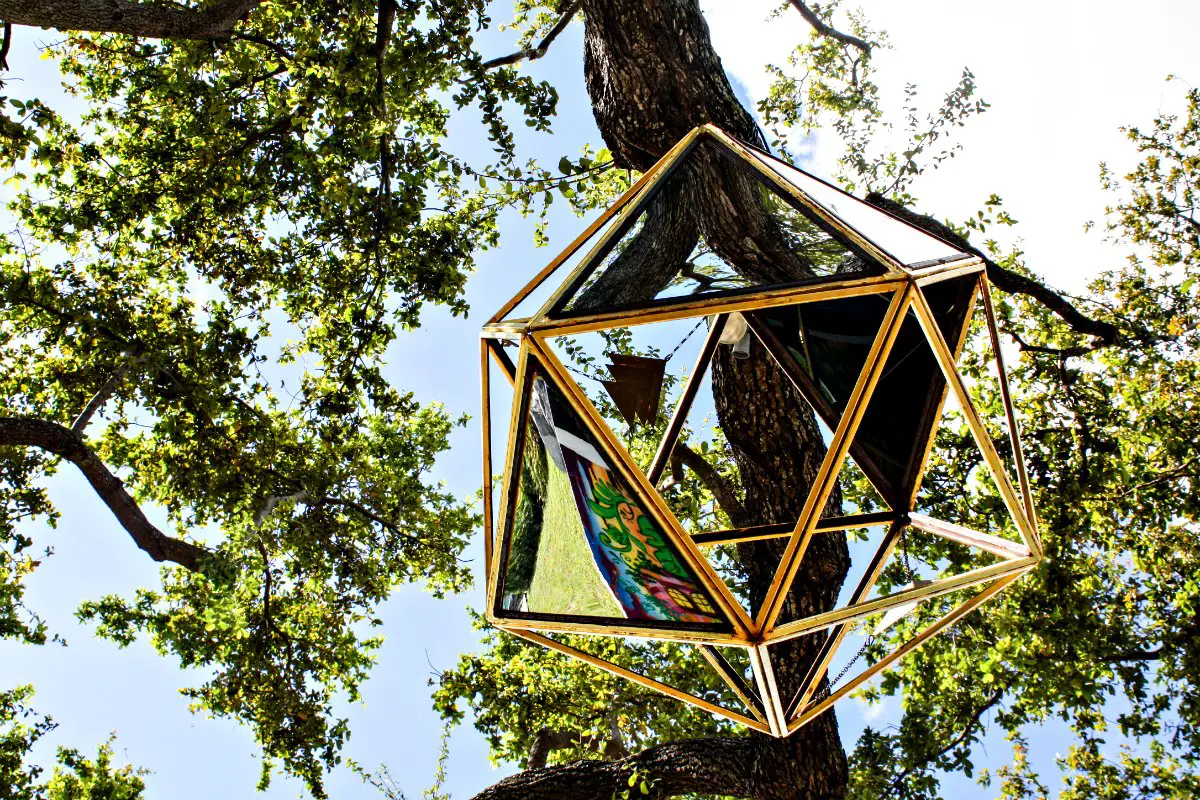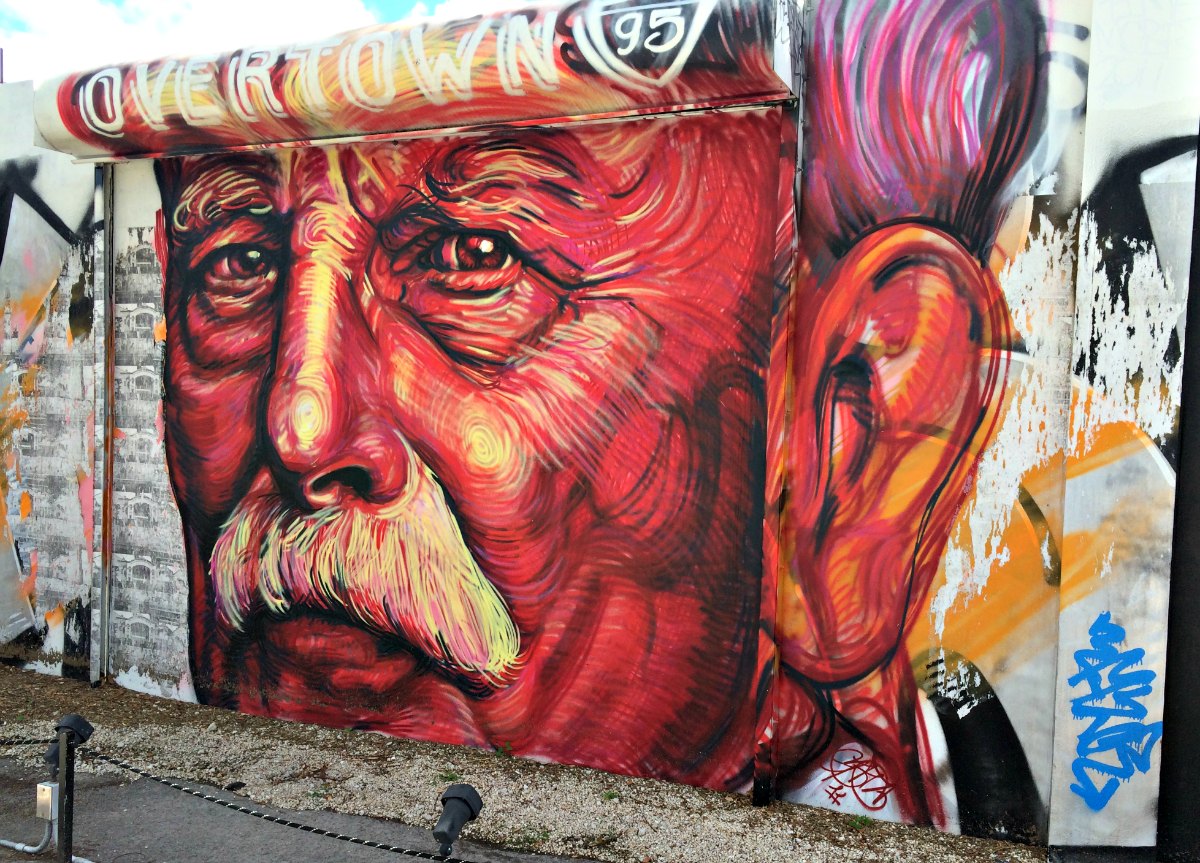 This Wynwood Doors artwork features a portrait of Henry Flagler, the railroad and oil tycoon who established Miami's Overtown neighborhood for his black workers. Located 15 blocks south of the Wynwood Walls, the historic "Colored Town" thrived during the Jim Crow era but saw a decline after the 1950s due to urban renewal and construction of Miami's highways, I-95 and the Dolphin Expressway, in the neighborhood.
The close up shot above of a mural by Cryptik showcases the LA-based artist's use of ancient script to create works described as "trance like." Stare at this for a moment too long and you may get dizzy!
On an 80-something-degree day, I was pleasantly surprised to find this "cool" art.
More Street Art & Graffiti Throughout Wynwood Arts District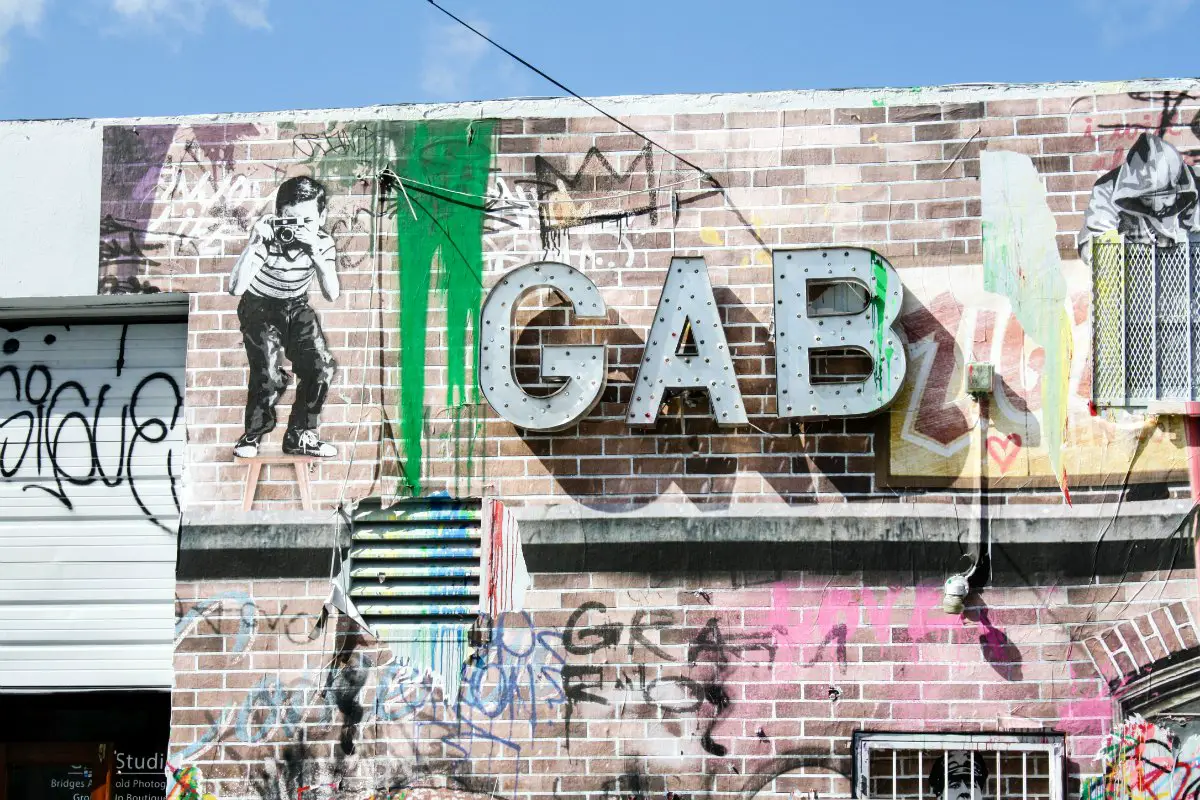 If I had to describe the artistic style of London-based Lakwena, I'd say bold, vividly colorful, and graphic. Her mural which states "I remember paradise" is located outside Wynwood Walls and was created for Art Basel, the annual contemporary and modern art show, in 2013.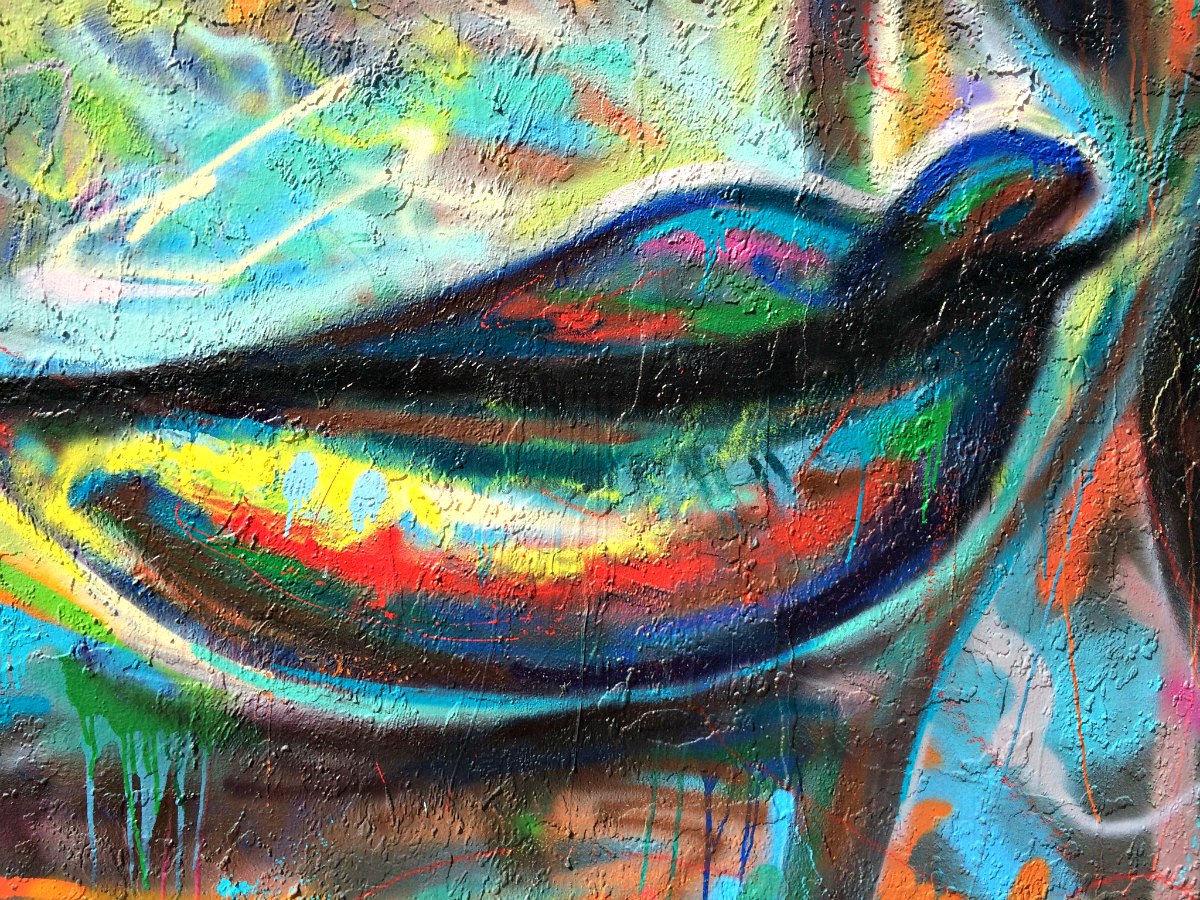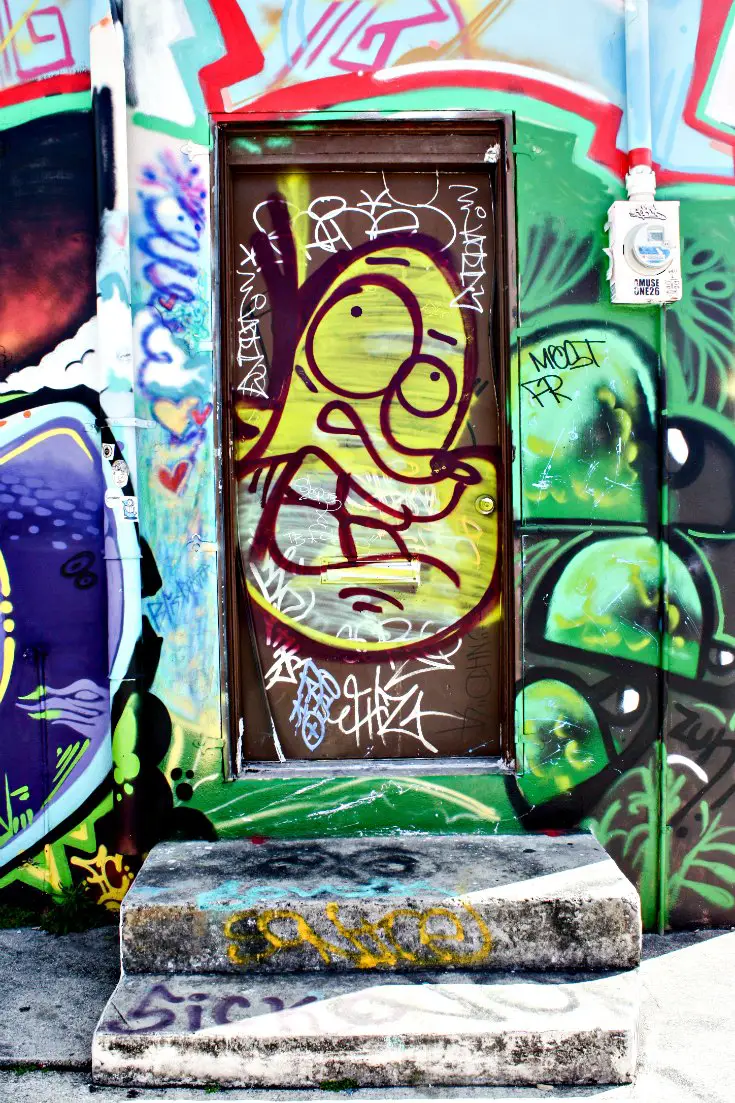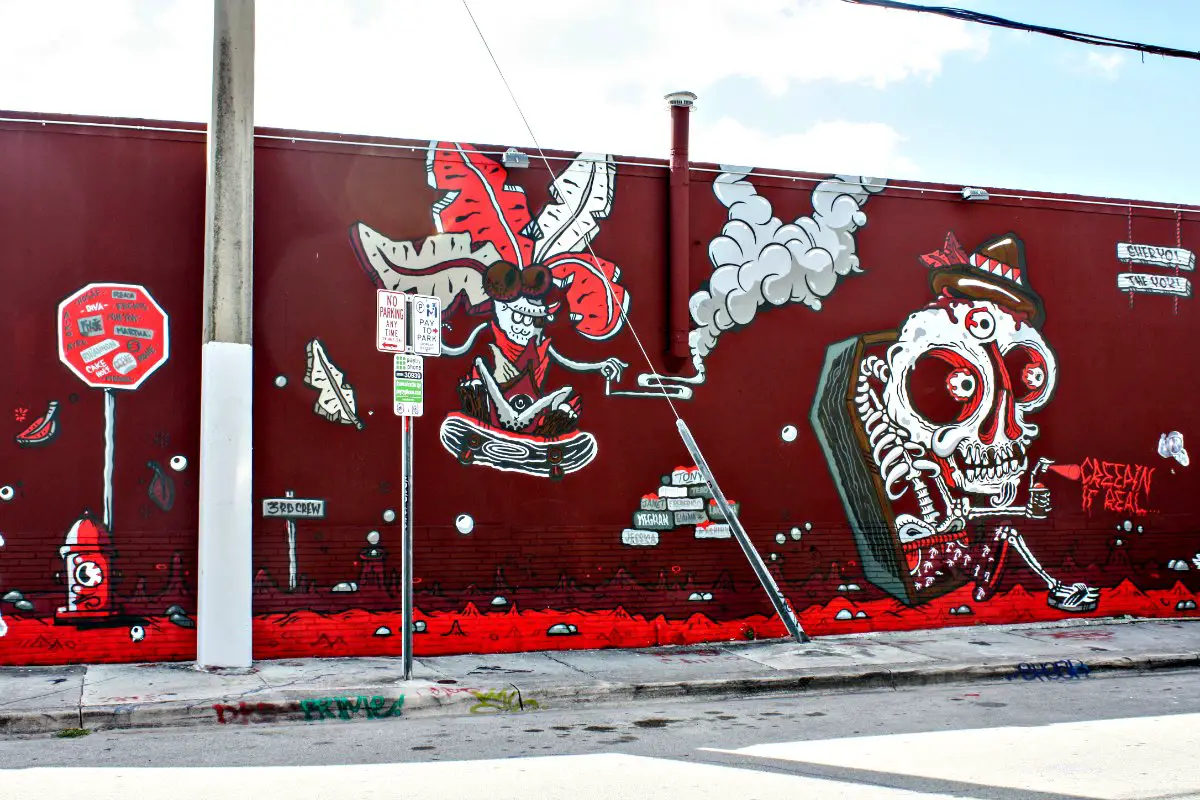 Created by Sheryo, a Brooklyn-based artist originally from Singapore, in 2013, the street art pictured above features characters inspired by the cartoons she watched as child. "Miami Spraycation" is located outside Wynwood Walls, and you can find more of Sheryo's art in the Wynwood Doors.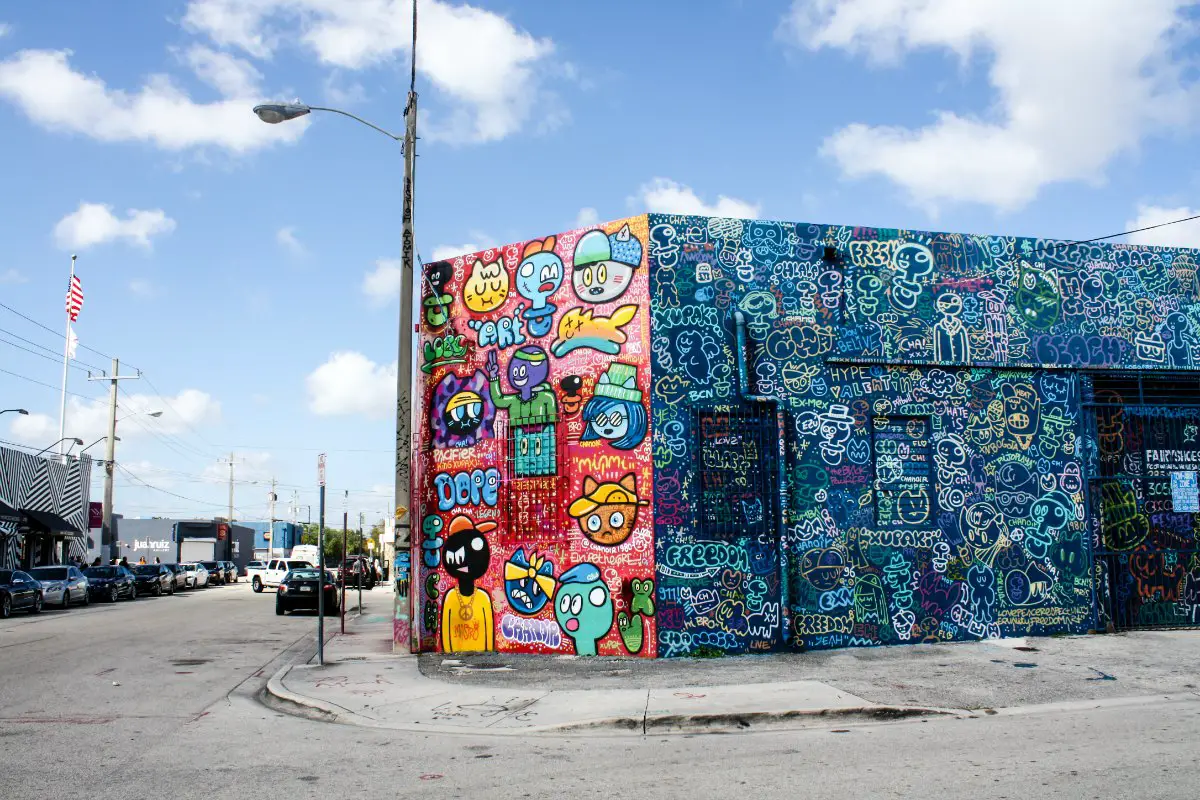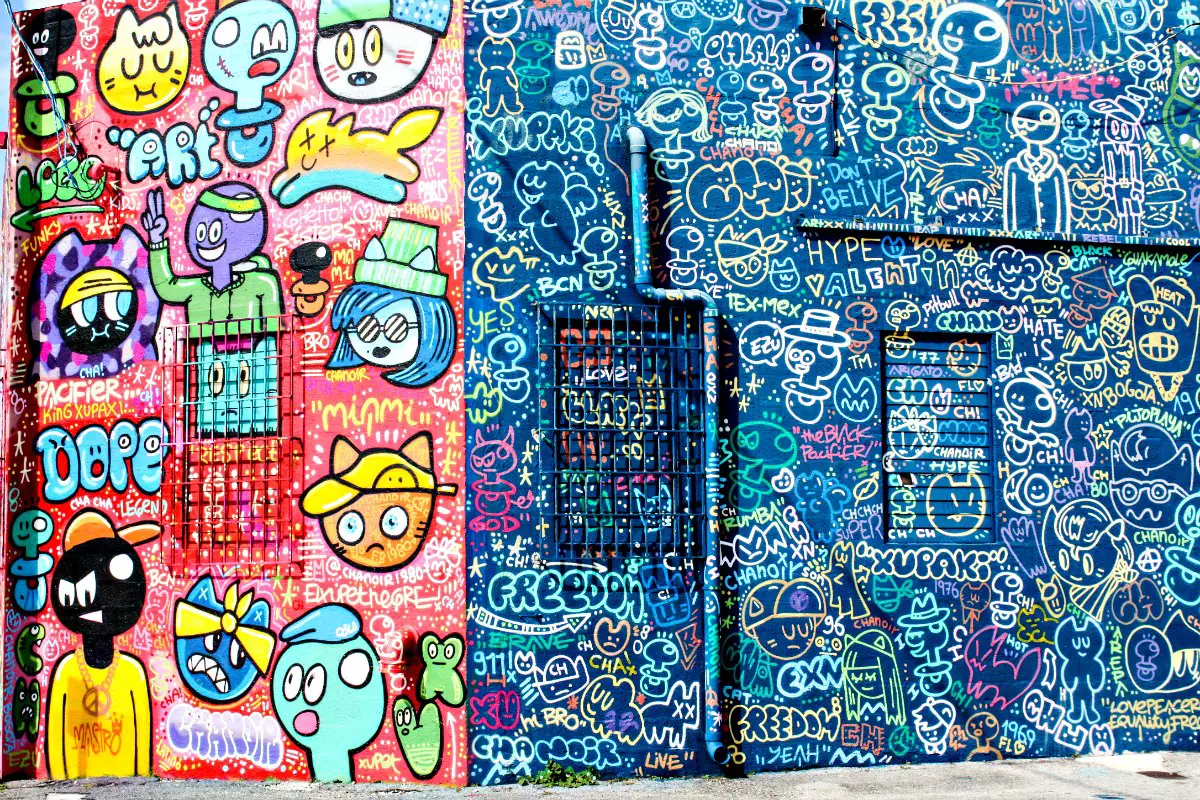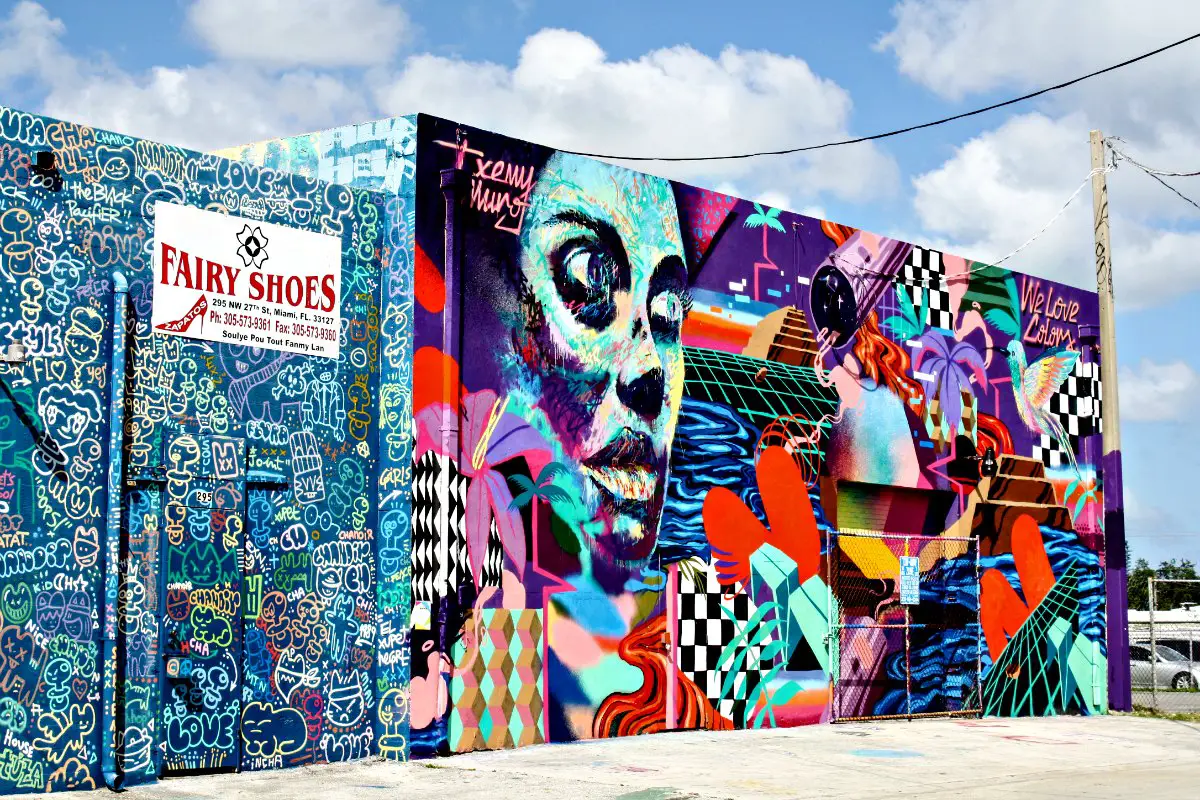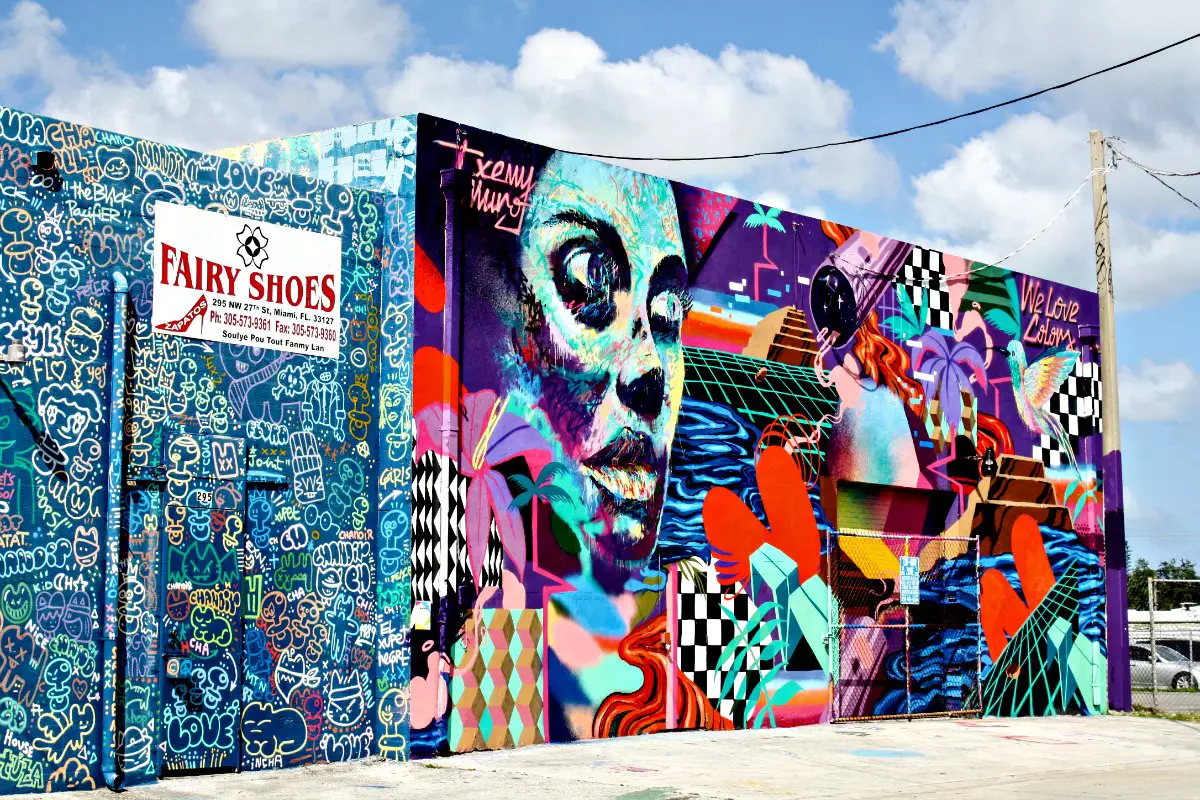 What To Know Before Visiting Wynwood Walls
A short drive from Downtown Miami, the Wynwood neighborhood has become an artistic haven that centers around the Wynwood Walls. Old warehouse buildings have become artists' canvases showcasing vibrantly colored murals and urban street and graffiti art. The surrounding Wynwood Arts District is home to 70 art galleries, retail shops, cafes, and bars.
Location:
2520 NW 2nd Ave, Miami, FL 33127
Hours: Monday – Thursday 10:30 a.m. – 11:30 p.m. | Friday & Saturday 10:30 a.m. – Midnight | Sunday 10:30 a.m. – 8 p.m.
Parking: Pay-to-park lots within a few blocks
Cost: Free, but bring money for parking, shopping, and dining at the Wynwood Kitchen & Bar or other neighborhood eateries
Tours: Guided tours of Wynwood Walls are available. Here are a few guided Wynwood tours you can book:
Where To Stay Nearby:
Read More Florida Posts:
Save this to Pinterest for later!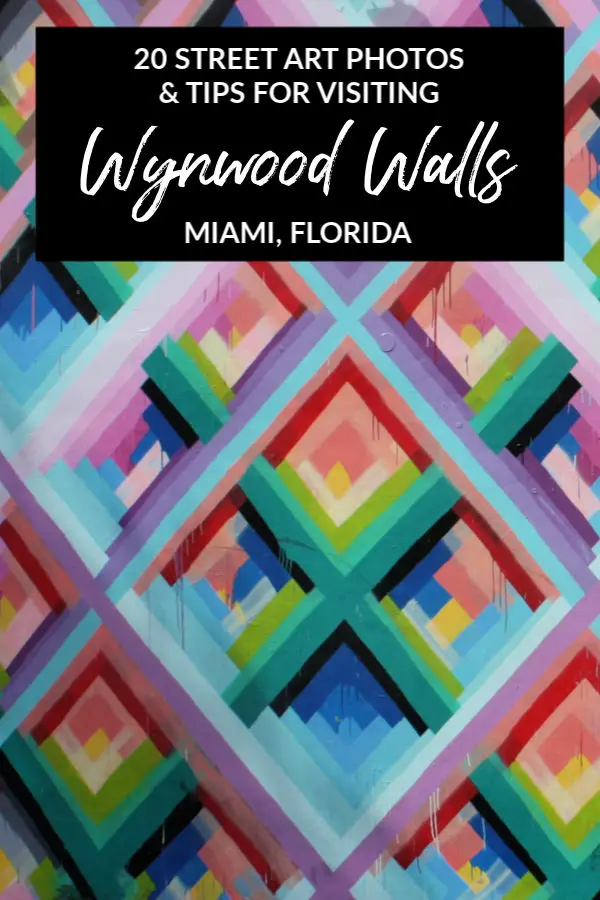 Have you been to Miami's Wynwood Walls? Which artwork was your favorite?
Editor's Note: This post was last updated on Jan. 24, 2020.
Save
Save
Save
Save
Save