Fellow Harry Potter fans, rejoice. Muggles — like you and I — can now drink butterbeer, shop for our wands, and go to Hogwarts. Yes, it's all possible at the Wizarding World of Harry Potter™ at Universal Orlando Resort™ in Orlando, Florida.
I visited Hogsmeade at Universal's Islands of Adventure™ to explore all that Harry Potter fans can see, experience, and consume. Read on to see all the magical things I discovered!
In full disclosure, this post contains some affiliate links. When you click on the links in this post to research your trip and/or book your hotel, I may earn a small commission. Of course, this is at no extra cost to you.
Things To Do At Universal Orlando's Wizarding World Of Harry Potter: Hogsmeade
Fly With Harry
Inside Hogwarts castle is a thrilling ride in which you will soar alongside Harry, Ron and Hermione. You'll even face a dragon and feel the heat of its fiery breath! While waiting in line for Harry Potter and the Forbidden Journey™, you'll pass by iconic sights from Hogwarts — Dumbledore's office, the Room of Requirement, and the Gryffindor common room. Any muggle who has read J.K. Rowling's books or seen the movies will appreciate the details inside the castle and on the ride. The minimum height requirement for this ride is 48 inches (121.9 cm).
Pro Tip: Skip long lines by using the Universal Express™ Pass.
Have Your Wand Choose You At Ollivanders
In order to attend Hogwarts, you'll need your wand. At Ollivanders™, you can purchase your own wand, but first be sure to exchange your muggle dollars for wizarding bank notes at Gringotts Money Exchange in Diagon Alley at Universal Studios.
Ride A Hippogriff Past Hagrid's Hut
The Flight of the Hippogriff™ doesn't go upside down, making it fit for young wizards and those who prefer a tame attraction. You'll zoom past Hagrid's hut and the pumpkin patch on this family-friendly roller coaster. For this kid-friendly ride, the minimum height requirement is 36 inches (92 cm), and Universal Express™ Pass allows you to skip the regular line.
Drink Butterbeer™ At Hog's Head pub
The creamy butterscotch drink beloved by Harry and his friends is delicious indeed. At Hog's Head™ and at carts located throughout Hogsmeade, you can purchase the buttery beverage in a souvenir cup. The Butterbeer™ comes as a soda topped with a scrumptious foam or as a frozen drink.
Pro Tip: Buy your Butterbeer™ at Hog's Head and drink it on the back patio in view of Hogwarts.
Get A Real Hogwarts Experience In The Loo
As you may recall from the Harry Potter novels and films, Moaning Myrtle resides in the girls' bathroom inside Hogwarts. At the Wizarding World of Harry Potter, you'll hear the love-struck ghost in the women's and men's restrooms.
Take The Hogwarts Express To Kings Cross
Once you've explored all that Hogsmeade offers, take the train to Kings Cross Station at Universal Studios. You'll need a park-to-park ticket to visit Diagon Alley.
Fly Into The Forbidden Forest
On the new Hagrid's Magical Creatures Motorbike Adventure™ fly into the Forbidden Forest made up of 1,200 trees. This epic thrill ride is the world's first "story coaster" — combining cutting-edge technology and a fascinating storyline that elevates the theme park experience.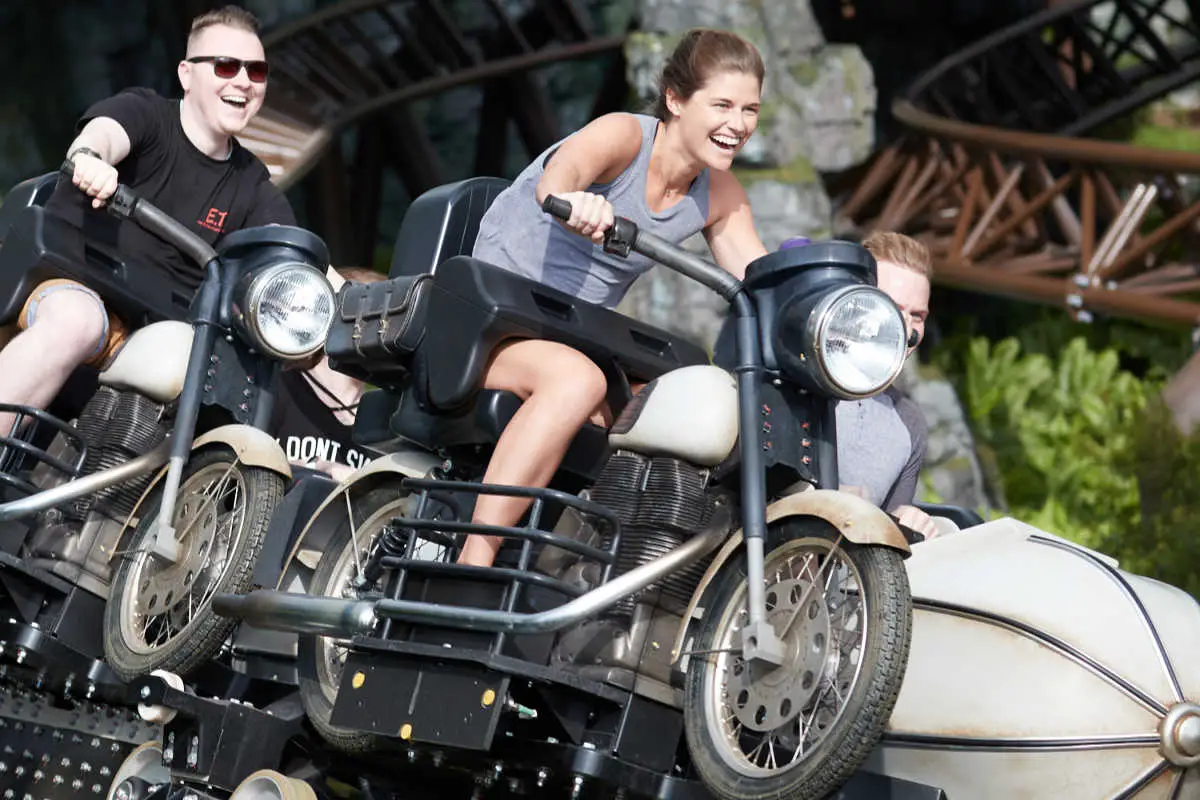 Photo courtesy of Universal Orlando Resort
---
Tips For Your Visit
Use The Park-To-Park Ticket To Visit Hogsmeade And Diagon Alley
The Wizarding World of Harry Potter spans both Universal Studios and Universal's Islands of Adventure. That is why you'll want to purchase a park-to-park ticket, especially if you are only visiting for one day. The family-travel bloggers at The O'Briens Abroad make a great argument for why the park-to-park ticket is totally worth its price. You can easily purchase your Universal Orlando tickets online through Viator, which offers a variety of ticket options for all three Universal parks in Orlando.
Dine at Three Broomsticks™ (If You Like English Pub Fare)
In the mood for shepherd's pie or fish and chips? Then you'll want to dine at Three Broomsticks (<–click to see the menu). If traditional English pub food isn't what you are craving, save your appetite for dining at CityWalk. However, it's worth stopping in for a beverage or dessert such as Gillywater, Pumpkin Juice, Frozen Butterbeer™, or Butterbeer™ ice cream.
Maximize Your Time In The Wizarding World
The Wizarding World of Harry Potter's Hogsmeade is located at the back corner of Islands of Adventure, and you'll want to head there first thing in the morning to avoid the crowds. To really maximize your time in Hogsmeade, book a vacation package at one of the Universal Orlando hotels. You'll get access to Hogsmeade (and the rest of the two theme parks) an hour before the general public. Also, when you stay at Universal Orlando's premier hotels, you can skip the regular lines at popular attractions with complimentary Universal Express™ passes.
---
Where to stay when visiting the Wizarding World of Harry Potter
To maximize your time at the Wizarding World of Harry Potter, you'll want to stay near the Universal Orlando Resort. There are several high-quality resorts and hotels located on Universal Orlando's property. The major perk of booking a vacation package with accommodations at one of the on-site hotels is early admission to the Wizarding World of Harry Potter an hour before the park opens. Also, when you stay at one of the premier hotels, Universal Express™ passes to skip the regular line at select popular attractions are free.
Universal's On-Site Hotels & Resorts
Value Hotels
Universal's Endless Summer Resort – Surfside Inn & Suites — Stay in a beachy, surf-themed room or two-bedroom suite that sleeps up to six. Find room rates starting from $85, and check for availability here.
Universal's Endless Summer Resort – Dockside Inn & Suites — The sister hotel to the Surfside Inn & Suites opens in March 2020. Room rates will start at $89.
Prime Value Hotels
Universal's Aventura Hotel — This modern hotel has rooftop and poolside bars and sleek, contemporary guest rooms. Standard room rates start at $120. Check here for availability during your planned vacation dates!
Universal's Cabana Bay Beach Resort — This family-friendly resort houses two pools, a lazy river, a bowling alley, and an arcade. Room rates start at $120. Find out why TripAdvisor users gave this resort a 4.5 rating.
Preferred Hotel
Loews Sapphire Falls Resort — Want to feel like you are staying on a Caribbean island during your theme-park vacation? Well, Loews Sapphire Falls Resort might just be the place for you. Room rates start at $168, and you can see what other travelers are saying about Loews Sapphire Falls.
Premier Hotels
Loews Royal Pacific Resort — Is a Polynesian vacation more your style? At Loews Royal Pacific Resort, you can feast at a Hawaiian luau and soak in a lagoon-style pool. Rates start at $228. Check out other travelers' photos and reviews of this island-chic resort!
Hard Rock Hotel — Listen to music underwater in the pool of this rock-n-roll hotel, where room rates start at $252. Find out more about the Hard Rock Hotel from travelers who have stayed there!
Loews Portofino Bay Hotel — Family fun meets luxury accommodations at this four-star Italian villa-inspired hotel featuring three pools with plenty of poolside activities for kids, award-winning dining, and nightly operatic performances. Room rates start at $272, and you can read other travelers' reviews here.
More Perks To Staying At Universal's Hotels & Resorts
Staying at one of Universal Orlando's resorts or hotels provides you a number of benefits. For example, you'll enjoy complimentary shuttles between your accommodations, the theme parks, and CityWalk, the shopping, dining, and entertainment area. If you are interested in comparing the aforementioned resorts and hotels, Universal Orlando has a handy guide to each of its hotel's theme park benefits, accommodations, and amenities.
---
Before your trip to Hogsmeade at Universal Orlando Resort
Save this post to Pinterest!
Have you been to the Wizarding World of Harry Potter?
Save
Save