With its beautiful beaches, theme parks, wildlife, and sunshine, a Florida craft beer tour may not be the first activity you think of when planning your vacation. But, if you enjoy sampling local beer when you travel, the Sunshine State has plenty of breweries for you to explore on your own or with an organized tour.
Go On A Florida Beer Tour With The Brew Bus
While visiting Fort Lauderdale in October 2015, I visited four South Florida breweries with the Brew Bus. Unfortunately, the company no longer offers its South Florida tour, but that is because their business is booming in Tampa Bay, where the Brew Bus has acquired Florida Avenue Brewing Company.
In Tampa Bay, the Brew Bus offers a variety of brewery tours:
Best Options For Tampa Visitors
The Local Loop is an affordable option for travelers who want to experience a beer-filled #SundayFunday like a local. You can pick up the shuttle at any of the participating breweries, bars, or restaurants, and you can pay once you get on the bus or purchase tickets ahead of time online. If you visit three stops, you'll have gotten a lot of bang for your buck!
The other option I love for travelers is the Sampler Tour. I think this gives you the broadest overview of the Tampa Bay brewery scene.
As I spoke with Matt from the Brew Bus on the phone earlier this week I learned the Brew Bus will even pick you up from the airport. Imagine arriving in Tampa and immediately drinking a cold beer! I think I may need to book myself a trip to Tampa soon.
All Aboard The Brew Bus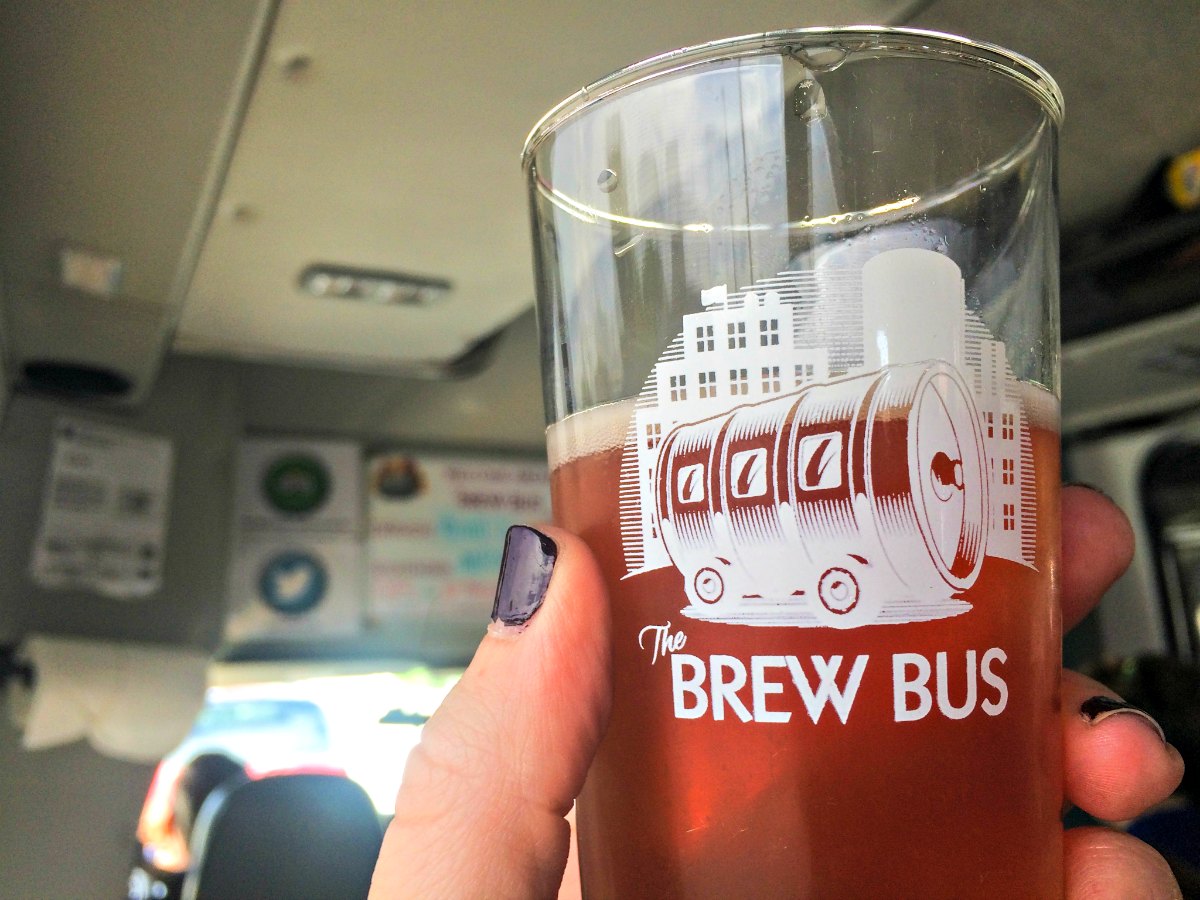 Aboard the Brew Bus in Fort Lauderdale, I enjoyed the fun and social atmosphere as I chatted with others on the tour, listened to the most nostalgic late 90s to early 2000s pop music playlist, and began sampling the goods. Our beer-tender served us the Brew Bus's beers between stops and seamlessly organized each stop for us. Stress-free is my favorite kind of travel activity!
Tasting The Brew Bus Beers
My favorite of the Brew Bus beers I tried was the award-winning You're My Boy, Blue!, a blueberry wheat ale. They also usually serve their Irish-style red ale Rollin' Dirty, Last Stop IPA, and one or two of their seasonal rotations.
Looking back at my Untappd ratings, I gave a 4.0 rating (out of 5.0) to You're My Boy, Blue! and the pale wheat ale Are Wheat There Yet? and 3.0 to Rollin' Dirty. I always rate beers based on my personal preferences rather than as a critic. So, if you also like wheat or fruity beers, you might agree with my assessment. If we aren't already, feel free to connect with me. I love to see what other beer lovers are drinking around the world.
Touring South Florida Breweries
As I mentioned earlier, the Brew Bus no longer offers a South Florida brewery tour. However, if you find yourself in Fort Lauderdale, you could use their route to take your own brewery tour. Please have a designated driver or use a ride-sharing service such as Lyft or Uber.

Stop No. 1: Craft Beer Cartel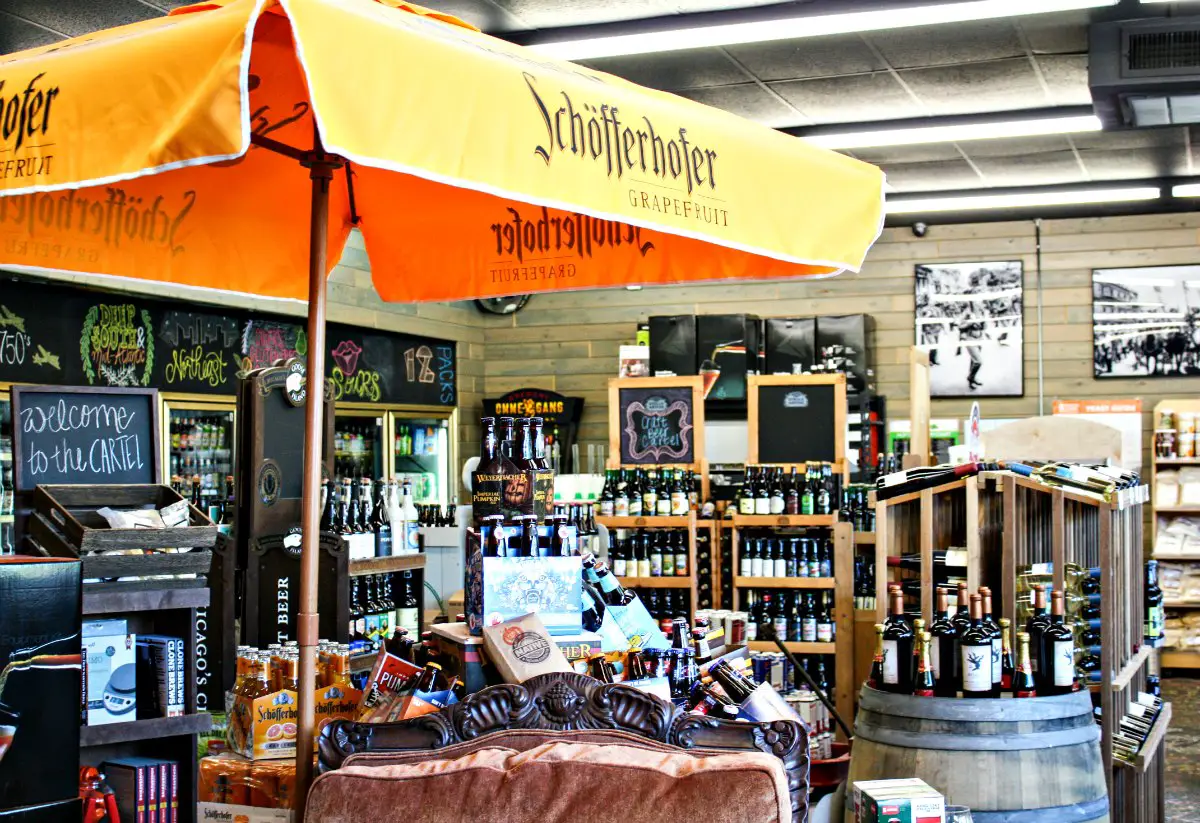 Our first stop of the tour was Craft Beer Cartel — a home-brew supply store, craft beer market, and home of Native Brewing. The collection of craft beer by the bottle here is fantastic.
We tasted a couple of Native Brewing's test recipes including an incredibly smooth imperial red rye and a 10.5 ABV imperial stout with hints of chocolate and vanilla flavors. Yum!
While at Craft Beer Cartel, remember to look down! The floor has beer bottle cap mosaics. They are easier to see through the camera app of your smartphone than with the naked eye.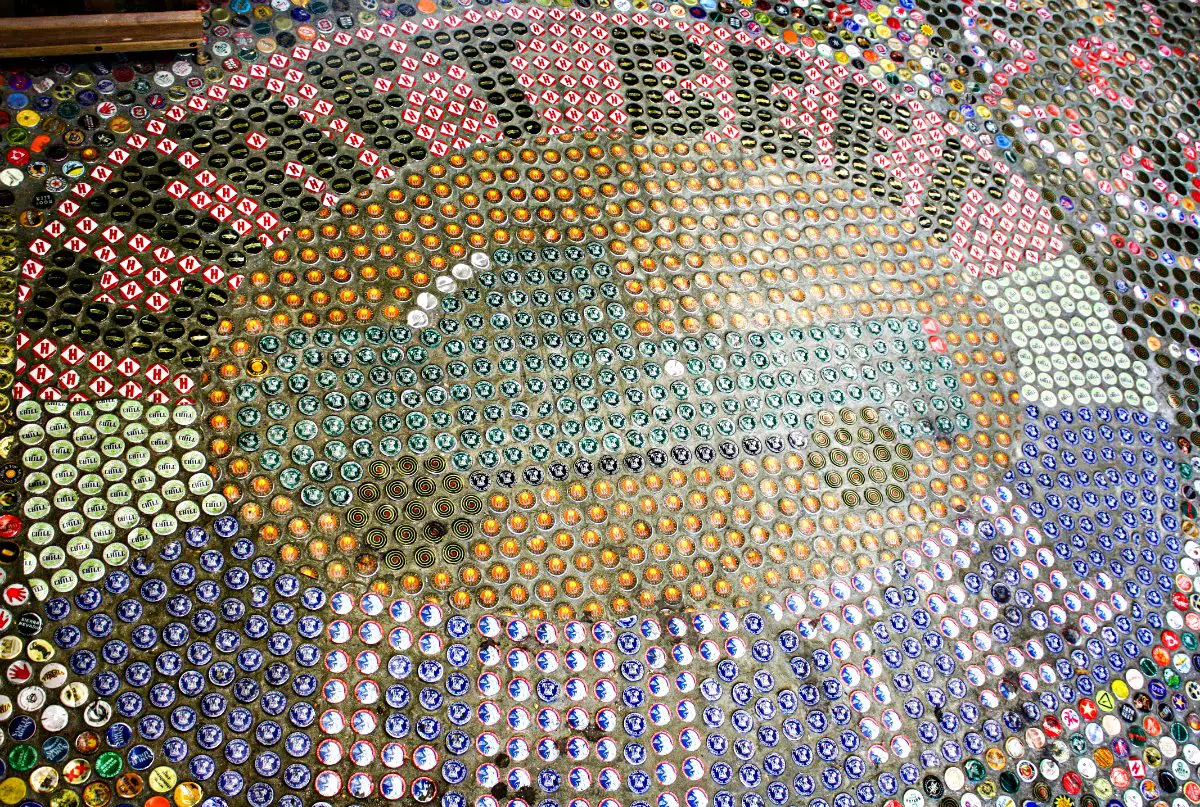 Visit Craft Beer Cartel | 557 SW 12th Ave, Fort Lauderdale, FL 33312
Stop No. 2: Funky Buddha Brewery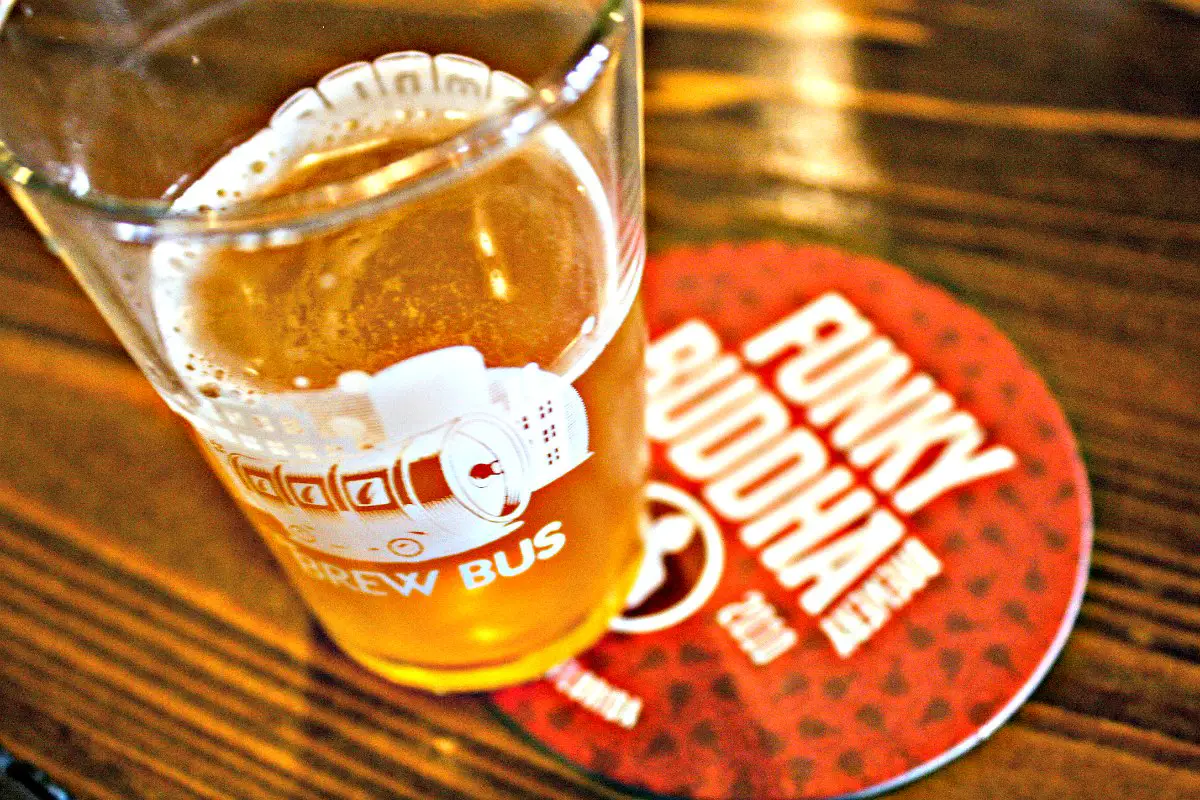 Next up we visited Funky Buddha Brewery, one of the most well-known Florida breweries.
For my tasting, I started with the German-style wheat Floridian Hefeweizen, Florida Beer Championships 2015 gold medal winner in the wheat beer category. While tasting my hefeweizen, I noticed banana, clove, and citrus flavors. Overall, I rated the 5.2%-ABV brew a 4.0 on Untappd.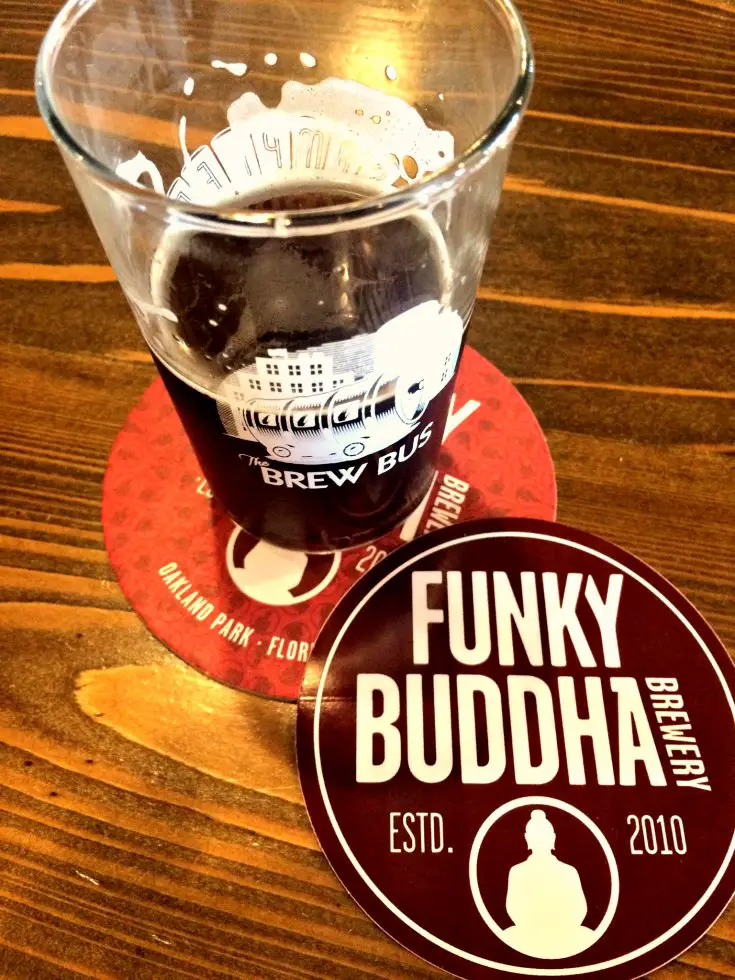 My second tasting was Bonita Applebum, which I rated 4.25 on Untappd. The brown fruit ale with 6.4% ABV featured flavors of cinnamon, apple, and vanilla. This beer is only available on draft, but it isn't always on tap. If you really want to try this brew, check here to see if it is available at the taproom before your visit.
Visit Funky Buddha Brewery | 1201 NE 38th St., Oakland Park, FL 33334
Stop No. 3: Mack House Brew Pub
Stop No. 3 brings us to Mack House. As we pulled into the strip mall parking lot and saw the "Brewery" sign in all white letters and no further description, I wondered, "Where has the Brew Bus just taken me?" Turns out it was Mack House, a craft beer bar with a rotating draft list written on a chalkboard menu. The brewpub also brews and serves its own beers, but you'll find a nicely curated selection of local Florida beers and also some out-of-state heavy hitters — like from my city's Founders Brewing Company. As the saying goes, don't judge a book by its cover. I learned not to discount brewpubs with nondescript signs in strip malls on the Brew Bus tour. You never know when you'll stumble upon a hidden gem!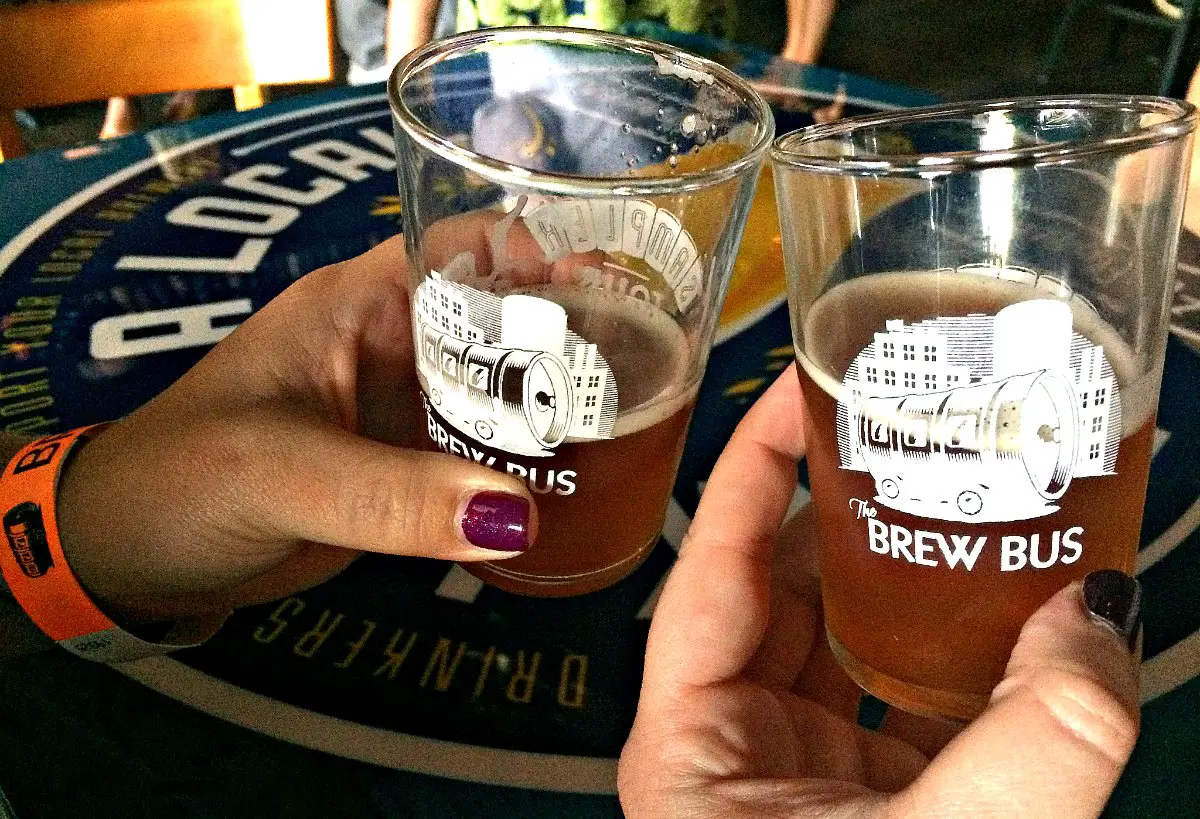 Visit Mack House | 9118 W State Rd 84, Davie, FL 33324
Stop No. 4: LauderAle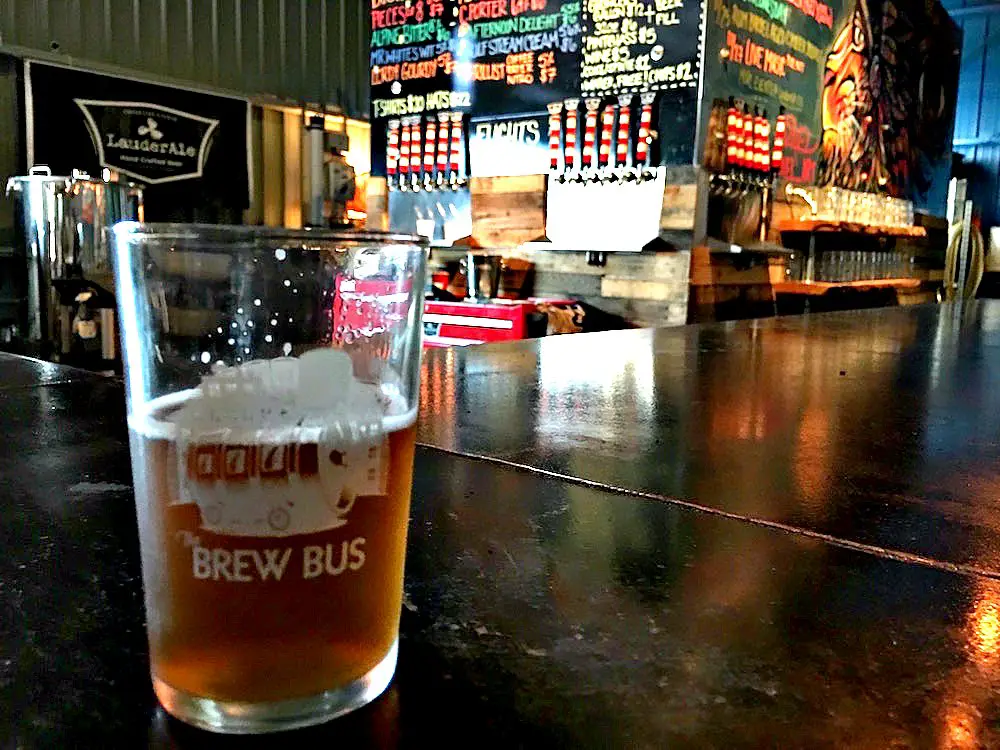 Our final stop of the three-hour tour was the cleverly named LauderAle Brewery. The taproom is in a warehouse setting with a brightly colored menu and red-and-white striped tap handles.
I think I tasted the C Porter, a dark brew aged with coconut. I say "think" because at this point I was pretty tipsy. Drinking two beers prior to my tour may not have been my smartest idea ever. Oops!
Hopefully, you will learn from my mistake and arrive at LauderAle fully ready to drink because the menu features some beers I wish I had been sober enough to taste. Since I have family and friends in the area, I'll make it a point to visit again someday to sample the Thrillist Coffee Porter made with locally roasted Argyle Coffee and the fruity La Niña.
Visit LauderAle Brewery & Taproom | 3305 SE 14th Ave, Fort Lauderdale, FL 33316
Tips For Craft Beer Tasting In Florida
Eat before your tour. Common sense says you shouldn't consume copious amounts of alcohol on an empty stomach, right?
Bring a bottle of water with you. You'll want to remain hydrated to ward off a potential hangover, but you may also want to cleanse your palate between beers. Note: The Brew Bus provides bottled water on its bus tours.
Download the Untappd app to rate your beers. Months later when you are trying to remember which beer you tasted on your tour, you can go back to the app and read your tasting notes.
Bring cash to tip your bartenders, tour guides, and drivers.
Where have you gone on a beer tour?
Tell me about it in the comment section!
Disclosure: I'd like to thank the Brew Bus and TBEX for providing this complimentary tour to TBEX conference participants. I'd also like the thank my friends, Sue Reddel and Diana Laskaris, at Food Travelist for providing photos of LauderAle for this post. As always, all opinions are my own.
Save
Save
Save
Save
Save
Save
Save
Save