Wondering what are the best shoes to wear in Europe during the summer?
As a traveler who loves visiting Europe but gets cranky when my feet are achy, I've certainly wondered which shoes for walking in Europe would be best to pack while creating my own packing list for Europe in summer.
During my past summer trips to France, Spain, and the Netherlands, I've dealt with my fair share of blisters and sore soles. But, I'm here to tell you that your feet don't have to suffer!
If you are leaving soon for a trip to Europe, you may also want to know which shoes should be packed among your many other essentials for European travel.
In this post, I'll share the best shoes for traveling Europe to add to your packing list for Europe in summer. With these four kinds of shoes in your suitcase, you'll be prepared for any activity on your itinerary!
Plus, I'll share tips for how to pack shoes for travel that will help you maximize the limited space in your suitcase.
Disclosure: This guide to packing the best walking shoes for Europe in summer contains some affiliate links. When you click on one of these links and make a purchase, I may earn a commission. Of course, this is at no extra cost to you.
---
What to Pack for Europe: Women's Best Shoes to Travel in Europe in Summer
You've already done the hard part — booked your flights, found the perfect place to stay, and planned your entire itinerary down to the minute.
Now, your trip is only days away, and you're wondering if you should've splurged for an overweight checked bag. How on earth are you going to fit two weeks worth of shoes, clothes, and toiletries into a suitcase and a carry-on? 
Don't worry, I've got you covered! We'll help you choose exactly which shoes to pack for a summer vacation in Europe, which ones to leave at home, and how to save space for other Europe travel necessities in your luggage.
We'll start with the essentials: everyday walking shoes, flat sandals, and dressy heels. And, if you plan on doing any hiking, I'll help you pick the best shoes for that, too! This is your guide to packing the best shoes to travel Europe.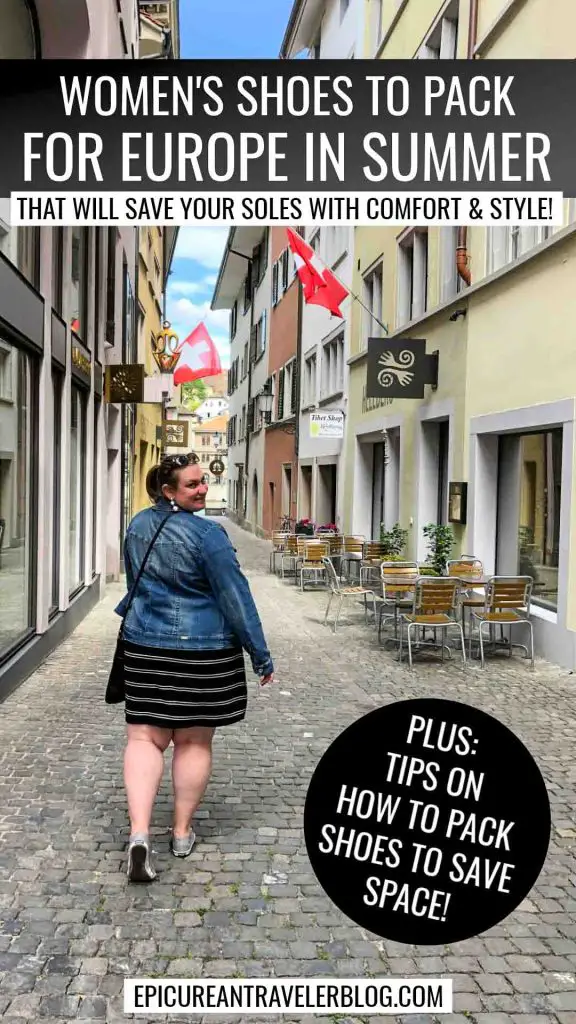 Essential Women's Walking Shoes for Europe in Summer
Whether you like it or not, you're going to walk A LOT on your trip in Europe.
To save yourself the trouble of blisters, calluses, and other aches and pains, you need to prioritize comfort and durability above all else.
But, Europe is all about style, so we can't forget about that either.
Plus, we can't forget the fact that you'll have to fit all of your footwear (and your outfits and other European travel essentials) into a single suitcase.
Don't worry, we'll help you determine exactly which cute walking shoes for Europe to pack, which ones to leave at home, and even show you a few packing tips to save you room in your suitcase for souvenirs.   
Best Walking Shoes for Europe: Everyday Sneakers
Europe is known for its walkable cities. Whether you're grabbing a coffee, picking up some groceries, or just going to meet some friends for dinner, you should plan to walk almost everywhere.
And though you may want to strut in a pair of heels for a night out, your feet will thank you the next morning (and the rest of the trip) if you opt for a pair of comfortable sneakers instead. 
As you explore the streets of Paris, London, and Barcelona, you'll easily walk 10,000+ steps per day. Not to mention, the cobblestone streets are no place for elevated platforms.
So, for the sake of comfort and style, sneakers are the best shoes to walk in Europe. I recommend you pack 1-2 pairs of sneakers that are neutral in color, like black or white, to easily match them with multiple outfits.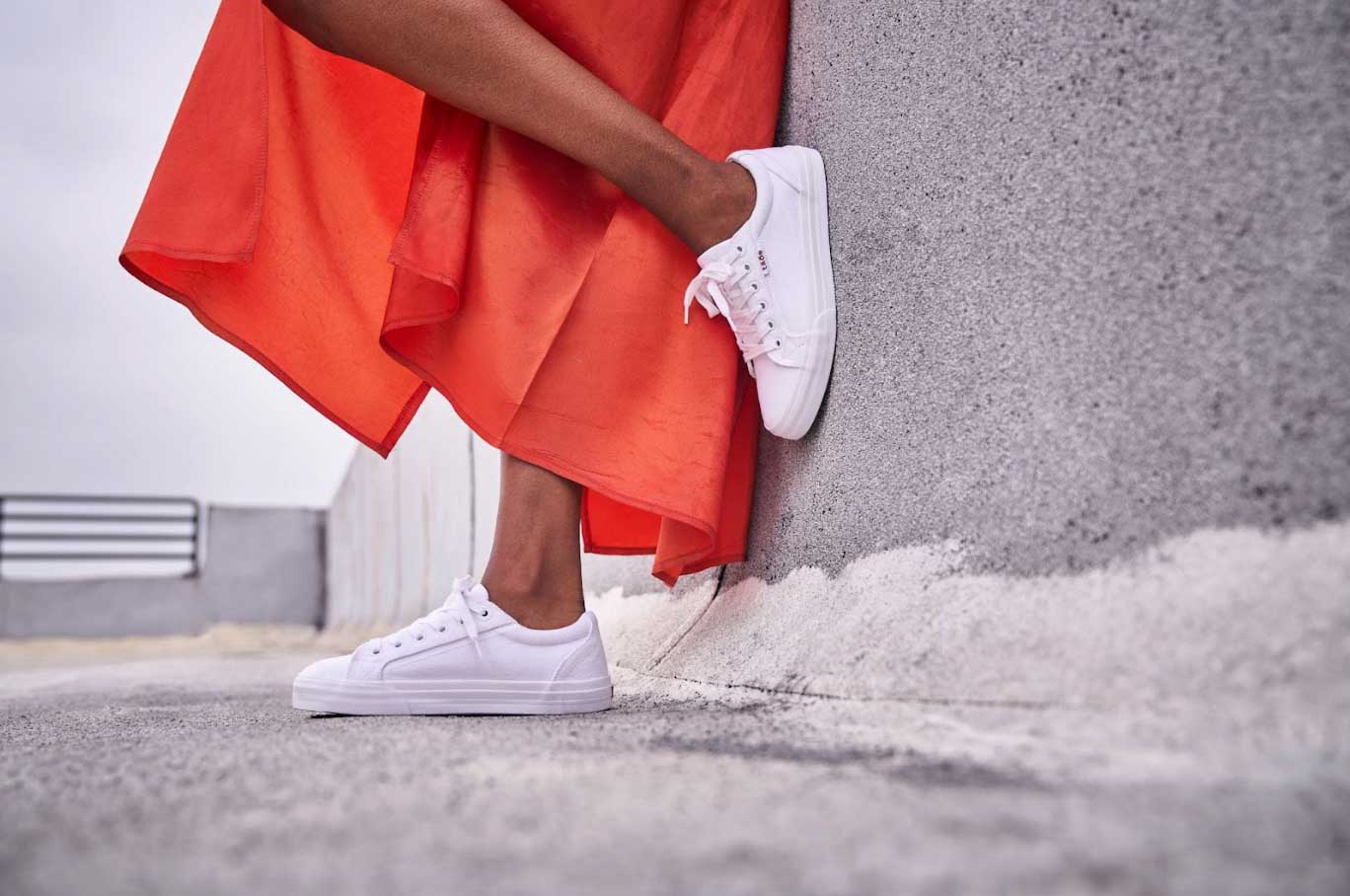 Pro Travel Tip: After traveling to 27 states and 17 countries, many of which were in Europe, I can confidently say that packing neutral tones is the best way to pack light, even for trips of 10+ days. 
Optional Walking Shoes for Europe: Hiking Shoes
Many people travel to Europe to see the major cities, fall in love, and eat delicious food. But, there's more to the continent than that!
If you or anyone with whom you are traveling is an outdoor enthusiast, you've surely added the Swiss Alps, the Scottish Highlands, or the Italian Dolomites to your Europe trip itinerary.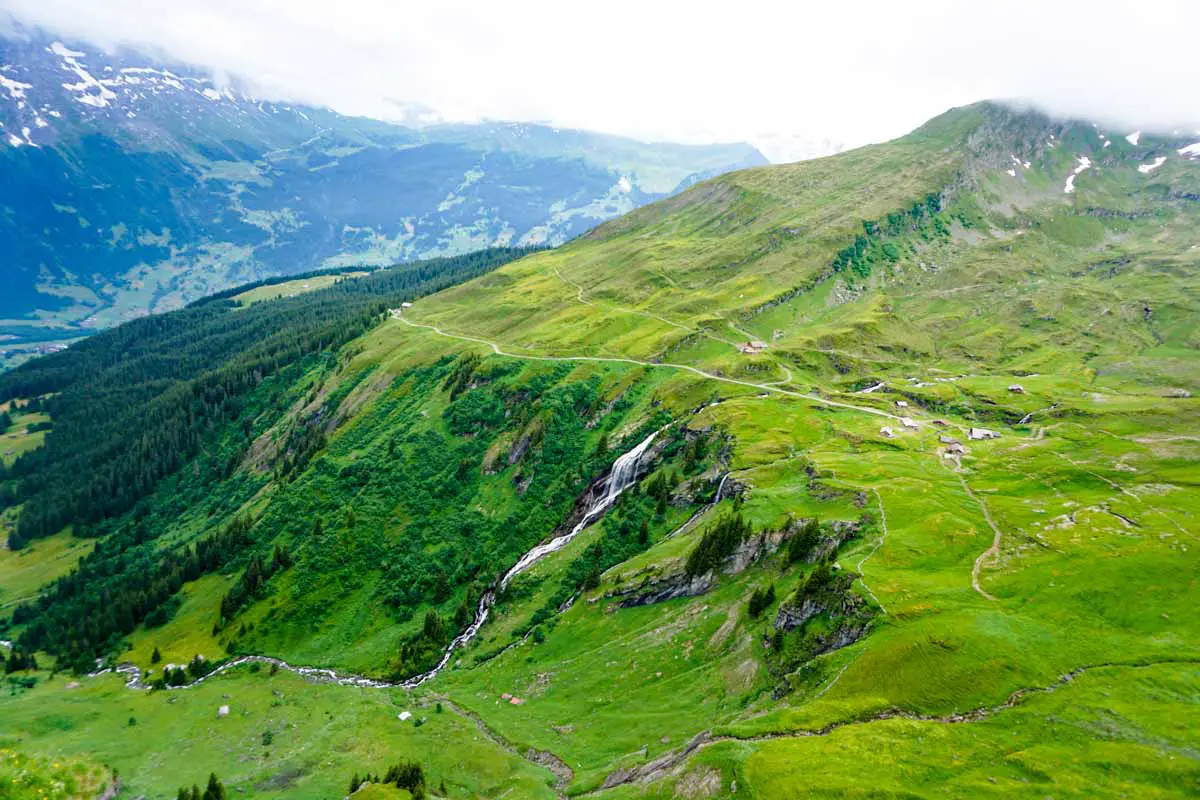 But on muddy, rocky, and uneven trails, your standard walking sneakers won't cut it. Plus, you don't want to get them dirty. 😉
Therefore, you're going to need a pair of hiking shoes or boots to safely explore these beautiful terrains. The added ankle support and rugged soles will ensure you don't slip or fall when climbing steep trails or traversing a narrow ridge.
Brands like Salomon, Hoka, and Saucony consistently outperform other hiking shoes in terms of durability, comfort, and grip, making them a must-add to your luggage.
Though every piece of footwear should look as good as they feel, the color and style of your hiking shoes should fall second in priority to comfort and support.
I recommend choosing hiking shoes in a dark color made of nylon and leather and that are resistant to water, mud, and other elements. 
Of course, if you purchase a new pair of hiking shoes specifically for your upcoming Europe trip, make sure to break them in before you leave!
The last thing you want to deal with is painful blisters or foot pain after only a few minutes of walking the trail.
That is why you should wear your new hiking shoes or boots around the house, while running some errands, or on a walk around the neighborhood for a few hours to break them in. You want to make sure that they offer the comfort and stability you need before arriving in Europe.
If you're not planning to leave the city, don't worry about packing any hiking shoes. You can use that extra room for another sundress or pair of sandals!
Best Walking Sandals for Europe in Summer
Speaking of sandals… Everyone knows that summer is the best time to visit Europe. Beaches, outdoor cafes, and all types of festivals — what more could you ask for?
Europe summer travel itineraries may include the Amalfi Coast, the Greek islands, or any number of the other beautiful coastlines in the Mediterranean.
And while a pair of flip flops may suffice for a regular day at the beach, you need to pack a few pairs of comfortable sandals to truly enjoy your Europe trip.
Flat Sandals
Flat sandals are a staple footwear item, especially for summer travels. They toe the line between style, comfort, and versatility, making them the perfect choice for sightseeing, outdoor wining and dining, and long walks on the beach.
Plus, when temperatures climb above 90°F (32°C), the added breathing room will prevent annoying foot sweat.
Brands like Taos, Birkenstock, and Teva have spent years perfecting ergonomic sandals made from quality materials that improve foot health with every step.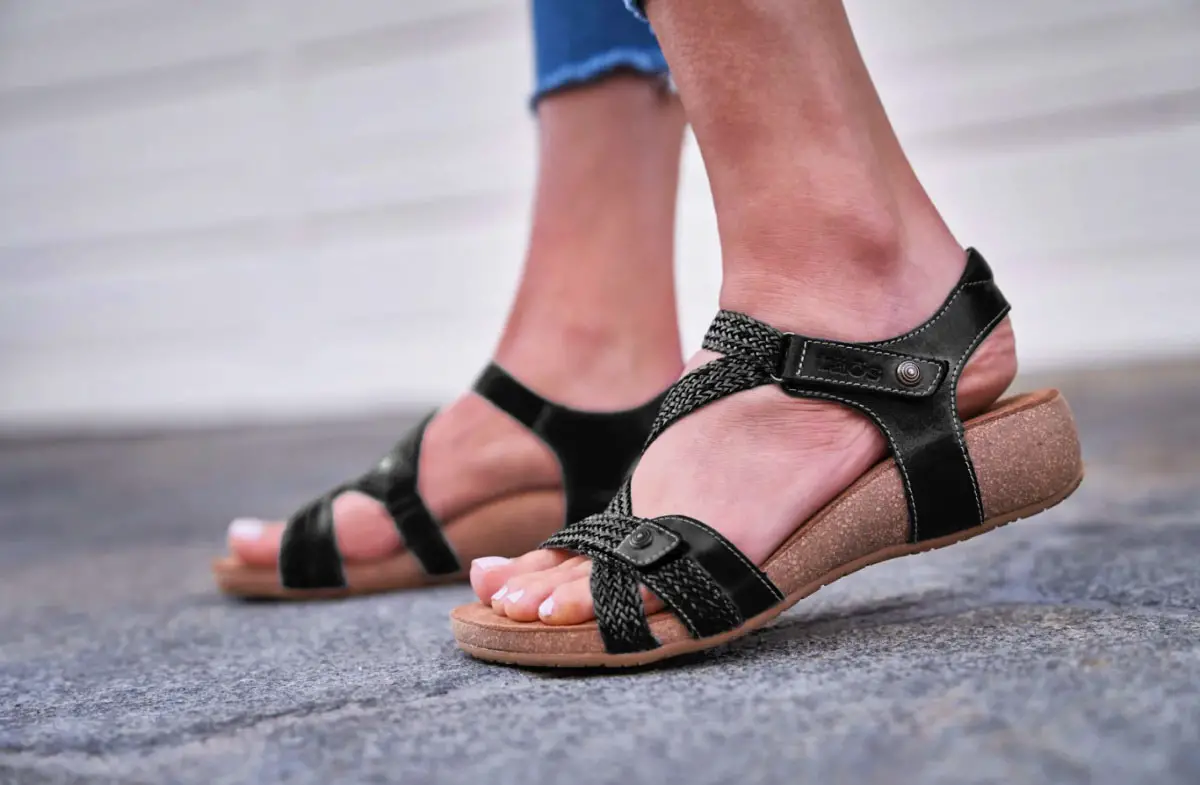 It may be tempting to pack every pair of flat sandals that you have — don't. Just like your everyday walking shoes, choose 1-2 pairs that match several outfits. Your best bet is to pack sandals with white, black, or brown straps (choose up to two).
If you have extra space, then throw in an extra pair of sandals. Pick a colorful pair that will pop in the Instagram picture that you've been planning for months! 😉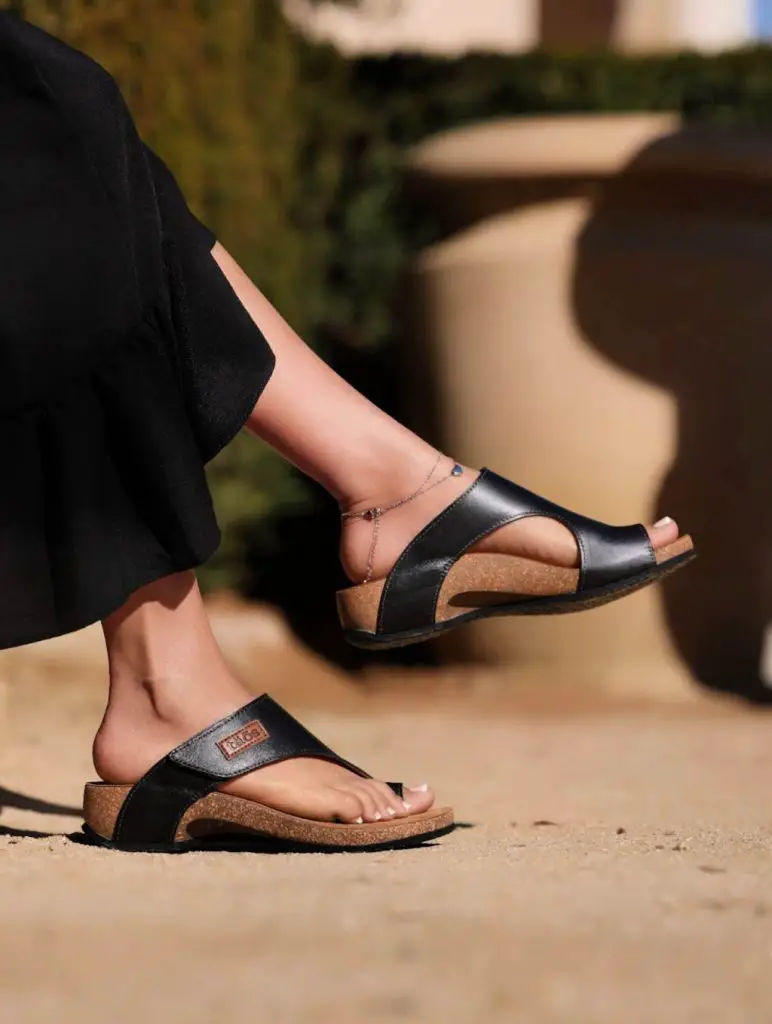 Heeled Sandals
Evenings in Europe call for a more elevated style, meaning heeled sandals are a wardrobe necessity.
From seaside dinners in Santorini to nights out in Ibiza, a chic pair of wedges, pumps, or stilettos can effortlessly transform your outfit from chic to très chic.
But, with plenty of walking and dancing on the agenda, don't just focus on style; you'll want to consider both fashion and function. 
Low or block-heeled styles will elevate your style (and your height) without straining your feet, and the added comfort and stability will keep you going all night long.
If you're running low on luggage space, choose 1-2 pairs that are black or nude, ensuring at least one of them will match any outfit you put together. 
How to Pack Shoes for Travel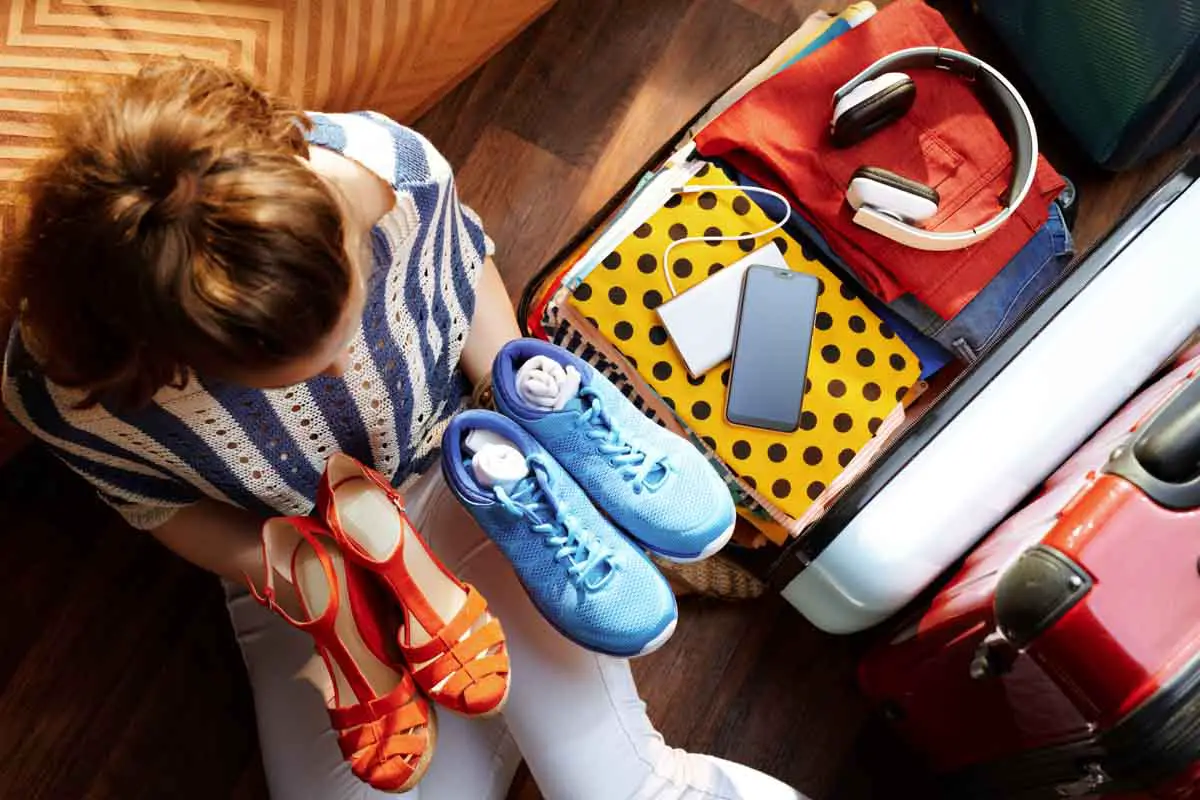 Packing shoes effectively for a summer trip to Europe is crucial for a successful travel experience. Here are some practical tips and tricks to help you organize and maximize luggage space:
Choose neutral tones that match multiple outfits to reduce the number of pairs that you need to pack.

Pack smaller items like socks, toiletries, and sunglasses inside your shoes to save space and maintain shoe shape during travel.

Pack heavy shoes near the bottom of your luggage to reduce the risk of it tipping over in the airport and prevent them from wrinkling your folded clothes.

Cover each pair with shoe bags to keep them from scuffing or dirtying your clothes.

Wear your sneakers and pack a pair of thin sandals in your carry-on to free up weight and space in your checked luggage. Budget airlines in Europe have different weight and size capacities, so check ahead of time!

Throw a shoe deodorizer or a few dryer sheets in your shoes to keep your other clothes smelling fresh.
Ready to Pack for Europe?
Your trip to Europe is going to be memorable, but only if you pack the right shoes.
Instead of looking down at your feet that are throbbing in pain, you can look up and see the beautiful cities, monuments, and people that make the region such an amazing place to visit.
I know that one suitcase never seems to be enough room for all of the sneakers and sandals you want to bring with you, but trust me — it's possible. 
Build your short list of 1-2 pairs each: walking shoes, flat sandals, heeled sandals, and hiking shoes (optional).
Though you may want to show off your newest pair of Doc Martens or knee-high boots, they're better off at home.
With 3-5 pairs of shoes, you can style several different outfits and leave room in your suitcase to shop for other shoes, clothes, and souvenirs along the way! 
Still looking for things to do in Europe? Don't miss these top-rated activities!
Essentials for European Travel
Before you leave for your trip to Europe, here are travel essentials for Europe that I recommend:
Read More Europe Travel Posts
Save this packing guide to your Europe travel or trip packing tips board on Pinterest!

Editor's Note: Photo credit for the image of a woman deciding which shoes to pack in suitcase (© Alliance/Adobe Stock), photo credit for the image of a female traveler admiring a European city view at sunrise (© maxbelchenko/Adobe Stock), photo credit for the image of a street in Ferragudo, Algarve, Portugal (© travelview/Adobe Stock)