Wondering where to eat in Cyprus? In this guide to the five best restaurants in Cyprus, you'll find recommendations for top-rated restaurants in five popular tourist destinations on this Mediterranean island.
Disclosure: This guide to the best places to eat in Cyprus contains affiliate links. I may earn a small commission when you click on one of these partner links and make a purchase. Of course, this is at no extra cost to you.
---
Top Restaurants in Cyprus
When planning a trip to Cyprus, there are many factors to consider. Have I packed the essentials? Have I booked the best place to stay? Have I budgeted enough time to do everything I want to?
However, the savviest and most seasoned traveler's top priority will be finding the best places to eat in Cyprus at the end of a long day of sightseeing.
With an average of 3,500 hours of sunshine a year, Cyprus has no shortage of sweet rays to soak up while exploring the island's beautiful landscapes and historical ruins.
But, did you know that Cyprus is also a foodie's dream with restaurants for every cuisine and budget imaginable?
Need help ticking off what should be the most essential thing on your pre-travel checklist? This guide is the perfect place to start planning where to eat in Cyprus! 
From Paphos to Nicosia, here are just a few of the top-rated Cyprus restaurants to enjoy a tasty meal alongside an utterly charming Mediterranean atmosphere.
Explore the map below to pinpoint the best restaurants in Cyprus!
Best Places to Eat in Paphos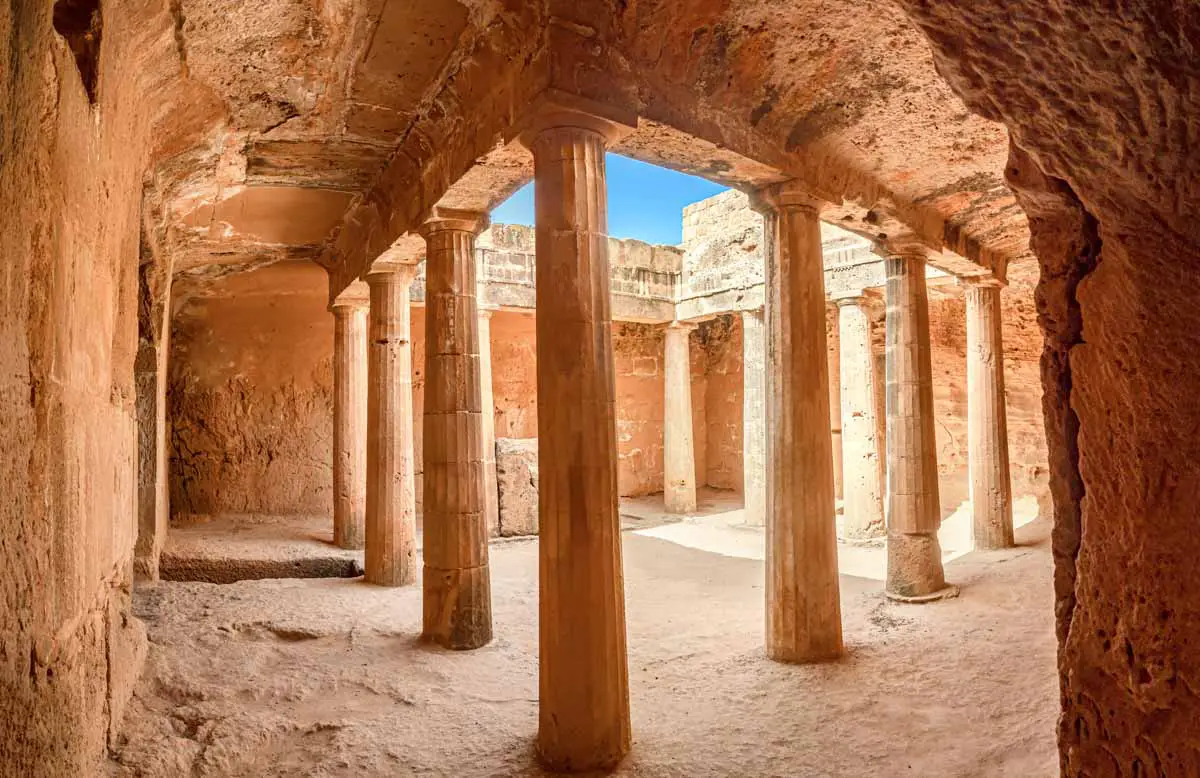 The ancient city of Paphos, found along the southwest coast, is a must-visit destination on any trip to this corner of the Mediterranean.
Here you can sunbathe on sandy beaches with breathtaking coastal views or tour the ancient ruins that make Paphos a UNESCO World Heritage Site.
At the Kato Paphos Archaeological Park, see mosaic designs depicting scenes of ancient Greek mythology on the floors of four Roman villas, tour the royal catacombs at Tombs of the Kings, and explore more ancient monuments dating back to the 4th century BC.
Believed to be the birthplace of Aphrodite, the renowned ancient Greek goddess of love and beauty, many visitors hope to see Petra tou Romiou, commonly known as Aprodite's Rock, on a day trip from Paphos to Limassol. 
After taking in the historical sites in Paphos, you'll want to eat like a local. End your day with a delicious meal at one of the best restaurants in Paphos!
The 3 Little Pigs Traditional Grill and Kebab House
The 3 Little Pigs offers reasonably priced traditional Greek and Cypriot cuisine. Bite into grilled chicken or pork kebabs with homemade tzatziki, or order a meze feast to taste a variety of the local Mediterranean fare.
If you prefer a vegetarian option, chow down on the Habibi Wrap brimming with falafel, pickles, cabbage, lettuce, tomato, cucumber, tahini, and a pomegranate sauce.
Don't forget to pair your mouthwatering meal with a local Cypriot wine or a pint of Leon Beer!
The restaurant can be found just a short stroll away from the coast, making it the perfect locale for anyone wanting to enjoy a relaxing, potentially even romantic, after-dinner stroll.
Among the other top restaurants in Paphos for Cypriot cuisine are Divine Peak Restaurant, a rooftop fine-dining establishment, and the family-owned-and-operated Sykamina Cafe, which is one of the best Paphos Old Town restaurants.
For Brits on holiday in Cyprus and craving a taste of home, the family-run T&J's Fish and Chips offers highly-rated takeaway at budget-friendly prices.
The 3 Little Pigs Traditional Grill and Kebab House is located at Tombs of the King Road 14, Kato Paphos, Cyprus. The menu features Greek and Mediterranean dishes for lunch and dinner. Vegetarian and gluten-free options are available, and the limited kids' menu offers kebabs and chicken fingers.
Best Places to Stay in Paphos
Best Places to Eat in Limassol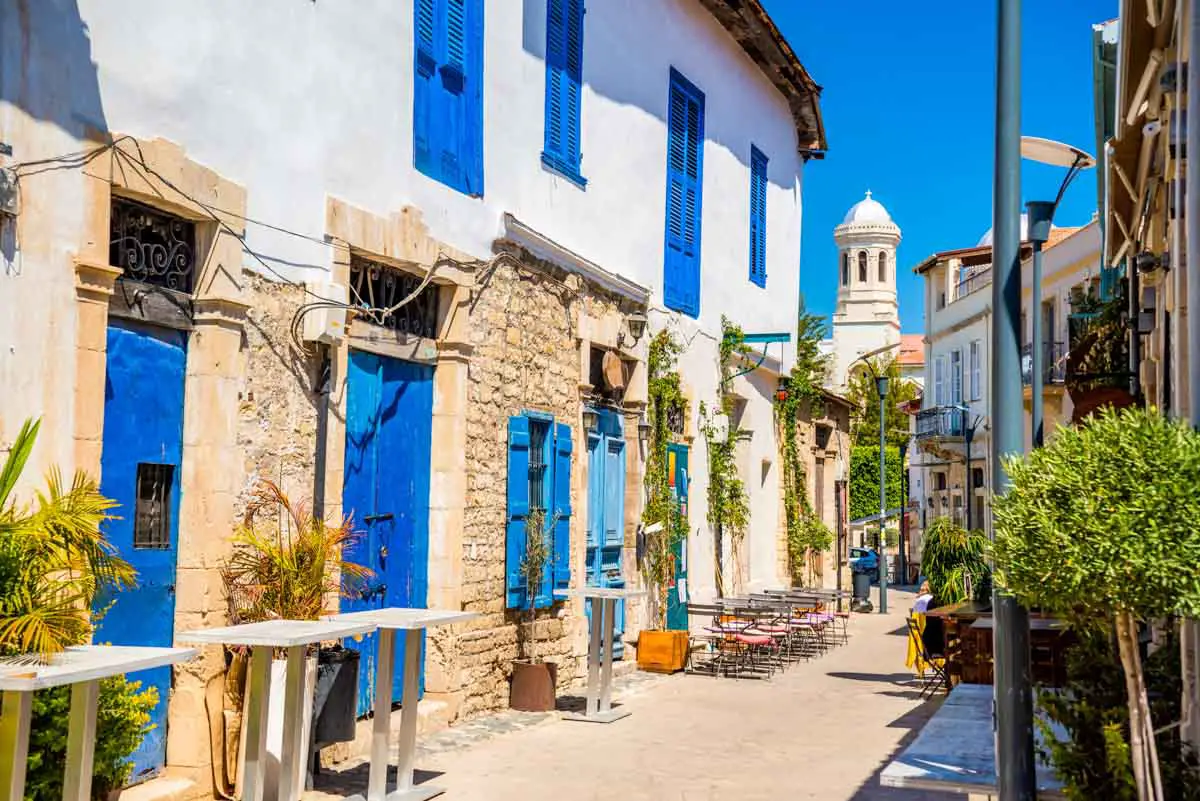 Located on the southern coast, Limassol is the second-largest city in Cyprus and a popular destination for a relaxing resort vacation or honeymoon.
When you aren't relaxing on the beaches of Limassol, you can explore historical landmarks and museums or venture into the Troodos Mountains to visit quaint villages and taste Cypriot food and wine.
After you've toured the centuries-old Limassol Castle and explored the Cyprus Medieval Museum, you may want to eat something different from the typical Cypriot fare. Why not dine at one of the best restaurants in Limassol?
Red Cafe Pizza Romana
While still hailing from a corner of the Mediterranean, the Red Cafe Pizza Romana is an Italian eatery that stands out from the crowd with delicious food and friendly service.
Offering a sea view during dinner and decadent desserts for those with a sweet tooth, this establishment stands out as one of the top restaurants in Limassol. 
For Greek and Cypriot foods, Meze Taverna Restaurant, Terry's Place, Kofini Tavern, and Dionysus Mansion are some of the top Cyprus restaurants in Limassol.
If you seek a Chinese restaurant in Limassol, try the bao buns and dumplings at Crispy Duck Asian Food.
Alternatively, when you want to sink your teeth into a juicy burger, order what some diners have called the best burger in Limassol from Street Food Rey.
Red Cafe Pizza Romana is located at Chistodoulou Chatzipavlou 147, Limassol, Cyprus. The menu features Italian dishes with vegetarian, vegan, and gluten-free options for breakfast through dinner.
Best Places to Stay in Limassol
Best Places to Eat in Ayia Napa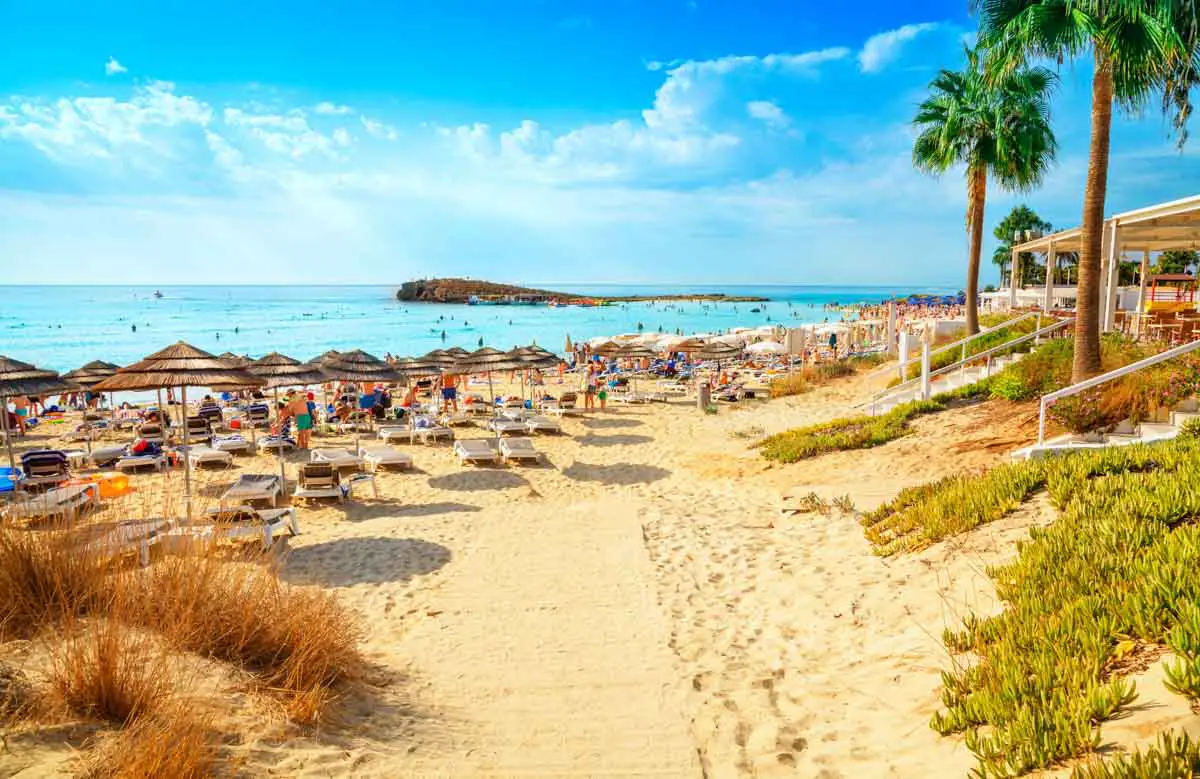 With beautiful beaches, numerous booze-pouring bars, and a booming clubbing scene, the Mediterranean resort town of Ayia Napa is a trendy destination for young party-seekers.
However, it's not all clubbing and sunbathing in this party hotspot along the southeastern coast of Cyprus. Among the most popular things to do in Ayia Napa are seeing the sea caves and swimming in the Blue Lagoon. In town, you can also see the Venetian-era Monastery of Ayia Napa and dine at tavernas serving locally caught seafood.
Of course, if it's local Cypriot food you're after, you can easily find an authentic place to eat in Ayia Napa.
The Agrotikon Restaurant & Bar
The Agrotikon Restaurant & Bar is one of the best places to eat in Ayia Napa. Its menu is filled with authentic Cypriot cuisine, with over 22 different starters and 39 meat and fish dishes.
From grilled halloumi to start, home-made moussaka for your entrée, and a feast finished off with the many sweet layers of baklava for dessert, it's hard to look further than this traditional spot for the perfect taste of Cyprus. 
Though it's located on the island's southeast coast, this restaurant uses fresh ingredients from every corner of the country. This unique blend makes Agrotikon a favorite of tourists and locals alike.
There are many top-rated Mediterranean restaurants in Ayia Napa. However, if you're craving something different, share pizza at Bella Italy or Sale e Pepe, or taste the flavors of South America at the Alion Beach Hotel's iPANEMA Lounge Bar.
The Agrotikon Restaurant & Bar is located at Nissi Ave 131, Ayia Napa, Cyprus. You'll find traditional Cypriot fare on the menu, including meze, moussaka, and stifado. The menu also indicates when dishes contain gluten, lactose, and other common food allergens, and there are vegetarian and vegan options.
Best Places to Stay in Ayia Napa
Best Places to Eat in Nicosia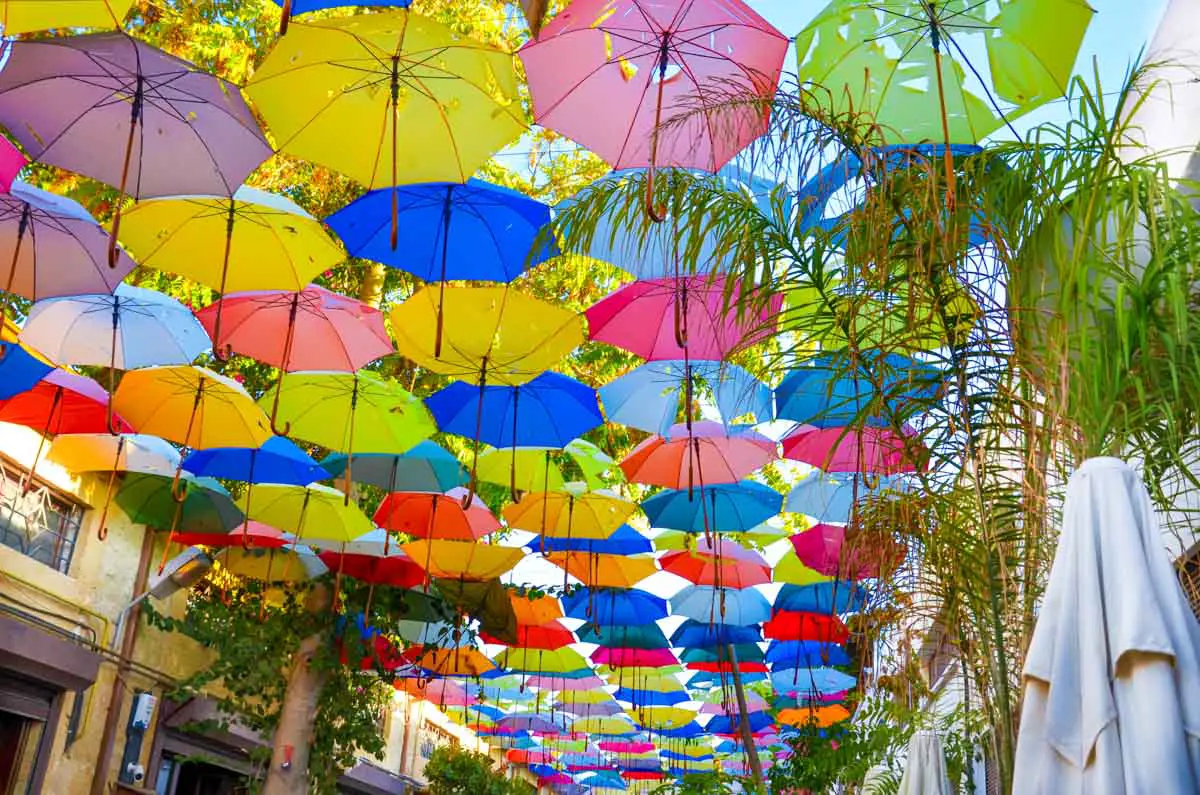 Nicosia is the largest city in Cyprus and the last divided capital in the world. The city's southern portion is the capital of the Republic of Cyprus, an internationally recognized nation. Whereas Nicosia's northern section is the capital of Northern Cyprus, a disputed territory solely recognized by Türkiye as its own state.
Located inland, Nicosia lacks the sandy beaches and seaside dining of the aforementioned destinations in this Cyprus guide, but it's an intriguing destination for history buffs.
On a guided walking tour inside the Buffer Zone of Nicosia, you'll see the Venetian walls bordering the Old City and the Green Line that has separated the Greek and Turkish Cypriots for more than four decades in modern times.
After touring the city's historical sites and shopping on Ledra Street, you'll have worked up an appetite for dinner at one of the top restaurants in Nicosia.
Sawa Syrian Restaurant
While visiting the capital city, be sure to visit Sawa Syrian Restaurant, one of the best restaurants in Nicosia. Its authentic Syrian meze is perfect to share with your travel companions! 
This restaurant can cater to any special dietary needs and has received excellent reviews for both its food and service, even earning a Tripadvisor Travelers' Choice award in 2022. Halal, vegan, vegetarian, and gluten-free diners can enjoy a bevy of delights when visiting Sawa Syrian.
Many top Nicosia restaurants serve European, Mediterranean, and Middle Eastern cuisines. If you'd like to take your taste buds on a journey further east, you'll find delicious Chinese and Indian dishes at East Asian Restaurant.
Sawa Syrian Restaurant is located at Klimentos 31, Nicosia, Cyprus. The menu features Syrian dishes, meze, and kebabs. 
Best Places to Stay in Nicosia
Best Places to Eat in Larnaca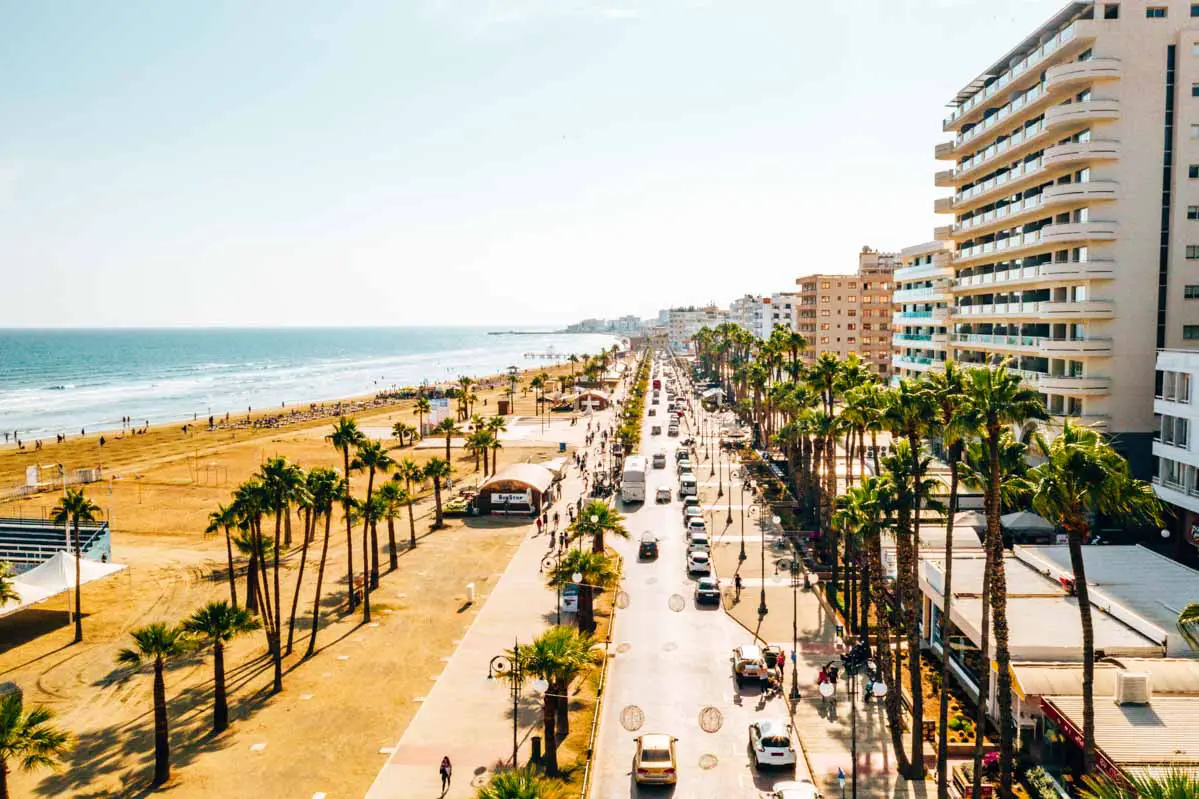 The port city of Larnaca on the southern coast is known for its sandy Finikoudes Beach and palm-tree-lined beachfront promenade. 
Here you can set sail for romantic sunset views while sipping chilled Champagne or take a stand-up paddleboarding lesson.
At the end of the day, is there a better way to spend your evening in Larnaca than by sipping margaritas beachside while watching the turquoise water wash across the golden sand?
Royal Ris Restaurant – Margarita Bar and Mexican Restaurant
After a long day getting your tan on, step into another famous sunny travel destination as you hop across the globe and visit Mexico (all without leaving Europe) at Royal Ris Restaurant.
The restaurant offers favorites like tacos, burritos, chimichangas, quesadillas, and nachos. If you can't decide, try them all on the Mexican Platter!
The Italian steakhouse Red Pepper Restaurant and the Mediterranean tavern Alonia Taverna Livadia with its delicious meze are two of the other best restaurants in Larnaca.
Royal Ris Restaurant – Margarita Bar and Mexican Restaurant is located at Athenon 26, Larnaca 6023, Cyprus. The restaurant is open seasonally from late spring through mid-fall. You can follow Royal Ris Restaurant on Instagram to keep updated on current offerings. 
Best Places to Stay in Larnaca
Final Thoughts
The island of Cyprus is a jewel in the Mediterranean with gorgeous views, ancient ruins, sandy beaches, and, most importantly to all the foodie visitors out there, plenty of delicious culinary options. We hope you use this Cyprus dining guide as the launchpad for your food-inspired tour of this traveler's paradise. 
Browse and book tours and activities in Cyprus for when you aren't eating!
Cyprus Travel Resources
As you plan your trip to Cyprus, here are some additional resources:
Flight Deals: WayAway
Activities: Viator
Hotels:
Guidebook: Cyprus Travel Guidebook
Culture Guide: Guide to Cyprus Customs & Culture
Cookbooks to recreate Cypriot dishes when you return home:
Need to book a place to stay in Cyprus? Search the map below for available accommodations!
Read More Travel Posts
Save this post to your Cyprus or Europe board on Pinterest to easily refer back to when planning your Cyprus trip!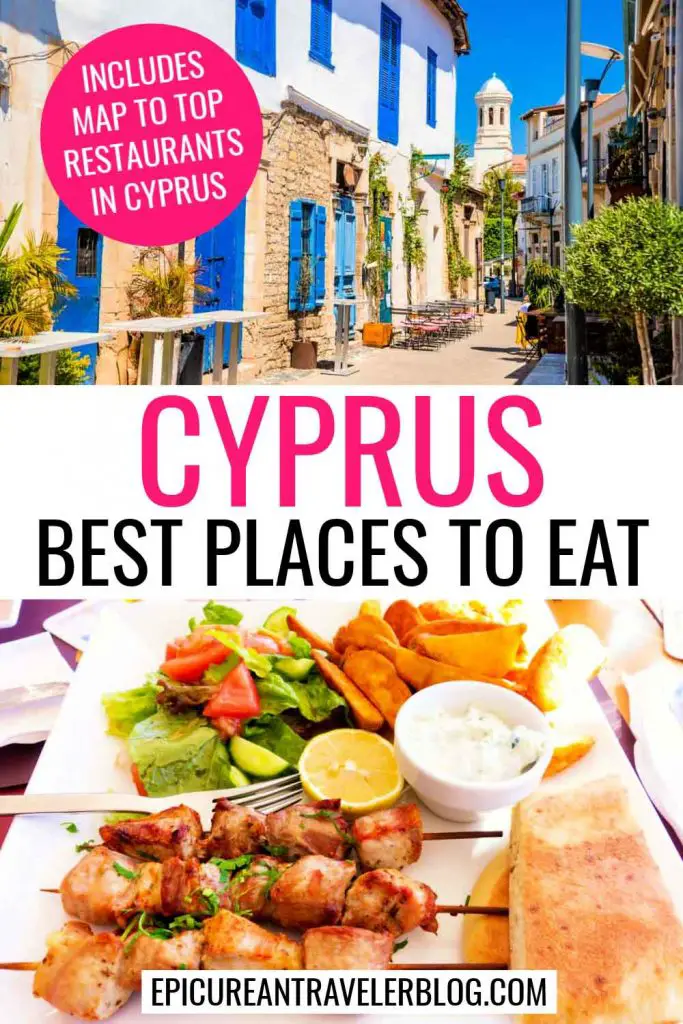 Editor's Note: The Pinterest image features an Adobe Stock photo of Cypriot souvlaki by roskinka79. This article was submitted by a guest author.