Disclosure: This guide to visiting Four Roses Bourbon Distillery in Kentucky contains some affiliate links. When you click on one of these links and make a purchase or book your lodging, I may earn a commission. As always, I only recommend products and services I have or would use myself.
---
It wouldn't be a proper visit to Kentucky without touring a bourbon distillery. And, if you are of legal drinking age, drinking the bourbon is a must, too!
That is why, when I visited Kentucky for the first time, visiting Four Roses Bourbon distillery was on my itinerary. As you read on, you'll see why the Four Roses Distillery tour and guided bourbon tastings (for visitors age 21 and older) are must-have Kentucky Bourbon Trail® experiences.
Where is Four Roses Distillery?
Located on the banks of the Salt River in the Kentucky countryside, Four Roses' Lawrenceburg distillery is about 25 miles from Lexington and less than 60 miles from Louisville.
Whether you are visiting from either of Kentucky's two largest cities, Four Roses Distillery is ideally positioned for bourbon-tasting excursions and day trips.
How do I visit Four Roses Distillery?
You can book a Four Roses tour or bourbon tasting experience ahead of time online to visit on your own.
However, if your group plans to indulge in the bourbon and/or visit multiple distilleries in one day, taking a Kentucky bourbon distillery tour may be best. These guided tours usually include the distillery tour admission costs and private transportation from your hotel. For example, this Bourbon Trail tour from Louisville stops at Four Roses and two other renowned Kentucky bourbon distilleries.
Additionally, the historic Four Roses Bourbon distillery is part of the Kentucky Bourbon Trail ® experience. Therefore, bourbon-sipping visitors will earn a stamp in their Kentucky Bourbon Trail® passport when they visit the Four Roses distillery.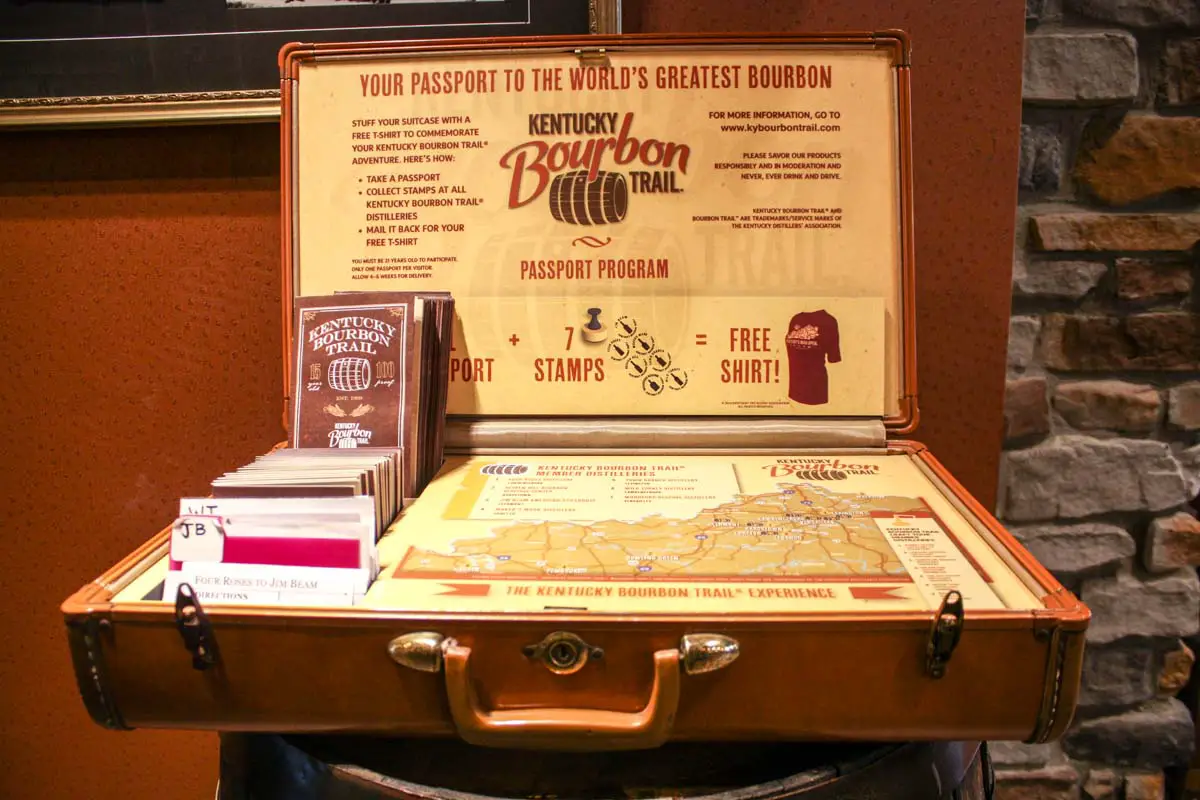 Touring Four Roses Bourbon Distillery
Your tour will begin at the newly expanded Four Roses Visitor Center. Before or after your tour, you can explore exhibits about the brand's history and bourbons, shop for souvenirs, or sip a cocktail at Bar 1888.
When I toured Four Roses Distillery in 2014, the experience began with a video about how Four Roses makes its bourbons. Then it was time to see the distilling process in action!
Back then, the tour's first stop was the historic distillery erected in 1910. I have to admit the Spanish Mission-style architecture was not what I expected to see at a bourbon distillery in the heart of Kentucky, and this unique building is now on the National Register of Historic Places.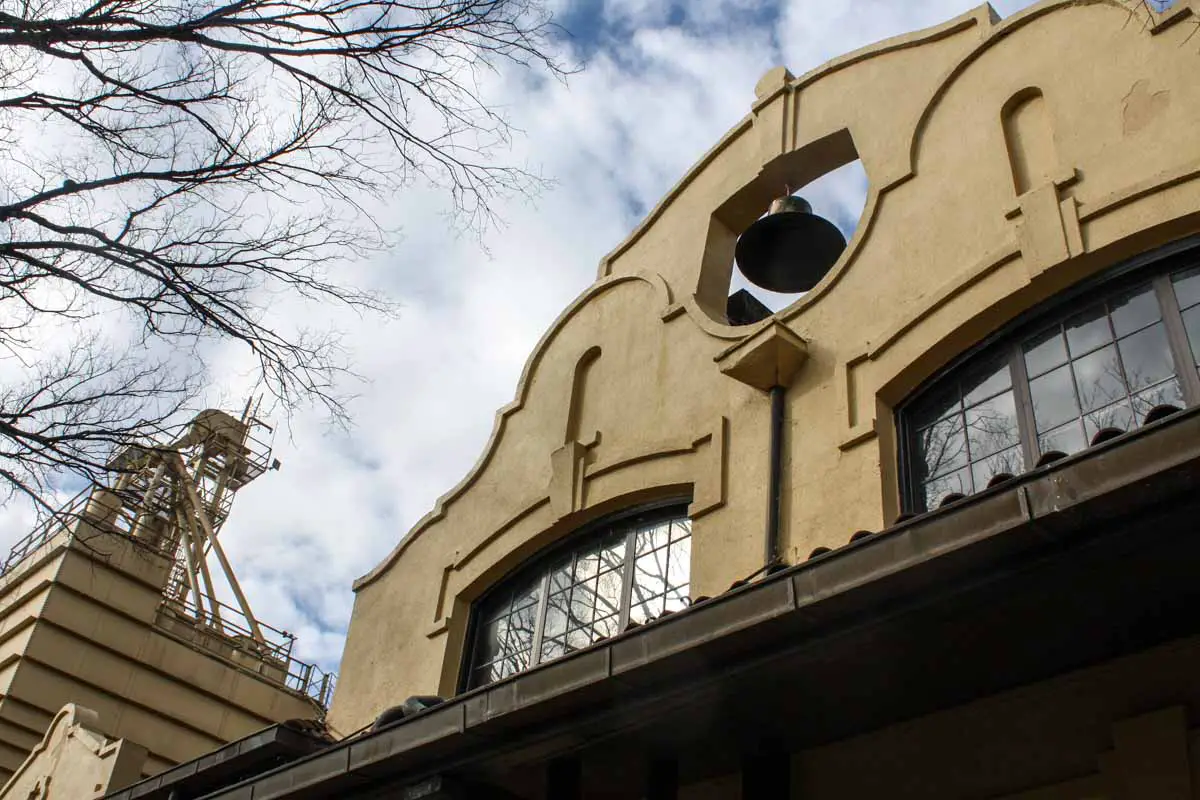 During our tour, I learned about the components used in making bourbon, the distilling process, and the difference between bourbon and whiskey. I even tasted the corn mash. It's not awful to taste, but trying mash once is enough for a lifetime. Personally, I prefer bourbon in its finished form. 😉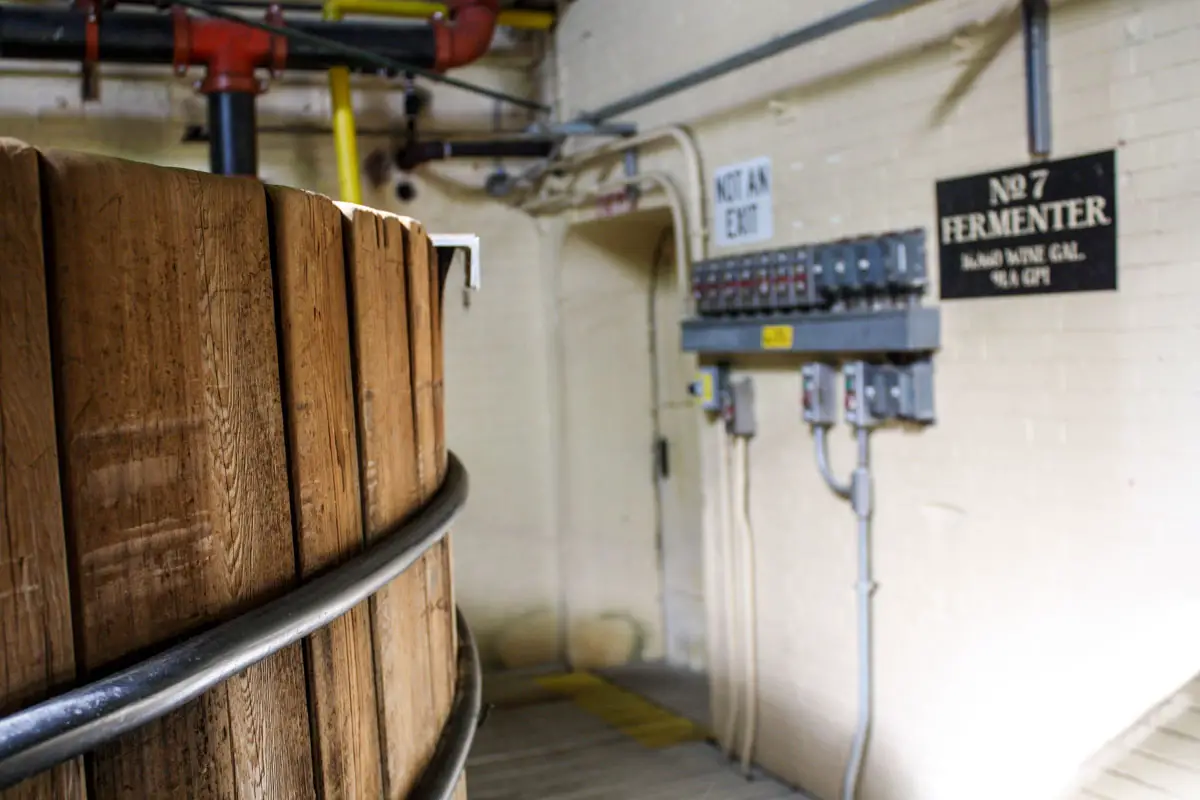 It's important to note that a good portion of the tour is outside, so you'll want to dress accordingly. However, even on chilly days, you'll warm right up inside the distillery — and later by drinking bourbon.
The History of Four Roses
Perhaps more interesting than the bourbon-distilling process was the history of Four Roses. I particularly enjoyed the story of how Four Roses founder Paul Jones, Jr. named his company. I don't want to ruin the surprise should you plan to tour Four Roses someday. Let's just say, Jones's story is a tale of his two loves — bourbon and a Southern belle.
Also interesting was the change of ownership over the years. In 2002, Japanese company Kirin Brewing Company acquired Four Roses. Since then, Kirin Brewing Co. has made Four Roses' Kentucky bourbon popular again in both the European and Japanese markets. It also returned Four Roses to the United States after former-owner Seagram stopped selling the brand in the US decades ago.
Whether you take the Distillery Legacy Tour, do a Taste of History guided tasting, or explore the brand exhibits inside the visitor center, you are sure to learn fun factoids about this legendary Kentucky bourbon!
Tasting Four Roses Bourbon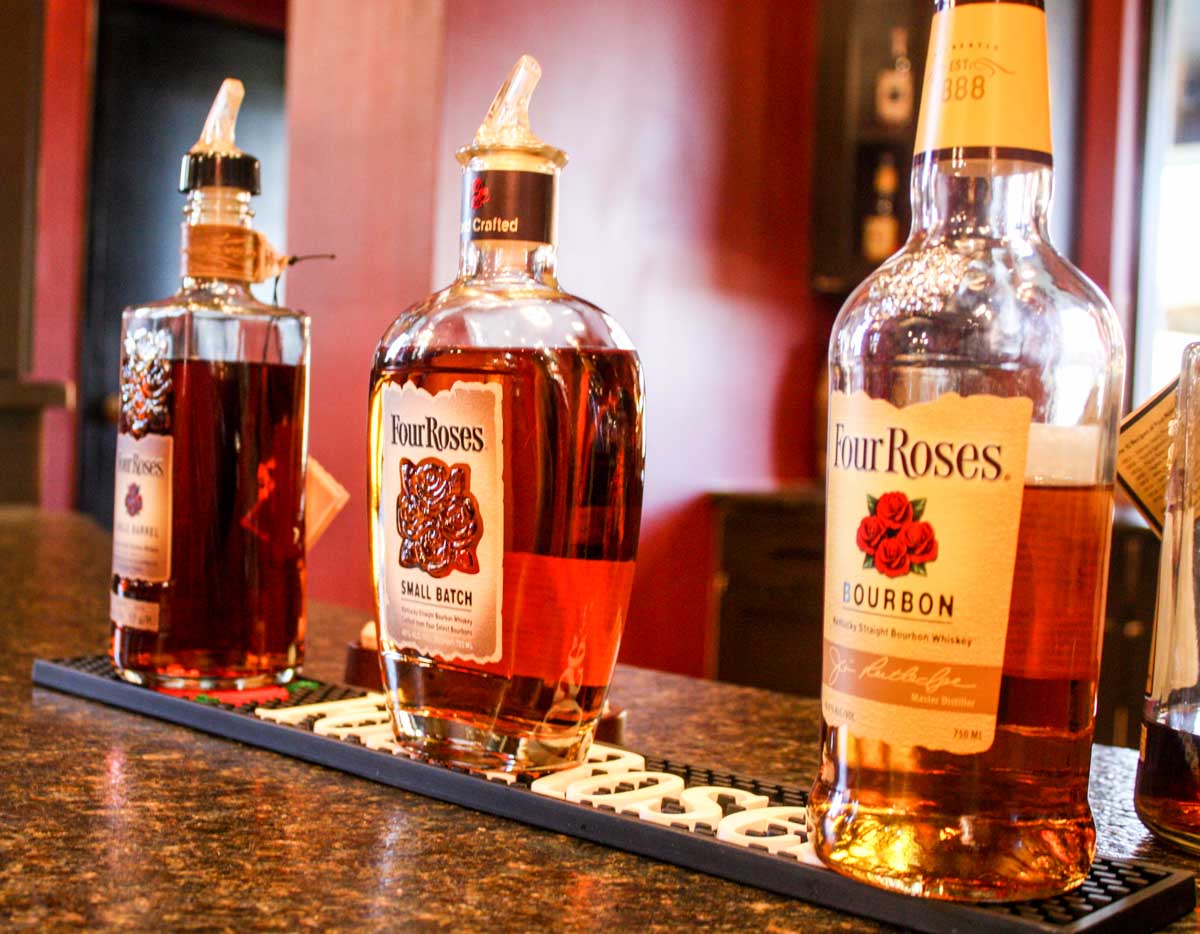 Following the 50-minute distillery tour, we sampled several of the award-winning Four Roses bourbons during a guided tasting. After tasting the Small Batch and Single Barrel bourbons, I noticed my preference for smoother blends that gently warmed my palate.
The bourbons we tasted are meant to be consumed neat, on the rocks, or with a splash of water. However, many folks in Kentucky love their mint juleps, especially during the Kentucky Derby. If you like mint juleps, you'll definitely want to check out the Four Roses gift shop.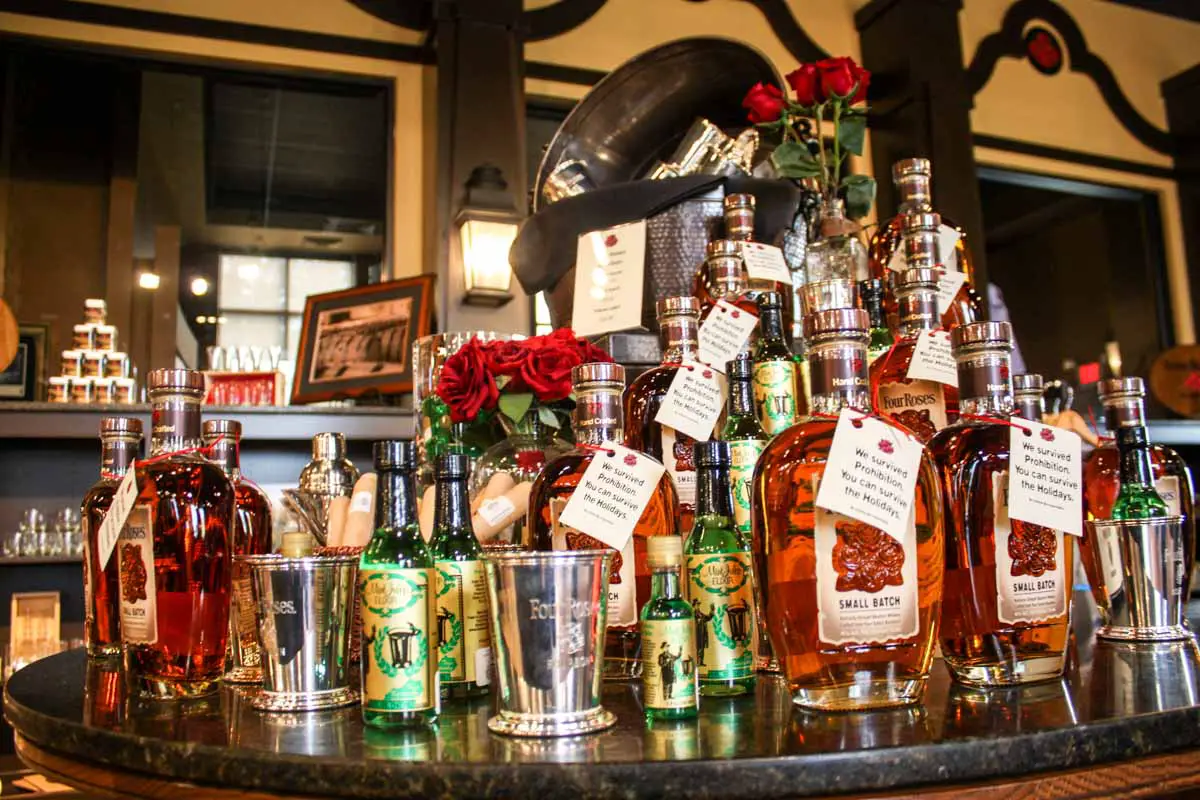 Personally, I still prefer my whiskeys and bourbons in a well-mixed cocktail. Luckily, visitors can now enjoy cocktails and bourbon pours at Bar 1888 inside the Four Roses Visitor Center.
What To Know Before Visiting Four Roses Distillery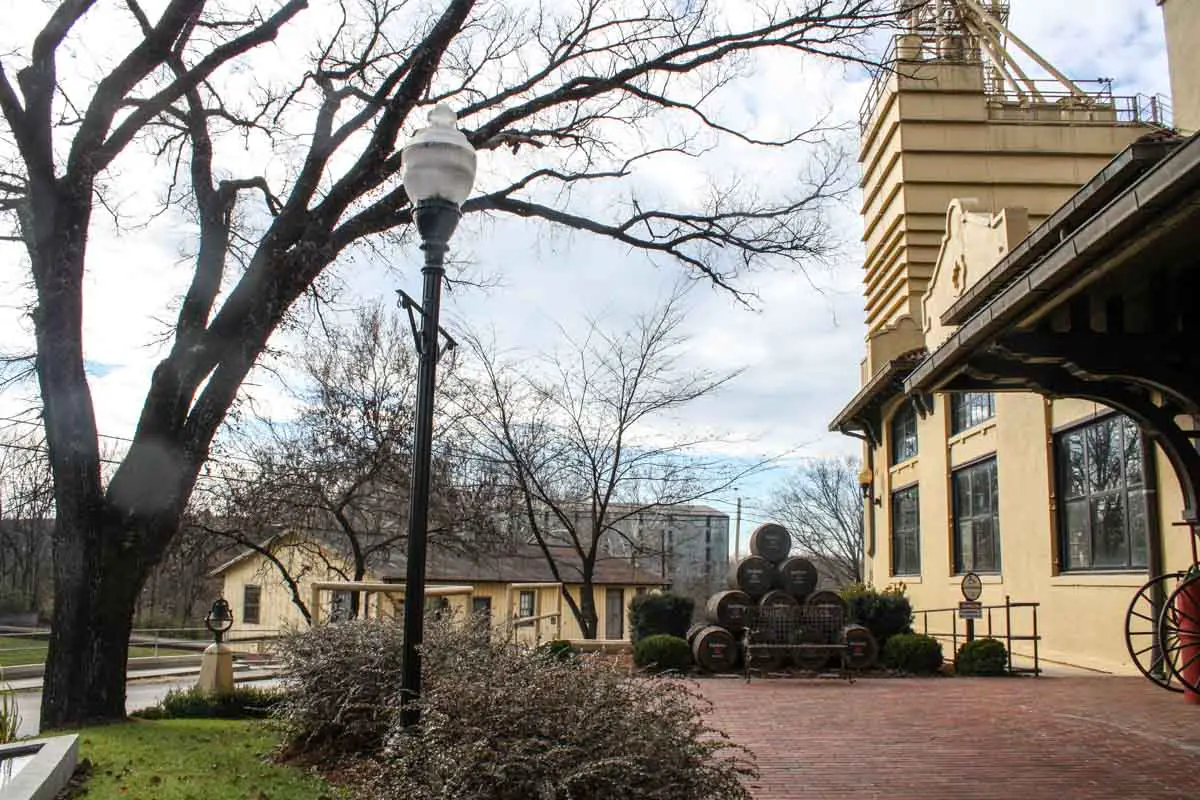 Location: 1224 Bonds Mill Road, Lawrenceburg, KY 40342
Hours: 9 a.m. – 4 p.m. Wednesday – Saturday, Noon – 4 p.m. Sunday with tours on the hour from
Cost: $16+

A Taste of History – Guided Flight Tasting & History Experience: $16
Distillery Legacy Tour: $22
Single Barrel Flight Tasting: $45

Reservations: Recommended |  Book your tour and/or tasting experience
Bring: Valid government-issued ID (passport or U.S. driver's license/state ID), camera, and your Kentucky Bourbon Trail® passport
Recommended Lodging: Charred Oaks Inn
Interested in staying near Four Roses Distillery? Search for lodging below!
Read More Posts Like This
Pin this post to your Kentucky, bourbon, or travel board on Pinterest for planning your future Kentucky bourbon trip!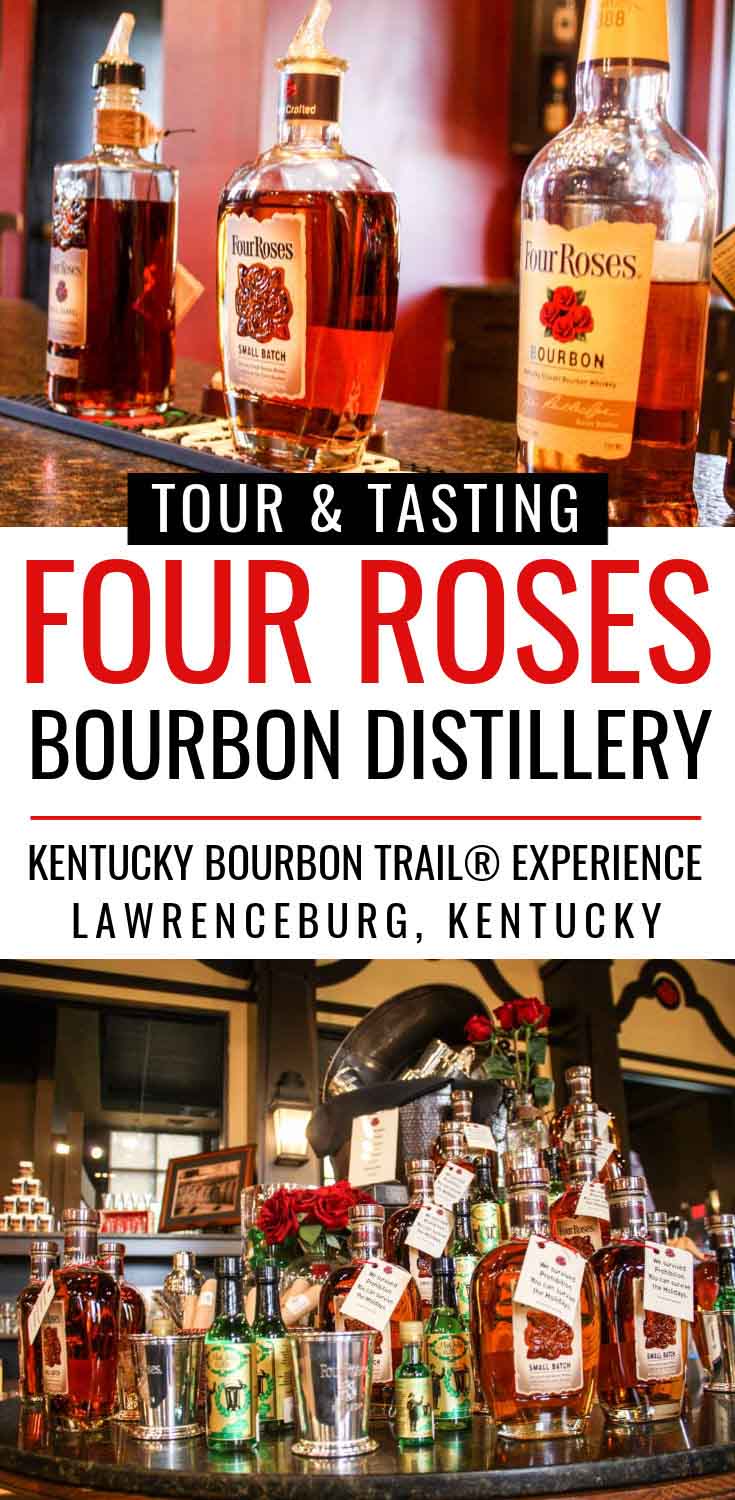 Would you go on a Kentucky bourbon distillery tour?
Save
Save
Save