Wondering what the best things to do in Nantucket are? Whether you are planning a vacation or day trip to this Massachusetts island, this guest post on Nantucket things to do answers that question. Read on to learn which five Nantucket activities we recommend for first-time visitors!
Disclosure: This guide to things to do on Nantucket Island for first-time visitors contains affiliate links. When you click on one of these links and make a purchase, I may earn a small commission. Of course, this is at no extra cost to you.
---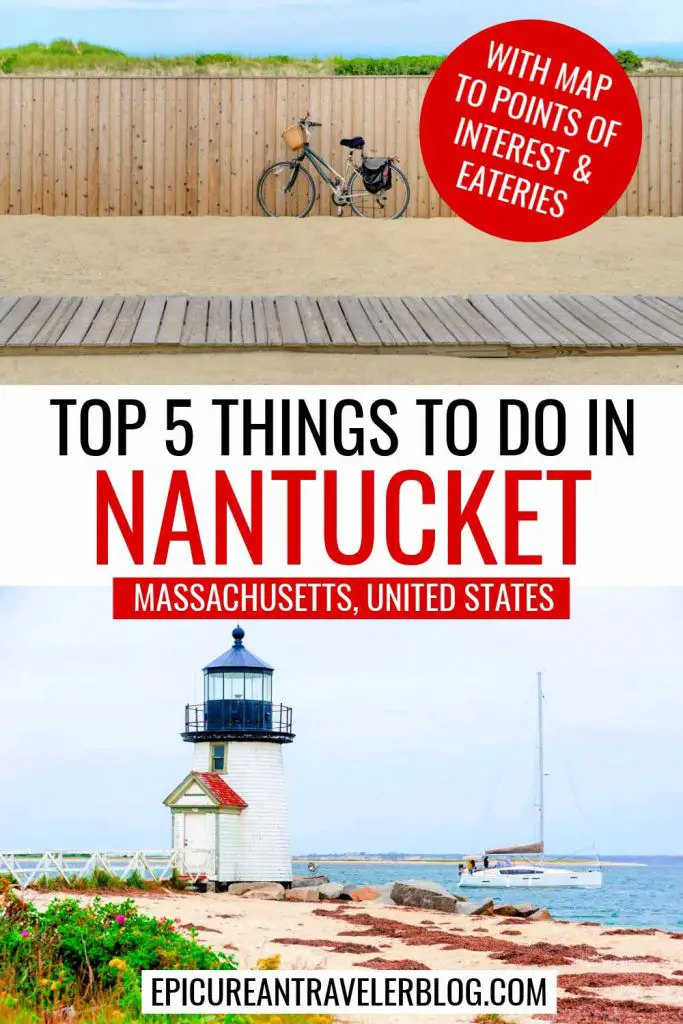 Nantucket is a must-visit destination in New England with plenty of sights and scenes to quench your curiosity. The island, located off Cape Cod in Massachusetts, has recently gained much attention as people realize its hidden niceties.
Preparation is crucial when visiting a new place; the same applies when you tour this amazing island. Part of your preparation is to secure accommodation. Getting a vacation rental in Nantucket is a sound idea due to the value offered; plus the houses are ideal if you are traveling as a family or group.
How to get to Nantucket
Since there isn't a bridge connecting Nantucket Island to Cape Cod, you can't drive there. Rather than by car, you'll have to travel to Nantucket by air or sea.
You should travel by air transport if you want to travel fast, but it can be costly. However, you can use WayAway to find the best prices on flights to Nantucket Memorial Airport (ACK).
Otherwise, taking a ferry is a popular choice. You can travel by passenger ferry to Nantucket from New York City; Highlands, New Jersey; and Martha's Vineyard, New Bedford, and Hyannis in Massachusetts.
There also is a car-and-passenger ferry to Nantucket from Hyannis. It's operated by Steamship Authority, and you'll need to make advance reservations to bring your vehicle on board.
However, a faster option is to travel by sea aboard a high-speed ferry, which gets you from Hyannis to Nantucket in an hour. Unfortunately, you won't be able to bring a vehicle. Don't worry though — there are plenty of things to do in Nantucket without a car!
Now, let's look at the five best things to do in Nantucket!
Explore Nantucket Island by Bike
You can use various means of transportation to get around Nantucket, and traveling by car or vehicle will quickly get you to attractions on the island. For getting around Nantucket without a car, cycling is an excellent option to see more of the island.
Riding a bike helps you keep fit as you check out Nantucket's sights, too. It is also a great bonding activity to have with friends or family.
You can bring a bike from home when going to Nantucket or, better still, rent one from the many bike-rental spots in the town center.
Start cycling in the morning to take advantage of the cool oceanic breeze and calm atmosphere. Then explore hiking trails, such as the Sconset Bluff Walk and Masquetuck Reservation.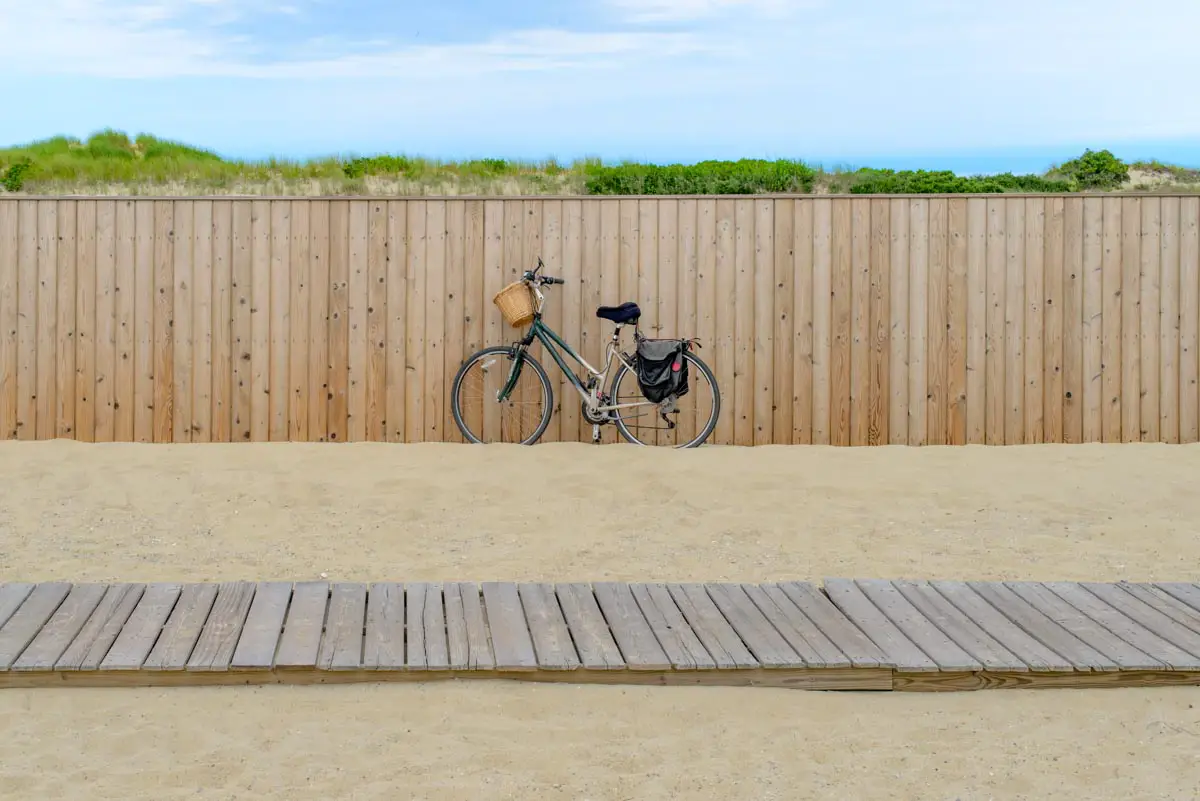 Enjoy Nantucket's Best Beaches
Nantucket is synonymous with its many beaches. Therefore, having a beach day is one of the top things to do in Nantucket. The beaches are great spots to chill with a scenic view of the sea. Nantucket beaches are ideal places to spend your afternoons doing one of the following activities.
Sunbathing in Nantucket
Madaket Beach is one of the most popular sunbathing spots, located in the far west of Nantucket Island. It is also the place to be to watch the beautiful sunset. The sand is soft, and you can walk barefoot as you feel its soothing touch on your soles.
The best way to access Madaket Beach is by bike, where you can peddle a roughly 6-mile bike path.
The beach has a few lifeguards, but you must ensure your own safety. Be extra keen if you have kids. Also, it lacks restrooms or food service. Packing a picnic is an excellent idea if you want the best experience on the beach. 
If you are visiting Nantucket with kids, there are child-friendly beaches. The kid-friendly beaches in Nantucket include Surfside Beach, Children's Beach, Jetties Beach, and Siasconset Beach. These beaches have active lifeguard services and safe playgrounds for children to play. Moreover, they are pet-friendly, but you should always have pets on a leash.
Wondering what to pack for a beach day in Nantucket? Check out our beach packing list!
Surfing in Nantucket
The beaches are not only for sunbathing and resting, activities which can get monotonous with time. You can hike your adrenaline levels by surfing! Cisco Beach is Nantucket's surfing hub, where you will meet surfers on the beachside eagerly waiting for the next big wave. 
Don't worry if you are a novice surfer! One of the surfers may be willing to teach you how to ride a wave. You can also take a surfing lesson from one of the surfing schools on the island. 
You'll also find surfing supplies, including surfboards and other gear, from several Nantucket stores. Alternatively, you can bring your own surfboard and gear from home.
Fishing
Fishing is another excellent pastime activity in Nantucket. Take your fishing gear to Eel Point Beach, Cisco, Coatue, and Hoiks Hollow. Depending on the season, you can catch mahi-mahi, bluefin tuna, and bluefish at these Nantucket beaches.
Hiring a fishing charter or guide is advisable to know about the permits involved and the best places to fish in Nantucket. A private beach fishing activity guided by Steve Tuna is among the top fishing adventures in Nantucket.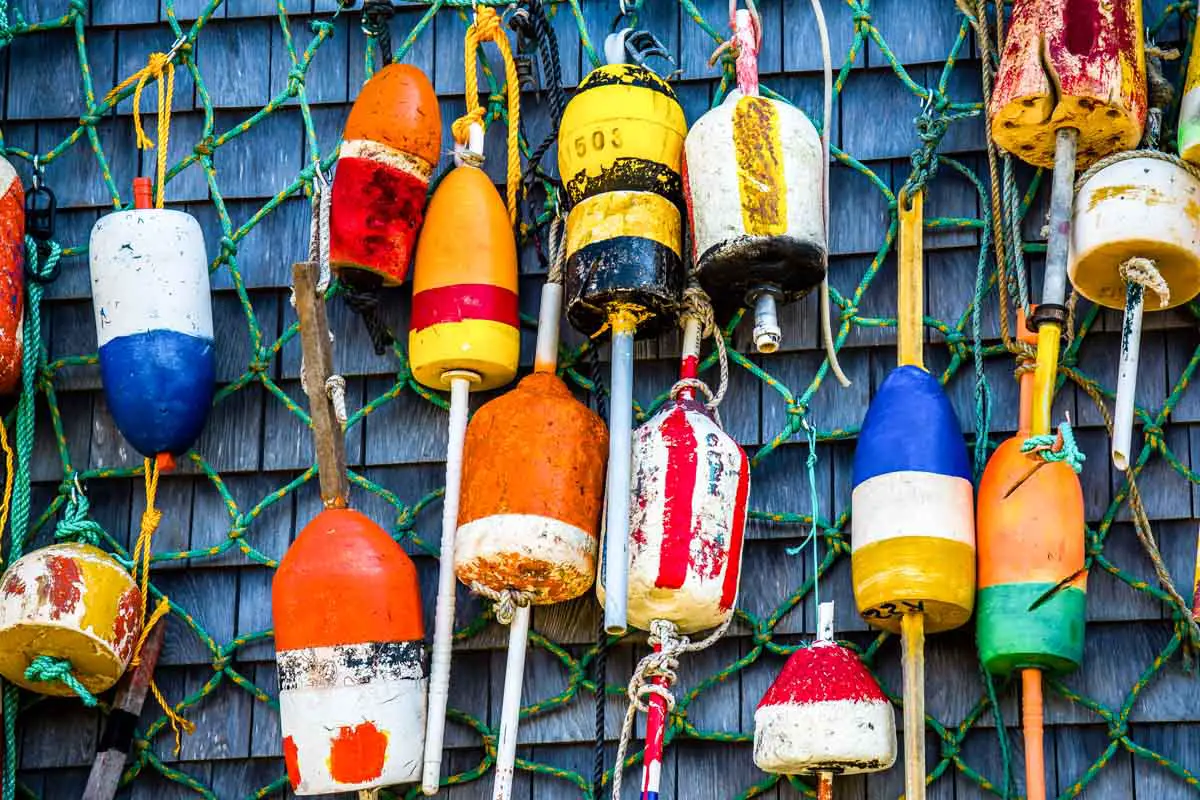 Visit a Museum
Nantucket is home to several museums that will give you an idea of its colorful timeline. Among these must-visit Nantucket attractions are:
Nantucket Whaling Museum
Established in 1930, the Whaling Museum is easily the most famous on the island. As its name hints, its main exhibitions focus on Nantucket's once-thriving whaling industry.
Visiting this museum gives you a glance at what Nantucket was like during its early days. One of the main attractions is the 46-foot-long sperm whale skeleton suspended from the ceiling. The museum's nine galleries also contain more than a thousand artifacts and artworks dating back to the whaling era.
Inside the museum, you can also tour a resorted 1847 candle factory and climb the circular staircase to Tucker's Rooftop for a panoramic view of Nantucket's harbor.
The Whaling Museum is located at 13 Broad Street. It is open from 10 a.m. to 4 p.m. Monday – Saturday in the non-peak season and from 10 a.m. to 5 p.m. daily from May 27 through Sept. 26. However, the museum is closed from Jan. 1 through Feb. 14.
Admission costs $25 for adults, $20 for seniors and college students, $5 for youth (ages 6-17), and free to children younger than 6. Admission is always free to Nantucket Island residents and active-duty US military members. The museum may offer free admission to US military veterans on Veteran's Day.
Accessibility: The Whaling Museum is wheelchair accessible. Additionally, non-motorized wheelchairs are available for free on a first-come, first-served basis, and you can request a wheelchair at the ticketing desk in the main lobby. Service animals are also welcome. Throughout the museum, elevators have Braille signage and auditory signals, and assistive listening devices are available for some films and presentations.
The Nantucket Shipwreck and Lifesaving Museum
Treacherous conditions off the coast of Nantucket Island caused 750 shipwrecks, earning Nantucket's waters the grim nickname "a graveyard of the Atlantic." The Nantucket Shipwreck and Lifesaving Museum, affiliated with the Egan Maritime Institute, shows the history of those devastating shipwrecks and the heroic lifesaving rescues. 
Admission to the museum includes a guided tour of the exhibitions. On weekdays during the summer, the museum offers kid-friendly activities. Designed for ages 6 to 12, kids may learn Morse code, how to tie knots, or how to use signal flags. Also, you won't want to miss live demonstrations of a shore-to-ship rescue at 11 a.m. and 2 p.m. each day.
Situated near Folger's Marsh, the museum also welcomes its visitors to take in the view during a picnic lunch on its grounds or to watch the birds in the surrounding marsh.
The Nantucket Shipwreck and Lifesaving Museum is located at 158 Polpis Road. It is open from 10 a.m. to 5 p.m. Monday – Saturday from late May through early October. Admission is free for members, $10 for adults (18+), and $7 for children, college students, and seniors. 
Hawden House
The Hawden House is an 1846 mansion in Greek revival architecture with a beautiful Victorian garden. It has operated as a public museum since 1964 and houses historic maps of Nantucket and Nantucket lightship baskets among other artifacts.
Nantucket lightship baskets are significant artifacts of the island, and they were common in lightships during the 19th century. Previously, this collection was on display at the Nantucket Lightship Basket Museum, which was established in 1997 to preserve this island artifact, but it merged with the Nantucket Historical Association in 2022. Visitors can now see a collection of more than 100 authentic Nantucket lightship baskets at the Hawden House.
Hawden House is located at 96 Main Street. The Hawden House is closed for the winter, but it will be open again in the summer season.
Accessibility: Due to the limitations of its 19th-century architecture, Hawden House is only wheelchair-accessible on the first floor. The front entrance has a path and porch with steps, but there is an elevator lift through the garden entrance from Pleasant Street. Service animals are welcome.
More Museums and Historic Sites on Nantucket Island
Other museums, historic sites, and art galleries to check out while in Nantucket include the Museum of African American History, the Quaker Meeting House, and Quidley and Company Fine Art.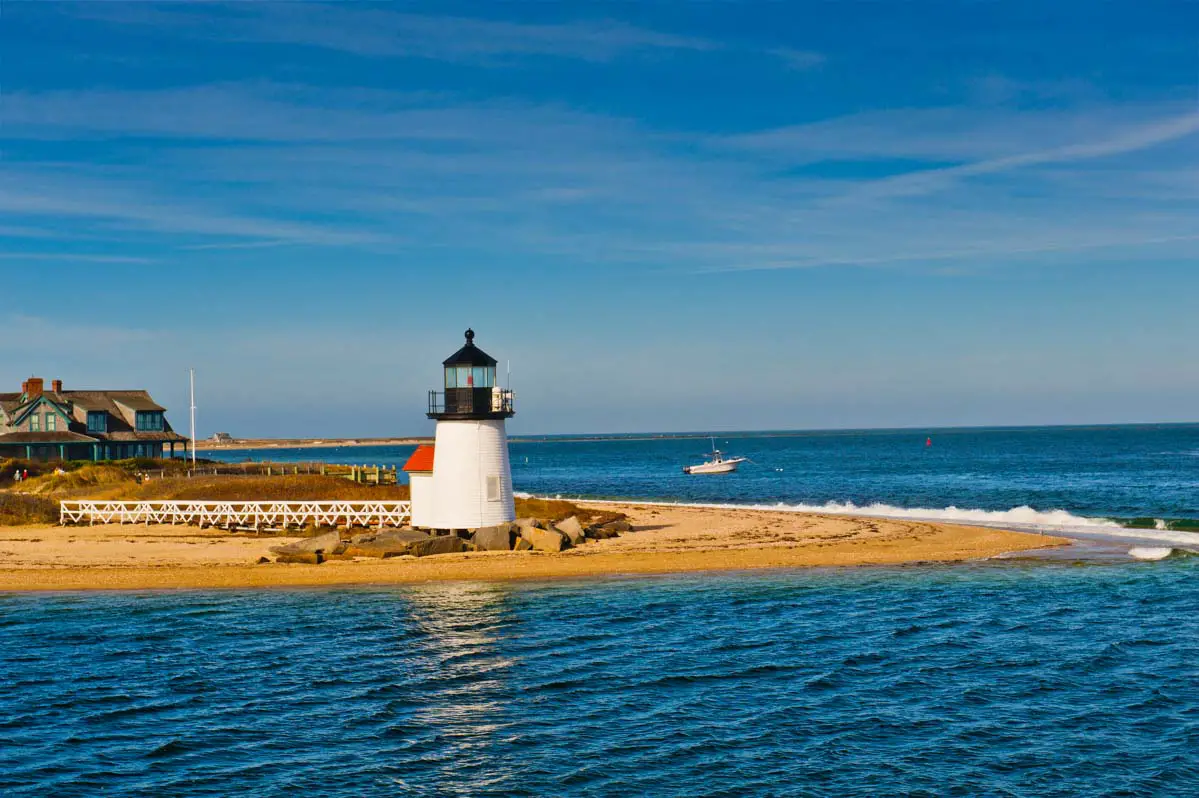 See the Nantucket Lighthouses
Nantucket's three lighthouses are the top things to see in Nantucket and significant attractions you should visit when touring the island. Not only are Nantucket's scenic lighthouses picture-worthy for photography, drawings, or paintings, but the calm surrounding areas have benches where you can spend a lazy afternoon gazing into the vast ocean. 
Brant Point Lighthouse
Brant Point Lighthouse is a picturesque wooden tower constructed in 1901 that still operates today. The current lighthouse is the tenth light on Brant Point, which has been the location of a lighthouse station since 1746. It has been part of the National Registry of Historic Places since late 1987.
You can visit the structure any time, but you can't get inside, as it is still in operation. Since Brant Point Lighthouse is located near the harbor where ferries arrive, this would be the easiest lighthouse to see on a day trip to Nantucket.
Also, Brant Point Lighthouse has a fishing spot. 
Brant Point Lighthouse is located in the Nantucket Downtown Historic District and can be reached via Easton Street.
Sankaty Head Lighthouse
Sankaty Head Light is a red-striped lighthouse situated in the easternmost part of the island. Established in 1850, Sankaty Head has been a crucial part of the shipping industry and was among the first lighthouses in the country to get a Fresnel lens. 
Sankaty Head Lighthouse is located on a bluff near Baxter Road.
Great Point Lighthouse
Great Point Lighthouse, also known as Nantucket Light, is located on the dunes of the Coskata-Coatue Wildlife Refuge on the northern tip of the island. It was first built as a wooden tower in 1784, but it was destroyed by a fire in 1816. The lighthouse was then rebuilt as a stone tower the next year, and it stood until a storm destroyed it in 1984, leading to its removal from the National Register of Historic Places. The current lighthouse is a 60-foot replica built in 1986.
Great Point Lighthouse can be accessed by a 7-mile walk through the sand or by a four-wheel-drive vehicle with a beach permit sticker.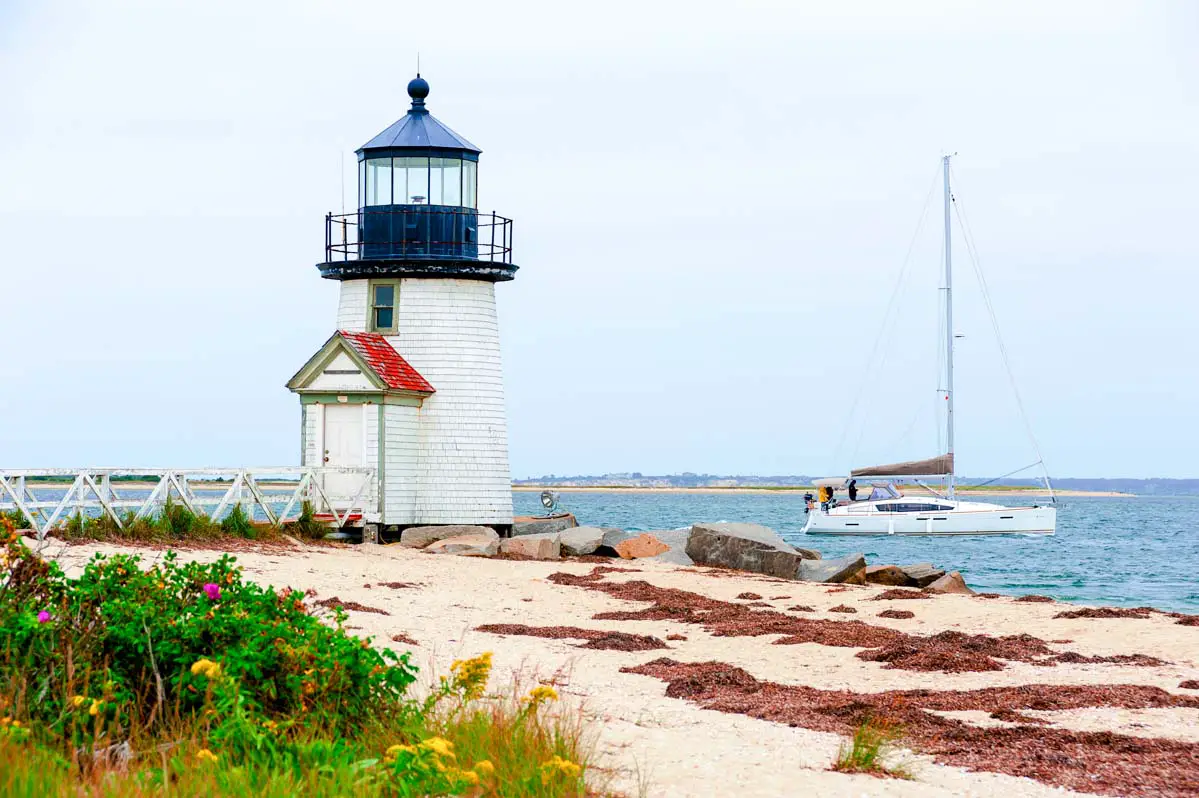 Get a Taste of Nantucket
Another interesting part of Nantucket is its food. The island's cuisine is diverse, and there is an abundance of fresh seafood.
If you are visiting for a romantic getaway, dining at one of the seafood restaurants is one of the most romantic things to do in Nantucket.
There are several fantastic local places to eat in Nantucket from breakfast through dinner. So, let us guide you on the ultimate Nantucket food tour!
Savor Doughnuts at the Downyflake
For breakfast, you can't pass by the Downyflake and pass up its popular doughnuts and muffins! The family-owned diner has been a Nantucket institution since the 1930s.
Breakfast options from the griddle include a tall stack of the Downyflake's "famous" blueberry pancakes and Portuguese bread French toast. Sweet-tooth breakfast eaters will also love the restaurant's homemade doughnuts, muffins, and pastries. Gluten-free pancakes and muffins are also available.
On the savory side, you'll find omelets, breakfast sandwiches, and a variety of egg dishes. Light options include oatmeal, a yogurt parfait, and house-made granola. 
The Downyflake is located at 18 Sparks Avenue. Though the restaurant is temporarily closed, it will reopen in April. Operating hours will be 7 a.m. to 2 p.m. on weekdays and Saturdays, 7 a.m. to 1 p.m. Sundays, and closed on Wednesdays.
Share Small Plates at The Nautilus
The Nautilus is the place to be for lunch or dinner if you are into tapas-style dining. With a menu heavy on small plates, you'll find shareable dishes such as seared Nantucket Bay oysters, crispy monkfish bites in a Vietnamese fish sauce, and scallion pancakes with a soy-ginger dipping sauce. The impressive décor has a touch of class, making it perfect for a night out with your date. 
The Nautilus is located at 12 Cambridge Street. Reservations are recommended, and you can book your table through Resy via the restaurant's website. Hours are subject to change and are best confirmed on the restaurant's website.
Eat Seafood at The SeaGrille
One of the finest places to have dinner in Nantucket, especially if you are into seafood, is The SeaGrille. Noteworthy dishes include the grilled Wester Ross salmon, sword frites, fresh cavatelli pasta, and house-made lobster tortellini. Like the Nautilus, the SeaGrille's ambiance is also ideal for a date night.
The SeaGrille is located at 45 Sparks Avenue and open for dinner at 5 p.m. daily. Reservations are recommended and can be made by calling 508-325-5700.
Dine with a Waterfront View at Straight Wharf Restaurant
Another upscale restaurant in Nantucket is the Straight Wharf Restaurant. With an incredible view from its waterfront porch and rustic, seaside decór, the romantic ambiance sets the mood.
The Straight Wharf Restaurant's daily menu reflects seasonal flavors and fresh, local ingredients. Though it changes daily, the menu may include favorites such as Nantucket oysters, a clam bake, or wood-grilled swordfish. In addition to the elegant seafood entreés, main dishes will likely include land-based proteins, such as a wood-grilled aged prime ribeye, and a vegetarian option.
Straight Wharf Restaurant is located at 6 Harbor Square. The restaurant is open seasonally, typically from May through October, for dinner from 5:30 to 10 o'clock nightly. Reservations can only be made within two weeks ahead of dining, and you can reserve your table on Resy via the restaurant's website. Please note, dining on the harbor-side deck is only available by request.
Sip Local Craft Beverages at Cisco Brewers
Cisco Brewers is a fun, casual hangout spot for refreshing craft beverages, food trucks, and live music. That is why visiting the brewpub is one of the best things to do in Nantucket at night.
Both beer and conversation flow at Cisco Brewers, where "good vibes are always in season." Events — such as comedy nights, music performances, trivia nights, and brewery tours — add to the fun. So, check the brewery's website for updated events before your visit, and then stop by to sip a juicy, hazy New England style IPA!
Cisco Brewers is located at 5 Bartlett Farm Road. During the tourism season, Cisco Brewers also offers a complimentary shuttle between the brewery and a pick-up spot at 18b Federal Street in town. 
Final Thoughts on Things to Do on Nantucket Island
Nantucket Island is a charming destination off the coast of Massachusett's Cape Cod worth visiting at least once in your lifetime. Arrive by plane or ferry to explore picturesque lighthouses, dive into local history, see beautiful sunsets from sandy beaches, and eat fantastic seafood as you unwind in this slow-paced island locale. 
Explore the map below to pinpoint attractions and restaurants featured in this Nantucket guide!
Read More Travel Posts
Save this guide to fun things to do in Nantucket to your Massachusetts travel or New England travel board on Pinterest!