This guide to the top 10 things to do in Toronto is based on my research and experience traveling in Toronto over my lifetime. In full disclosure, my most recent trip to Toronto in May 2017 was hosted by Tourism Ontario. I thank Tourism Ontario for their hospitality and bringing me back to Toronto. This post also contains some affiliate links. As always, all opinions shared in this post are my own.
Over the past three decades, I've traveled to Canada's largest city four times. From my first visit as a 10-year-old on a family vacation to my most recent as professional travel and food writer, I've experienced a wide range of Toronto's diverse attractions and activities. With a variety of museums, unique neighborhoods, and a diverse dining scene, Toronto offers plenty to explore for a weekend getaway.
If you are visiting Toronto for the first time, I hope you'll find my list of top 10 things to do in Toronto a helpful starting point for planning your trip. I've also included some bonus ideas if you have extra time, are a return visitor seeking an activity off the beaten path, or are road tripping and could add a destination near Toronto as a day trip.
As you read this post, one thing to note is all prices are listed in Canadian dollars. At the moment, the Canadian loonie is worth 82 cents in U.S. currency. For my fellow American travelers, right now is a financially beneficial time to visit our northern neighbors. 😉
Without further ado, I give you …
10 Best Things To Do In Toronto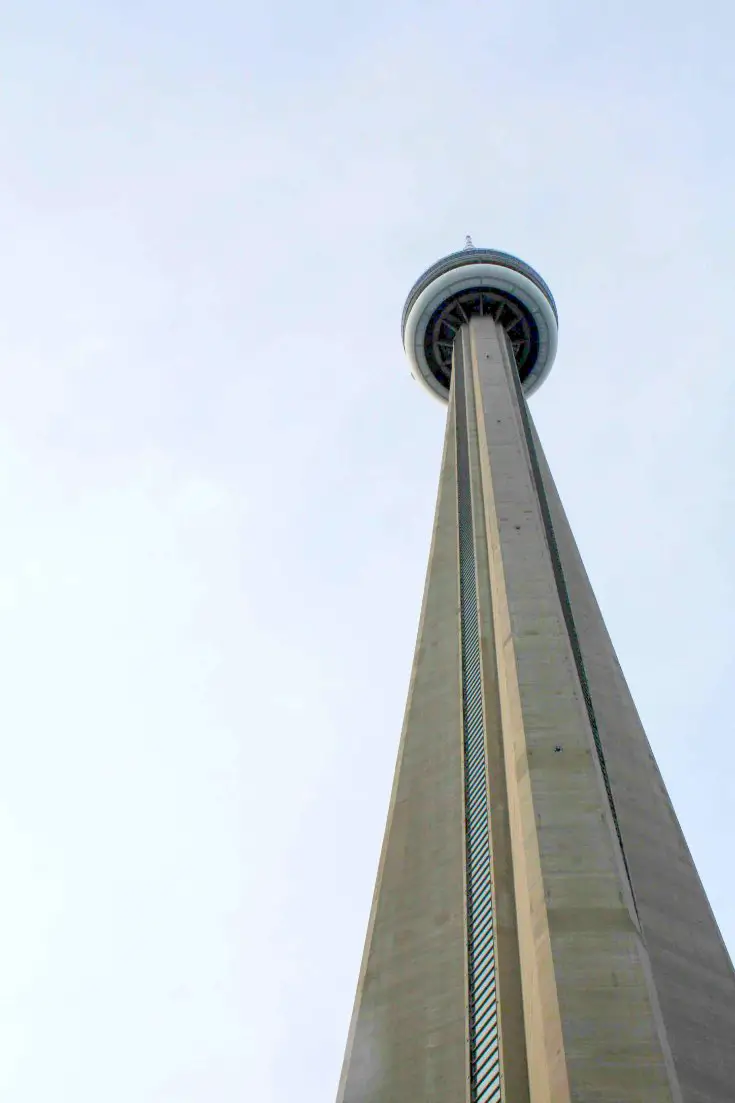 1. See The View From The CN Tower
Iconic to the skyline and offering 360° bird's-eye views of Toronto, Canada's National Tower is visited by 1.5 million tourists each year. If, like me, you have already visited the CN Tower (and plenty of other observation decks during your travels), consider seeing the view with an experience — dining or adventure. For adventurous souls, scale the outside with EdgeWalk — the highest hands-free external walk around a building in the world. Don't worry — you'll be harnessed! During my last visit, I dined at 360 Restaurant, where I enjoyed a view of Toronto's skyline as we made a full rotation during my meal of Canadian wine, fresh heirloom tomatoes, and Fogo Island seafood.
Plan Your Visit To The CN Tower
Location: 301 Front Street West
Hours: Open every day except Christmas from 8:30 a.m. to 10:30 p.m.
Cost: General admission tickets start at $26
Bring: Camera/videocamera, ticket (if you pre-purchased and printed at home), money for food and souvenirs in the gift shop. Note: Bags are OK as long as they are smaller than 25″ long x 15″ wide x 20″ high and will be searched at security.
360 Restaurant Reservations: You can make your 360 Restaurant reservation via OpenTable.
Pro Tip: Whether you plan to dine at 360 Restaurant or visit the observation decks, schedule your CN Tower visit for sunset. Make sure to give yourself plenty of time to get through security, wait in line, and up the elevator to see the city in sunlight. Then stay to see the city lights at night.
Disclosure: My visit to the CN Tower and dinner at 360 Restaurant was comped by Tourism Toronto.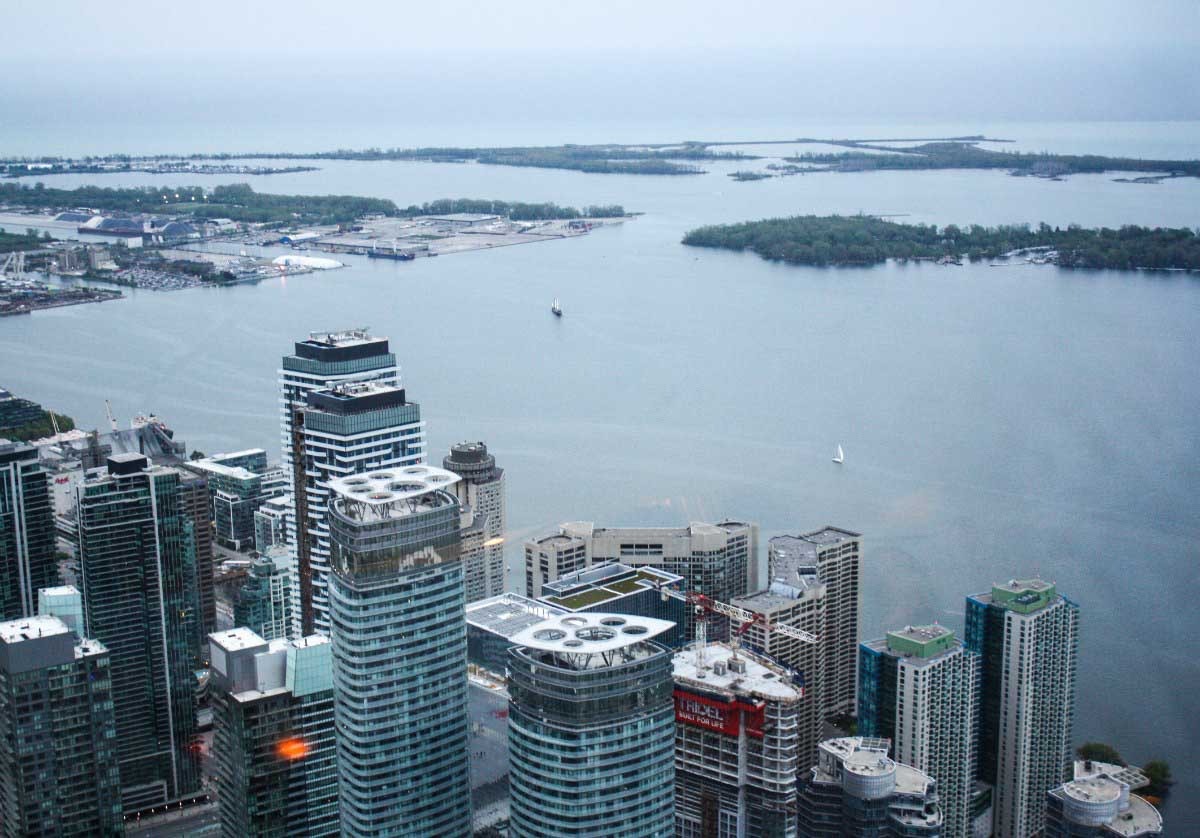 2. Eat Your Way Around St. Lawrence Market
A Toronto culinary destination since 1803, this historic marketplace has 120 vendors including farmers, bakers, butchers, and artisans. Graze from stall to stall, or shop for groceries to make your own dinner back at your Airbnb rental. Try a real Toronto classic — a peameal bacon sandwich — at Carousel Bakery!
Plan Your Visit To St. Lawrence Market
Location: 93 Front Street East
Hours: Open from Tuesday through Saturday. Hours vary by day, so you'll want to check Google before you go.
Cost: Free admission, but how much you spend depends on what you purchase 😉
Bring: Spending money and your appetite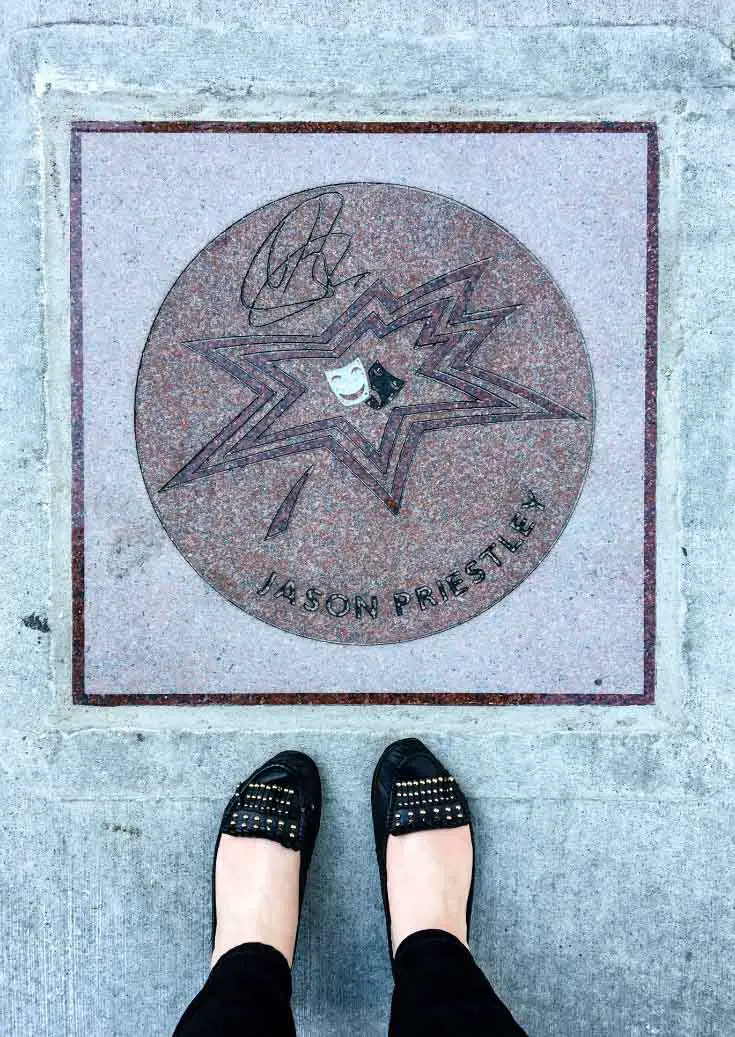 3. Stroll Along Canada's Walk Of Fame
Anyone else have a crush on Brandon Walsh of Beverly Hills, 90210? Just me? I was a little geeked to find my childhood celebrity crush's name and autograph inscribed along King Street West. Similar to the Hollywood Walk of Fame, Canada's Walk of Fame inducts actors, directors, producers, and musicians. However, Canada's Walk of Fame also inducts a wider range of occupations including writers, cartoonists, models, playwrights, athletes, and coaches.
Plan Your Visit To Canada's Walk of Fame
Location: You'll find Canada's Walk of Fame stars downtown along King Street West between John and Simcoe streets and along Simcoe Street between King Street West and Wellington Street.
Hours: Whenever you want!
Cost: Free
Bring: Walking shoes and your camera
Pro Tip: Have a particular Canadian celebrity whose star you'd like to find? Michael Bublé? Céline Dion? Ryan Reynolds? Check out this Inductee Star Map beforehand to locate their star, and you'll save time searching for your photo op.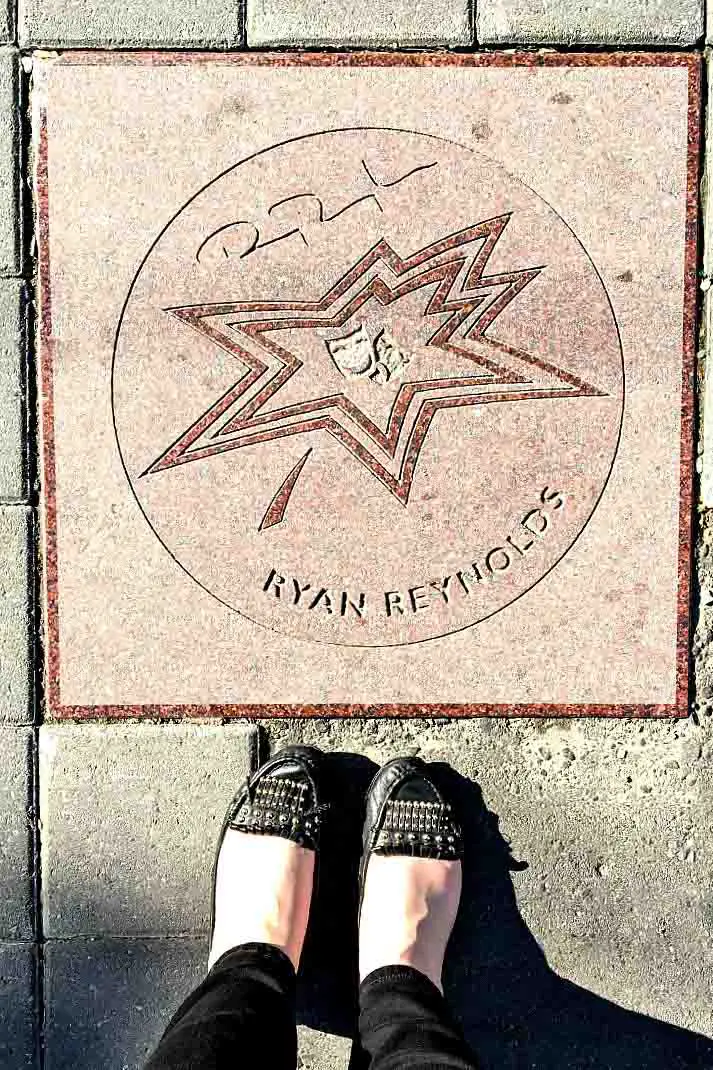 4. Indulge In The Arts
Interested in ceramics, fashion, paintings, or sculpture? Love to see Broadway musicals? If you enjoy experiencing the arts when you travel, Toronto has plenty for you to see. During my first two visits, I saw The Phantom of the Opera at the Pantages Theatre. Now called Ed Mirvish Theatre, it remains one of several regal theaters to see a show in Toronto.
Explore The Arts At These Toronto Museums, Galleries, and Theatres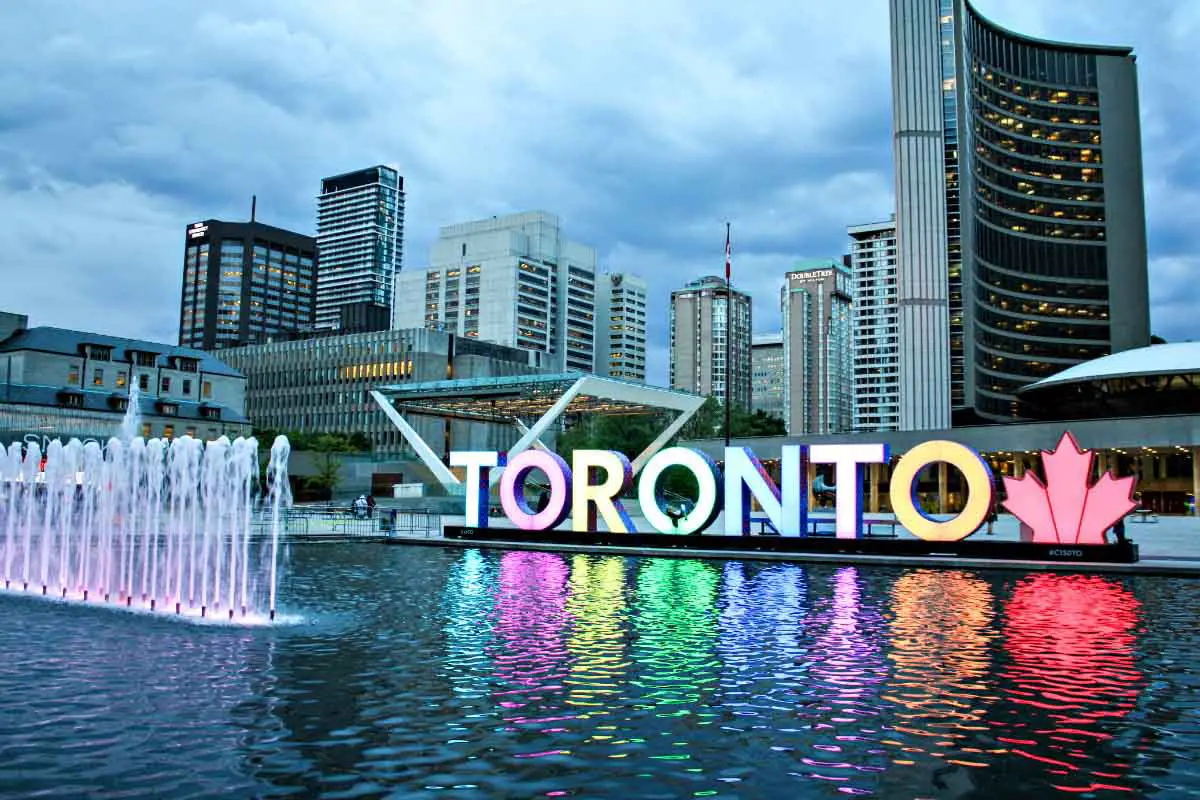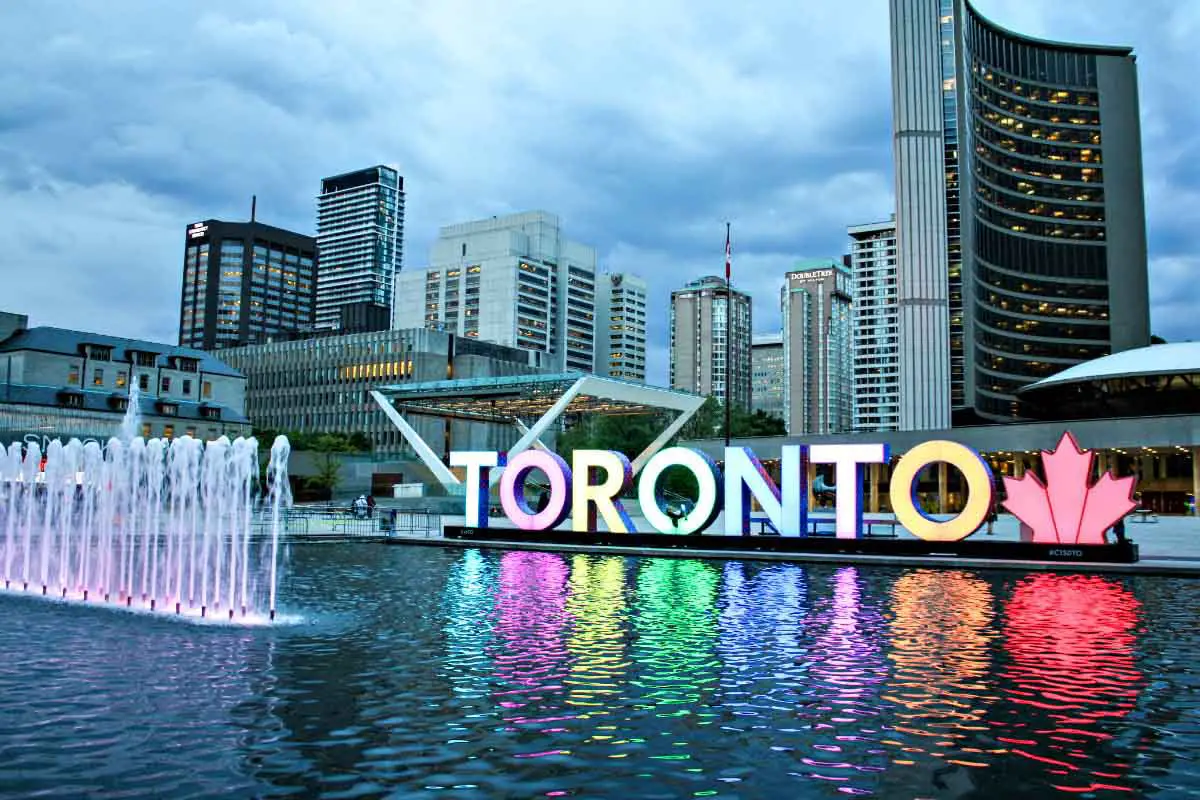 5. Take A Touristy Photo
If you didn't snap, Instagram, or Facebook your trip, did it really happen? Of course, it did. But, isn't it so much more fun to share your trip with friends and family back home? Those of us who aren't ashamed of a touristy photo op have several noteworthy settings for those perfectly Instagram-worthy shots. Get your smartphones and cameras ready!
My Picks For The Best Instagram Pics in Toronto:
CN Tower — Not only will you be able to photograph the exterior of the tower, but you'll find 3-D Canada 150 and CN Tower signs. Both signs are lit up at night, too.
Nathan Phillips Square — At this plaza near Toronto City Hall, you'll find the colorful Toronto sign. Installed for the 2015 PanAm Games, it has become an iconic photo op for visitors. Be sure to stay a few minutes to watch it change colors. I recommend timing your visit for dusk when you'll see the lights' reflection on the water.
Graffiti Alley — I'll delve into this more later, but you'll find vibrantly colored murals and graffiti for a hipster-chic background.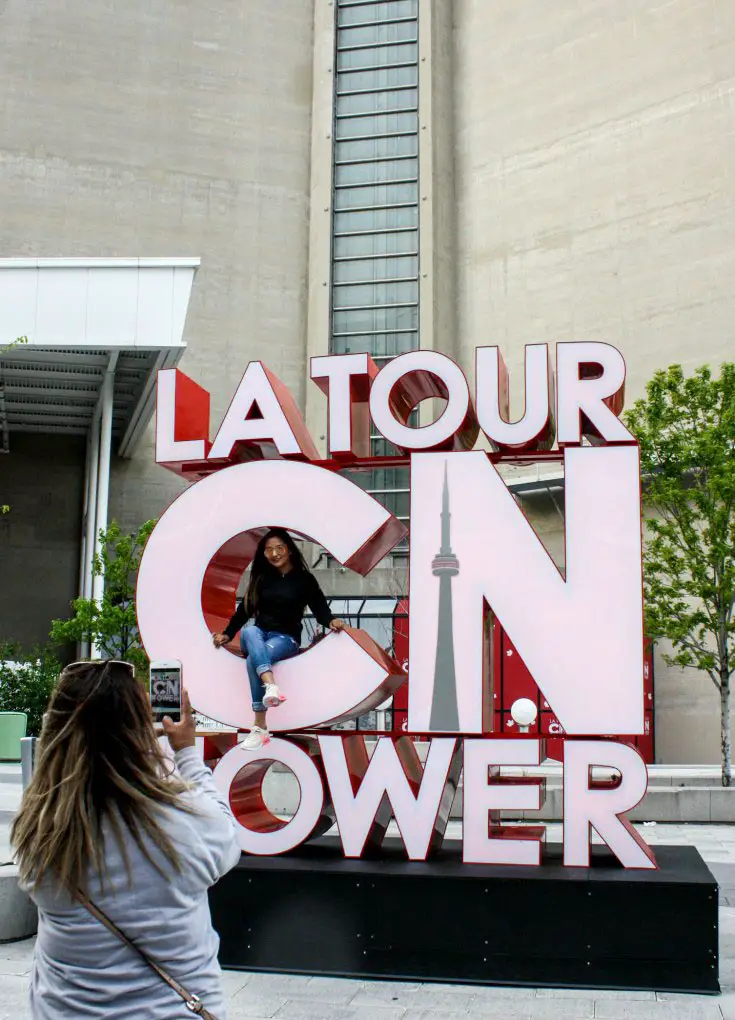 6. Visiting Toronto With Kids? Go To The Ontario Science Centre
Ok, this suggestion will take you outside Toronto proper, but it is worth the drive if you are visiting Toronto with kids. Granted it has been 18 years since I last visited the Ontario Science Centre on a middle school field trip, but I still remember the baseball pitch of the Sports Arena. Though the sports exhibit is now rented out to other museums, the permanent collection includes The Living Earth. There young explorers can walk through a rain forest, crawl through a cave, touch a tornado, and see a coral reef and poisonous dart frogs.
Plan Your Visit To The Ontario Science Centre
Location: 770 Don Mills Rd, North York, Ontario
Hours: 10 a.m. – 5.m. Sunday – Friday, 10 a.m. – 8 p.m. Saturday
Cost: $22 Adults, $16 Seniors (65+), $16 Youth (13-17) & Students with student ID, $13 Children (3-12), Free for ages 2 and younger
Bring: Camera and money for admission, IMAX tickets, souvenirs, and parking ($10 per vehicle)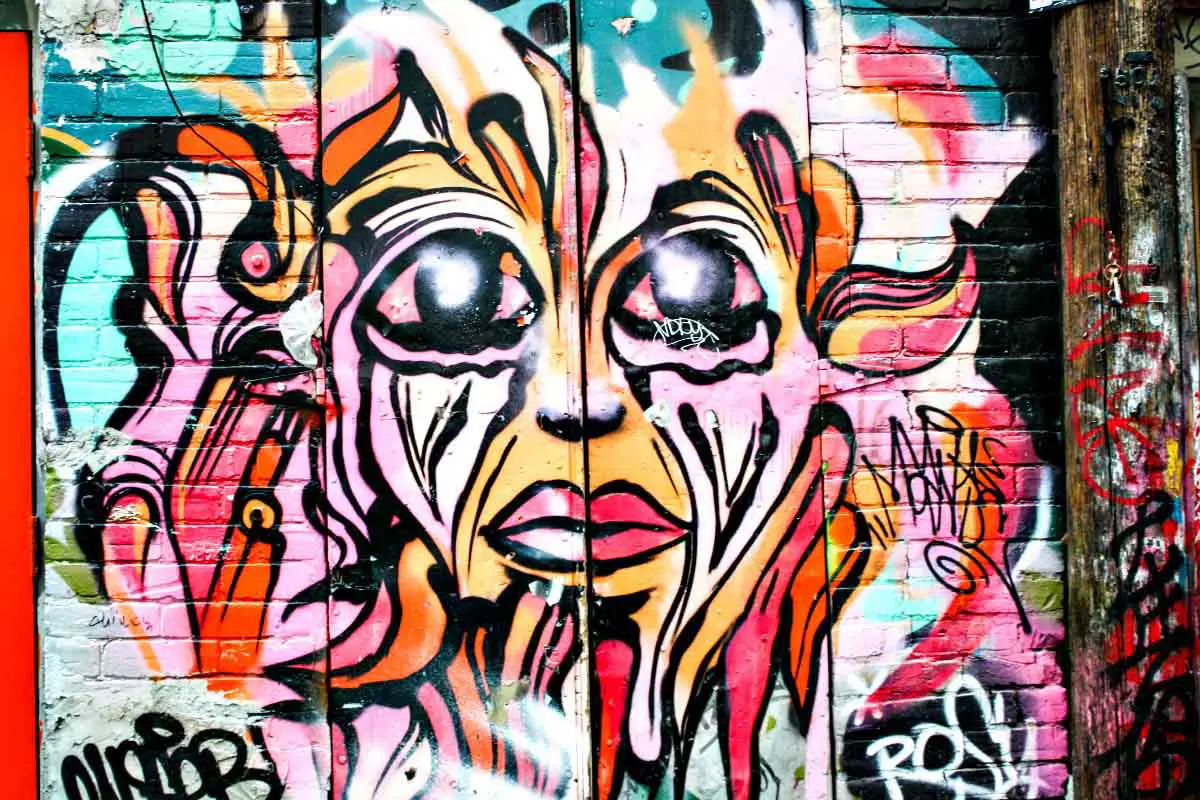 7. Walk Down Graffiti Alley
Street art seekers, this is where you'll find vibrant murals and graffiti in Toronto. I'd recommend spending 30 minutes to an hour walking through the alleyway of Rush Lane. If that's not enough to quench your thirst for street art, Tourism Toronto has a curated guide of where to find more street art in Toronto.
Plan Your Visit To See Toronto's Street Art
Location: Rush Lane, one block south of Queen Street West, between Spadina Avenue and Portland Street
Hours: Go during daylight hours, and plan to spend 30 minutes to an hour exploring
Cost: Free
Bring: Camera
8. Drink A Flight Of Local Craft Beer
Move over, Molson! There is so much more happening in the Toronto beer scene these days. During my recent visit, my first stop was Amsterdam BrewHouse for Lake Ontario views from what has been voted one of Toronto's best lakefront patios. It's certainly a popular destination on game days, and the Toronto Blue Jays' ballpark, Rogers Centre, is only a 10-minute walk. With 480 seats outside and another 500 indoors, you might be able to squeeze in for a beer flight even during the busiest of times. I certainly did. At Amsterdam BrewHouse, you can select a flight from pre-arranged options, and there is a full food menu. The roasted vegetable and goat cheese pizza is delicious.
Plan Your Visit To Amsterdam BrewHouse On The Lake
Location: 245 Queens Quay West
Hours: 11 a.m. – Midnight Sunday – Thursday, 11:30 a.m. – 2 a.m. Friday and Saturday
Cost: $7.50 20-oz. draft beer, Flight costs about $10
Bring: Money and ID
More Toronto Breweries And Craft Beer Bars To Visit
Steam Whistle Brewing
Mill Street Brew Pub
Birreria Volo
C'est What
beerbistro
Bier Markt
The Granite Brewery & Tied House
Indie Ale House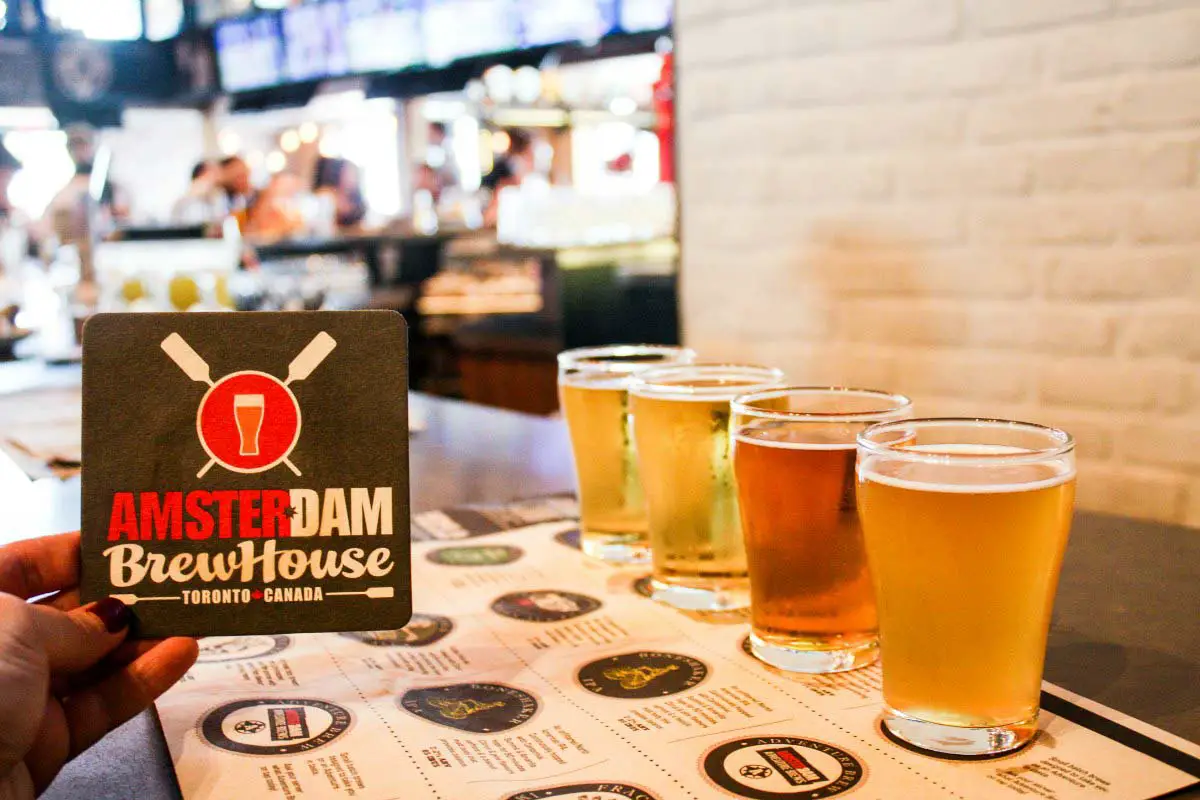 9. Take In The Skyline At Toronto Harbour and Toronto Islands
One of the best views of Toronto's waterfront skyline is from the Toronto Islands. You can take a 10-minute ferry ride out to the islands from the downtown ferry dock. If you don't have time to visit the Toronto Islands, you will find plenty to see and photograph along the harbourfront including Lake Ontario, sailboats, skyscrapers, and the CN Tower peeking though the buildings. This bustling area of downtown is also host to lively weekend festivals and events.
Plan Your Visit To Toronto Islands
Location: Jack Layton Ferry Terminal, 9 Queens Quay West
Hours: Ferries mostly run from 6:35 a.m. to 11:30 p.m., but check this updated ferry schedule.
Cost: $7.71 for adults, $5.05 for ages 15-19 and 65 and older with ID, $3.72 for ages 2-14, free for children younger than 2 | All prices quoted are for round-trip tickets and were accurate as of September 2017.
Bring: Printed ticket if pre-purchased online or money to purchase ticket at ferry terminal, camera for skyline photos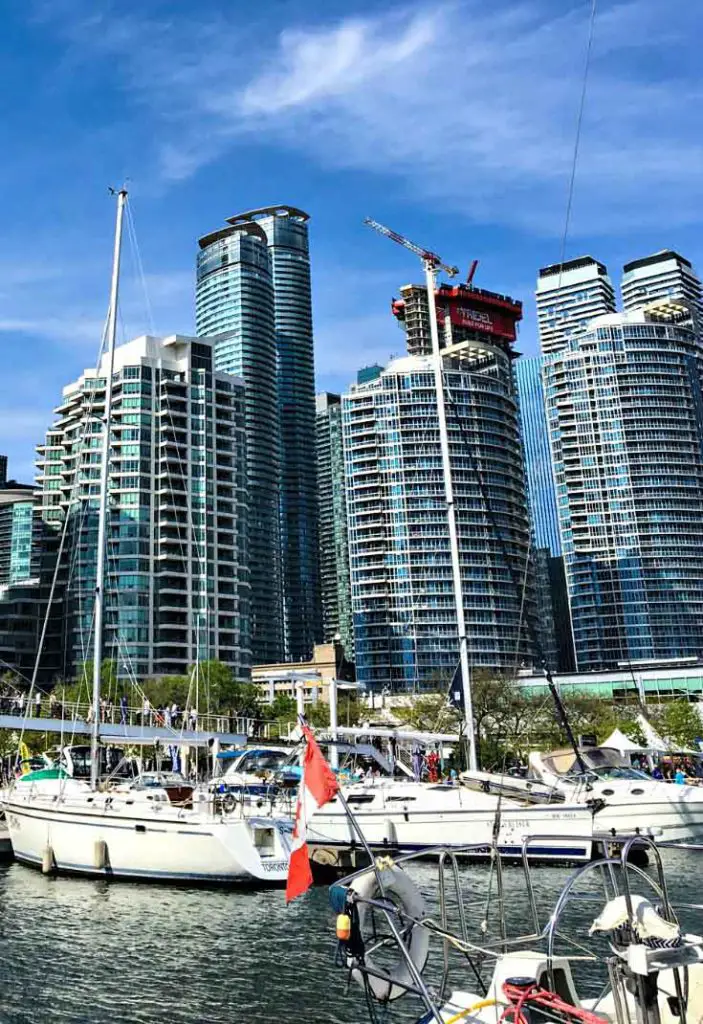 10. Taste Toronto's Diverse Dining Scene
Last but certainly not least, Toronto's food scene should not be missed. With Toronto's diverse population, you'll find Korean, Chinese, Italian, Indian, German, Jamaican, and all sorts of ethnic cuisines. I'll be sharing more of the food I found during my most recent trip in another post, so keep an eye out for that. Until then, I'll let your mouth start watering with this tantalizing ice cream cone — named the Red Rapture — covered in red velvet cake and meringue crumbs, cream-cheese frosting, and raspberry puree from the Sweet Jesus in downtown Toronto.
Plan Your Visit To The Toronto Restaurants I've Visited
Sweet Jesus — soft-serve ice cream with unique toppings at 106 John Street
La Carnita — hip Mexican restaurant serving street tacos and tasty cocktails at 106 John Street
RUDY — classic burger joint at 619 College Street
Drake One Fifty — swanky brasserie with patio serving Canadian cuisine and delicious sourdough pizza at 150 York Street
Amsterdam BrewHouse — pair a craft beer flight with a wood-oven pizza or burger with lakefront views at 245 Queens Quay West
Baro — Latin restaurant serving delicious cocktails at 485 King Street West
360 Restaurant — a unique dining experience at the CN Tower where Canadian wine and cuisine is served in a rotating dining room offering bird's-eye views of Toronto

If You Have More Time In Toronto
If your visit lasts longer than a weekend getaway or if it's not your first time in the city, here are a few more ideas of things to do in and near Toronto.
Go to a Toronto Blue Jays baseball game or a Toronto Maple Leafs hockey game
Explore the Distillery District
Shop until you drop at the Eaton Centre, Bloor-Yorkville's designer stores, or Queen West's boutique shops
See the animals at the Toronto Zoo or Ripley's Aquarium
Visit Casa Loma or the Royal Ontario Museum
Rent a bicycle and pedal around the city
Sail on Lake Ontario or kayak the Toronto Islands' lagoons
Take a food or beer tour
Take a day trip to Niagara to see Niagara Falls or to sip wines at Niagara-on-the-Lake wineries
Get your thrills on the Canada's Wonderland roller coasters
Go craft beer, wine, and cider tasting an hour away in the Headwaters region of Ontario
Save this post to Pinterest to reference when you plan your Toronto trip!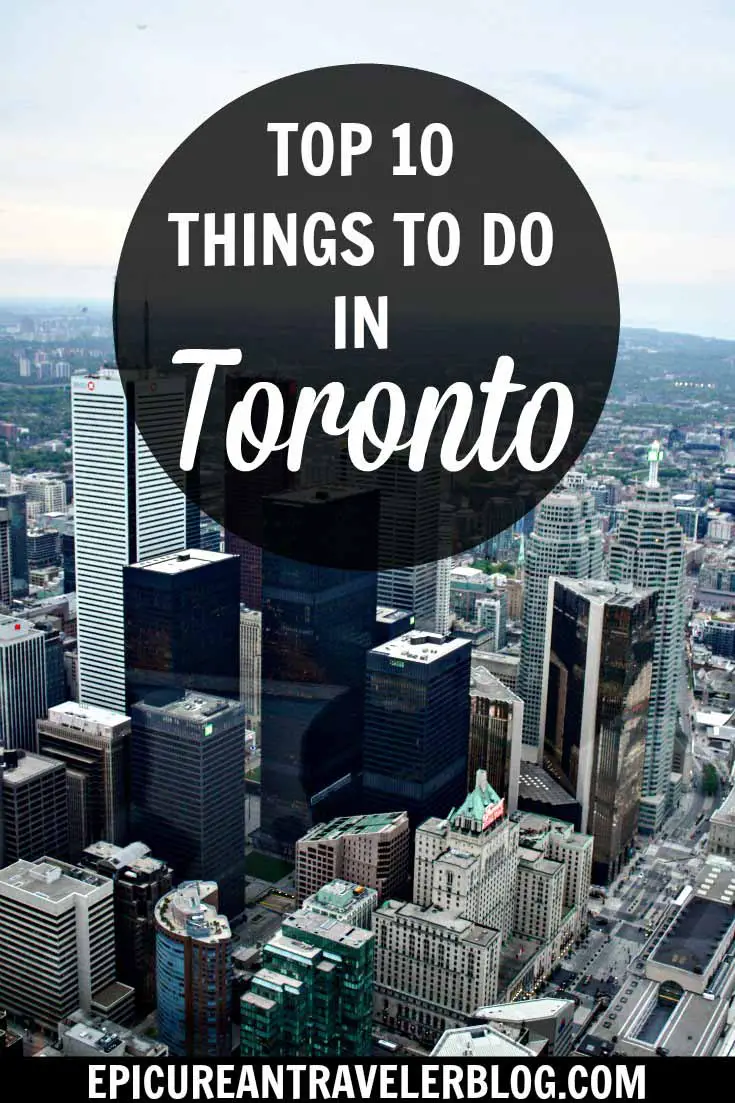 As an Amazon affiliate partner, I may earn a small commission if you click on the above ad and make a purchase. This is, of course, at no extra cost to you and helps to sustain this blog.
Where To Stay In Toronto?
Now that you have ideas for fun things to do in Toronto, you'll need a place to stay. I recently shared five Toronto neighborhoods convenient for travelers as well as hotel or accommodation recommendations for each neighborhood. In that post, I also share Toronto's top hotels listed by price range from luxurious hotels with hefty price tags to hip hostels that won't break the bank.
More Resources For Your Visit To Toronto
The official Ontario and Toronto tourism websites are wonderful resources to begin planning your trip.
Have a layover for a few hours in Toronto? See how you can get from the airport to the city to explore the Toronto waterfront and downtown areas in this post from Peace Joy Austin.
Find unique, self-guided Toronto walking tours that you can download to your mobile device before your trip!
Have you done any of these top 10 things to do in Toronto? Did you do anything else in Toronto that I haven't mentioned in this post?
I'd love to hear about your Toronto travel experiences. Tell me about your trip in the comment section!
Save
Save
Save
Save
Save
Save
Save
Save
Save
Save
Save
Save
Save
Save
Save
Save
Save
Save
Save
Save
Save