Are you a food lover visiting Atlanta? In this post, I share 10 Atlanta culinary experiences you won't want to miss.
Disclosure: This culinary guide to Atlanta, Georgia, contains some affiliate links. When you click on, purchase from, or book a hotel or activity through one of these links, I may earn a commission. 
---
Before visiting Atlanta, Georgia, I knew this metropolis of the Southeastern United States was a foodie's dream destination.
Not only is Atlanta a culinary and cultural capital of the American South, where you'll find crispy fried chicken and buttermilk biscuits, but it's also an international city infused with global cuisines.
During my May 2019 visit for an International Food, Wine, and Travel Writers Association press trip hosted by Discover Atlanta, I finally experienced this southern city's culinary scene firsthand.
It's safe to say that Atlanta lived up to my expectations, and I certainly didn't go hungry. So, pour yourself a glass of sweet tea, and continue reading for 10 foodie-approved activities to savor the flavors of Atlanta!
If you are planning a trip to Atlanta, you may consider downloading this Atlanta culinary guide to easily access my recommendations on the go. The downloadable version is embedded with GPS coordinates, so you can easily map a walking or driving route between foodie stops!
Additionally, GPSmyCity offers even more self-guided walking tours and travel guides for Atlanta. To learn more about GPSmyCity, check out this post where I explain how the app works and why it's such a helpful resource for travelers.
10 Tasty Ways To Explore Atlanta's Culinary Scene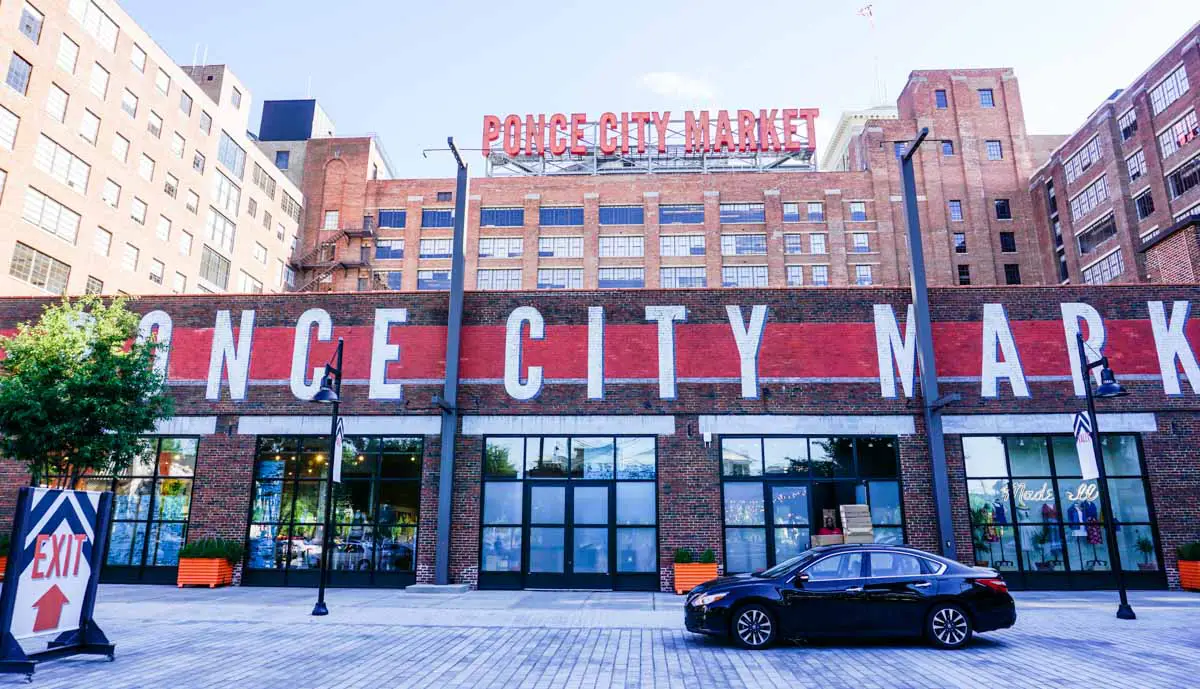 1. Ponce City Market Food Tour
Inside the historic Sears, Roebuck & Co. building, Ponce City Market is a vibrant mixed-use space with stand-alone restaurants, retail shops, offices, luxury apartments, and — at the heart of it all — the Central Food Hall. From the same developers as Chelsea Market in New York City, Ponce City Market has become the ultimate foodie destination of America's Southeast.
The best way to taste a variety of Atlanta's largest food hall's foods and drinks is on a Ponce City Market food tour. In 2.5 hours, you'll sample five foods and two cocktails (for guests ages 21+) as you get local insights from your guide.
Along with convenient grab-and-go food stalls are chef-driven, dine-in restaurants from some of the South's James Beard Award-winning chefs — Sean Brock (Minero Restaurant), Anne Quatrano (Pancake Social and W.H. Stiles Fish Camp), and Linton Hopkins (Hop's Chicken and H&F Burger).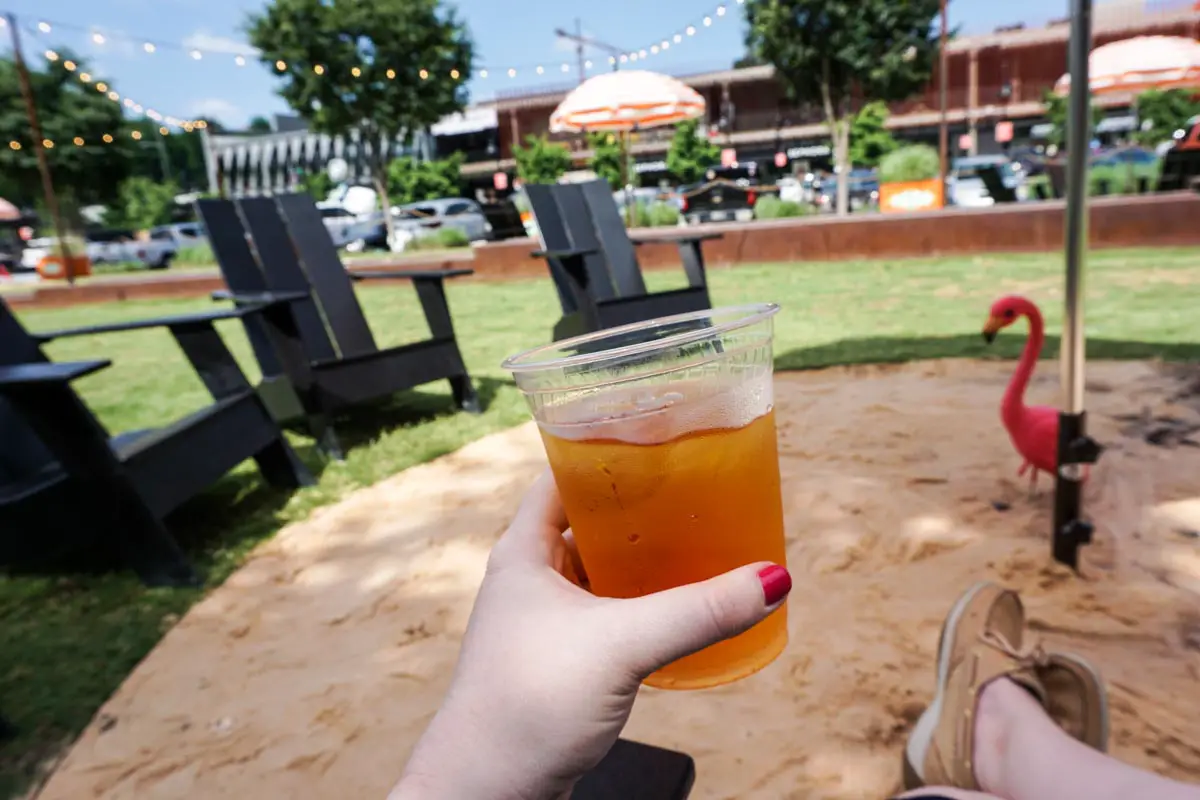 Relaxing in The Yard at Ponce City Market with an iced tea from Spiller Park Coffee
Rooftop Dining With a Skyline View
You'll find even more dining and drinks on the Roof of Ponce City Market. Offering unique entertainment and unobstructed views of the Atlanta skyline from one of the tallest buildings in the South, the Roof is a lively space to eat, drink, and play.
At Skyline Park, vintage-like carnival games, amusements, and mini golf are accompanied by classic fair foods such as soft pretzels, funnel cakes, and ice cream. Sharing the rooftop is Nine Mile Station. A more refined dining experience, this elevated beer garden offers indoor and outdoor seating, a fantastic craft beer and seasonal cocktail selection, and full dinner and brunch menus.
Please note, the Roof is limited to ages 21 and older after 5 p.m. Fridays and Saturdays, and you'll either need a reservation at Nine Mile Station or admission to Skyline Park to access this Atlanta rooftop.
Plan Your Visit To Ponce City Market
Location: 675 Ponce de Leon Ave NE, Atlanta, GA 30308
Central Food Hall Hours: 10 a.m. – 9 p.m. Monday – Saturday, 11 a.m. – 8 p.m. Sunday
Best Food Tour: Ponce City Market Weekend Tour 
Stay Nearby: Hotel Clermont (About .6 miles)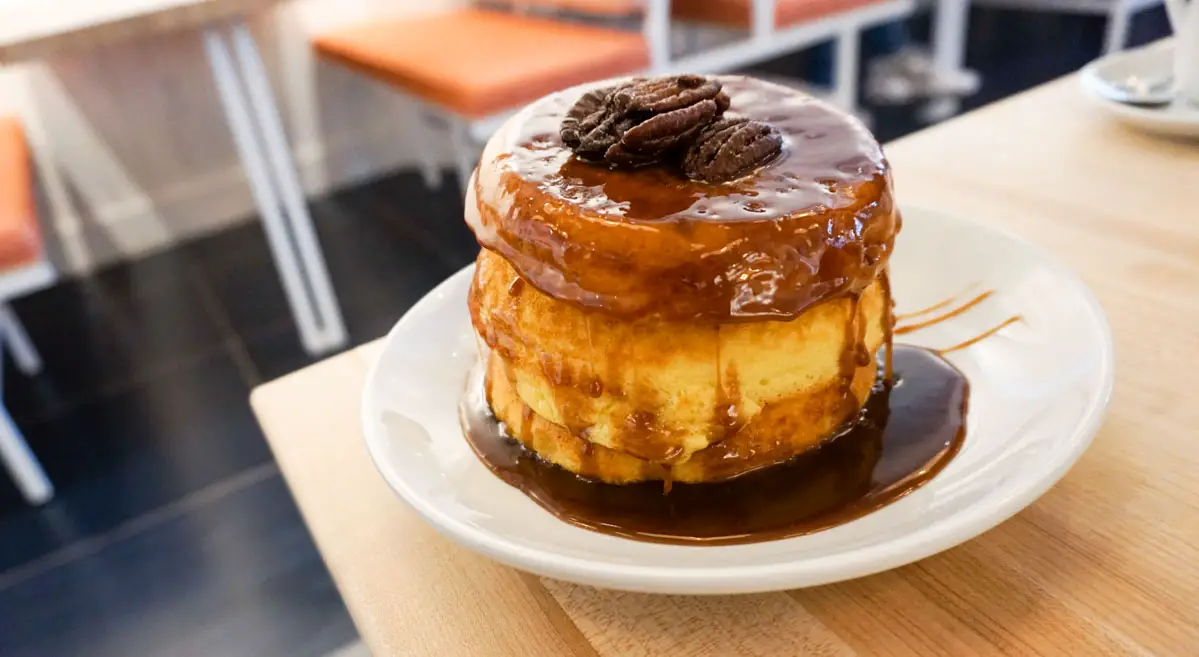 2. Eat Breakfast Any Time of Day
Though it originated in the Atlanta metropolitan area, I'm not sending you to the South's infamous all-day breakfast chain. Instead, head to Pancake Social at Ponce City Market!
Opened by Quatrano in 2019, Pancake Social is an airy and Instagramably cute breakfast spot. Serving buttermilk pancake stacks, breakfast bowls, a.m. sandwiches including an avocado toast, and the classic Southern brunch dish of chicken and waffles, breakfast here is an all-day affair. 
During my visit to Pancake Social, I paired my iced coffee with the "big pecan praline stack" of three fluffy cakes topped with a gooey pecan-praline sauce and crunchy pecans. It was like eating dessert for breakfast!
Plan Your Visit To Pancake Social
Location: 675 Ponce De Leon Ave NE, Atlanta, GA 30308
Hours: 7 a.m. to 3 p.m. Monday – Friday, 7 a.m. – 9 p.m. Saturday, 7 a.m. – 6 p.m. Sunday
Menu: All-day breakfast | See the menu 
Stay Nearby: Hotel Clermont (About .6 miles)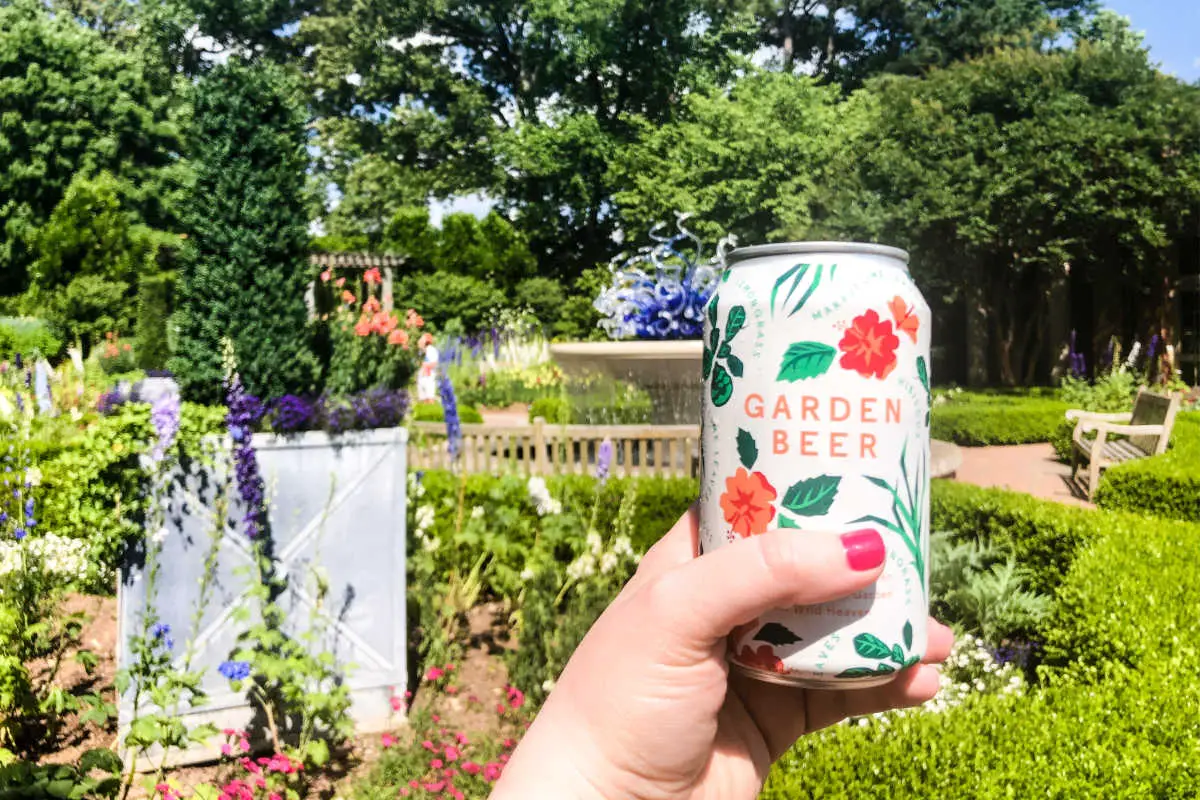 3. Taste The Atlanta Botanical Garden
This one might surprise you to find on this list. Still, the Atlanta Botanical Garden has several offerings of interest to food-loving travelers. You can attend special culinary events or meander through the edible garden on your next visit to the Atlanta Botanical Garden.
You can taste the Garden by drinking a "Garden Beer." The Garden Beer released in the spring of 2019 was a collaboration between the Garden and Atlanta brewery Wild Heaven. The craft beer was brewed with Makrut lime leaves harvested from the Garden's Fuqua Conservatory, giving this refreshing brew notes of hibiscus and lemongrass.
As you stroll through the Atlanta Botanical Garden with a Garden Beer in hand, you'll want to wander through the Edible Garden. There you'll see a Vegetable Amphitheater, muscadine grapevines, and Japanese Persimmon and fig trees. Most impressive is the state-of-the-art outdoor kitchen, where cooking demonstrations showcase how to incorporate fresh herbs, fruits, and vegetables from the Edible Garden into delicious dishes. These weekend cooking demonstrations run from May through October.
Lastly, another way to taste the Garden is by attending the Well-Seasoned Chef series when top Atlanta chefs prepare four-course menus featuring produce grown both locally and in the Garden. The series takes place in the Edible Garden's outdoor kitchen from April through October.
Plan Your Visit To Atlanta Botanical Garden
Location: 1345 Piedmont Ave NE, Atlanta, GA 30309
Hours: 9 a.m. – 7 p.m. Tuesday – Sunday (April – October), 9 a.m. – 5 p.m. Tuesday – Sunday (November – March)
Admission: $24.95 Adult (13+), $21.95 Child (3-12), Free for children younger than 3
Stay Nearby: Hyatt Centric Midtown Atlanta (About .8 miles)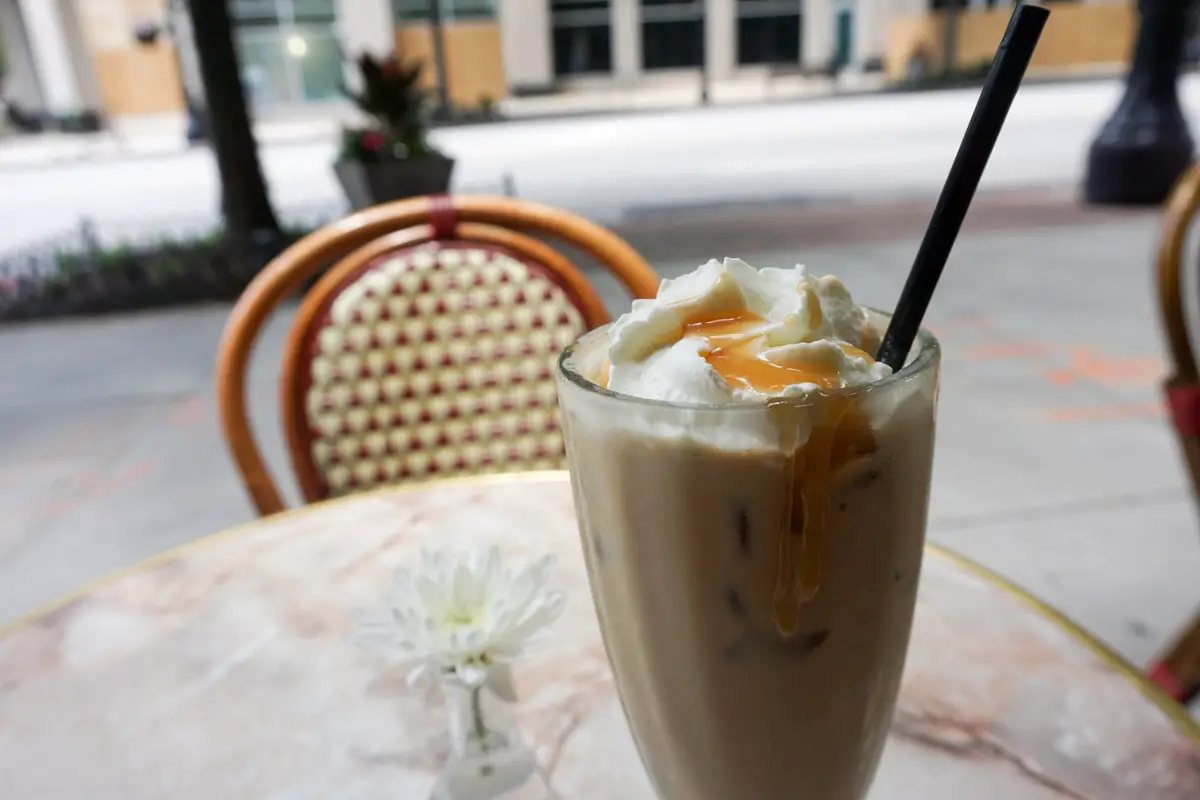 4. Refuel at One of Atlanta's Coffee Shops
Like many other cities around the world, Atlanta's coffee scene is booming with third-wave coffee shops serving high-quality espresso and specialty roasts. Among some of the local favorites are Taproom Coffee, Chatahoochee Coffee Company, Dancing Goats Coffee Bar, and Spiller Park Coffee.
If it's a snack from a local coffee shop that you seek, the East Asian buns at Sweet Hut Bakery are delicious. I paired my spring onion bun with an iced coffee, but the menu features a variety of specialty coffee and tea drinks.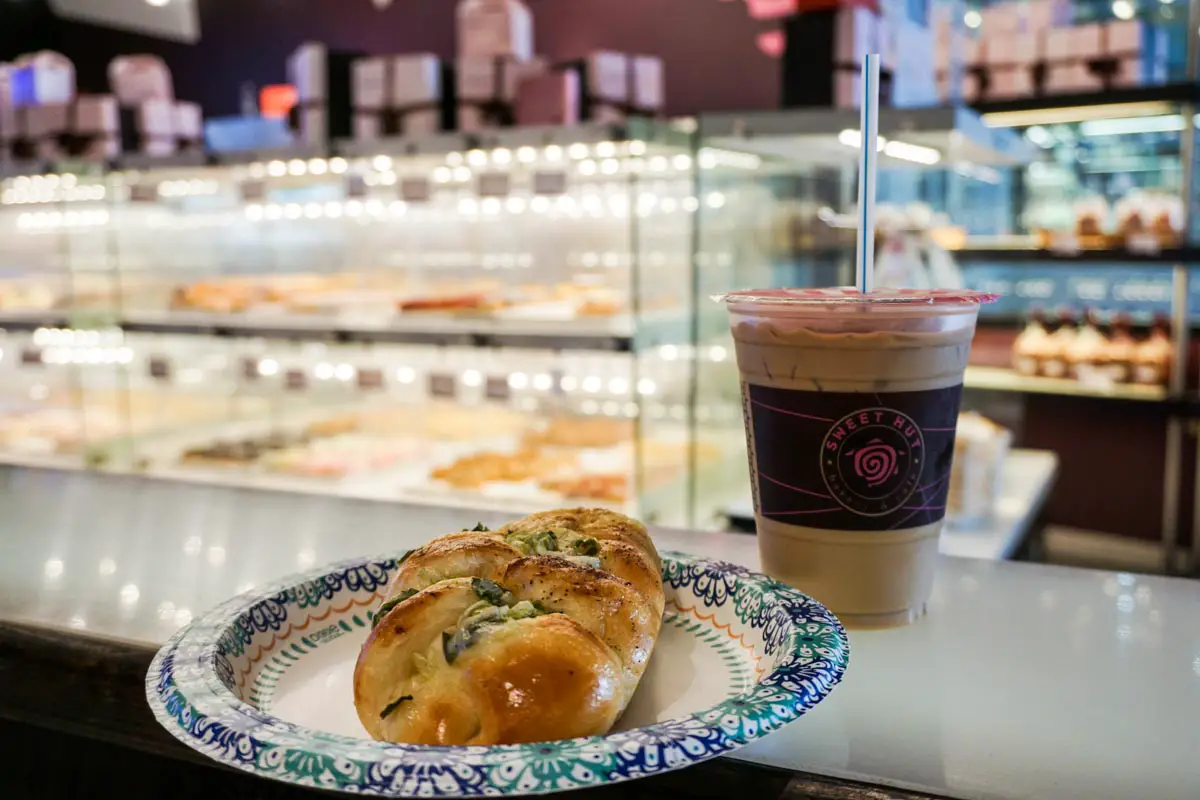 Visiting Atlanta in May — which felt like July to this Michigander — I wondered if I would crave coffee (and tea) in the intense heat and humidity. It turns out I just opted for cold brew, iced coffee, and the occasional iced tea. By the way, you can find unsweetened iced tea in Atlanta. 😉 
One of my favorite moments in Atlanta was taking time to recharge by myself at Café Intermezzo, a European-style café offering more than 800 beverages. Seriously, the drink menu is a bit overwhelming! But with a little help from my server, I found the iced coffees, and my iced caramel cappuccino totally hit the spot. 
Plan Your Visit To These Atlanta Coffee Shops

5. Indulge In Texas Barbecue
Why am I recommending you eat Texas barbecue in Georgia? Because the food at Fox Bros. Bar-B-Q is mouthwateringly delicious!
Started by twin brothers who relocated from Fort Worth to Atlanta, Fox Bros Bar-B-Q grew out of backyard cookouts. The brothers had no formal training, but being homesick for Texas-style barbecue, they started cooking for backyard gatherings of friends. Soon they were feeding 250 at these gatherings!
When you dine at Fox Bros. Bar-B-Q, I recommend the slow-roasted, St. Louis-style half-rack of ribs combo. You'll then have your choice of one other meat, such as beef brisket, pulled pork, or smoked wings. Plus, your combo comes with two Southern sides. Certainly no complaints here about my mac & cheese or potato salad. I only wish I could have ordered more side dishes to sample!
Plan Your Visit To Fox Bros. Bar-B-Q
Location: 1238 DeKalb Ave NE, Atlanta, GA 30307
Hours: 11 a.m. – 10 p.m. Sunday – Thursday, 11 a.m. – 11 p.m. Friday and Saturday
Menu: Texas-style barbecue with Southern sides | See the menu 
Stay Nearby: Hotel Clermont (About 1.6 miles)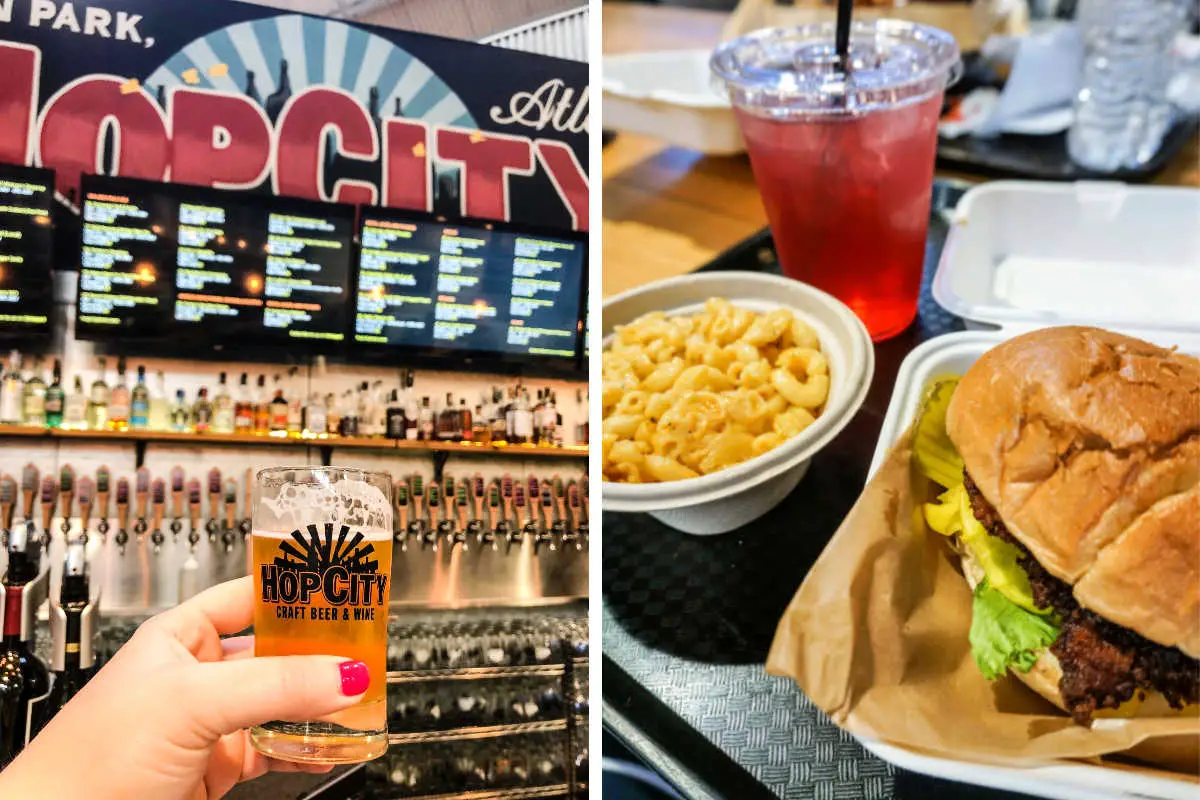 6. Take Your Taste Buds on a Journey Through Krog Street Market
Located about 1.5 miles from Ponce City Market along the Atlanta BeltLine's Eastside Trail — a former railway corridor transformed into a walkway and biking path — is Krog Street Market. Inside this Inman Park food hall, you'll find more than a dozen places to eat in a 9-acre space formerly used as the Atlanta Stove Works factory followed by Tyler Perry's studio.
With Atlanta Food Tours you can explore Krog Street Market on a food tour of Inman Park and the Atlanta Beltline. Plus, you'll see the Atlanta BeltLine murals, learn local history, and taste Southern foods.
I loved seeing the diverse array of international foods at Krog Street Market. There were Spanish tapas, Szechuan dumplings, Vietnamese Bahn Mi sandwiches, Neapolitan pizzas, Asian steamed Bao filled with Korean barbecue, and Middle Eastern kebabs mixed in with barbecue beef brisket, Tex-Mex fajitas and enchiladas, and Southern fried chicken.
Based on my own dining experiences at Krog Street Market, I certainly recommend Richard's Chicken Sandwich at Richard's Southern Fried. It's a Southern-style fried chicken sandwich topped with pimento cheese, a Southern chow chow relish, and pickles. I opted to keep mine classic, but you can upgrade your heat level to spicy or Richard's hot. For dessert, Jeni's Splendid Ice Creams never disappoints!
Plan Your Visit To Krog Street Market
Location: 99 Krog St NE, Atlanta, GA 30307
Hours: 7 a.m. – 9 p.m. Monday – Thursday, 7 a.m. – 10 p.m. Friday, 8 a.m. – 10 p.m. Saturday, 8 a.m. – 9 p.m. Sunday
Best Food Tour: Food Tour of Inman Park and the Atlanta BeltLine 
Stay Nearby: Hotel Clermont (About 1.8 miles) | The Candler Hotel Atlanta (About 1.5 miles)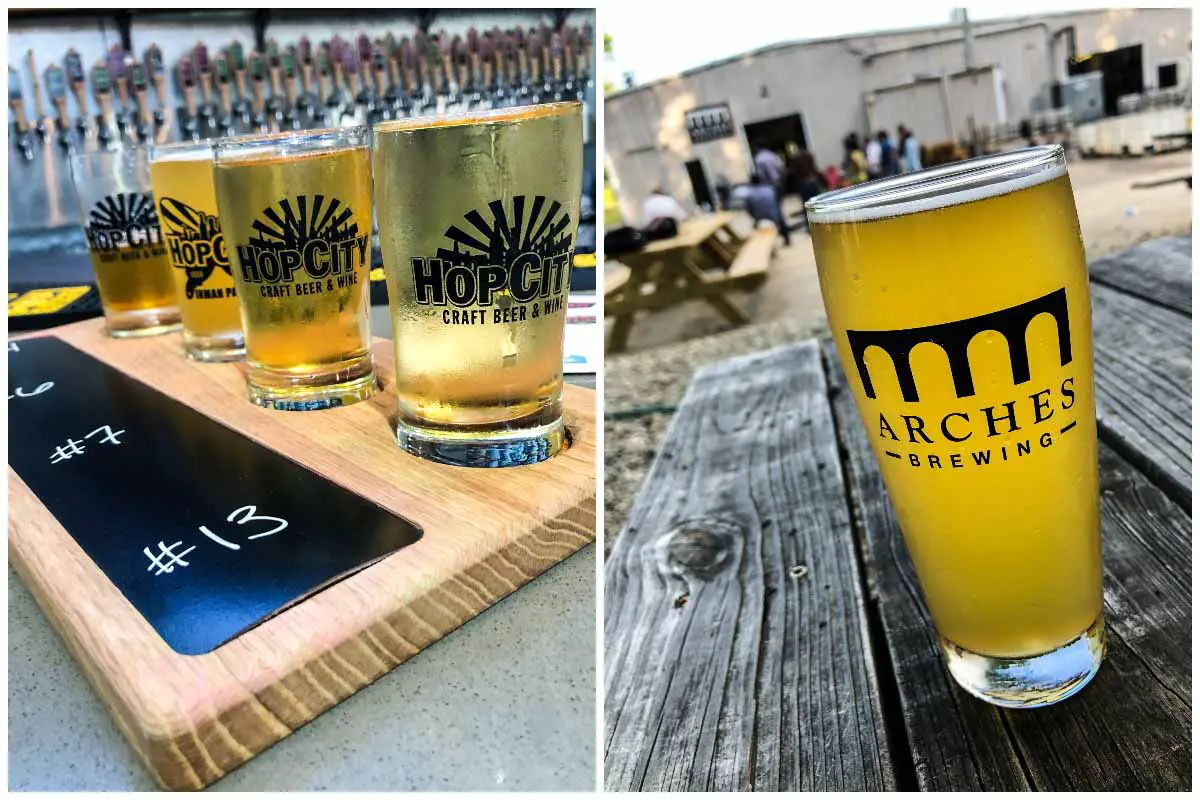 7. Sip Locally Brewed Craft Beer
Before my visit, I'd sipped SweetWater beers during layovers at Hartsfield-Jackson Atlanta International Airport. Yet that was the extent of my personal experience with Atlanta's craft beverage scene. I certainly remedied that during this trip. Therefore, I'm sharing a couple ways you can experience Atlanta breweries and craft beer too!
Taste a Flight of Local Beers 
In Atlanta, one of the best places to taste a variety of local craft beers is at Hop City. Located inside Krog Street Market, this beer and wine shop also has a full bar with 60 taps. Though not all of the beers will be local, you'll likely find more than enough to fill a flight of beers from Atlanta and other Georgia cities.
While at Hop City, I tasted the following local beers (and a dry cider):
Eventide Arbor Ale Honeysuckle Kölsch
Monday Night Brevis and Bretthead double dry-hopped sour IPA (now retired)
Dry County Lechuza Lime Mexican-style lager (Kennesaw, GA)
Urban Tree Cidery Original Cider 
Visit Local Breweries
I also visited Arches Brewing, Atlanta's only Southside brewery. Specializing in lagers, Arches brews an American amber Southside Lager and Mexican Empire, a Vienna lager. However, Arches also produces many American and European-inspired styles. Inside the taproom, you'll find several lagers, a Hefeweizen, a hazy IPA, a Belgian pale, seasonal beers, and specialty brews. 
At Arches Brewing, the brewers are seriously dedicated to sourcing the best water possible for their beer. They even use water chemistry to model a beer's water profile after the city or region where the style originated. For example, I highly recommend the Queen's Weiss. It's a traditional Hefeweizen, so the brewers designed a Bavarian water profile for it. As I expected, I tasted banana and clove, but the pink bubble gum aftertaste was an interesting surprise. 
In addition to sampling a flight of local beer at Hop City and visiting a local brewery, you can also experience the local beer scene on a VIP brewery tour of Atlanta's top three breweries. Plus, you can find even more ideas to experience Atlanta's craft beer! 
Plan Your Visit To Atlanta-Area Breweries & Brewpubs
Arches Brewing — 3361 Dogwood Dr, Hapeville, GA 30354
Hop City at Krog Street Market — 99 Krog St NE, Atlanta, GA 30307
Pro Tip: Located in Hapeville, Arches Brewing is less than three miles from the Atlanta airport — making it an ideal stop to add to your itinerary at the start or end of your trip. 
8. Dine at Local Motives
Opened in 2019 as the flagship restaurant at the W Atlanta Downtown, Local Motives serves artistically-plated New American fare in a space inspired by the BeltLine with murals and art installations. With a café serving locally roasted Docent Coffee, a full bar with local craft beer and artisanal cocktails, and an upscale restaurant, Local Motives is a major perk for any foodie staying at the W.
I would definitely order the most beautiful avocado toast at brunch and one of the most massive cinnamon rolls I've ever seen. Dubbed the CinnaBOMB!, this signature breakfast dish is definitely made for sharing. I suggest pairing it all with a refreshing cocktail like the Brunch Retox of Hendrick's Gin, elderflower, made-in-house cucumber juice, ginger, lemon, and agave.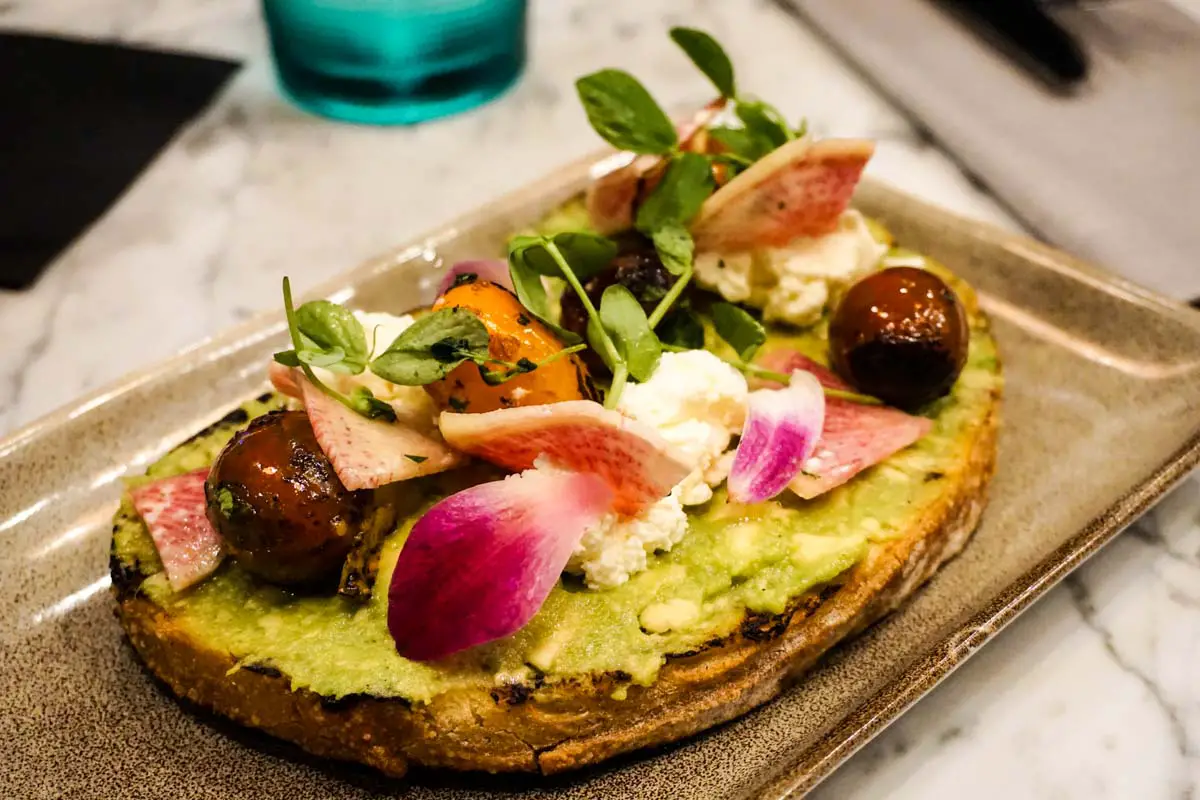 During my hosted dinner, I also sampled two delicious starters — crispy IPA-battered fried green beans with a spicy red pepper aioli and charred octopus with Mirin cucumber, frisée, and pea tendrils. That was followed by three salads — a beet, house, and raw salad. They were almost too beautiful to eat!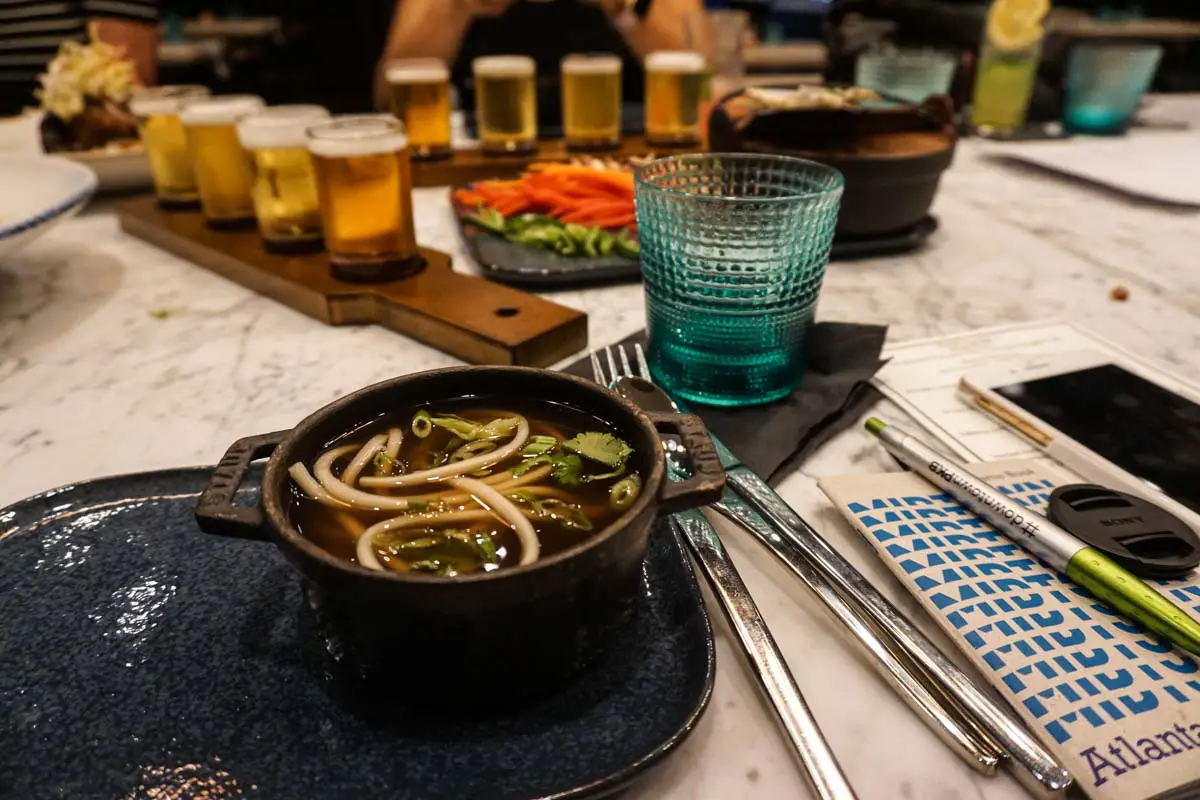 Moving onto entrées, we were served a melt-in-your-mouth short rib. Braised for 24 hours and served over cauliflower risotto, this dish was a crowd-pleaser. We also tasted a delightful fisherman's stew with saffron tomato and Carolina Gold risotto and a DIY vegetable hot pot with pho broth, udon noodles, fresh garden veggies, scallions, carrots, and basil.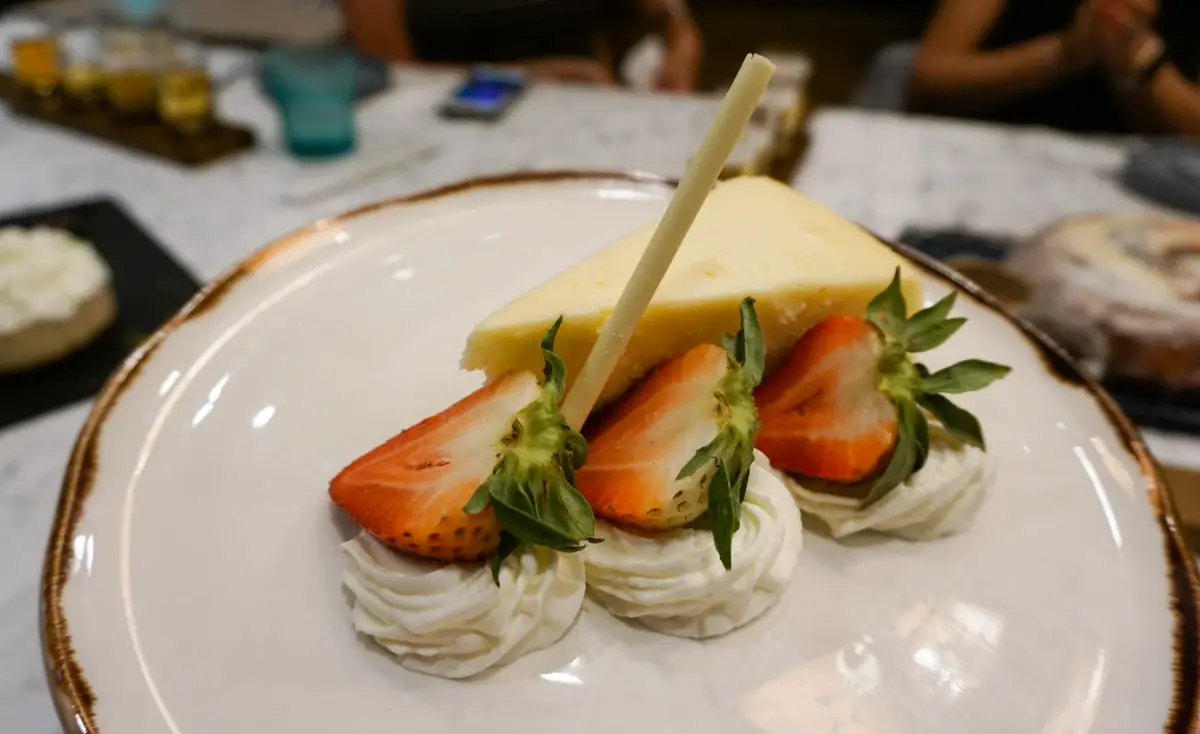 Executive Chef Shean Suter presented beautifully plated, delicious dishes featuring locally sourced ingredients throughout our meal. He topped it all off with two cheesecakes, including a raw "cheesecake" made from his own secret recipe. Just when you thought dining at Local Motives couldn't get any sweeter, it does!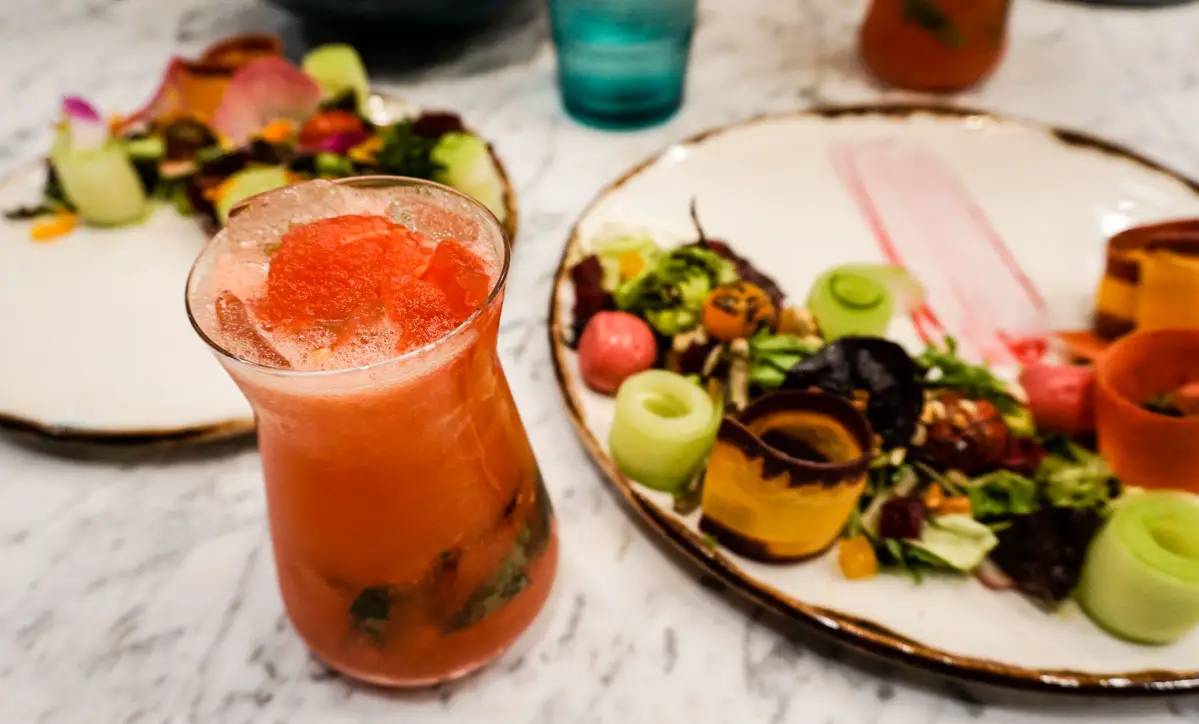 Of course, it's not just the BeltLine-inspired local art and appetizing dishes that make dining at Local Motives so special, it's also the drinks. We enjoyed a flight of craft beer or a handcrafted cocktail with each course. I especially enjoyed our cocktail of watermelon purée, simple syrup with watermelon and basil, and Hangar 1 Citron Vodka.
Plan Your Visit To Local Motives
Location: W Atlanta Downtown, 45 Ivan Allen Jr Blvd NW, Atlanta, GA 30308
Hours: 6 a.m. – 10 p.m. Daily
Stay Nearby: W Atlanta Downtown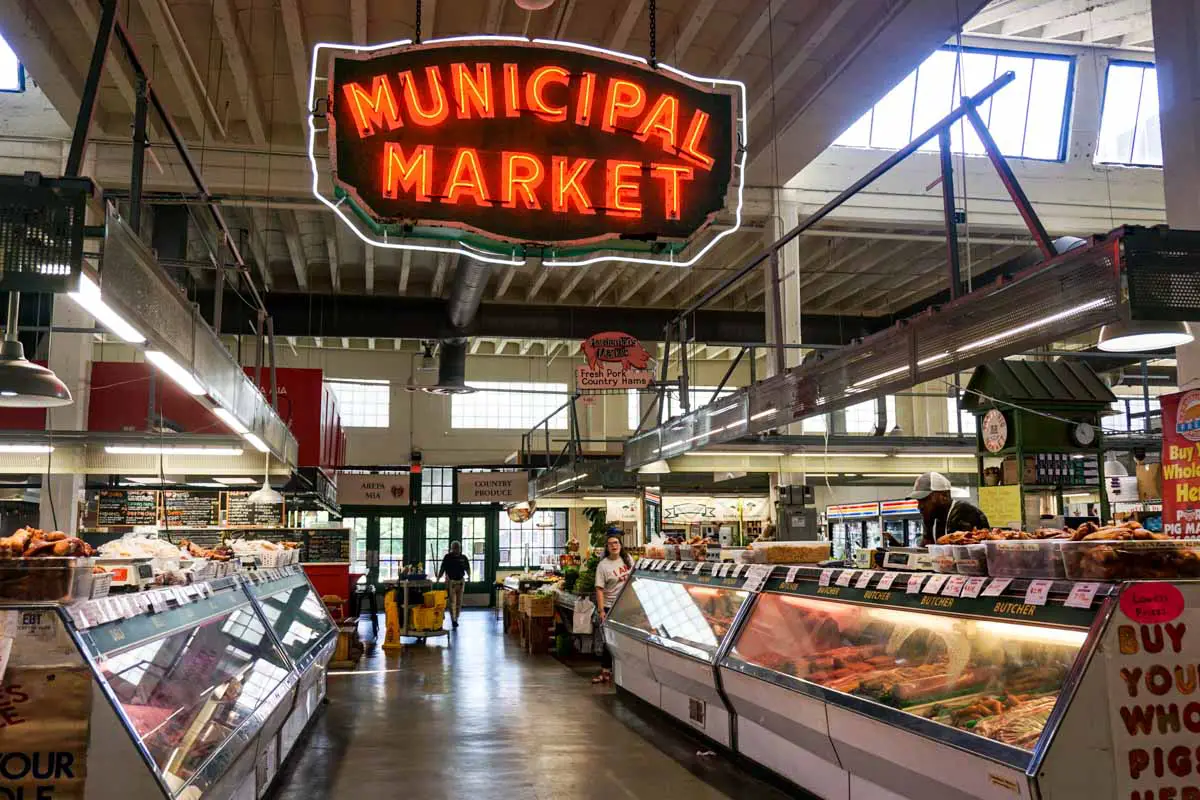 9. Explore the Historic Sweet Auburn Curb Market
Also known as the Municipal Market, the Sweet Auburn Curb Market has a longstanding history in Atlanta. Beginning as an open-air farmers' market in 1918 following the Great Atlanta Fire of 1917, it was a central gathering place to sell and purchase livestock and produce. By 1924, the market moved to its permanent home, where it houses more than 20 local businesses today.
Wondering how it became known as the Sweet Auburn Curb Market? The name stems from the market's location near the Sweet Auburn neighborhood, where Black-owned businesses thrived and wealthy Black Atlantans called home in the 1940s-1960s. Though Black vendors were relegated to selling their goods outside the market during the Jim Crow era, that didn't stop large crowds from curbside shopping. 
Among today's Sweet Auburn Curb Market eateries, you'll find global foods such as Vietnamese Pho and savory South African meat-stuffed pies. Southern staples, such as soul food and po'boys, as well as American classics — barbecue, burgers with boozy shakes, and Philly cheesesteaks — are also available. 
Plan Your Visit To Sweet Auburn Curb Market
Location: 209 Edgewood Ave SE, Atlanta, GA 30303
Hours: 8 a.m. – 6 p.m. Monday – Saturday, Noon – 5 p.m. Sunday (Individual merchant hours may differ)
Stay Nearby: The Candler Hotel Atlanta (About .6 miles)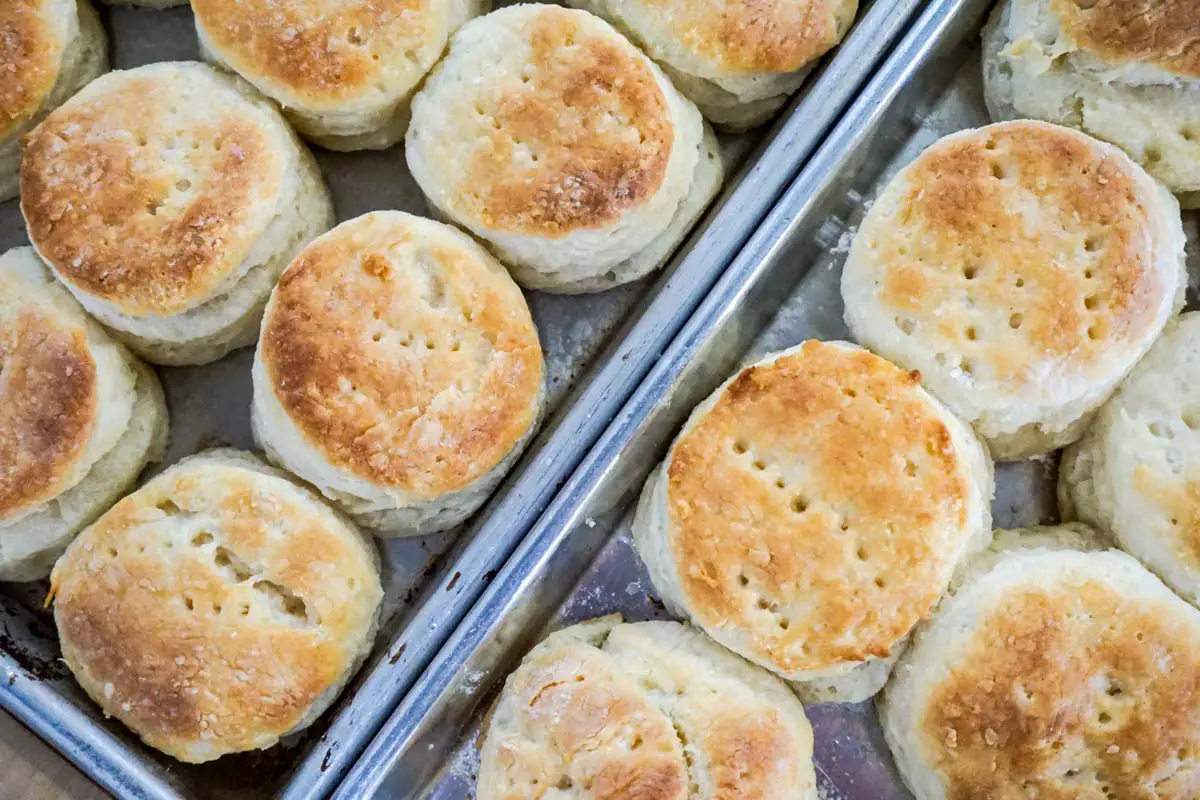 10. Learn Southern Recipes in an Atlanta Cooking Class
When I visited Atlanta, I learned how to make these fluffy and flaky Southern buttermilk biscuits from Todd Tharp from Hutchinson's Finest Biscuits. There is no food quite as quintessential to Southern cuisine as the biscuit. As you dine in Atlanta, you're likely to cross paths with a biscuit or two (or three or four — no judgment here), but learning to make biscuits means coming home with a new skill, tasty souvenirs, and the ability to relive your Atlanta trip in your own kitchen.
Over a brunch of cheesy scrambled eggs, grits, collard greens, and bacon, we tried our freshly baked biscuits with an assortment of jams made by Todd. This Southern-hospitality-filled brunch felt like we were dining in someone's home rather than a cooking school. 
The best part? I got to take home a box full of the biscuits I made along with a Georgia peach and strawberry jam from Todd!
To find a cooking class in Atlanta, check out: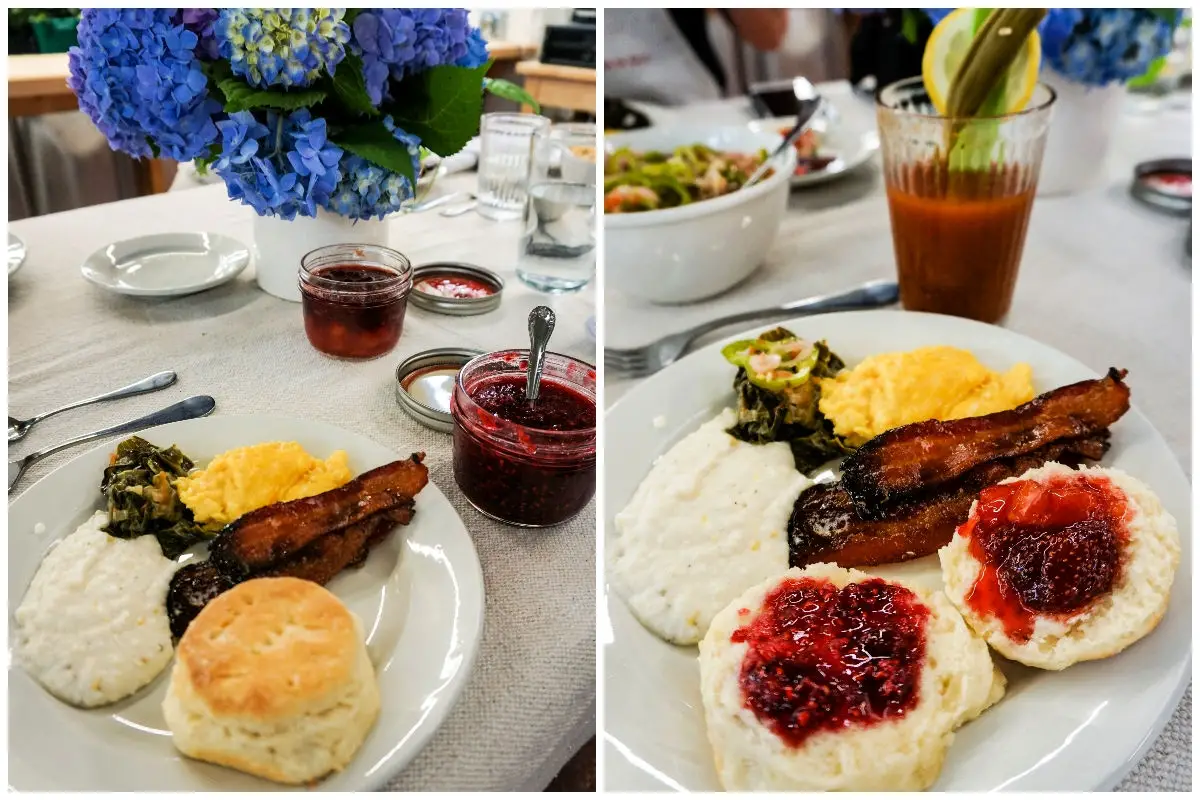 Where to stay in Atlanta
Now that you have 10 ideas for having a feast of a trip to Atlanta, I suggest you book your accommodations in Midtown Atlanta. This artsy neighborhood is a cultural hub, and its central location makes it a convenient base for exploring, eating, and drinking in other parts of the city, too. 
During my trip, I was hosted at the Hyatt Centric Midtown Atlanta near Piedmont Park and the Atlanta Botanical Garden. The hotel has an on-site restaurant, a 24-hour fitness center, and a heated indoor lap pool. I especially appreciated the complimentary infused water station in the lobby. 
I also recommended hotels near Atlanta's best culinary activities throughout this post. For more ideas of where to stay in Atlanta or to check availability for your travel dates, I've provided an interactive map below.
Which of these Atlanta culinary experiences will you try?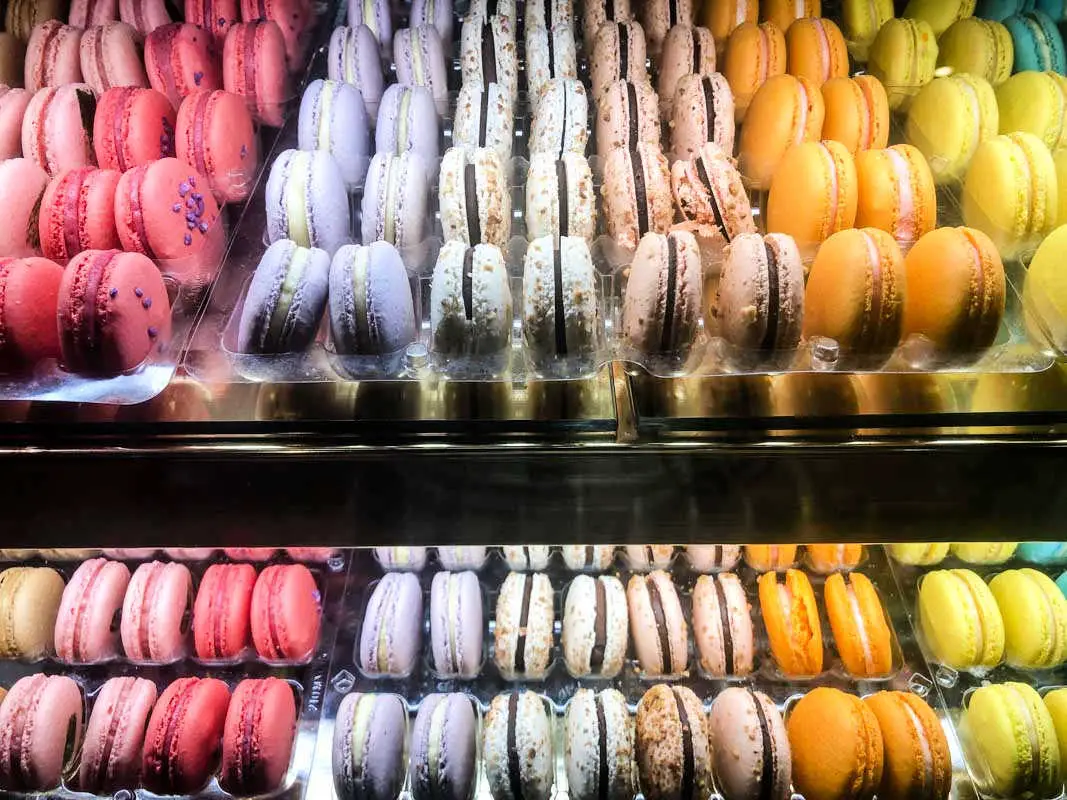 With three highly-praised indoor markets and food halls to explore in Atlanta, foodies can easily fill a weekend itinerary here with eating and drinking. Whether exploring the food halls or dining around the city, you'll see, smell, and taste how diverse Atlanta is. 
Looking for Southern fried chicken? Craving sushi, ramen, or hummus? Have your heart set on a slice of Margherita pizza or tacos al pastor? No matter which cuisine you want to eat, you are likely to satisfy your taste buds with one of these 10 culinary experiences in Atlanta.
So, which of these tasty activities will you do in Atlanta? Tell me about it in the comment section below!
Hungry for more?
We have more culinary travel and dining guides for destinations in the United States, including:
Save this post to your Atlanta, Georgia, or travel board on Pinterest!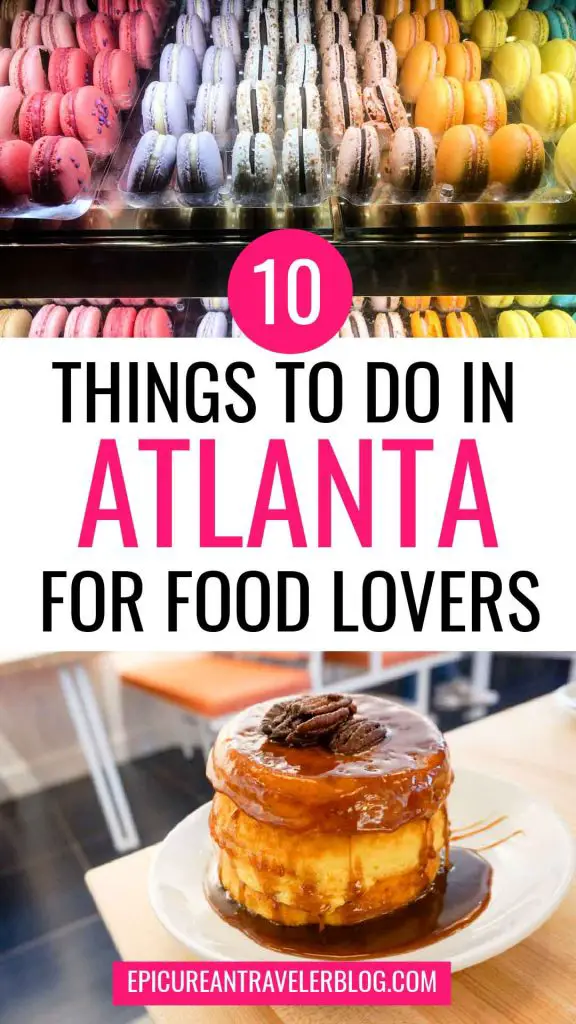 Editor's Note: This post was originally published Dec. 13, 2019. Photo credit for lead photo: © SeanPavonePhoto