When I book a trip to New York City, my first thought is, "Where should I brunch?" In my world, planning an NYC trip is synonymous with finding the best New York City brunch spots.
On each trip to New York City, I have to get a proper bagel smothered in cream cheese, and I have to brunch. Yes, brunch is a verb in New York. It's not something you go to. Brunch in New York is an experience you have.
Since my visits often include Bloody Mary cocktails too, it felt like time to share my favorite bagel, Bloody Mary, and brunch spots in New York City.
Disclosure: This guide to New York City brunch and bagel spots contains some affiliate links. When you click on, make a purchase from, or reserve your New York City hotel via one of these links, I may earn a small commission. Of course, this is at no extra cost to you, and I only recommend hotels that I would book for myself.
---
Antique Garage — Mediterranean Brunch in SoHo
This Mediterranean restaurant in SoHo serves brunch of Bloody Marys and mezes starting at 11 a.m. Saturday and Sunday.
I recommend starting with the mixed meze or Mediterranean breakfast platter for the table. Also, you've got to eat the borek. It's phillo dough stuffed with feta cheese and parsley. So delish!
Antique Garage | 41 Mercer St, New York, NY 10013 | Reserve Your Table

Stay near Antique Garage at the stylish and sophisticated Crosby Street Hotel or the trendy boutique SIXTY SoHo.
Murray's Bagels — New York Bagels in Greenwich Village
Murray's Bagels has been making traditional NYC bagels since 1996 at its Greenwich Village bagel shop.
If you want to order bagels like a local, you'll need to know your order by the time you step up to the counter at Murray's Bagels. So, take a look at the menu before you go!
You'll get to choose from a variety of bagels hand-rolled and made fresh daily. I recommend the pumpernickel and sesame bagels, but you'll also find whole-wheat, gluten-free, and flatty bagels with half the calories.
Don't even bother asking for your bagel to be toasted. Instead, you'll just pick a schmear, and there are plenty of options! In addition to the baker's dozen of cream cheese flavors, you can select from tofu-based cream cheese, peanut butter, jelly, Nutella, hummus, and butter.
The abundance of cream cheese sandwiched between your bagel halves may shock you, but now you've officially been warned!
You can also order a bagel with smoked fish, or try a breakfast sandwich, such as the BECA loaded with bacon, eggs, cheddar, and avocado mash. If it's closer to lunchtime, opt for a deli or salad sandwich, or pair your bagel with one of the soups of the day.
Murray's Bagels  | 500 6th Ave, New York, NY 10011
Stay near the bagel-laden paradise that is Murray's Bagels at the luxurious Walker Hotel or by booking a room with a view at The Standard, High Line.
P.J. Clarke's — Famous Bloody Mary Since 1884
The Jumbo Bloody Mary may be the best Blood Mary I've had in New York City. Considering the brunch beverage has been "famous" since 1884, this is a Bloody Mary recipe that has withstood the test of time.
During brunch at P.J. Clarke's, pair your famous Bloody Mary with oysters from the raw bar and a classic eggs Benedict.
Limited brunch specials are available from 11:30 a.m. to 2 p.m. Saturday and Sunday at the Financial District location. For the full P.J. Clarke's brunch experience, dine between 10:30 a.m. and 4 p.m. Saturday or Sunday at the Lincoln Square location.
P.J. Clarke's | Financial District: 205 Vesey Street, New York, NY 10281 | Lincoln Square: 44 West 63rd Street, New York, NY 10023
Stay near the Lincoln Square location at the five-star Mandarin Oriental, New York, or book the highly-rated Mint House at 70 Pine near P.J. Clarke's on the Hudson in the Financial District.
Brooklyn Bagel & Coffee Company — Traditional NYC Bagels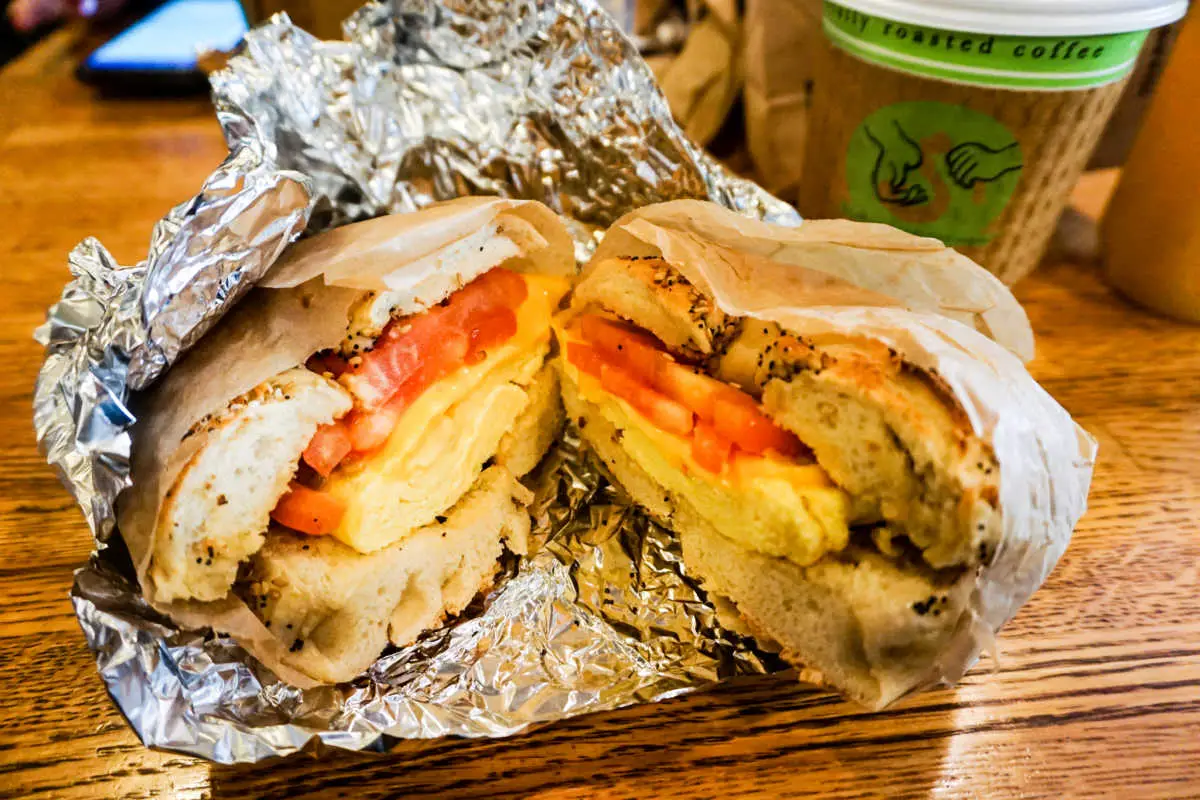 Brooklyn Bagel & Coffee Company has been serving its bagels, cream cheese spreads, and Nova smoked salmon for 20+ years in Manhattan and Astoria. The bagels here have even been voted Food Network's favorite NYC bagels!
The hand-rolled, kettle-boiled bagels come in 15 daily flavors. Plus, you'll find additional seasonal flavors, flat bagels with fewer calories, and a gluten-free variety.
Also, you can order your bagel with one of 15 flavors of cream cheese or tofu cream cheese. Some are traditional, while other flavors are more unique. Try honey bacon sriracha, cannoli, or jalapeño asiago!
In addition to bagels with cream cheese and smoked fish, the menu features sandwiches, hot breakfast wraps, and assorted pastries.
Drinks include hot and iced coffee and tea beverages and freshly squeezed orange juice.
Brooklyn Bagel & Coffee Company | Greenwich Village: 63 E 8th St, New York, NY 10003 | Chelsea: 286 8th Ave, New York, NY 10001
Stay in Greenwich Village at Walker Hotel, or stay within a short walk of the Chelsea location at The Moore.
The Standard Grill — Weekend Brunch Near the High Line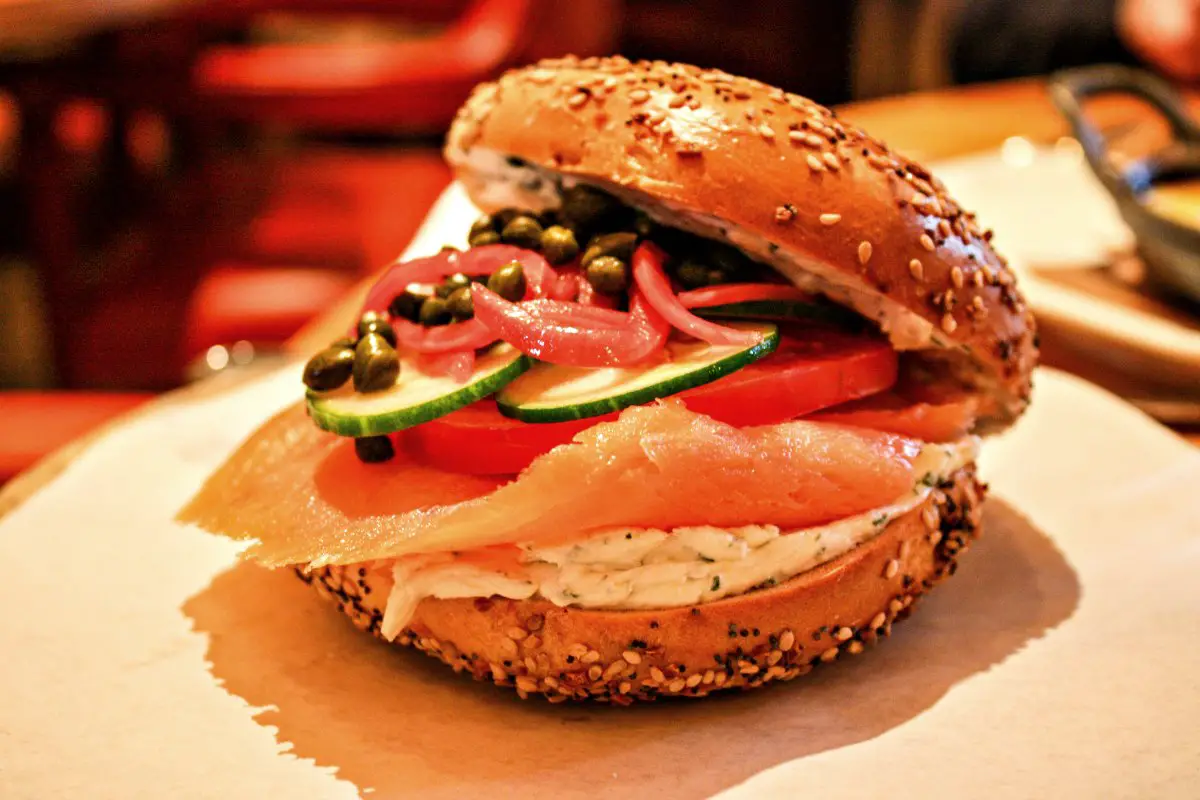 The Standard Grill is a classic New York restaurant in the Meatpacking District, and it is a favorite among locals and hotel guests staying upstairs at The Standard, High Line.
Without a doubt, weekend brunch at the Standard Grill should start with one of the brunch cocktails. My Bloody Mary was mixed with fresh herbs and garnished with a lemon and green olive.
In addition to brunch cocktails, you can sip fresh fruit juices or protein-packed smoothies.
The Standard Grill's brunch menu offers a mix of sweet and savory, breakfast and lunch dishes. I ordered the delicious eggs Benedict, but I was a bit envious when I saw my sister's loaded everything bagel and lox.
Brunch is served from 11 a.m. to 4 p.m. Saturday and Sunday at the Standard Grill.
The Standard Grill | 848 Washington St, New York, NY 10014

If you are planning to brunch at the Standard Grill, you could stay upstairs at The Standard, High Line.
New York City Brunch Activities
Aboard a 1920s-style yacht, cruise around Manhattan for views of Ellis Island, the Brooklyn Bridge, and more New York City landmarks as you enjoy a weekend brunch.
On the menu of this 2.75-hour NYC brunch cruise are fresh, locally-baked bagels. Rounding out the menu are such New York State foods as seasonal fruit, craft sausages, stuffed quiche, smoked salmon, and assorted pastries — all from local purveyors.
Bite into some of the tastiest doughnuts in New York City during a two-hour walking tour! On this NYC donut tour, you'll stop at four of New York's famous donut places in the Chelsea and Greenwich Village neighborhoods.
Take a guided walking tour to four of the best doughnut spots in Brooklyn! On this Brooklyn donut tour, you'll indulge in glazed and cream-filled doughnuts at Brooklyn's donut hotspots.
Before You Go to Brunch in New York City
Before you eat brunch in New York City, I wanted to pass along some helpful resources to you.
First of all, you can download this NYC brunch guide to your phone to easily access it on the go! This is offered through the GPSmyCity app, which creates walking tours from travel bloggers' articles.
You should also check out GPSmyCity's other self-guided New York City walking tours. They have walking tours through some of the city's most iconic neighborhoods. With the GPSmyCity walking tours, you can see NYC's most impressive architecture, sip cocktails around Manhattan, or hit up the best ice cream spots in the Big Apple!
Read More Dining Guides
Save this post to Pinterest before your next trip to New York City!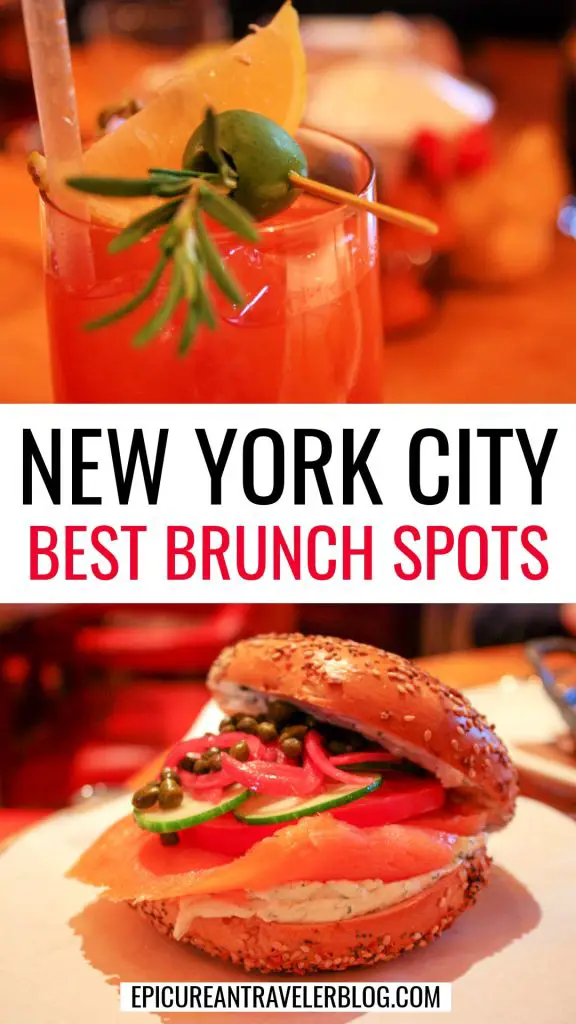 Save
Save
Save
Save
Save
Save
Save