For its diverse ethnic eateries, upscale steakhouses, lauded chefs such as Rick Bayless and Grant Achatz, and regional specialties — none more famous than deep-dish pizza, Chicago rightfully earns its reputation as a foodie city. So, if you are wondering where to eat in Chicago, I'm sharing nine of the best Chicago restaurants tried and loved by yours truly.
Disclosure: This guide to Chicago's best restaurants contains affiliate links. When you click on, book your hotel stay, or make a purchase after clicking on one of these links, I may earn a commission. Of course, this is at no extra cost to you, and I carefully select the hotels, services, and products recommended to my readers.
---
Where to Eat in Chicago
In this post, I share nine of the best places to eat in Chicago based on my own dining experiences. Just in case you are seeking that iconic Chicago deep-dish pizza, I've also included a recommendation beloved by locals.
I've provided an interactive map below to help you locate these Chicago restaurants, but continue reading to learn more about my top picks of where to eat in Chicago.
Avli River North
If you seek Greek cuisine, Avli River North is worth a visit for a mouthwatering meal of saganaki, avgolemono, and souvlaki paired with a cocktail or Greek wine. 
When I dined at Avli River North with my mom in early May 2021, we began our delicious multi-course lunch on the covered patio with warm cups of avgolemono. A few slurps into the traditional Greek soup of lemon, rice, and chicken thawed us of any lingering chill from our walk to the restaurant from our Gold Coast hotel. 
Next, we shared small plates of thinly sliced and crispy fried zucchini chips and a variety of roasted and marinated beets. Both dishes were served with a garlic dip so scrumptious I suppressed my child-like desire to lick every last bit of it off the plate. 
Without a doubt, I would order the roasted beets again and again, but I'd also love to try the savory hortopita of endive, spinach, and leek in a filo puff pastry; crispy Brussels sprouts with a jalapeño feta mousse; or fried calamari served with red pepper and fennel relish, lemon vinaigrette, and tzatziki. With small plates for vegans, vegetarians, seafood lovers, and meat-eaters, you're likely to find an appetizing appetizer to suit your taste here.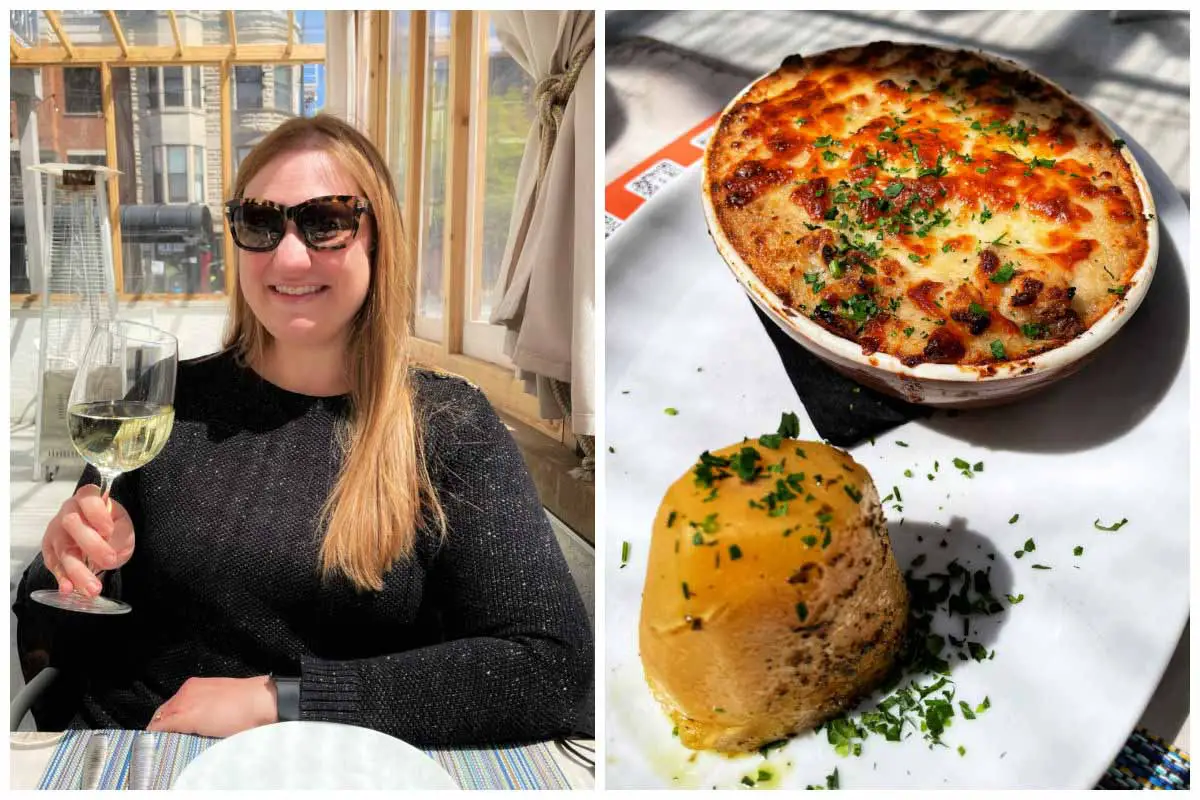 To end our Greek feast, we shared the pastichio entrée. Sometimes spelled pastitsio, this traditional Greek casserole combines pasta and ground beef for a hearty meal. It's comfort food at its finest. 
Of course, a meal at Avli wouldn't be complete without a beverage. In addition to Greek wines and beers, the menu features refreshing cocktails and Greek spirits. My mom and I paired our lunch with the Alpha Estates Chardonnay and Sauvignon Blanc from Amydeon in Greece's coolest wine region. 
With sunshine streaming onto the outdoor dining space, we shed our coats and had no need for the heaters that extend Chicago's al-fresco dining season from summer to a year-round affair. Avli also has locations in Chicago's Lincoln Park and Wrightwood Neighbors neighborhoods as well as suburban Winnetka, Illinois, about 16 miles from downtown Chicago.
Dining reservations can be placed online. 
Buena Vista Restaurant
In the Lake View East neighborhood, this Latino-family-owned-and-operated restaurant is a local favorite for its delicious Mexican dishes and bring-your-own-alcohol policy. 
At dinner, the menu features a variety of tacos, enchiladas, fajitas, and chimichangas among the authentic Mexican fare. Based on my own experience dining here, I recommend ordering the enchiladas, bringing your own bottle of wine (or a Mexican lager), and saving room for flan.
Buena Vista Restaurant also offers a small breakfast menu and a lunch special that includes rice, beans, and a can of soda with your entrée.
Takeout is available via online ordering for pick-up or delivery.
DryHop Brewers
This Lake View East brewery dishes up mouthwatering sandwiches, Neapolitan-style pizzas, and its seasonal craft beers in a laid-back setting. 
Topped with ancho-chile tomato jam, Wisconsin-made Brunkow raw milk cheddar cheese, pickled red onions, and arugula, the burger served on a brioche bun and a side of fries is a must to try. 
If pizza is what you crave, bite into the lightly blistered crust of a classic Margherita pie or a Fungus Among Us with a white wine lemon cream sauce and plenty of mushrooms, lemon zest, and crispy garlic. 
No matter what you decide to eat at this neighborhood brewery, be sure to pair it with a flight or pint of craft beer. The beer menu is heavy on hoppy Indian Pale Ales, but DryHop also serves cocktails, wine, and shots of Malört for a truly Chicago experience (if you can stomach the bitter, licorice-tasting liquor).
Carry-out orders for pick-up can be placed here.
Eataly Chicago
Certainly, there is no shortage of Italian eateries in Chicago, but for a whole Italian dining and market browsing experience, head to Eataly Chicago. Like its counterparts in New York City,  Los Angeles, and four other North American cities, Eataly Chicago is an enormous marketplace with cafes, food counters, and sit-down restaurants.
At Eataly Chicago, you can dine at Osteria di Eataly for a full Italian feast from antipasti to dolci, or pull up a chair at Ravioli & Co for freshly made tagliatelle in a beef and pork bolognese sprinkled with Parmesan. Other food counter offerings include panini sandwiches, gelato, and cannoli.
Eataly Chicago's restaurants and food counters offer takeout via a variety of food-ordering-and-delivery services. Additionally, reservations for Osteria di Eataly can be made via OpenTable.
Eduardo's Enoteca – Gold Coast
Nestled in the Gold Coast neighborhood, Eduardo's Enoteca is a cozy Italian wine bar. 
As you may have guessed, the menu features wines from Italy and Europe. However, sprinkled among the Old World vino, you may also find an Argentinian Malbec, West Coast reds, or even a sparkling brut rosé from Northern Michigan. 
During my May 2021 visit with my mom, we shared a bottle of Torre a Cona Badia a Corte Chianti Colli Fiorentini. Crafted from Sangiovese grapes and aged two years in oak barrels, this Tuscan Chianti was the perfect complement to our meal.
And what a delicious dinner it was! We were dining al fresco at the very end of an open-sided tent. Though a nearby heater made sitting with my back to the wind just tolerable enough, I sought a cup of minestrone to fight the chill. We also ordered arancini (Parmesan risotto balls) with a warm marinara sauce and the thin-crust artichoke pizza with lemon and garlic.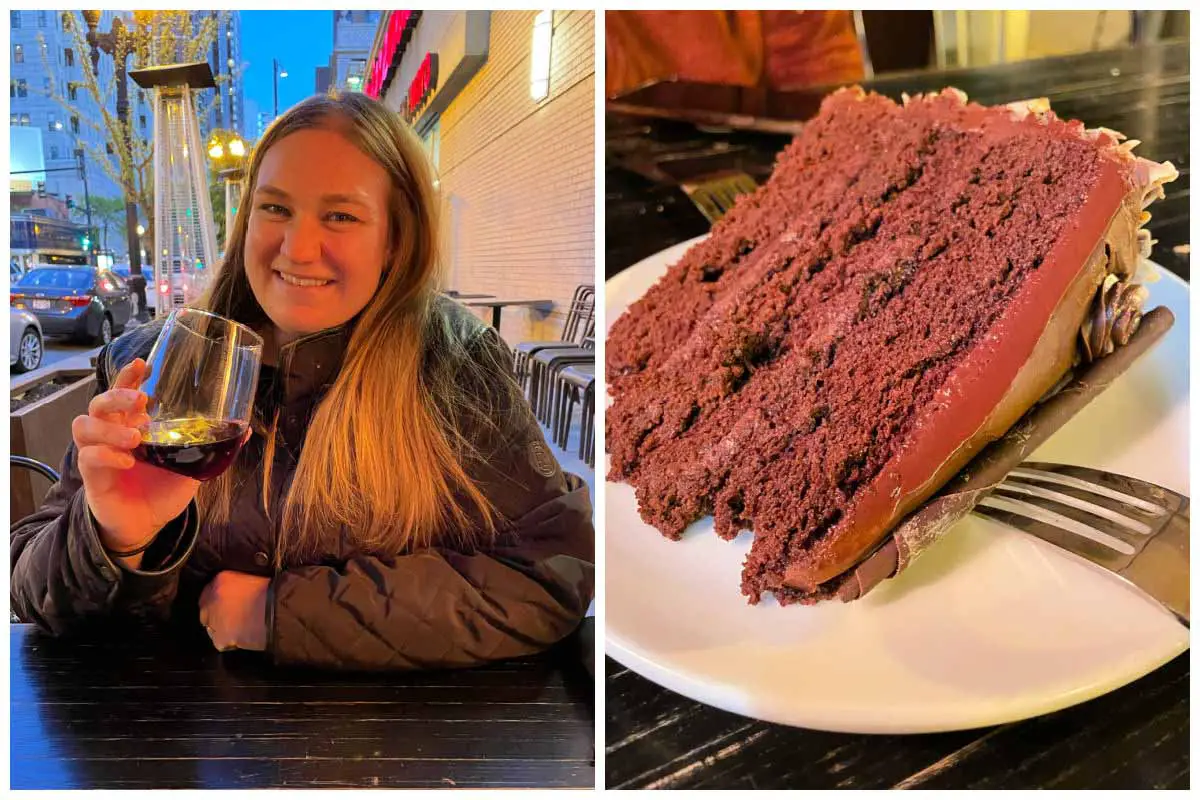 With Chianti left to sip, we decided to stay for dessert, and the devil's food cake was a temptation we just couldn't resist. Delightfully rich with chocolate goodness, this cake makes saving room for dessert a must when dining at Eduardo's Enoteca. At the very least, I recommend you order a slice to take home. 
You can make reservations on OpenTable, and takeout is available for pick up and delivery via online ordering. 
LUXBAR
Another Gold Coast spot with outdoor dining, LUXBAR is an American restaurant and bar serving handcrafted cocktails, an extensive array of spirits, weekend brunch, and tasty eats. 
The all-day menu features a variety of salads, burgers, sandwiches, pizzas, and steaks among other dishes. While dining here for lunch in May 2021, I ordered the light and refreshing California vegetable salad loaded with romaine, avocado, carrots, cucumber, grape tomatoes, sprouts, and hearts of palm in a Meyer lemon vinaigrette.
You can reserve a table online, and takeout is available for pick-up and delivery via DoorDash.
Pequod's Pizza
If you are visiting Chicago for the first time, devouring a Chicago deep-dish pizza is likely on your agenda. Diving into a deep-dish pie was certainly on my Chicago itinerary back in 2015, and all the locals I asked for their best deep-dish pizza recommendation sent me to Pequod's Pizza in Lincoln Park over the tourist hot spots Lou Malnati's Pizzeria and Giordano's. Though I can't compare how Pequod's Pizza stacks up against these often-compared pizzerias, I can say I wasn't disappointed in my Chicago deep-dish experience. Not one bit.
Having begun in 1970 in the Chicago suburb of Morton Grove, Pequod's Pizza became known among locals for the gooey cheese, sweet sauce, and signature caramelized crust of its deep-dish-style pan pizzas. By 1992, when Pequod's opened this location in Lincoln Park, the pizzeria was already becoming a Chicago legend. Today, Pequod's Pizza regularly makes national "best pizza" lists like when it ranked No. 2 on the Daily Meal's 2020 list of 101 best pizzas in America.
As you can imagine in a place described as having a cult-like following and national recognition among pizza critics, wait times can easily be 45 minutes or longer. Don't worry though because the wait goes by more pleasantly when spent sipping a beer at the Whale Tale, and locals also recommend joining the Yelp waitlist before your arrival to speed things along.
Otherwise, you can reserve a table for parties of four or fewer at least two hours in advance. For groups of five or more diners, call the restaurant or email reserve@pequodspizza.com. For takeout, you can place your order online for delivery or pick up.
Quartino Ristorante
Aperol spritz, anyone? At this all-in-one pizzeria, wine bar, and Italian restaurant, you'll find the flavors of Italy in Chicago's River North. 
Perfect for dining with a companion, the Quartino Ristorante menu features a dozen Neapolitan-style pizzas for $18 or less and savory small plates including burrata with roasted grape tomatoes, white-bean garlic dip with toasted filone, and veal meatballs in an organic tomato sauce. However, if it's pasta that you crave, the house-made pappardelle or tortellini might be worth a try. 
Gluten-free dishes are available upon request, and the menu features quite a few vegetarian small plates, pizzas, and pasta dishes.
You can reserve your table online, and takeout is available for pick up or delivery via DoorDash. 
Shaw's Crab House
The four-course Alaskan king crab dinner, Maryland-style lump crab cakes, lobster bisque, and oysters on the half shell make Shaw's Crab House a must-visit restaurant for seafood lovers in Chicago.
The seafood-centric menu also features Caribbean stone crab claws, sushi, whole Maine lobster, oyster Rockefeller, Maryland soft shell crabs, and surf-and-turf combos. Beyond seafood, the menu offers a limited selection including a burrata appetizer, salads, Parmesan chicken, steaks, seasonal vegetable side dishes, and house-made desserts. 
While visiting in 2015, I dined here on the recommendation of the then-Chicago-based bloggers behind Food Travelist. After eating a delicious lunch of beer-battered fish tacos paired with a craft beer and seeing the lively oyster bar, I have to agree that Shaw's Crab House is worthy of a visit.   
You can make reservations for the main dining room or oyster bar via OpenTable. Takeout can be ordered through the Shaw's Crab House website for pick up or delivery.
Conclusion
Since my home base in Michigan is only a couple hours from Chicago by car or train, I'm sure more visits to this foodie destination are in my future. When I visit again, I'll be sure to dine at more top-rated restaurants in Chicago and report back. In the meantime, if you are headed to the Windy City, I hope you enjoy these Chicago restaurants.
Best Chicago Food Tours
For even more ways to chew, slurp, and sip your way through Chicago, I recommend trying one of these tasty tours:
Read More Posts Like This
Have you dined in Chicago?
Is there a favorite Chicago restaurant of yours that didn't make this list? Tell me about it in the comment section below, and I may add it to my itinerary for a future Chicago getaway!
If you own, manage, or run the marketing efforts for a Chicago restaurant and would like your business or client to be added to this list, please reach out to me via my work with me page.
As always, you can connect with me on Instagram, Twitter, and Facebook to follow along with all my foodie adventures!
Editor's Note: Photo credit for the image of downtown Chicago is © SeanPavonePhoto/Adobe Stock.