Best known as the home of the University of Michigan, Ann Arbor is as much a foodie destination as it is a college town. Whether you are visiting for the annual Ann Arbor Art Fair, a Michigan football game, or a weekend getaway, at some point you're likely to wonder where to eat lunch in Ann Arbor. And trust me — there is no shortage of lunch options in this foodie college town.
As a Michigander, I've eaten lunch in Ann Arbor many times over the past 20-some years. However, I've limited my recommendations in this post to my favorite lunch spots from my visits within the past three years. Please note, some lunches in this post were hosted by Destination Ann Arbor during our partnership with Wanderful.
To access this post offline with GPS navigation to the restaurants listed, you can download the free GPSmyCity app and then have this Ann Arbor lunch guide handy when you are out and about. Want to learn more about how GPSmyCity works? I wrote about the app in this post.
Disclosure: Though I was sometimes eating on someone else's dime, all opinions and experiences are strictly my own. This guide to Ann Arbor lunch spots also contains some affiliate links. When you click on or book a hotel room through one of these links, I may earn a small commission. Also, as an Amazon Associate, I earn from qualifying purchases. Now, let's get back to what you really came here for — Ann Arbor's best lunch restaurants!
First of all, what kind of lunch food will you find in Ann Arbor?
Within a short walk of the University of Michigan campus, you'll find a diverse selection of dining options. Interspersed with the classic American burger joints and pizzerias you might expect to see in a Midwest college town are restaurants serving exotic ethnic cuisines and full vegan menus.
Also, with Ann Arbor's location in Southeast Michigan, the city's restaurants benefit from the American Midwest's bountiful agriculture. In fact, many of Ann Arbor's best lunch spots source as many of their ingredients as possible from local farms and purveyors.
Of course, Michigan is also known for our craft beer, and Ann Arbor's breweries certainly add to that reputation. At lunchtime, the local microbreweries are dishing up delicious fare alongside their ales. Several of the restaurants on this list also serve craft libations made with locally distilled spirits.
Where to eat lunch in Ann Arbor, Michigan?
With so many tasty options in one college town, I've pinpointed my five favorite lunch places in Ann Arbor, Michigan. All five of these Ann Arbor restaurants are conveniently located downtown or in the nearby Kerrytown neighborhood. Additionally, each of these restaurants is conveniently located near shopping, local attractions, public art, and the University of Michigan campus. So, read on to see where you can eat my favorite Greek salad or sip a passion fruit milkshake with your chorizo burger!
Frita Batidos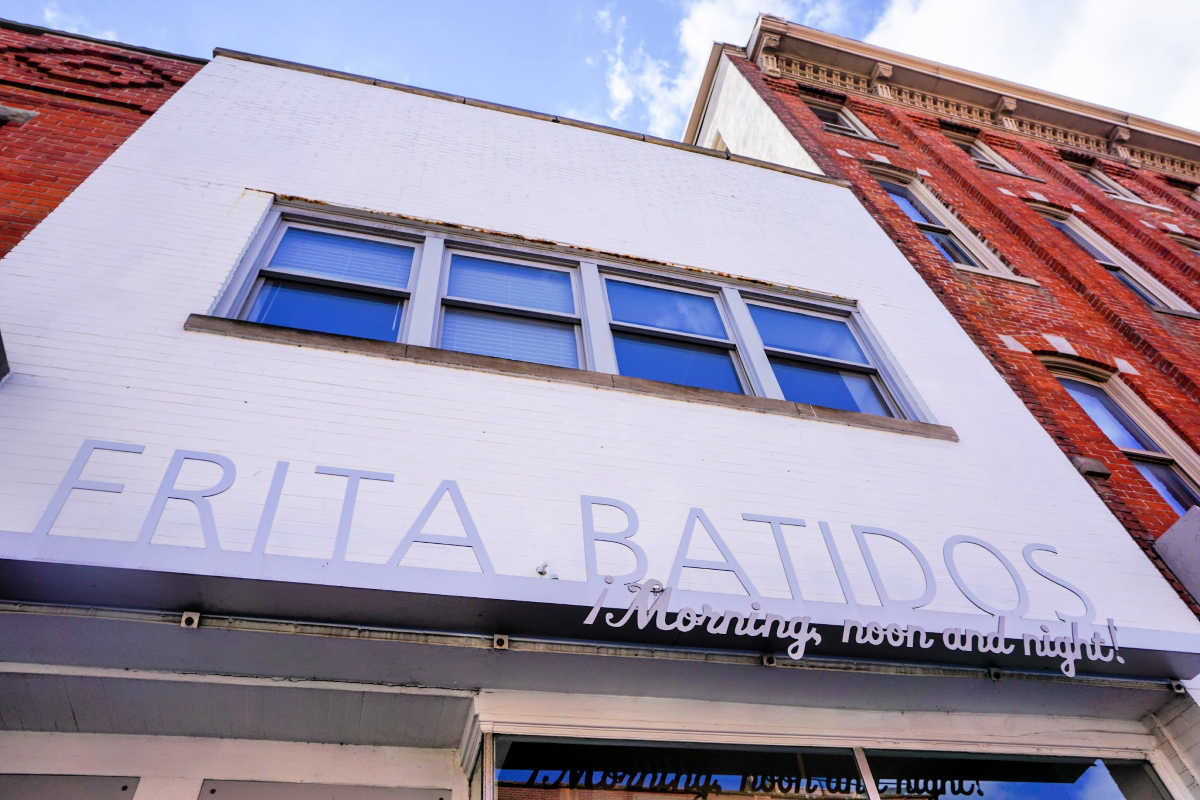 Inspired by the Cuban street food chef Eve Aronoff Fernandez experienced during her childhood visits to Miami, Frita Batidos is the best Ann Arbor lunch spot to grab a burger and milkshake — with a little Latin flair, of course.
During lunch, picnic tables are filled with diners munching on garlic-cilantro fries inside the bright, all-white dining room. After eating lunch here in October 2018, it's easy for me to see why Frita Batidos is such a hot spot.
Anchoring the menu are Fritas — burger patties topped with shoestring fries in a soft egg bun. At Frita Batidos, diners can build their Frita on a traditional Cuban chorizo patty, or they may opt for beef, chicken, fish, or a vegetarian black bean patty. Then you'll load up your Frita with Muenster cheese, a sunny-side up egg, cilantro-lime salsa, tropical slaw, avocado spread, jalapeño, or thick-cut bacon.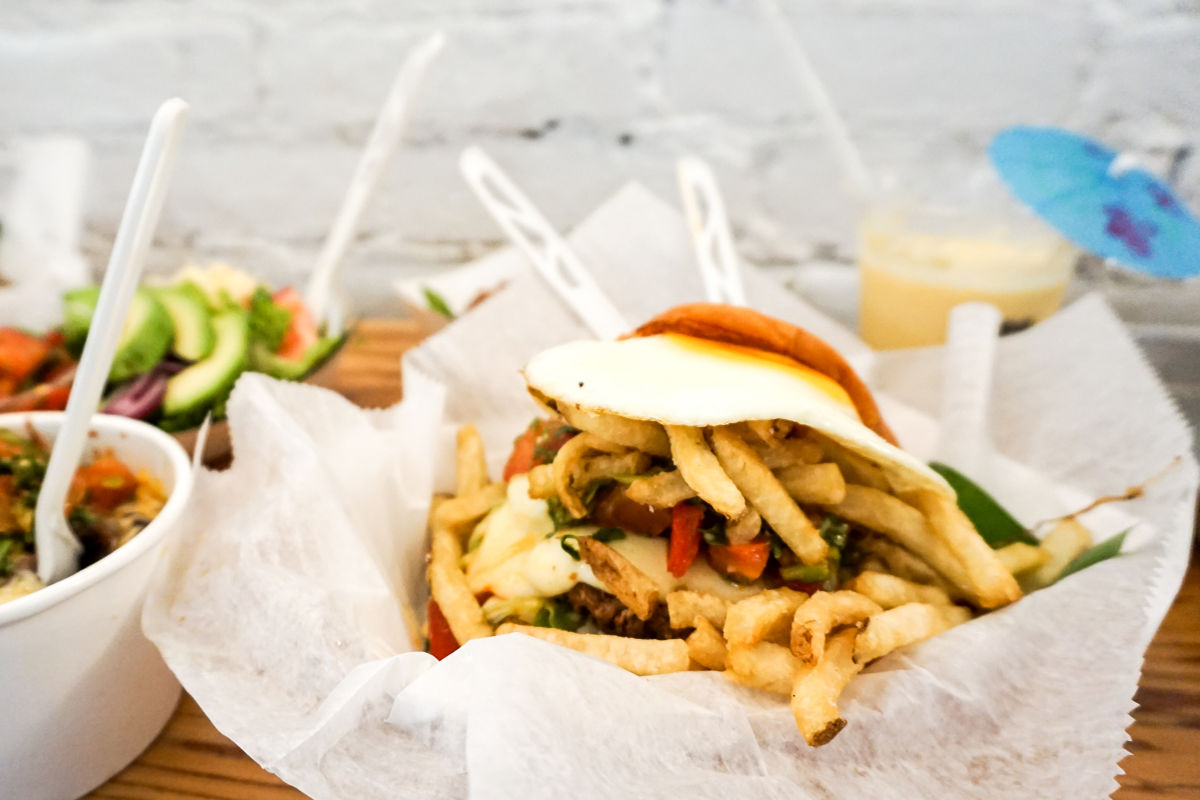 I opted to "make it loco" adding everything except the jalapeño and bacon to my chorizo Frita. It was beyond messy — requiring a fork, knife, and complete disregard for how ungraceful I looked taking this Frita down.
Of course, the other half of the restaurant's namesake is the Batido. In Cuba, you might find these milky smoothies sold by street vendors. At Frita Batidos, these tropical shakes are crafted with fresh fruit, the Detroit area's Guernsey Dairy vanilla bean ice cream, and crushed ice. Coming in flavors such as coconut cream, hibiscus, and chocolate Español, it's difficult to choose just one to order.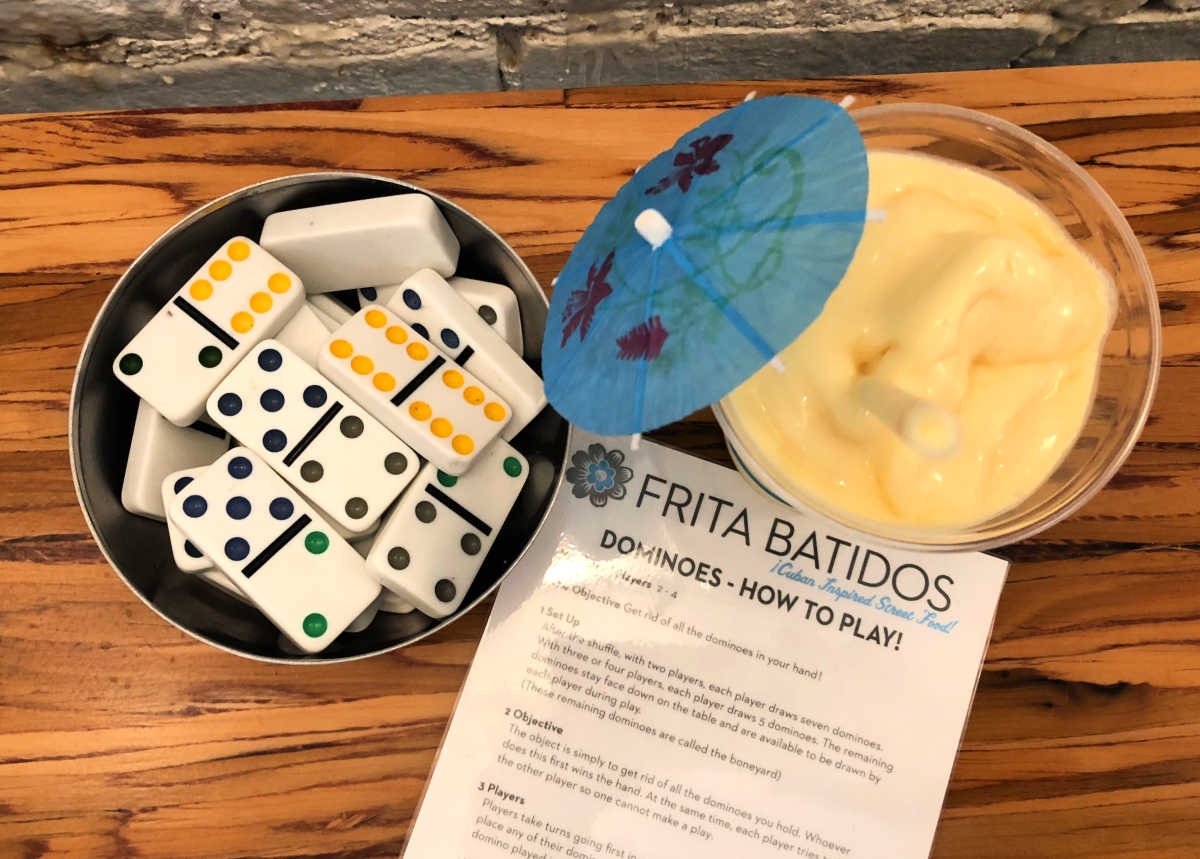 Personally, I highly recommend the passion fruit Batido. It's smooth, creamy, and refreshingly fruity without being too sweet for a mid-day drink. If you are the mood for an "adult beverage" just ask for a splash of rum for only $1 more.
Frita Batidos' spicy chorizo burgers, garlic-cilantro fries, and rum-spiked tropical shakes are beloved by hungry college students and food critics alike. While those are all mouthwateringly delicious, I also recommend you don't miss the twice-fried ripe plantains and churros. For another savory side, "the best snack ever" is a must. It's coconut-ginger rice layered with black beans, melted Muenster, and a cilantro-lime salsa. Aptly named, IMO.
Essential Info for Dining at Frita Batidos
Location: 117 W Washington St, Ann Arbor, MI 48104
Hours: 11 a.m. – 11 p.m. Sunday – Thursday, 11 a.m. – Midnight Friday and Saturday
Phone: (734) 761-2882
Website: fritabatidos.com
Atmosphere: Casual
Children's Menu: Yes
Special Diets: Frita Batidos offers vegetarian, vegan, gluten-free, and dairy-free dishes.
2020 Update: As of June 18, Frita Batidos is open for carry-out and delivery orders only. According to the restaurant's website, the patio is set to open soon. You can also support Frita Batidos by purchasing a gift card or donating to the gofundme supporting the staff.
Miss Kim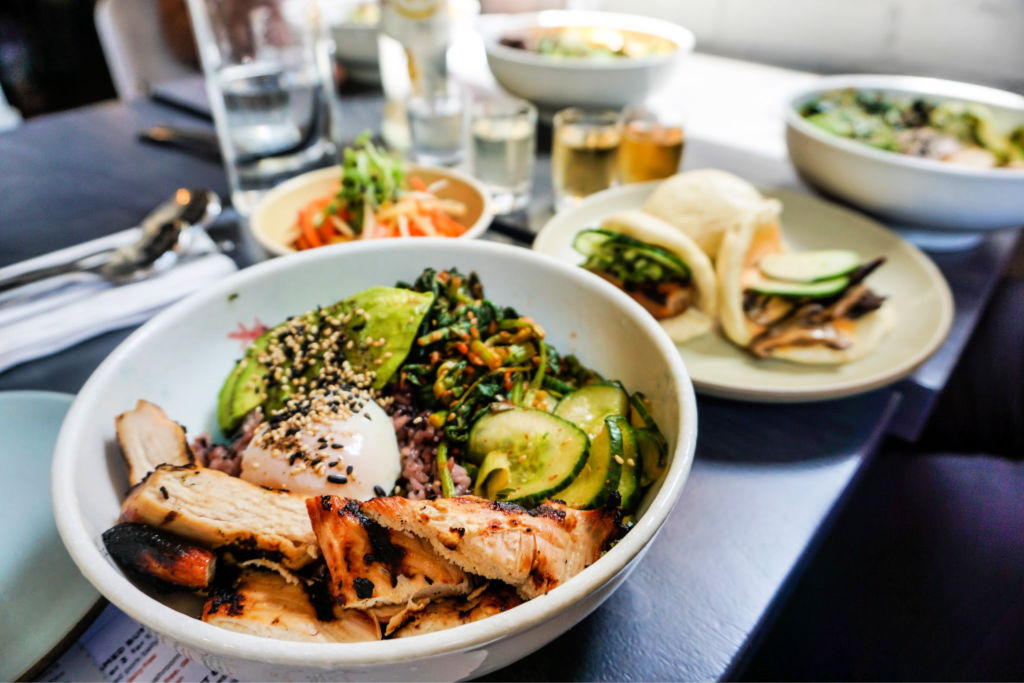 Having a craving for Asian? Then I highly recommend heading over to Miss Kim at the Kerrytown Market & Shops. This hip Korean restaurant serves a casual, Asian street-food-inspired lunch menu. You'll find build-your-own rice and salad bowls, sandwiches, fluffy buns, and shareable veggie sides.
When I dined at Miss Kim, I ordered a bowl of the signature purple multigrain rice topped with sliced avocado, a soft egg, and grilled garlic chicken from Indiana-based Miller Amish Country Poultry. Adding texture and color to the filling bowl were seasonal veggies from the local farmers' market. It was filling yet felt light, fresh, and healthy.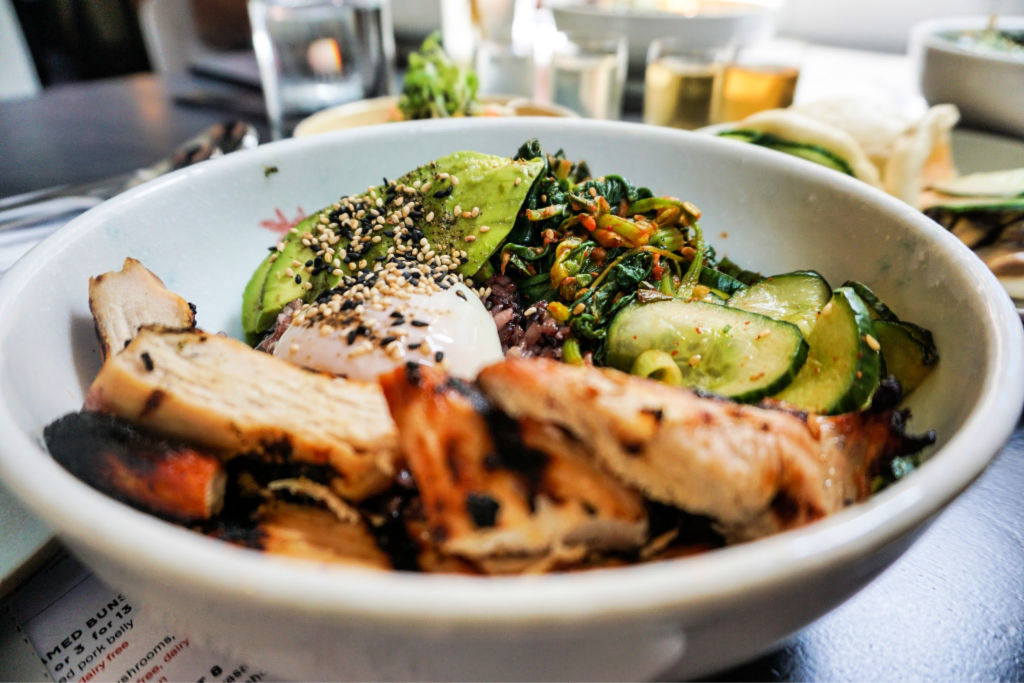 When eating lunch at Miss Kim, you absolutely must try the fluffy steamed buns. Personally, I'm a fan of the roasted pork belly bun. The combination of hoisin sauce, scallions, ginger, and thinly sliced cucumbers is absolutely scrumptious.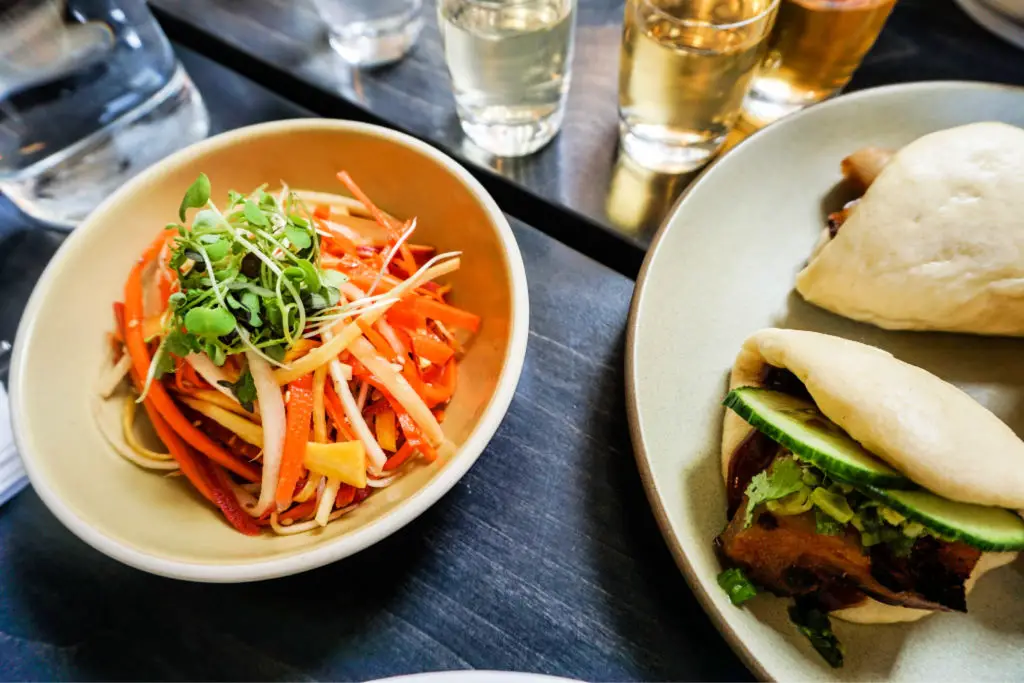 Though the lunch menu slightly changes each week, you can always expect dishes created with fresh, seasonal, and locally-sourced ingredients at Miss Kim.
Essential Info for Dining at Miss Kim
Location: Kerrytown Market & Shops, 415 N 5th Ave, Ann Arbor, MI 48104
Hours: 12 p.m. – 8:30 p.m.
Phone: (734) 275-0099
Website: misskimannarbor.com
Atmosphere: Casual
Children's Menu: Yes
Special Diets: The Miss Kim lunch menu clearly labels dishes as gluten free, vegetarian, vegan, soy free, nut free, dairy free, and fish sauce free. All kids' meals are free of soy, nuts, dairy, and gluten.
2020 Update: As of June 18, Miss Kim's dining room remains closed. A limited menu is available to order for contact-free curbside pickup or delivery via Grubhub and EatStreet.
The Pretzel Bell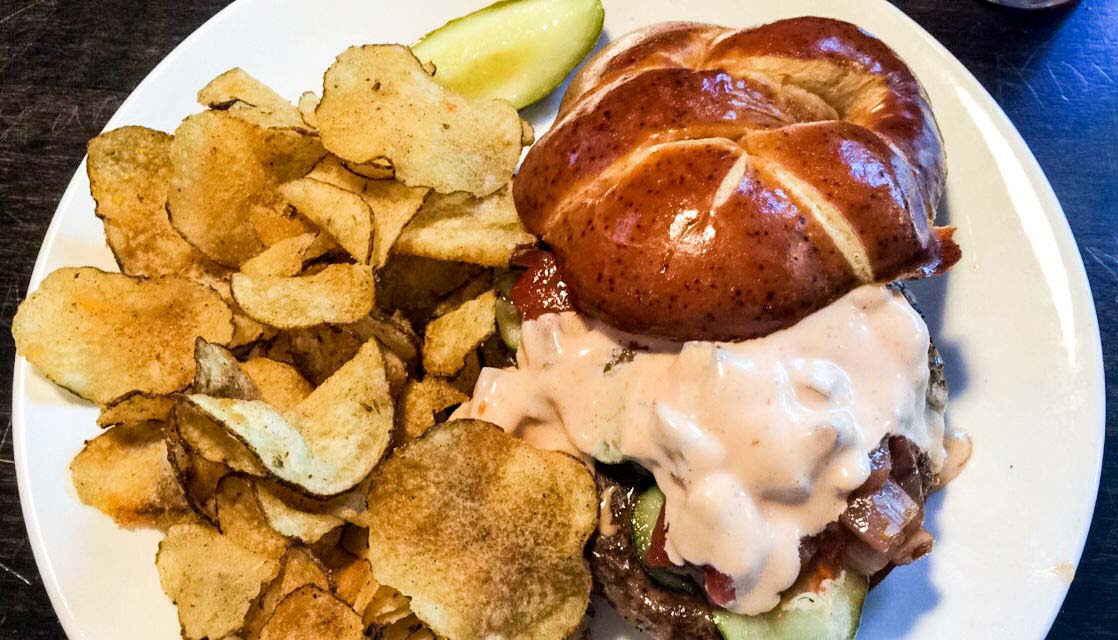 From its opening in 1934 until it closed nearly 50 years later, the original Pretzel Bell was a beloved hangout for both college students and locals. After more than 30 years, the Pretzel Bell returned to Ann Arbor as a bi-level restaurant and bar.
University of Michigan memorabilia adorns the walls and fills cases throughout the dining room, evoking nostalgia while paying homage to "U of M." Since the decor is inspired by the university, the Pretzel Bell would be a fitting restaurant to eat lunch before attending a Michigan football game.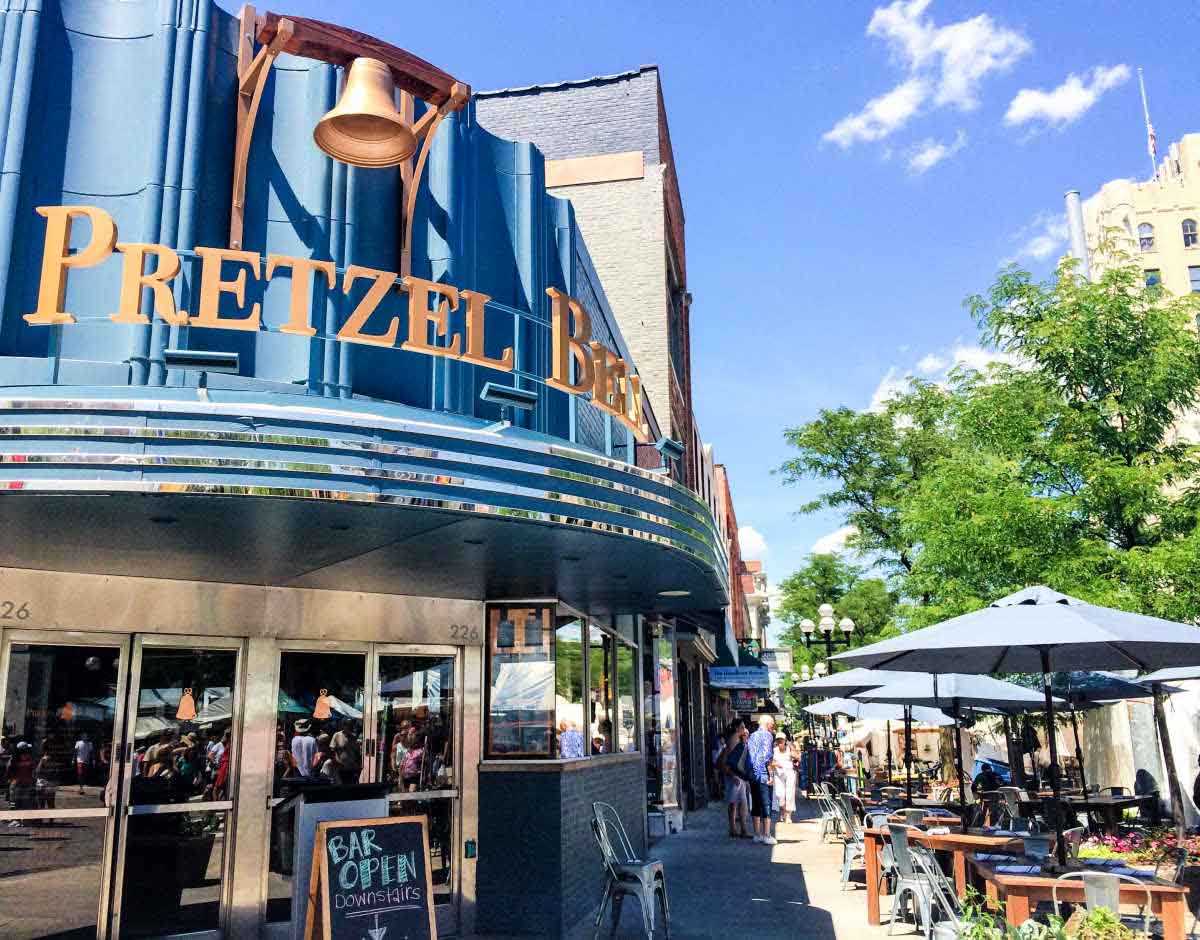 With its outdoor seating along the sidewalk, dining under a blue umbrella at the Pretzel Bell is especially enjoyable in summer. In fact, the Pretzel Bell is in a prime location for a lunch break during July's annual Ann Arbor Art Fair.
Serving modern American comfort food, the Pretzel Bell's lunch menu features salads, burgers, sandwiches, and upscale pub favorites such as beer-battered fish & chips and a short-rib poutine.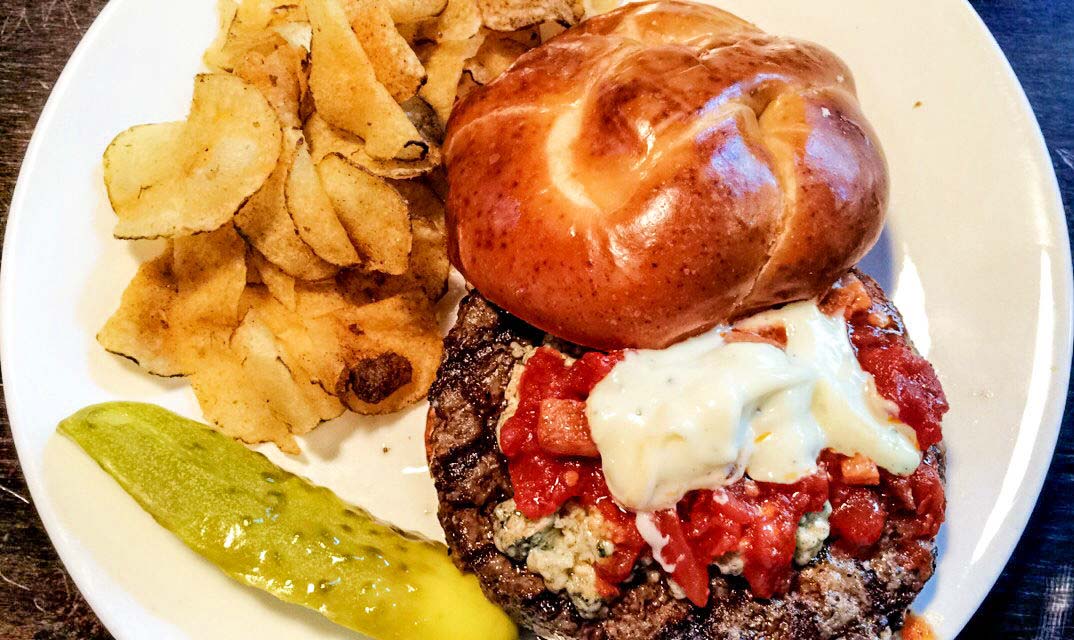 Personally, I'm a fan of the Pretzel Bell's burgers. One of my favorites is the blue burger topped with blue cheese, tomato bacon jam, and an aioli. Another burger I recommend is the turkey and avocado burger with Michigan white cheddar, lettuce, tomato, picked red onion, and an aioli. Most burgers are served either on a pretzel roll or a brioche bun made by a local bakery.
Essential Info for Dining at the Pretzel Bell
Location: 226 S Main St, Ann Arbor, MI 48104
Hours: Temporarily closed
Phone: (734) 994-2773
Website: thepretzelbell.com
Atmosphere: Casual
Children's Menu: Yes
Special Diets: Vegetarian dishes include black bean burger, variety of salads, nachos, and a soft pretzel appetizer.
2020 Update: As of June 18, the Pretzel Bell remains closed, but plans to reopen with new hours are in the works.
Sava's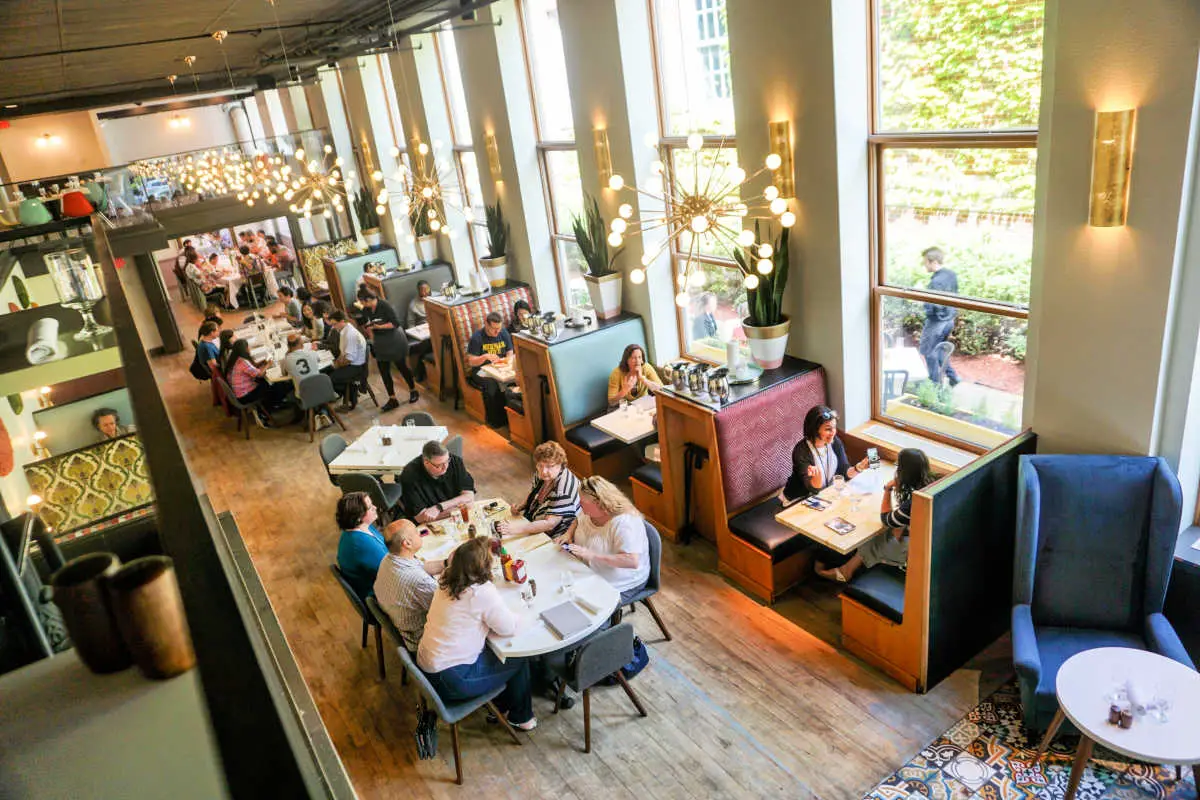 Since 2007, Sava's has grown from a 23-seat lunch spot, where entrepreneur Sava Farah was both cooking and serving her customers, to a 300-seat flagship restaurant of her hospitality group. Certainly, Sava's has become a State Street mainstay for lunch in Ann Arbor.
Offering a diverse lunch menu with Mediterranean inspiration, you'll find dishes such as a vegetarian falafel pita, a Mediterranean shrimp and spinach salad, and a mezze plate with hummus and grilled pita.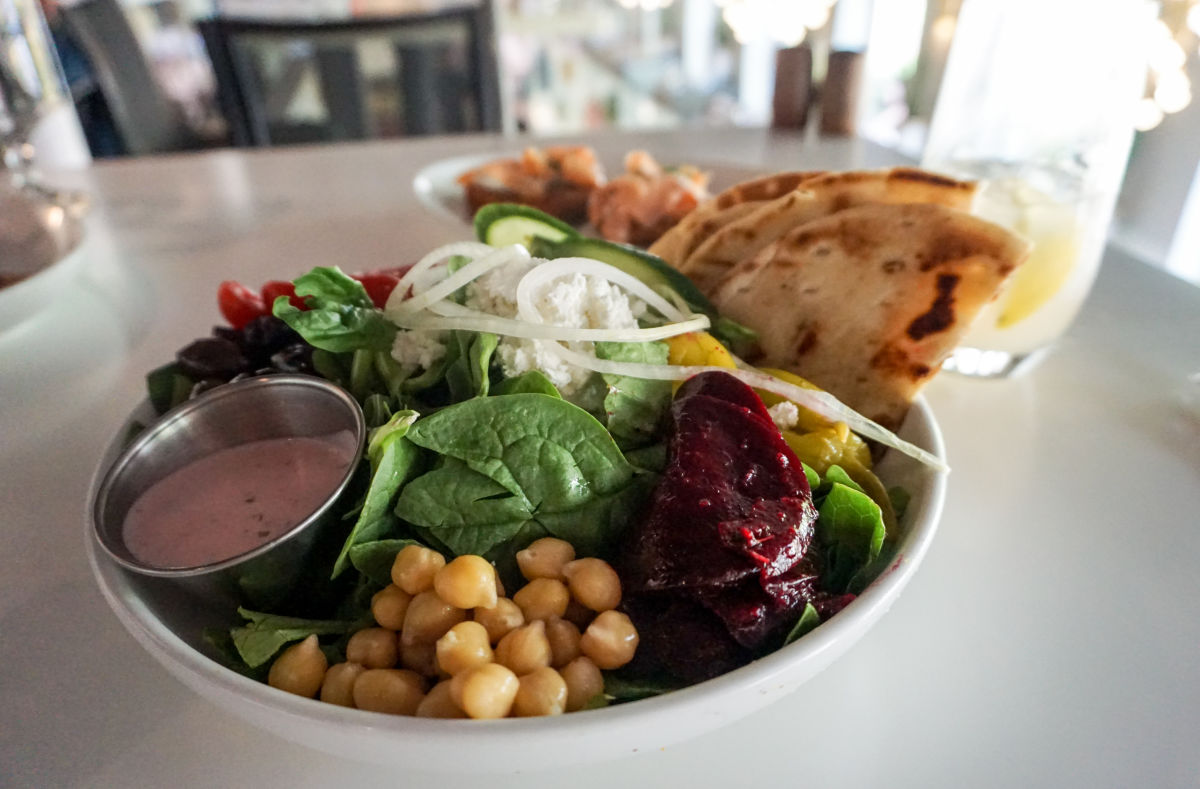 For my lunch entree, I ordered Sava's Greek salad. Built in a bowl filled with mixed greens, the Greek salad had roasted beets, cucumber, tomatoes, chickpeas, onion, pepperoncini, kalamata olives, feta, and grilled pita. While I found Sava's Greek salad plenty filling for lunch as it is, you could also add a protein of chicken, shrimp, Scottish salmon, or a black bean patty.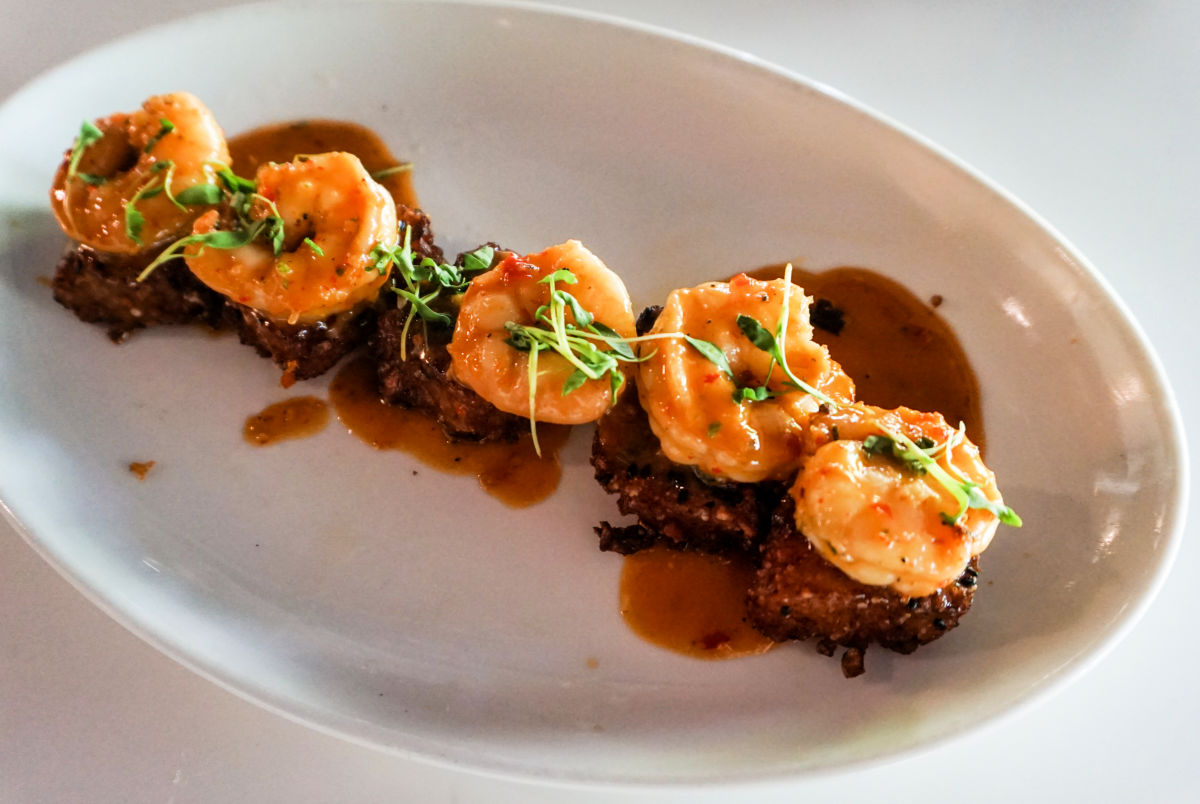 In addition to the main dishes, Sava's offers a number of small plates ideal for sharing. The next time I lunch at Sava's I'd like to try the mushroom crostini, burrata with a blackberry gastrique, or the calamari with a lemon caper sauce. So far, I've tried the tasty bang bang shrimp served on crispy brown rice cakes. Whichever small plate you choose, I don't think you could go wrong at Sava's.
Essential Info for Dining at Sava's
Location: 216 S State St, Ann Arbor, MI 48104
Hours: 4-11 p.m. Daily
Phone: (734) 623-2233
Website: savasannarbor.com
Atmosphere: Casual
Children's Menu: Yes
Special Diets: Several vegetarian options and at least one vegan or gluten free option per menu category. Kids' menu also offers vegetarian meals.
2020 Update: Sava's has moved to a dinner-only model at this time. You can order dinner carry-out for pickup.
Zingerman's Delicatessen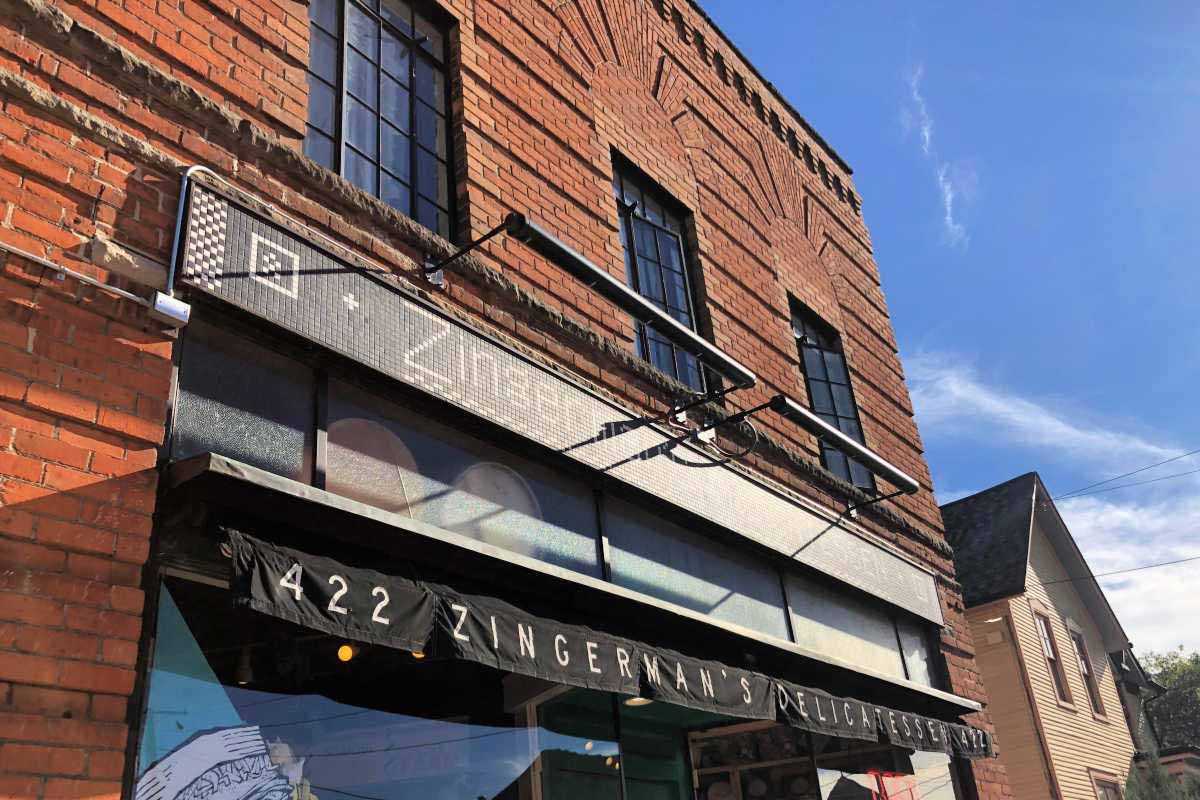 An Ann Arbor institution since 1982, Zingerman's Delicatessen serves made-to-order sandwiches, housemade deli sides, soups, and other Jewish specialties. Additionally, the deli carries a refined selection of gourmet groceries, and the Next Door cafe serves Zingerman's Coffee, pastries, cakes, gelato, candy, and high-quality chocolate.
Of course, at lunch, the sandwich reigns king here. In fact, the menu features more than 50 sandwiches! You'll find Ruebens, BLTs, a Cubano, and Zingerman's take on an Italian sub. There are sandwiches made with corned beef, pastrami, Amish chicken, roast beef, cold-smoked salmon, and more. Plus, the menu lists several vegetarian sandwiches and even a couple vegan options. In particular, Sheila's Viva Las Vegan sounds delicious with hummus, artichokes, roasted red pepper, and baby spinach on Zingerman's grilled farm bread.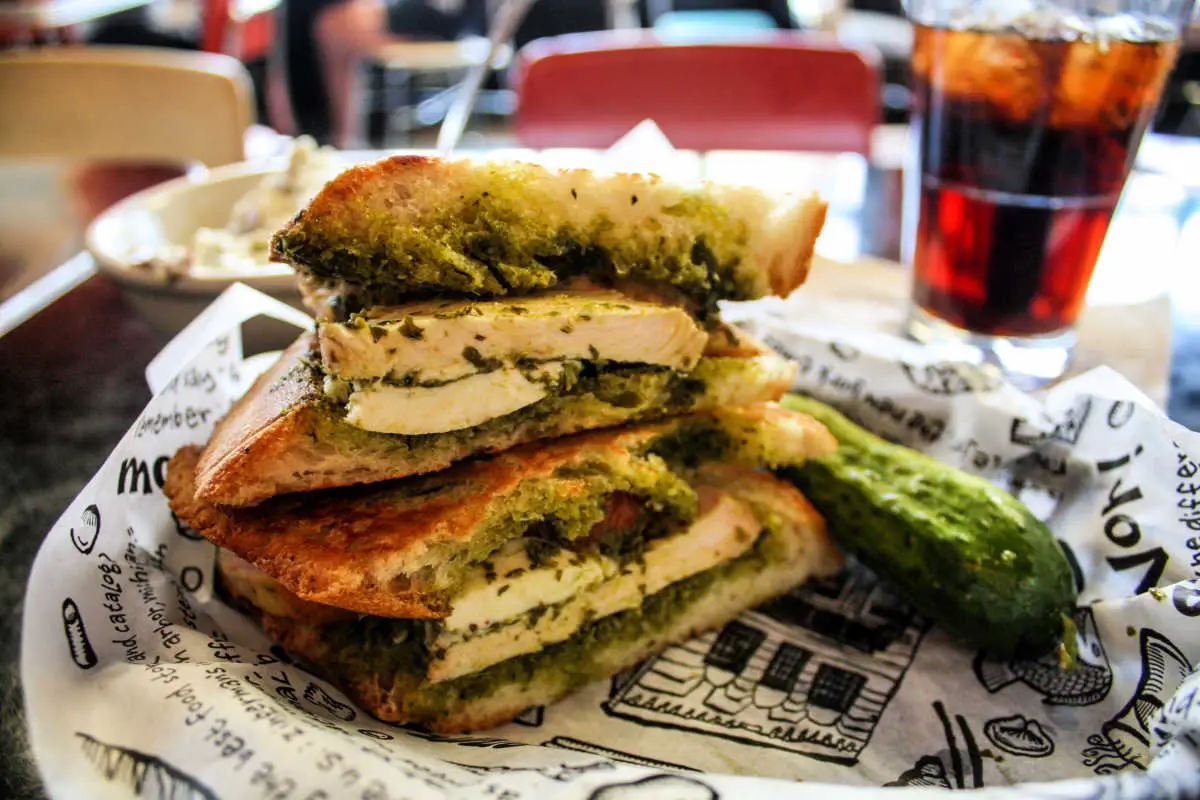 On my first visit to Zingerman's Deli, I selected Benno's Birdie. Definitely a sandwich for pesto lovers, it's Amish chicken breast, Ligurian pesto, oven-dried tomatoes, and fresh, handmade mozzarella on grilled rustic Italian bread. Knowing Zingerman's esteemed reputation, I also added a side of garlic potato salad. Made with redskin potatoes, the salad had just the right amount of garlic. It's definitely a side I'd order again. Rounding out my lunch were a crisp new pickle and a housemade root beer.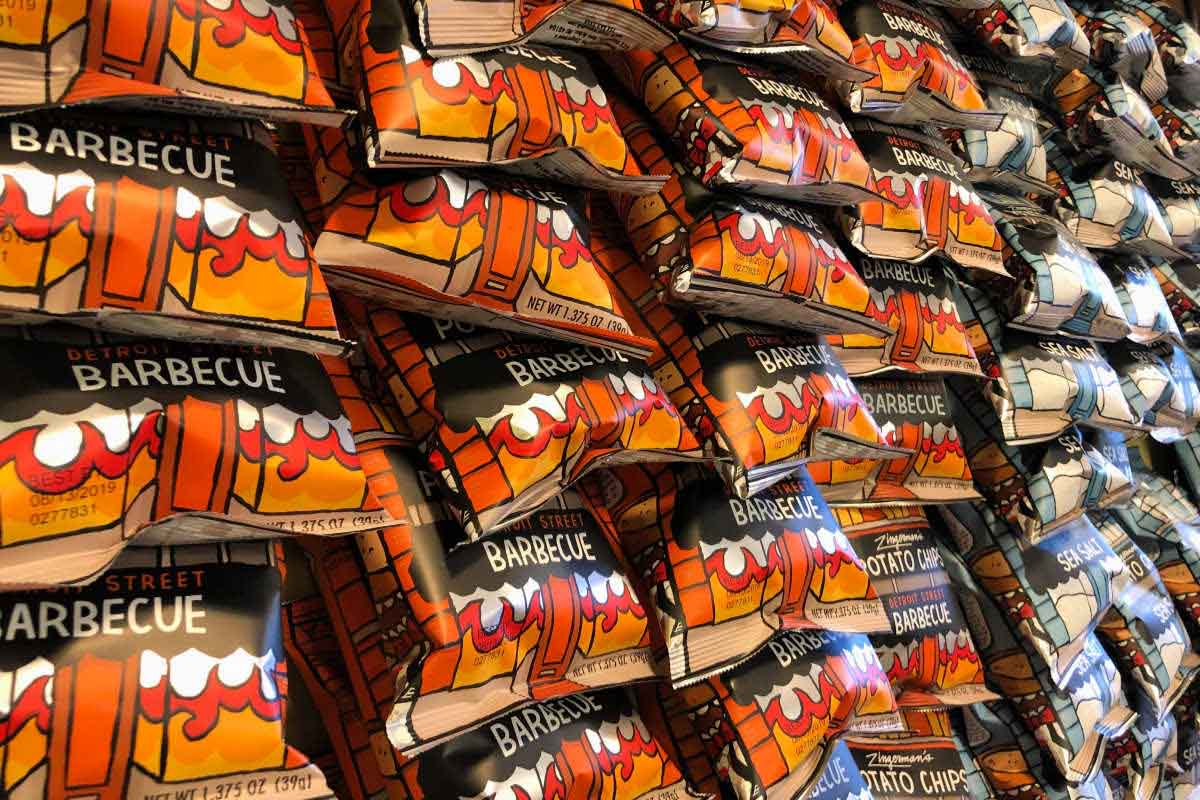 Many diners also choose to add a bag of Zingerman's Potato Chips to their order. Combining Traverse City, Michigan's Great Lakes Potato Chips with  Épices de Cru spices, the chips come in four flavors: Detroit Street Barbecue, French Grey Sea Salt, Tellicherry Black Pepper, and Dill-icious Deli Pickle. I've eaten the Detroit Street Barbecue chips and want to try the French Grey Sea Salt next time. Which chips would you add to your lunch?
Essential Info for Dining at Zingerman's Deli
Location: 422 Detroit St, Ann Arbor, MI 48104
Hours: 11 a.m. – 7 p.m. Daily
Phone: (734) 663-3354
Website: zingermansdeli.com
Atmosphere: Casual
Children's Menu: Yes
Special Diets: The vegetarian menu includes several vegetarian sandwiches and even a couple vegan options. Any sandwich can be made on gluten-free bread for an extra charge. Zingerman's recommends customers inform the staff of any food allergies to ensure each order is safe to eat.
2020 Update: Zingerman's Deli is offering online ordering of its sandwiches and deli sides, groceries, and meals you can warm at home.
Search the map below to find these Ann Arbor lunch spots:
Visiting Ann Arbor?
Now that you've seen some of the tasty lunches you could eat in Ann Arbor, I wouldn't blame you if you're craving a visit. To help plan your trip to Ann Arbor, I've written about the following topics:
Also, if you are wondering where to stay in Ann Arbor, I recommend Graduate Ann Arbor and Weber's Boutique Hotel. You'll also find more Ann Arbor hotels on TripAdvisor and Booking.com.
For more resources in planning your trip, visit Destination Ann Arbor and check out these self-guided Ann Arbor tours.


Save this guide to the best Ann Arbor lunch restaurants to Pinterest!