Disclosure: My three-night stay at Weber's Boutique Hotel was hosted by Destination Ann Arbor as part of an ongoing campaign with Wanderful, the premier women's travel network. This post also contains some affiliate links. When you click on or book your hotel room through one of these links, I may earn a small commission. Of course, this is at no extra cost to you, and all opinions are my own.
---
Wondering where to stay in Ann Arbor, Michigan? For its attentive hospitality, updated rooms with modern amenities, indoor saltwater pool, and a fine-dining restaurant with "famous" prime rib, I recommend the family-owned Weber's Boutique Hotel & Restaurant.
Having celebrated its 80th anniversary in 2017, Weber's has certainly reinvented itself over the past 80+ years. Back in 1937, the first inn opened by Herman Weber stood at the intersection of Washtenaw and Platt roads. At only 23 years old, Herman had invested the money he earned as a dishwasher at Metzger's, another long-running family business in Ann Arbor, into the inn, which he ran with his brother. Since then, Weber's has moved locations, grown in size and reputation, and become well known for its famous prime rib and hospitality. Yet, one aspect has remained constant — the Weber family at the helm.
Look Inside Weber's Modern Guest Rooms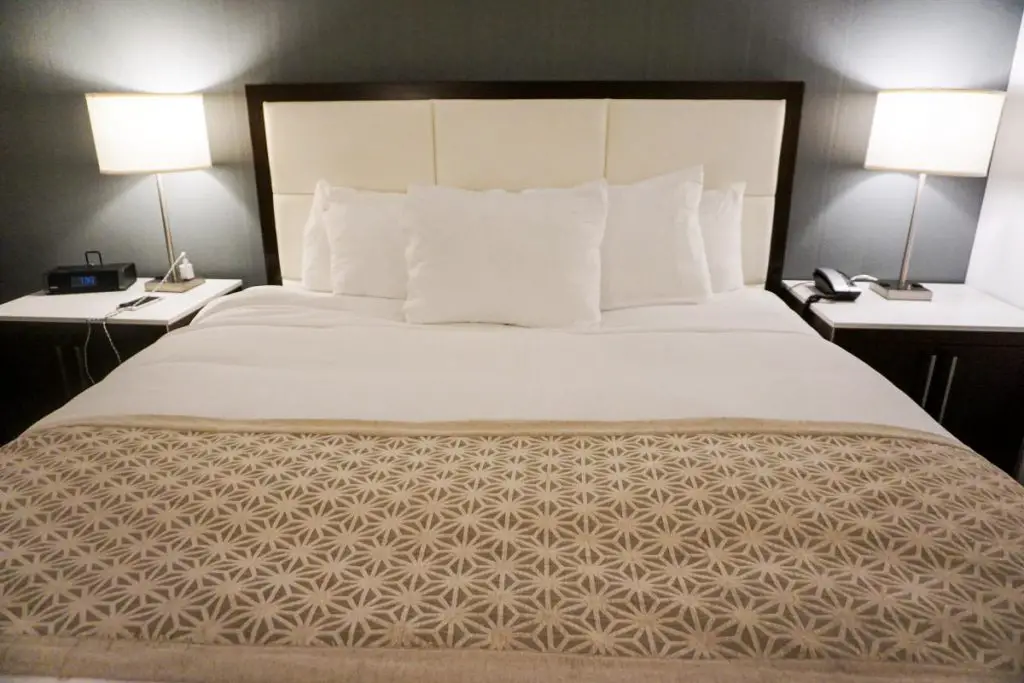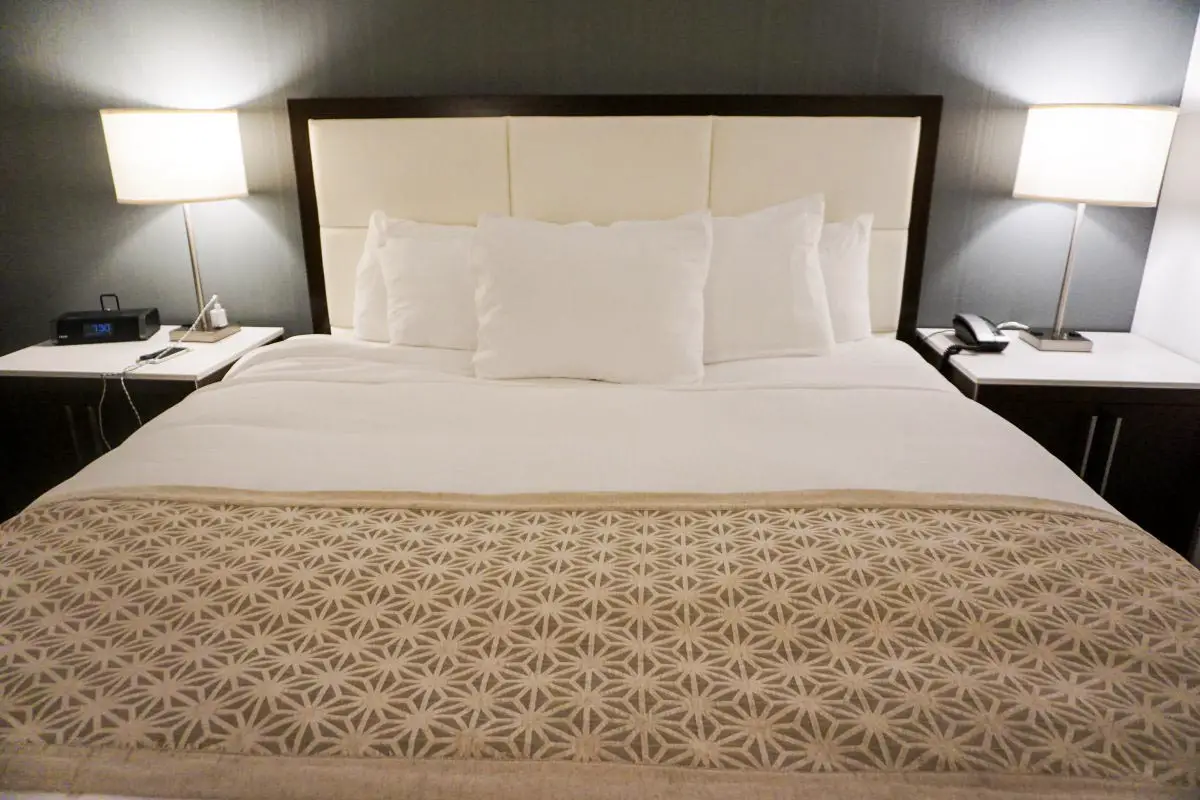 As I mentioned, this iconic Ann Arbor hotel has gone through many changes throughout the years, including a recent renovation. When I stayed at Weber's Boutique Hotel in October 2018, my standard double room had two plush Simmons Beautyrest pillow-top full-size beds. With 300 thread count sheets and down pillows and comforters, the beds were incredibly cozy and comfortable.
The room's double bed set up worked out really well since my mom joined me for two nights of my Ann Arbor getaway. At 300 square feet, the room also felt spacious enough for the two of us to store our luggage and to get ready each morning without bumping into one another. I really appreciated the full-length mirror in the bedroom on those mornings!
More Guest Room Features
iHome clock radio with iPhone charging station and Bluetooth capability
Flat-screen TV with 70 HD channels, HBO, and pay-per-view movies
Coffeemaker with Starbucks coffee
In-room safe
Small refrigerator
Complimentary morning newspaper Monday – Friday
Complimentary high-speed wi-fi
Ironing board
Room service and express breakfast ordering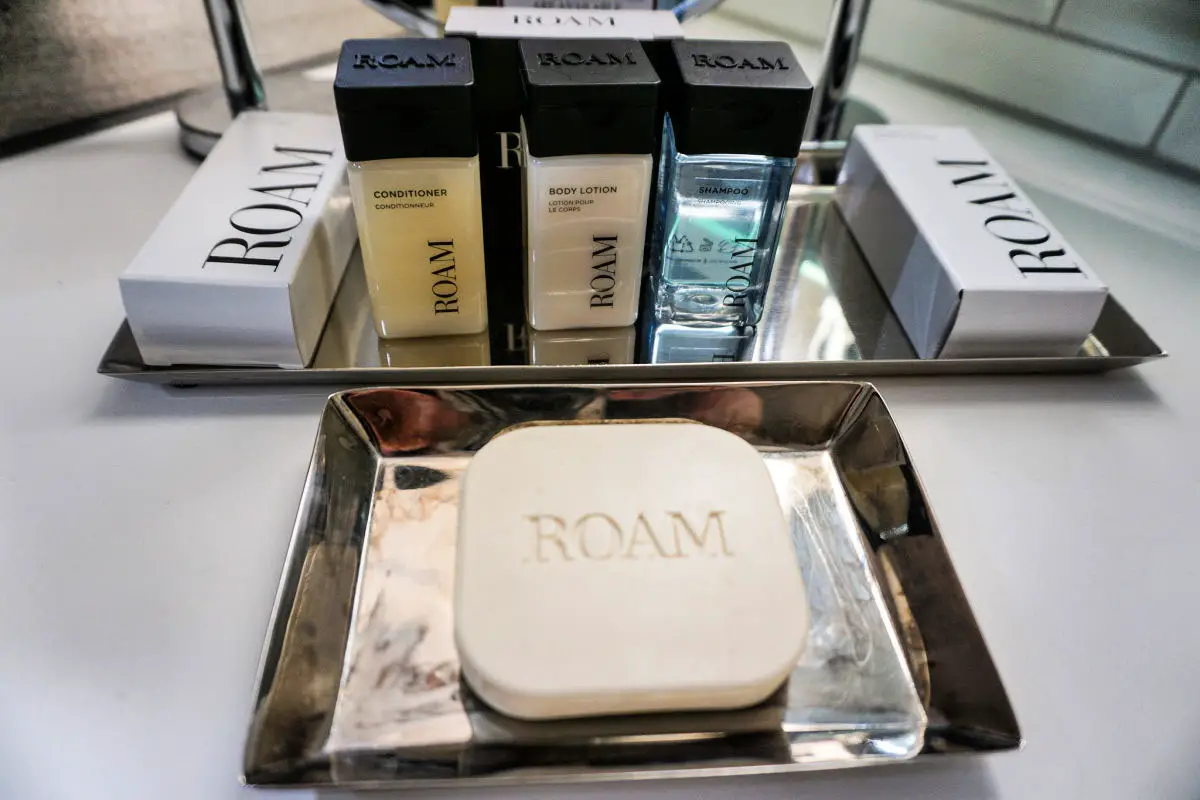 Bathroom Features
Walk-in rainfall shower with bench
Musical Mirrors™ with Bluetooth speakers
Extra large bath towels
American-made William Roam toiletries
Hair dryer
Hotel Amenities
What makes staying at Weber's Boutique Hotel so special? The amenities! In particular, the atrium with the indoor saltwater pool is a gem. I love how this indoor pool feels like you are outside due to the sunlight beaming in through the skylight windows. Yet, being indoors, guests can take a refreshing dip any time of year — even in the middle of a snowy Michigan winter!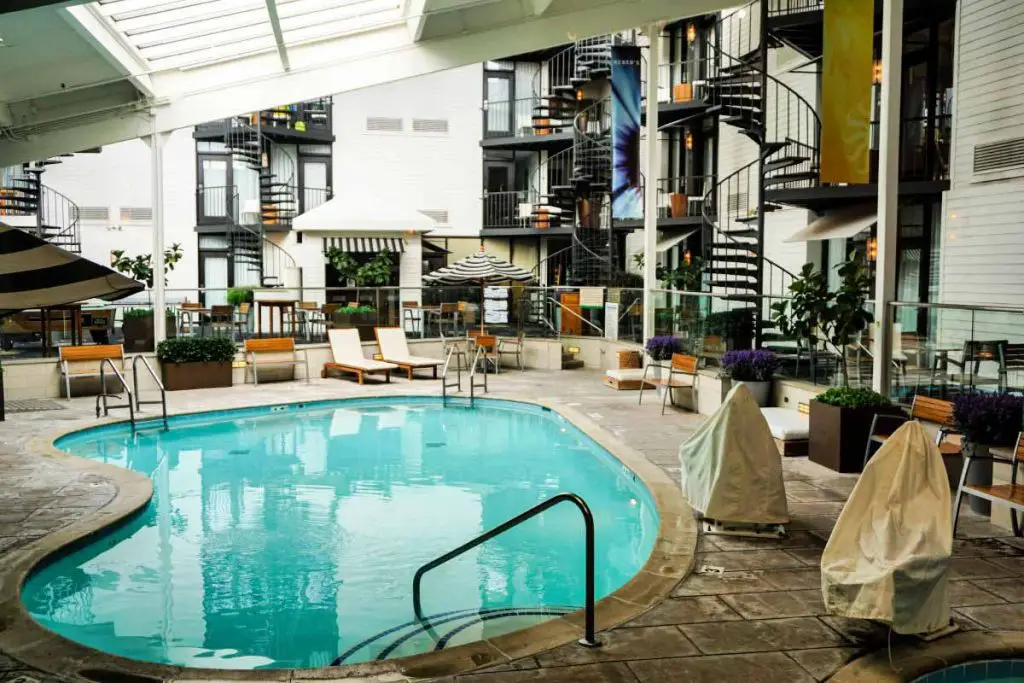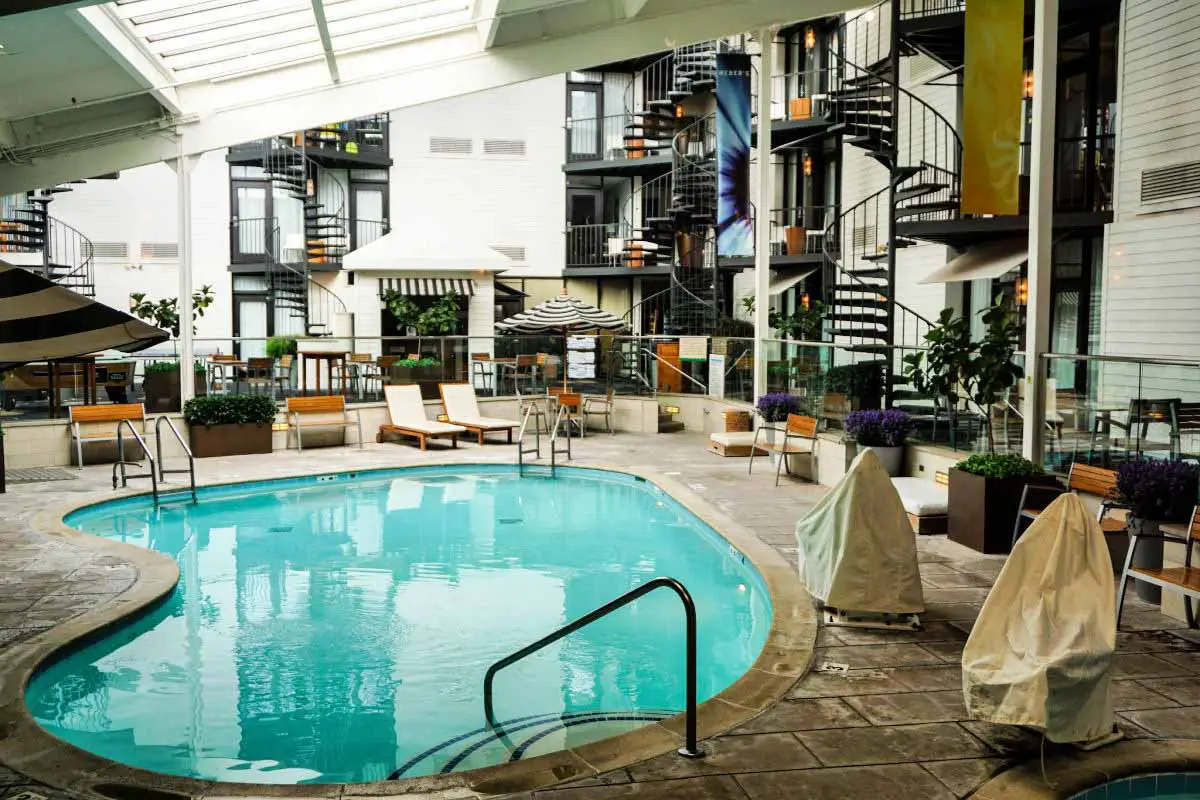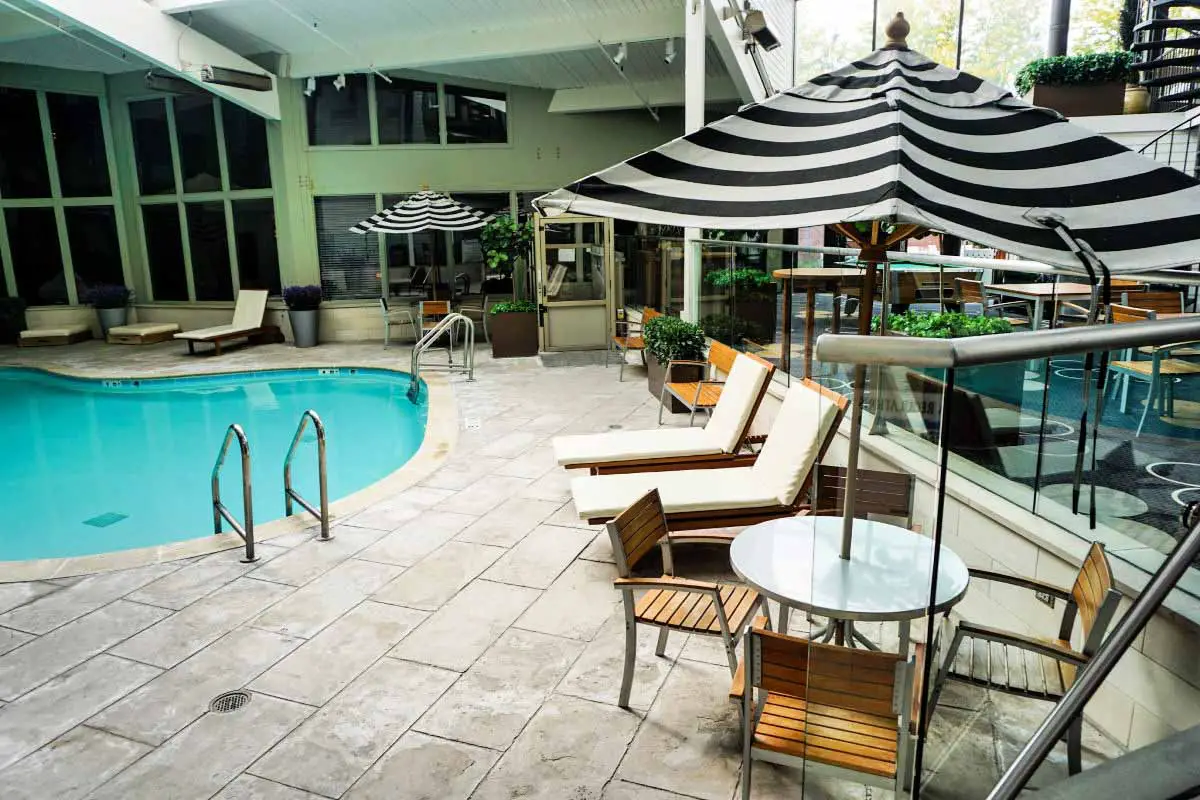 As a traveler who jam packs my itineraries, I really appreciate that the business center and gym are both open 24 hours. That gives me the flexibility to work and exercise as early or late as I want. Speaking of the gym, it has cardio and strength-training equipment. After working out, guests can relax in the sauna or hot tub. Just looking to have fun? The atrium has a pool table, ping pong, and arcade games.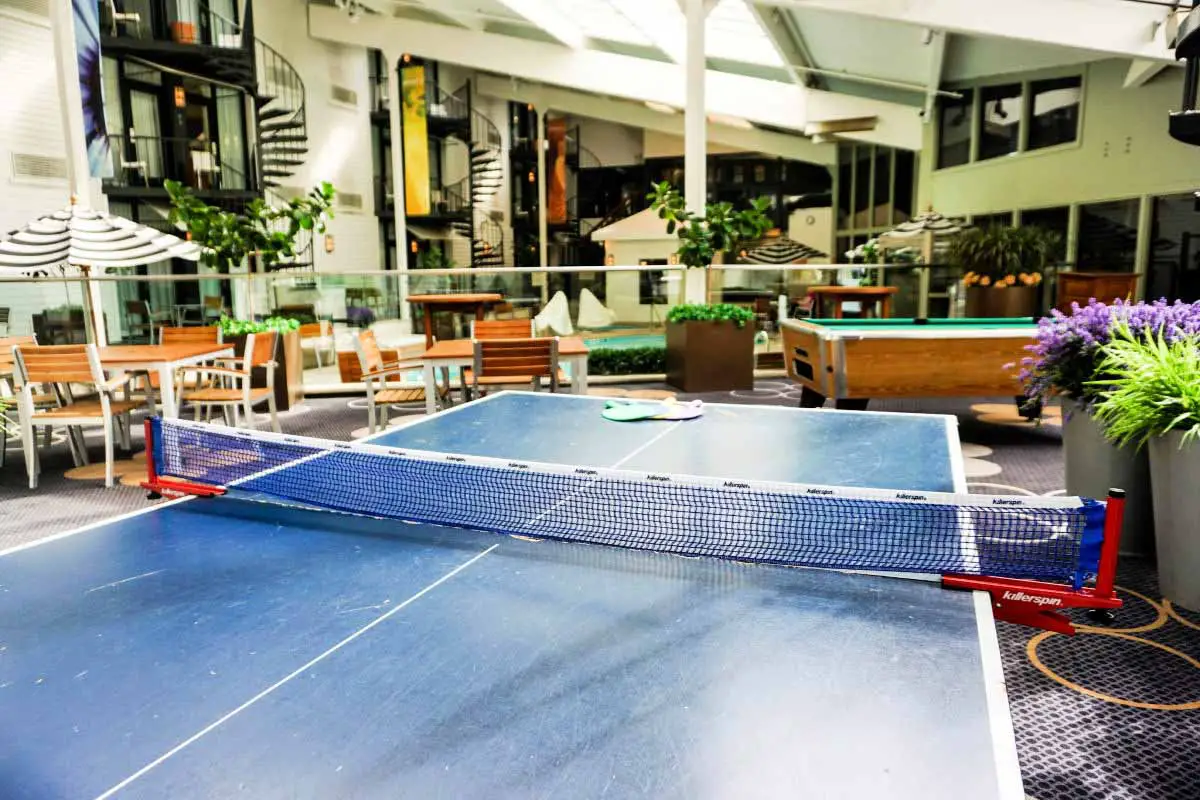 Weber's Boutique Hotel Amenities
Indoor saltwater pool, sauna, and hot tub
24-hour fitness center
24-hour business center
Summer patio and sundeck with a giant chess set
Pool table, ping pong table, and pinball machines
Same-day dry-cleaning service (Monday – Friday)
Nearby nature trails
Electric vehicle charging station
On-site Weber's Restaurant with famous Prime Rib, The Habitat Bar with nightly live music, The Coffee Bar serving Hyperion coffee and pastries made in-house, and The Bakeshop that creates customized wedding cakes and delicious cookies
Food and Drink at Weber's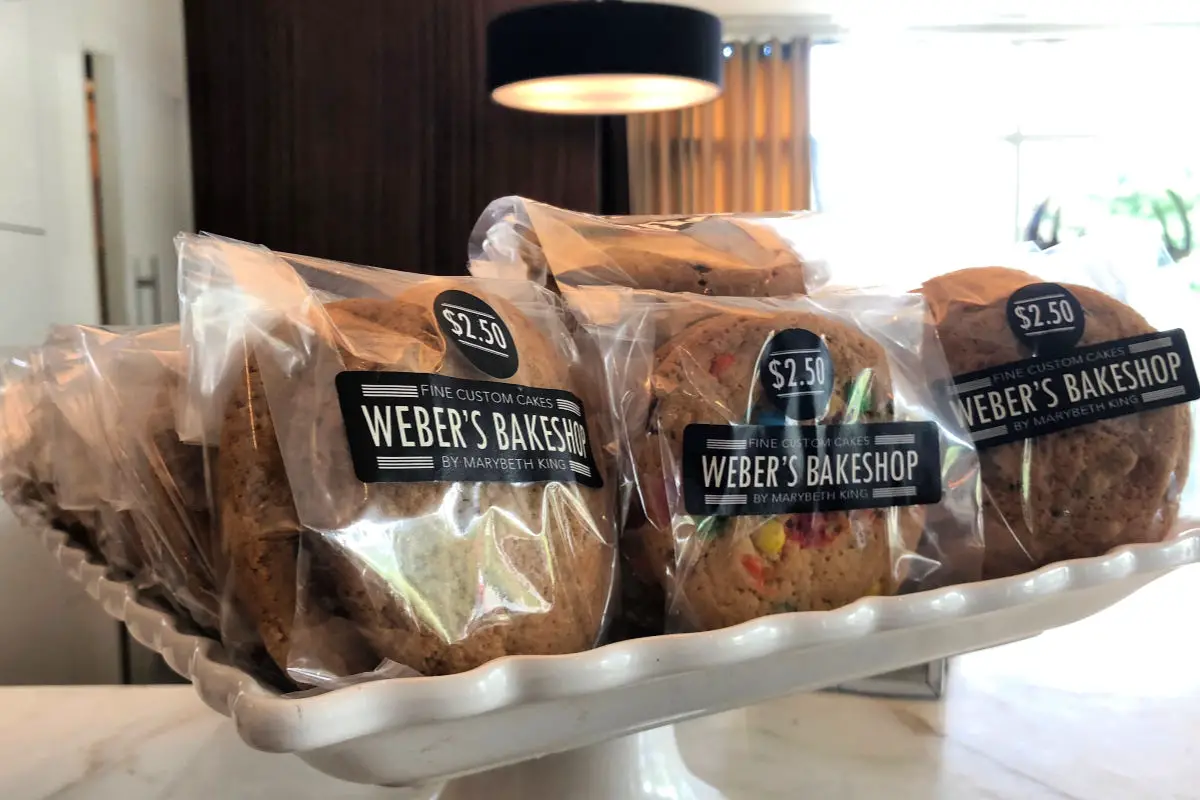 Of course, one of the major perks of staying at Weber's is the food! As I previously mentioned, Weber's Restaurant is known for its prime rib, and it has been that way since the 1950s. I've dined at the upscale restaurant a couple times over the past seven years and have always left impressed with my meal of seafood or steak.
On this most recent visit, it was the Bakeshop that pleased my taste buds. If you are a Michigan native, you probably already know Weber's is a popular wedding venue in southeast Michigan. Since hosting weddings is a longstanding tradition at Weber's, offering custom wedding cakes made by pastry chef Marybeth King is a nice touch. The Bakeshop also makes pastries for the Coffee Bar, which is open each morning. You'll also find delicious cookies available to purchase at the reception desk. Trust me, you should try the chocolate chip!
Things To Know Before Your Stay At Weber's Boutique Hotel
Address: 3050 Jackson Ave, Ann Arbor, MI 48103
Phone: (734) 769-2500
Parking: On-site surface lot
Weber's Boutique Hotel Reviews: TripAdvisor
For More Information: Weber's Boutique Hotel website
Planning Information For Your Ann Arbor Trip: Destination Ann Arbor | My Ann Arbor Posts
Planning a getaway to Ann Arbor? Save this post your Ann Arbor or Michigan travel boards on Pinterest!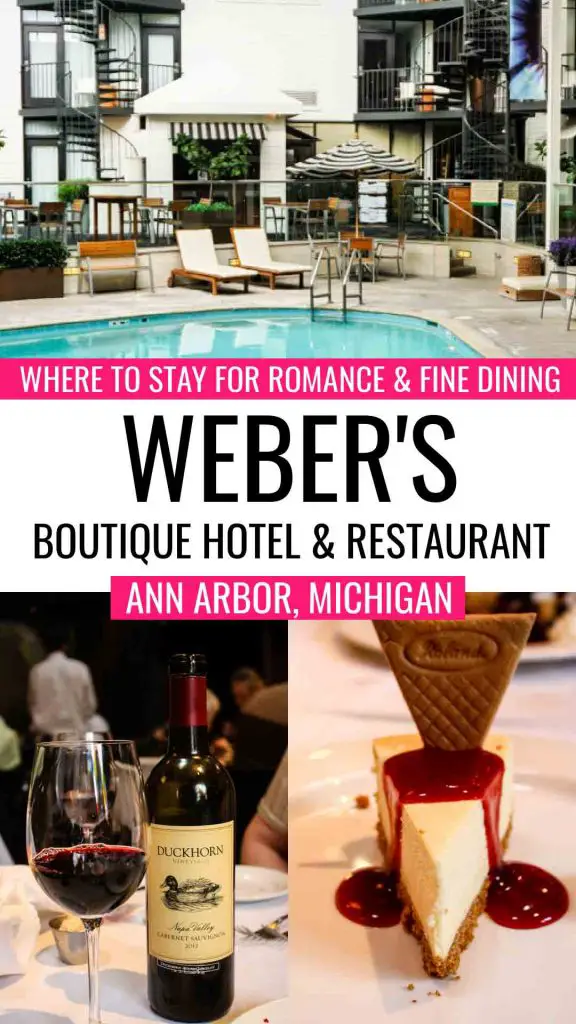 Which of the Weber's Boutique Hotel amenities would you utilize during your stay?