If you live or travel in the United States, you've probably heard of Ann Arbor, Michigan. But, did you know there is another college town only 7 miles east of the University of Michigan's main campus? Home to Eastern Michigan University, Ypsilanti shares quite a bit in common with its Washtenaw County neighbor. Both college towns are artsy and LGBTQ-friendly destinations. Like Ann Arbor, Ypsi — as we shorten it in Michigan — also has a multicultural population, fun annual festivals, local parks and trails, one-of-a-kind boutique shops, and foodie-approved dining.
Yet, with a population just over 21,000 as of the 2010 Census, Ypsilanti is considerably smaller. Perhaps that is why I felt such a strong sense of community among the local businesses and restaurants I recently visited. I have to thank Ypsi Real for introducing me to Ypsilanti's local small businesses. That was vital to the field research put into this blog post, which has been created in partnership with Ypsi Real and the women's travel network Wanderful.
As you read on, you'll see Ypsilanti offers boutique and vintage shopping as well as delicious food and craft beverages. You can click here for even more ideas on where to eat or things to do in Ypsilanti, but here are my suggestions of where to spend a day in Ypsilanti, Michigan.
Cultivate Coffee & TapHouse
When visiting Ypsilanti, I would start at Cultivate Coffee & TapHouse. Why? Well, as a coffee drinker, I always appreciate when coffee shops carefully source the coffee they serve. At Cultivate, you will know your coffee is ethically sourced — whether you prefer single-origin pour-overs or one of the hand-crafted specialty espresso-based drinks.
Not only is Cultivate one of the most unique coffee shops in the Ann Arbor area, it also helps the local community. For example, fresh produce grown in Cultivate's garden is donated to local food pantries and other organizations dedicated to ending hunger.
I would definitely recommend pairing your coffee here with a bagel sandwich. The sandwich I had was an everything bagel with an avocado spread and thinly sliced tomato. It was delicious as a light lunch, but I also would order it for breakfast any day.
In addition to the bagels, coffees, and teas, Cultivate offers a variety of baked goods. When I visited, I had the most delectable slice of cake topped with the smoothest buttercream frosting from Zingerman's Bakehouse, based in Ann Arbor. It was heaven on a plate, guys.
All the Brews in one Place — From Coffee to Craft Beer
Later in the day, you might even pair your dessert with a craft beer flight like I did. You could also take your pint out to the beer garden during the warm months from late spring to early fall. Though the beer isn't brewed onsite, Cultivate partners with craft breweries around Michigan to create exclusive beers.
During my October visit, the craft beers I tasted included:
Raspberry Ale — a sweet and fruity beer created with Perrin Brewing Company in Comstock Park, Michigan.
Chaco's Brown — an American brown ale created with Ellison Brewery + Spirits in East Lansing, Michigan.
Deliciously Different — a  double dry-hopped American wheat ale with stone fruit flavors created with Drafting Table Brewing Company in Wixom, Michigan.
Cultivate Coffee & TapHouse is located at 307 North River Street.
Depot Town
Anchored by East Cross Street, Ypsilanti's historic Depot Town is a shopping and dining district first established in the mid-1800s. In addition to a couple of the places to eat and drink on this list, today you'll find local shops selling antiques, vintage clothes, and hand-crafted gifts among other items. The neighborhood also hosts a number of festivals. Most notably, those events include the Michigan Brewers Guild Summer Beer Festival and Michigan ElvisFest — both of which take place in July.
Top Picks for Shopping in Depot Town
The Eyrie
This art and gift shop is a Michigan artisan market. Carrying hand-crafted goods created by more than 150 Michigan artisans, the Eyrie sells photographs, jewelry and accessories, paintings, home decor, pottery, blown glass, candles, soap, and handmade greeting cards. Since the inventory is constantly changing, you'll find new items each time you shop here. The Michigan-themed artwork would make great souvenirs to remember your visit to Ypsilanti and Ann Arbor!
The Eyrie is located at 50 East Cross Street.
Brick & Mortar Modern General Store
This boutique shop is bringing back the old general store — but with an updated twist for the modern-day shopper. Browsing the store, you'll find home decor, bath and beauty products, clothing, jewelry, and items you'd have once found at a traditional general store. Don't miss the 25-cent candy! Additionally, the couple who owns the shop strives to stock goods from other small businesses and independent makers and artisans, so you'll see some hand-crafted and locally-made items here, too.
Brick & Mortar Modern General Store is located at 21 East Cross Street.
Downtown Ypsilanti Shops
Novelty gifts, vintage clothing, antique home decor, and classic vinyl records are just a few things you'll find at the downtown Ypsilanti shops. One of the best times to shop in Ypsilanti is the first Friday evening of each month. During First Fridays, many shops and restaurants will have live musical entertainment, an activity or craft, free libations, and/or hors d'oeuvres. Below I've listed four shops you absolutely must browse during your visit!
Unicorn Feed & Supply
Fun for all ages and super nostalgic for those of us who grew up obsessed with Lisa Frank merchandise, Unicorn Feed & Supply celebrates all that is sparkly and magical. Need a fairy garden? PRIDE gear? Zany socks? Mermaid party decor? You will find it all in this wonderfully whimsical shop.
Unicorn Feed & Supply is located at 114 West Michigan Avenue.
The Rocket
Obscure novelty gifts, hilarious holiday cards, Michigan-themed merchandise (perfect for souvenirs), and a wide variety of candy are just some of the things you'll find at The Rocket. Your senses may go into overdrive with so much to see in one store!
The Rocket is located at 122 West Michigan Avenue.
Salt City Antiques
Specializing in mid-century decor, browsing Salt City Antiques is like walking through a "Mad Men" set. For baby boomers like my mom — with whom I visited Salt City Antiques — seeing the store's relics from the 1950s-1970s is a nostalgic walk down memory lane. Certainly, if you want to outfit your home in mid-century modern stylings, this is just the shop for you. You'll also find some vintage clothing and accessories from that era, too.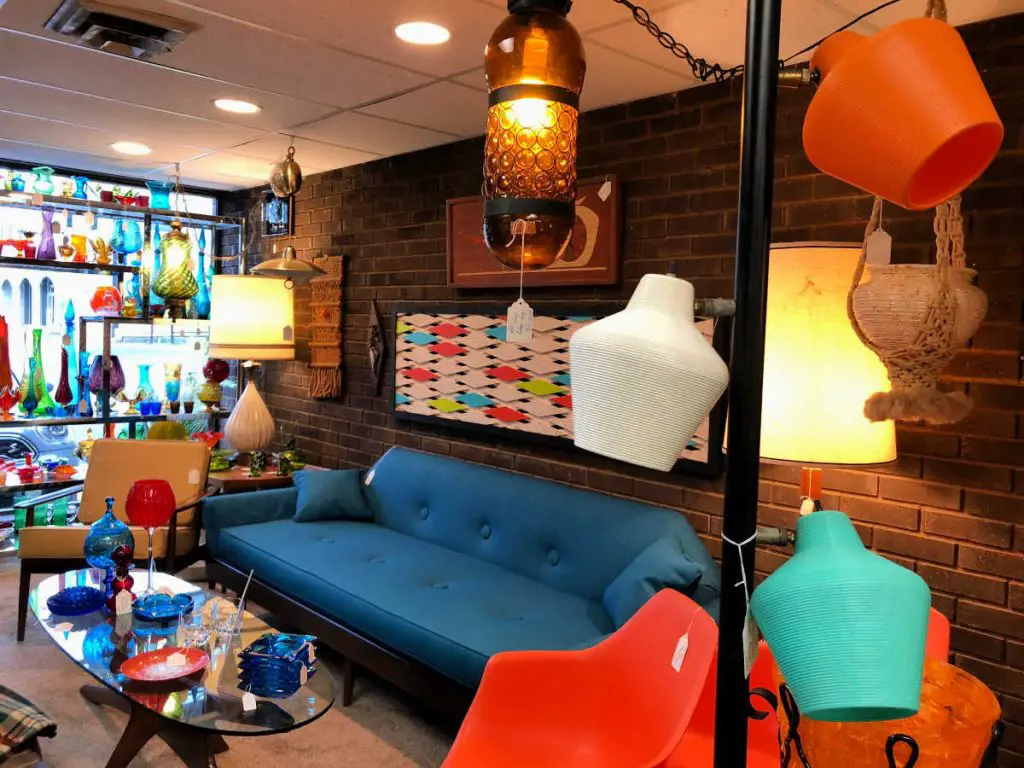 Salt City Antiques is located at 115 West Michigan Avenue.
A2 Vintage
Collectable art, furniture, and vinyl records are what you'll find at A2 Vintage. The collection of albums is unreal, and the owner will let you take a listen on the store's record player, if you ask.
A2 Vintage is located at 109 West Michigan Avenue.
Ma Lou's Fried Chicken
Another must for foodies visiting Ypsilanti is Ma Lou's Fried Chicken. The menu keeps it pretty simple, but with fried chicken as juicy as Ma Lou's, you won't need much else. I would recommend getting a chicken sandwich. Opting for the OG, mine was a fried chicken breast (though you could opt for thigh), cheddar, smoked gouda, slaw, and pickles on an onion roll. Like your chicken sandwich Nashville-style hot? Ma Lou's can certainly bring the heat. If hot and spicy is not for you, order your sandwich southern style like I did. Either way, you won't go wrong. Vegetarians, Ma Lou's also offers marinated tofu as a protein option.
Next, we need to talk about the sides. The house potato salad and coleslaw are delicious, but you might also want to inquire about seasonal options. During the early fall, we got a pickled watermelon and cucumber salad that was really refreshing.
Not in the mood for a sandwich? That's ok! Ma Lou's also offers chicken and waffles, chicken by the piece, panko-breaded chicken fries, and wings.
No matter what you order, you must save room for a biscuit donut!
Ma Lou's Fried Chicken is located at 15 West Michigan Avenue.
734 Brewing Company
Open from noon until 2 a.m. daily, 734 Brewing Company is the place to sip a locally-brewed craft beer in Ypsilanti. Located in Depot Town, the brewery strives to make quality, unpretentious beers accessible to everyone (of legal drinking age, of course) — even in "forgotten communities." Actually, even visitors not yet 21 can enjoy the root beer made in-house.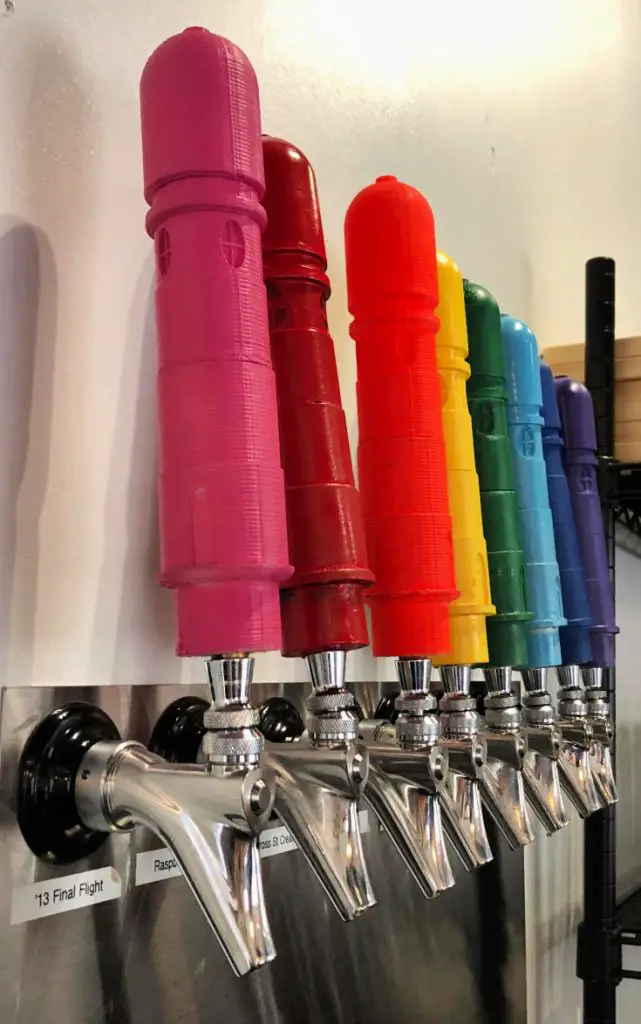 For those of us 21 and older, your tasting flight will be poured from a rainbow of tap handles shaped like the Ypsilanti Water Tower. I highly recommend the Cross Street Raspberry, a raspberry cream ale, and Oh Four!, an oatmeal stout.
734 Brewing Company is located at 15 East Cross Street.
Conclusion
When visiting Ann Arbor for a weekend getaway, I highly recommend you carve out a little time to explore the college town to the east. In Ypsilanti, you'll discover a destination a bit more off the beaten path, local businesses that are giving back to and supporting their community, and some darn good, delicious eats and drinks, my friends.
To read this Ypsilanti guide offline, download the GPSmyCity app. Then you can upgrade this article for GPS navigation, maps, and routes to all of the shops and foodie spots I've mentioned in this post.
Save this post to Pinterest to reference later!
How would you spend one day in Ypsilanti, Michigan?