If you are a foodie planning a trip to the Netherlands, you may be wondering where to eat in Amsterdam. In this guest post, Ask the Dutch Guy, a go-to resource for travel in the Netherlands, shares five of the best Amsterdam restaurants.
Disclosure: This post contains affiliate links. When you click on, make a purchase from, or book your hotel via one of these links, I may earn a commission. Of course, this is at no extra cost to you, and I only recommend products and services I would use myself.
---
Five of the Best Places to Eat in Amsterdam
Are you looking for the best restaurants in Amsterdam? There are many places where you can enjoy delicious meals in the city. Plus, there are plenty of cuisines from which you can choose. Of course, you want the best, especially if it's your first time in this multicultural foodie destination. That's why we have compiled a list of some of the best restaurants in Amsterdam.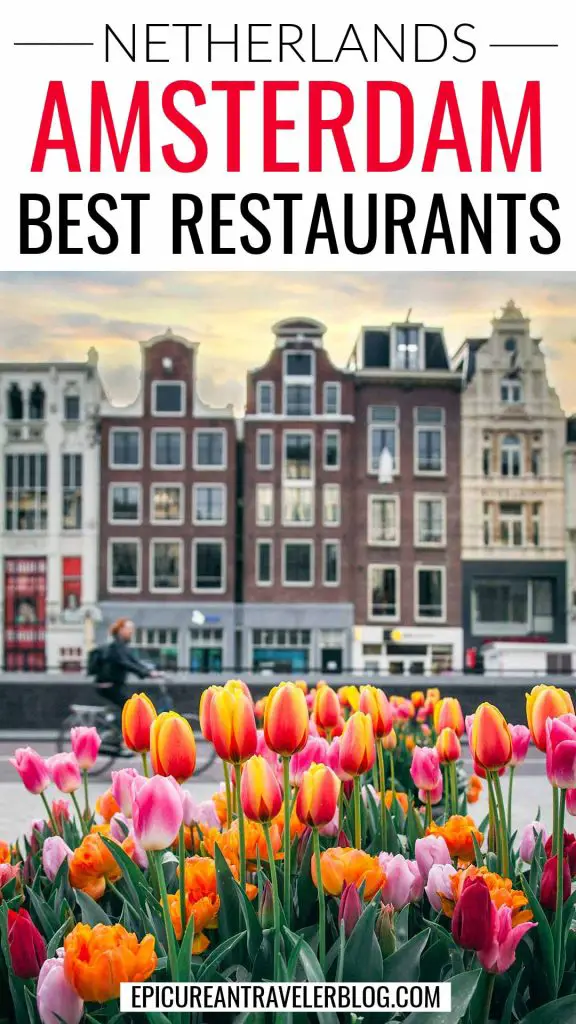 Best Amsterdam Restaurant for Vegetarians: De Kas
De Kas is famous for using fresh, organic ingredients hand-picked from its onsite garden. In fact, the garden is a three-prong operation that consists of an indoor growing area, an outdoor area, and a nursery, which supplies the restaurant with the freshest vegetables and herbs. 
De Kas offers a fixed daily menu of its plant-focused cuisine, and you can choose the number of courses you want. 
Dining inside the restaurant's greenhouses makes you feel close to nature. So, if you're looking for a restaurant in Amsterdam that serves delicious farm-to-table dishes, then De Kas is worth trying!
De Kas is located in the Frankendael Park at Kamerlingh Onneslaan 3, 1097 DE Amsterdam.
It is open Tuesday through Sunday from noon to 1:45 p.m. for lunch and from 6 to 9 p.m. for dinner.
To stay near De Kas, book the chic Hotel V Fizeaustraat complete with a sun terrace, city views, and bicycle rentals.
Fine Dining in Amsterdam: The White Room
While in Amsterdam, dine in luxury at the White Room, which is considered the oldest operating restaurant in the city. 
Located inside a historic dining room at the Grand Hotel Krasnapolsky on Dam Square, the White Room is a Michelin-star restaurant from Dutch chef Jacob Jan Boerma. 
Known for seeking out the best ingredients in the country, chef Boerma turns them into delicious dishes inspired by different parts of the world. You can taste every flavor from sweet to sour to bitter at the White Room.
The White Room is located inside the five-star Grand Hotel Krasnapolskyat Dam 9, 1012 JS Amsterdam.
Dinner service runs from 6 p.m. until midnight with the last seating at 8:15 p.m. Wednesday through Saturday. Lunch is served from noon to 4 p.m. with the last seating at 1:15 p.m. Saturday.
If staying onsite stretches your travel budget, consider reserving a room at the Hotel V Nesplein or earning Radisson Rewards at the Radisson Blu Hotel, Amsterdam City Center.  
Best Dutch Pancakes in Amsterdam: Pannenkoekenhuis Upstairs
To experience the smallest restaurant in Europe, head to the Pannenkoekenhuis Upstairs. It has only four tables, and you need to climb a steep staircase to get to the restaurant. 
Inside, more than 100 teapots hang from the ceiling, while portraits of the Dutch royal family and old paintings of the city plaster the walls. 
The pancakes can be served with savory or sweet toppings. If you have a sweet tooth, try the Bali pancake. Influenced by Indonesia, it is topped with bananas, coconut, and cream. 
Don't judge the area by its size because the Pannenkoekenhuis Upstairs pancakes are one of a kind!
Pannenkoekenhuis Upstairs is located at Grimburgwal 2, 1012 GA Amsterdam.
It is open from noon until 6 p.m. Monday through Saturday and until 5 p.m. Sunday.
About a 7-minute walk from Pannenkoekenhuis Upstairs is the Ambassade Hotel, a highly-rated four-star hotel with an onsite French restaurant and library bar in a row of canal houses.
Best Japanese Restaurant in Amsterdam: Yamazato
Craving Japanese food in Amsterdam? Yamazato is one of the best restaurants that serves delicious Japanese dishes. 
Yamazato was the first traditional Japanese restaurant in Europe to gain a Michelin star in 2002.   
The restaurant serves kaiseki ryori cuisine with multiple courses of delicate Japanese dishes, such as sashimi of yellowtail, tuna, and squid. At Yamazato, you can truly satisfy your Japanese food cravings. 
Yamazato is located inside the Hotel Okura at Ferdinand Bolstraat 333, 1072 LH Amsterdam.
It is open from 6 to 8 p.m. Wednesday through Sunday. 
Modern Dutch Restaurant in Amsterdam: Wilde Zwijnen
Set in a rustic industrial space, Wilde Zwijnen is the restaurant that made wild boar popular in the area. All you need to do is choose three, four, or five courses. Then add some wine and let the chefs do their magic. In addition to wild boar, the regularly changing menu focuses on fresh vegetables sourced from local farmers.
Wilde Zwijnen is located at Javaplein 23, 1095 CJ Amsterdam.
It is open from 6 to 10 p.m. Monday through Saturday and from noon to 10 p.m. Sunday.
If you'd prefer to escape the touristy city center, consider booking a boutique apartment at Yays Entrepothaven in the Zeeburg district. It is less than a 15-minute walk to the restaurant! 
Final Thoughts on Top Amsterdam Restaurants
Are you ready to explore these Amsterdam restaurants? Go on and have a gastronomic journey and enjoy Amsterdam's most delicious food. You can taste the finest dishes the world has to offer right here in the capital city of the Netherlands. You deserve it. 
About the Guest Blogger
Ask The Dutch Guy is your go-to guide for travel in the Netherlands. The goal of Ask The Dutch Guy is to showcase the beauty of the Netherlands and to inspire others to explore the country. Follow him on Facebook, Instagram, and Pinterest.
Book Amsterdam day trips, tours, and activities for when you aren't dining at this Dutch city's top restaurants!
Browse More Dining and Food Guides
Refer back to this Amsterdam restaurant guide by saving it now to your Netherlands travel board on Pinterest!
Photo credits: Amsterdam tulips (© olgaperevalova/Adobe Stock), Amsterdam dancing houses in Pin graphic (© Yasonya/Adobe Stock), Amsterdam dancing houses lead photo (© Yasonya/Adobe Stock)