What are the tastiest street foods to eat in Singapore? Where do I find the best street foods in Singapore? Along with our guest blogger from the International Drivers Association, I attempt to answer these questions in this Singapore food guide.
When the Michelin dining guide awarded one of its prestigious stars to a street food vendor for the very first time in 2016, I was immediately intrigued by Singapore's street food culture.
Then, in 2018, Crazy Rich Asians (affiliate) brought us that mouthwatering scene where Henry Golding's Nick Young leads his love interest Rachel Chu (played by Constance Wu) around a bustling food center. As he gathers satay and laksa, he tells her, "This is one of the only places in the world where street food vendors actually earn Michelin stars."
Pretty swoon-worthy stuff, right? Of course, I'm talking about the food! 😉
Anyway, it's safe to say Singapore has been on my own food travel bucket list for quite a while now. That is why I'm thrilled to share with you a guest post written by chef Ben Liman about six must-try street foods in Singapore.
But, with so many delicious street foods to eat in Singapore, I couldn't share only six with you guys! After researching the most famous Singaporean dishes, I found a dozen more authentic street foods to eat in Singapore. Perhaps, after reading about these 18 tasty foods, this small Asian country will end up on your travel bucket list, too. I mean, if it wasn't already!
Disclosure: This post contains some affiliate links. When you click on and make a purchase from one of these links, I may earn a commission. Of course, this is at no extra cost to you.
---
Six Delicious Street Foods in Singapore You Must Try
Singapore is one of those destinations that many overlook, but it deserves to be on your travel bucket list. Not only is it a beautiful country with a rich culture, but it also is home to delicious cuisine. That is why food lovers from all over the world should visit and try to experience the local food in Singapore.
As is often the case with cultures with great cuisine, it comes from the complex history and the mixture of different food cultures. With influences from China, India, and Malaysia, in particular, Singapore's cuisine has been shaped by its culturally diverse population.
This diversity in local cuisine is quite noticeable. That is why the best way to experience all of it is to get an international driver's license online and drive to different parts of the island country on a culinary road trip.
Now, let's take a look at six of the mouthwatering street foods you should eat in Singapore!
Hainanese Chicken Rice
Coming from China, Hainanese chicken rice is one of the most popular Singapore dishes. Additionally, this dish is quite popular in Malaysia and Thailand. Usually, it's served for lunch, which is the most important and largest meal in the local cuisine.
What makes the perfect Hainanese chicken rice is often debated. Is it the rice, or is it the chicken? It seems the key is to find the balance between the texture and moisture so that the dish doesn't seem dry but doesn't fall apart on the plate either.
Wanton Mee
Wanton Mee is a popular noodle dish that has come to Singapore from Hong Kong. In Singapore, this egg noodle dish is usually served dry, unlike the Cantonese soup version. The noodles are made with a dark sauce, boiled or fried wontons, char siu, and some green leafy choy sum.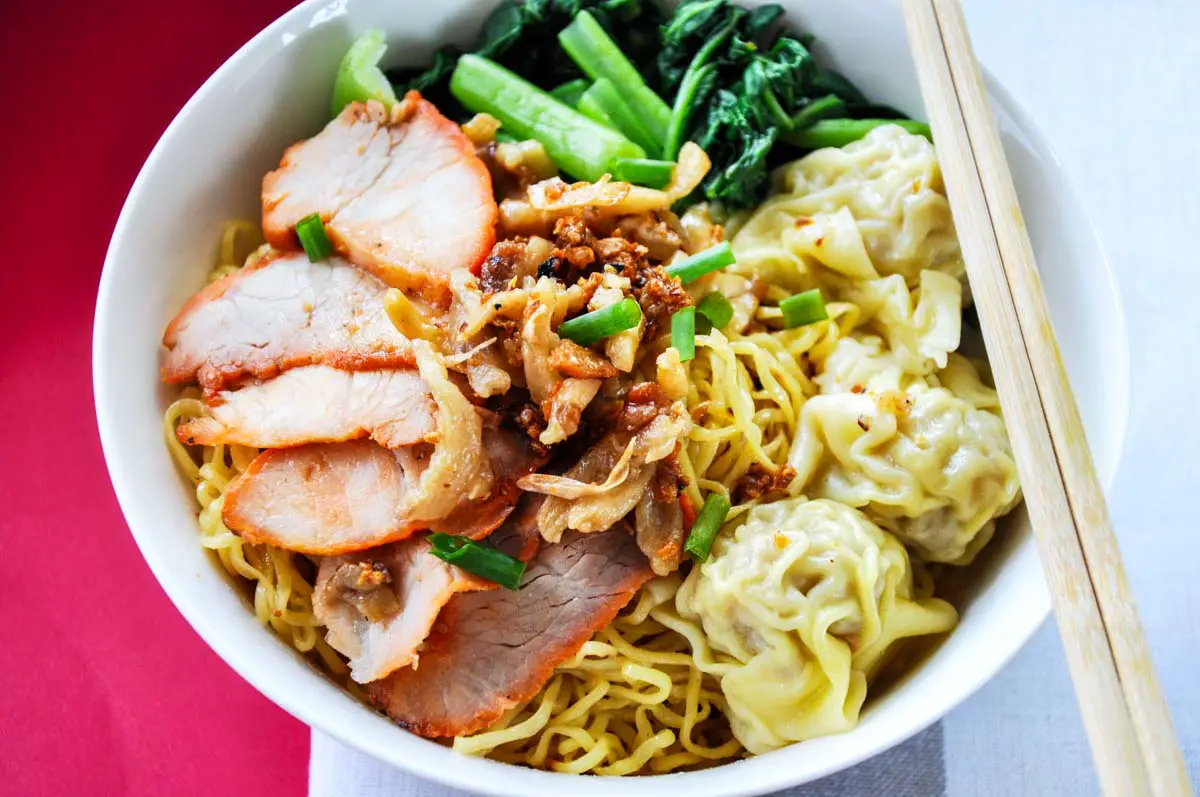 Nasi Biryani
Nasi Biryani is another dish that came to Singapore with foreign influence. Coming from India, where it's mostly popular with the local Muslim minority, it's made from Basmati rice and a variety of different meats. Depending on the region, it can be made with chicken, mutton, beef, or fish.
A variety of different spices can also be used. The most popular ones are cinnamon, cloves, nutmeg, and bay leaves. Nasi Biryani is a simple enough dish to make, and it has plenty of local variations to try while you are in Singapore.
Chili Crab — Singapore's National Dish
Crabs are very popular to eat in Singapore, and there are two main ways to make them. In chili crab, chili sauce is used as the other important ingredient if you want it to be sweet and somewhat spicy with a clear tomato flavor.
However, another way that crab is cooked in Singapore is with black pepper sauce, which is much spicier and gives the crab a more luxurious feel.
The crab itself goes through a two-step process of cooking where it is first boiled and then fried. That way the meat doesn't stick to the shell. There are also newer variants of the dish made with honey and salted eggs.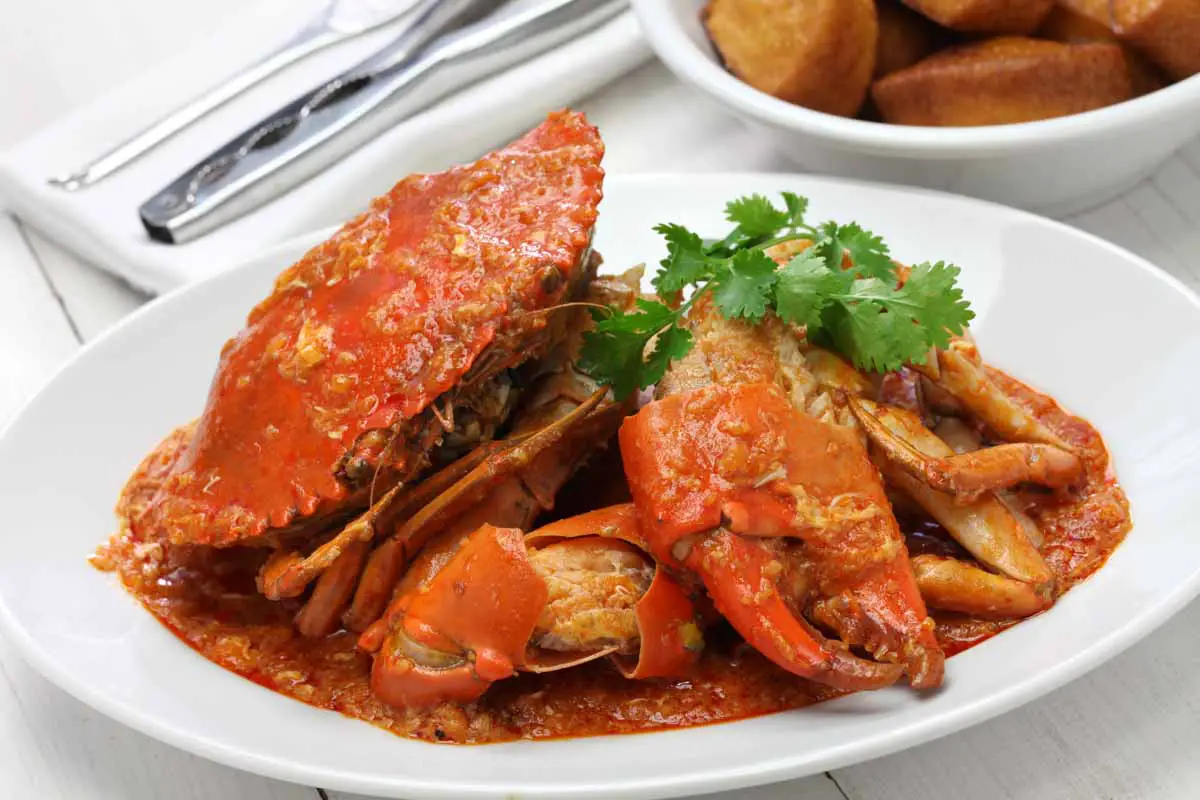 Dim Sum
Dim Sum is a dish served across Asia, and it has its Singaporean version as well. The dish is served at the center of a table and shared similar to how tapas are eaten in Spain. It's customary to choose the tea first since the dish came from tea houses, and it's still served in this setting.
Dim Sum can be made with a variety of different meats, seafood, or vegetables, and due to the complexity of Singaporean history and diverse ethnic culture, it also has a halal version that is quite popular. Additionally, there is a sweet version served as a dessert.
Laksa
Laksa is an interesting mixture of Chinese and local cuisine, as are many other dishes mentioned in this post. There are two types of this dish known as Curry Laksa and Asam Laksa. Though Curry Laksa is more popular in Singapore, you can find both.
The main ingredients include au pok (beancurd puffs), fish slices, shrimp, hum (cockles), and coconut milk. It's commonly served with cocktails and shrimp at high-end restaurants, but you'll also find tasty versions for a small price at street-food stalls. Many famous local chefs have their own version of the dish, and each is great in its own way. Try to taste a few and compare them if you have the time!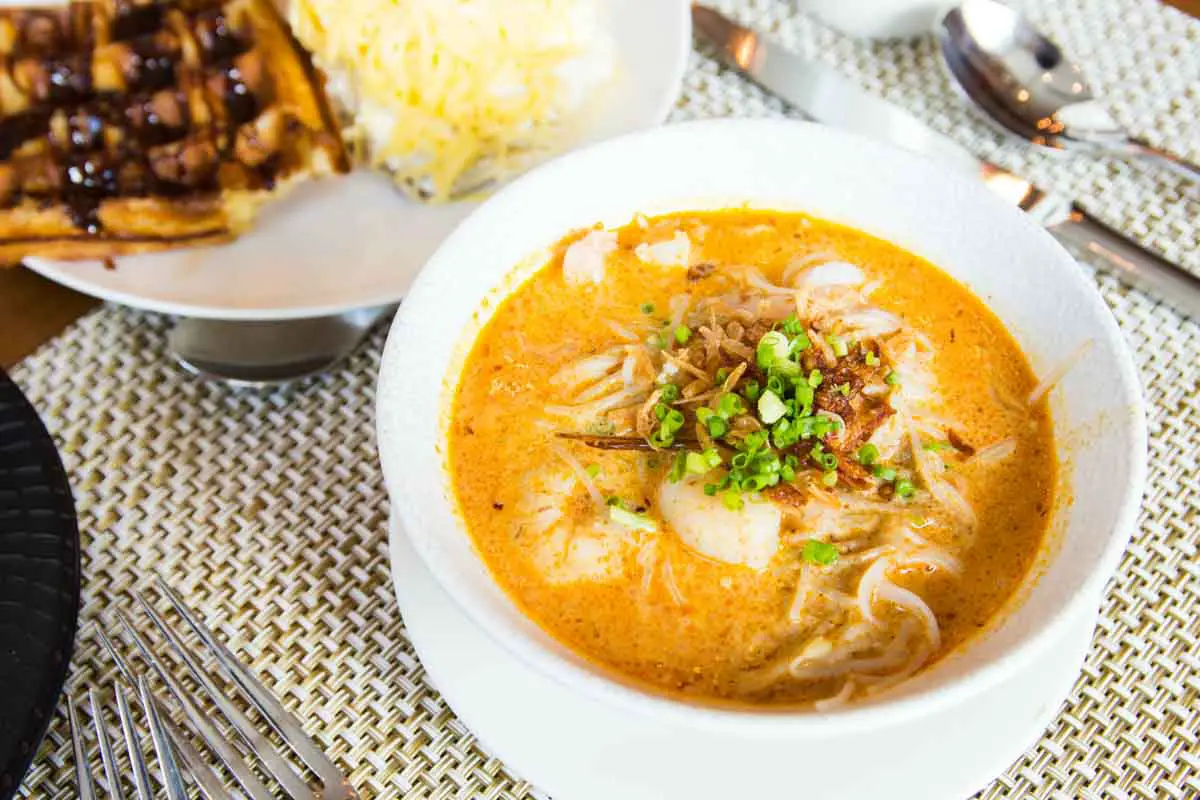 Author Bio
Ben Liman is a chef who has worked all around the world and likes to write about different topics related to cuisine. With over 20 years of experience, he has a great reputation among some of the best chefs.
More Mouthwatering Street Foods to Eat in Singapore
Bak Chor Mee
A popular noodle dish to eat at street-food courts called hawker centers, bak chor mee comes in both dry and soup versions. The noodles are tossed in tangy vinegar and served with sliced pork, minced meat, mushrooms, meatballs, liver, or even deep-fried lard.
Bak Kut Teh
Another well-known food in Singapore is bak kut teh. It's a pork rib soup of Chinese origin named after the tea with which it is often served. The soup is peppery without being overly spicy.
Bee Hoon
Sometimes called Singapore noodles, bee hoon is made of rice vermicelli noodles. One must-try variety is crab bee hoon made with mud crab, but there are also vegetarian, fried, and other variations of bee hoon. This Singaporean street food is a popular breakfast dish at hawker centers.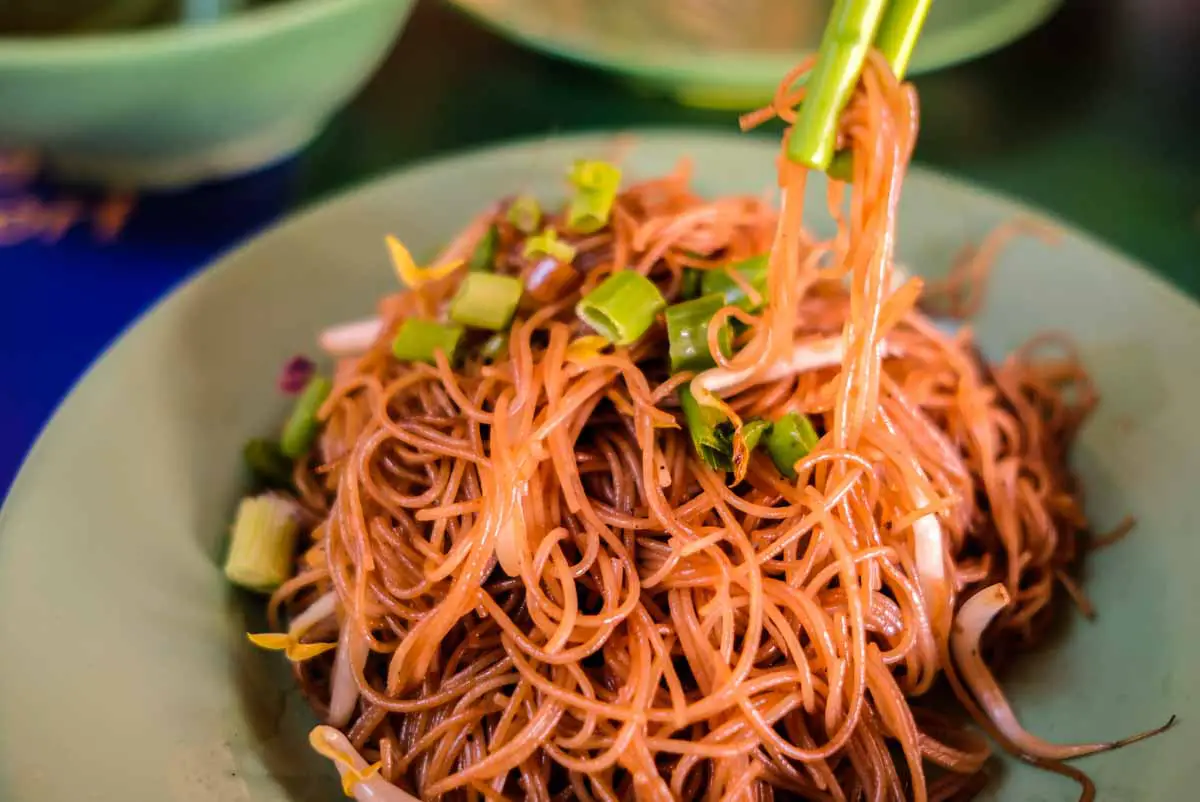 Chai Tow Kway
Chai tow kway is sometimes called "carrot cake," but it isn't actually made with carrots nor is it similar to the carrot cake dessert in Western cultures. Rather, the dish's name refers to the main ingredient — radishes. You'll find chai tow kway is a popular stir-fry dish at hawker centers in Singapore.
Char Kway Teow
Usually eaten for breakfast, this stir-fry dish — also known as fried kway teow — is made with rice noodles and yellow wheat noodles and often features prawns and blood cockles. It's one of the tasty and cheap eats that you'll find at Singapore hawker centers. However, you may also find elevated versions featuring lobster, calamari, or cuttlefish.
Fish Head Curry
Fish head curry has an interesting origin story. It was created by an Indian chef who wanted to bring South Indian cuisine to Singapore. Therefore, this dish is a hybrid of Chinese fish head casserole and South Indian curry. In this uniquely Singaporean dish, the red snapper head is stewed in a curry with okra, eggplant, and other vegetables. Typically, it is served as a shareable dish with rice or bread.
Hokkien Mee
The Singaporean version of this stir-fry dish, which originated from the Hokkien province in southern China, consists of egg and rice noodles, prawns, oysters, squid, spring onions, and lime in a thick seafood broth.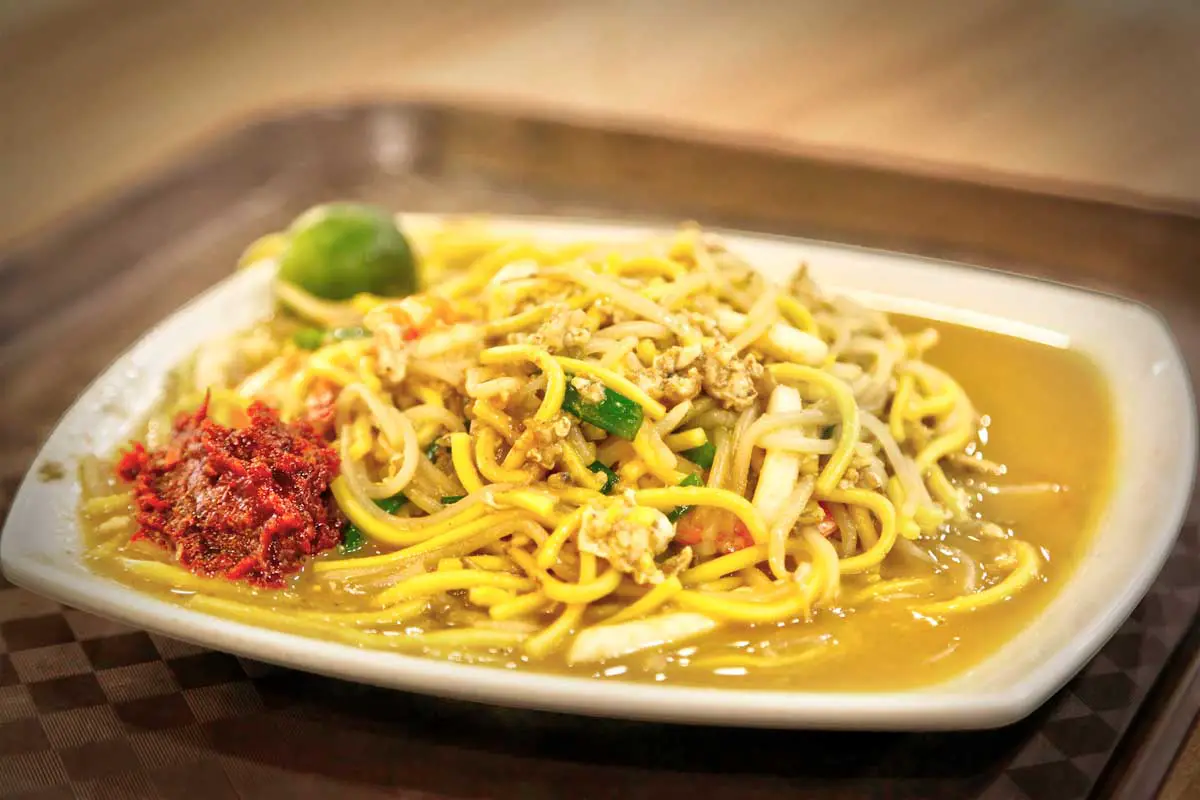 Kaya Toast
A beloved breakfast dish in Singapore, kaya toast consists of two slices of toasted bread spread with butter and a coconut jam called kaya. The jam is made from eggs, sugar, coconut milk, and pandan leaves.
Nasi Lemak
This Malay rice dish is also quite popular in Singapore. Often, it's topped with fried anchovies, roasted peanuts, cucumber, hardboiled or fried eggs, and a spicy chili paste called sambal. Though it is often eaten at breakfast, nasi lemak can be served with deep-fried chicken wings or fried fish later in the day.
Roti Prata
This flatbread of Indian influence can be found in cuisines across Southeast Asia. In Singapore, it is commonly served at breakfast.
Sambal Stingray
Sambal stingray is a barbecued stingray dish eaten in both Malaysia and Singapore. At hawker centers in Singapore, it is served with a spicy sambal paste and wrapped in banana leaves.
Satay
Though satay can be made with various meats, pork satay is a favorite late-night food. It's served on a bamboo skewer with a dipping sauce. You definitely won't want to miss this classic street food in Singapore!
Where are the best places to eat in Singapore?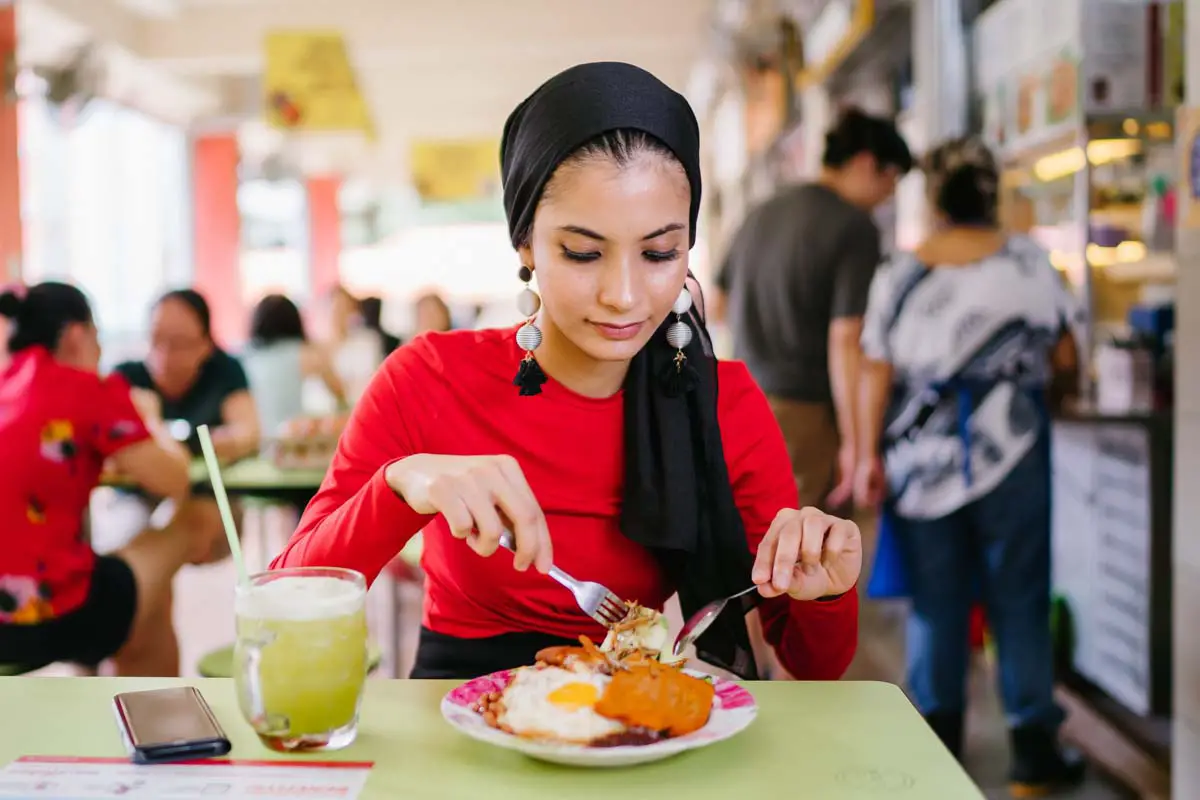 Now that you know the scoop on Singapore's authentic food, you might be wondering where to eat in Singapore.
Perhaps, due to the posh hotels and amazing Singapore Changi airport (which contains a butterfly garden and a movie theater among other attractions) for which Singapore has earned its reputation as a luxury travel destination, you might expect the top places to eat in Singapore are Michelin-starred fine-dining restaurants.
However, the best places to eat in Singapore are actually hawker centers. Similar to (but even more casual and chaotic than) food courts or food halls, hawker food centers are collections of vendors selling street foods, snacks, stir-fry dishes, and more delectable bites. Usually, each stall serves only one dish that they have crafted to perfection for generations.
And, as I mentioned, Michelin has taken notice! In 2016, Soya Sauce Chicken Rice and Noodle from the owner and chef Chan Hon Meng was the first street food vendor in the world to be awarded a Michelin star. Unfortunately, the stall, which was renamed Hawker Chan after Michelin put it on the foodie map, lost its Michelin star in 2021. However, Michelin has bestowed its Bib Gourmand distinction upon several street food vendors at Singapore hawker centers.
Top Hawker Centers To Visit in Singapore
Adam Road Food Centre — Located near the Singapore Botanic Gardens, you'll find delicious Singaporean dishes such as nasi lemak, Hokkien mee, satays, and more.
Hong Lim Market and Food Centre — With two stalls given the Michelin Bib Gourmand distinction, visiting is a must for laksa, bak chor mee, wanton mee, and more of Singapore's famous street foods.
Maxwell Food Centre — At this Chinatown hawker center, you'll find dim sum, famous Hainanese chicken rice, and multiple vendors with a Bib Gourmand distinction.
Old Airport Road Food Centre — A beloved and busy indoor hawker center in Singapore for more than 40 years, it features 150 stalls serving Hokkien mee, beancurd pudding, char kway teow, and more.
Pro Tip: Look for the stalls with the longest lines because the most delicious food tends to attract a crowd! 
Singapore's Notable Hawker Stalls
J2 Famous Crispy Curry Puffs — This popular hawker stall at Maxwell Food Centre has earned the Bib Gourmand distinction for its curry chicken puffs and sardine puffs.
Sungei Road Laksa — For decades, this hawker stall has been serving up bowls of laksa for which it has been awarded the Bib Gourmand distinction. At only $3 (SGD) per bowl, the laksa here is worth a try — as long as you don't mind waiting 20 minutes in line, of course!
Tai Wah Pork Noodles — Standing in line for its bak chor mee is also worth the wait! Served dry or as a brothy soup, this egg noodles dish features pork lard in a black vinegar sauce. Tangy, savory, spicy, it's a dish I'm sure you won't soon forget. Like the aforementioned Sungei Road Laksa, Tai Wah Pork Noodles was awarded the Bib Gourmand distinction. You'll find both stalls at Hong Lim Market and Food Centre.
Tian Tian Hainanese Chicken Rice — Located at the Maxwell Food Centre, this Bib Gourmand honoree serves what is likely the most sought-after Hainanese chicken rice in Singapore.
Browse the map below to pinpoint these must-visit hawker food centers:
Best Singapore Food Tours & Cooking Classes
Fear you may be overwhelmed by your first experience at a Singapore hawker center? Leave it to the professionals! You can book a guided hawker center food tour to dip your toes into Singapore's street food culture. Also, consider taking a cooking class in Singapore so you can recreate these delicious dishes at home!
UNESCO Hawker Centre Street Food Tasting Tour — Discover how Singapore's food culture was shaped and influenced by its diverse population. You'll visit hawker centers in three ethnic neighborhoods — Chinatown, Kampong Gelam where the grand Sultan Mosque attracts Muslims from around Singapore, and Little India — on a small-group tour capped at only six participants.
Private Singapore Food Tour — From Little India to Chinatown, get a real taste of Singapore — and 10 of its tastiest dishes — on a private 3-hour tour with a local foodie guide. You'll gain insight into the local culture while tasting authentic foods and traditional tea.
Hands-On Cooking Class with Cultural Immersion — Learn about Singapore's food culture firsthand by cooking family recipes of Singaporean favorites such as laksa, satay, and Hainanese chicken rice. You may even learn a few secret tips for visiting Singapore's hawker centers.
Where to Stay in Singapore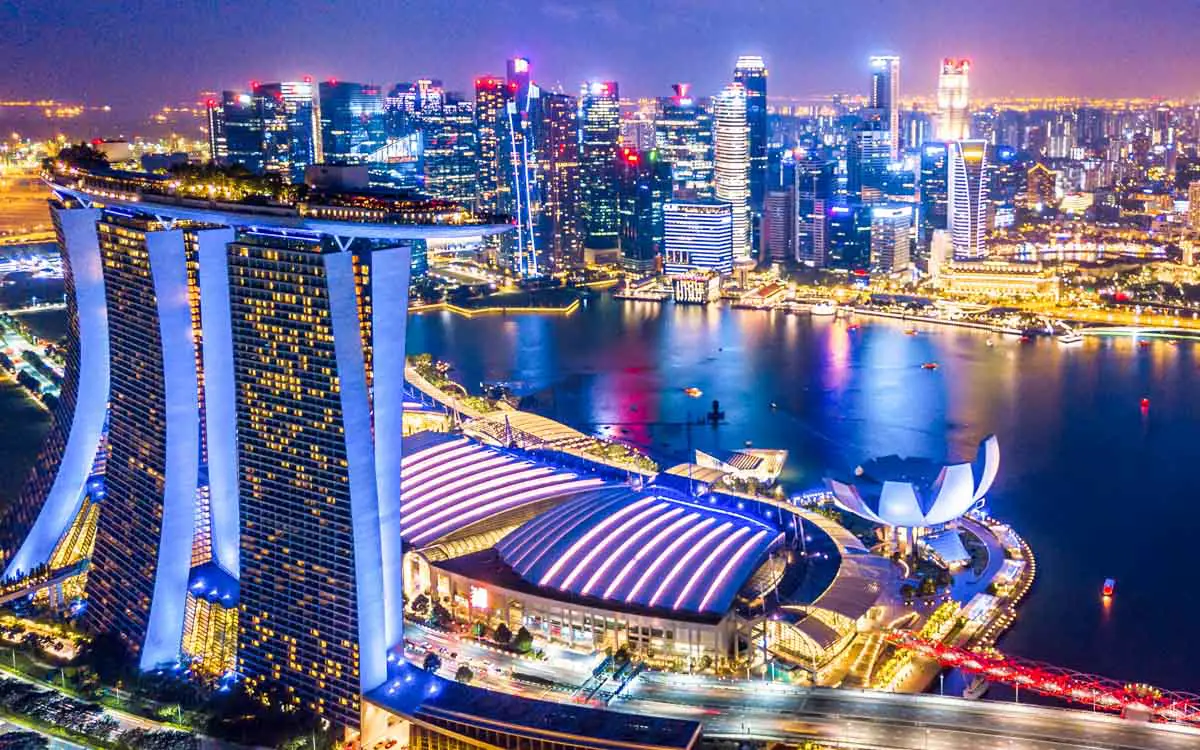 If you are suddenly craving a gastronomic journey through a Singapore hawker center, it might be time to check traveling to Singapore off your bucket list. You can start planning your trip by searching for flights to Singapore (SIN). Then check out our recommendations for the best Singapore hotels.
Singapore Hotels We Recommend
The Fullerton Bay Hotel Singapore — Located along Marina Bay in downtown Singapore, this five-star hotel oozes luxury with chic chrome and rosewood features. Among several onsite restaurants and bars is a rooftop bar with panoramic views of Marina Bay. Also, guests will find Bluetooth speakers, Nespresso coffeemakers, and Balmain toiletries in the spacious rooms.
Oakwood Premier AMTD Singapore — This four-star hotel caters to international business and leisure travelers with luxury living spaces and modern hotel amenities. Accommodations here include studio, one-, and two-bedroom apartments with access to amenities such as the rooftop pool, fitness center, onsite dining, and room service.
Wanderlust — This mid-range boutique hotel in a 1920s Art Deco-style building is a bit off the beaten path in Little India. However, it is still conveniently located near Singapore's commercial center. Additionally, you'll find well-appointed studio accommodations and a lobby-level restaurant serving Sri Lankan curries and street foods.
Which street foods in Singapore would you eat?
We'd love to hear your thoughts on the street foods in Singapore! If you have visited Singapore, please share with us your favorite authentic Singaporean dish. If you haven't been yet, tell us which street food you'd like to try at a Singapore hawker center by leaving us a comment below!
Read More About Asian Foods & Travel Destinations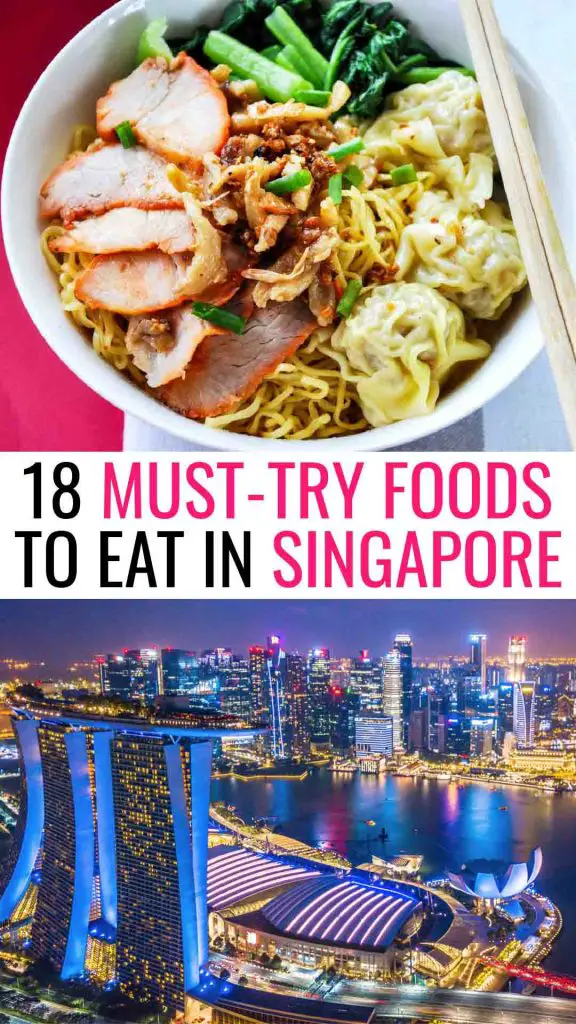 Planning a bucket-list trip to Singapore? You can save the image above to your Singapore travel board on Pinterest to reference later!