Wondering why tofu is a superfood in Asian cuisines? If you are curious about tofu's health benefits, you'll learn about seven reasons tofu has earned its "superfood" status.
Though multiple theories exist regarding tofu's origin, credit is given to the Chinese who spread it to Japan and then through Southeast Asia, influencing cuisines around the continent. Traveling through Asia today, you might snack on Indonesian Tahu sumedang, tofu fried in coconut oil, or eat Filipino Taho, a sweet tofu dish, at breakfast.
In this guest post from TofuBud, we'll learn about seven health benefits of tofu that have made this superfood a popular plant-based protein in Asia and beyond.
Disclosure: This post contains affiliate links. When you click on or make a purchase from one of these links, I may earn a commission. Of course, this is at no extra cost to you, and I only recommend products I would use myself.
---
What is Tofu?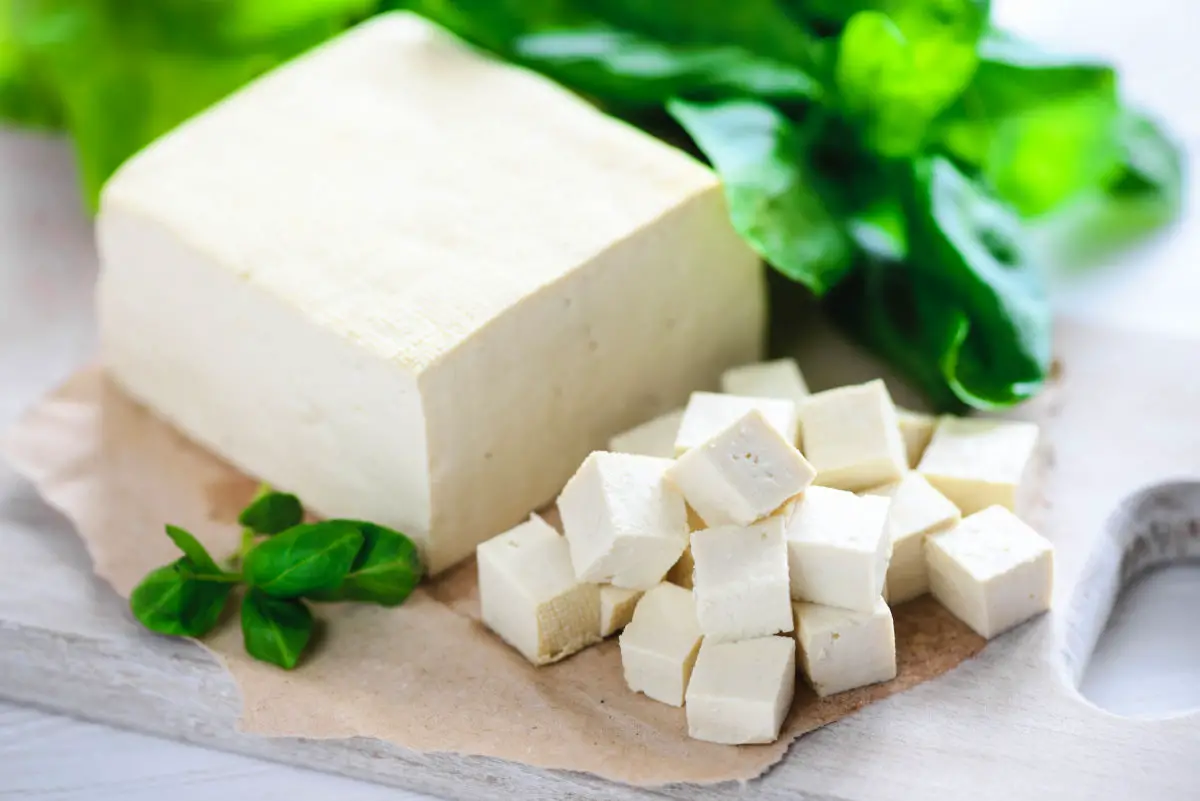 It would be pretty shocking if you haven't heard of tofu by now. It is a superfood — not just for vegans and vegetarians — and is considered a staple food eaten daily in Asia. Its popularity can be attributed to the many health benefits that tofu boasts.
Produced from pressed curds of soybeans, tofu resembles a little block of white cheese. The curds are pressed in a tofu press (like this one) to remove excess liquid. The longer it is in the press, the firmer it gets. 
The texture of tofu varies from soft cottage cheese to firm and sliceable pieces. Extremely popular in health and fitness communities for its plant-based protein content, tofu comes in three main varieties:
Silken 

– this is the best kind of tofu for

 desserts

 and creamy sauces. 

Firm 

– A versatile version that can be pressed to make extra firm tofu and is ideal for savory dishes such as curries and scrambles. 

Extra Firm

– The meatiest version, this kind of tofu has a texture similar to meat and is great for stir-fry dishes. 
Seven Health Benefits of Tofu
Touted as a superfood, here are seven health benefits of tofu.
1. Cancer-Fighting Properties
Tofu is rich in soy isoflavones. These plant-based phytoestrogens can help fight cancer and also prevent certain kinds of cancer. For example, countries with a diet rich in soybean curd products have shown significantly lower breast and prostate cancer rates.
Some research has shown that adolescents who consumed tofu and other soy products were at lower risk of developing breast cancer. Also, the intake of soy products helped lower prostate cancer risk in this study. 
2. Aids Weight Loss
Tofu contains all the right ingredients for a healthy meal — it is low in fat and high in protein. In particular, the protein content in tofu makes it an ideal food for anyone trying to lose weight. Additionally, regularly consuming tofu can keep you feeling fuller for longer. 
Another reason tofu is essential for weight loss is that it is low in cholesterol. Also, it actively helps reduce the amount of bad cholesterol (LDL) in your system.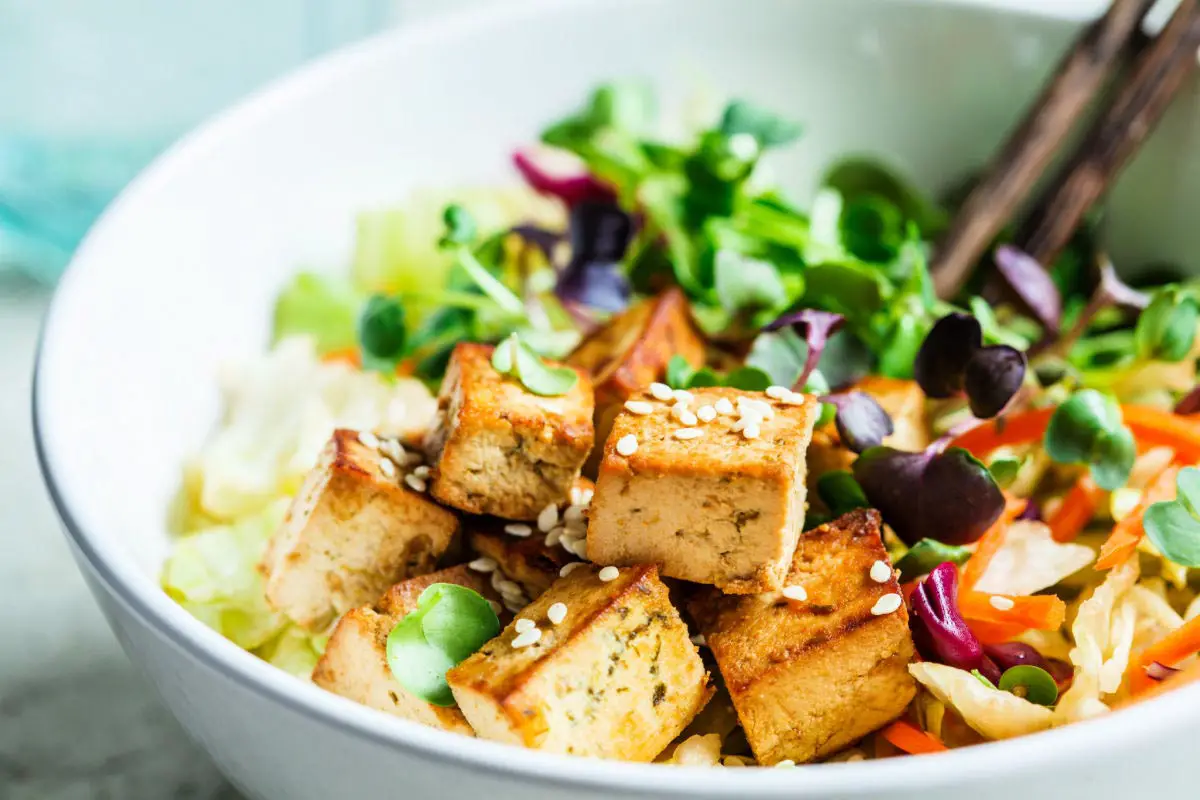 3. Protein Dense
Tofu and other soy products are excellent sources of protein. For this reason, many people that follow a plant-based diet, such as veganism or vegetarianism, include tofu in their diets. In addition to being rich in plant proteins, tofu is also a source of all nine essential amino acids. 
Including soy in your diet, whether you eat meat or not, provides you with a low-calorie protein alternative. There are approximately 10 grams of protein in a half-cup serving of tofu. 
Tofu's low-fat content also makes it an ideal protein source for athletes, bodybuilders, and anyone who lives an active lifestyle. 
4. May Lower the Risk of Diabetes
If you are at a particular risk of diabetes, adding soy to your diet might help. Studies have shown that eating 200 grams (about 7 ounces) of tofu daily can significantly lower the risk of type 2 diabetes and obesity. 
Whether you prefer the extra firm tofu or the softer varieties, the health benefits remain. Research shows that isoflavones are excellent at controlling blood sugar levels. Soy also helps regulate insulin levels and lowers your risk of insulin resistance and LDL (the bad cholesterol). 
5. Improves Bone Health
Several factors can negatively impact bone health, such as obesity, menopause, and age-related bone loss. However, consuming soy has been linked to improved bone health and a lowered risk of osteoporosis. 
Diets that include soy — such as tofu — have been linked to improved bone health and strength. Studies also show that soybean-based foods are a rich source of calcium and isoflavones. 
6. Rich in Nutrients
Tofu may look humble, but it packs a powerful punch. Both nutrient-dense and tasty, tofu contains several minerals needed to maintain excellent health.
One such mineral is magnesium, essential for workout recovery and muscle repair. Also, phosphorus, linked to bone health and healthy white pearly teeth, and zinc, which aids your immune system and metabolism, are found in tofu.
But that's not all! Tofu is also a source of manganese, calcium, selenium, and iron.
7. Helps Reduce Female Health Symptoms
Another benefit that is unique to soy isoflavone is its ability to help reduce symptoms of menopause, such as hot flashes and cramping. 
Its high protein also makes you feel fuller for longer, keeping hormonal cravings at bay. Few foods are as good as tofu at keeping you healthy when you need it most. 
How to Include Tofu in Your Diet
Incorporating more soy-based products into your diet can be as simple as drinking soy milk or going for the cream of the crop — tofu. Tofu is versatile, soaks up flavor like a sponge, and adapts to any recipe from comfort food to a sensationally healthy vegan tofu and quinoa bowl with roasted veggies. You can eat tofu in dishes from breakfast through dessert.
For ideas of recipes to make with tofu, I've linked below to some top-rated cookbooks with tofu recipes:
Save this post to your healthy lifestyle or superfood board on Pinterest!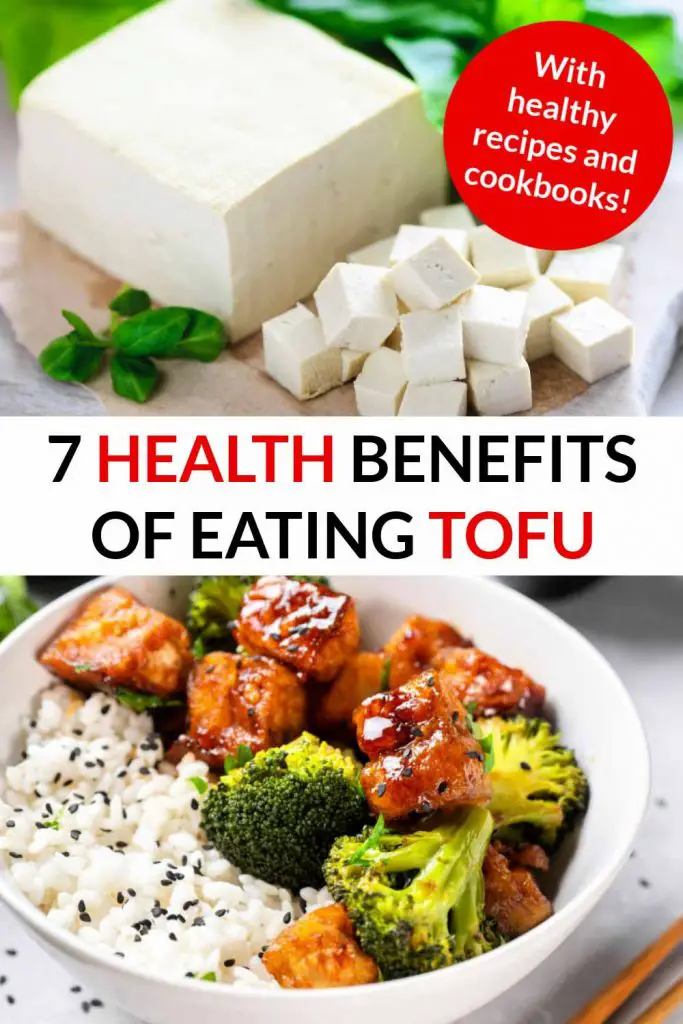 Disclaimer: The information in this post is intended for informational purposes only. You should not rely on this information as a substitute for professional medical advice. If you have any questions or concerns about your health, you should speak with your doctor.