Snorkeling and diving attract water-loving adventure seekers to Banda Neira, but did you know this Indonesian island was once highly sought after for its nutmeg and spices? In this guest post, Gloria Mabery shares the history of Indonesia's Spice Islands and where to enjoy Banda Neira's spices and foods.
Disclosure: This Banda Neira travel guide contains affiliate links. When you click on or make a purchase from one of these links, we may earn a commission. Of course, this is at no extra cost to you.
Why Visit Banda Neira, Indonesia?
Is visiting Indonesia on your bucket list? Known as the Emerald of the Equator, Indonesia offers visitors unique travel destinations abundant in minerals, spices, fresh produce, stunning scenery, and rich biodiversity. As the country comprises 17,508 islands, deciding which to visit can be difficult. 
Many travelers come to Indonesia for the historical tales that have shaped the country's development and the natural phenomena not found anywhere else in the world. However, you might consider traveling to Indonesia for the delicious food and spices that make Indonesian cuisine so enticing. That is why we recommend Banda Neira — Indonesia's spice hub and a fascinating island for culinary travel.
So, let's take a stroll through this awe-inspiring land and try to get a sense of the best scents and flavors that originate here and make Indonesian cuisine unique and immensely delicious.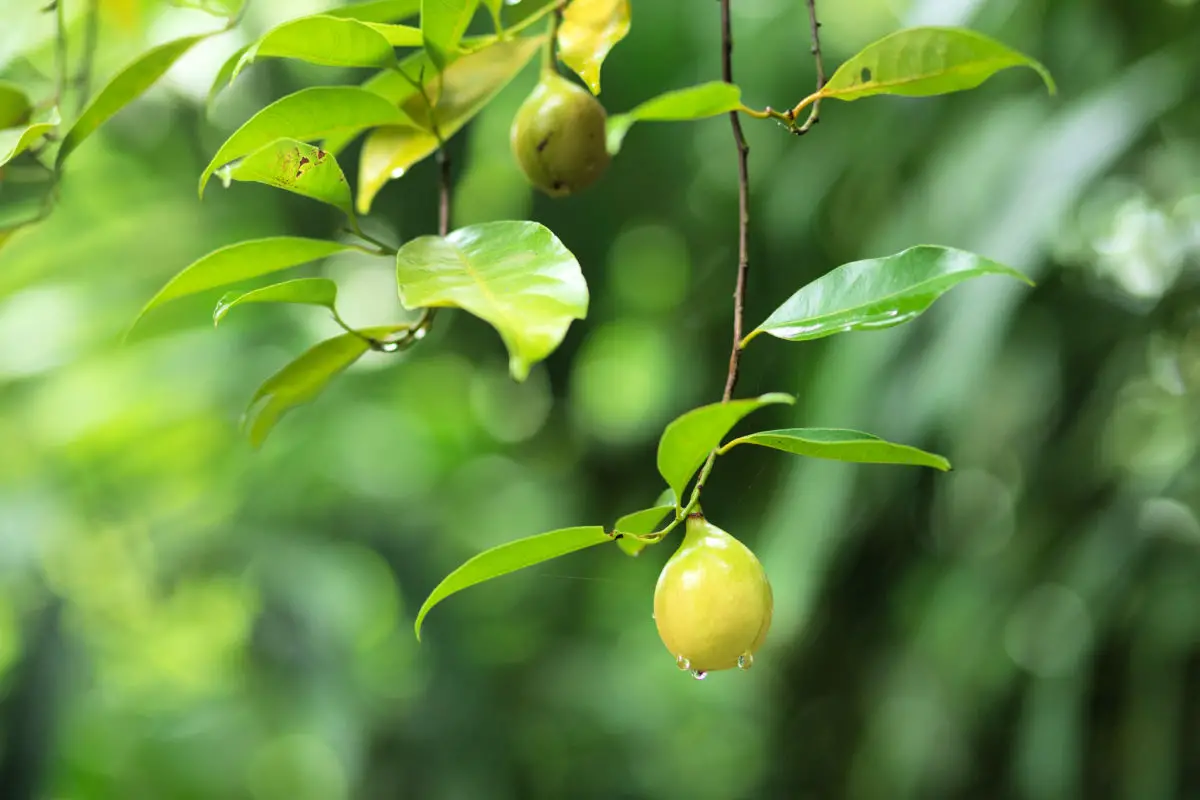 Photo Credit: © Stéphane Bidouze / Adobe Stock
Colonial History And Nutmeg In Banda Neira
Banda Neira is a tiny island in the Banda Archipelago, also known as the Spice Islands. These islands gain their nickname due to the abundance of widely appreciated spices, primarily nutmeg, mace, cinnamon, and cloves. 
Exclusively found on this territory, nutmeg made Banda Neira one of the most desired regions to several powerful European nations back in the 18th century. They fought hard to win its reign to be able to trade its natural treasures. 
First colonized by the Portuguese and later by the Dutch, Banda Neira was the world's spice hub from where Europeans sourced and traded nutmeg. 
Back then, nutmeg was praised as a natural superfood with healing properties. Because of that, nutmeg was traded for the finest silk, precious gems, and even gold. 
Several colonial-era relics remain on Banda Neira, making this destination interesting for tourists intrigued by the tales of the island's turbulent past. Fort Belgica, Fort Nassau, and Istana Mini are the main historical attractions for tourists in Banda Neira.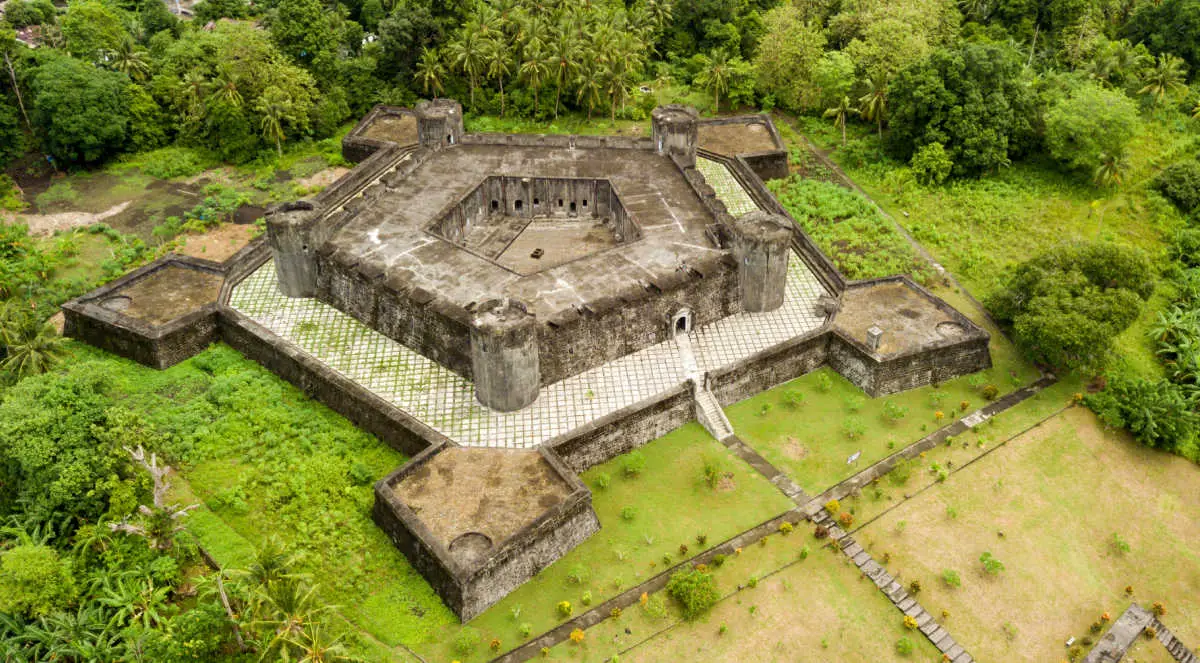 Photo Credit: © Stéphane Bidouze / Adobe Stock
Where And What To Eat In Banda Neira
As you may have gathered by now, Banda Neira is the kingdom of the nutmeg. It's a spice with a rich aroma and bittersweet yet woody flavor. In addition to its heavenly taste, nutmeg may improve your mood and health.  
Many tourists enjoy the Nutmeg Cafe, the Spice Island Cafe, and Belgica Cafe. They are located near Fort Belgica and convenient for enjoying a delicious meal after sight-seeing. You'll notice your food spiced with nutmeg — or quite a bit of nutmeg, actually!
In Banda Neira, you will enjoy delicious homemade food at highly affordable prices. The local specialty — nutmeg jam pancakes served with freshly squeezed juices — is absolutely delicious. If you are a fan of nutmeg and pancakes, you are in luck. You can find this nutmeg pancakes meal in almost all cafeterias and restaurants in Banda Neira. The spotlight here is on the nutmeg juice. Of course, it's a must-try! Also, there is a nutmeg coffee, which will likely become your favorite. 
Photo Credit: © Stéphane Bidouze / Adobe Stock
Besides nutmeg, Bandera Neira offers even more delicious food. There are several places where visitors like to eat in Banda Neira, but you should be prepared to go along with the laid-back lifestyle. Your service and food might be slow to arrive, but it will certainly be worth the wait. 
You should also try the traditional Soto Ayam dish. Though this dish is commonly found in most Asian countries, it differs from place to place. Soto Ayam is a spicy chicken soup with rice or noodles and usually spiced with turmeric, making it appear yellow. However, in Banda Neira, you will enjoy a mix of spices that make it even more delicious. 
Nasi Ayam is another chicken-rice dish you will savor here. Like Soto Ayam, this dish is also served in other Asian countries. In Banda Neira, you can enjoy Nasi Ayam seasoned with chili spices, sauces, and a pinch of nutmeg.
All in all, when you are staying in Banda Neira, you will get the chance to enjoy a lot of healthy food. Cafeterias and restaurants usually offer smoothies and fresh juices made from fresh local fruits and vegetables and spiced with nutmeg per preference. 
As you can see, you will get to indulge in all the flavors and aromas of Indonesia during a trip to Banda Neira. Plus, you will enjoy the health benefits of all the treasures nature has poured on such a small but mesmerizing island. Enjoy!
About The Guest Blogger
Gloria is a passionate traveler that has given up trying to tame her nomadic streak. Well into her 30s now, she has been traveling around the world for five years, transforming her travel experiences into stories. She has been working with many companies in the travel industry, administering her interest in SEO and digital marketing. Gloria is also a musician, occasionally performing as a busker wherever she steps foot.
Where To Stay On Banda Neira Island
Travelers have rated Cilu Bintang Estate an "excellent" 4.5 out of 5 on TripAdvisor. The hotel also earned a "5 out of 5" rating for cleanliness and value. Reviewers raved about the friendly owners, delicious food, and scenic views of the volcano and historic fort.
Located in a Dutch colonial building, the Mutiara Guesthouse from the same owners as Cilu Bintang Estate also has an excellent TripAdvisor rating. Guests commented on the delicious breakfast spread, beautiful gardens around the property, and owner Abba's helpfulness with booking excursions.
As of October 2020, Zahira Guesthouse has only eight reviews on TripAdvisor, but they are all positive. Many reviewers mention the Gunung Api volcano view, tasty breakfast food, close proximity to restaurants, comfortable rooms, and friendly owners as reasons for enjoying their stay.
Map Out Your Visit To Banda Neira
Before visiting Banda Neira, you can use the map below to find the historical attractions, cafes, and lodging mentioned in this post.
Save this article to your Indonesia travel board on Pinterest to easily reference later!
Editor's Note: International travel is not advised at this time. Please save this article to Pinterest now to refer back to it at a later date. Lead photo credit: © Fabio Lamanna / Adobe Stock