Visiting Japan is a bucket list trip for many foodies to eat the best foods in Japan. Though I have yet to visit Japan, I'd certainly like to visit and eat my weight in sushi, ramen, and more of the best foods in Japan. Since I haven't visited Japan yet, I've enlisted food blogger Victoria Giang to share five must-try foods in Japan!
If you travel to eat foods in their place of origin, you should. check out the rest of our Foods Around the World series. We have food guides for China, Dubai, Ireland, Latin America, Pakistan, Paris, and Singapore.
Disclosure: This guide to the best foods to eat in Japan contains some affiliate links. When you click on some of these links, I may earn a small commission as an affiliate partner. As an Amazon Associate, I earn from qualifying purchases. Of course, this is at no extra cost to you.
---
Five Best Foods in Japan
Japan is truly a magical land full of fantastic history, culture, people, and, of course, food. Each of the Japanese islands has its own unique flavors and flair, often so much so that they almost feel like different countries. There is really no end to the number of amazing sights, sounds, and tastes you can experience throughout the country. However, no matter where you end up traveling, no trip to Japan can truly be complete without sampling all five of these famous Japanese foods.
Sushi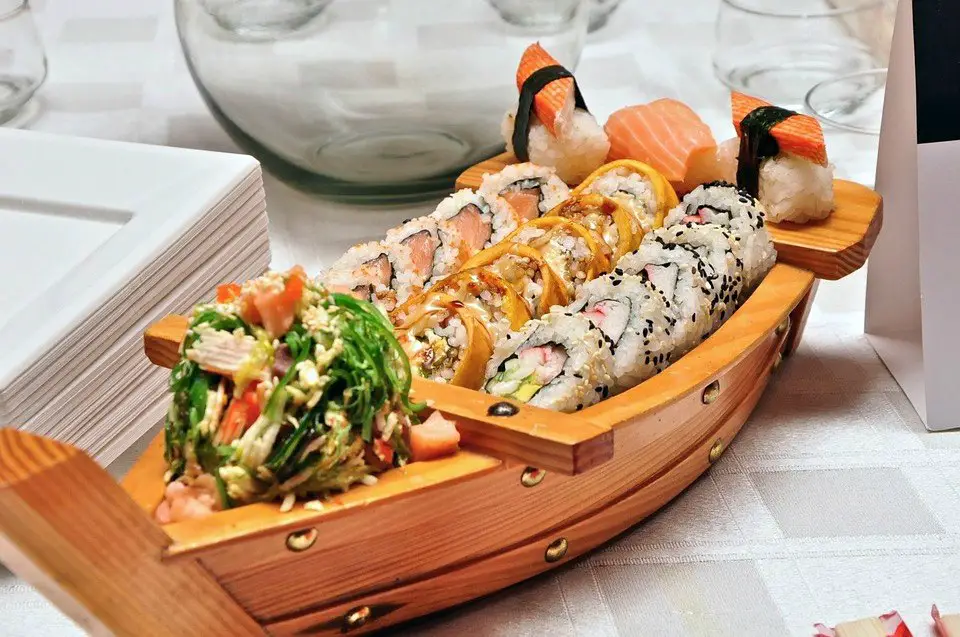 No list of Japanese foods could really be complete without sushi. Probably the most famous of all Japanese foods, sushi can now be found all across the globe. However, nothing really compares to the experience of eating fresh, traditional sushi in Japan.
In the West, most people tend to think of sushi as raw fish. However, sushi is actually an old-fashioned Japanese word that means sour and refers to the special vinegary sushi rice that forms the basis of the dish. In Japan, you can find hundreds of different varieties of sushi, featuring cooked fish, vegetables, meat, and the ubiquitous raw fish.
Sushi is available on almost every street corner, so tourists will have no shortage of opportunities to try a huge number of different types. Whether you have a taste for sea urchin, roe, octopus, and eel, or prefer more traditional delicacies like tuna, shrimp, or even cucumber. — you'll have no problems finding all sorts of sushi that surely appeal to any palate.
Udon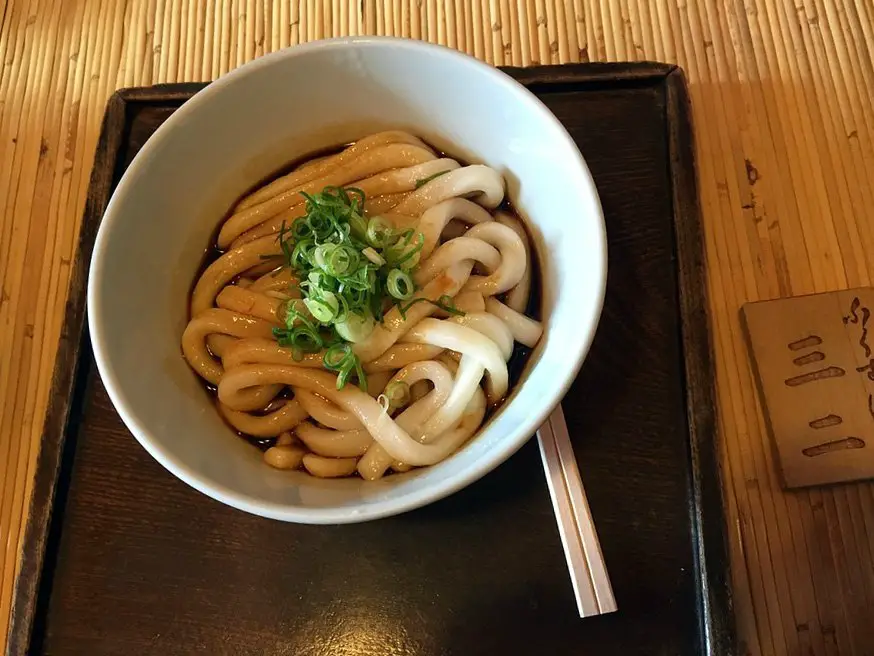 Another incredibly popular food in Japan is udon, which is a thick noodle made from wheat flour. Although udon noodles can be served several ways, one of the most popular is a simple soup known as kake udon. This soup features a quite mild-tasting broth called kakejiru, but the flavor of the broth can vary quite widely from region to region.
The soup generally comes topped with chopped scallion, but it often includes deep-fried tofu, shrimp, beef, fishcakes, and other toppings. Although kake udon is the most common method of preparation, you'll see udon prepared in many different ways throughout the country. You'll even see it in both cold salads and hot dishes.

Shabu-Shabu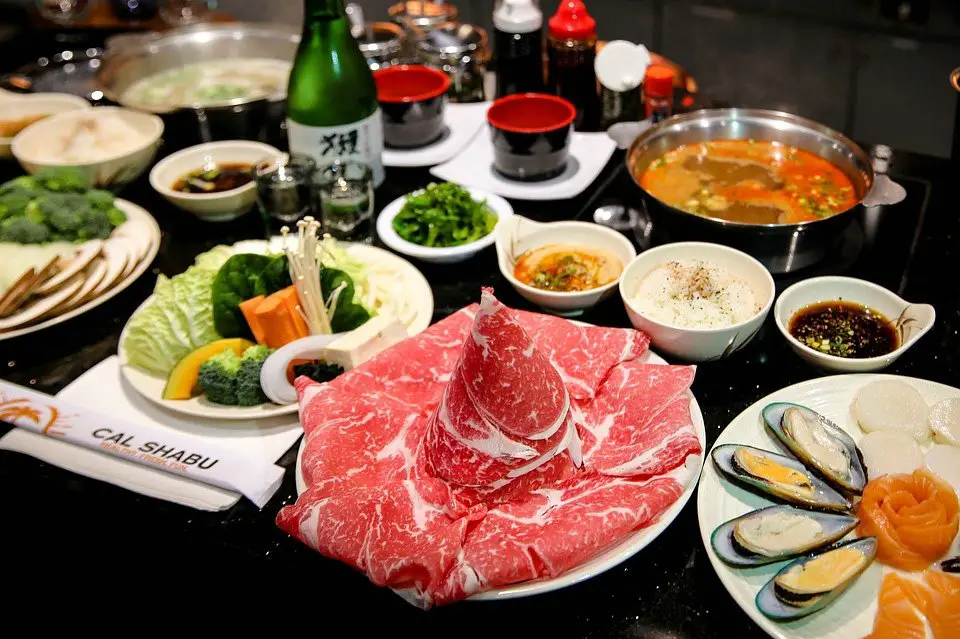 Popular amongst both tourists and locals, shabu-shabu is not only delicious but also an experience unto itself. The dish is a hotpot-style meal, where thin slices are lightly boiled in a pot of broth or water directly at the table. Along with sukiyaki, it is the most popular hotpot dish in Japan, especially in tourist areas.
After cooking, the meats and vegetables are typically dipped in a sesame seed sauce and eaten with a bowl of steamed rice. Towards the end of the meal, once everything has been cooked, the remaining broth is then poured into each bowl with the rice and eaten as a soup.
Shabu-shabu is also commonly found at Japanese restaurants in many "Little Tokyo" neighborhoods around the world.
Sashimi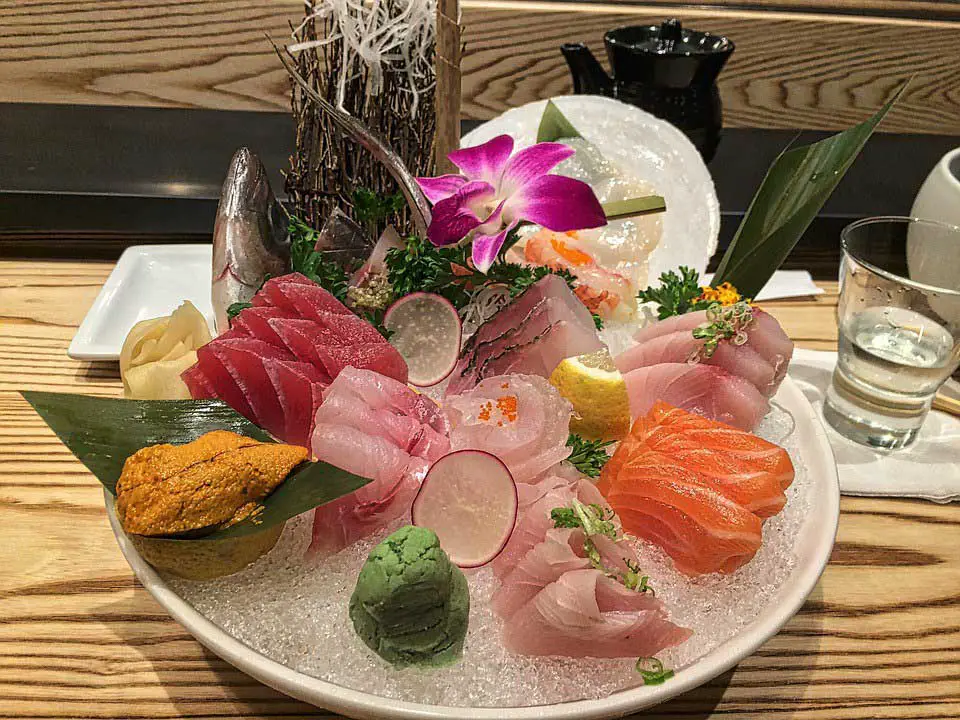 Sashimi is another popular Japanese dish that many people are at least partly familiar with. However, some people confuse it with sushi. Sashimi refers to extremely thin slices of fresh raw fish or meat.
Japanese people tend to eat sashimi along with daikon radish, shoyu, and wasabi. As with sushi, you can find many different styles of sashimi. However, one that is not to be missed is Kobe beef sashimi, which literally melts in your mouth. It may just be the tastiest bite of beef you'll ever have.

Tempura
Tempura is another Japanese food with a name referring to the preparation method. In this case, it means dipping the food into a traditional tempura batter and then quickly deep-frying it in hot oil.
Many people are familiar with tempura shrimp. However, the Japanese are huge fans of tempura, and you can find a wide range of different seafood and vegetables prepared in this way. As with other foods, you're sure to have a fantastic time treating your taste buds with as many different tempura creations as you can find.
About The Guest Blogger
Victoria Giang is a home cook, mom, and food blogger behind How Daily. Her passion is creatively cooking and seeking new flavors. She also loves to take pictures and write about her experience on the journey through authentic, original flavors of traditional cuisine. You can follow Victoria on Twitter and Pinterest. 
Planning a trip to Japan?
If you plan to visit Japan, below are some helpful resources for planning your trip. I've thoughtfully selected travel guidebooks, planning resources, and booking services for your Japan trip planning.
Japan Guidebooks: Lonely Planet Japan (2022), Fodor's Essential Japan (2022)
Tokyo Guidebooks:  Lonely Planet Tokyo (2022), Fodor's Tokyo: with Side Trips to Mt. Fuji, Hakone, and Nikko (2023)
Japanese Travel Phrasebook: Lonely Planet Japanese Phrasebook & Dictionary
Hotel Booking: Tokyo, Osaka, Kyoto
Flight Deals: WayAway
Transportation: Japan Rail Pass
Which of these five Japanese foods would you like to eat?
Are you a fan of sushi or sashimi? Have you already traveled to Japan and tasted these foods? Are there any other Japanese dishes you would consider a must-eat food for foodie travelers in Japan? I'd love to hear your thoughts in the comment section!