Dreaming of a European vacation, but wondering how you'll ever afford it? Saving for a trip to Europe from the US can seem daunting, but it is achievable! With these 13 money-saving tips, you'll soon master how to save for a trip to Europe.
In this post, you'll learn:
How to budget for your Europe trip expenses
Ways to earn and save more money for your trip
Ideas on how to reduce your overall trip costs
Disclosure: This guide on how to save money to travel to Europe contains affiliate links. When you click on one of these links and make a purchase, I may earn a commission. Of course, this is at no extra cost to you.
---
13 Tips for Saving Money to Travel in Europe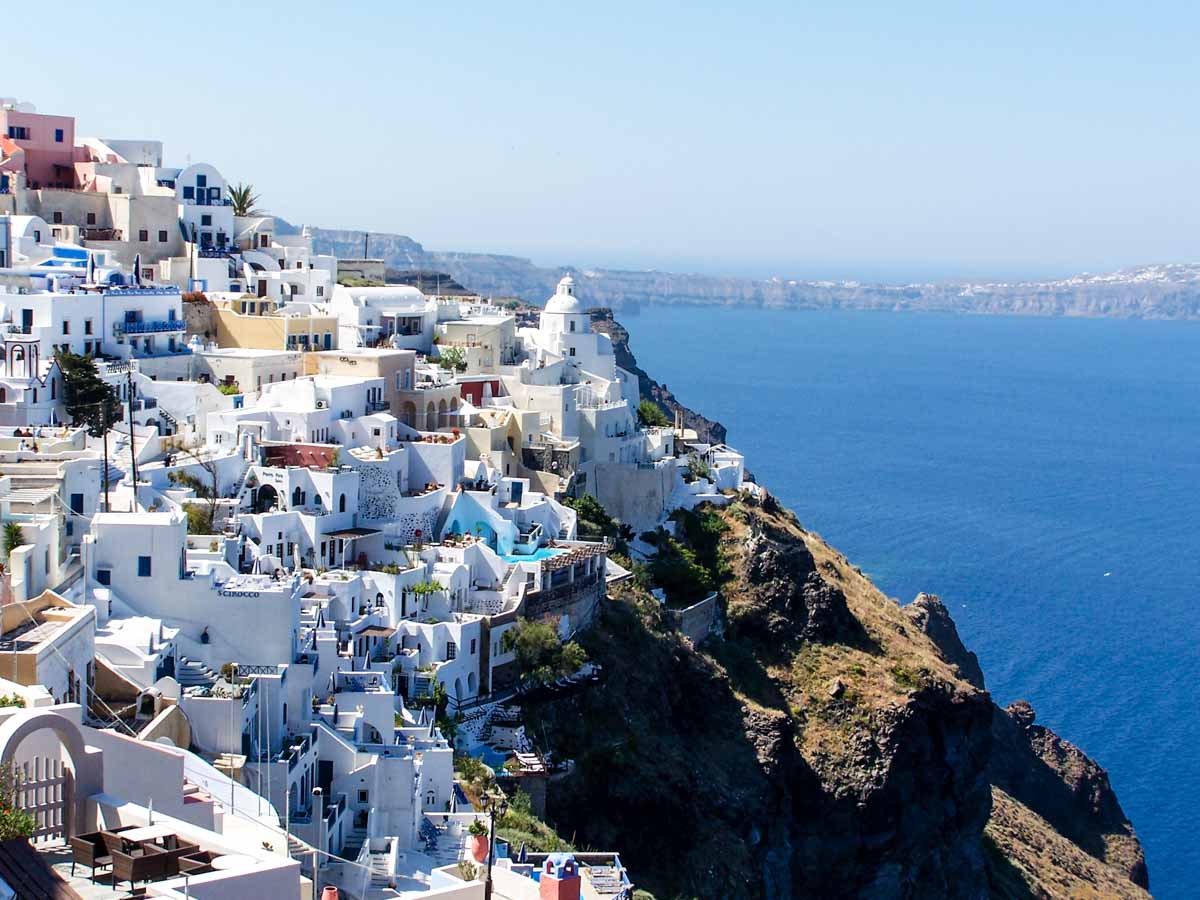 If traveling to Europe has been a dream vacation you've wanted to take for as long as you can remember, why not begin taking the necessary steps to make it a reality?
From seeing the beauty of Santorini in Greece to exploring the vibrant culture in Barcelona, Spain, there is no question as to why so many people strive to make their dream vacation in Europe a reality.
However, a trip to Europe from the US comes with a heftier price tag this year. With a high demand for international travel this summer, US-to-Europe airfare averages nearly $1,200, a 37% increase from 2022.
Once plane tickets, accommodations, and other travel expenses quickly add up, it's easy to get discouraged on your European vacation savings journey.
If you're feeling discouraged about the financial aspects of preparing for such a trip, you don't need to worry. Saving money for an exciting and fulfilling European vacation is entirely doable!
By implementing the following tips for saving money for a Europe trip, you can — and will — see your European vacation fund grow.
1. Create a Trip Budget
The first step in saving money for your European vacation is to set up your trip budget, and this will require research.
How much money do you need to save for your trip? To come up with an accurate number, you should think realistically about the costs associated with traveling to Europe.
Whether you create your budget spreadsheet using Google Sheets, Microsoft Excel, or old-fashioned pen to paper, you'll need to include line items for each aspect of your trip. 
Don't forget to factor in the price of plane tickets, accommodation, food, ground transportation, travel insurance, various tour and attraction tickets, and any other expenses, such as Europe travel essentials that you need to purchase before your trip!
Creating a trip budget is also key to keeping your travel spending on track as you book transportation, lodging, and activities. 
Tip: Use the sample Europe trip budget planner below to create your own Europe trip budget!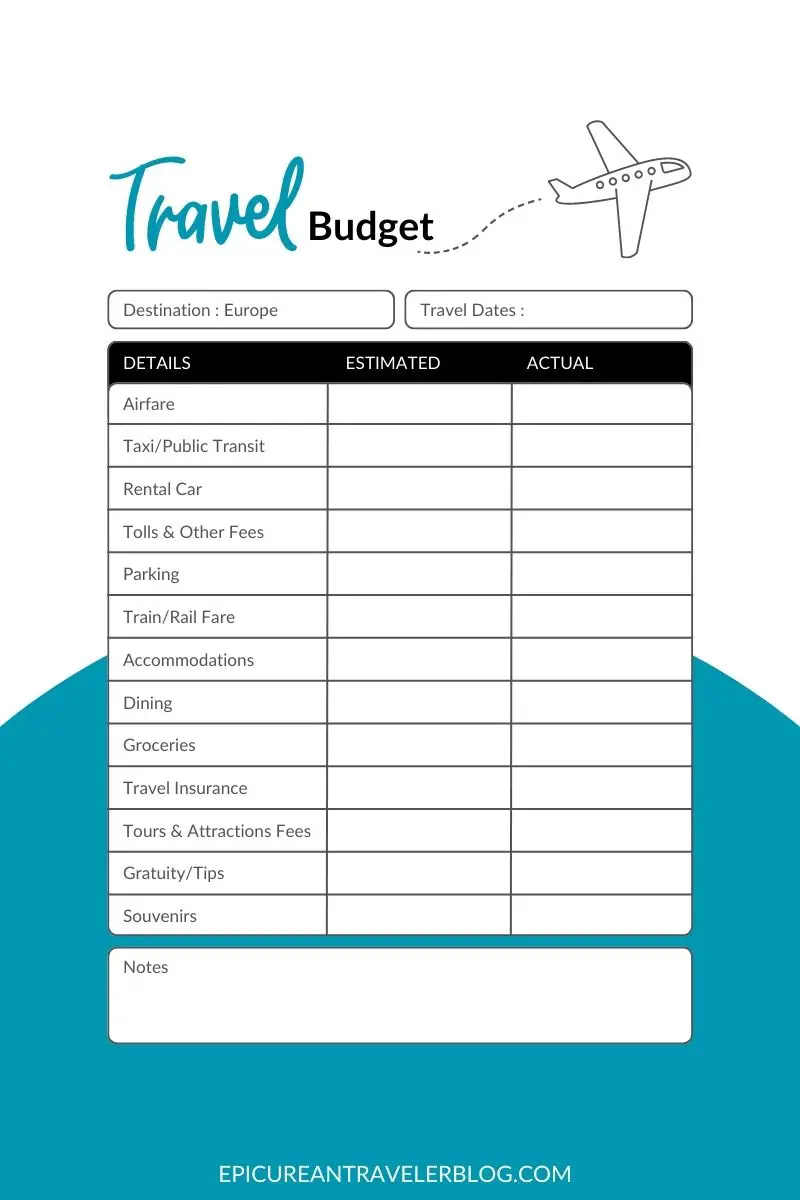 2. Add Travel to Your Personal Finance Budget
Once you have created your Europe trip budget, you should add your European vacation as a line item on your personal finance budget.
If you don't already have one, you'll first need to create a monthly budget for your personal finances. Make sure your personal budget includes both your fixed and variable expenses.
This will give you a better understanding of what you can and cannot afford regarding everyday expenses (like your daily coffee allowance), splurges like dining out or new clothes, and unexpected expenses such as a surgical procedure at The Bunion Cure at Northwest Surgery Center.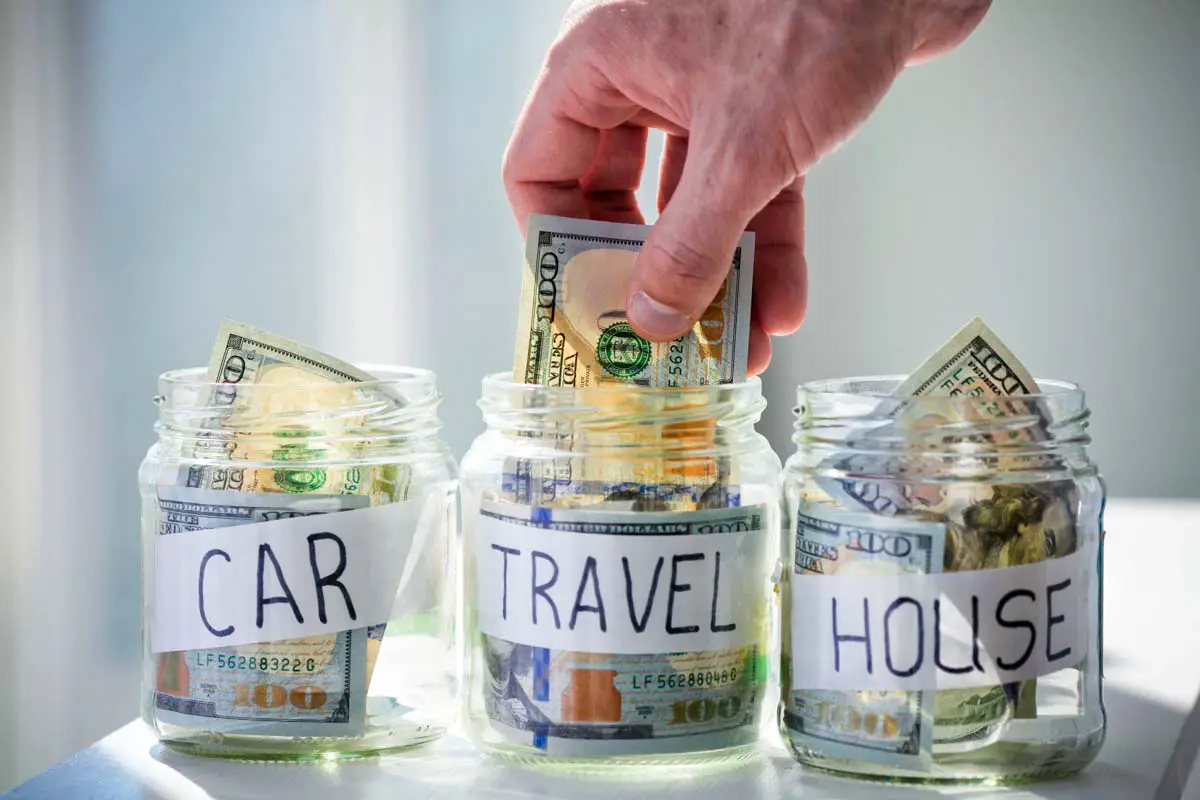 3. Cut Unnecessary Expenses
The easiest way to save money for a trip to Europe is by reallocating the money you typically spend on variable expenses in the everyday expenses and splurges categories of your budget to your travel fund.
For example, if you normally stop at your local coffee shop for a latte on your way to work, you could switch to brewing your morning cup of joe at home.
Do you typically rely on taking ride shares or cabs to get around? Or, are you regularly at the gas pump filling up your vehicle's tank? Taking public transportation, riding a bicycle, walking, or carpooling could save you money for your trip!
Are there any subscription services that you could sacrifice for a few months? Could you eliminate your cable bill and keep one streaming service instead?
Do you really need a new dress for the wedding you're attending? Could you style a dress already in your closet with different shoes or accessories for a "new" outfit? Borrow from a friend? Go thrift shopping or hit the sales rack for a less expensive alternative?
Every little bit counts and can add up to huge savings in the long run!
4. Earn More from Your Savings
Speaking of every little bit counts, you might consider putting your vacation funds into a high-interest-yielding savings account. Some online savings accounts are offering over 4% APY, as of July 2023.
Also, if you currently have accounts with a bank that collects monthly maintenance fees, foreign transaction fees, and/or ATM fees, you might also consider switching banks before your trip.
Not only will you save money before your trip without paying monthly banking fees, but you'll also be able to use ATMs abroad without getting dinged with fees from your bank on top of the local bank.
5. Open a Travel Rewards Credit Card
Another way to save money for Europe is to open a travel rewards credit card.
Travel rewards cards allow you to save money by redeeming the points you've earned on both everyday and travel expenses for airfare or hotels.
Plus, some travel rewards cards offer additional perks, such as protection on travel purchases, car rental insurance, lost luggage insurance, or airport lounge access.
Additionally, sign-up bonuses can offset some of your Europe trip expenses. For example, you could earn 75,000 bonus miles, a $750 value in travel expenses, when you open a Captial One Venture Rewards Credit Card and spend $4,000 on your normal expenses (or trip-related expenses) within the first three months.
However, with great benefits comes a cost, and you should carefully consider if opening a travel rewards credit card is a good financial option for you.
First, though there are some travel rewards cards without an annual fee, others have annual fees of $95 or higher. For example, the Platinum Card from American Express has a lucrative introductory offer, access to airport lounges, elite status with Hilton and Marriott, and a concierge service that helps travelers book hard-to-get reservations, but the annual fee is $695.
If you are interested in applying for a travel rewards card, you typically need a good to excellent credit score to be approved. Additionally, to maximize the benefits of your travel rewards credit card, you should be in a state of good financial wellness and able to pay off monthly balances.
In addition to general travel rewards cards, you may also consider credit cards that offer benefits and the ability to earn miles/points for your airline or hotel brand of choice. The benefits of these cards can be quite advantageous for brand-loyal travelers and frequent fliers.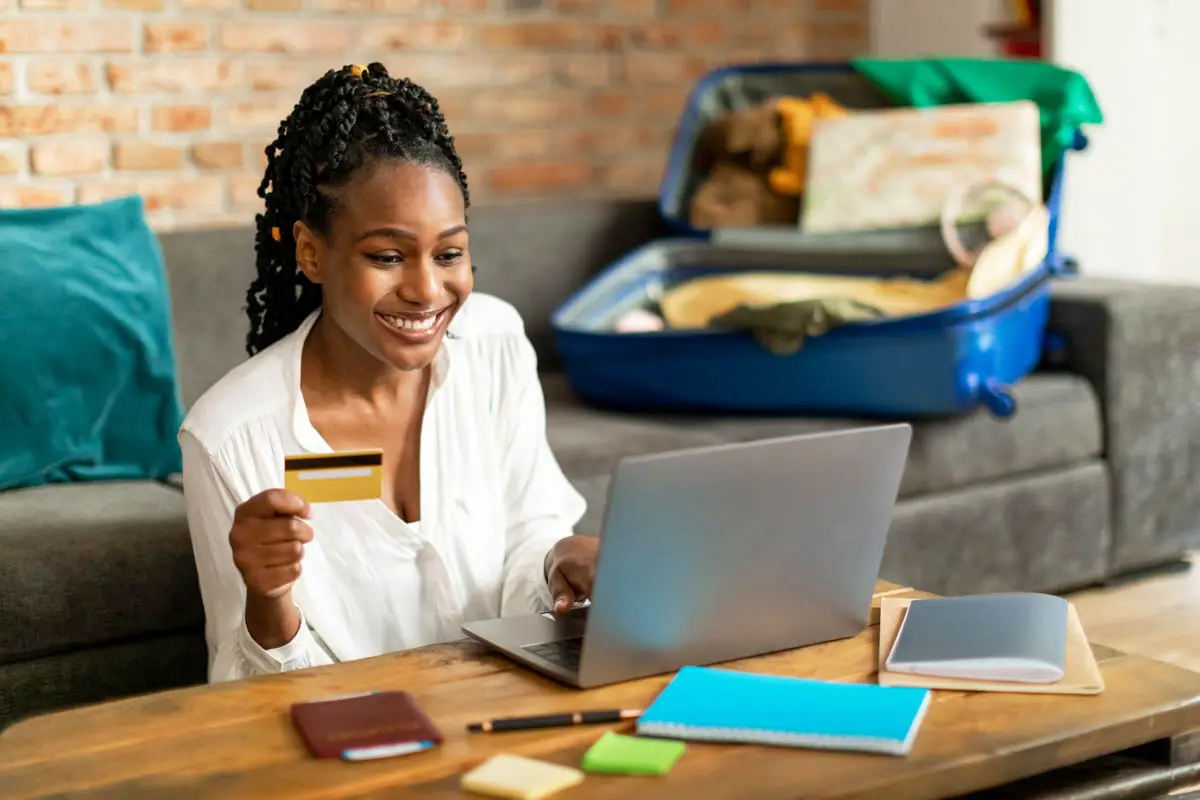 6. Avoid Foreign Transaction Fees
Did you know you can incur a foreign transaction fee before stepping foot outside the US? That is because a foreign transaction fee is not based on where you are located at the time of purchase.
Rather, a foreign transaction fee is charged by your credit card issuer when financial transactions are made outside of the country. For example, you could incur this fee when purchasing your rail tickets online in advance of your Europe trip.
Though the fees are relatively small at 1-5%, they can add up as you are booking your European vacation and, of course, while purchasing meals and souvenirs during your trip.
So, before you make reservations or bookings for your Europe trip, check that your credit card doesn't charge foreign transaction fees.
Having no foreign transaction fee is another perk of travel rewards credit cards, but you may have a credit card with no foreign transaction fees already in your wallet.
It's certainly worth checking which of your cards offer this money-saving perk!
7. Utilize Rebates, Coupons, and Discounts
Another way to save money for your Europe trip is to shop using rebates, coupons, and discounts on everyday items, such as groceries, as well as your travel gear and trip bookings.
There are a number of mobile apps and browser extensions you can install to earn rebates. Personally, I use the Ibotta, Capital One Shopping Rewards, and Rakuten browser extensions to earn cash back from my online purchases. I also earn cash back from Ibotta on in-person grocery shopping by clipping rebate coupons on the mobile app.
You can even utilize Ibotta for saving money as you book your Europe trip. Ibotta changes its offers from time to time, but a quick browse today showed cash-back earnings of 10% for AirportParking.com, 4% for Viator, 3.5% for Priceline, and 3% for Booking.com purchases among many others.
It's beneficial to utilize multiple rebate apps or browser extensions (depending on how you shop) to maximize your savings. For example, Ibotta is offering 3% cash back on Priceline purchases as I pen this post, but Rakuten's deal of up to 6% back beats it.
Rakuten also has rebate offers on travel booking sites, airlines, hotel chains, car rental services, cruise lines, and more travel-related products and services.
What I like most about using the Capital One Shopping Rewards browser extension is that it will automatically run coupon promo codes to get you the best deal when you check out from any online retailer. I've saved $788 using Capital One Shopping Rewards while online shopping over the past two years!
8. Pick Up a Side Hustle
If you need additional savings for your Europe trip, try picking up a side hustle. This could include freelancing gigs, taking online market research surveys, or even creating a small business of your own.
As long as your everyday expenses and a cushion for unexpected expenses are covered by your paycheck, the extra cash you make from your side hustle can be diverted towards your vacation fund. This can help you reach your vacation-funding goals even faster!
9. Sell Your Stuff!
Do you have items you no longer want but could be useful to someone else? Selling those no-longer-needed belongings is another way to earn more money for your European vacation.
In particular, if you have furniture, collector's items (especially in the original packaging), or designer or brand-name clothing in good to "like new" condition with the sales tags still attached, then you should research the value of these items before selling.
For designer and name-brand clothing, you may want to consider taking those items to a local consignment or resale shop or listing them on Poshmark.
There also are a number of free online marketplaces where you can sell your gently used items. These include Facebook Marketplace, Craigslist, and OfferUp.
Of course, if you have a lot of items to sell that aren't specialty or higher-priced items, consider hosting a yard or garage sale. You can also partner with a neighbor, friend, or relative to advertise a multi-household sale, which may attract more customers.
10. Ask for "Travel" as Your Gift
Do your relatives ever ask what you want for your birthday or Christmas? If you normally exchange gifts for birthdays, holidays, or other special occasions with family members or close friends, you can ask for cash for your trip!
Or, is this dream European vacation your honeymoon? If so, in lieu of registering for kitchenwares and home furnishings, set up a virtual honeymoon fund into which your wedding guests can contribute.
And, if it feels too awkward to directly ask for cash, you could offer other gift ideas that would help offset your travel expenses, such as an airline gift card, a new suitcase, or any other European travel essentials you still need.
11. Invite Friends to Split Costs
One of the best ways to save money when traveling is to share the cost of accommodations and transportation with travel companions. Rather than saving up for a solo trip, ask a friend or a group of friends to join you.
Of course, there are some travel expenses, such as your flight to Europe, that will be your own financial responsibility. This remains true whether you travel solo, with a travel companion, or with a group of friends.
However, you can invite your significant other, friends, or family members to join you on the trip and split some of the other travel costs.
By splitting the cost of your accommodations and ground transportation, you can reduce the overall cost of your trip and more quickly reach your trip savings goal.
RELATED: Five Tips to Successfully Navigate Travel with Friends
12. Avoid Traveling in Peak Tourism Season
One sure way to reduce the overall cost of your trip to Europe is by traveling outside of the high tourism season.
For many European destinations, prices are higher in the summer months as well as in early winter around the Christmas and New Year's holidays.
Usually, the shoulder seasons (the weeks or months before and after high season) have lower airfare and hotel prices and fewer tourists crowding popular attractions than high season. Plus, the weather is still relatively pleasant in many European destinations during the spring and fall.
Of course, if your dream European vacation involves sipping glühwein at Christmas markets in Germany or swimming in the warm Mediterranean Sea, this bit of advice may not apply to your specific travel dream.
However, if you are open to traveling during a less popular time of year for Europe travel, you will likely save money on two of your biggest travel expenses — airfare and accommodations.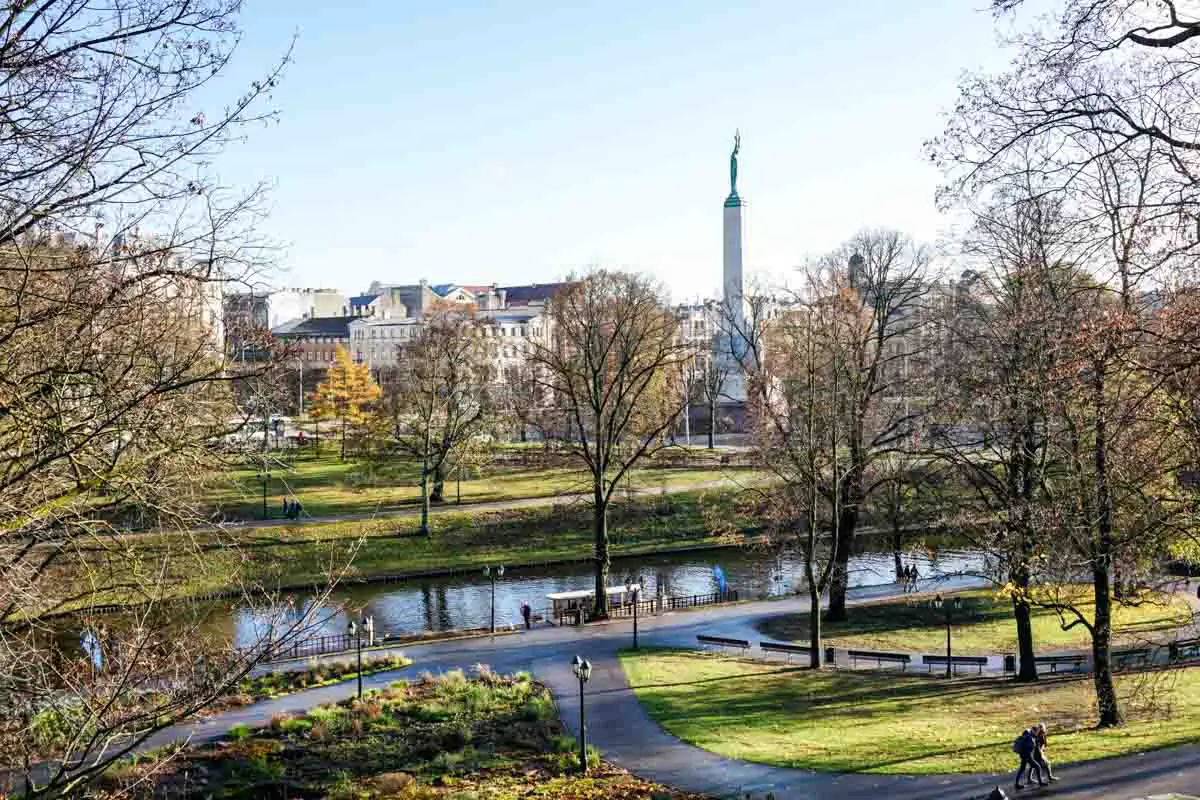 13. Choose a Cheaper Flight
Your flight will be one of your biggest expenses in planning your trip to Europe. Don't get discouraged though — there are ways to find flight deals to Europe
!
First of all, the more flexible you can be with your travel itinerary, the cheaper your flight options may be.
For example, if you can schedule your flights for midweek rather than Friday through Monday, you'll usually save money on cheaper airfare.
You can also use mobile apps and online tools, such as Skyscanner and Google Flights, to search for and alert you to cheaper fares.
Or, earn cash back on your flight (and hotel bookings) by joining the travel-deal aggregator website WayAway Plus.
MONEY-SAVING TIP: Get 10% off your WayAway Plus membership to start earning cash back on your Europe travel bookings today! Just click on my promo code EPICUREAN to get your discount!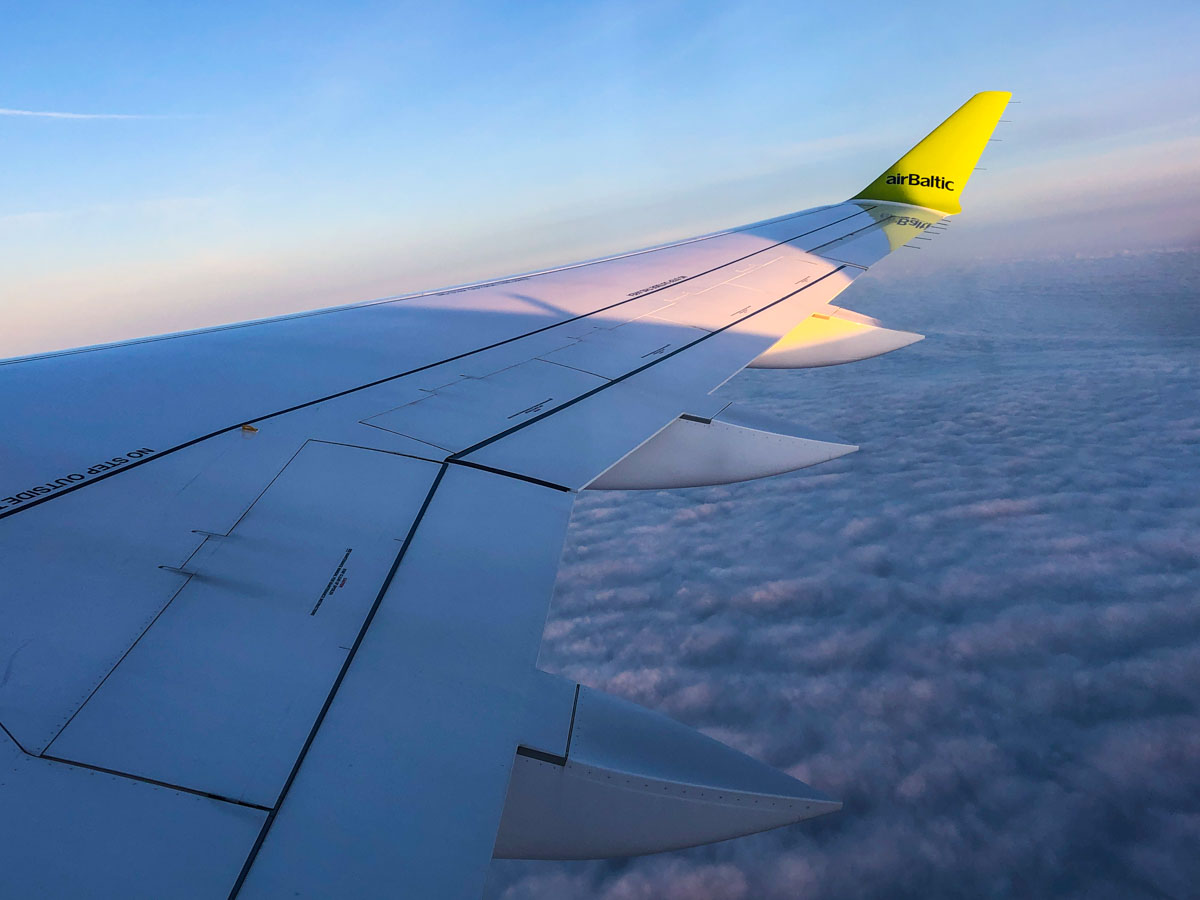 Money-Saving Tips for Travel in Europe
If you are planning your dream trip, I hope you learned some money-saving tips for traveling to Europe.
In this post, I recommended that you research prices to create your trip budget. This way you will know how much you'll need to save and spend on travel expenses.
I've also shared strategies to implement to save or earn more money for your vacation fund.
You could increase your travel funds by putting your savings into a high-interest yielding account, taking on a side hustle, asking for cash (or trip-related gifts), or selling your gently used belongings that no longer spark joy.
Finally, I also shared ideas of how to keep your costs lower when traveling to Europe from the US. By inviting travel companions to join you or taking your trip at lower-cost times, your overall trip costs will decrease.
Need inspiration for your Europe trip? Browse top Europe tours and activities below!
TL;DR: Remember these tips to save money for a Europe trip!
Research travel costs for Europe early on, create your trip budget, and use your budget spreadsheet to track your spending.
Save money for your trip by making small cuts to your everyday expenses and splurges, such as carpooling rather than driving solo to work.
Earn more money for your European vacation fund by switching to a high-interest bank account, asking for cash gifts, selling your gently used stuff, and/or getting a side hustle.
Download rebate mobile apps or add their browser extensions to earn cash back as you shop online for your travel gear or make trip bookings.
Open and use a travel rewards credit card, such as the Chase Sapphire Preferred Card or the Capital One Venture Rewards Credit Card, for your everyday expenses to earn travel rewards that can be redeemed for airfare, hotel stays, car rentals, and cruises.
Use Skyscanner or Google Flights to search for cheaper airfare, or join WayAway Plus (10% off with my promo code EPICUREAN) to earn cash back on your flight to Europe.
Reduce your Europe trip costs by flying midweek, traveling in the off season, or sharing accommodations with travel companions.
Pay for your hotels, rail tickets, and tickets for attractions and tours with a credit card that has no foreign transaction fee.
Bonus Tip: While you are traveling in Europe, pay with a credit card to get the best exchange rate.
Read These Posts for More Europe Travel Tips
Planning a trip to Europe? Save this post to your Europe travel board on Pinterest to easily refer back to it later!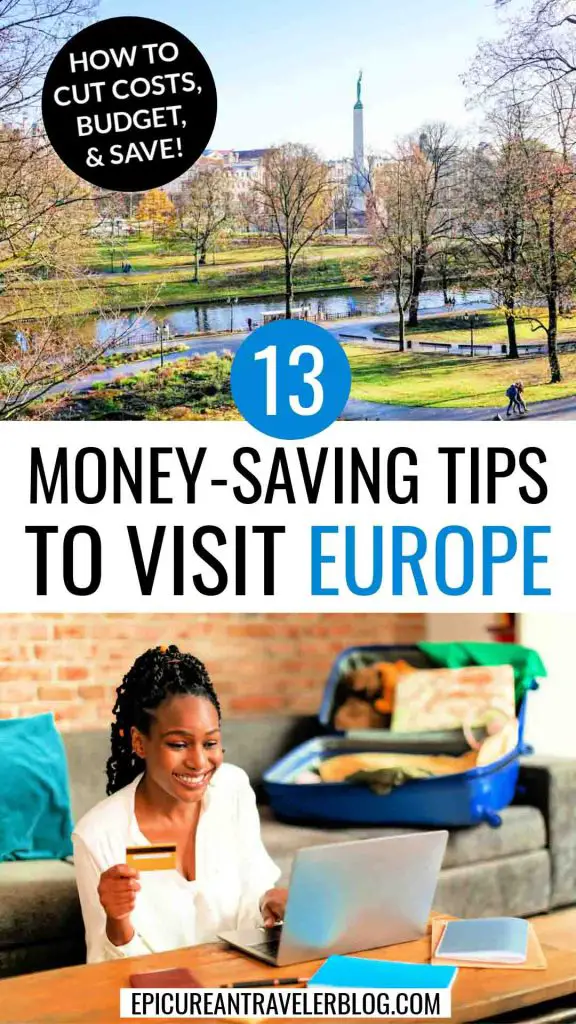 Editor's Note: Photo credit for the lead image of a traveler counting cash while trip planning (© Syda Productions/Adobe Stock)