Are you shopping for a coffee-drinking traveler this holiday season? In this gift guide, I've compiled a list of more than 20 gifts for coffee lovers. 
Whether you are shopping for a coffee enthusiast with a budding interest or a full-on coffee snob, here are 20+ practical gifts to brew, drink, and learn more about coffee at home and while traveling! 
Disclosure: This coffee lover's gift guide contains affiliate links. When you click on or make a purchase via one of these partner links, I may earn a commission. 
---
Top-Rated Home-Brewing Gifts for Coffee Snobs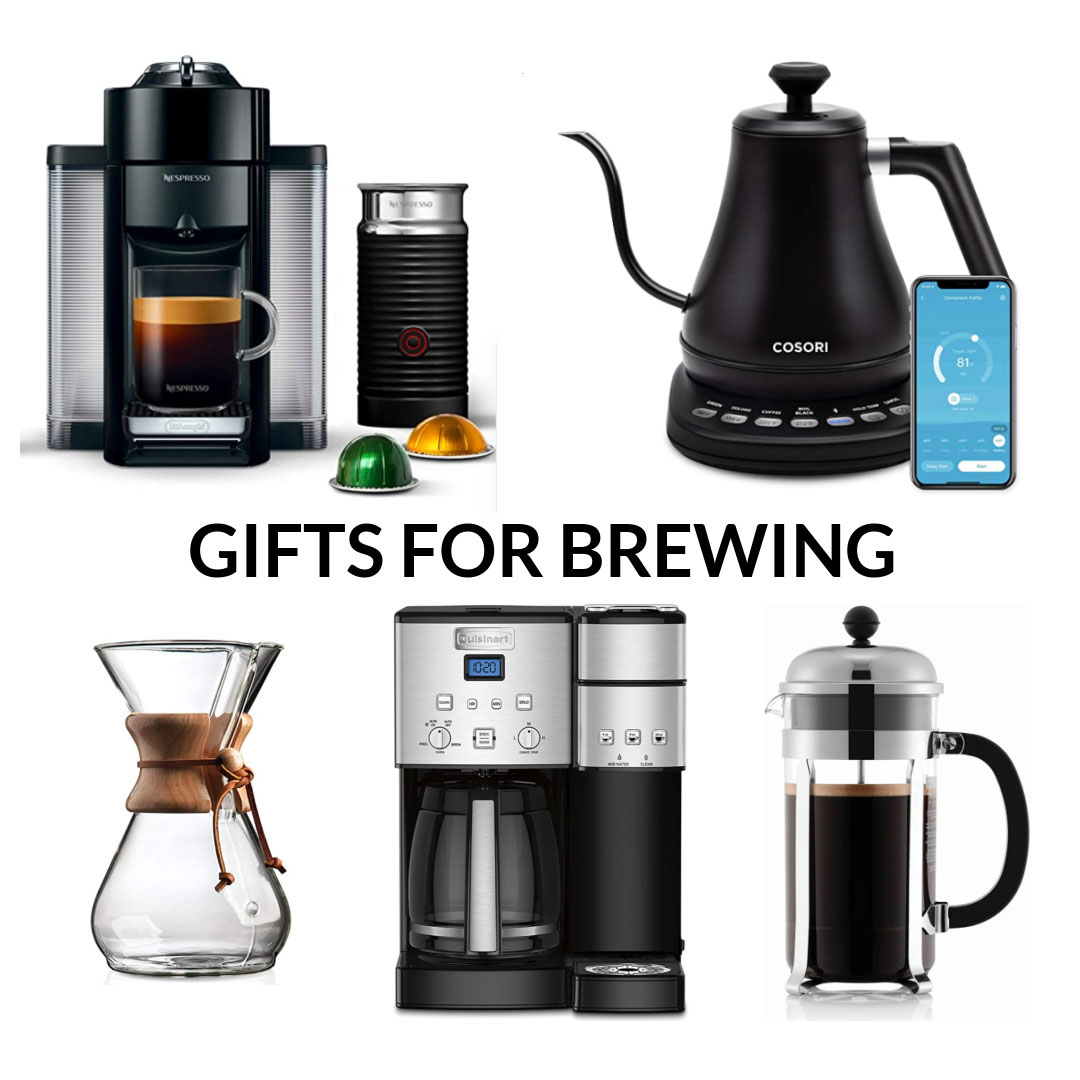 Coffee Grinder
An electric coffee grinder is practical gift to give the coffee drinker with a burgeoning interest in coffee. Never again will your coffee-loving traveler have to skip purchasing a roasted coffee simply because it isn't ground. 
For a budget-friendly gift, I recommend the Hamilton Beach coffee grinder. It can grind up to nine tablespoons of coffee beans for 12 cups of coffee.
Not only does the ability to grind whole coffee beans at home make a coffee grinder a useful gift for coffee drinkers, but the Hamilton Beach coffee grinder also doubles as a spice grinder and nut chopper. 
But the best feature of the Hamilton Beach coffee grinder? It has to be the removable grinding chamber — making it easy to fill and clean after each use. 
More perks of this coffee grinder include the stainless steel blades that easily grind coffee and spices and its hideaway cord for neat storage.
Buy the Hamilton Beach Coffee Grinder | Shop for More Coffee Grinders Now
French Press
Does the coffee enthusiast in your life prefer a rich, full-bodied coffee with a strong flavor? If so, a french press coffee maker would be a welcomed gift!
Since 1958, BODUM® has specialized in crafting high-quality coffee makers like the Chambord French Press. 
By extracting just the right amount of aromatic oils from coarsely ground coffee beans, the BODUM® Chambord French Press steeps a flavorful coffee in only four minutes.
One drawback of using a french press, or a cafetiere, can be the tedious cleaning of its components. However, this BODUM® french press is dishwasher safe, thus making it easy to clean. 
Lastly, the BODUM® Chambord French Press has a safety lid that keeps coffee from spilling, so the coffee lover in your life won't waste a drop!
Buy the Bodum Chambord French Press | Shop for More French Press Coffee Makers Now
CHEMEX® Pour-Over Coffee Maker
Now, if your coffee fanatic prefers a lighter-bodied coffee or dislikes the grit that can sometimes be associated with french press coffee, gifting a pour-over coffee maker is the way to go.
Designed by Dr. Peter Schlumbohm, Ph.D. in 1941, the CHEMEX® pour-over coffee maker brews a smooth coffee each time and is easy to clean. The design — of borosilicate glass, a polished wood collar, and a timeless leather tie — proves to be functional as well as elegant.
Though CHEMEX® coffee makers come in a variety of sizes, I recommend the Eight Cup Classic CHEMEX® for households with two or more coffee drinkers. The eight-cup measurement is based on a 5-oz pour, so you can expect to make about four or five cups if you are used to a more generous 8-10-oz pour.
Along with the coffee maker, you might want to include a package of CHEMEX® Bonded Filters in your gift. These paper filters are designed to remove acidity, fats, bitterness, and sediments, and they are made in the USA using sustainable practices.
Another accessory to add to your gift is a CHEMEX® Glass Coffeemaker Cover. The cover measures 3-inches in diameter — therefore fitting all CHEMEX® Pour-Over coffee makers — to keep coffee warmer longer by preventing evaporation.
Buy the CHEMEX® Pour-Over Coffee Maker Now
Electric Gooseneck Kettle
If you are giving your coffee lover a french press or, especially, a pour-over coffee maker this holiday season, consider adding an electric gooseneck kettle to your gift.
To make a pour-over coffee, you pour hot water over the coffee grounds in a circular motion. Therefore, a gooseneck kettle has long been a must-have tool for manual brewing at home. 
But now, electric gooseneck kettles — like the COSORI electric gooseneck kettle — are even more convenient with the ability to control the temperature via a mobile app.
That's right! The coffee lover in your life can adjust the kettle's temperature and even schedule when the water will boil all from an app on a mobile device.
In addition to the smart features, I recommend the COSORI electric gooseneck kettle for its four precise temperature presets, the rapid boil that heats in 3-5 minutes, and the auto-shutoff safety feature.
Buy the COSORI Electric Gooseneck Kettle Now
Though manual brewing with french press and pour-over coffee makers is quite popular among coffee aficionados, many coffee drinkers still prefer the convenience of coffee machines for at-home brewing. 
Particularly for coffee lovers who like the convenience of brewing a single cup and also enjoy brewing a pot of coffee on occasion, the Cuisinart® Coffee Center offers it all.
My husband and I actually received this two-in-one coffee machine as a wedding shower gift, and it has been our most-used wedding present to date. As a couple with different workday schedules, we utilize the single-serve brewer six days per week. Then, on Sunday mornings, we love to brew a pot of the coffee we picked up on a coffee farm tour during our wedding trip to Hawaii. 
Along with the Cuisinart® Coffee Center, you might want to add coffee filters or replacement charcoal water filters to your gift.
Lastly, you can bring the coffee-shop experience home to your coffee lover with a two-in-one coffee and espresso maker. 
I recommend the Nespresso® Vertuo Coffee and Espresso Maker, which makes a 7.8-oz cup of coffee, a 5-oz gran lungo, and espresso in single or double shots. 
With the addition of the milk frother, your coffee lovers can become at-home baristas. With the easy-to-use Nespresso® Vertuo, they'll quickly become pros at making lattes, cappuccinos, and other hot and cold coffeehouse-style beverages.
Since it's compatible only with Nespresso® Vertuo capsules, you might also want to give them a variety pack of coffee and/or espresso to get them started.
Best Mugs To Give Coffee Lovers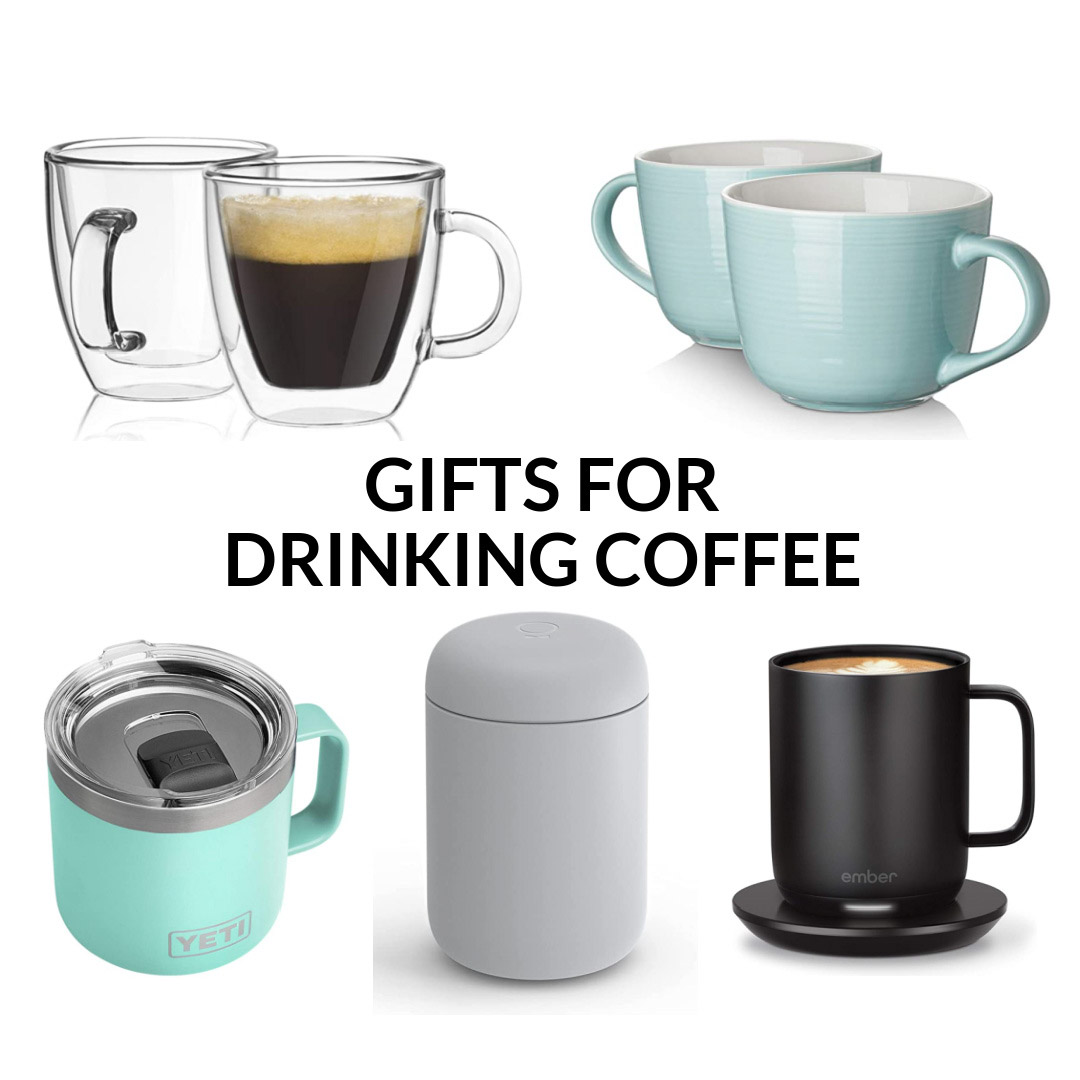 Want to pair the Nespresso® Vertuo with espresso mugs as a gift this holiday season? These clear JoyJolt® Savor espresso mugs would be perfect!
This set of two handmade espresso mugs features double walls of heat-resistant borosilicate glass. That means these mugs are both durable and chic with a crystal-clear appearance.
In addition to the elegant design, I also recommend these espresso mugs for their ease of care. They are both dishwasher and microwave safe.
For the coffee drinker who enjoys sipping from an oversized coffee mug, I recommend these DOWAN® Ceramic Coffee Mugs.
With a 17-oz capacity, these mugs can be used to heat and eat soup as well as to drink coffee, tea, or hot chocolate. 
One five-star reviewer said, "I love writing and having a cup of coffee, but other than an oversized mug and a regular-sized cup, it's the case of too little or too much. But this cup is just right and the last drop is still warm enough to drink before the next refill."
Available in four colors, I'm personally a fan of the aqua-green color. However, these beautifully designed mugs also come in a grayish brown, light gray, and pure white. 
For coffee drinkers who want to take their coffee on the go, a travel coffee mug is a useful gift.
I recommend the YETI Rambler® 14-oz Mug With Magslider Lid. With a double-wall vacuum-insulated body and magnetic slider on the lid that prevents heat from escaping, this mug keeps coffee warm for hours. 
Another reason the YETI Rambler® mug is ideal for gifting is that it comes in a variety of color options. Of the 13 colors available, I personally love it in Seafoam, Granite Gray, and White.
Additionally, the mug and lid are BPA-free and dishwasher-safe for easy cleaning. Plus, with their lids removed, YETI Rambler® mugs are stackable for tidy storage.
Another gift option for the coffee lover on the go is a Fellow® Carter Everywhere Mug. 
Specifically designed to enhance the coffee-drinking experience on the go, the Carter Everywhere Mug doesn't compromise the taste or aroma of coffee for heat retention and durability. Instead, it manages to do it all and look sleek in a variety of colors and two sizes (12 and 16 ounces) to boot.
With a thermos-shaped design, the Carter Everywhere Mug is not made for getting caffeinated while commuting to work. Rather, this is the mug your coffee lovers will pack when they truly want to savor the flavor and aroma of coffee away from home (or the coffee shop).
Finally, for the coffee lover who wants to enjoy a hot cup of coffee until the last drop, give the gift of a temperature-control smart mug. 
Perfect for busy stay-at-home parents and remote workers, the Ember Mug² keeps coffee hot for 1.5 hours when fully charged or all day when sitting on its charging coaster. Additionally, your coffee drinker can set a temperature preference between 120° and 145° F (50° – 62.5 °C). 
Easy to control via the Ember app, this smart mug's temperature and pre-set controls can be set up and adjusted from a mobile device. 
However, the mug is also functional when not connected to the app and will automatically heat to the last temperature setting used.
Also, this smart mug goes into sleep mode when it hasn't been active in two hours, and it automatically wakes up again when it senses movement or liquid. 
The 10-oz mug is available in sleek black or white designs and comes with a charging coaster and adapter.
Gifts For Coffee Travelers To Learn More About Coffee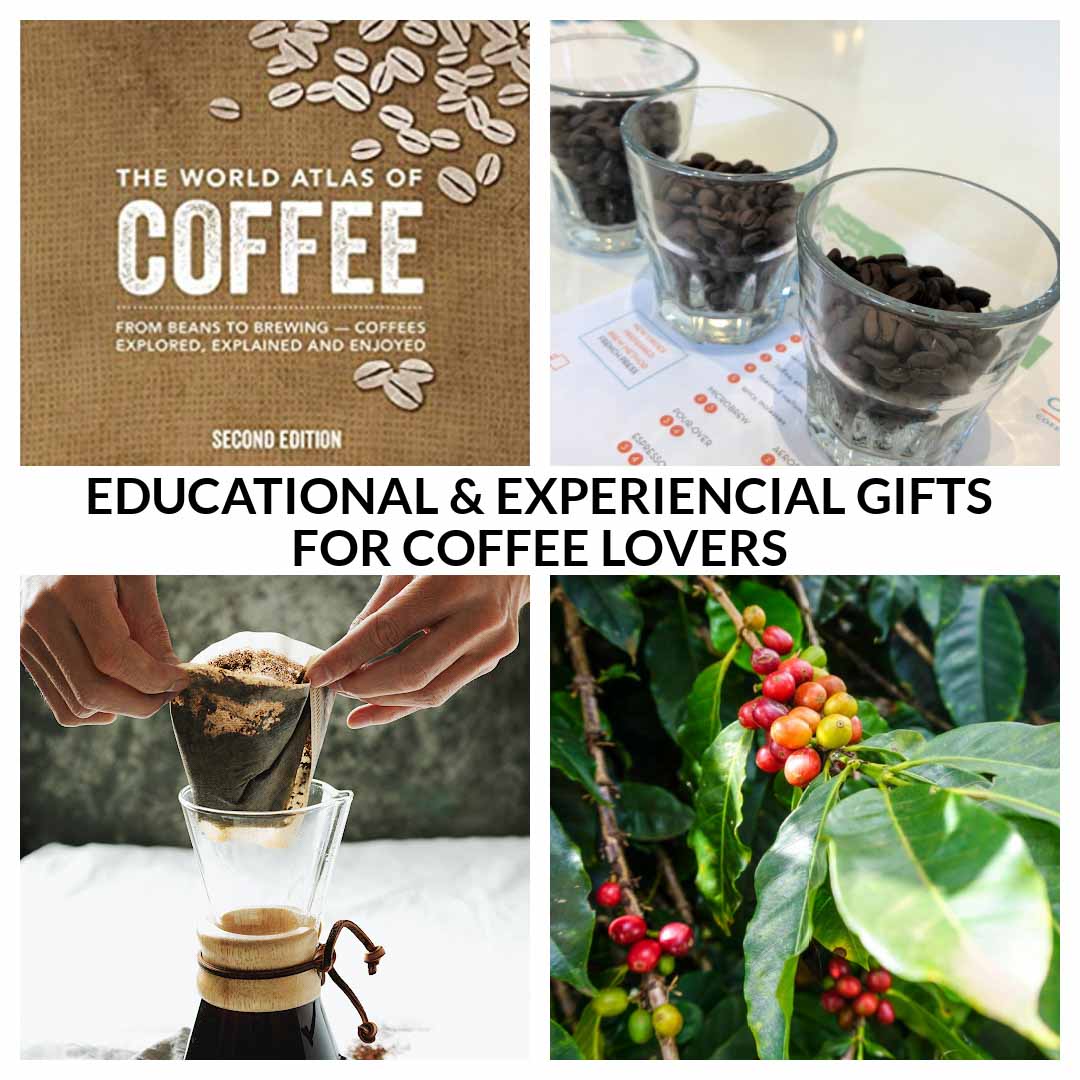 Coffee Reference Book 
If the coffee enthusiasts in your life are interested in learning more, then consider giving them The World Atlas of Coffee: From Beans to Brewing — Coffees Explored, Explained and Enjoyed.
Written by the 2007 World Barista Championship winner and well-known YouTube coffee influencer James Hoffmann, this 490-page hardcover book provides an overview of coffee from bean to brew with illustrations and beautiful color photography.
Hoffmann covers the history of drinking coffee and the entire process of growing coffee trees to brewing a cup. The final section of the book delves into the coffee-producing regions around the world.
Therefore, The World Atlas of Coffee would be an informative reference guide to add to your coffee lover's bookshelf.
Virtual Coffee Class
For a hands-on learning experience, you could give your budding at-home barista a ClassBento gift card to take an experiential online coffee class.
ClassBento gift cards come in $100, $200, $300, and customizable amounts. Valid for five years, your gift can be redeemed for any of ClassBento's 1,100+ artisan-taught classes (virtual or in-person in New York or the San Francisco Bay Area)!
Through a virtual coffee class, your budding coffee snobs could learn how to make espresso or Turkish coffee. They could master the art of homebrewing with pour-over or French press techniques. Or, they could be guided through coffee tastings to further hone their palate.
ClassBento's virtual coffee classes cost anywhere from $20 to $175 with most ranging between $65 and $150.
In-Person Coffee Workshop
Another experiential gift for coffee lovers is to register for and take them to a coffee-tasting event or class offered by a local coffee shop or roaster in your area.
One example of this is Ferris Coffee & Nut Co.'s classes offered in Grand Rapids, Michigan. If your coffee fan is local to West Michigan, this would be a fun and educational gift!
The coffee classes offered by Ferris are usually one or two hours and cover topics such as the basics of homebrewing, how to roast coffee at home, and understanding the flavors and taste of coffee and espresso.  
Not in West Michigan? You may have coffee tastings and classes in your area, too. If a Google search for coffee classes in your locale isn't returning any results, you could ask your local coffee shop. Baristas are often aware of their local coffee community's happenings, and they likely had to get their own coffee training somewhere nearby, too. It doesn't hurt to ask, right? 
Coffee Travel Activities: Farm Tours, Workshops, Guided Tastings & More!
If your coffee lover also loves to travel, reservations for a coffee farm tour, workshop, or guided tasting in a coffee-producing destination will provide memories that will last a lifetime. Of course, this gift requires a trip to a coffee-growing region!
You and your coffee drinker could take a specialty coffee workshop in Bogotá, tour a coffee farm in Costa Rica, or learn to make Turkish coffee in Istanbul. 
For my American readers, there is one coffee-growing region we can visit without leaving the country — Hawaii!
One of the highlights of my Maui trip was touring O'o Farm. My mom, my husband, and I enjoyed picking berries right off the trees, tasting freshly brewed coffee, eating a delicious farm-to-table breakfast, and taking in absolutely breathtaking views of the island. 
Over on the Big Island, a visit to Kona is a must for coffee drinkers! There, your coffee lover could tour Hula Daddy Kona Coffee, Kona Joe Coffee, or the Kona Historical Society's Kona Coffee Living History Farm. 
Locally Roasted Coffees That Make Festive Stocking Stuffers Or Hostess Gifts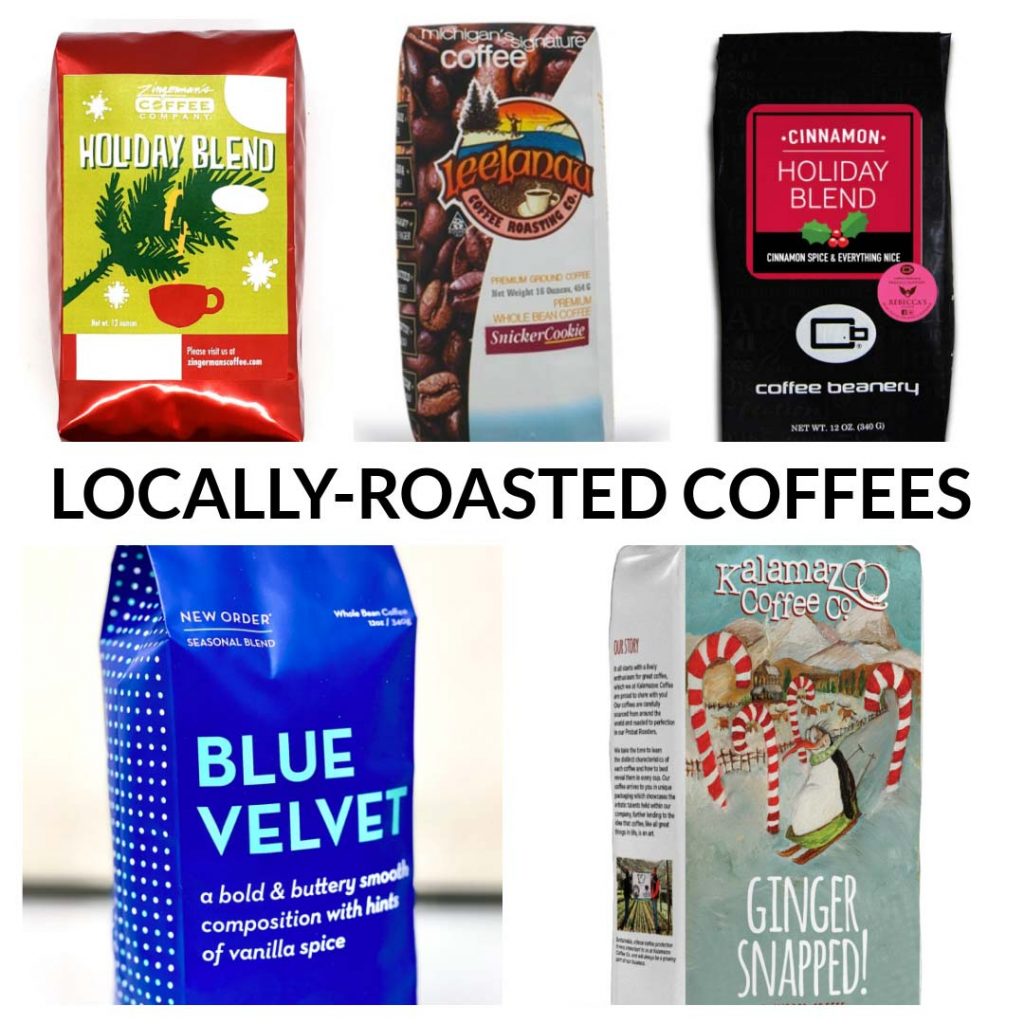 Rich and spicy, this holiday-themed coffee will remind you of your grandma's ginger snap cookies. The 12-oz. bag would be a festive stocking stuffer for the flavored-coffee drinker in your life. 
Kalamazoo Coffee Co. Ginger Snapped! is available for nationwide shipping in the United States and for local pick up in Kalamazoo, Michigan.
One of the most popular blends from this Glen Arbor roaster, the Snicker Cookie actually smells like snickerdoodle cookies are baking as it brews. Add a little cream to your cup, and it may taste like a cookie has melted into your coffee. It's the perfect blend to give with homemade treats this holiday season!
Also available in decaf, Leelanau Coffee Roasting Co. Snicker Cookie ships nationwide or can be picked up from the cafe in Glen Arbor, Michigan.
With hints of cinnamon and almonds, the Michigan-based Coffee  Beanery's Cinnamon Holiday Blend may just remind you of cinnamon-roasted almonds. 
In addition to coming in a variety of grinds, this holiday blend is also available in single-serve pods and as a decaf blend. That makes this Christmasy coffee one you could give along with the Cuisinart® Coffee Center. 
Yet, the best reason to give Coffee Beanery's Cinnamon Holiday Blend is that the Coffee Beanery donates $1 to Streethearts Animal Rescue for each 12-oz bag sold.
Coffee Beanery Cinnamon Holiday Blend is available for international shipping. However, international shipping estimates are not guaranteed delivery dates, and there have been reported delays. Therefore, your gift may not arrive by Christmas when shipping to an address outside the US.
Zingerman's Coffee Company is known for sourcing its coffee from small producers and estate coffee farms in the top coffee-growing regions around the world.
With hints of dark chocolate and toasted nuts, this smooth and rich holiday blend combines beans from Guatemala, Timor, and Daterra Estate in Brazil.
Zingerman's Holiday 2022 Blend can be purchased online for pick up at Zingerman's Coffee Company or for local delivery in the Ann Arbor, Michigan, area.
RELATED: Unique Ann Arbor Coffee Shops
New Order Coffee Roasters blended beans from Bali and Colombia to create the full-bodied Holiday Blend. 
With hints of pine, cranberry, and holiday spices, this seasonal blend would pair nicely with dessert as much as a rich and savory breakfast. It would be a lovely hostess gift throughout the holiday season!
This Southeast Michigan small-batch coffee roaster ships freshly roasted coffee each Tuesday with free shipping on orders over $35. New Order also offers free local delivery to select zip codes.
Conclusion
In this gift guide, I shared more than 20 practical gift ideas for coffee lovers. For example, you could give the at-home barista in your life a manual coffeemaker or a coffee-and-espresso machine to bring that coffee-shop experience home. You could upgrade your coffee lover's drinkware to a smart mug. If you'd rather give a memorable experience, consider gift cards for virtual coffee classes or taking your favorite coffee drinker to a hands-on workshop or coffee farm tour. Lastly, seasonal and holiday blends make festive host/hostess gifts and stocking stuffers while supporting local businesses.
For even more gift ideas, check out my wine traveler's gift guide and 25 travel gifts for men under $25!
Read More Posts About Coffee
Save this post to your Christmas, holiday, or gift ideas board on Pinterest!
Editor's Note: Images in the above Pinterest graphic are stock photos. The featured photo in this post is an Adobe Stock image © Ourteam.