If you are shopping for a wine traveler — someone who combines her wanderlust with a love of wine, I have the perfect gift guide for you.
Of course, for any wine lover, a bottle of her favorite vino, a sought-after or hard-to-find vintage, or a wine she hasn't yet tasted is always a welcomed gift.
So, stop by your local winery or wine shop to pick up a special bottle and pair it with one of these gifts for wine travelers!
Disclosure: Please note many of the links in this post are affiliate links. When you click on one of these links and make a purchase, I may earn a small commission. As an Amazon Associate, I earn from qualifying purchases. Of course, this is at no extra cost to you. Plus, all of these retailers' discounts for the holidays still apply to your order as well!
---
Gifts for Traveling with Wine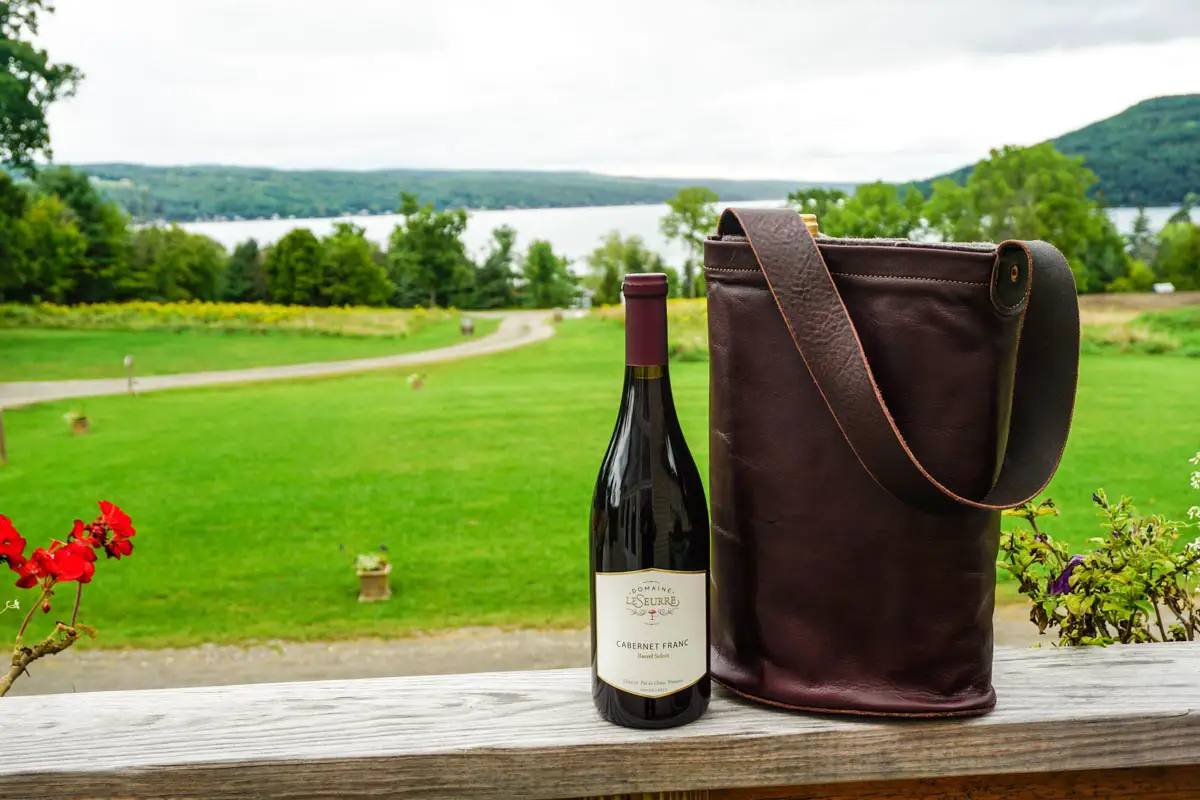 Wine Luggage
For the traveler who often visits wine regions, a VinGardeValise® wine suitcase would be the ultimate gift.
Highly rated by Forbes, Condé Nast Traveler, and Wine Spectator, this hard-shell suitcase provides space for clothing and personal items while also protecting wine bottles with removable foam inserts.
Plus, it comes in three sizes! The Piccolo has a capacity of five wine bottles, the Petite holds up to eight wine bottles, and the Grande can carry a full case of wine.
To personalize this gift, opt for the VinGardeValise® gift bundle and customize the suitcase's nameplate with your wine lover's name.
VinGardeValise® also offers wine glass inserts, magnum bottle inserts, and chiller sheets. Just make sure you order the size that matches the suitcase!
Top Pick: VinGardeValise® Grande (Version 05) — Measuring 17.5 x 13.75 x 27 inches, this model transports up to 12 wine bottles with removable foam inserts, 360° wheels, a TSA-compliant lock, corner guards, and seatbelt-grade burst straps.
Protective Wine Sleeves
If investing in a VinGardeValise® for your wine traveler doesn't fit your gift-giving budget, protective wine sleeves are an affordable option to protect individual wine bottles when traveling.
Not only do they prevent wine bottles from breaking or leaking during travel, but they are also reusable.
Top Pick: Wine Wings (4 pack) — Their triple seal protection prevents leaks into luggage.
Wine Totes
I love my artisan-crafted Kámen Road wine tote that accompanied me while wine tasting in the Finger Lakes wine country. A wine tote is a perfect companion for an afternoon of visiting wineries, where you might purchase a couple bottles to bring home.
Insulated wine totes also work wonderfully for bringing chilled wine bottles to dinner parties, picnics, beach days, and bring-your-own-wine restaurants. Many wine totes hold two bottles, but some hold up to six!
Top Pick: ZORMY 2-bottle insulated wine tote — This tote comes with an adjustable strap with a shoulder pad, padding to protect wine bottles, and insulation to keep wine chilled.
Wine Canteen
Ok, yes, you may think of these as water bottles or thermoses, but these canteens are also fabulous for bringing wine along on your travel adventures.
Want to take a hike, go to the beach, or go on a boat ride with a bottle of wine that will stay chilled and be easy to open? Pour it into a Corkcicle Canteen!
Top Pick: 25-oz. Corkcicle Canteen — Made of triple-insulated stainless steel, this canteen keeps nearly a whole bottle of wine cool for 25 hours (or mulled wine hot for 12 hours) with a leak-proof cap and anti-slip silicone bottom. 
Best Books to Give Wine Travelers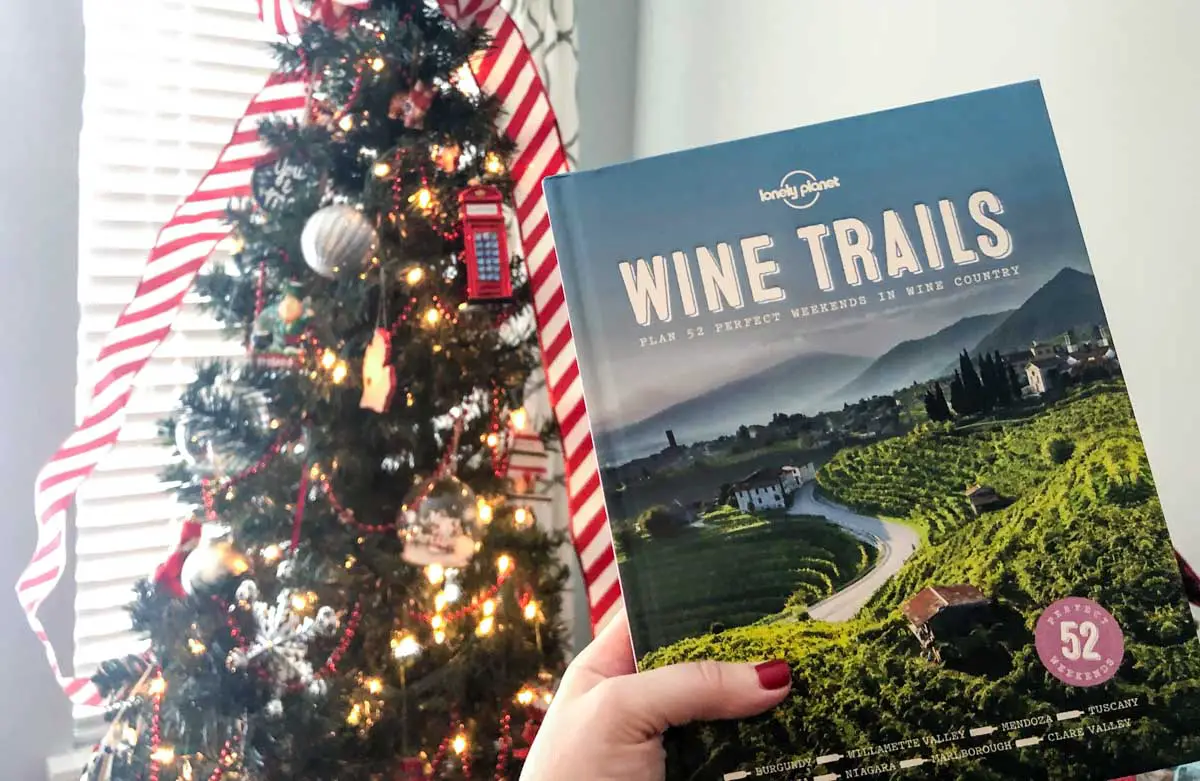 Books About Wine Tasting
Does the wine traveler in your life fancy himself a wine connoisseur? Whether he is a wine-loving newbie or practically a sommelier, a wine reference book will help to beef up his wine knowledge.
Top Pick: Wine Folly: Magnum Edition — This ultimate guide to expanding wine knowledge features 100 grapes and wines color-coded by style, detailed maps of the world's top and up-and-coming wine regions, food-and-wine pairing suggestions, and more.
Books About Wine Regions
Inspire wine-filled wanderlust with a book about wine regions around the world!
For a recent Christmas, I received Lonely Planet Wine Tails: 52 Perfect Weekends in Wine Country, and it was my favorite gift. I spent a good portion of Christmas Day flipping through its pages, dreaming of future trips to top wine regions around the globe.
Now, Lonely Planet also offers Wine Trails – United States & Canada, Wine Trails – Australia and New Zealand, and Wine Trails – Europe.
Top Pick: Lonely Planet Wine Tails 2 — Released in 2023, the second edition introduces readers to more hidden gems in top wine regions — such as Sonoma Valley, Champagne, and Burgundy — while also highlighting off-the-beaten-path wine regions.
Wine Tasting Journals
A tasting journal is a place for the wine traveler to organize his thoughts on the color, aroma, taste, and other notes when doing a tasting. Some wine tasting journals even provide an outline to follow.
Top Pick: Wine Folly Wine Tasting Journal — This wine-tasting journal helps the wine drinker develop his palate by taking tasting notes using a four-step method used by professional wine critics and sommeliers.
Wine-Themed Adult Coloring Books
When traveling on a long-haul flight to a wine region overseas, coloring helps to pass the time and may reduce anxiety in nervous fliers.
So, why not give your wine lover a wine-themed coloring book? Don't forget the markers or colored pencils!
Top Pick: Rioja Spain Wine Study Work & Coloring Book — This coloring work book curated by a WSET-certified sommelier features 38 pages of illustrations to color while your wine lover learns about Rioja's geography, history, and more.
Wine Travel Experiences to Give Wine Lovers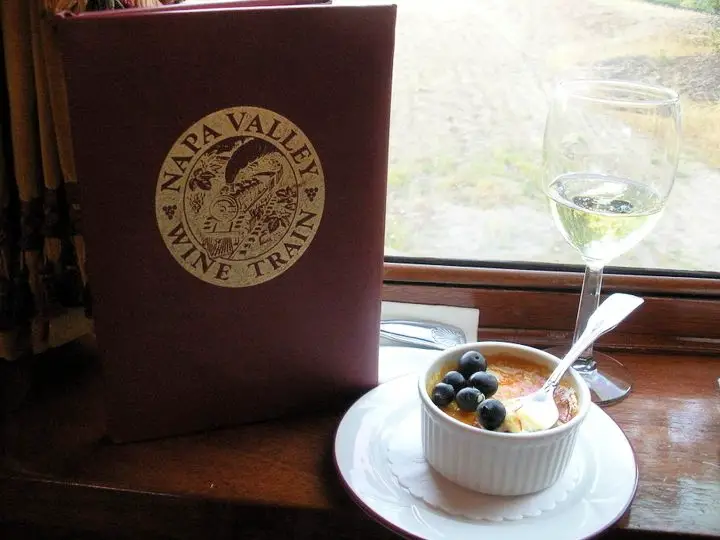 Are any wine lovers in your life planning to visit a wine region next year? Then a lovely and unique gift is to book them a wine-travel experience to enjoy during the trip! Here are a few ideas wine travelers will love …
Napa Valley Wine Train
One of the most unique activities in Northern California's wine country is the Napa Valley Wine Train.
Aboard the wine train, your wine lover will travel past the lush countryside of Napa Valley as she is transported back in time to train travel's golden age in the early 1900s.
One option to give is a gift card for the Vista Dome lunch car with exceptional views during a three-hour train ride.
Champagne House Tours
For many sparkling wine lovers, visiting the Champagne houses in northeast France would be a bucket-list trip.
If the wine traveler in your life is headed to the Champagne wine region, consider booking her a tour to visit Moët & Chandon, Pommery or Veuve Cliquot.
Tuscany Wine Tours
Another region many wine lovers visit is Tuscany for its Chianti, Brunello, Rosso, and Super Tuscan wines.
Many tours depart from Florence or Siena, so you'll want to know where your wine traveler is staying before giving this gift.
Top-rated tours include this full-day, private tour of the Brunello di Montalcino region and this private Tuscan-wine-lover's tour for up to eight guests to see firsthand where Brunello di Montalcino and Nobile di Montepulciano are made.
Best Wine Clubs for Wine Travelers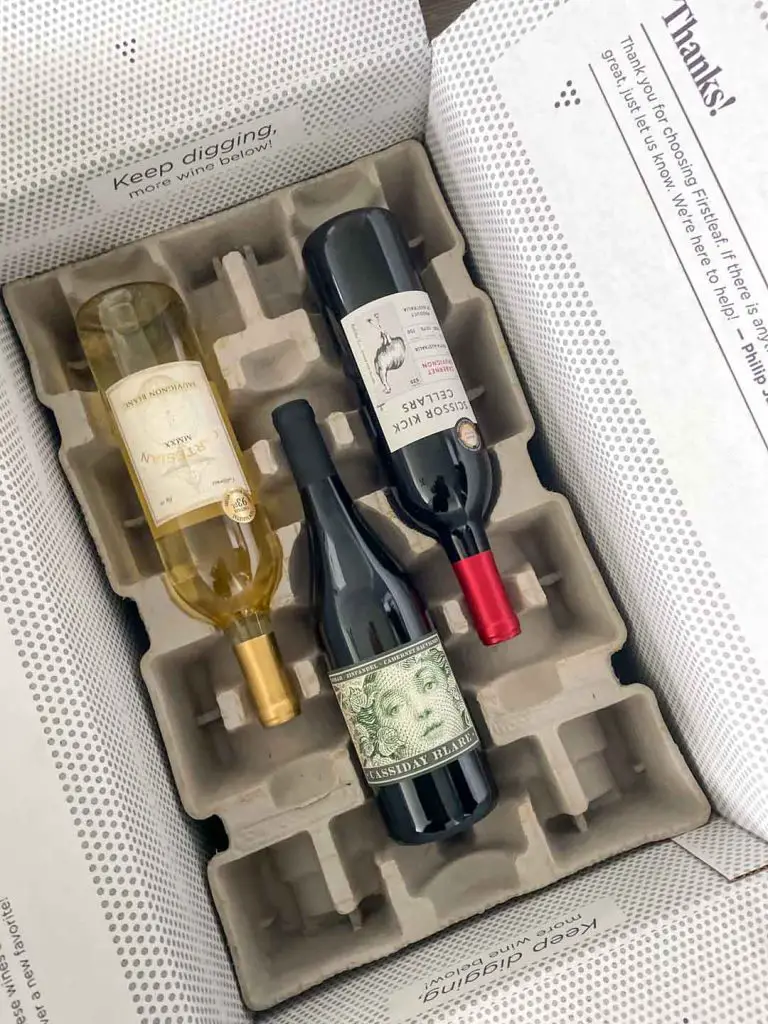 When wine travelers aren't visiting wine regions around the world, a wine club membership is a gift that keeps on giving.
As you shop for a wine club membership for the wine lover in your life, be sure to look into the different subscriptions and gift card options.
You'll also want to find the best fit for your wine drinker's lifestyle as well as your budget.
Below are some of my favorite wine club options for globetrotting wine lovers!
International Wine Club
Gold Medal Wine Club's International Wine Club delivers rare, imported, and ultra-premium wines from family-owned estates around the world to your wine lover's door.
With the prepaid gift of Gold Medal Wine Club's International Series, your wine lover can take a tasting journey around the globe and discover wines from hidden country estates all from the comfort of home.
The International Series' quarterly shipments include at least three bottles — typically two red wines and one white or rosé — from a different country.
What I especially love about this wine club gift is that you can customize your gift. For example, you can select three, six, or 12 bottles per shipment of red wines or mixed bottles for one year (four shipments).
Tip: Gold Medal Wine Club is running an early bird sale with up to 20% off all prepaid wine club gift subscriptions now through 12/18/23!
90+ Point Wine Club
Cellars Wine Club's 90+ Point Wine Club ships two bottles of wines that have received 90 or more points from trusted wine scales such as Wine Spectator or Robert Parker.
Selections come from the Old World and New, bringing exceptional wines from Napa, Sonoma, France, Spain and other regions around the globe to your wine lover's home.
What I love about the 90+ Point Wine Club — in addition to the quality of wines — are your options for customization. You can select your starting month and a preference for red, white, or a combination of bottles.
Ongoing shipments are also an option, but, as a gift, you may prefer to set the number of shipments. Cellars Wine Club offers two to 12 shipments, which can be set to monthly, every other month, or quarterly deliveries.
California Wine Club's International Series
Starting at $78, California Wine Club's International Series is a more budget-friendly wine club gift for wine lovers who enjoy discovering handcrafted wines from artisanal wineries around the world.
Each shipment includes two bottles, and you'll also be able to select a preference for one red and one white, reds (two of the same), two reds (different), whites (two of the same), or two whites (different).
Like the aforementioned wine clubs, you can also set the number of shipments. With California Wine Club's International Series, shipments can occur once, twice, three times, four times, six times, or twelve times.
You can also select whether your gift will ship before Christmas in December or after in January.
Of course, if you aren't sure which wines your wine lover prefers, you can give them a California Wine Club e-gift card starting from $65 to place an order of their own choosing.
Stocking Stuffers for Wine Travelers
Wine-Themed Luggage Tags
Having unique luggage tags helps to spot your suitcases at the airport's baggage claim. So, why not give your wine-loving traveler a set of these luggage tags that list wine varietals from around the world?
Red Wine Aerator
If your wine traveler likes to drink wine at home too, an aerator is a great gift. I use my Vinturi red wine aerator whenever I open a red wine that I want to pour right away.
Gift Cards To Fund Wine Travel
Gift cards are always easy to slide inside a thoughtful card — or even for virtually sending a gift. For wine travelers, you can help fund their future wine-fueled adventures with gift cards for airlines or hotel booking services.
TSA-Compliant Wine Opener
In general, corkscrews are ideally-sized small gifts for wine drinkers.
Unfortunately, most wine keys won't make it past airport security because of the foil cutter. Yet, this TSA-compliant wine opener might!
Reviewers have noted that this wine opener still gets flagged for further inspection by TSA agents, and some commented that it was prohibited from international flights.
However, it may be worth trying this wine opener for domestic wine travel within the United States!
Travel Guidebooks
Does the wine traveler in your life have a trip to a wine region planned for next year? A travel guidebook for that destination is a practical gift they will definitely put to use while planning and traveling.
Some popular wine destinations for which you'll find guidebooks include Northern California (Napa and Sonoma), Portland & the Willamette Valley, Tuscany, and Bordeaux.
Wine Bottle Stoppers
As someone who often opens a bottle to have a glass of wine with dinner, I've come to love my wine bottle stoppers. For wine travelers, give a wine stopper with a travel theme, such as this airplane bottle stopper.
InBooze Sangria Or Mulling Spice Infusion Kit
If the wine traveler in your life has enjoyed Sangria in Spain, stock up on InBooze Cocktail Infusion Kits.
For wine drinkers, I recommend the red wine sangria kit that can be infused with a bottle of wine. The Mulling Spice Cocktail Kit also makes a wonderful hostess gift during the holiday season.
However, InBooze also offers an array of cocktail infusion kits using dehydrated herbs, fruits, and veggies that you simply add to your favorite booze for easy-to-make cocktails at home. InBooze kits retail for $20 per kit, but they occasionally go on sale.
Which of these gifts for wine travelers would you like to give or receive this holiday season?
With any of these unique gift ideas for wine travelers paired with a bottle of wine, you are sure to please the wine lover in your life. I'd love to know which of these gifts you'll be giving the traveler who loves wine in your life. Please feel free to share (if it won't spoil any surprises, of course) in the comment section below, or drop hints for your loved ones by emailing or texting them this gift guide! 😉
For more gift ideas, check out my coffee lover's gift guide and 25 travel gifts for him under $25 from Amazon!
Save the image below to your Christmas, holiday, or gift ideas board on Pinterest!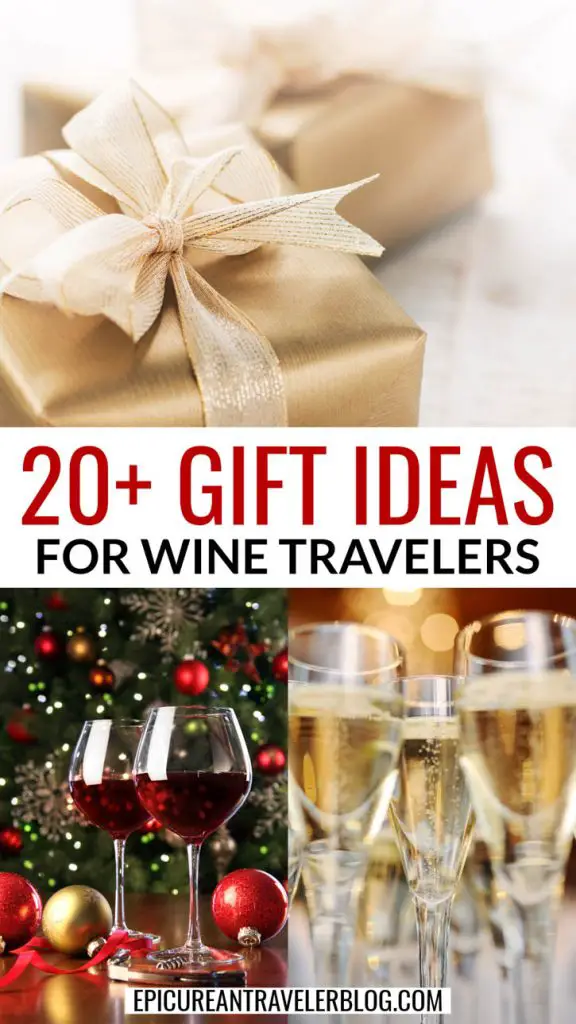 Photo Credits: Lead photo (© magdal3na/Adobe Stock), Pinterest graphic (© Sandra Cunningham/Adobe Stock)