Located in New York State, the Finger Lakes — a region coined for its long, skinny lakes — has become one of the top wine regions in the United States. In fact, earlier this year USA Today readers voted it the best wine region — beating out California's well-known wine countries.
While I visited the region in September, I spent two days wine tasting around Keuka Lake. Considered the thumb of the Finger Lakes, the y-shaped lake was once called "Crooked Lake." Though sometimes overshadowed by neighboring Seneca Lake and Cayuga Lake, which benefits from its close proximity to Ithaca and Cornell University, Keuka Lake is steeped in winemaking history. Today it's home to modern winemakers from Europe's top wine regions as well as vintners from the Finger Lakes' storied past.
Disclosure: This Finger Lakes winery guide contains affiliate partner links. When you click on, make a purchase from, or book a hotel or activity through one of these links, I may earn a small commission. As an Amazon Associate, I earn from qualifying purchases. As always, I only recommend services I have or would use myself, and this is at no extra cost to you.
Five Finger Lakes Wineries To Visit Around Keuka Lake
Though the Finger Lakes region is the birthplace of American winemaking, for decades, the West Coast claimed to have the best wine regions in the US. You know what I have to say about that? Move over, California, because New York is producing critically acclaimed Rieslings and some of the best sparkling wines this side of the Atlantic.
If you are under the impression that the Finger Lakes is a region for sweet-wine drinkers, let me clear that up right now. As a fan of bright and crisp Sauvignon Blancs, brut Champagnes, and dry, medium- to full-bodied reds, I found plenty of Finger Lakes wines that suit my tastes. If you are also a dry-wine drinker, here are five Finger Lakes wineries you are going to love.
Domaine LeSeurre Winery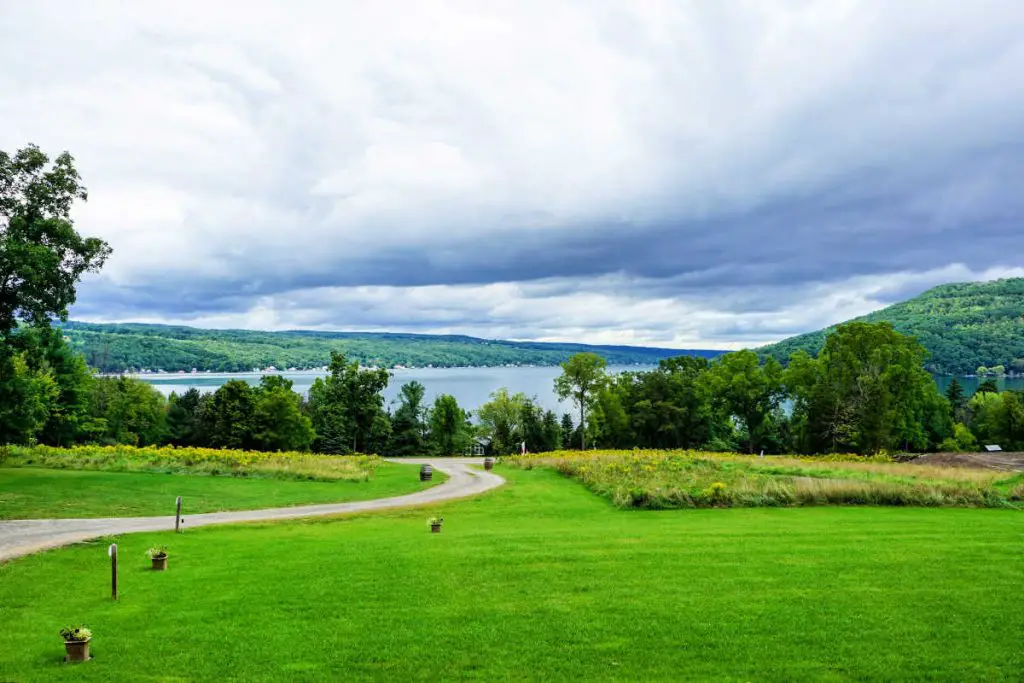 Domaine LeSeurre is one of the Finger Lakes wineries where Europeans have brought their winemaking traditions stateside. At the helm are French couple Céline and Sébastien Leseurre — both of whom come from wine-making roots.
Hailing from Champagne, where six generations of his family were grape growers and winemakers, Sébastien started his career in France's sparkling wine region. A winemaker with a curiosity to learn other styles, Sébastien then worked on vintages in Bordeaux, Maury, Marlborough, and the Yarra Valley.
It was in New Zealand where he met Céline, a sommelier who had grown up around her grandparents' vineyard in southwest France. When the couple came to the Finger Lakes, they fell in love with the community and, of course, the terroir.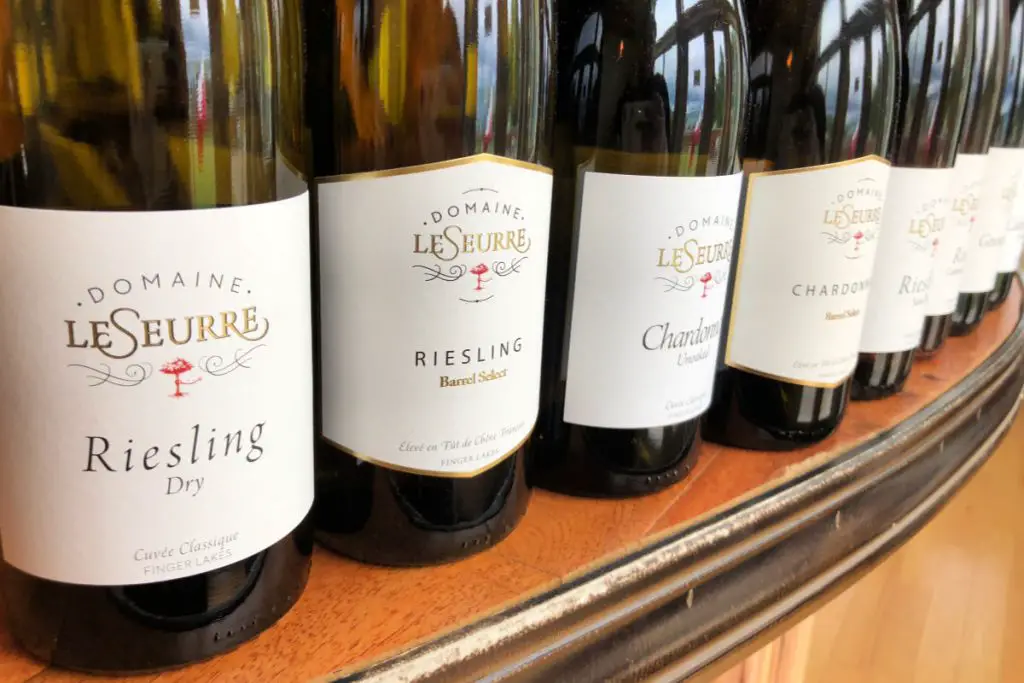 Located on the east side of Keuka Lake, Domaine LeSeurre specializes in French-style, dry wines. Therefore, Chardonnay and Cabernet Franc are some of the varietals you might taste during your visit.
Though I am not a Chardonnay fan, I would suggest a side-by-side tasting of the unoaked and barrel select, which is aged 11 months in French oak. In the end, it was LeSeurre's Cabernet Francs that stole my heart. My favorite was the 2014 Cabernet Franc Barrel Select. Aged 22 months in French oak barrels, this medium-bodied red wine is 100-percent Cabernet Franc from Finger Lakes terroir.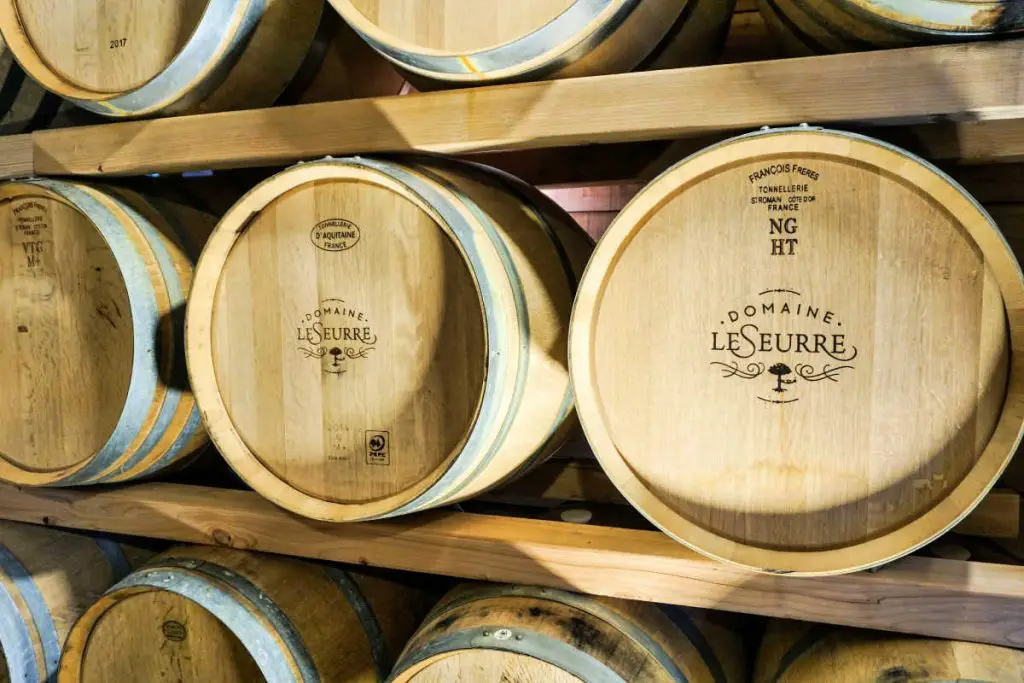 Visiting Domaine LeSeurre Winery
Inside the Domaine LeSeurre tasting room, you can sample five wines for $5. Since the tasting room is set on a hillside, you'll have a beautiful view during your tasting, too. The tasting room is open year-round with some exceptions for holidays and inclement weather. As hours may change seasonally, it is best to check the winery's website for accurate tasting room hours. Also, the winery recommends visitors call ahead on days of inclement weather or if tasting with a group of 8 or more. You can reach Domaine LeSeurre's tasting room at (607) 292-3920.
Domaine LeSeurre Winery is located at 13920 NY-54 in Hammondsport, New York.
Dr. Konstantin Frank Winery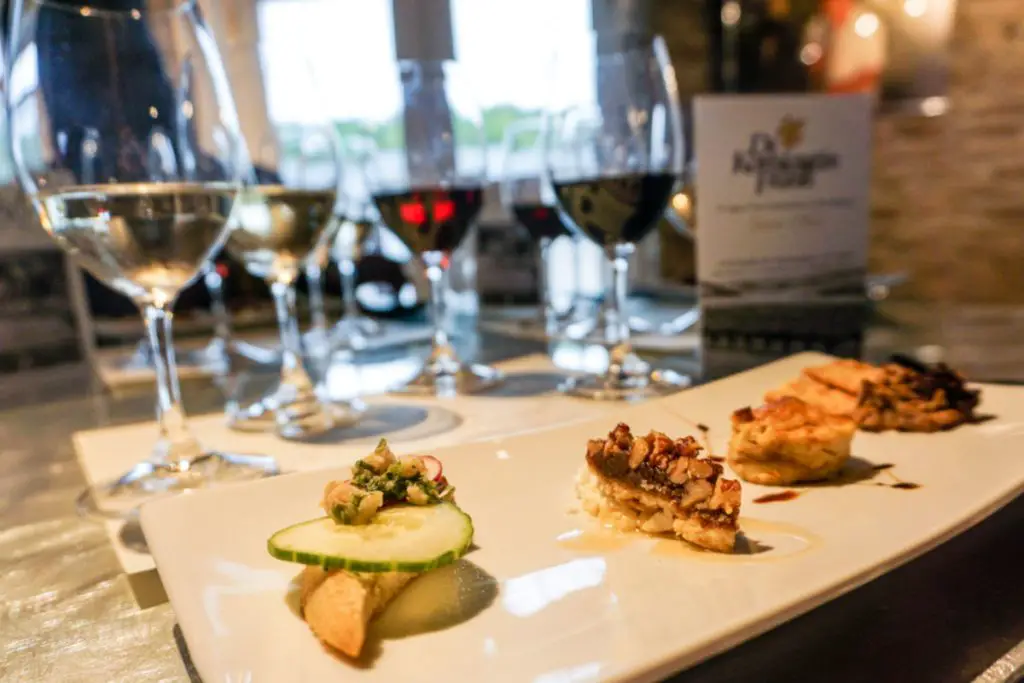 New York's most award-winning winery, Dr. Konstantin Frank Winery has been credited as the winery that changed winemaking in the United States. Prior to the 1950s, grapes grown in the Finger Lakes region were French American hybrids and native grapes. Yet, Dr. Frank was determined to prove vinifera wines could be produced in the region despite the cold winters. Founded in 1962, the winery continues to create world-class vinifera wines, including Riesling, Gewürtztraminer, Chardonnay, Pinot Noir, Lemberger, and Cabernet Sauvignon.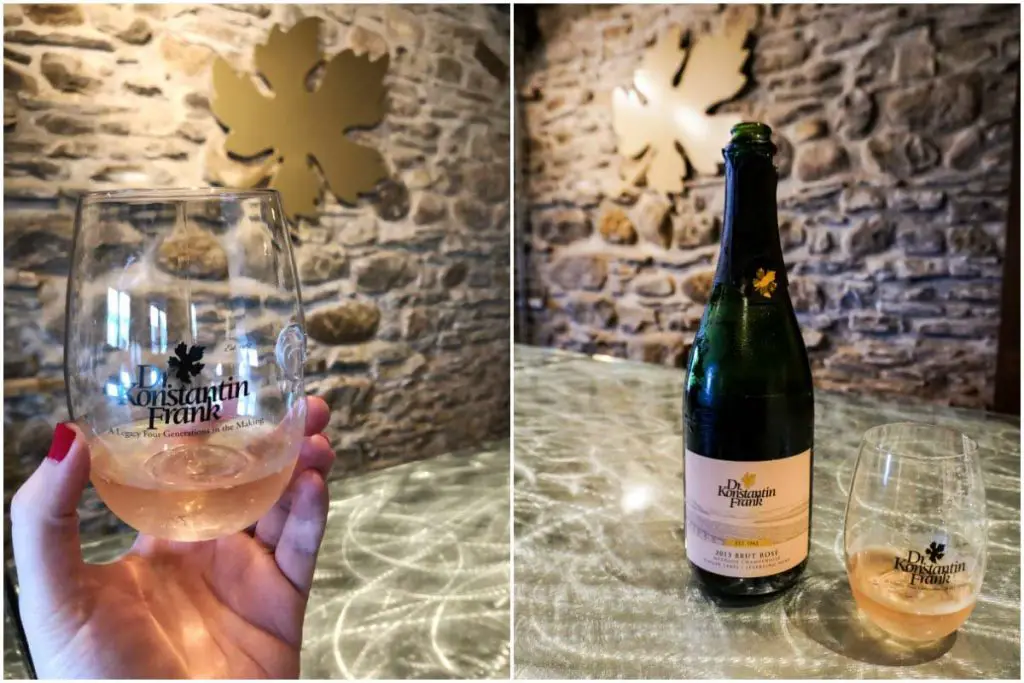 While the vinifera wines are all worth tasting during your visit, I would especially recommend Dr. Frank to sparkling wine drinkers. Willy Frank, son of Dr. Konstantin Frank, was the first in the Finger Lakes to produce sparkling wines made with the classic champagne grape varieties. Created using the traditional methode champenoise, Chateau Frank sparkling wines are made from Chardonnay, Pinot Noir, and Pinot Meunier grapes. The Brut Rosé, made from 100-percent Pinot Noir, is absolutely divine.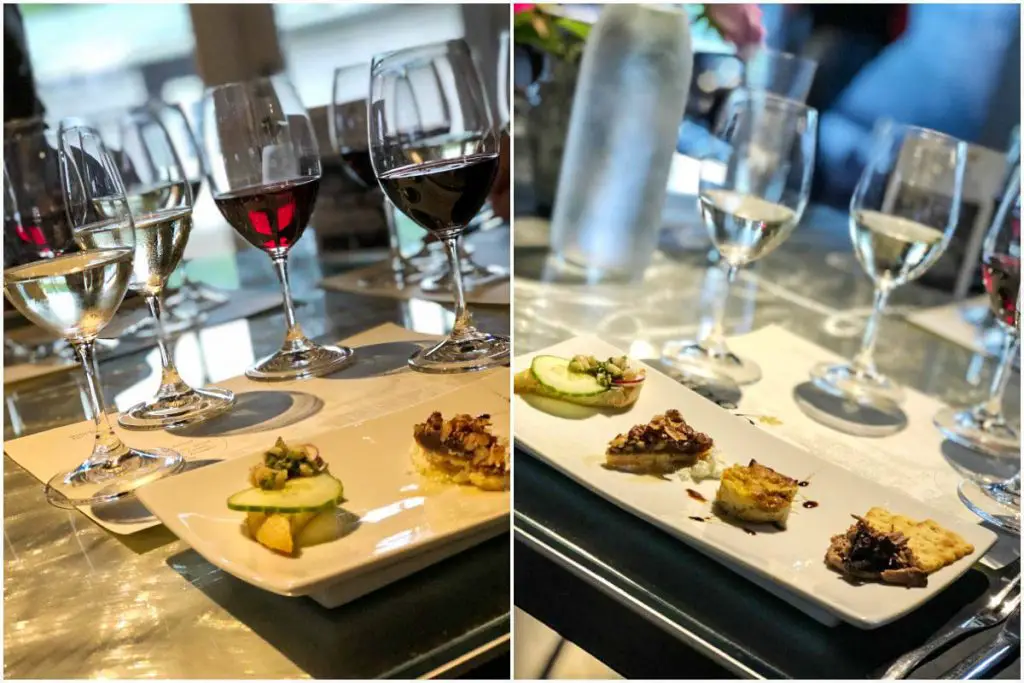 Visiting Dr. Konstantin Frank Winery
Located directly above the winery's sparkling wine cellar is the 1886 Reserve Room, where visitors can enjoy a wine flight paired with food samplings. This in-depth wine tasting and food paring experience is only offered by reservation, so if you are interested, contact the winery at 800-320-0735.
The winery is open year-round with tasting room hours 9 a.m. until 5 p.m. Monday through Saturday and from noon to 5 p.m. Sunday. However, reservations are required for groups of eight or more.
Dr. Konstantin Frank Winery is located at 9749 Middle Road in Hammondsport, New York. The 1886 Reserve Room is located at 9683 Middle Road in Hammondsport.
Keuka Lake Vineyards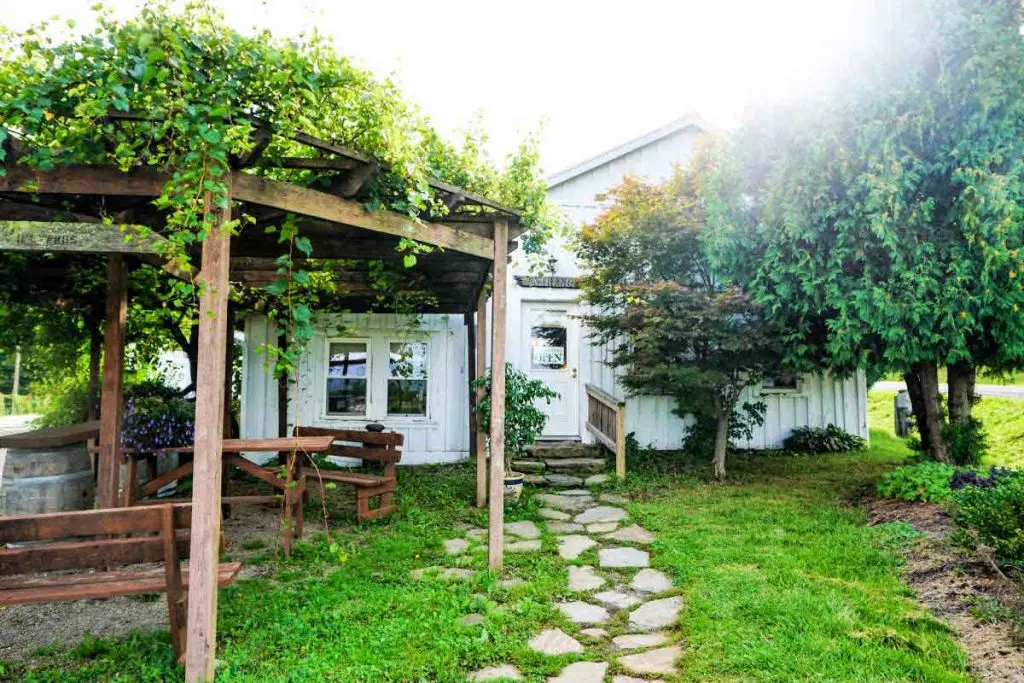 A farmstead estate winery overlooking Keuka Lake, Keuka Lake Vineyards specializes in making dry wines, including Riesling, Vignoles, Cabernet Franc, and Leon Millot. Several of these wines have earned 90+ points from Wine Spectator and Wine Enthusiast.
At KLV, the winemakers believe in minimal intervention winemaking. That means much of the work is done in the vineyards, located on both the east and west sides of Keuka Lake. Selecting only the best grapes from these small lots, KLV produces only a few thousand cases per vintage. Essentially, I'm saying that the wines you taste at Keuka Lake Vineyards are fairly exclusive and unique!
During my tasting, I became an instant fan of the Hammondsport, a dessert wine. I also was delighted to find the easy-drinking KLV Red, a red table wine that would be my standard go-to wine if I lived nearby. You know I took a bottle of each of those home. 😉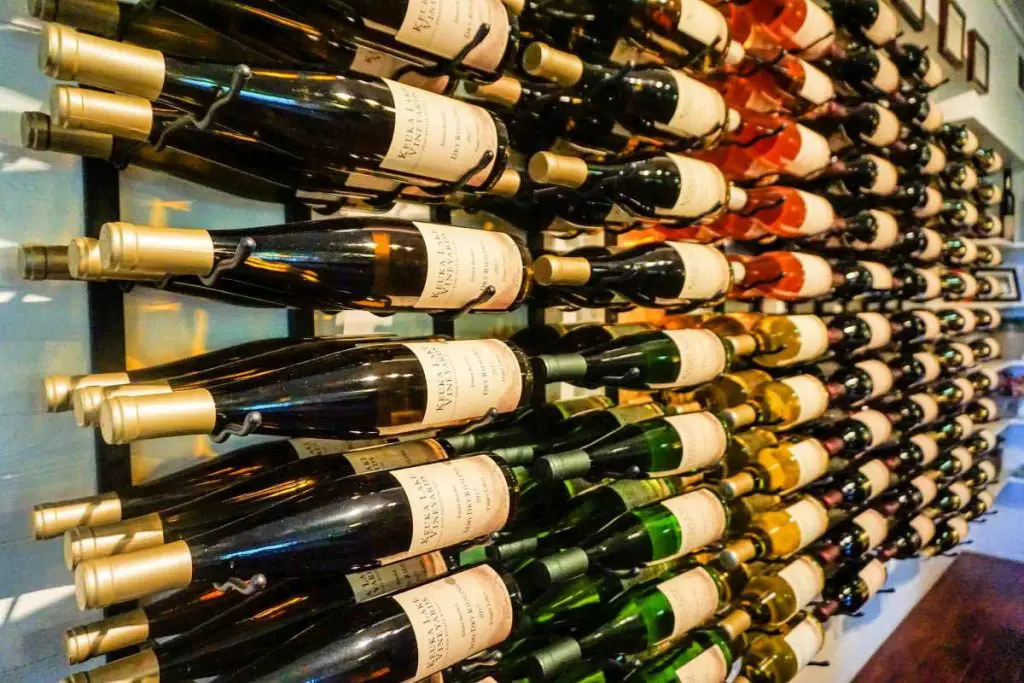 Visiting Keuka Lake Vineyards
The tasting room is open year-round, but with limited hours during the winter months. You can check the winery's FAQ section for accurate hours, or call 607-868-4100 to schedule a tasting. A tasting costs $5 and includes samples of six wines of your choice. Reservations are encouraged for groups of six or more, and reservations for large parties of 10 or more need to be made before noon on weekends.
Keuka Lake Vineyards is located at 8882 Co Rd 76 in  Hammondsport, New York.
Ravines Wine Cellars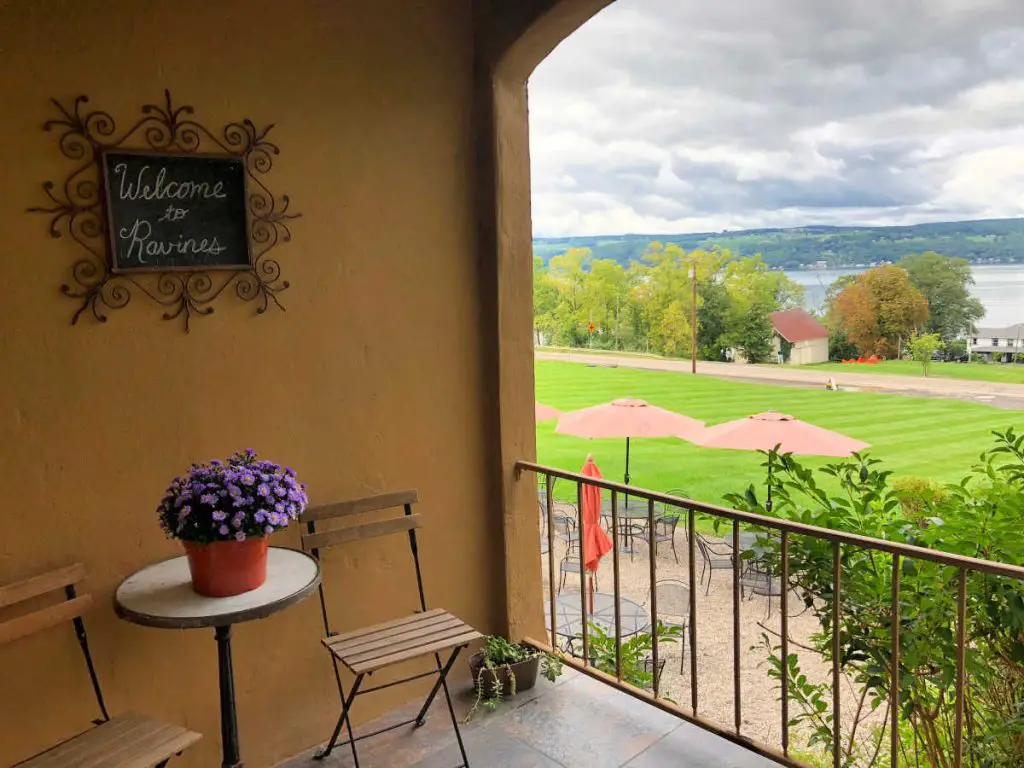 Dedicated to old-world, dry-style wines, Ravines Wine Cellars is a boutique winery with two Finger Lakes tasting rooms. The Keuka Lake tasting room offers a stunning view of the lake as you sample dry Rieslings and wines paired with chocolate.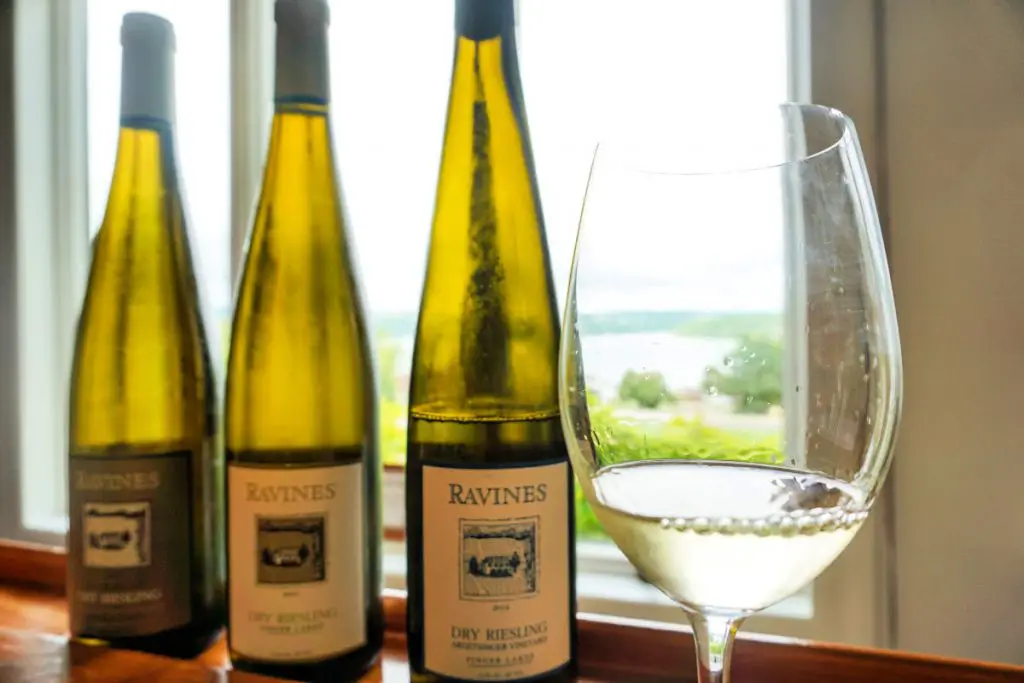 Owned by Morten Hallgren, a French winemaker and oenologist, and his wife Lisa, a chef and foodie, Ravines creates food-friendly wines, which you'll witness right in the tasting room with a chocolate pairing.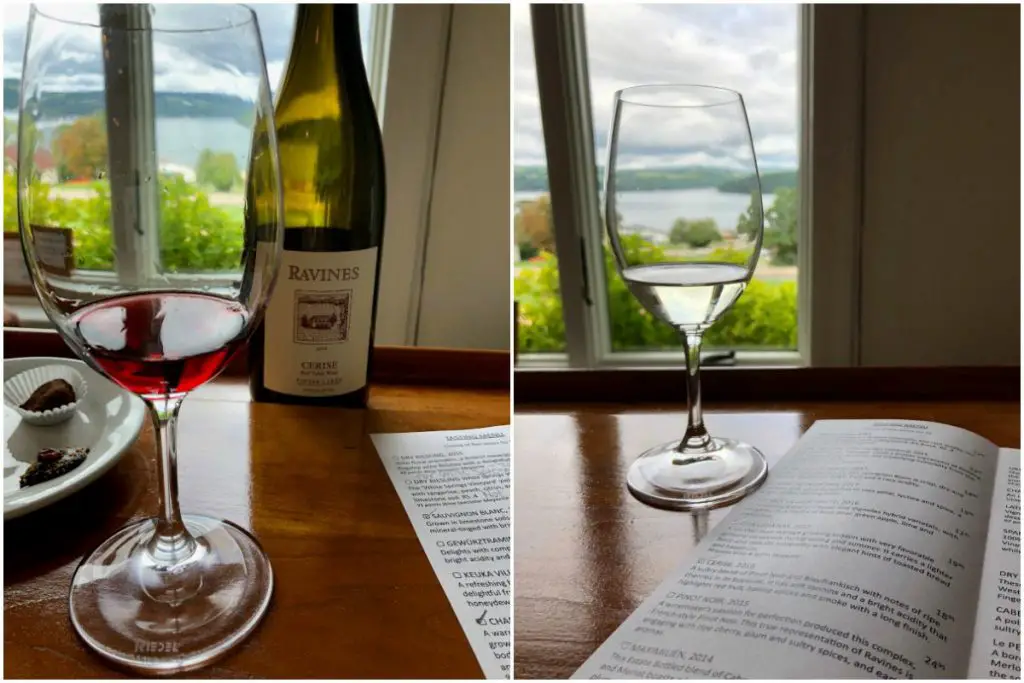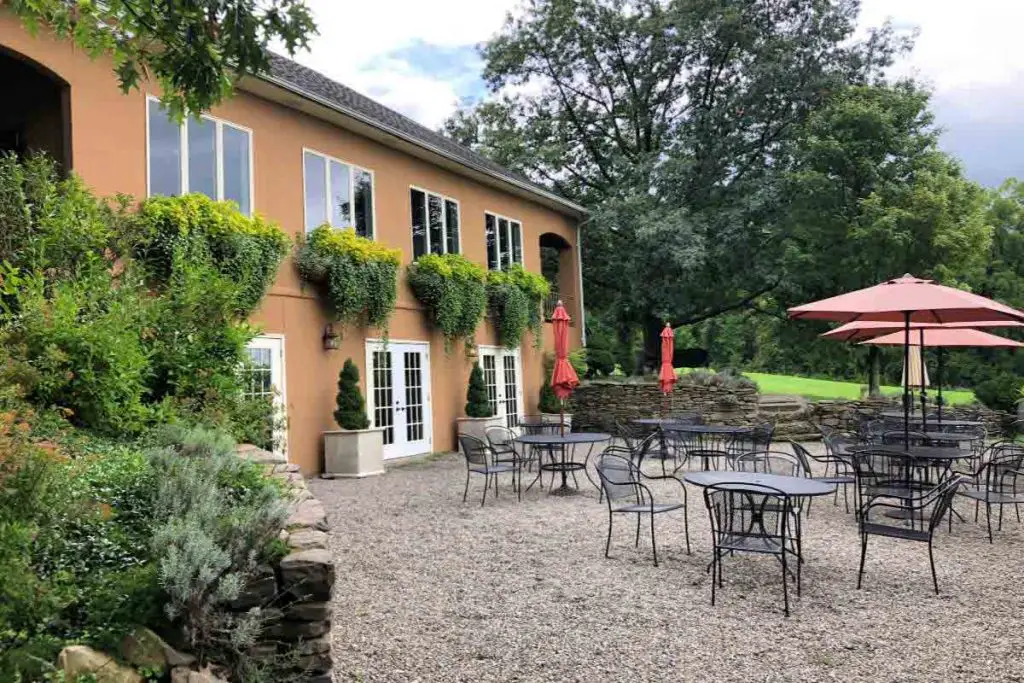 Visiting Ravines Wine Cellars Tasting Room at Keuka Lake
Open daily from 10 a.m. to 5 p.m. most of the year — with only weekend hours in January and February — the tasting room is a great place to sample wines or enjoy a glass with a cheese and charcuterie board on the patio. Groups of 8 or more are only accommodated for Ravinous Club Members, and groups are still required to make an advance reservation by calling the tasting room at (607) 292-7007.
Ravines Wine Cellars' Keuka Lake tasting room is located at 14630 NY-54 in Hammondsport, New York.
Weis Vineyards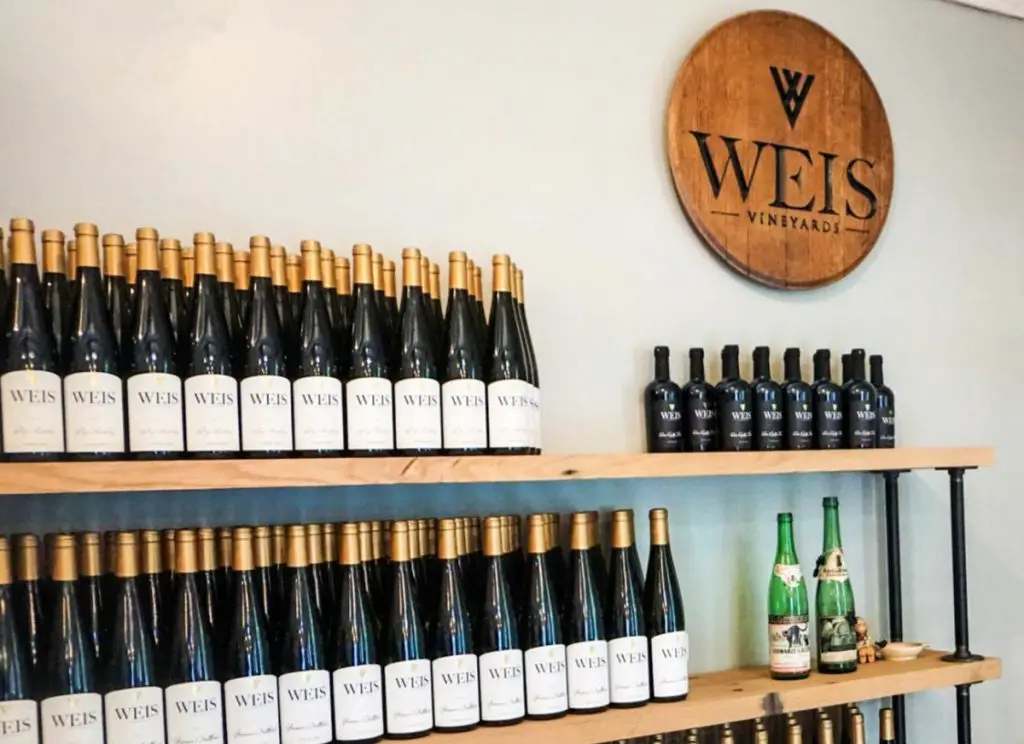 Focusing on hand-crafted, German-style wines, Weis Vineyards is the creation of winemaker Hans Peter Weis. Born in Zell Mosel, Germany, Weis grew up in his family's winery. Before starting his own winery alongside his wife Ashlee, who manages the tasting room and marketing, Weis worked as a winemaker and vineyard manager for 11 vintages in the Finger Lakes.
German-style wines — particularly Riesling, Grüner Veltliner, and Gewürtztraminer — do well in the Finger Lakes region. Perhaps that is because — as several Finger Lakes winemakers, Weis included, will tell you — the terroir, soil minerality, and climate are similar to that of Mosel or other European wine regions. If you can, I suggest you taste Weis Vineyards' full lineup from the tart and crisp Grüner Veltliner to the deeper reds.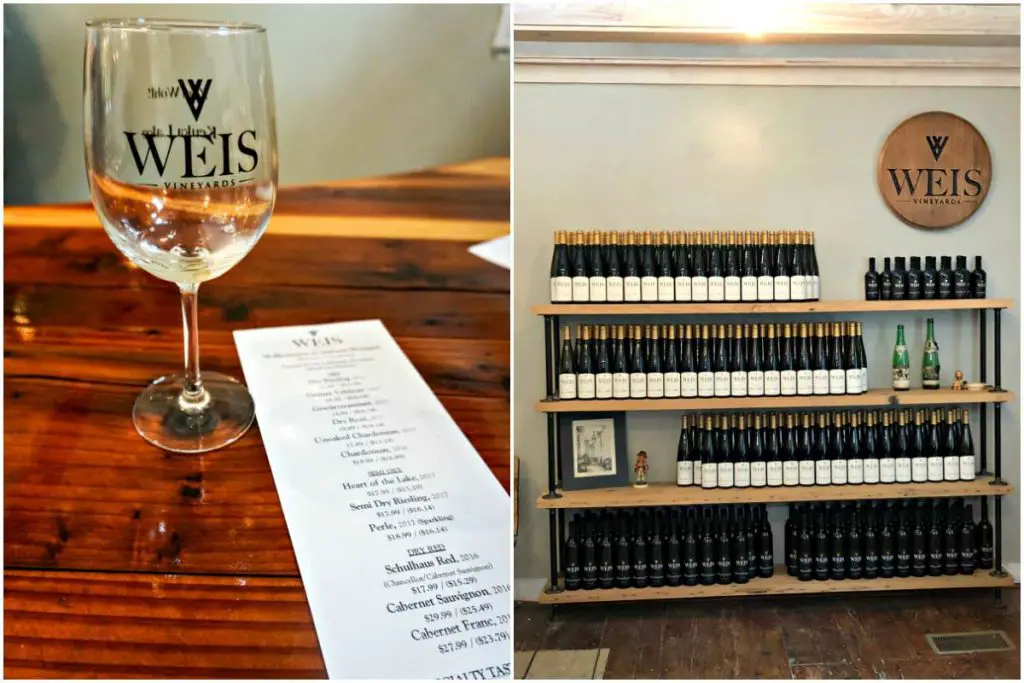 Visiting Weis Vineyards
The one-room schoolhouse tasting room is open daily, except for a few holidays, from 10 a.m. to 5 p.m. from April through December. From January through March, the tasting room is open from 11 a.m. to 5 p.m. Thursday through Monday. Tastings are $5 and include five samples and a souvenir glass with the Weis Vineyards logo. Reservations are required for groups of 8 or more and can be made by calling  (607) 284-4011.
Weis Vineyards is located just off of NY-54 at 10014 Day Road in Hammondsport, New York.
The Ultimate Wine Travel Accessory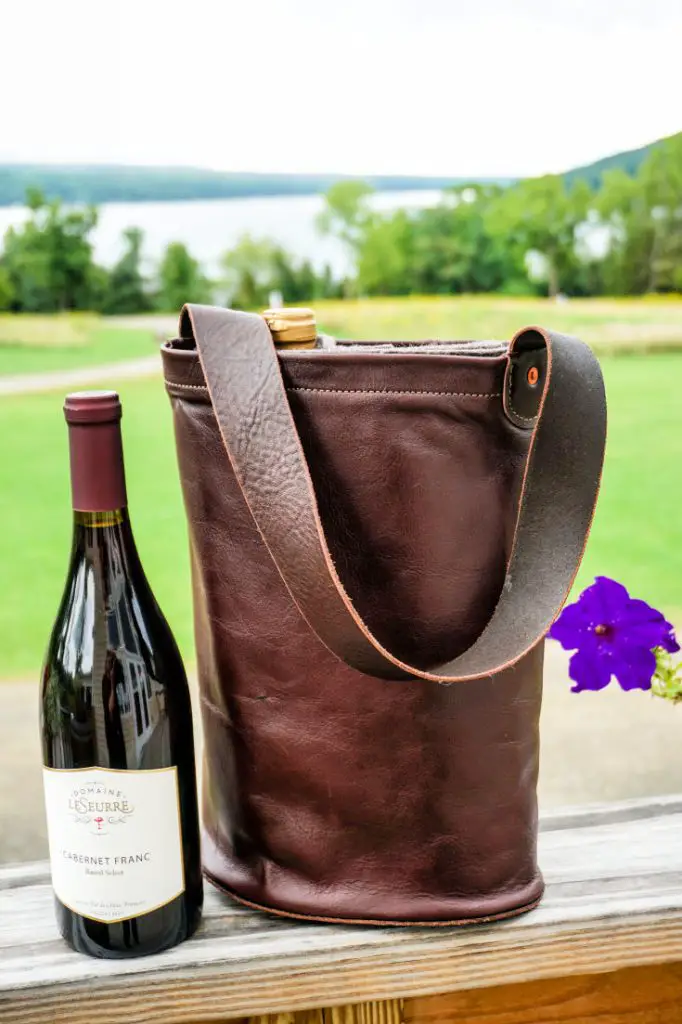 Disclosure: I was provided this Kámen Road Leather Wine Tote to review.
While wine tasting in the Finger Lakes, I found new favorite wines that I absolutely had to bring home with me. I couldn't part from Weis Vineyards without its crisp Grüner Veltliner or from Domaine LeSeurre without the Cabernet Franc Barrel Select. Luckily, I was traveling with Kámen Road's Leather Wine Tote.
Crafted from Italian vegetable-tanned leather, this wine-lover's tote includes a removable 100-percent wool insert. The naturally-insulating wool sleeve cushioned the wine bottles I purchased for the road trip back to Michigan. With a sturdy 8-inch leather strap, transporting my wine-tasting purchases has never been so easy. Or chic!
Now that I've taken a wine trip with the Kámen Road wine tote, I can't imagine wine tasting without it. One of my favorite features is how versatile this bag can be. With the removable sleeve, you can use it as a market bag for urban picnics or slide a baguette and wedge of cheese down the side to pair with your wine. Measuring 12 inches high x 8 inches wide x 4.5 inches deep, the leather wine tote was created in Kansas City and retails for $85.
Kámen Road is a small, female-owned, American company that produces bags and accessories for travel, work, and every day. As a slow fashion retailer, Kámen Road's bags are created with all-natural material by individual leather makers or small studios in the United States. 
When you sign up for the Kámen Road newsletter, you'll receive 10% off. Just scroll down to the bottom of the Kámen Road home page, enter your email address, and hit subscribe!
More Resources For Planning Your Keuka Lake Wine Tasting Trip
As you plan your trip to the Finger Lakes to go wine tasting around Keuka Lake, here are some helpful resources for you:
Save this post to Pinterest to reference later!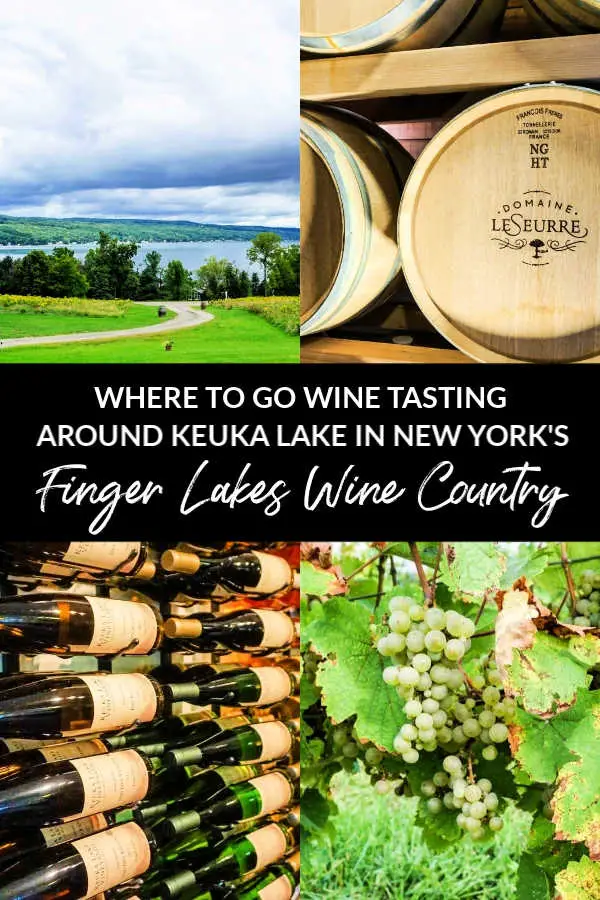 Have you been wine tasting in New York's Finger Lakes wine region? Which of these wineries would you visit?