If you have never been wine tasting in Missouri, you may be surprised to learn this Midwestern state produces award-winning red wines. So, let's take a look at three Missouri red wines you should sip on a wine-tasting trip to some of the 130+ wineries and 11 wine trails in the Show-Me State.
Disclosure: I was invited on a media trip to learn about Missouri wines by the Missouri Wine and Grape Council. This post also contains some affiliate links. When you make a purchase from one of these links, I may earn a commission. Of course, this is at no extra cost to you. 
---
Norton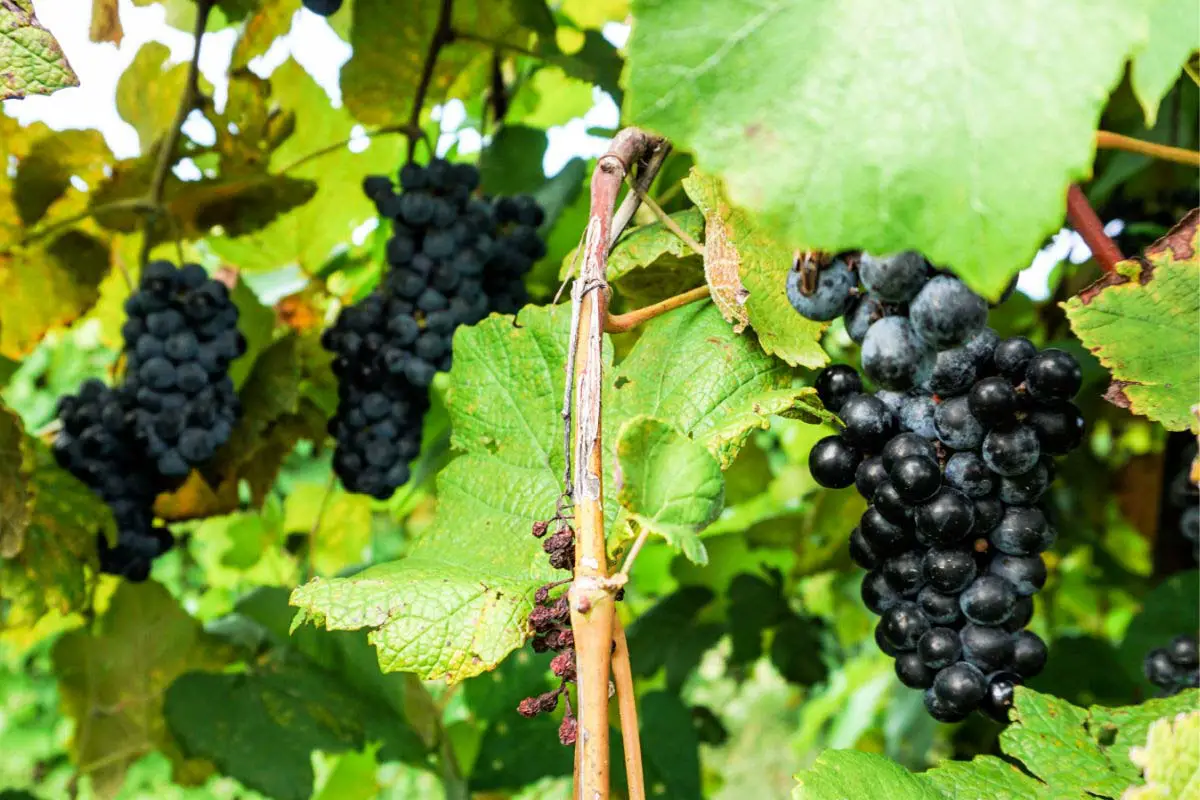 Named Missouri's official state grape in 2003, Norton is a hardy, native American grape that produces rich, full-bodied, and dry red wines often showcasing berry flavors with spicy overtones. It accounts for 16 percent of all grapes grown in Missouri with 275 acres of vines. Also known as Cynthiana, it's no wonder this robust red wine makes its way onto so many tasting menus at Missouri wineries!
Characteristics of Norton
Color: Dark ink
Aroma: Dark berries, light spices
Taste: Ripe berries with spicy oak overtones
Cheese Board Pairings: Blue cheese, cheddar, smoked meats, hazelnuts, berries, dark chocolate
Where To Taste Norton: St. James Winery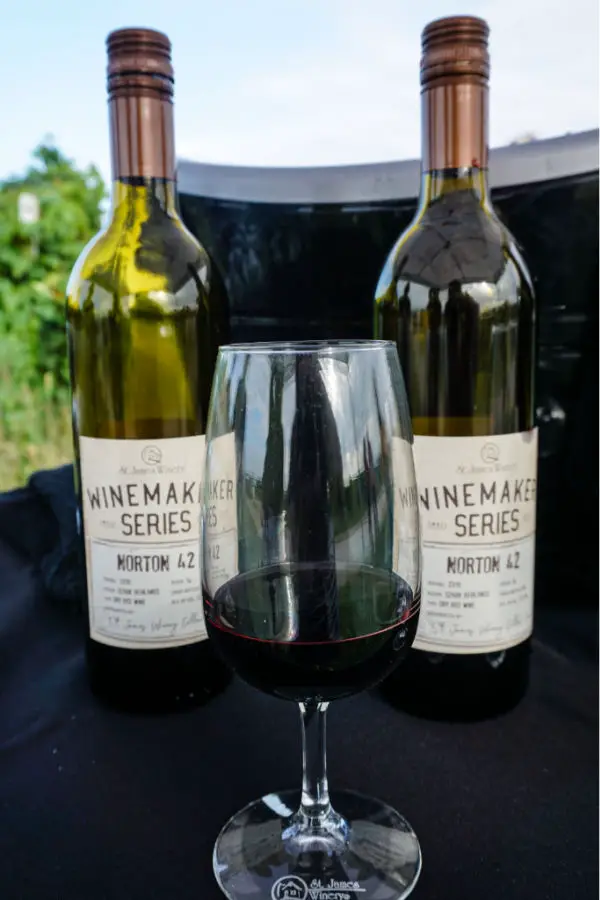 Wondering where to taste Norton in Missouri? As the state grape, it's very likely you'll have an opportunity to taste a Norton or Cynthiana while wine tasting in Missouri. In fact, 31 Missouri wineries submitted 32 Nortons in the 2017 Missouri Wine Competition.
Both Stone Hill Winery in Hermann and Noboleis Vineyards in Augusta, the oldest American Viticultural Area, are known for their award-winning Nortons. However, I also recommend tasting the Winemaker Series Norton 42 at St. James Winery. With flavors of plum, black currant, and red cherry, this fruity Norton is well-balanced with a subtle hint of oak and silky mouthfeel.
While at St. James Winery, you can taste five wines for $5, play bocce ball in the beautifully landscaped gardens, or pair your Norton — or a craft beer — with a farm-to-table dinner next door at Public House Brewing Company.
St. James Winery is located at 540 State Route B in Saint James, Missouri. While wine tasting on the Meramec River Wine Trail, I was hosted overnight at the Holiday Inn Express & Suites in Rolla, about 12 miles from St. James Winery.
Chambourcin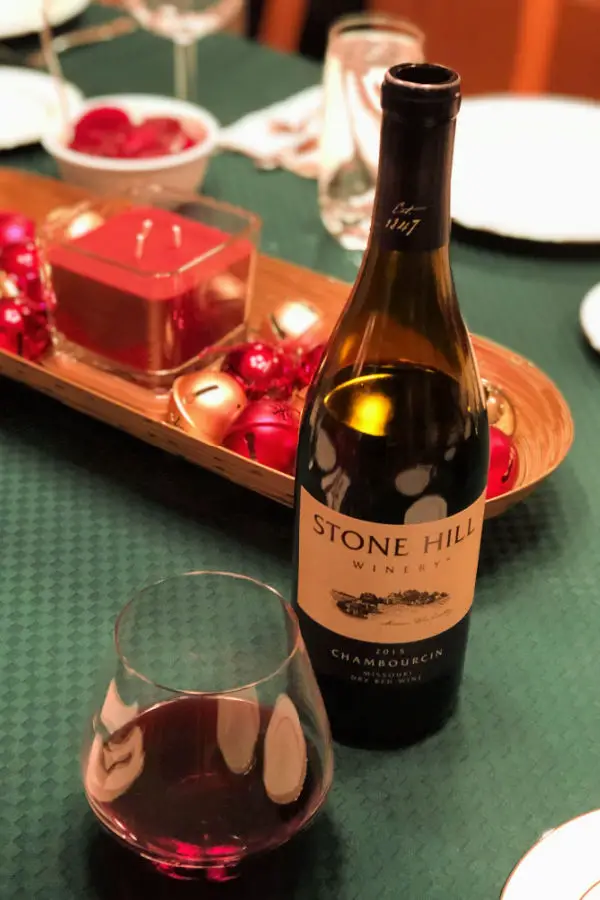 If you are a Pinot Noir drinker, you should try Chambourcin when wine tasting in Missouri. This French-American hybrid grape accounts for 10.5 percent of all grapes grown in Missouri and is commonly found on Missouri wineries' tasting menus. Though lighter in mouthfeel than Norton, Chambourcin is also one of those dry red wines that pairs well with food. Personally, I'd sip Chambourcin with a hearty bolognese pasta or juicy Gruyere and shiitake mushroom burger.
Characteristics of Chambourcin
Color: Deep red
Aroma: Cherry, light oak
Taste: Earthy, dark cherry
Cheese Board Pairings: Camembert, Brie, walnuts, strawberries, figs
Where To Taste Chambourcin: Stone Hill Winery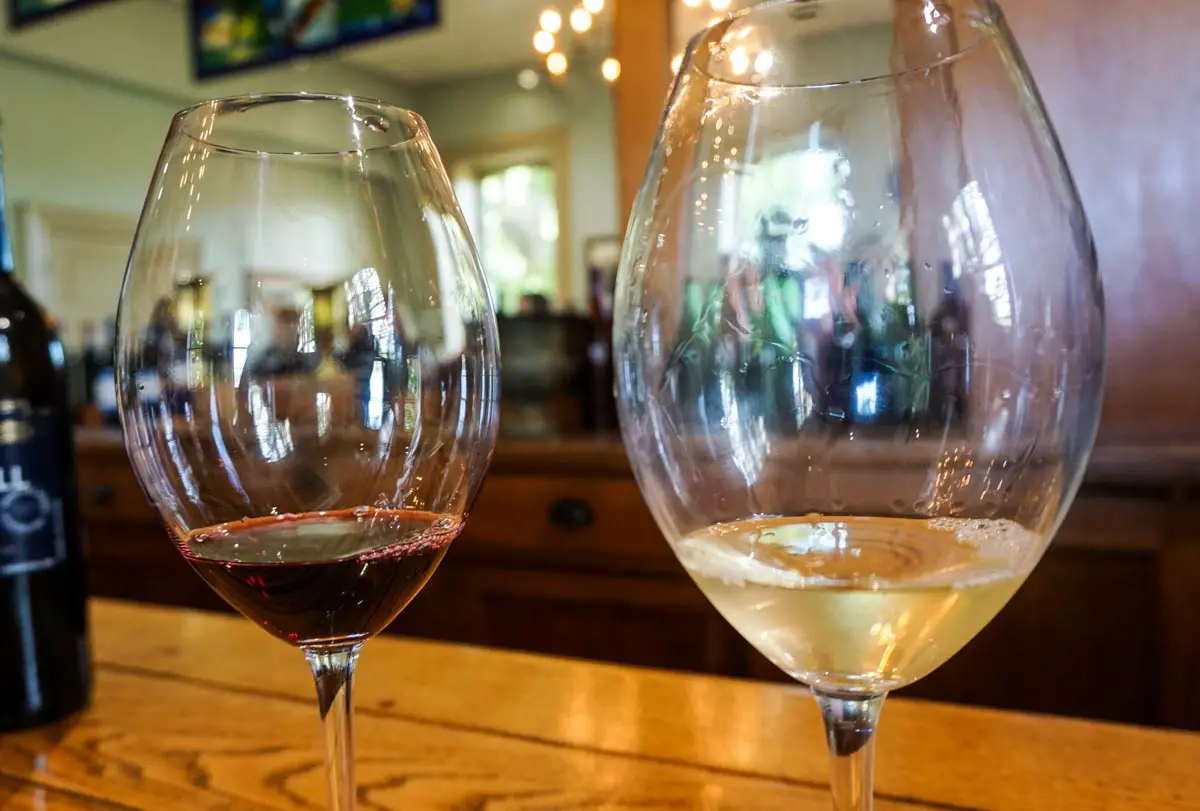 For dry red wine drinkers, a visit to Stone Hill Winery in Hermann is a must when wine tasting in Missouri. While you are there, take the free cellar tour (temporarily not available), eat German cuisine at the Vintage Restaurant in the old carriage house, and sample six wines for $12.
During your tasting, I highly recommend you try Stone Hill Winery's award-winning Chambourcin. In recent years, the wine has claimed the Governor's Cup —the top prize at the annual Missouri Wine Competition.
In 2018, the Stone Hill Winery 2015 Chambourcin earned the Governor's Cup. Then again in 2019 the winery's Chambourcin won Missouri's most prestigious wine award for its 2017 vintage.
Available in 2020, the Silver Medal-winning 2016 Chambourcin showcases complex flavors with a toffee, black currant, and cherry compote aroma offset by toasted oak and black pepper.
In addition to Chambourcin, lovers of dry red wines shouldn't leave Stone Hill Winery without tasting the estate bottled Norton and Cross J Norton.
Stone Hill Winery is located at 1110 Stone Hill Highway in Hermann, Missouri. Nearby you'll find charming bed & breakfast lodging at Hermann Hill and Captain Wohlt Inn. Additionally, Hermann offers stylishly appointed accommodations "at altitude" in the Cottage Treehouses. 
Concord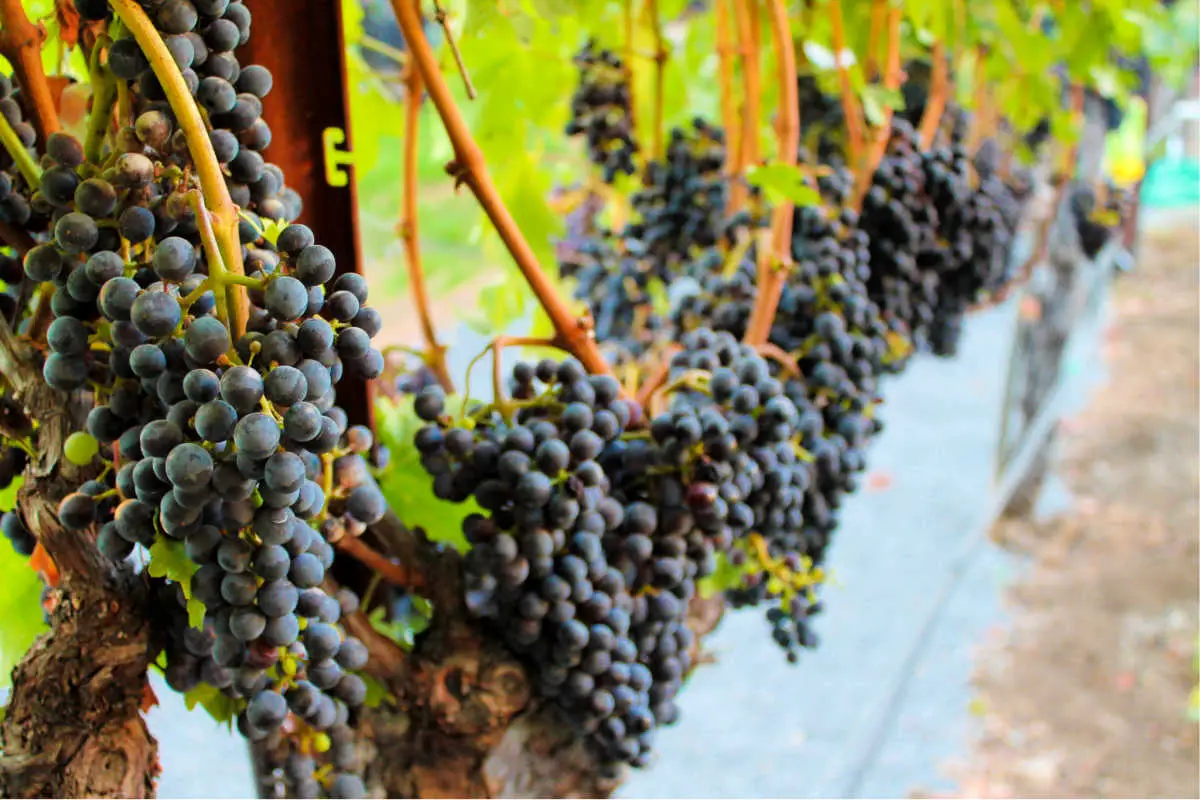 If you have eaten grape jelly or drank grape juice, your taste buds are already familiar with this American grape. In Missouri, you'll find wineries producing sweet red dessert wines with Concord grapes.
Characteristics of Concord Wines
Color: Deep purple/plum
Aroma: Grape jelly
Taste: Sweet as candy
Cheese Board Pairings: Aged cheeses, cheddar, peanut butter candies or cookies, candied nuts, figs, chocolate truffles
Where To Taste Concord: Adam Puchta Winery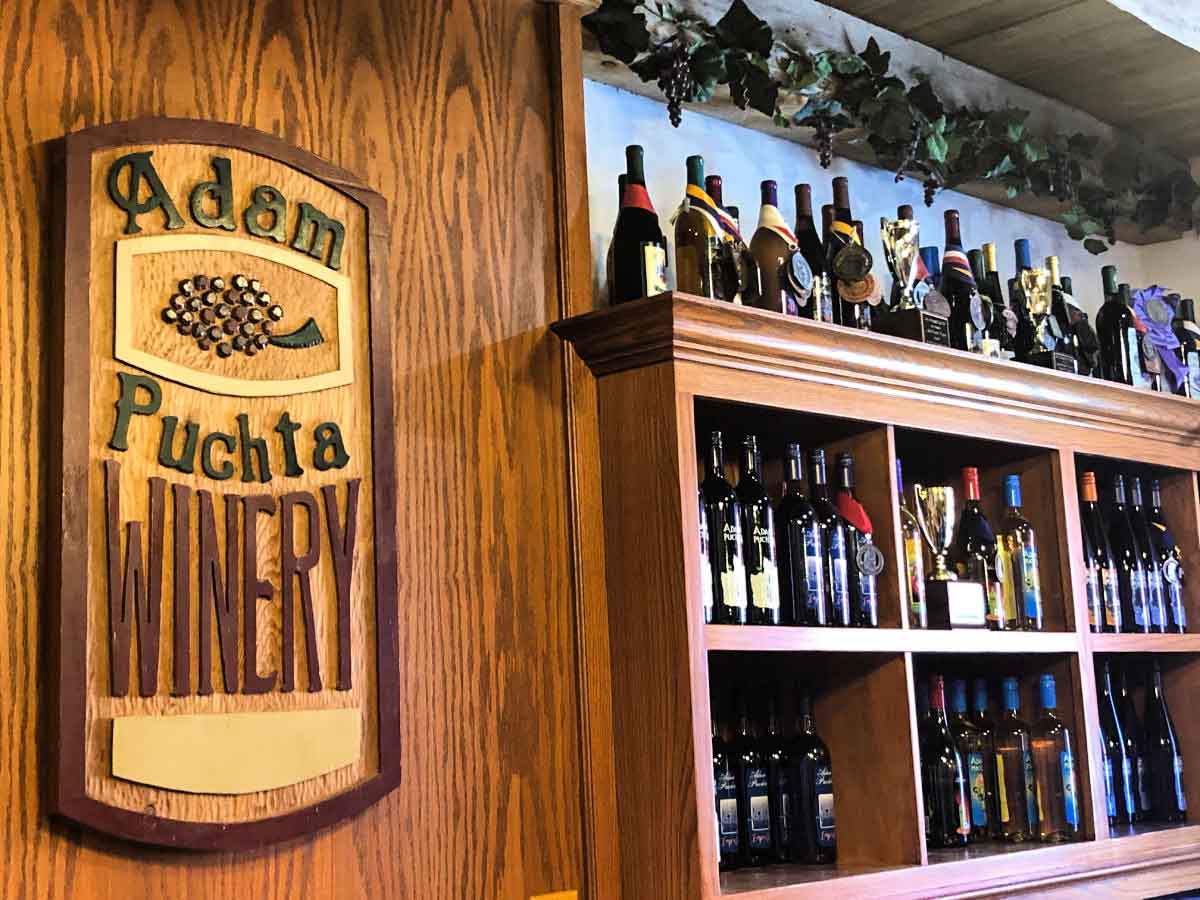 As you sip Adam Puchta Winery's Riefenstahler, this sweet red dessert wine's notes of blackberry jam may leave you craving a peanut butter sandwich. The winery suggests pairing its top-selling red wine with a peanut butter cookie or mixing it into a wine slushie!
To taste the Concord-based Riefenstahler, visit Adam Puchta Winery in Hermann. The winery offers $5 wine tastings and has shaded picnic tables where you can sip a glass of wine or a frozen wine slushie.
Adam Puchta Winery is located at 1947 Frene Creek Rd in Hermann, Missouri. When you visit, you can stay on the winery's property at the Homestead Guesthaus or the Cabin. Both lodging options include a continental breakfast and a welcome basket filled with Adam Puchta award-winning wines and wine tasting vouchers.
Before You Go Red Wine Tasting In Missouri
Ranging from bold and dry to sweet dessert wines, these Missouri red wines are food friendly, too. Therefore, I've also included cheese-board suggestions to complement your wine tasting in Missouri. 😉
As you head out on a wine tasting trip in Missouri, Norton/Cynthiana, Chambourcin, and Concord are three red wines you are likely to taste. To learn more about Missouri's wineries, the Missouri Wine and Grape Council is a helpful resource.
Map your road trip route to the Missouri wineries mentioned in this post:
Learn More About Missouri Wines
You can learn more about Missouri's wineries, wine regions, and wines by reading these books available on Amazon:
Read Related Articles
Save this post to your wine travel or Missouri travel board(s) on Pinterest!