Feel the luck of the Irish with these 90 easy recipes for St. Patrick's Day!
Disclosure: This roundup of 90 easy St. Patrick's Day recipes contains affiliate links. When you click on one of these links and make a purchase, I may earn a commission. Of course, this is at no extra cost to you.
---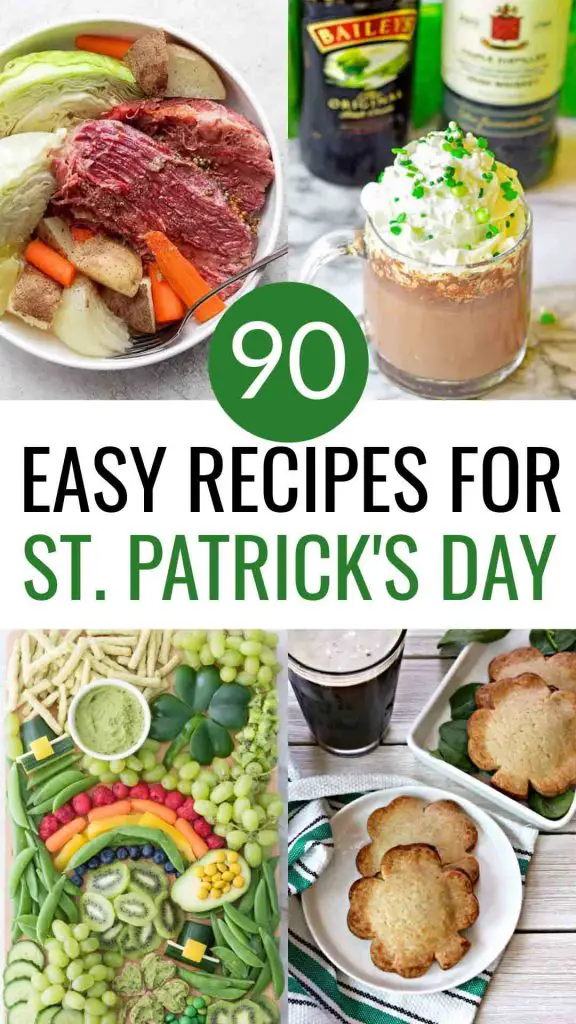 Want to save this post to read later? Pin the above image to your St. Patrick's Day board on Pinterest!
What is St. Patrick's Day and why do we celebrate it?
Before we dive into what to eat on St. Patrick's Day, it's important to understand the holiday's origins. Since the 1600s, Saint Patrick's Day, also known as the Feast of Saint Patrick, has commemorated the Patron Saint of Ireland and Christianity's arrival on the Emerald Isle.
Though St. Patrick's Day remains a festive occasion in Ireland celebrated with parades, festivals, and social gatherings called céilithe, the holiday is also widely celebrated beyond Ireland, particularly among those with Irish heritage.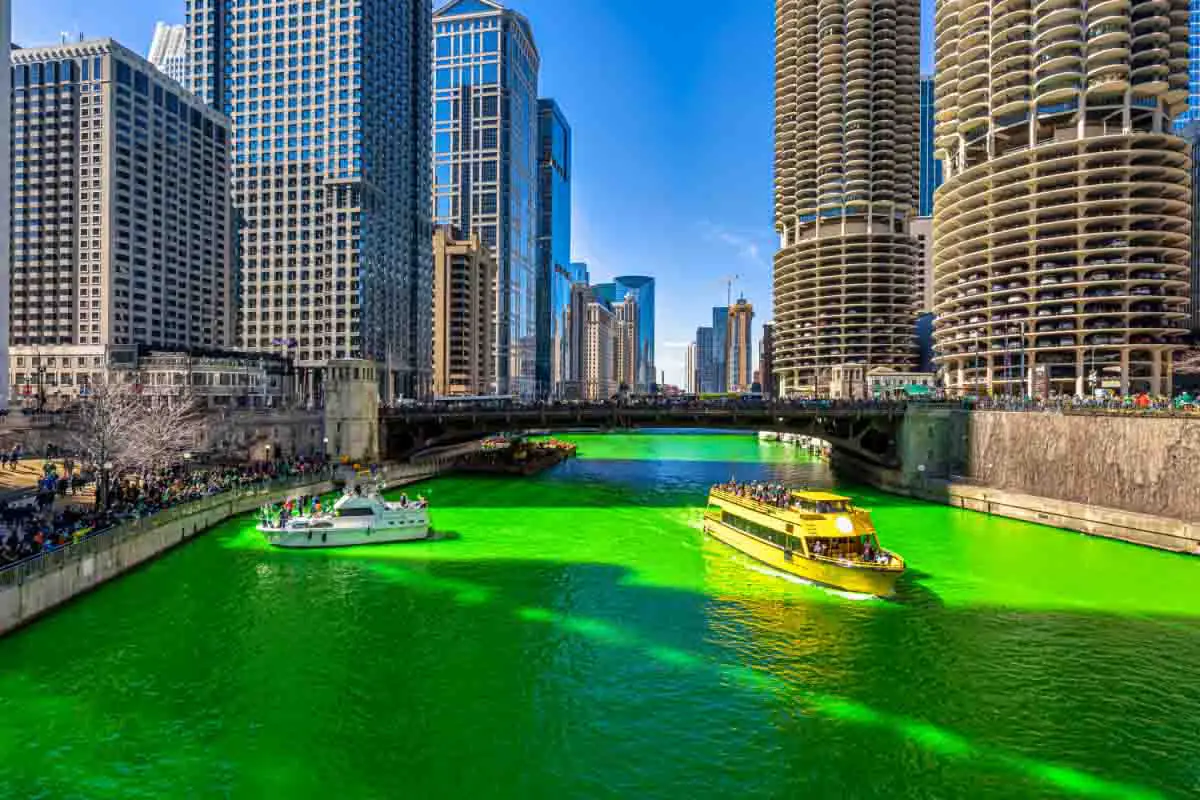 In the United States, we celebrate all things Irish and Irish-American — including food, drinks, music, and culture — on March 17. In Chicago, the river is dyed green. New York City plays host to the world's oldest and largest St. Patrick's Day parade complete with bagpipe-and-drum marching bands. And, in bars and pubs across the country, shamrock-and-green-clad partiers drink pints of Guinness and beer dyed green.
In addition to attending parades and donning green apparel, St. Patrick's Day is best celebrated by eating and drinking. Some St. Patrick's Day favorites include hearty Irish stews, classic Irish-American corned beef and cabbage, and boozy desserts made with Guinness or Baileys Irish Cream.
90 Simple Recipes to Celebrate St. Patrick's Day
To help you plan your St. Patrick's Day festivities, I've compiled simple-yet-festive recipes for every meal from brunch through dessert. Whether you want to cook traditional Irish fare or make whimsical shamrock-shaped treats for your kids, this list has you covered. Since dietary concerns shouldn't keep anyone from celebrating, I've also included keto, gluten-free, vegetarian, and vegan recipes. Some are rustic comfort foods, others are boozy indulgences, but I assure you that these 90 easy St. Patrick's Day recipes are so good they may even inspire you to do a little jig!
Traditional Irish Dishes For Your St. Patrick's Day Feast
Beef Guinness Stew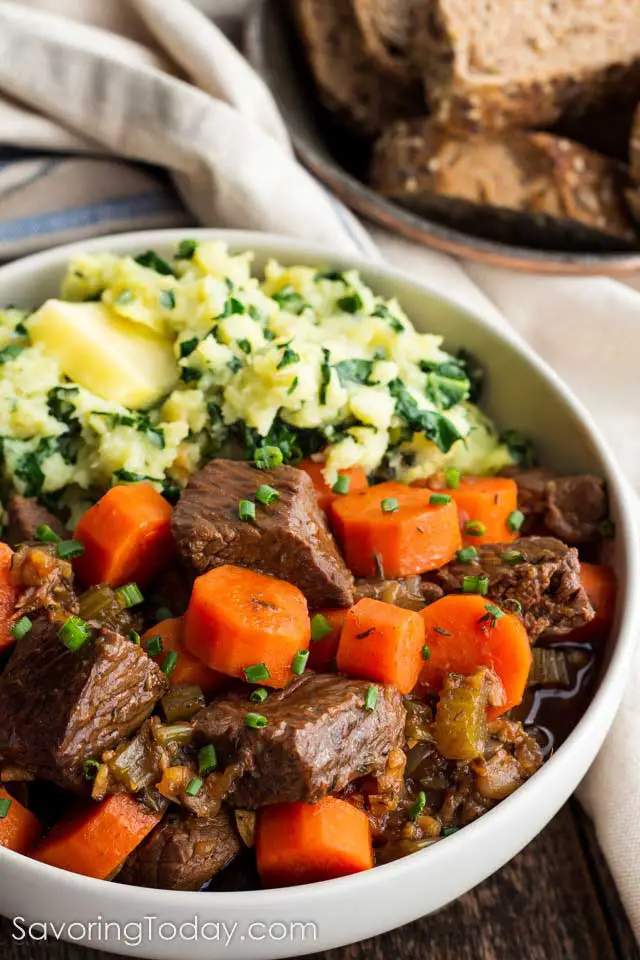 This Guinness Irish beef stew recipe made with Guinness Draught Stout has the rich flavor you expect from braising in dark beer without a hint of bitterness. Pair it with a sweet potato colcannon — a spin on another classic Irish dish! You'll find both recipes in the linked post. 😉
Make your traditional Irish stew in a festive green Dutch oven!
Boxty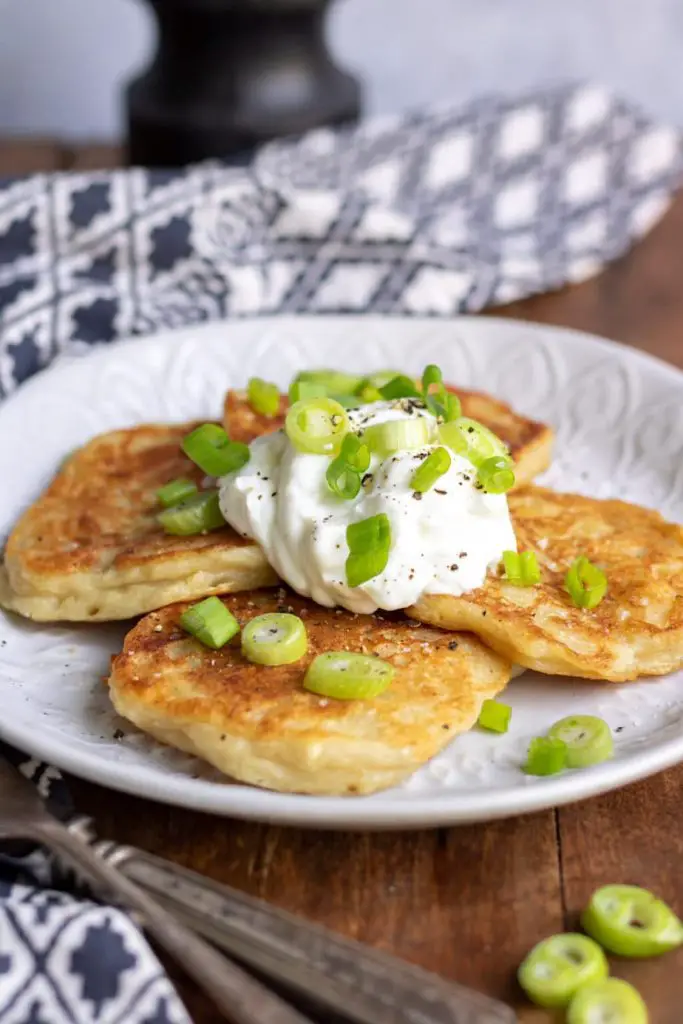 Boxty is a tasty, fluffy Irish potato cake that is pan-fried like a pancake and usually served at breakfast. This traditional recipe is perfect for starting St. Patrick's Day with a classic Irish breakfast dish!
Carrot & Parsnip Mash
Carrot and parsnip mash is a traditional Irish side dish, and it's a sweet, healthy, and creamy mashed veggie alternative to potatoes.
Colcannon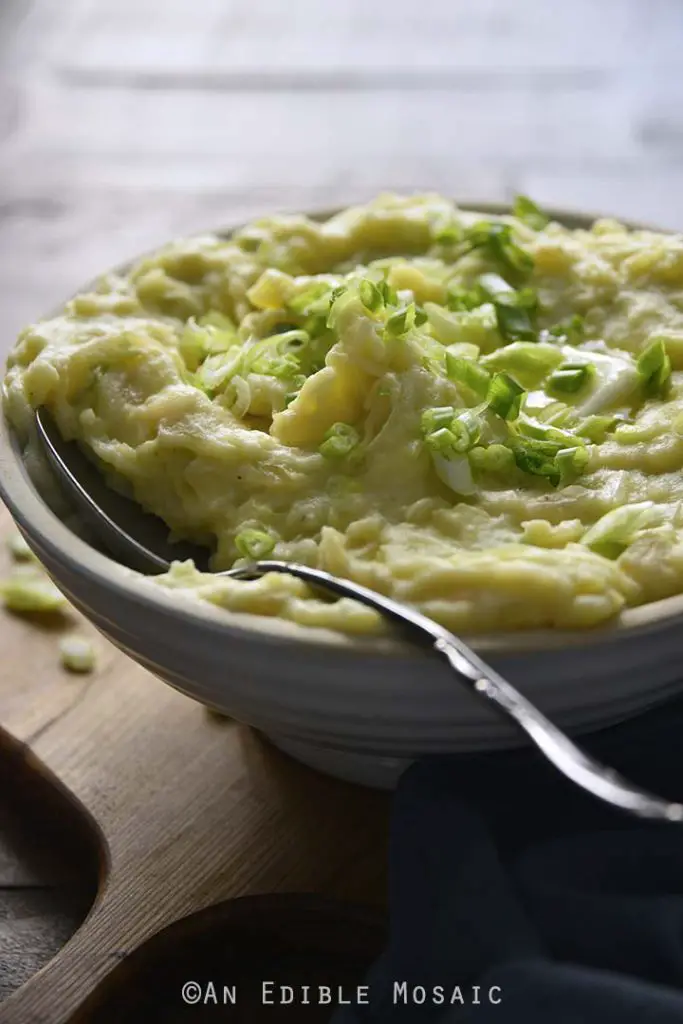 This hearty colcannon recipe for Irish mashed potatoes with cabbage combines rich, buttery mashed potatoes and cabbage sautéed with onion for a side dish that is satisfying, nutritious, and delicious.
Dublin Coddle
Looking for some authentic Irish fare for your St. Patrick's Day feast? Look no further than this hearty and cozy Dublin coddle. Loaded with rich and satisfying flavors, this is what you call comfort food!
Irish Apple Cake
This Irish apple cake, with a layer of cinnamon-flavored apples baked in the center of a fairly plain cake, is lovely served warm as a pudding with custard or cream and also cold for tea.
Essential Tool: Bundt Cake Mold
Irish Brown Bread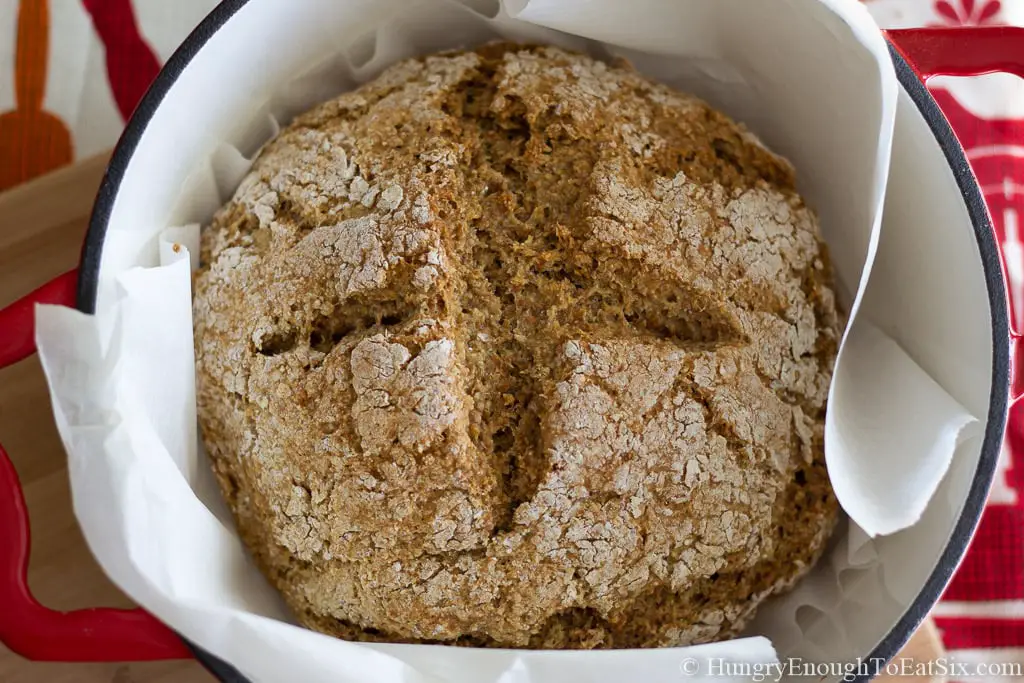 Traditional Irish brown bread is a staple in Ireland and one you should try! Enjoy slices of homemade Irish brown bread with afternoon tea, hot soup, or toasted and buttered as part of a full Irish breakfast.
Irish Soda Bread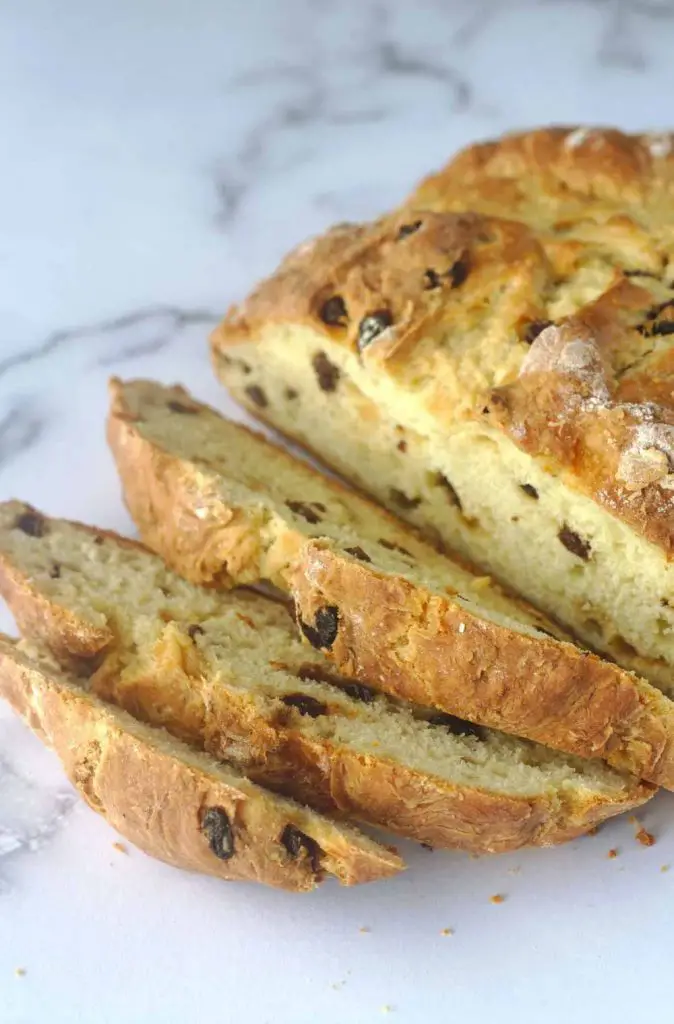 Celebrate St. Patrick's Day with a slice of Irish soda bread slathered with orange butter! This super-easy-to-make bread uses baking soda and buttermilk as its leavening agent instead of yeast.
Potato Farls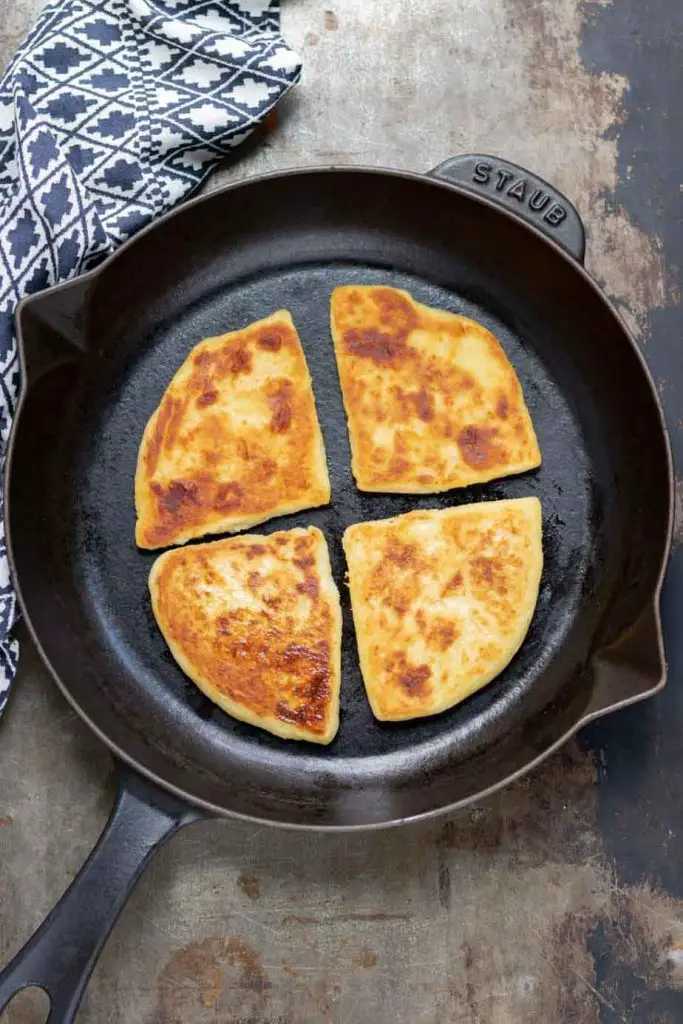 This traditional Irish potato farls recipe is so easy and made with just four simple ingredients. Also known as potato bread or cakes, farls are a tasty classic breakfast food from Ireland.


Irish Stew Recipes
Guinness, Beef & Barley Stew
This delicious beef & barley stew consists of stew meat and veggies slowly simmered in beef broth and Guinness accompanied with nutty barley. It's a hearty and healthy meal for your St. Patrick's Day dinner.
Instant Pot Irish Lamb Stew
Instant Pot Irish lamb stew takes the traditional Irish stew and makes it even easier and faster thanks to the electric pressure cooker! Full of hearty vegetables and tender lamb, this is a delicious modern version of the classic.
Stovetop Irish Stew with Lamb and Guinness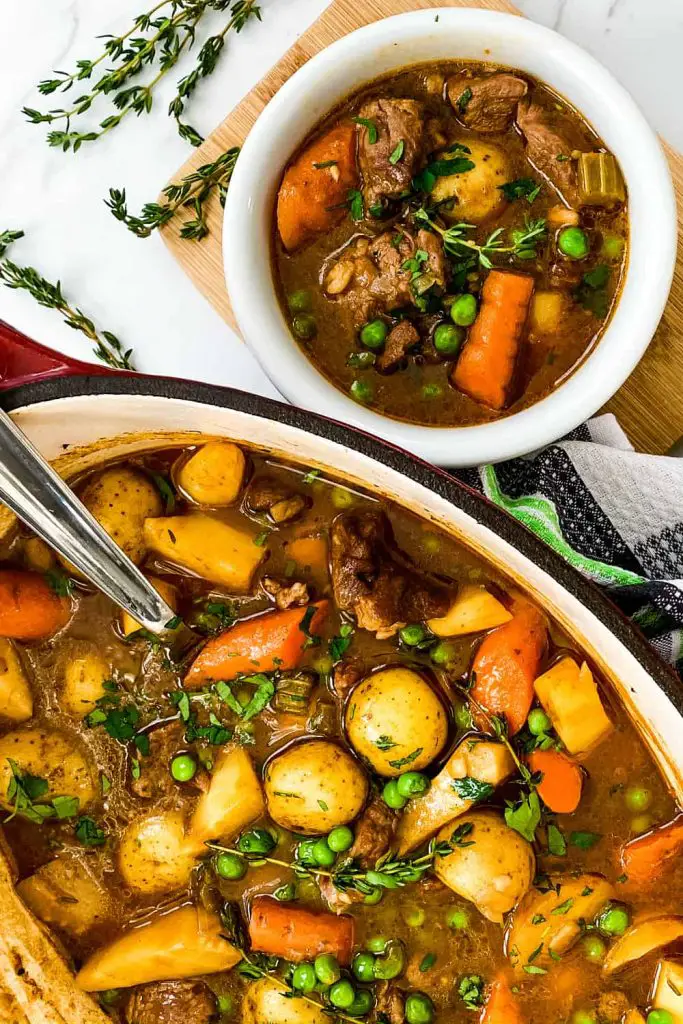 A warm and cozy meal to share with family and friends for St. Patrick's Day is this delicious Irish stew with tender lamb, carrots, parsnips, potatoes, peas, and Guinness beer.
Corned Beef Recipes for St. Patrick's Day
Corned Beef and Cabbage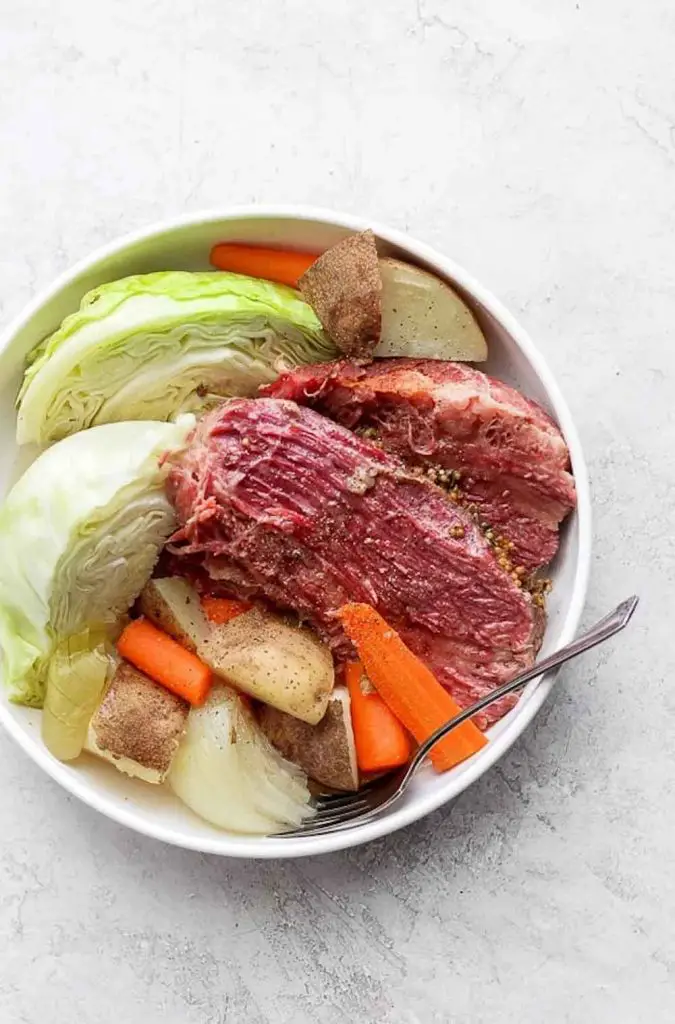 This corned beef and cabbage recipe is perfect for St. Patrick's Day. It's a tried-and-true recipe that is easy to make, and the corned beef is so delicious. You can make corned beef and cabbage in a Dutch oven, slow cooker, or Instant Pot.
Corned Beef Melts
These corned beef melts are the perfect solution to your St. Patrick's Day leftovers. They're so delicious that they'll have you making corned beef just so you can enjoy these sandwiches!
Corned Beef Tacos
Celebrate St. Patrick's Day with a Mexican twist! These corned beef tacos are served with a creamy spicy mustard sauce, a simple cabbage carrot slaw, and microgreens.
Reuben Sandwiches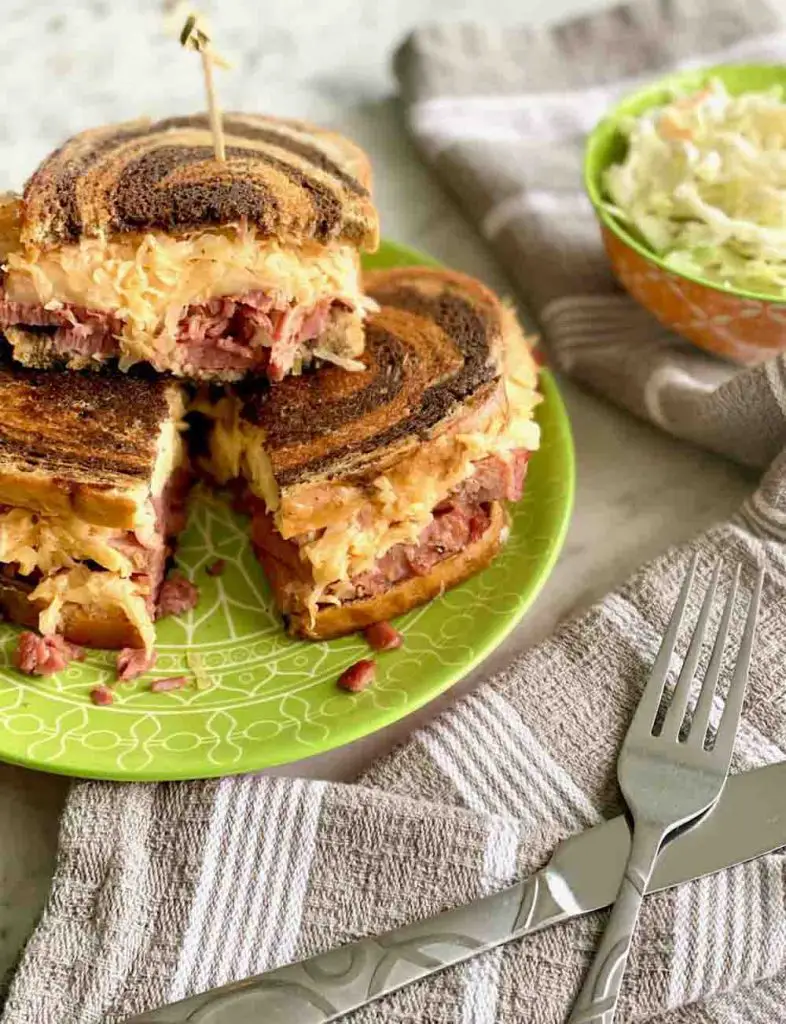 This juicy corned beef Reuben features corned beef braised in dark beer using the low and slow method, sauerkraut, Swiss cheese, and homemade Russian dressing. It's a classic Reuben sandwich that tastes like it came from your local deli!
Slow-Cooker Corned Beef with Sauerkraut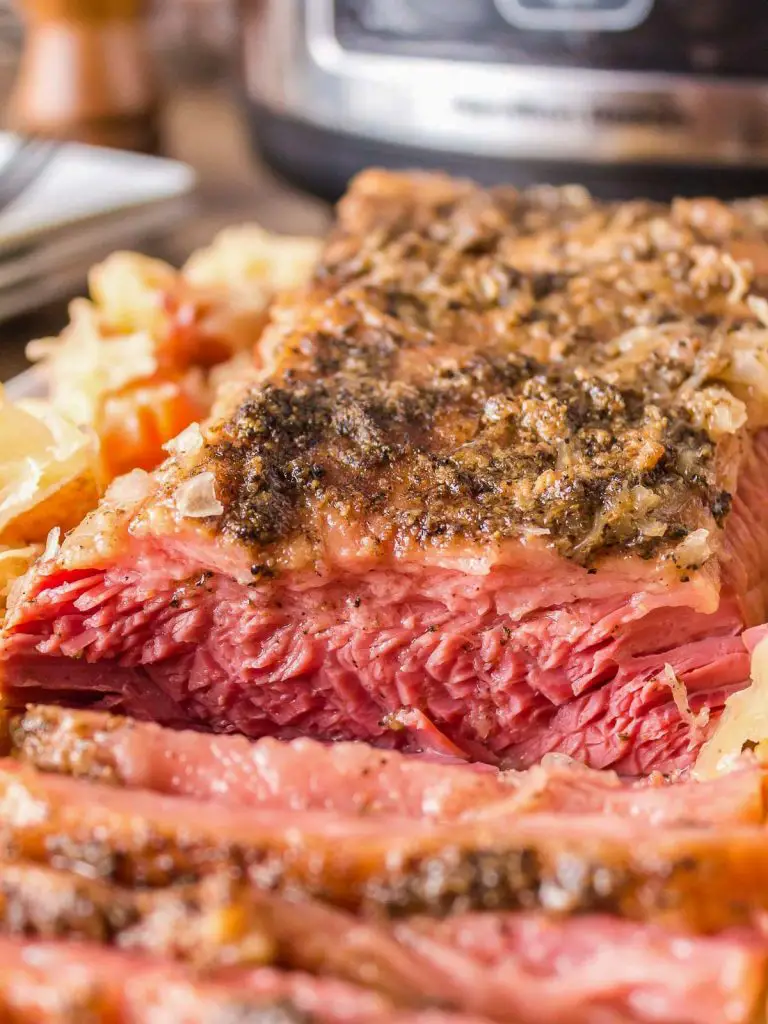 Slow cooker corned beef and kraut are cooked in beer for an ultra-tender, flavorful St. Patrick's Day meal.
More St. Patrick's Day Dinner Recipes
Bangers and Mash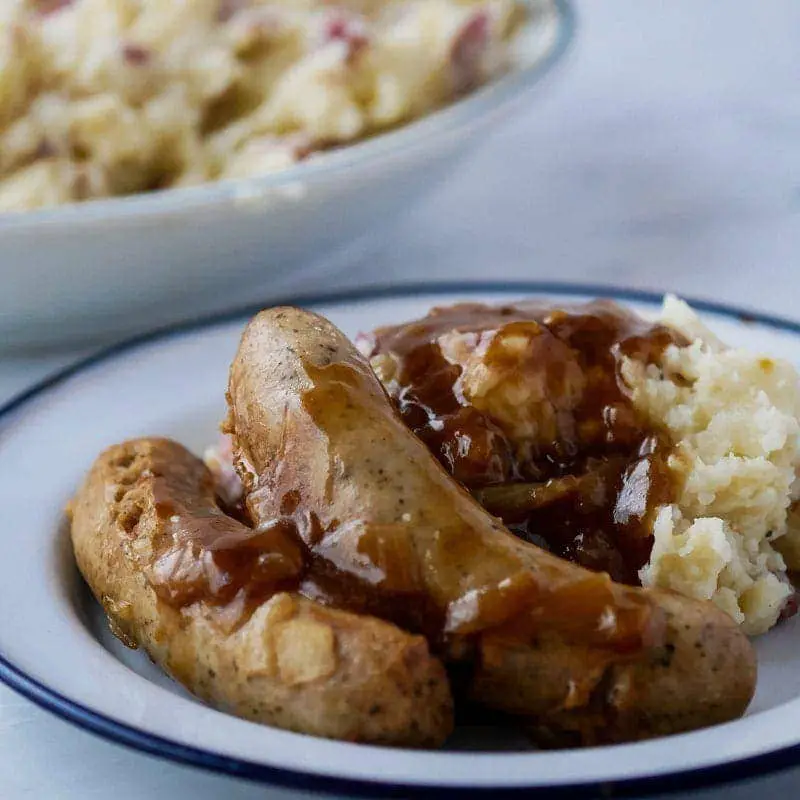 This classic British dinner is commonly eaten in both British and Irish pubs, but this recipe gives this beloved pub fare even more of an Irish spin with the addition of Guinness. Made in your Instant Pot, this Irish bangers and mash recipe will surely bring the pub experience to your home on St. Patrick's Day!
Guinness, Beef and Mushroom Cottage Pie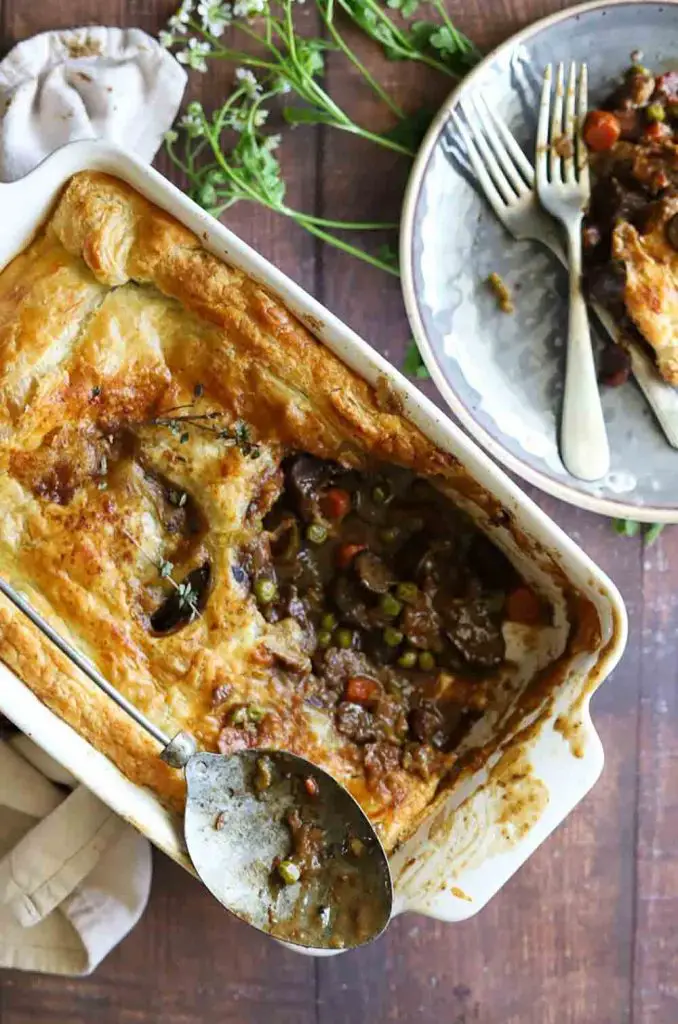 There is no better way to celebrate St. Patrick's Day than with this rustic Guinness beef and mushroom cottage pie. This puff pastry meat pie is packed full of veggies and tender beef, and it's simmered in the most delicious Guinness beer gravy.
Sausage and Colcannon Bake
For St Paddy's day, layer comfort food atop comfort food and add gravy in this rustic sausage and colcannon bake.
Sheet Pan Cabbage and Sausage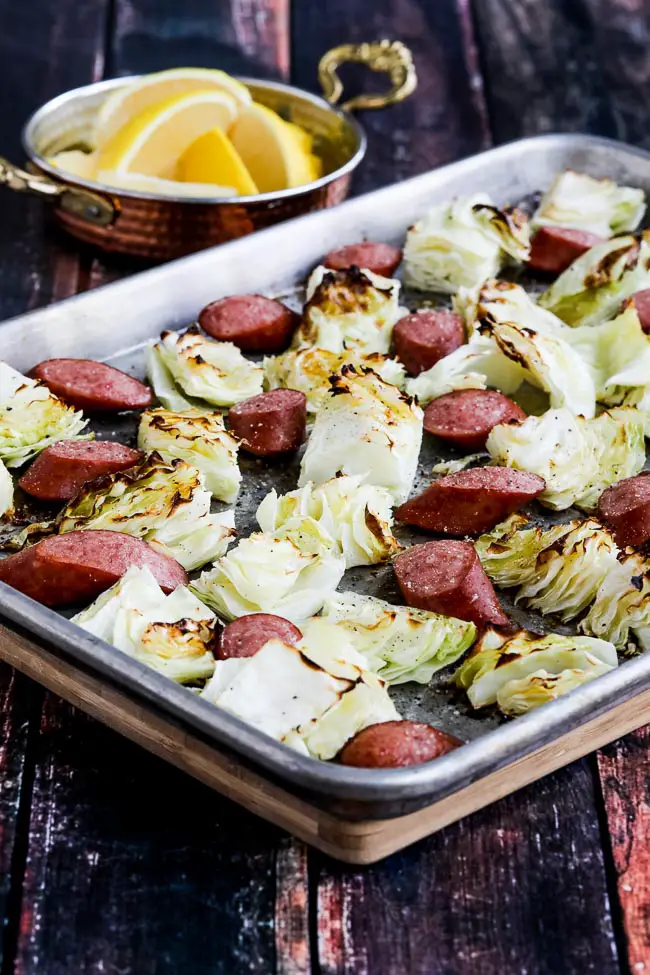 This cabbage and sausage sheet pan meal features roasted lemon cabbage and pieces of sausage, and it's perfect to make for an easy St. Patrick's Day dinner!
Steak and Mushroom Stout Pie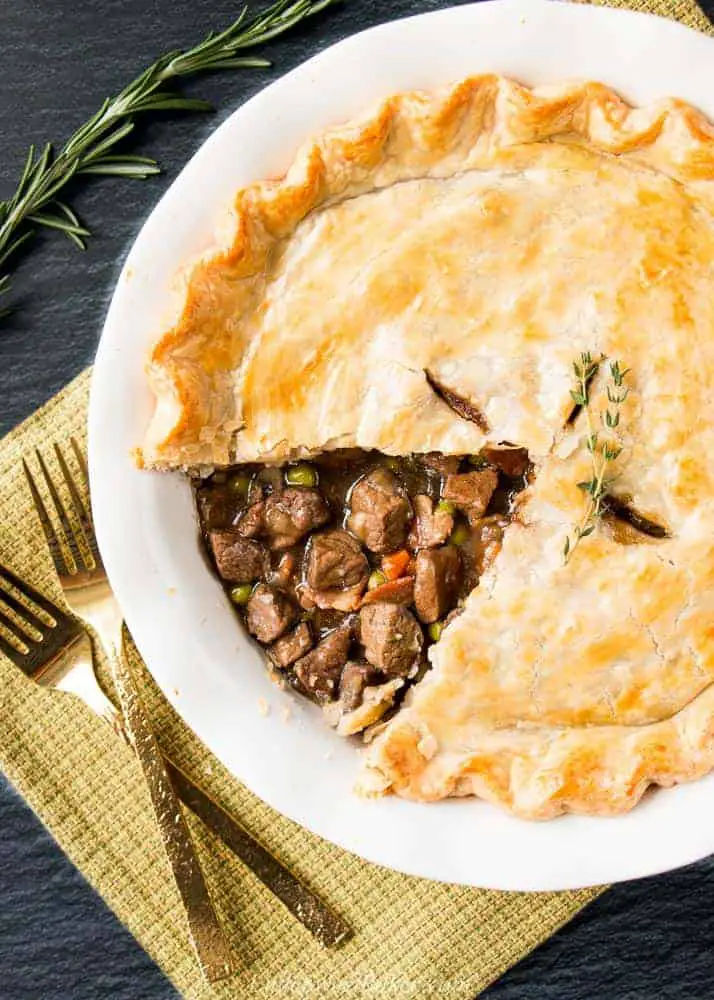 This savory steak and mushroom stout pie is filled with tender chunks of steak and vegetables soaked in a rich stout gravy. The hearty beef stew is simmered on the stovetop. Then it's baked between two layers of flaky pie crust until golden.
Vegetable-Beef-Guinness Casserole Topped with Champ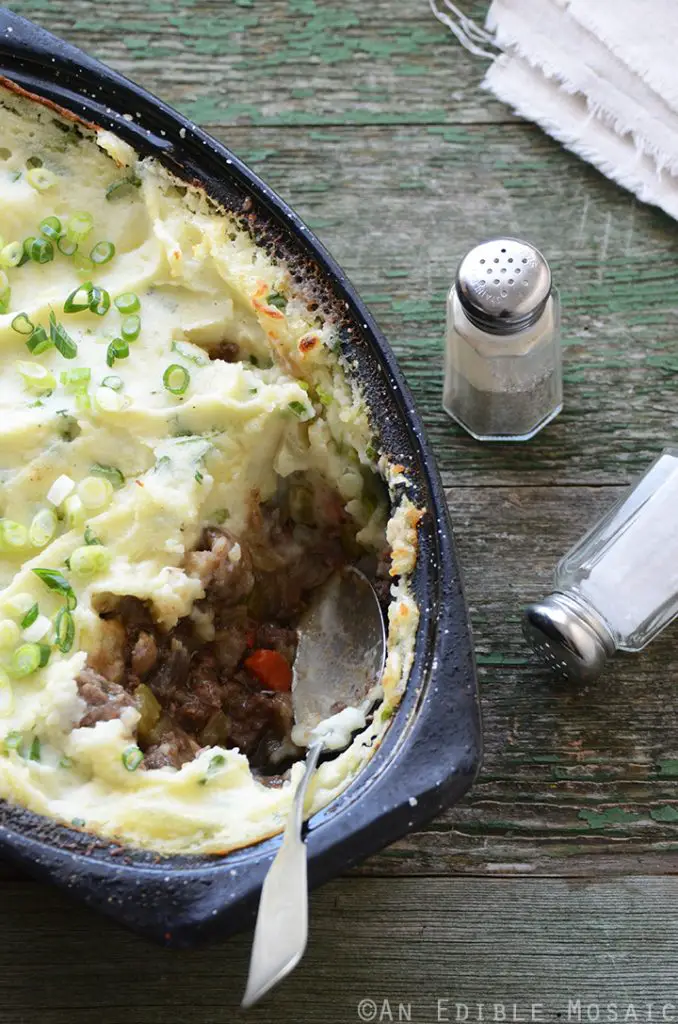 This easy recipe for vegetable beef Guinness casserole topped with champ features a hearty and rich stew-like filling with a buttery mashed potato topping. It's perfect for St. Paddy's Day, and the leftovers are even better!
Gluten-Free St. Patrick's Day Recipes
Gluten-Free Barmbrack
Gluten-free Irish barmbrack is a dense and chewy tea loaf packed with dried fruit and warm spices. It's incredibly satisfying and traditionally served toasted and spread with butter alongside a cup of tea. This recipe is vegan, dairy-free, egg-free, nut-free, gluten-free, and refined sugar-free.
Gluten-Free Irish Nachos Topped With Corned Beef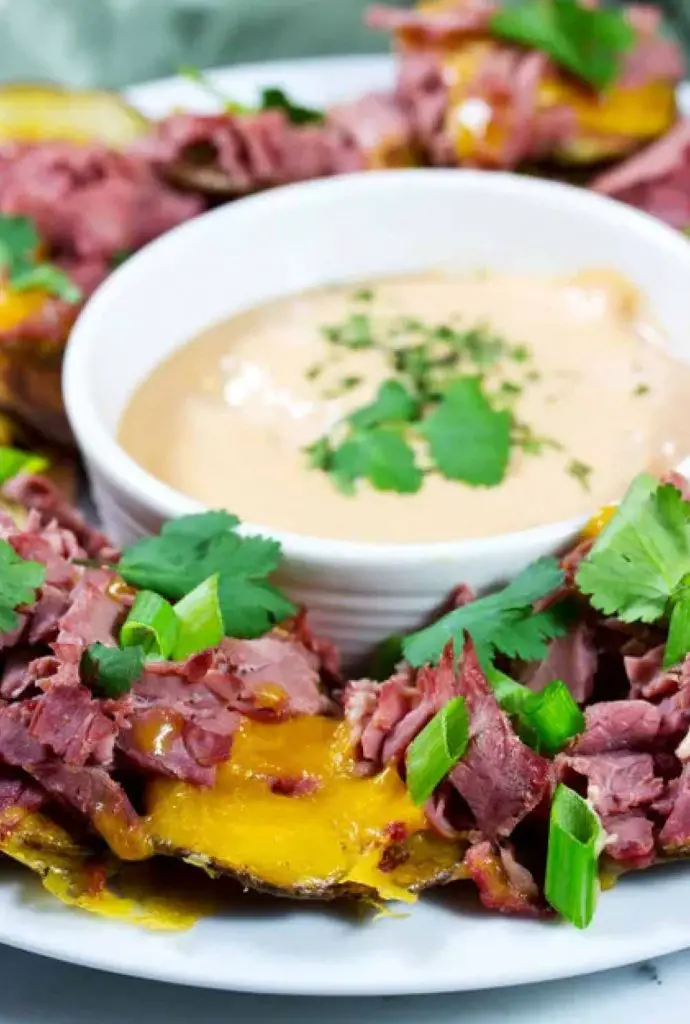 On St. Patrick's Day, a plate of gluten-free Irish nachos —  made with crispy potatoes topped with cheese and corned beef — is a fun and tasty appetizer to serve party guests.
Gluten-Free Irish Soda Bread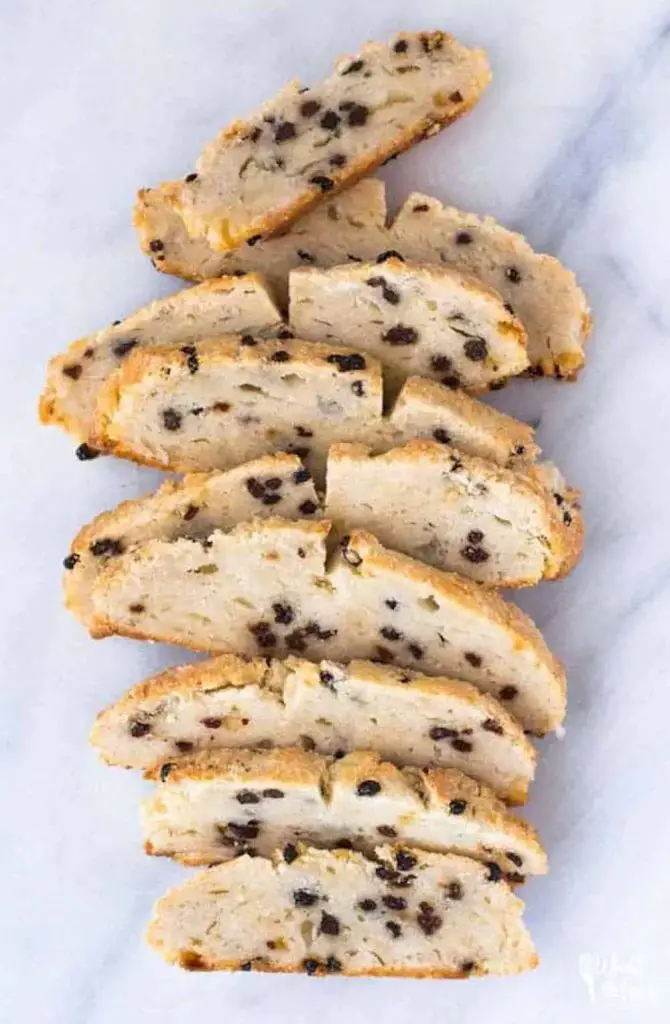 This gluten-free Irish soda bread is the perfect side to your St. Patrick's Day meal. This recipe includes directions for a dairy-free option, which would also make it vegan.
Keto St. Patrick's Day Recipes
Keto Cauliflower Colcannon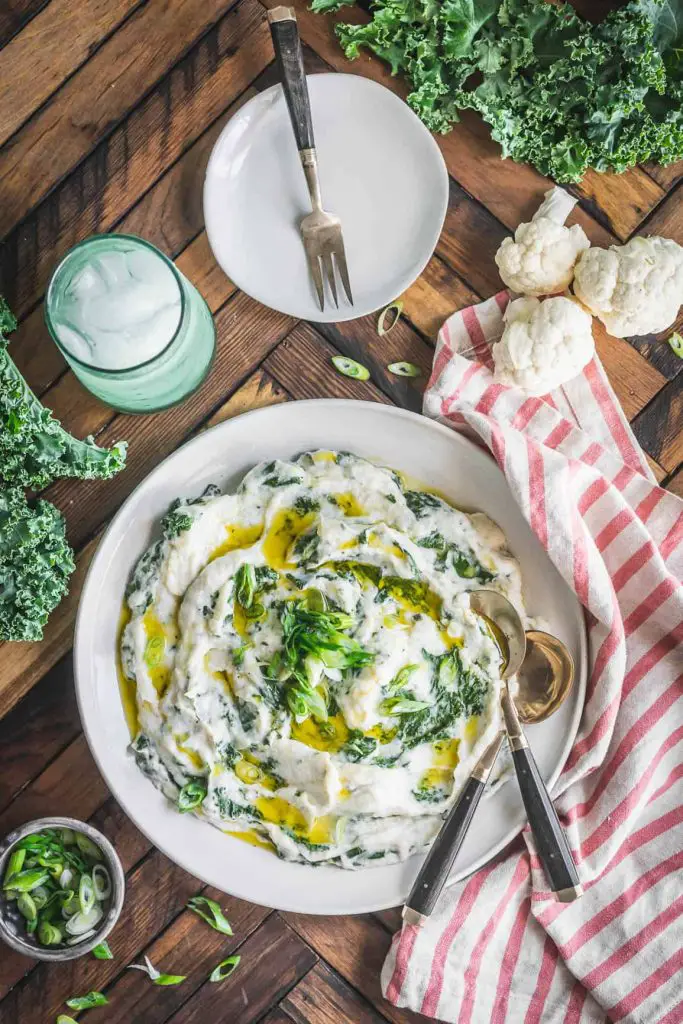 This keto colcannon will be your new go-to replacement for mashed potatoes. The creamy and delicious mashed cauliflower with a surprise addition of kale and olive oil is perfect for St Patrick's Day.
Pressure-Cooker Keto Corned Beef Brisket
You don't need to have Irish roots to appreciate celebrating the arrival of spring and St. Paddy's Day with a tender and juicy keto corned beef brisket! This recipe is made in your pressure cooker to reduce cooking time.
Pressure-Cooker Keto Creamy Corned Beef & Cabbage Soup
This Instant Pot keto creamy corned beef soup is chock full of corned beef and cabbage flavor, swimming in a bowl of creamy deliciousness with only 5g net carbs per serving. This soup is quick to make in your pressure cooker, and it's low-carb, gluten-free & grain-free, too!
Serve your St. Patrick's Day soup in a green Le Creuset mini cocotte!
Vegetarian & Vegan St. Patrick's Day Recipes
Guinness & Veggie Cobbler
This savory Guinness and veggie cobbler features cheesy drop biscuits baked atop a veggie filling with a Guinness gravy. It's a fun and easy recipe for a vegetarian one-pan meal on St. Patrick's Day!
Vegan Corned Beef and Cabbage
Perfect for a plant-based St. Patrick's Day meal, this easy recipe uses tofu to make vegan corned beef and cabbage.
Related: 7 Health Benefits of Tofu
Vegan Irish Soda Bread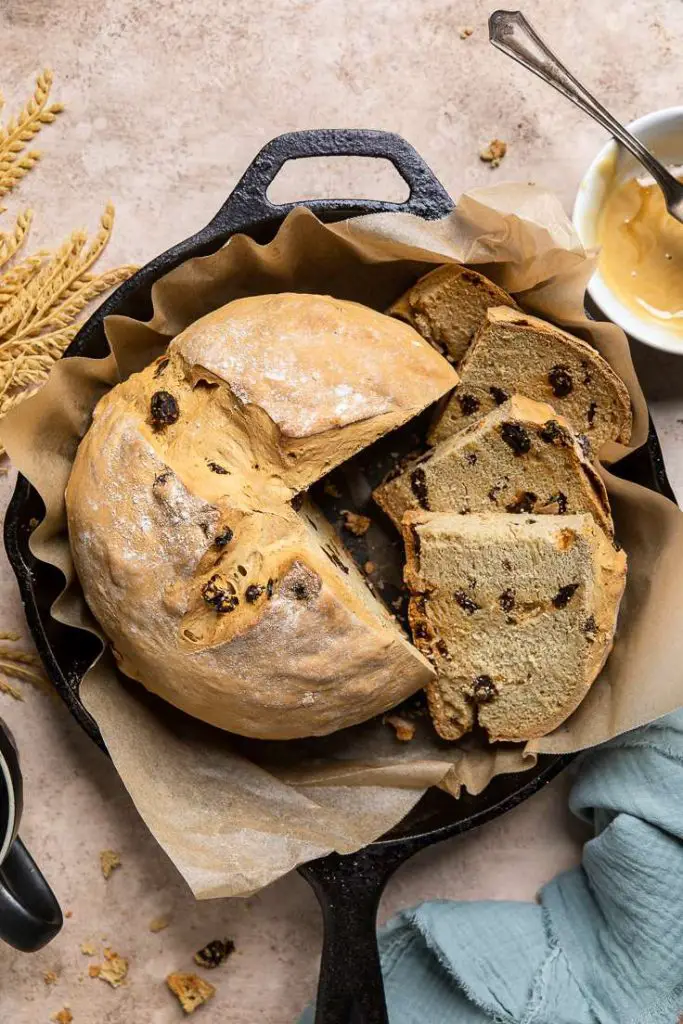 This vegan Irish soda bread is a plant-based alternative to the traditional Irish recipe for St. Patrick's Day.
Vegan Irish Vegetable Stew
This easy traditional Irish stew with potatoes, carrots, onions, and mushrooms in a light broth base uses just a handful of ingredients to cook up into a hearty and tasty soup.
Vegan Shamrock Shake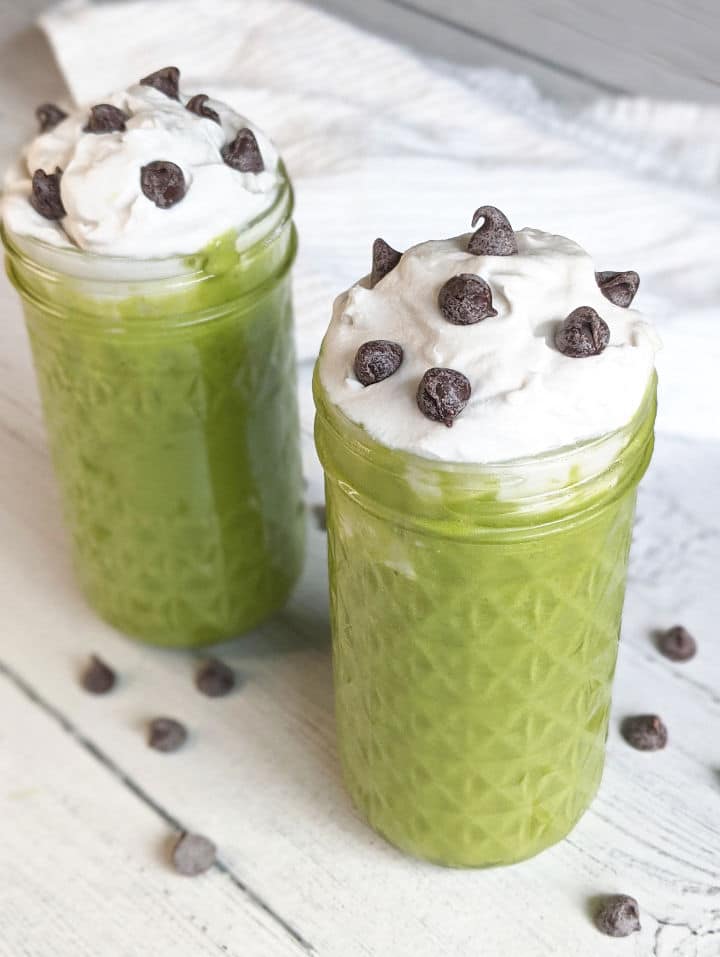 This vegan shamrock shake is irresistibly delicious with no added sugars for a healthy twist. Plus, it's sweet and minty — just the way a shamrock shake should be!
Vegetarian Lentil Shepherd's Pie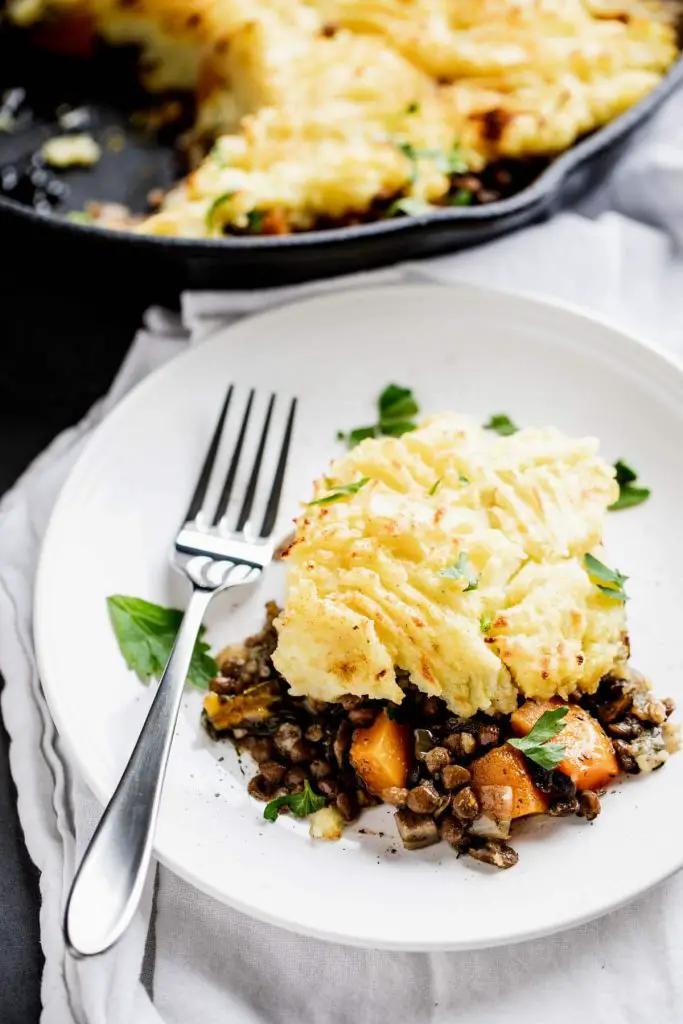 This vegetarian lentil shepherd's pie recipe is a cozy comfort-food dinner with the delicious rich flavor of a traditional cottage pie but stars lentils instead of meat! It is both lower in fat and calories than regular shepherd's pie, and it is filled with a variety of hearty veggies including mushrooms, butternut squash, and swiss chard to make it nutritious yet filling.
St. Patrick's Day Brunch Ideas
Black Velvet Cocktail
The black velvet cocktail is a classy option for Saint Patrick's Day brunch. Made with the unlikely combination of Guinness beer and champagne, you'll be pleasantly surprised by the rich and bubbly flavors!
Corned Beef Hash with Shirred Eggs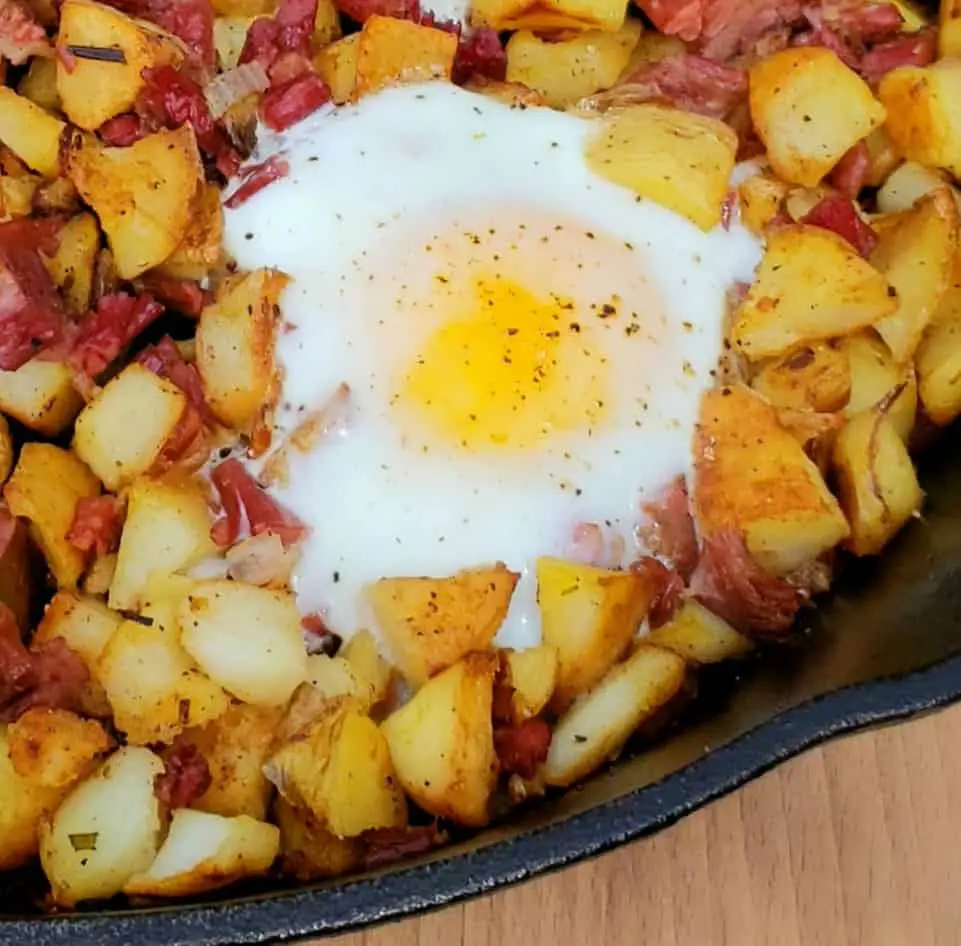 Corned beef hash with shirred eggs is made from corned beef easily made in your Instant Pot and roasted potatoes for a savory St. Patrick's Day breakfast!
Corned Beef Potato Pancakes
A fun twist on simple potato pancakes, these Irish corned beef potato pancakes are the perfect way to start St. Paddy's Day or to use up leftovers the following day.
The "Four Leaf Clover" Mimosa
This St. Patrick's Day cocktail is naturally colored with mint, cucumber, ginger, and green apple. It doesn't contain food coloring, just exquisite, natural ingredients that turn your brunch mimosa an enchanting emerald green.
Serve your St. Patrick's Day mimosas in gold-rimmed coupe glasses!
Green Mimosas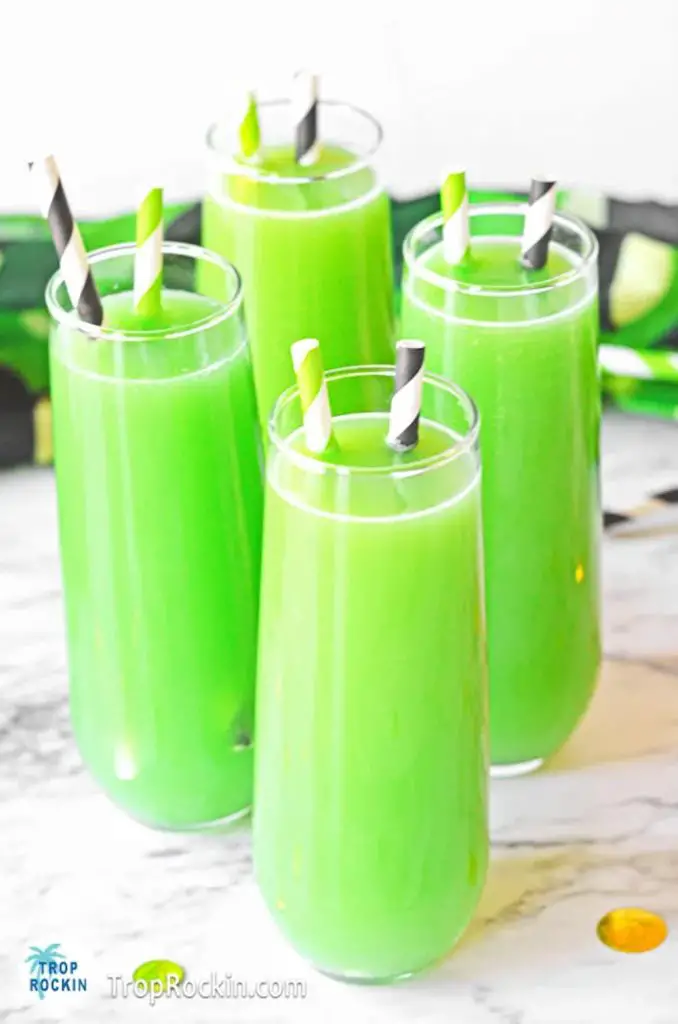 Celebrate St. Patrick's Day all day by starting with these irresistibly delicious green mimosas. Simply take your regular mimosas and kick them up a notch with Blue Curacao to get this gorgeous green color.
Guinness Bloody Mary
If a green mimosa is not your style, try a savory and spicy Bloody Mary! This Guinness Bloody Mary recipe may even make you do a little Irish jig.
Irish Apple Cream Scones
Always a favorite at breakfast, these Irish apple cream scones are a traditional Irish recipe using simple ingredients.
Irish Coffee
Irish coffee is made with Irish whiskey, brown sugar, and coffee then topped with foamed cream for a delicious adult beverage that's perfect for St. Patrick's Day brunch!
Lucky Charms Pancakes
These Lucky Charms pancakes are magically delicious to serve at your St. Patrick's Day brunch!
Sweet Potato Corned Beef Hash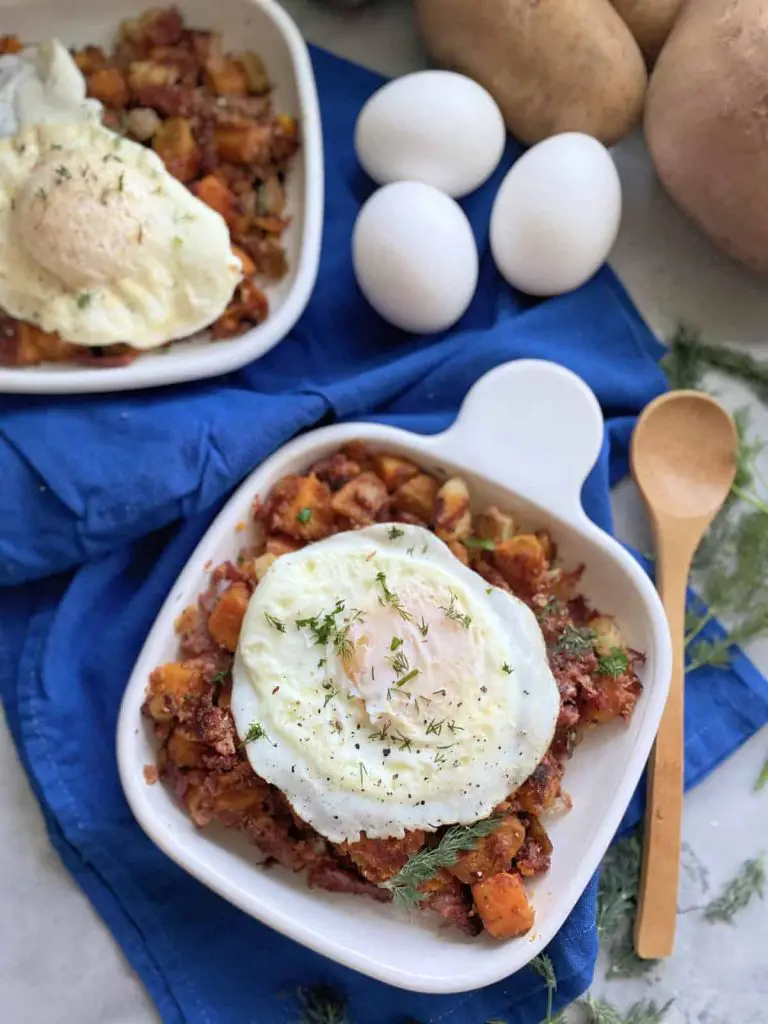 Sweet potato corned beef hash is a delicious way to use corned beef brisket with a unique twist. By adding a mix of boiled white potatoes and sweet potatoes it gives this classic breakfast dish a whole new level of flavor.
Easy St. Patrick's Day Appetizers
Carrot Top Pesto Hummus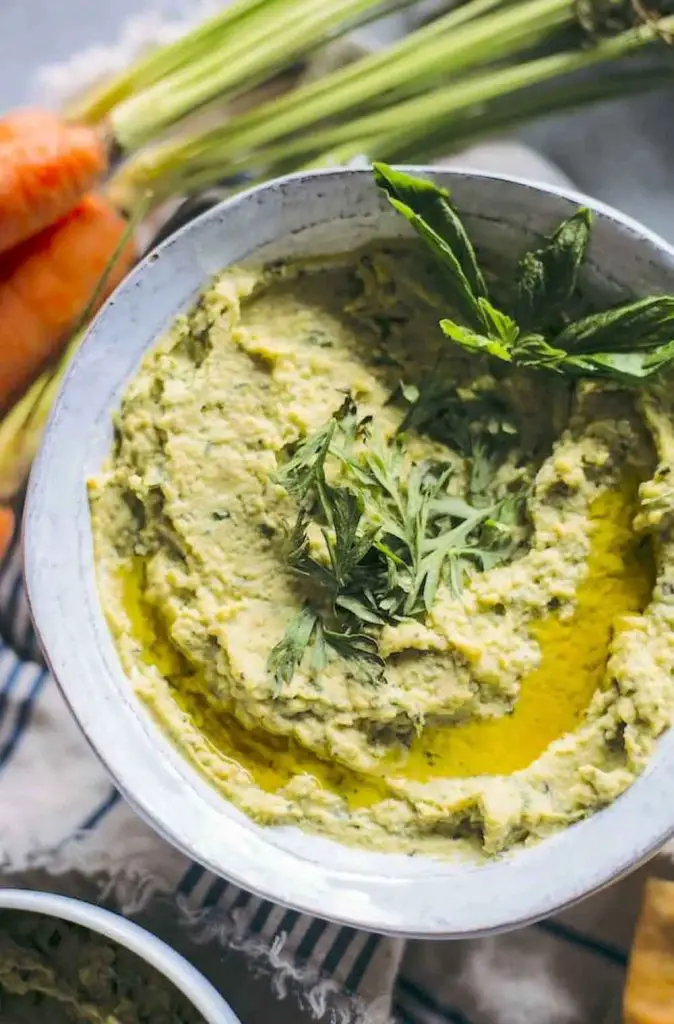 Like Chicago tints its river and bars color their lagers, turn your hummus green this St. Patrick's Day! This carrot-top pesto hummus is the best of both worlds: a delicious combination of pesto and hummus. Plus, it's a great way to use up the entire carrot.
Corned Beef and Hash Brown Sliders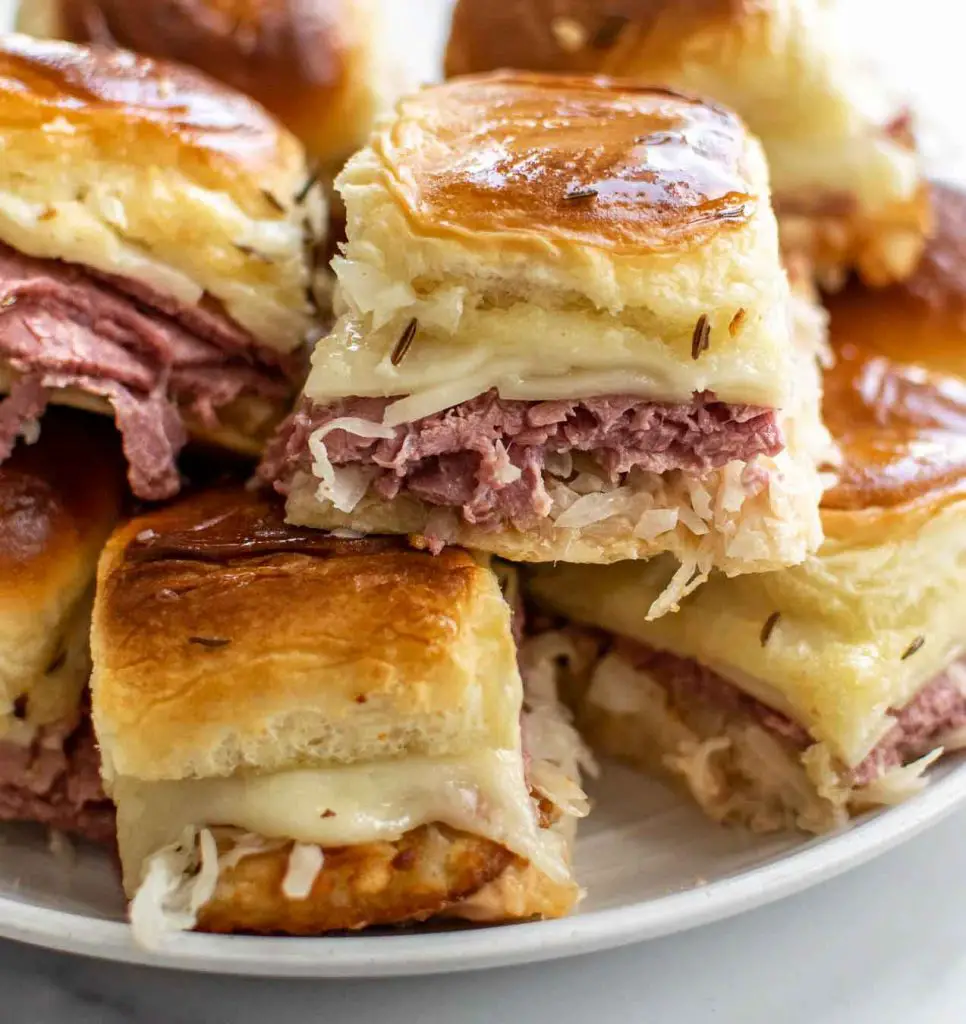 These corned beef sliders are the perfect party food, and your guests will love the unexpected addition of hash browns!
Guinness Bread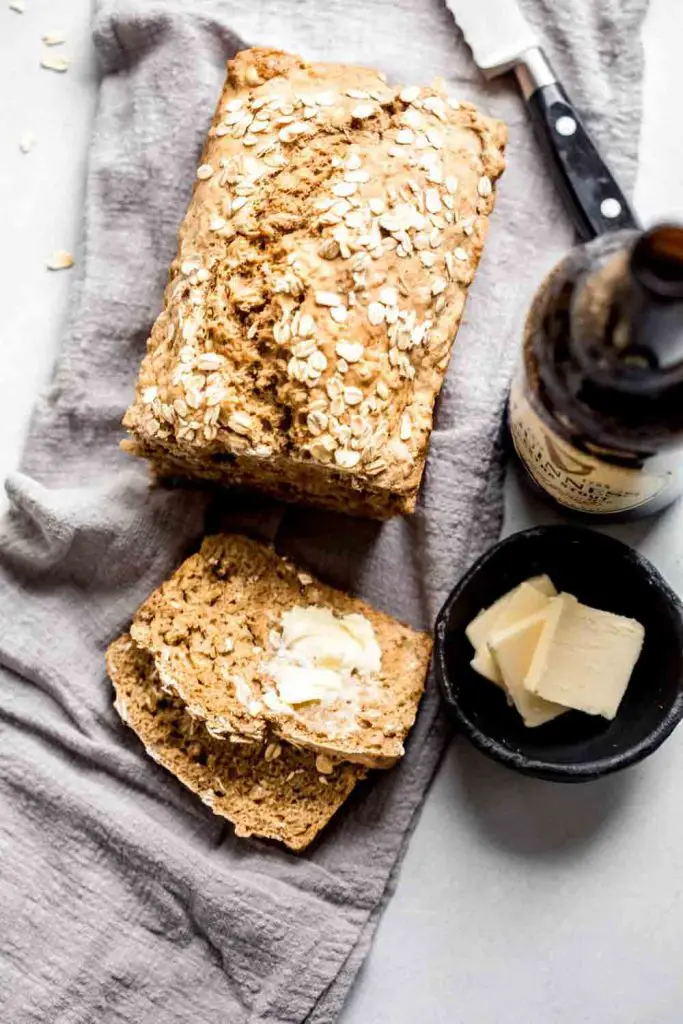 Guinness bread is easy to make and perfect for St. Patrick's Day. The Irish stout helps the bread rise without yeast so there's no waiting before baking. It also lends a nutty flavor to this lightly sweet bread.
Hot Reuben Dip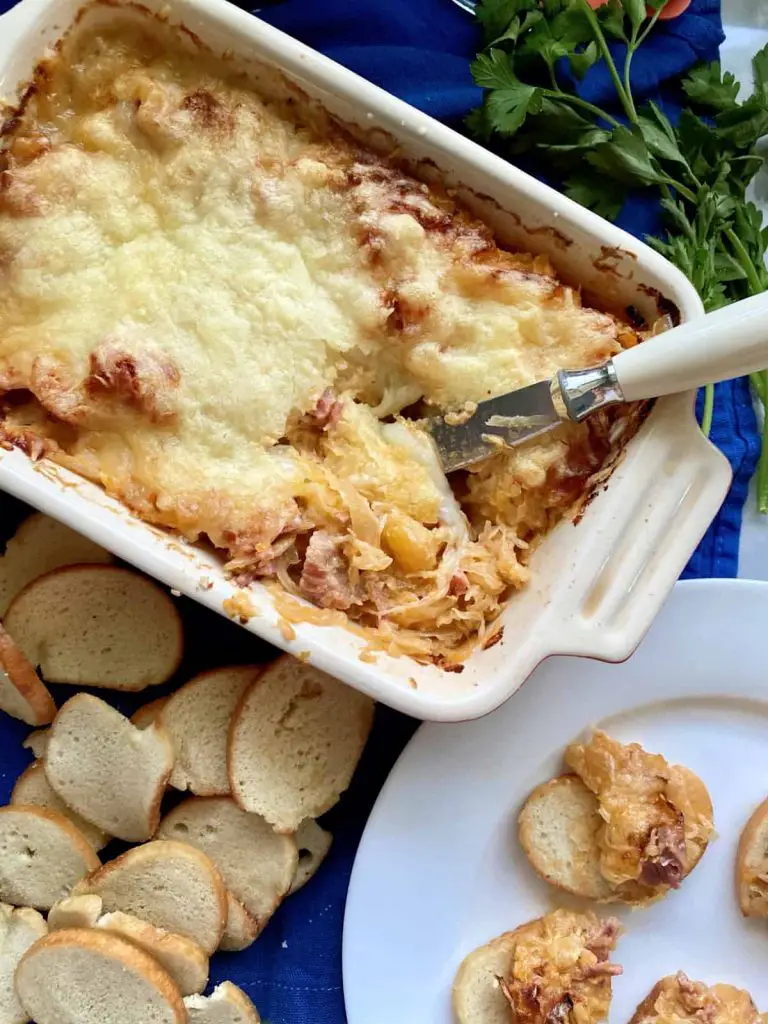 This hot Reuben dip recipe has all the flavors of a Reuben sandwich without the bread. A mix of corned beef, sauerkraut, Russian sauce, and swiss cheese bakes until bubbly. Use toasted baguette slices or bagel chips to dip, and enjoy!
Irish Nachos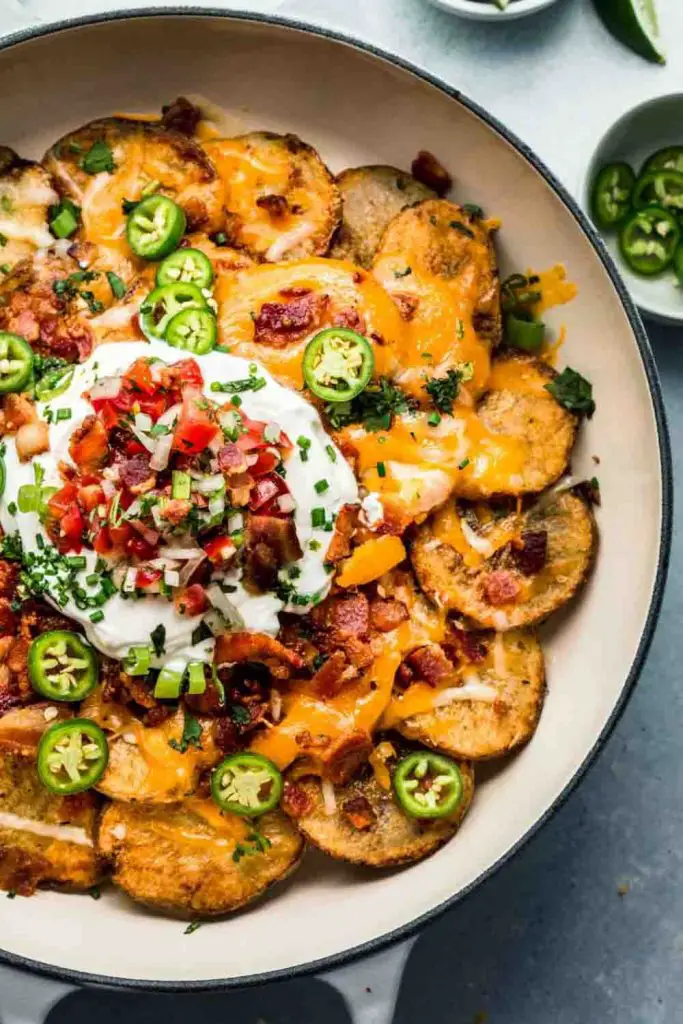 This Irish potato nachos recipe is always a hit! Made with thin-sliced potatoes that are topped with cheese, bacon, pico de Gallo, and sour cream, these Irish pub nachos are a perfect appetizer for St. Patrick's Day festivities!
Paddy Pockets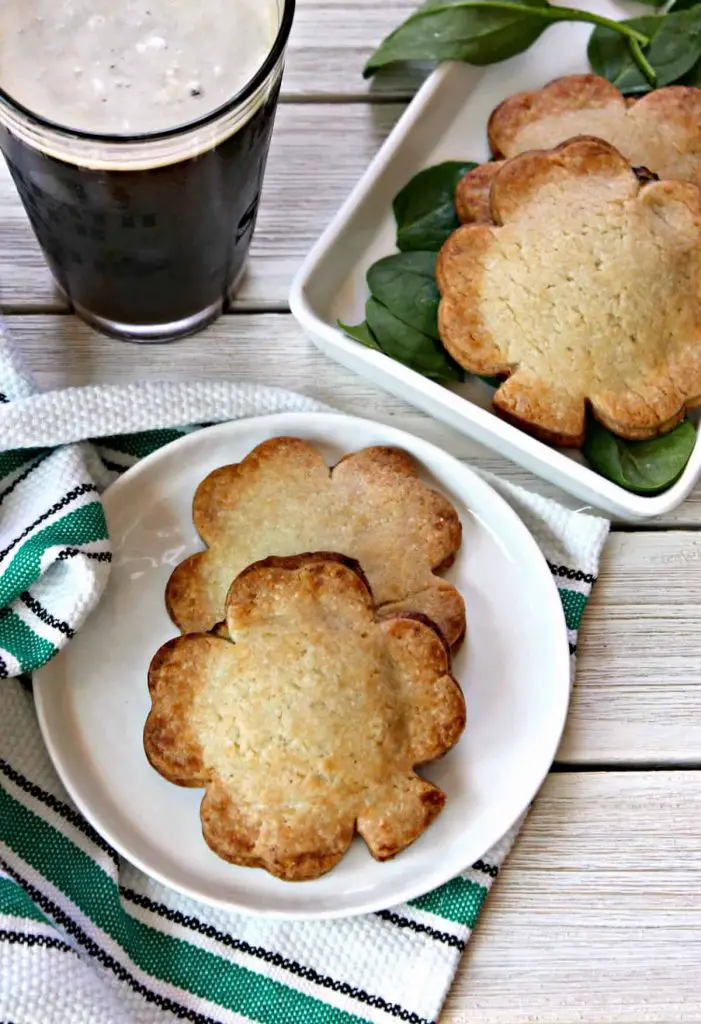 These easy, festive St. Patrick's Day appetizers will outshine the pot of gold at the end of the rainbow! Shamrock-shaped "hot pockets" stuffed with your favorite fillings are a perfect addition to your March menus. Try these Paddy Pockets stuffed with Irish cheddar and spinach!
Must-Have Tool: Shamrock Cookie Cutter
Pull-Apart Reuben Bread
Reuben pull-apart bread is stuffed with corned beef and gobs of swiss cheese. It's super fun St. Patrick's Day party food that is perfect for dunking!
Reuben-Topped Irish Nachos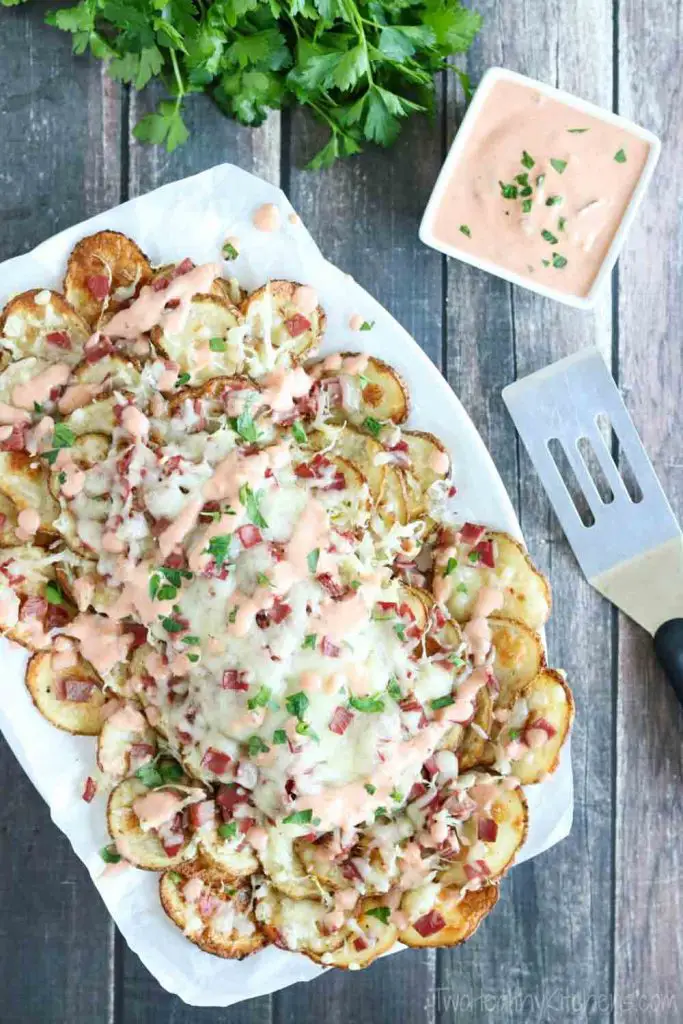 For these Reuben-topped Irish nachos, swap in potatoes for tortilla chips, and then get even more full-on Irish-y with all the toppings with the ever-popular flavors of a Reuben sandwich. Easy to make and seriously delicious, this is a fun Saint Patrick's Day appetizer everyone will love!
St. Patrick's Day Snack Board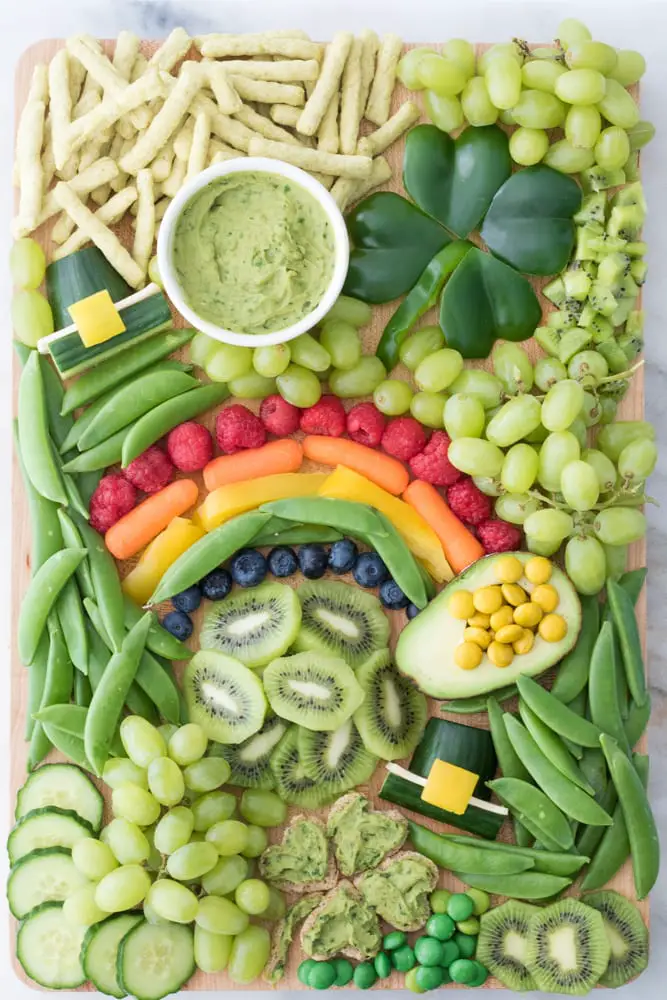 This no-fuss, super green, and festive St. Patrick's Day snack board is a fun way to fill up with all the good stuff! This vegan collection of snacks proves green food can be fun! It is both adult and kid-friendly, too.
Easy St. Patrick's Day Sides
Crispy Roasted Red Potatoes and Cabbage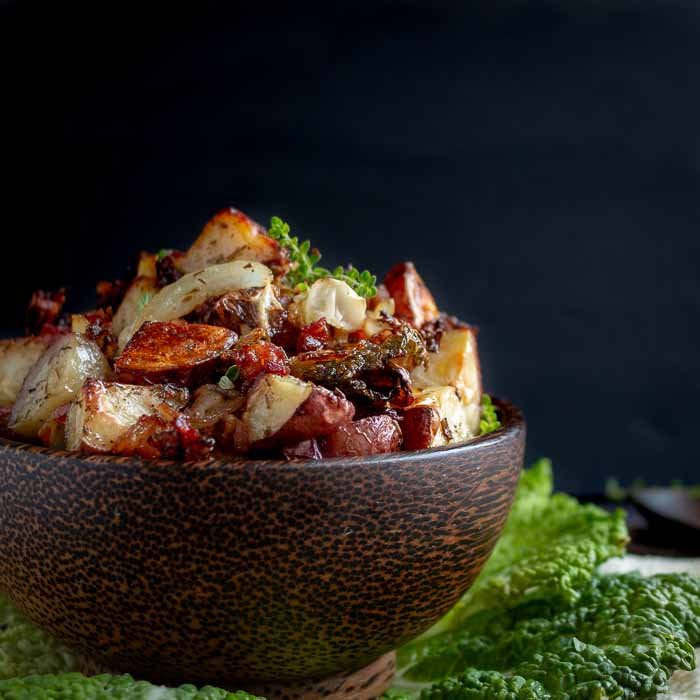 Enjoy St. Paddy's Day with crispy roasted red potatoes and cabbage. It's a quick and easy one-pan recipe made with crispy bacon, sweet onions, seasonings, and a drizzle of extra virgin olive oil.
Fried Cabbage with Bacon
This fried cabbage is cooked to tender perfection with bacon and onions. It's a super easy, low-carb side dish perfect for St. Patrick's Day dinner!
Guinness Brown Bread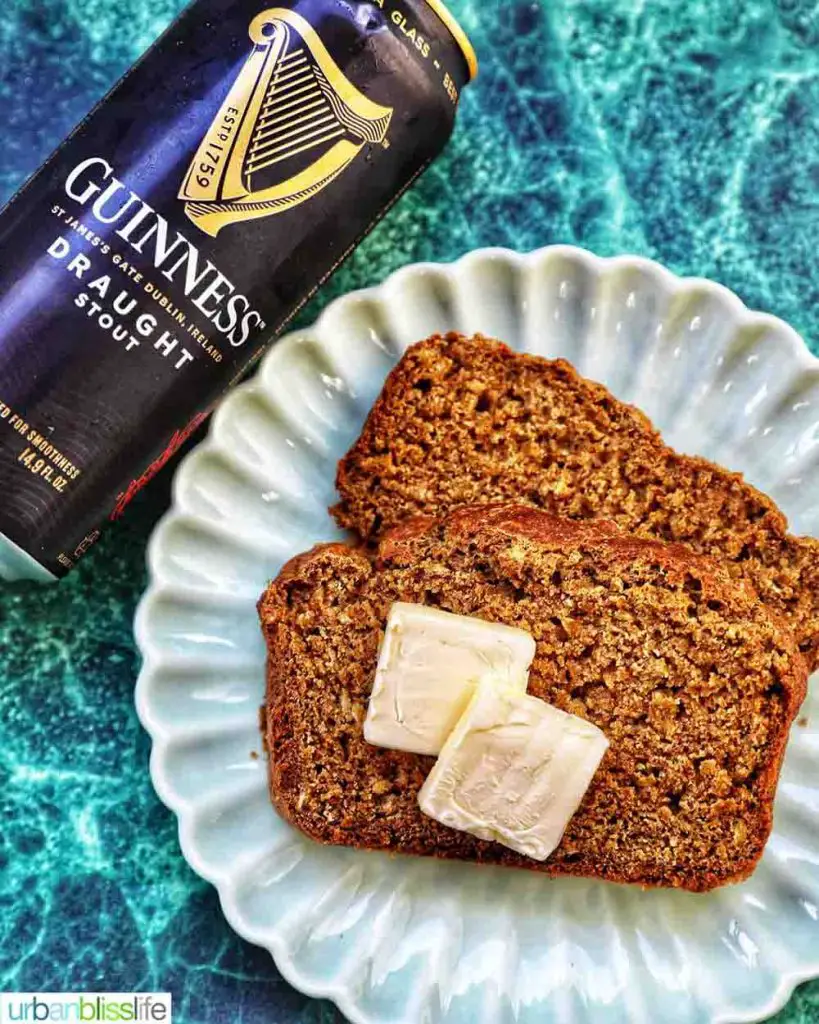 This Guinness brown bread is perfect on its own with some Irish butter. It's also delicious when dipped into some Irish stew! It's rich, hearty, and so easy to make.
Pressure-Cooker Cabbage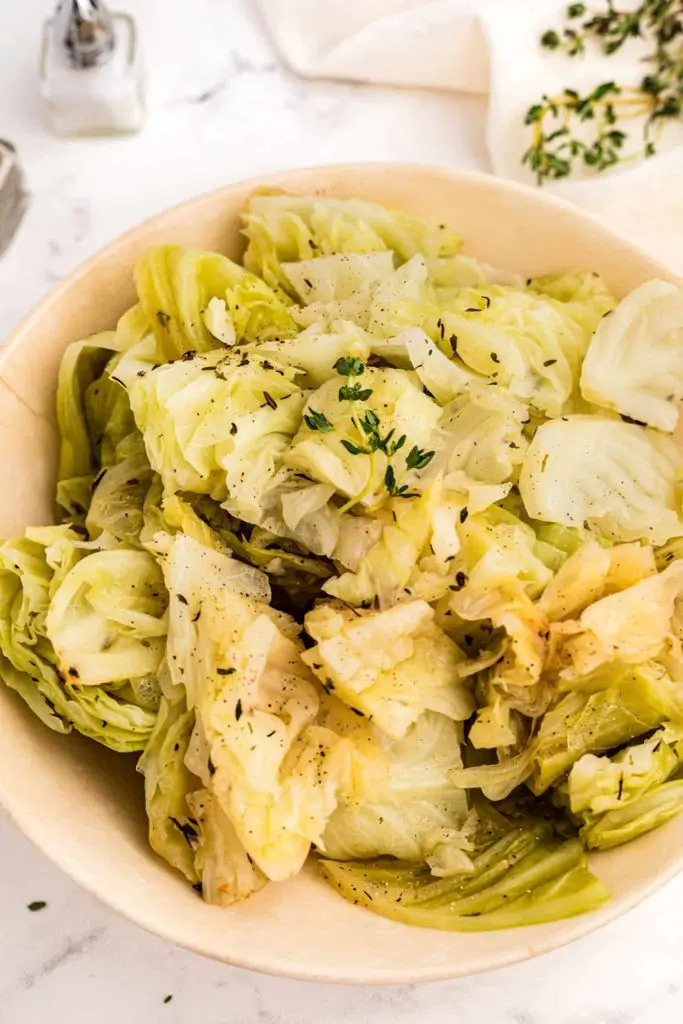 This Instant Pot cabbage recipe is so easy. It goes with almost everything and is super fast to make. This is a great dish to serve on St. Patrick's Day or any day.
Must-have Equipment: Instant Pot
Roasted Green Cabbage with Green Tahini Sauce
Roasted green cabbage with green tahini sauce is an easy recipe for incorporating cabbage in a flavorful way on St. Patrick's Day. The cabbage leaves get a roasted, crunchy outside with a soft and tender inside. It's perfectly seasoned and so filling!
Boozy St. Patrick's Day Drinks
Guinness Float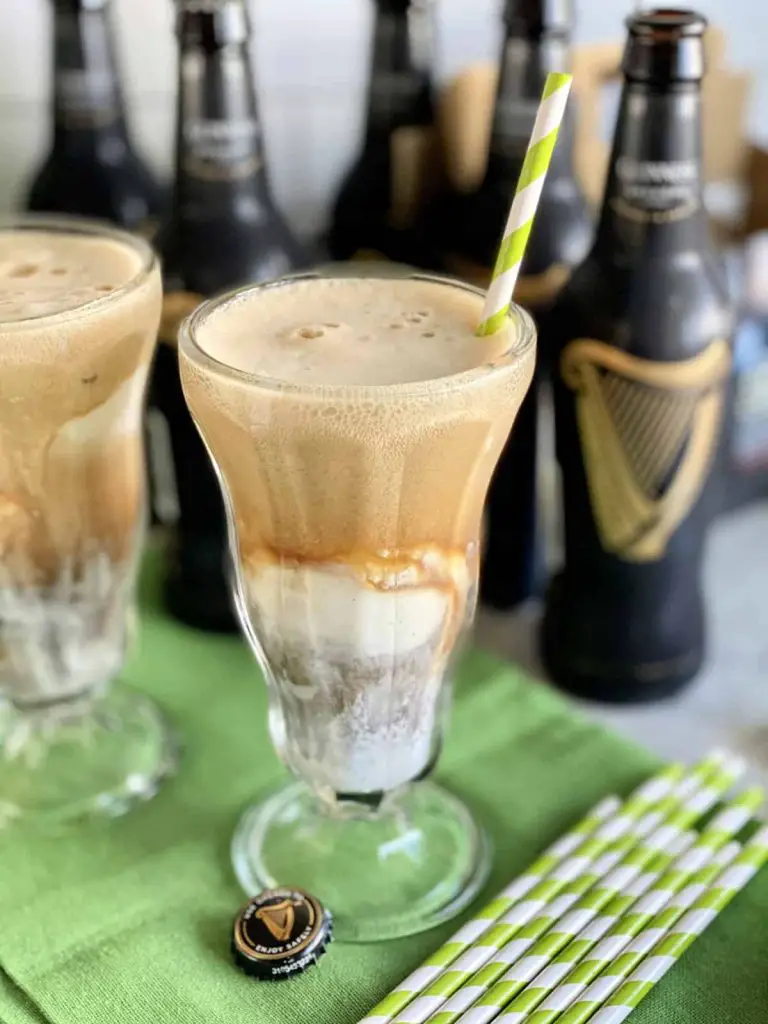 Make yourself a delicious Guinness float that consists of just two ingredients: dark stout Guinness beer and vanilla ice cream! This adult float is sure to make your St. Patrick's Day dinner complete.
Guinness Punch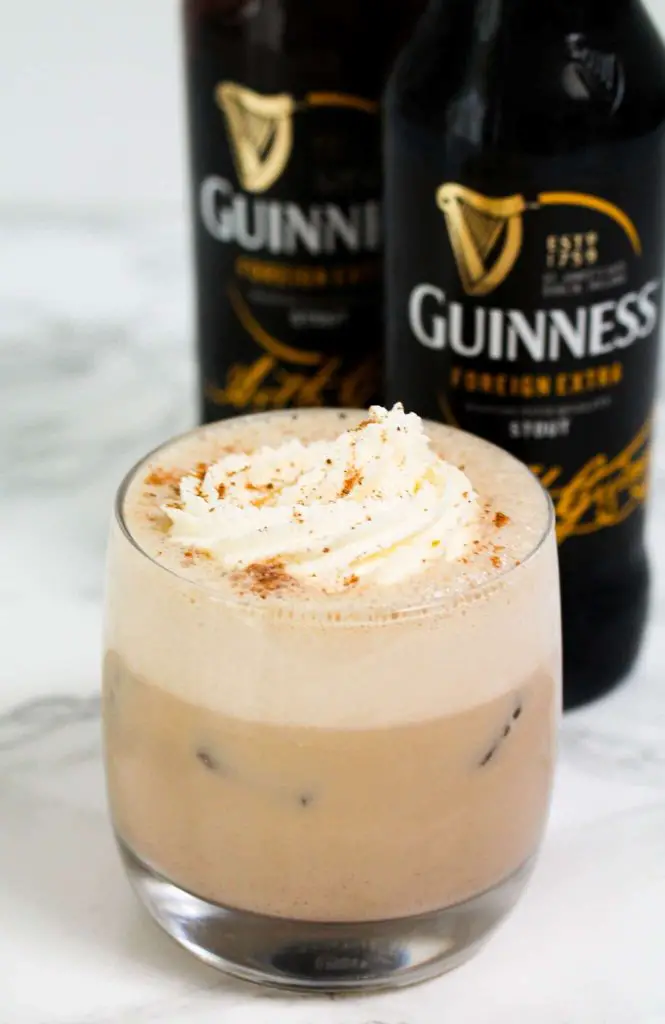 Bring a bit of the Caribbean to your St. Patrick's Day celebration with Guinness punch! This delicious punch is sweet, smooth, thick, and creamy with a distinct bitter Guinness flavor. On St. Patrick's Day, you can make this crowd-pleasing Caribbean cocktail in 5 minutes to serve at your gathering.
Irish Hot Chocolate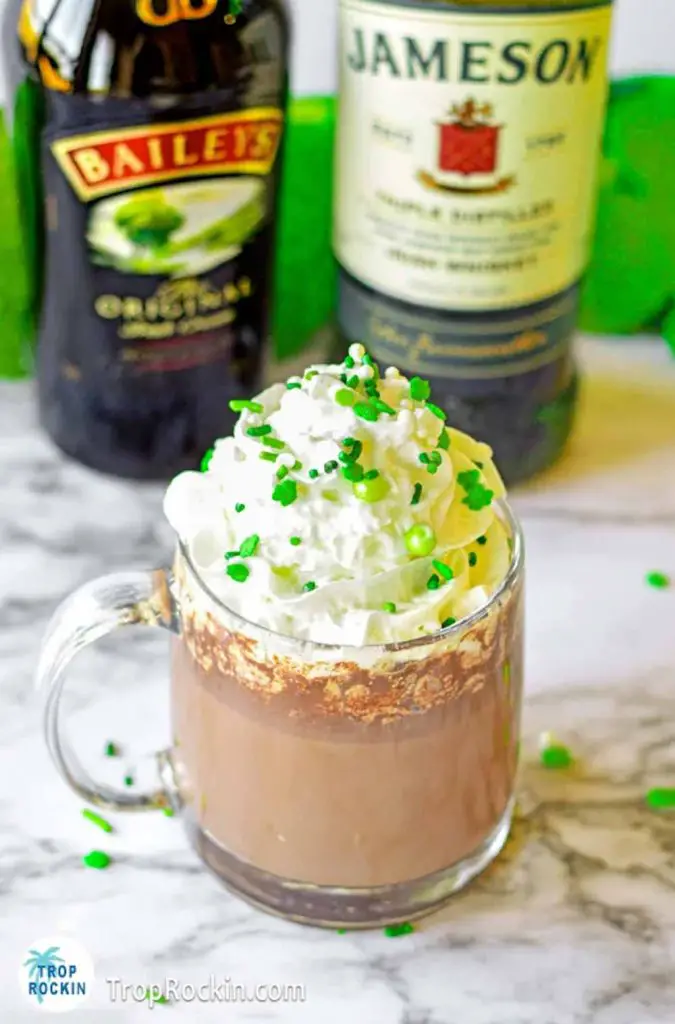 Irish hot chocolate is a comforting mug of hot chocolate spiked with Baileys Irish Cream and Jameson Irish Whiskey. Add in chocolate chunks for the ultimate creamy and chocolatey St. Patrick's Day cocktail!
Irish Whiskey Shamrock Margarita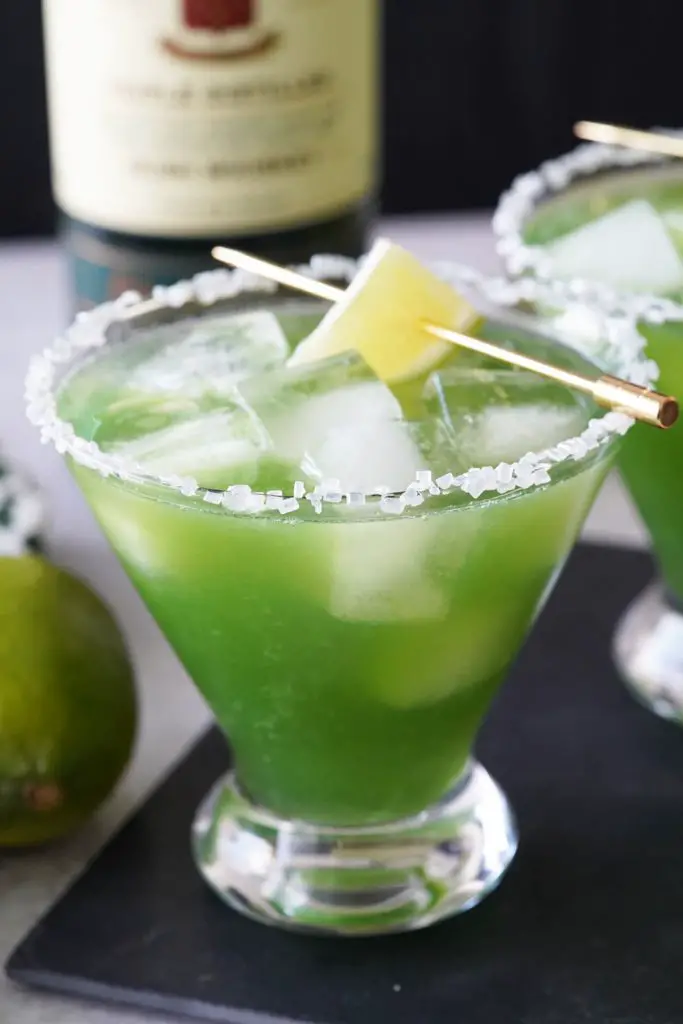 Looking for a fun green drink to serve at your St. Patrick's Day party? This Irish whiskey margarita is perfect. Just like St. Patrick's Day is a uniquely American take on an Irish holiday, so is this margarita a uniquely American take on an Irish whiskey cocktail.
Related: 70+ Flavored Margarita Recipes
Shamrock Martini
This shamrock martini is a fun and festive green drink that is perfect for St. Patrick's Day!
Boozy & Easy St. Patrick's Day Desserts
Baileys Chocolate Mousse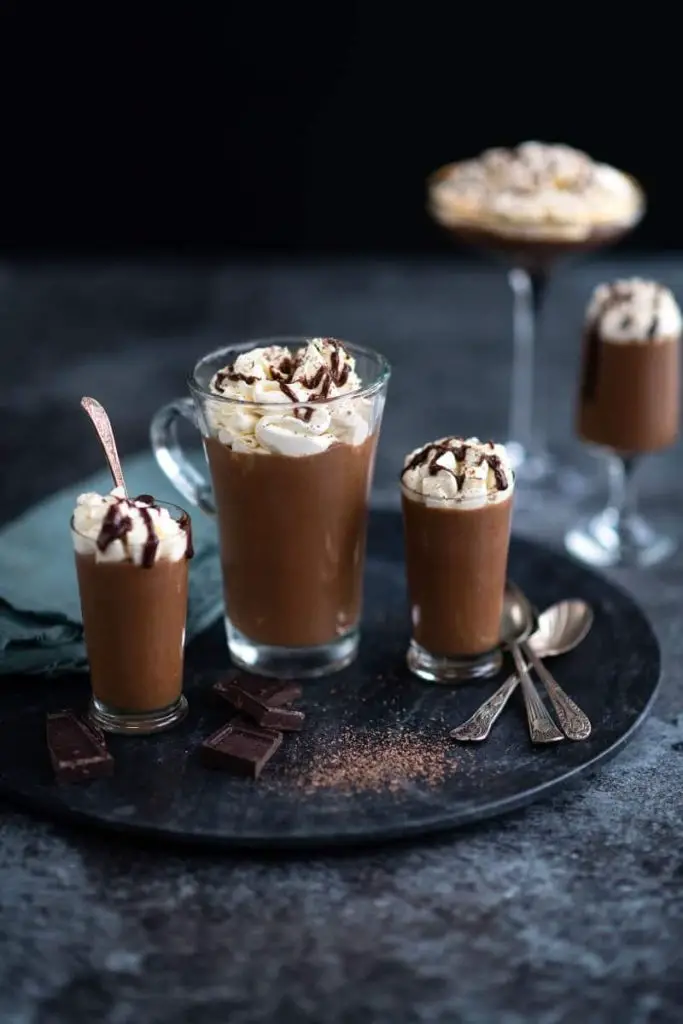 Baileys chocolate mousse is insanely delicious, and it requires only a handful of ingredients. Perfect for when you want to impress guests on St. Patrick's Day!
Baileys Chocolate Pudding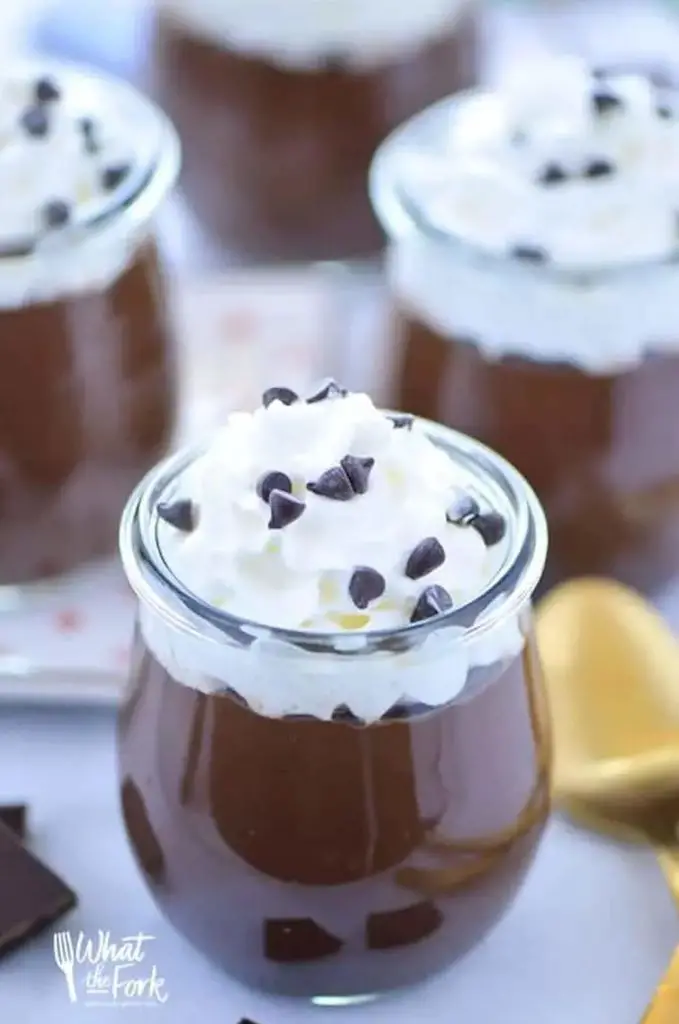 This Baileys chocolate pudding is a great dessert to serve on St. Patrick's Day. It's made with cocoa powder and melted dark chocolate for the ultimate creamy, boozy, and satisfying chocolate dessert.
Baileys Hot Fudge Sundae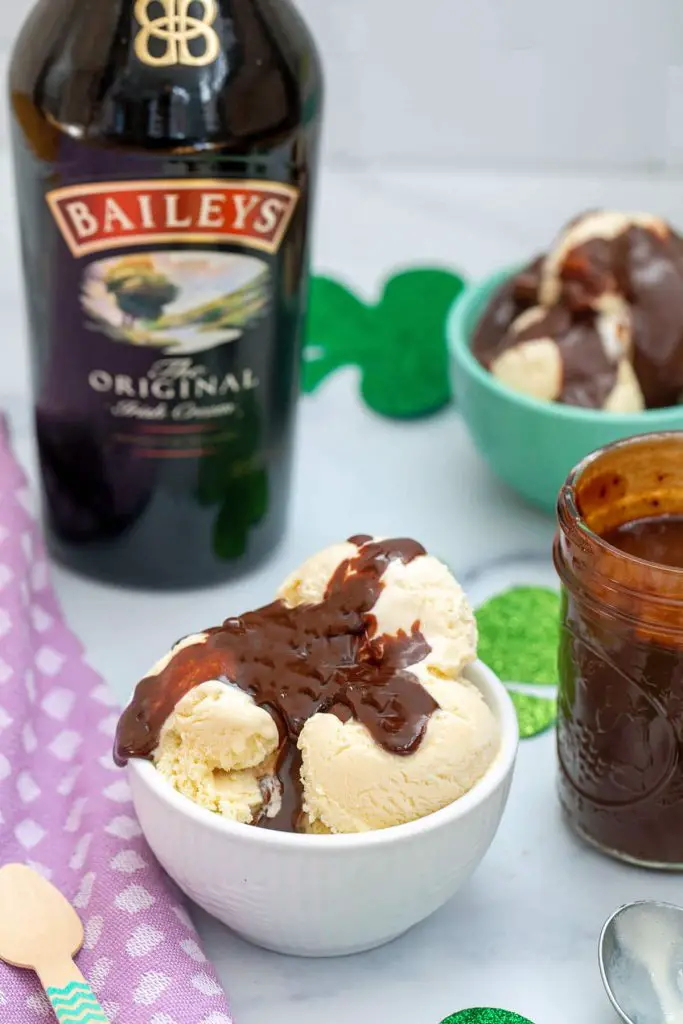 This Baileys ice cream is sure to make everyone happy on St. Patrick's Day, especially if you serve it topped with Baileys hot fudge sauce! Both the ice cream and the fudge sauce are easy to make and packed with Baileys Irish Cream.
Baileys Irish Cream Chocolate Chip Cookie Skillet with Salted Caramel Whiskey Sauce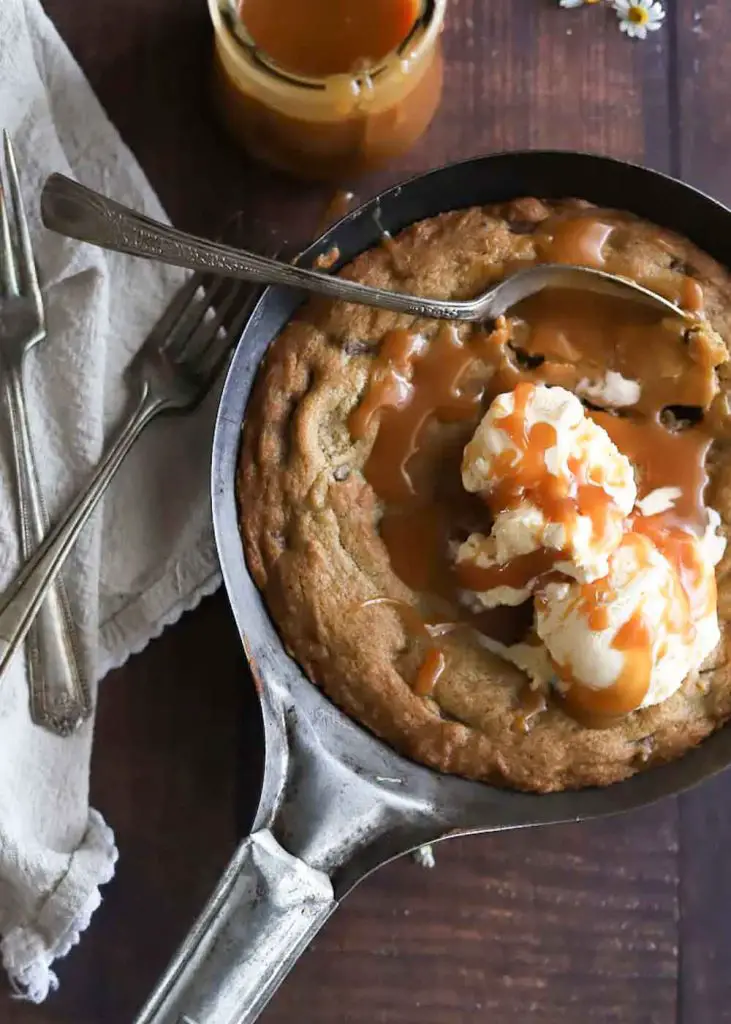 This ooey-gooey chocolate chip skillet cookie is spiked with Baileys Irish cream and then topped with the most incredible salted caramel whiskey sauce. This is the ultimate Baileys Irish cream cookie skillet that is perfect for St. Patrick's Day — or anytime you need an over-the-top indulgent treat!
Baileys Irish Cream Dip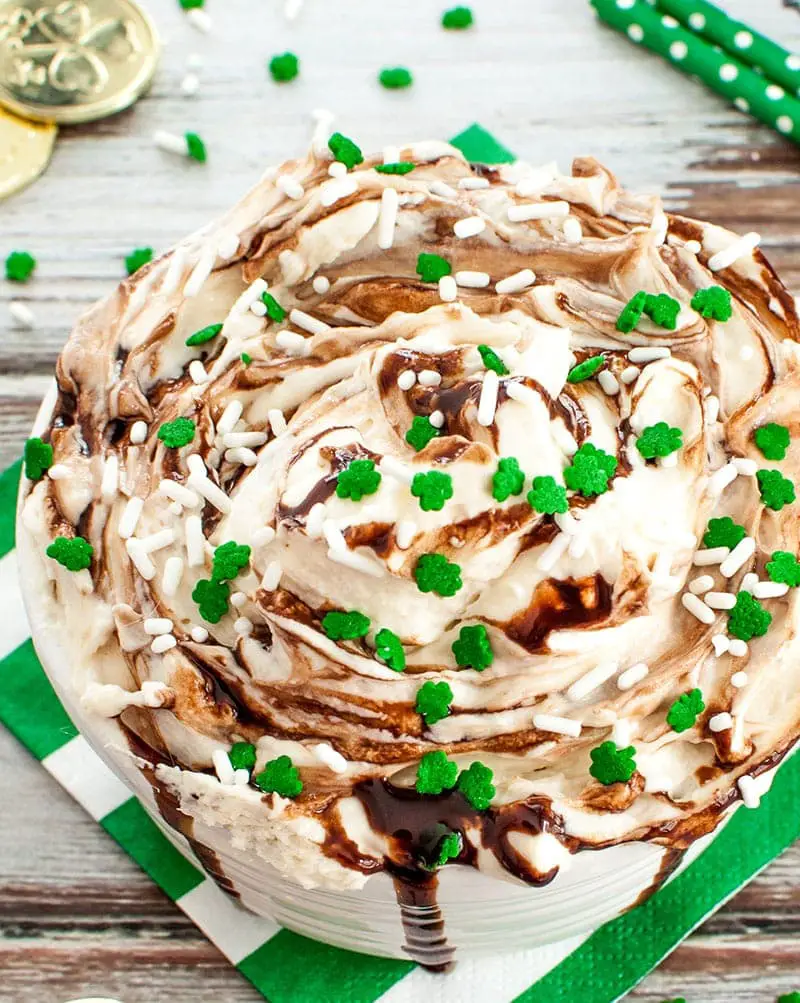 An easy, boozy dessert for St. Patrick's Day is Baileys Irish Cream dip. Your guests will go crazy over this sweet and festive dessert dip!
Baileys Irish Cream Parfait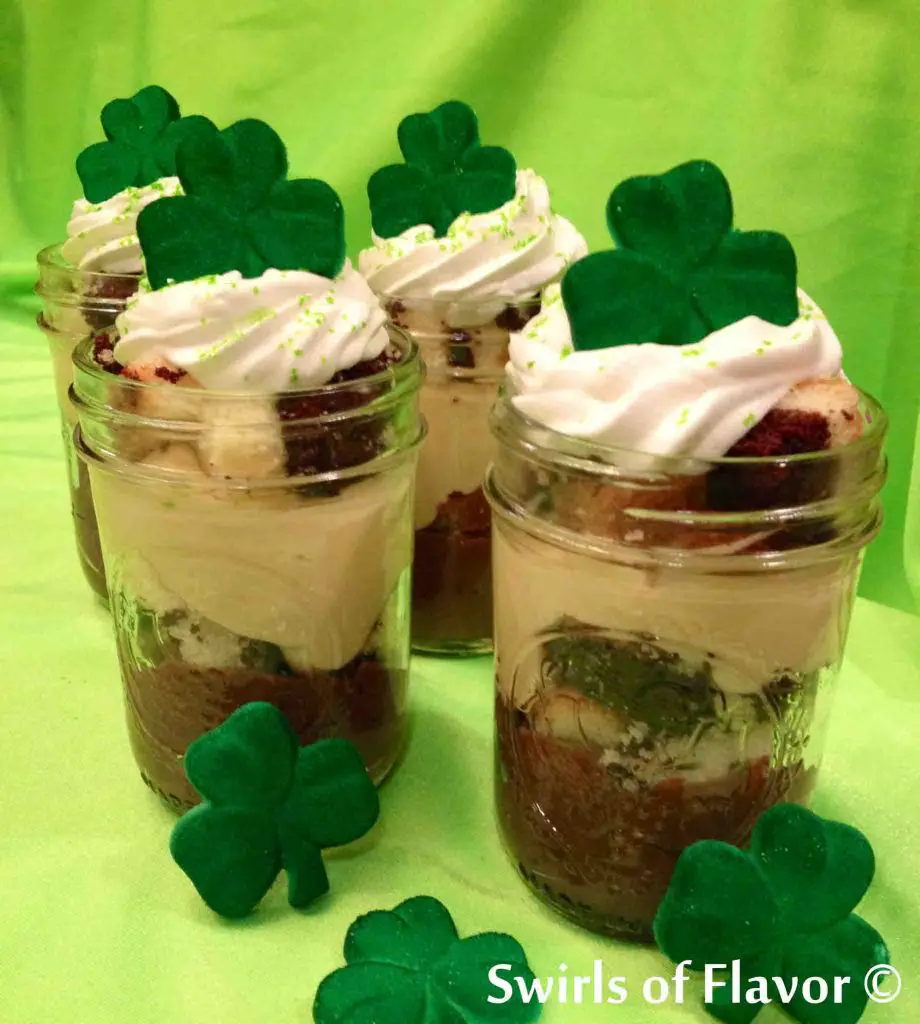 This Baileys Irish Cream parfait recipe is an easy dessert recipe combining Irish Cream, pudding, and cake. Our no-bake parfait recipe comes together in a matter of minutes and will be the perfect ending to your day of celebrating all that is Irish!
Boozy Baileys Chocolate Pudding Trifle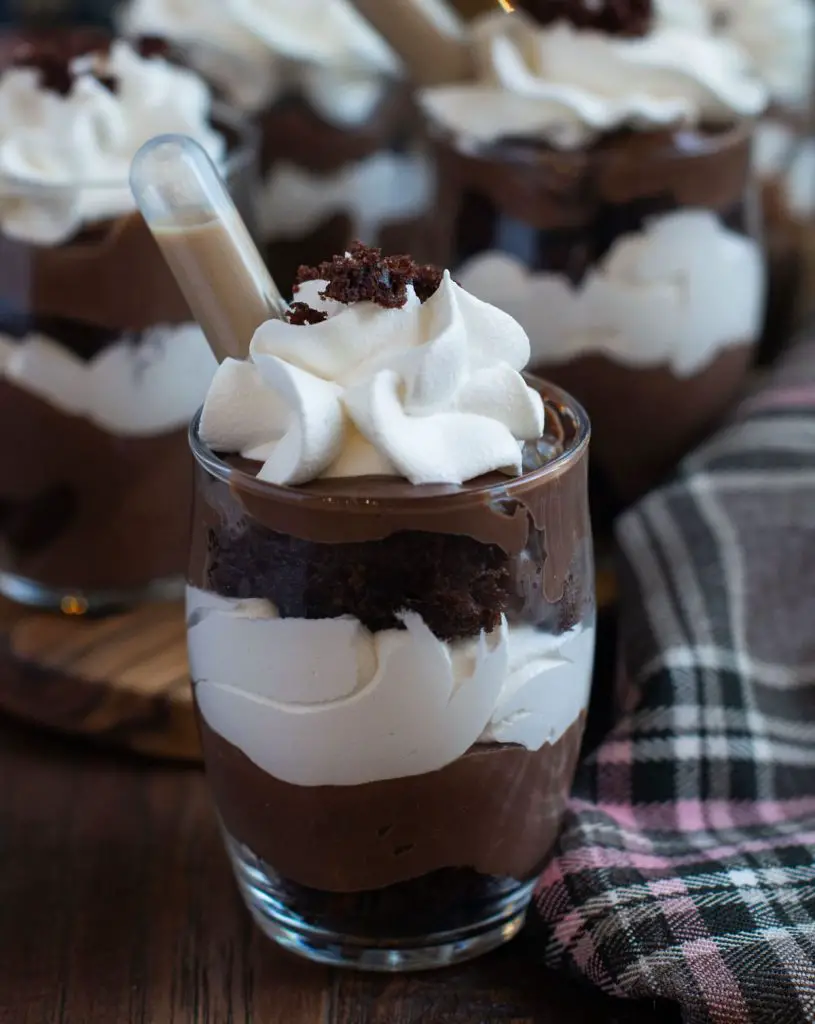 This boozy Baileys chocolate pudding trifle won't get you tipsy, but you will definitely have a good time at the party! It features layers of homemade rich chocolate coffee cake, Irish cream chocolate pudding, and delicate whipped cream. Topped with an extra shot of Bailey's! Non-alcoholic options are provided in the linked post.
Dark Chocolate Guinness Brownies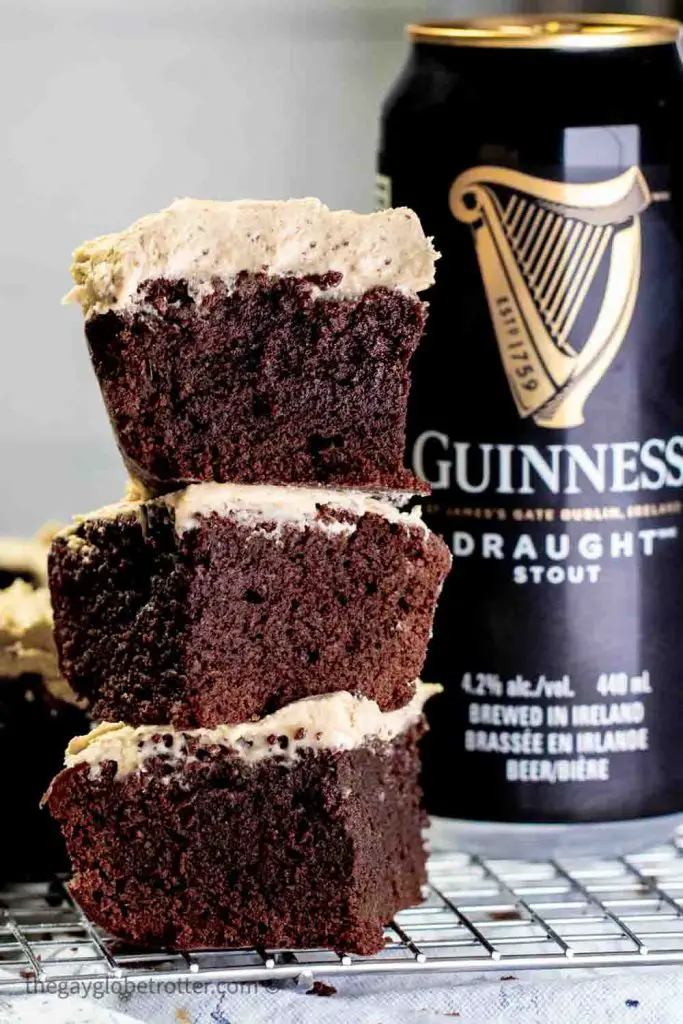 Guinness brownies are oh-so decadent and filled with dark chocolate, stout, and espresso flavors. They're topped with a rich espresso Guinness buttercream for the perfect, cakey brownies!
Irish Coffee Chocolate Cakes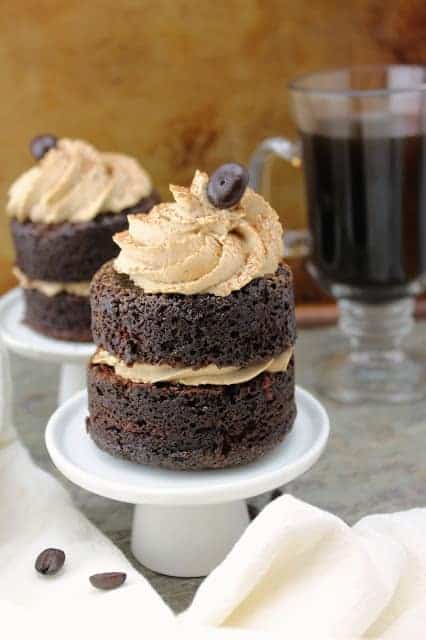 Irish coffee chocolate cakes are whiskey-infused chocolate mini cakes layered with sweet, boozy whipped cream. This beverage-inspired dessert is perfect for celebrating St. Patrick's Day!
Irish Coffee Milkshake Shooters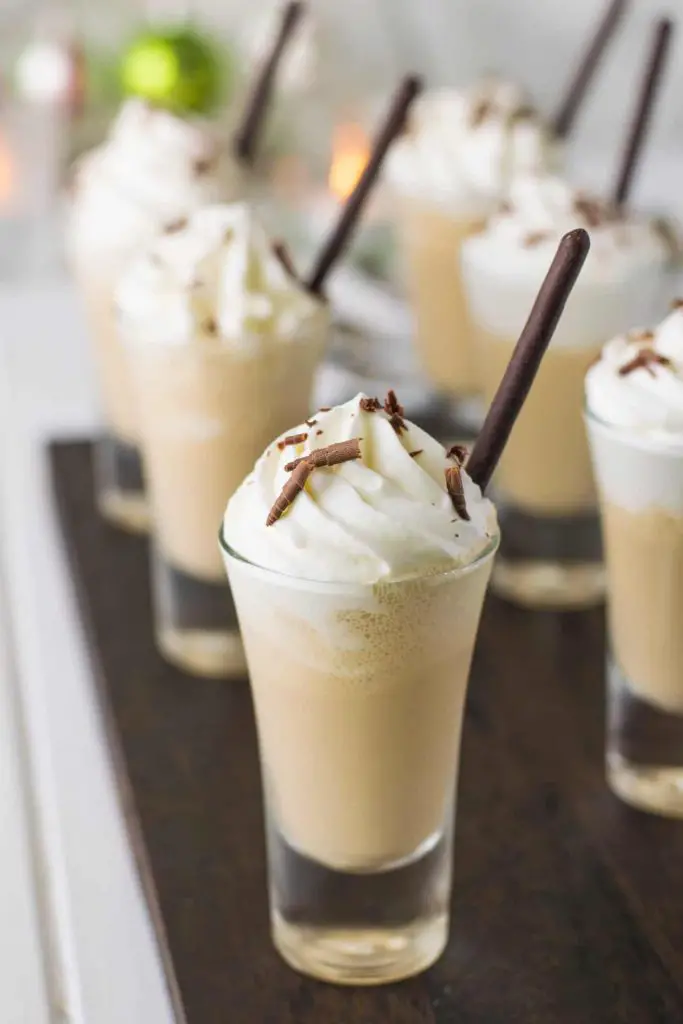 Irish coffee milkshake shooters are easy, fun, and grown-up individual desserts perfect for entertaining on St Patrick's Day. In these shooters, Irish cream liqueur is blended with coffee ice cream and topped with whipped cream and chocolate shavings.
Irish Coffee Mousse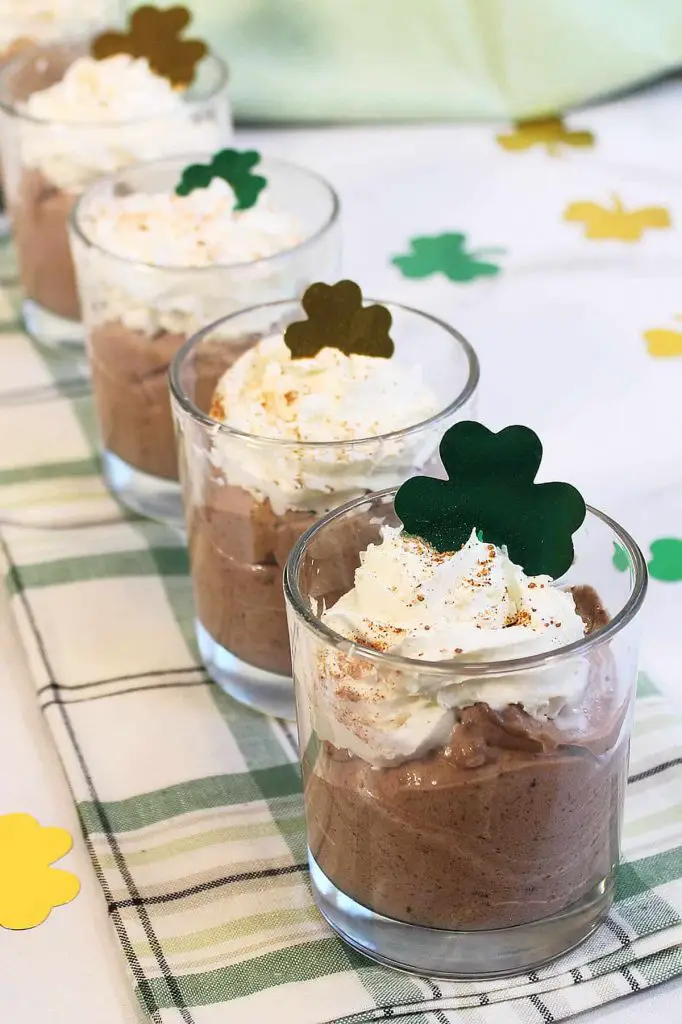 Irish coffee mousse is a creamy, boozy adult dessert that's simple to make starting with a chocolate pudding mix, a touch of coffee, and, of course, Irish whiskey!
Irish Porter Cake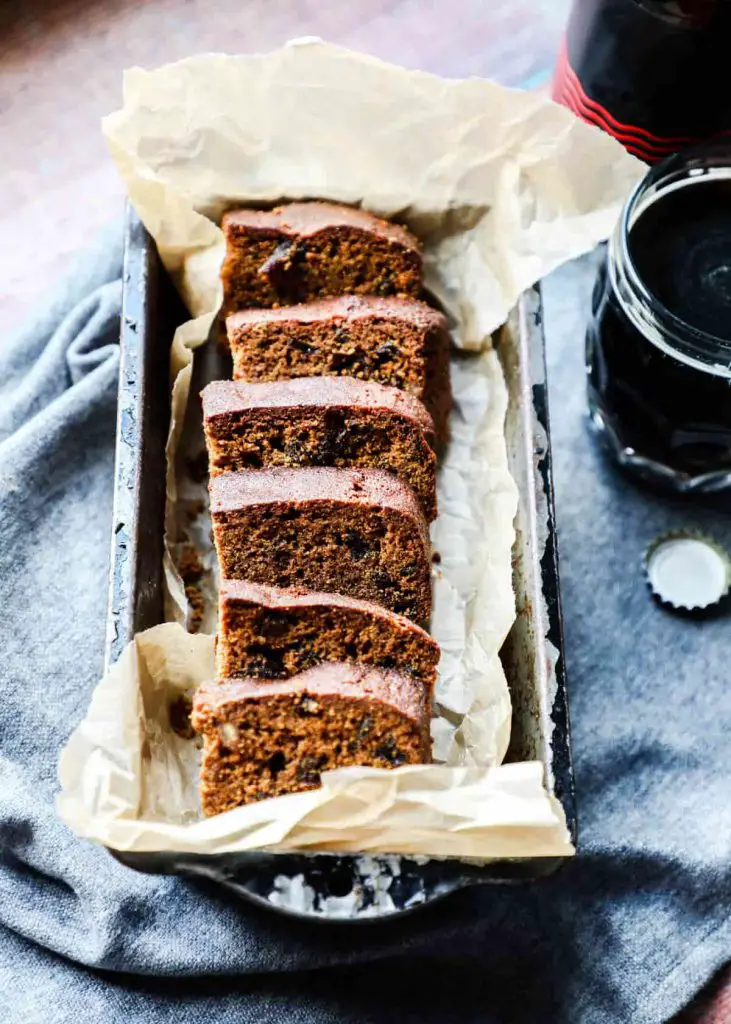 Irish porter cake is a delicious and easy-to-make boiled fruit cake made with Irish Porter or Stout.
No-Bake Baileys Cheesecake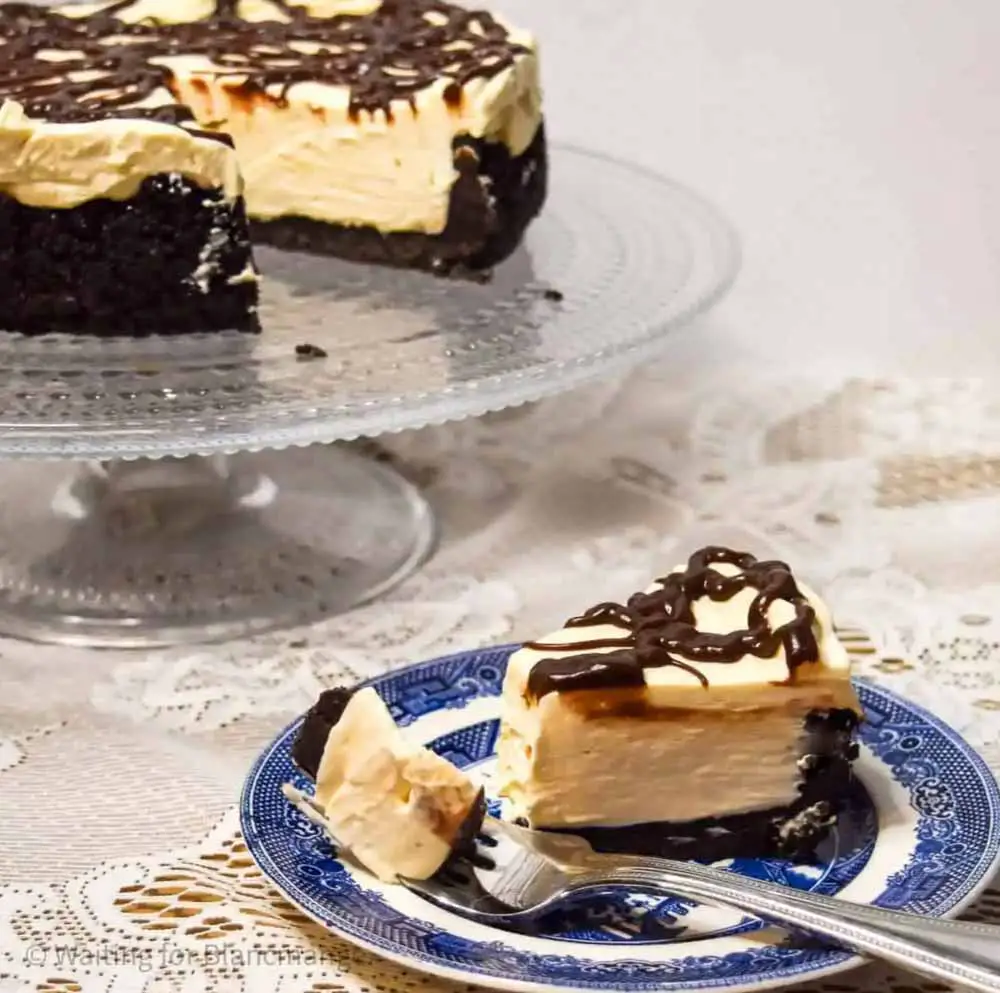 Easy to make and boozy, Baileys no-bake cheesecake is the perfect dessert for St Patrick's Day with Baileys Irish Cream chocolate ganache on top!
Shamrock Irish Cream Dessert Shots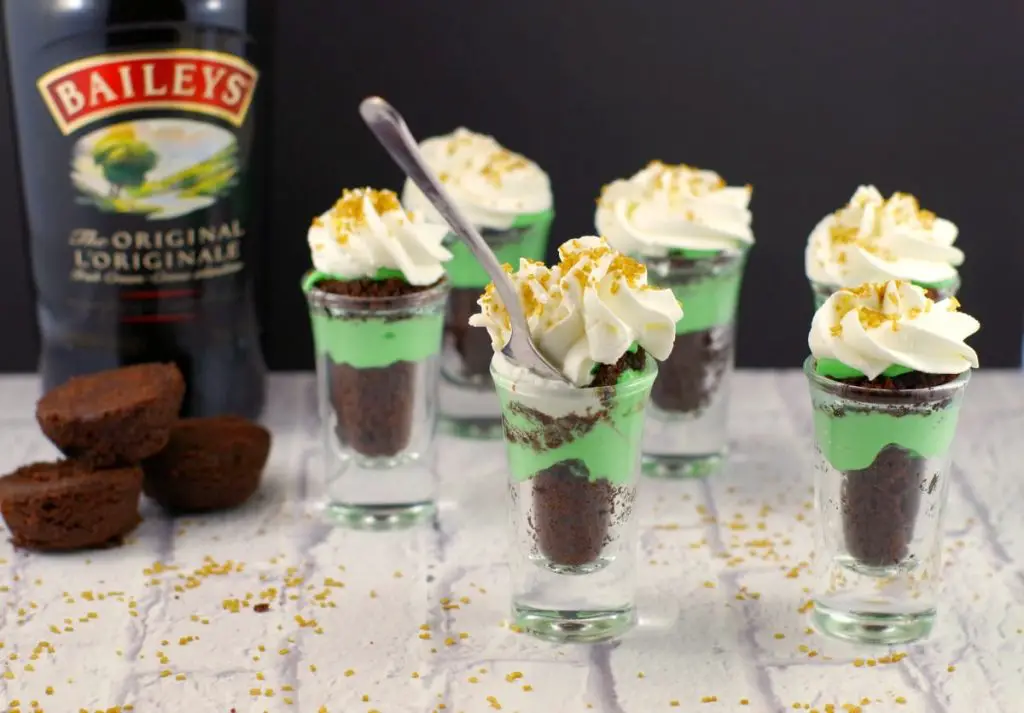 These shamrock Irish cream dessert shots can be made in 15 minutes, with or without alcohol — making them the perfect fast and easy green dessert for St. Patrick's Day. These mini desserts are made with two-bite brownies, pudding, and Baileys Irish Cream, but you can indulge guilt-free because they are miniature. 😉
St. Patrick's Day Pudding Shots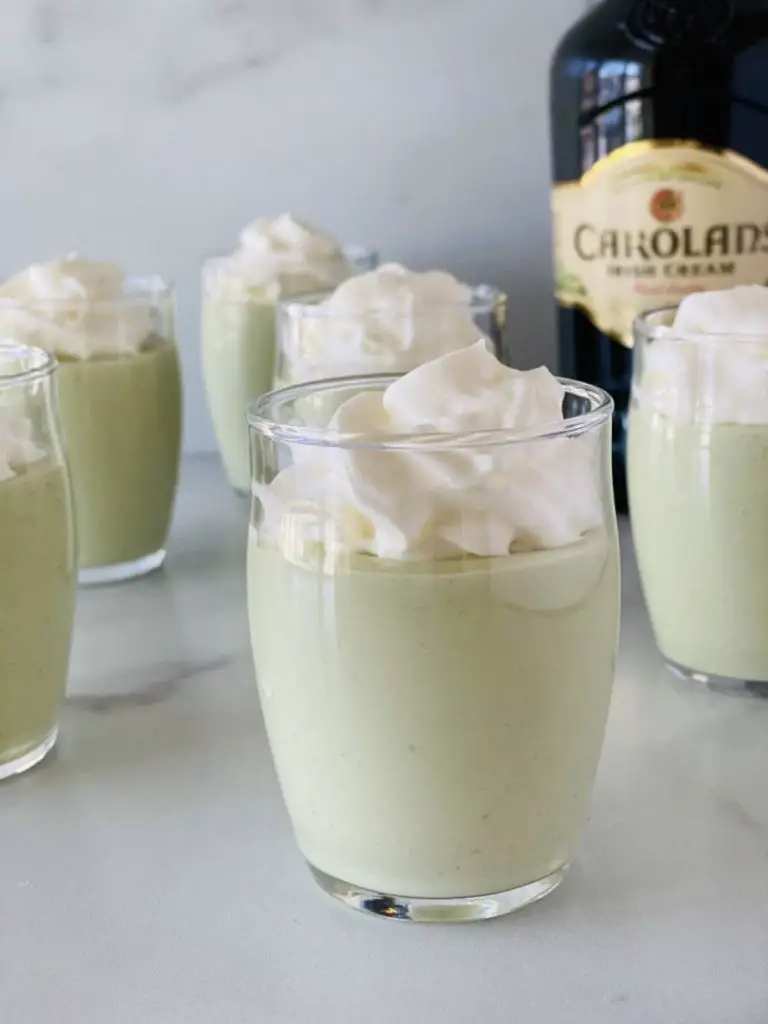 For a boozy treat that is part dessert and part cocktail, these pudding shots are just the thing to celebrate St. Patrick's Day. The green pistachio pudding with Irish cream is the perfect festive combination for the holiday.
Easy St. Patrick's Day Treats for Kids
Chocolate-Covered Shamrock Pretzels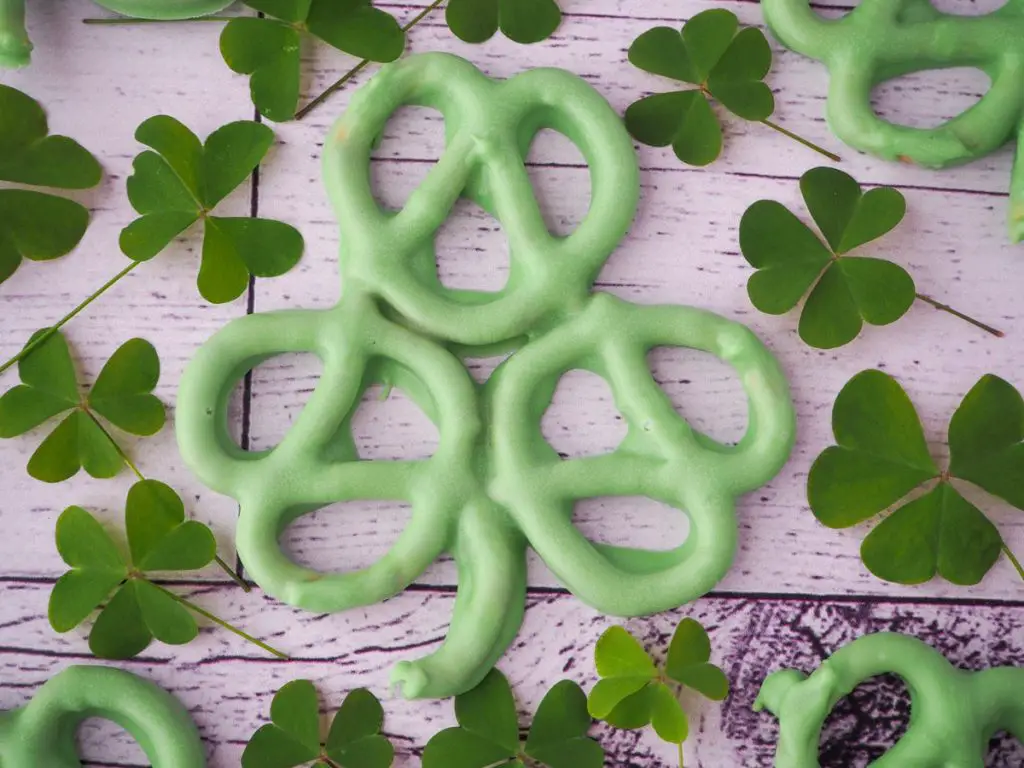 These shamrock pretzels are super cute and so easy to make with just three ingredients. They are the perfect shamrock candies to make with kids for St Patrick's Day!
"Irish Potato" Candy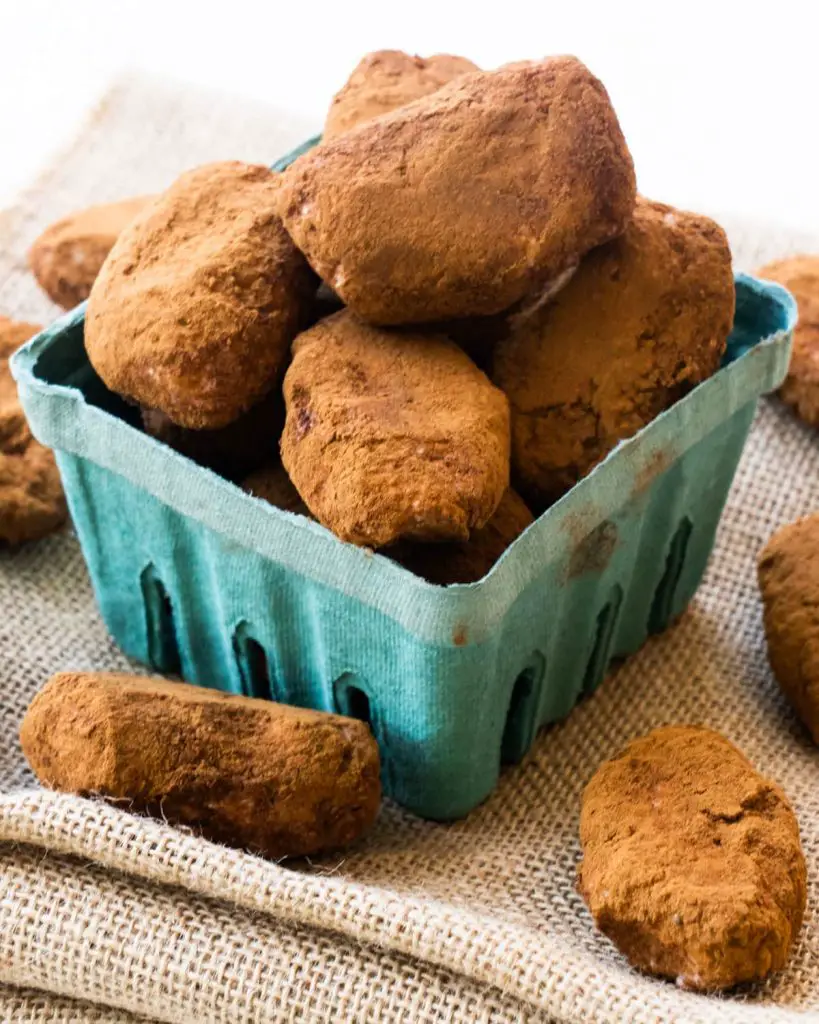 Homemade potato candy is easy to make and delicious! This old-fashioned candy looks just like potatoes and is a common treat served in Pennsylvania Dutch Country and a must for St. Patrick's Day. Though some Amish recipes actually call for potato, this recipe uses cream cheese and powdered sugar.
Leprechaun Gnome Treats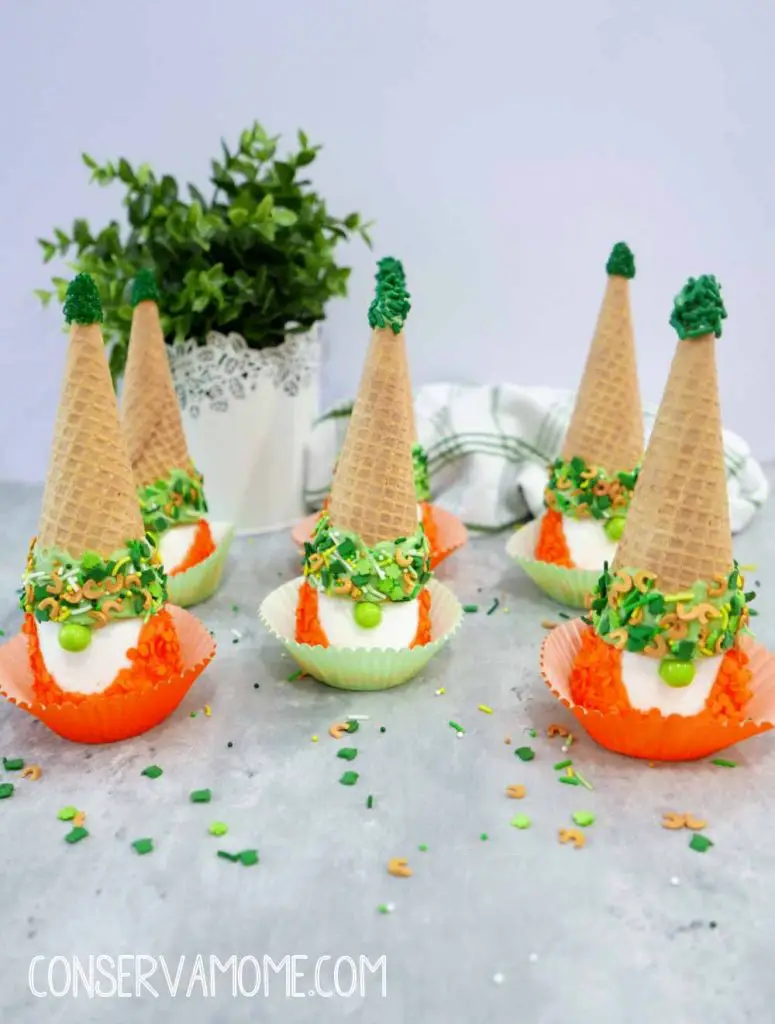 These adorable and delicious leprechaun gnome treats will be a huge hit for big and little kids on St.Patrick's Day!
Lucky Charm Cookies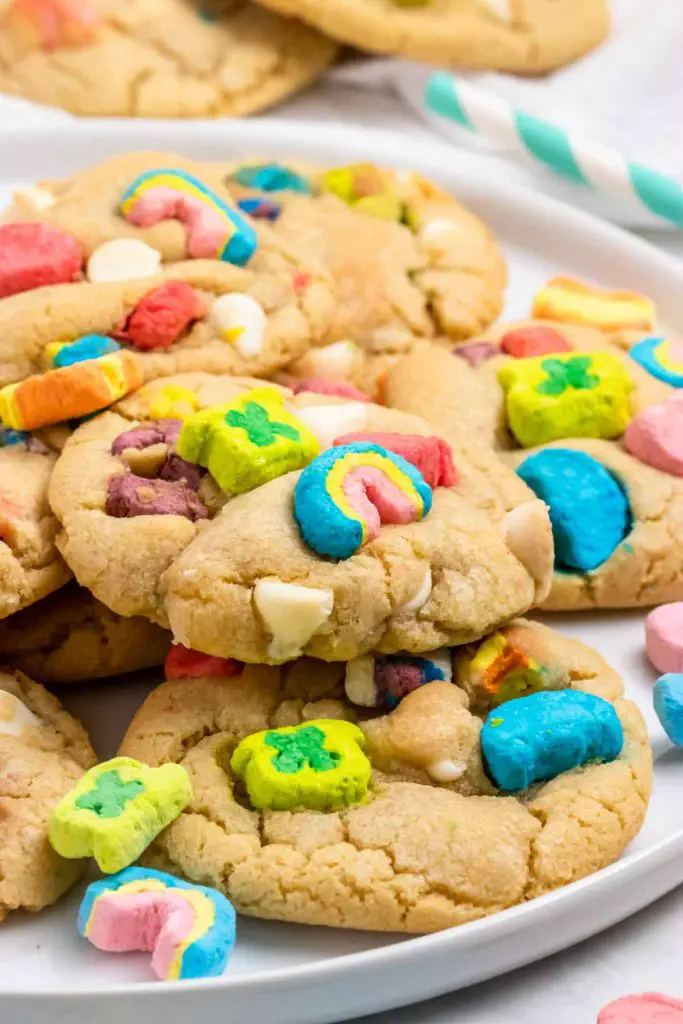 Your favorite parts of Lucky Charms — the marshmallows — are packed into these festive cookies for all the rainbow fun. These lucky charm cookies are fun and easy to whip up and full of marshmallows and white chocolate chips. No doubt they are "magically delicious"!
Lucky Charm Treats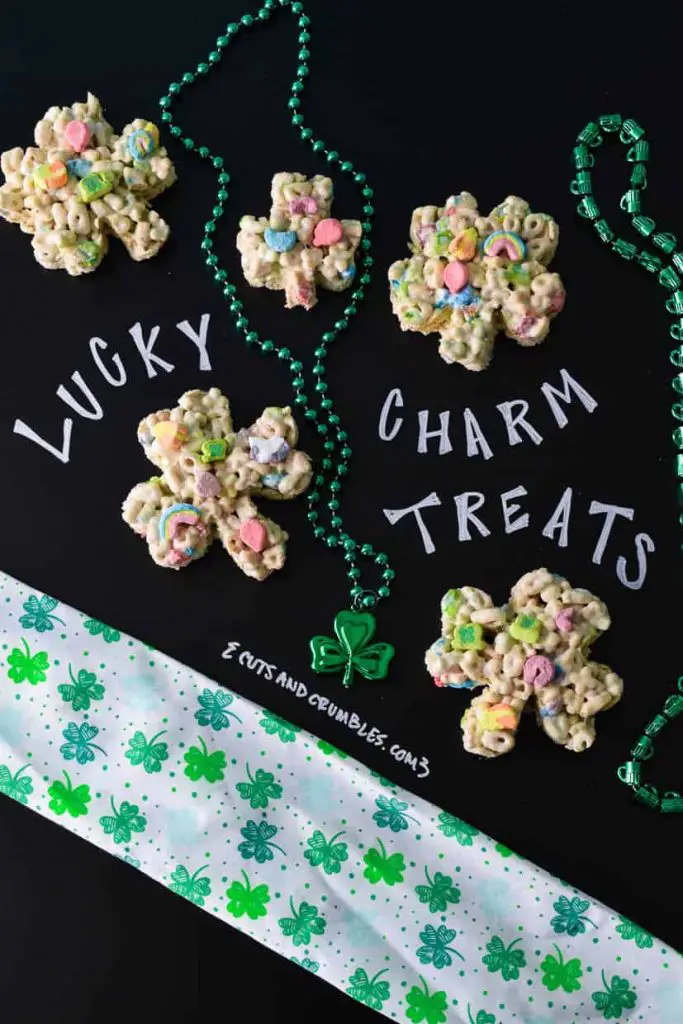 These lucky charm treats are a tasty twist on an old favorite. This fun, simple dessert is perfect for kiddos (and adults feeling nostalgia for this childhood-favorite cereal) on St. Patrick's Day.
Lucky Charms Rice Krispies Treats
Lucky Charms Rice Krispies treats are made with both Lucky Charms and Rice Krispies cereals for the perfect combo. These marshmallow treats take 15 minutes to make and have marshmallows in every bite!
Rainbow Rice Krispie Treats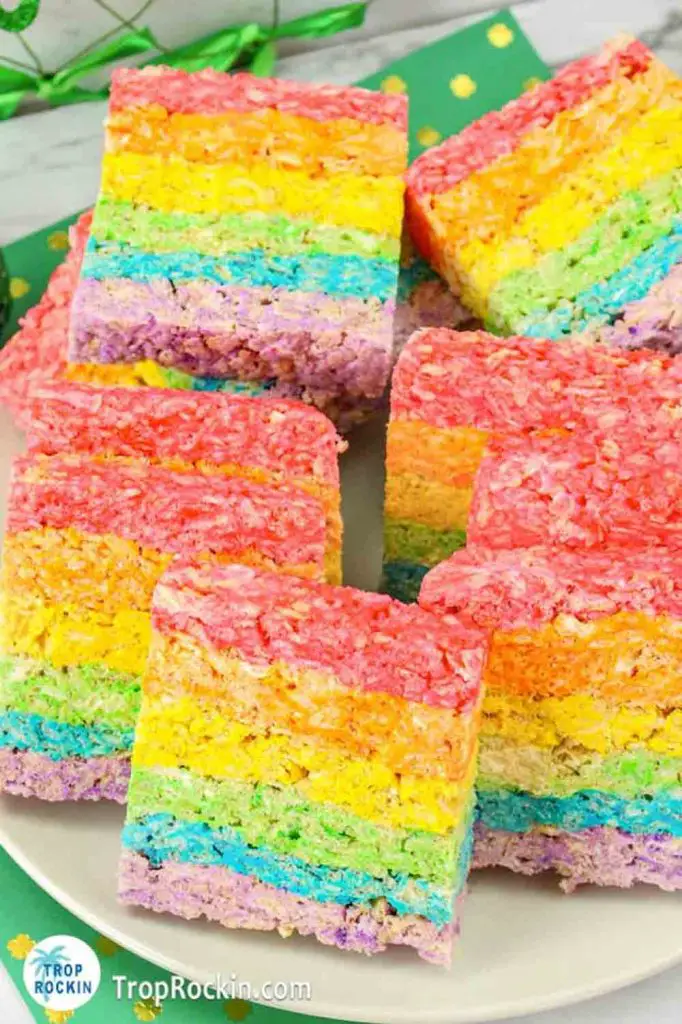 Fun and festive, these rainbow rice krispie treats are always a hit on St. Patrick's Day. Made with crispy cereal and buttery marshmallows, these treats are easy-to-make snacks for St. Patrick's Day festivities.
Rainbow Sugar Cookies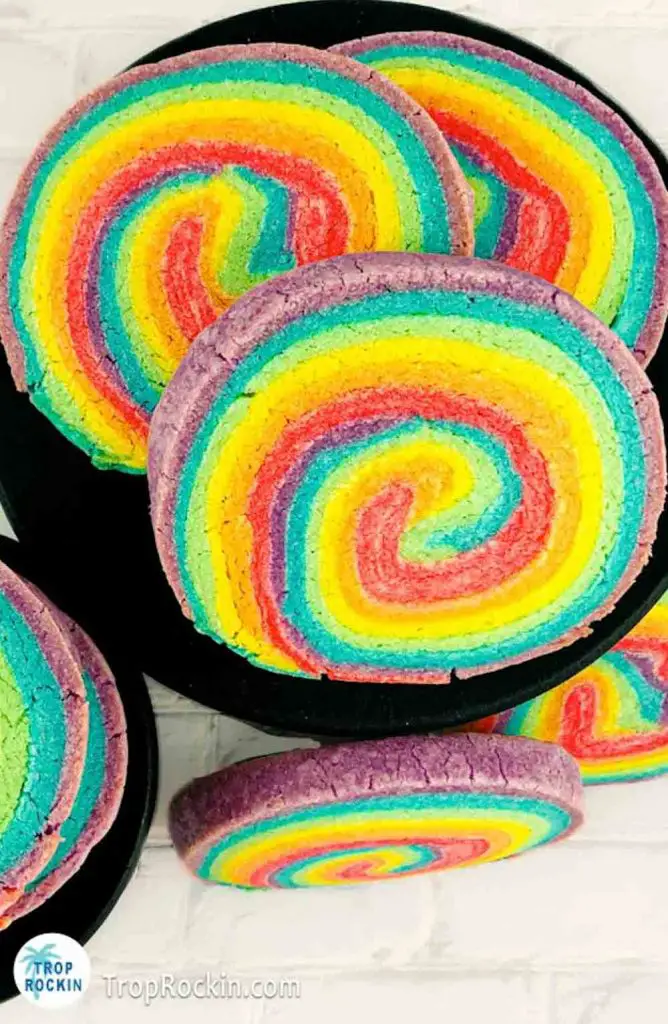 Rainbow sugar cookies are an easy, sweet dessert for St. Patrick's Day. These cookies are slightly crunchy on the outside and soft and chewy on the inside. Also, they make for a gorgeous display with all the colors of the rainbow!
Shamrock Pretzels
Simple to make with just three basic ingredients, these shamrock pretzels will be ready in under 15 minutes and are easy enough to make with the little ones!
Shamrock Rice Krispie Treats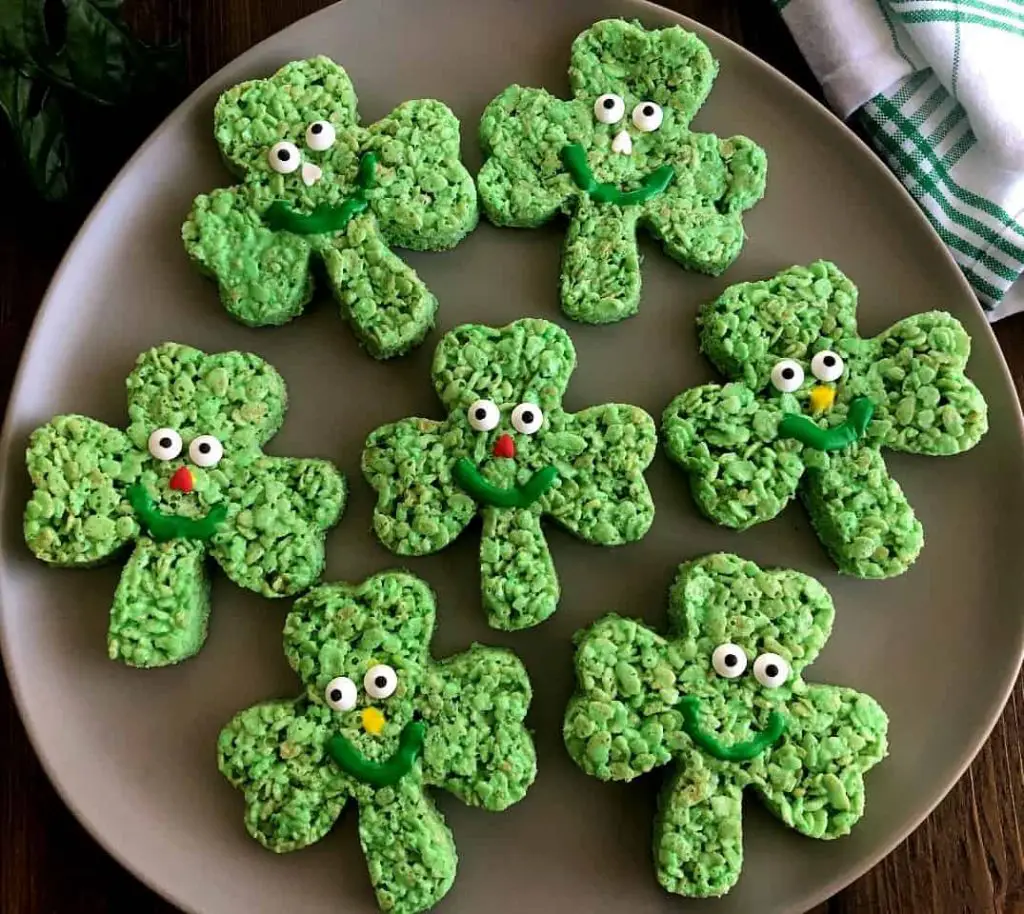 These shamrock rice krispie treats are easy to make for your St. Patrick's Day celebration. Both kids and adults will love to decorate and eat them. These green desserts are perfect for a school treat, the office, or a party!
St. Patrick's Day Lucky Green Shakes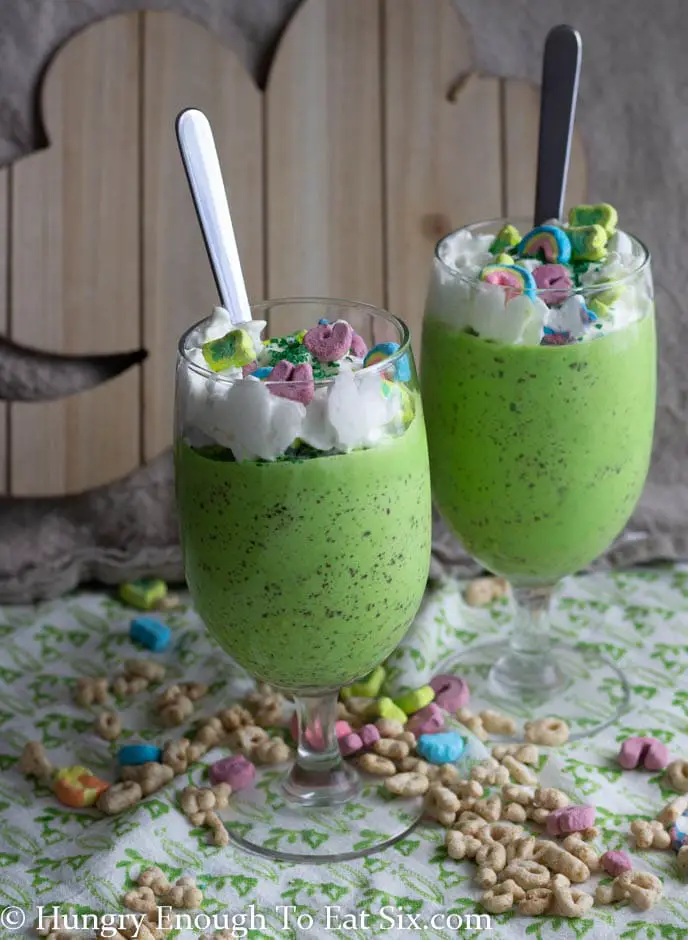 Celebrate St. Patrick's Day with this delicious green milkshake, topped with green sprinkles and Lucky Charms marshmallows. This is a fun St. Patrick's Day milkshake recipe to make with kids, too!
Which of these easy recipes for St. Patrick's Day will you try?
Traditionally, St. Patrick's Day observes the Patron Saint of Ireland's death on March 17, but today the holiday is also a global celebration of Irish culture. Attending parades, dressing in green clothing, and decorating with shamrocks are a few ways we celebrate, but no St. Patrick's Day would be complete without food and drinks.
Whether traditional, green, or boozy, the 90 St. Patrick's Day foods and drinks I shared will hopefully make your day luckier than finding a leprechaun's pot of gold at the end of the rainbow!
If you try one of these recipes for St. Patrick's Day, please share your experience by leaving me a comment. I'd love to hear which recipe you made!
Read More About Ireland
Save this post to your Saint Patrick's Day board on Pinterest!